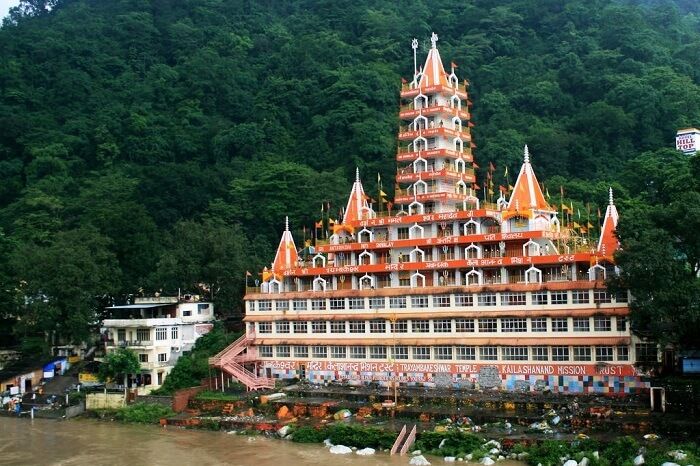 Rishikesh - one of the holiest places according to Hindu religion, the global center of Yoga studies, a land of spiritual enlightenment, a town of adventurous dreams, a traveler's bliss, etc. The list goes on and on without finding a suitable single-phrase definition of this majestic place, for it is incredibly diverse. The ancient Indian town is an assortment of astonishing experiences that cannot be defined in a couple of pages. One needs to set his/her foot on the sacred soil of Rishikesh to feel the beauty and astonishments the town creates.
Although Yoga and spirituality are deeply rooted in the cultural and historical facets of Rishikesh, it is equally a dream place for travelers and nature lovers. In addition to thousands of Yoga lovers, many wanderers come and fascinate their souls with the most amazing natural settings of Rishikesh every year. Set in the serene lap of Mother Nature, the North Indian traveling destination welcomes everyone, who would love to fall in love with its incredible natural heritage, with both arms open. The spectacular scene of yogis performing by the River Ganges, the mesmeric surroundings, the sound of the hymns coming from the nearby temples, create an atmosphere that touches your soul and makes you fall in love with this peaceful town instantly. Also, the friendliness of the locals is heartwarming which always makes you feel at home.
Explore the city of breathtaking experiences in the most astonishing way with this travelogue. Enjoy, create memories and explore this fascinating land as much as you can.
Places to visit in Rishikesh
● Laxman Jhula and Ram Jhula: Witness the soul-enthralling view of the sacred Ganges from the two most iconic iron-suspension bridges - Ram Jhula and Laxman Jhula in the heart of Rishikesh. Laxman Jhula, which is more popular of the two, is located on the place from where it is believed that Lord Lakshman crossed the Ganges on jute ropes in Treta Yuga. Both the bridges attract a huge number of tourists since it's also a great place to take some snaps of the River Ganges flowing by.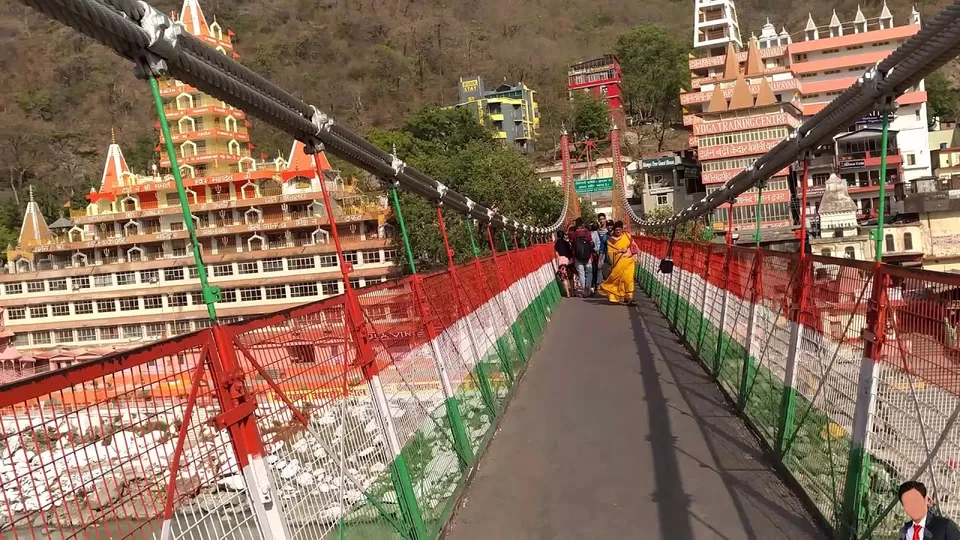 ● Neelkanth Mahadev Mandir: One of the most prominent temples in Rishikesh, Neelkanth Mahadev Mandir is dedicated to Lord Shiva. Neelkanth is another name of Lord Shiva because he consumed the poison which emerged from Samudra Manthan (Churning of Ocean). You can have an awesome view of the entire valley from the temple that is situated at a height of about 1350 m.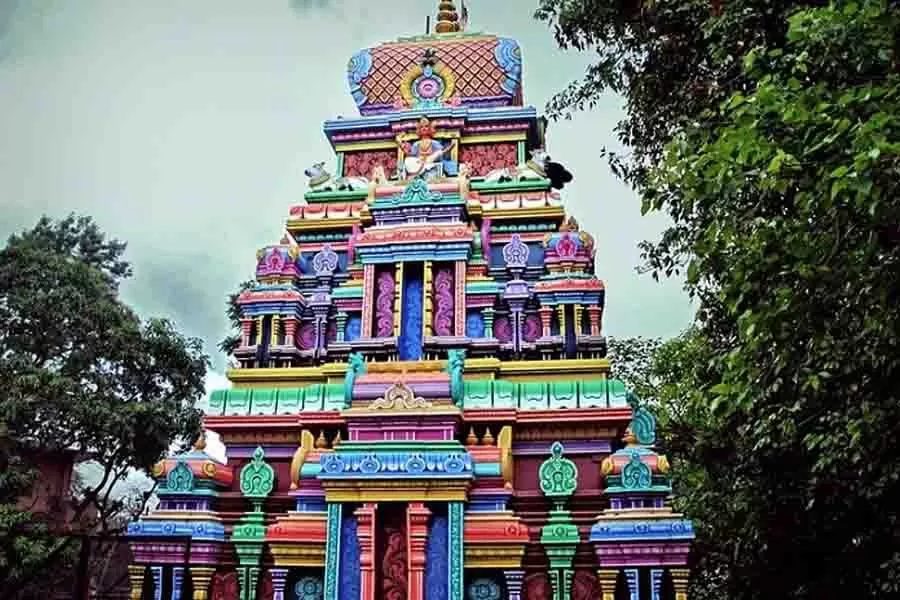 ● Triveni Ghat: When you are in Rishikesh, a visit to the ever popular Triveni Ghat is a must. Popular for Ganga Aarti, a number of devotees can be seen meditating and worshipping on the historical Ghat. The spiritual aura of Ganga Aarti purifies your mind and soul, in addition to inspiring one to fall in love with the essence of devotion in Rishikesh. Also, you can take a dip in the Holy Ganges which would definitely be a different experience altogether.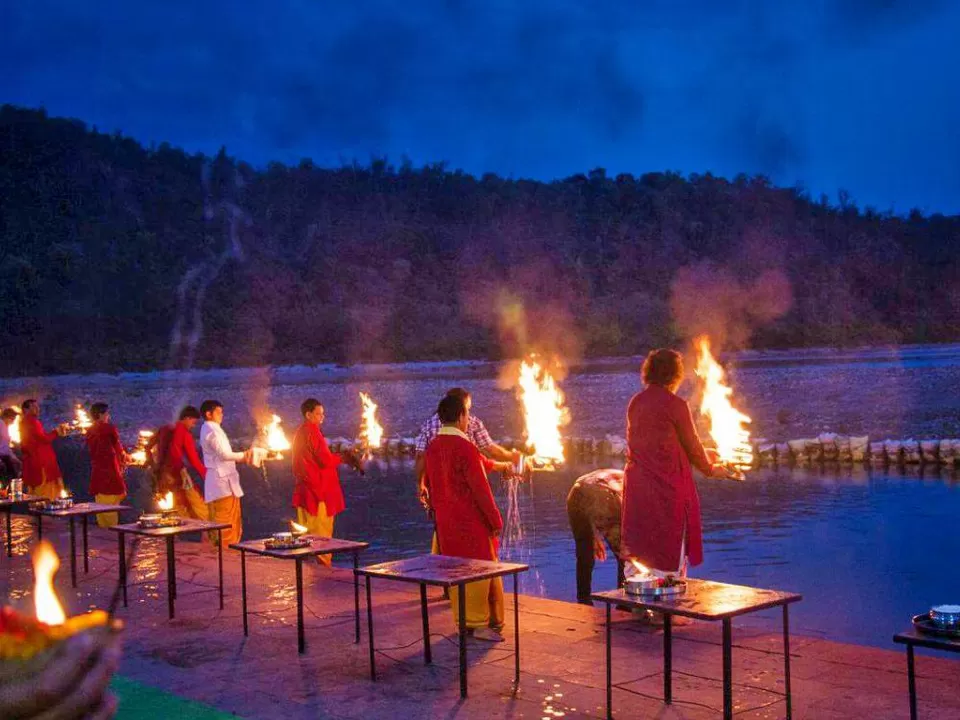 ● Parmarth Niketan: Parmarth Niketan is one of the most popular ashrams in Rishikesh and a major Yoga center. Founded by Swami Shukdevanand Ji in 1942, the spiritual ashram is known for offering the purest and the most traditional Yoga styles including Hatha Yoga and Ashtanga Yoga. You can have a fascinating glimpse of the infamous Lord Shiva statue set on the banks of the Ganges from Parmarth Niketan.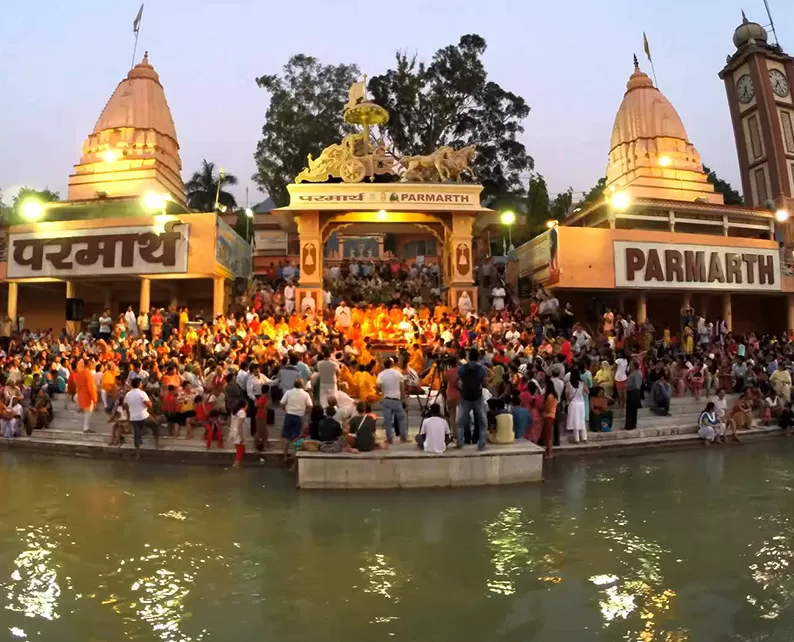 ● Beatles Ashram: In the midst of the lush Himalayan vegetation, Beatles Ashram reminds of the visit of the British band, the Beatles, who came here to learn transcendental meditation at Maharishi Mahesh Yogi ashram. Feel the extreme tranquility of the former ashram of Yogi Mahesh while spending some moments and practicing Meditation here.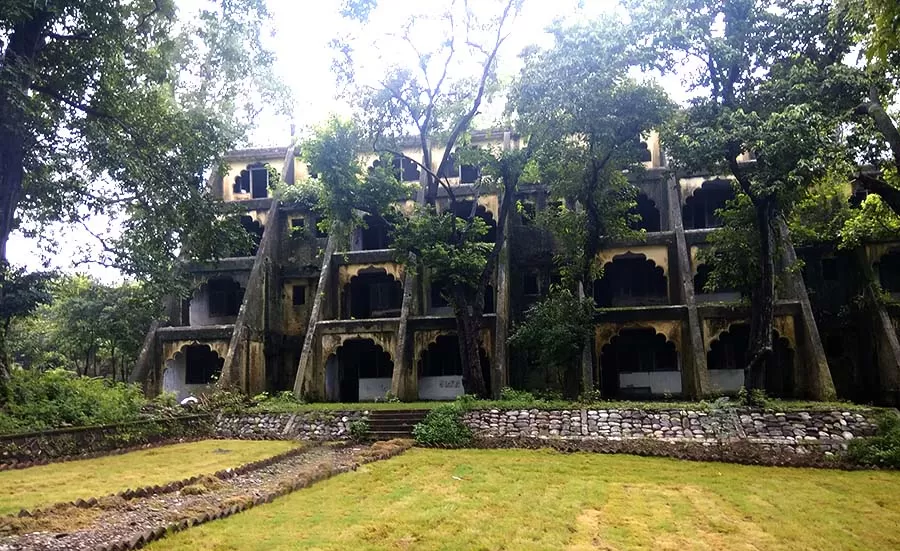 ● Trayambakeshwar Temple: The 13-storey temple is one of the most beautiful religious sites in Rishikesh. Set in the backdrop of the Shivalik Hills, near Laxman Jhula, the temple gives you a great sense of devotional energy while offering prayer.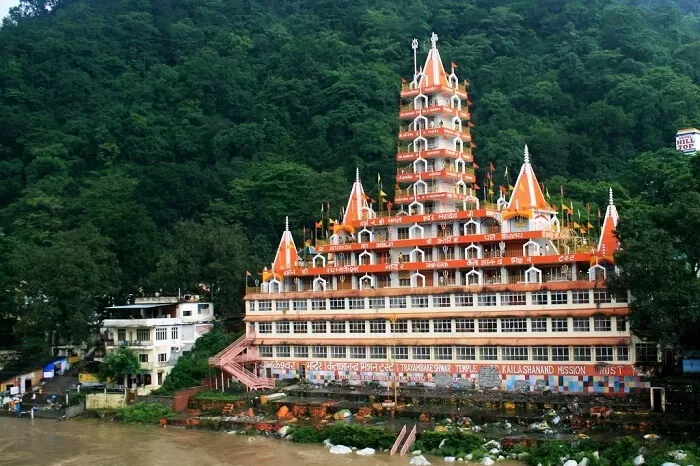 Things to do in Rishikesh
★ Yoga Classes: There is no way you should miss the beauty of Yoga in Rishikesh. The town is home to numerous Yoga centers of the highest stature, where Yoga enthusiasts from all over the globe seek spiritual enlightenment. Attend a Yoga class in Rishikesh and get acquainted with the yogic legacy and spiritual heritage the village carries. In the world Yoga capital, let your soul nourish in the vicinity of some of the most time-served Yoga teachers. While Yoga TTC is the most popular Yoga event in Rishikesh, owing to its popularity as a traditional Yoga hub, Yoga retreats, Hatha Yoga training program and other Yoga events are also organized in the holy land.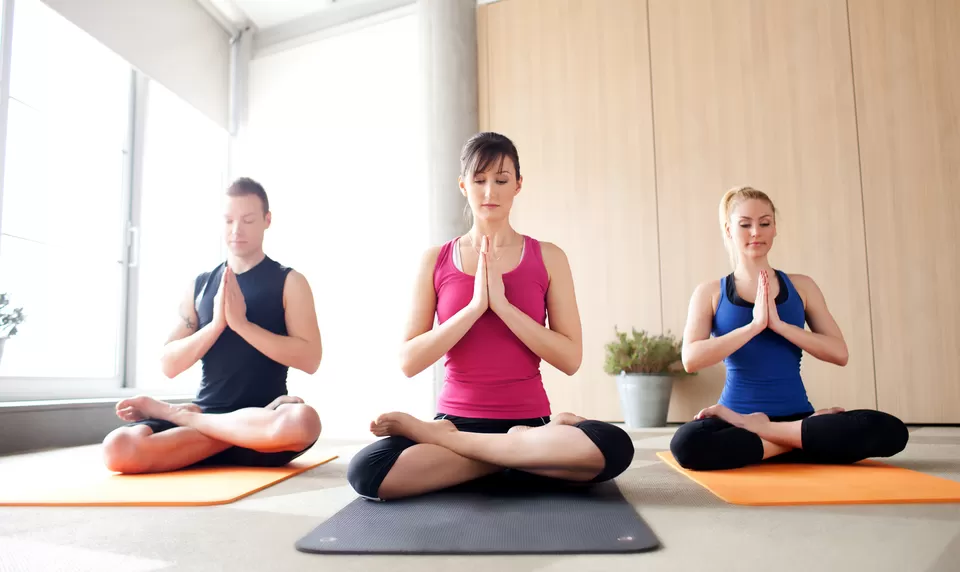 ★ Ayurveda Therapy: Although Rishikesh is not a traditional Ayurveda destination, it has emerged as a major center for Ayurveda treatment over the last few decades, thanks to a number of Ayurveda experts from Kerala getting settled in Rishikesh. Ayurveda is the sister science of Yoga and both are native to the Indian subcontinent. If you are aspiring to detoxify yourself completely, join an ayurvedic detoxification therapy program in Rishikesh and pave way for a blissful life.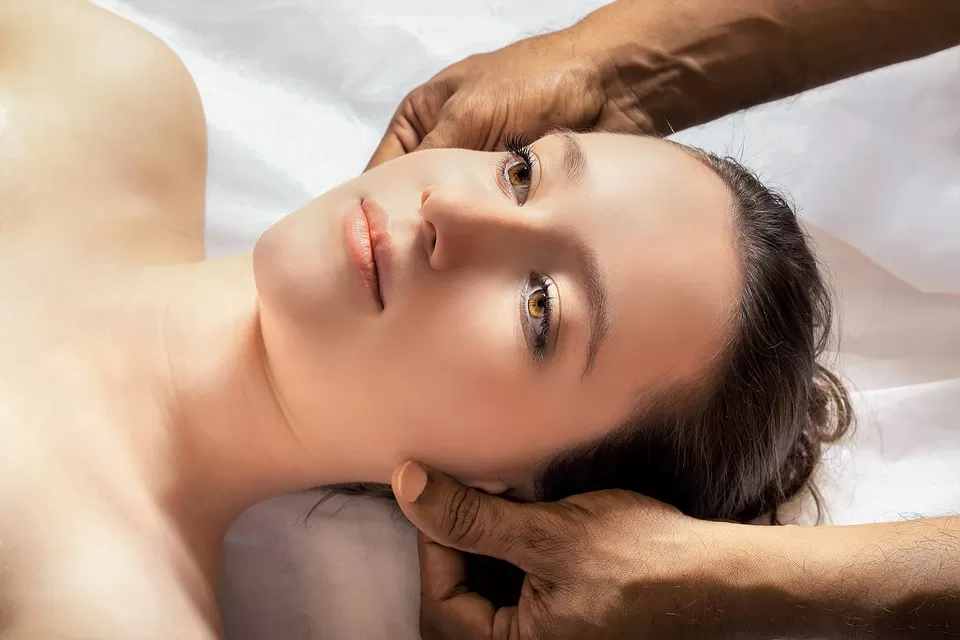 ★ Adventure Sports: In North India, Rishikesh is a major adventure hub with a number of adventurous activities being organized in the town. Explore the never-ending blue sky while you sail through the sports of paragliding. Give your legs a substantial amount of toll along with challenging the arduous Himalayan trails with rock climbing and trekking. Meet with a number of local villagers on your way to the Himalayan height and get acquainted with the culture and social structure of the Garhwali society. Bungee Jumping is yet another fascinating sport that is one of the favorites among travelers in Rishikesh.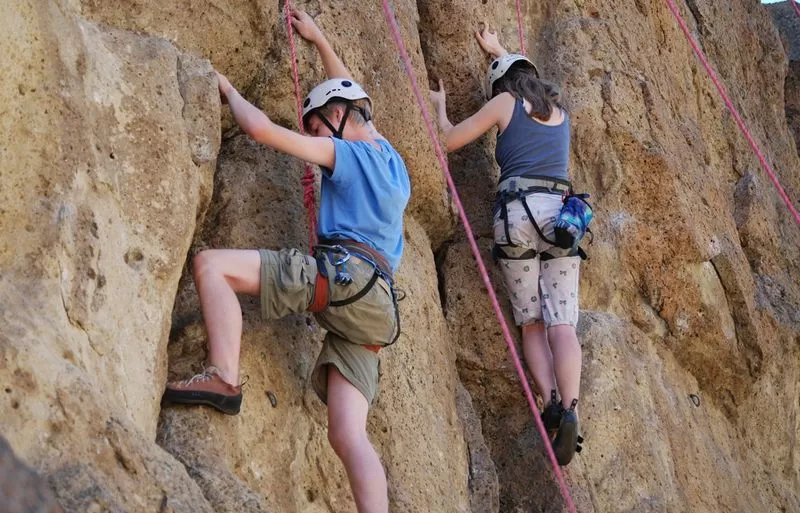 Enjoy local Indian dishes in Rishikesh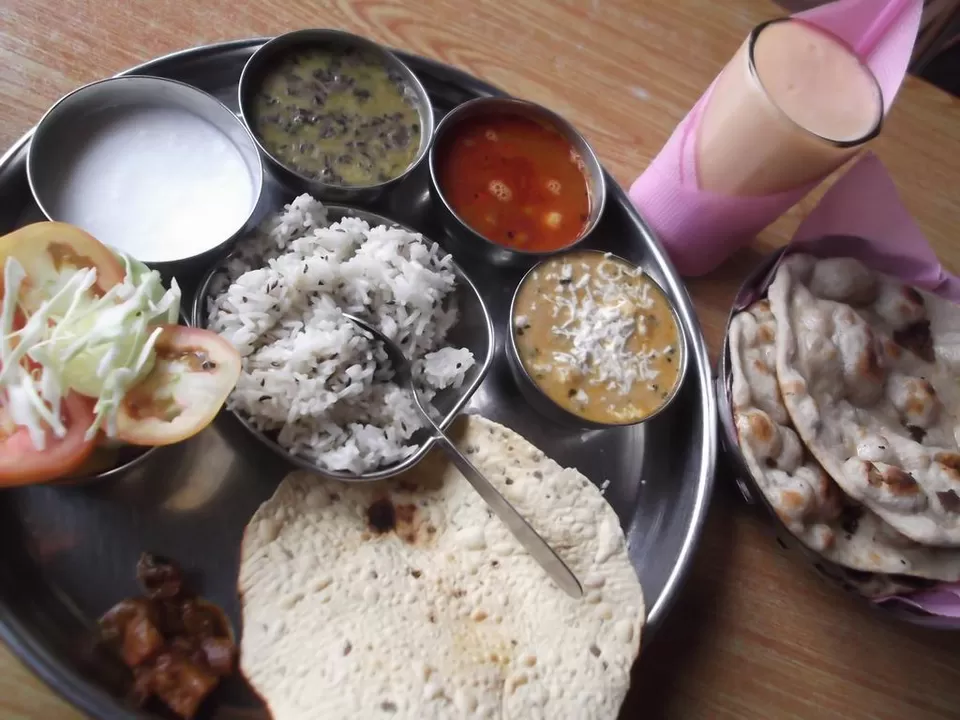 India has always been famous for its dishes. Indian dishes are quite popular all over the world. In the cultural capital of India, fall in love with India's street-food. While Samosa is probably the most popular North Indian dishes, Paani Puri is just heart-winning. India is renowned for spicy eating habits that can be seen in the assortment of dishes in Rishikesh. Chhole Bhature is one of the major North Indian food items to try in the city while Masala Dosa is quite popular among locals and travelers in Rishikesh. Chaat is something that you should not miss in Rishikesh. When you are in the land of cultural diversity, knowing and exploring its customs and tradition should be a priority.
If you want to enjoy the best dining experience in Rishikesh, here are some of the restaurants and places to try:
➔ Little Buddha Cafe near Laxman Jhula
➔ Cafe de Goa in Tapovan for the best Italian and Chinese experience.
➔ The Sitting Elephant is popular for Chinese food.
➔ Tip-Top Restaurant in Swargashram
➔ Bistro Nirvana is an amazing cafe for affordable food.
➔ 60's Cafe Delmar/ Beatles Cafe for the finest collection of Indian dishes with an amazing view of the Ganges.
Festivals and Celebrations in Rishikesh

India is a land of festivals. Almost every day, there is a festival in India. Rishikesh, being one of the most prominent Indian pilgrimage sites, is home to numerous celebrations. While popular Hindu festivals Diwali, Basant Panchami, and Durga Puja are celebrated with great enthusiasm, there are many local festivals that attract a substantial crowd. Be a part of the Ganga Dussehra festival and Ramman religious fair to get introduced to the fascinating mountainous culture of Uttarakhand and Rishikesh.
The show-stopper is the grand celebration of the International Yoga Day on 21st June every year that witnesses millions of Yoga fanatics in the city. Parmarth Niketan organizes International festival of Yoga to show the world the authenticity of Yoga. In addition, each day is a festival in Rishikesh as the town is always buzzing and bustling with different activities. Don't forget to relish these amazing experiences when you are in Rishikesh.
Nature visit in Rishikesh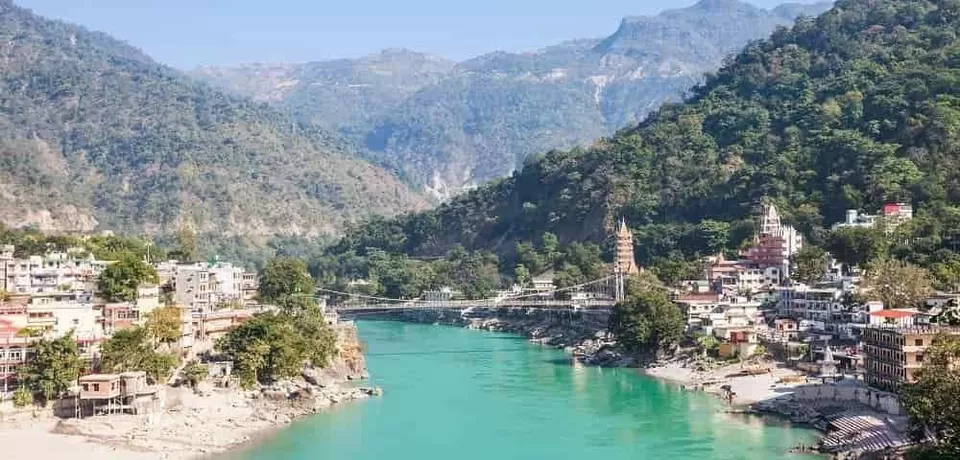 Nestled in the lap of the Himalayas, Rishikesh is the powerhouse of natural destinations. Whether you are a serenity lover or a wanderer, Rishikesh will never disappoint you. Meditate by the enchanting flow of the holy Ganges and rejoice in its tranquil aroma. The Ganges is a major tourist destination in Rishikesh, since the ancient river leaves the Shivalik Hills and enters the land route here in the town.
Neer Garh Waterfalls is among the most popular cascades in Rishikesh including Garud Chatti and Phool Chatti Waterfalls. The water falling down from the falls is certainly a sight to behold. Spread out in approx 820 sq. km, Rajaji National Park is a major attraction in Uttarakhand. Home to more than 500 elephants and over 250 panthers, a safari ride to this amazing jungle is an experience of a lifetime. A number of travelers to Rishikesh spend time exploring the luscious Himalayan flora that offers extreme pleasure and fascination.
How to reach
Jolly Grant Airport in Dehradun is the nearest airport to Rishikesh. Numerous buses and cars are available from Dehradun to reach Rishikesh. You can also reach Indira Gandhi International Airport in New Delhi and travel to Rishikesh by bus or cab. Also trains are available from different destinations to Haridwar from where you can take an autorickshaw to reach Rishikesh in about 30 minutes.
Need to know
• Since Rishikesh is a holy place, non vegetarian dishes are not available. So be prepared to eat vegetarian dishes. Also, alcohol is illegal.
• If you are a yoga fanatic, this would be your opportunity to indulge in some yoga items shopping like yoga mats, yoga props and more.
• Be cautious of the mischievous monkeys around as they are quite smart and wouldn't leave the opportunity to get off with some of your valuables if you are not attentive.
• Summers can be quite hot and winters can be quite chilly. So, pack accordingly.
• Dress modestly since this is a pilgrimage destination.
• Do not venture out late in the nights though Rishikesh is very safe for travelers.
Frequent Searches Leading To This Page:-
weekend trek to rishikesh, weekend holidays to rishikesh, weekend trip to rishikesh, weekend trek tour to rishikesh, weekend holidays to rishikesh