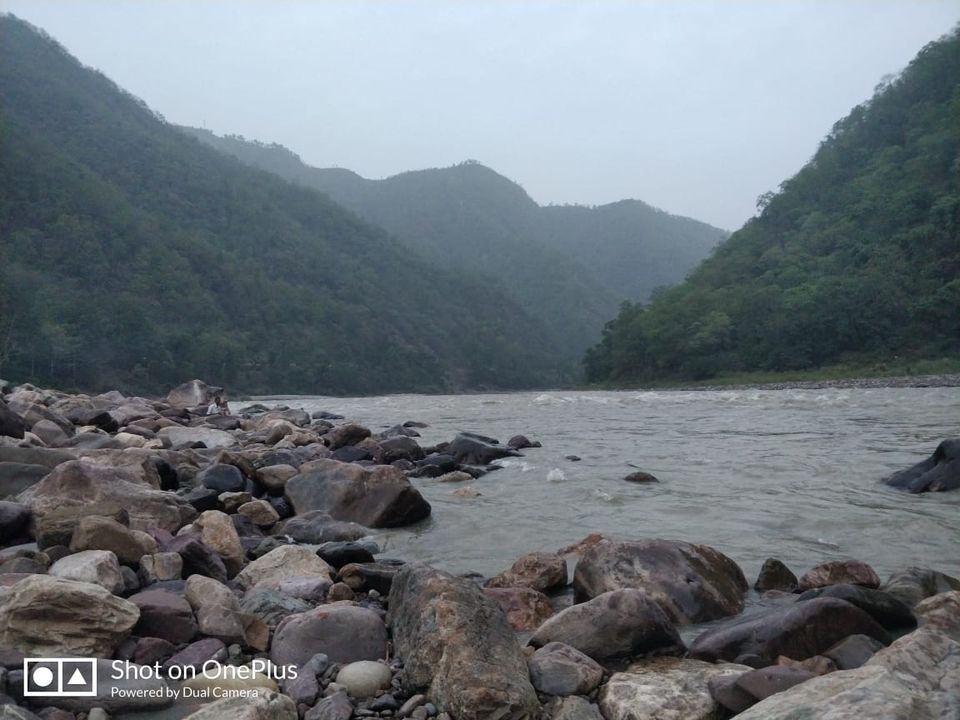 Tourist places are grouped under different categories, but there are places for which categories are not enough as they have much more to offer. This holy town in Uttrakhand attracts visitors of all ages. Rishikesh, is 40 kms from state capital Dehradun and is a magical place. Rishikesh is also called the Yoga Capital of India.
We reached dehradun early morning from Delhi by Nandadevi express. We took prepaid taxi to Rishikesh. You can get down at Haridwar and take a taxi/auto to Rishikesh which is cheap and easy to go. Once we reached Rishikesh we booked our camps and rafting. As it was a weekend, hence it was heavily crowded. We headed directly to the rafting site and kept our bags at the tour operators office. On the way we had some quick snacks like maggi, samosa ,tea etc. After reaching there you get all the equipments and safety kit. Everybody wears a life jacket, helmet and carries an oar or chappu. The rafting starts with chanting of "Ganga maiya ki jai". Ours was a small ride with only 3 rapids as it rained heavily the previous day and longer rides were stopped. It took almost an hour to complete the rafting. We jumped into the river which in itself so exciting and rejuvenating that for once you feel that nothing is better than being in the lap of nature. We even did cliff jumping. We passed by many temples on our way to Rishikesh and also saw the Ram and Laxman jhula. After rafting and quick snacks we went to our camps following the same road route and the camp was way ahead of the rafting site. The camp was not good as it was not by the side of river but the side of hill. We freshened up had lunch and then went to river side which was about half a mile. We dipped in the holy river and, played games and made amazing videos. Evening was to relax and so we did. After having dinner we retired for the day.
Mornings are the best time of the day and what can be better than waking up in mountains between the trees. After breakfast we started walking towards an adventure park. Transport is a problem and you need to take lift from any coming vehicle. We decided to walk as our destination was near. Hikers Adventure Park is an adventure area with lots of activities. Rock climbing, swing, rope activities etc are a few of them. There itself we had maggi and aloo paratha which were too good. Post lunch we took lift from a bus and deboarded near neer waterfall. It's a half an hour trek to the waterfall and thereafter you can trek to upper reaches of the waterfall. The water is very clear and we even jumped into water at a place where it had accumulated. The trek is worth the time and energy spent as the waterfall is a place must visit. It was getting dark so we decided to descend and then again we took lift from a vehicle and this it was a goods carrier van or you can say a small truck. We checked into a hotel, 6 people in a double bedroom and that's the beauty of traveling that you know to adjust and enjoy and know each other better. As we we were tired so we ordered food and then slept.
This was the most awaited day. Early morning we went to the Jumping heights office. It's a company that offers bungee jumping and flying fox activities. 2 of my friends opted for bungee jumping and 2 including me went for flying fox. We took the company bus to the venue and waited for turn. We were made to sign some forms and then were briefed about the activity. Then we went to the activity site. Flying fox is good but will not give you much thrill. From reviews of my friends came to know that Bungee jumping is the real deal. The time you are in air makes you feel that you are on cloud nine. Words can't describe it. After the activities we got the videos by paying separate charges. We then returned to the hotel, had lunch. It was then time to say goodbye to this holy place and we proceeded to Dehradun. By the time we reached dehradun it was dark and we went to Pacific mall, then had dinner and went to the station to catch the Nandadevi express back to Delhi.
Rishikesh is perfect amalgamation of adventure and spiritual tourism. So pack your bags and rush to Rishikesh.
Tips: Always book camp and rafting beforehand and do some research also as during peak season you won't get good camps. After dark it's difficult to get transport in the hills. Always plan that you reach by late afternoon or evening to the camp. Enjoy the camp during night and then go for rafting the following morning, your luggage will be taken directly to rishikesh and you will reach by boat and then continue with your other activities.
How to Reach: Rishikesh can be easily reached. The nearest airport is Dehradun Jolly Grant airport which is 17 km from Rishikesh. Rishikesh has a railway station but the nearest big railway station is Haridwar which is connected to most of the Indian cities like Delhi, Mumbai, Kolkata, Bhubaneswar, Chennai, Lucknow by train. You will also get bus to towns and cities of neighbouring states.