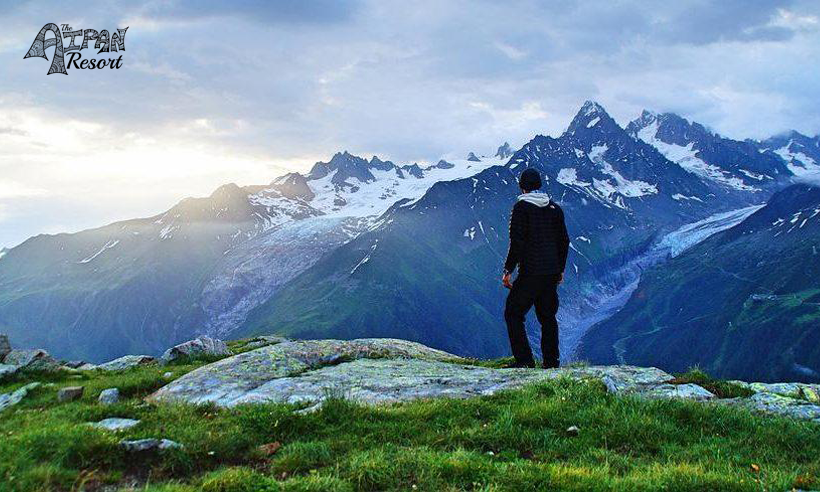 Chopta is a place endured with the divine. The place is known to very few people in this world but is one of the most exuberant tourist spots in the Rudraprayag district of Uttarakhand. Also known as Mini Switzerland of Uttarakhand - surrounded with trees of pine, deodar, and rhododendron and countryside views of pastures, meadows, and waterfalls.
The valley is an off-beat destination to visit with family and friends. Being a part of Kedarnath Wildlife Sanctuary, the place is filled with the goodness of rich flora and fauna with an abundance of birds like monal and parakeets.
Chopta is 401 km away from Delhi via road. Travelers who feel comfortable using airways can land at Jolly Grant Airport in Dehradun and hire a taxi to Chopta. For people who are fond of traveling via train, the nearest railway station to Chopta is in Rishikesh and Haridwar - 186 km away from Chopta. Buses and taxis are available for Chopta.
Charisma That Lies In Chopta
The valley is a mountain lovers' paradise. It's a safe place for endangered species and mesmerizing beauty of its nature with beautiful alpine vegetation and lush green, scenic views of pastures and meadows.
The place is blessed with a good flow of water. This is why rivers in Uttarakhand make an amazing trip for water sport adventurists.
The calm and composed habitat at Chopta is what attracts tourists across the country. It has gained a lot of appreciation from people across the globe over the past few years.
The pleasing weather is what is famous for outdoor activities. Imagine pitching your tent in the open air and camp in such an environment. While enjoying the cool breeze and views of the sun rising on top of the mountain peaks covered with snow is what makes it an off-beat destination to Chopta.
The place is known for people who love trekking and hiking. Chopta is the base point of trekking till Tungnath. It is at the height of 4,000 m that catch sight of Himalayan peaks like Nanda Devi, Chaukhamba, and Trishul.
There are many places to visit in Chopta that are the primary attraction of the valley that makes it a memorable, amazing, and off-beat destination. Some are mentioned below:
Kedarnath Dham
One of the most outstanding temples of Lord Shiva in the Rudraprayag district of Uttarakhand. The location of the Kedarnath temple is so overwhelming. It lies in the Mandakini river, at a height of 3,584m surrounded by mountains covered with snow blankets and alluring meadows and forests in Himalayan ranges.
It is also considered the important temple of Panch (five) Kedar in the Garhwal region of Uttarakhand. The pacifying and calm sight of the temple is the glorious views of Uttarakhand.
The best time to visit the Kedarnath temple is from April/May till June and September to October/November. Avoid visiting during the monsoon season due to heavy rainfalls that will lead to floods and landslides.
Chandrashila
Located at an elevation of 4,020m. You can reach Chandrashila after a 1km trek from Tungnath. The place will give you splendid views of the Himalayan mountains, including Nanda Devi, Trishul, and Chaukhamba.
Ukhimath
The place is also popularly called as Winter Seat of Kedarnath is 28km away from Chopta. Travelers come across a great spot for sightseeing as well as get a chance to learn about the culture full-of-life.
You won't regret it. Apart from our busy lives and schedules, it would be the best decision to pack your bags and enjoy yourself with nature for a change.
How Many Hotels Are Available In Chopta For Booking?
We can find plenty of luxury hotels in Chopta that make sure their customers have a comfortable stay and get services with proper care.
We often think many times before booking any resorts or hotels. Due to its high price we often think and get confused about the appropriateness that hotels provide. According to our convenience, we look into so many factors so that later we don't face any severe consequences. For example, amenities, hygiene, and cleanliness, hospitality, and budget-friendly.
Resorts in Chopta near Tungnath are situated between a glorious habitat while you enjoy snacks and beverages in a bonfire with some dance and music accompanied by your family and friends which makes you feel heavenly.
The resorts in Chopta are a midpoint to various treks, like Chandrashila and Tungnath trek, Rohini Bugyal, Bugyal trek, and Deoria trek, and provide travelers with trekking gear on rent.
Perfect Season To Visit In Chopta
Chopta is a joy to visit throughout the year. People who look forward to getting rid of summers and its scorching heat, prefer to come here. But for adventure lovers, the winter trek is a dream to fulfill.
Summers are very pleasant along with cool breeze along with pleasant weather. But, in winters the temperature decreases to negative which leads to snowfall.