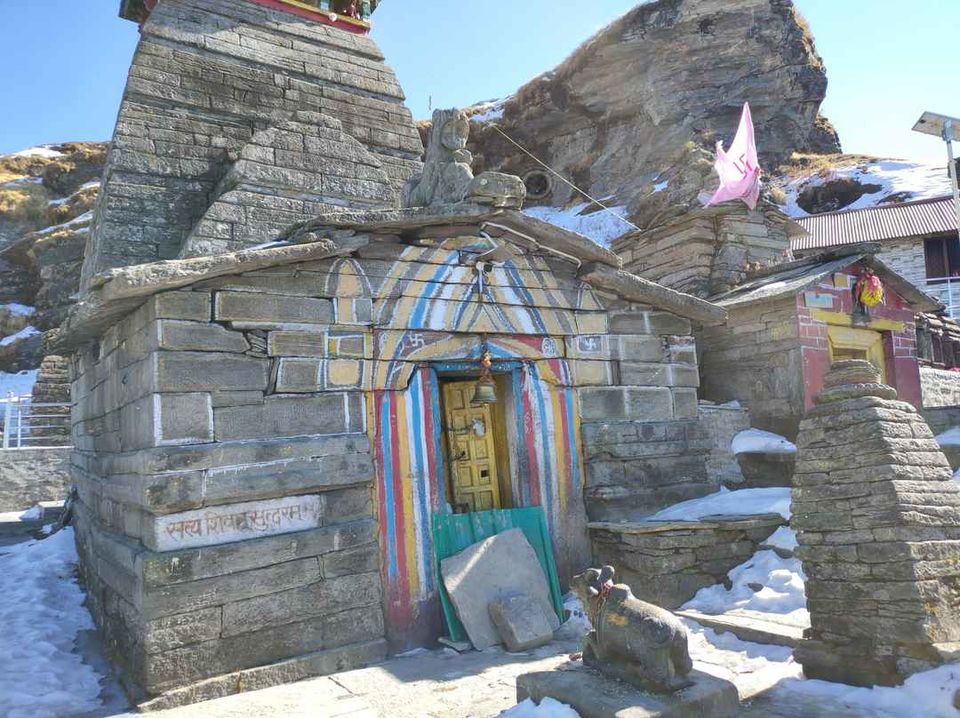 Tungnath is the highest known lord Shiva temple. It's one of the Panch kedar where the hands of the Shiva avatar (bull) is worshipped.
In winters, most people come only for trekking to Tungnath. At this time the temple remains closed and the idol has been moved to Makkumath ( a nearby village) because of heavy snow in the area.
The level of this trek is easy till Tungnath. The whole path is stone paved. But, snow makes it slippery and increases the difficulty level a bit.

Trek distance: 5 Km
Level: Easy.
After Tungnath, the climb is steeper to Chandrashila peak for around 1.5 Km.
Travelling time
We travelled around the year end festive season, which brought us 4 days long weekend🎄. We made a plan around a week ago for this trek. Being from Dehradun, Chopta was on my list since long and was a perfect fit this time.
I hadn't experienced the bus journey in the mountains, so instead of traveling by personal vehicle, we chose to travel by bus (Uttarakhand roadways 😎).
Day 1
We started our journey from Rispana bridge, Dehradun, from where we took a bus to Rishikesh to pick one of our friend and followed-
Dehradun -> Rishikesh -> Rudraprayag -> Ukhimath route.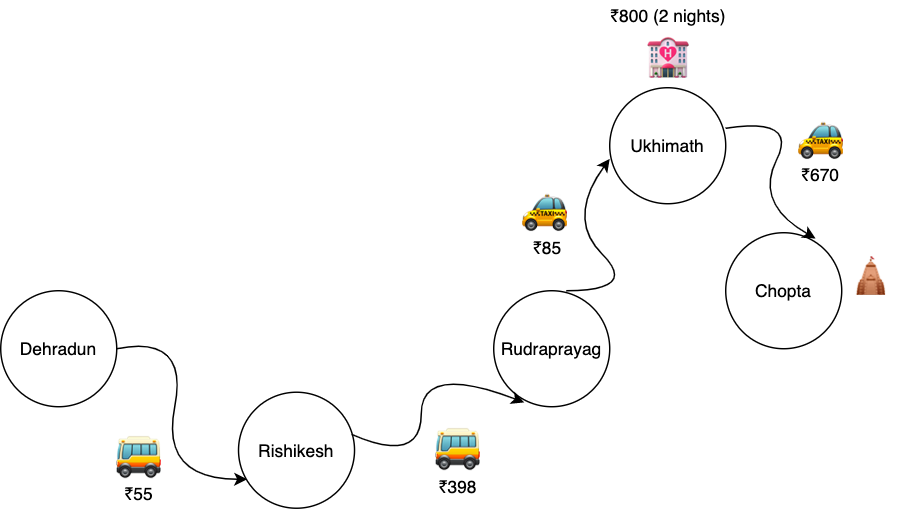 Total travelling cost (two way): ₹ 1776/person
Total stay cost: ₹ 800/person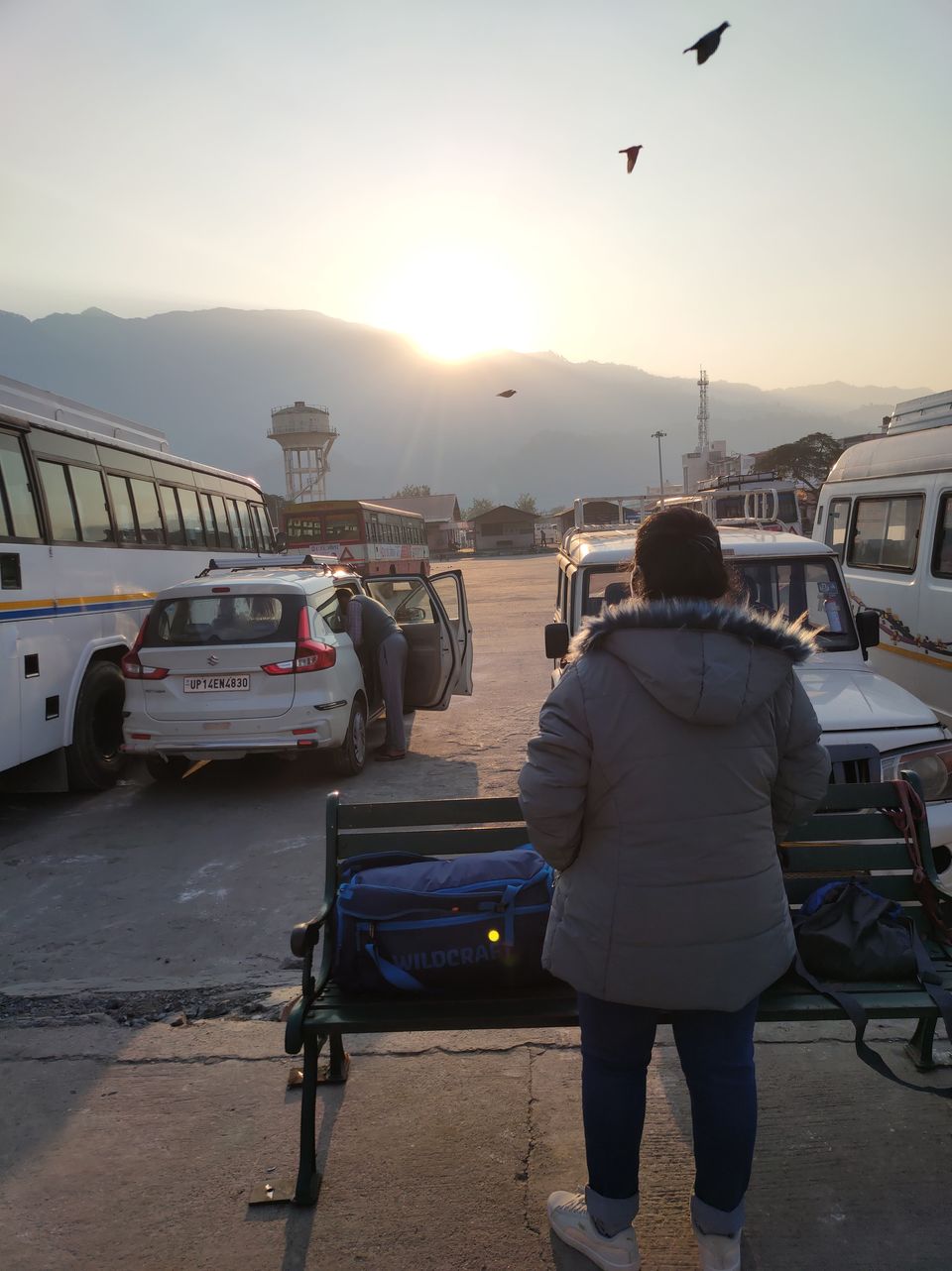 The bus stopped at the well known breakfast hub "Teen dhara" where we had refreshing nimbu paani and tandoori aaloo parantha😋.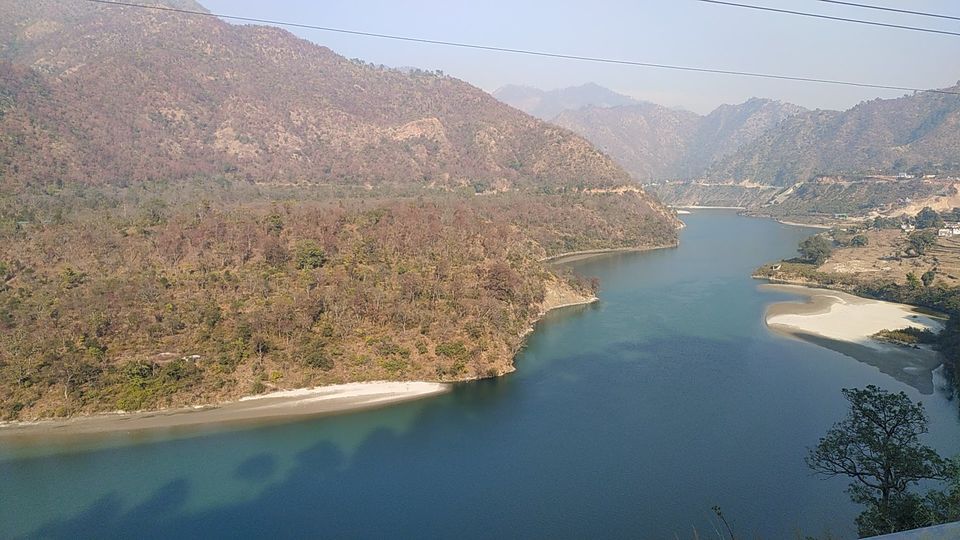 The whole route has many places related to old mythological believes. One of the lesser known place is "Bheem Sattu".
Near Chandrapuri one can find a huge stone in middle of Mandakini river, which according to locals is called "Bheem ka sattu". It is believed that once on agyatvas, Bheem was having Sattu (mixture of ground pulses and cereals) while a group of people saw him. He left the place and sattu has now turned into the stone.
After a long journey of around 10 hours, we reached Ukhimath. We didn't get any hotel/camp in Chopta because of vacation time so we booked a hotel in Ukhimath at ₹1200/night for a 3 bed room. The rooms were very basic with geyser facility.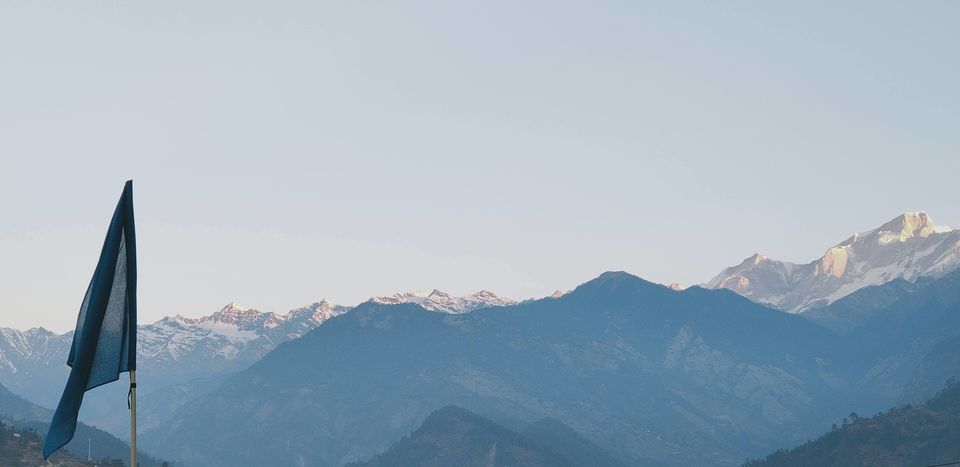 The view of snow filled mountains from hotel was stunning and as soon as the night fell the mountains were brighten up with tiny house lights which I always love about the nights in mountains.
If you're planning to stay in Chopta, don't expect any luxury. The electricity is also available for a specific period of time in camps provided by using solar panels.
After having dinner and a night walk in Ukhimath's market, we booked a two way early morning cab for the next day to travel from Ukhimath to Chopta at ₹ 2000.
Day 2
We left for Chopta at 7:20 am with a very friendly cab driver. He told us about the place and the mythological believes. The view of whole journey was breathtaking and spectacular . Just sit back and look outside the window 😍.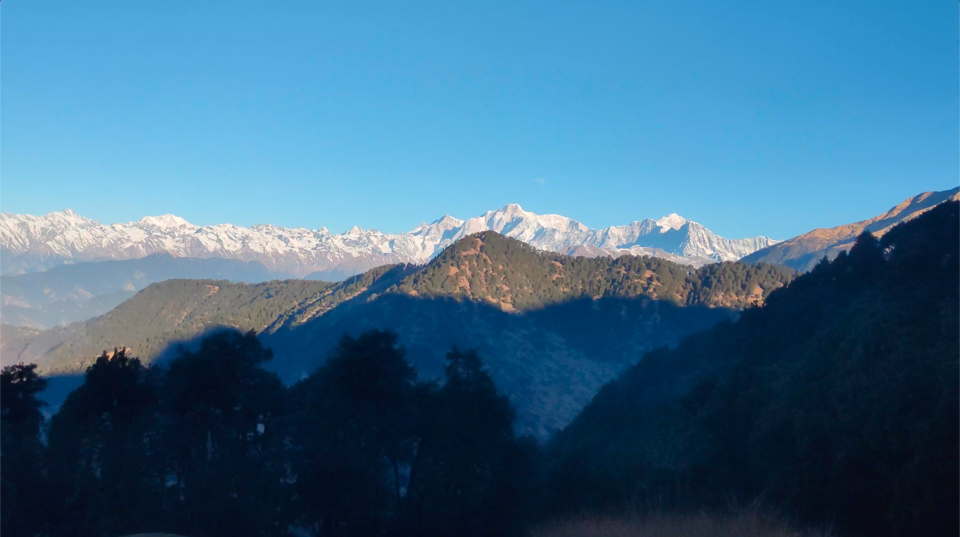 From Chopta we filled our water bottles and started trekking towards Tungnath. The trek offers a majestic view of Chaukhamba and Kedarnath peaks.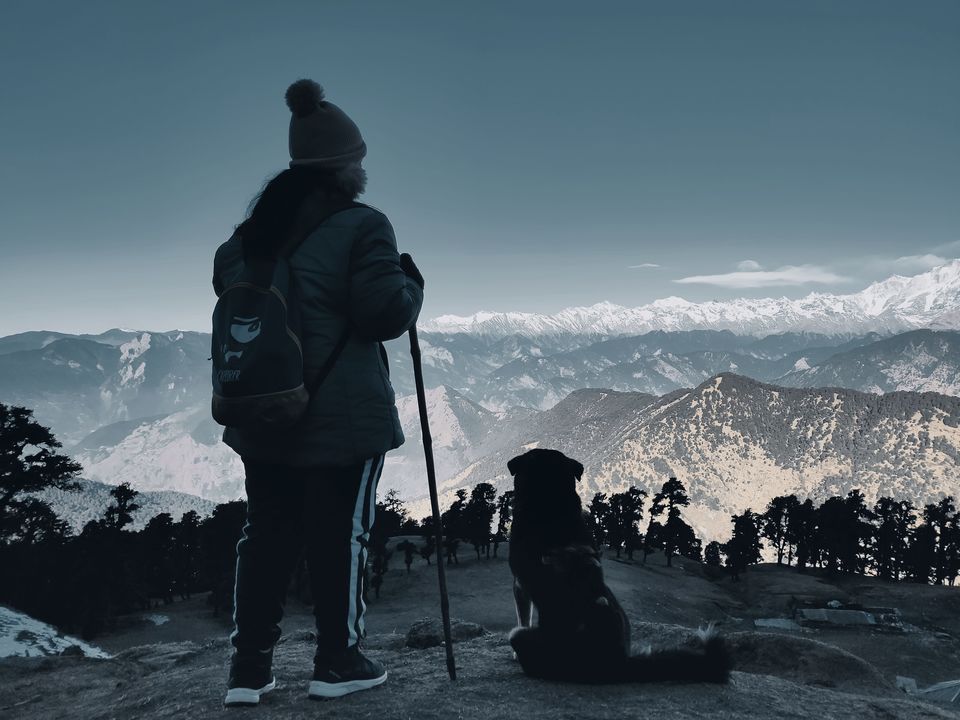 After taking a small break at Tungnath temple we starting hiking the Chandrashila peak. The peak becomes difficult to climb if there is heavy snowfall. But if you're lucky enough to reach the peak, you can have a 360 degree view of wide range of snow capped peaks.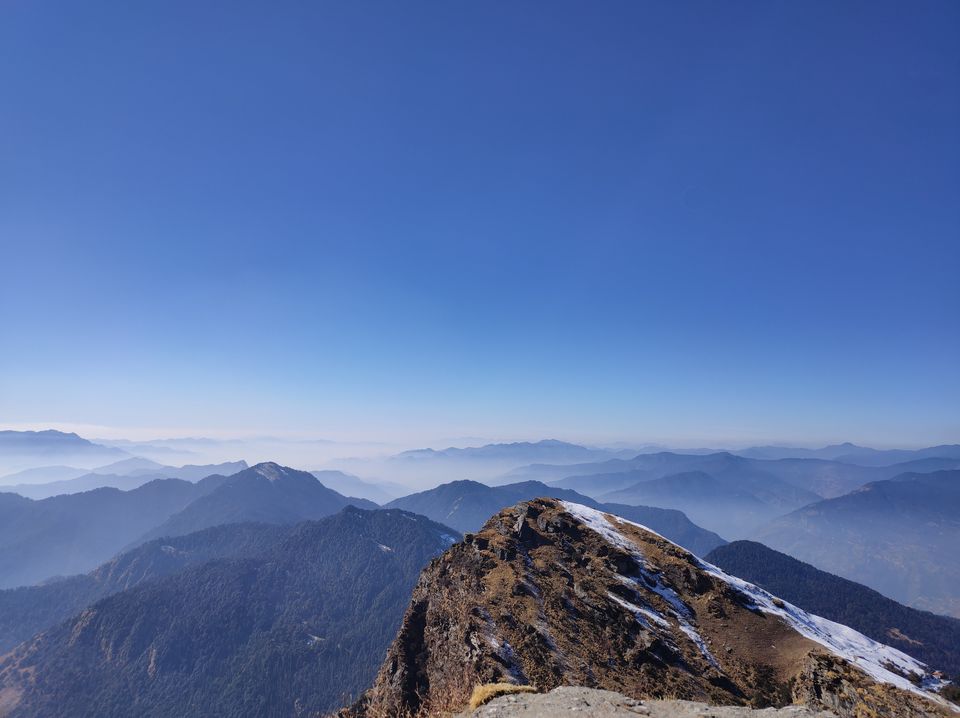 Some people believe that Shri Ram has meditated here after defeating Ravana. While, some says that Moon-god (Chandra) spent time here in expiation.
After spending around an hour in the solitude at the peak, we started the way back, as it was getting dark and the trek becomes little risky because of frozen slippery snow.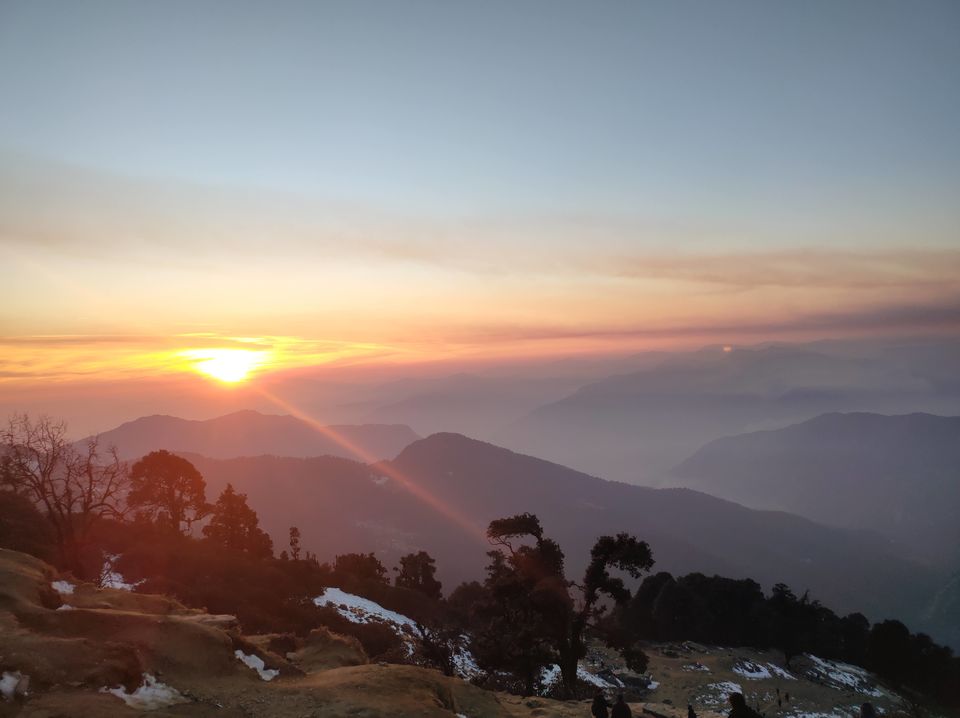 Things to know before trekking in winters
- There will be no shops open in the whole trek. So, carry your own water bottles and snacks.
- Good shoes grip always helps while trekking in snow. Chopta has few shops as well that offers snow shoes and sticks on rent.
- There will be no public toilet accessible in the trek as water pipelines get blocked at low temperature.
- Keep track of time, so you can reach Chopta before it's too dark.
- If following google map to reach Chopta, search with keywords like "Tungnath trek" etc. since there is another Chopta village which confuses many tourists.
Do have fun and carry trash bags to leave mother nature clean.
Thanks for reading. 😸