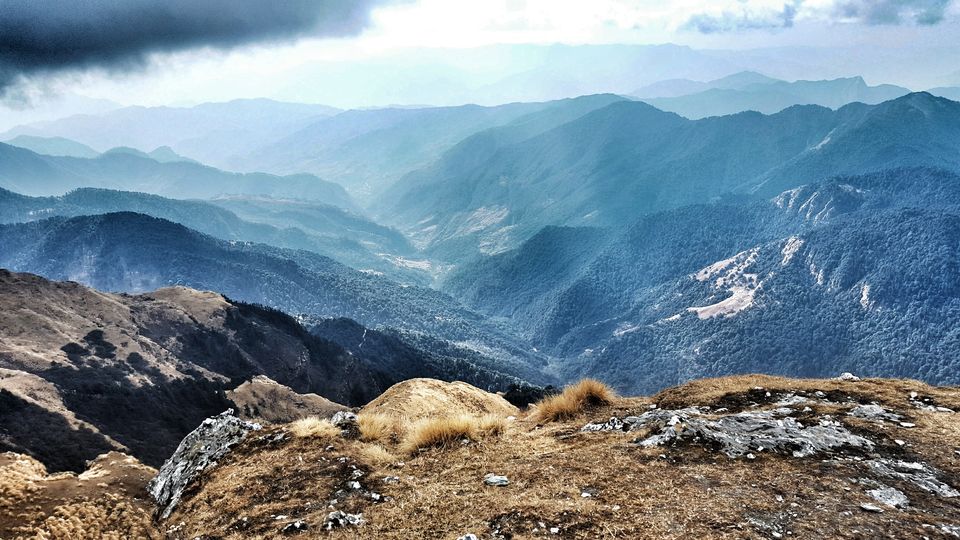 How to reach Chandrashila :
Chandrashila is situated at an altitude of 13000 ft and approximately 15 hours(500km) journey from delhi.Located at a trekking distance of 6 km from Chopta .As the name signifies Chandrashila ,it literally means 'Moon rock ' .Some legends says that Lord moon 'Chandra ' spent time here in expiation .
There are two ways to reach ,either you can drive to Chandrashila or the cost effective of all ,take a bus .However there are no direct buses so one has to break the journey at multiple location ;
Delhi--Rishikesh--Devprayag--Srinagar--Rudraprayag--Agustmuni-Kund--Ukhimath--Duggabitta--Baniyakund--Chopta--Tunghnath--Chandrashila
My journey :
I remember it was 30th Dec,12.00 pm I was sitting in my office and hopping some places around delhi .Instantly , Chandrashila trek pop-up on my screen .I had not been to Chandrashila before so thought it could be the the best option ,why not try. To tag along, I called up few of my friends .Unfortunately ,none of them were able to join me for any reasons. Without giving a second thought I booked a bus for Rishikesh . And for accomodation I checked with one of my friend, he suggested Nilkanth camps in Chopta and shared their contact details which I booked immediately for Rs 1200 including meals.
Delhi to Rishikesh
I boarded the bus at 10.00pm from Rk ashram marg however due to some accident on same road the bus got stucked for 2 hours and departed late . Eventually i was there in rishikesh at 6.00 am in the morning .It took me close to six hours .As i stepped out of the bus it was quite dark and foggy outside.And extremely cold wind was blowing .My hands and feet were numbed with cold ,inorder to beat the chilly weather i grabbed a hot tea from near by small tea shop and headed to the bus stand ,adjacent to the tea shop. There i freshened up and took a bus for Rudraprayag ,which was 142 km away from the Rishikesh.
Rishesh to Rudraprayag
The route towards Rudraprayag was one of the most scenic i had ever came cross,majestic mountains passes with turquoise green river meandered through the deep valley. The road was narrow ,steep and winding with sharp curves and bends. I was completely mesmerized with the untouched beauty of this place. Around quarter to eleven the bus took a pit stop at Teen dhara dhaba where i had a breakfast .Alongside eateries ,local people had also set small shops offering jal jeera and lemonade . Few hours later the bus stopped at Devprayag ,a pilgrimage of Hindus and the confluence of the two holy rivers Alaknanda and bhagirathi. .This place is popularily knowns as the origin of holy river Ganga.
At 1.30 pm i reached to Rudraprayag and took a bus for ukhimath which was 40 km from here .The bus was small and conjusted .All i could see was the heads of passengers which were increasing with every stop.Somehow i managed to adjust myself and reached to ukhimath , a small holy town and the home of Lord kedarnath during winters.The distance from Ukhimath to Chopta is 40 km ,I took a sumo which cost rs 50.
Late evening i finally arrived in Chopta and headed towards the campsite which was located 3km before chopta,in amidst of lush green meadows surrounded by forest of pine and deodar , offering a panormic views of Himalayas.
Chopta :
Its a beautiful settlement at an altitude of 8790 ft ,serves as a base to Tungnath and Chandrashila trek.
By the time i reached to my tent it was already dusk and i was dog-tired after the 15hours journey.I spent an hour relaxing and witnessing the spectular sunset from my tent.The sky's hue slowly darkened as the sunset.As the nightfall , the stars just decorated the sky and the temprature had dropped to minus. I asked the camp boy if he could arrange a campfire as the chiling winter air crawls my spine and making me shiver . Later having dinner at camp's mess i joined a group of trekkers who just got back from the summit ,we chatted and i have collected some information about the trek. At 12 O'clock i wished everyone a Happy new year and move towards my tent since it was already late and i had to wake up early for the summit.
It was the perfect new year's eve for me, in the mountains, away from the phone signal camping under the sky full of stars ,breathing in the fresh air.
Summit Day
Next day i woke up at 6.00 am .It was a freezing cold morning , the birds were chirping ,the sky was clear and the yellow shining sun started rising from the mountains. After quickly having a breakfast i took a sharing taxi till Tungnath entry gate , which is the starting point of trek.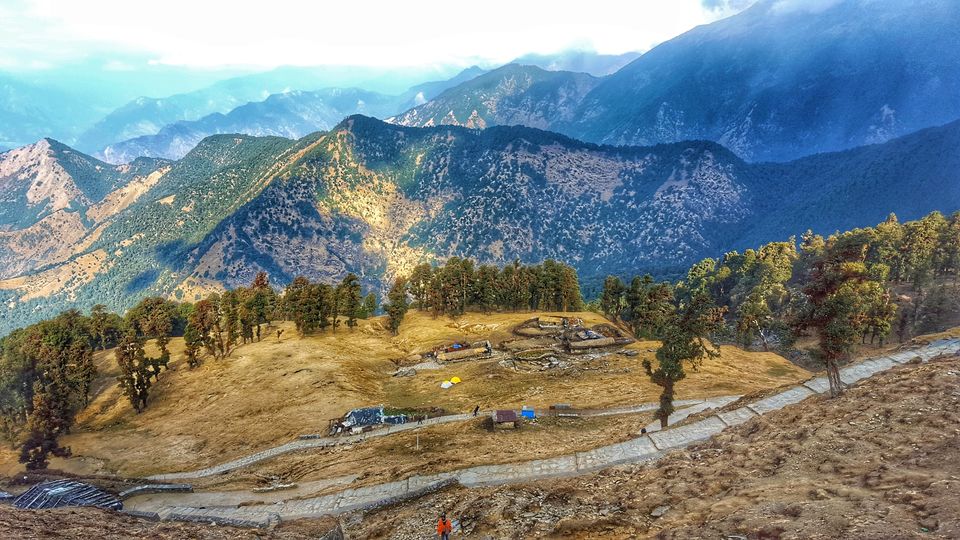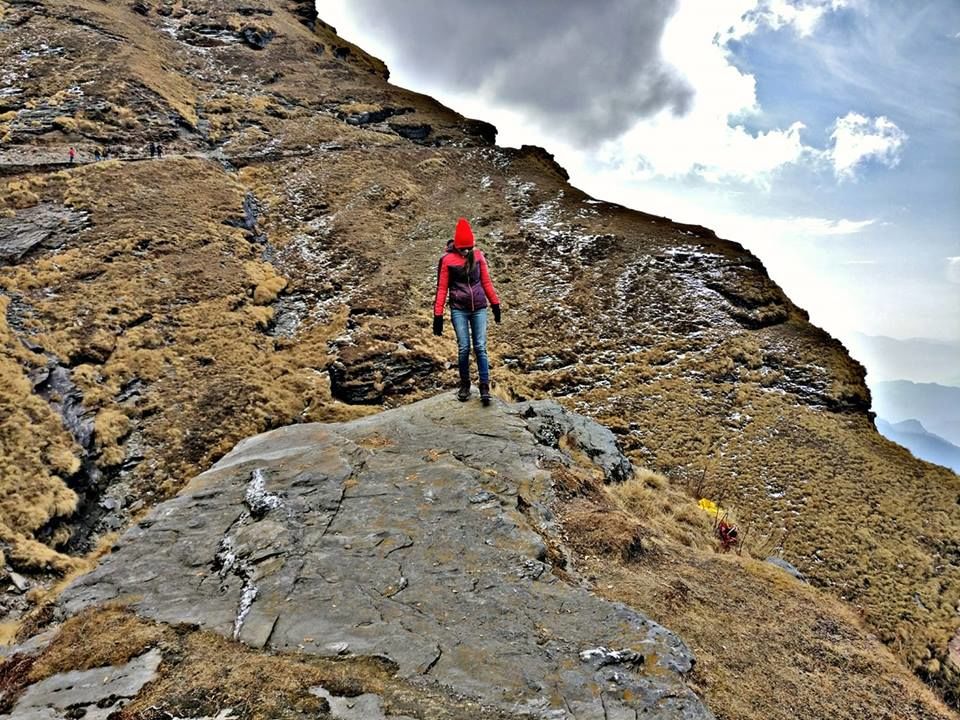 Here i started the trek t0 Chandrashila with steady ascent and then easing it up down the hill.The trail passes through old forest ,steep mountains and the green meadows with sharp turn to cross by. I was taking break in every 15 mins due to shortness of breath as i could feel the air being heavy as my lungs were filled with sharp cold each time i breath in .After trekking for two and half hours , gradually i got the view of snow patches and i could clearly hear the sound of the temple bells. i realized that i have reached to Tungnath.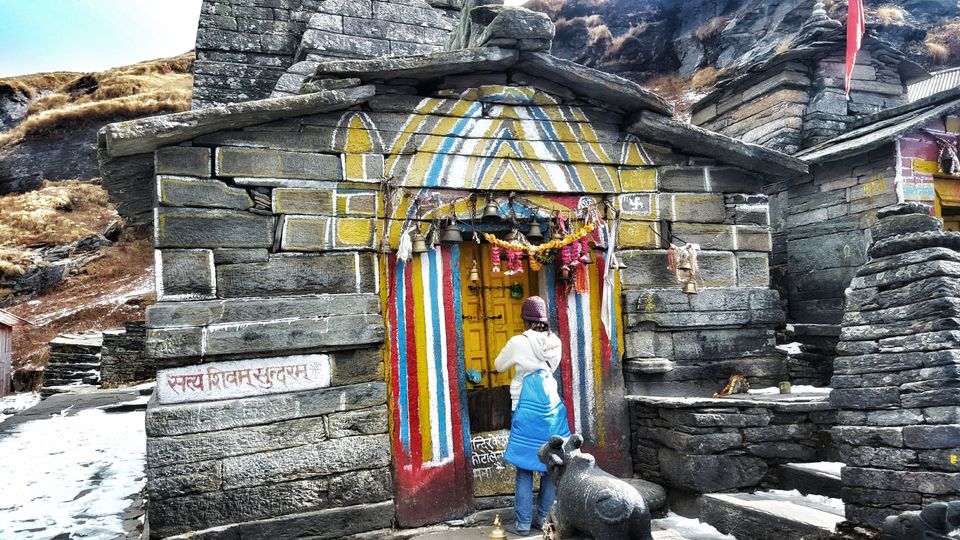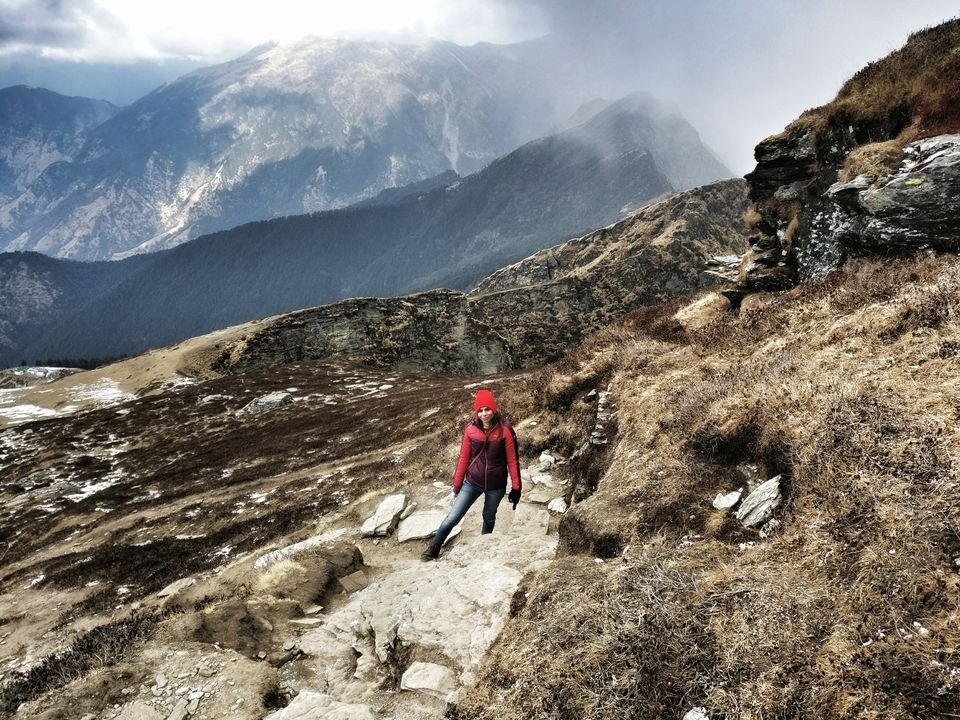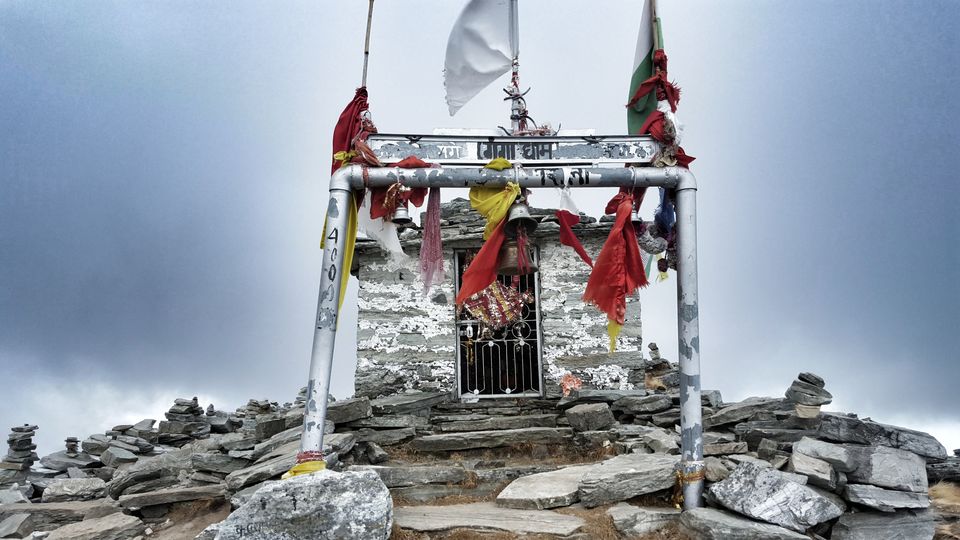 Tungnath temple is the highest shiva temple in the world and considered to be more than one thousand year old.

I had darshan at the temple and move further towards Chandrashila .It was the steep and arduous climb of 1.5km .The trail was bit tough and patchy. Finally i reached to the summit by 1.00pm and took a sigh of relief .I was enticed by the 360 degrees views of Himalayas including Nanda devi ,Trishul , bandarpunch and chaukhamba ranges. They say ' the best view comes after the hardest climb ' ,yes thats true! It was an awe-inspiring view from an altitude of 13000ft. The breath taking mountain ranges and the deep georges was the treat for the soul , that i will remember for a lifetime.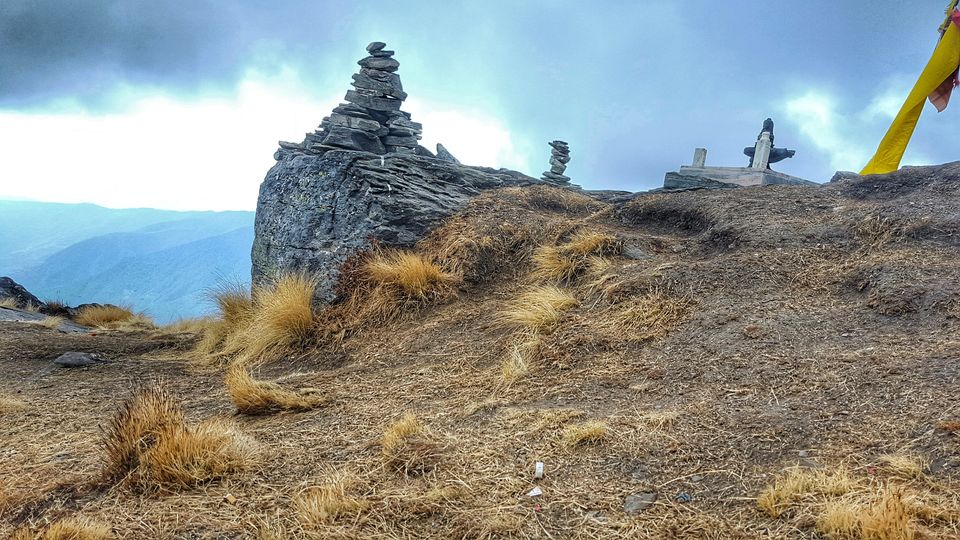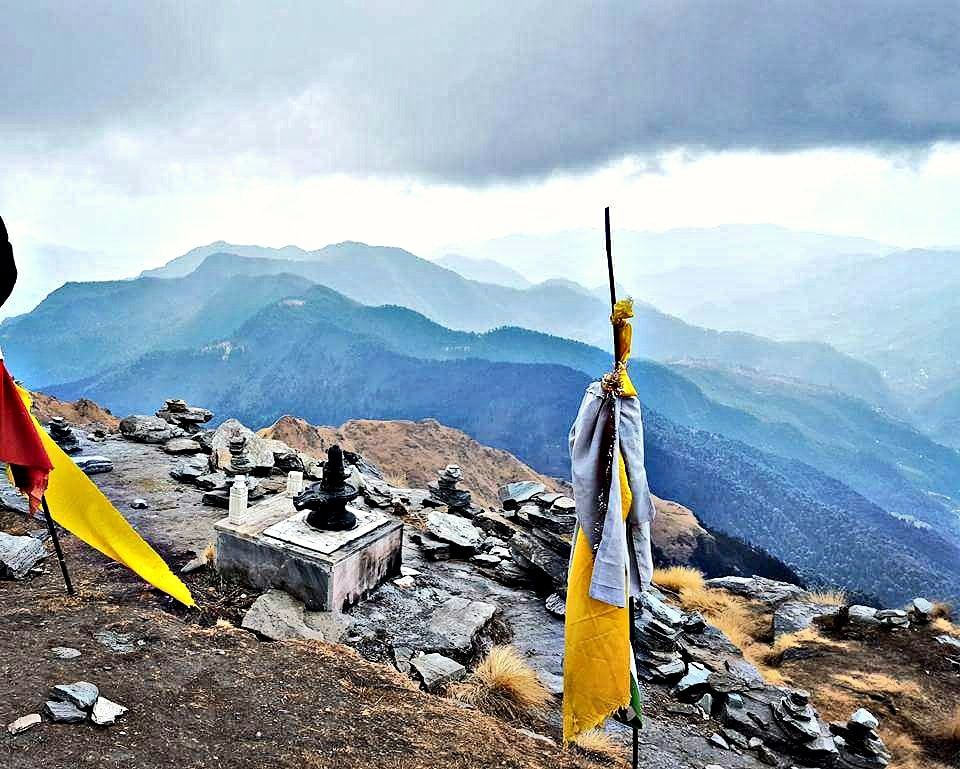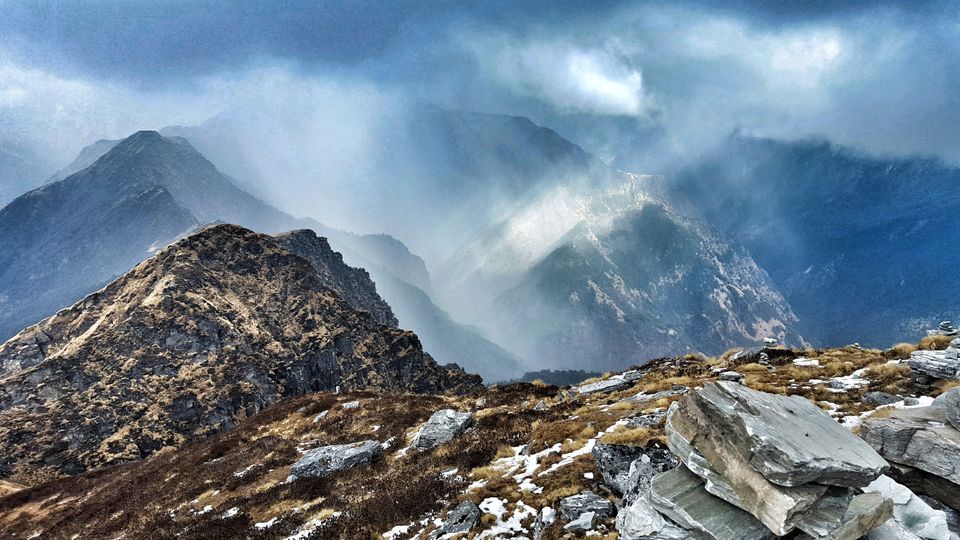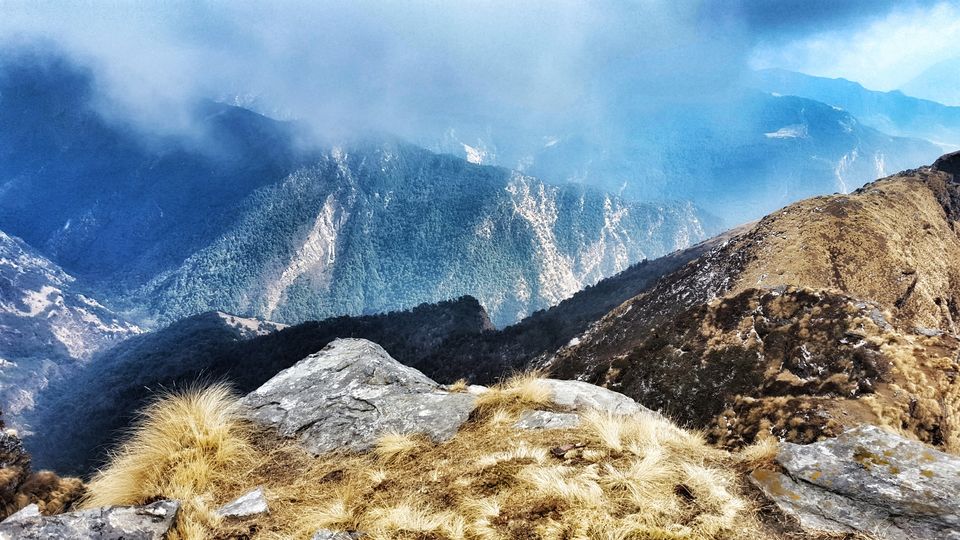 While descending down , suddenly the weather changed and dark clouds hovered in the sky and it started snowfall.And in the blink of an eye entire trail , the trees, the peaks and everthing was covered in a white blanket of snow.
I had made countless trips to the mountains but it was a life changing experience for me as this was my first ever solo trek .It helped me to explore new dimension of life in all aspect.
For more travel stories , please follow me on @ wander_in_solitude