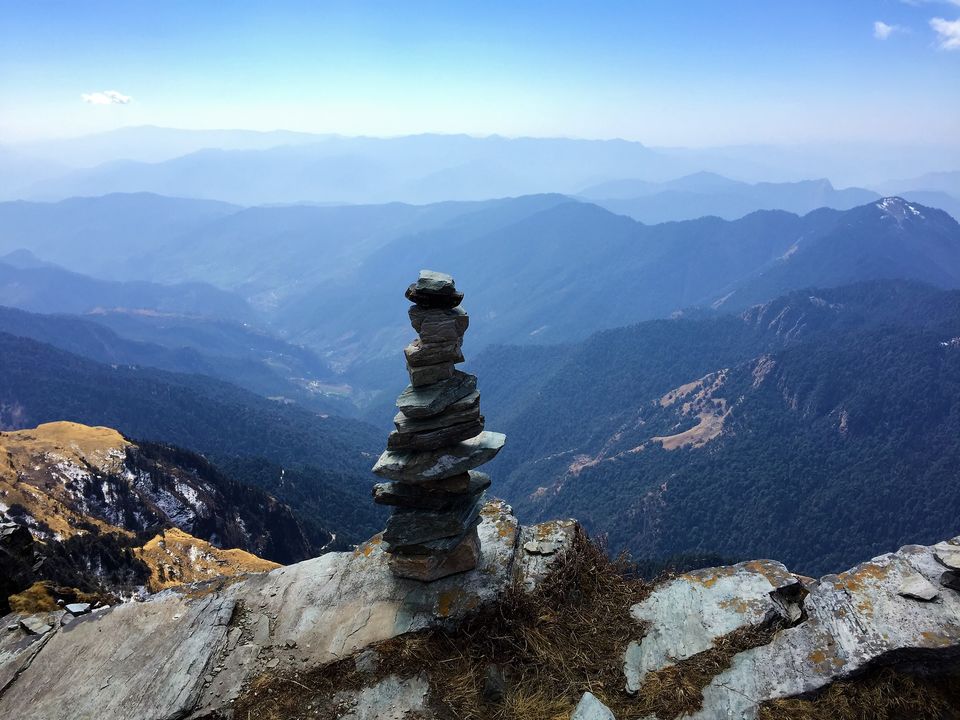 Five friends, a car and a beautiful unexplored destination, what else is needed for an adventurous trip. Chopta, a perfect long weekend destination to witness the real beauty of Himalaya.
HISTORY OF PLACE
Tungnath is the highest Shiva temple in the world. Tungnath is one of the panch-kedars (Kedarnath, Tungnath, Madhyamaheshwar, Rudranath and Kalpeshwar) which holds religious significance for the Hindus.
JOURNEY
Often it is asked whether journey is more beautiful or the destination ? Let's find it out.

It was windy and chilly morning in Rishikesh as compared to Delhi. We took a halt for few hours in Rishikesh after travelling overnight from Delhi. We had long way to go, so we started our long journey after having brunch.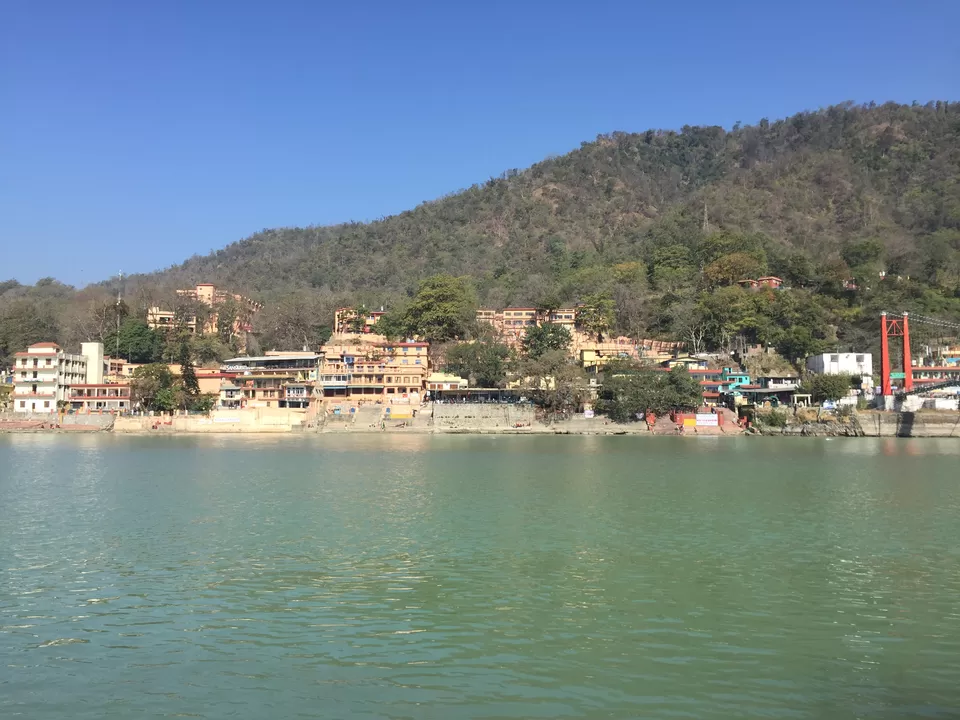 As we were going upwards on the mountain, it was looking so spectacular. On the way to Rudraprayag river Alaknanda was in parallel to us.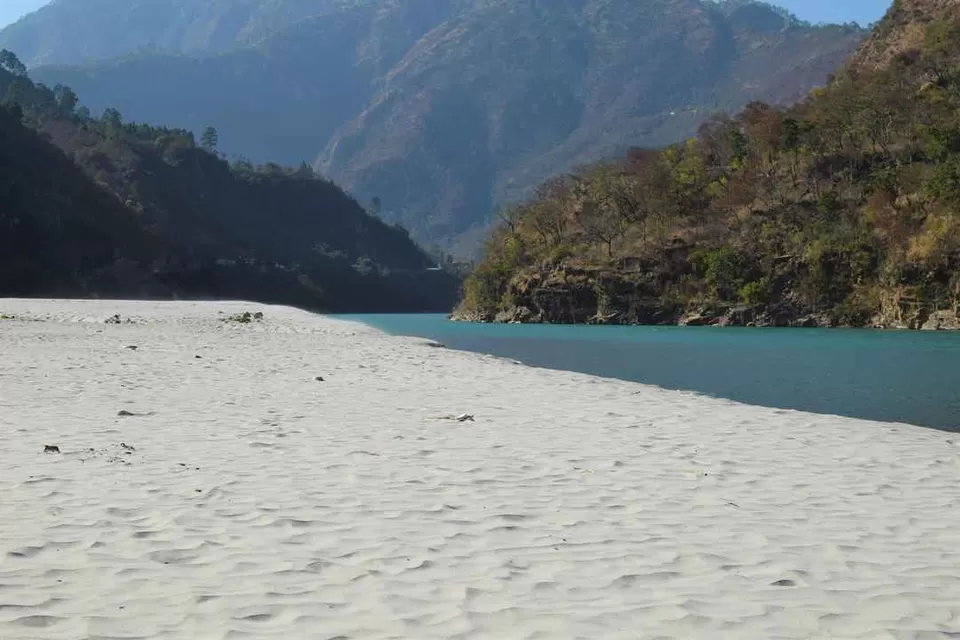 River Alaknanda - en-route Rudraprayag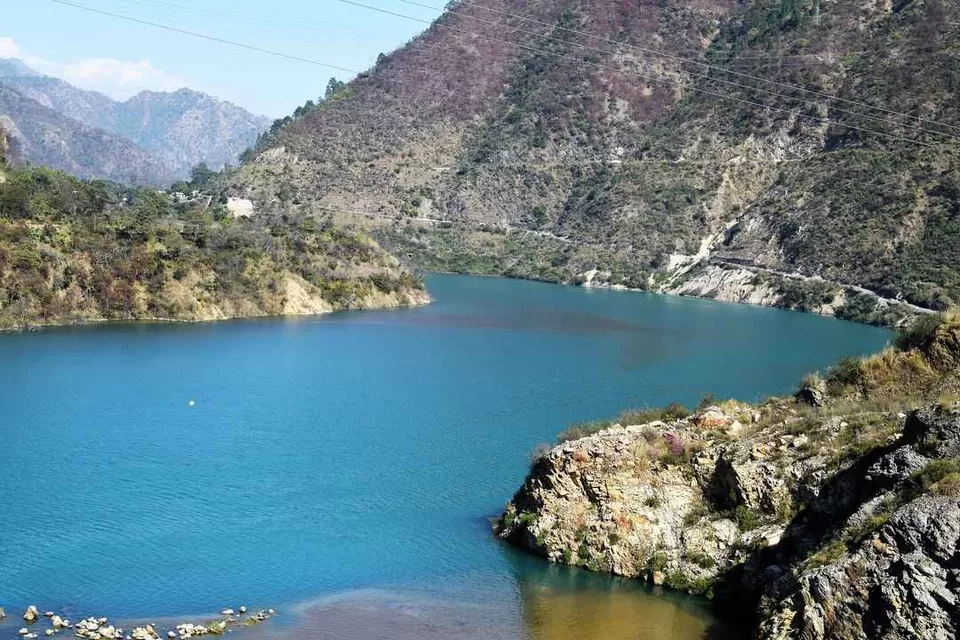 After Rudraprayag take road towards Ukhimath. Chopta is 2.5 hours away from Rudraprayag. We were hoping to reach Chopta before it gets dark.
It was secluded area as we were moving towards Chopta. There was no car ahead us and no car behind us, only our car was climbing up in dense mountain road surrounded by pine trees. The sun had gone away and we were left with very little illuminance which was reducing minute by minute. Chopta was another 10KM. It was completely dark outside and complete silence inside of car. We didn't knew the condition of roads ahead and we were scared too.
After few minutes we saw some place for stay as we had no advance booking we thought to stay there only moreover we were scared to drive in dark. This place was Baniya Kund which is 5KM before Chopta. This was small place with no electricity supply and limited network. We stayed in camp named Meadows.
In morning we found our car glasses covered with thin layer of ice, we melted ice with the help of hot water. Chopta is enriched in flora and fauna, we drove to starting point of trek and started our trek to Tungnath.
Trek was of 3 KM and trekking difficulty level was easy. It has stone paved path across the route till Tungnath.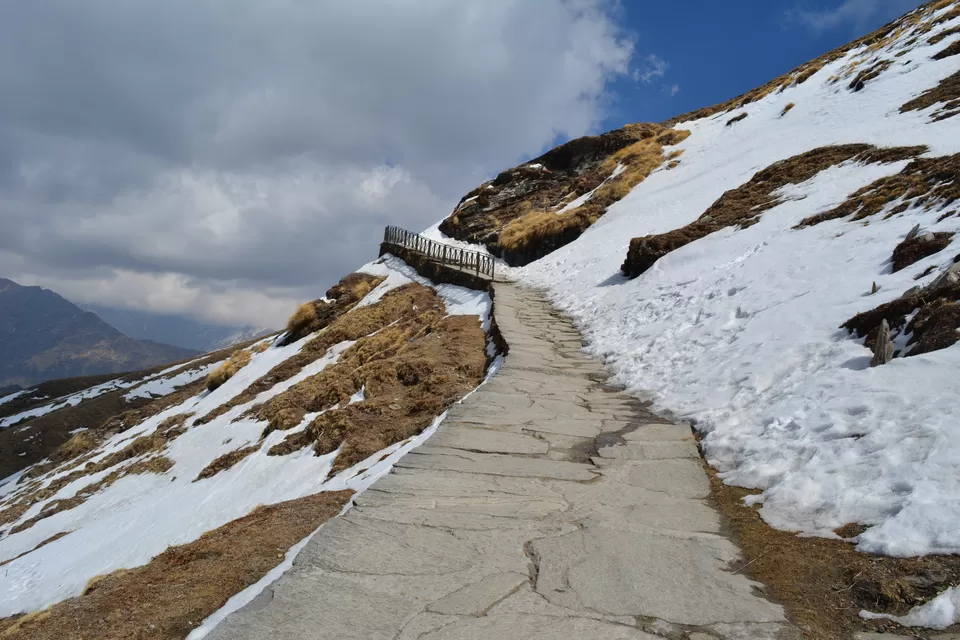 The route had slush in some areas which made the path slippery. En-route Tungnath surprises with many amazing views. Tungnath temple opens in April or May each year and closed during the winter season. We took almost 3 hrs to reach to Tungnath temple.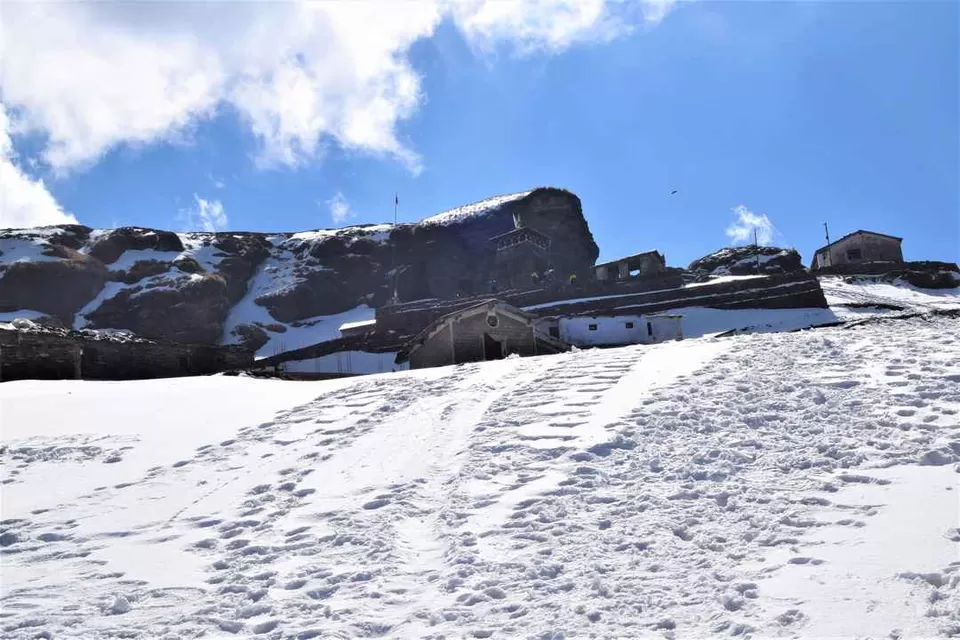 Temple arena was very calm and peaceful, it is divine paradise. We offered prayers to Lord Shiva from outside of temple as temple was closed. The architecture of Tungnath temple is very similar to Kedarnath and Madhyamaheshwar temple.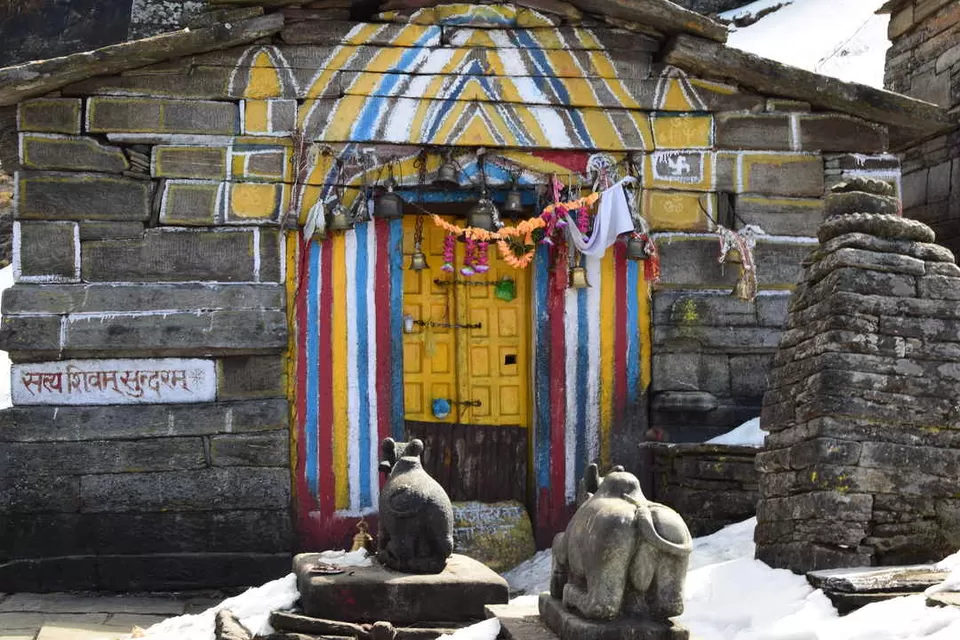 The temple is believed to be 1000 years old and built by Pandavas to appease the Lord Shiva. Tungnath temple is situated at an altitude of 12500 ft.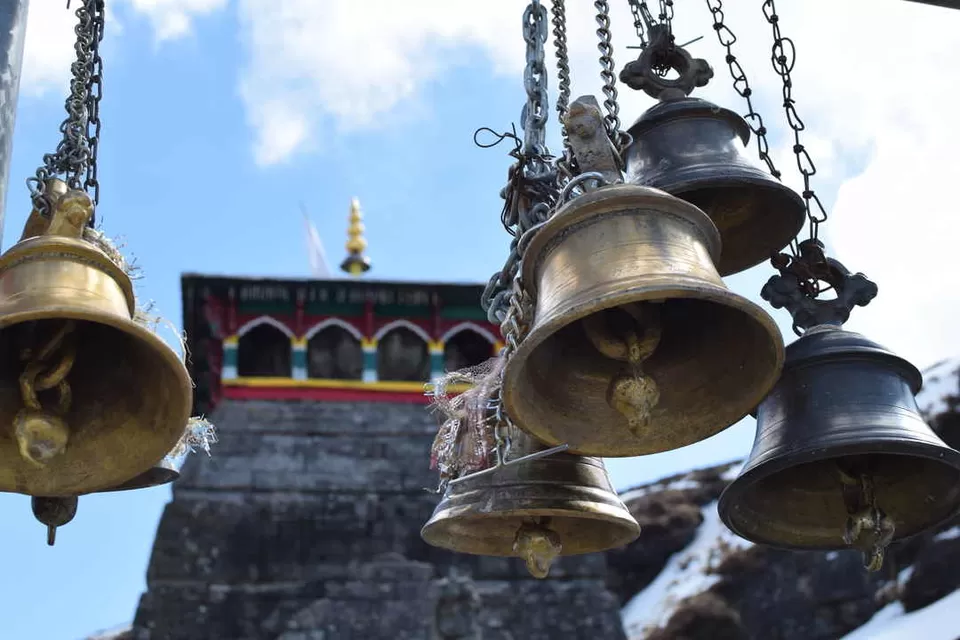 Next destination was Chandrashila, which was only 1 KM from Tungnath, trekking difficulty level was moderate. Ascending to Chandrashila was adventurous, there was no path to follow, just look at peak and chose your path.
It was getting difficult to climb in snow clad mountain with icy wind, slush and mud on route. The climb was steep. Finally we reached to peak at an altitude of 13500 ft and it was breathtaking 360 degree view. This peak provides a spectacular view of Himalayas, especially Nanda Devi, Trisul, Kedar Peak and Chaukhamba Peaks, and according to a popular legend this is a place where Lord Rama meditated after defeating Ravana.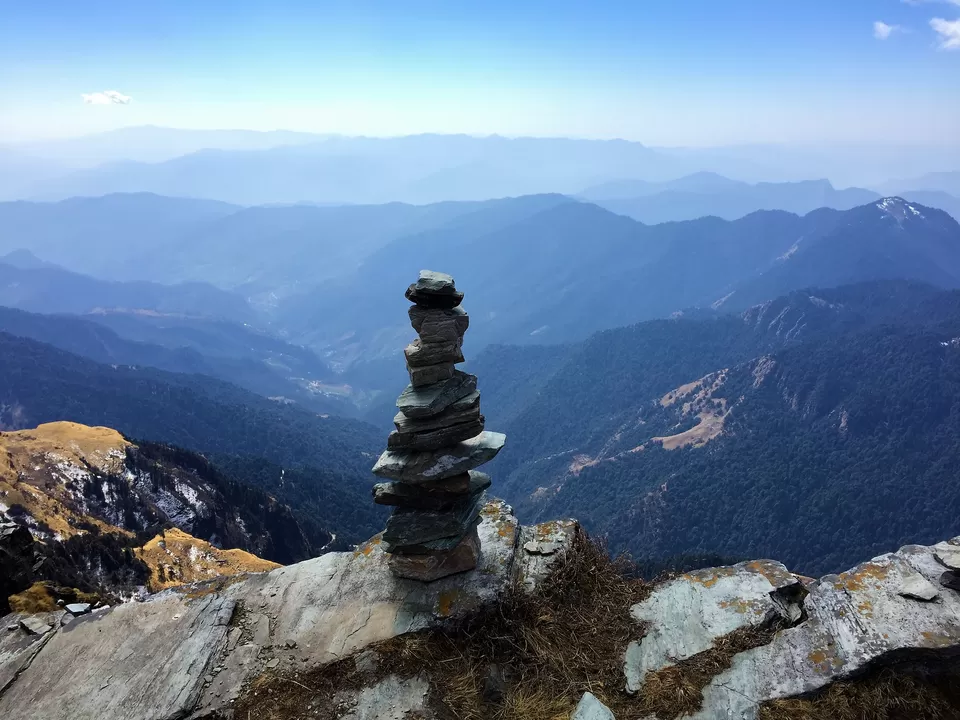 ITINERARY
Night 1 - Overnight journey to Rishikesh and halt for few hours.
Day 1 - Drive to Chopta and reach by evening.
Day 2 - Trek to Tungnath and Chandrashila and descend to Chopta
Day 3 - Return to Delhi
THINGS TO KNOW
No prior booking required at Chopta.
If you are going in winter season keep enough woolens.
For trekking use shoes with good sole and grip.
Keep your body hydrated during trek.
While trek carry water bottles as there is no water available.
Temple is closed for six months in winter season Nov - April.
It is amazing to view sunrise or sunset from Chandrashila.
If you have good amount of time visit Deoria Tal, it also have some historical beliefs. It is small trek from Saari Village which is 20 KM away from Chopta. You can choose to trek to Tungnath from Deoria Tal.
Visit Omkareshwar Temple in Ukhimath. During the winters, the idols from Kedarnath temple, and Madhyamaheshwar are brought to Ukhimath and worshipped there for six months.
Pauri - Lansdowne has beautiful route.
Avoid driving car in dark.