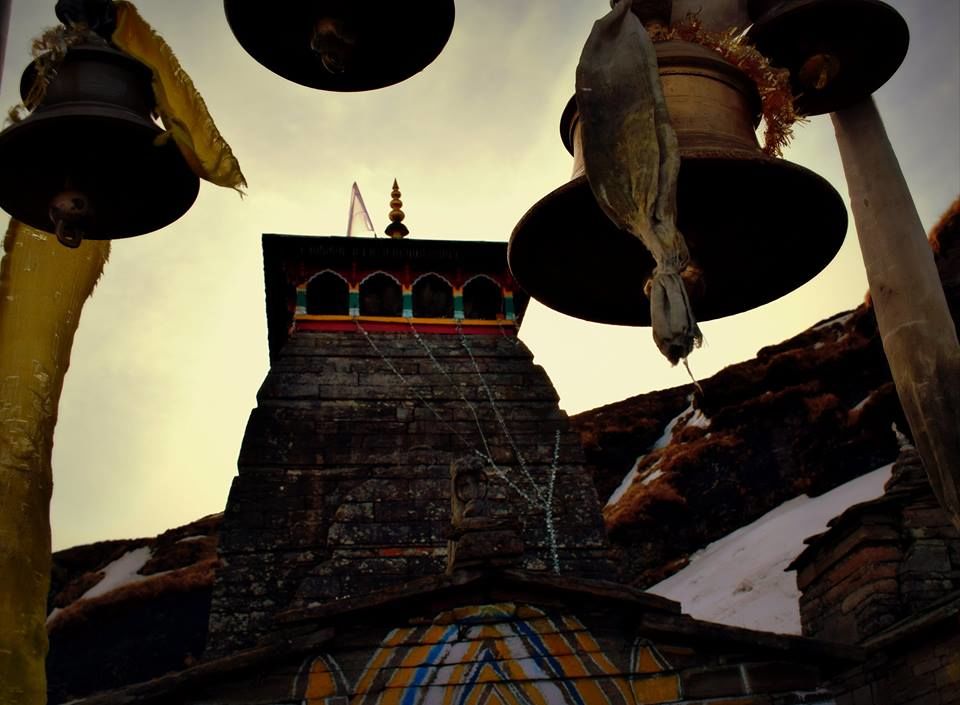 Chandrashila literally means "Moon Rock". It is located at a height of about 4,000 metres (13,000 ft) above sea level. This peak provides a spectacular view of Himalayas, especially Nanda Devi, Trisul, Kedar Peak, Bandarpunch and Chaukhamba peaks. It is an impressive vantage point that offers 360 degrees panoramic views of the mighty Himalayas. This is a beautiful trek, with difficulty level rated as Easy to Moderate.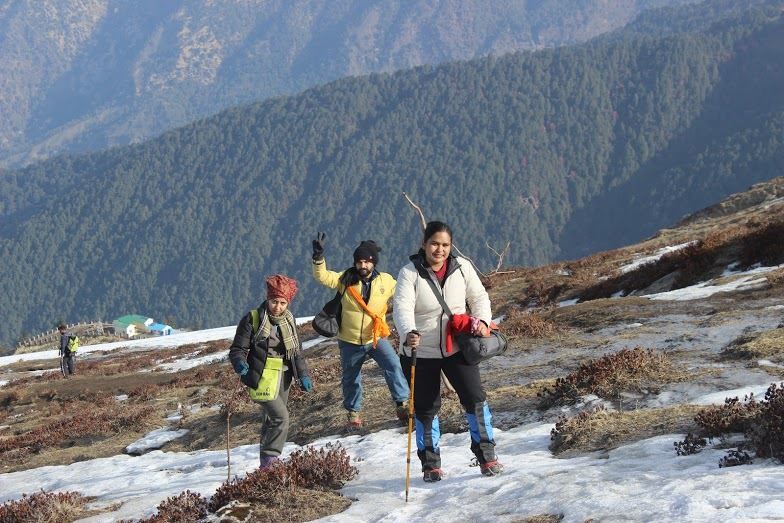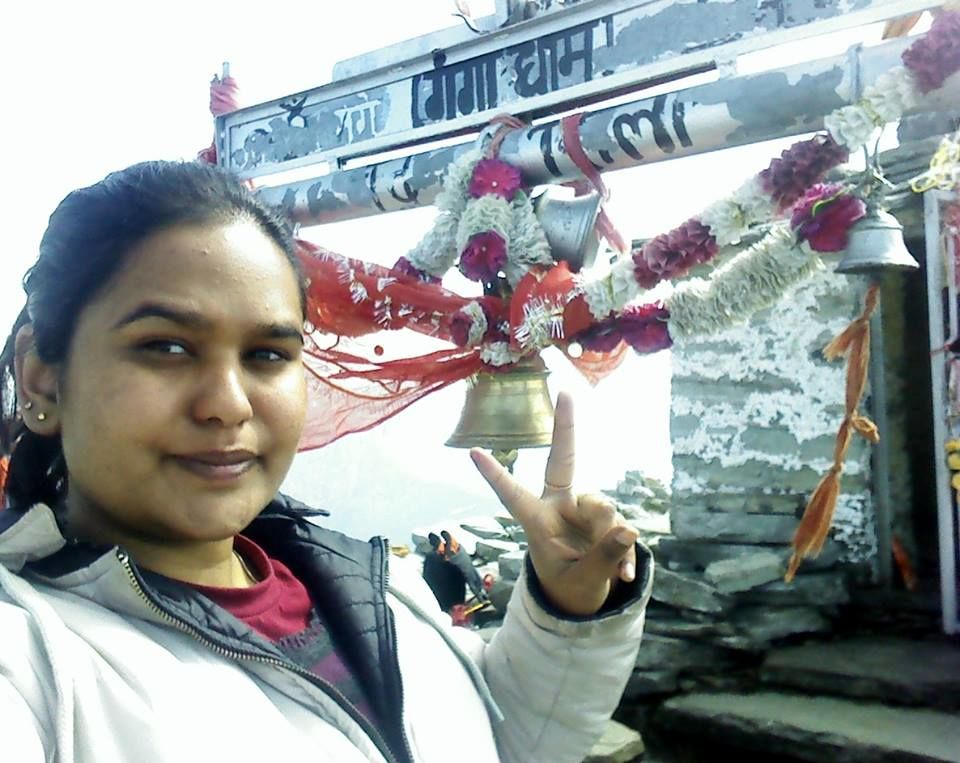 24th March,2016
This was going to be a big day for me. I was going to board a train on my own, travel all the way to Haridwar alone and meet some strangers with whom I will be doing the trek.
I was unsure about everything that was going to happen in next 5 days. I was excited, scared, happy..Everything at the same time- An emulsion of mix feelings within me!
DAY-1: 23:50 Nandadevi Express from NDLS to Haridwar reaching at 04:00 am.
The pickup for us was organised by Indiahikes - a traveller capable of accommodating around 12 people. While I met my co-trekkers at the station.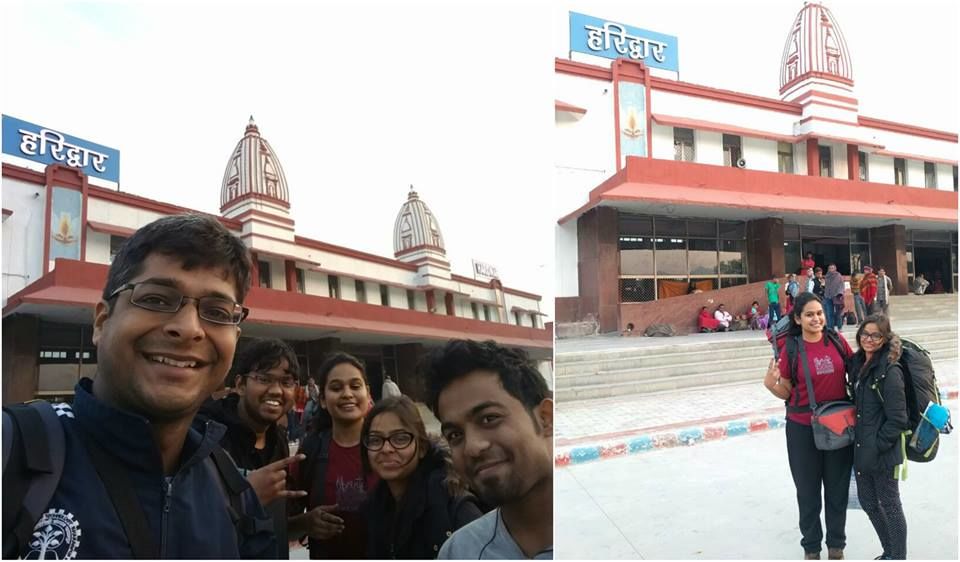 It took around 10 hours to reach Sari village and I really got tired due to the trouble caused by motion sickness all the way.
As we approached Sari the first glimpse of the snow capped mountains could be seen - and I just could not take my eyes away. It was the first time I had seen any snow covered peaks –a sight to behold!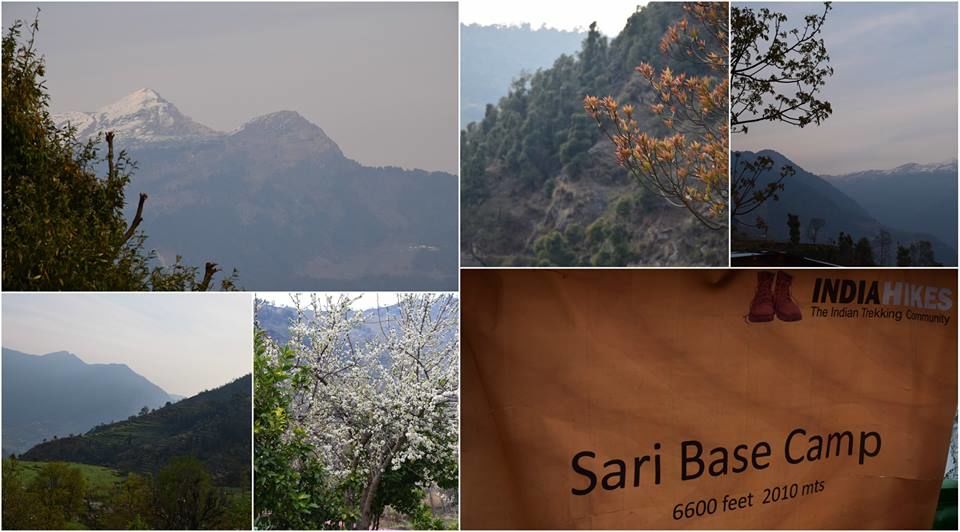 The green fields, the terraces, the winding road and the mountains beyond-Sari village holds its own beauty!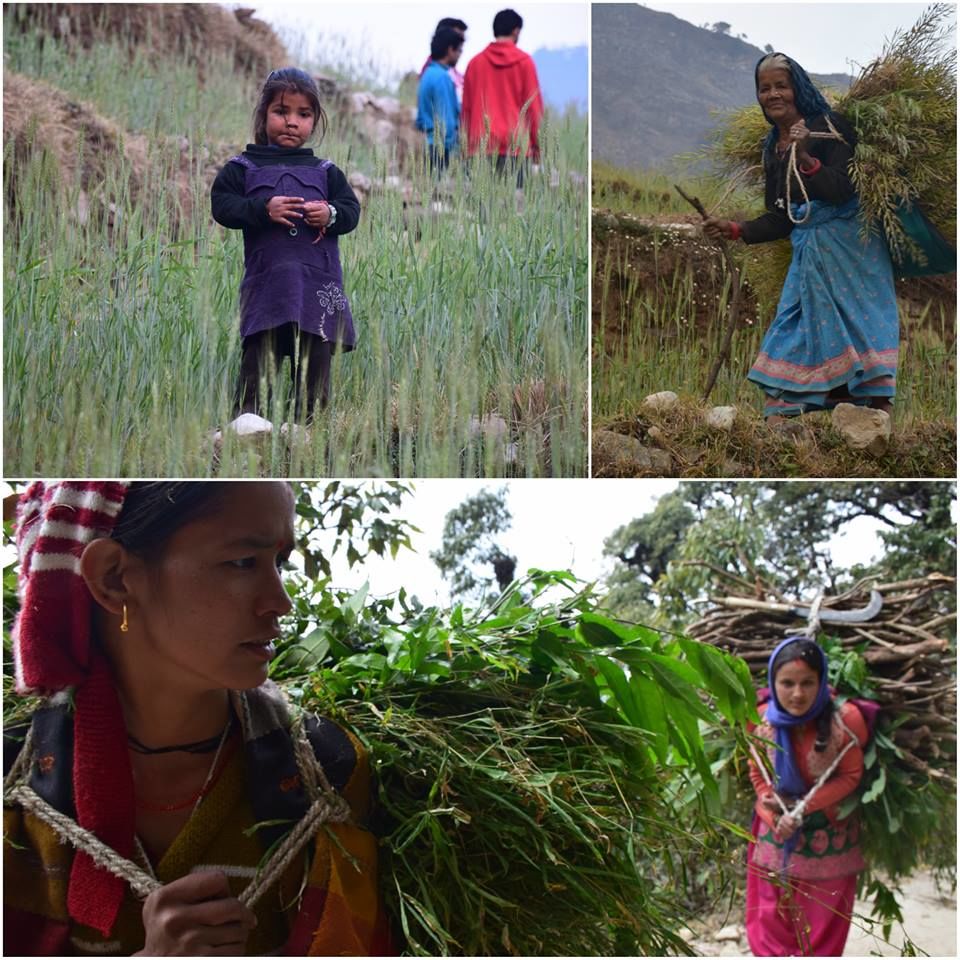 The temperature was pleasant by then but suddenly went down as the sun started setting. It was somewhere between 8-10 degrees in the late evening. We people went outside to explore a bit and we met some lovely localites around. Indiahikes had very good cooks up their ranks, who had prepared a splendid yet simple meal - delicious dal and some interesting deep fried bananas and maggi pakoras.
Day 2: Sari Village – Deoriatal Lake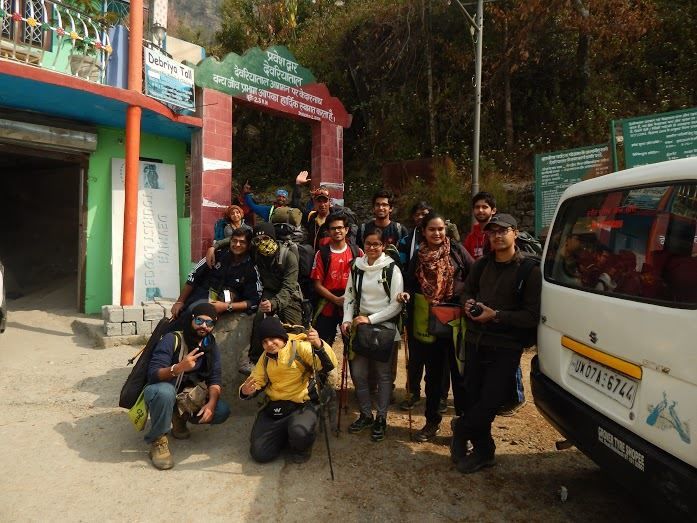 Thankfully I had the backpack packed and so not much was needed to be done early morning. While trekking poles were really supportive- one can walk on ascends easily(comparatively).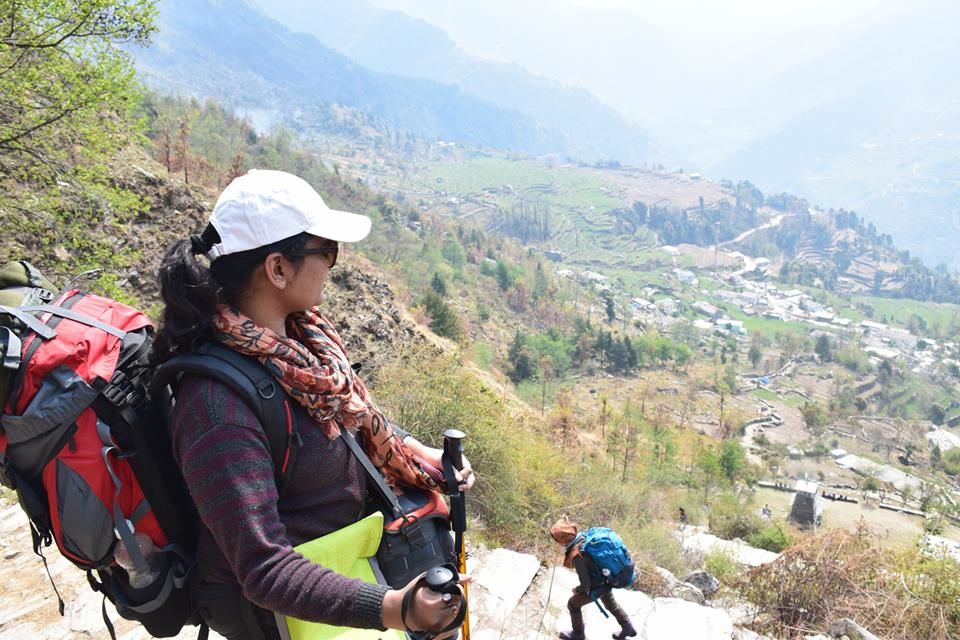 The real trek started today and it was a gentle climb - a distance of not more than 1.5 hours with a path well laid using stones.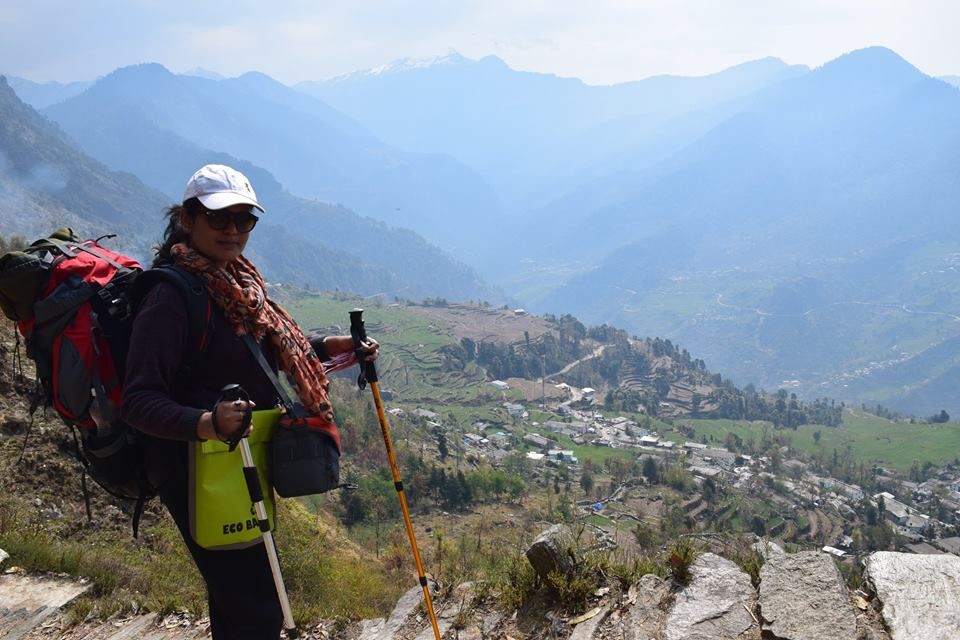 We reached there by 12.30pm and I felt so happy to have completed my first day challenge! Unfortunately, we were not lucky enough to get the reflection of Himalayan range on Deoriatal lake shot because of the clouds and mist.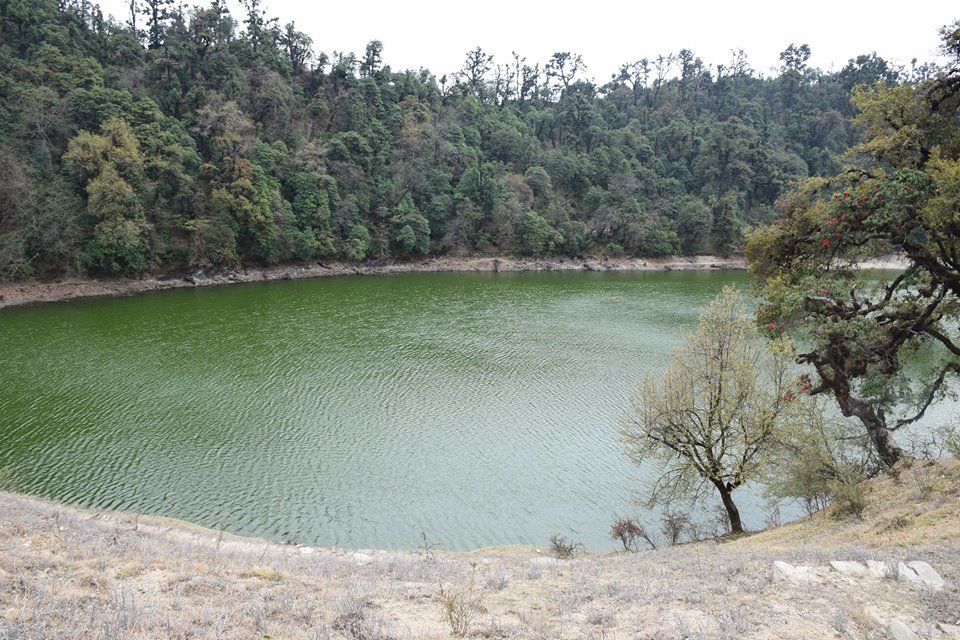 I explored around and reached a watch tower from where a hazy view of Himalayas(The Kedar Dome, Mandani, Mahalaya, Chaukhamba) could be seen.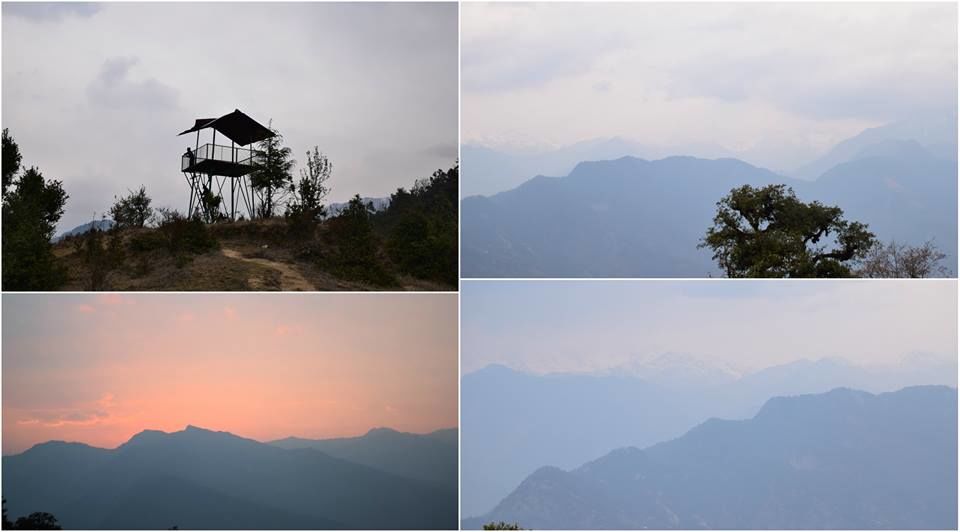 There I met a group of people(not my trekmates) who were on their way to Tungnath; it was fun interacting with them. They shared their whereabouts and I was pleasantly surprised to know that they had come from Delhi only.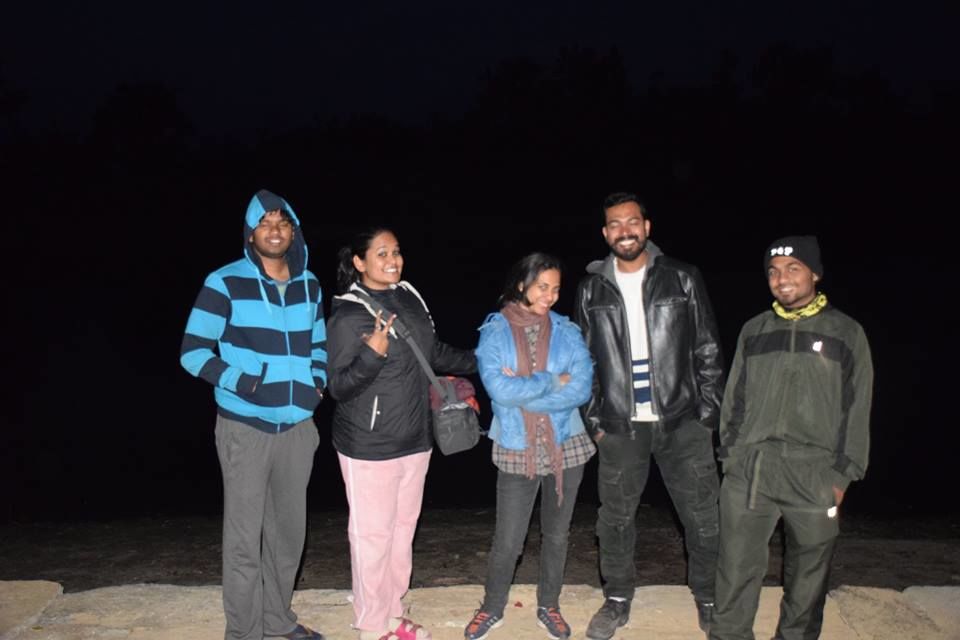 The night was cold, nearly 5 degrees - what that meant is that I couldn't go out and gaze at the stars. There was faint moonlight, and the snow covered peaks beamed that light off, glistening brightly - it was magical. Trekking to Deoriatal in late-march was a perfect decision of mine,as it wasn't too crowded and you have the place on your own. Since I prefer solitude, I was happy with the timing of this trek.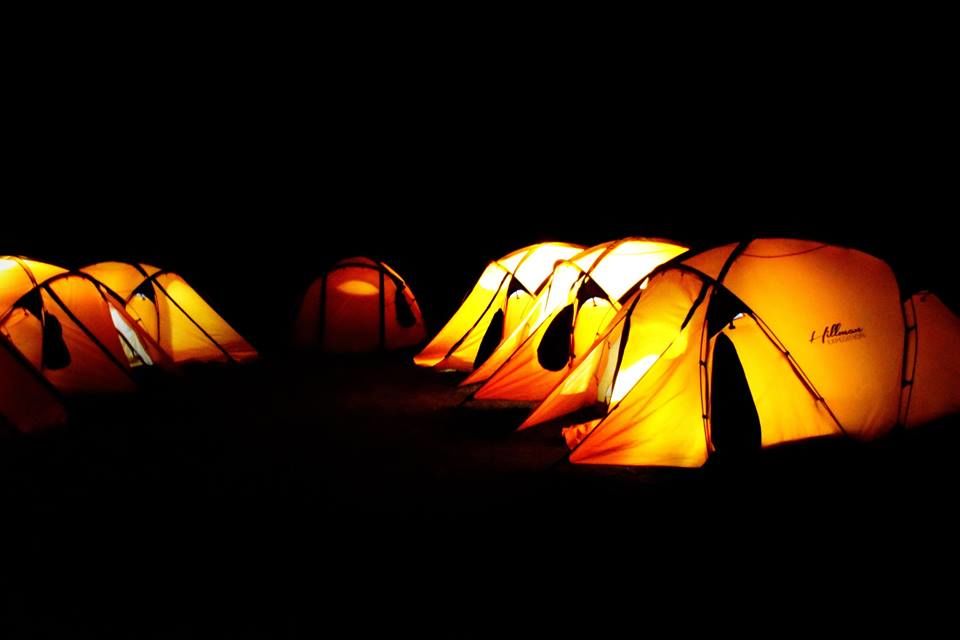 Day 3: Deoriatal Lake – Rohini Bugyal
Just like yesterday, we finished our morning routine and set out. Today the trek was tougher with a total distance to be covered being 8-9 kms, passing along the ridge. We had a packed lunch given that our next campsite was at least 5-6 hrs away. This time our path, still well laid, briefly ascended and then passed through forests full of Rhododendrons - for those who don't know it is the state tree in Uttarakhand). Initially, the flowers were red in color but as we gained height the color started becoming pink.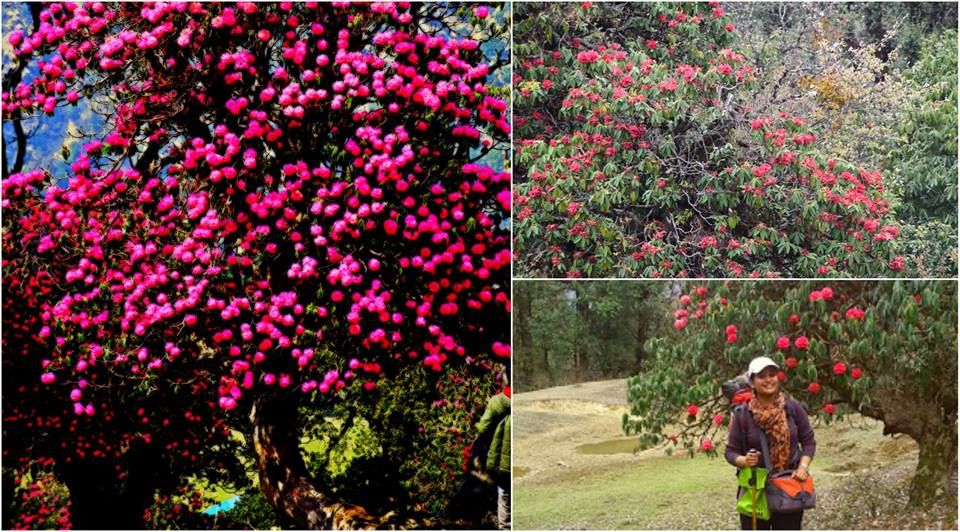 My legs had become numb by the time we reached the campsite and I needed some rest.
So, I laid down on the grass looking above the play of clouds which swirled and the golden rays of sunset through them made beautiful formations. I laid there till a raindrop touched my cheek.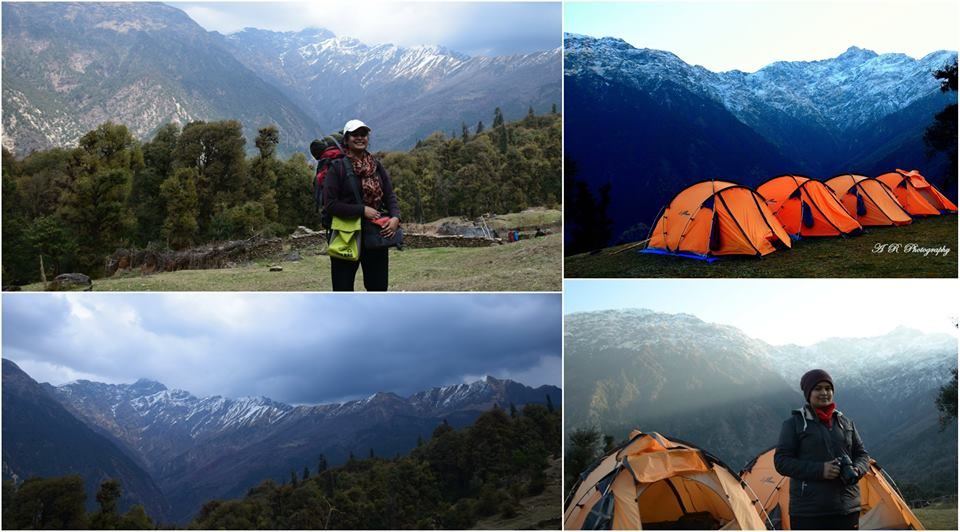 I saw thunderstorm and lightning over the far mountains. We had our dinner and went back to our tents. There was no reason to stay awake as it was very cloudy and not even a single star could be seen. At around 2am, we all were startled by a hail storm. Our tents were shaking with the wind and it was raining outside. Fortunately, our tents and sleeping bags were cozy enough to protect us from the chill and we somehow knew that we are safe.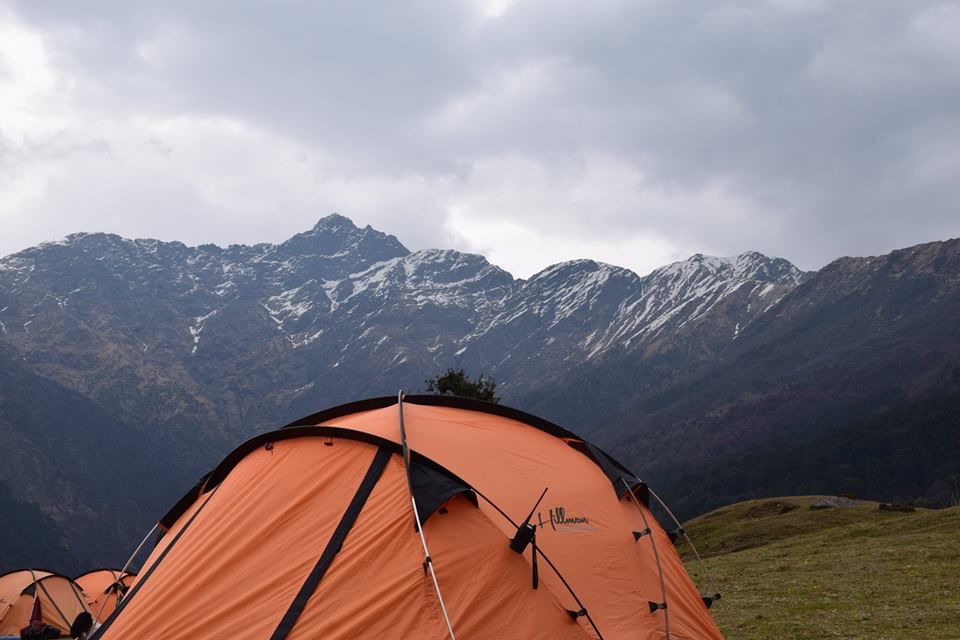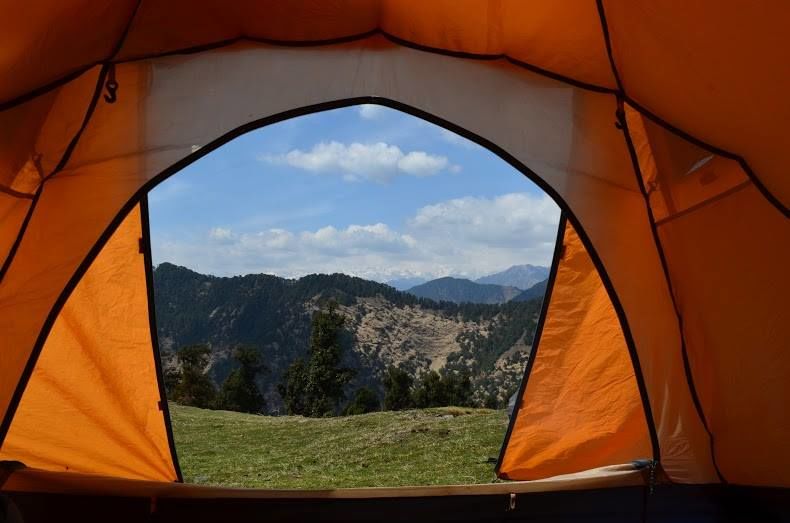 Day 4: Rohini Bugyal - Bhurjgali
In the morning, our routine comprised of rolling our fleece bags and then the sleeping bags. All through the trek the temperatures ranged from 2 to 8 degrees in the night, and this combo made us feel incredibly warm and cozy.
Another thing, throughout the trek we carried eco-bags - in case we see any garbage along our path just pick it up and put it in the eco-bag. Well done Indiahikes for this initiative!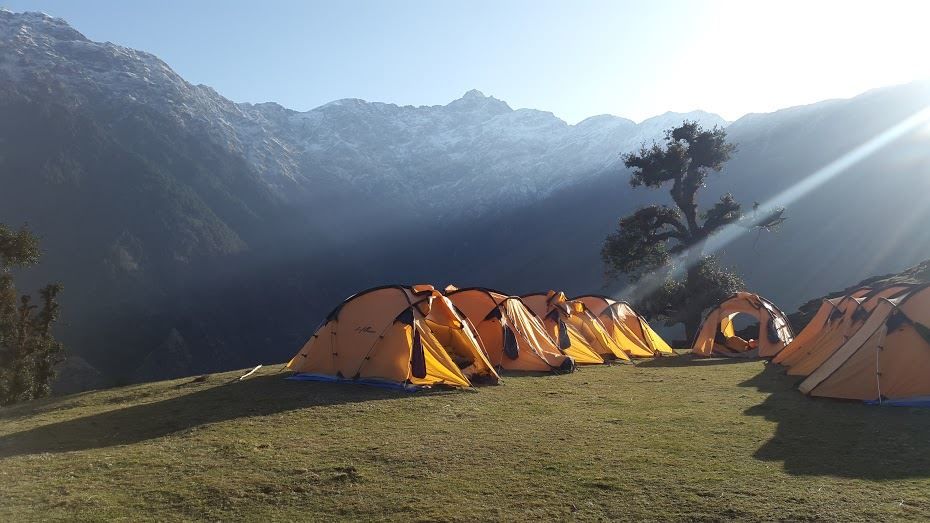 Today's trek was an easy one, not much distance yet we packed our lunch. While it was mostly forests to begin with, I tagged along with Kamal sir - It used to be a pleasure walking along with him as he would share interesting stories and incidents. Our path crossed "Akash Kamini" a glacial stream, where we had a break. The stream was crystal clear, and it tempted me to take the first chance to fulfill another crazy fantasy- To drink water like a wild beast (had this idea before tamasha released)! :D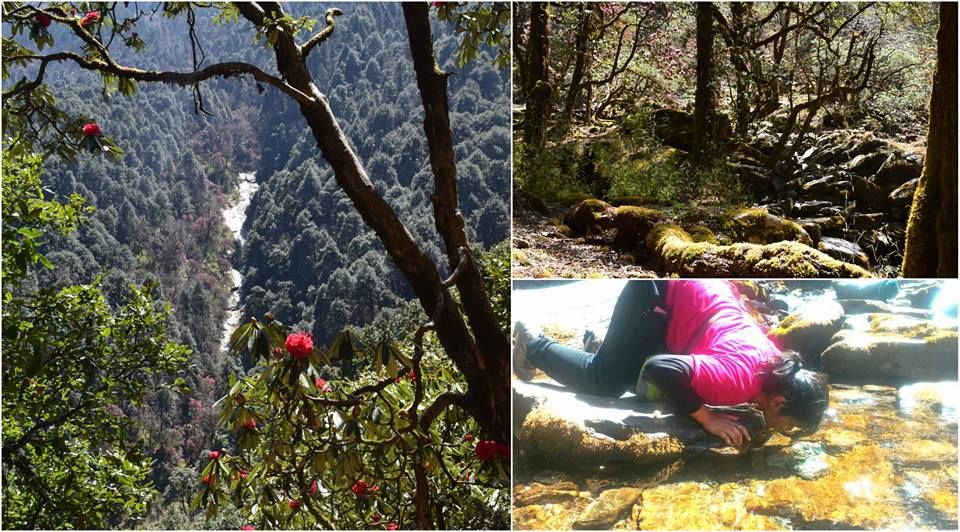 Through Rhododendron trails, we reached our last campsite- Bhrujgali.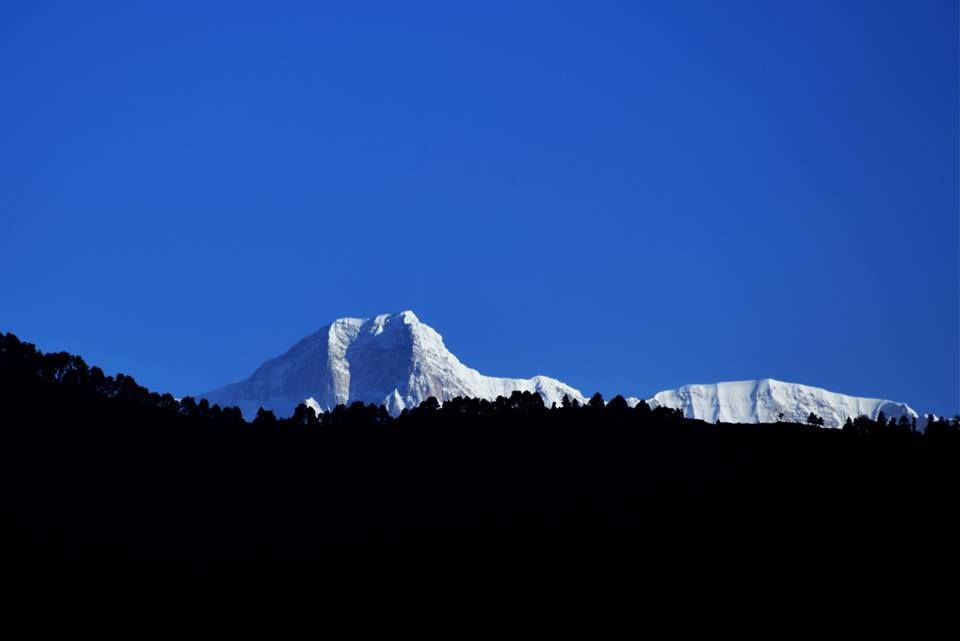 We had delicious snacks and tea. I sat on a rock cliff and enjoyed the golden hour. There is nothing as beautiful as watching the sun set behind the mighty massifs.
Later in the evening we had a small session where the trek crew introduced us to walking in the snow. The crew gave each of us gaiters and micro-spikes. While gaiters avoid letting the snow get inside your shoes, thereby keeping your legs dry, micro spikes provide grip when walking over hard snow. Once we wore them, DhanSingh- the silent guardian of our trek - gave a small briefing on ascending, descending and traversing through snow - important lessons I felt..!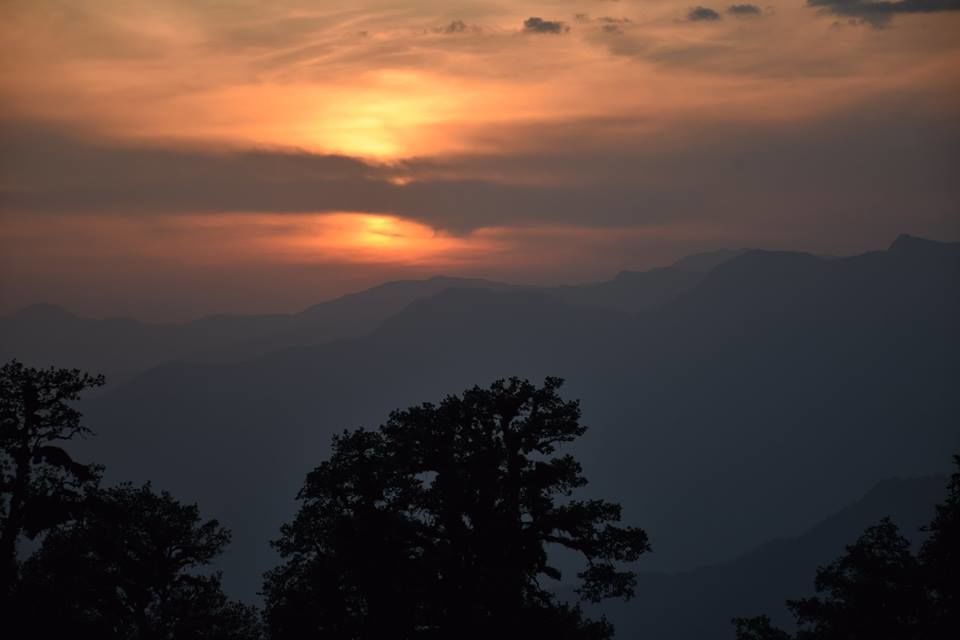 Once dark a similar routine of soup and dinner followed. We all decided not to sleep as the sky was clear and we were expecting a view of Sky full of stars that night. I was inside the tent along with my tent mates as I was feeling cold and only a few stars were visible at that time.
After a while some of our trek mates started calling us out, and when I stepped out of the tent, I was speechless as the sky looks so beautiful that it didn't seem to be real even. I cannot even put my feeling into words. Millions and billions they were…and all of them shining brightly! In my mind, I was singing "Sky full of stars" song by coldplay! We saw a falling star every 5 minutes, which was hard to believe for me. I was so overwhelmed that a tear rolled over my cheek which was a sign of sheer happiness that I was going through..!! :')
I laid down in my tent with my head outside and gazed at the diamonds shining all above me!
I have heard people boast about having been to 5 star hotels. I smiled to myself as I was in a 5 billion star hotel right then and it made me far happier!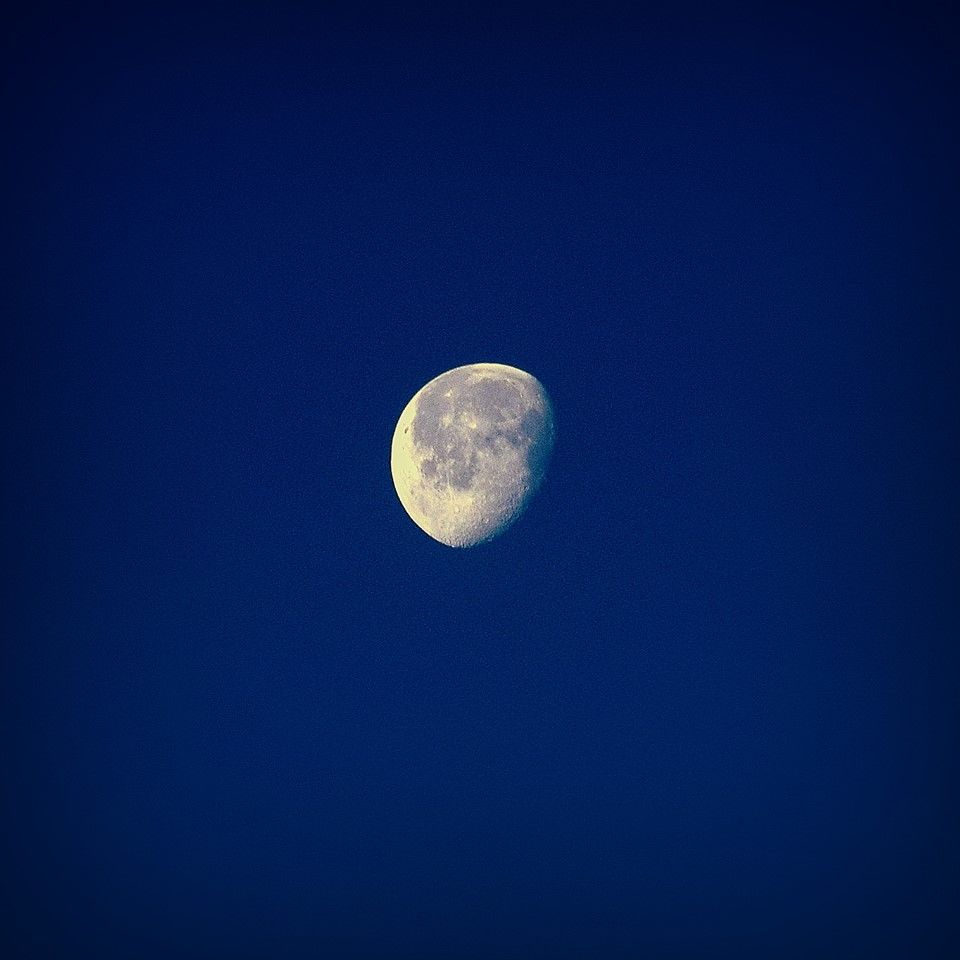 Day 5: Bhurjgali – Chandrashila Summit- Back to Bhurjgali
That morning, I did not dare to come out of the tent for it was so cold that I could feel the chill in my bones. It was important to start early but given historical trends it was all but impossible. The cooks to their credit had breakfast ready by 4 am and it was delicious.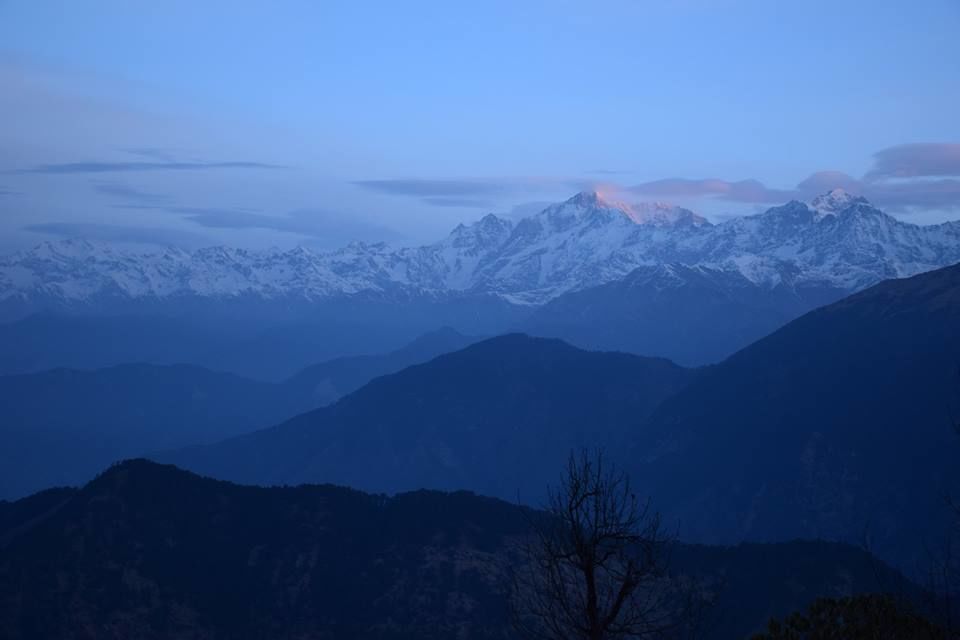 Initially, we passed through a forest but as soon as snow appeared we put on our microspikes. Now folks, walking on snow is a completely different experience - your feet sink a bit, the ground feels cushioned and of course there's white all around.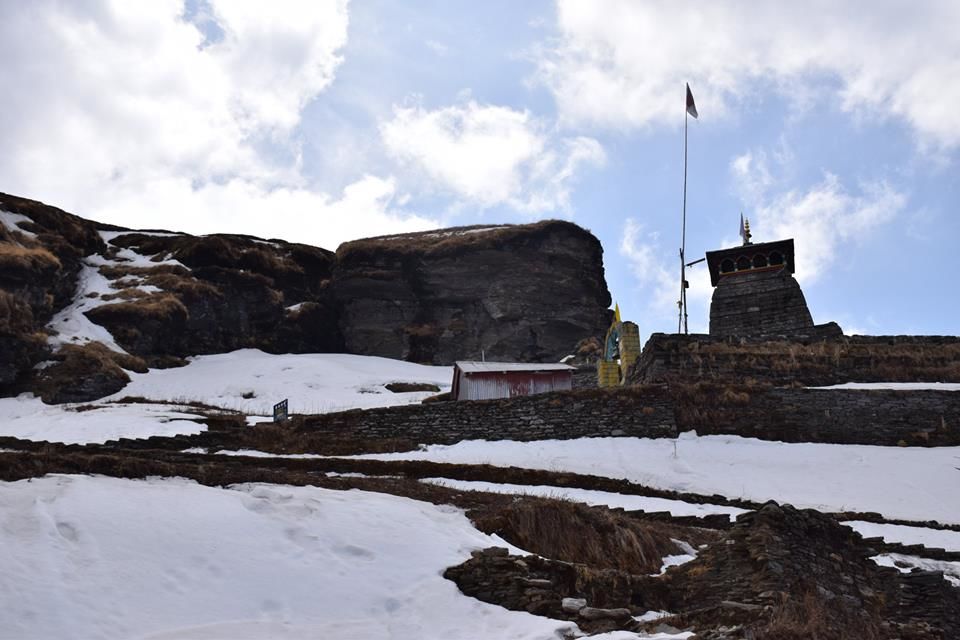 Chandrashila Trek takes you to the world's highest Shiva temple situated in Tungnath, at a height of 12,074 ft. It is one of the five Panch Kedar temples. The summit of Tungnath is Chandrashila Peak at an altitude of 12877 ft. above the sea level. This is an all season trek known for its breathtaking landscapes and dense forests surrounded with excellent views of the peaks. For the ascent, we followed a path used by pilgrims that trek to Tungnath. I slipped a couple of times on the semi-hard snow which was very slippery!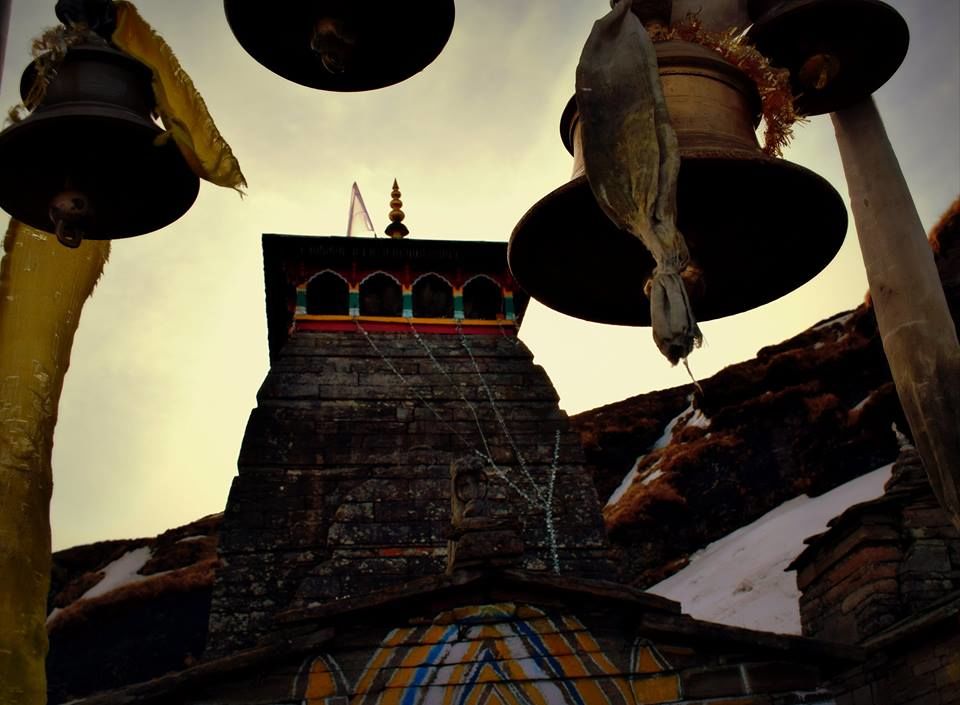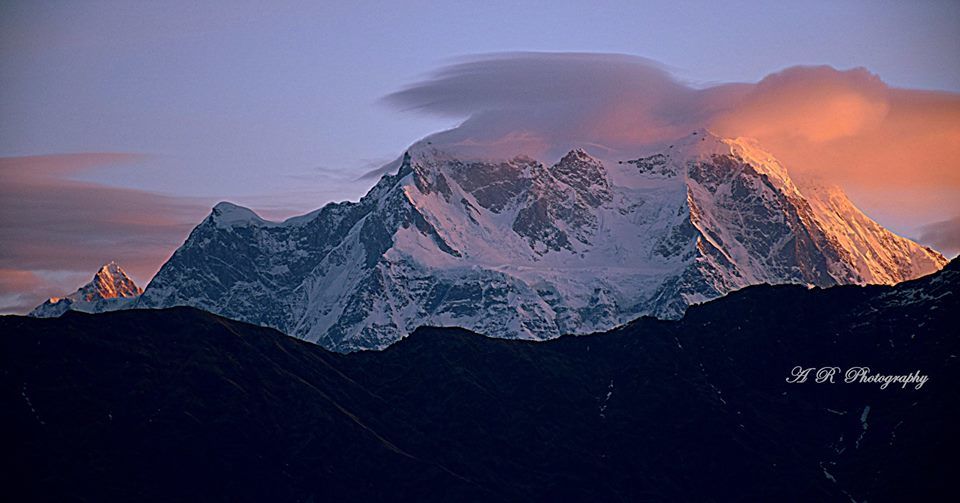 Slowly, we ascended and reached the top. Not the top of the peak only, but call it "on the top of the world (that's how I felt then) !
There is a small temple on the peak."Har har mahadev" I shouted a couple of times out of joy!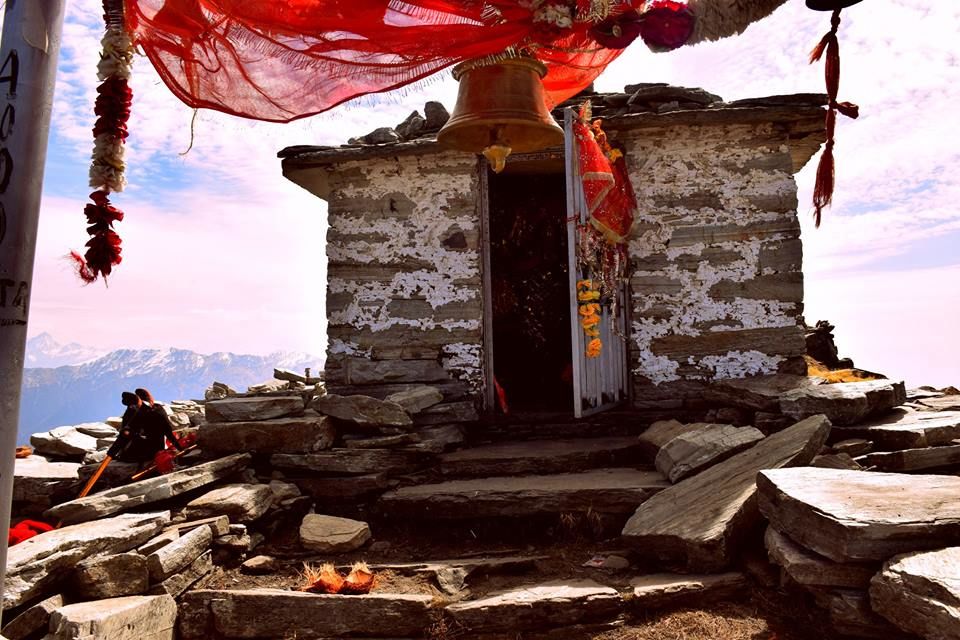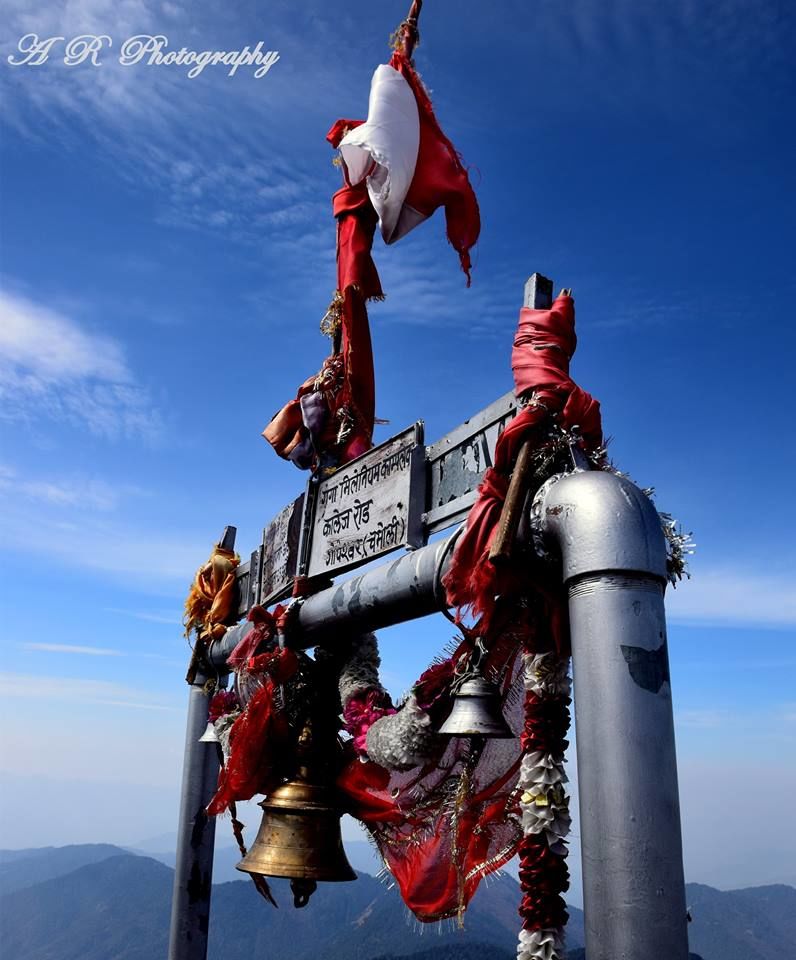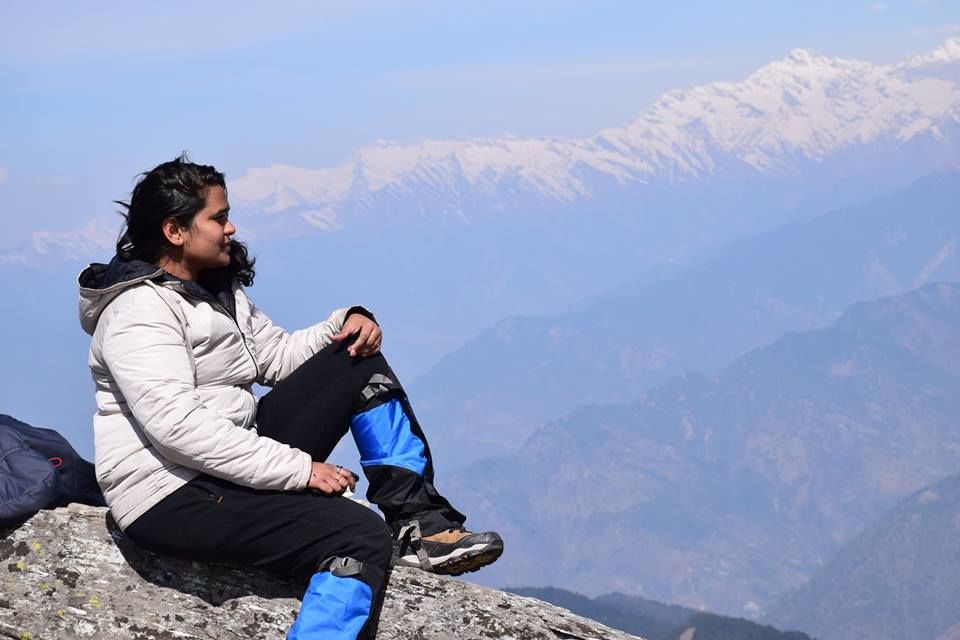 I was gasping for breath and suddenly I felt my lungs inflate with onrush of the breathtaking scenic beauty of the Himalayas-360-degree panoramic view of almost all of the mightiest peaks all around me!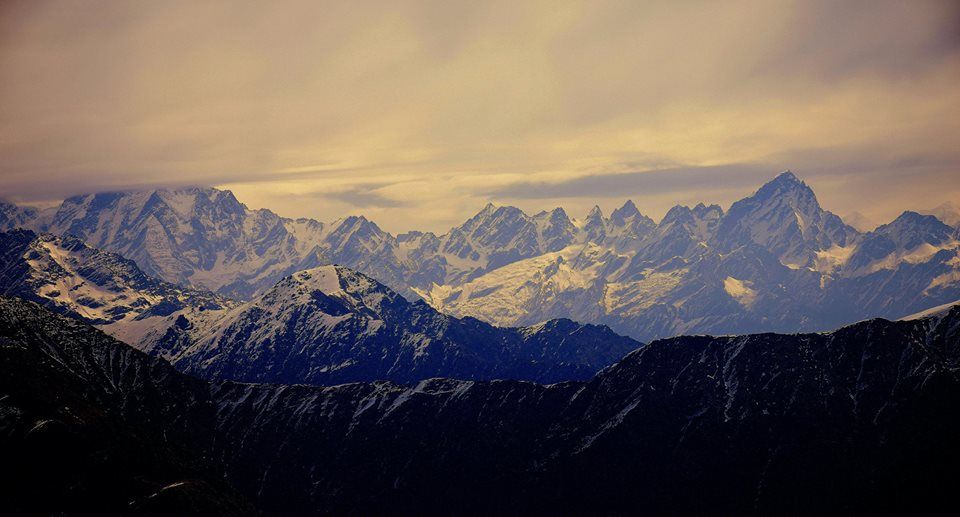 The entire Gangotri region of the Himalayas with its magnificent glory stood in front of us. The peaks of Meru, Sumeru (the shark fins), Kedarnath, Badrinath, Chaukhamba and the supremely tall Nandadevi stood reassuringly to the East.
That was 4000 meters – the highest I've ever been(till now)!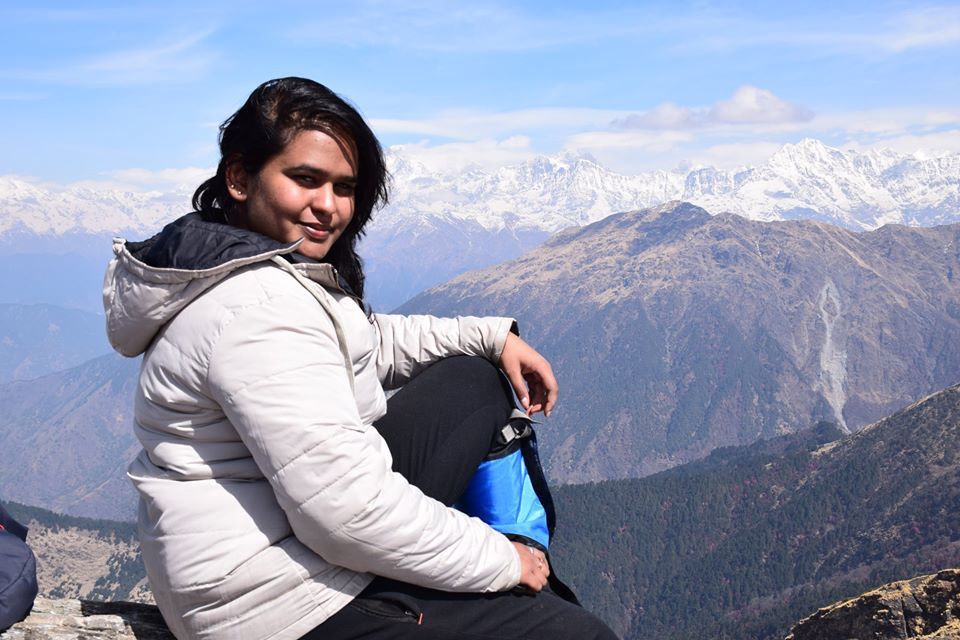 Sitting there, I got an answer to the concern of my parents as to why I wanted to climb a mountain.
That feeling of accomplishment when you do a summit.. that none of the degrees or job certificates can ever give you..!!!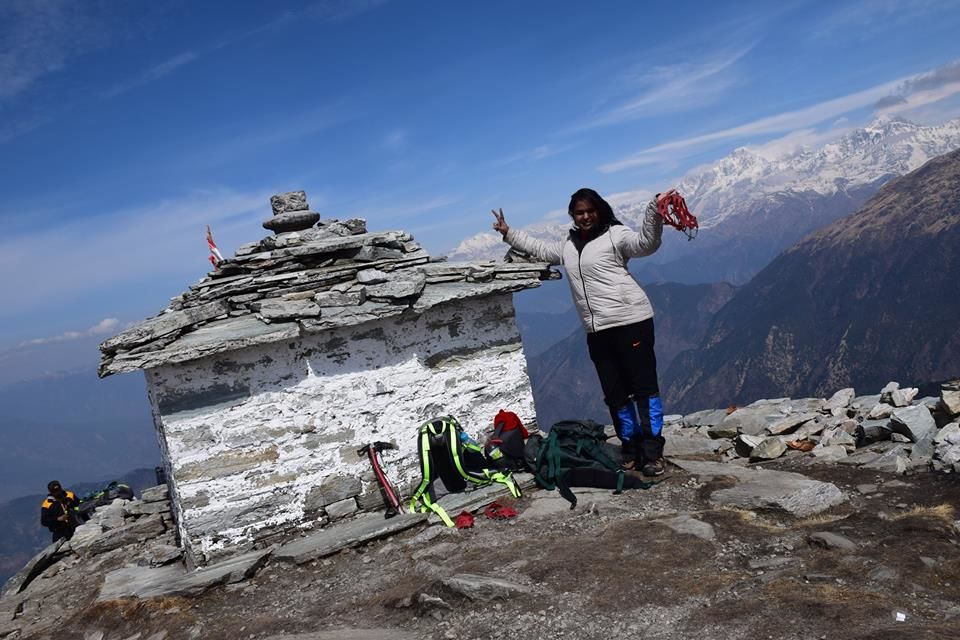 The fulfillment of soul and pride that you get to feel when you know you are on the top, and above all, that you are the one responsible for all the magic that you are feeling then..!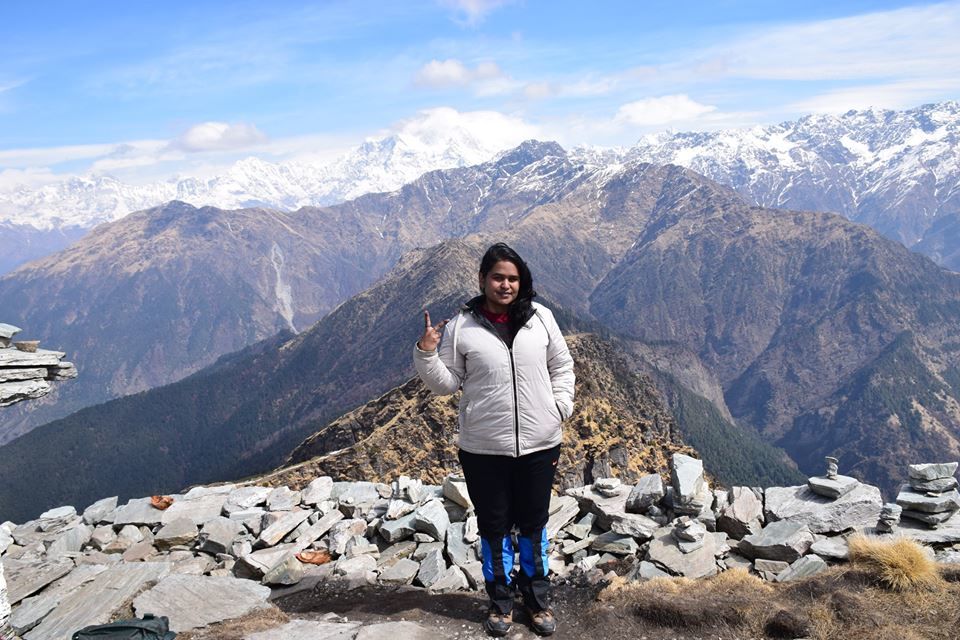 Himalayan trek was one of the biggest of my dreams and I had finally done it! :')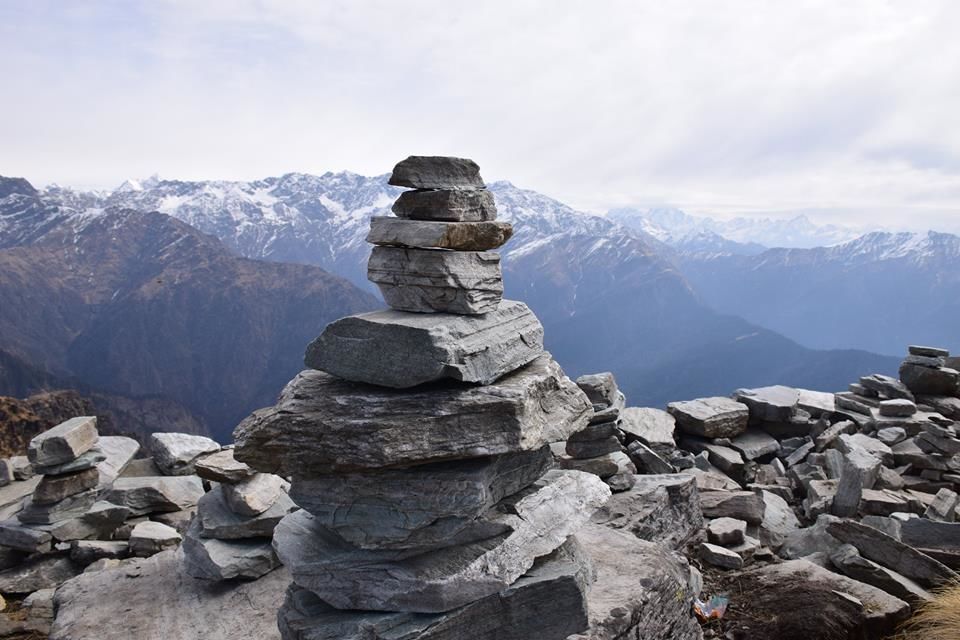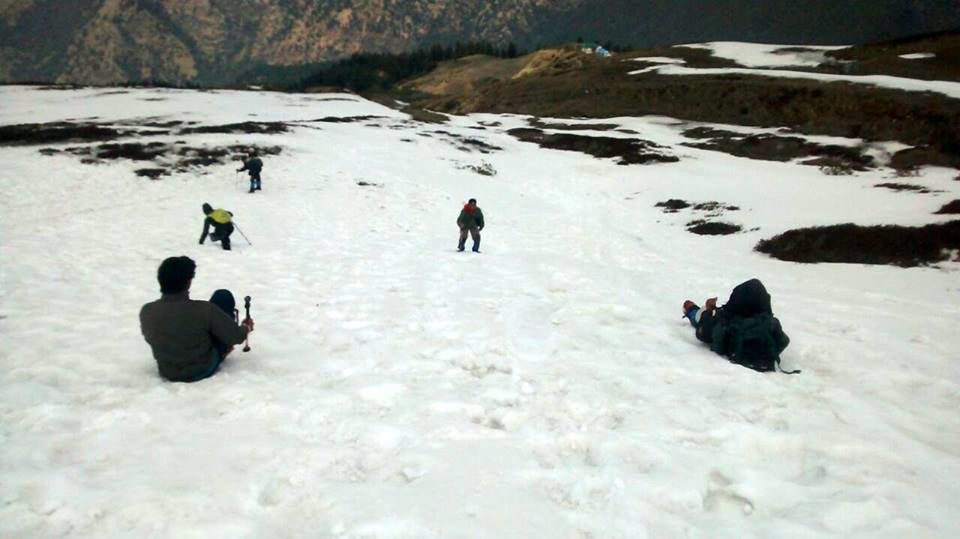 As I look back, this trip was certainly one of the most memorable trips I have ever taken. The views and the solitude I got was something that I always craved for. But a trek is not just about just nature or the landscape or the camps, it is also about meeting strangers from all walks of life and getting to know them really well. Being with different people, listening to their stories and their adventures made me feel humbled, and perhaps, those perspectives have helped me become a better person than how I was before.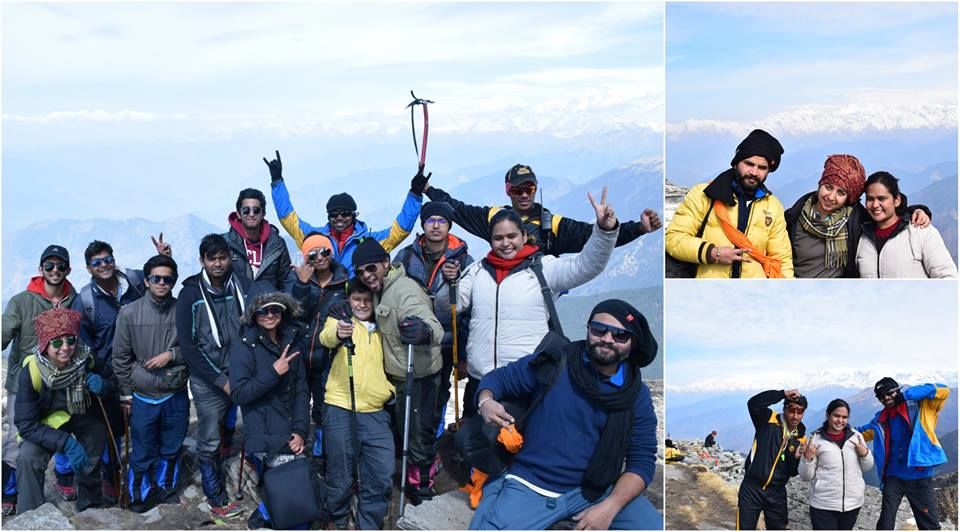 I recommend every mountain lover to do this trek.
Happy Trekking! :)
#trekking #lovefortravel #indiahikes #firstsummit