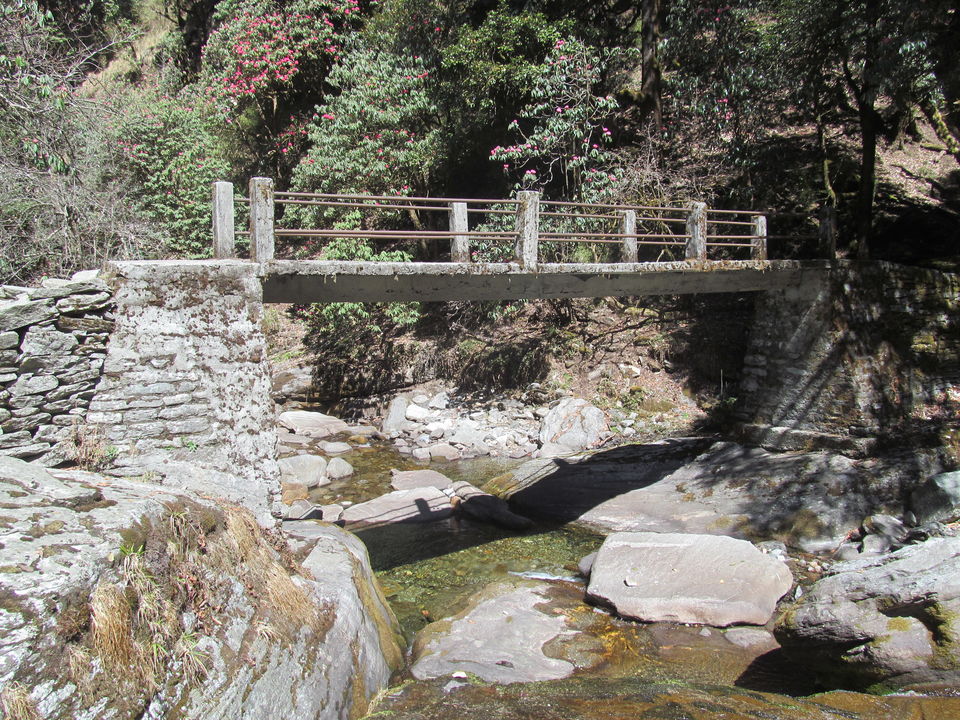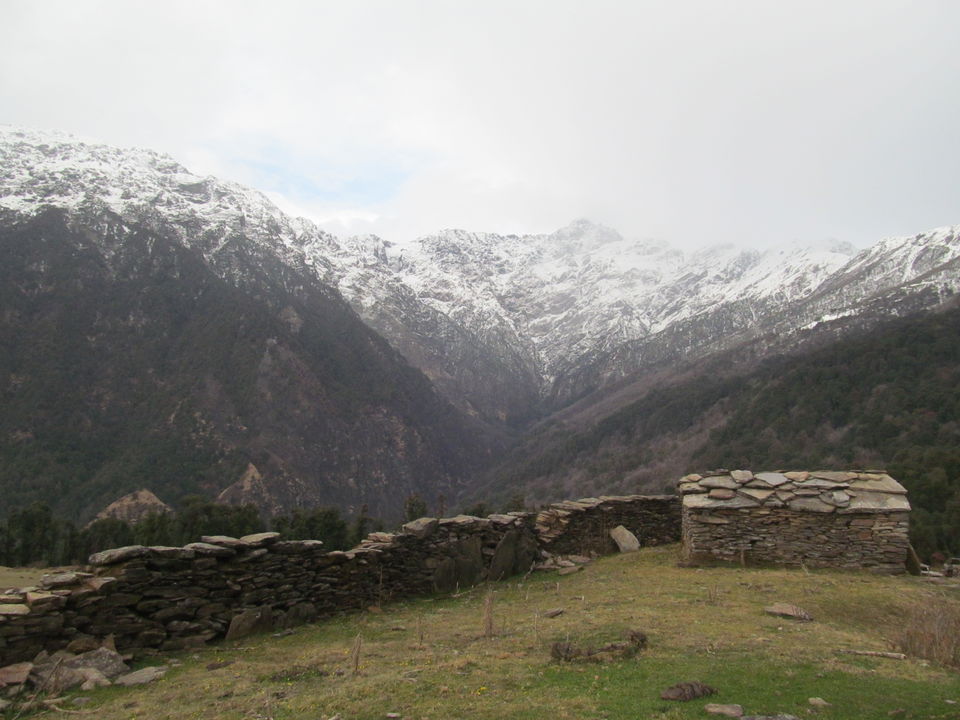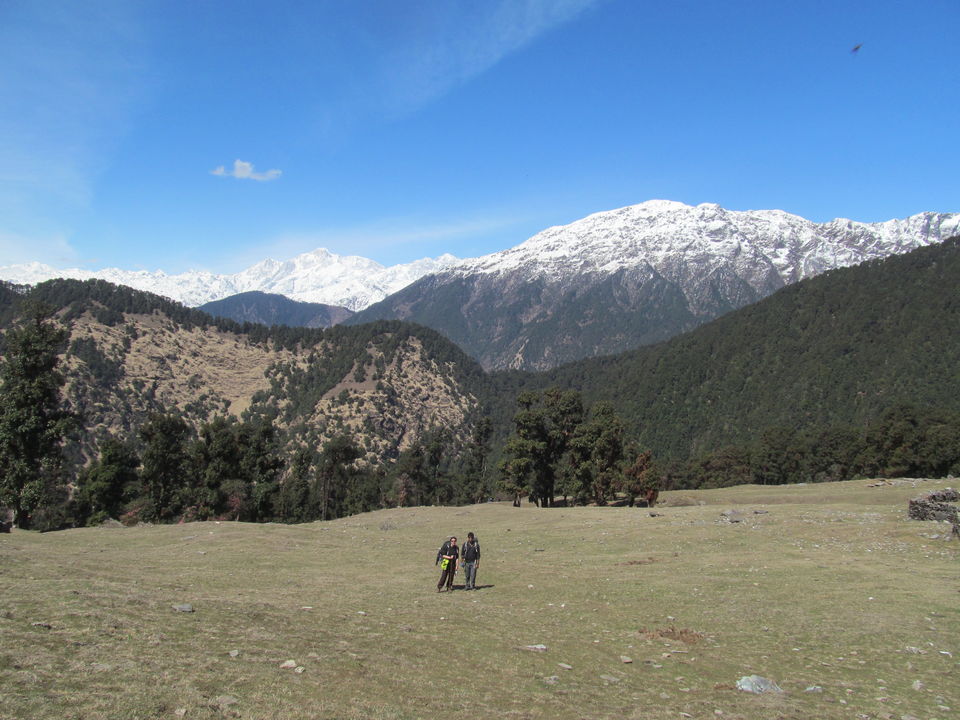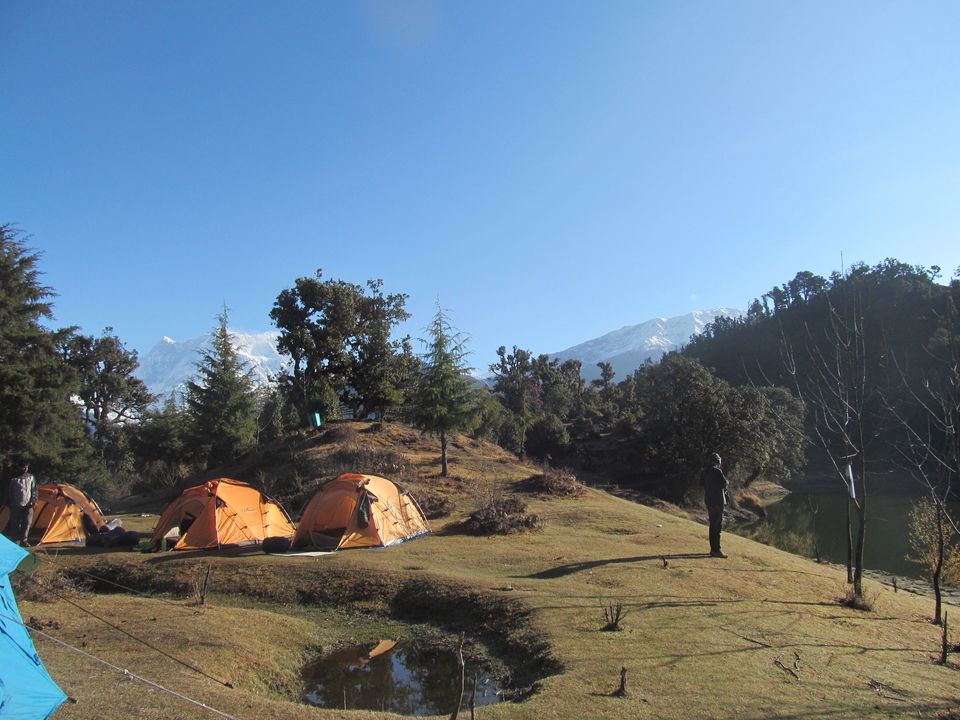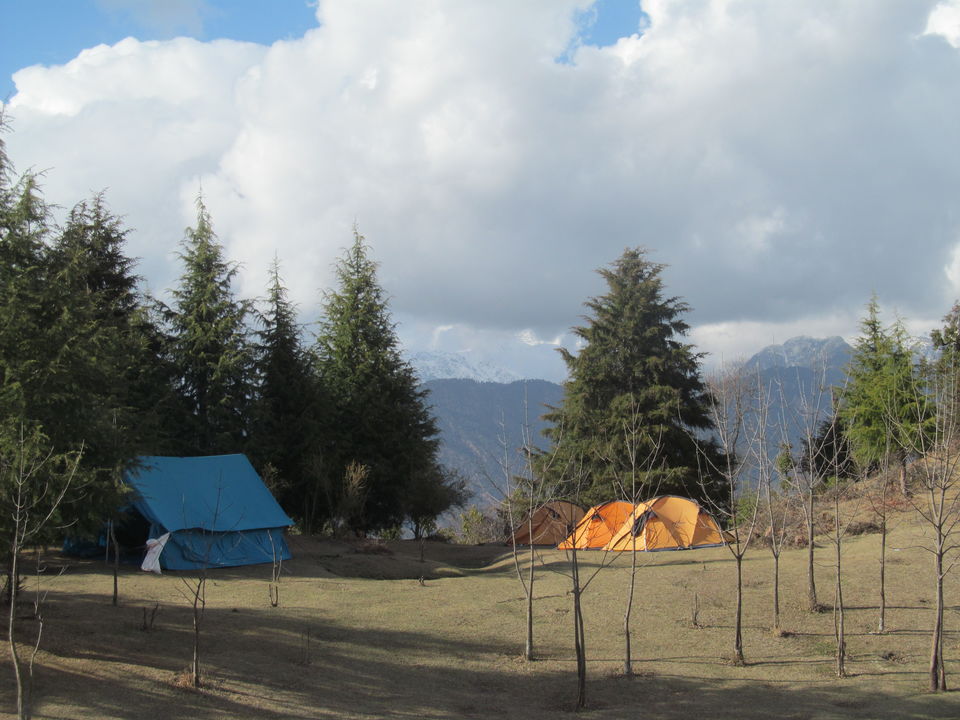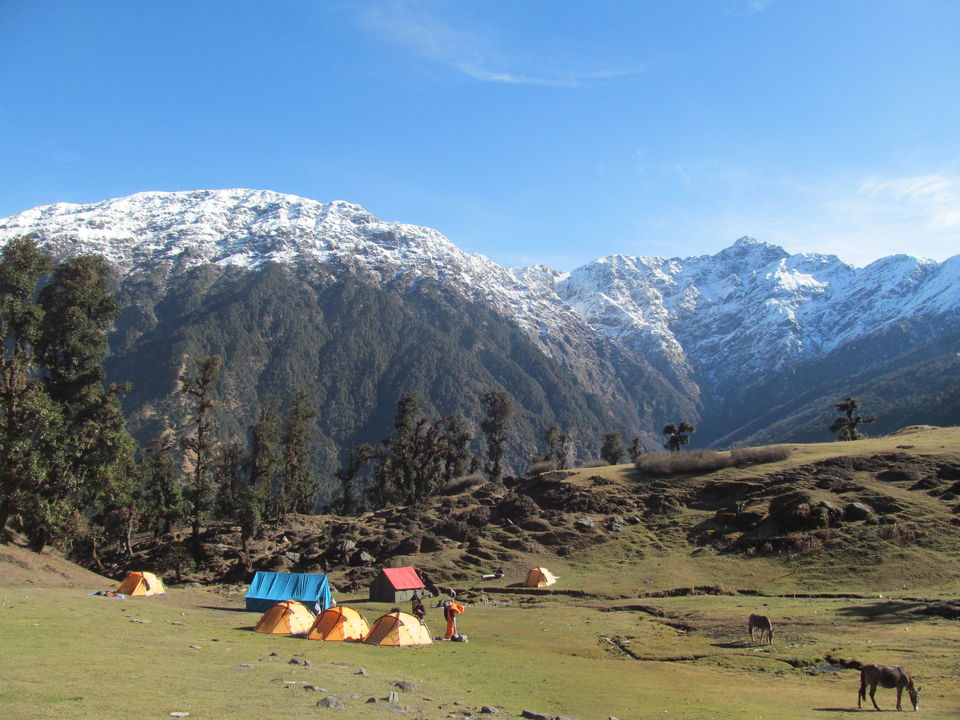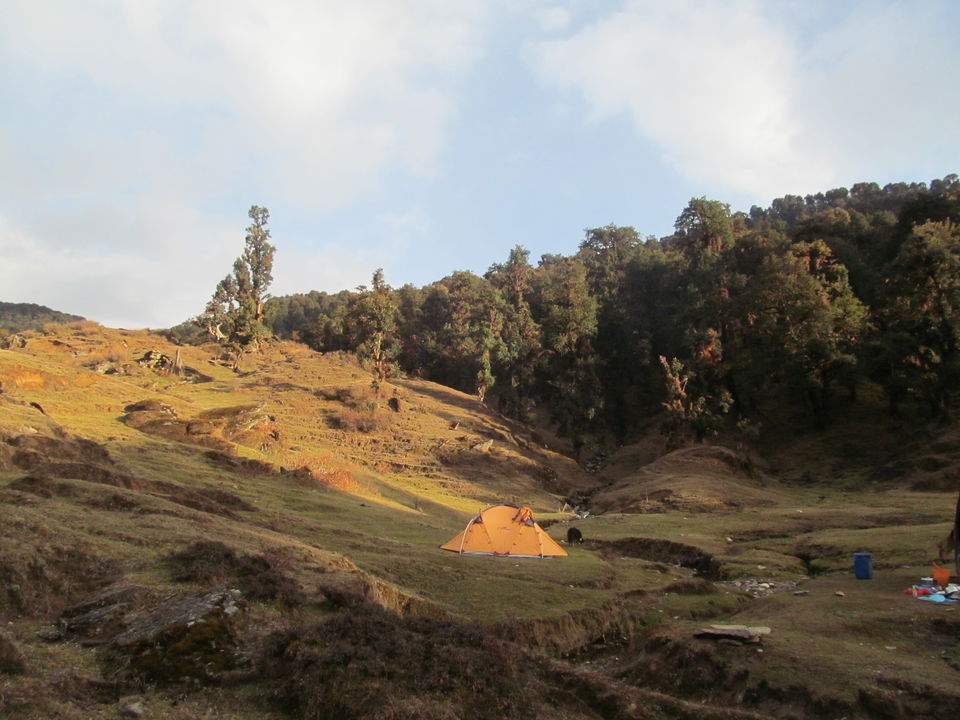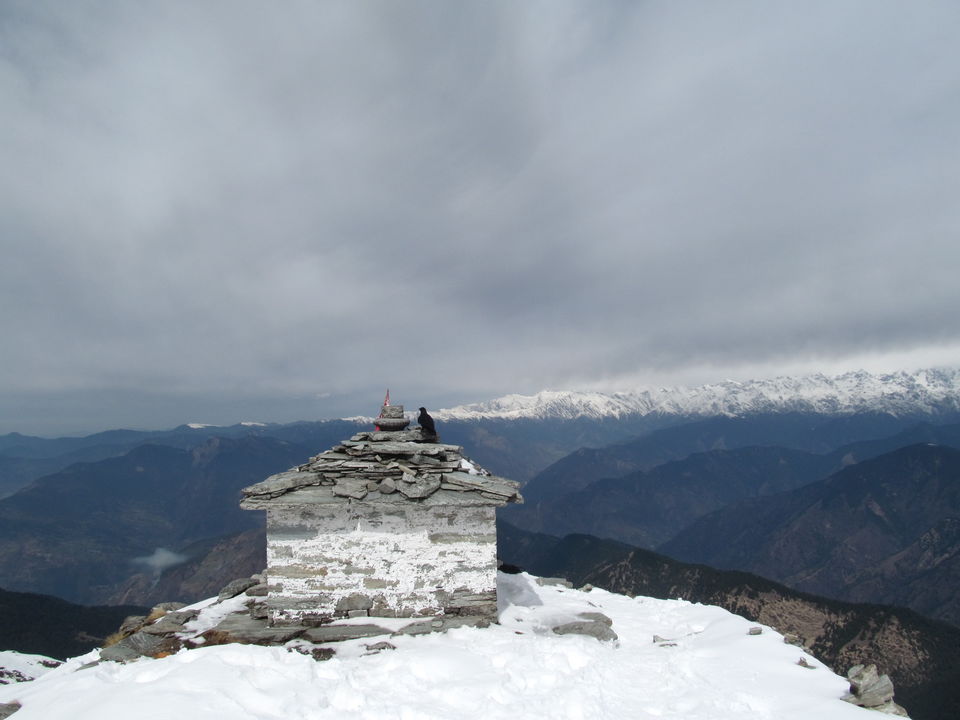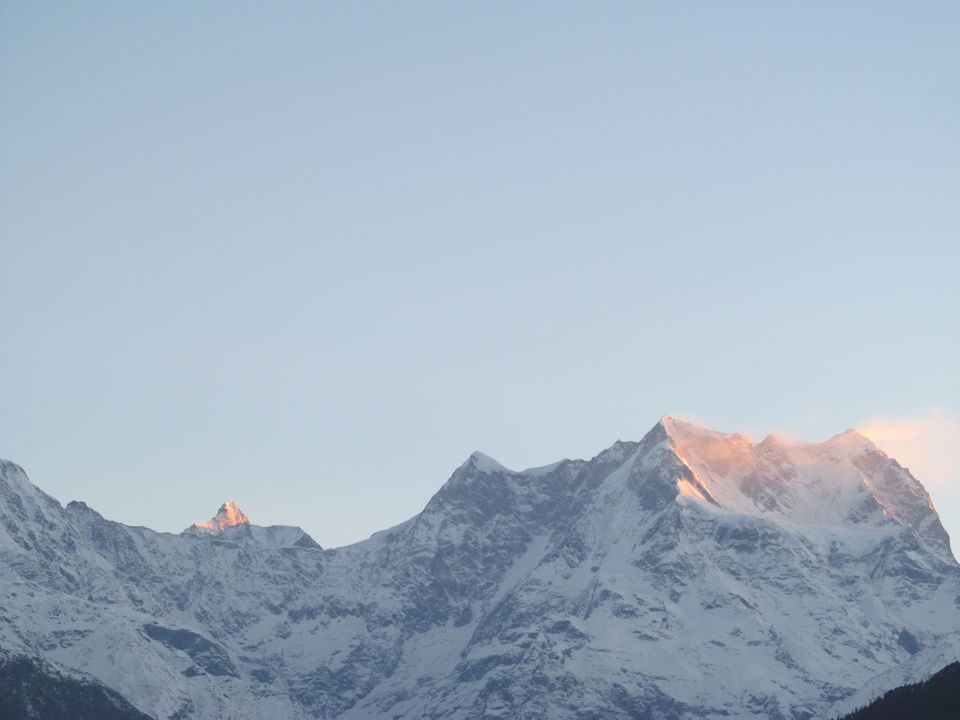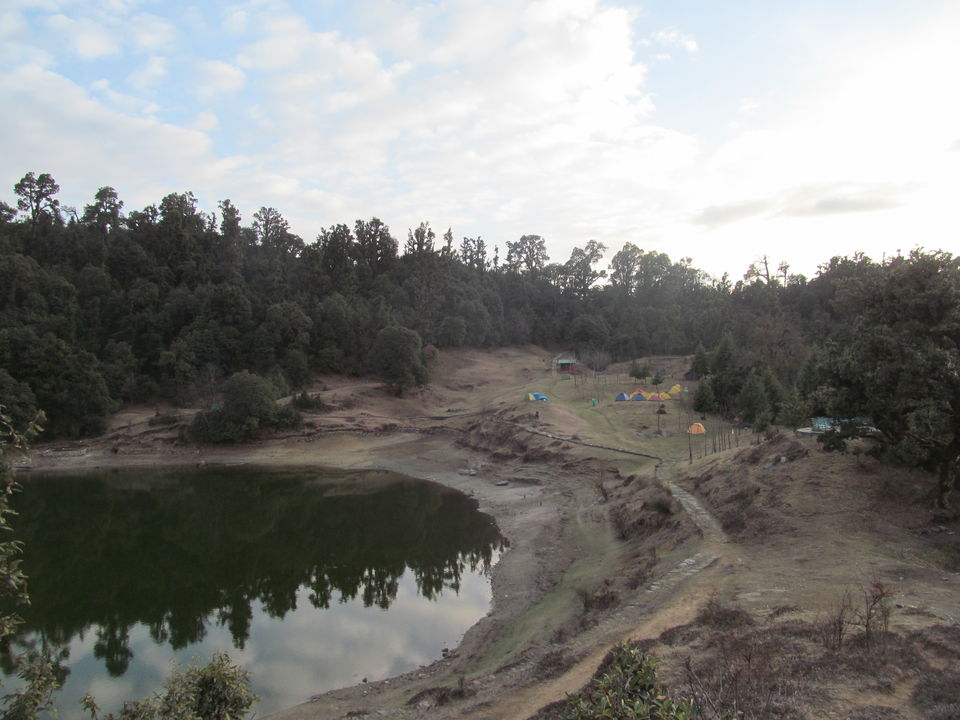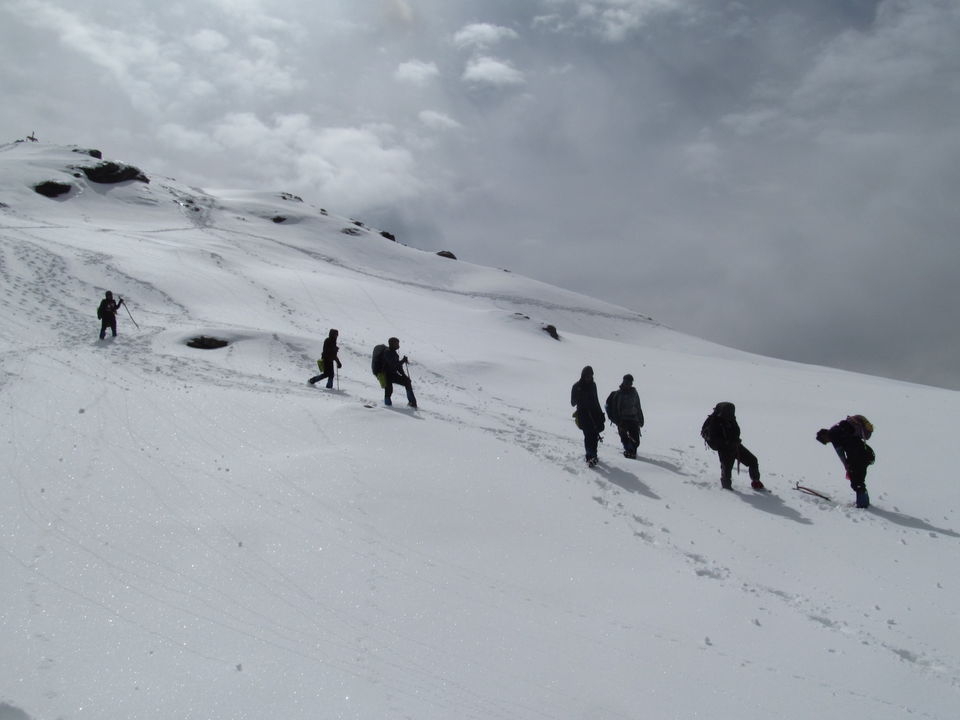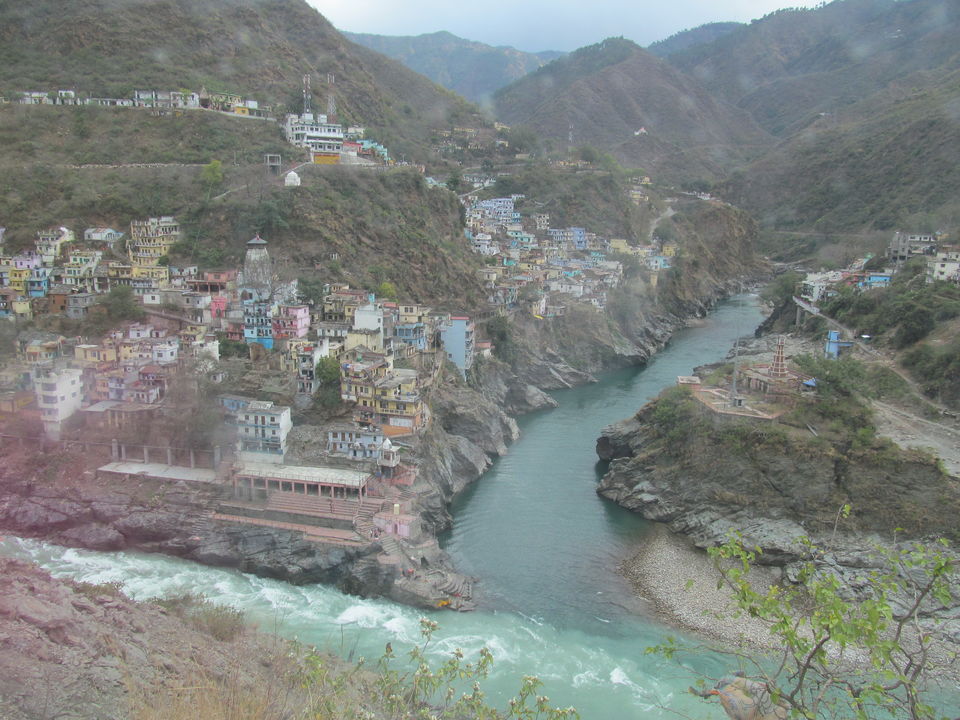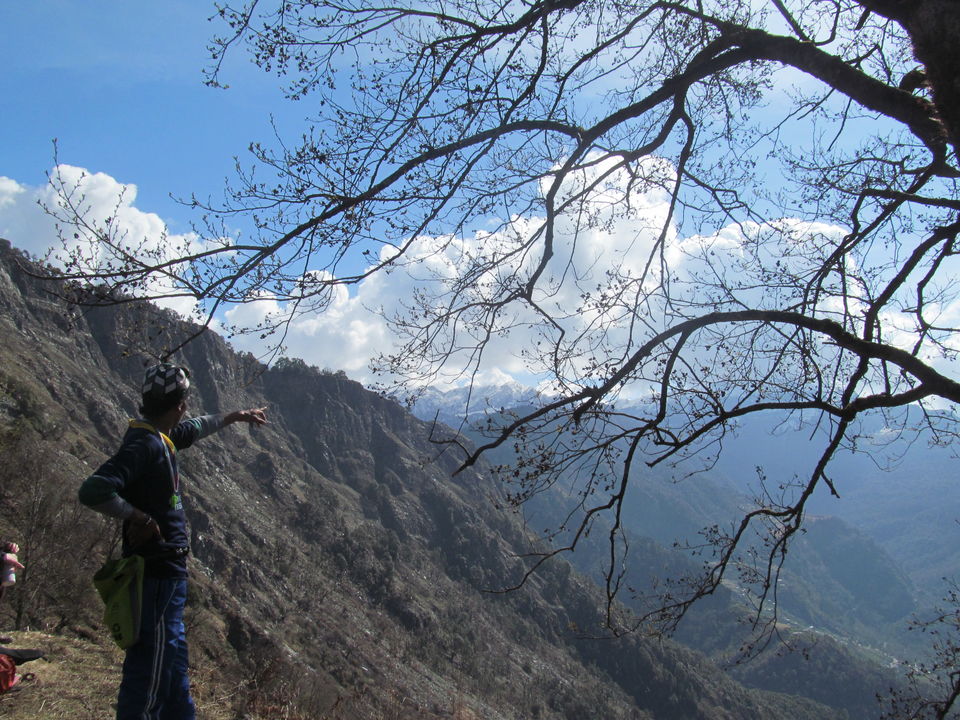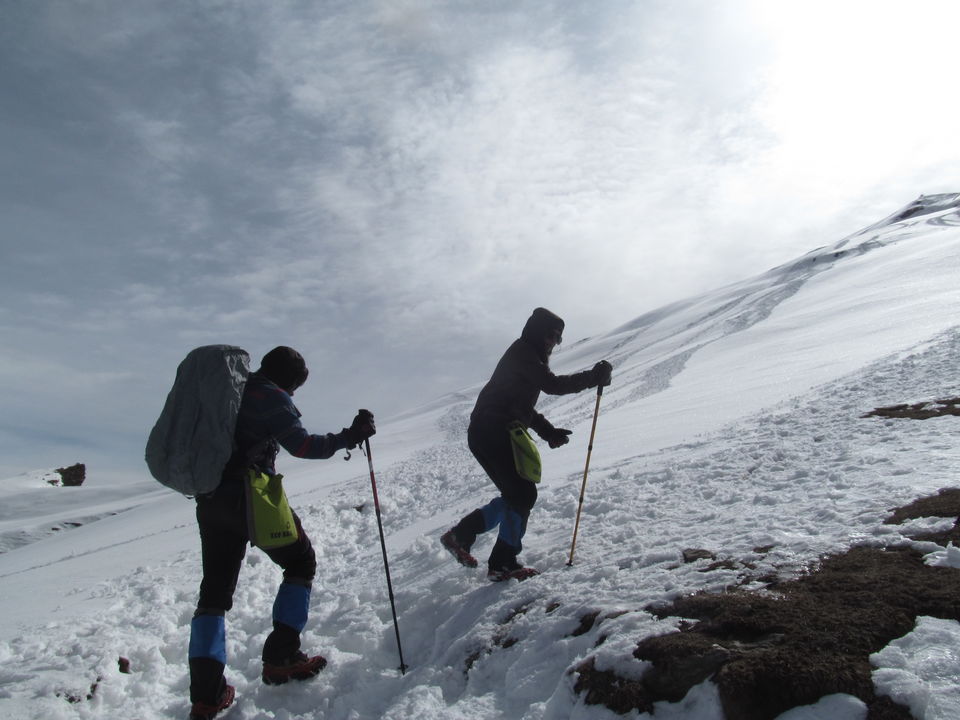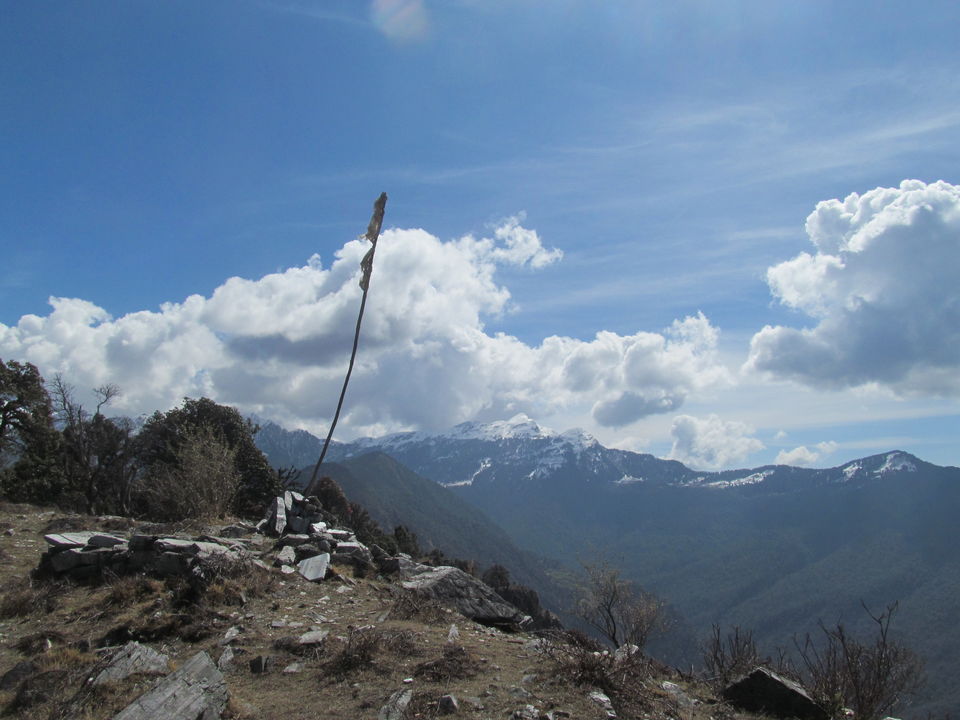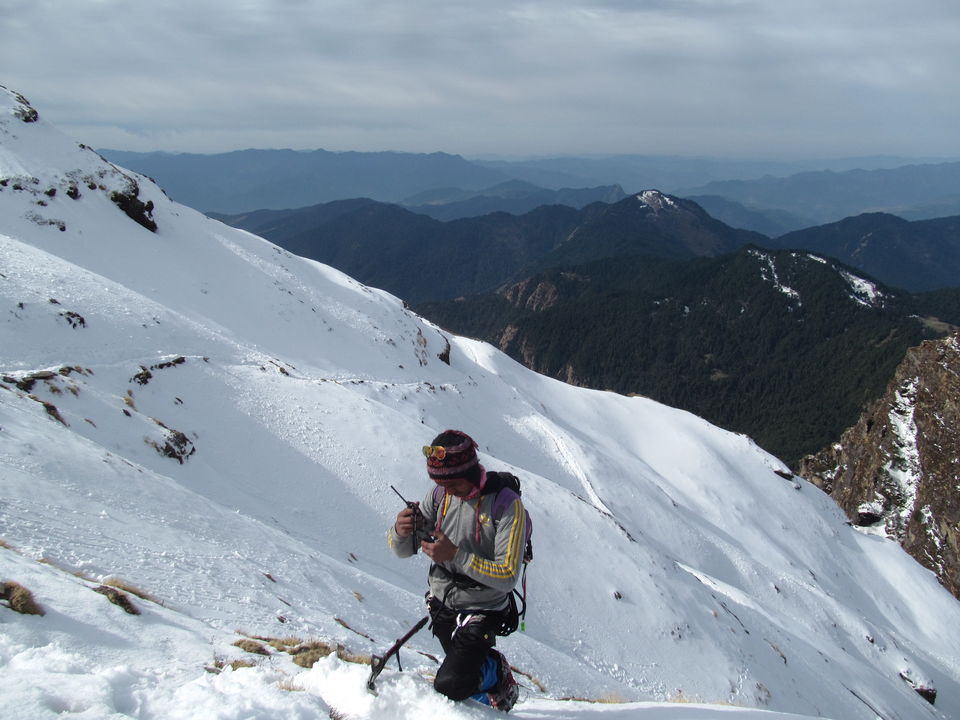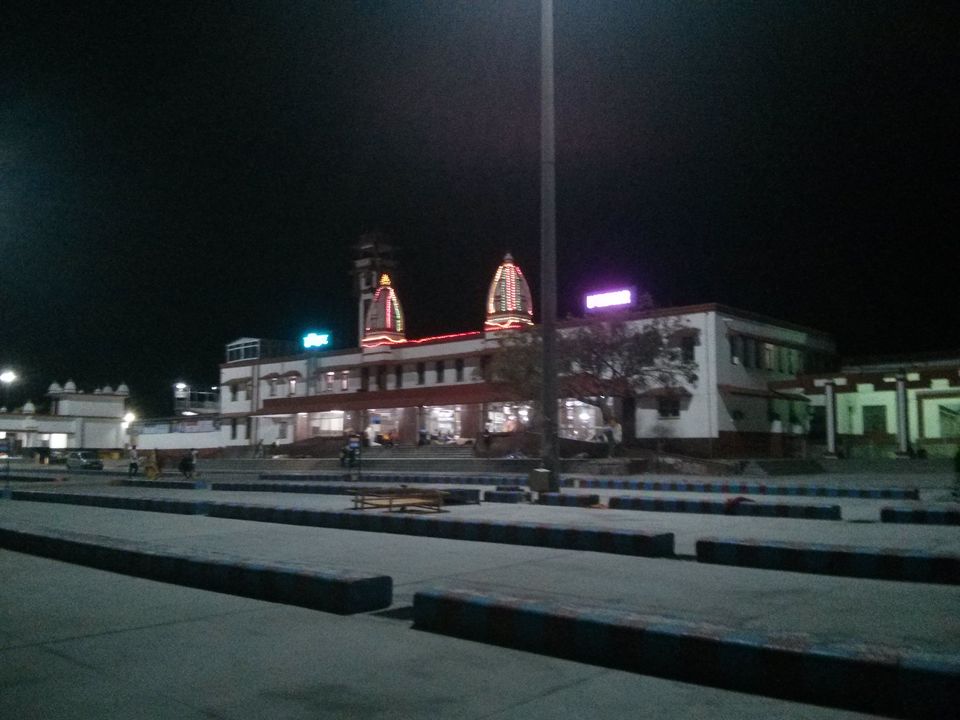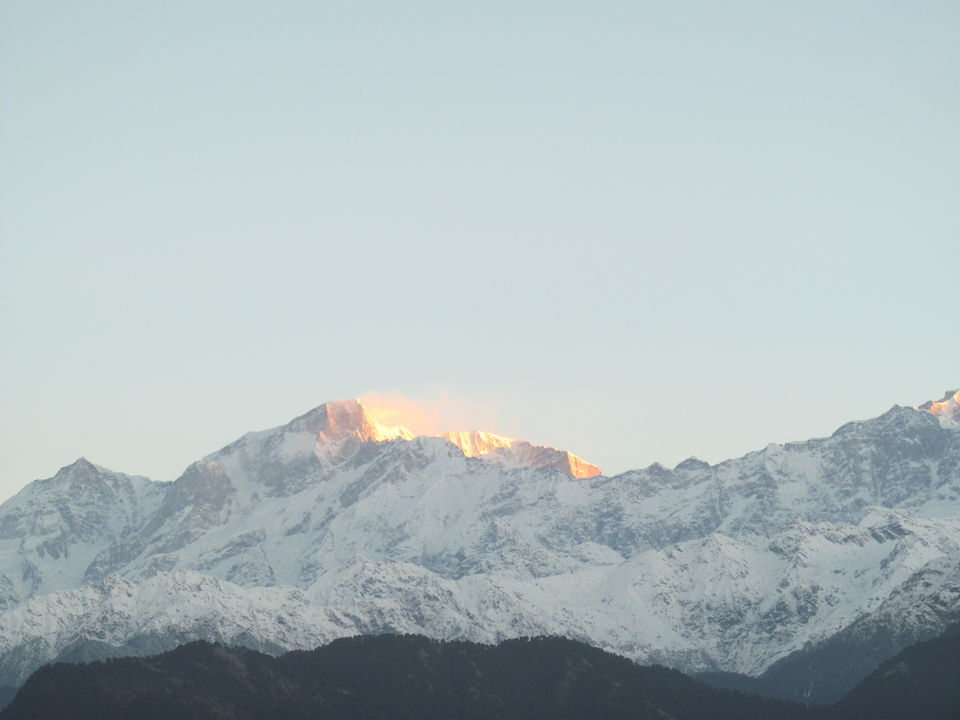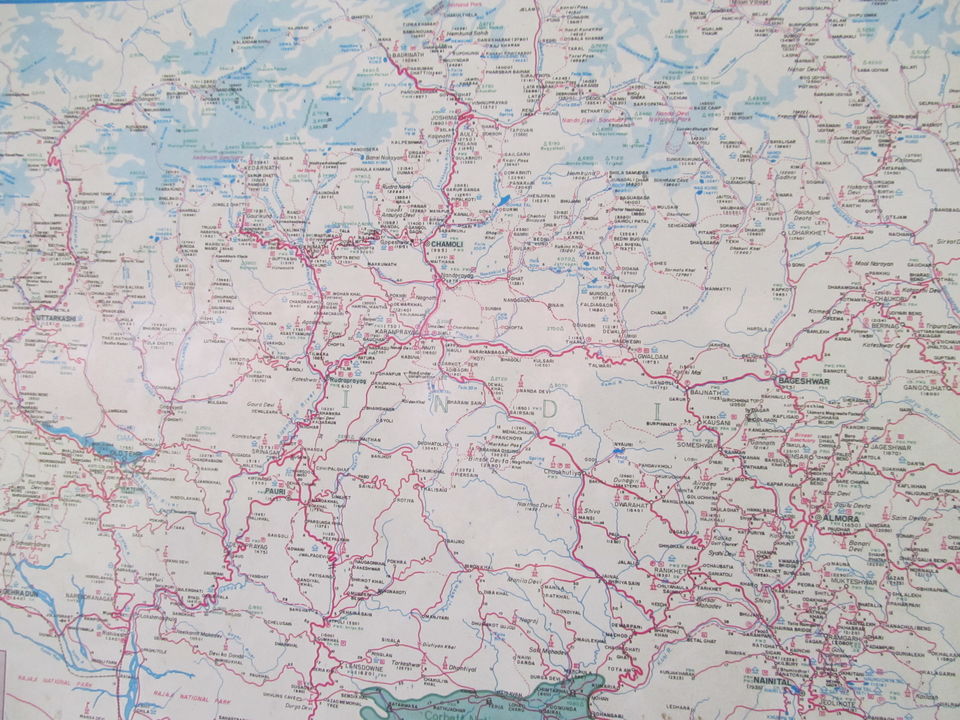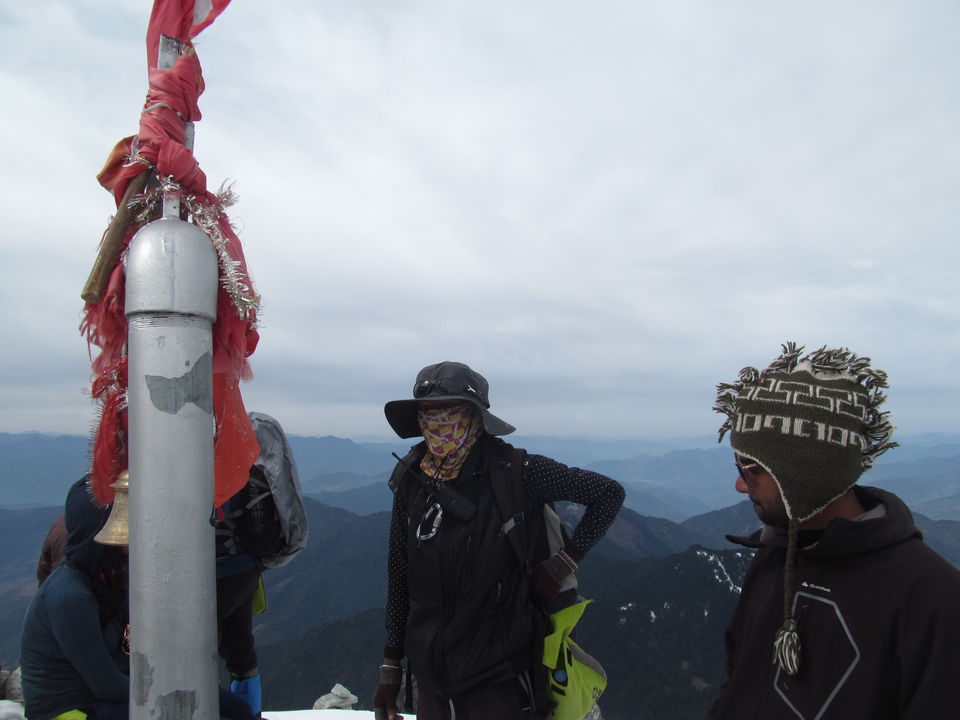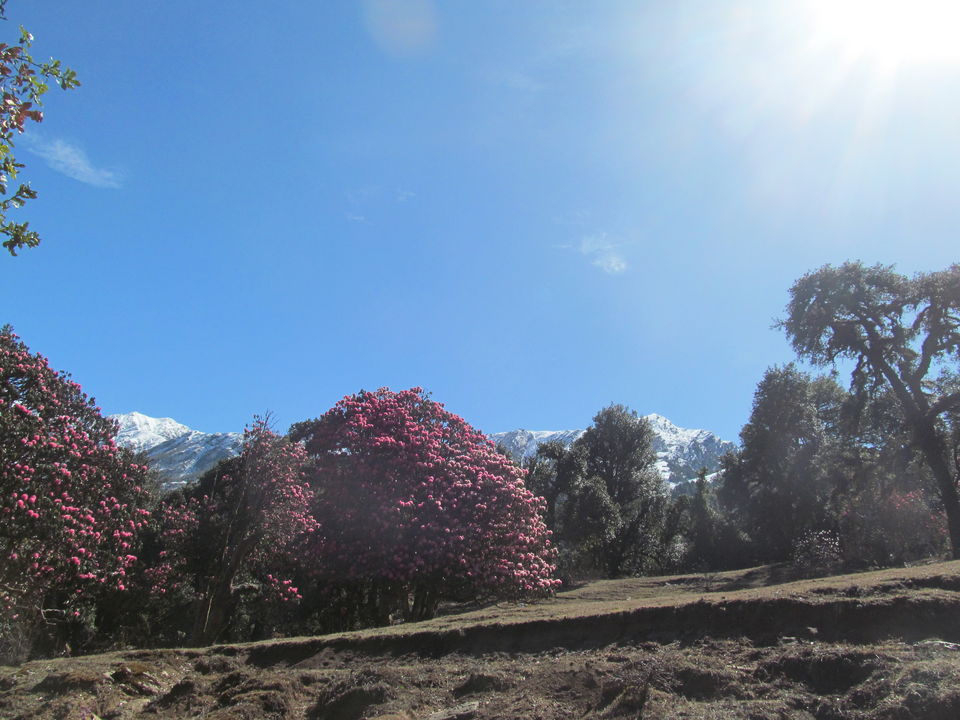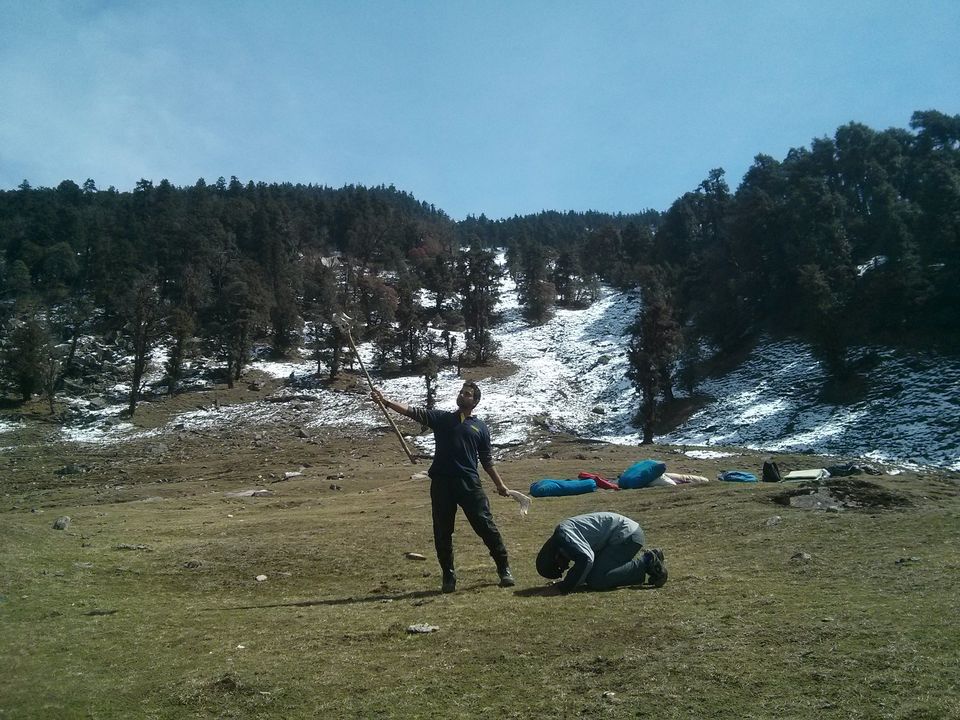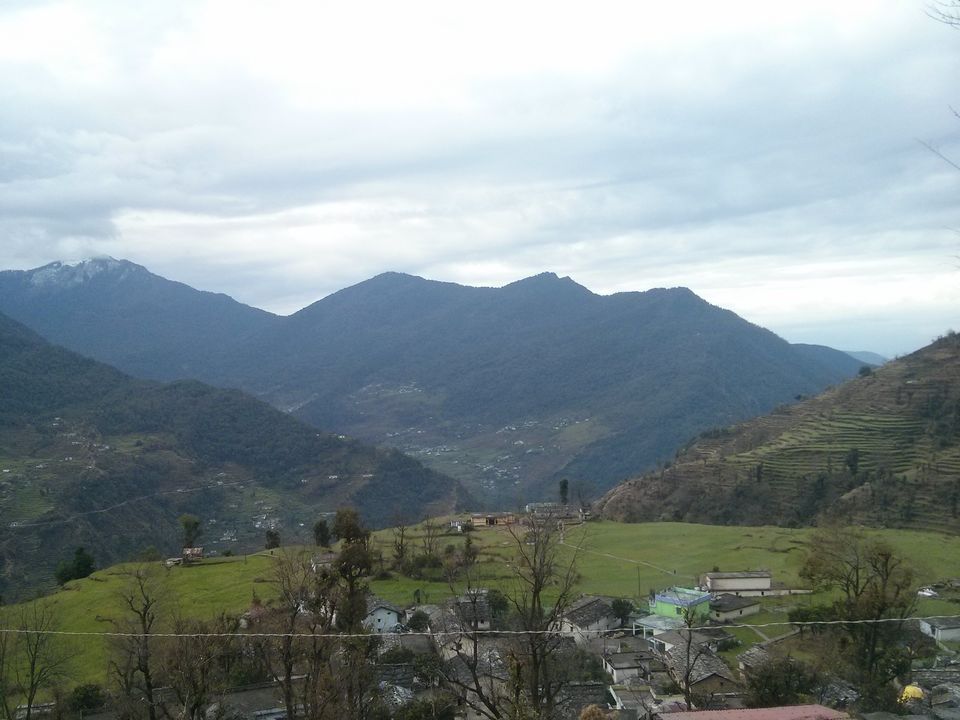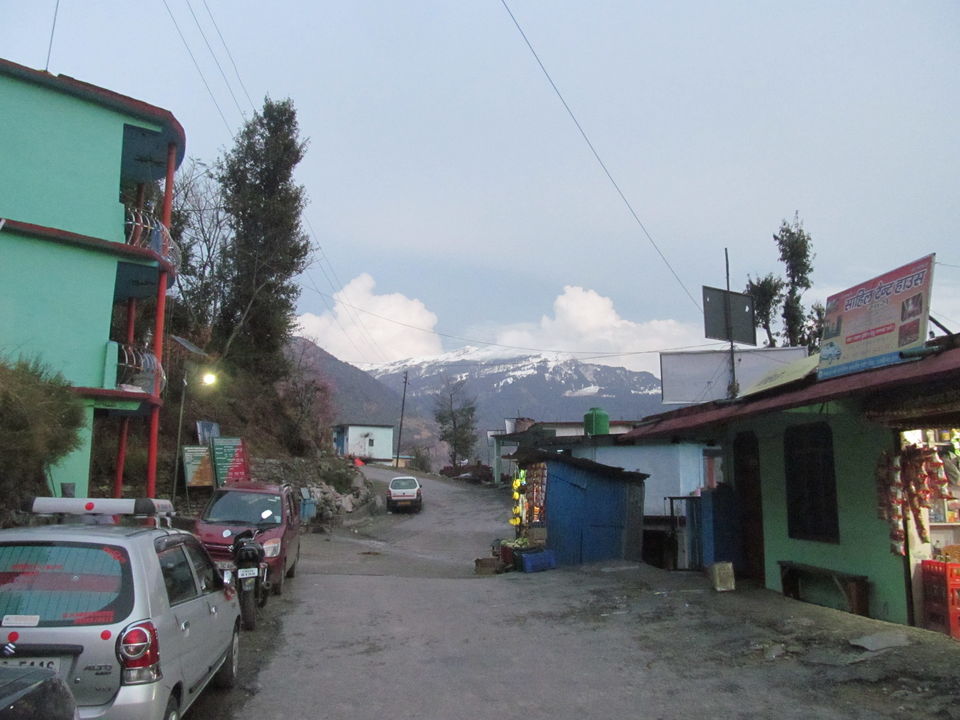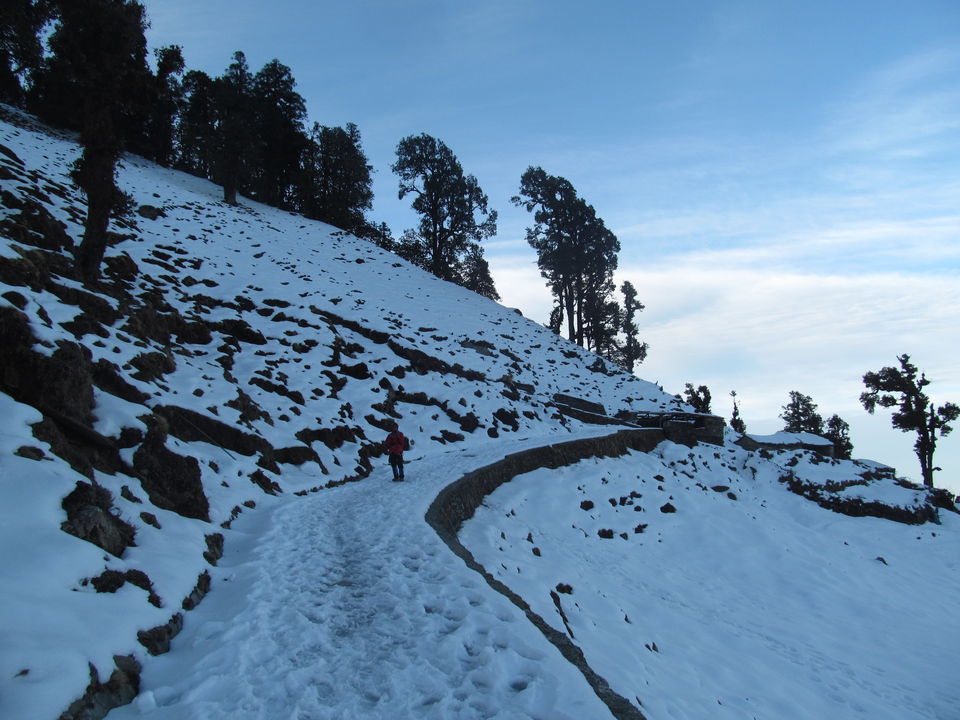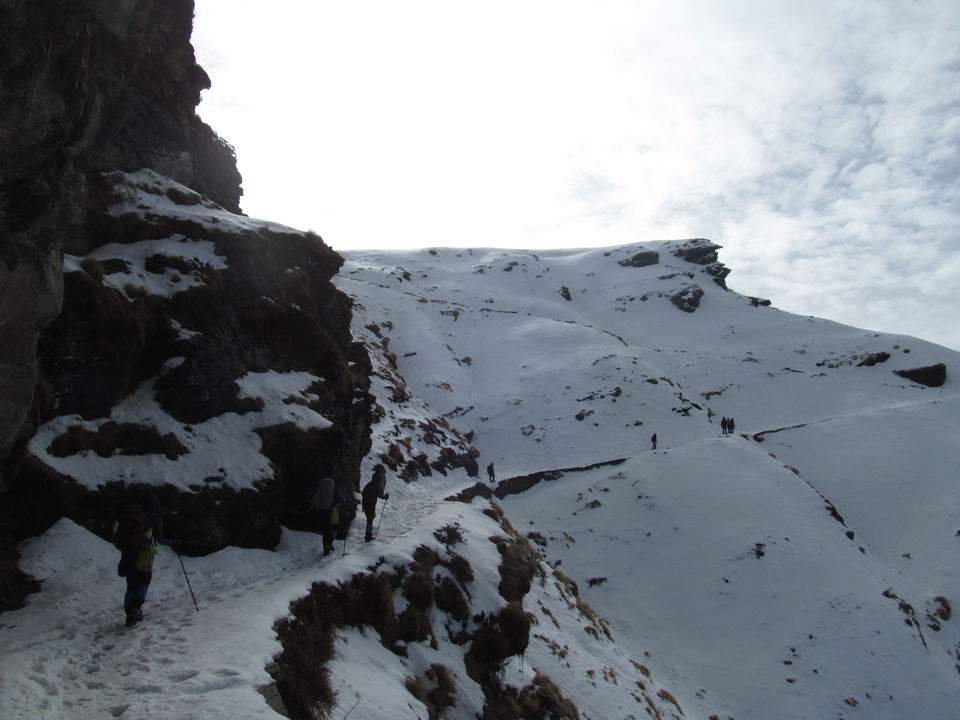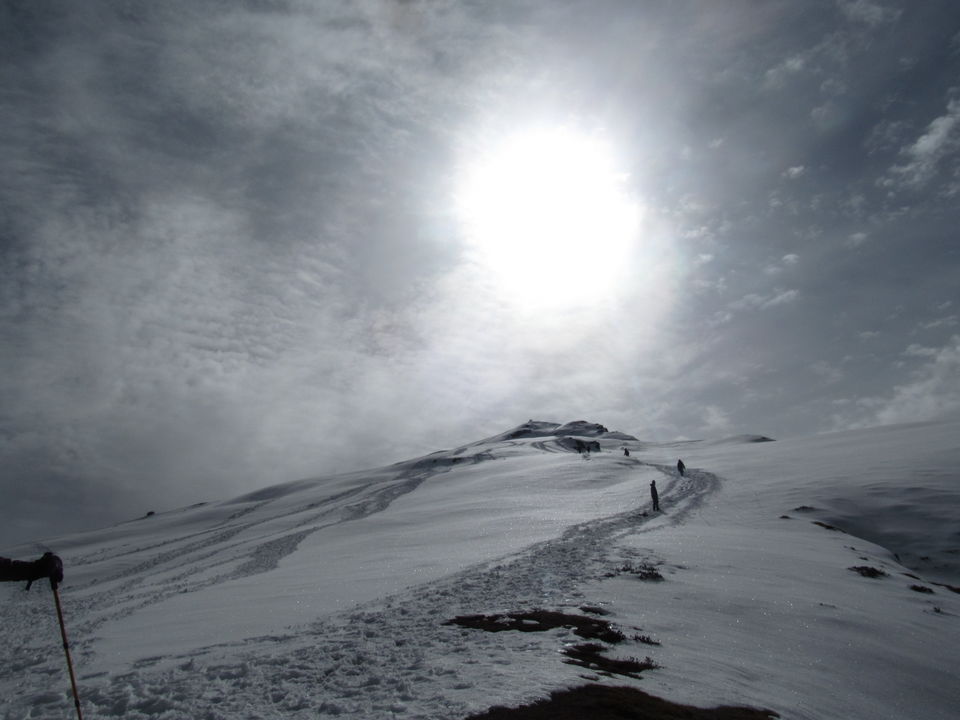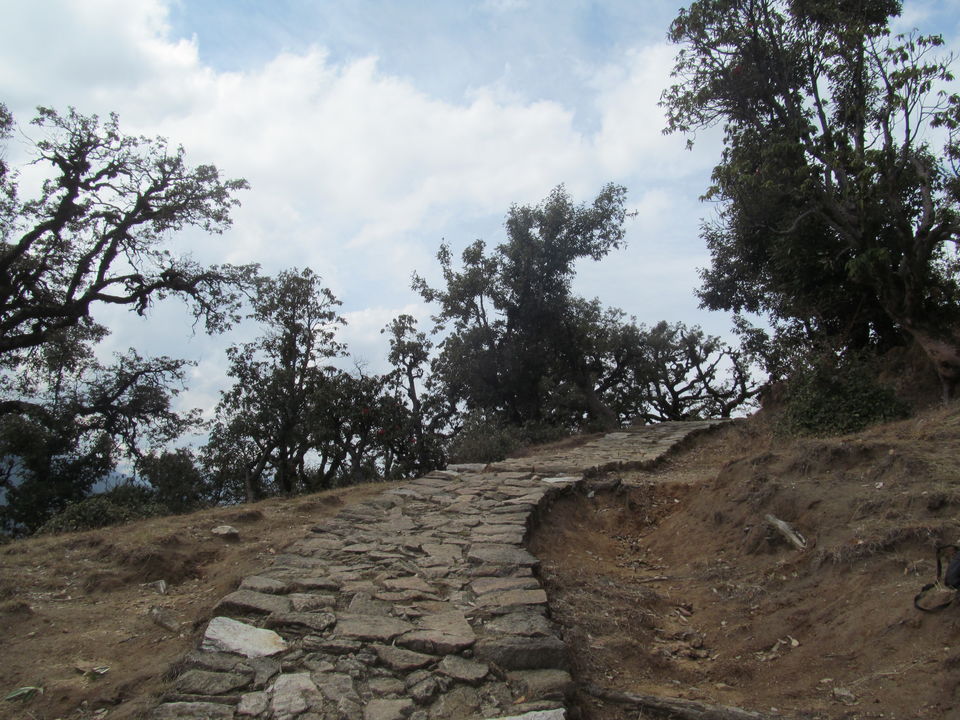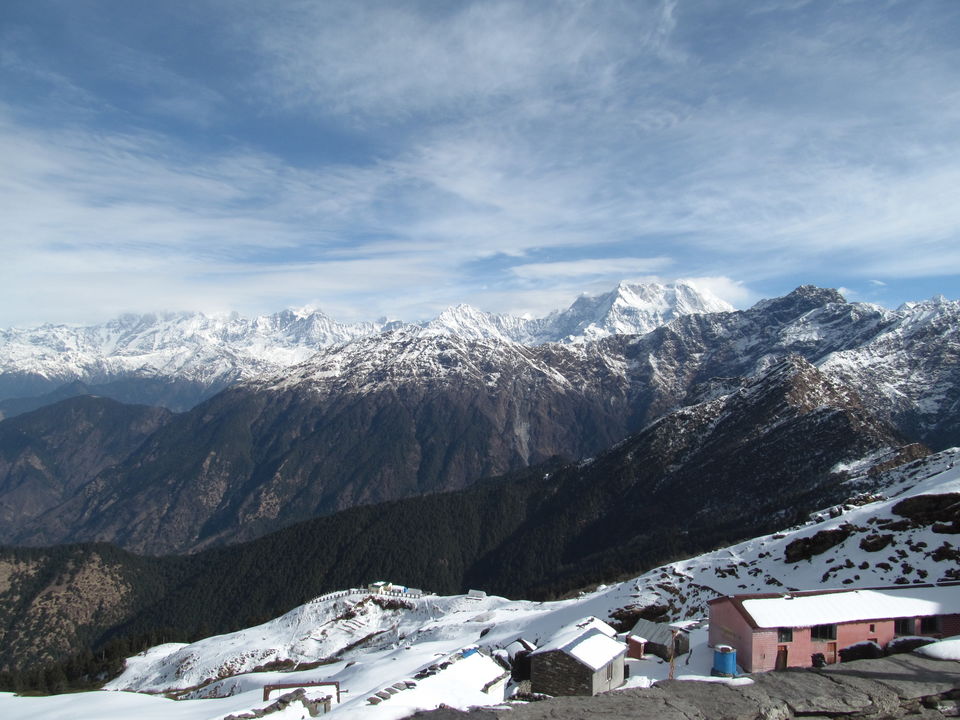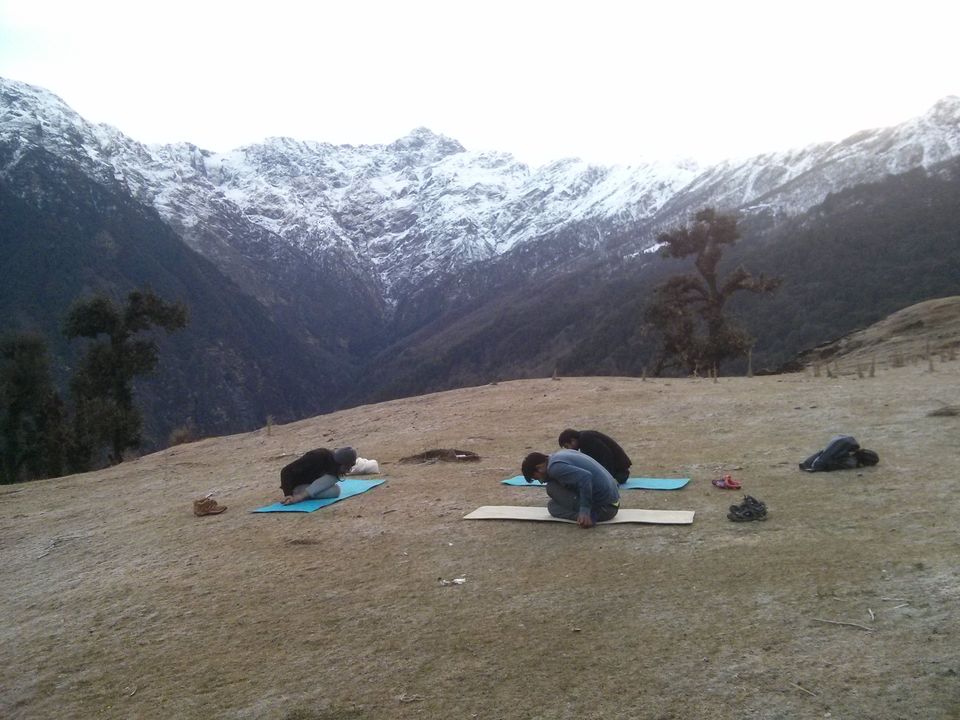 Chasing angels or fleeing demons, go to the mountains - Rasley
The mountains for me have always evoked a sense a mystique - the snow capped peaks hiding stories underneath or the the clouds that trap you within minutes. The more I read about Simpson, Messner, Mallory, the more I felt pulled towards them. Finally, I just could not control it and opted for one of the easier treks that exist - the Deoriatal Chandrashila Trek organised by Indiahikes.
Given the constraints I had on my budget - I choose to travel by train. Obviously tickets were hard to come by since it was a hastily planned trip, but somehow everything fell in place just right.
My itinerary:
23:15 Duronto from BCT to NDLS reaching at 16:30, 23:50 Nandadevi Express from NDLS to Haridwar reaching at 04:00
Day 1: Haridwar Railway Station - 0400 hrs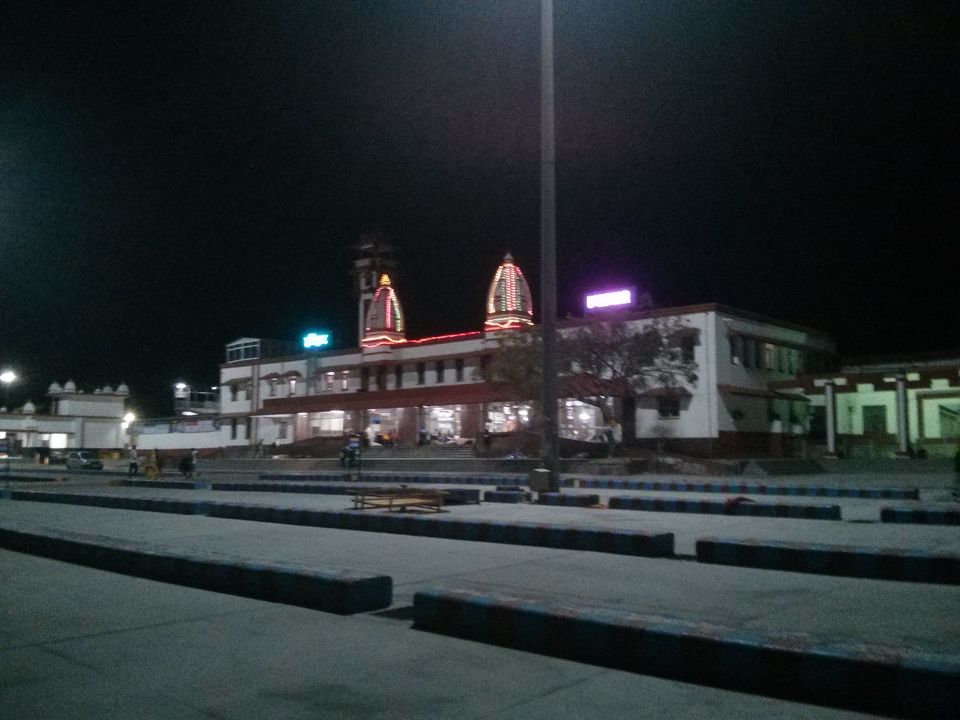 Haridwar Railway Station
The pickup for us was organised by Indiahikes - a traveller capable of accommodating around 12 people. While I met Vivek and Vandana my co trekkers at the station, I met later Yash, Umangi and Gautam who had joined the group from Delhi.
Although it was early morning, Haridwar was already bustling - rickshaw wallahs and the tea shops doing some quick business. The first day of our trek was supposed to be a 8-10 hr ride to Sari - a village just below Deoriatal. Having never been above 1681 m, and barely seen any valleys this journey turned out to be quite memorable. Anil and Ola joined us at Rishikesh which is around 40 kms from Haridwar. Although we made brisk pace early on, as we passed Rishikesh the hills slowed us down. Now we tagged along the magnificient greenish blue Ganga as our traveller slided along the hills slowly gaining altitude. Initially the vegetation was sparse and the hills were barren but as we went deep inside the mountains the colours really started coming to the fore.
Our route was as follows: Haridwar-Rishikesh-Dev Prayag-Srinagar-Rudra Prayag-Ukhimath-Sari
(If one is travelling to Kedarnath dont take the right to Sari but follow the highway to Gupt Kashi and ahead.)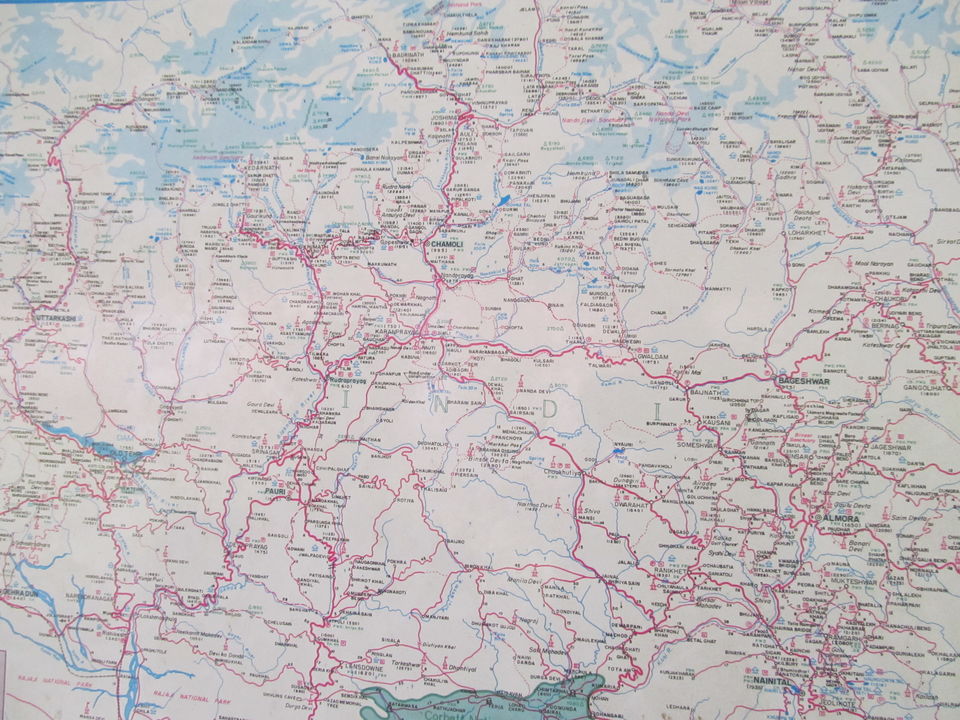 We stopped along taking breaks for lunch and snacks, with every eatery giving us glorious views of the mountains and the valleys. It was drizzling that day, therefore we chose to go for comfort food wherever we had a chance. As we approached Sari the first glimpse of the snow capped mountains could be seen - and I just could not take my eyes away. It was the first time I had seen snow let alone any snow covered peaks - it seemed very mysterious.
Our base was neat and clean where we met our trek crew - Sandeep, Dhansinghji and Tanmay. The view was also incredible, I felt that Indiahikes chose this place as a base simply because of the view - the green fields, the terraces, the winding road and the mountains beyond.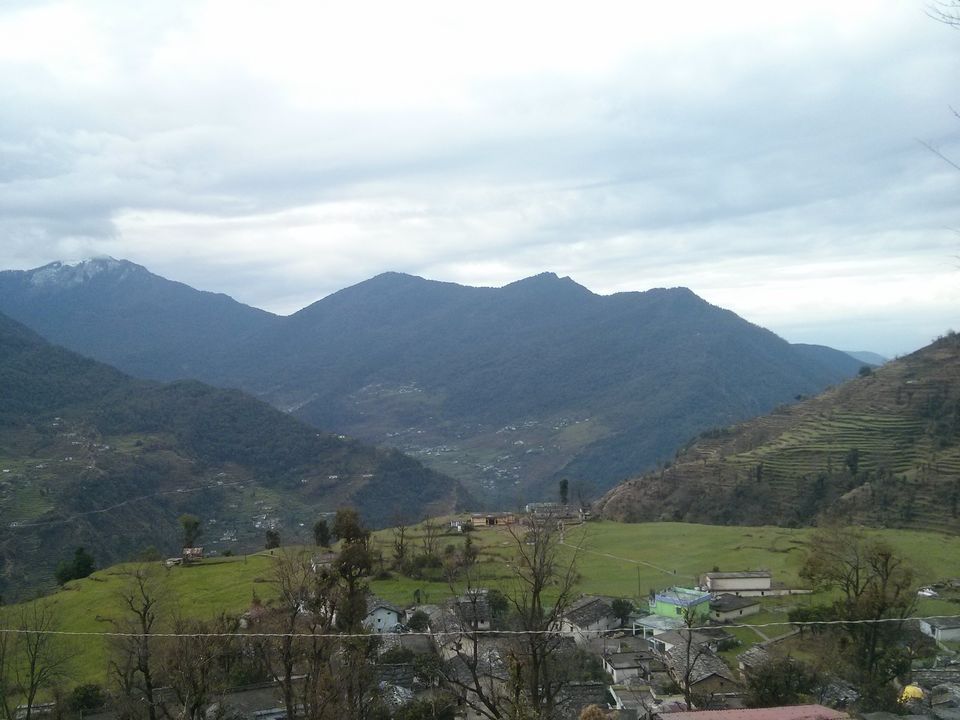 Just as we settled down a briefing ensued where we were told about about certain precautions especially about AMS, conduct in camps, equipment and introductions. The temperature was pleasant by then but suddenly went down as the sun started setting. It was somewhere between 8-10 degrees in the late evening. Indiahikes meanwhile, had very good cooks up their ranks, Rakesh and Rahul had prepared a splendid yet simple meal - delicious dal and some interesting deep fried bananas.
This was the last day when we get to sleep on proper beds and so we made the most of it - a cozy blanket amongst the cold in the mountains - things have started to warm up! ;)
Day 2: Sari Village - 0730 Hrs
Thankfully I had the backpack packed and so not much was needed to be done early morning - we took our trek poles and ponchos (I had bought these from Indiahikes for a total of Rs. 1070) While trekking poles are optional, ponchos really help in protection from the rain - one doesn't need a backpack cover if there's a poncho in hand. But it did seem overpriced, I guess I could borrow a rain cover from those working in the paddy fields and that would be equally effective. Anyways, always good to err on the side of safety.
The real trek started today and it was a gentle climb - a distance of not more than 90 mins with a path well laid using stones.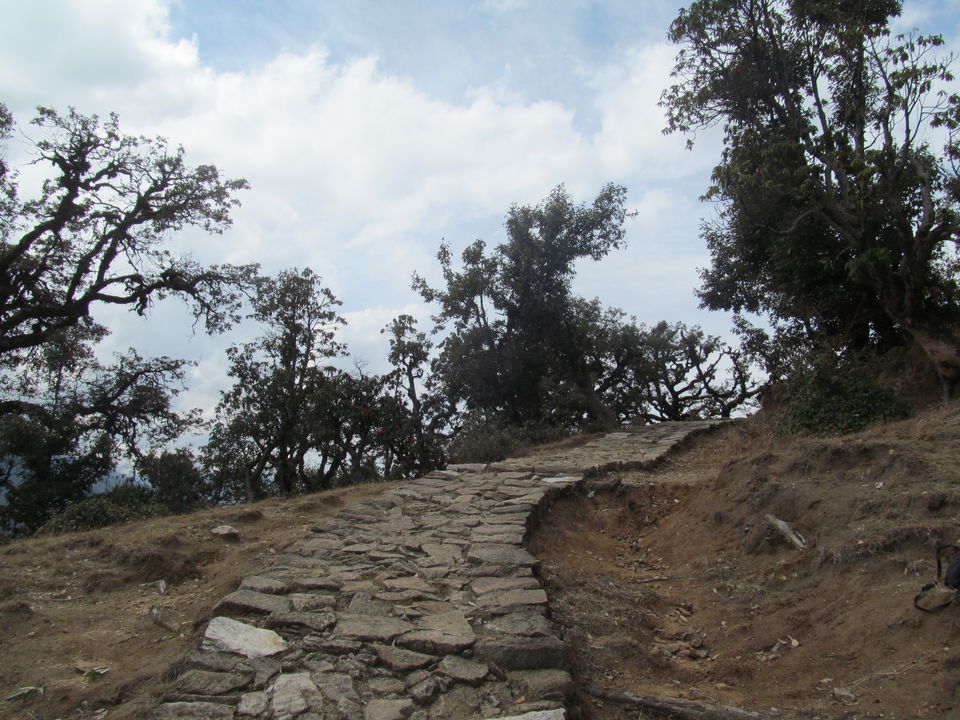 They say, the Uttarakhand govt collects money from tourists and uses that to maintain all these trekking paths which is a good thing unlike what I found trekking some of the forts in Maharashtra. While the distance was short, it was thoughtfully meant to acclimatise first time trekkers to the conditions. My slight disappointment gave way when I saw the serene Deoriatal Lake and the snow capped peaks watching over it. The story about this sacred lake goes like this - Yakshya was a god who controlled the premises of the lake. Anyone who wants to drink its water, must answer his questions first. One was of the Pandavas who was in the vicinity disobeyed this rule and went directly to drink its water as he was very thirsty. Yakshya no wonder was incensed and killed him. Similarly the remaining 3 Pandavas also met the same fate. Finally, when Yudhisthira came he answered all the questions and pleased Yakshya. Happy with the answers, he gave Yudhisthira a wish, which was when he requested all his brothers to be given life.
Infact there are different versions of the story and obviously it has been diluted over the years so if anyone does know the correct version please feel free to post below!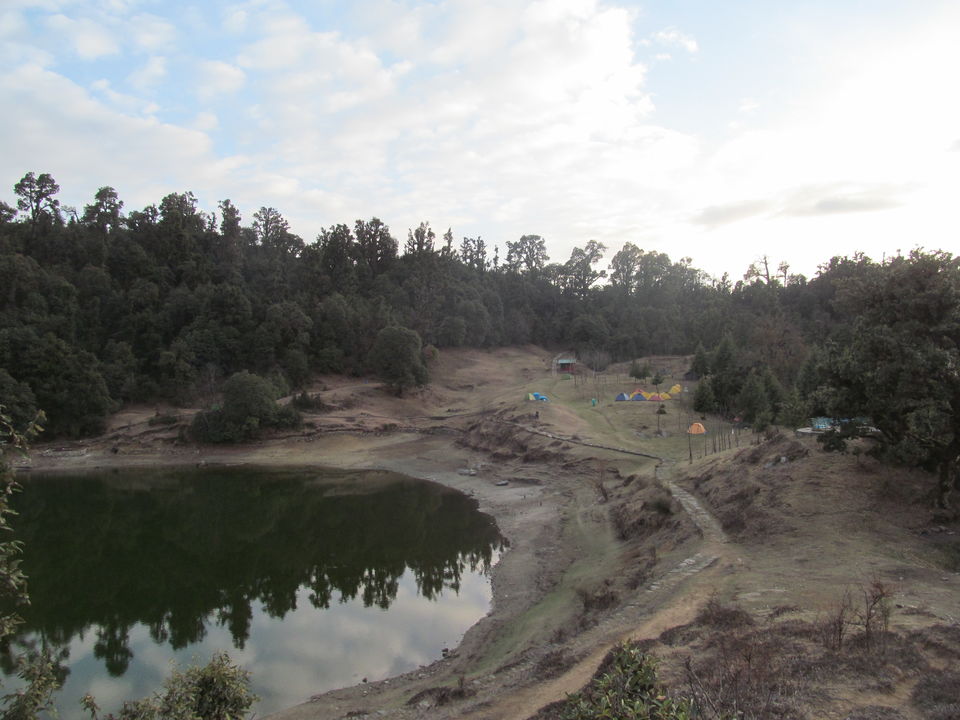 Rest of the day, we spent bonding - playing dumb charades, a game that worked with multiples of threes, dog and bone etc.. Sandeep, our trek leader was really in the forefront, very exuberant and we just soaked his energy in. There was a game when we had to give nonsensical answers to questions and Gautam came up with a gem - "Why do we pee in the air?" he replied "Because I am very thirsty!". May not sound funny now but we back then were ROTFL. Meanwhile, the muggy grey weather had passed by and it was quite sunny and extremely pleasant. Time whistled by and we had our snacks laid out. Indiahikes, to its credit never compromised on food, generally it started with breakfast at 8, lunch at 12:30, tea/snacks at 4, soup at 6 and dinner at 7:30 - and one can eat as much as he/she can.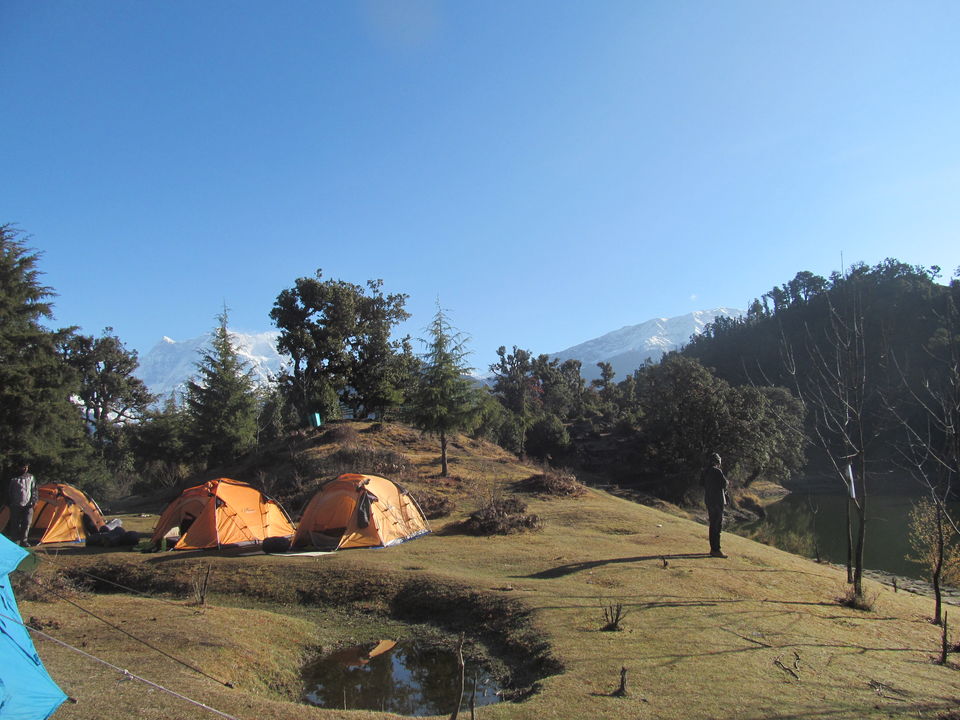 The night was cold, nearly 5 degrees - what that meant is that I couldn't go out and gaze at the stars. There was faint moonlight, and the snow covered peaks beamed that light off, glistening brightly - it was magical. While, trekking to Deoriatal in Mid-march is a tradeoff, the grass isn't so green and it is quite cold too but it isn't too crowded and you have the place on your own. Since I prefer solitude, I was happy with the timing of this trek.
Day 3: Deoriatal Lake - 0615 AM
I went to sleep early since I did not want to miss the early morning sunrise. There was small watch tower nearby which gave awe inspiring view of the peaks - The Kedar Dome (~6900m), Mandani, Mahalaya, Chaukhamba (~7100m). As the sun started to peek through in the east, I could see these peaks starting to become golden in colour - it was simply breathtaking. Last night they were oozing out a pleasant white under the moon and this morning they were burning with a golden yellow flame.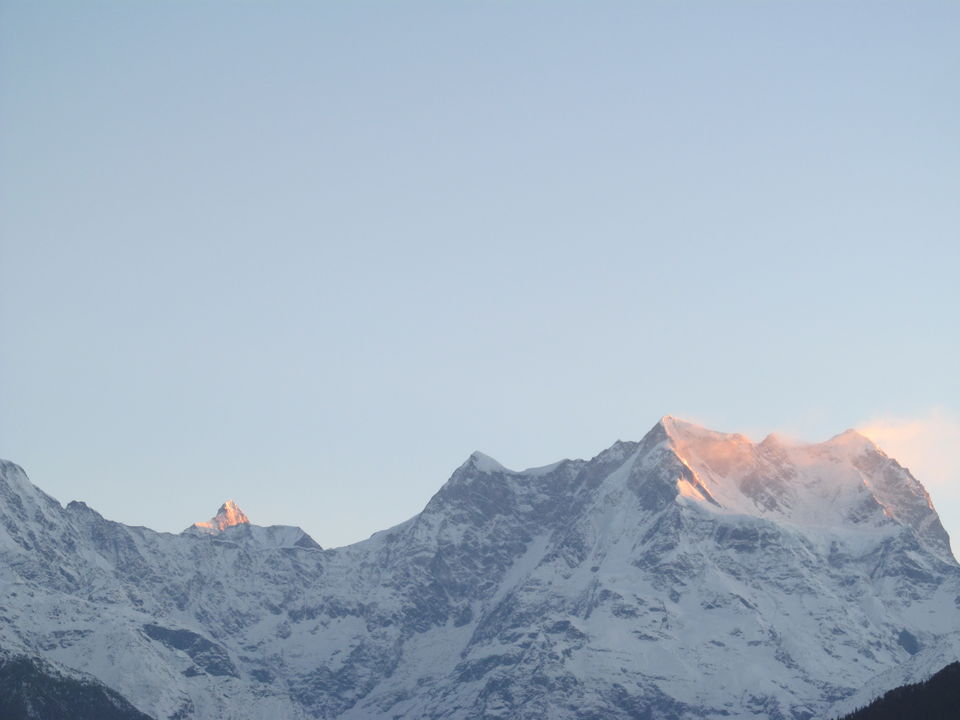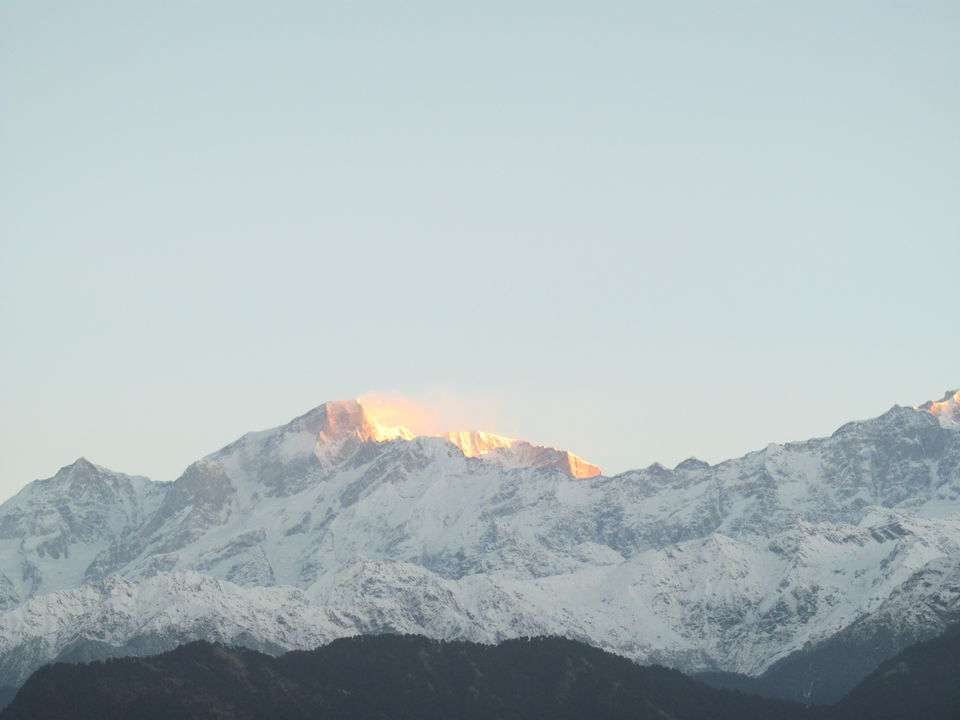 Just like yesterday, we finished our morning routine and set out. Today the trek was tougher with a total distance to be covered being 8-9 kms, passing along the ridge. We had a packed lunch given that the our next campsite was atleast 5-6 hrs away. This time our path, still well laid, briefly ascended and then passed through forests full of Rhododendrons - for those who don't know it is the state tree in Uttarakhand (also national flower in Nepal, state flower in HP and Nagaland). Initially, the flowers were red in colour but as we gained height the colour started becoming pink. It is said Blue Rhododendrons exist as well but they are quite rare - unfortunately we couldn't sight any.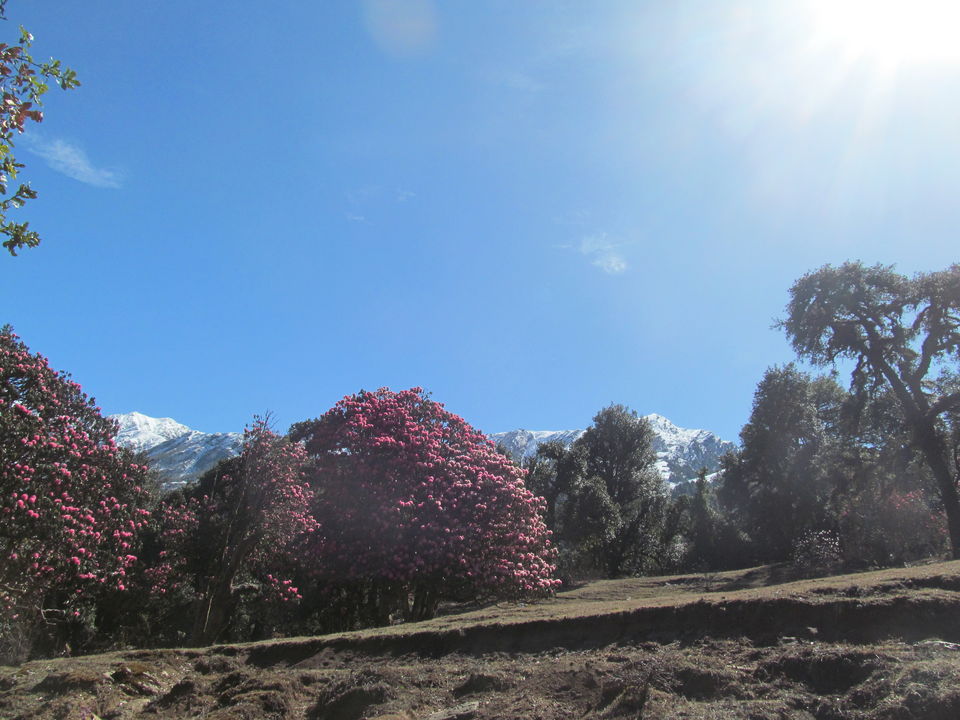 We were now travelling slightly eastwards heading right under the Bhisurital peaks. Bhisurital is a lake in the range which is also a trekking destination. Along the way I could spot a lot of flora, mostly small flowers growing near rocks or on grass but very beautiful.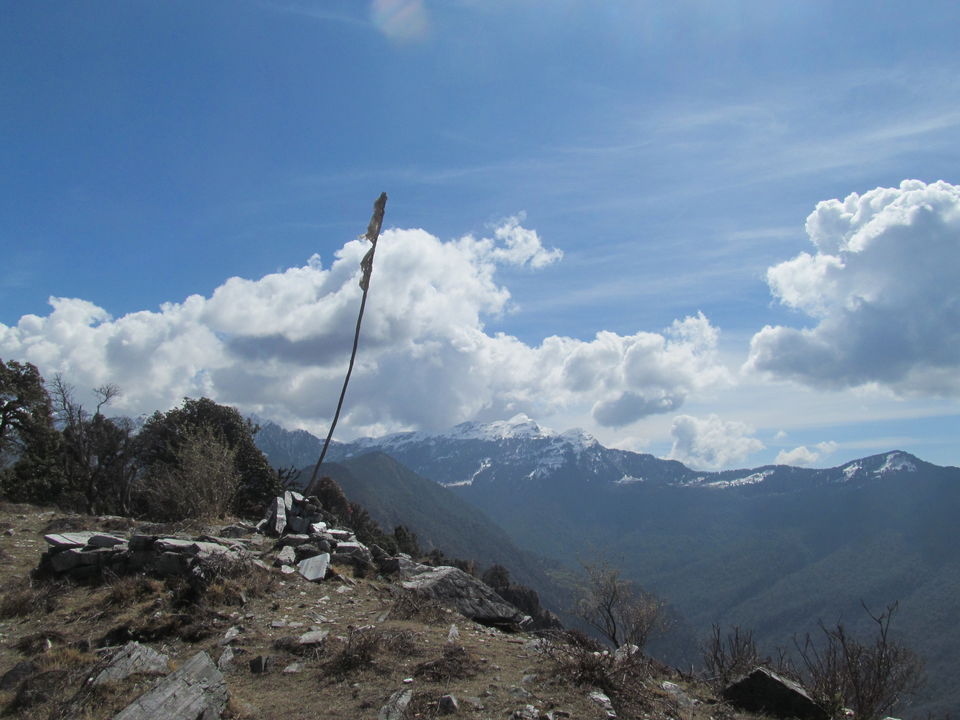 It was shining brightly when we started, but just at the end of the day's trek it had begun to become dark. Although, I have never been to Great Britain it felt strangely similar - the moss laden trees, muddy soil and grey skies. We reached our camp-site just in time, for it immediately started snowing(more hail than snow). The site was beautifully set up, under the Bhisuri mountains, a true meadow with a stream passing by carrying fresh water - just like in the movies. As the precipitation relented (I am still confused if it was snow or hail), me and Anil went for a small walk and the landscape was simply stunning! The meadow where we camped lay directly under the tall snow capped Bhisuri peaks - the view humbled us. We could see the characteristic shelters made out of stone, arranged carefully one above the other, filled with soil to plug in the gaps. It is said, this patch was used by shepherds for grazing come April, May. Oh and the meadows were called Rohini Bugyal (Bugyal literally means meadows)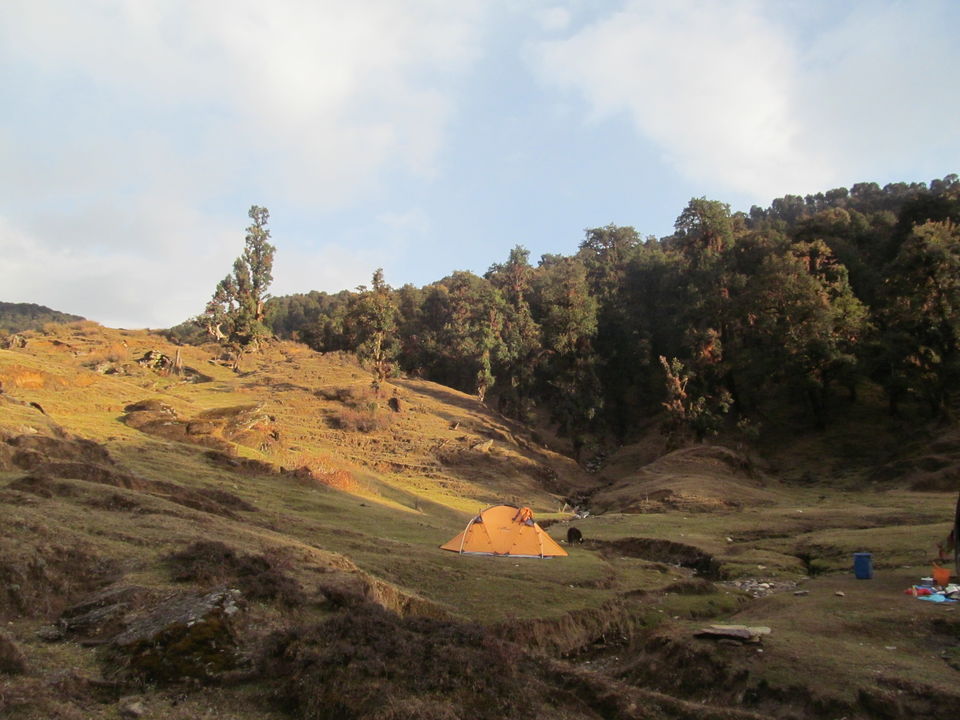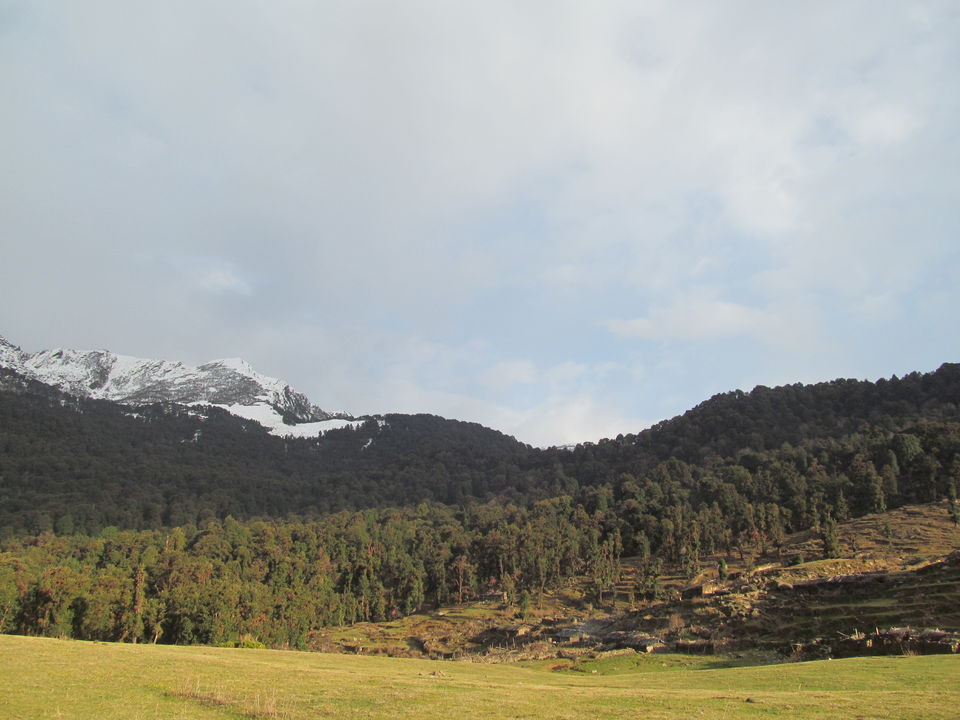 Started at 9 AM, Lunch (Peanut Pickle Rice - just too yummy - thanks again Rahul, Rakesh) at 12:30 PM, Reached Rohini Bugyal by 2:30 PM
Day 4: Rohini Bugyal - 0615 Hrs
Yet again I continued the trend of waking up early and going for a walk - I guess those were the best parts of the trek, just being along, me and the mountains. Sandeep, Anil and Umangi meanwhile started with Yoga, with Umangi giving lessons to the other two. Mountain air, early morning and yoga - a dream combination for some perhaps!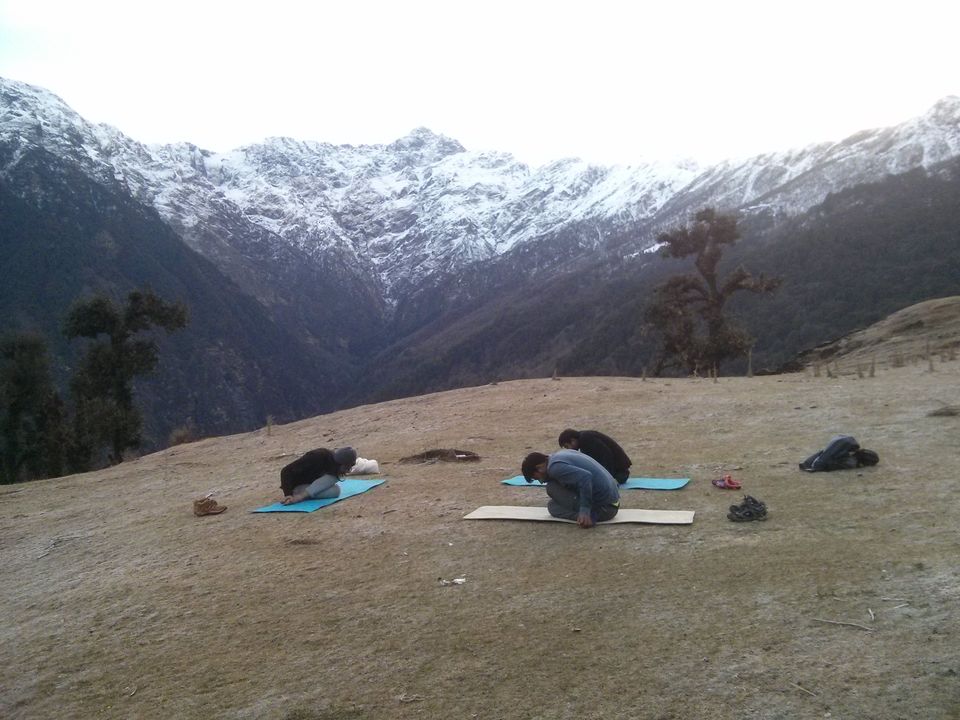 Gautam, Yash on the other hand had a nocturnal tendency - sleeping late and therefore rising up late too.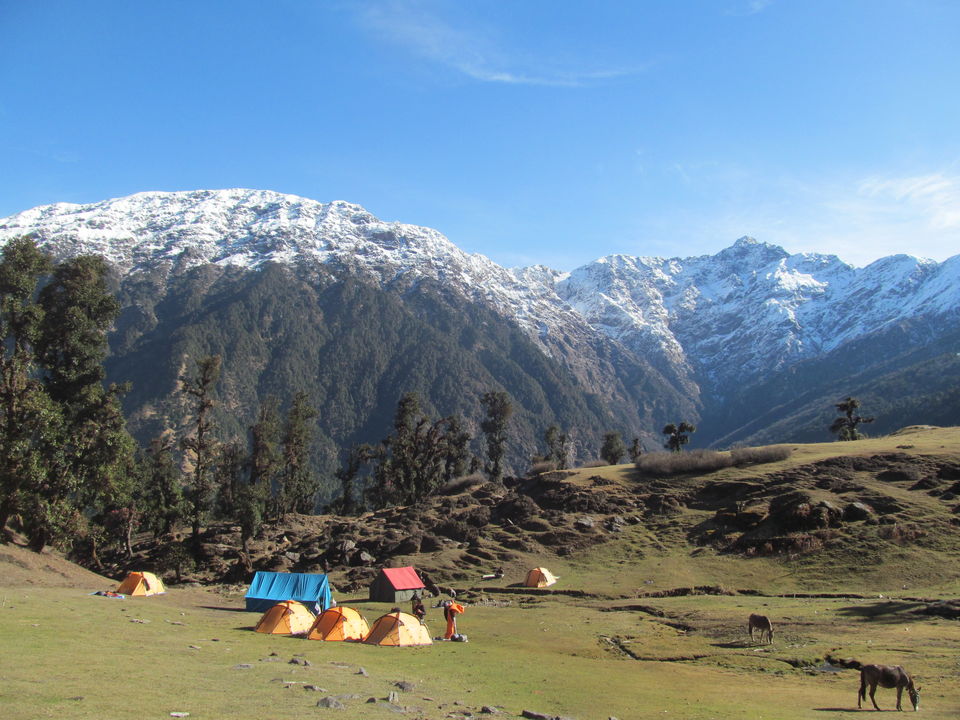 The morning routine comprised of rolling our fleece bags and then the sleeping bags. All through the trek the temperatures ranged from 2 to 8 degrees in the night, and this combo made us feel incredibly warm and cosy. Once done, we removed our sleeping mats and then dismantled the tents which was later carried to our next camping location by a separate staff who had mules to help. Another important task, once everything was packed was to clean the campsite - I really believe that we should be grateful of the surroundings we live in and the resources we have borrowed, therefore keeping it clean is the least we could do. Infact, we throughout the trek carried ecobags - in case we see any garbage along our path just pick it up and put it in the ecobag. Well done Indiahikes for this initiative!
Today's trek was an easy one, not much distance yet we packed our lunch. While it was mostly forests to begin with, I tagged along with Dhansinghji - he is a local from the Roopkund area but knows everything there is around here. It used to be a pleasure walking along with him as he would share interesting stories and incidents. Having worked in the rescue team for the Uttarakhand Govt during the Kedarnath floods before joining Indiahikes he was no stranger to the mountains and it's weird ways. We really felt reassured in his presence.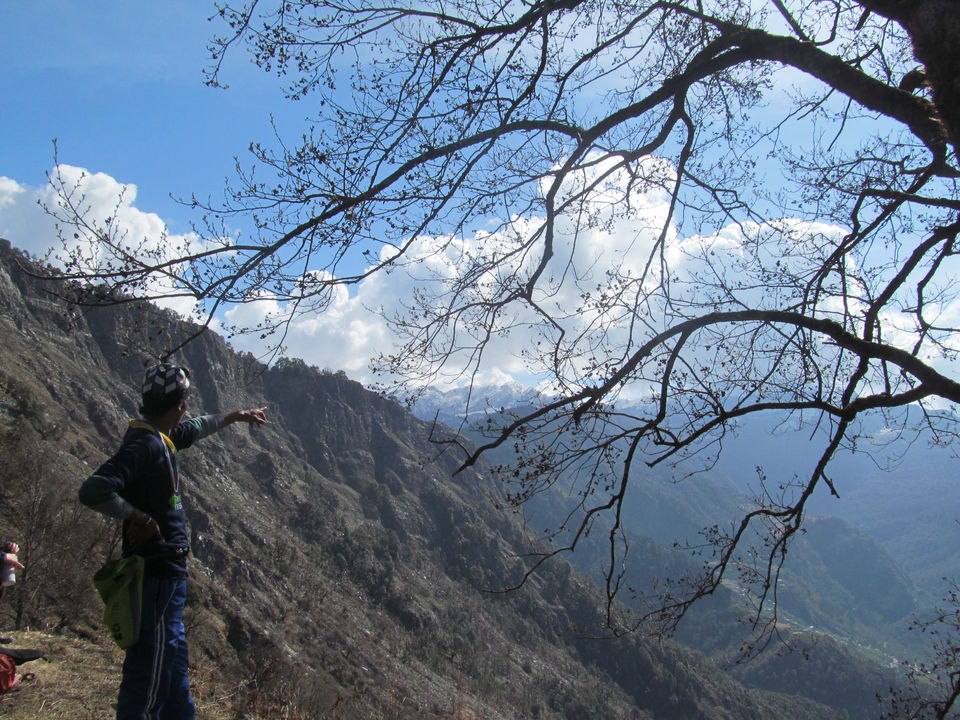 Our path crossed "Aakash Kamini" a stream formed out of melted snow, we had a break there and I took the first chance to remove my shoes and dry them in the sun.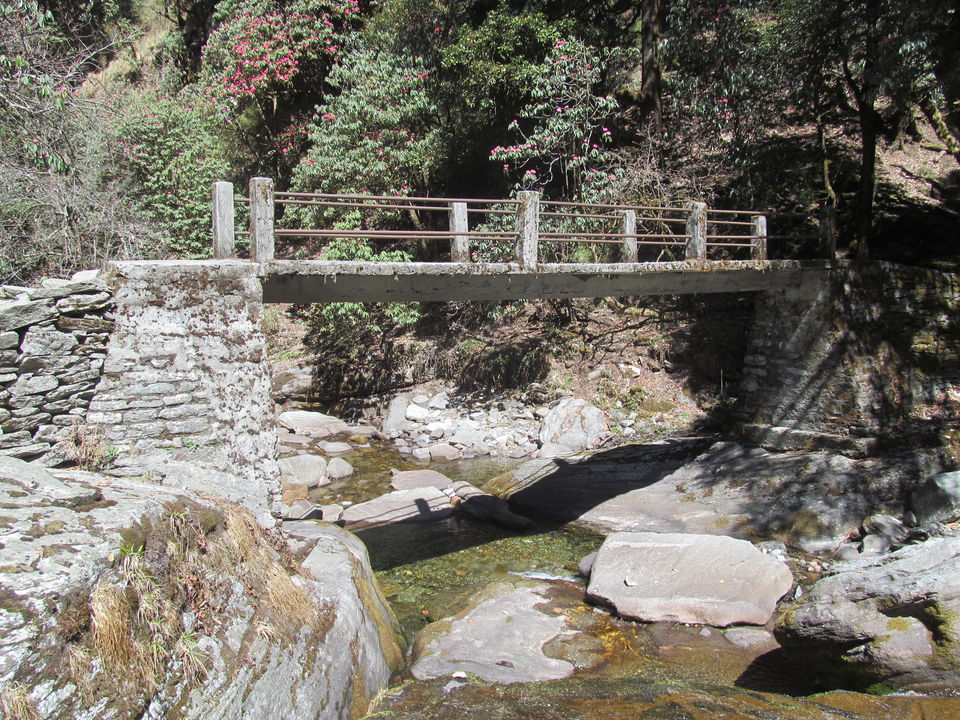 Some of us took rest while Super Sandeep was lively as ever going about clicking photos and posing. Frankly, the trek wouldn't have been half as fun without him.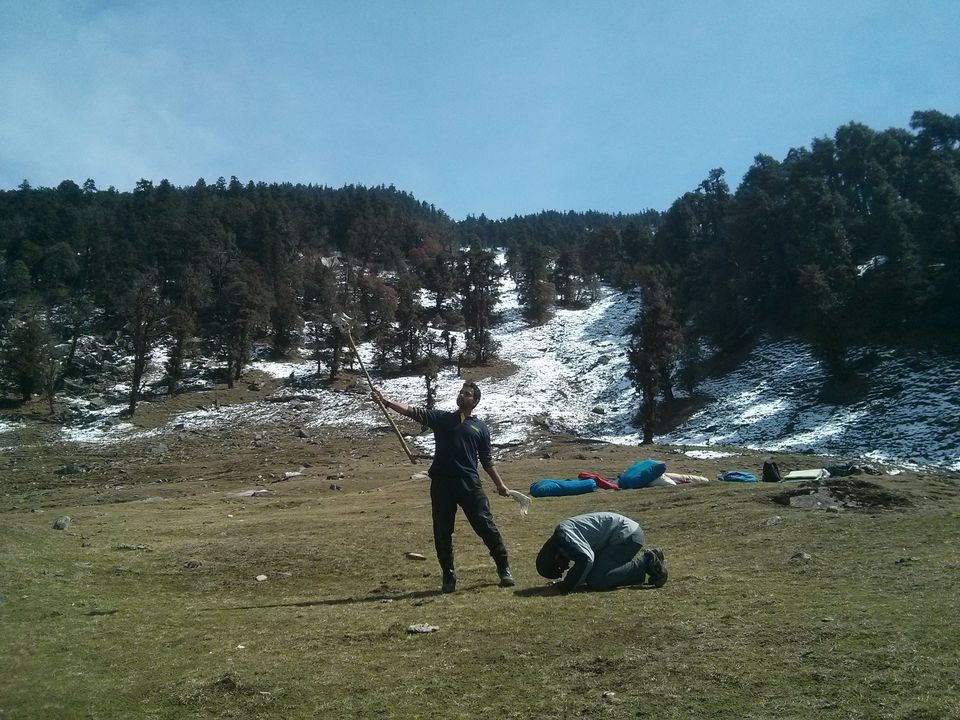 An hours walk after the break and we reach our final campsite just below the Chandrashila peak. Again a similar pattern of choosing the campsite - a huge meadow, with streams flowing by and views that one could gorge on. The snow started 200m from our campsite and I just couldn't resist not touching it. Rest of the day we spent lazing under the sun - Ola reading her book, me just soaking the view, Gautam & Anil strolling around and the trek crew busy in setting up tents. From this camp we could now again see the Kedar Dome with its dome like feature that distinguishes it from the other peaks in the area.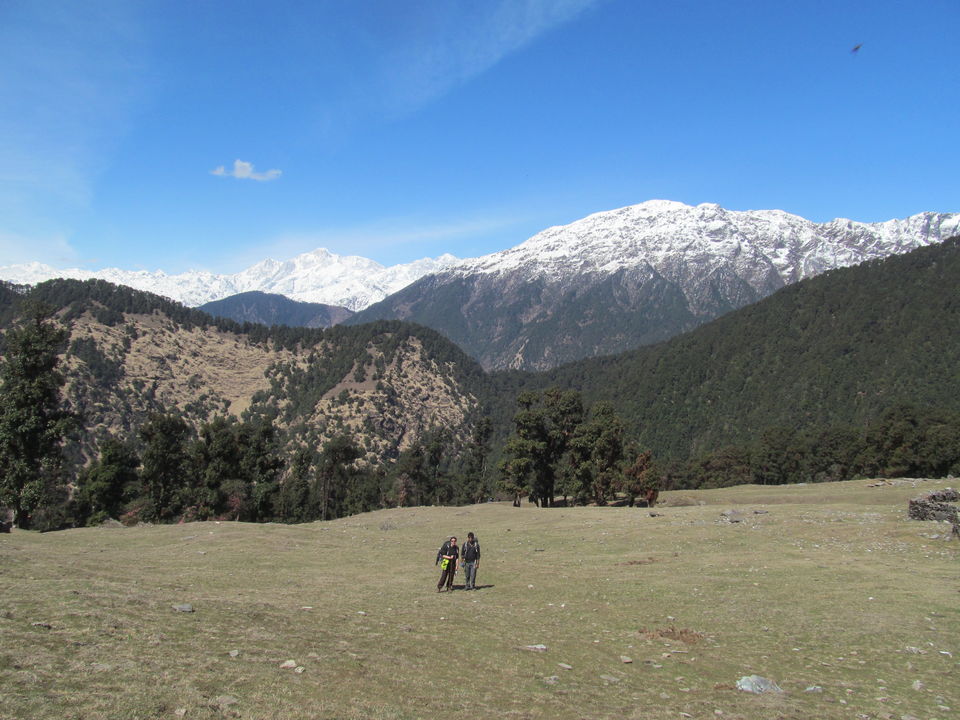 Later in the evening we had a small session where the trek crew introduced us to walking in the snow. The crew gave each of us gaiters and micro-spikes. While gaiters avoid letting the snow get inside your shoes, thereby keeping your legs dry, micro spikes provide grip when walking over hard snow. Once we wore them, Tanmay - the silent guardian of our trek - gave a small briefing on ascending, descending and traversing through snow - important lessons I felt.
Once dark a similar routine of soup and dinner followed. We went to sleep since we had to start for the Chandrashila peak by 5:30 AM. To those going on this trek it is imperative that you start as early as possible, if you don't do that, clouds would start kicking in and you would simply miss the view!
Day 5: Bhurjgali - 0430 Hrs
I was probably the first one to wake up but did not dare to come out of the tent for the cold. It was important to start early but given historical trends it was all but impossible. The cooks to their credit had breakfast ready by 5 and it was delicious - the daliya were incredible (maybe the cooks cheated by putting milkmaid :P). Soon we were all set to leave but just then realised one person was missing - Gautam. We covered for him, getting the backpack, the water bottle and finally we started, late by atleast by half an hour.
Initially, we passed through a forest but as soon as snow appeared we put on our micro spikes. Now folks, walking on snow is a completely different experience - your feet sink a bit, the ground feels cushioned and of course there's white all around. As a matter of fact, sunglasses are absolutely necessary on such a trek with snow blindness being a serious possibility. For the ascent, we followed a path used by pilgrims that trek to Tungnath. It is said this temple is the highest temple of Shankar in whole of Asia. Like most of the trek, the path today as well was well laid out. In some instances there were railings to support the climb. But when its an easy climb one has enough energy to focus on the views and they were simply heavenly.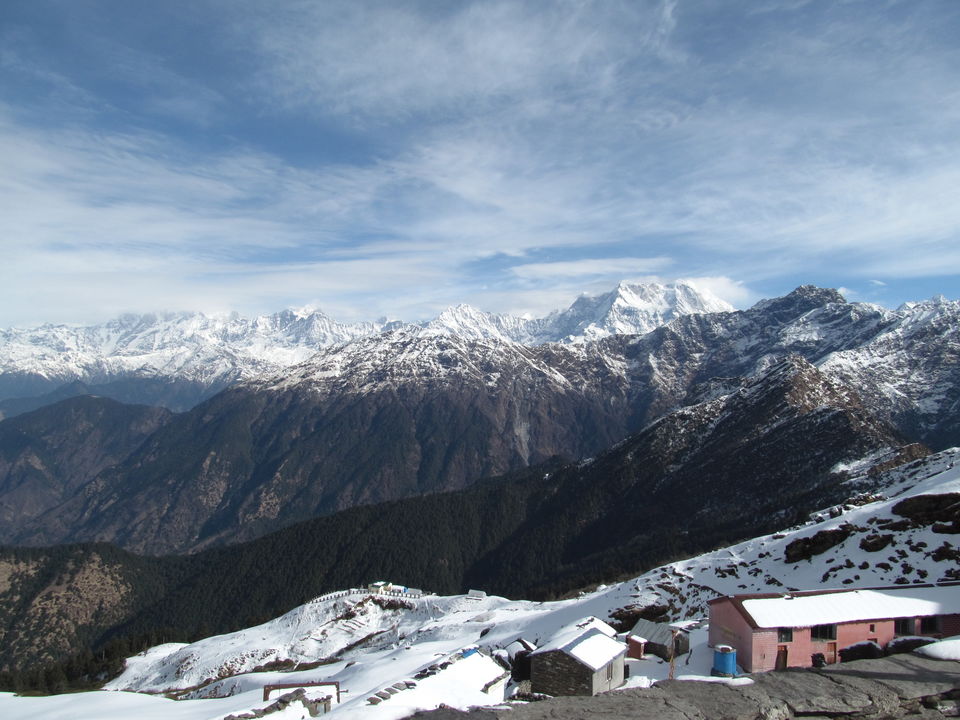 There was fresh snowfall which meant it appeared literally like a white carpet and as the sun started rising it created various hues of golden, yellow and orange. On some portions there were shadows but just on a bend we could see the yellow sun gleaming through uplifting all the objects that lay in its path. These bends were duly used for taking photographs offering the best light and the best background!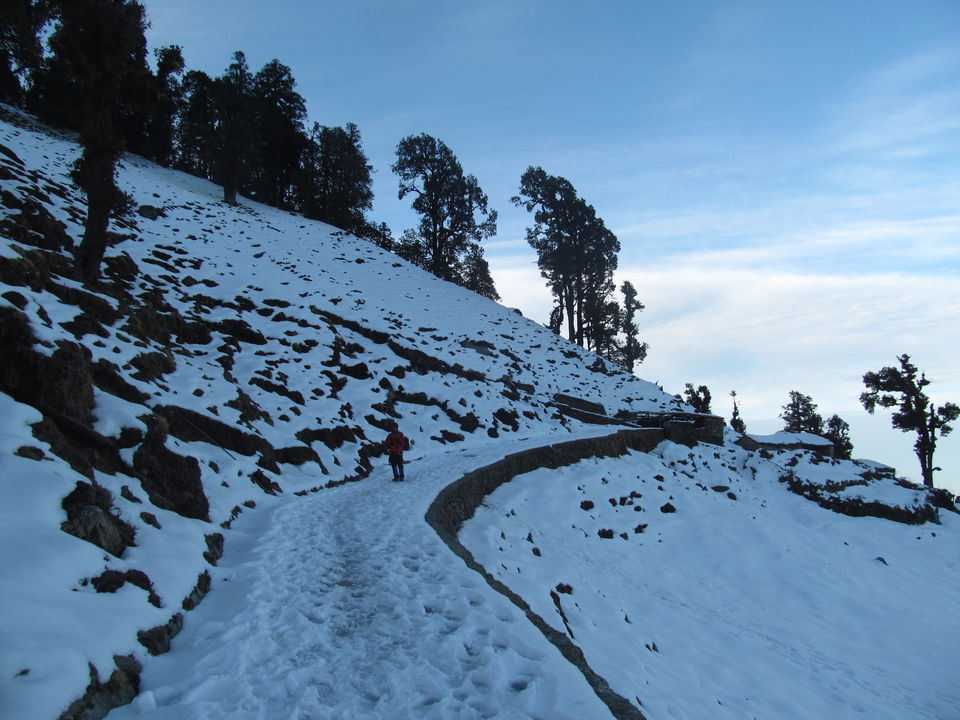 While we took small breaks all along the Tungnath temple signalled the mid way mark and we stopped there. The entire complex had some hotels as well - which were closed now, almost like a ghost town.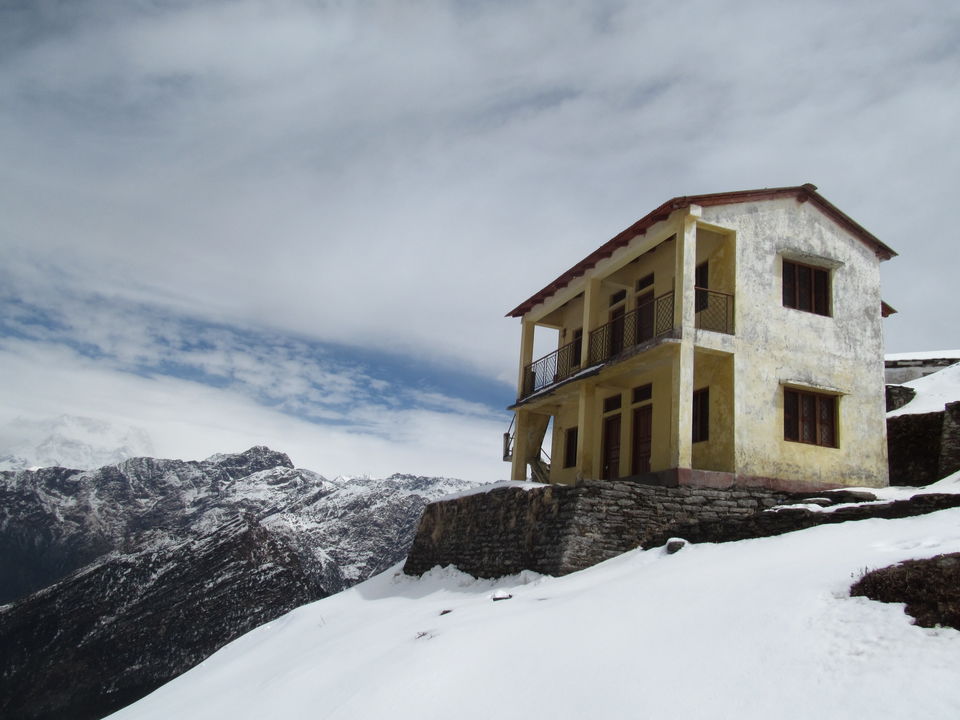 The snow here was easily 2-3 feet if not more. After a group photo, we started ahead to the Chandrashila Top. The snow was getting deeper and deeper, making it tough to climb. While exhaustion and fatigue were major concerns, but at the same time there was always a risk of twisting an ankle (Forclaz 500 shoes have ankle support which helps a lot). Strangely, it felt as if my skin was burning and I was sweating heavily as well.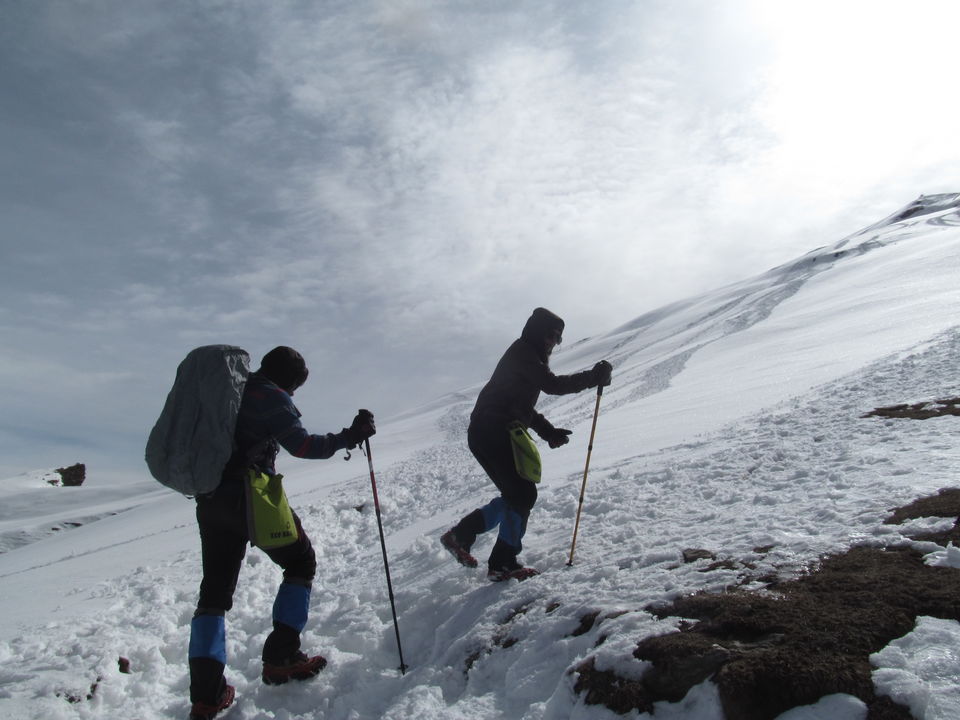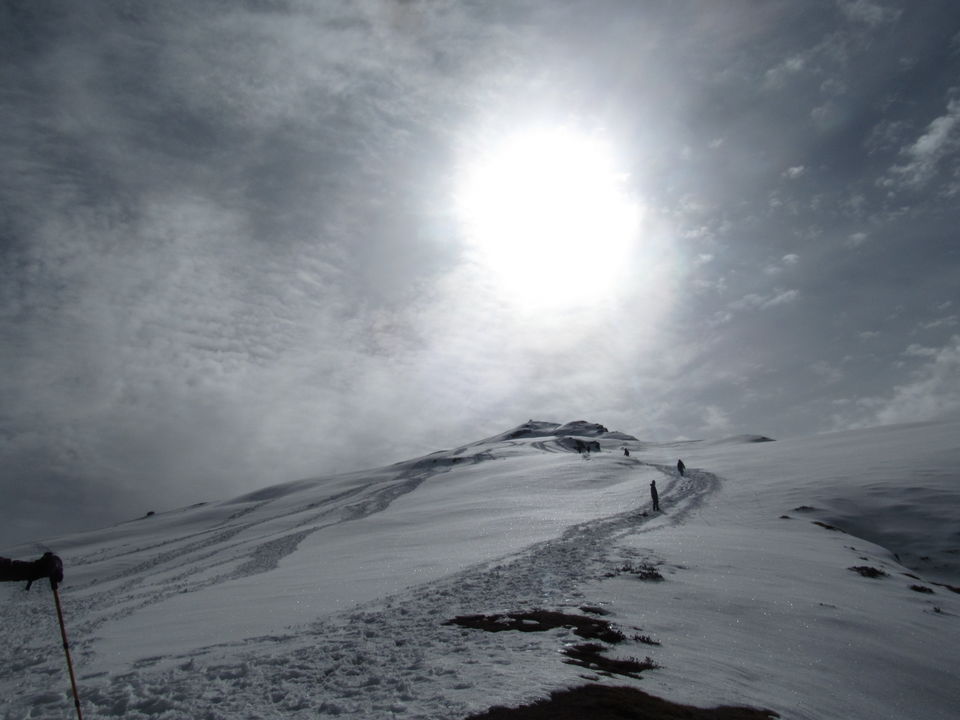 But slowly, we ascended and reached the top. That was 4010 metres - the the highest I've ever been.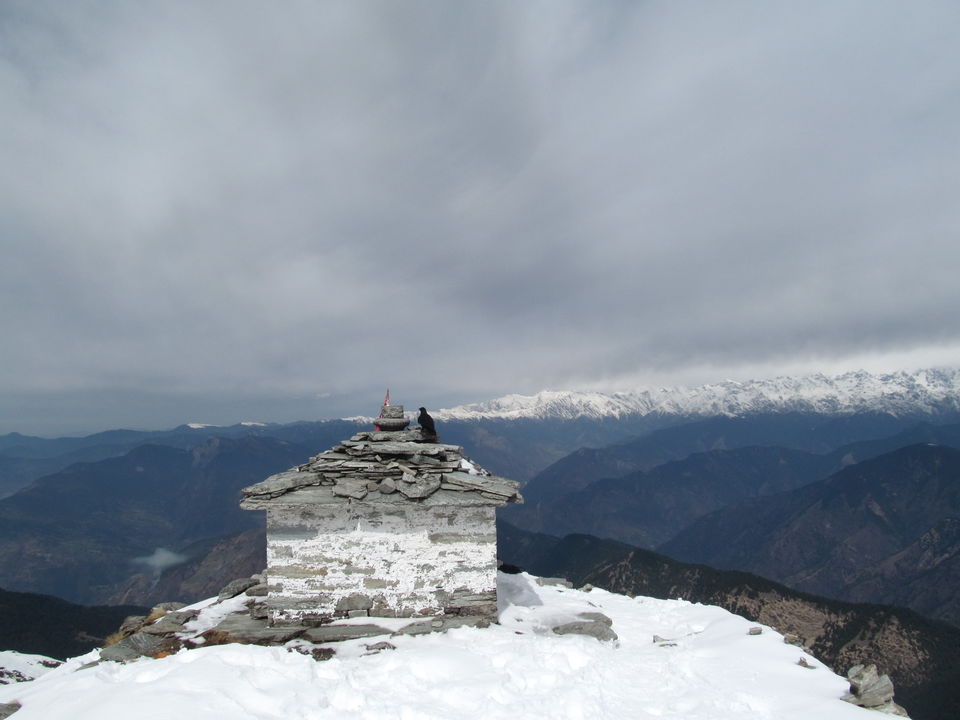 Unfortunately, we were late and our 360 degree view was blocked by the clouds. Nandadevi. Neelkanth, Trishul could be seen from this peak but the clouds made it impossible. We had our lunch - a simple fare of cold roti & chana dal, and after a while started our journey down. This is was without doubt the most exciting phase of trek.
We quickly descended trusting the snow underneath, each one of us taking a different trail and ruining the snow carpet in a sense.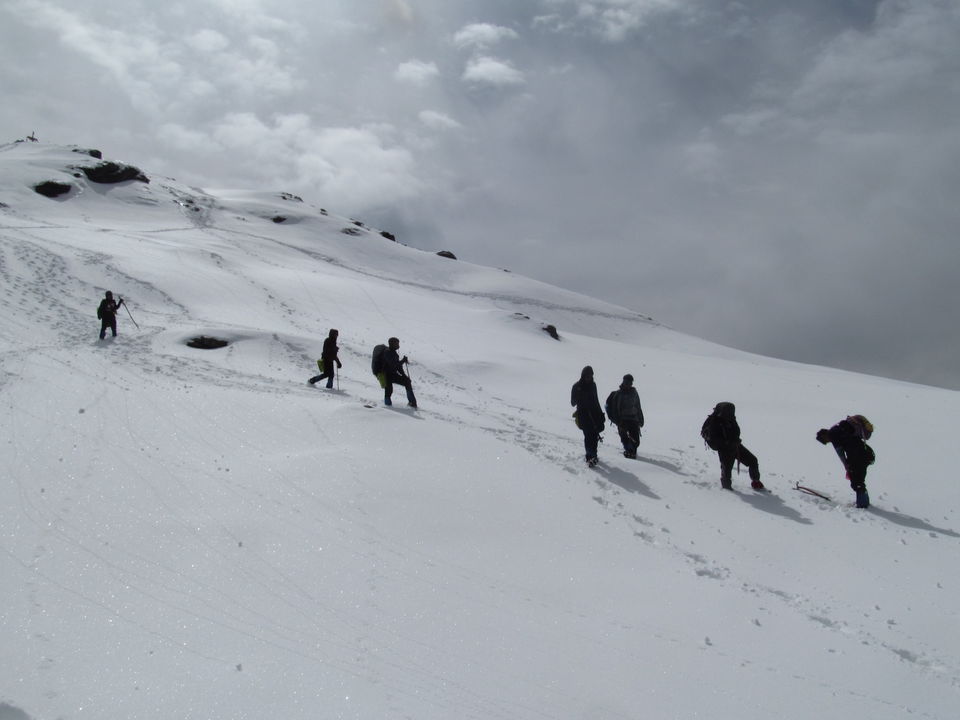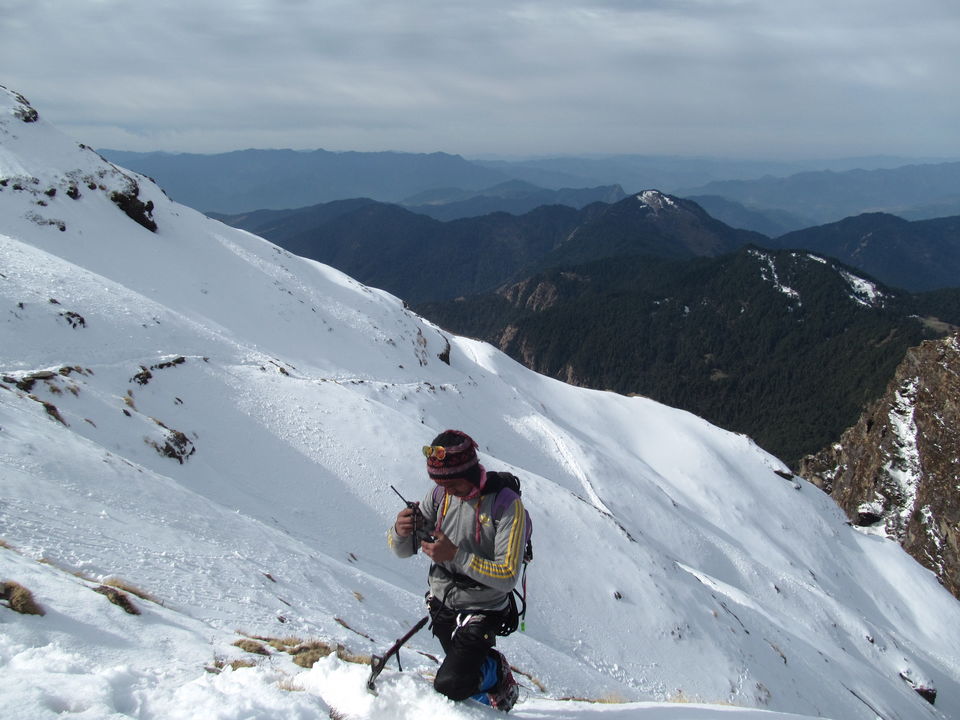 At times we used to get into snow fights - the worst part being somebody sneaking back and putting snow inside your jacket. That was so cold! As the trek crew became more confident, we started sliding down on the slope. The first person going down would create a path using his/her body and then the others would simply follow sliding down at a decent speed. We took a lot of short cuts, since descending in snow automatically breaks your momentum making it safer, enabling you to take steeper paths. And of course once tired, one could always look down and feel content with the views - it was a feeling of satisfaction. We reached camp site in no time and by then most of us were dead tired. Despite the gaiters my shoes were totally wet. Lunch was Rajma Chawal and we hungrily gulped everything down. Post lunch, some of us, including me, went for a nap.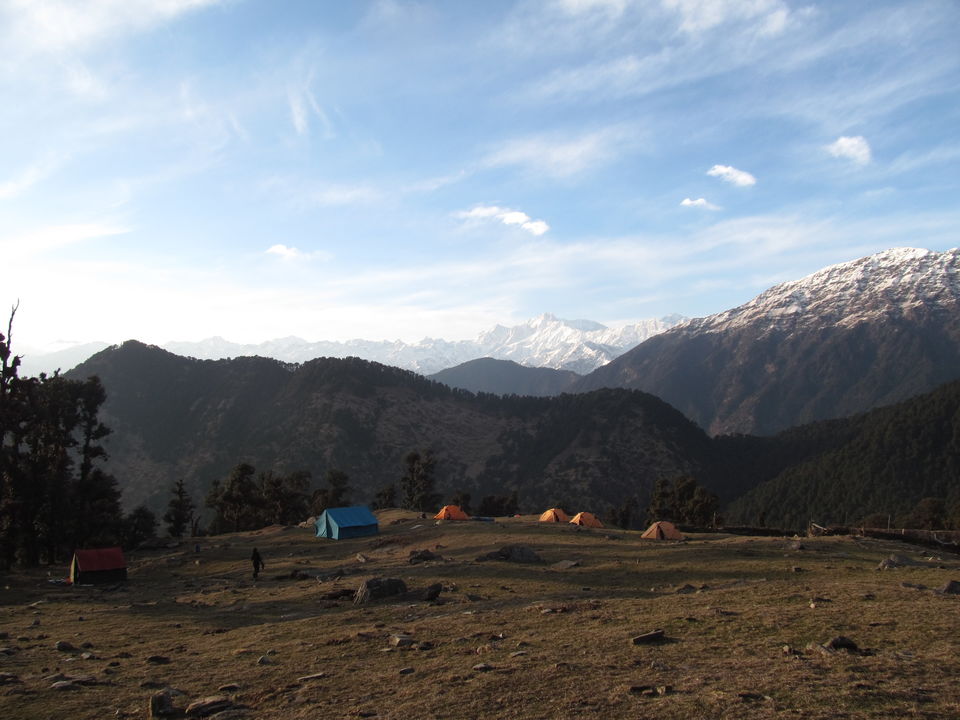 Later in the evening, we had our feedback session. It always feels good when an organisation is listening to your concerns. We were handed certificates and vouchers (worth Rs. 1000) based on our performance on the trek. Sandeep then, spoke a bit about each one of us, about our qualities and traits - it was a warm gesture and he had kind words for each one of us. We kept on talking late into the night - knowing each other much better and promising to be in touch. Its one of those moments that one feels should never end but unfortunately it started raining and we had no option. It continued to rain for the whole night but we were now safely tucked in our warm cosy tents.
Day 6: Bhurjgali - 0630 Hrs
It was decided we leave at 0730 Hrs from the camp since it was a long journey ahead. But everyone knew that time was highly optimistic! After goodbyes to cooks we finally left the camp at 0900 Hrs. Post an hour long trek we reached a road where the same Traveller was waiting for us. While most of us were glad that civilisation was near but we also began to feel the weight of separation.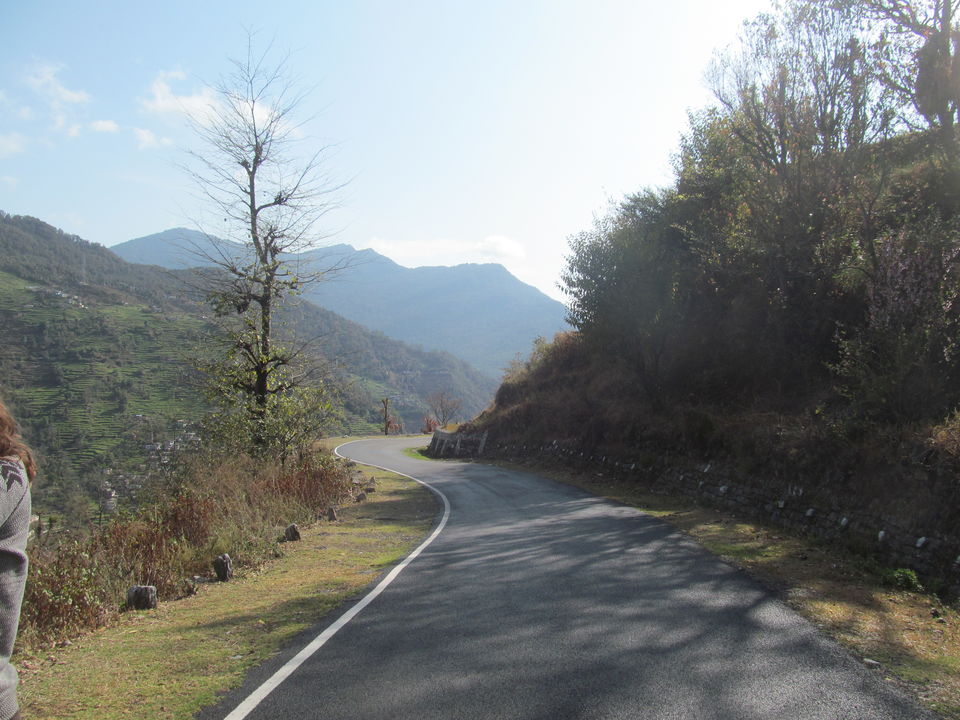 Just when we were starting to know each other well it was time to say good bye. Along the way, we had to make several stops in between thanks to a punctured tyre, road maintenance and a police misadventure but at the end we all made it back safely. Gautam, Yash, Umangi and Ola got down at Rishikesh, while Anil and the pair of Vivek Vandana went upto Haridwar. I meanwhile, tagged with the driver all the way upto Dehradun where I met up with my good friend Ajay. He was kind enough to let me stay for the night and dropped me off to the station in the morning.
From Dehradun it took me a further 30 hrs to reach Mumbai back to my hostel.
As I look back, this trip was certainly one of the most memorable trips I have ever taken. The views and the solitude I got was something that I always craved for. But a trek is not just about just nature or the landscape or the camps, it is also about meeting strangers from all walks of life and getting to know them really well. Being with different people, listening to their stories and their adventures made me feel humbled, and perhaps, those perspectives have helped me become a better person than how I was before.
Source: https://aassumption.wordpress.com/2016/03/23/exploring-the-himalayas/