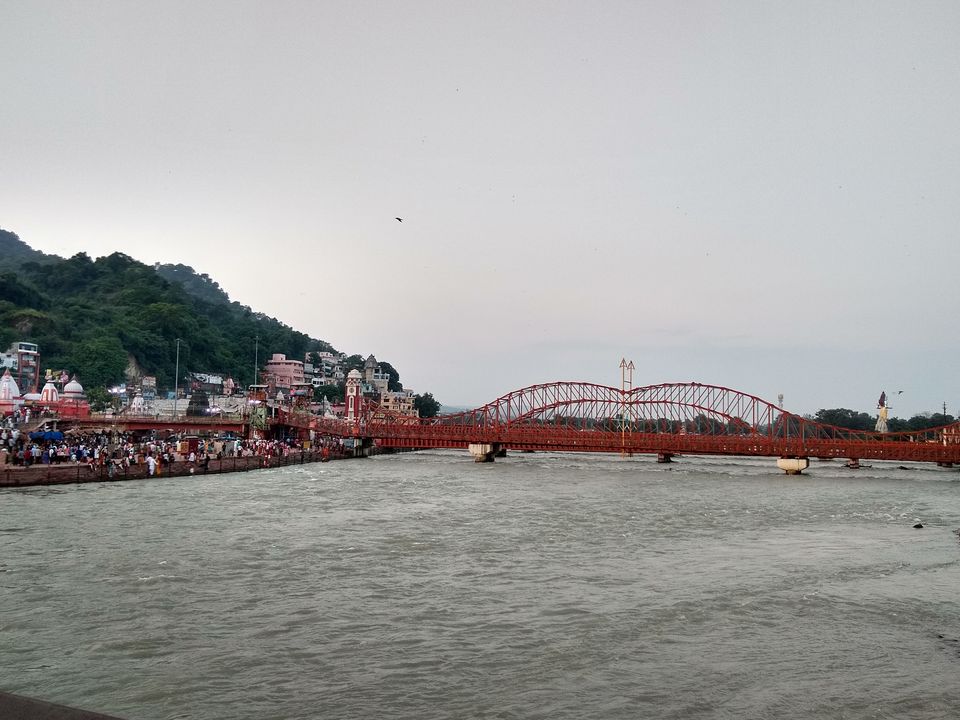 Delhi - Haridwar.
We decided to carryon our trip by hiring a cab from Delhi . They charged on per KM basis( driver's permit night stay extra) So we started at early morning at 6am to avoid the traffic in Delhi. We followed the expressway .. it was nearly 10 hours journey from Delhi to Haridwar. In between journey Cheetal Grand is best stop to refuel yourself. We reached Haridwar in evening. As we were entitled to LIC GUEST HOUSE we stayed there. In the evening we visited nearby ganga ghat. Evening was well spent. There are numerous hotels to have your dinner, lunch.
Day 2 began with our trip to Rishikesh. Within 1hour we reached rishikesh. The main attraction Lakshman jhula is worth visiting. There are numerous temples . One can visit. Go for shopping at the shops near Lakshman jhula. After spending 1-2 hours have your lunch and go back to haridwar.. in evening we witnessed the divine atmosphere of Har ki pauri ghaat. The famous Ganga aarti at Har ki pauri will definitely give you peace. After spending quality time at ghaat we went back to guest house.
Trip to Joshimath began today. Started early morning at 6am. It was really tiring Ang long road trip. As the roads were undergoing repair and construction. Enroute Joshimath we witnessed Rudraprayag and Devprayag . We reached Joshimath nearly about 6pm. The beauty of joshimath is worth after so long journey. We stayed At hotel panchvati inn. Awesome stay and food.
Next day we Started early at 8am for Badrinath. The road was just awesome .. adventurous. One will surely Enjoy it. Within 2hours we reached Badrinath. We witnessed Alaknanda in its full force and beauty there. We bought puja items from a shop there and stood there in a queue for puja. After puja. One can have breakfast at any shop. After breakfast we again started driving for Mana village. It's the last Indian village. Our can stopped at the parking area. From there it's nearly 2km walk. We passed the Mana village while walking. At the end of the Village There is Bheemsheela . It's said that many bulldozers and machinery were brought to break that huge Rock but not a single one was able to move it from it's place. Hence its name Bheemsheela. It's compared with the foot of Bheem the strongest among Pandavas. There is also a glacier which is named as Saraswati. Gallons and gallons of water is coming out every minute. There's one cafe at the end . Where you can relax for some time. After everything back to Joshimath at the end of the day.
Day 5 was a relaxing day. travel to auli. One can take ropeway to reach there. Its 700 per head from joshimath to Auli (11kms) . Or you can reach auli by Cab. From there One can enjoy Chairlift (300 per head) and reach from one mountain to another. This place has a Picturesque landscape.. one can have great photo session there. After this. Return to Joshimath
Joshimath to Haridwar
Started early morning for Haridwar. Within evening we were there at haridwar. Take rest for the rest of the evening.
Early morning we went for Ganga snan at birla ghat. Be careful people.. the water is really cold 😜... There are separate changing rooms for male and female near ghaat need not to worry about changing after snan.
Getting back to hotel we got ready and then began our journey for Delhi..
We decided to explore some areas of Garhwal . Kumaon and garhwal together is near to impossible in 7days