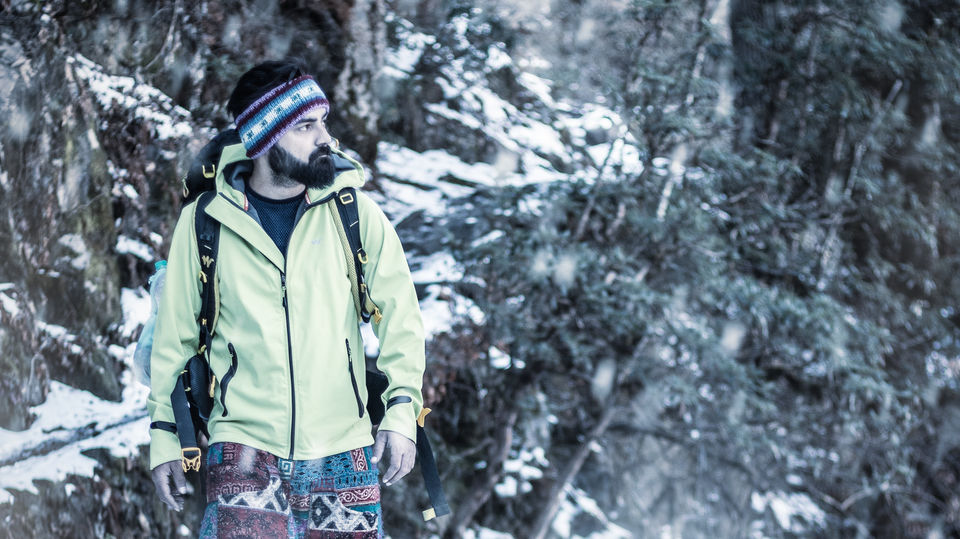 Day 1 (Delhi- Haridwar- Rishikesh- Uttarkashi- Sangam Chatti- Agoda)
We began the journey from Kashmiri Gate. One of my Instagram friends from Mumbai was accompanying me in the trek and we eventually ended up becoming more than Insta friends.
From Kashmiri gate, a simple roadways bus runs once in a day at 9 pm direct to Uttarkashi. So, taking that bus we crossed Haridwar, Rishikesh and reached Uttarkashi at approximately 9:30 am
Even though the temperature dropped as much as we'd expected it to, the cold we felt in the bus was the kind I've rarely experienced before. Layered from head to toe, I was literally shivering, basking in the sun on reaching Uttarkashi.
From Uttarkashi, we made plans to hail a shared cab and head towards Sangam Chatti. We reached the cab stand by 9:45 am but the problem rose when we were told that the cab wouldn't start moving until it's completely filled. So, we had to wait till 1 pm for that.
By the time we reached Sangam Chatti one hour later, we were tired from all the sitting we had done since the previous night and decided to start trekking.
We began our trek to Agoda (our first day stop). The trek was moderately difficult. Another alternative was to halt at Bebra, about 2 km ahead of Agoda but we decided to spend the night at Agoda and then continue our trek the next day.
We reached Agoda taking our sweet time by 3:30 pm and found our way to a homestay (Bharat homestay). I coincidentally met three people from Delhi there and all of us had a good conversation before we finally retired to bed.
Day 2 (Agoda- Bebra- Majhi)
The next day we woke up after a good 12 hour sleep, freshened and energy packed to start the day.
We started our trek towards Dodital, from Agoda and due to a shortcut that we took, our trek became rockier than expected. In any case, the trek was moderately difficult.
Parag, my friend accompanying me was on his first trek so he lagged a little behind while all of us soon disappeared out of sight.
After about 2 km, we came to Bebra with a beautiful scenery of a waterfall. Attempts made at trying to stand on a rock covered with moss failed miserably as I slipped and landed on my face in order to save the camera.
As we continued with the trek, about 4 km farther, we came upon this quite noticeable hut and had a quick breather there.
All of us were making our ways forward and before we realised, nobody had any clue about where Parag had vanished in the woods. So, I waited about an hour for him to arrive and when he finally did, both of us knew well enough that we couldn't make it to Dodital by the night even if half dead.
So, we made a plan to stay at this isolated village called Majhi upon the hills, a haven for grazers to settle in during the summers and leave for the base in the winters.
We encountered a group of trekkers making their way to the same destination and on subtle enquiries came to the conclusion that we might not have any place to spend the night in.
With wooden huts (known as Chaani) covering space as far as the eye could see, we encountered a barren hut with three thin quilts and two bed covers and welcomed the sight with teary eyes and open hands.
Having lit a fire in the night, we knew the follwing hours were going to be torturous in the cold, so me and Parag resolved to pass time through deep conversations and passionate karaokes.
By around 10am, the lights in our brains went out and in the half moonlight night drawn in eerie silence, we woke up to the sounds of rustling and chewing at 2am. It was completely dark inside the hut.
Ignoring the noise and mentally willing it away, I curled up into a ball and had the real fright when Parag suddenly started poking me and whispered in my ear- "Chup rehna, koi hamara biscuit kha raha hai"
Note: It was half moonlit night and all of it happened around 2 am. We were sleeping in a hut in the middle of a jungle with no one around. The temperature almost dropped to - 15°C
Scared to death, in sudden heroic fear, I leapt up, turned on the flashlight of my phone and started shouting "Kon hai- Kon hai". While looking around in the hut we realised that a packet of Parle G, Munch were missing.
I decided to wander outside for a while. The temperature was around - 15°C. Parag, following suit, continued to give me the jitters as he kept pointing towards vague shadows in the dark "Dekho, waha kon khada hai". Fire became our only solution. Having gather moist wood from the villages downhill, we took around 15 min to start the fire. At the end of it, our situation worsened to the point where Parag was scraping wood from the ceiling to keep the fire burning and getting us through the night alive.
I did have one thought at that moment. I knew people were waiting for us at both our homes and literally scared to death, when i woke up for the trek the next morning, I couldn't help but be grateful to Allah for being alive.
I still have no idea what came into our hut that night. That remained a mystery.
Day 3 (Manji- Dodital- Darwa Top - Dodital)
We started climbing towards Dodital which is around 5 km away from Majhi.
It was so chilly , we could barely get out of the hut let alone splash water on our faces.
We crossed Majhi, the snow became fiercer but the trail was relatively easier. It was a simple, straight trek.
After that, we continued our trek towards Darwa Top. That stretch of trek was difficult and is recommended along with a guide but we had embarked on it on our own.
After around 2 km, my friend declared that he could not go on any longer so I decided to climb rest of the distance on my own.
After walking for 1 more km, I decided to stop and give second thought to whether I should keep moving or not. The whole area marked by cliffs and waterfalls was completely isolated and there was no trail to follow. I had covered the distance as much as I did by following the trail of footsteps embedded in the snow.
Also, I had been warned by people that bears make their way downhill on the trek and the area was such that if an animal came your way, there would be no route to escape through.
In the spur of the moment, I decided I want to be here for a long time rather than a good time.
Meeting my friend as I moved down, we went back to Dodital and spent rest of our time basking in the sun.
The three people we had met at the beginning of our trek found us after having completed trek to Darwa Top the same day and even though I felt a bit left out, I managed to raise my mood by telling myself that I made the right decision, a claim supported by absolutely no material proof.
When we came back, one of the forest folk members, Meth Ji was kind enough to give us a place to stay for the night. We had to reach back to the base next day in order to take my Economics class in Delhi the same day.
Day 4 (Dodital- Delhi)
We woke up at around 6:30 am in the chilling winters of Dodital. Had a quick Chai and began our trek for the day.
The main distance we covered was between Dodital and Manji which is around 5 kms away from the former. The path was a continous descent and it took us around 2 hours to cover the journey, owing to the gazillion pictures we captured in the golden hours of the day.
Manji onwards, both the morning sunlight and snowfall became lighter and we resolved to keep going without a breather.
From Manji, we covered to Bebra, Agoda and back to Sangam Chatti. This journey proved to be quite a harsh on our bodies.
I had to catch the last bus from Uttarkashi to Dehradun and in order to not waste a single second, I kept myself going on the trek.
As it was a continous descent, Parag lagged far behind and the trek had taken its toll on my knees and trekking boots. As my trekking boots were nearing their patience and my right knee had decided to give up on me, I somehow made my way back to Sangam Chatti where another not so pleasant surprise was waiting for me.
On arriving there, I was informed that there were no incoming shared cabs for hours to come. On spotting one that was filled, I requested the driver to somehow make space for me and he gave me another alternative.
Before I knew it, I had to cover 8 kms hanging to the back of the rushing Bolero, keeping myself from falling off.
An experience, nonetheless, when we reached the destination I realised I wasn't left with any cash on my hands and there was no ATM service anyway near.
By luck, I came across someone who was going to a village falling on the way to Uttarkashi and the man gave me a free ride.
Reaching the village, I took another cab and finally started my journey back home.