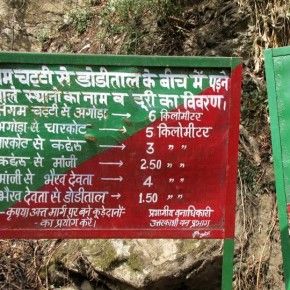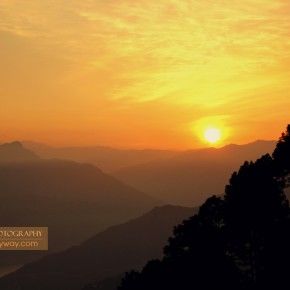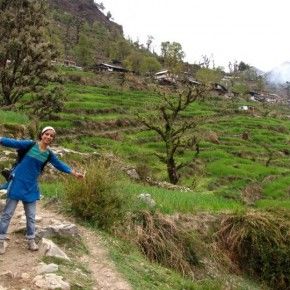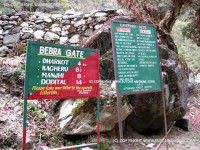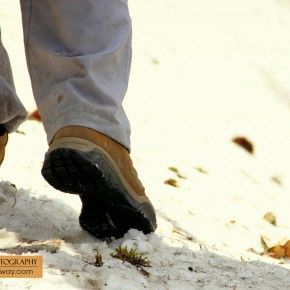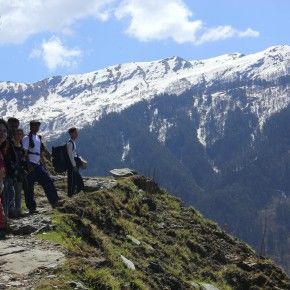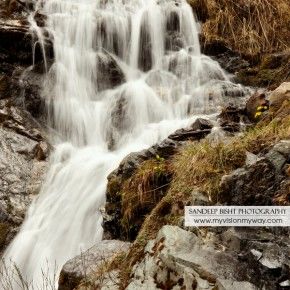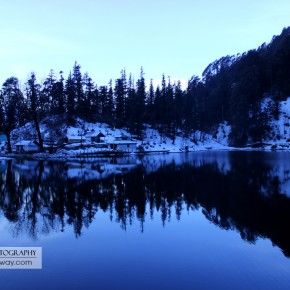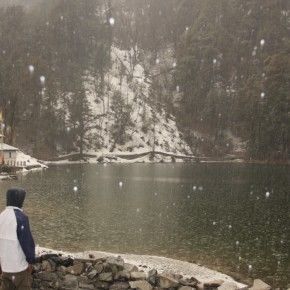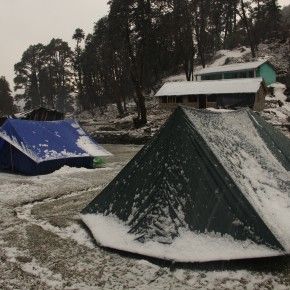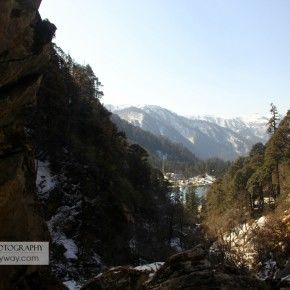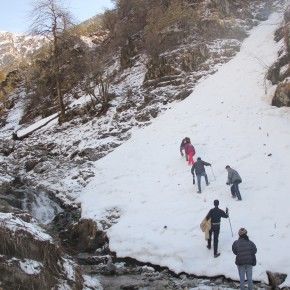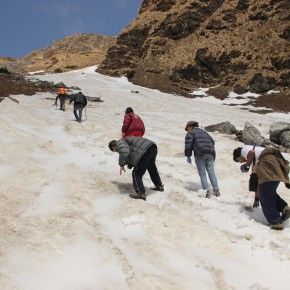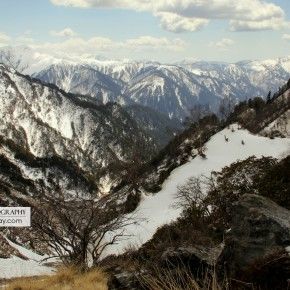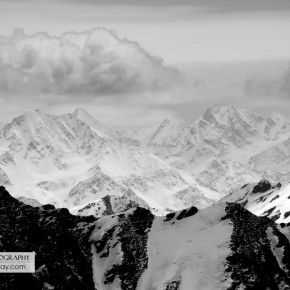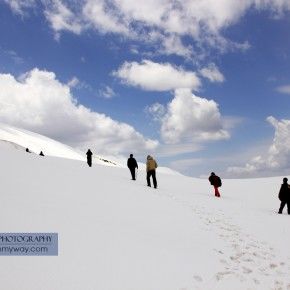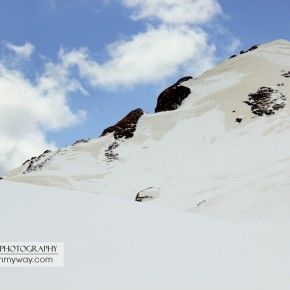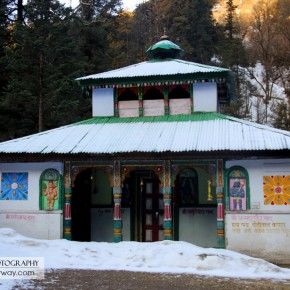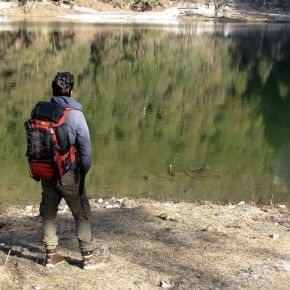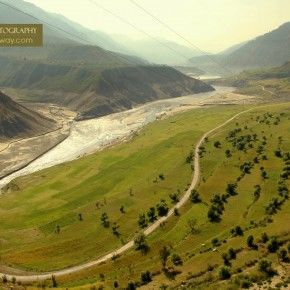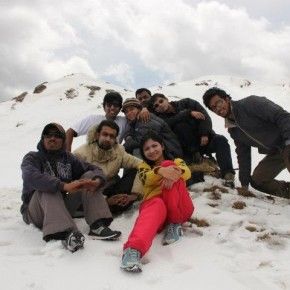 April 5th 2012 – The Journey Begins
We were a team of 7 persons and some of us were camping for the first time. The journey started from Delhi at night. We reached Uttarkashi at noon next day and collected utensils, tents and sleeping bags. As per our itinerary it was planned that we will walk as much as possible the same day. We reached Sangam Chatti at 1:30pm. After relaxing for a while, we started our journey to Dodi Tal with the chants "Bum Bum Bhole". After a few hours we reached Agoda village. After a short break at Agoda we started trekking towards Bebra.
After 450kms long journey and 8kms of trek we gathered around fire to enjoy a pleasant evening under a small shed in Bebra. While having dinner our random discussion was kept on hold as soon as we saw full moon rising from behind the mountains. It was a glorious sight.
April 6th 2012 – Mission Dodi Tal (first encounter with snow)
Next morning we were all set to start our trek to Dodi Tal at 9am.We started trekking from Bebra and halted at a couple of beautiful spots on the way for a while and enjoyed the splendid vistas of snow capped peaks and dense forests.
Our next halt was Kacheru, a quaint hut located on the edge of a seasonal stream. All of us rested at Kacheru for a while .
After covering 9kms trek from Bebra, we reached Manjhi. While all of us were relaxing at this picturesquely located small village of shepherds, Rashmi started doing yoga. Aseem, Bhupi and me took some pictures and relaxed. After walking for half a kilometer from Manjhi I saw a bend on the trail. And as soon as I crossed it, pure white snow was lying in front of me.It's not like entire route was covered with snow, but yes from Manjhi to Dodi Tal we walked over it many times. In spite of hailing from the soil of the mountains, it was quite challenging for us to walk on snow. After crossing several streams, snow obstructions and walking through dense forest, we reached Dodi Tal at around 3pm. The mule that was carrying our sleeping bags and food was the first one to reach Dodi Tal. By the time we reached Dodi Tal, our tents were already pitched in front of the Forest Rest House near a stream, Asi Ganga.
Luckily, this time of the year that backdrop was covered with snow. After gazing this immaculate lake for a while, we went inside a small shed to warm up our throat with tea. The clouds had already gathered, and soon it started snowing. The snow was crystal shaped and small in size. Excitement made us shout loud and jump out in the snow. I particularly had my tea out in the snowfall and it certainly became one of my best "tea moments". For lunch we took MTR Sambhar (Ready to Eat) and it exceeded our expectation. It tasted good.As it got dark, our old love (BP) called us. Along with that came our never-ending discussion, which was about the comparison between life of a city-dweller and a pahadi. After several situations, examples, clashes and pegs, we settled down for dinner. Our tents were covered with layers of snow. After shedding the snow we packed ourselves inside the sleeping bags like a caterpillar in its cocoon.
April 7th 2012 – Endurance Test (Darwa Pass)
The toughest day of our trek started with chilling morning. I wasn't able to sleep well due to cold night; the temperature went below freezing point from 3-5am. After breakfast we packed a bag with necessary items like energy bars, water, glucose and raincoats.
Devender Singh accompanied us to lead the way to Darwa Top. Another group of 18 persons were already on their way to Darwa Top but we soon took lead. This trekking trip relied very much on team work. We were making way for others and helped each other in crossing the dangerous points.After covering 3kilometers of trek we reached a point where a steep glacier was hanging above us. It was certainly one of the most challenging parts in all my trekking experience. The courage resting inside other team members gave me audacity to cross this obstacle with ease.
I even spotted flying Himalayan Monal. It was like a rainbow, full of colors and pride. With fatigued bodies we kept trudging, making our own way and soon all we could see was snow. But everyone had a glow on their face because of the surrounding beauty.
We could only make up to Darwa Pass and couldn't reach Darwa Top. The clouds were gathering but we took a close look at Black Peak and Banderpoonch Massive. Devender Singh has done summit to both these peaks – a man of valor. The curves of snow slopes were unbelievably smooth at Darwa Pass but we ruined a few by sliding over them. While trekking down we slipped many times. After crossing the dangerous steep route on our way back it started snowing.This trip wouldn't have left a lasting impact in the absence of snow.
Our legs nearly gave up while trekking down. This was the third day of walking for hours. After constantly trudging through the uneven surfaces we managed to reach Dodi Tal.In the evening, we visited a small shrine dedicated to Lord Shiva in the temple premises. Everyone was exhausted and we packed ourselves for good night's sleep after dinner.
April 8th 2012 – The Longest Day
After packing our bags and gathering all our stuff we went to have breakfast and make some necessary payments. Moments before leaving I stood in front of Dodi Tal and absorbed as much beauty as I could. The chants of Lord Shiva with which our journey started, was on our tongue while trekking down to Sangam Chatti. This became a good practice to regain strength.
Despite being sick of fever and cold from past few days, Aseem managed to complete the trek. We took short breaks at different places.Before reaching Bebra I heard distant drum beats. At Bebra we came to know people of local villages were carrying their local deities to Dodi Tal because the temple was supposed to open next day. Aseem was particularly happy to see the people carry doli of their deities.Without wasting much of our time, we started trekking and reached Agoda soon. From Agora I joined Ranbir Singh and Devender Singh to complete the descending trail of 6kms. People from mountains always have good stories to tell because their life is full of remarkable adventures. Devender Singh told me about his extraordinary experience while climbing the summits of Himalayas.Our journey wouldn't have been safe and comfortable enough had they not been with us. We reached Sangam Chatti at around 3pm and after three days I saw my face in mirror. After making all the necessary payments, we were all set to leave for Delhi.
We reached Uttarkashi at 4pm to have lunch but it was extremely difficult to find proper food at this time of the day. Some of us relied on noodles and omelets while others survived on pakode. Our driver was capable enough to complete 450kms long journey in one stretch but whenever he felt sleepy, we couldn't sleep.
Everyone was supposed to start their generic routine from Monday, i.e. office. The after effects of the trip lasted for 3 days, where my legs suffered pain, body suffered heat, ears started seeking peace and eyes missed the exquisite beauty of nature. The pain will heal but the other feelings will prevail till I embark on another journey to the mountains.