The Himalayas of Uttarakhand are majestic and massive and their relevance can even be traced back to ancient times. In the land of the Pandavas, high mountain routes are often pilgrimage paths, which have seen people tread them more for faith than for exploration. But now, in modern times, these very trails are also used by ardent mountain lovers for adventurous treks.
Here are some of the hidden and oldest treks in Uttarakhand.
1. Harsil to Sangla via Lamkhanga Pass
Difficulty: Experience necessary.
The trek which takes you from the dense forests of north-eastern Garhwal to the apple orchards of Chitkul in Himachal Pradesh, is not in any way a cake walk. The stunning landscape with patches of steep ascents on ice and scree, are known to test the most seasoned of climbers. The route involves a tireless crossing of streams, glaciers and passes. The Lamkhanga Pass is 17,335 ft above sea level, which is an 8,000 + ft ascend from the base camp Harsil (9000 ft).
Duration: 13 days
Route: Rishikesh/Uttarkashi- Harsil- Kyarkoti- Lamkhanga Base Camp- Gundar- Dumti- Rani Kanda- Chitkul- Sangla- Shimla
2. Kanari Khal Trek
Difficulty: Experience preferred.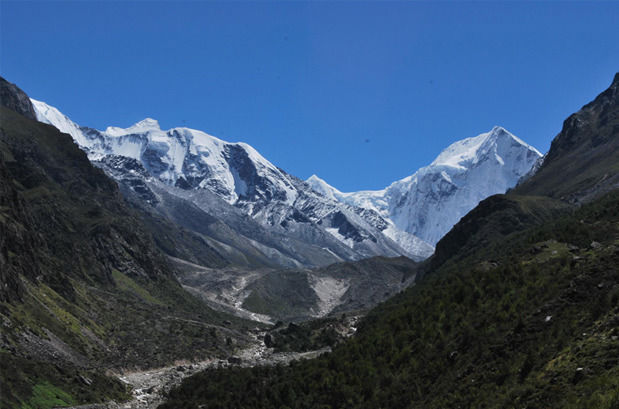 One of the more scenic treks of the Garhwal Himalayas, the Kanari Khal trek route takes you through some stunning dense forests, high altitude meadows, mountain villages and even waterfalls! The trek is an ancient route taken as a pilgrimage to Joshimath. En route the astounding peaks of Changbang, Kalanka and Lampak, pilgrims will be your constant companions. In peak summer, the trek becomes slightly more challenging due to rushing streams which are in full force after the ice melts.
Duration: 10 days
Route: Joshimath- Jumma- Dronagiri Village- Kanari Khal- Garpak- Kallal Khal Base Camp- Malari- Joshimath
3. Satopanth Lake Trek
Difficulty: Beginner friendly.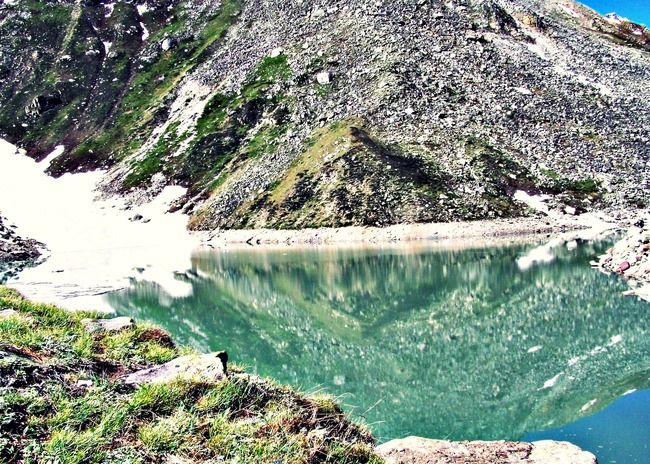 The trek to Satopanth Lake begins by crossing the Bhima Pul in Mana village. This natural rock bridge is said to be built by Bhima, the Pandava, and marks an auspicious beginning to what is otherwise a scary route. With towering snow peaks around, the route to Satopanth Lake is very scenic but doesn't provide much space for camping so trekkers spend the night inside caves. This glacial lake greatly revered by Hindus as God Vishnu is said to have taken bath here on the holy date of Ekadashi, 11th day of solar and lunar calendar. The three edges of the triangular Satopanth denote the three great gods, Brahma, Vishnu and Shiva.
Durations: 4 days
Route: Joshimath- Badrinath- Mana- Vasudhara Fall- Laxmi Van- Satopanth and back to Mana
4. Vasuki Taal-Nandavan Trek
Difficulty: Experience preferred.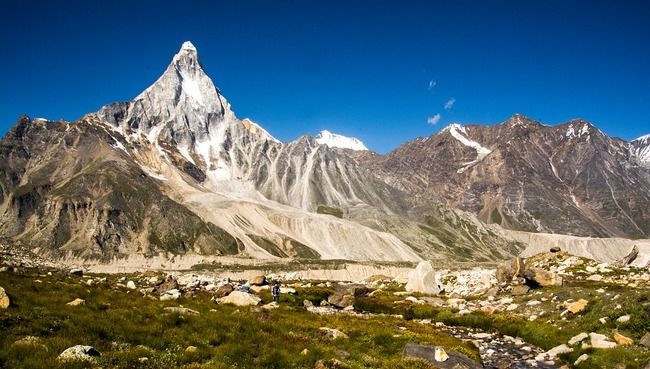 This trek route is also known as the Shivling Trek as you walk with the view of Mount Shivling through the entire way. The treks finds importance in religious and spiritual traditions as you pass through some very important natural shrines like Gaumukh (12,760 ft), the source of Ganga, Vasuki Taal (15,744 ft), base of Mount Satopanth and Mount Vasuki Parbat. A trail from here also diverges straight to the dham of Kedarnath. This route has seen people tread its path for centuries and most hikers here are driven by faith than just natural curiosity.
Duration: 8 days
Route: Gangotri- Bhojwassa- Gomukh- Tapovan- Kirti Bamak - Tapovan- Meru Glacier- Tapovan- Nandanvan- Vasuki Tal- Nandanvan - Bhojwassa
5. Kalindikhal Trek
Difficulty: Experience necessary.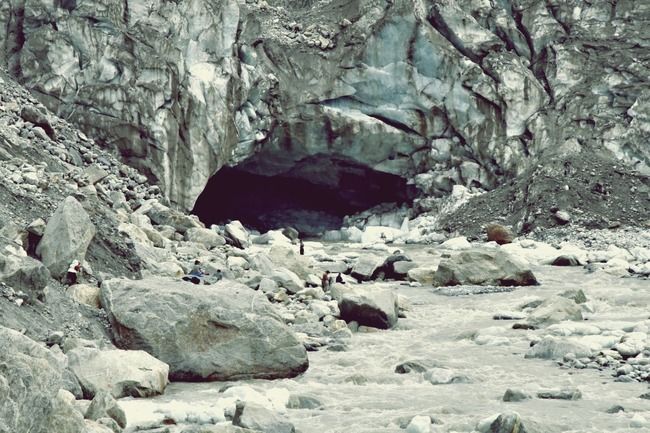 High altitude treks in Uttrakhand find their routes in religion and tradition. Till date, most of these treks are performed more as a pilgrimage than exploration. Kalinidikhal is another such mighty trek route which is centuries old and provides and on-foot journey from the dham of Gangotri to Badrinath. In 11 days of trekking you come across the origin of Ganga at Gaumukh, Nandavan, base of Shivling Peak and to the Alaknanda Valley. You will also cross the surreal glacier lake, Vasuki Taal and camp nestled by the divine snow peaks.
Duration: 10 days
Route: Gangotri- Bhojwassa- Gaumukh- Nandavan- Vasuki Tal- Khara Pathar- Kalindikhal- Ghastoli- Mana- Badrinath
6. Bagini Glacier Trek
Difficulty: Beginner friendly.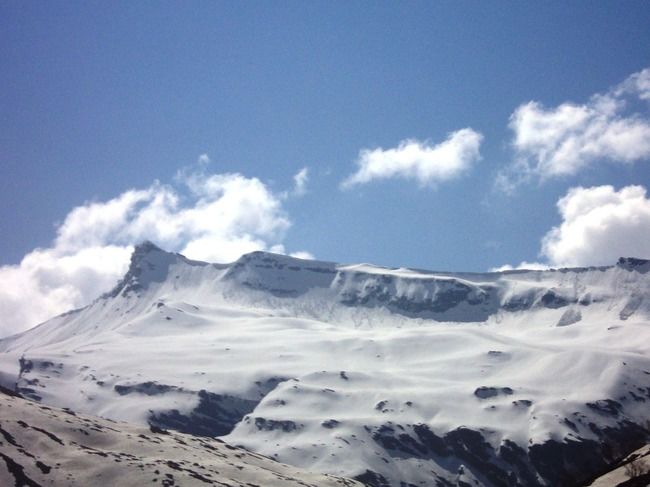 Running towards the north-west wall of Nanda Devi Peak, the Bagini Glacier is a nice challenge to take if you are in pursuit of some adventure. The trekking route is surrounded by beautiful Garhwal Himalayan peaks like Hathi Parvat, Ghodi Parvat, Satminal, Trishuli and Dunagiri. The path is stunning and also gives an insight to local living in high mountain villages as you will pass through several villages on the path like Ruing, Dronagiri and Bagini Village.
Duration: 6 days
Route: Joshimath- Jumma- Ruing village- Dronagiri- Bagini base camp- Changabang BC via Bagini Glacier- Ruing- Jumma
7. Kafni Glacier Trek
Difficulty: Beginner friendly.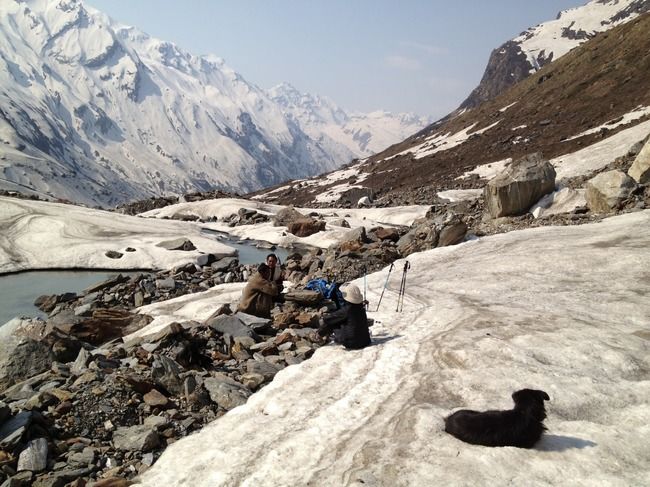 The Kafni Glacier Trek takes the same route as Pindari Glacier but goes much further. The route is itself a favourite amongst trekkers as it is considered one of the most scenic trails in Uttarakhand region. Falling in the Kumaon area, Kafni Glacier is approached from Almora and goes through Khatiya and also Bageshwar. The Kafni Glacier is revered as the source of river Alaknanda which, before merging in Ganga, feeds many valleys in its way.
Duration: 5 days
Route: Bageshwar- Song- Loharkhet- Khati- Phurkia- Zero Point- Dwali- Dhakuri- Song- Bageshwar
8. Sunderdhunga Trek
Difficulty: Beginner friendly.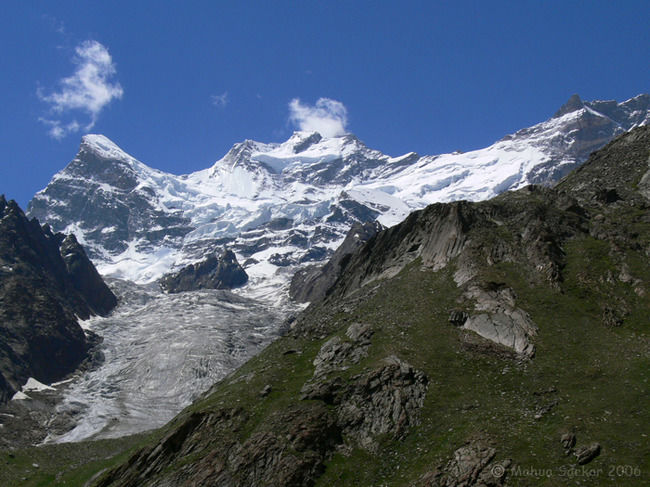 The Sunderdhunga basecamp trek is a scenic route through Kumaon Himalayan range. The name of the Sunderdhunga peak breaks down into 'sunder' (beautiful) and 'dhunga' (valley of stones), and as your trek towards the mighty peak, the name manifests into reality. The basecamp falls on the same route as Pindari glacier but diverges towards Jaikholi to reach the glacier.
Duration: 8 days
Route: Almora - Loharkhet - Dhakuri- Khati- Jatoli- Kathalia - Sukhram Cave - Sunderdunga and back to Jatoli
9. Sinla Pass Trek
Difficulty: Experience preferred.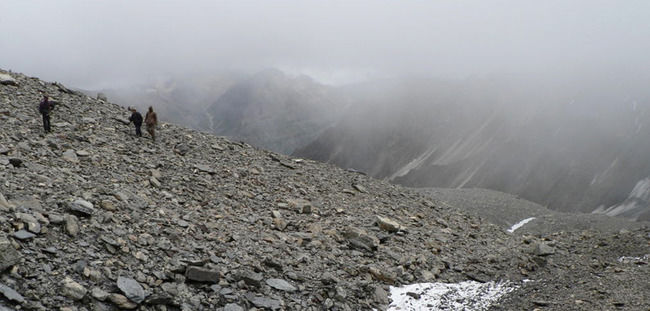 Located in the Pithoragarh district, Sinla Pass is a beautiful mountain pass at a challenging elevation of over 18,000 ft. This route takes you along Tibet and south of Nepal going through dense forests. Another key feature of this trip are the many remote villages which fall in your way, giving a peek into what life on hills is really like.
Duration: 10 days
Route: Almora - Pithoragarh - Darchula- New Sobla- PanguGala- BudiGunji- Kutti- Jolinkong- Bedang via Sinla Pass
10. Ruinsara Tal -Yamunotri Pass Trek
Difficulty: Experience preferred.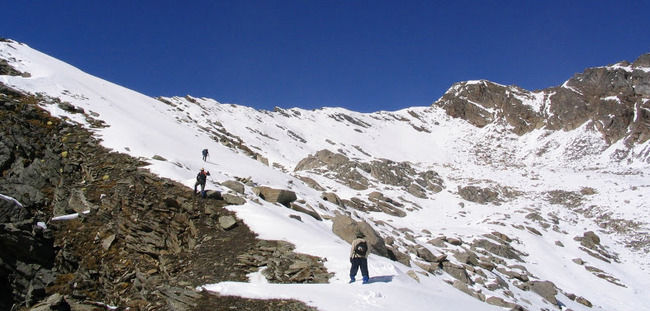 The trek to mighty Yamunotri Pass travels through the Har ki Dun Valley and through the Bali Pass. Har ki Dun and the area around it is also known as the land of Pandavas as there are innumerable stories and traces of their presence in the valley. This route through the mysterious terrain entails a glimpse of an isolated culture with unconventional practices. Trekkers also get to camp by the majestic Ruinsara Tal.
Duration: 9 days
Route: Sankri - Taluka - Olsa - Har ki Dun - Debshu Bugyal- Ruinsara Tal- Bali Pass- Yamunotri - Janakichatti - Hanumanchatti
What is your favourite trek in the Himalayas? Tell us all about it here!