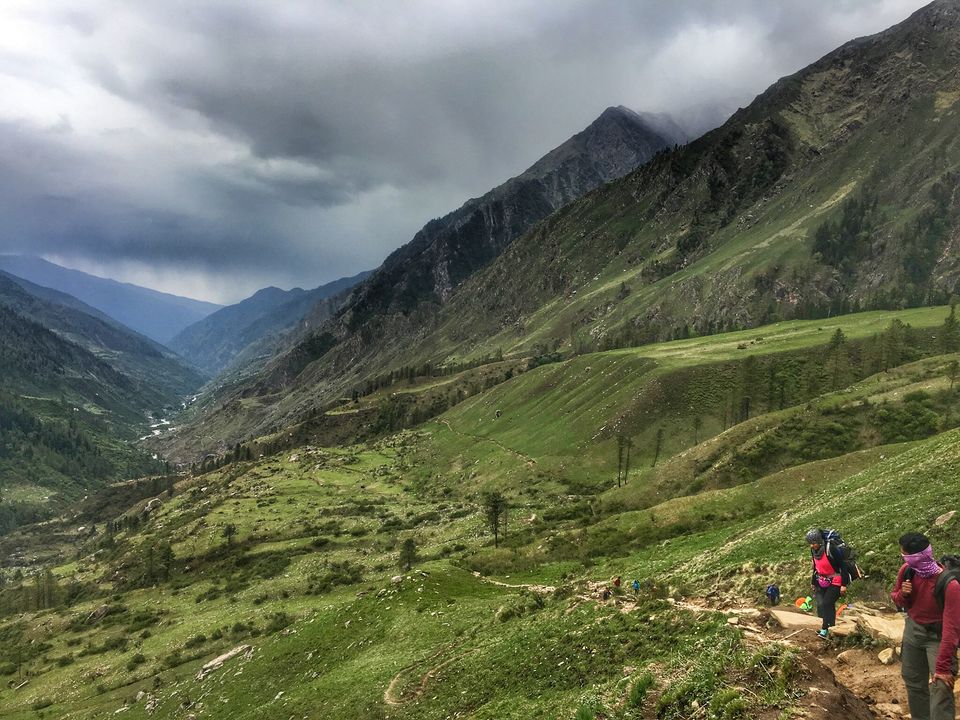 Uttarakhand is known for its numerous Hindu temples and pilgrimage centers throughout the state, earning it the nickname "Devabhumi" (literally "Land of the Gods"). Uttarakhand is a state in northern India that is home to a range of spiritual and colorful trek destinations.

Treks in Uttarakhand offer a variety, whether it's seeing the beauty of a vibrant flower valley or experiencing the tranquility of a holy lake at a high altitude.
Also, Read Top Treks to do in Himachal
Here is a list of Uttarakhand treks that you can go on. Take a glance around.
KEDARTAL TREK
The Kedartal Lake trek, with a height of 15,484 feet above sea level, takes you on a journey through Indian mythology. The lake is the source of the Kedar Ganga, which, according to Hindu legend, is Lord Shiva's contribution to Bhagirath. The Kedartal Lake is the second most beautiful high altitude lake, fueled by the surrounding peaks. The Kedartal Trek offers views of Gaumukh and is surrounded by magnificent peaks such as Thalaysagar (6,904 m), Bhrigupanth (6,772 m), Meru (6,672 m), and many others. Aside from that, the trek to Kedartal includes a path through a Bhojpatra tree forest. Ancient Indian scriptures were written on the leaves of ancient paper trees. You'll also hike through glaciers, moraines, and see glacial lakes surrounded by magnificent Himalayan peaks. Any fit person with a moderate level of trek experience can complete the trek to Kedartal, which includes all of this and more.
HAR KI DUN
Har Ki Dun (also known as Har Ki Doon) is a perfect escape into the depths of nature, located in Uttarakhand's most remote location. Some of the mythologically influenced routes that date back to the Mahabharata period offer the most scenic and spiritual experience. A fantastic mix of adventure and mythology. The Har Kin Dun trek investigates nature in its most natural state. The trek route is completely cut off from the city and a great escape from its crowds, with lush green meadows and vast scenery. The Ruinsara Lake, glistening in the moonlight, is a few kilometers ahead of Har Ki Doon valley. Consider an open landscape with a river running through it and mountains on both sides. As if it were a portal to another dimension. Har Ki Dun Valley is where you'll find it. Also, trek along the path taken by the Pandavas on their way to heaven and be spell cast into the beauty of Swargarohini peak. All of this is covered by the Har Ki Dun trek.
DAYARA BUGYAL
Imagine walking through a vast land of lush green meadows brimming with wildflowers, all of which are blanketed in a white envelope of snow in the winter. Dayara Bugyal is her name. Dayara Bugyal trek is an enchanting journey through aromatic forest land packed with exotic birds chirping and opening up into a vast and lush landscape, all at a height of 12,000 feet. Dayara Bugyal, also known as the "Garden Above the Clouds," offers a spectacular view of the Bandarpunch, Gangotri, and Yamnotri ranges and is open to people of all ages. With all of this, share the excitement of camping under the ink-blue sky in one of Moustache's alpine dome tents. It sounds exciting. Is that correct?
VALLEY OF FLOWERS
The Valley of Flowers, at an incredible height of 14,107 feet, is one of the most popular tourist destinations in India and abroad, especially among Europeans. The Valley of Flower Trek, which was designated as a UNESCO World Heritage Site in 2020, is one of India's oldest trekking destinations. Enjoy the spiritual vibe of Hemkunnd Sahib Gurudwara, which is nestled deep in the valley at a height of 14,000 feet and is adorned with colorful flowers. The gurudwara sits on the sides of glaciers and is surrounded by a stunning crystal clear lake. You can also see clouds hovering over the building if you visit during the post-monsoon season. A true view from the secret paradise in the mountains.
BALI PASS TREK
The Bali Pass Trek is distinguished by its trails that pass through some of the country's most spiritual locations. The Bali Pass Trek covers the path to Har Ki Dun and Ruinsara Tal valley, passing through one of the Char Dham – Yamunotri. The Bali Pass trek, which rises to a height of 16,240 feet, includes beautiful trails brimming with wildflowers. The Bali Pass Trek, which includes a visit to the goddess Yamuna's black marble idol and a stunning view of Swargrohini Peak and the mesmerizing Ruinsara Tal Lake, takes you on a journey through the mythological path to heaven. And it's just the beginning. Later on in the trek, you'll be surrounded by magnificent Himalayan peaks and catch a glimpse of Bandarpunch Peak and Kalang Peak. The Bali Pass trek also includes a visit to the Saptrishi Kund and a walk through the village of Osla, which features simple but sustainable architecture. With all of this, the Bali Pass Trek provides an unrivaled view, reminding us of our true size in this magnificent universe.
PANCHACHULI TREK
The Panchachuli Base Camp trek is a great way to get some real trekking experience. Panchachuli Trek, as one of India's lesser-known treks, is largely undiscovered by the tourist crowd. As a result of this isolation, you will enjoy the best views of the Himalayas without being obstructed by other people. Panchachuli is a group of five Himalayan peaks located at the end of the Kumaon range. The Panchachuli base camp trek leads to a vantage point from which you can see all five sisters. These peaks are usually not visible from anywhere other than base camp. Above everything, the Darma valley is a highlight of this trek. Darma valley is often compared to the valleys of Spiti and Ladakh and is often referred to as Uttarakhand's only hidden valley. It's a lush green area with a diverse range of wildlife. Another explanation why many nature lovers choose this trek is because of this valley.
PINDARI KAFNI TREK
Pindari Kafni Glacier Trek is a journey with a great view of some of the famous peaks and often a short walk to the glaciers. The incredible hospitality of the local villagers will greet you as you travel through the glaciers. The Pindari Kafni Trek trail leads to the Pindari Kafni Glacier Trek through a thick Rhododendron and Oak forest. Flowing and frozen streams are crossed through wooden bridges, and you can walk across them. The Pindari Kafni trek is ideally suited for a group of friends or a family and has a long history as a trade route between India and Tibet dating back to the 1830s. You can bring your children on this trek because the Pindari Kafni Glacier trek does not require a high level of fitness.