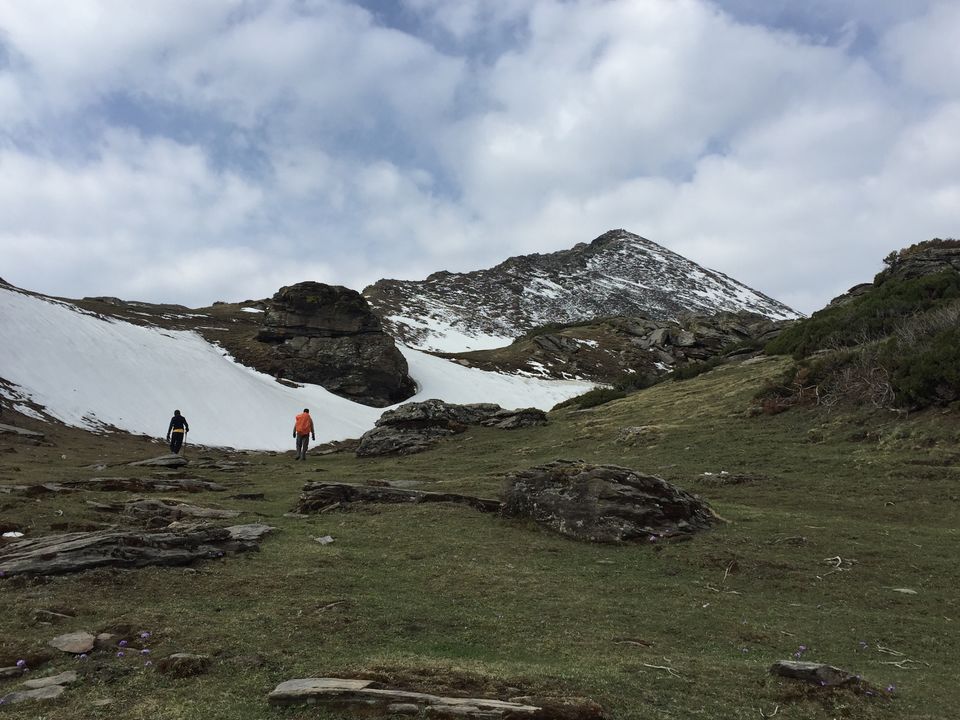 [Travelling, it leaves you speechless , then turns you into a STORYTELLER – And I think my travelogue has somehow more turned into a long story. So for the people who don't like stories you can skip the words and see the photos which by itself will tell their own story ]
"You don't need magic to disappear. All you need is a destination"
And that's what Kedarkantha Trek was for me.
A sudden plan, a sudden rush, a sudden urge to escape from the monotony and I was off to my first solo trek.
Few days before the sudden idea of a trek dawned upon me I was going through the websites of "India Hikes" and "Trek the Himalayas (TTH)" while I was searching for a winter trek and came across a no of treks which was noted in my memory for future adventures. So when the idea of solo trek struck it was not difficult to pick up Kedarkantha for my first solo trek marked as "Easy – Moderate" in both the sites along with being beautiful and described as one of the most sought after trails in snow ( the reviews mentioned snow stays on till end of April). Initially wanted to leave in the 1st week of April itself and almost booked the batch in TTH for that, but then decided against it and fixed for the last week of April instead (Lucky I did!! While getting prepared and shopping for the gears for a high-altitude winter trek realised it would have been quite difficult to arrange everything in a week – Checklist of travel gears given in both TTH and India Hikes sites were pretty useful even though I checked a few more videos for the same in Youtube as well just to be sure)
And finally it all began...
Very soon I found myself on a flight to Dehradun( via Delhi). Decided to sleep over a night in Dehradun. Pick up was early morning around 6am. TTH had earlier send a mail marking all the trekkers in the batch and there were 7 of us including me. As I observed in the mail – there was a family of 4 and a family of 2 (based on the "last names" ofcourse) and then there was ME!! (the odd one out). Booked a Oyo room ("Hotel Vishnu Inn") near the station which was both convenient (pickup was from the station) and a cheaper option. The hotel turned out to be pretty decent and despite being 2 mins walking distance from the station was in a peaceful lane.

Dehradun when I landed was burning hot with a temperature of 34degrees and compared to Bangalore standards was like a furnace! But at the middle of the night I could suddenly hear the whosh and the swish of the rain and the wind and overnight the climate changed to a cool, pleasant and windy one.
Day 1 - Dehradun to Sankri
In the morning my excitement had no bounds when I suddenly realised that for the first time I am on my own going to an unknown terrain for an adventure sport with a bunch of strangers!! It was still drizzling outside when I found the TTH vehicle parked infront the station and realised we will have a back-breaking journey. It was a "Balero" and not a tempo traveller ( as I assumed will be given)! Soon the others started arriving and we were ready for our 220Kms drive from Dehradun to Sankri.
Sankri – The name of the village I did not hear until I recently read the Kedarkantha trek itinerary and got to know that it is the base camp and the trek will be starting from the town. Sankri, a small village in Uttarakhand is the base camp for many trek points like Har ki Doon as well.
By 7am we amidst the drizzle started our journey towards Sankri. The route was via Mussoorie. Breakfast was near Kempty Falls. It is infact an insult to call it as "Falls" - you hardly see a thin strip of water flowing down here. As we have found in our earlier Himalayan treks breakfast mainly comprises of Parathas or Maggi in these places. So all of us took some Parathas and some chai. In Mussoorie itself we found the weather changing and there was a chill in the breeze. I was carrying a day pack with me and had my wind jacket in it, which came handy. The rest of the luggage was all in the big rucksack I was carrying which along with the others luggage was placed on top of the vehicle.
As the car passed through the Himalayan ghats, the route became more scenic.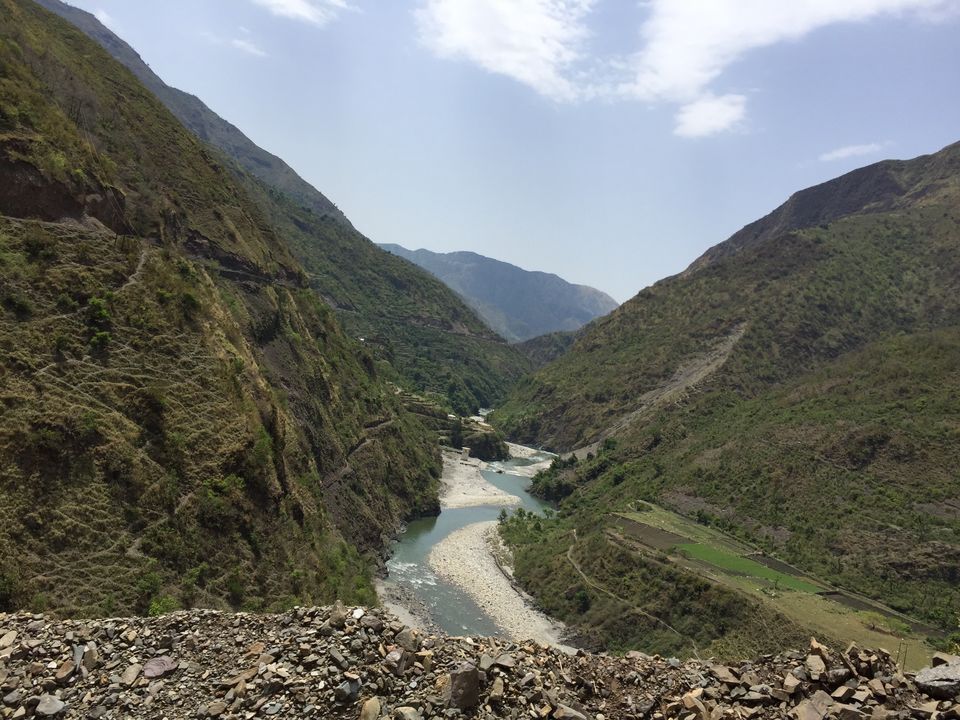 It passes through some most picturesque valleys, gorges and forests and it provides wonderful opportunities for the photography enthusiasts. At that moment I was missing my DSLR which I left at home at the last moment..the idea was to travel light. Nevertheless I made full use of my iPhone camera. Till Naugaon the route is all along the Yamuna river from where it deviates from the route to Yamunotri.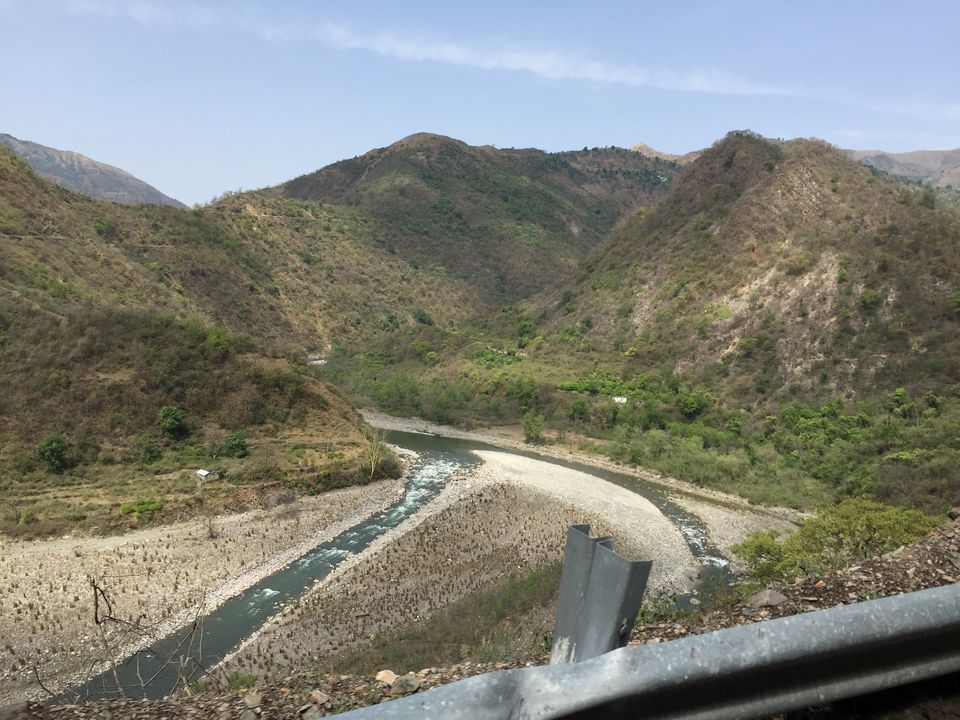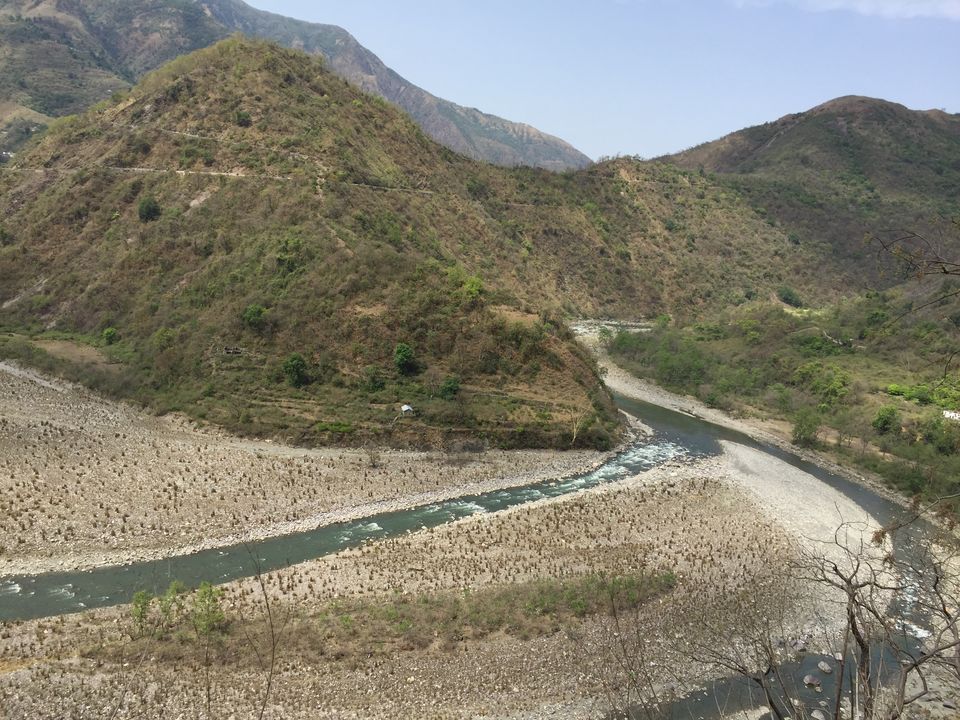 The car had some tyre issue and our driver stopped in some village to get it fixed. It gave us some time to stretch outside the car and enjoy the unpolluted scenic surroundings.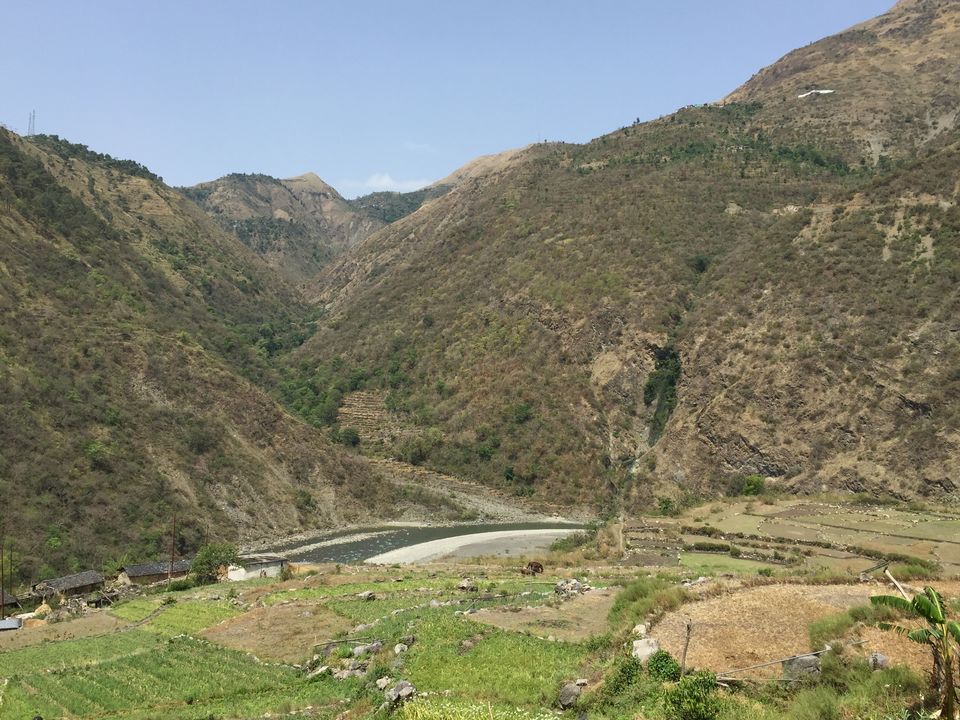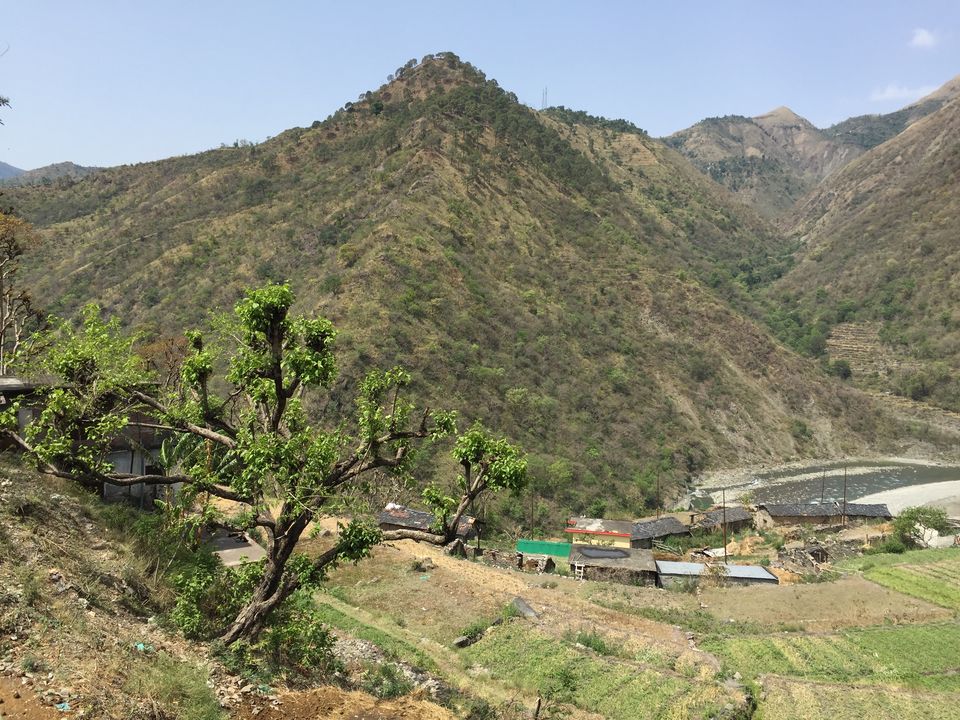 Our next stop was at Purola for some lunch. Post crossing Purola the mobile network becomes a bit erratic and after crossing Mori mobiles can be used for only seeing past call logs, msgs and be made extremely useful as a camera.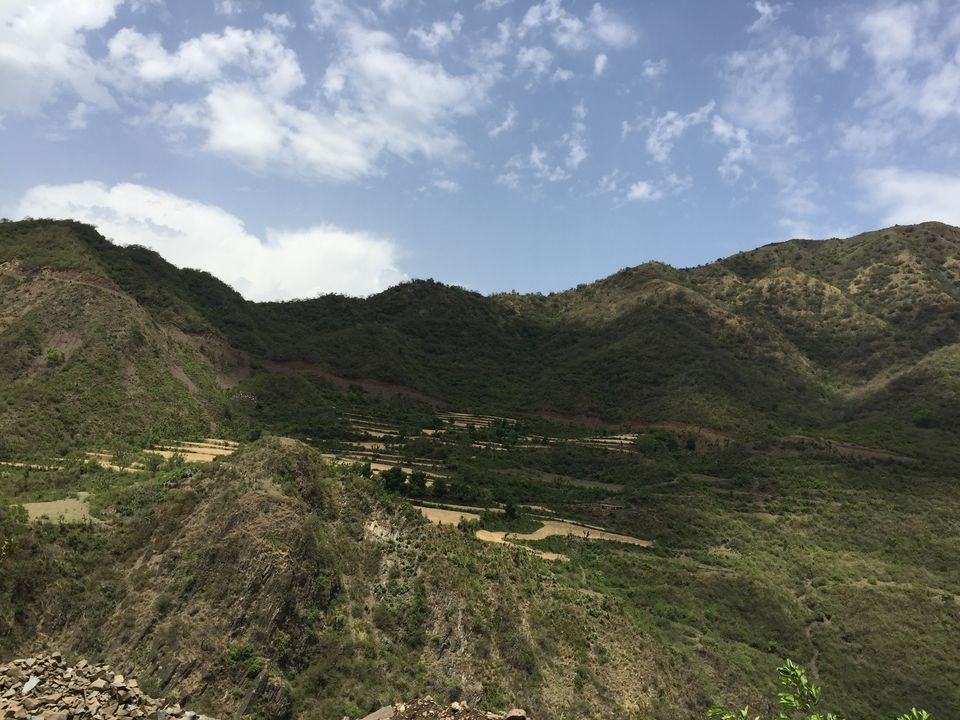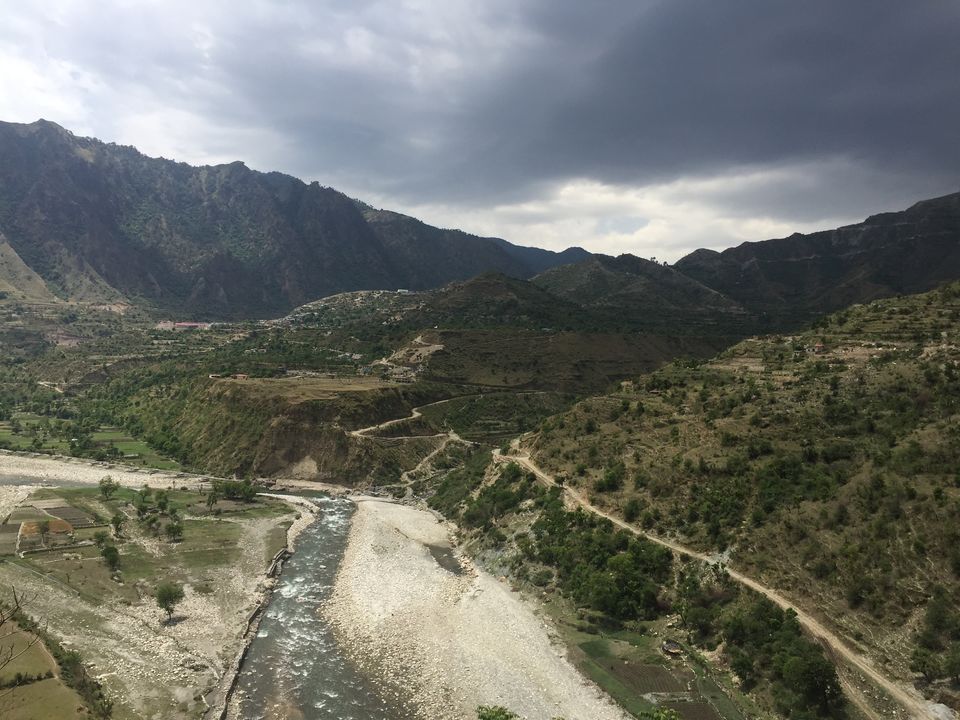 Once the Yamuna leaves your side, the Supin river flows through the entire route and its a joy to see the clear blue waters flowing in between the rugged green terrain.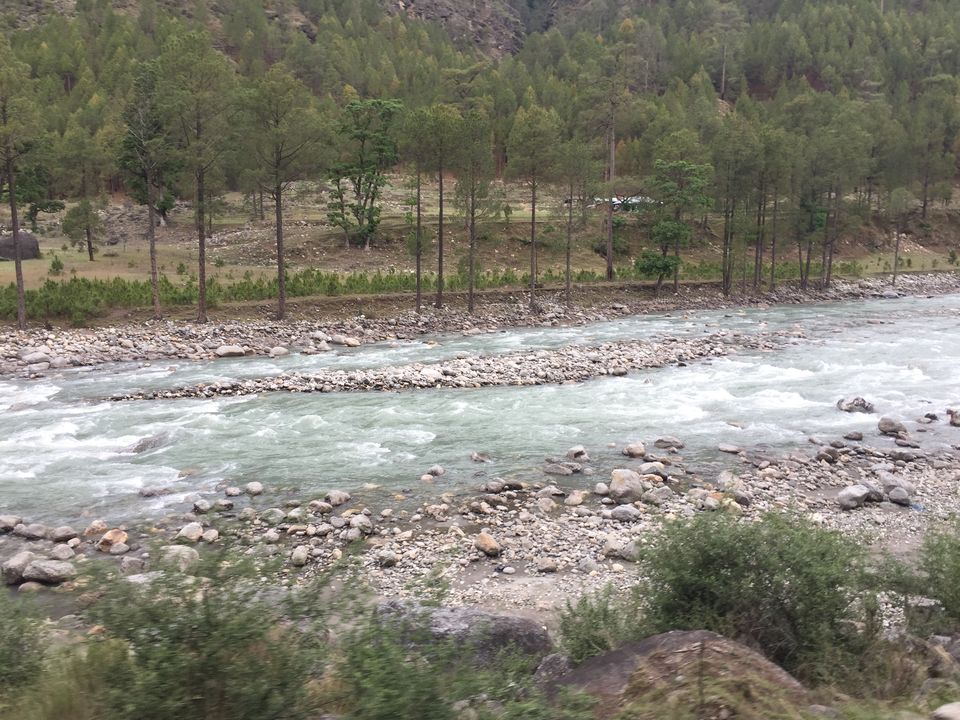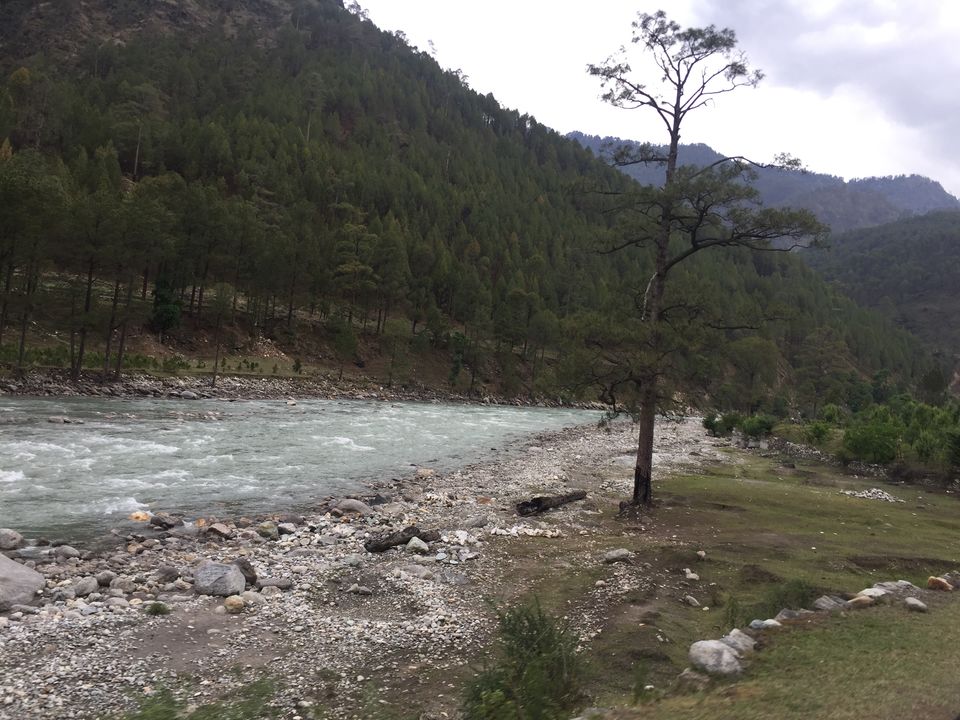 There was a place with the river running by and a few huts – the set-up was so peaceful & so picturesque that given a chance I could have been there all day just sitting quietly with absolute no thoughts only enjoying the sheer beauty of the place (some may call that "meditation").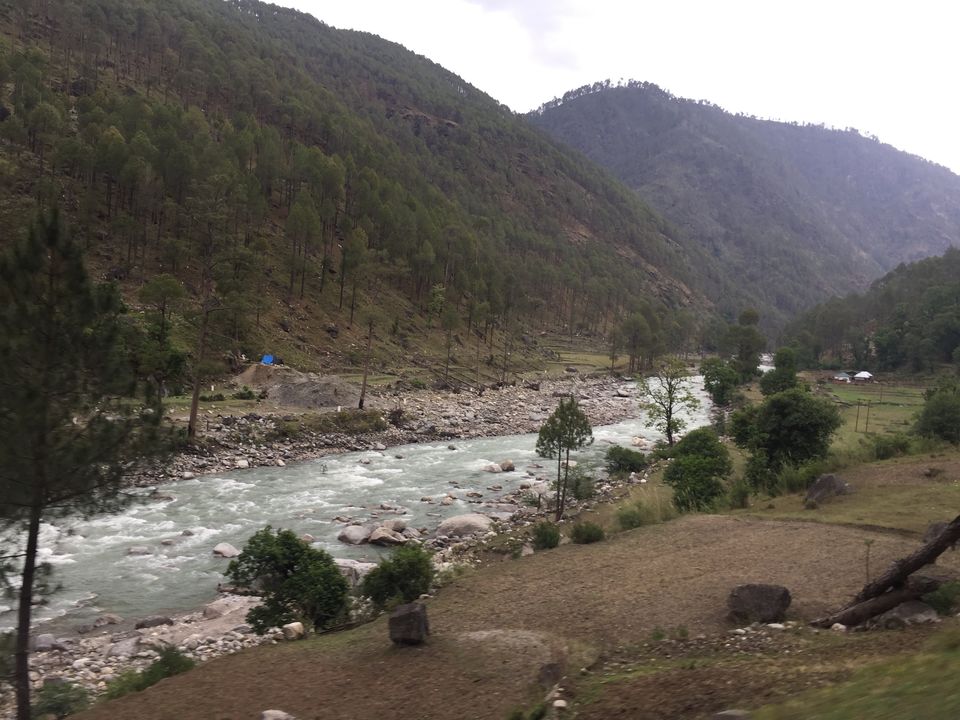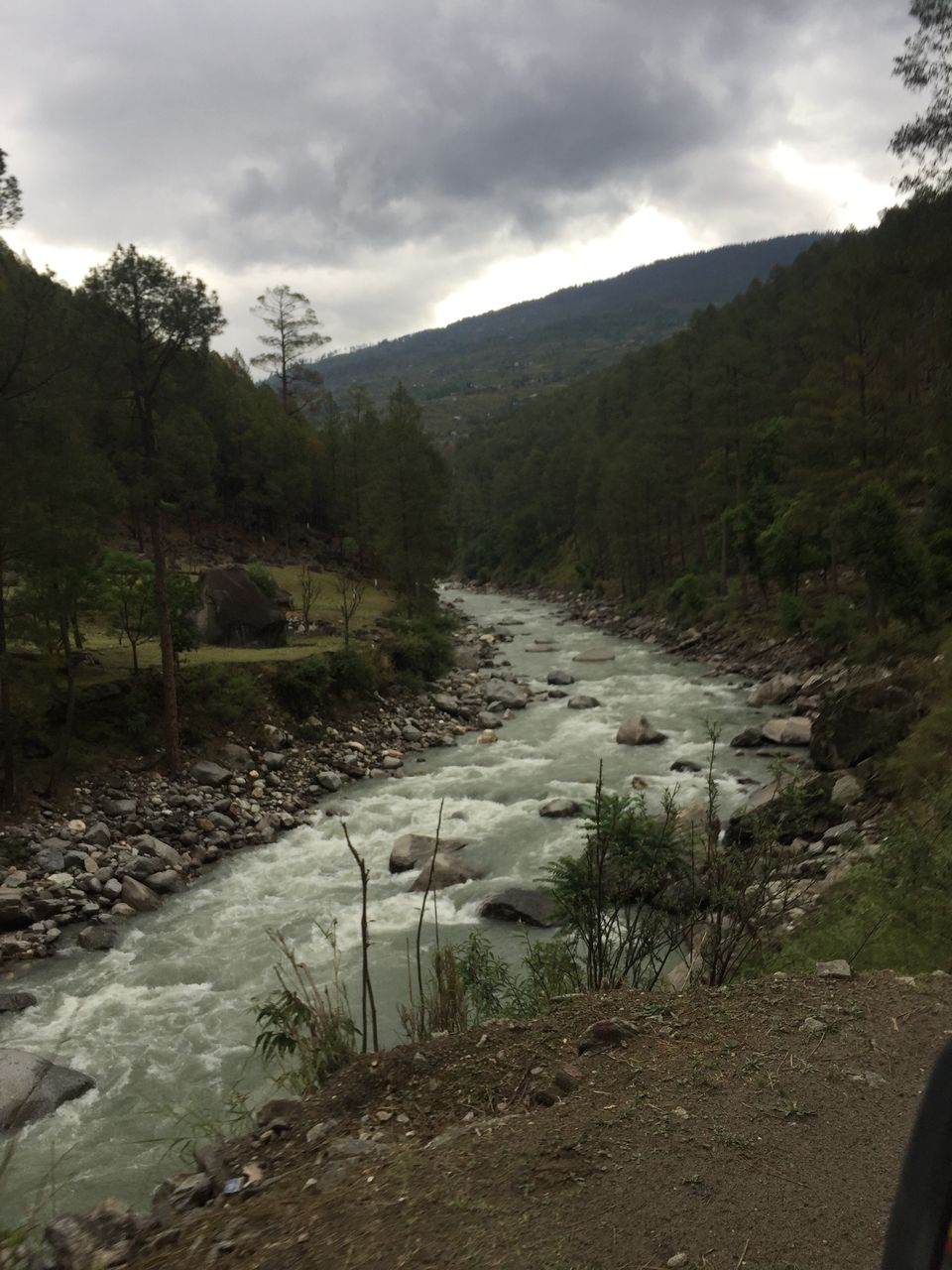 The drizzle almost all along made it even more beautiful and inspite of being in an uncomfortable car I found myself completely awake and in bliss.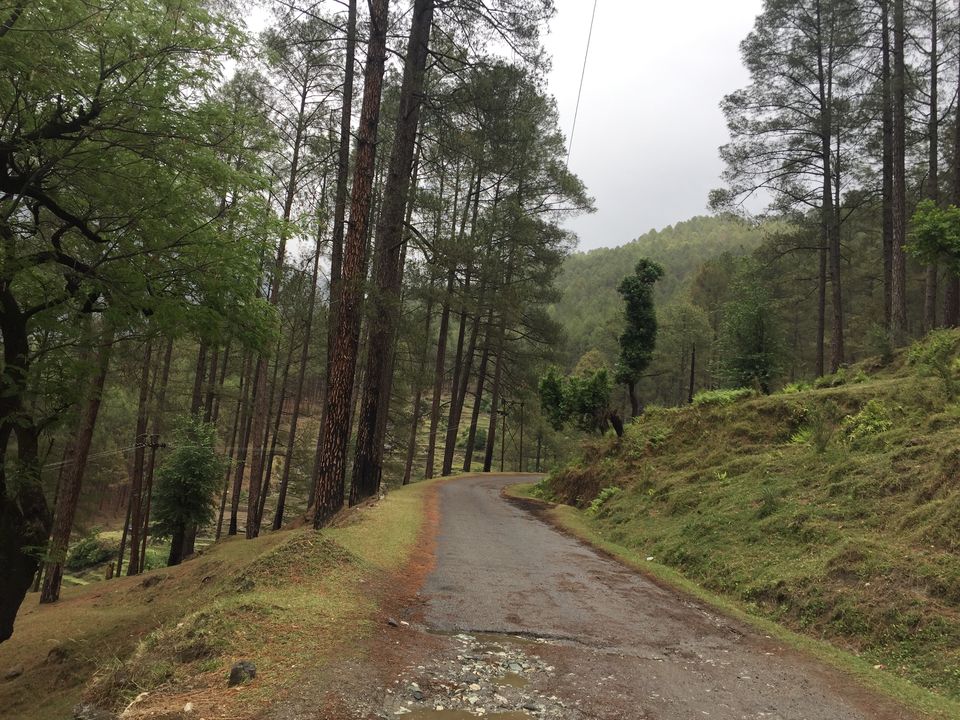 The last 22 kms to Sankri passes through the Govind National Park and the route takes on through some of the densest flora around the region. We reached Sankri around 5pm and were given our rooms to freshen up. Me being alone got a room all for myself.

My room opened into a wide terrace and straight up one can see the snow-capped peaks and beneath all green fields – full of apple & walnut trees.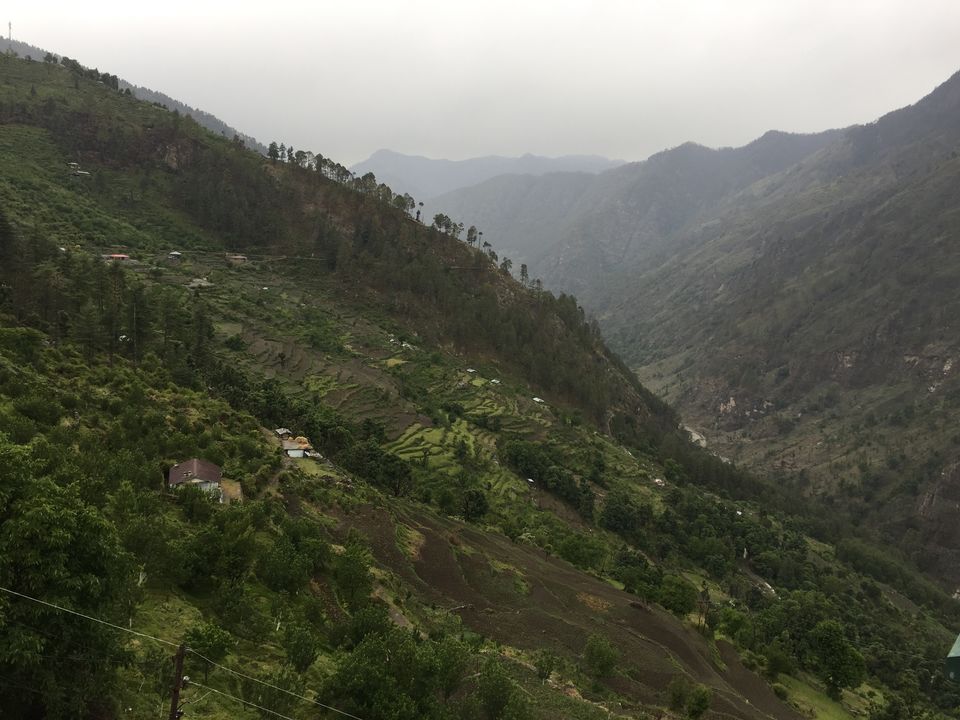 It was already quite cold and I found myself wearing an extra layer of fleece beneath my wind jacket. We were informed that on account of rain some tree has fallen on the power lines and hence no power since morning. The hotel had a generator and they said that they will switch it on post 7pm (after sunset) and we can then charge all our electronic items. From the next day till we are back to Sankri there wont be any power (not in the camps) and we will be at the mercy of our power banks for recharging cameras – the most essential electronic gear of our trek! Ofcourse, if the power banks also are able to give company till the end! Anyways, no power meant no hot water and so freshening up meant dipping face and fingers in the chilled water – which I still did!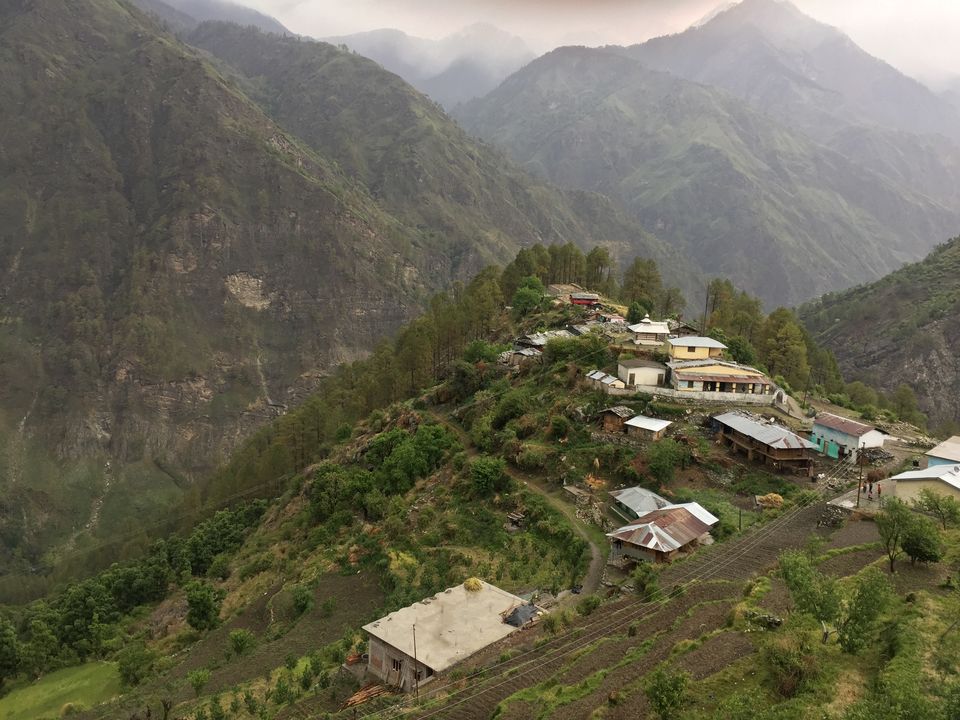 We met our trek lead on the terrace who informed us that we will soon have a briefing about the trek. By 6pm we all assembled in an attic type room on the terrace over a cup of hot tea ( it was still drizzling outside and the wooden room and the hot tea gave all the pleasant warmth). The temperature had already fallen to some 8 degrees. Our guide Mr. Varma (we used to call him "Varmaji") introduced himself and our local guide "Lovelyji" and gave a nice briefing on what clothes to carry, the importance of acclimatization, symptoms of mountain sickness and what to expect in camps. All these are extremely important for a trekker to know and get himself prepared for a high-altitude trek, most important of all being Altitude sickness. Various materials are available at the net and I believe is extremely crucial for one to understand these. While going to the mountains is exciting but some knowledge about the sport is important as well. As they say if you haven't been to the mountains in the last 10 days you may get Altitude sickness. Some of the most seasoned trekkers also get it.

Post the brief Varmaji informed us that 1 more trekker would join us. It seemed he came on his own to Sankri and wanted to join for the Kedarkantha Trek as well.
At around 8pm all of us met in a nearby hotel where dinner was arranged. Simple food, nice companions and the eagerness to start the trek the next day kept all of us hearty.
After dinner and a small chat with some of my trekmates I went to my room and realised that swelling & stiffness in 2 of my fingers since evening seems to have increased. Even though this was not my first high altitude trek and being a reader I had read quite a lot of the various experiences of the trekkers and mountain sickness and other hazards I dint remember reading something like this and Sankri being at 6,400 ft altitude I dint think I could be having any of the sickness I read about but still by 9 pm I decided to atleast let my trek lead know and take his views.
That's the first rule to be followed in the mountains – when in doubt inform someone and when you are travelling alone it becomes all the more important.
Well, when I showed him my fingers he told that some people get swelling in cold weather so it could be only that. Atlast, the disturbing thoughts were put to rest and happy I went to the cosy comfort of my room, beneath the warm blanket to enjoy the last night until we are back to Sankri.
Day 2 - Sankri to Juda-ka-Talab
In the morning after a good breakfast we started our trek towards Juda-ka-Talab.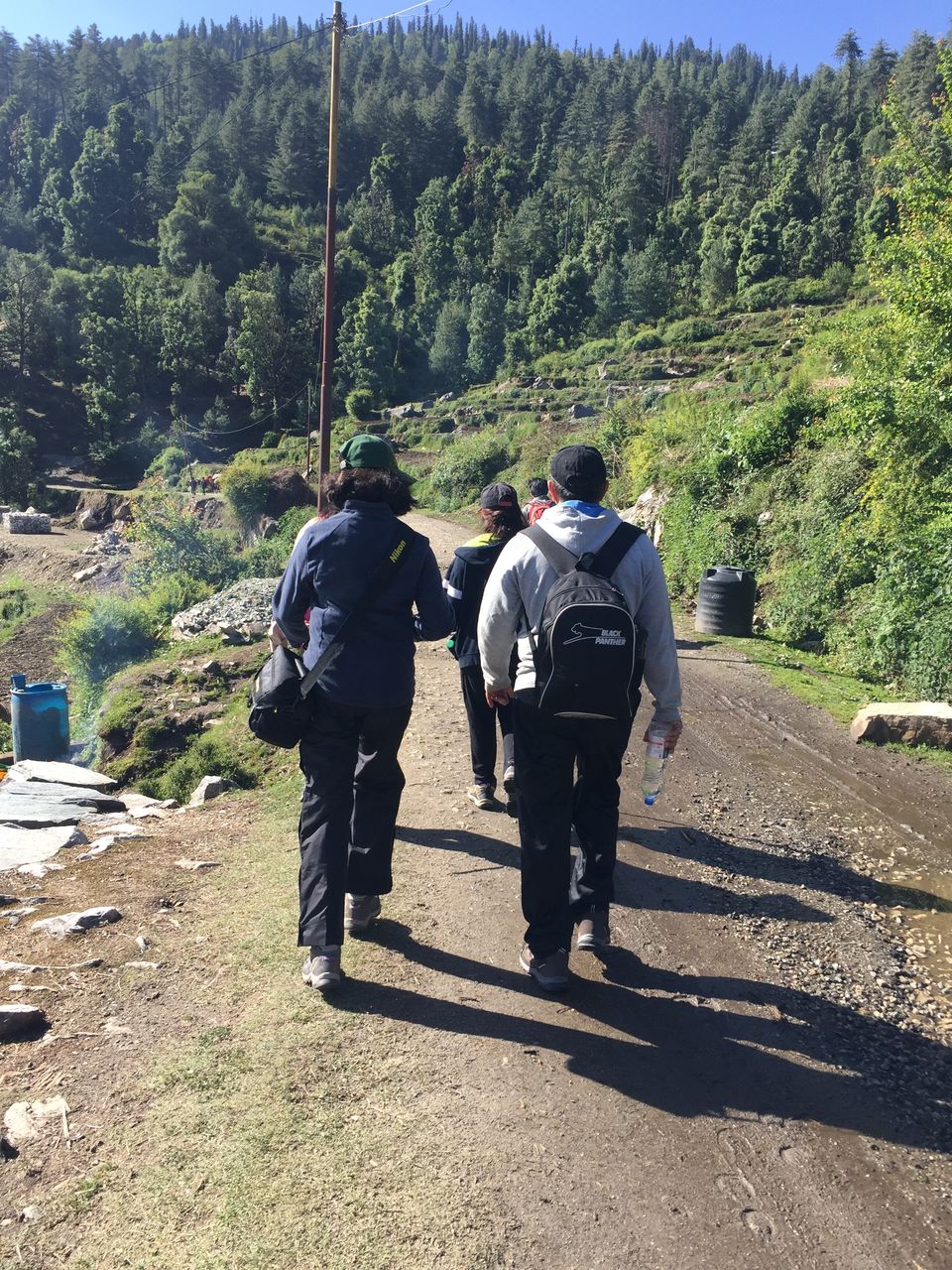 After a km or so the road leaves the village and takes a wide curve and climbs sharply. The climb all along is through dense forest trees with some wide clearings in between.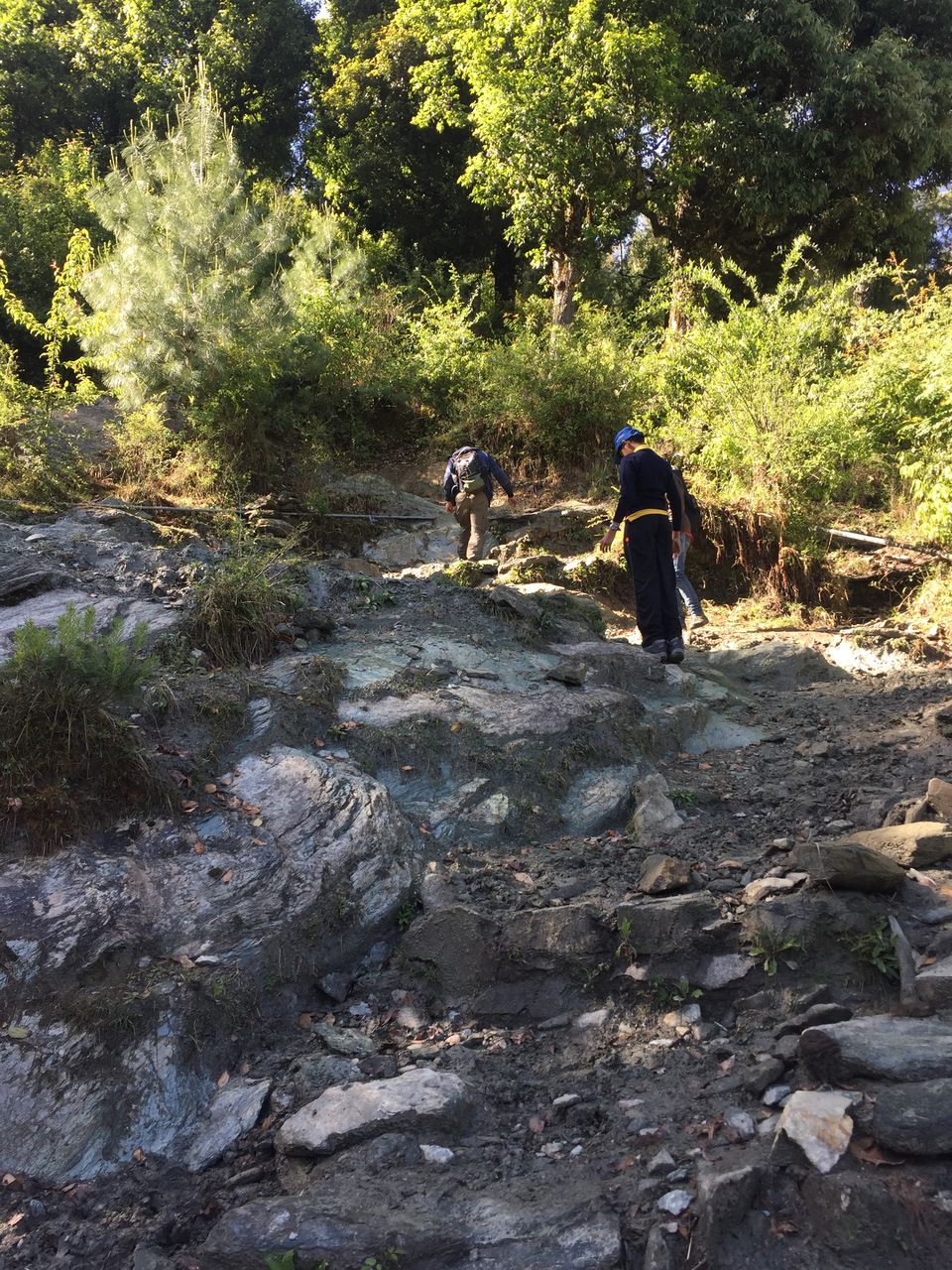 On the way one can see a few huts and green fields. And in some places when you turn back you will see the magnificent snow-capped mountains in the distant. The only sound was that of the chirping of the birds, the running stream (which was not visible) and the silence of the forest. We took breaks in between to catch our breaths and enjoy the view and kept moving.
Some snaps on the way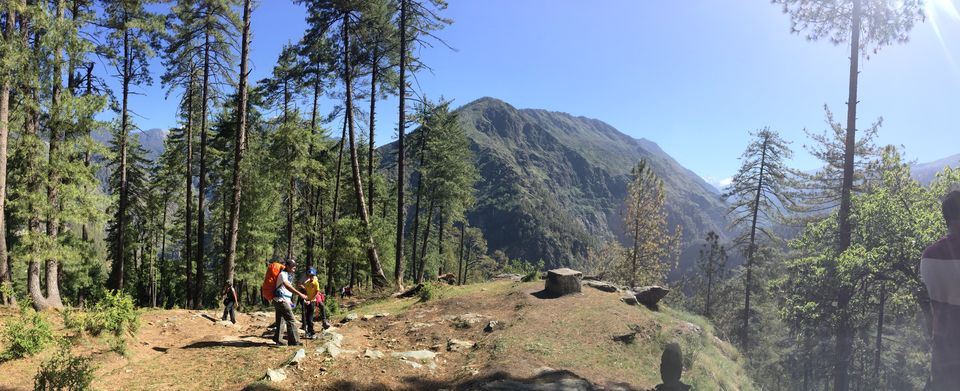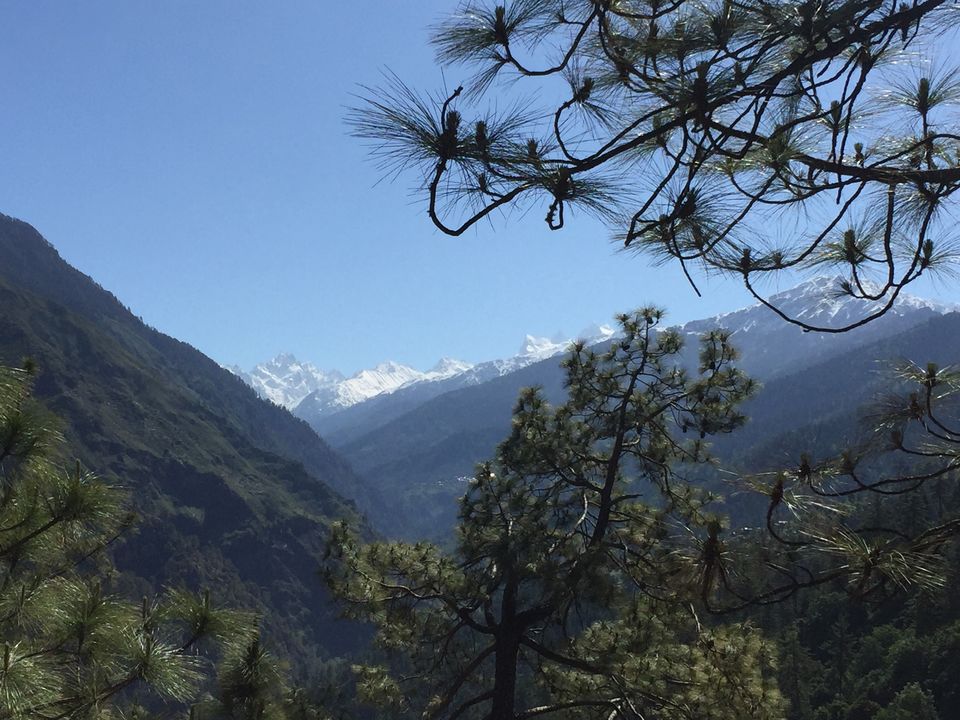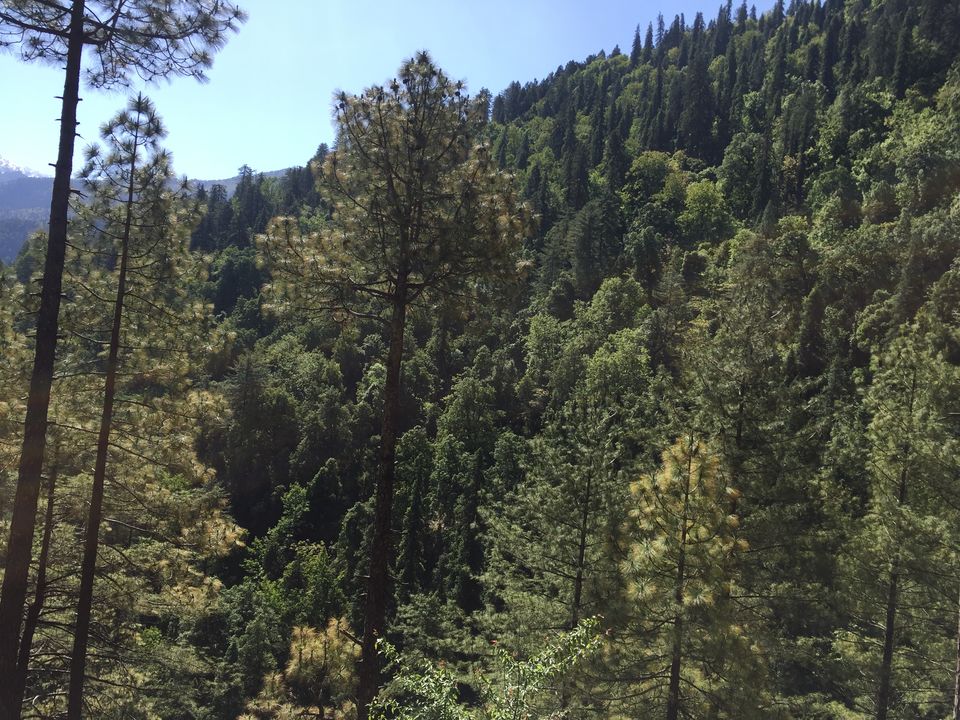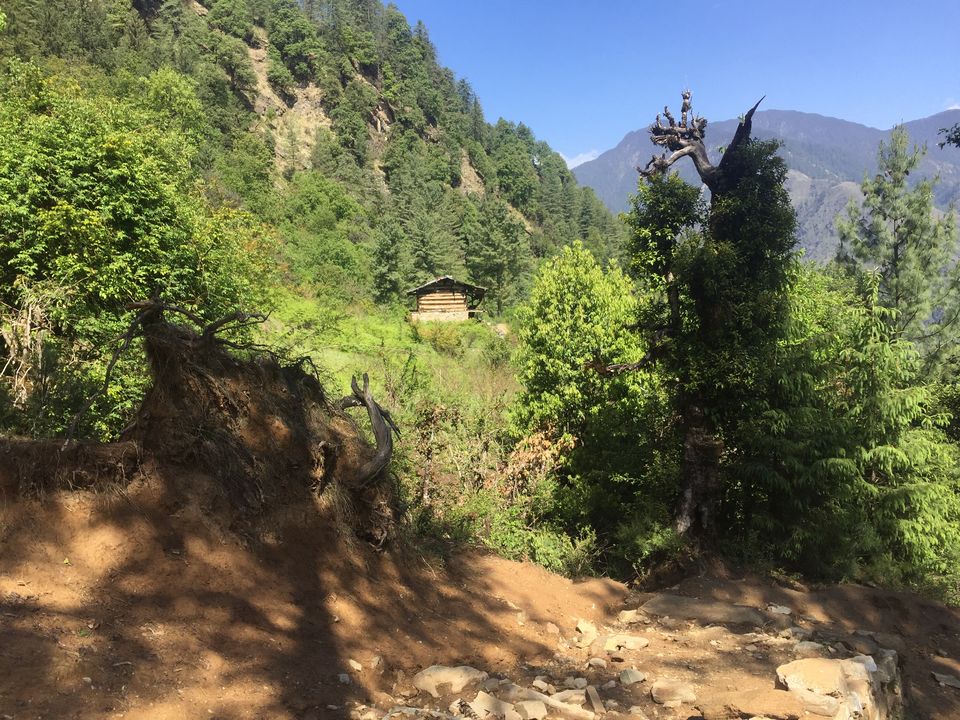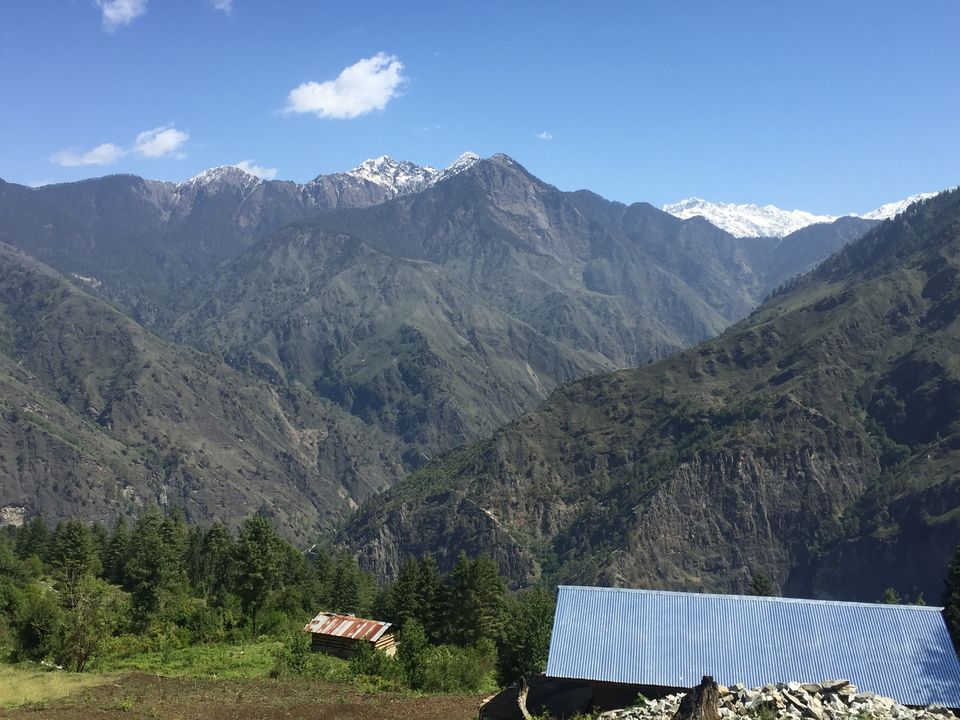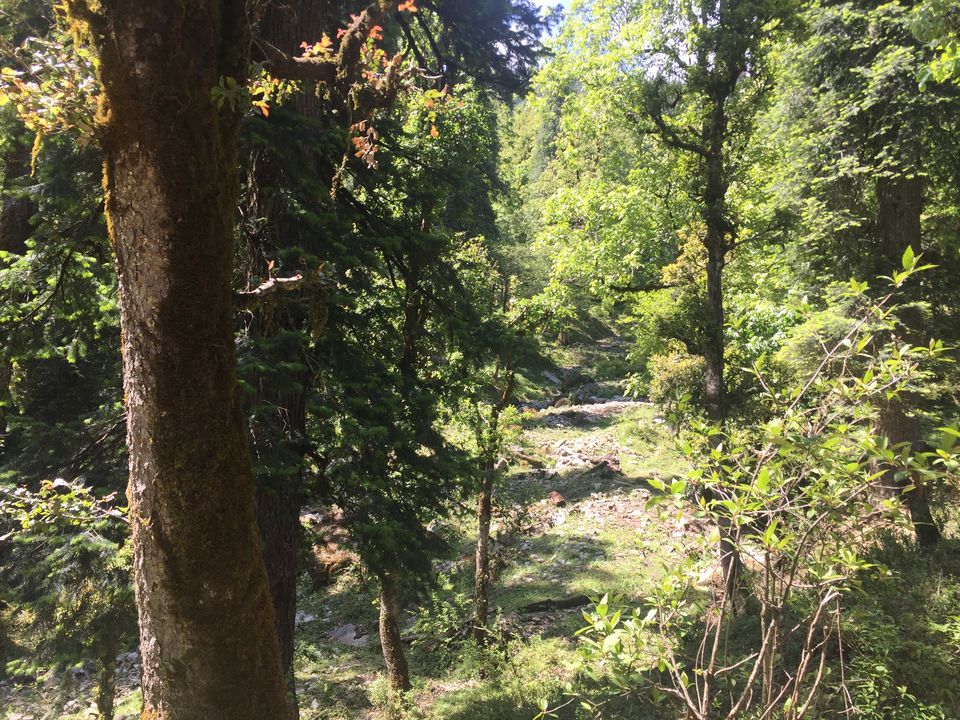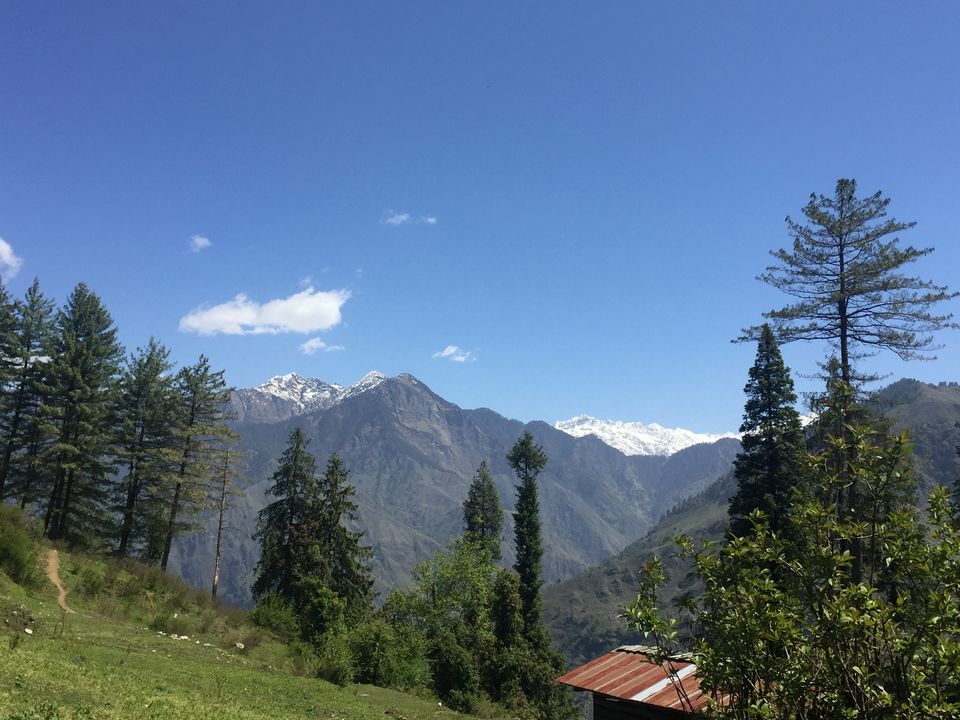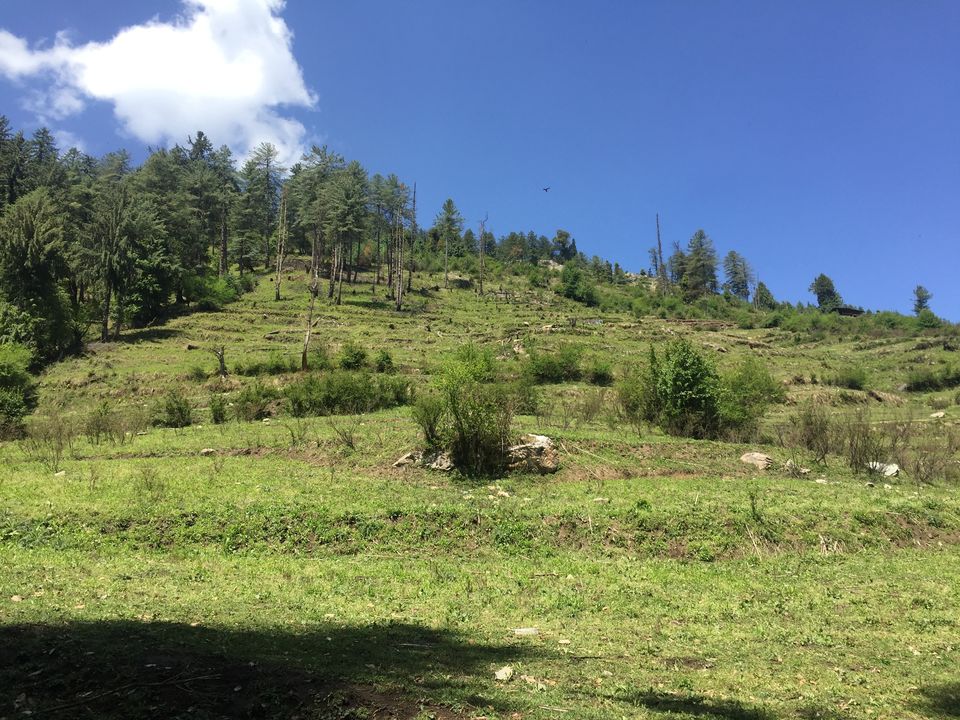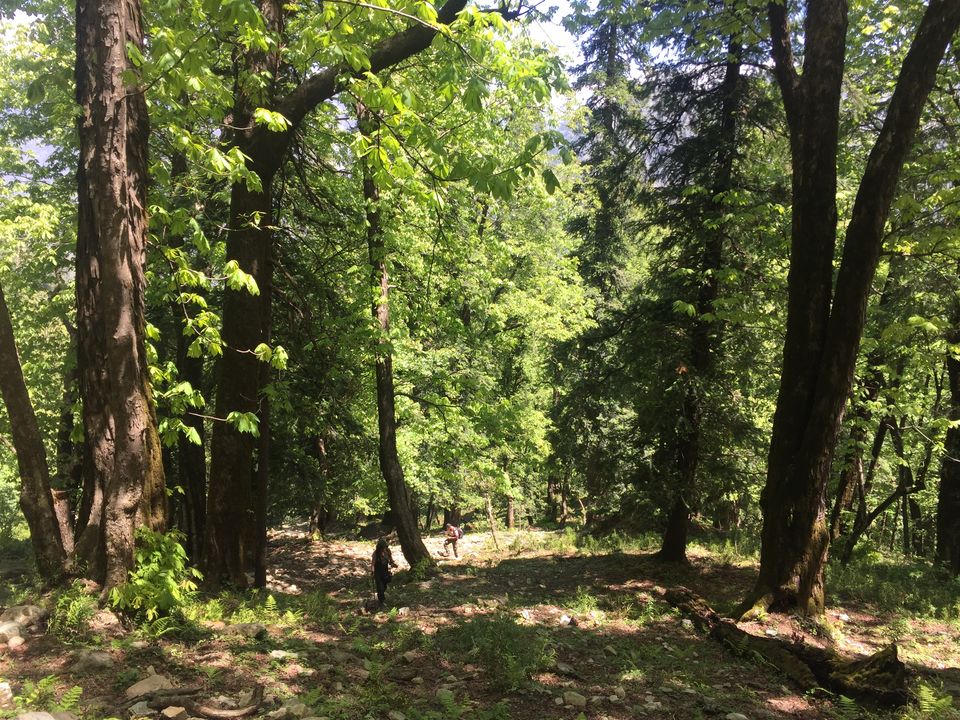 At one of the clearings we stopped and took a tea-break. It was a beautiful set-up.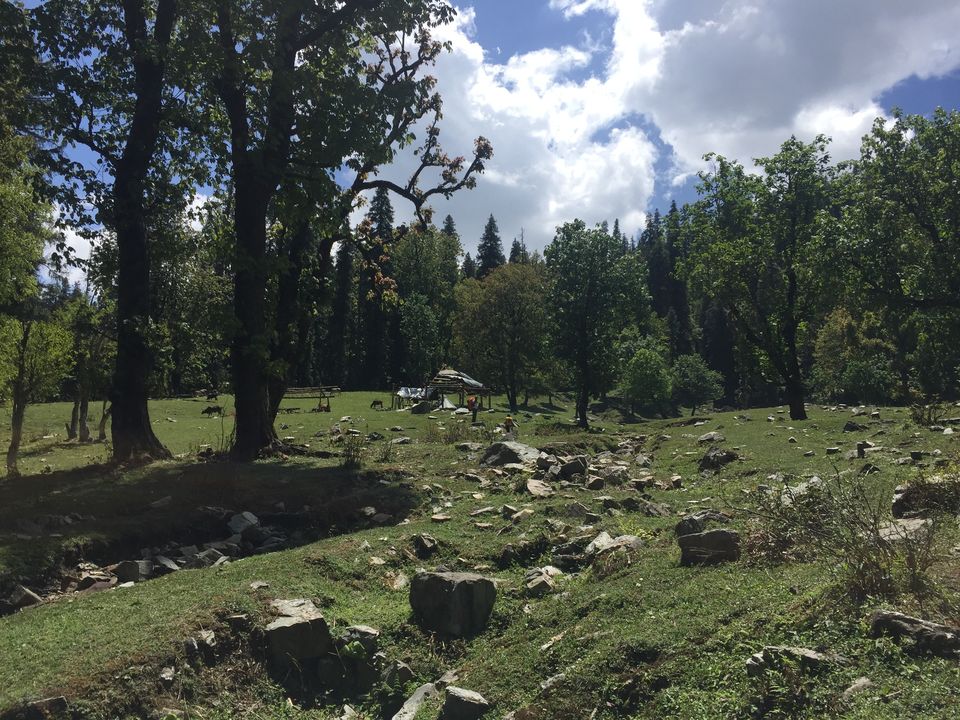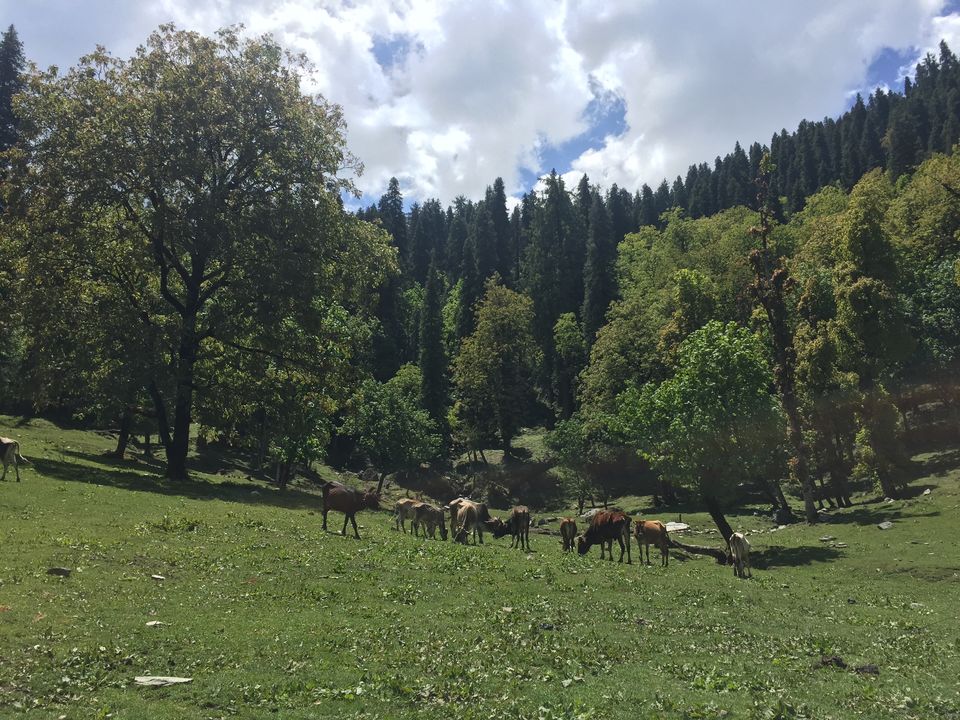 Post that break we realised the climb was steeper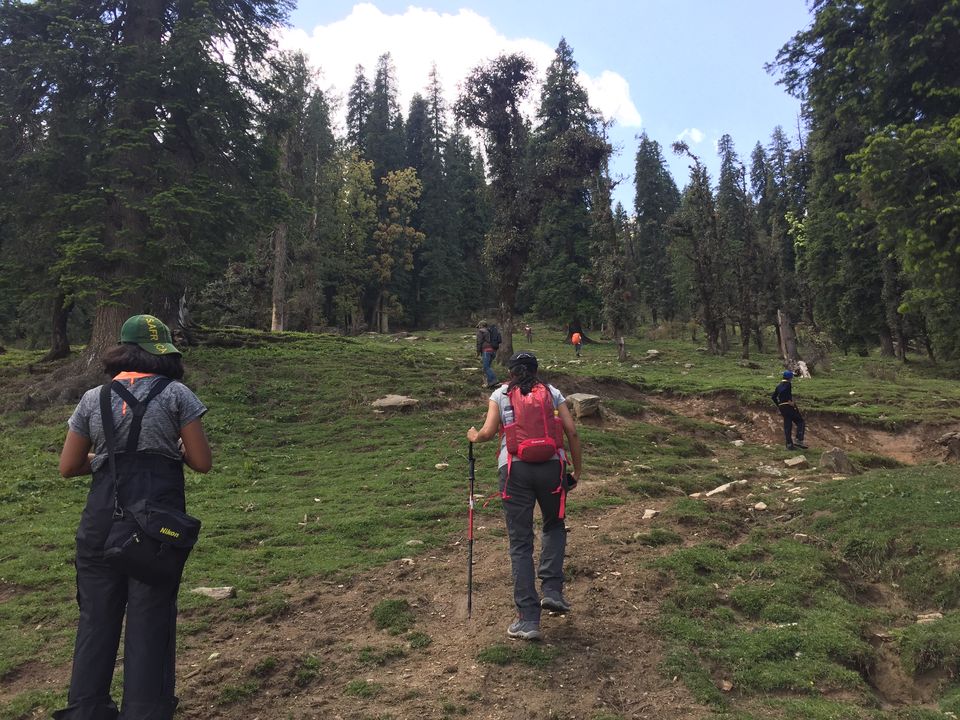 but nevertheless beautiful..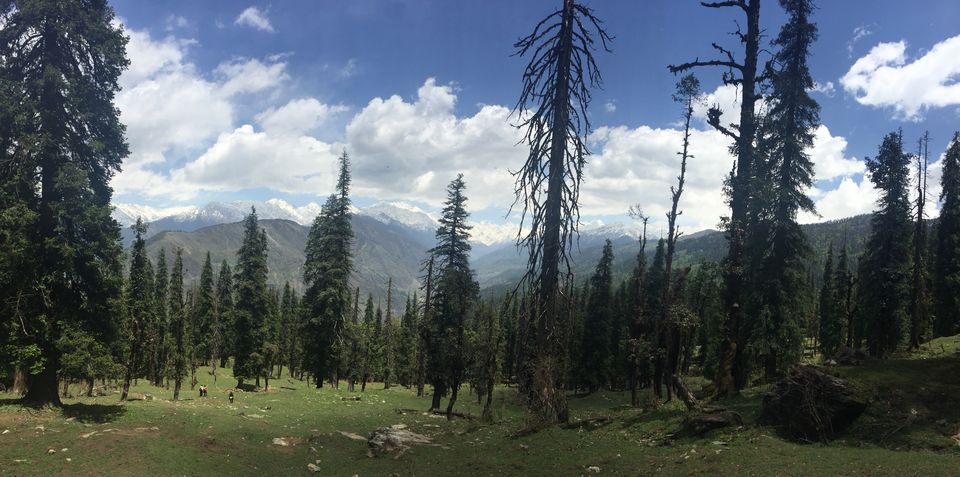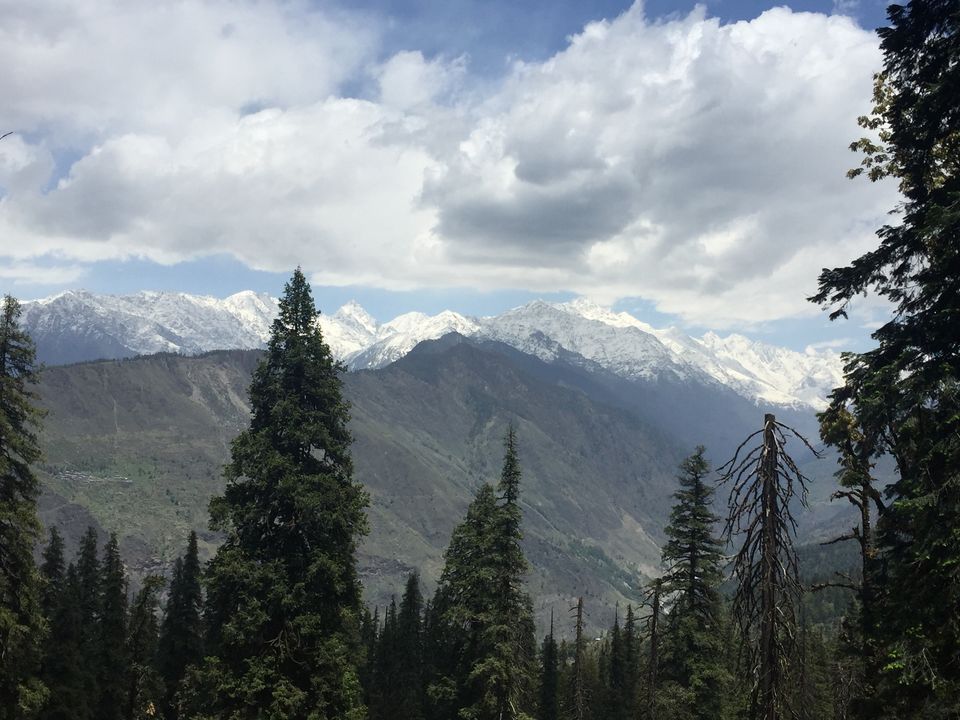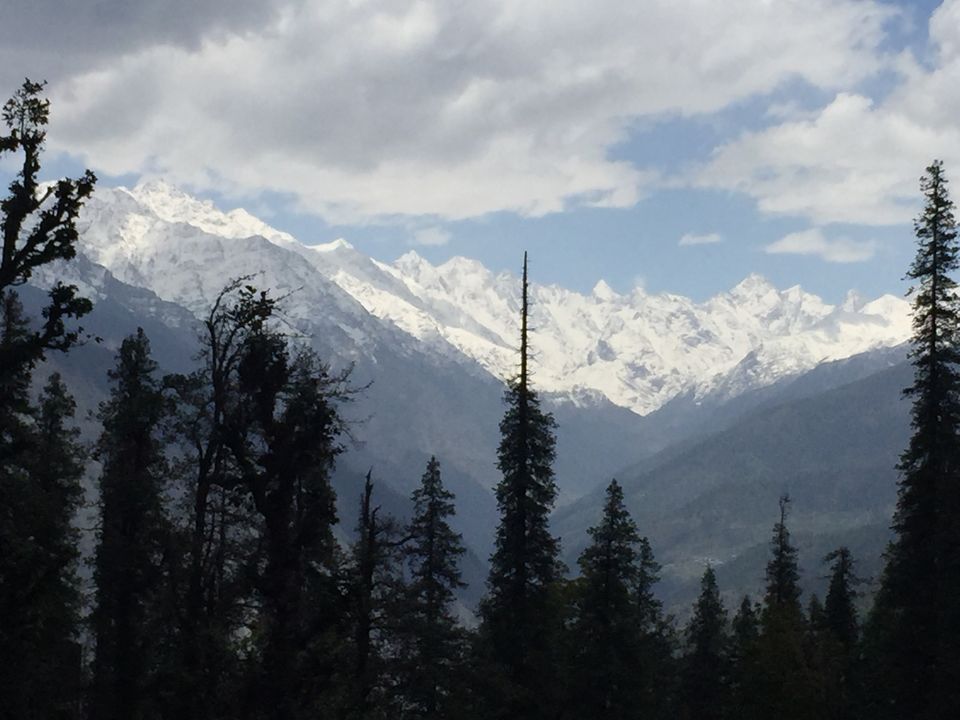 and huffing and puffing we were greeted by the beautiful captivating camp site. Our first camp has arrived and it was spell-bounding with the beautiful lake in the background – Juda-Ka-Talab (9,100 ft and appx 6 kms from Sankri). It was right out of a picture book. The blue tents on the green flat bed of grass and the "Talab" adjacent to it.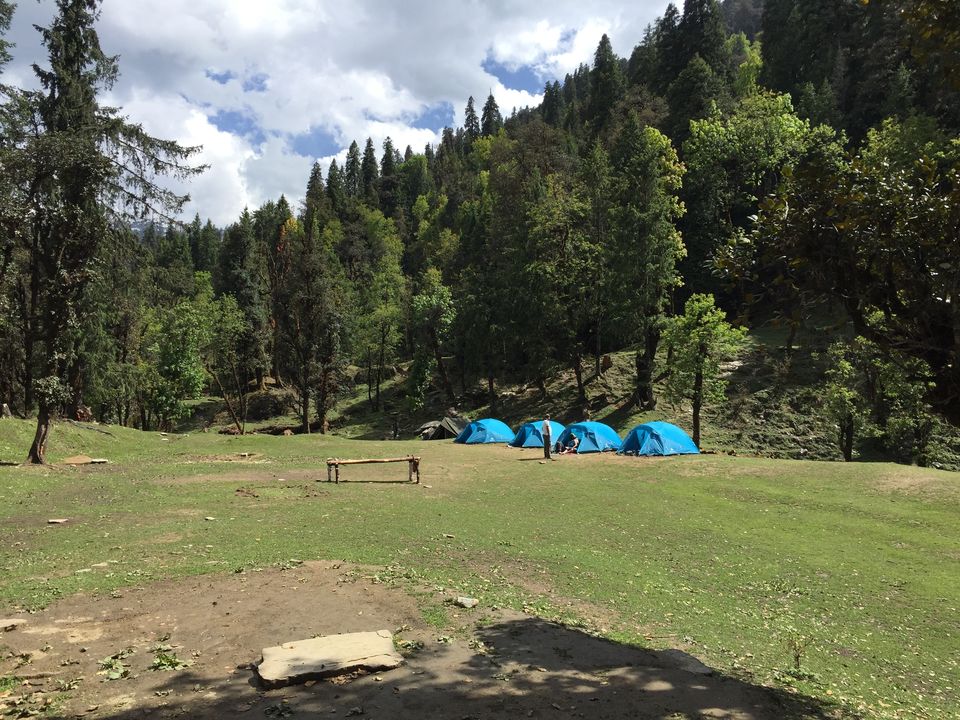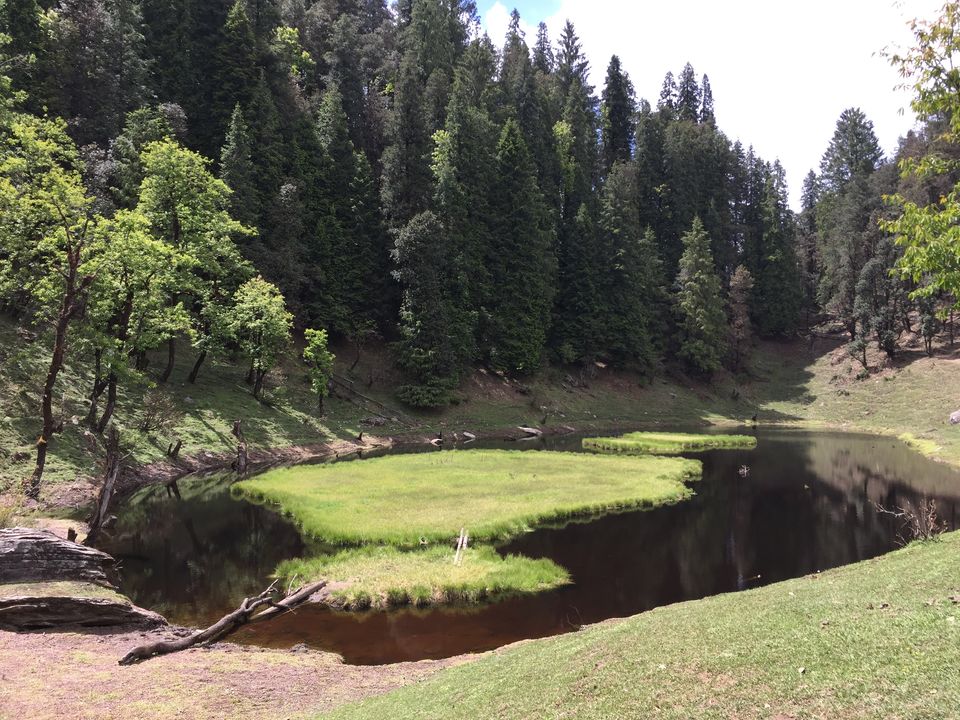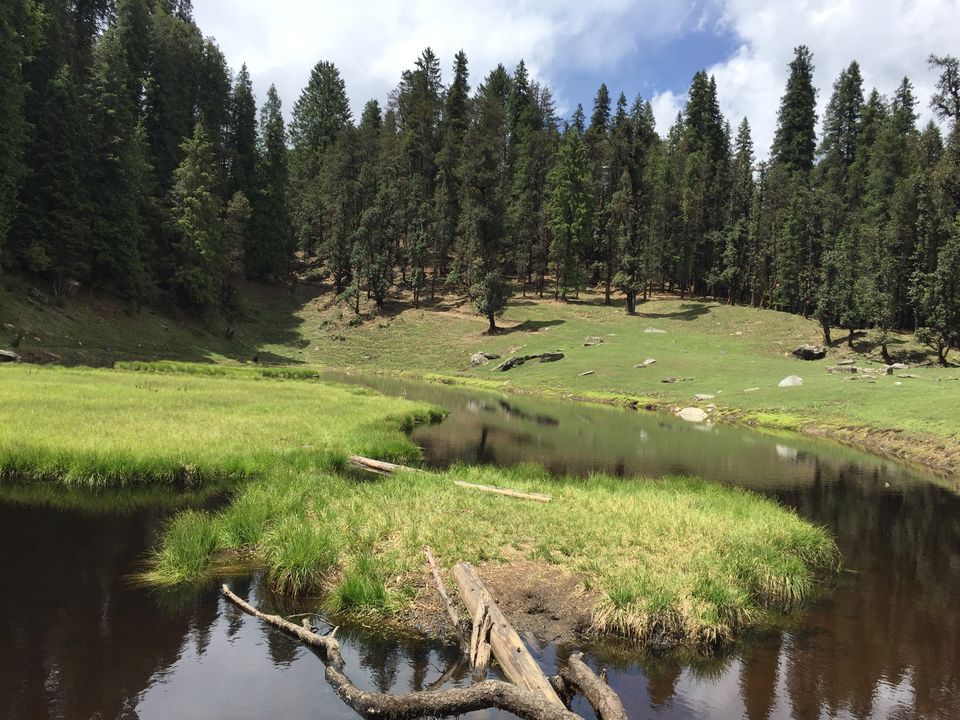 By the time we reached we were already hungry for food and realised that a simple meal of dal and chawal was already ready. Thanks to TTH folks!

It was sunny and Varmaji told us not to sleep inside the tents in the afternoon since we may end up getting headaches because of the high altitude and the heat inside the tent. Some of my trekmates pulled out the mat from inside the tent and decided to rest outside the tents.
After spending some time sitting beside the lake I found a "machan" kind of spot under the shade of the tree and decided to read my Kindle. Oh what a bliss it was to read a book in that set-up!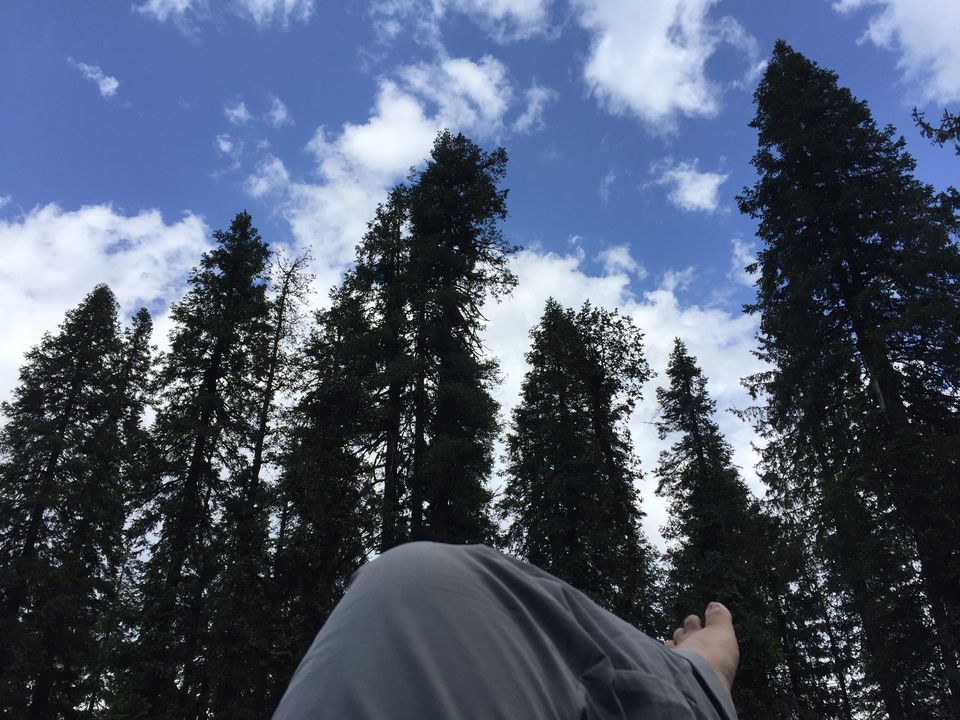 We were told that in the evening after tea we will have a short acclimatisation walk. The rule is to climb a bit higher and then sleep lower down. So we went up a km and sat there chit-chatting for a while. Climbing down we were given soup and post that Varmaji did our Oxygen and pulse check up to see if any of us has any signs of AMS. We were told dinner will be at 7.30pm. After sun-set the weather turned a bit more colder and we all enjoyed our dinner inside the warm kitchen tent.
It was beautiful starry night and we stood there looking at the bright and shinning stars. Since there was nothing else to do and it was all dark except for our torch lights we all decided to settle in our tents and call it a night. Being a solo lady trekker I again got a complete 3XL tent to myself! The next day was supposed to be a short trek to the Kedarkantha base camp and we could start by 9am. Another day went by without seeing the Kedarkantha peak.
Night was uncomfortable in a sleeping bag (my first experience) & the absence of a pillow made it even more challenging to sleep. Sometimes we don't realise how we take the simple things in life like the comfort of a bed and a pillow for granted. Nevertheless I tried my best to make a pillow of my hand and my clothes but still no luck. Think I hardly slept!
After the night experience was the experience of "loo" in the dry pit. The pit is dug for a ft or 2 and the funda is you cover your shit with the mud so the next person can use it without any discomfort.
Day 3 - Juda-ka-Talab to Kedarkantha Base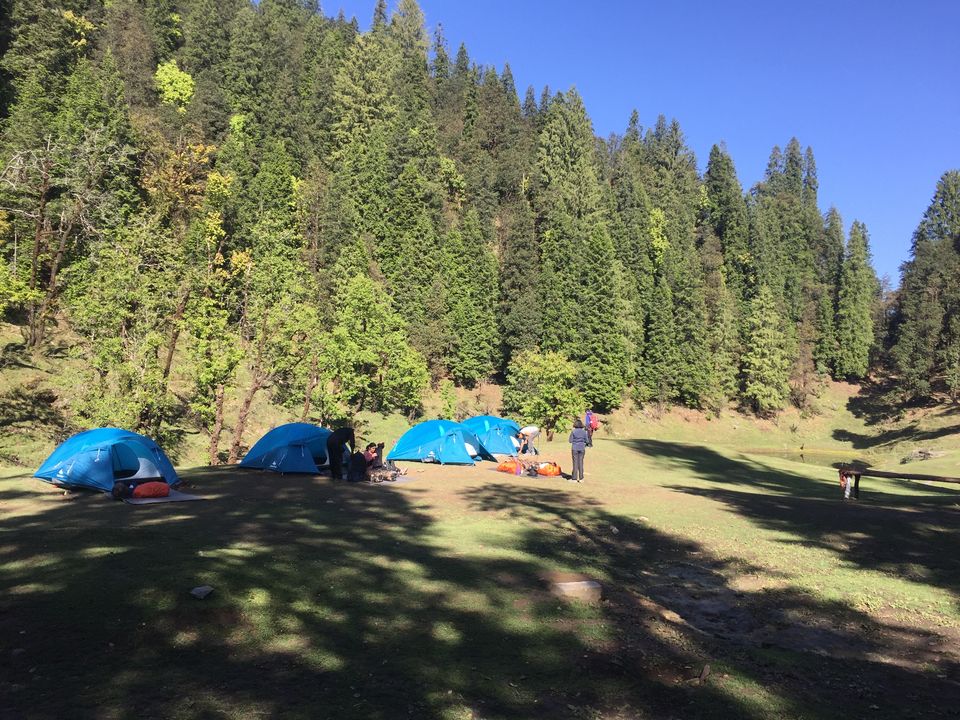 At breakfast when we met, we all had the same "pillow story". By 9 am the camp was completely disassembled and we started towards the "Base" (11,250 ft). Even though the climb was short(appx 3 kms) but it was no less flat! Infact, it was steeper than the first day.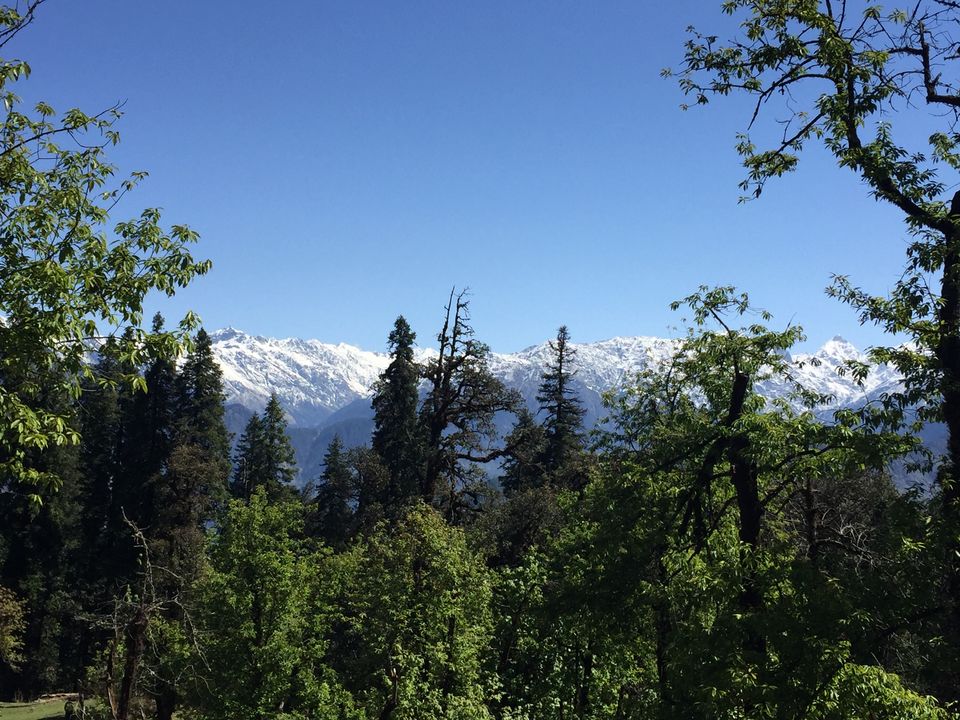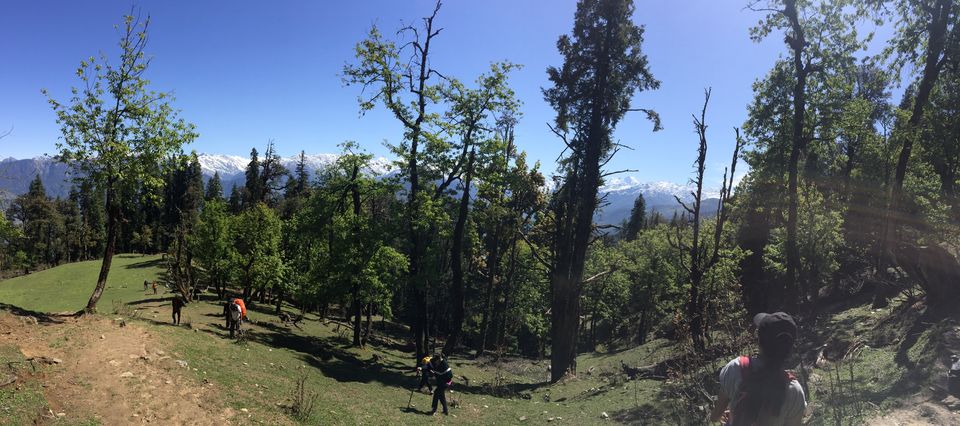 Just before reaching the Kedarkantha Base one can enjoy the fascinating views of arc shaped range of snow clapped mountains comprising of Bandarpoonch, Swargarohini, Kala Nag and Ranglana standing out proudly showcasing their beauty. When we finally managed to reach, our tents & luggage still have not reached but the previous group's camp was there.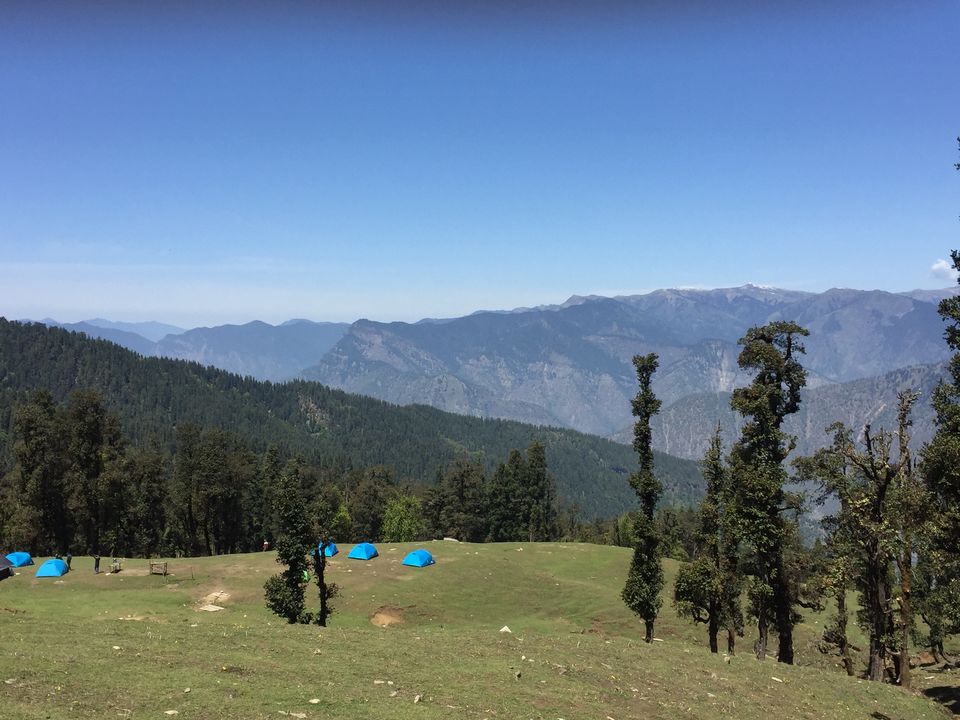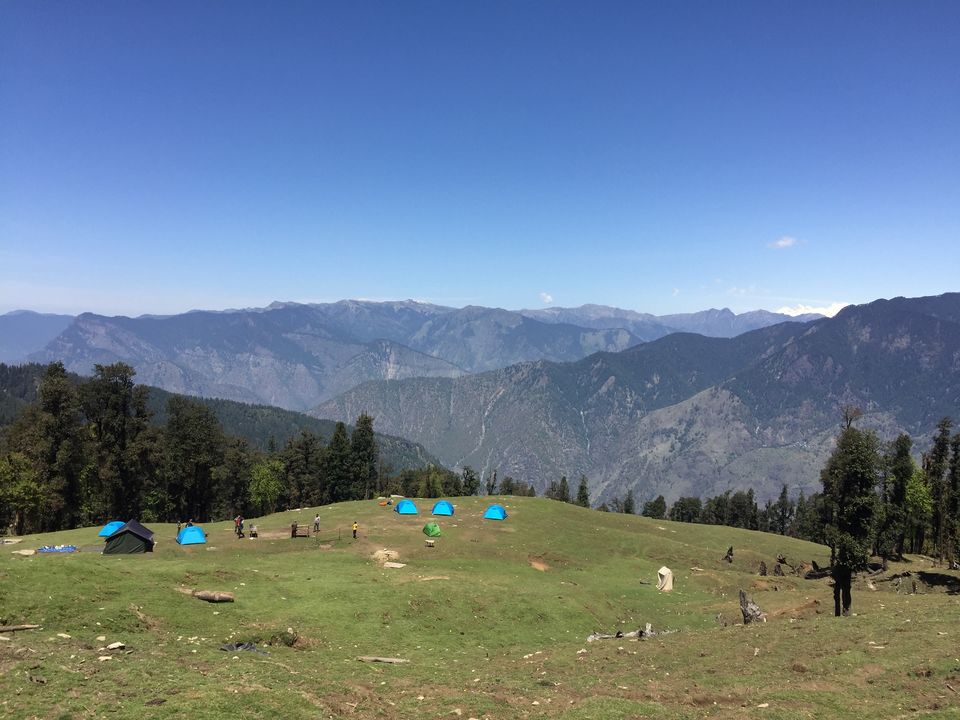 It was both sunny and windy but the view was spectacular and opens to the magnificent mountains – some snow-capped and some brown chocolaty on one side and the Kedarkantha peak on the other side – being visible for the first time. To our excitement we saw that the peak was covered with snow. We were all happy that finally our "Everest" was atleast visible!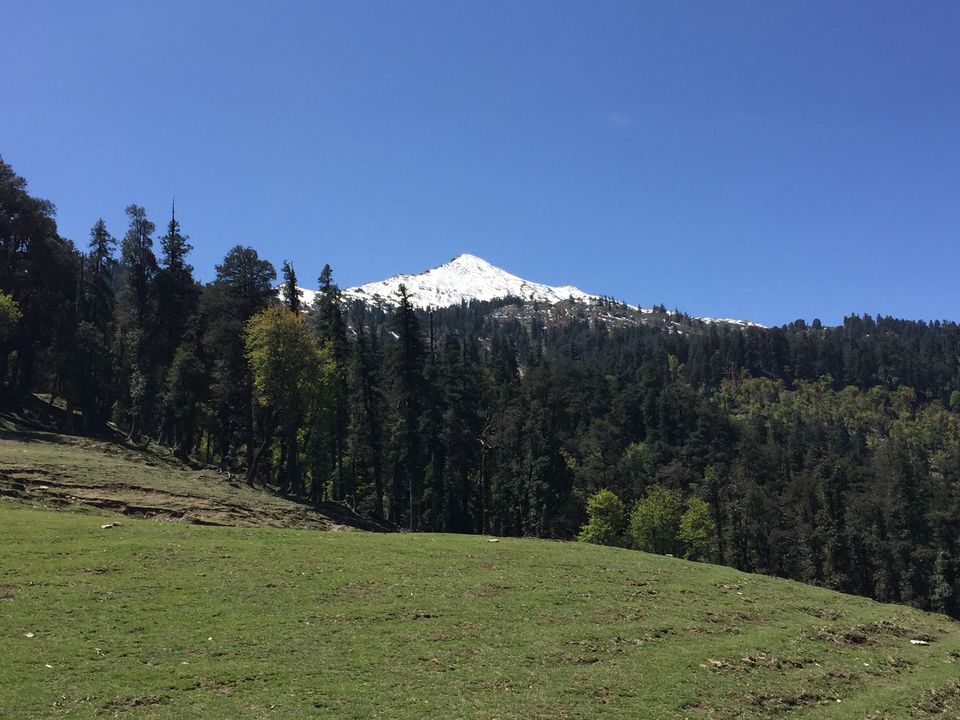 I sat on the grass, took off my shoes and just fell silent looking at the mountains. At that precise moment I remembered a line I had read "Travel – the best way to be lost and found..All at the same time" and u realise what a tiny place you occupy in the world.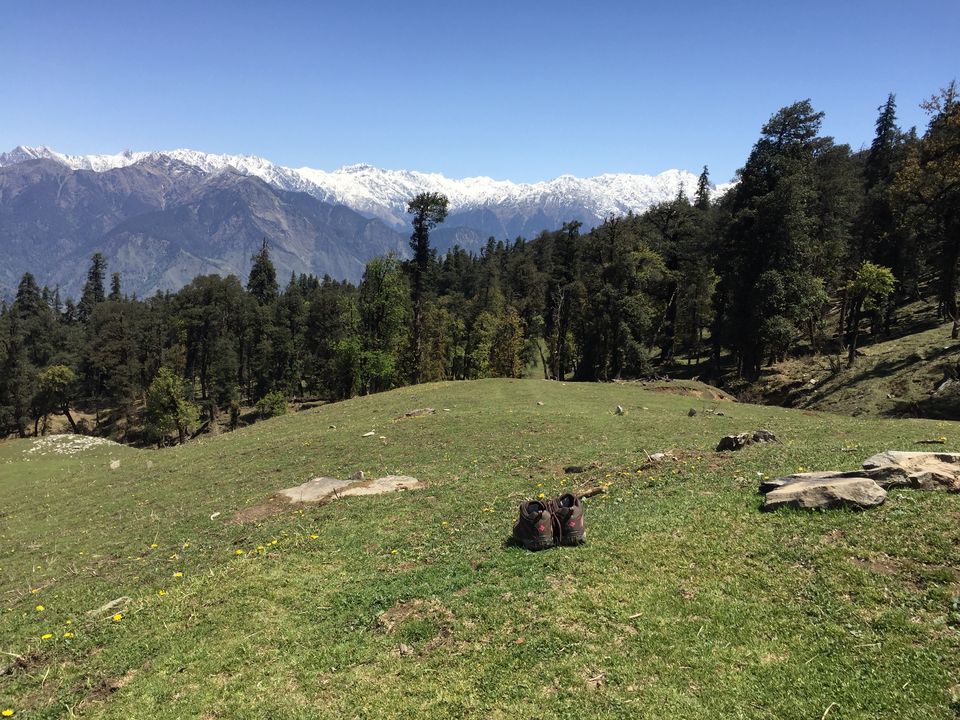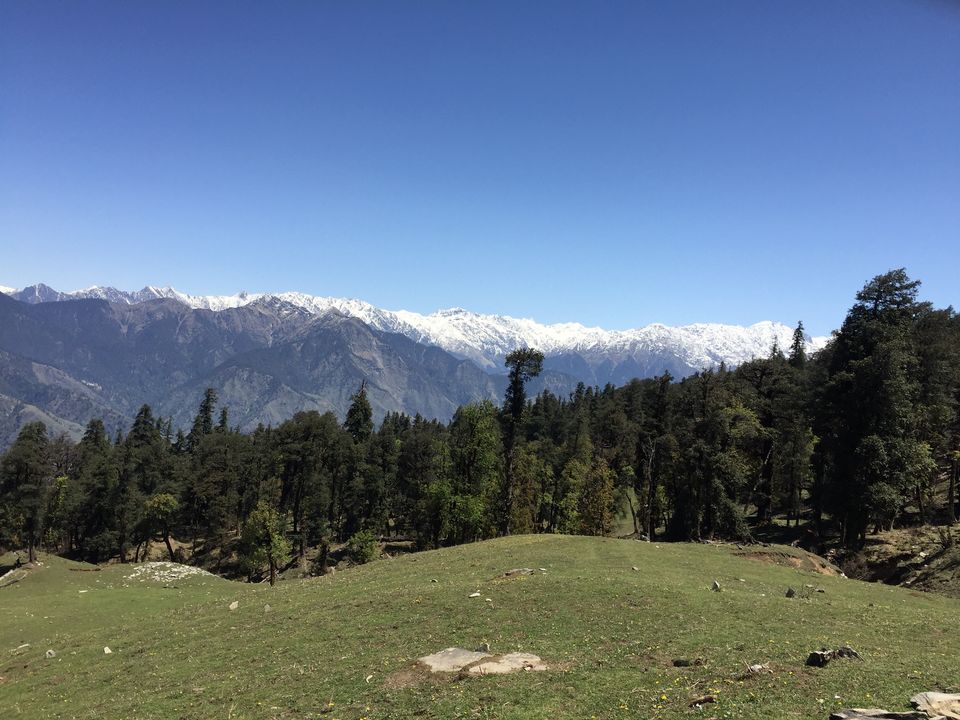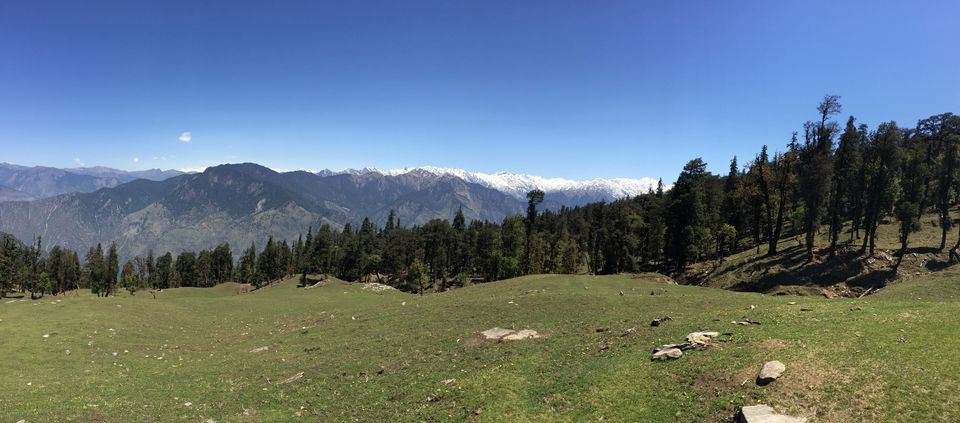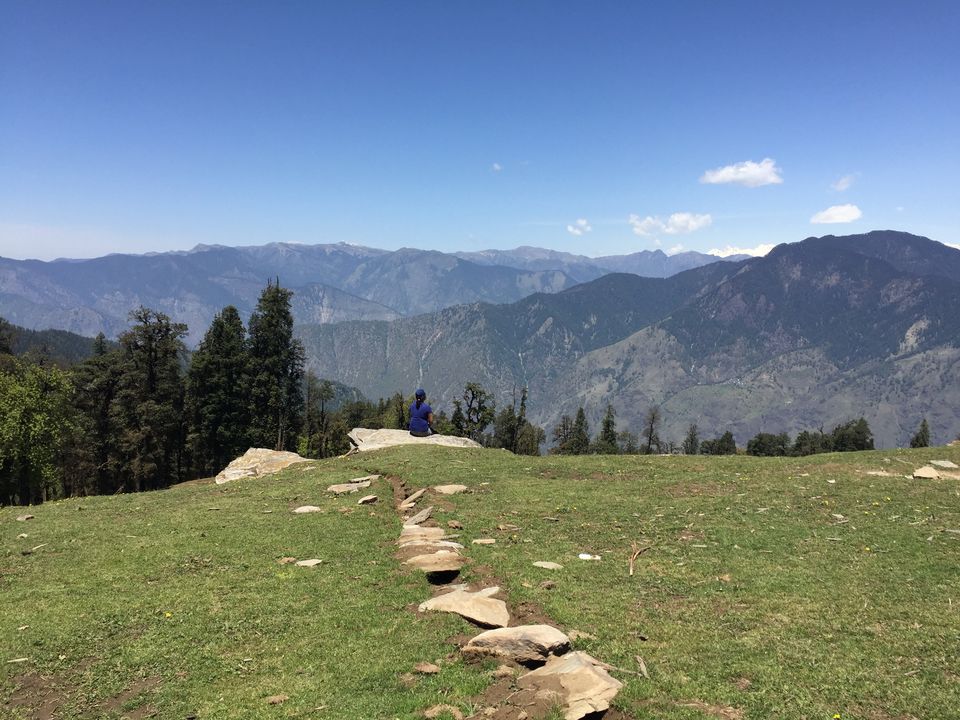 Waiting for the luggage to come over a glass of some lemon juice we all told Varmaji that we would like to learn how to set-up tents and would set-up our own tents. He was game for it. And it was fun! We all had time before lunch so kept chatting throughout until the lunch was served and we almost jumped onto it.
Varmaji informed that the previous group made it to the summit at 10.30 and was descending then. Many of my trekmates were eager to meet them to understand and learn from their experience. I was not. I strongly believe that each one of us have our own experience and each is unique. Anyways, when the group finally made it to the camp it was around 3pm and they all mentioned that it was extremely tough, to take medicines for headache etc etc. So by their experience our group got into the mode that it would be tough tomorrow.
A few of us were not in a mood to sleep and so we kept searching for a place to sit. A place where it will be a bit warm and not windy. And amidst the vast expanse also we failed miserably. The tent was hot, outside the tent there was no shade, other sides too windy, under the trees too cold. So we gave up on the idea of our ideal spot and sat in the middle of the camp surrounded by the hills on all sides and the gleaming snowy peak of Kedarkantha visible & played some games. Soon it was time for tea and the acclimatisation walk.
Me along with a few others went a bit ahead of the ground & climbed up a bit to take a peak at how the path ahead will be for the summit. What we found was a gravelly, meandering path ahead & decided to come down and to take it when we face it the day after.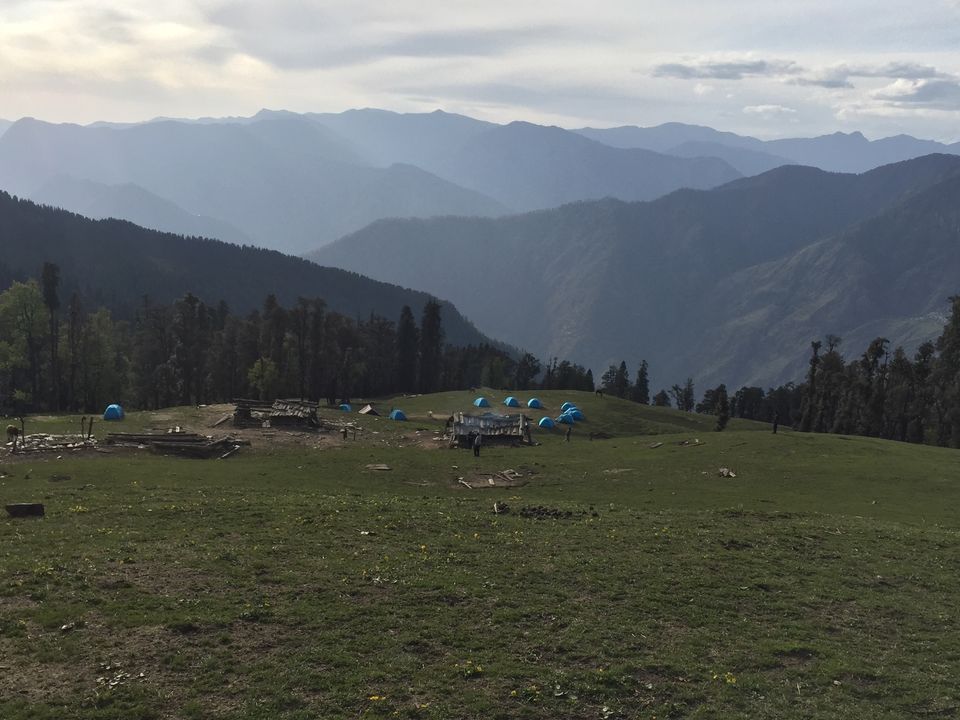 We played some games there and back to the base the oxygen and pulse was checked once more post the warm cup of soup and snacks. Dinner was scheduled at 7pm and plan was to start the climb by 5.30am the next day, so the breakfast was scheduled at 5.15am. That means we should be up by 4.30am.
The night was cloudy and we were not able to see much stars. Post the sunset the weather was chilly and when I came out of the tent for dinner Varmaji told that I looked like an eskimo coming out from my igloo ( with all the 4 layers of clothing – thermal, t-shirt, fleece and a down jacket I was indeed bulged up but because of all these felt nice and warm. Ofcourse a woollen cap and a woollen sock was to my rescue as well).
After dinner we called it an early night for an early morning. Frankly, I was a bit scared as I dint knew if I would be able to manage the summit climb going by the stories of the previous batch and some travelogues I read earlier. Irrespective of all the nagging thoughts managed to get some sleep in the sleeping bag and unlike the previous night managed well with the rucksack as my pillow.
Day 4 - Kedarkantha summit & back to Base
Was up and ready by 5am and post some breakfast of porridge started by 6am. We were all given boiled egg/boiled potato and some boiled chola to have it on the way to get some energy along with the TTH regular snack items which were given on all the days of the trek – some biscuits and some toffees.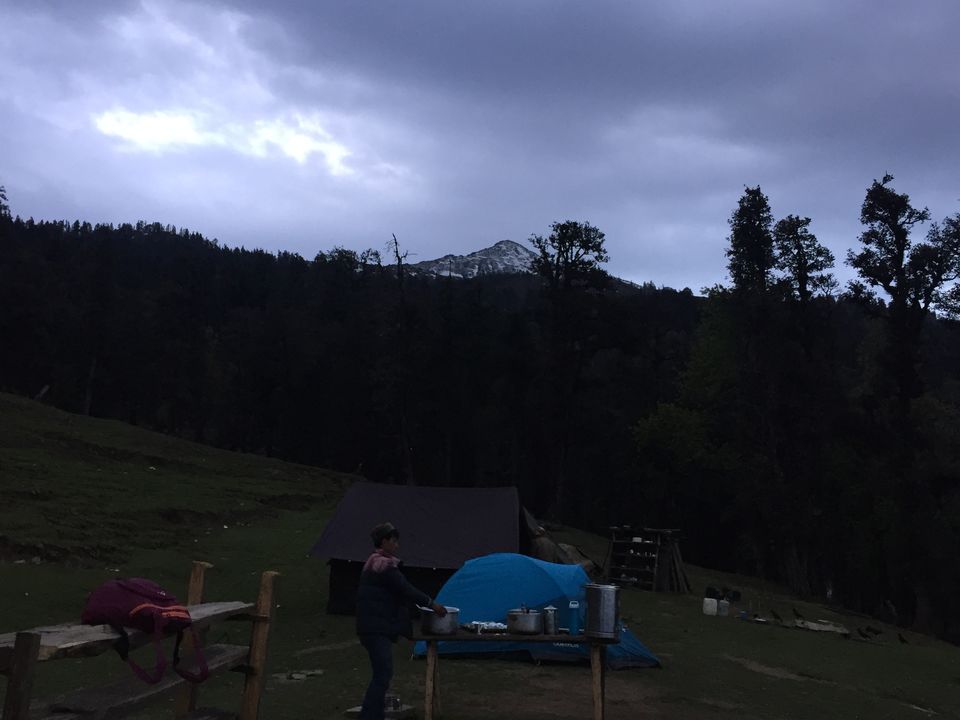 The weather was cloudy and Varmaji told us that we would decide if to climb the summit or not after we reach "Maggie point" (half the distance of the trek – almost 3-4 kms from the Base). One of our trek mates decided to go till that point and come back.
As expected the climb till "Maggie point" was steep but at the same time beautiful and had some stretches of grassland in between. "Maggie point" was a vast expanse of grassland with a log hut where the trekkers can catch up their breath and have some refreshments. We relaxed there for sometime and all set started the trek once more to conquer the Peak which still seemed very distant! Till Maggie point there was no snow and we were all praying to have an opportunity to walk on the snow then! (this was before we realised how difficult it is to walk on the snow while climbing up over the steep mountains!)
some snaps...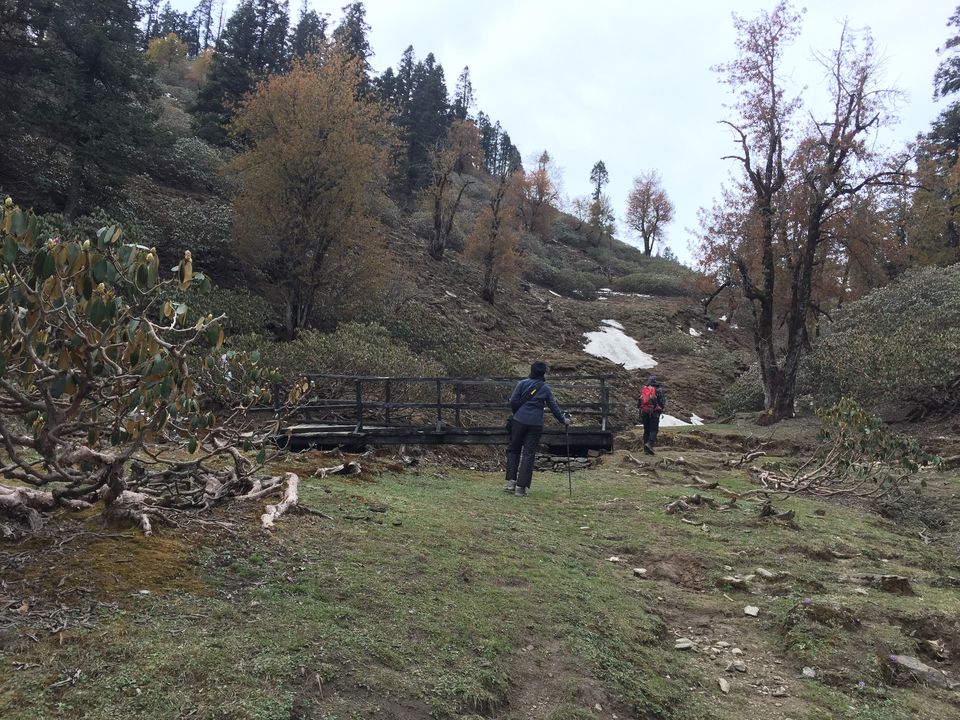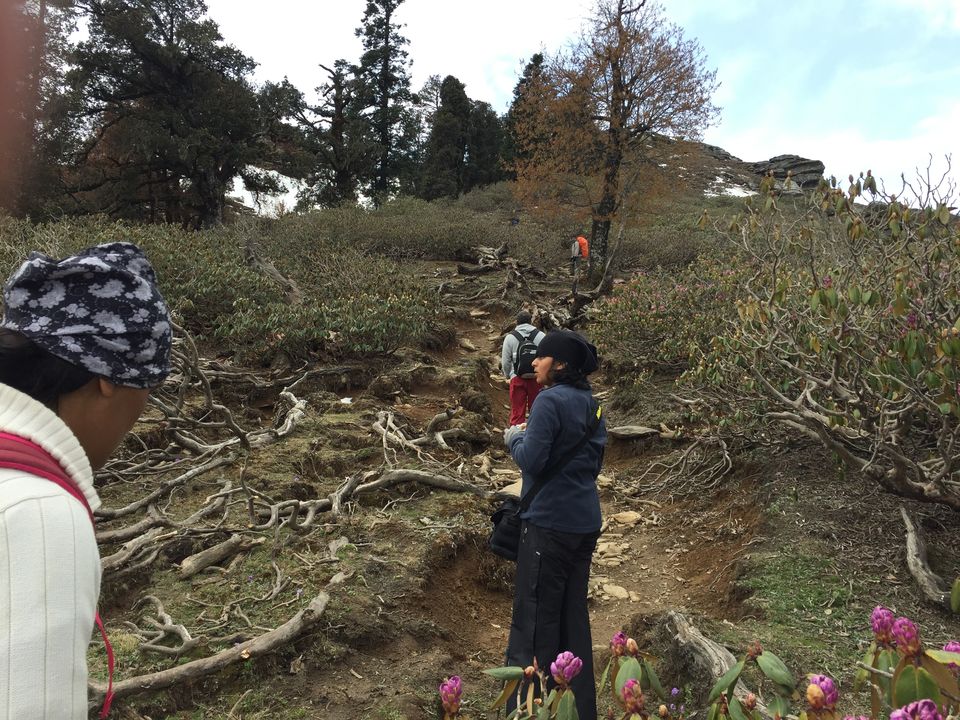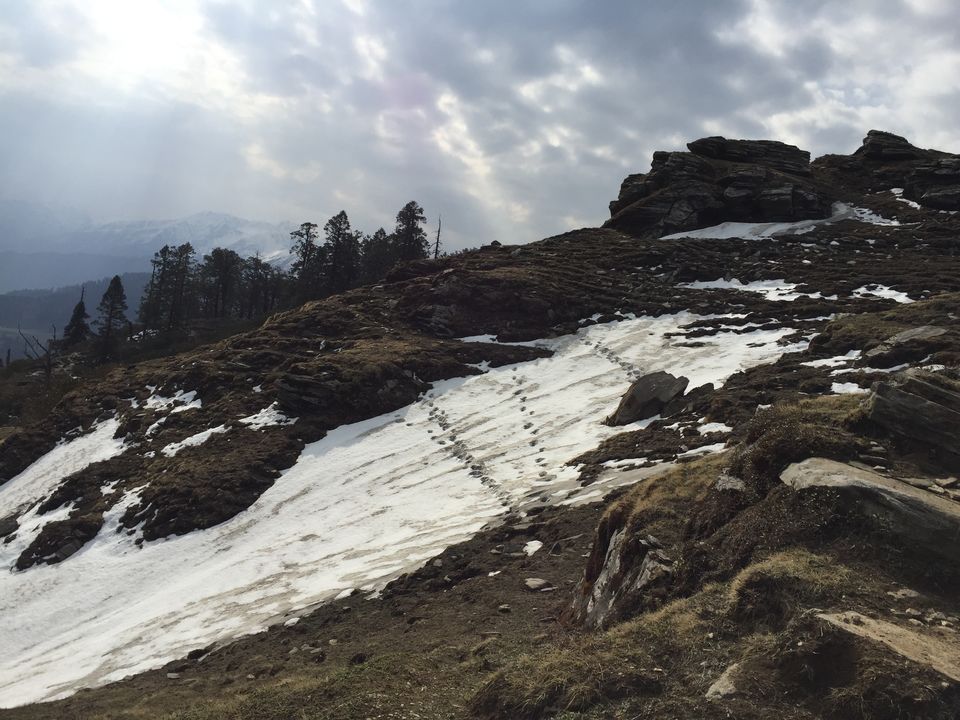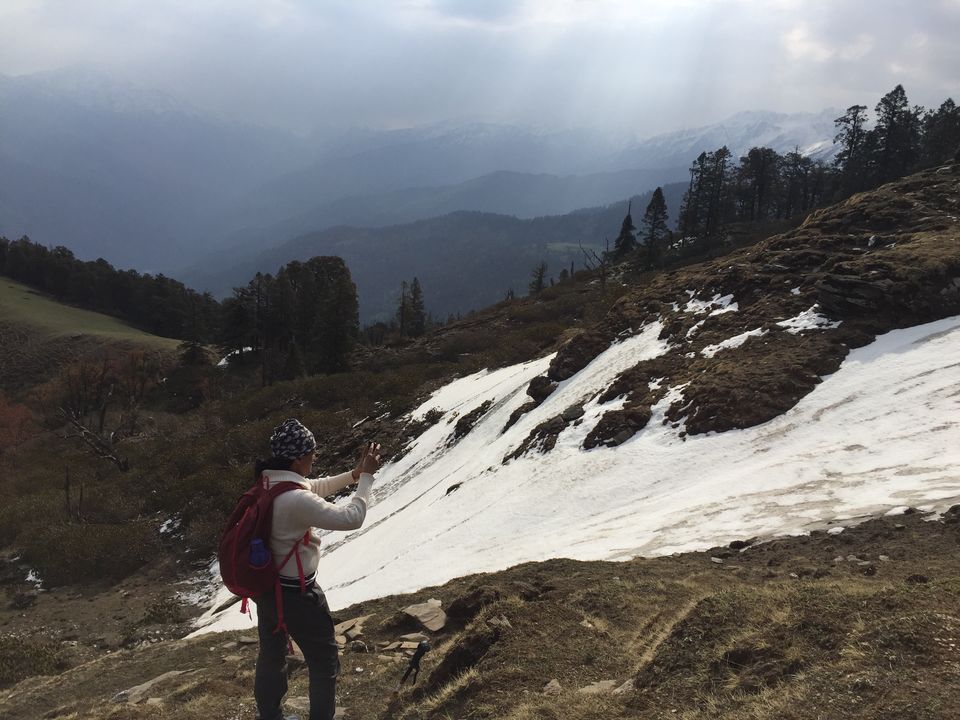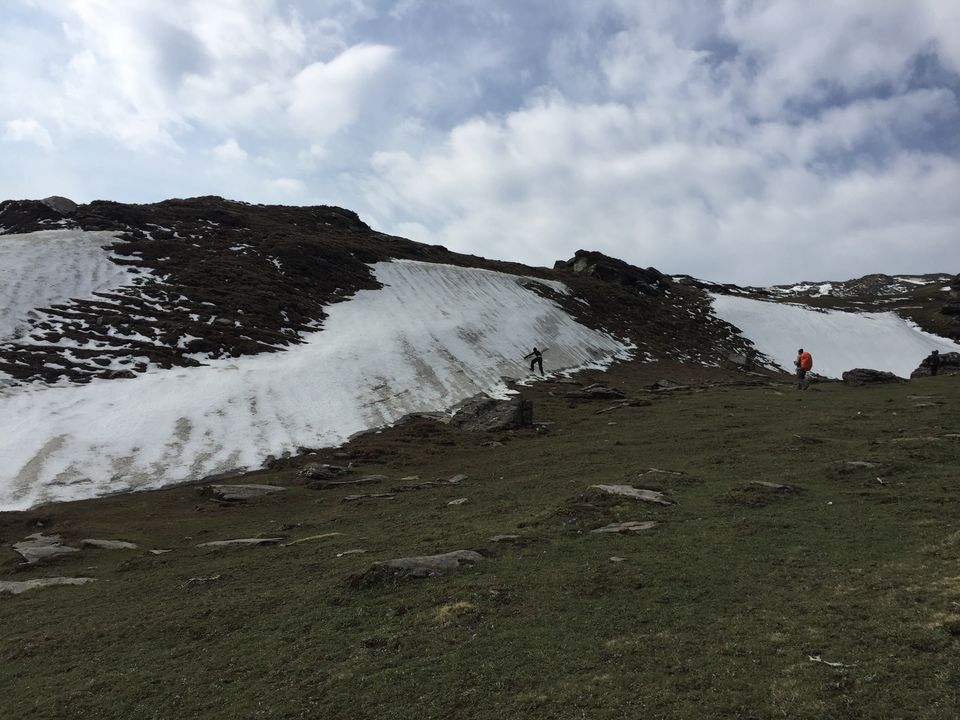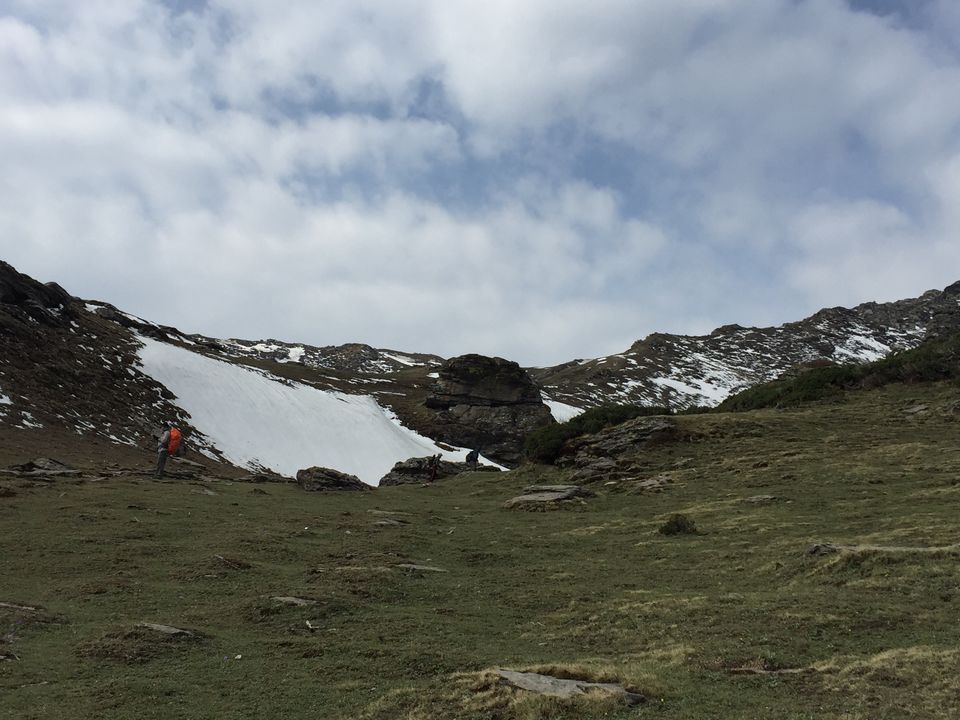 And the peak still seemed far...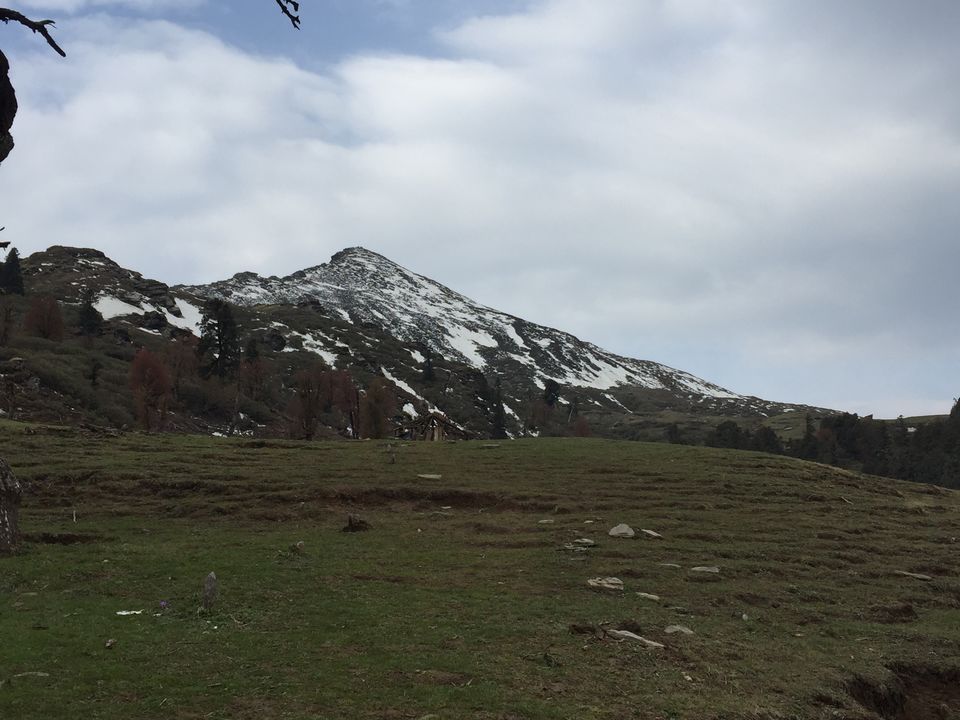 And then somewhat near...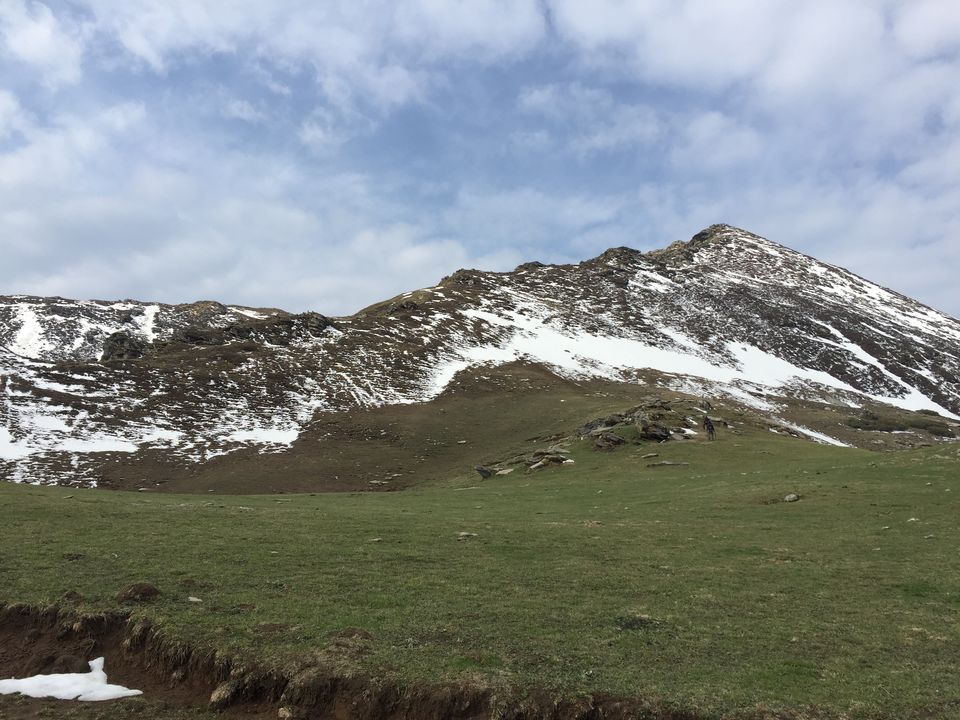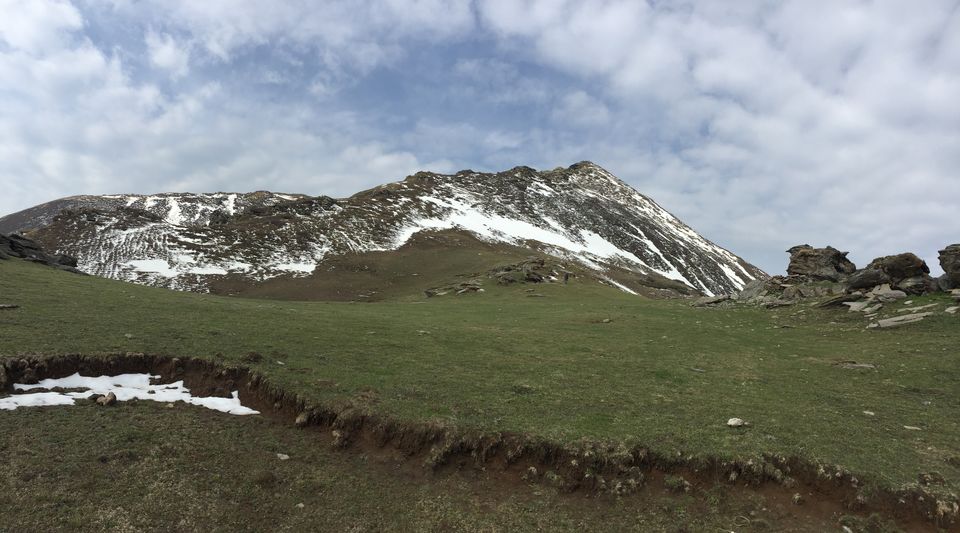 Once we started the ascent we realised that what we were thinking steep all the while was an understatement and what we were then climbing was what in real sense "steep" means. Our prayers were answered and we were even climbing up over patches of snow which made it even more trickier. The final climb (may be apprx 2 kms) was like climbing a wall which was slippery at the same time & if you fall you fall straight to the valley. If you look up , you are bound to slip , if you look down you may simply freeze or have a head spin. It was scary and I think at that moment all I wanted was to go back to the safety of the Base camp but the path to the Base lay on the other side of the hill. Once you start ascending the hill, you cannot descend from the same path. So for the ones uncomfortable and not ready for the climb should take a call and go back from the Maggie point itself.

One of our trekmates had vertigo as we just came to know and he wanted to turn back half way through the ascent. Varmaji saw through his panic and literally pulled him along to the summit.
I was scared as well but knew panicking at that moment would make it even worse so instead started my prayers and started trusting my shoes a bit more, concentrated only on where to put my foot next and moved on without any other thoughts except for climbing on to the summit and then to somehow descend. As with the treks – ascend is easier when you compare the descend. Balancing oneself becomes difficult and possibility of slipping is even more high. Icing on the cake it adds on to extra pressure on the knees.
Important to note here that the tree-line starts thinning down after Maggie-point and thus even walking at a higher pace sucks more energy and makes it tough.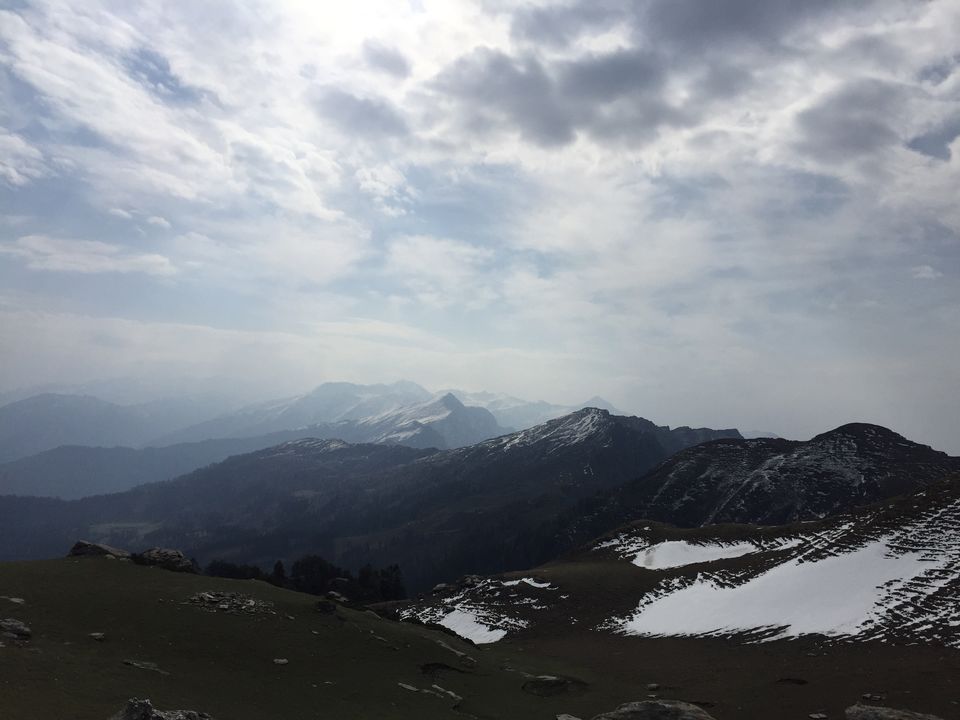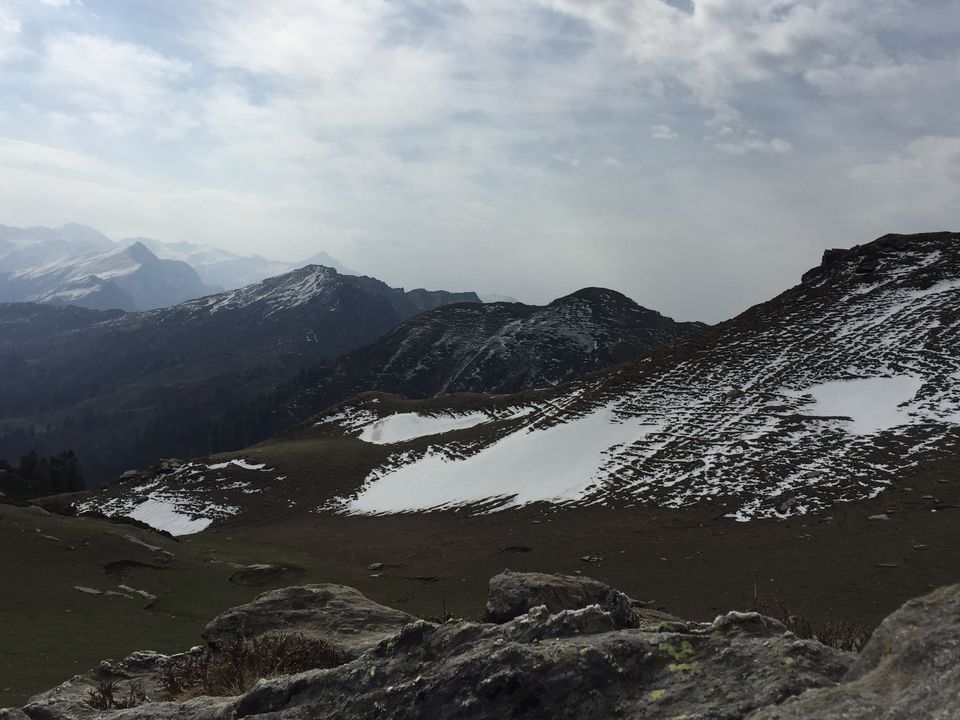 There were patches were I got badly stuck and dint knew how to move ahead. It happened with the rest as well. And without the help of our trek leads wouldn't have been able to make it. Taking photos was forgotten and the entire energy and concentration was on the climb. And before I knew I was on the summit with nothing around except for the mountains 360 degree view.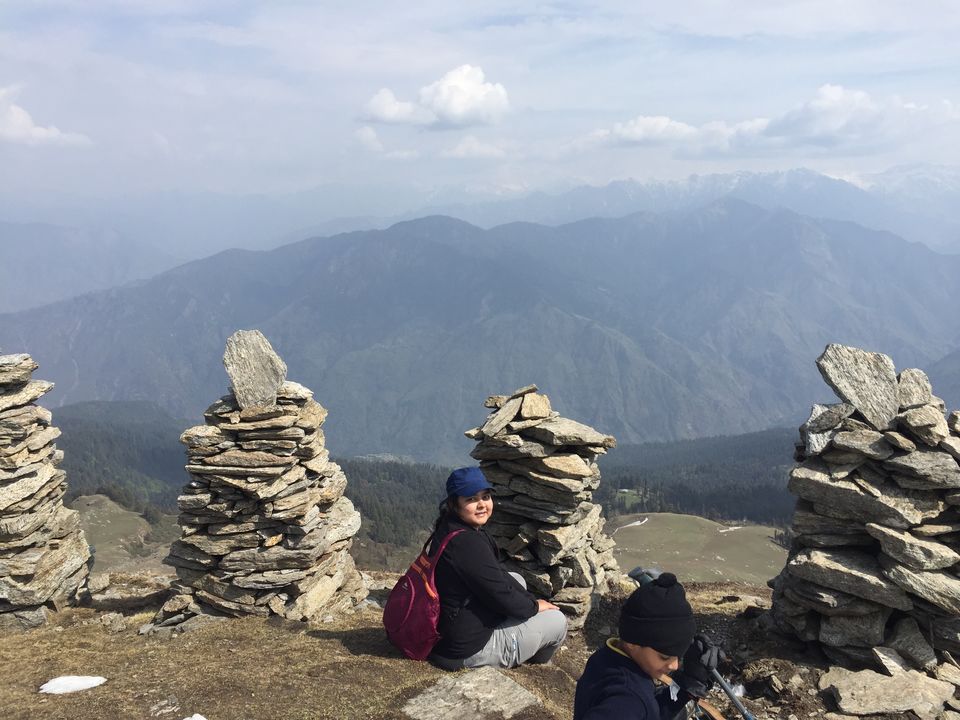 Since it was still cloudy the gigantic mountains seemed quite hazy.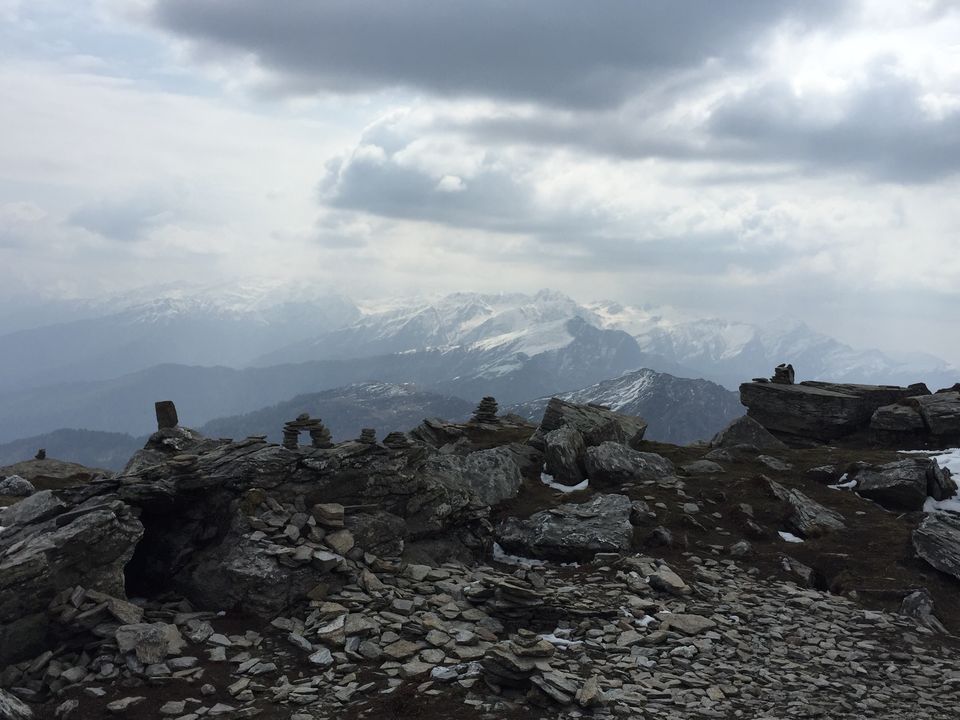 There is a small Shiva temple on the top and the legend goes that that this was supposed to be the original Kedarnath temple but Shiva, who disguised himself as a buffalo to hide from the Pandavas was disturbed by village men, so he fled to the present 'Kedarnath' area.
At 12,500 ft we sat soaking in the beauty of the fascinating Himalayas, which made it up for all the hard work with its breathtaking views. Even though we wished for the clouds to clear so that we could have a better view of the Himalayan range around but then the sunshine at that altitude would have added to much of pain than the pleasure perhaps. The weather was chilly but with the exercise of the climb we could hardly feel the chill except for the bare hands which I covered up with my gloves to keep warm.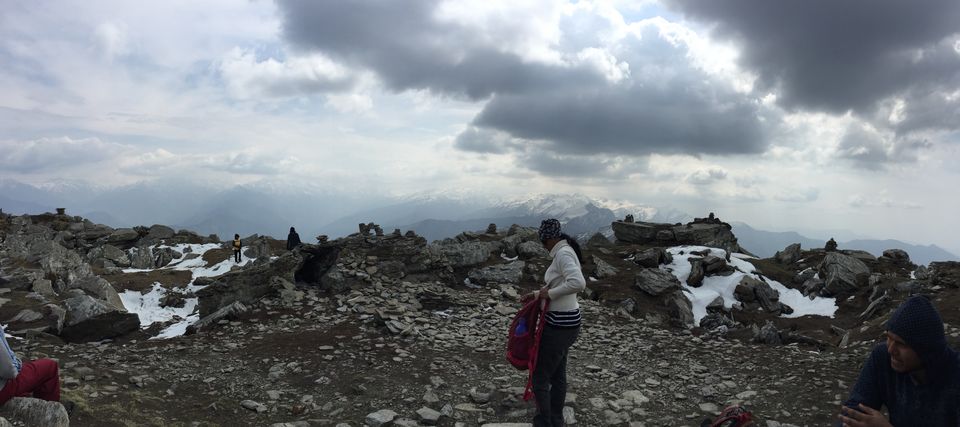 We sat there for some half an hour and at 10am decided to start the descend. Varmaji told if we stay longer we may start getting headache because of the altitude and moreover the weather may start changing anytime and we dint wanted the extra dose of the rain during the descend. Lovelyji made an assessment on which would be a better path for descend and we all followed. In some places it was slippery with the snow and at some places a few of us lost balance and slipped. Luckily with Lovelyji's help I managed to escape any fall and reached safely back to Maggie point once again by 11 – 11.30am. There we spend some good amount of time and started once more after some refreshments.
When i was in some shape to take a few photos during the descent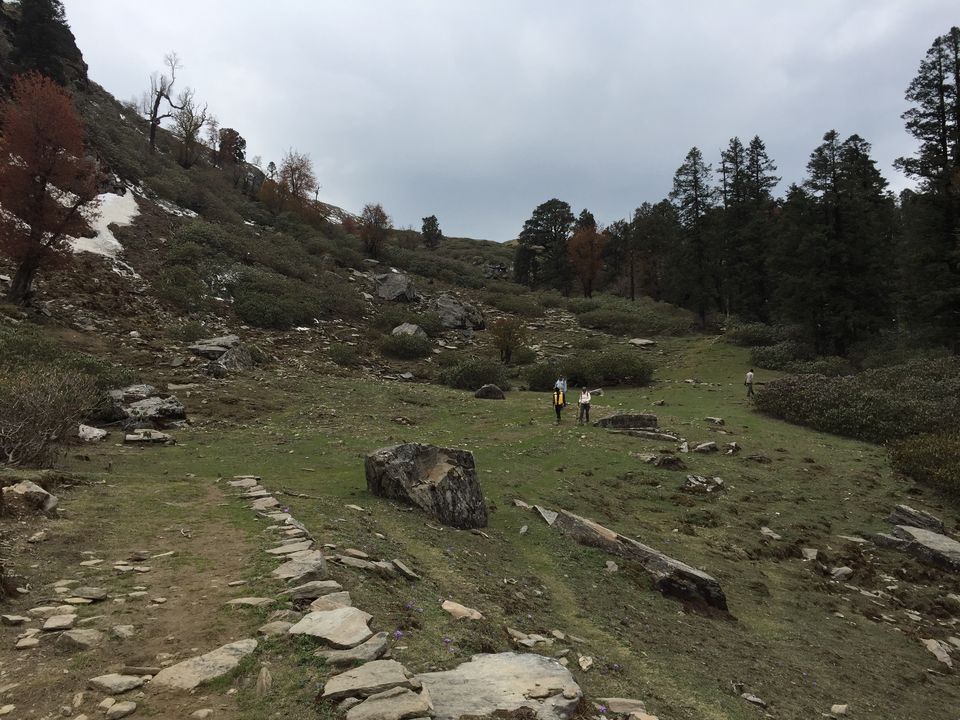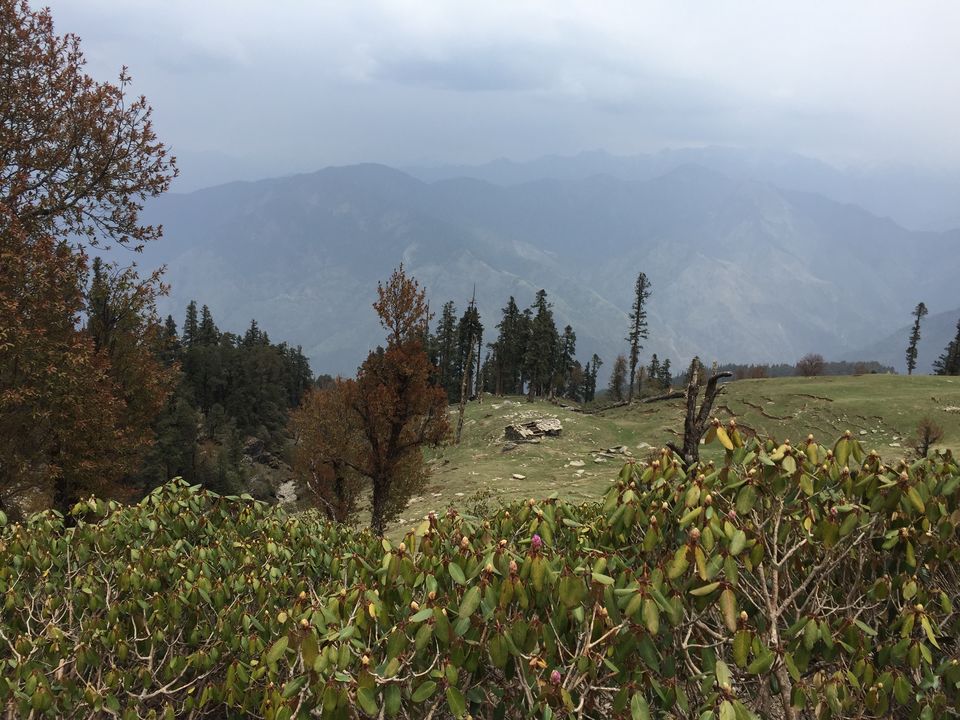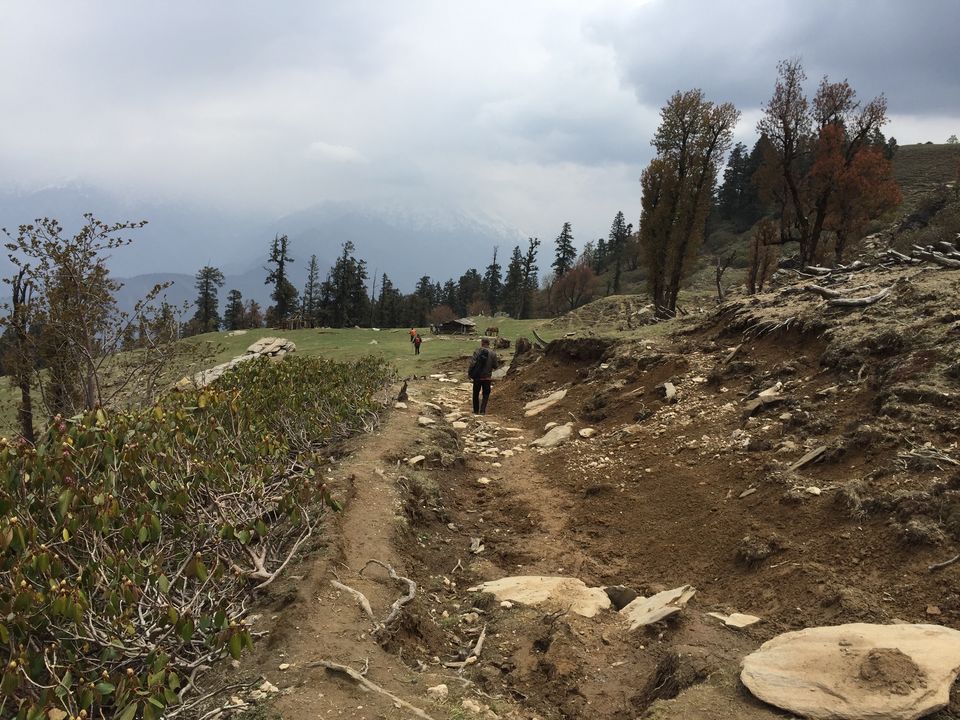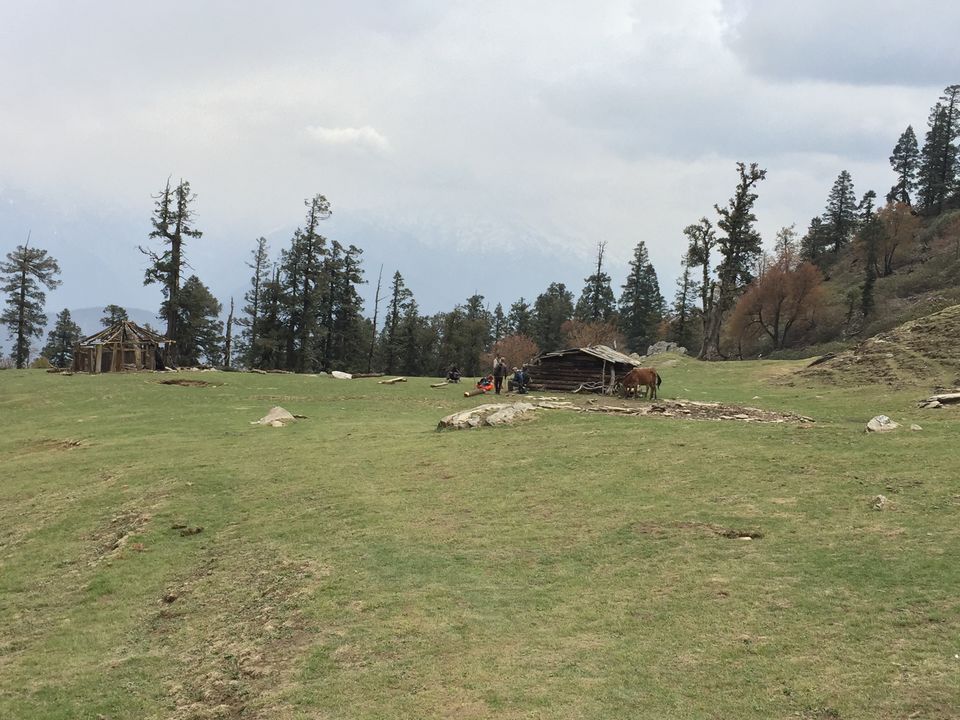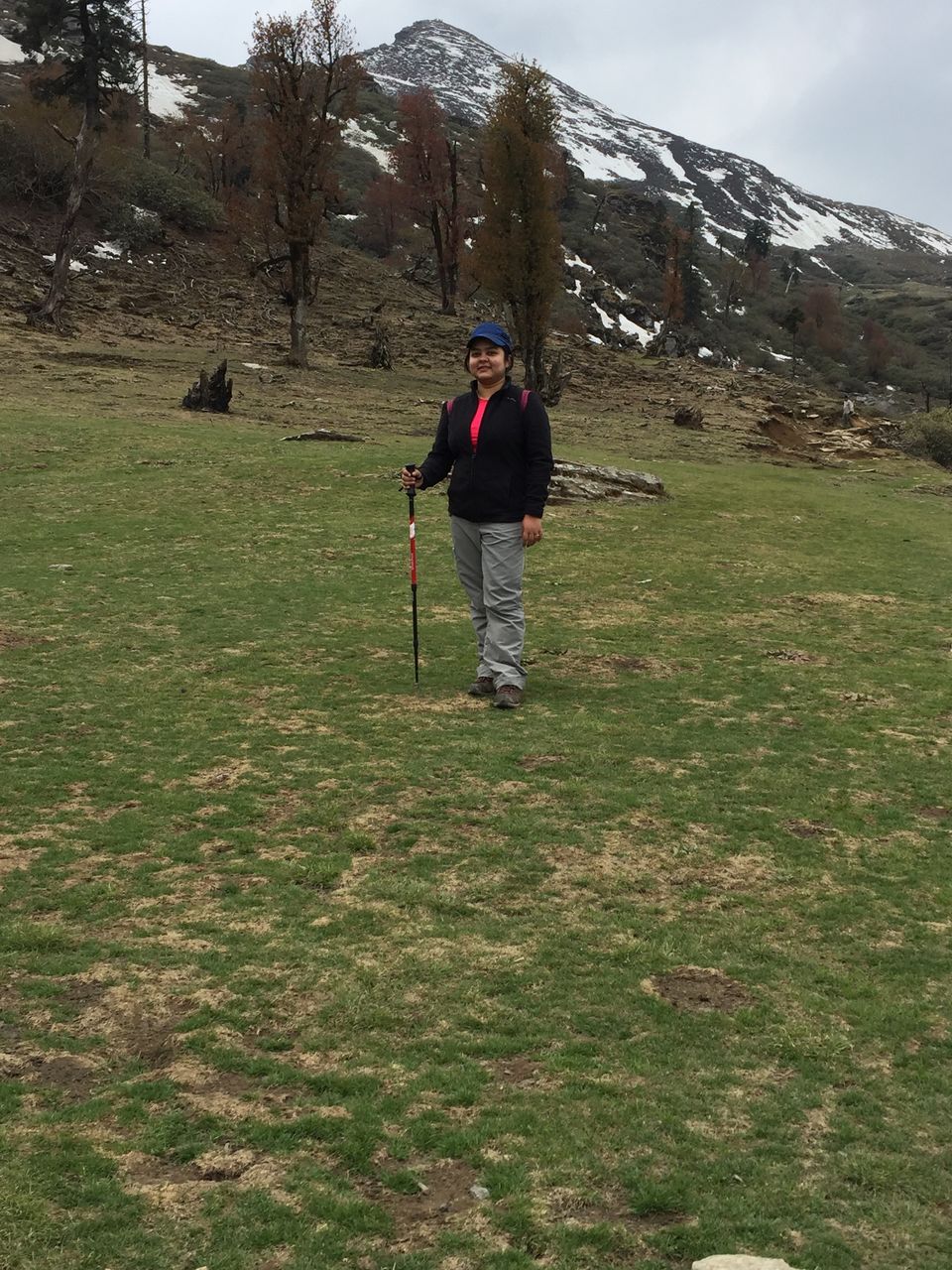 By then my left knee could feel the pressure and it started hurting. Well with some zig-zag motions I managed to reach the base by 1pm. Lunch was served soon after and post that we all went inside our tents to relax. Weather was cloudy and windy and soon it started raining. We were all thankful that we manage to do the summit without having the rain as company.
In the evening the rain became more heavy and we were served tea and hot samosas in our tent only.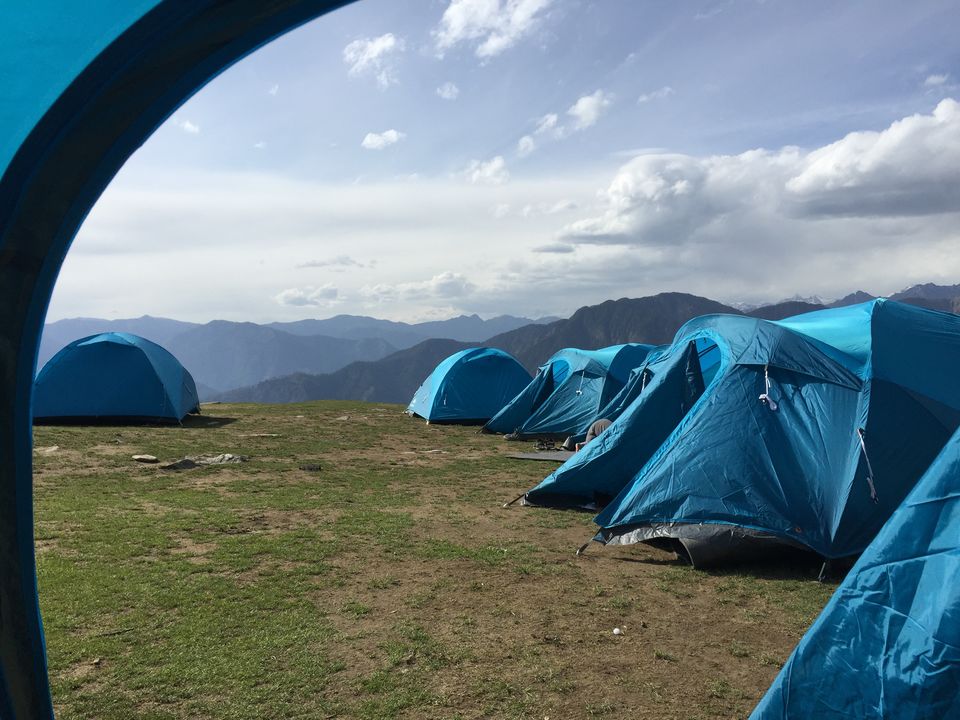 There was a short gap when the rain took a little break and we all came out to catch up a bit, soon to be rushing inside the tents with the rain greeting us once more. Luckily there was a break again and dinner was served in the warm kitchen tent. The temperature has dropped further (probably was going in minus then).
The trek was almost over and we sat late in the kitchen tent listening to each other experiences till 9pm. Then all went to sleep happily exhausted. Our last night in the sleeping bag and amidst nature. I was already feeling sad that no more my window will open to such lovely sight and no more I will have the commotion free and absolute silence of the dark night and the vast sky being woken up to the chirping of the birds and the delicate sunrays.
Sometime during the night the downpour got heavy and I woke up in the middle of the howling rain and the wind to realise that the tent has bent and was right across my face. I dint knew what to do but somehow managed to push the poles up and thankfully the tent came to its shape. I couldn't hear any of my trekmates and wondered if to call for help or sit until the rain stops. The wind and the rain was so heavy that I sat inside the tent holding the mid-section of the tent to keep the poles standing rather than falling on top of me. The rain and wind kept pounding on the tent through all sides and that moment I wished I had someone for company inside my tent. Slowly it got light and then I heard some of my trek mates calling for Varmaji as they were all stuck inside the tent without knowing how to come out. Varmaji came running and put the tents back to their former shape. He gave us comfort that the rain may start again and telling us not to get worried went off! The rain started again but thankfully was light this time. Time was 3 am and praying for the sun to come up I slept off again.
Day 5 - Return to Sankri
Morning the sun greeted us and we were happy that we will be spared to do the descend amidst the rain. But the experience of the night lingered and I think will linger for a long long time!
We started our descend by 9.30 and reached Sankri by 12-12.30. This time the path was through Horegaon campsite and not through Juda-ka-talab. This route was equally pretty. Both these paths meet somewhere in between enroute Sankri. I could feel my left knee giving up and was hurting through the descend because of which I had to keep my pace slow and was somewhat alone in between the fast trekkers and the slow ones. Varmaji knew I was feeling the hurt so he asked Lovelyji to keep an eye on me but nevertheless they were nice enough to let me be on my own in my own pace.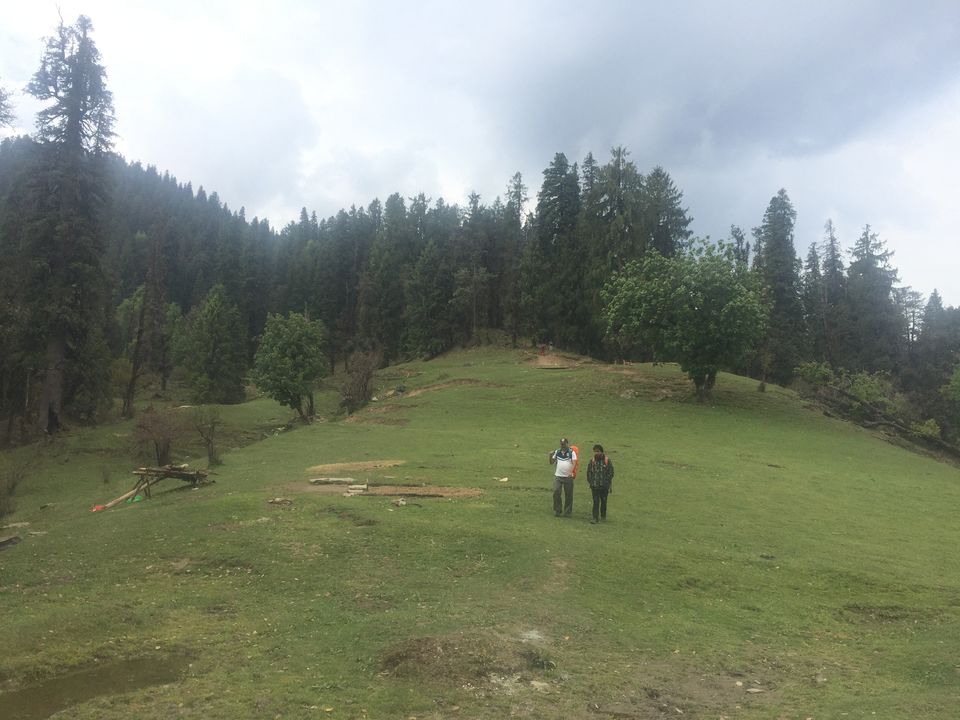 Once I reached Sankri it was time for a warm bath after 4 days.
Then it was time to say bye bye...
In the evening, we had a small catch-up session where we shared our experiences and received a certificate for successfully completing the trek. A few of us went for a walk in the village and had some tomato soup in a local shop. Life there is beautiful but not easy. People are not in hurry and everywhere you can see the smiling faces of the old and the young alike. In the cities we have amenities, our surroundings are more concrete than trees and not much time to take a break and enjoy ourselves without going to some malls, pubs or movie halls. Here there is nature and people get up and sleep with the sun. They have little but you get to see the happy faces and the happy smiles.

Soon it was morning and we started our 220 Km journey back to Dehradun. The mobiles started buzzing again and we were back to what we call "reality" of our lives.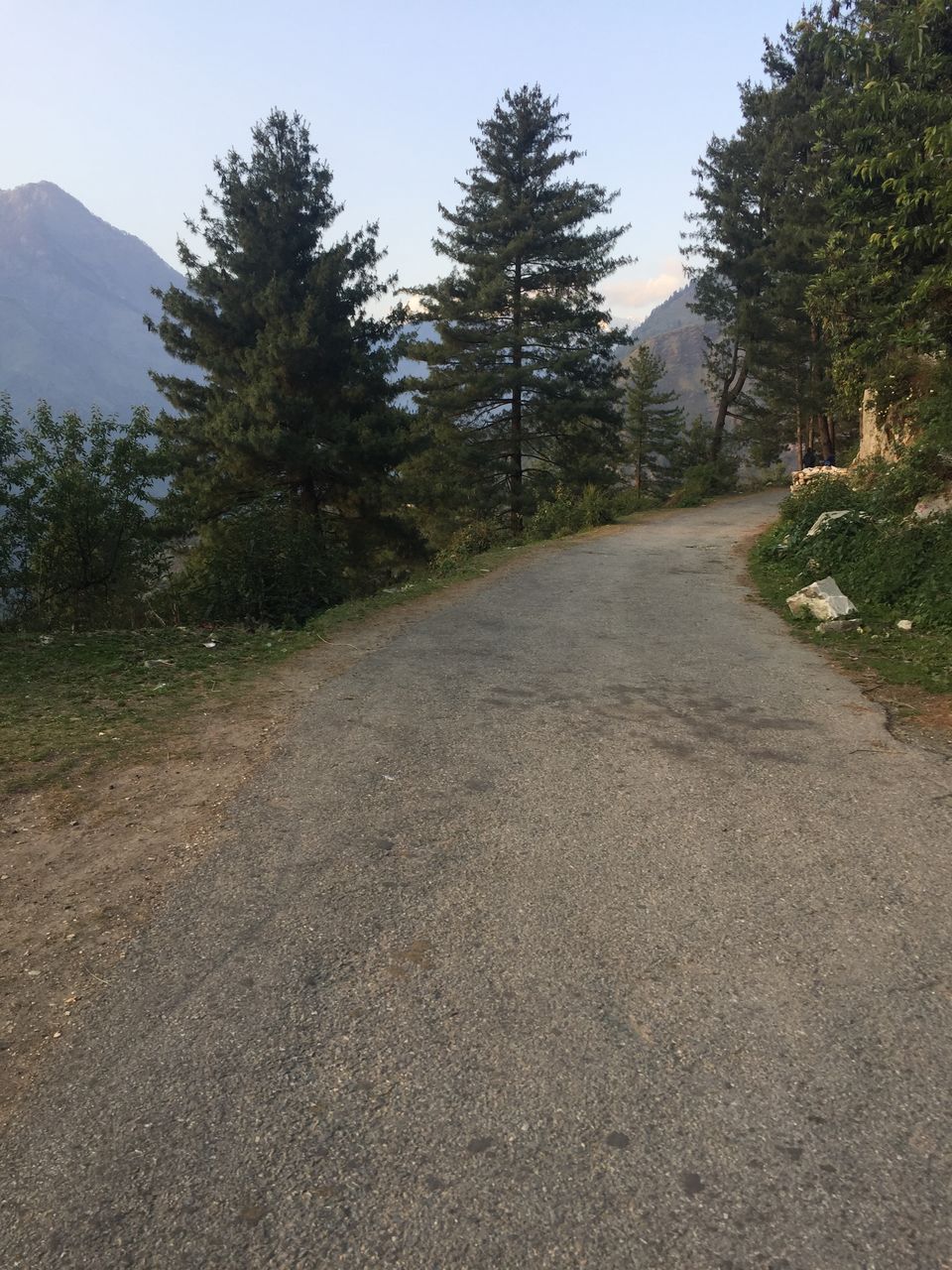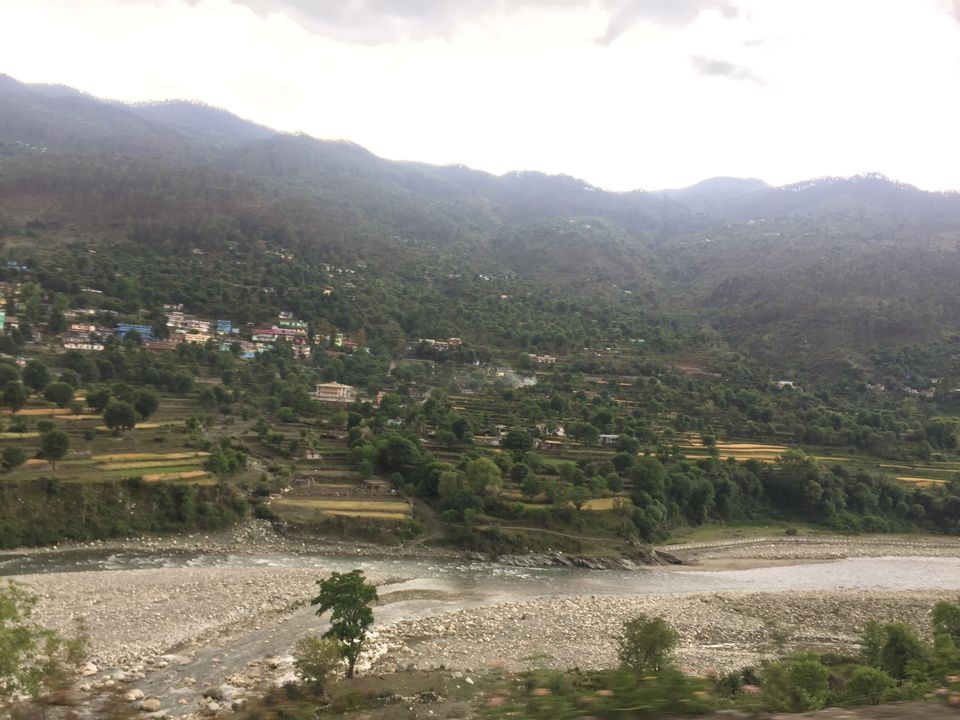 On my way back I was thinking that we travel not to escape life but for life not to escape us and that's what Kedarkantha made me realise!
Many of us get scared with the idea of travelling alone leave aside trekking in Himalayas but trust me if you think travel is dangerous, try routine. Its LETHAL!