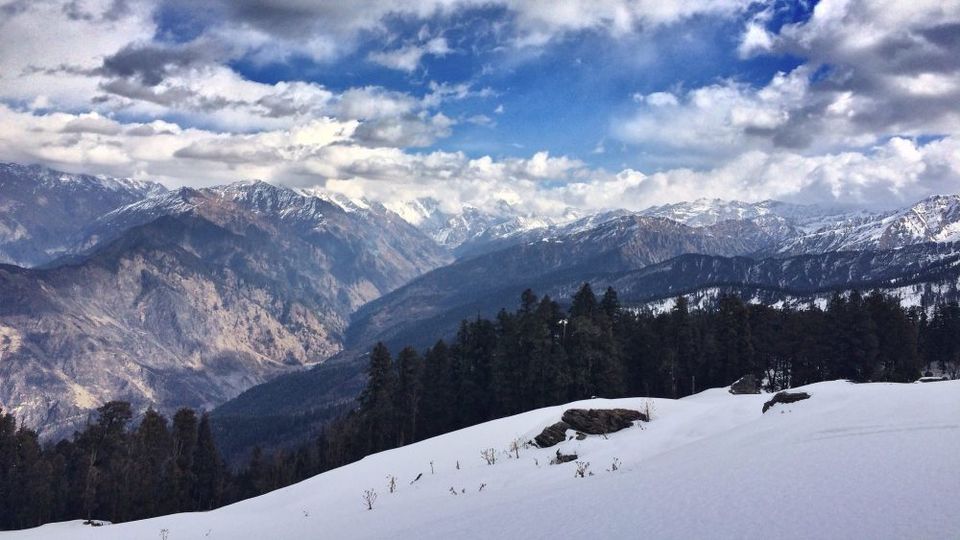 I decided to trek Kedarkantha, not because I had it in my bucket list for a long time. It was rather an instantaneous decision that I made on accidentally coming across a picture of it on Google. Earlier I wanted to take a break from my routine office and weekend life and set on a solo backpacking trip somewhere in the North-east. But being already fascinated by the picture, on further research I came to know that it was graded under medium difficulty and was described one of the most beautiful trek in the Himalayas. So I decided I will be trekking this one solo and will be spending New Year's Eve among the Himalayas.
Kedarkantha indeed is one of the best winter treks in the Himalayas, which one could realize right from the moment when they aren't actually on the trail, but travelling in the bus to get to Sankri. The drive to Sankri (from where the Kedarkantha trek starts) is one of the most picturesque drives in the Himalayas through Mussoorie, Barkot, Purola, Mori, Netwar, Motwat; which are part of Uttarkashi district. Majority of this serpentine road twists along the Tons river valley with various breathtaking views of mountains and splendors of Mother Nature. You would not know what the windows would reveal as your drivers makes another hairpin turn along the edge of the mountain, but surely each revelation will leave you amazed at the beauty and magnificence of this place.
Naugaon, Purola, Mori are some of the major towns along, where the buses and taxis stop for taking lunch and loo brakes. Purola is prominently visible from afar owing to its colorfully painted houses, and this town as a whole appears to be a colourful painting placed among the mountains. At some point after Purola the road descend to run just beside the Tons river, where you can hear its burbling sound and can actually feel the serenity of it just by looking at its crystal clear water, describing the purity of the place it originated from and where you are headed to. The next to come are Mori and then Netwar, with Netwar being the entry point to Govind Wild life Sanctuary and National Park, within which Kedarkantha and Sankri village are located. Soon after leaving Netwar, with one having travelled for almost 7-8 hours, the excitement and desperation to reach Sankri begins.
The first sight of the snow-capped mountains in the far distant is a sight to surely give you goosebumps. And now that the beauty of the Himalayas, obscured to you is revealed, you are about to reach Sankri.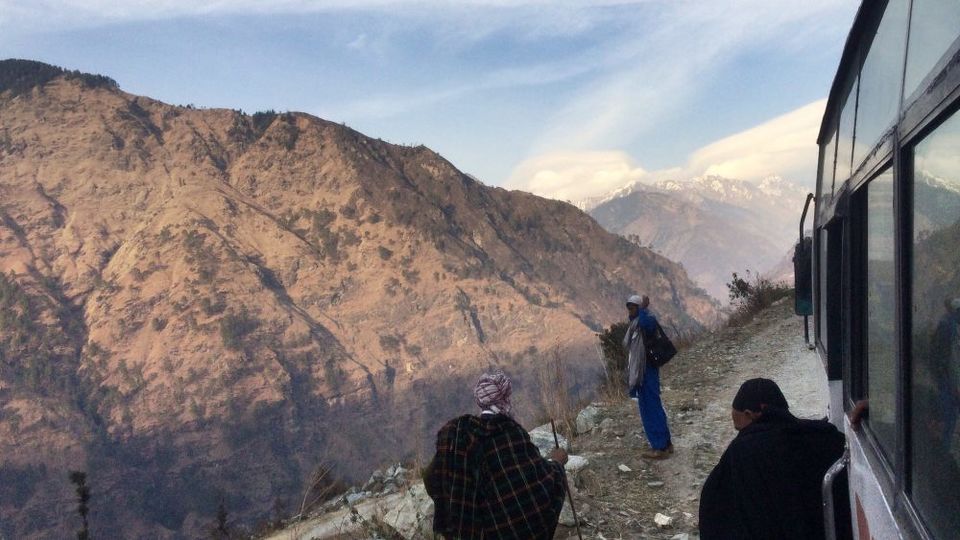 I reached Sankri around 5 in the evening after an almost 11 hours journey from Dehradun. On reaching Sankri I wasn't really tired, but rather excited about the fact that I'd be camping for the first time. I had never ever pitched a tent before in my life, but had only seen few video instructions for the tent that I was carrying. It was Quechua Arpenaz for 2, which would be my shelter for the next 3-4 days. After talking to few people about places where I could pitch my tent, I camped on the premises of a government officer's empty rest house. I chose this place because it was just besides the main road and I felt it was a bit safe to leave my stuff there and roam around talking to the locals in the night. Also I was a bit afraid of pitching my tent anywhere else.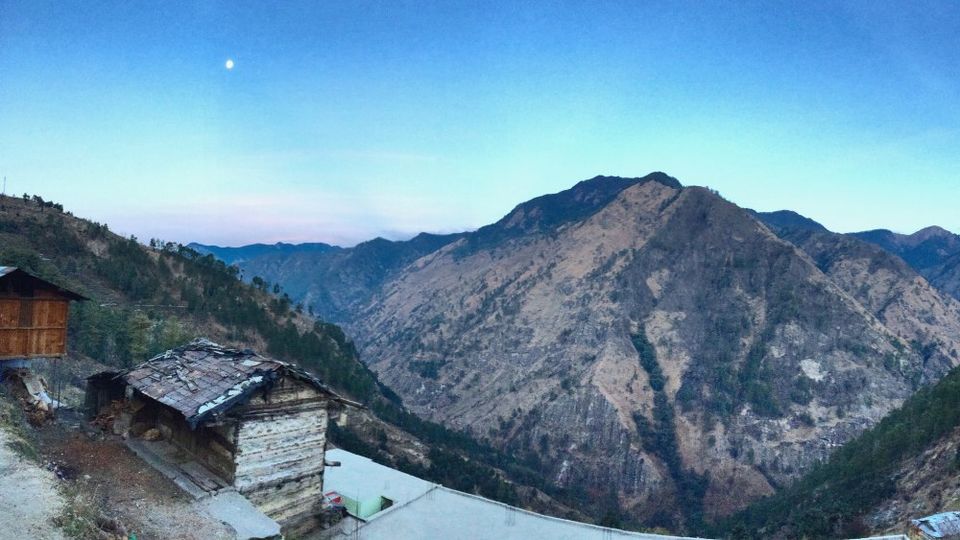 DAY 1. Sankri(6,450 ft.) – Juda Ka Tal(9,100 ft.)
I started off from Sankri at around 10 in the morning and took along a local boy named Gopal to be my guide for the next three days of trek. One starts from Sankri on a dirt road that further connects it to another village called Taluka; Taluka is the place from where the trek to 'Har Ki Dun' starts. A few hundred metre from Sankri is a small village that serves as camping site for various trek organizing companies. And a few minutes hike ahead of this place, the actual trail to Kedarkantha starts, where it takes off the road to diverge onto a steep trail into the pine forest.
Taking Gopal along turned out to be very advantageous, since he had brought along with him some food that we could cook, stove, an extra lining for my sleeping bag and also that he knew people and places on the trek. I befriended many of his friends on the trail, who were working for various trek organizing companies as porters, cooks, and so on. Some of these guys were pretty generous in offering me food and also some locally grown grass to smoke.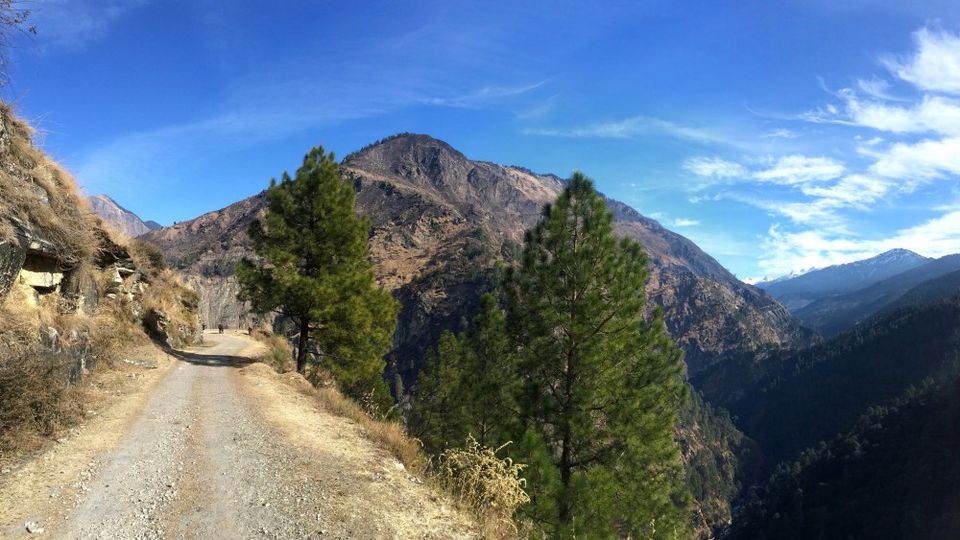 The landscape along the road was a sight that I had never seen before. The view of valley beneath and the whole mountainscape looked spectacular under the true blue sky. I had never seen sky so blue. The trail on the first day seemed a bit difficult, which I guess was because I was carrying a heavy rucksack, and also that I was not a regular hiker and that too not on an ascending trail. But this exhausting feeling soon diminished once I found a rhythm in my walk with slow and steady steps along the ascend.
The trail bed initially is all brown and earthy; covered in pine leaves. But soon after four to five hundred meters of ascend it starts to turns white and snowy. And this is what I was very much excited about, experiencing snow for the very first time.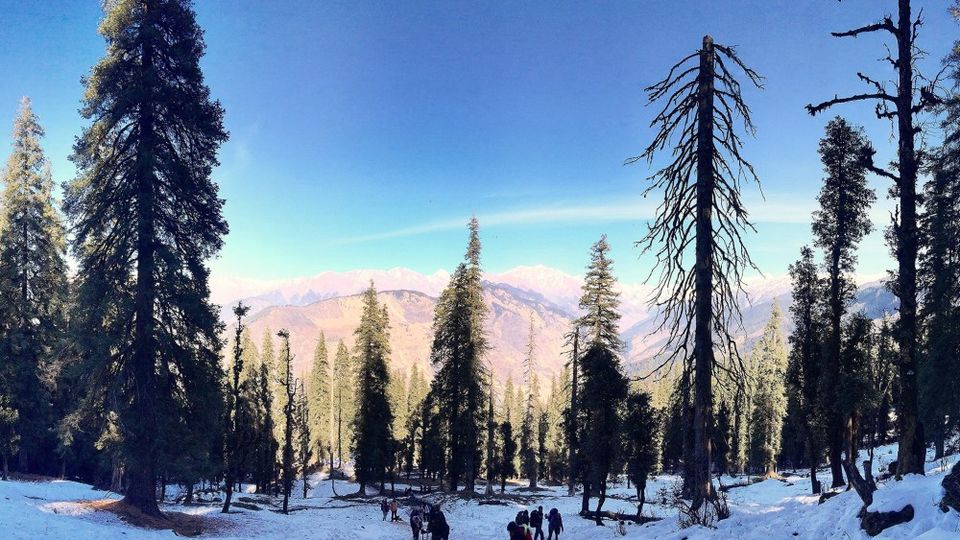 The first day was a short 4 hours trek, during which I mostly trekked solo. Me and Gopal had decided of meeting ahead at the camping site. I met many people on the trek; many of them descending, excited hikers wishing us luck and reminding us that we don't forget to slide on the snow or we do not miss the snow ball fights. Some were rather curious ones, who were more inquisitive about which trekking group I belonged to. Among them was a guy name Govind, who was trek leader with the YHAI group, who on knowing that I was solo trekker, offered me food, snacks, tea and even offered me to sleep in one of the YHAI camps. I obliged to all of his offers except for not pitching my own tent.
I decided to camp at a small meadow just before the actual Juda ka Tal camping site on Govind's suggestion, who informed me that the actual camping site was already cramped and also that YHAI had camped nearby, in case I wished to sleep in there. On reaching the camping site there was already a trekking group with Himalayas Climber camping. I pitched my tent just beside a large tree, hoping it would protect me from the cold and winds in the night. I befriended the Himalayas climbers, who on knowing I was trekking solo asked me to join them. These guys were having one hell of a great time, they made bonfire of the wood that they themselves had collected from the nearby trees; while their cooks prepared hot soup, samosas, chowmin, and what not. And after having pulav that me and Gopal made for dinner I joined them in their bonfire celebration of successful day one trek.
We played, sang, danced and totally enjoyed the night beside the warmth of the bonfire. It got very cold by the time we decided to get into our tent. The night was very cold, the temperature must have had dropped to -10° C. I was pretty comfortable inside my sleeping bag except for my feet getting cold, and to keep them warm I had to roll them in one of my thermal jacket. Since my sleeping bag was graded for only 10° C, I had to line it with a fleece and sleep with my soft-shell jacket on.
That night I woke up at around 3 am and opened the zipper entrance of the tent. It was extremely cold outside and I can never forget that moment when I had to pee from inside of my tent because I had no courage to go outside!:P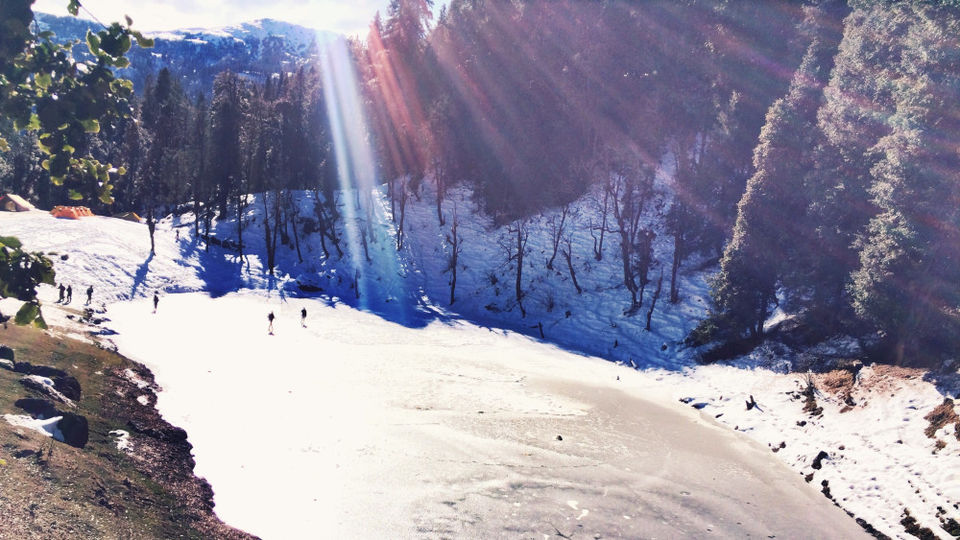 DAY 2. Juda Tal(9,100 ft.) - Base camp(11,250 ft.)
Juda ka Talab was another half an hour hike from the site where I had camped last night. Almost half of the lake was frozen, such that people could walk on it. The camping site here was indeed cramped up, probably because this was the time when Kedarkantha sees most number of trekkers and all of the renowned trek organizing companies take in maximum number of reservations. There was almost a batch of trekkers every day from Renok Adventure, YHAI, India Hikes, etc.. After resting for sometime and clicking many pictures, I continued on the trek to base camp which was further about 5 km hike from Juda Ka Tal.
I don't know why I love snow-capped mountains more than gold reflecting on the ocean horizon, but golden sand more than white snow. Snow capped mountain out of some inexplicable reason are very inspiring, they makes me wanna get up, pack my rucksack and get out to be among them which is a feeling analogous to an urge to get my ass up and do things which I dream of. And the sight of setting sun on the ocean horizon induces rather contradictory feeling of un "dressing" myself up in Hawaiian short, rest my bum on the beach sand, sip on some exotic cocktail or relax gulping down pints of Corona.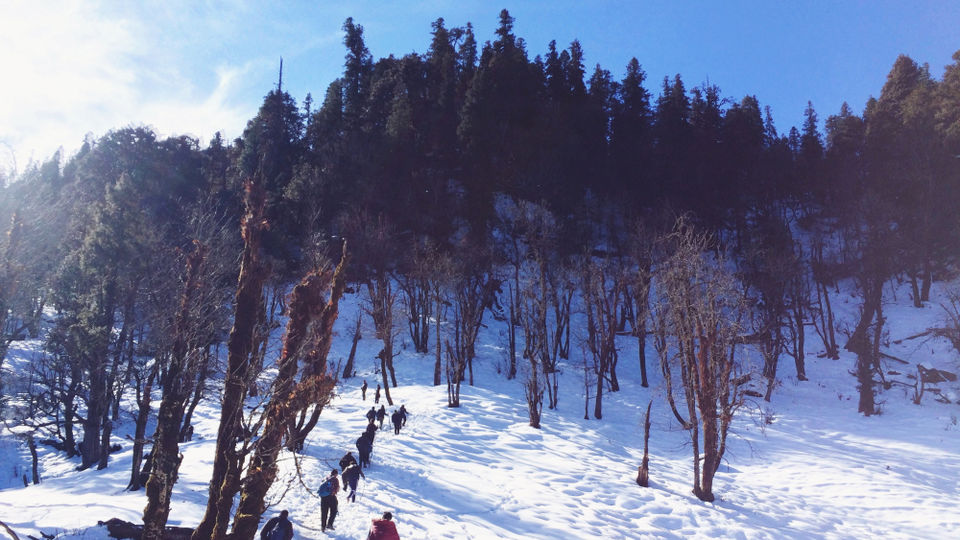 Walking on snow is a very engaging process, you need to be careful about each of your next step such that you don't place it on hard and frozen snow and slip. Contrarily with every step on the soft snow you have to push your way forward while the snow tries to grab you by your feet. With every step on snow you can actually sense the formation of your boots' tread impression on it. The trail from Juda Tal to base camp was confirming to such a description.
After having clicked only selfies throughout the trek, I finally got one whole picture of me, looking at which I can reminisce the memories of this trek in future. In the picture below I saw myself for very first time in whole trek attire carrying the necessary stuff, which were a Quechua high altitude fleece-lined pants; Quechua Forclaz 400 warm boots; a thick soft shell fleece jacket; a 50 litre rucksack which had my tent, a sleeping bag, a few layering clothes for upper body, food and other stuff like medi-kit, etc. Apart from all these I was also carrying a small 15 little daypack on the front, stuffed with frequently required and easy to access stuffs like energy bars, water bottles, additional pair of gloves, etc.
For a comprehensive list of thing I had packed in my rucksack for this trek along with other necessary stuff to pack in your rucksack for venturing into a solo winter trek and from where to get them, you can check out one of my blog post tiltled "Things to carry for a solo winter trek"..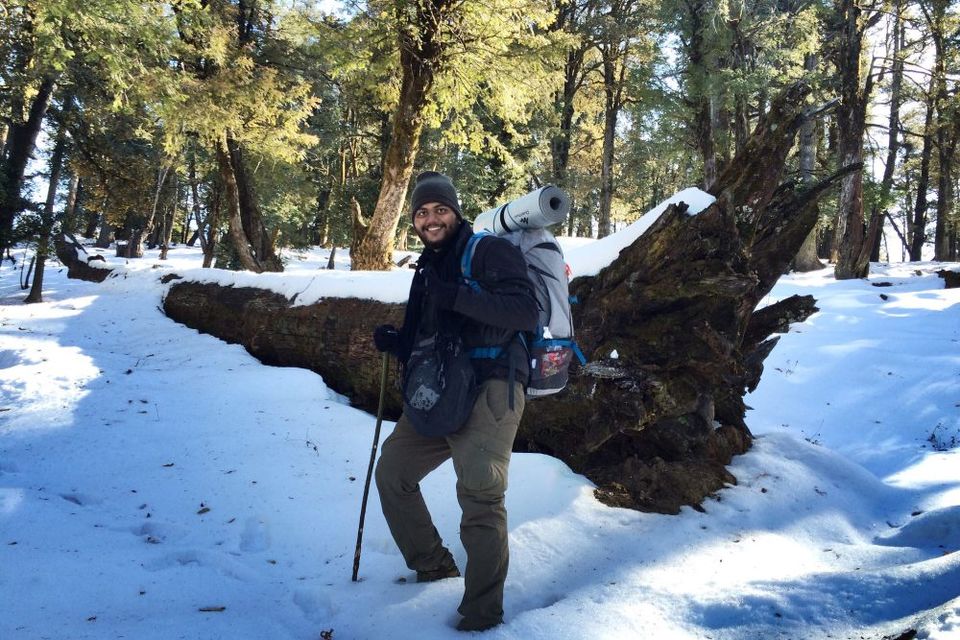 After about 3-4 hours of hike from Juda Ka Tal, on nearing the base camp, the trail begins to descend towards the camping site. And for the first time, the snow-capped Kedarkantha Peak is clearly visible from there. The three hikers in the picture below are from the Himalayas Climber group whom I met at Juda Ka Talab, where onwards I trekked with them most of the trail to base camp. We stopped there for a moment to comprehend that beautiful view of Kedarkantha Peak beneath the clear blue sky. People took pictures of the triangular peak which made up an extravagantly beautiful landscapes.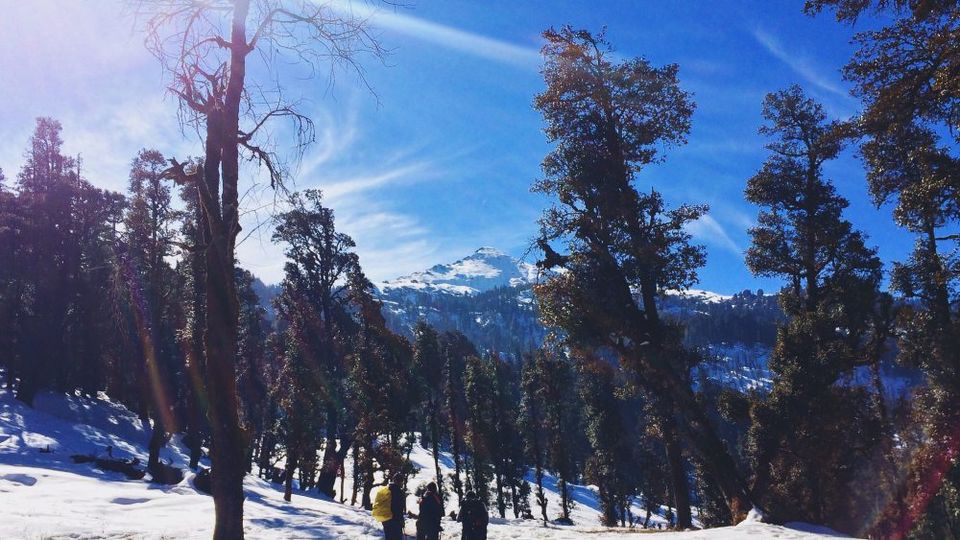 The camp site at Kedarkantha could easily win the most picturesque camp site award. It is surrounded by the mountain holding the marvellous Kedarkantha Peak on the one side; the trail into the woods back to Juda Tal and a very beautiful and serene panoramic-view of the mountains and valley on the other. These mountains are a perfect placement by the nature to let the trekkers luxuriate to the enchanting sight of the setting sun or simply the movement of clouds around the grand eminences right from the comfort of their tents after a tiring ascend. The camping ground at the base camp was located along a slope, with the upper region having ankle-deep snow cover during winters, which was just perfect for skiing or snowboarding. The camping areas were organized in a tiered manner along this slope, with the lowermost tier offering the most even and clean ground to camp on, whereas as the one above it, where I pitched my tent was all snowy. I had to level it up a bit in order to have a comfortable surface inside of the tent. And yet again I experienced an unprecedented event; for the very first time in my life, I pitched a tent on snow.
And among the numerous that went past, this was yet another perfect place to click few selfies.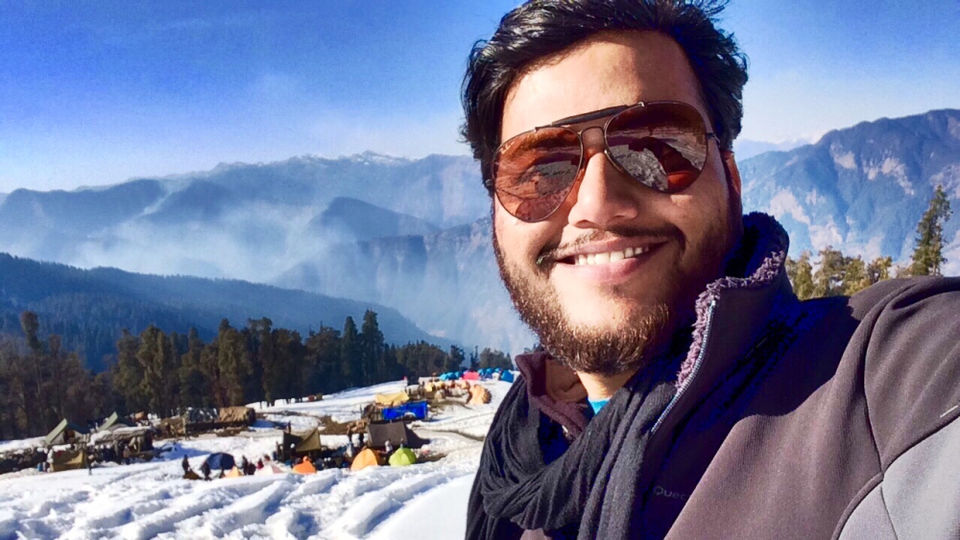 And once again the Himalayas Climber were camped just a few meters beside me. You can see in the picture below a small green tent pitched just beside two blue tents. Well, the green one is mine and the blue ones were sheltering four of Himalayas climbers, who all happened to be from Mumbai. And these four were the ones whom I few days later joined on a ticket-less journey from Delhi to Mumbai. Once again I joined them in their bonfire celebration with hot soup and momos. Here even Gopal happened to find his cousins working as cooks for a trekking group. And later that night I had dinner in their kitchen tent.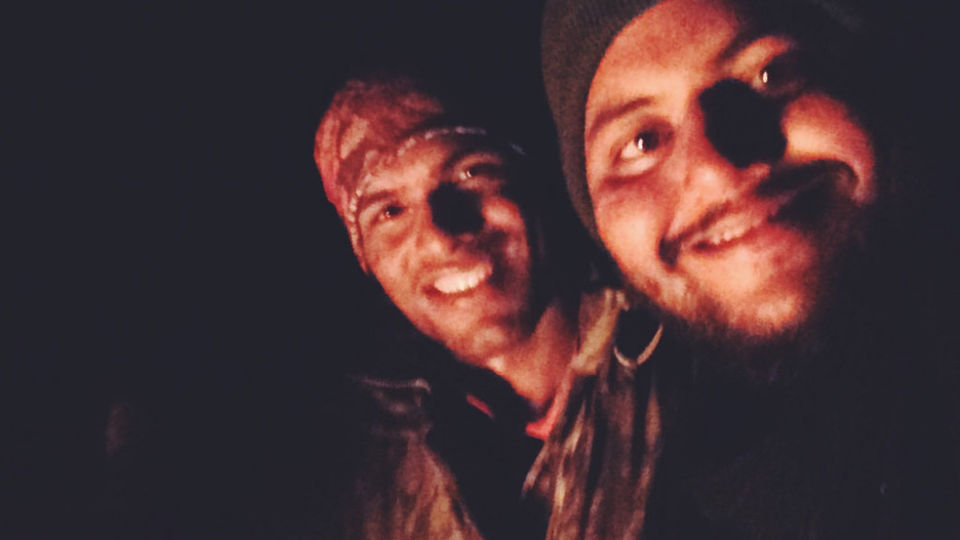 Base camp was coldest among all the place where I had camped earlier and also the most uncomfortable one. Firstly due to the uneven snow beneath and secondly due to my insulation mat slipping along the tent surface. Nevertheless this was also the most beautiful night I had ever seen. The sky was crystal clear and I could see zillions of stars shinning, maybe it was the milky way that I was staring at. After all of star-gazing and few unsuccessful attempts at capturing the sky with my iPhone I got into my tent, rolled a thermal jacket on my already double socks worn feet, took a sip of Morpheus and tried to sleep. I had to start early the next day in order to be able to see the rising sun from the summit.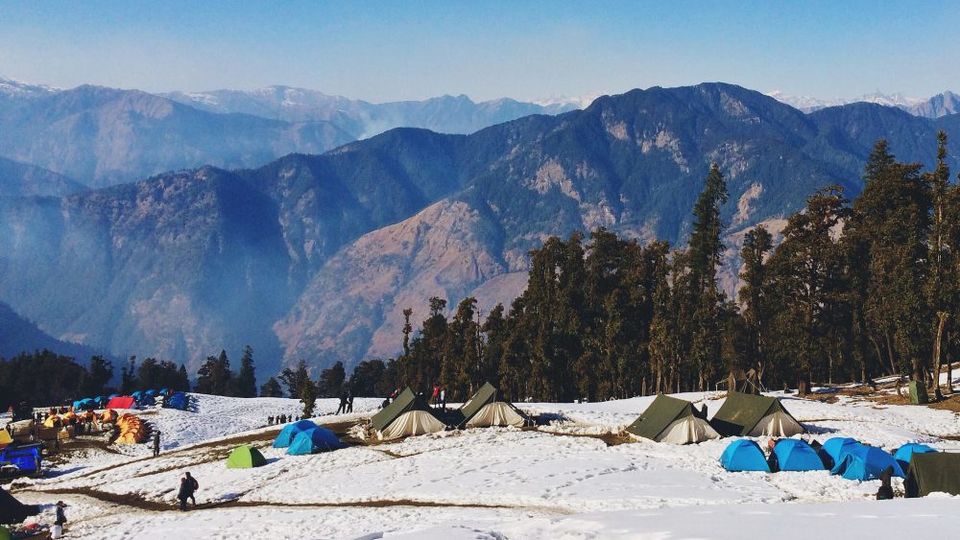 DAY 3. Base(11,250 ft.) – Kedarkantha Peak(12,500 ft.) – Hargaon(8,900 ft.) – Sankri
Next morning I woke up at 4 to the whistles and calls of Govind leading the YHAI group from the base camp to summit. It was still very cold and pretty dark outside, but there was already a long formation of people helping their way up the snowy trail, equipped with torches, headlamps and walking sticks, towards the summit.
After one more 'first time in my life' doings that morning, I packed my daypack with some necessary stuffs like snack and energy bars, water bottle, a balaclava and with a torch hanging on the pull tab of my jacket, I embarked on the final ascend towards the summit.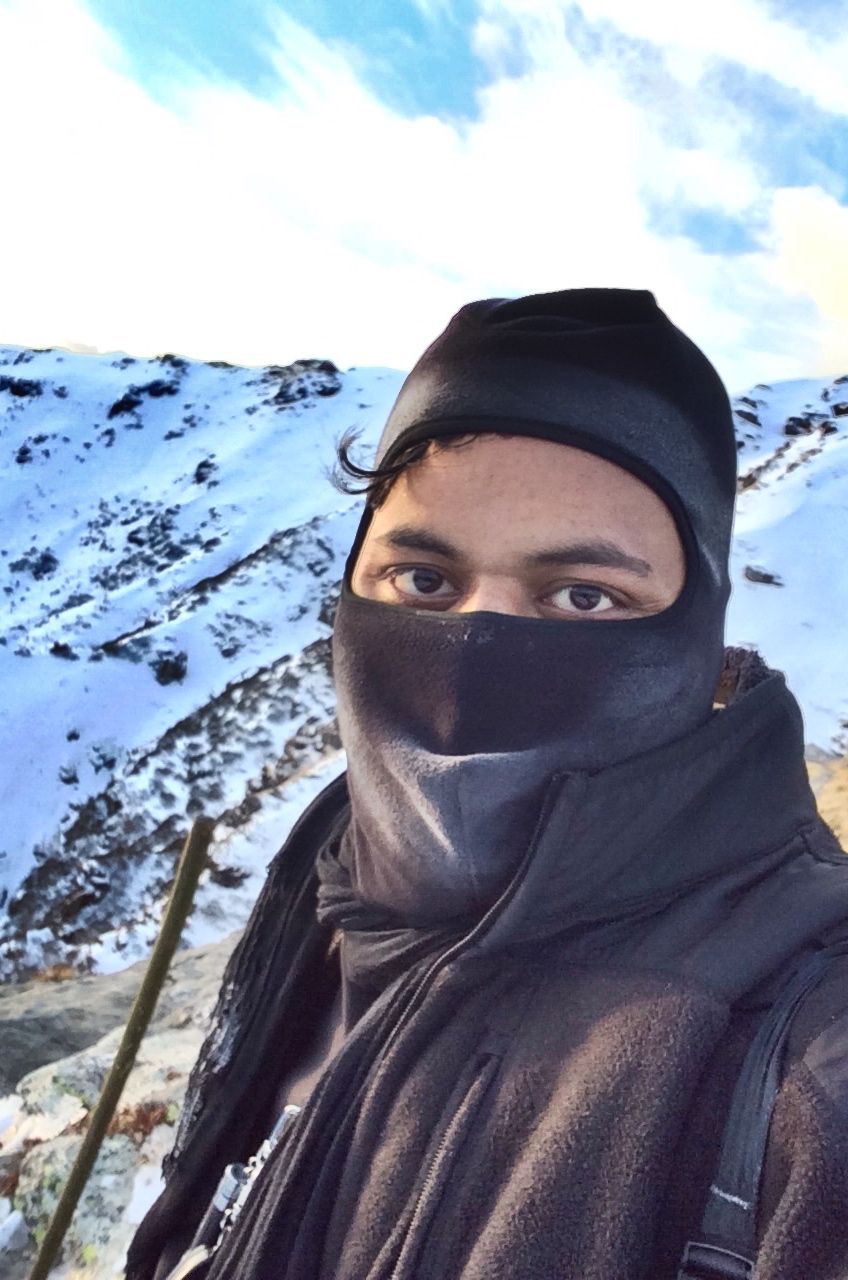 The trail to summit was mostly icy and surrounded by knee to waist deep of snow. Having no crampons made hike a bit laborious, since I had to step on the soft snow for my boots to adequately grip the trail surface. But it took no time for me to reach the most difficult and steepest part on the trek. This was where the trek guides start warning trekkers of not advancing ahead without their assistance. From there onwards the actual trace of trail seemingly fades away and now the trekkers are advised to walk either on the path made or suggested by the guides. I remember a portion of 9-10 foots of an almost vertical climb where we had to use the groove-holds made by trek guides.
Now one can see the summit just ahead of their site, but still have a long way to go. The trail from here gets quite tricky since there are no definite trail markings and one has to walk along the edge of the mountain, any slipped step could lead you to abyss below. By the time I reached there it started snowing. Since the eastern mountain ranges were experiencing a snow storm, the site of rising sun seemed like a war waging in the sky between Fire and Snow Gods. There was one boulder along the way, which was a perfect place to rest and experience that fiery sunrise.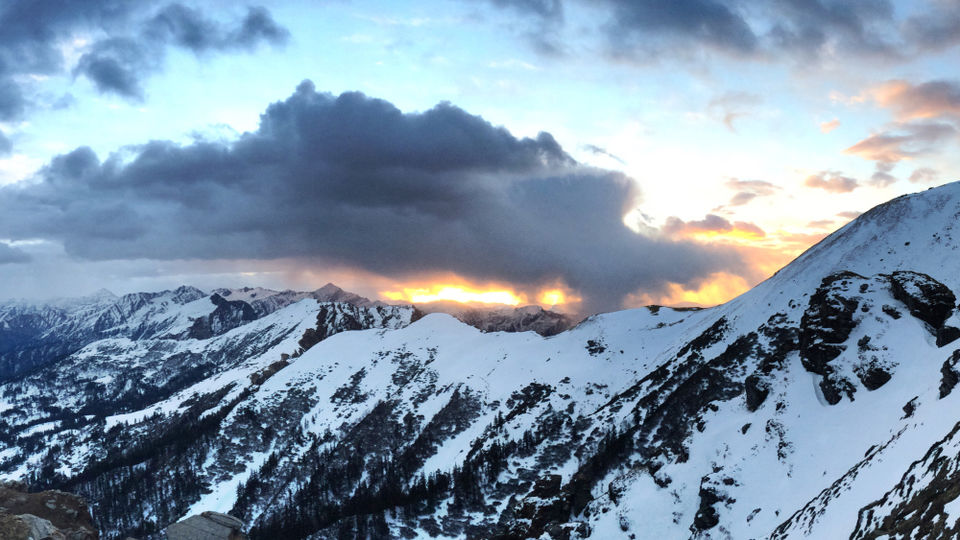 After lifting my bums from that boulder, the next resting place was the farthest point, the summit itself. Finally I was at the summit, on the peak of Kedarkantha. Being there was enigma; I felt very proud for being on top of the world, yet being humbled by the grandness of the place I was at. Setting on a solo trip away from the comfort of a city, against the will of parents just to live a picture found on Google and finally achieving it, felt too grandiose and accomplishing.
The summit offered a stunning 360° view of the Himalayan ranges; one can see Nanda Ghunti, Swargarohini, Bandarpunch mountains. After getting few pictures of myself clicked and myself clicking many pictures of the breathtaking landscape, I started back to the base camp. I got to spent only half an hour at the summits since there was possibility of bad weather and snow fall.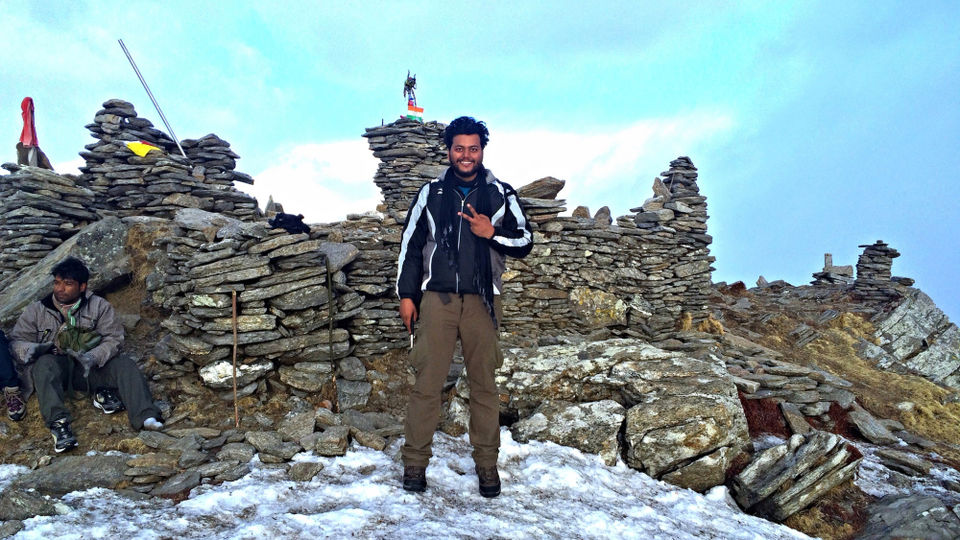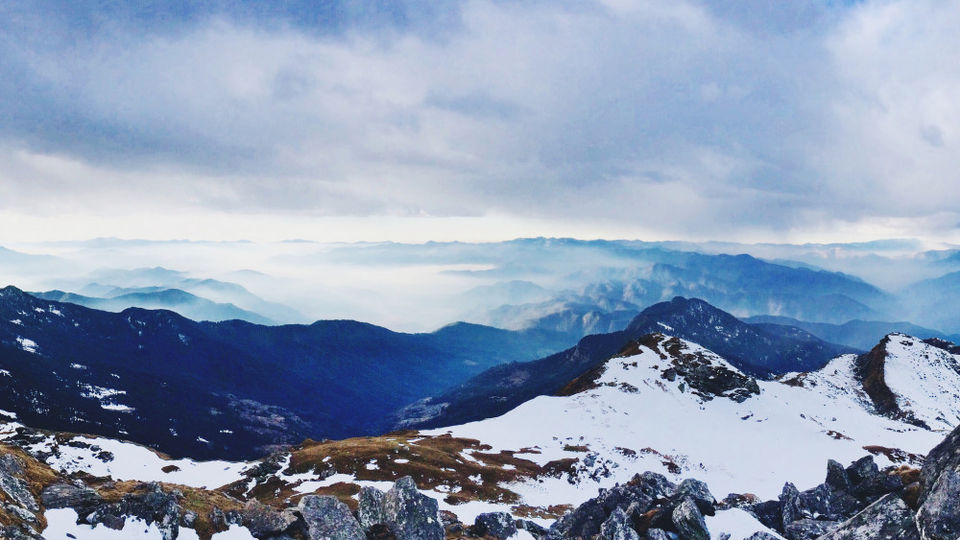 On my way back to base camp I joined the Himalayas Climbers and we had too much fun in the snow. We sledged down the trail on our bums, walked in almost waist deep of snow. Descending was not that easy considering the hardened snow and slippery surface of the trail. But after almost one and half our descend of wary steps and many slides down the trail I reached base camp at around 1 in the noon.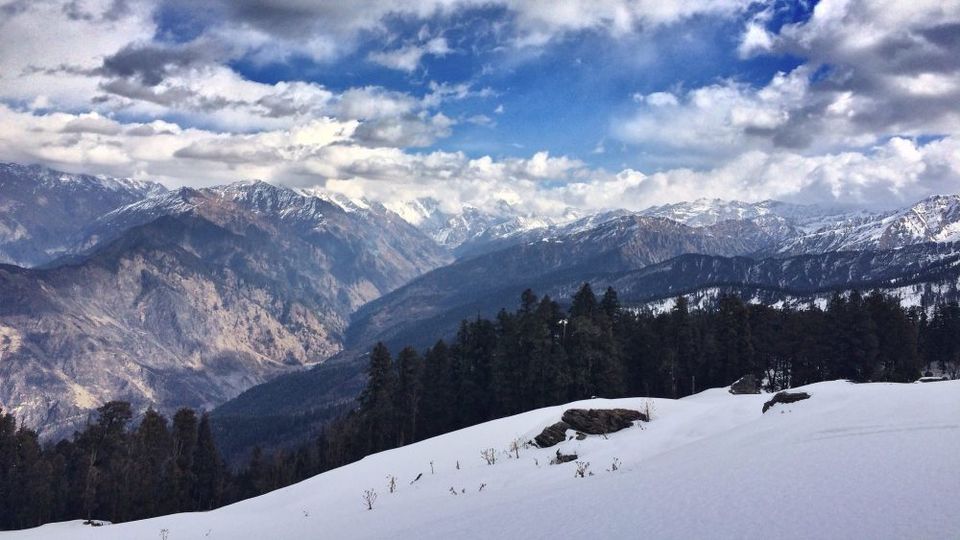 On reaching base camp I decided that instead of camping that night at Juda Tal again I would descend all the way to Sankri and get back to Dehradun and then to celebrate New Year in Delhi. I started off for Sankri with Gopal at around 3, and took different trail which passed through another camping site at a place called Hargaon. I stopped at Hargaon campsite where I had some snack and tea to re-energise and continued with the descend back to Sankri.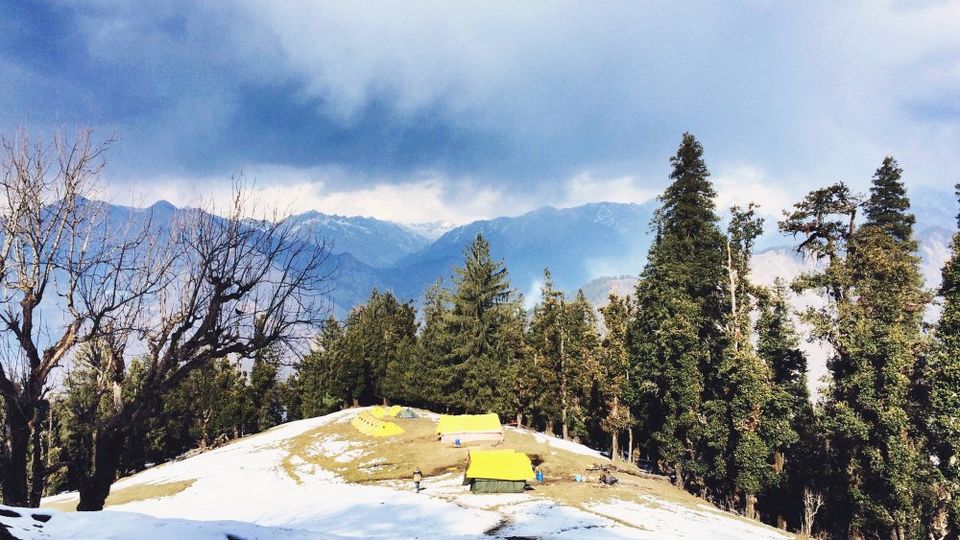 Below are few pictures while trekking back to Sankri.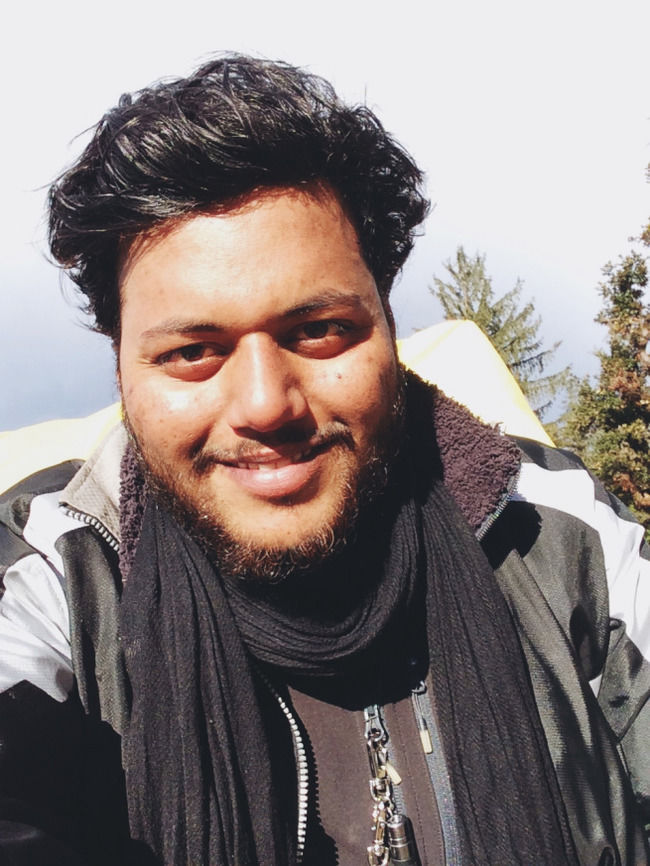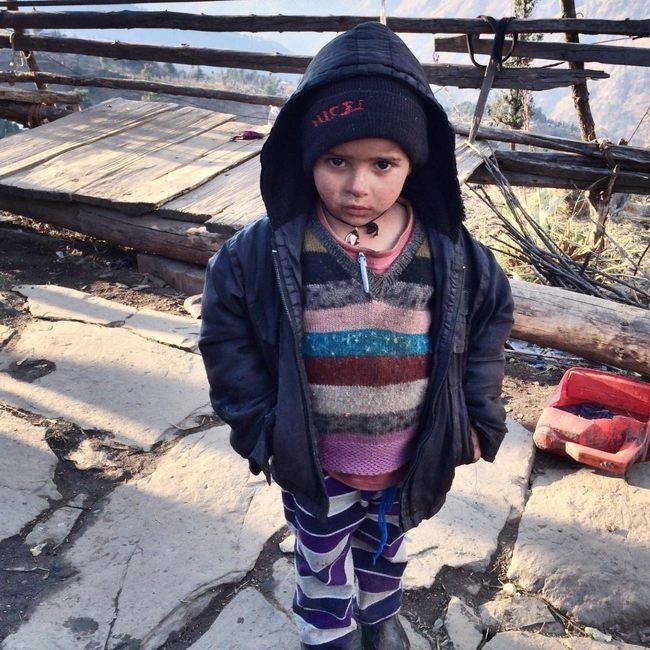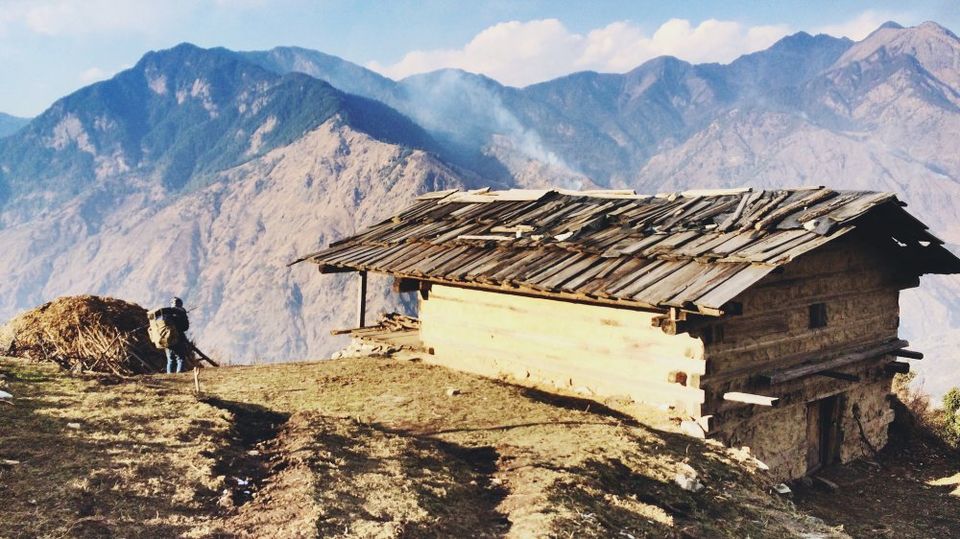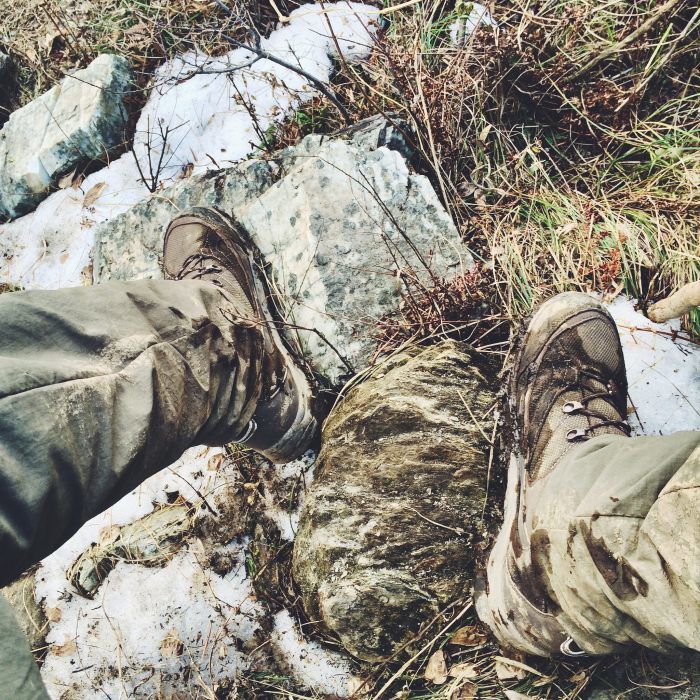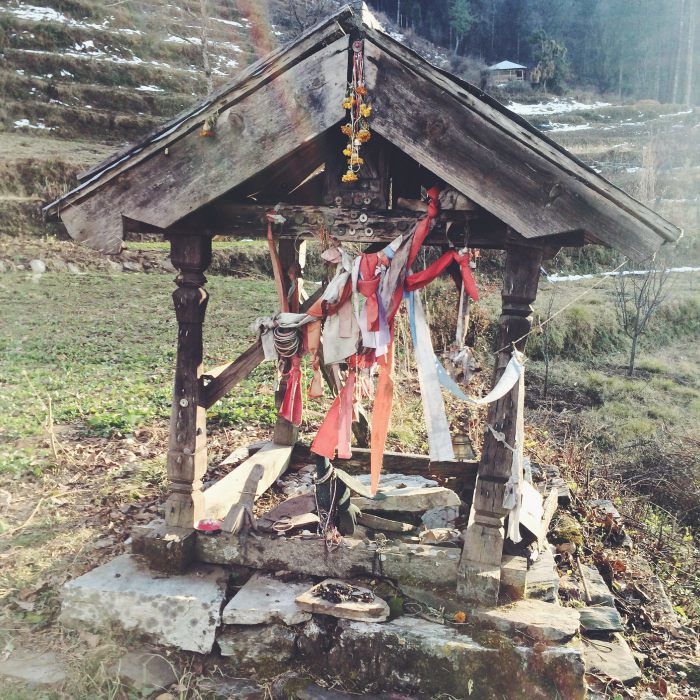 The descend felt more difficult than the climb I did in the last three days, due to the fact that after the 4 hour hike to summit had all the muscles cramped up and also that descend put more pressure on the already tired knees. But after an arduous 3 to 4 hours of ascend I reached Sankri. And finally on reaching Sankri…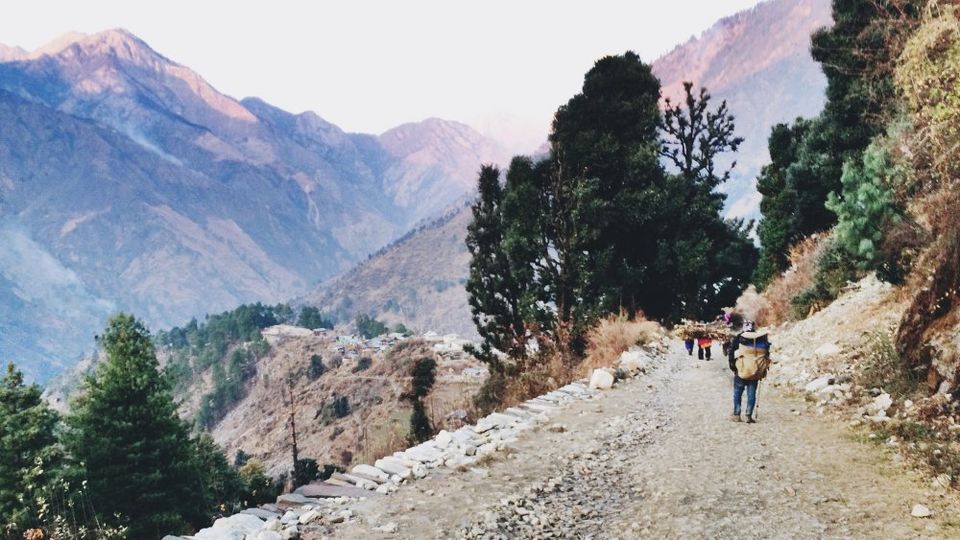 …the trek ended with each of my muscles aching to the tune of the steps I had walked on steep trail over the last three days, carrying my monster on my shoulder. The only form of relief I earned was in the comfort of freezingly cold, cramped and secluded nights inside my tent. But all of the pain seemed worth since in the last three days I had been to a place that I didn't knew existed, a place peacefully white, monstrously huge; heart warming cold and depths that made me feel I existed.
I hope you enjoyed this travelogue. Wanna read what all stuffs and gears I packed for this trek? Read it here – THINGS TO CARRY FOR A SOLO WINTER TREK.
Check out the list of 5 MUST WATCH DOCUMENTARIES AND MOVIES that will surely make you wanna conquer yet another mountain.
Frequent Searches Leading To This Page:-
Kedarkantha trekking tour packages, best kedarkantha trek organisers, best trekking companies for kedarkantha, manali to kedarkantha distance, aahvan adventures kuari pass