As Christmas is coming, so should be the vacation. But the tough part is to decide where to go. If it should be beaches, mountains or historical places?
By the time I have started my search, all the important places and events were booked and flight tickets touched sky as it is peak season. That's the time when I suddenly got the idea of trekking. I have no prior experience in trekking. So I wanted to choose something not so difficult and going to Himalayan snow treks is in my bucket list from long time. Now I have started my search for the best Himalayan treks for beginner to moderate, and then I have finally shortlisted Kedarkantha trek because of it's magnificient looks during winter which is surrounded by Pine trees, best views from the camp sites and also we can experience frozen lake. We (me and my husband) had only 20 days after booking the trip with Trek The Himalayas (TTH), and that is the only time where I have to get fit.
PS: Read till end to know why this is life changing trip.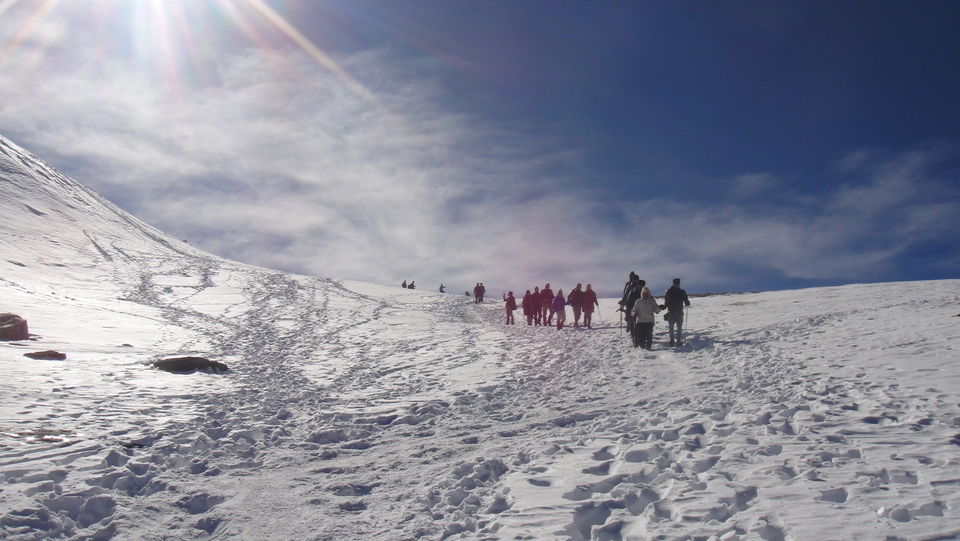 Started from Bangalore to Delhi a day before trek commences, so that I can purchase my trek essentials in Delhi.
Agenda:
Day 1: Reach Sankri (6500 ft) from Dehradun
Day 2: Sankri to Juda-ka-Talab (9100 ft)
Day 3: Juda-ka-Talab to Kedarkantha base camp (11500 ft)
Day 4: Reach Kedarkantha peak (12500 ft) and then to Hargaon camp (9000 ft)
Day 5: Hargaon camp to Sankri
Day 6: Back to Dehradun
Our trek group had assembled near Dehradun railway station at 6 AM. From there organisers took us to Sankri, a remote village in Uttarakhand which is around 9 hours journey. After reaching Sankri village, one can see many trek groups from various tour operators. Also some of the famous treks starts from here.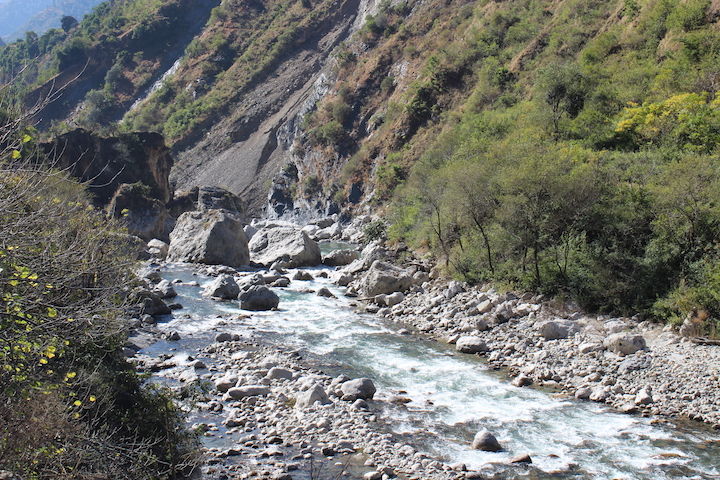 There are few shops for the trek essentials, which can even be taken on rent. All the trek essential items list is already informed to us by TTH group. Some of the important essentials are:
1. Trekking pole
2. Gaiters
3. Warm clothes and Jackets
4. Sunscreen lotion and moisturiser
5. Torch
6. Medical kit
7. Water bottle and snacks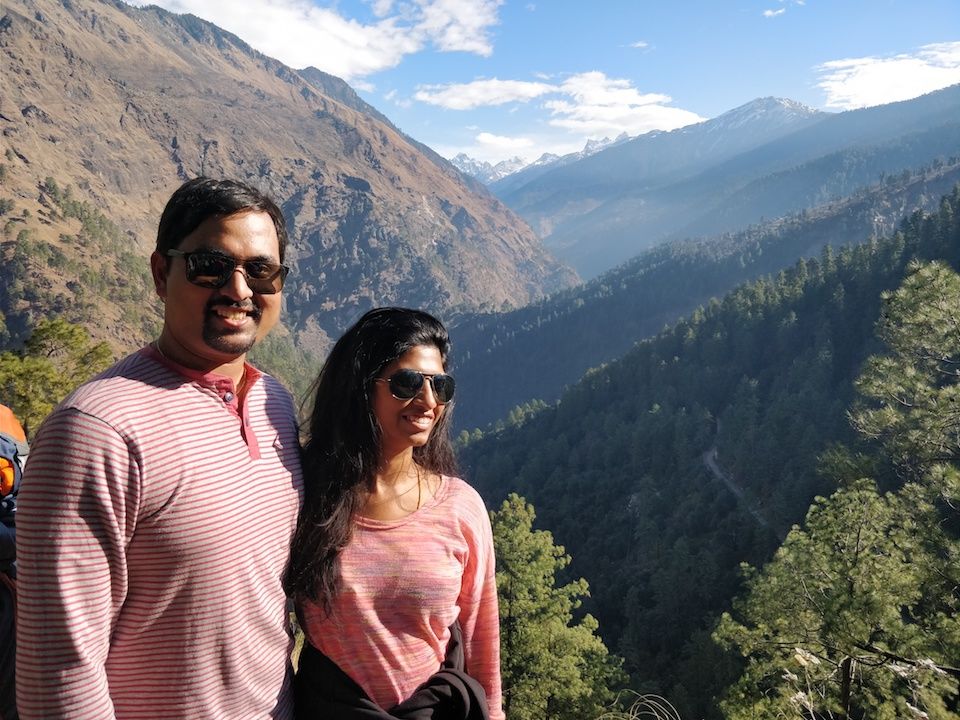 We had our breakfast and started for trek around 9 AM. I'm completely excited as its my first trek and first group tour. Also me and my husband wanted to challenge ourselves and wanted to carry backpacks on our own. Some of our group mates gave their backpacks to ponies.
In just first 30 minutes of trek, I have felt short of breath and difficult to walk. Camphor is the saviour in such a situation. I have started walking slowly taking breaks and inhaling camphor. As the time goes, I got adjusted to the climate and my breath had become normal. It's not advisable to have lots of water during breaks. One has to take in limited amounts else will find difficult to walk. After trekking for 3 hours, we had a Maggi break. Yeah the best part is to have hot hot maggi in that chilling climate.
We have reached our tents around 3 PM. Our campsite was just opposite to a frozen lake surrounded by pine trees covered with snow. I was amazed to see that and all our tiredness vanished just in seconds looking at that beauty.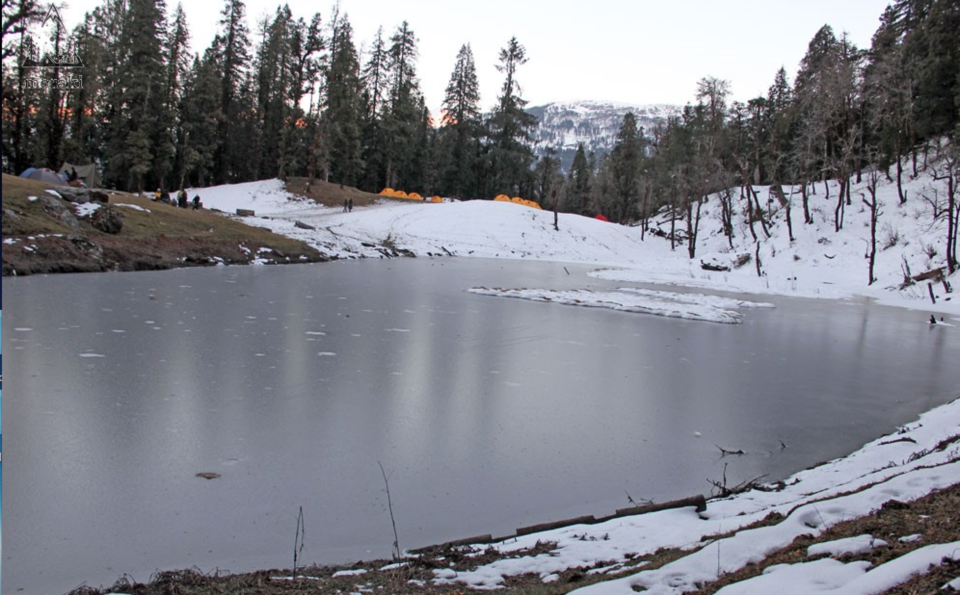 Got refreshed and had lunch which was prepared by cooks of TTH group. As it was the first day, everyone in the group got tired and so we took rest for some time. In the evening, we went for a walk to keep up our body temperatures. Having hot soup and lemon tea helps in such situations. One should never skip lunch or dinner during the trek, else it will effect the next days trek.
Had early dinner and by 10 PM everyone hit their bed as we have to prepare for next day trek. That was the night with lot of wind and chilling cold and literally I couldn't not sleep. Temperature over there that night was -15 degree celsius. I got scared thinking of the days ahead as we will go on to more heights and the temperature will still decrease. I could not sleep whole night.
We woke up around 6 AM, watched beautiful sunrise over lake and pine trees. We enjoyed the peaceful climate of mountains and clicked lots of pics on the frozen lake.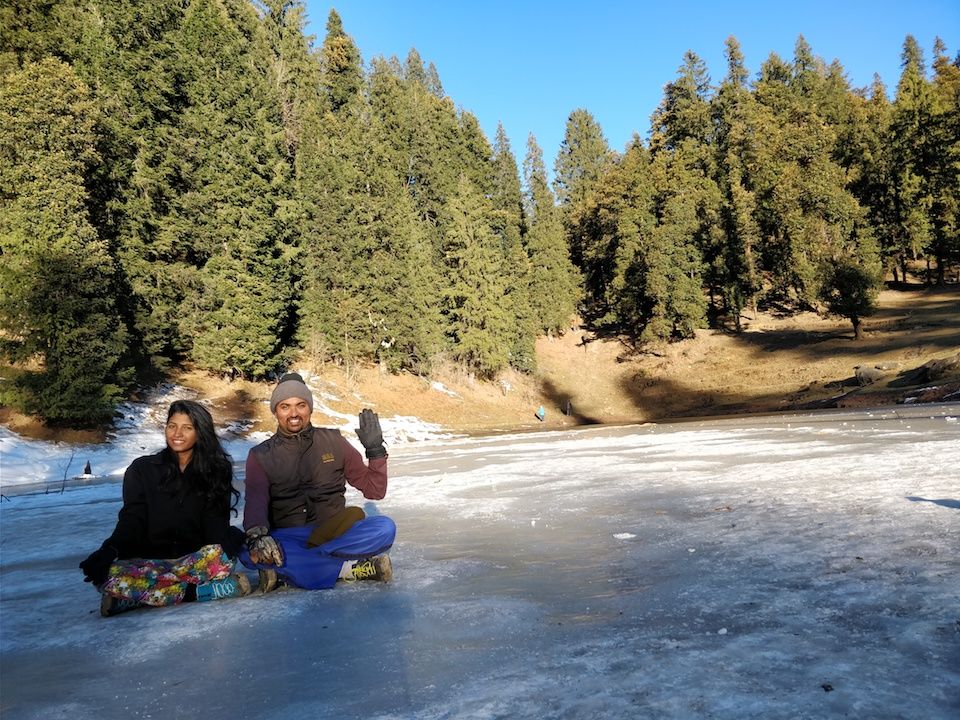 Had breakfast and started around 10 AM. We reached Kedarkantha base camp in 4 hours. Comparatively, this is the easiest day. Again this campsite made us mesmerized. It is completely covered with snow.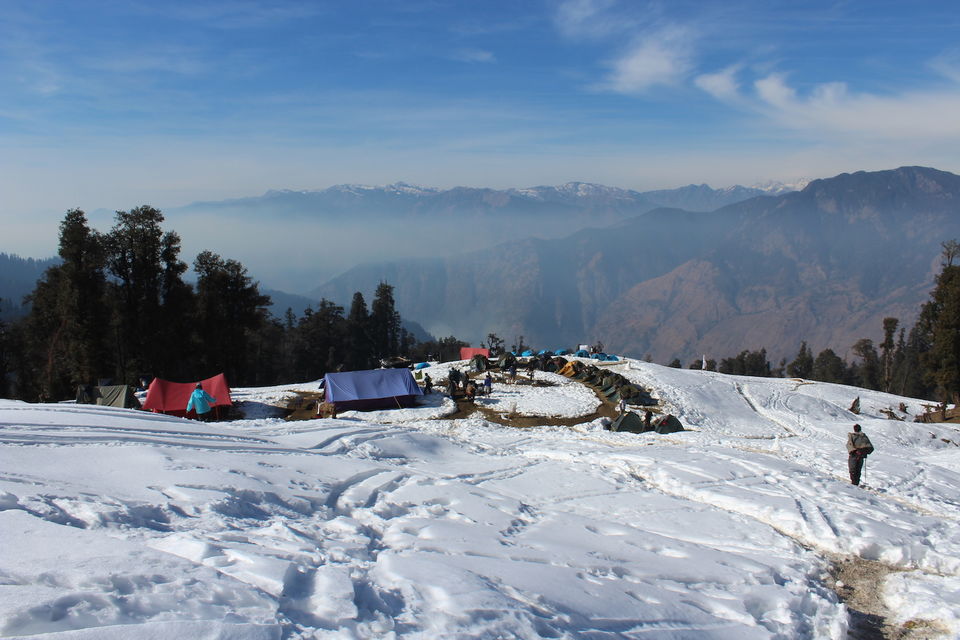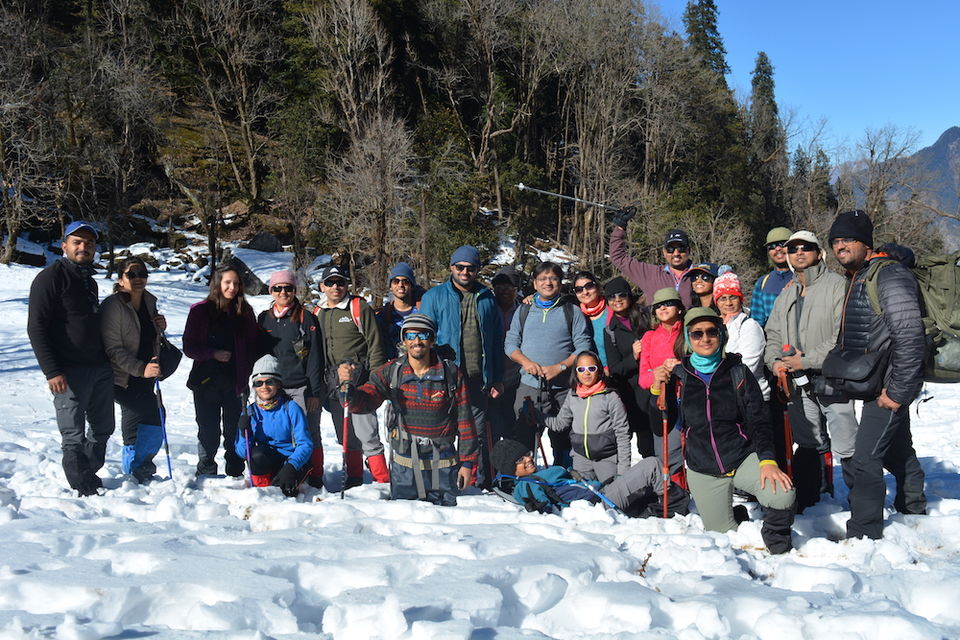 And as a add-on, it's Christmas. Celebrating Christmas in snow is for sure memorable. We made a snow man and played in snow.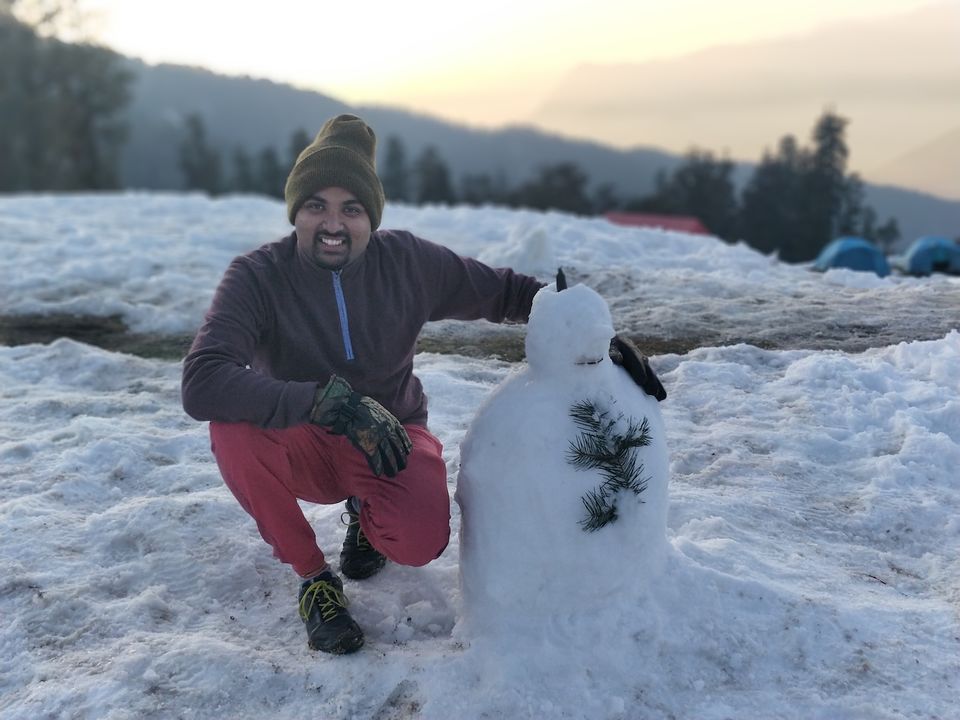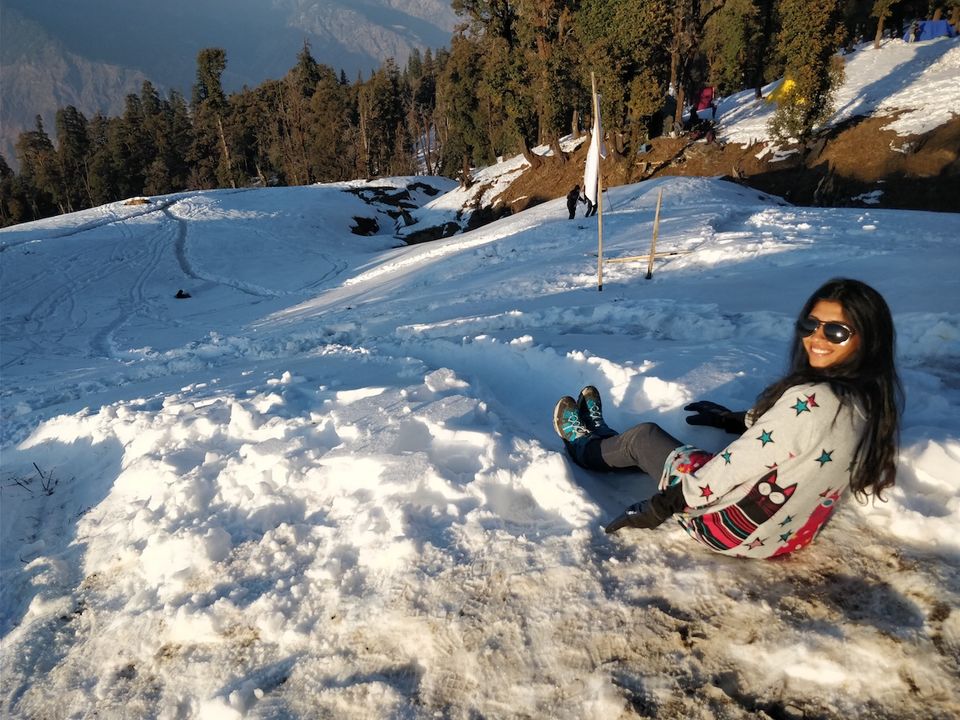 Started early in the morning at 4 PM. Reaching the peak was the day's agenda. TTH had prepared breakfast and packed in the box to have it in middle way.
We carried just our boxes, snacks and water. All other stuff were kept in the tent as by noon we will reach back to the same place. It's suggestible to carry less luggage, else climbing to peak becomes difficult.
Picture of Himalayas at 4 AM is not describable. One have to watch it. The sky is full of stars and you can even watch the Milky way Galaxy if you are lucky. We trekked through snow, advancing in a line with torches in our hands. Trekking in the dark was much more adventurous and fun.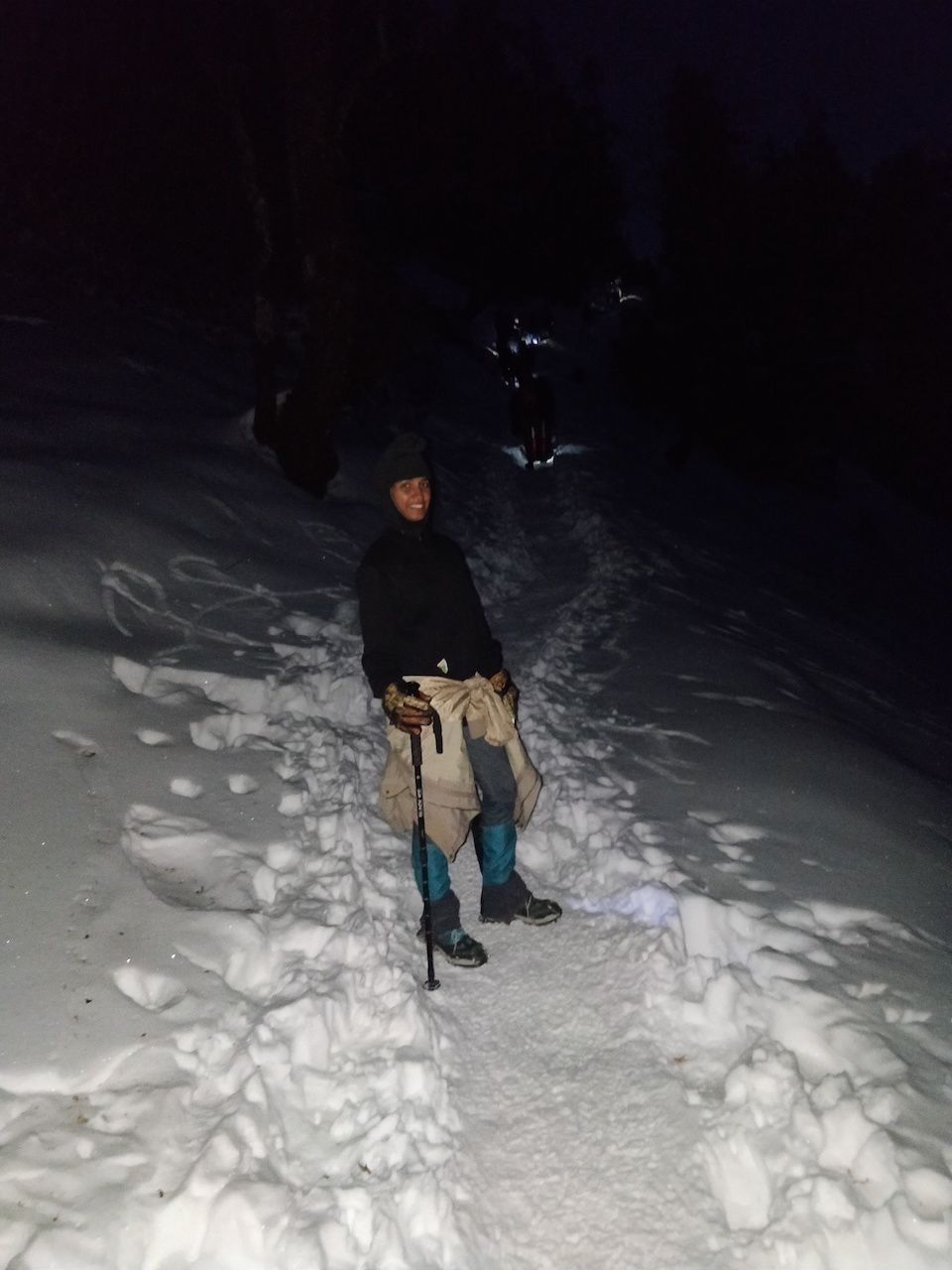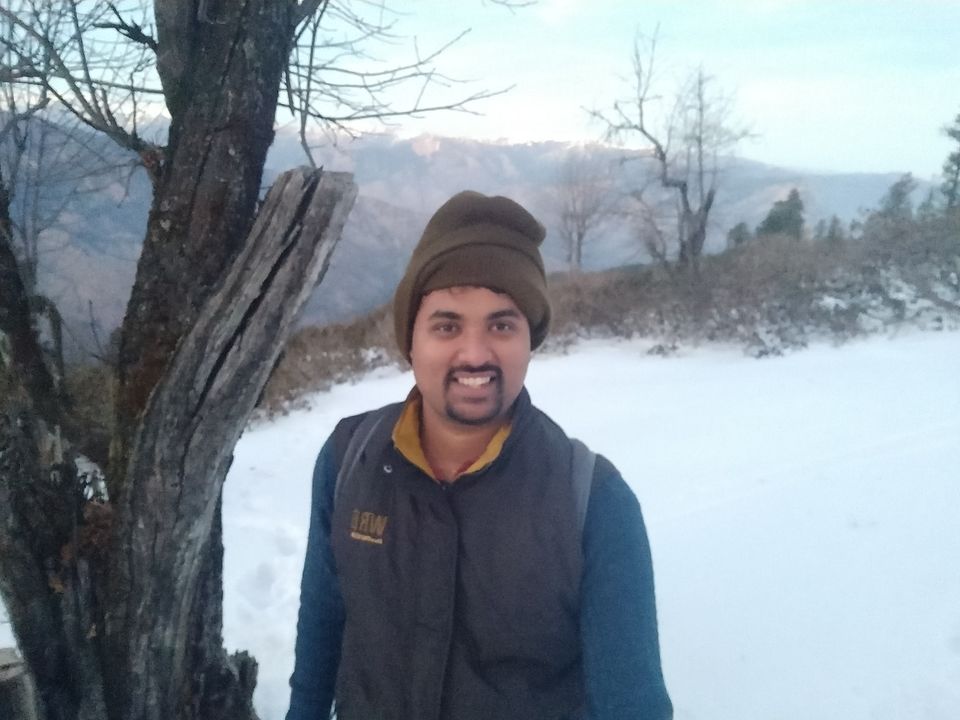 We had a small tea break in between and had some biscuits too. We were really tired and our breath is becoming difficult as we are ascending. We stopped for every 2 minutes. Then we saw the peak from distance and that is our motivation factor to climb. Route to the peak is steep. Whenever we are in difficult situation, TTH guides were always there to help us.
Finally we reached peak around 11 AM. The views were jaw dropping with beautiful landscapes, mountains everywhere covered with snow. It looks like the pretty sky and beautiful mountains are kissing each other. My heart was filled with a feeling of accomplishment. You will forget all your pain once you reach the peak. We were there for almost 1 hour enjoying the beauty of mother nature.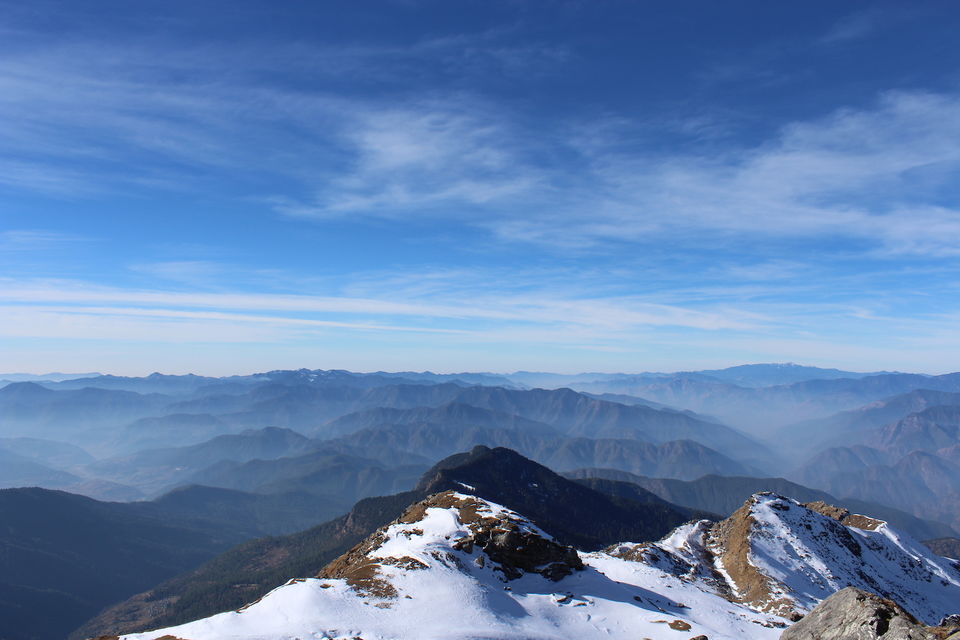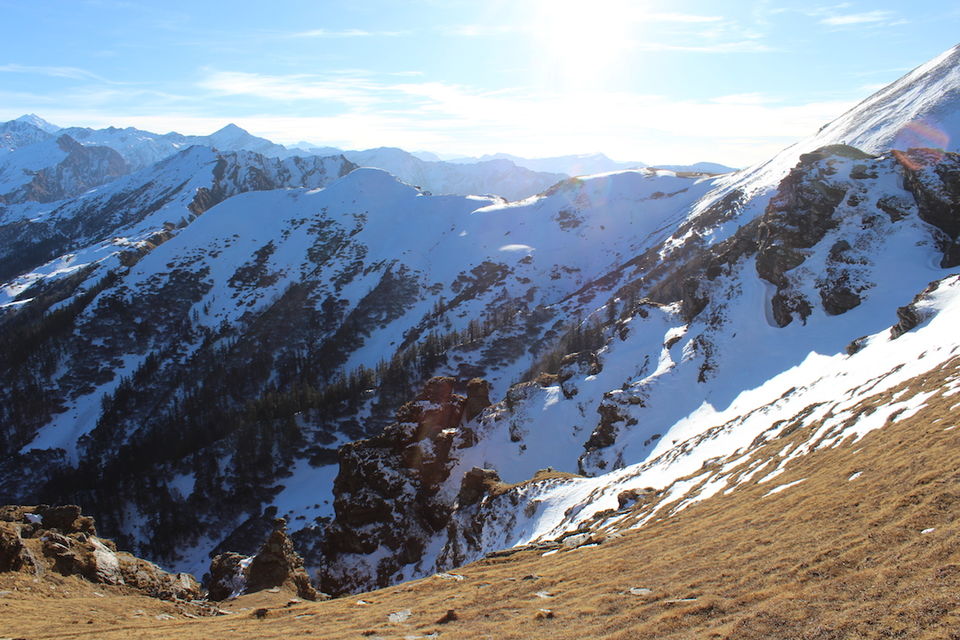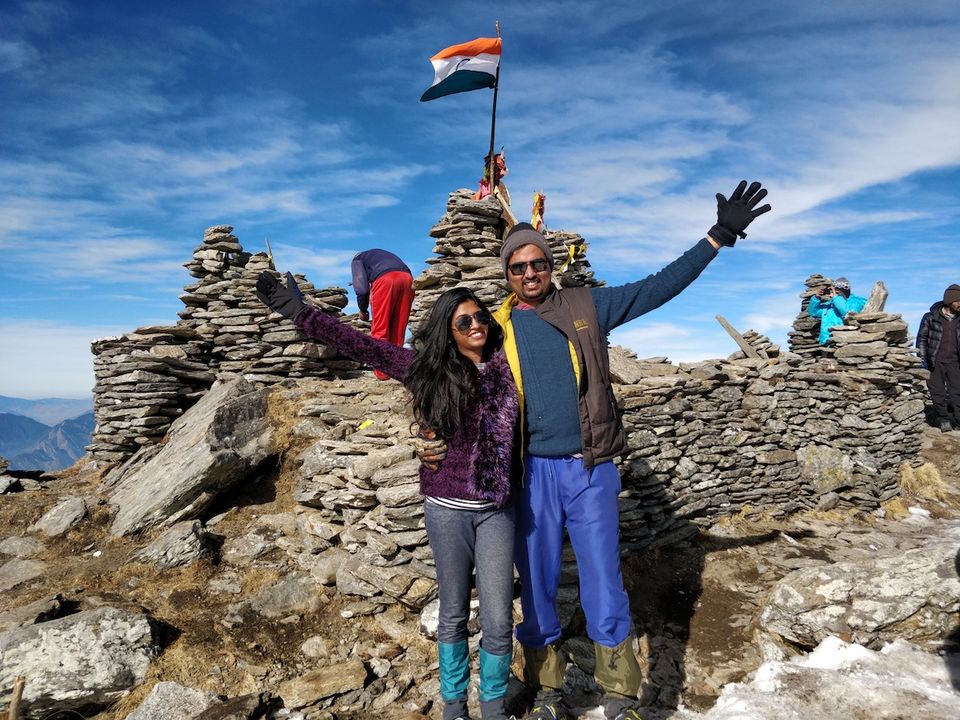 Then we started back to our base camp. Getting down is bit easier. I was so tired and my legs were badly aching, so we were sliding on the snow wherever its possible.
We reached Juda ka Talab base camp around 2.30 PM. We had lunch and took rest for almost 1 hour. Later we took our backpacks and started to Hargoan camp.
Many people from my trekking group felt AMS and got slight feverish, so it's recommended to keep some fever and important tablets with you all the time.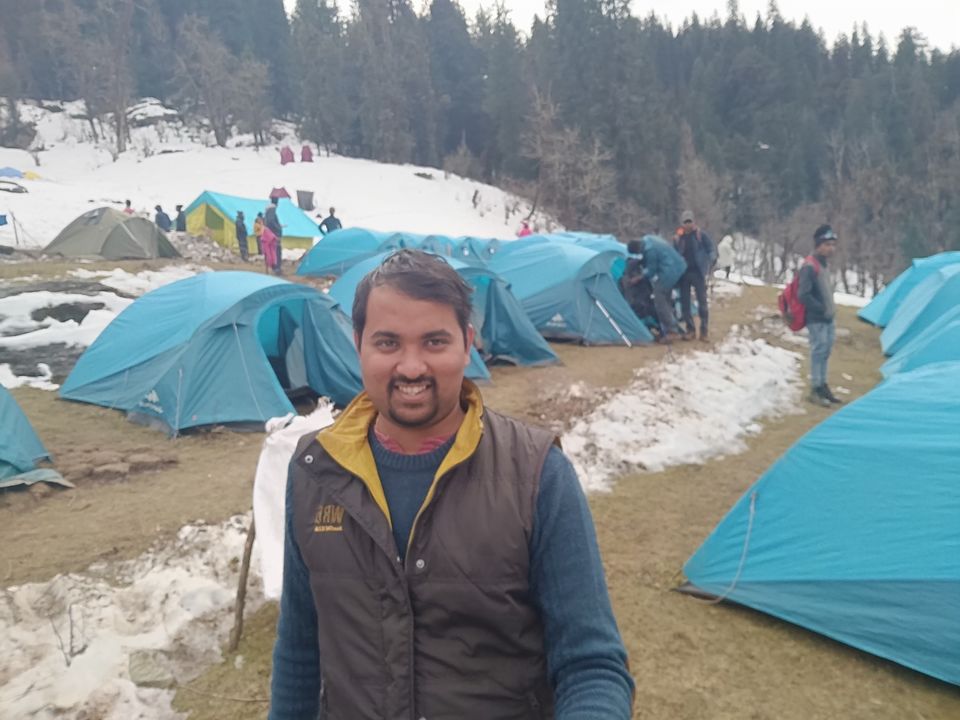 Started back to Sankri. We reached Sankri by 1 PM. Had lunch and took rest. In the evening we had small get-together for certificates distribution and experience sharing.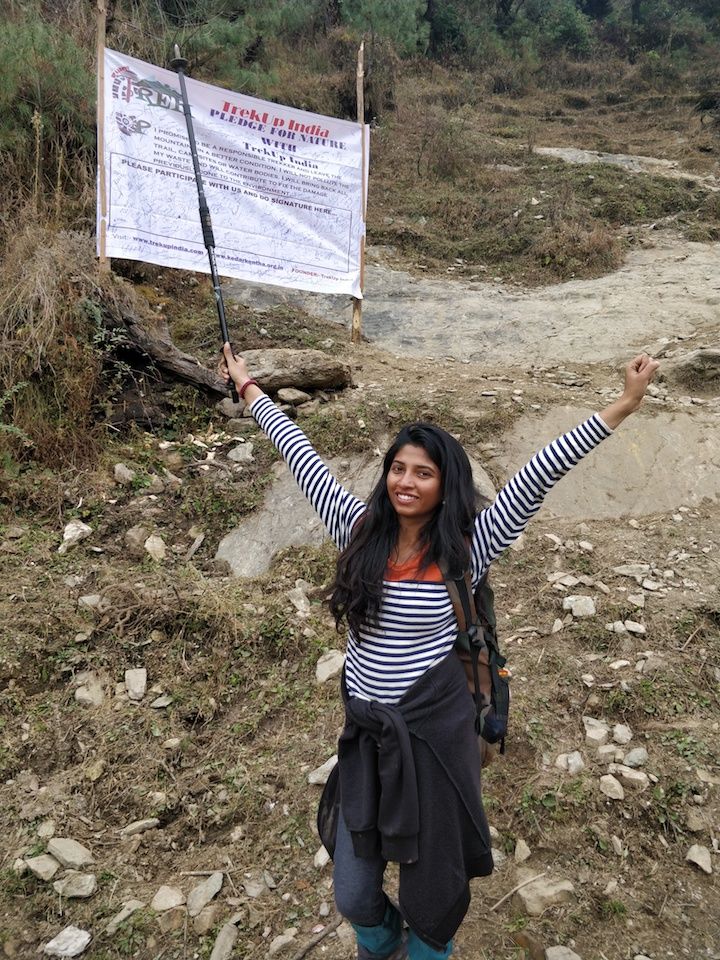 Started back to Dehradun.
There is one special thing in my trekking group. The oldest and youngest trekkers are here and they are 70 yrs old women and 9 yrs old girl. Looking at them we were completely astonished. Whenever we were feeling low or tired of trekking, we got motivated looking at them. This shows the passion for travel and adventure. We all have listened to the quote 'age is just a number' but I witnessed it here.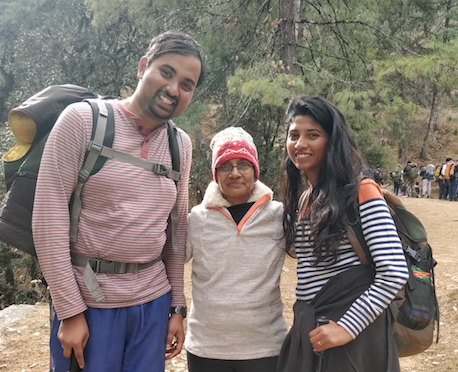 Until this trip I was in the mindset of vacation is for enjoyment, relax, sightseeing, luxury etc. But this trip taught me vacation is also pain, but in the end it gave me unforgettable moments of my life.
This trek was not easy for us. We had faced many challenges - gone through sleepless nights, we were shivering throughout the night as there was lots of wind, going to washroom in pitch dark was very scary, there was no water for basic necessities as the water turns out into ice in that climate. All these difficulties made us feel why we chose snow trek, irrespective of the enjoyment we had during the day. But whenever we look at 70 yr old women and 9 yr old kid walking way past us with strong determination, it would make us look at each other and take us further up. Both of them inspired us to a great extent and definitely helped us in reaching the peak.
When we have asked the old lady - why she came to this trek. Her answer was - Visiting Himalayas is her dream from childhood and now she is fulfillling that dream.
They taught us a great lesson that age is no bar for dream. All that you need to have is good preparation, determination, inspiration and will power to achieve it.
This trip is a life changing trip for us as it transformed us to become a explorer rather than a tourist. It motivated us to travel, fulfil our dreams throughout our life despite of our age.
It also flagged a strong will power in mind to do snow trek at different points of our lives. We want to do a snow trek again with our kid and also when we grow old as well. We had visited many countries, but I have never experienced the fun I had it during trekking.
My closing comments after this trip are 'live life like a explorer rather than a tourist' and believe that 'age is no bar for any kind of adventurous and dreams'.