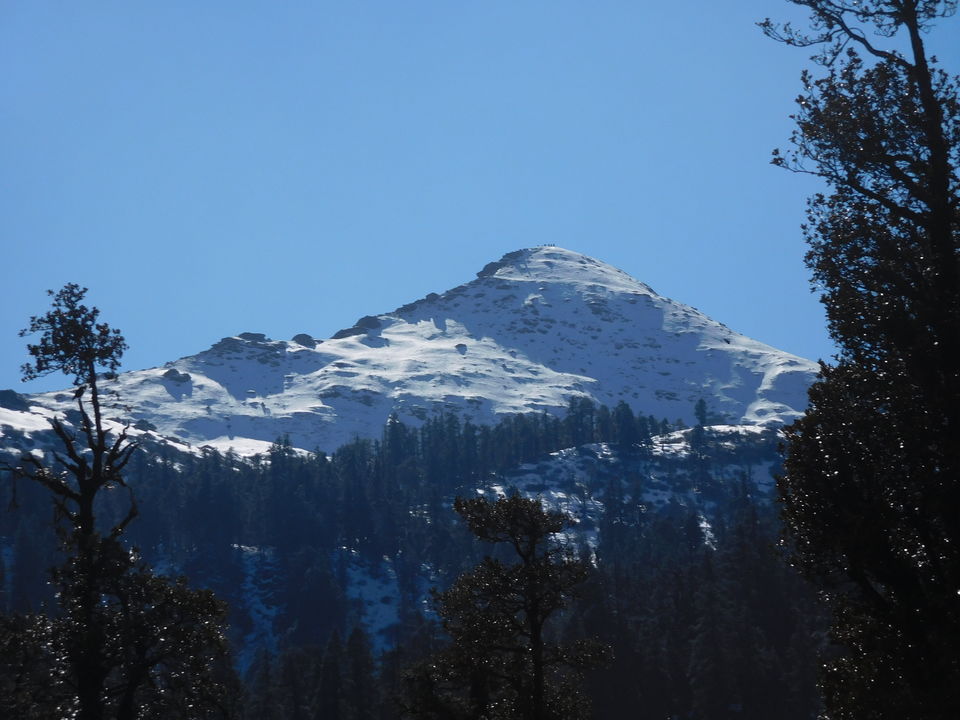 World has become fitness conscious in the past 10 years like never before. From young to old, from rural to urban areas, from the poor to the elite, almost everywhere and almost everybody have understood the long term benefits of staying fit and have subscribed to some form or the other fitness program. Be it Marathons, Dancing, Jogging, Swimming, Yoga, Kick boxing, Trekking, High Altitude Peak Summit and many other such kind of programs. And I am no different!! I have developed my passion for Marathon, Dancing and Trekking over time. Here I am sharing with you all my recent Trekking story that I had been to Mount Kedarkantha Summit on new year 2019.
Place: Mount Kedarkantha Summit, near Sankri, Uttarakhand, India
Height: 12500ft
Temperature: -12 to -15 Degree Celsius
Date: 29th Dec 2018 to 2nd Jan 2019 (5 days)
Minimum Medical Fitness Eligibility Criteria: A doctor certificate with
Historically,
- No breathlessness issues
- No Heart problems
- No Lungs problem
- No Knee/Bone injuries
- No Asthma
- No Chest pain
- Good Hemoglobin counts
Good to have : Prior high altitude Trekking Experience
Day#1: 29th Dec 2018
We were a group of 30 participants from all parts of the country, aged between 17 to 58 assembled at the Base Village, Sankri(6100 ft.) which was 8-9 hours of drive from Dehradun. The group who organized this summit had arranged for our night stay at Sankri at their rented accomodation. There was a group dinner and briefing by the event organizer on what to expect and how to prepare for climbing the Mt. Kedarkantha Summit. They also distributed each of the participant below items which were to be returned post summit:
1)Fleece sleeping bag liner -- for extra warmth in the sleeping bags while sleeping on tents surrounded by snow on mountains
2)Micro Spikes -- For getting better grips while climbing up on the snow clad mountain
3)Gaiters -- For walking over the knee deep snow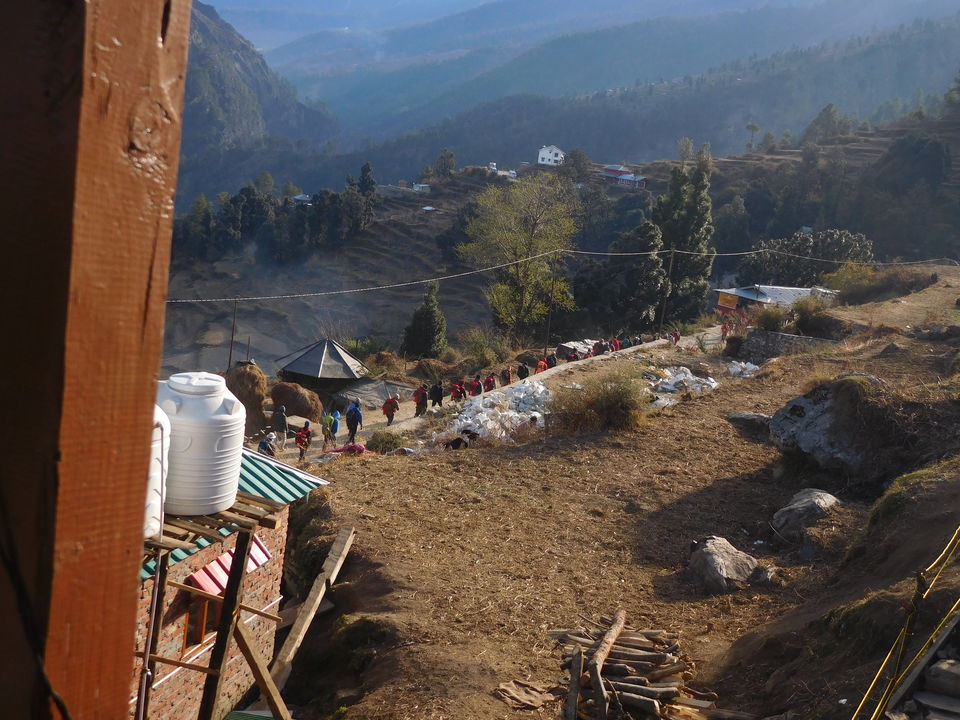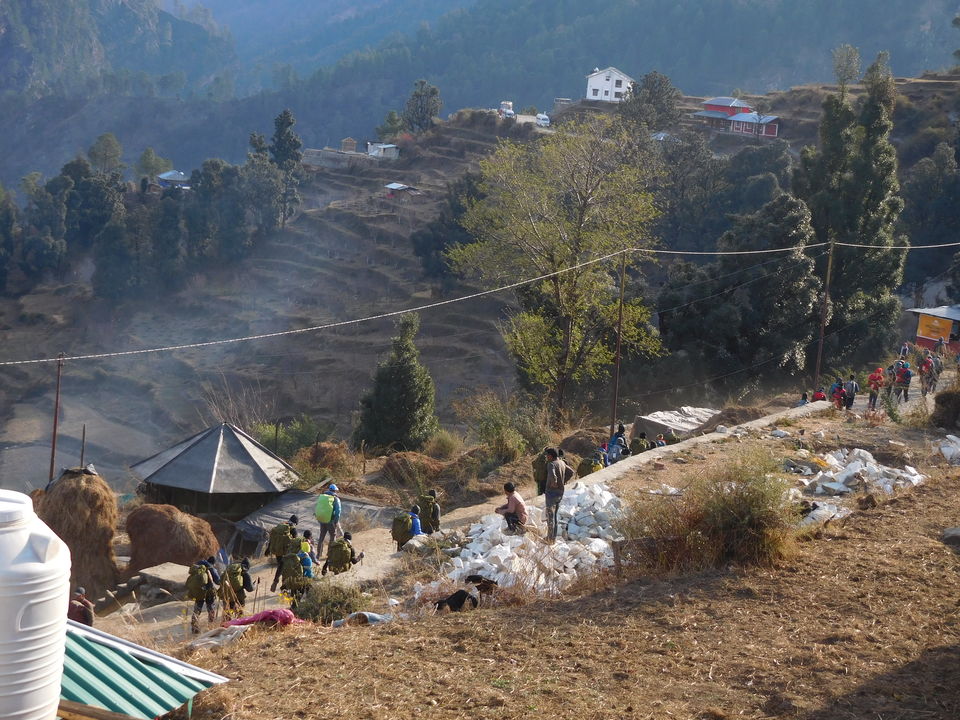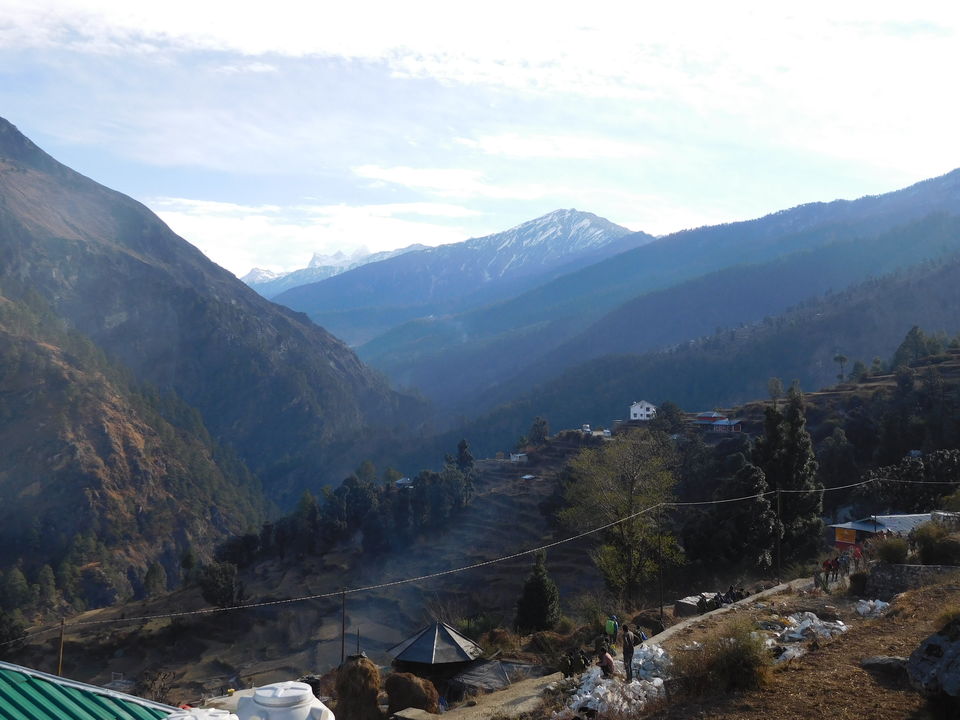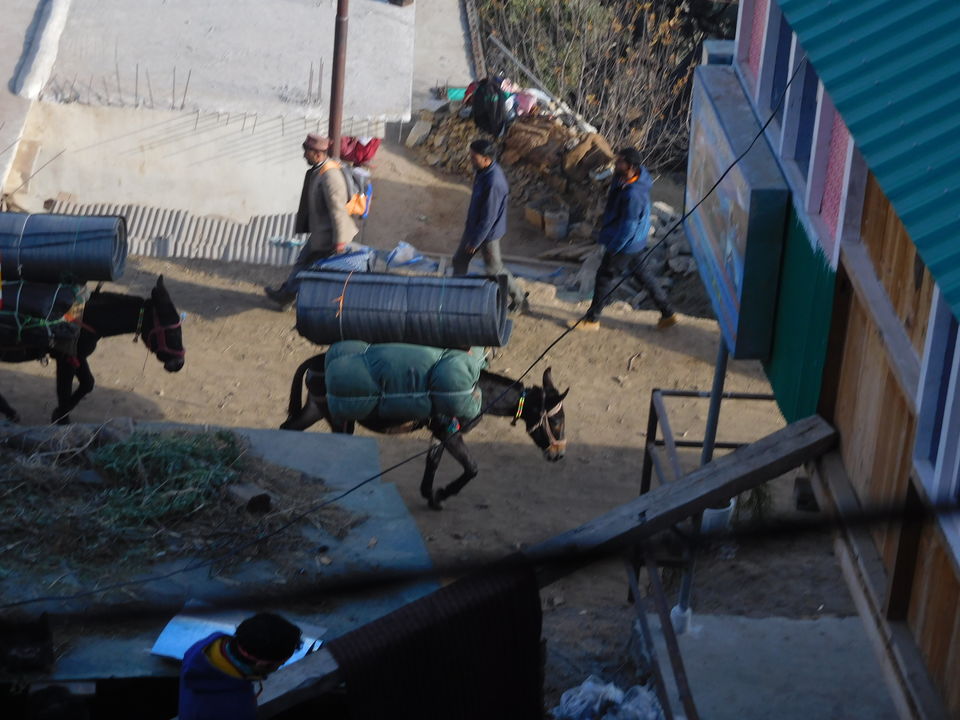 Day#2: 30th Dec 2018
30th Dec morning after having our breakfast, we got ready with each of us carrying our 9-10kg rucksack on our back to climb up to our first camp - Juda Ka Talab , known as the Frozen Lake at a height of ~9000 feet .
Duration of the trek was 3-4 hours. Some opted for offloading their rucksacks and used Mule service who carried the sacks to the Camp#1. I chose to carry my rucksack on my own to test my endurance. We started around 10 am IST. Initial 30-40 minutes of climb was very exhausting as we were not used to climb with 9-10 kg on our back. Soon we got used to the luggage weight, the ascent and the climate and next few hours it was a bit smooth although the more higher we were going up, the more colder it was getting and air was also getting thinner. After ~4 hours of trek, by 2 PM IST we reached at the camp#1: Juda Ka Talab where there were tents for overnight stay, kitchen and dining already set up. We were allocated 1 tent for every 3 person. Post lunch we went to visit the Frozen Lake. Temperature of the site was ~ minus 4 Degree Celsius. This was being year-end and most of the other summits in the same northern region were closed due to various reasons such as Govt. banning it due to prediction of avalanches or spotting of snow leopards etc., there was mad rush to Summit this peak and many other organizers have organized the summit in parallel for different group in different batches. Post dinner we went in to our tents and soon fell asleep in the sleeping bag due to the exhaustion of 4 hours of climb. But I was struggling to sleep as I was feeling breathlessness due to thin air, and limited ventilation in tent and on top that -4 to -5 degree air temperature was adding to the woos. At midnight, I woke up as one tent mate had severe stomach upset along with his 2 friends as somehow all of them drank stream water while climbing on the way. Ideally stream water is safe but it can upset too due to its heavy mineral content. By late night 1-2am, I was almost on the verge of walking out of the summit due to this breathing problem and my other tent mate had similar thoughts. But then I came out of the tent for a while to get some fresh air and realized it was just the tent air and no breathing issue outside despite of sub-zero temperature. That gave me some confidence and I was determined to continue climbing up for the next 2 days till the Summit point.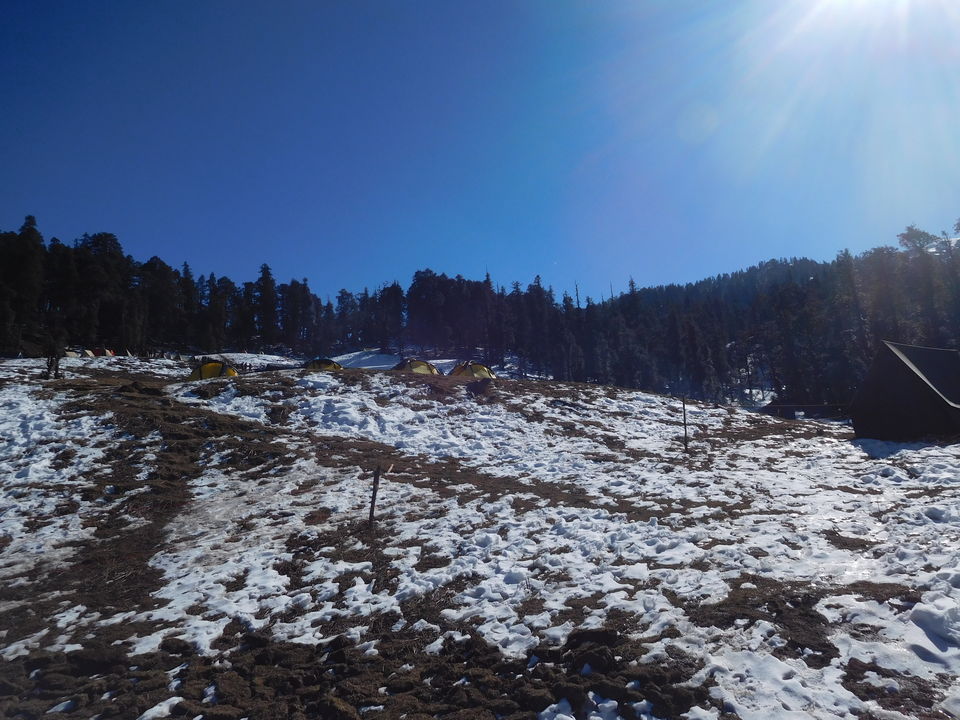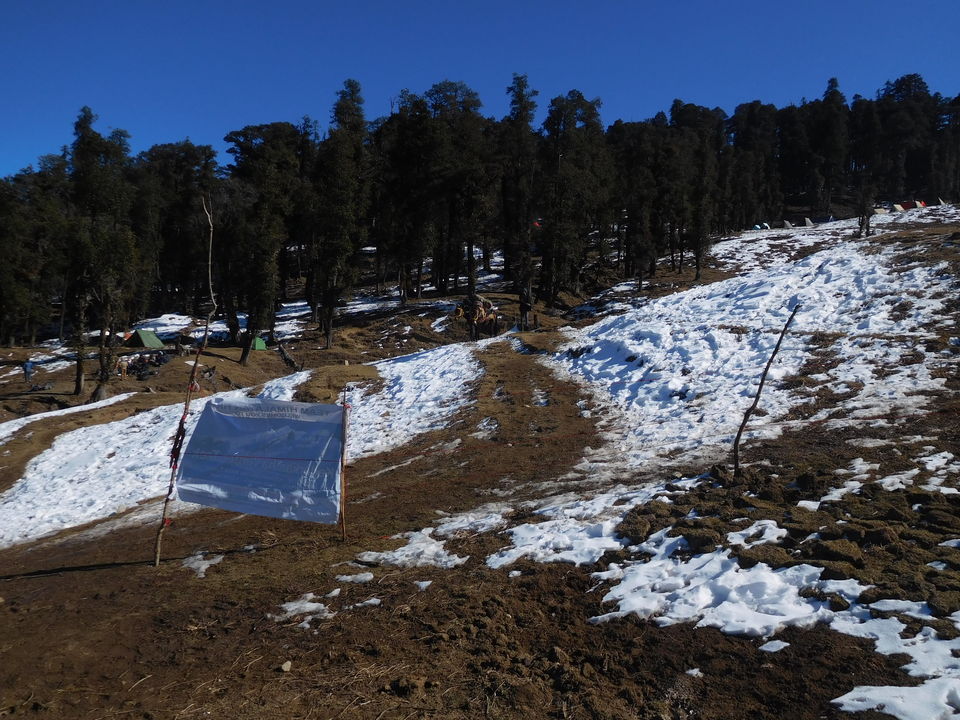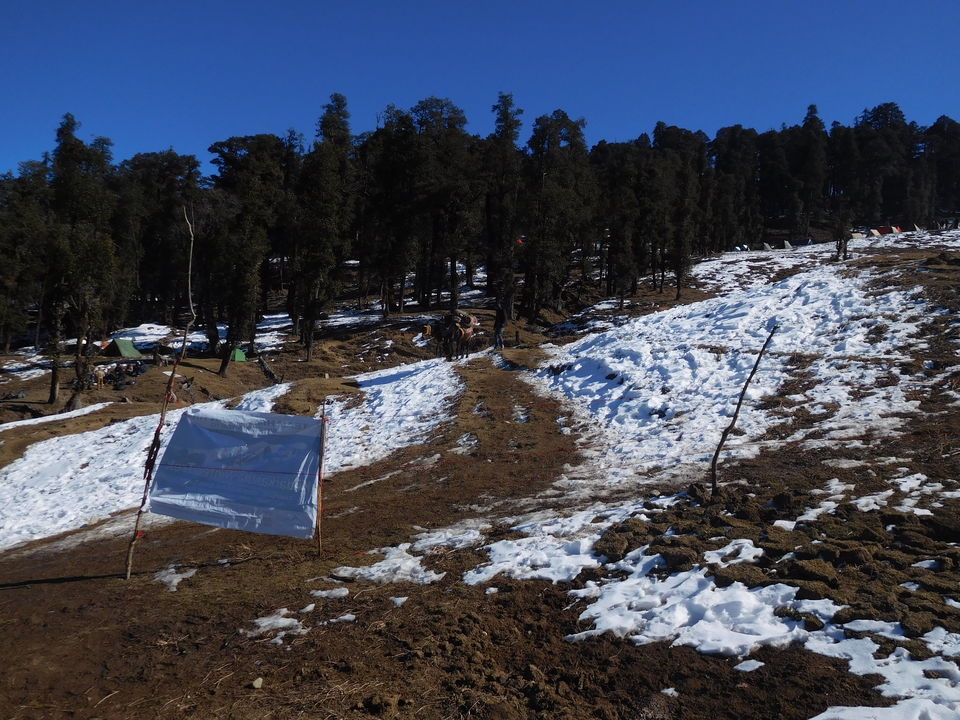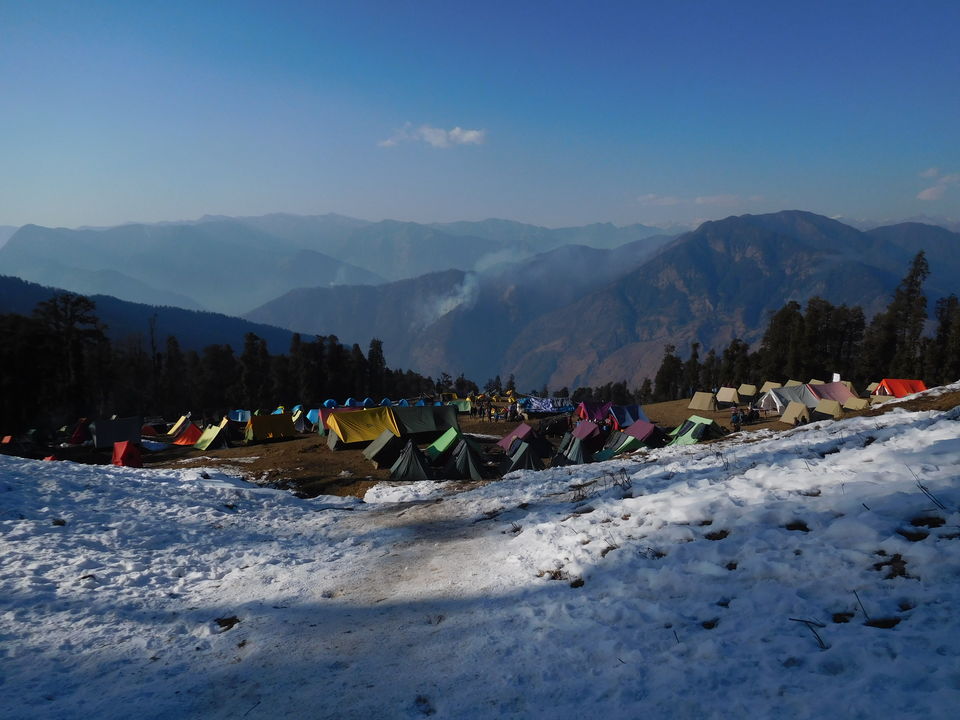 Day#3 & 4 : 31st Dec 2018- 1st Jan 2019
On 31st Dec morning around 11 am IST post our breakfast at camp#1, we trekked for 3 hours to the base camp which was at a height of ~11200 ft. We had lunch by 2 PM IST and went up to the snow cladded hill for some acclimatization.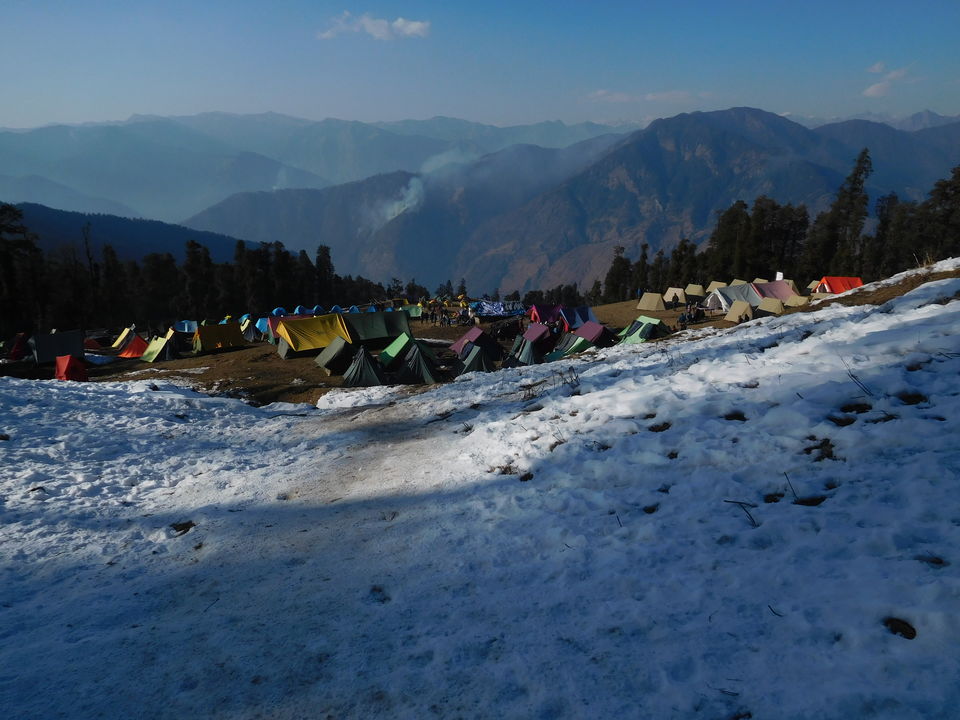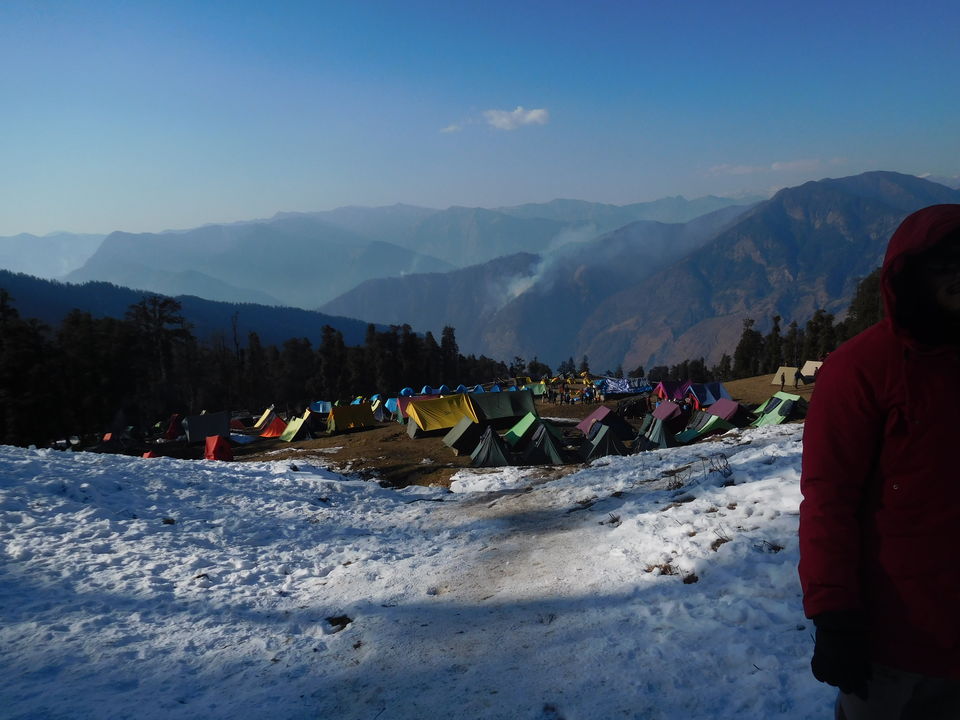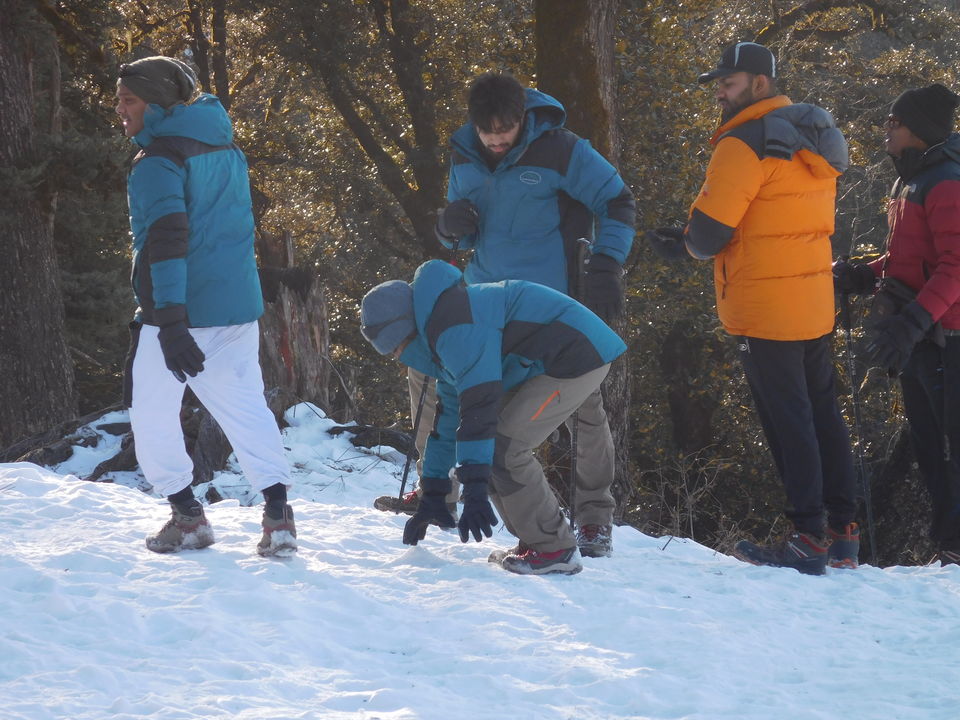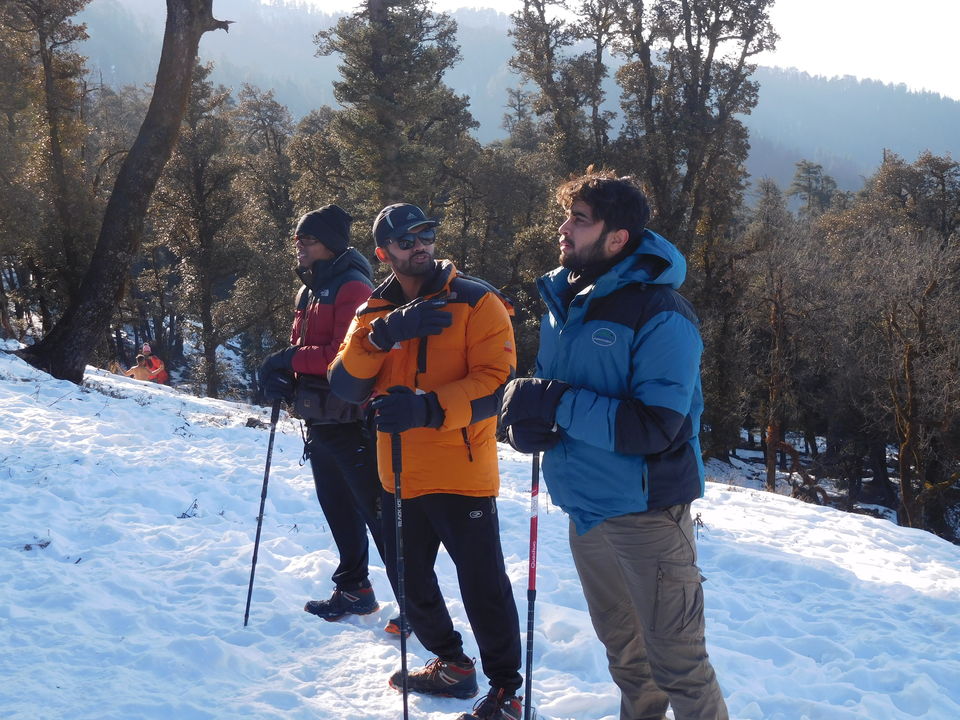 We finished our dinner by 7 PM IST as we were asked to wake up at 2 am early morning on 1st Jan for getting ready to climb up the final Summit. In between 2 am to 4 am we got ready with our gaiters, micro spikes and headlamp on. It was pitch dark and extreme cold temperature of -12 to -15 degree. We started climbing up at 4 am for the final phase of our summit which was of 3 hours. One hour after our climb, tree lines were finished, and it was the show time for battle between our will power against the extreme cold due to barren peak areas where wind blows with enough freedom as there were no tree lines to stop it. We had got clear instruction, due to any reason if we stop for more than 2 minutes at one place, our legs will freeze and we won't be able to walk further. We made sure to follow this rule. Last one hour from 6 am to 7am the eastern horizon was getting brighter just before the sun rise. Most of us had climbed a height of 12000 by then. There one participant complained up chest pain and he had to pull out of the summit and he was brought down to the base camp. At this height if no precaution taken, you can get Acute Mountain Sickness(AMS) due to rapid exposure to low oxygen at high altitude which might make you feel dizzy and you might face trouble in walking. This is self-curable. But if situation deteriorate, it can get converted to High Altitude Pulmonary Edema(HAPE) which causes fluid accumulation in the lungs resulting in shortening of breath or high altitude cerebral edema (HACE) causing confusion and can be deadly if not treated immediately. Since the last 500 meter climb was very stiff, some were reluctant to climb up as they feared that they can't make it if they will be asked to come down on the same track. Only when they were informed that there was a different route to get down they finally agreed to climb.

I reached at the summit by 7:10 AM IST and to my surprise, within 10 seconds there was new year sun rise, a moment that I will cherish for a life time!! As the saying goes, ""The harder is the climb, the greater is the view from the top"" - so mesmerizing was the view at the top of Mt. Kedarkantha and so is the case with every success story!!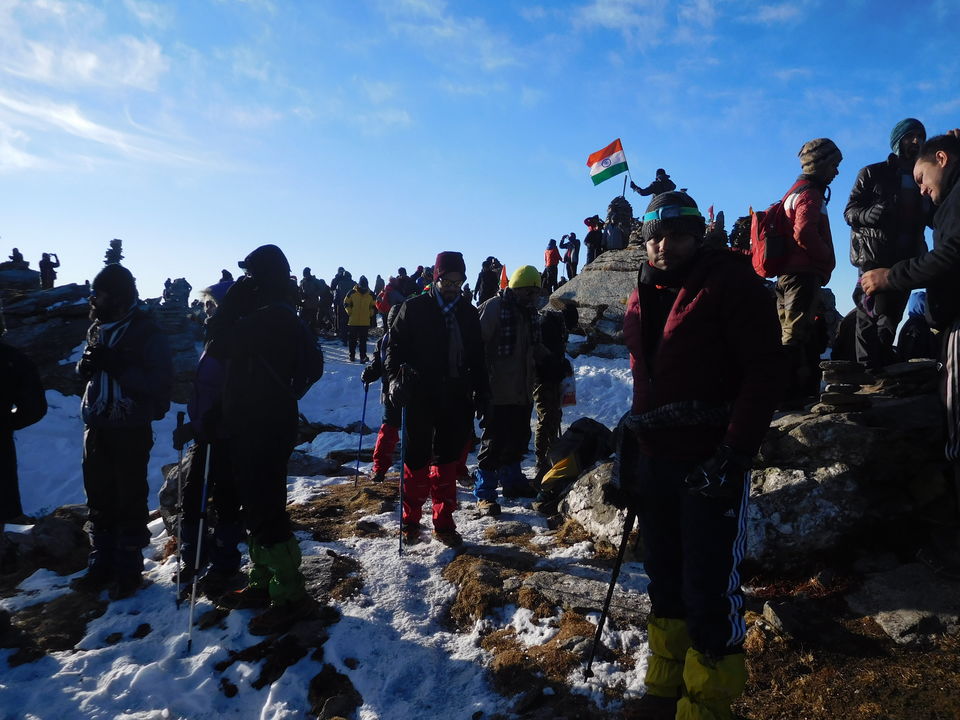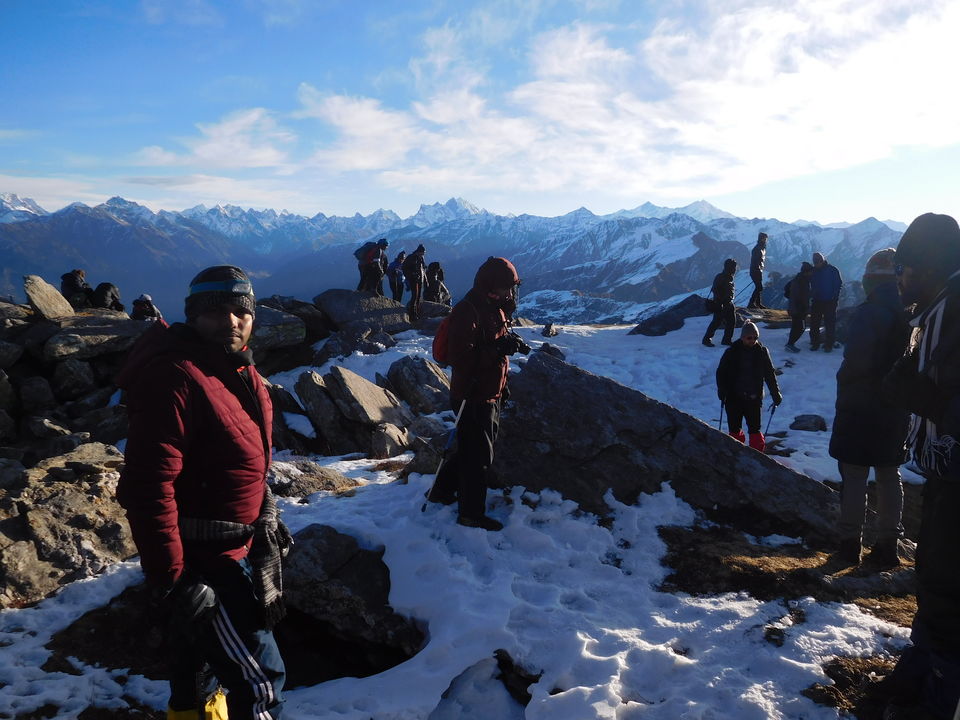 For 2 hours from 7-9 am, we enjoyed the scenic beauty of Kedarkantha Peak.
From the peak 3 most prominent peaks in the region were clearly visible:
1) Swargarohini Peaks 1-IV( 20512 ft.)
2) Kalanag Peak (20954 ft.)
3) Bandarpoonch (20721 ft.)
The legendary Tenzing Norgey who summited the Mt. Everest was one of the first to summit Bandarpoonch in 1950. From top of the peak, you will also see Gangotri and Yamunotri mountain ranges, Rupin range and Har-Ki-Dun valley ranges. We started descending by 10 am to reach the base camp. First phase of the descent was inclined enough to scare you a lot if you are faint hearted. At number of places there were option to slide down the snow to enjoy the ride but we had got strict instruction not to take any such slides as if it gets longer, it becomes uncontrollable while stopping and there has been cases of some head injuries, bone injuries in the past week when some trekkers attempted this slide.
By 1 pm, we reached our base camp and had lunch by 2 pm. Then we further descended to our final camp at Hargaon (8900ft) by 5pm. We spent that night at Hargaon
Day#5: 2nd Jan 2019
The only thing which was missing in this winter trek so far was we came to snowy mountain and there had been no live snowfall until 2nd Jan morning. The moment we were done with breakfast at Hargaon camp, it started snowing like anything and our last wish of the trip got fulfilled.
We all geared up in wind cheaters and rain covers to pierce thru the snowfall in almost zero visibility in day time and finally reached at our base village Sankri in 2 hours. We spent that day at Sankri for recovering and on next day we all came back to our respective places from where we started the trip.
As Mary Lou Retton, the American Olympics gymnast says, " When working hard becomes a habit, it becomes a serious kind of fun. You get self-satisfaction from pushing yourself to the limit, knowing that all the effort is going to pay off"
Take away of the trip were blissful memories... new network of friends across different cities and different profession.. and a self-satisfaction of climbing a high altitude peak and the showstopper - welcoming the new year Sun at the top of the Kedarkantha Peak !!