Hello Travelers,
Kedarkantha trek, best ever medium level winter trek that almost gives a worth experience of trekking. And make your trekking more adventures and beautiful with its scenic views.
I started my journey from Dehradun, wake up at 5 AM and getting ready to take the only bus to sankri which was at 7:30 AM and due to elections that bus was gone early and then we take a private bus to Vikas Nagar and reached there at 8:45 AM and then take the same bus from there to reach sankri.
We reached a village Purol at 1:35 PM, it was the last village where internet and mobile networks are available. The way from Dehradun to Sankri make us awaken with its wonderful nature scenic views, rivers and those long trees. The way makes us more excited about the trek and then at 6:30 PM we reached Sankri the weather was not so good that day.
We are then welcomed by our Travel Agency 'TREKVEDA'. We take our luggage to the hotels and then some formalities are done by agents like Medical checkup, ID proofs, etc...
After taking all the details about the trek, our trek leaders teach us how to pack our bags. We are a group of 10, in which 3 are from other state named as Rohit, Raghav, and Anubhuti and we are 7 - Vipul, Namokar, Bhavit, Architect, Ashutosh, Lakshya, Rohitash.
After taking our dinner we move forward to the market to buy some trekking stuff like trekking shoes, goggles, headlamp, gloves, thermals, and woolen head caps. The rent was very high at the budget and due to insufficient money,y we decided to rent and buy these things from the market to adjust everything.
The weather was too cool we are just sitting outside the hotel to see the night views and interacting with other groups. We slept at 1:30 AM that night and all are much excited to do some memorial adventure.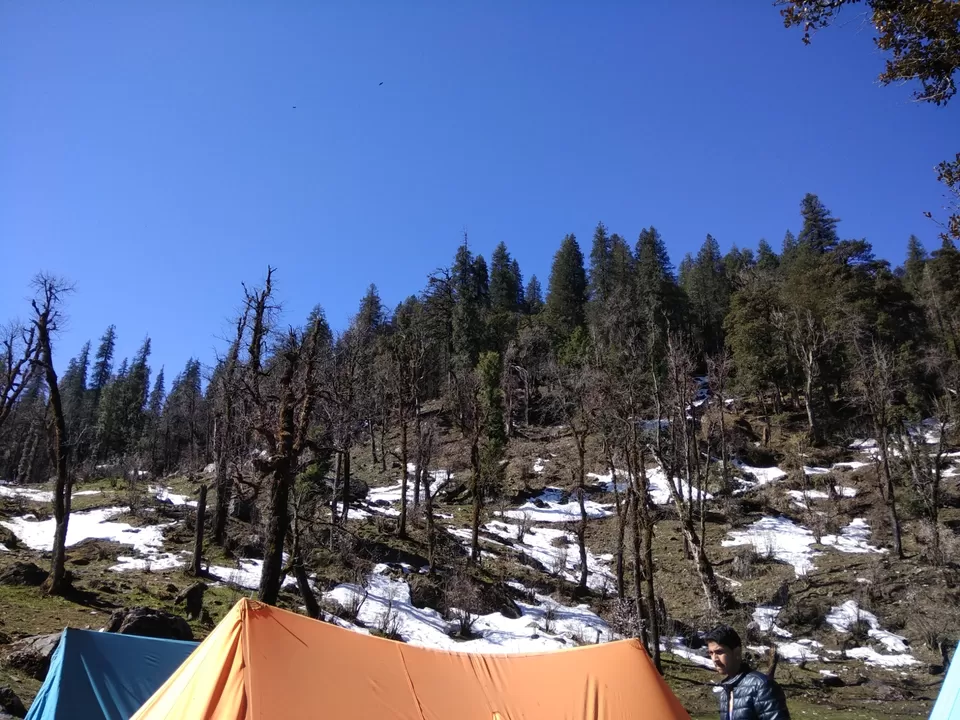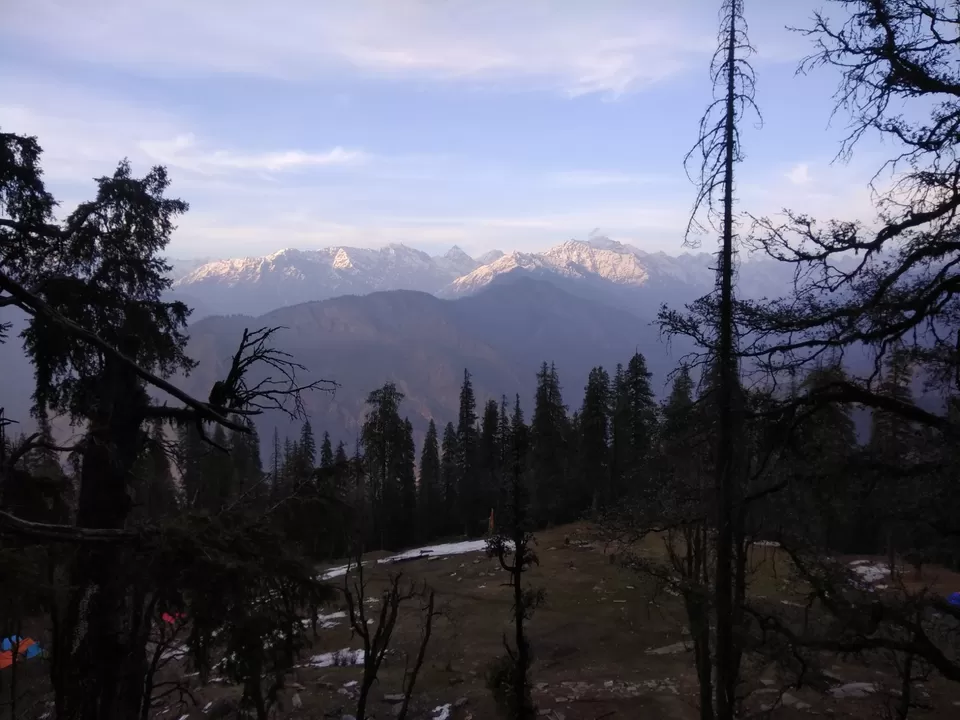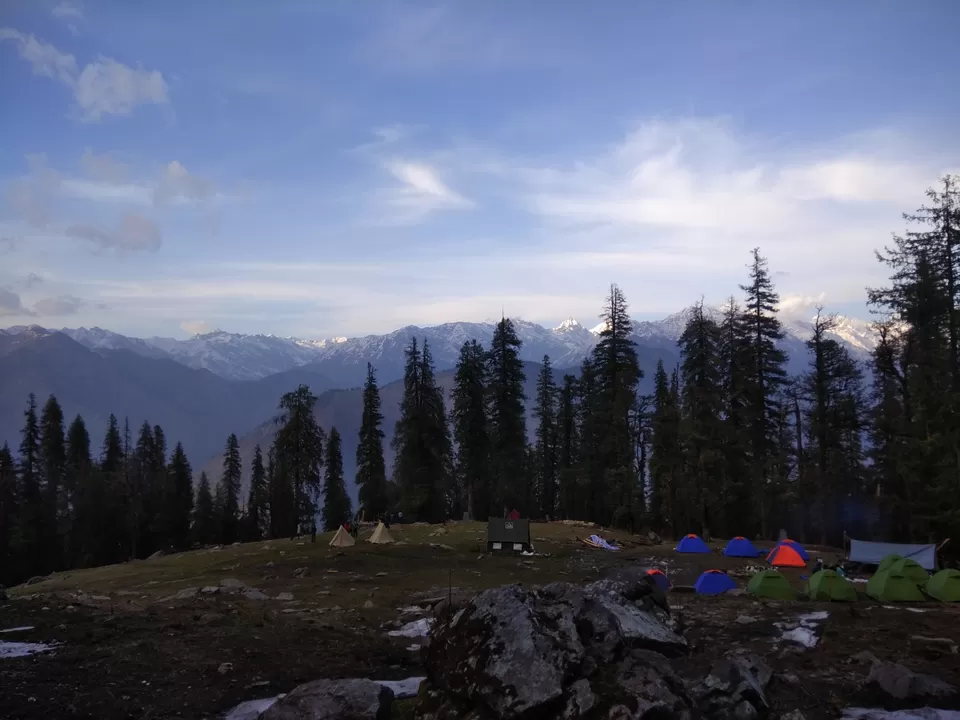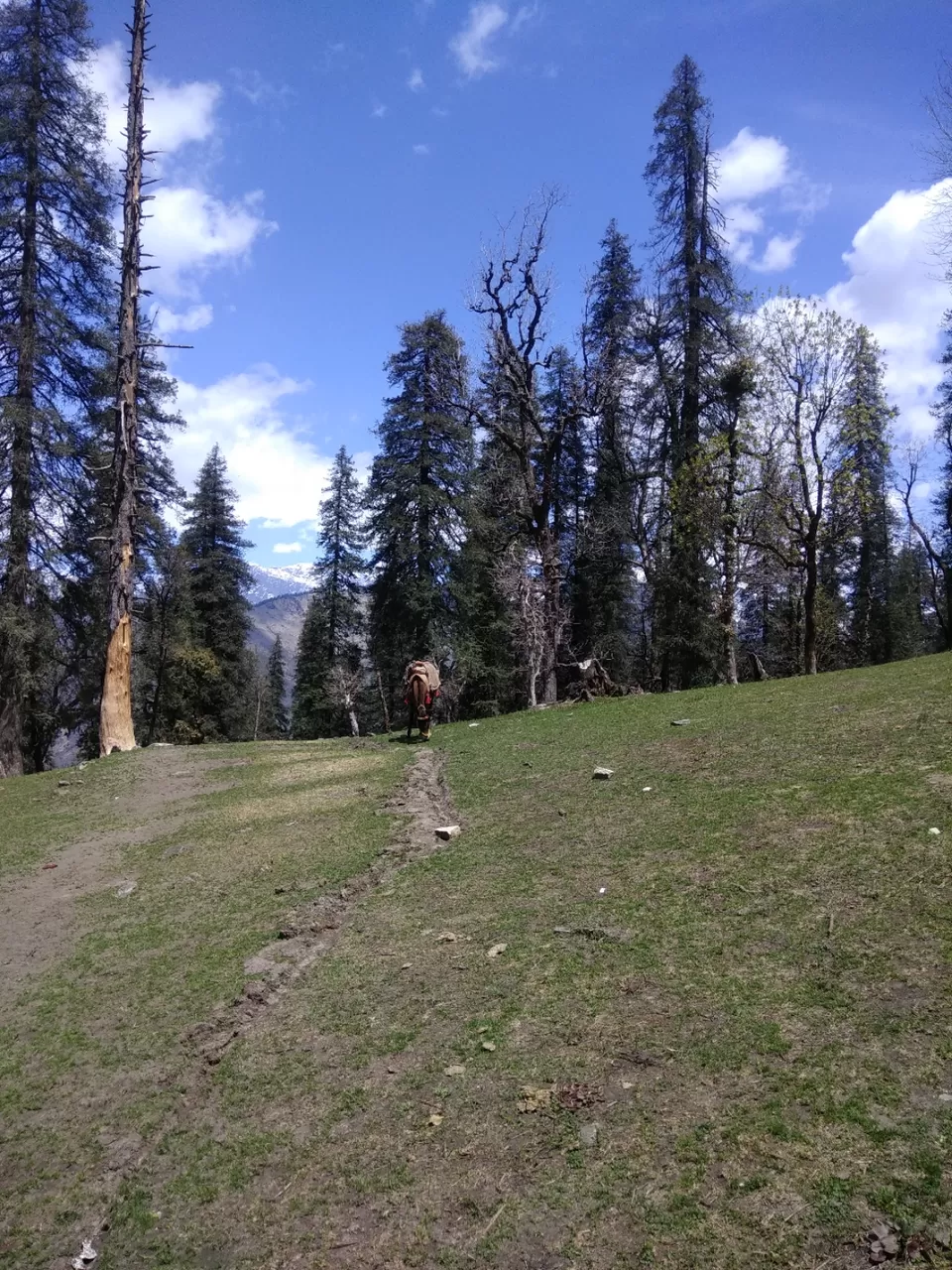 At 9:00 AM we started our trek from the Sankari village through the forest and started climbing there were no snow here in the starting and the way was too adventurous , because it's our first time we are enjoying too much.
I am writing my diary at every stop after climbing approx 3 and 1/2 KM we reached the "Juda Ka Talab" where our base was it was far away from the main base camp of the trek, there are two basecamps first at Juda Ka Talab and another at 3 - 4 KM away in between the middle of the trek which is completely in the snow.
We stayed here at that day and start exploring the nearby places and playing with snow. Climbing here and there it was really unexplainable, that feeling of freedom and happiness.
We than take our dinner at 5 PM and then go for a walk from here the snow was there our next part of the trek is full of snow, at night we set a bonfire and singing songs.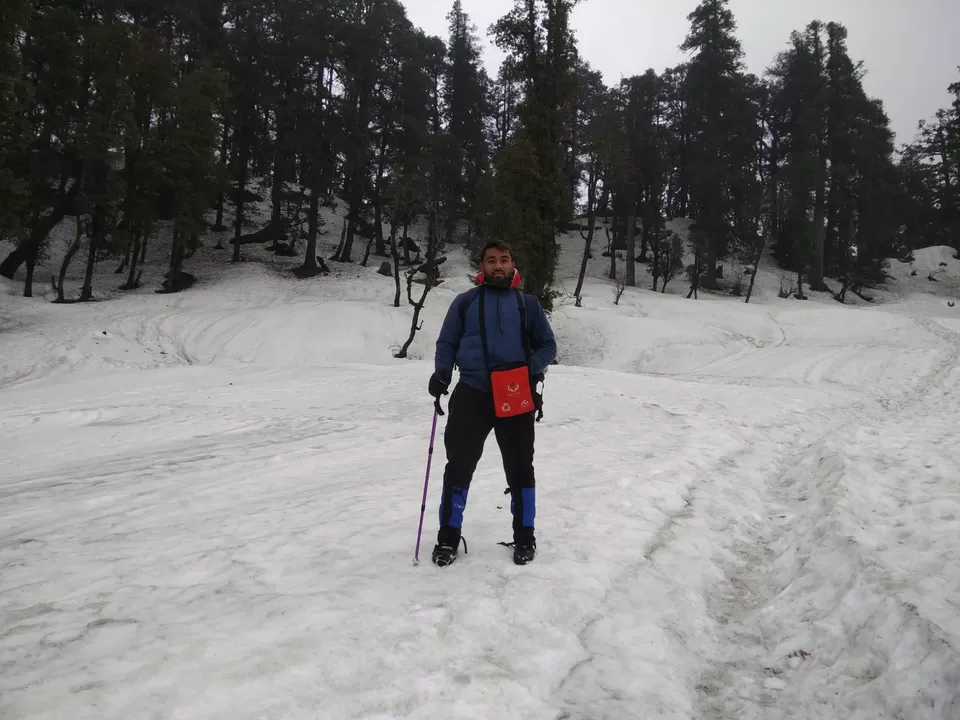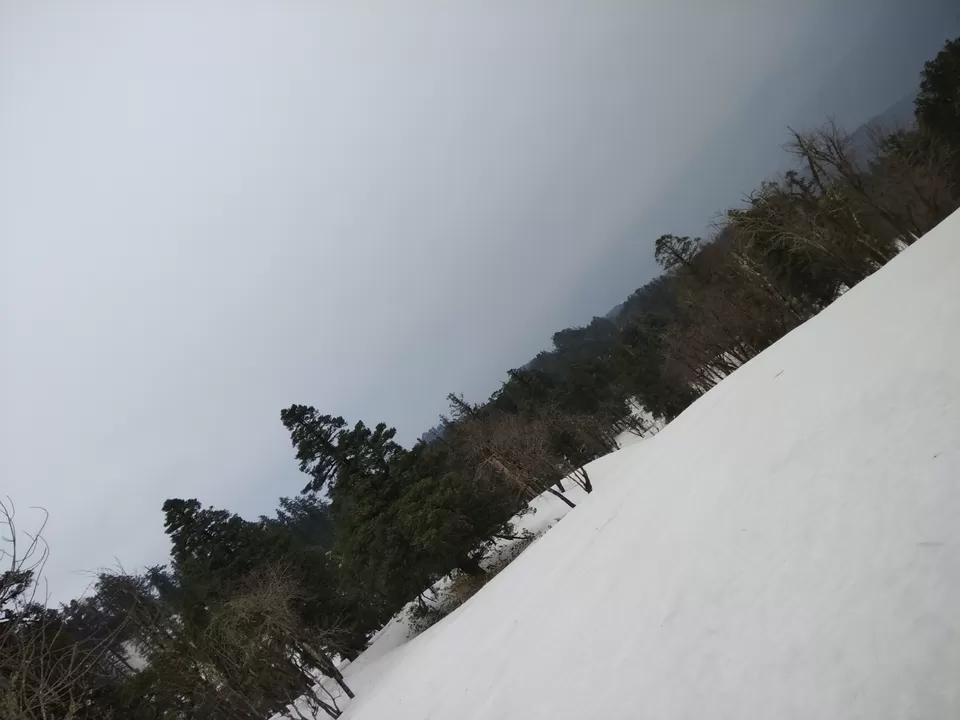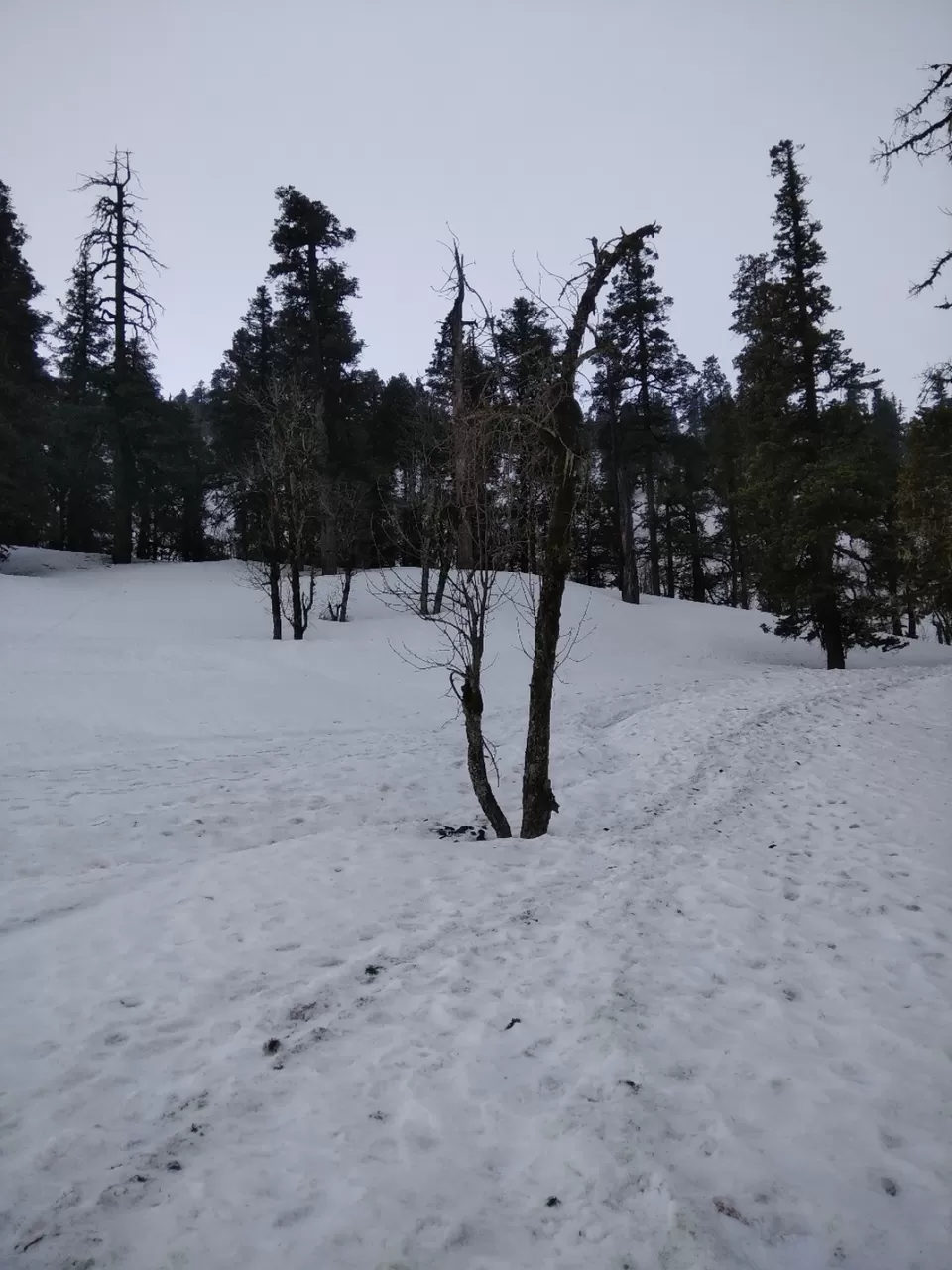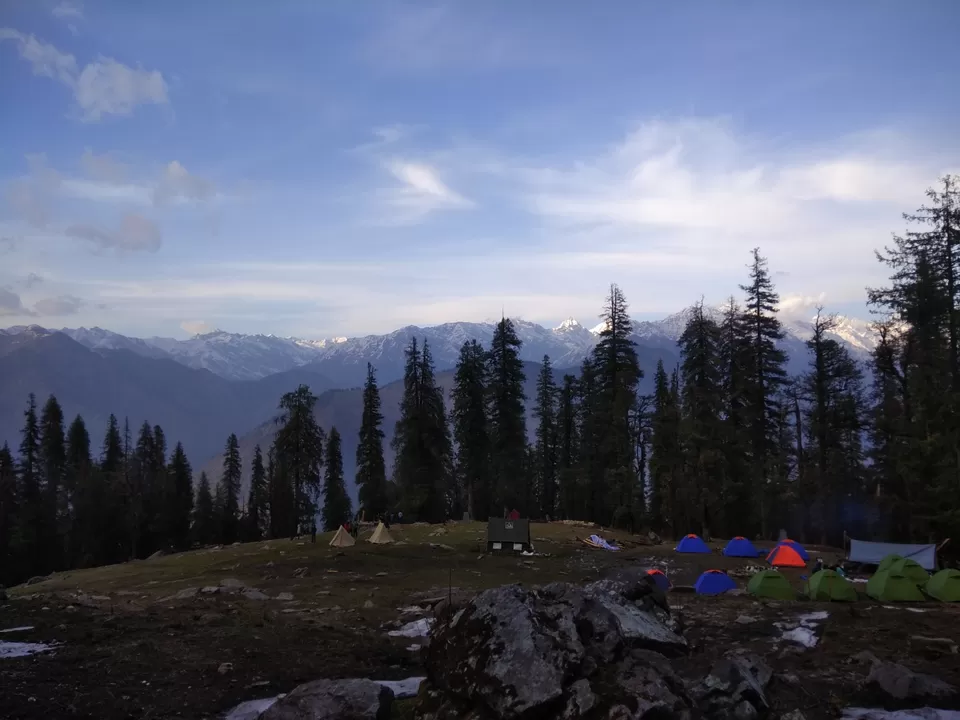 Weather wasn't good at night. It was raining here we take our tea at 3:00 AM and breakfast at 3:30 AM. 4:00 AM we are ready with all stuff like lunch, water bottles, microspikes ( most important thing in snow trekking which help from slipping and give strengthen grip in the snow). We started at 4 AM and passing through "Juda ka Talab" our first stop. I just stop writing my diary this time it was too cold and can't write with gloves.
It was 5:30 AM when some lighting started, the sun is just about to rise. And we all are too tired just taking stops again and again and then take a 10 min. Stop where we take our snacks (energy bar and biscuits).
And then after moving one our legend friend just lost his mobile phone somewhere and half of our just stopped there and helping him to way back again and try to find his phone, I was just getting sick due to too much cold, I stopped and wait for them. After exactly one hour they founded it due to alarm and this was a memorable moment for players ( our group's official name ). Because I stopped there my whole body becomes colder and it's hard for me to start again.
I walked half an hour and just gave up and send my group to the summit and tell them I will wait for them here, the way to reach up there and coming down was the same.
After taking rest for 30 min. the weather just changed and there were no sun rays, And I again feeling more cooler. Then, I see another group who is behind us, they wanted that I come with them not to stay here alone. I take enough rest and again started my journey with the 2nd group. We just reached the last shop of the summit the weather is getting worst and worst. Three boys, they are coming back telling about the weather at peak. I even don't have ponch then I decided to go back with them, I can see the summit but due to bad weather I decided to go back, It was just 1 km from there.
I started going back to camp with 3rd group. It was just like dream I just converted my first group trip into solo trip.
Those boys are more adventures then ever, they are just making their own ways in the himalays.
I covered half the way with them doing all the crazy things.
And Now, I have to go alone they have to go on other side of the village.
So decided to follow the footsteps as recommended by my friends and continued. I was so afraid because I am alone now and worrying about any mishappening, two to three groups, I met in my way and then rain becomes more terrible and I don't have any raincoat but somehow I found shelter where some other group is waiting to start their journey again as they are going to summit and I am coming from it. They gave me some snacks and tea and gave me the directions to the right way after one and a half hour rain stopped and I started my journey again and slips two time because of rain ground was slippery and full of dumb. My clothes are wet and dirty but somehow I reached the camp and after sometime my friends also reached here.
And it's exactly 2:30 PM when, I reached and my friends after half hour, due to I stopped during rain there is very little difference.
And then the whole I am thinking if, I am not worried during coming alone I can enjoy the mountains more and decided to make this experience will help me in life.
" WHEN YOU ARE ALONE TRY TO ENJOY THE NATURE AND SURROUNDING, DONT BE AFFRAID OF BEING ALONE IT JUST GIVE YOU WORRY NOTHING ELSE TRY TO MAKE YOUR LIFE MORE ENJOYABLE WHEN YOU ARE ALONE THIS GIVE YOU A BETTER LIFE."
And then the way to village was simple and fast but I maked it more adventurous by making my own ways.
This is all I have to give, Hope you will enjoy more.