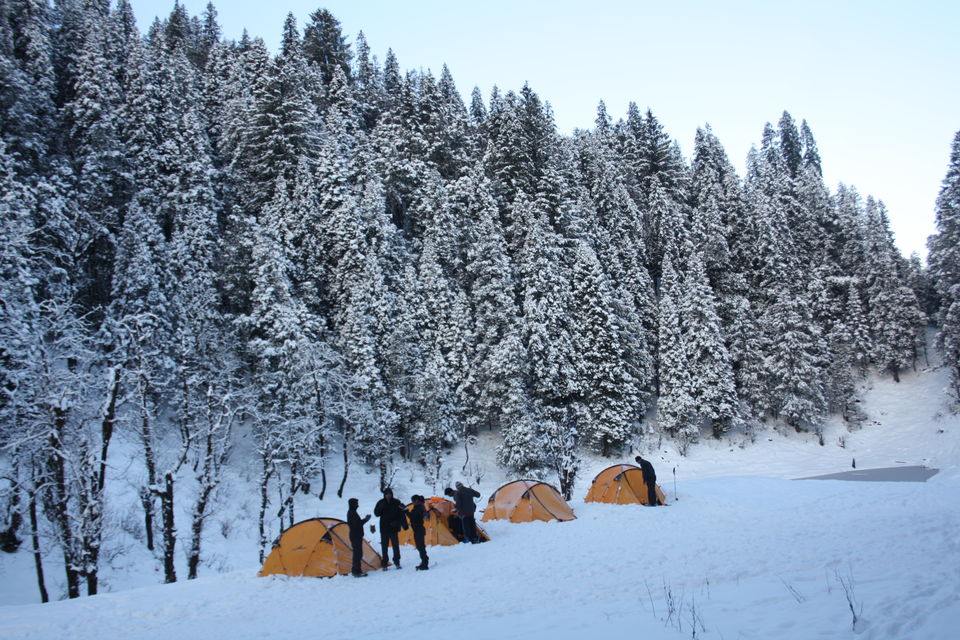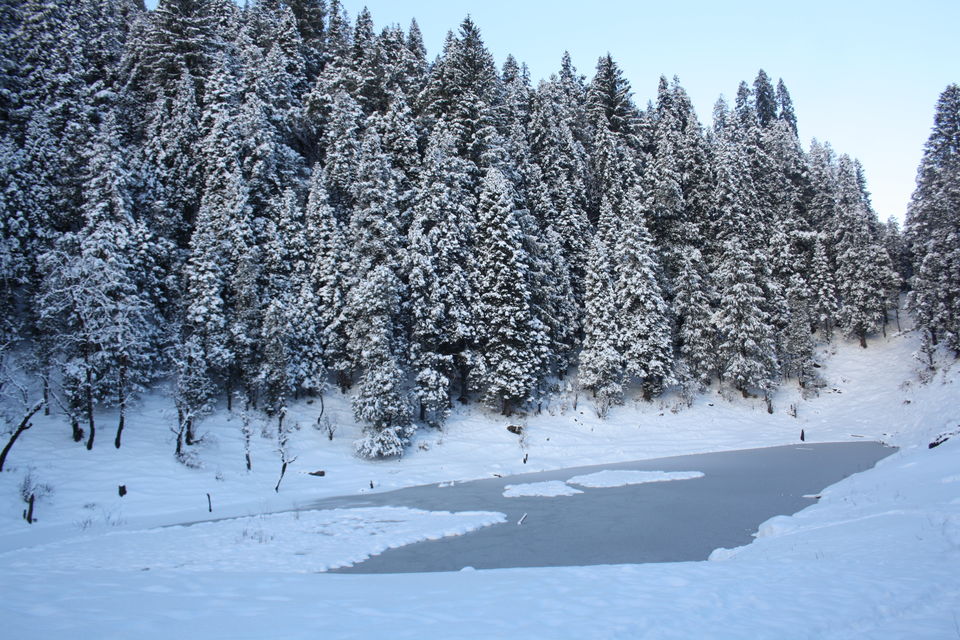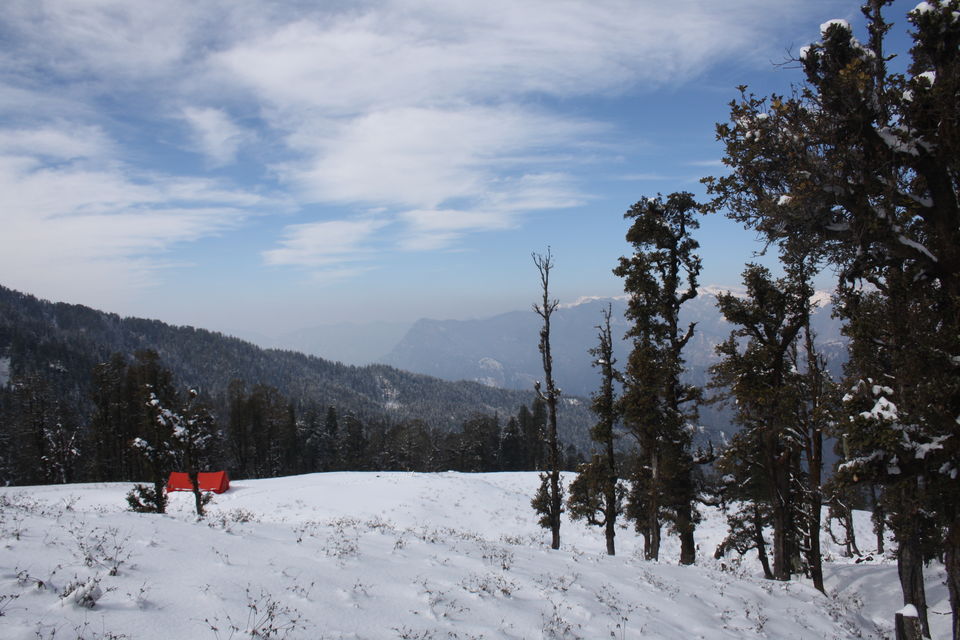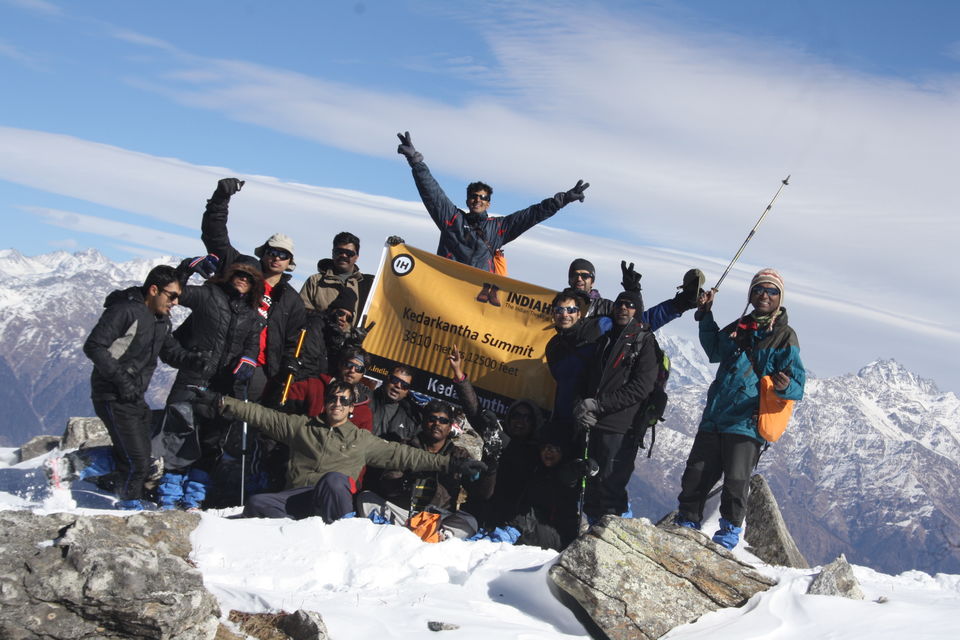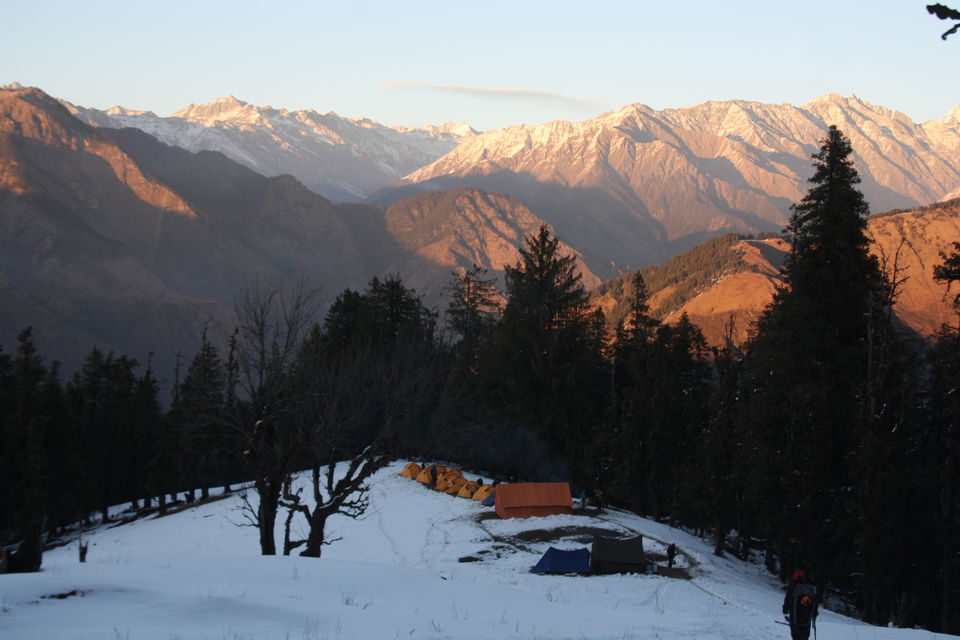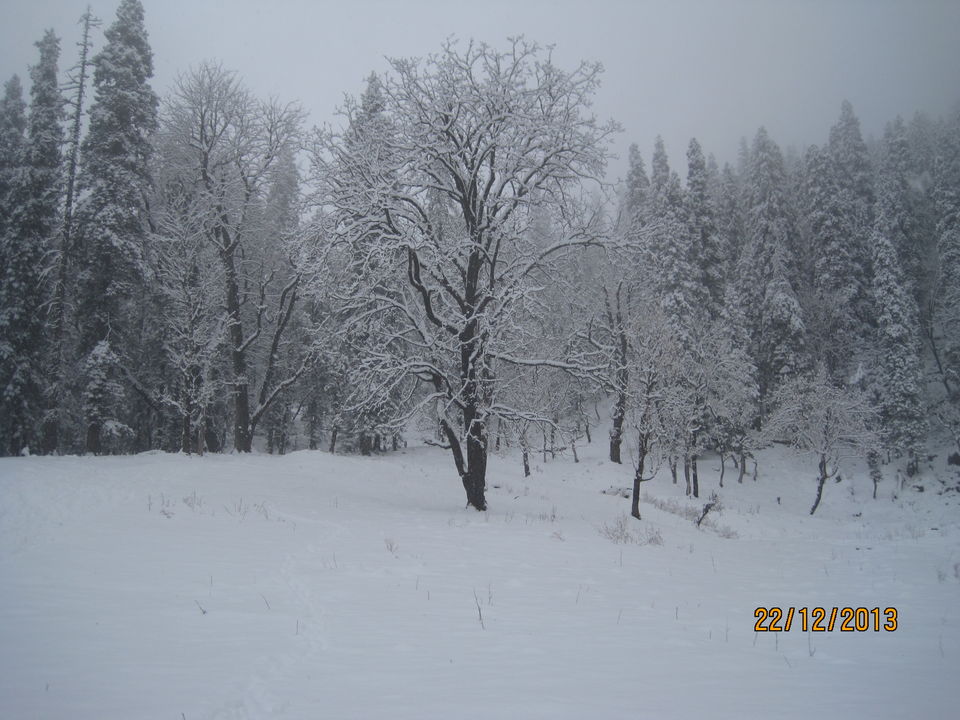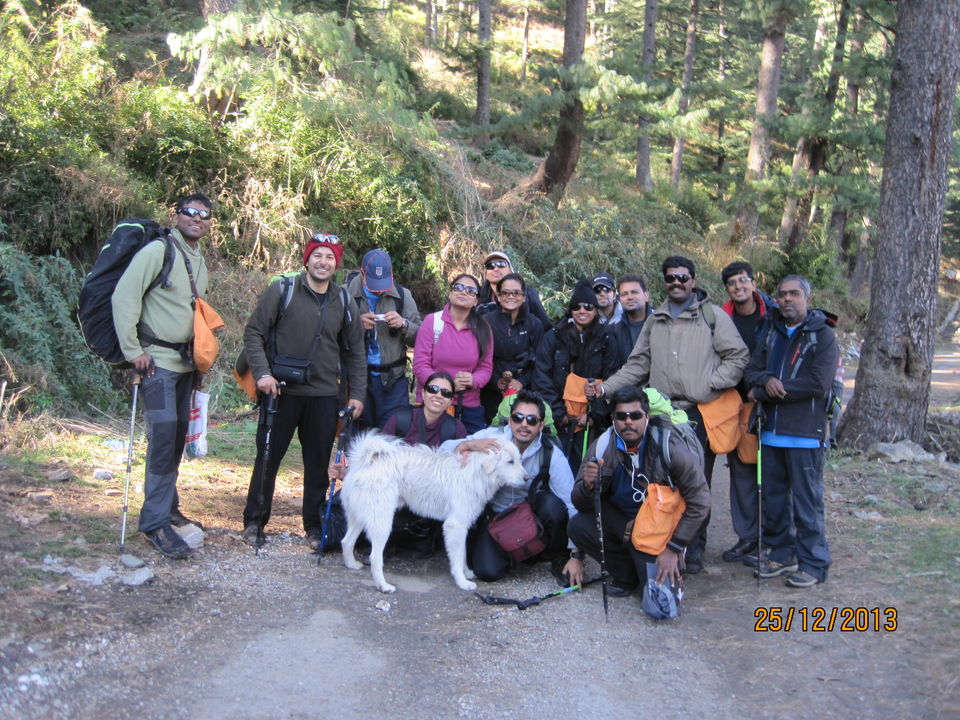 I registered for Kedarkantha trek as I wanted to do a winter trek before Chadar trek. For me it was just a preparation for Chadar trek so I did not have many expectations from the trek but it turned out to be a very beautiful trek which will be there in my memory forever. I experienced snow fall for the first time, played with snow, trekked in snow up-to knees and did snow sliding. This is one of those treks that I will definitely do again whenever I will get a chance.
The trek is of 4 days. The base camp is at Sankri village and it takes around 7-8 hours from Dehradun to reach. I registered for the trek with Indiahikes and we were supposed to meet the group on 21st December at Dehradun railway station. I reached Delhi a day before so that I can spend a day in Delhi with my friends Kritika and Raina. Though you are in touch and talking to your friends regularly but it is always special to meet your close friends in person after a long time. We chatted, remembered our old times and in the night Kritika dropped me at New Delhi station and I boarded my train to Dehradun.
Day1: Dehradun-Sankri
I met everyone at Dehradun railway station. Garima and Kapil were making sure that everyone in the list is present there and then we started our journey to Sankri. We saw the Kempty falls in Mussoorie on the way. The drive from Dehradun to Sankri is very beautiful and I thoroughly enjoyed it. We stopped in between for taking pictures and finally reached Sankri at around 4 in the evening. We met our trek leader and Indiahikes staff in the guest house. We settled in the guest house and then went for dinner which was arranged in a nearby restaurant. While we were coming back from dinner we realized something white is falling on us and when I realized its actually snow fall, I was so excited. It was a lovely experience. We went back to guest house. Our trek leader briefed us about the next day's trek.
Day2-Sankri(6450ft) to Juda Ka Talab(9150ft)
When we woke up in the morning, it was still snowing. Nobody was sure whether we are moving ahead or not. But we got ready, had breakfast and were waiting for the final confirmation. After some time our trek leaders asked us to assemble in front of the guest house for the briefing and then we started moving ahead. The snowfall continued which was making it difficult to walk but everything was looking very beautiful and white. The trek pictures on the first day showed green pine trees but what we were seeing is all white. I was totally loving it. I was feeling like a child – I was making balls of snow throwing them doing all the kiddish things and enjoying.
We kept hearing in between that we may have to go back as the weather is not good but finally we were able to reach our campsite Juda Ka Talab in late afternoon. Our tents were already pitched in by the staff. We kept our things in the tent and had tea. Campsite was looking very beautiful, everything was covered with snow. The lake was also frozen.
We were called for dinner in the night. It was one of our trek member Aditi's birthday and her husband madhurendra arranged for a cake. It was the best way to celebrate one's birthday, in the middle of mountains. All of us wished Aditi, enjoyed the cake and after dinner went into our tents. The temperature went down to -17 in the night and everybody was freezing but somehow we managed to sleep.
Day3 – Juda ka Talab(9150ft) to KK base camp(11250ft)
2 of our trek members returned on the first day as they were not well and we heard 5 more are going back. We were just hoping that they all will be fine. We had our breakfast and started our trek to KK base camp. Today's trek was very short so were able to reach our next campsite in 2 hours. This campsite was even more beautiful than previous one.
met the previous batch trekkers who were coming from the summit and were hearing their experiences. They were telling us to start the summit trek early as they started a little late and only 6 of them were able to complete the summit. The lunch was being served and I was not very hungry so I skipped my lunch. We pitched our tents and sun came out so we were roaming around the campsite. In the evening we had the campfire in the huts which were located there, had maggi and chatted for a long time. We were given crampons and gaiters for the summit trek. We collected all the things, had dinner and came back to our tents. In the night it again started getting very cold. Next morning we had to start our trek by 7:30 in the morning.
Day 4 – KK base camp(11250ft) – KK Summit(12500ft) – KK base camp(11250ft) – Hargaon(8900ft)
We woke up at 6:00am. The previous night was very difficult. Many people were not able to sleep due to extreme cold and it was not possible for all to go to summit trek. Finally it was decided only 14 of us will go to summit trek and rest of the people will go down to Sankri. We were getting ready and I saw my shoes were frozen, I was not able to put my foot inside the shoes as top of the shoe became very hard due to ice. I tried a lot and finally after lot of efforts I was able to wear my shoes. This was one of the most difficult tasks I ever did. But now I had to wear crampons and gaiters also. Finally with the help of Garima I wore them and was ready for the trek. I was not very hungry so I skipped the breakfast which turned out to be a very big mistake. We started our trek to summit, we were asked to move fast, our target was to reach the summit before 12 noon. Initially I was fine and was moving at a normal speed. But after sometime I started feeling weak and was not able to move. My trek leader Binayak gave me the ors and something to eat and asked me if I am fine and can move ahead or not. I said I am fine and I will move ahead. I started moving slowly. Binayak kept checking with me regularly if I am feeling fine or not. When we reached near summit, I was totally exhausted but was very happy that I finally made it.
After clicking some pictures at the summit and spending some time there. We started descending. One of us started sliding down in the snow and then all of us followed. It was a fun experience. We were later told by our trek leaders that in march we can actually slide from the summit to campsite.
We reached back to KK-base camp met the next batch trekkers, had our lunch and started moving towards our next camp site Hargaon. The trek to Hargaon was very slippery but we finally manged to reach the campsite in the evening. It was looking very beautiful from the top.
It was a long day but there was a satisfaction of completing the summit trek. We kept our things in the tent, had tea and were sitting around the campfire for a long time. It was less cold that last 2 days so we were able to sleep properly.
Day5 – Hargaon(8900ft)-Sankri(6400ft)
It was the last day of the trek. We had the best breakfast – Puri and chole and started our journey back to Sankri. It was very slipperly and most of the people were slipping at one point or other. We were clicking pictures, recalling the trek memories and were moving ahead. Oh I forgot to mention there was a dog which accompanied us throughout the trek. We clicked a picture with him.
We reached Sankri in the afternoon had our lunch and went to the guesthouse. In the night myself, Garima and Kapil were sitting outside and were looking at the stars. That is the best thing about Himalayan treks the sky filled with stars. The trek was over and next morning we had to start our journey back to Sankri.
Day6 – Sankri-Dehradun-Delhi
In the morning we collected our trek certificates and started our journey to Dehradun. We reached Dehradun late in the afternoon. Finally I called home after 5 days and informed them that I will reach Delhi next day.
This was a very beautiful trek. For our batch the weather made it difficult but it is not a very difficult trek. Do this to enjoy the most beautiful campsites in Himalayas.
P.S. Photos in the post were taken by Chirag.