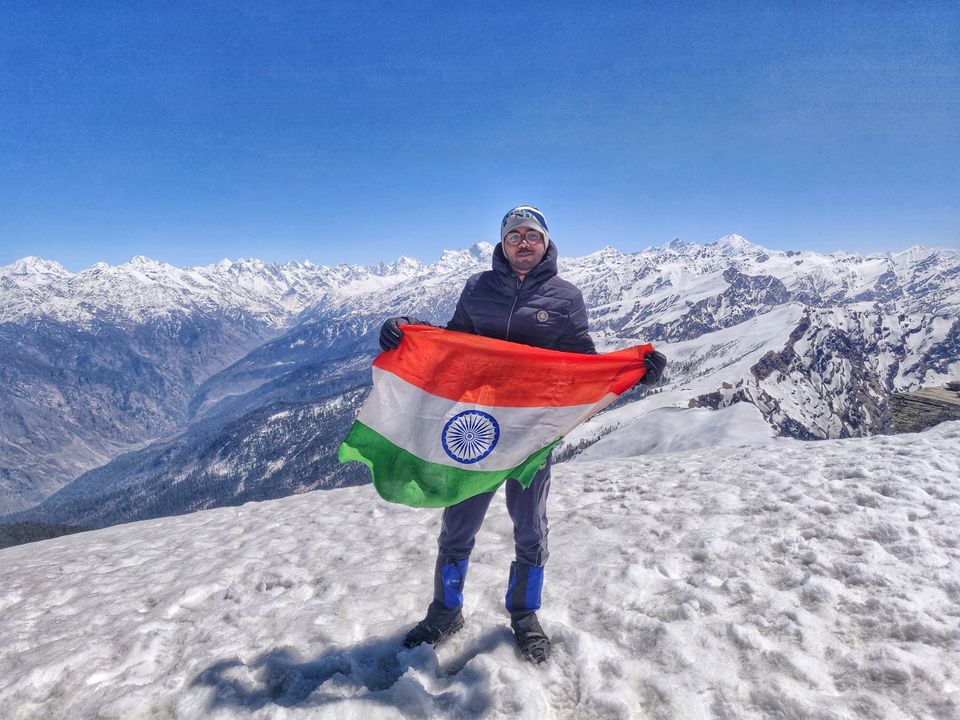 "Traveling – it leaves you speechless, then turns you into a storyteller"
It's April only right !! and I am sure the scorching heat must be blowing your head off but wait wait ... what if I tell you that even at this time of the year I can take you to a place which has this freezing cold weather, which is gonna freeze your bones and blow your head off!! but this time instead of heat it will be because of cold.
So Guys! This blog is about "Kedarkantha Trek", which is in Uttarakhand near a place called Sankri which is situated about 200 km from Dehradun.
Usually at this time of year snow treks are not that much talk of the town but Kedarkanth stands out in that matter.
The Kedarkantha trek was physically, mentally and emotionally challenging for me. It is a trek which comes with panoramic vistas of the Garhwal Himalayas to trekking in the snow @ 2 AM in the night cum morning with frosty air which melt away worries of academic excellence or corporeal beauty.
So if your are interested enough lemme take you to the day wise journey.
Rough Itinerary :
Day 1 - Delhi to Doon
Day 2 - Doon to Sankri
Day 3 - Trek starts , Sankri to Jada ka Talab (first camping site)
Day 4 - Juda ka Talab to Kedarkantha Peak and then back to Juda ka Talab
Day 5 - Juda ka Talab to Sankri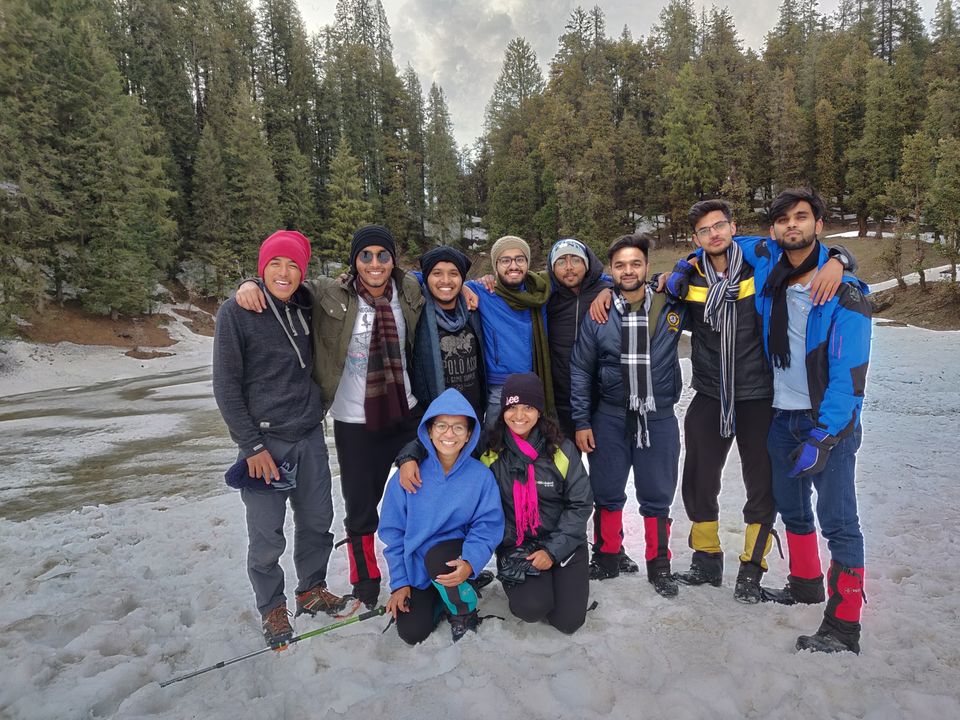 So we started our journey from New Delhi and we took Delhi 2 Doon Janshatabdi train from New Delhi railway station.
So before coming , we have done some research about how to reach Sankri (the starting point of trek). Our web history was literally full of two things - 1. Ways to reach Sankri from Dehradun and 2. If we can find snow in Kedarkanth in april ?
So for first part we concluded either you can take a direct cab or a bus from Doon to Sankri which you can easily find near the railway station only. So for cab it will cost around 800 per person and Bus ticket is around 400 (Cheap right!!! ) . So at this point lemme tell you that being students we try cutoff as many unnecessary expense as we can to make our every trip as low cost as possible, despite of the fact that we have to scarifice our comfort to some extent and we successfully managed to that as we completed our trip in just 6500 from Delhi 2 Delhi .
So after very intense discussion we opted to go to Sankri by bus only (easy guess 😅) and note that there are bus in early morning only after that you cannot find direct bus to Sankri.
So for that we spent the night at Railway Station only in waiting hall and planned to catch the first bus in the morning. So after having dinner in a nearby restaurant we went to enquire about bus timing and other things from the bus stand near station. We were informed that first bus to Sankri leaves at 7 in the morning and so we decided staying at station only so that we can easily catch the first bus but here comes the fun part ,we met a guy at bus stand who said instead of taking a direct bus to Sankri , you first take a bus to a place called Naugaon and from there you can get plenty of vehicles which will drop you at Sankri and this will save your time as first bus for Navgaon leaves at 5 and you can easily reach Sankri by 2 PM , all of us agreed to this as we thought "Arre bhaii, local banda hai sahi hi bol rha hoga"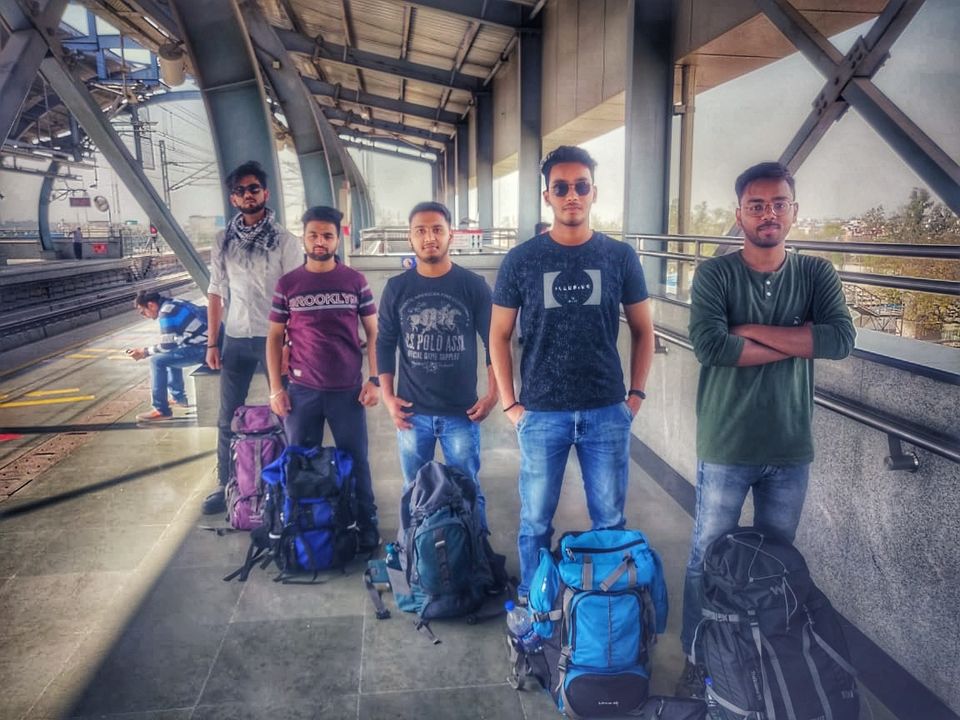 Next day ( although for me it was almost same because I couldn't sleep whole night ) in the morning we finally took a bus to Navgaon
but this turned out really bad because after reaching Naugaon we couldn't find any vehicle to Sankri we were so disappointed because we were told "You can easily find a vehicle from there" but after waiting for about half an hour we took a bus which dropped us at a place called Mauri with the bus conductor again assuring us "You will find plenty of vehicles to Sankri from there" , again we waited there and at this point we all were frustrated but what we could have done, there was no point crying over spilled milk.
But somehow we got another bus and reached Sankri by 5 PM ( 12 hours bus journey ) , it was really really exhausting and cost us around 380 (all combined ....Hurray!!) but again we thought that we should have taken a direct bus only , but after reaching Sankri we forgot everything because the view was so mesmerizing. We have already booked a lodge and a trek guide through a travelling company who received us at Sankri and make other necessary arrangements. The point of booking it through a travelling company was that after Sankri there are no market and eating point ( except 3 Maggie points) so for next 3 days how you are gonna manage for food and camps so you have to travel with a travelling company who have these tents & cooks and will provide you trekking gears n all but again choice is yours otherwise you have to carry 3 days food and camps at your back for the whole trek (Sounds stupid na but first we were doing this only because of that cost cutting theory ).
So coming back, we arrived at Sankri and met our trek leader. He told us about the trek and other important instructions to follow during trek , gave us our trekking gears and then we have dinner over there , after that were also instructed to wake up at 6:30 in the morning because we will leave for Juda Ka Talab at 8 in the morning.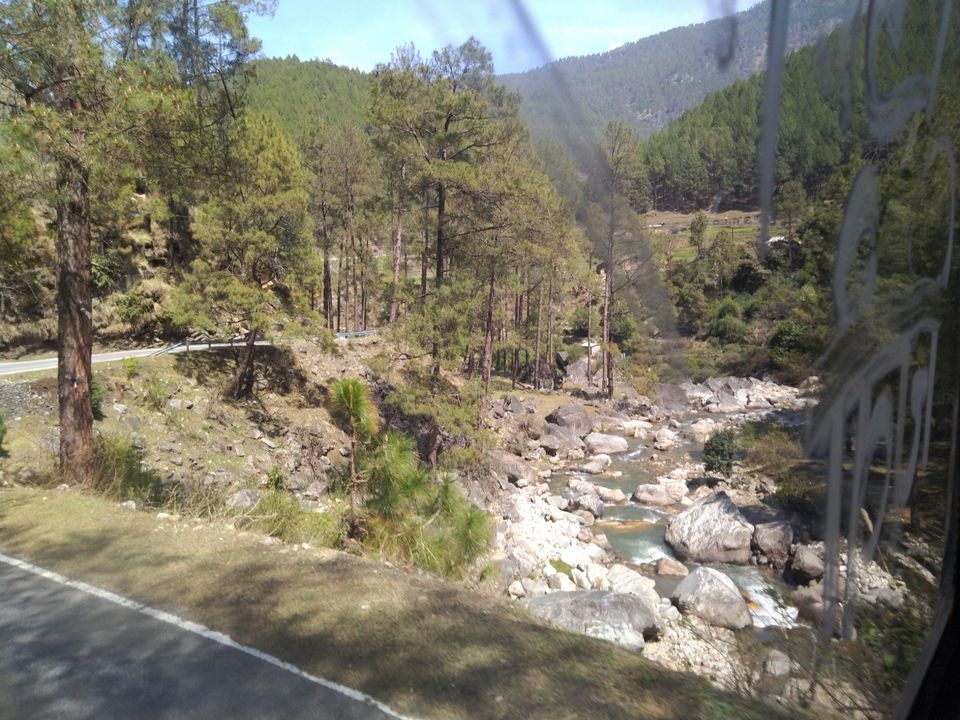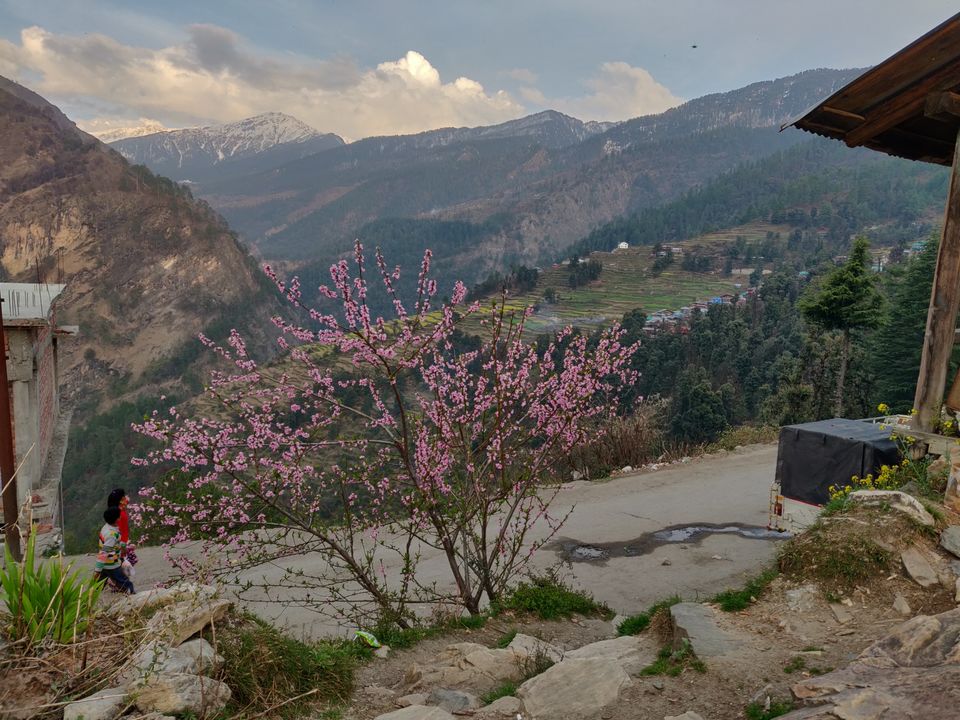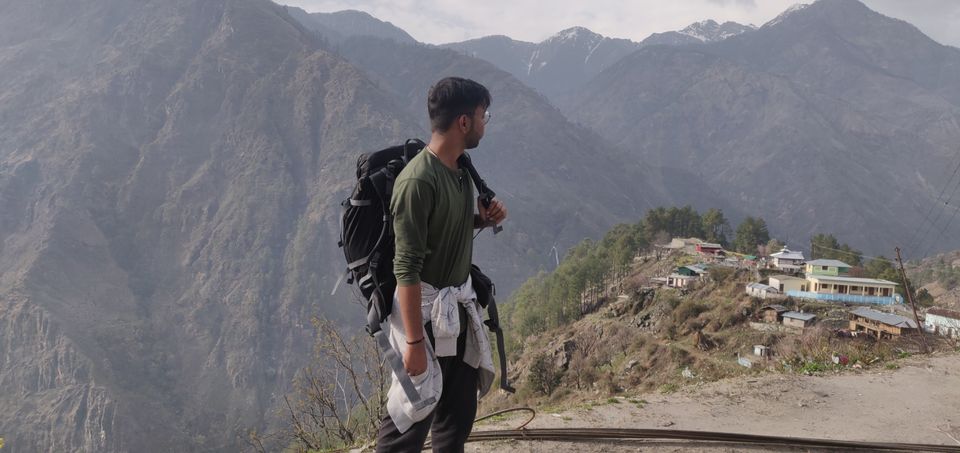 So next day we did woke up at 6:30 and had breakfast but after that we got a little bit carried away as some of us were taking pics from every possible angle and some of us were still packing bags because of which we got late for which we were scolded by our trek leader , he thought that we were all set but one of us said that wait "I have to buy water bottle" and ya similar things happened because of which our trek leader seems somewhat disinterested (because of that typical Delhi people attitude) for guiding our group so he backed out at last moment and a new trek leader was appointed "John Bhaiya" which was the best thing because he was the best (I will tell you why time 2 time).
So after that we started our trek from Sankri , finally!!! and moved towards Juda Ka Talab which is about 4 KM (in displacement) but actually 5-6 km trek and will take you around 4 - 5 hours (still that depends on your pace) . In the meantime we didn't stopped doing crazy shit like running around , deviating from the standard path and making our own shortcuts n all. It was really fun and we started seeing snow after 1st Maggie point although the trek became somewhat difficult as it was all slippery in the snow and we weren't wearing Crampons (micro Spikes) at that time. We reached Juda Ka Taal around 12 PM. Sankri 2 Juda ka Taal trek mostly consist of trekking through Meadows and at the end somewhat in the the snow (I have attached pictures of that ). Again it depends all on the weather at the time you are visiting the Kedarkantha like in Dec -Feb even Sankri is covered in the snow March and April you will find snow after Juda Ka Talab and in summer you can find near Kedarkantha Base Camp only.
After reaching Juda Ka Talab campsite we took a rest and in the evening our trek leader took is to the Juda ka Talab or The Frozen Lake , actually our camp location was about 300-400 m away from Talab so in the evening we trek for the Talab, that place was awesome, we have one of those crazy photo session which fills your devices storage (crazy stuff ).
We came back after an hour and were served early dinner because next day we were supposed to wake up at @ 1 AM in night and start trekking at 2, so after having dinner and some more instructions from our John Bhaiya we went to sleep in the tents. Being from Delhi , looking at sky at Kedarkantha was totally different so beautiful (there were so many stars!!!) that I can't even describe in words or capture in any picture.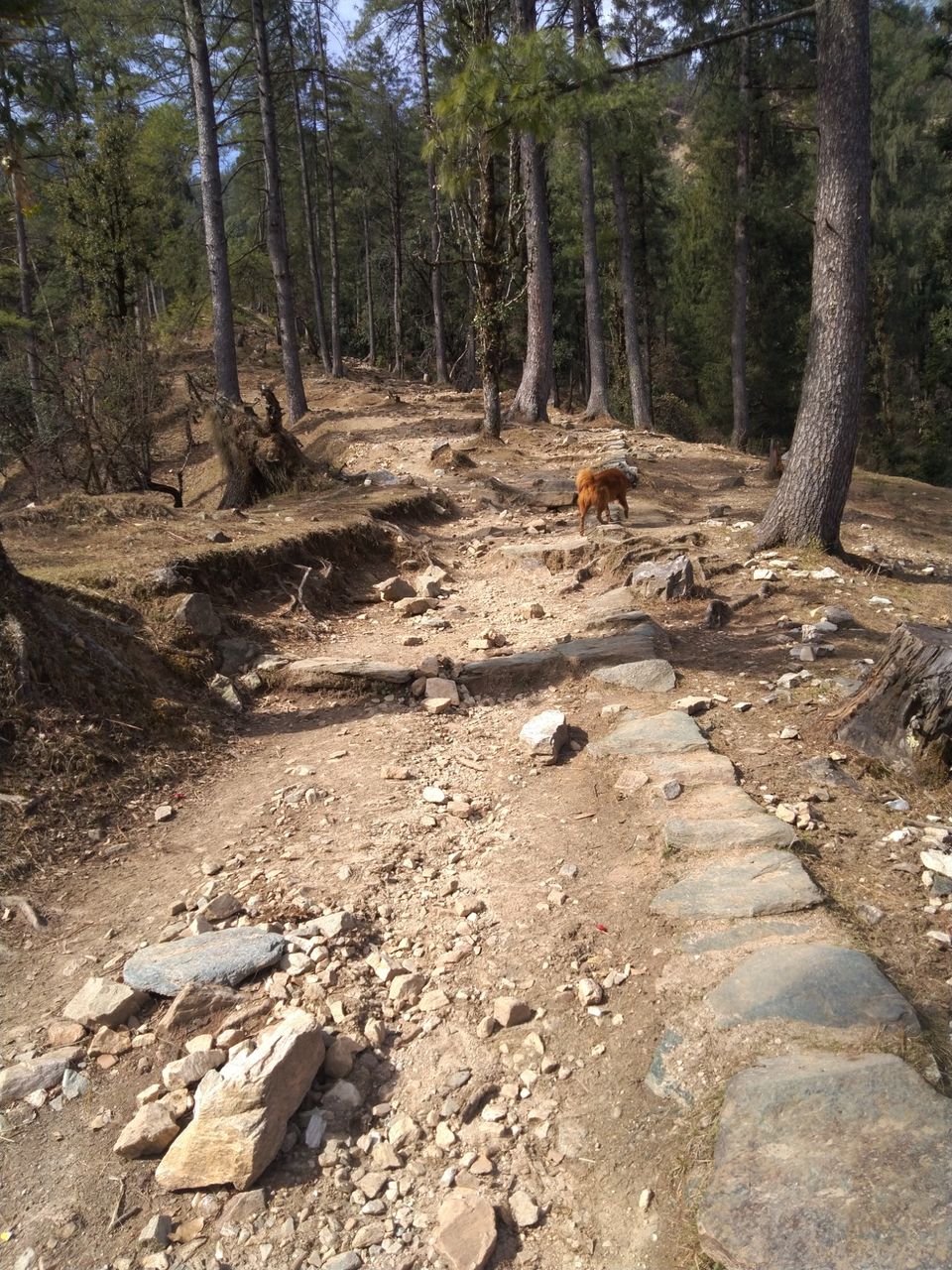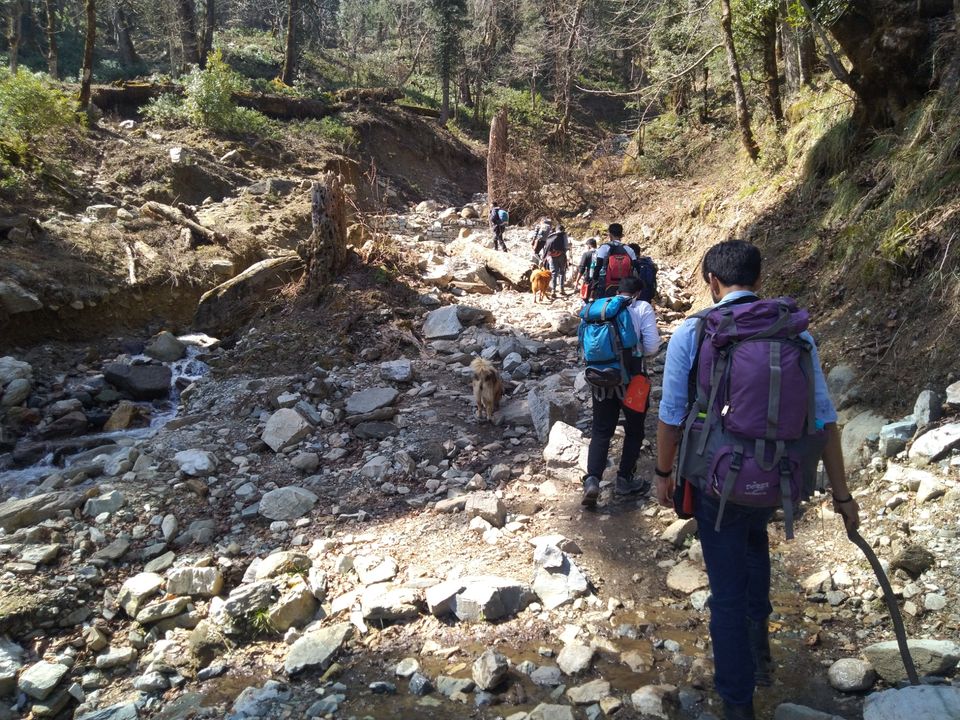 The time has come, we woke up at @ 1 in night cum morning and believe me it was freezing cold outside the tent I couldn't even step my foot outside it was so cold but again we have to , somehow we all got up and start preparing for the trek.
There were eyes full of sleep and there were eyes searching for a way to get back again in the tent but one thing that was common inside everyone's heart was how we are gonna do this , it was pitch dark at that time all we had was torch to support this , that moment was something out of the world that freezing cold wind was chilling every bone of my body although I was all covered up but that crazy wind was successful in somehow finding passage to body and the contact with it was making my body shiver thinking about that still gives me goosebumps.
We all were lined up with the John Bhaiya in front, this time there were no instructions there were cautious because one wrong step in snow and there can be a serious injury. We were frightened but more of excited because that was something we have never done before.
We started, Yess!! , first step was full of energy and excitement, I was so high on adrenaline that I was feeling I can do this easily but again that was not the case after some time.
Our original plan was to climb as fast as possible because we want to reach the peak before sunrise (not Kedarkantha peak but the second peak) . Due to heavy snowfall the standard path was not visible so we have to invent our own which adds to the distance. From Juda ka Taal, Kedarkantha peak was about 11 km in distance ( 22 round trip )
So we were marching forward with everyone walking close to next one, this time trek was steep plus every foot was sinking in snow 1 to 1.5 feet deep because snow was not that stiff due to recent snowfall. That experience was awesome when we were trekking in snow in light of half moon but to its support 'Khonsu' blessed us with torch. There were places where we have to take every step even more carefully because on our left there was steep snow wall which we can't climb and onto our right was deep valley which we can't afford to slipped down.
With every step we were gaining altitude that meant greater drop in temperature , I was told at that time the temperature was less than zero degree Celsius. At that time some of us were feeling dizzy and headache , body pain etc were common all you have to do in these conditions is not to take long breaks otherwise your body would cool down and after every such long break it will be even more difficult to step in sinking snow also prevent your body from dehydrating so take small sip of water at regular intervals not large sip in which you are chugging at once , take small one. Carry a good amount of water and dry snacks , everyone in our group was carrying 3 litres of water and some packets of biscuits.
It was around 6 and we already had trekked for four straight hours then we saw sunlight coming from far snow capped mountains, it was time, yes it was time for the sunrise for which we were waiting so eagerly. We started gaining ground at even more faster pace.
We somehow managed to reach a point which was perfect for experiencing that moment , and the time has come sun was slowly slowly coming out from that magnificent mountain range. Sunlight was painting the snow in Yellow killing every darkness around us.
At that very moment everyone sat down and watched the birth of a new day. I was so preoccupied in that moment that I forgot everything my body pain, worries, problems, classes , viva , assignment like everything and want to live that moment to its fullest, Hell Yeah! we surely did.
Ok so spent around half an hour over there and then continued our quest for the final summit point - Kedarkantha Peak , which was still a hell of a distance to cover and after taking this long break out bodies were all cooled down so it was getting difficult to step a foot.
Now we have reached to that part of the trek which consists of nothing but vast snowfields that too steep. We have already left the Meadows behind now there is just snow 'on the rocks'. We can now see the Kedarkantha peak.
At that time we all were like 'Kitna bacha hai yaar ab nhi chad sakta'. After every 20 steps we were taking break because our bodies were so exhausted. The snow was fresh so our legs were sinking deep in snow and making our body drained after every sinking step.
But what keeps us motivated was support from each other and that voice from our heart - "Ab itna chad ke toh give up nhi karunga". Now 2 of our members were so tired that they started giving up at that point our trek leader came to rescue John Bhaiya literally hold them and make them climb , the support from him was the missing element. So John bhaiya at back supporting them , some of us started leading the trek making the path for rest of the group at the same time motivating each other.
There were points where even I was feeling to give up but again thanks to our group who was supporting each other mentally as well as emotional. We climbed and climbed also falled down, rolled back but we didn't give up not a single member of our group. Everyone was watching each other's back.
And finally that moment came when peak was just in front of us and Yes we did it!!!! Finally !!!!! , It was already 10 AM but I was so relieved that I threw my rucksack and trekking pole and laid down on the snow at that particular moment my body was consuming the warmth of the sun also the cold shiver coming from snow I was laying back on , there mixture of these two i.e the ice and fire was somewhat crushing my body but for me it was ok all I wanted was just to lay back like this forever and no one should wake me up.
Ahhhh!! so after some time I gather some of cosmic energy around me enough to get up. We spent around an hour and half on the peak capturing that spectacular view from the peak in every possible angle.
It was time to go back, we had lived the moment for which we put so much effort. We started trekking back to the Juda ka Taal , now again it was 12 KM trek just downhill and wait if you think downhill is easy lemme me tell it is not although it was fun because at some point we slided down to cover some of our distance but again our bodies were so exhausted after uphill trek that we didn't have much energy left. The main caution in down hill trek is that now you have to put effort or you have to apply force to lower your speed because you are trekking down the hill and this time gravity has joined forces with you so slow down otherwise you can fall down on your face or worse rolled down the mountain until you get stopped by an impact with something.
So we started trekking back also our water reservoir we emptied and we were in desperate need of water some of us has saved it but others have chugged it earlier. We shared water bottle at that time.
At that time the upper layer of snow start melting which causes two big problems 1. Snow Blindness , the sunlight reflecting from snow (so carry shades for sure) 2. The path was getting slippery , we were unable to judge any crevices. We have to deal with 1 on pur own but fr 2 problem John Bhaiya came to our rescue.
It took around 4.5 - 5 hour to came back to Juda ka Taal campsite. Let me tell you this I was so warned out that when we were near the campsite I literally started running in snow gathering every last bit of energy left in my body because at that point all I want is my camp , water and some food. Oh My God ! I can't even describe in words how I felt when I stepped back in my tent , it was like I was reunited with my long lost friend.
And that's how we did the summit each one of us. Yeah! we did though gave up at some point but we did it in the end that's what really matters.
After arriving Jada Ka Talab we were instructed to rest for remaining day and to socialize with fellow travellers who has reached Juda ka Taal and were about to climb the peak the very next day , where I met this amazing group from Mumbai. Till dinner we all sat together playing games or sharing our experience and other crazy stuff we did in the past. It was fun bonding with unknown people away from mobile devices and Yes lemme tell you this there are no signal during trek, you will be lucky enough if you can find any (mainly Voda and BSNL work).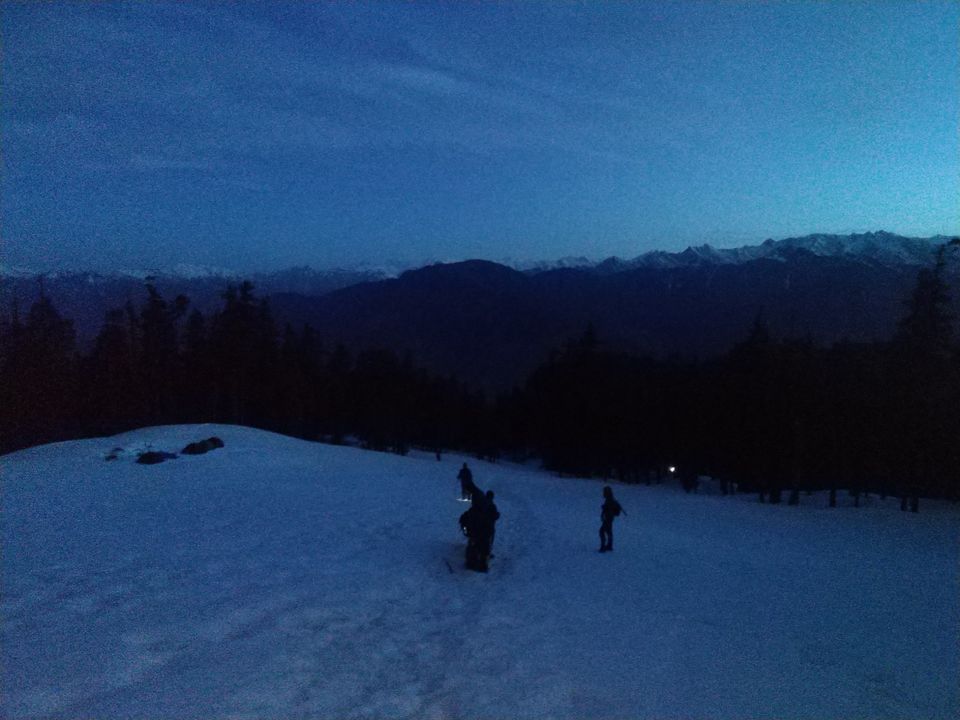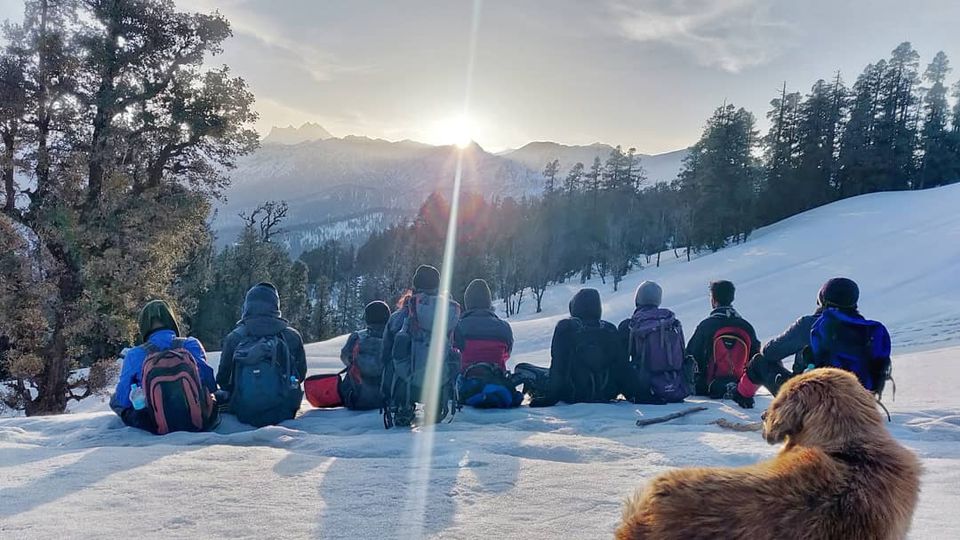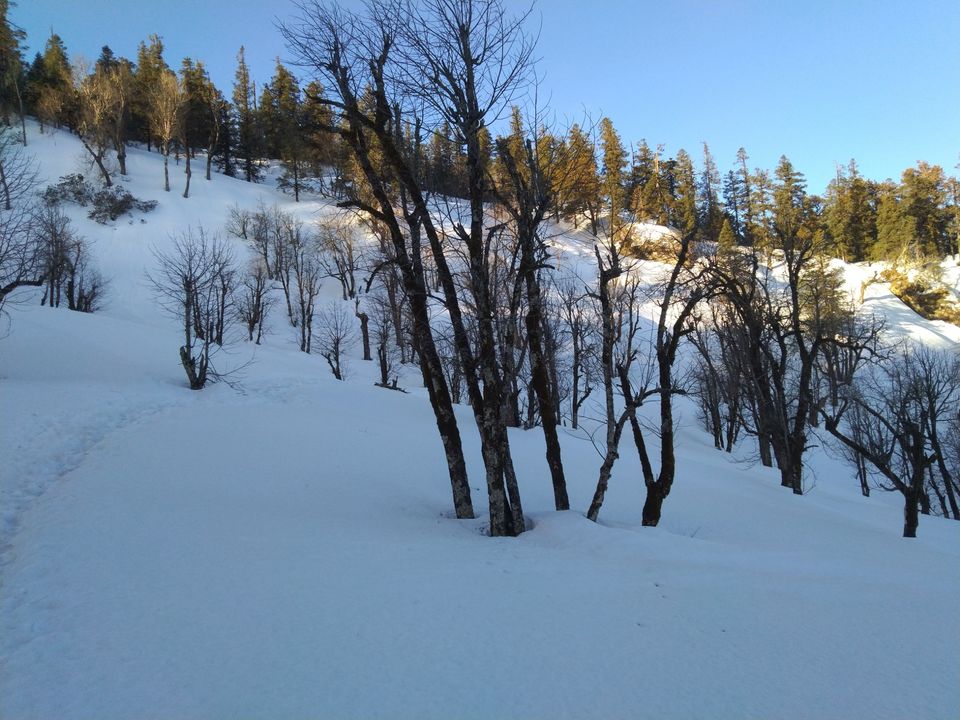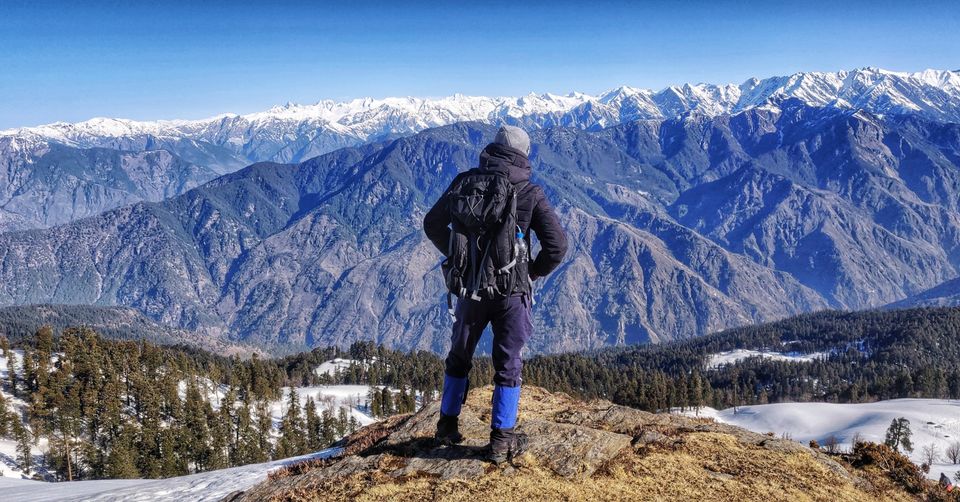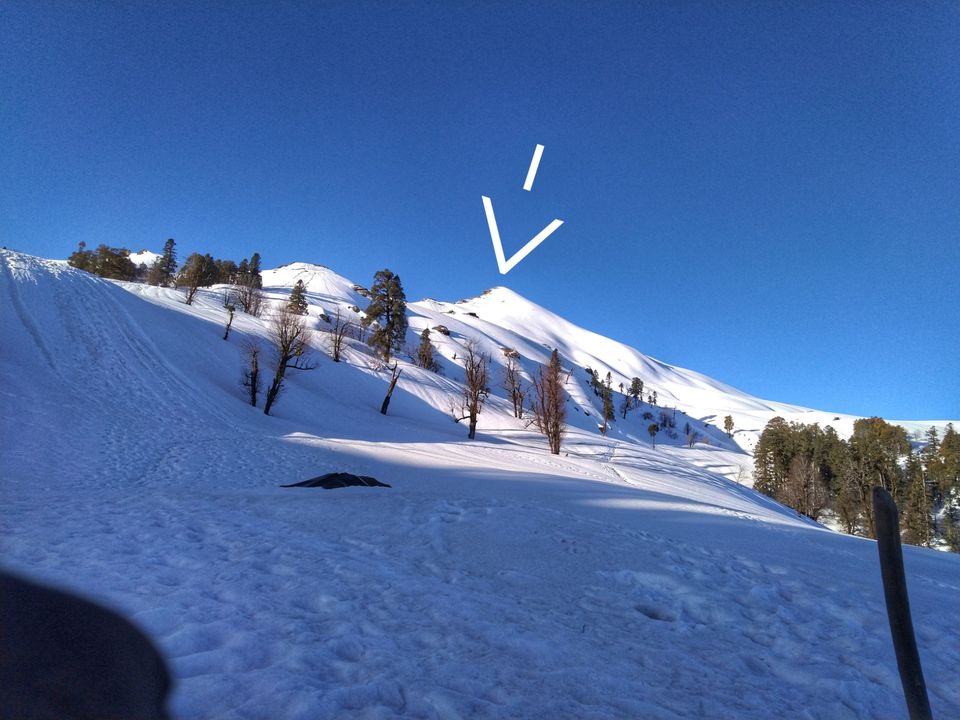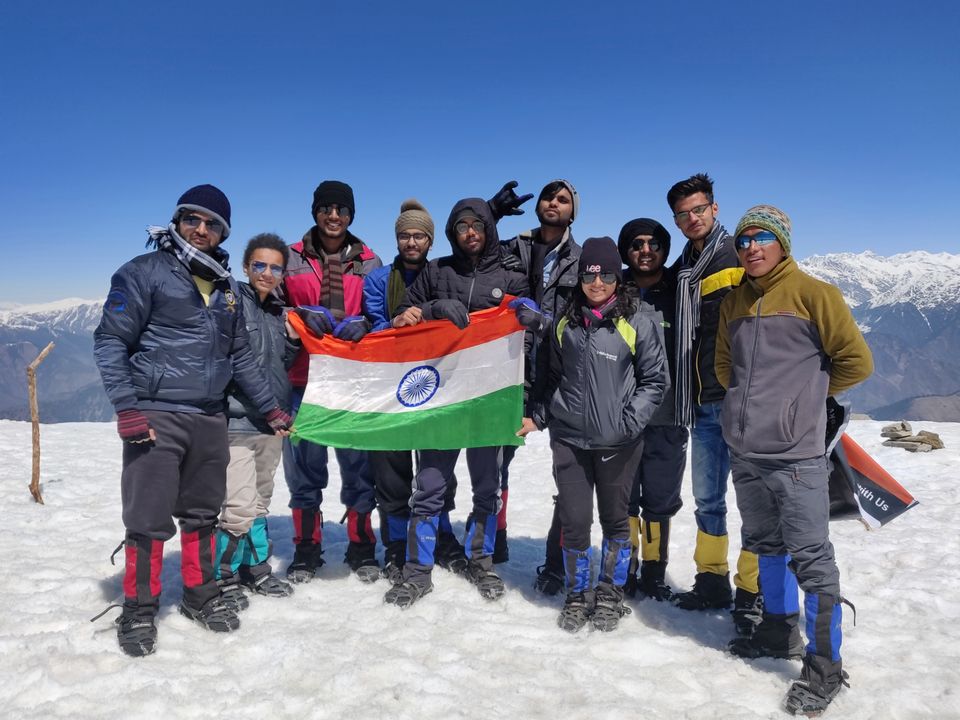 Next day we were supposed to trek back to Sankri from Juda ka Taal , at that point we were trained enough and it took around an hour only to came back to Sankri. We got up @4:30 & started trekking at 5 AM in morning because we wanted to catch the first & probably only bus from Sankri 2 Doon which leaves early morning only. We reached Sankri at 6:15 and we actually missed first bus but were luck enough to find another at 8 AM.
That moment when we were about to leave from Sankri it felt like I couldn't lift my legs, I can't step forward, this is where I belong not in some Engineering college !! This happens to me every time after every trip I don't wanna go back (I know everyone fell the same) my heart keeps on sinking, feels like wanted to cry but I couldn't because I have this precious memories I was carrying back Delhi which could keep me alive till my next expedition.
So we took the bus which dropped us at Doon at around 4 - 5 PM . First thing we did was to find any nearby restaurant and want to eat like a king , because we were so food deprived from past few days , our stomach was screaming for North Indian food. After having a good meal we headed back to Railway Station where again Janshatabdi was waiting to drop us again to Delhi.
I hereby rest my trip, that's all from my side.
I will surely catch you up after my next journey till then keep on travelling. Remember
Work , Save , Travel , Repeat!
A man sends his regards,
Valar Morghulis