Khirsu is hidden dream within a dense forest of pine, oak and deodars, encircled be the snow-landed Himalayan peaks. Nestled at an altitude of 1,700 mtrs, it is a place from the fairy tales and one of the most unexplored destinations of Garhwal. Khirsu is a distance of 19 km from Pauri and 27 km from Srinagar. Khirsu offers the widest view of the mightly Himalayan peaks.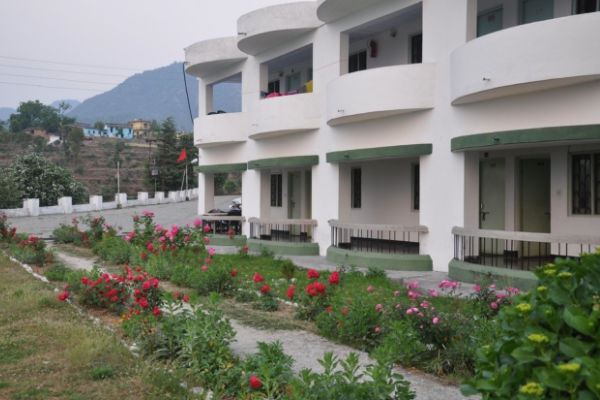 Khirsu
Being at Khirsu one needs a different mindset. This place makes you introspective, closer to your natural self. Leaving behind your city life, your urban existence like a mere slough, get yourself immersed completely, into the serene surrounding. Khirsu is well connected by Pauri and Srinagar. Its is arround 330 km from Delhi. The nearest airport is Jolly Grant which is 174 km from here.
On a clear day, you can count many known and unknown peaks from here. Away from the hustle bustle of city life, this pristine environment is ideal fora rebirth. So serene and noiseless that you can even hear the sounds of the cracking leaves, under your feet. Even on a sunny day you can't see the sky above, as you descend through the thick forest of pine, oak and deodars having elegant pathway covered with bright green moss and fascinating growth of fern. You'll pass through an unknown world amidst numerous apple trees, bunches of mushrooms grown in the dark underneath, fill your nostrils with the fragrance of nameless wild flower and exotic herbs, listen to the songs of the nature, accompanied by chirping of birds.
You can visit Khirsu throughout the year because of its pleasant weather. The most delightful weather is during summers. It s an experience, exclusively your's because Khirsu never sees the multitude of visitors. When you reach at the top,it offers a breathtaking view of the entire Himalayan range, as if a conjured world surrounding you, putting you into a philosophical trance, concentrating on yourself and your place in the universe.
A trek from Pauri, down the Kandoliya hills offers the most exciting alternative route to Khirsu.