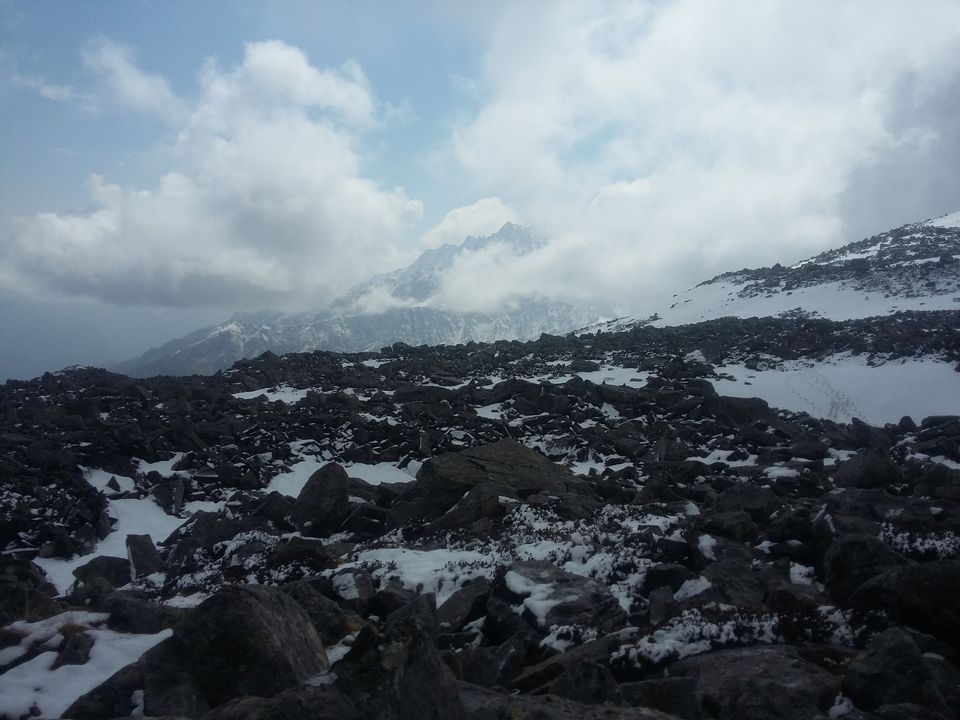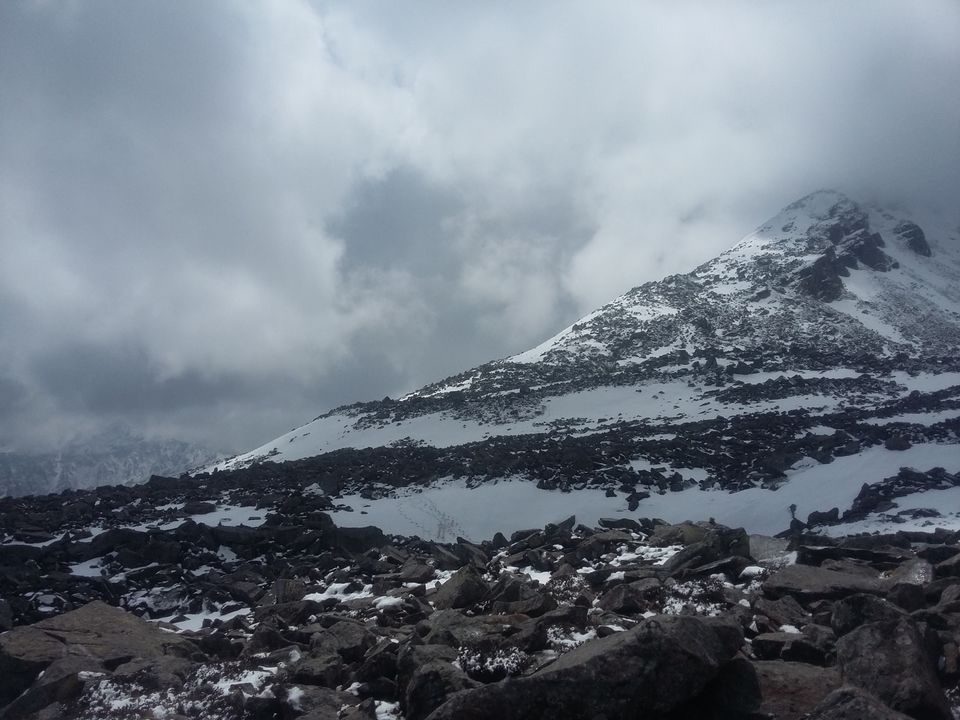 The call of the mountains came pretty loud and clear. It echoed in my head and heart, till I grew restless to feel and see the mountains around me. With my mountain madness on its peak, I zeroed in on Pangarchulla Peak, to be my maiden trek. This is a beautiful peak, in Garhwal Himalayas, in Uttarakhand and stands at a height of approximately 15000 feet above sea level, next to the well-known Kuari Pass. Best time to trek is in April to May and I booked my trek in the first week of May. With my flight for Delhi and train for Haridwar booked, I started counting down days for my journey to start.
Day 1- Mumbai - Delhi - Haridwar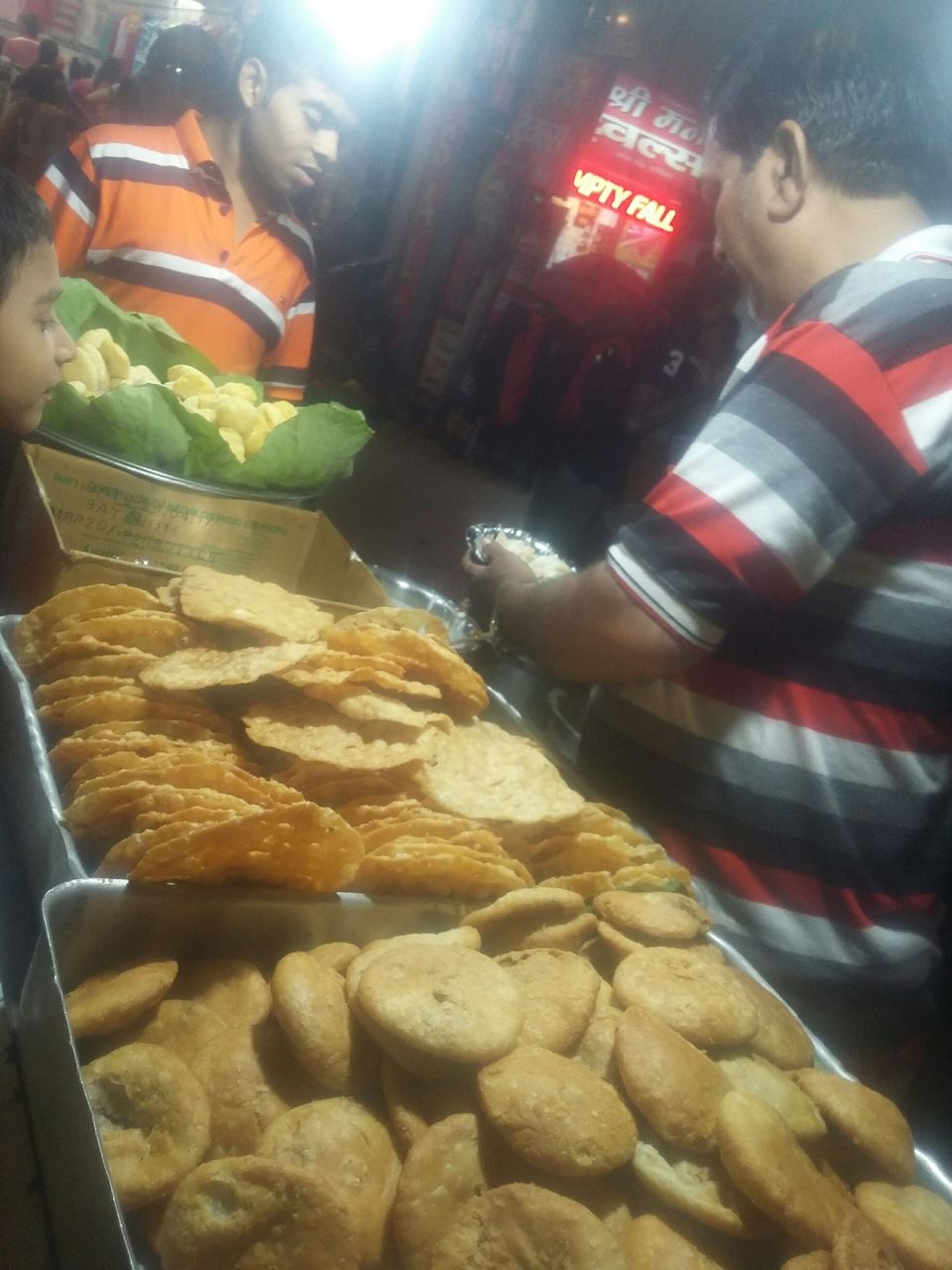 A week later, I was on my way to Delhi on an early morning flight . After a quintessential and yummy north indan meal of chole bhature at Haldiram's, I was hurtling towards Haridwar in a shatabdi (Dehradun shatabdi). Four hours later I found myself at Haridwar station, on a warm night with strangers that would soon be my trekking mates. We were a group of around 19 people, some newbies, some experienced trekkers from diverse parts of the country.
After a quick chat, introductions and check in, I was at the banks of the Ganga with my new friends enjoying a night by at the famous Har ki Pauri. At any time of the day, the Ganga has sadhus, touristy families, backpackers at its banks, most there because of the faith.Some there because of the experience and the culture. I enjoyed a somewhat quite evening by the mighty river(its hard to ignore the hawkers who make a living in this city ), enjoyed watching families take a dip and swim in the holy river and was awestruck by the faith of thousands taking a dip. This was followed by a stroll through the lanes of the famous city sampling its famous chaat and sweet, amidst shopkeepers trying to sell everything under the sun, from religious fare to clothes for children.
Day 2 - Haridwar to Joshimath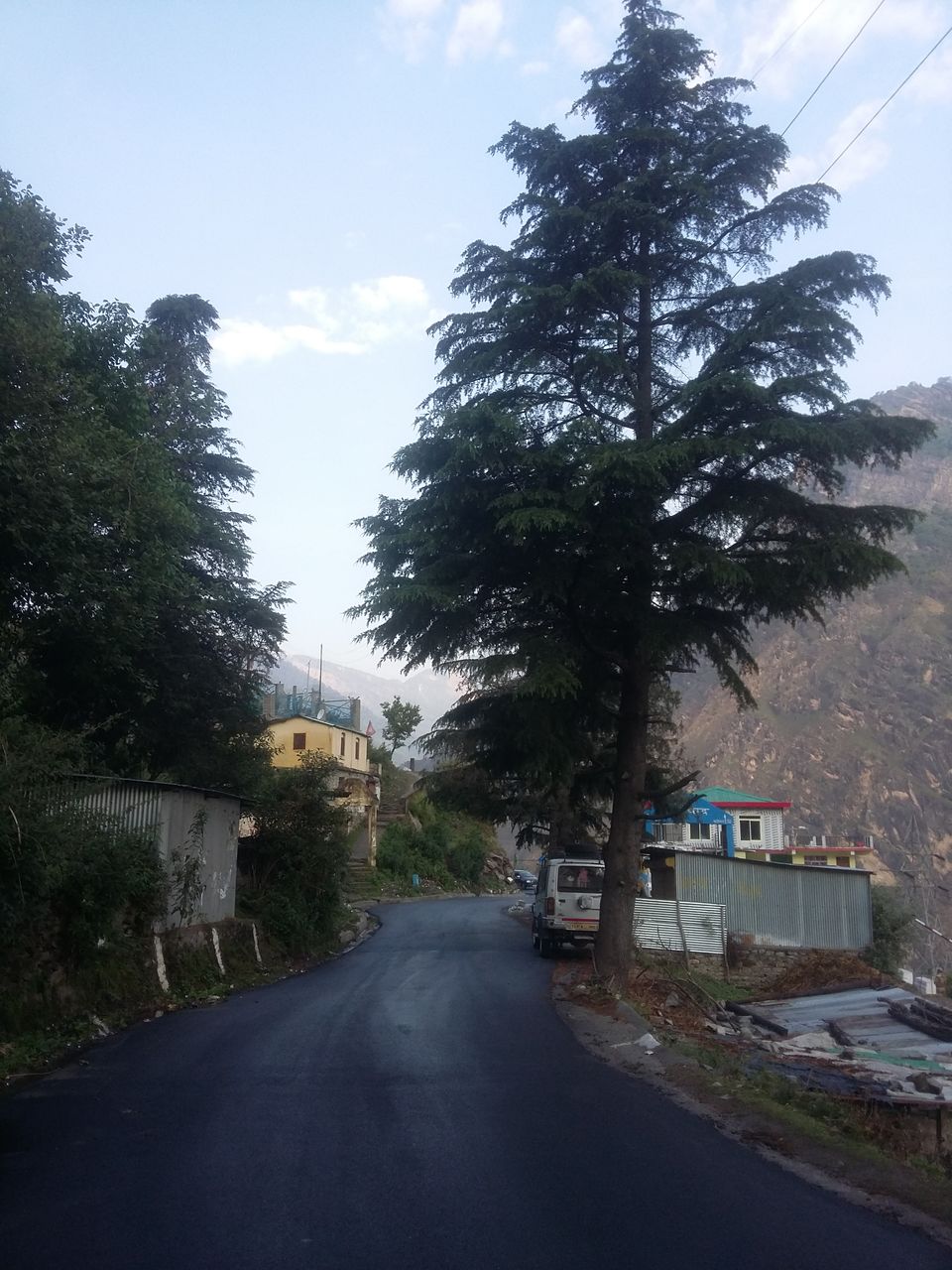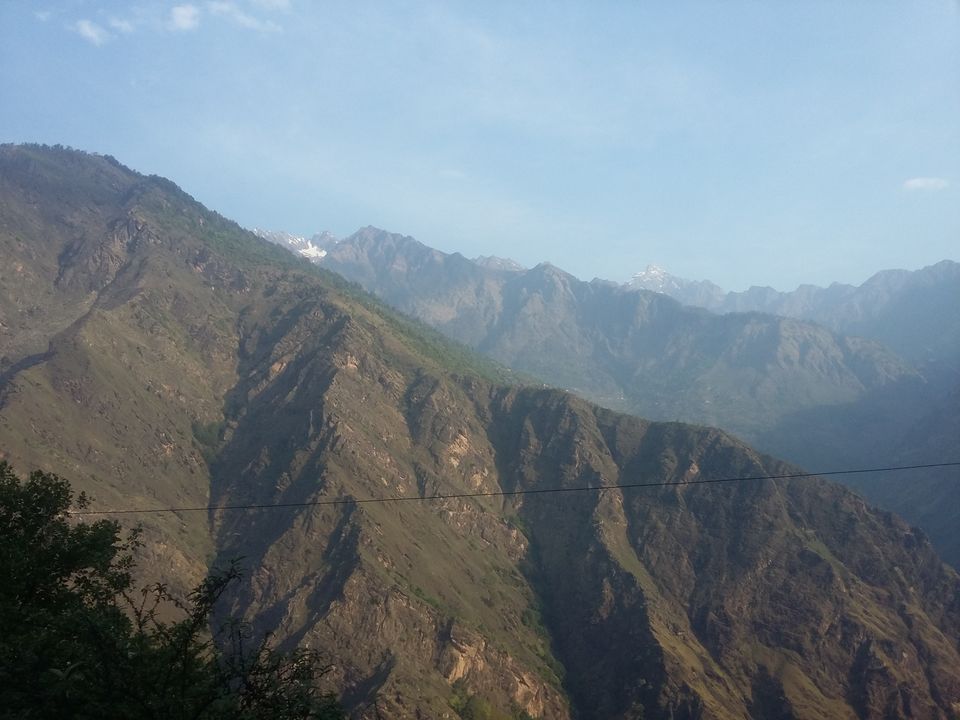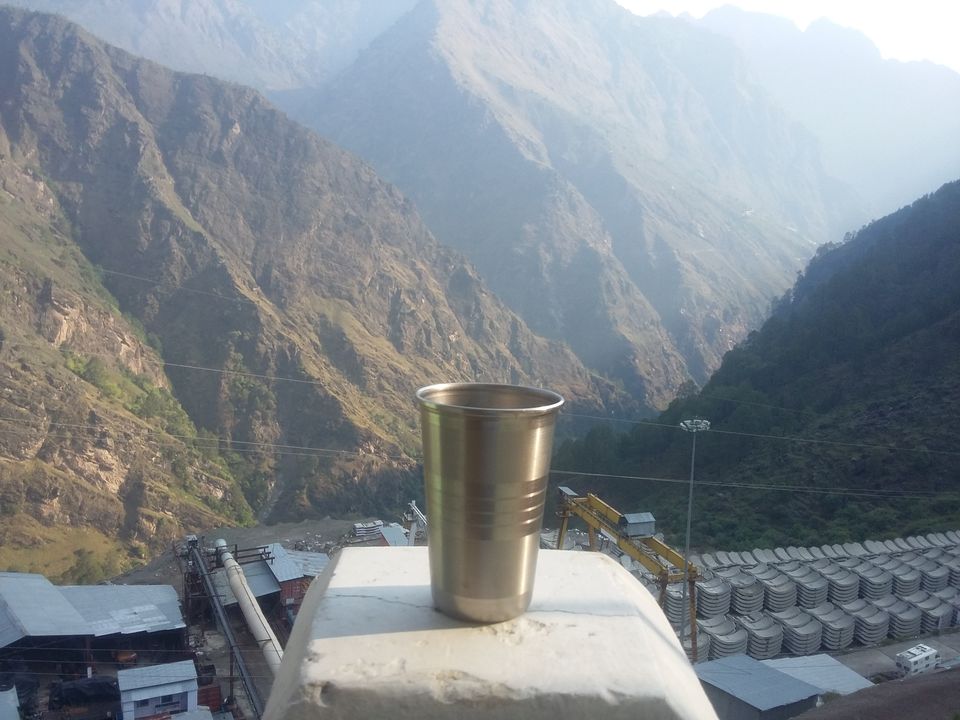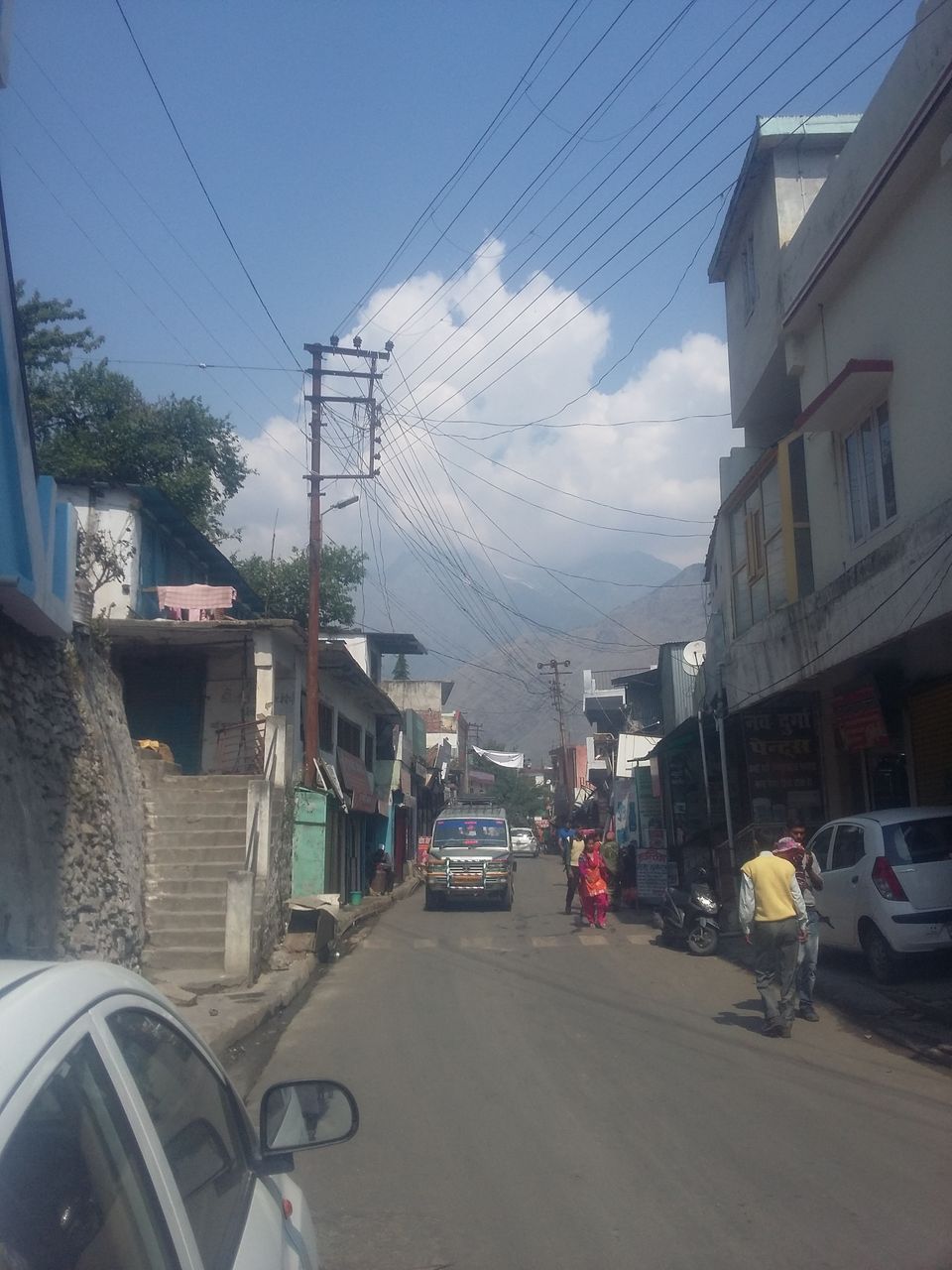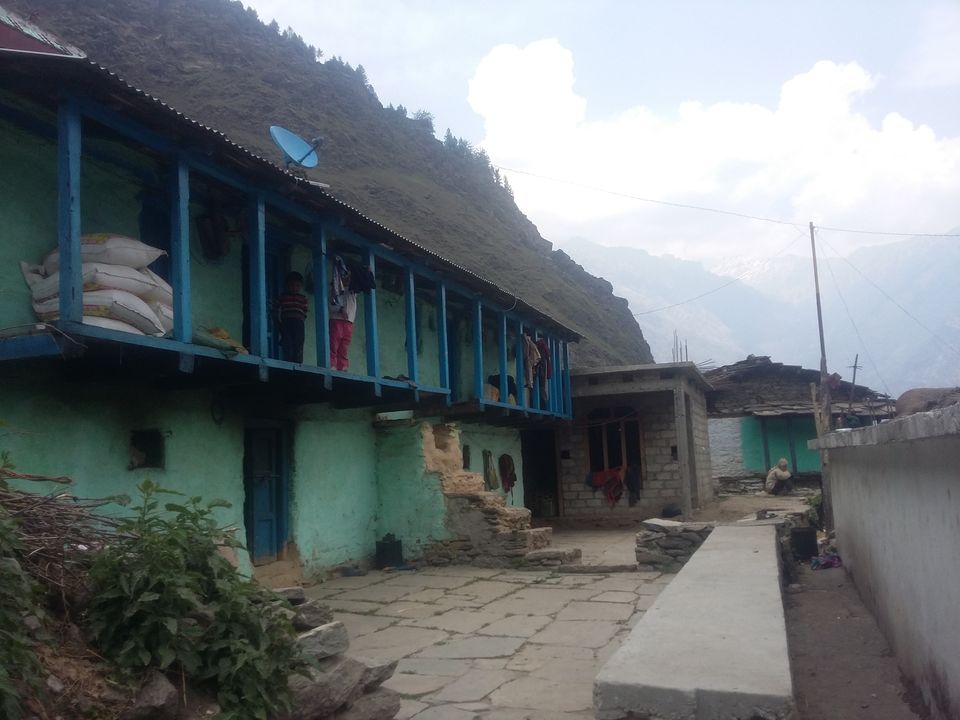 We started early the next day towards Joshimath, our base camp for the trek .The road that connects Haridwar to Joshimath also connecting further up to Badrinath, is around 324 kms. and takes approximately 11 to 12 hours. It is a scenic drive passing through the cities of Rishikesh, Rudraprayag, Devprayag, Chamoli naming a few and runs along Ganga and its tributaries. This drive was my first real introduction to the raw beauty of Uttarakhand, its rivers, the mountains, the glimpses of enthusiastic river rafters, the sadhus dotting the highway, glimpses of snow capped mountains once we neared our destination. We reached Joshimath at around 6 in the evening. I was tired but happy to finally breathe clean mountain air and hear birds chirping so clearly.
Joshimath is a city located at 6150 feet above the sea level, a gate away to several trekking trails, Himalayan expeditions and pilgrimage centres like Badrinath.
Our night stay was at a guesthouse located on the outskirts of this little town and I was thrilled to be away from the din of the main market.We had our first brief at around 8 o clock , with quick official introductions with each other, trek leaders .Post a delicious dinner of palak paneer, paratha, daal chawal, Gajjar Ka halwa, called it an early night.
Day 3- Joshimath to Gulling top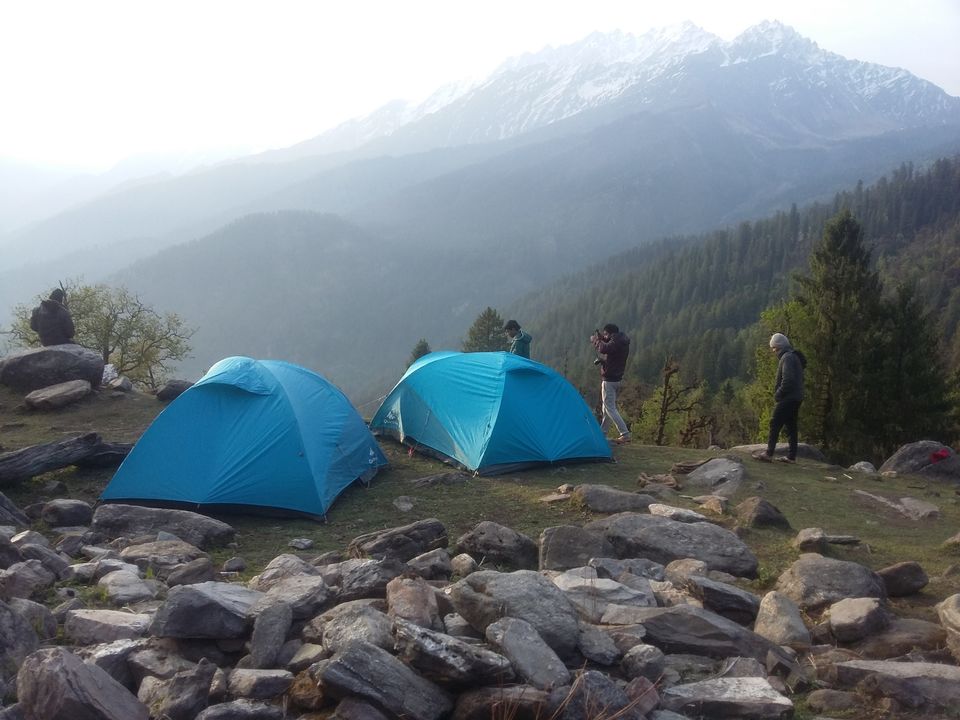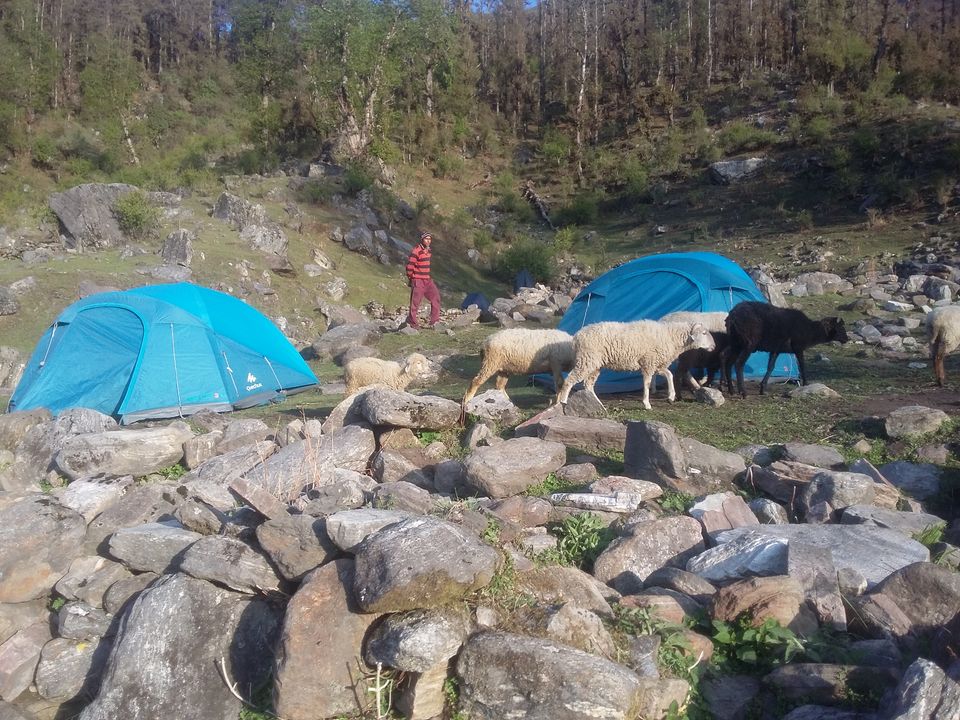 The next day started at 9 am, a short drive to Dhak village, from where on there was only our feet to take us up the path.The initial ascent was steep and through rocky terrain which gradually gave way to the green forest area.We had magnificent mountain views through most of the trail, and passed through quaint Himalayan villages, waving a hi to shy mountain kids. We reached Gulling top at around 9600, after about 5 hours of trekking, and were rewarded with views of Snow capped mountains of Hathi parvat, Dronairi to name a few, had lush forest views with oaks, oine, walnuts to name a few.
I had weary feet, but a happy heart to be finally in the mountains and spend my first night in the tents pitched at a height of 9600 feet!
Day 4 - Gulling to Khullara top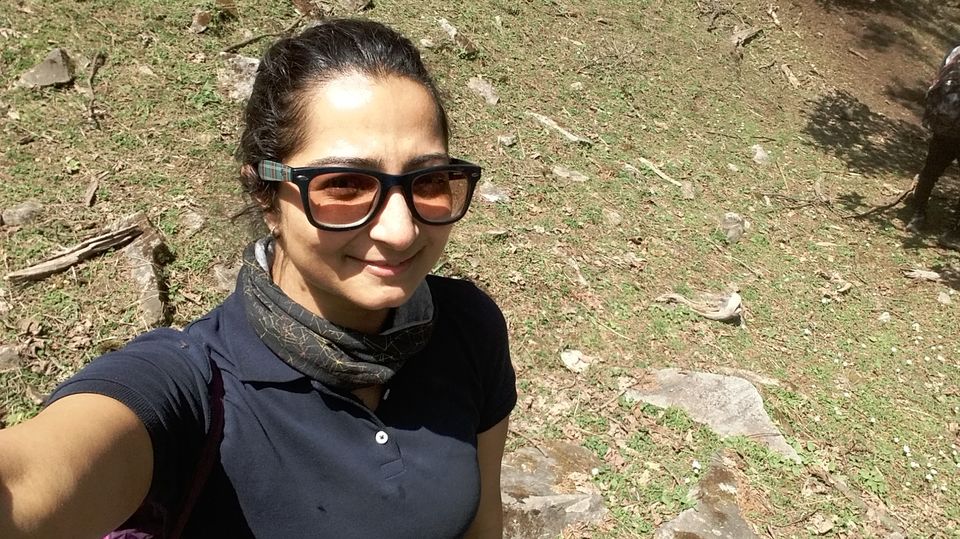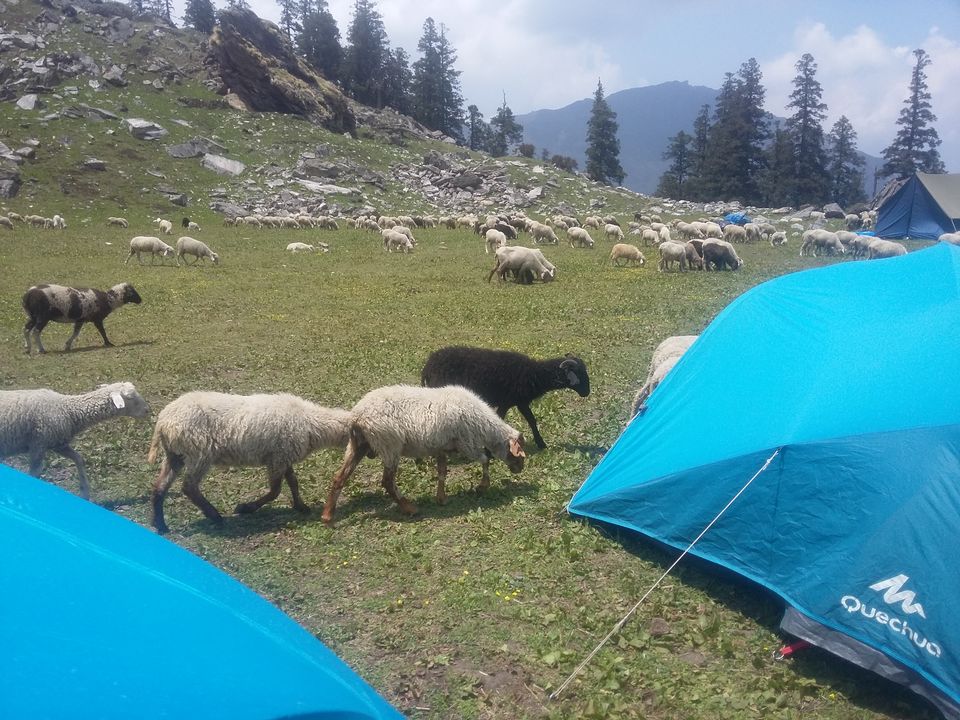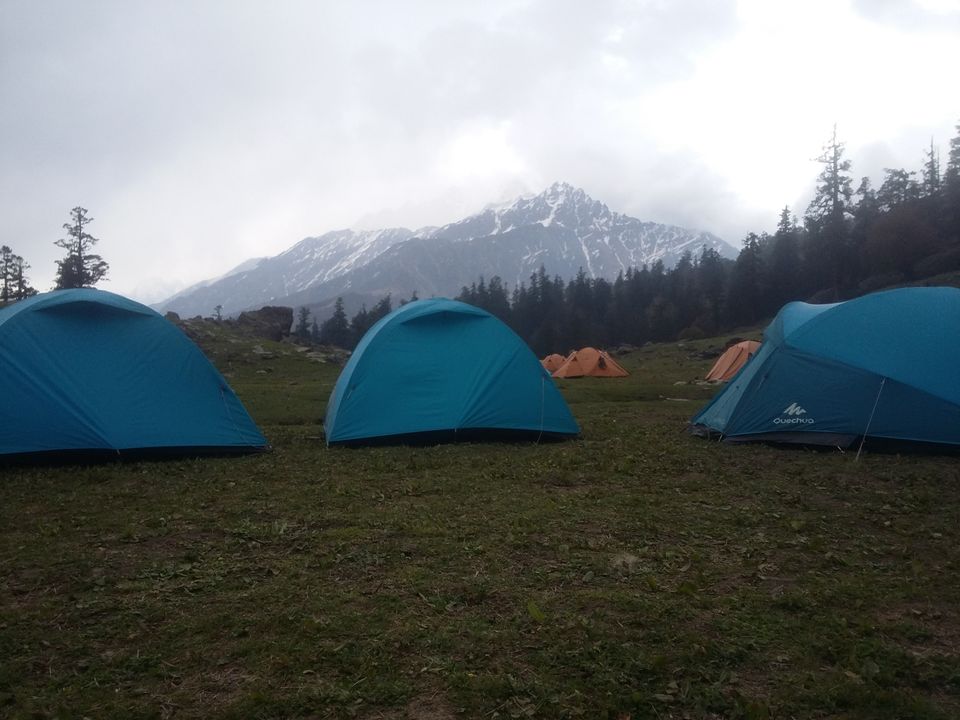 The next day was trek to the Khullara top at the height of 11000 feet.

The path was relatively simpler and I was getting used to the thin mountain air .The trek was mostly through forest of pine,oak and rhodendrons. Our group was in equal parts delighted and scared to see a bunch of monkeys make their way down the mountains. We stopped at a small stream for refilling our bottles and since thel trek was of a shorter distance, spent a good hour just enjoying the forest, each other's company, and clicking goofy pictures of ourselve, and listening to our trek leaders climbing stories.
After a 4 hour trek, we found ourselves at Khullara at a height of about 11,000 feet. I don't think I can describe the beauty of Khullara in words, though I can picture it so vividly in my mind. Imagine a huge open ground a size of cricket stadium, surrounded by mountain peaks, and has a clear blue sky as the roof. It was nothing like any place I had seen before.
All of us soon got to the task of pitching our own tents, me for the first time, and it felt like school camp days again.There were sheep grazing, and the mountain dogs chasing each other, local garhwali boys were playing cricket, and me drinking the scenery in like a thirsty little kid.
We pitched our tents by ourselves, enjoyed the sun, played frisbee under blue sky on a beautiful clear day. We were like city kids enthralled by huge open spaces and the mountains surrounding it.Post lunch the weather changed quickly from sunny to windy and rainy. All 19 of us spent the evening huddled inside our dinner tent playing games and singing to a very stormy rainy weather outside. Post dinner it was an early night, with the winds still howling outside.
Day 5 -Summit day

Khullara to Pangarchulla Peak to Khullara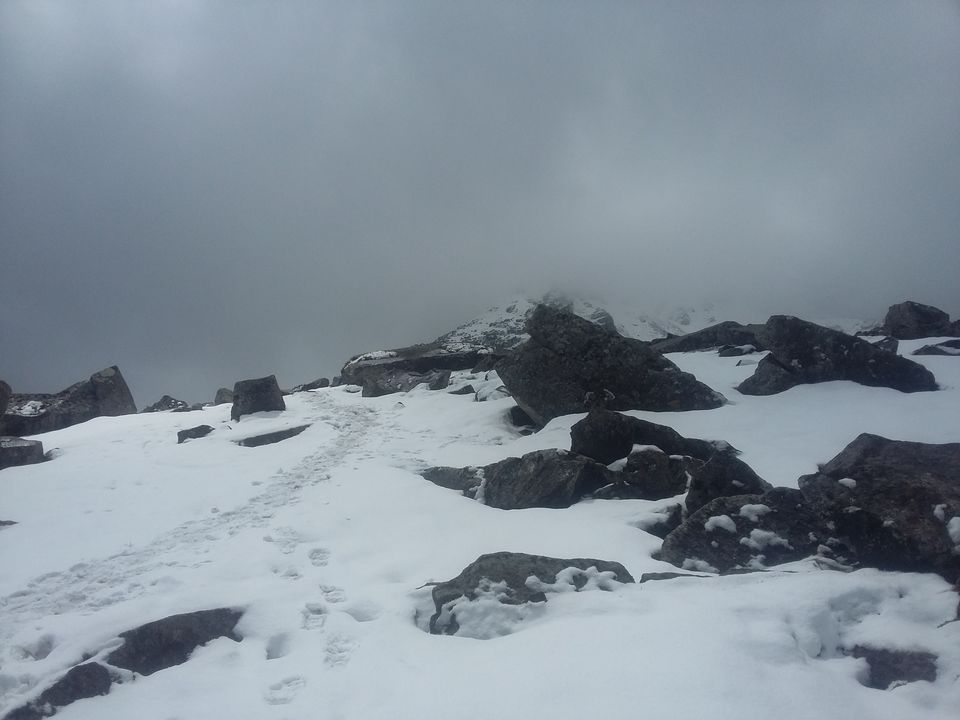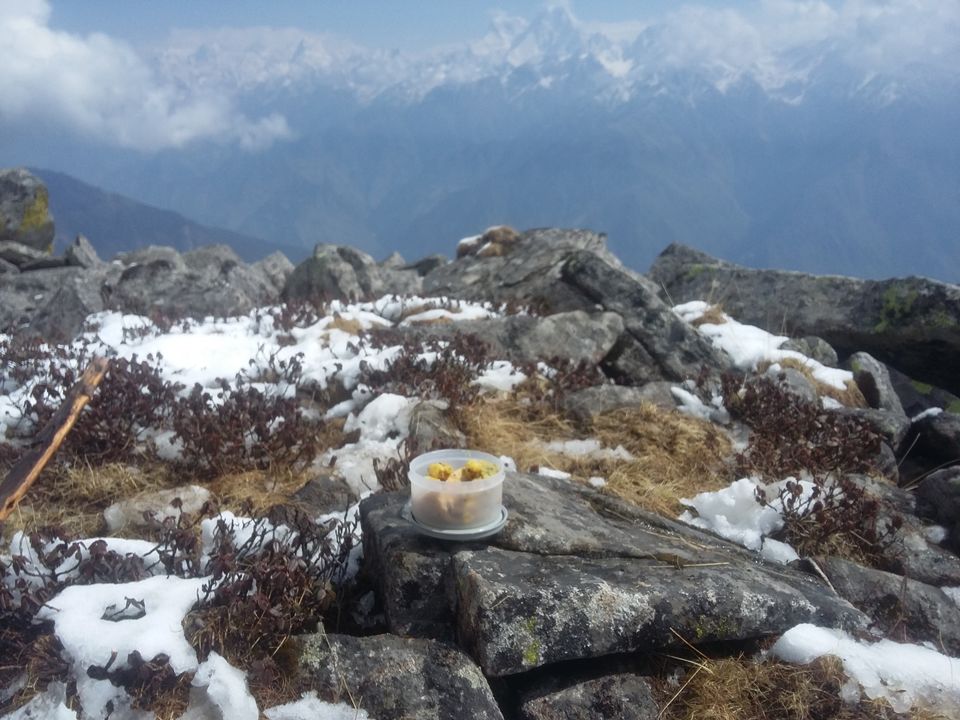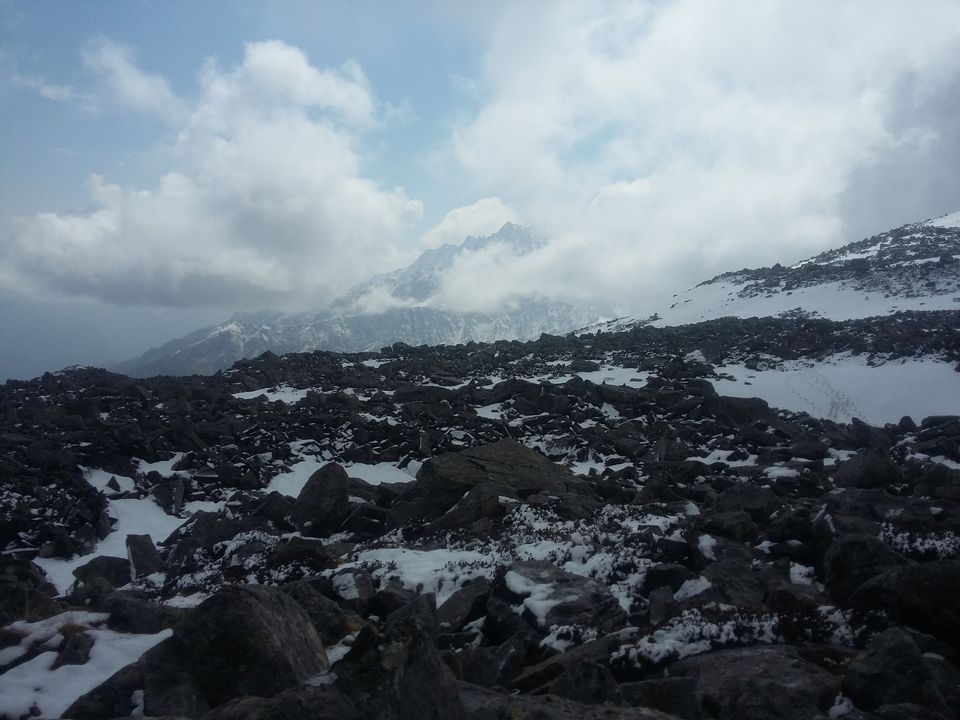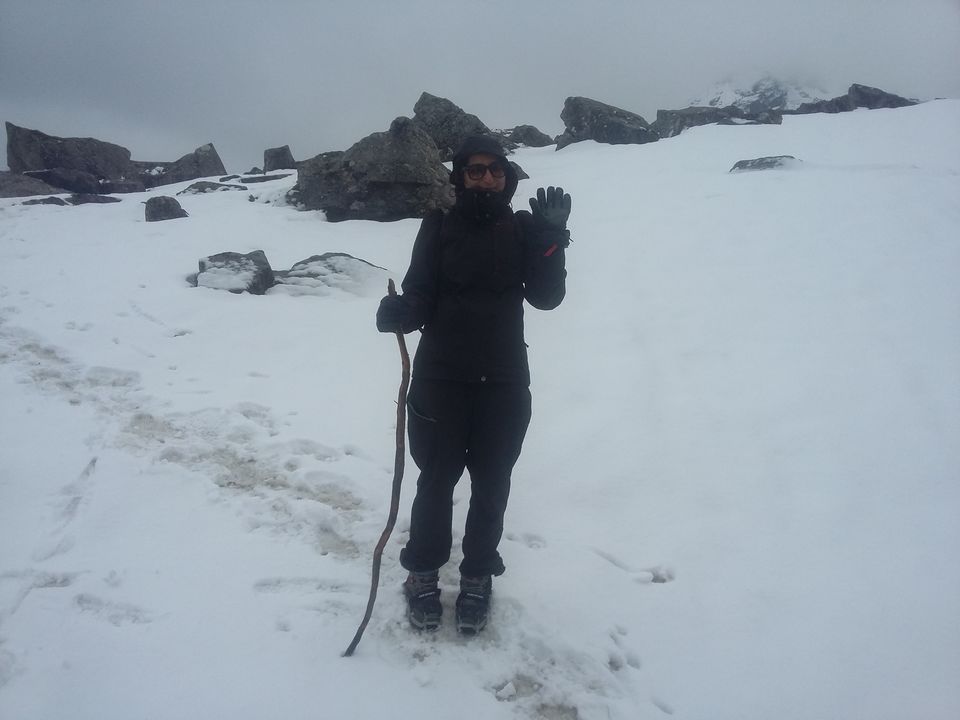 The summit trek started early at 4 am next day. An initial rocky climb gave way to beautiful green meadows, which stretched as far as the eye could see.
As we made our ascent, the landscape changed from meadows to snowy and rocky, we had to put our crampons on to navigate through the snow and rock. Each step we took at this high altitude was an effort, we all were breathing heavily, due to thin mountain air.Through it all, I loved walking through the surreal, beautiful yet harsh landscape , the whole experience felt like it was right out of the movies. I couldn't have asked for anything better on my first trek.
We trekked for complete of 10 hours that day, through a trail that looked like heaven but felt like hell.We trekked to the the sound of nothing by our heavy breaths, interrupted sometimes by the music played by our trek lead.We trekked on in spite of our heavy breaths and even heavier legs. We trekked on to heal our jagged little souls and renew our child-like wonder. Finally, we trekked on to the call of the mountains and to our madness inside.
Day 6 - Back to Dhak , and then Joshimath. The next day we made our way back to Haridwar and then to ur respective destinations.
On my way back to the plains, I got thinking about my first Himalayan trekking experience. I felt it went past so quickly and i wanted to relive it. It was a first for may more adventures to come and firsts are always special.
Whether it was trekking on rocky terrain, through forests filled with tall pine trees & oaks, passing through quaint Himalayan villages waving and talking to shy pahadi kids, camping overnight in tents with gorgeous mountain views, to walking through Uttarakhand's famous bugyals, to the summit day trekking through rocks, boulders and snow, to being rewarded with views of gorgeous Himalayan peaks, to strangers becoming trekking friends and playing frisbee on vast open mountain top and singing songs on a rainy evening to sharing meals together, to being awestruck by the mighty Himalays, i think the trek is just a beginning of my love affair with the mountains