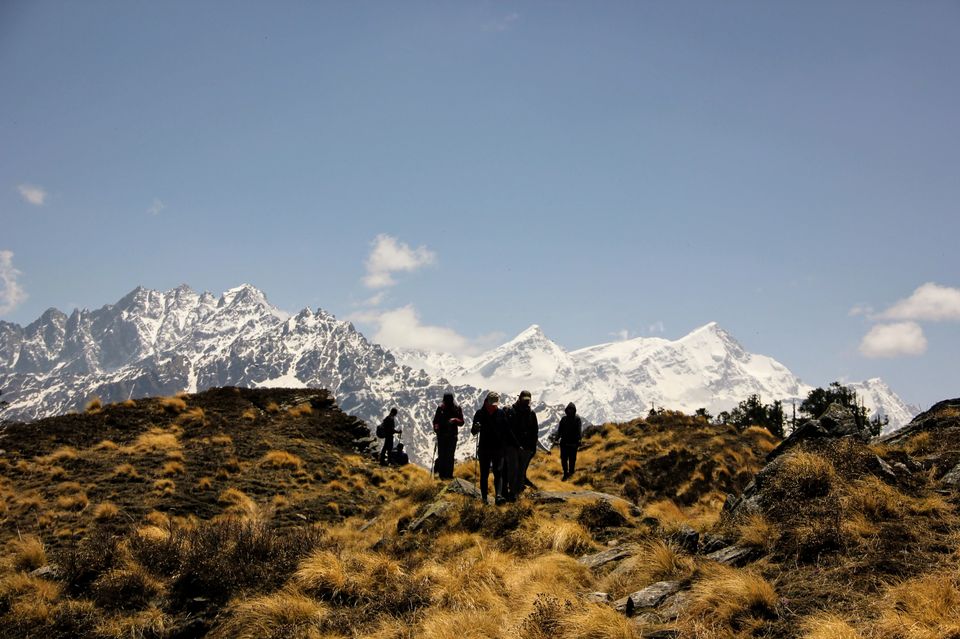 When you are done with your concrete surroundings, blowing of horns, and exhausted to your deeps as well, what else could be a better option than opting for a trek in the great Himalayas.
And when you are born and lived your childhood In the foothills of the Himalayas nothing else could be better option for soothing your mind and soul as well. City chaos feels smothering you and you starts having self identity troubles among the million of piles of brick.
With a previous experience of trekking in Himalayas at mystic lake Roopkund last year I choose pangarchulla peak this year. There wasn't any specific reason for choosing this trek but the reviews from a few friends and the feeling of a peak summit at a challenging altitude made it easy to pick this trek.
With the amazing previous experience of trekking with the previous group and their great hospitality didn't left any other option for me. Because you not only trek in Himalayas but u are also accompanied by the like minded people, which nurtures our personality and their experiences add fuel to our wanderlust.
I was lucky indeed to have a such great company from almost every corner of India and from Japan as well and It's like a confluence of cultures at a same place, in Himalayas.
So After a relaxed sleep post exhausting 250km journey previous day we started our trek from a small village called Dhak and was very much amazed to see the view of pangarchulla peak just in front of my eyes. But it's mountains, where things are not as close as they seem, I knew that it's gonna take damn four days to be there.
As the days go the more close we felt to the mighty Himalayas, the view became more and more exquisite with the every moment passed. The wilderness also increases with the increase of every inch of altitude. And after reaching to khullara on the second day the 180° view was a jaw dropping moment. The entire range of Himalaya just in front of your naked eyes is something mystic. Famous seven thousand plus peaks from mt. neelkanth to mt. Kamath, hathi and Gauri parbat to mt drongiri it was entirely a out of the world feeling. Gailgadh was our 3rd day base camp but as a trekker u always need to know that it's mountain and things always doesn't go the way u had predicted. For our utter surprise Gailgarh camp site was not available because of the unavailability of camping space. So we decided to have an acclimatization day at khullara itself and to start summit form there only and This wasn't going to be easy to do the two days trek in a single day. But again it's mountain, and a trekker have to ready for every challenge. In a team Some have good fitness level but some doesn't have, but as a team u all have to succeed otherwise there were no team at all. this was another epitome of team work that trekking teaches us. From Waking up at 2am in the morning to marching forward in a wolf pack and maintaining this till the summit was a next level feeling especially when your last trek experience wasn't that good when a teammate of mine quit just before 300 meters of the summit.
The closer we reached to the summit the more the weather gets inclement. But nothing can beat a spirit full of fire and we were there. Yes, we were at top of the goddamn pangarchulla and we all eighteen were there. Amm no, there were one more mate. how can I forget our loyal companion Himalayan shepherd. He followed us from the second day till the summit. Feeling of the summit at around 15k feet was bagger description despite zero visibility at the top. This was nothing else but our sheer perseverance that made this accomplishment possible. But the show wasn't done yet. We throw a party for ourselves after reaching our base joshimath till 2am just recalling our mischiefs we did throughout the trek and left each other with the warm wishes for future with hoping to meet in future on any trek or somewhere else as the world is a very tiny place, we never know to whom we are going to meet the next moment.
Today, Even Days after the trek, it feels like only my body is back to the concrete jungle but my soul is still wandering somewhere in the mountains.