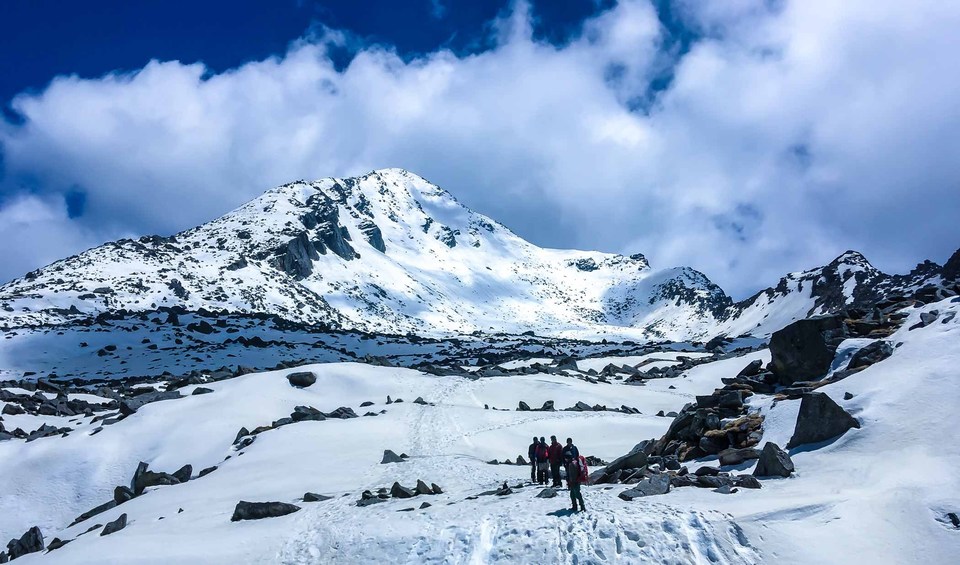 After nearly 3 months, we started (7 of us) our most anticipated adventurous trip from Bangalore to Pangarchulla Peak Summit on April 27 th. We took a connecting flight from Bangalore to Dehradun Via Delhi. We stayed at Hotel Queens Pearl Inn in Dehradun. The hotel was good enough for an overnight stay.
Day 0:
Our next day, I call it as Day 0 as this was part of trekking days but we actually travelled in a 4 wheeler. We had a prior booking through Bikat Adventures to reach from Dehradun to Joshimath. Bikat had arranged a vehicle for us which started from Dehradun Bus station for which they charged us around 1200 per head. On the way to Joshimath, we saw DevaPrayag and Rudra Prayag. DevaPrayag is where Bhagirathi meets Alakananda and becomes Ganges. RudraPrayag is where Alakananda meet Mandakini river.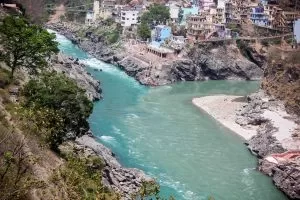 DevaPrayag : The confluence of Bhagirathi and Alakananda
It was 8PM by the time we reached Joshimath. Hotel Snow Crest was booked for us in Joshimath by Bikat. Minutes after we checked in, we met our Trek Leaders Kamal and Lalit who became our friends and Family for the next 4 days.
After a brief introduction, Trek leader Kamal gave us briefing about the entire trekking plan. A surprising thing was Kamal also provided a demo on How to Pack your backpack. It helped many of my friends who had packed their bag just like any other pack. He also gave a demo on how to pick your backpack so that we put less strain on our one part of the body. This was especially helpful for me as I was lifting in a wrong way subjecting myself more probable to the injury. After the briefing we went to our respective rooms and re-arranged our luggage. Hotel provided us some space to keep the extra luggage which was not needed for trekking.
Day 1:
We started our day 1 from our Hotel Snow Crest to the trekking point. Bikat had arranged vehicle for the transportation from the hotel to the trekking point called Dhak which was 12KMS from Joshimath. As we reached Dhak, we took our backpack and set ready to begin our trek. Along with our Pangarchulla Peak Summit team, there was another team who were going for Kauri Pass trekking joined us as the trekking and base camp remained same for both of us.
Kamal quickly explained on few of the Do's and Don'ts.
And then to bring the energy in us, he did a small exercise which included our body movement as well along with our mind.
He screamed 'Pahad Kitni badi hai?' Asking how big is the mountain
And then he asked us to reply 'Itni badi hai' by making a gesture to indicate a small object with our hands.
There was another local guide Debu who joined us. He was also the head of the cooking team who prepared yummy food for us.
Dhak was located at around 8800 Feet. Day 1 Trek was from Dhak to Khullara at around 11500 feet. Before we started our day 1, Our local guide provided us with a pack of Mazza, a munch chocolate and 2 bananas. We geared up to start our trek around 9 am. The view of the mountains, lush green step farms, small water canals and the local life style, everything added to the beauty. For the first time trekker in Himalaya, this is a great start. Throughout the trek, our trek leads kept briefing us on how to trek. They explained us to take baby steps instead of long steps. When the inclination is too much, they suggested us to take a zig-zag path. By the time we stopped for lunch, trek leaders had become more of a friends. We stopped for lunch around 1:30 where Debuji (we called him Debuji respecting his age and experience) gave us 1 tasty paratha. Every one of us were sad due to only one and taste being so good.
Jeet, the other leader of Kauri pass engaged us in a game which also made the introduction of the group among themselves. The game was simple: everyone has to add an adjective to their name and the next person has to repeat all the names announced so far. He started with his own: Crazy Jeet.
By the end of the game, everyone was now aware of names of our group. Once the game was finished, we continued our trek to reach the base camp at Khullura. It was around 4PM by the time we reached base camp and every one of us were exhausted with the trek and was desperate to reach the base camp at Khullara and take some rest. Fortunately, the base camp was ready by the time we reached which saved our energy to put the tent on our own.
As soon as we reached the camp, Jeet explained us the stretches to our body starting from ankle to head. The stretching of the body was must to keep us moving without any pains on day 2.
Black tea and Pakoda were prepared by Debu and his team in the meantime and we had the delicious food.
We enjoyed the view of the beautiful mountains in the chill weather.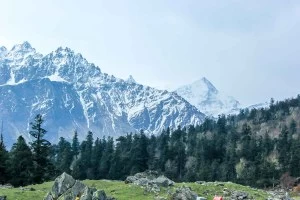 Few of us, including me had started getting a headache due to the altitude gain. I spoke to Lalit and Kamal on this, and they both assured this is quite common and explained the reason. They suggested me to drink lot of water which did help a bit.
In the night, the dinner was ready by around 8PM. We had the dinner and Lalit and Jeet kept us engaged with one or the other experiences.
Lalit later explained us about the AMS, HACO and HAPO which did scare us a bit. They wanted us to be mentally be prepared for the next day trek as we were set to gain another 2000ft on the day 2.
Sleeping bags were inviting us after a tiring day. Jeet provided a quick demo on how to open the sleeping bag, how to sleep and finally how to pack the next morning. For a first timer like me, this helped a lot. We then went to our tent, pushing ourselves into the sleeping bag and praying for a good sleep.
Day 2:
Sleepless last night, the extreme cold weather and an early wake-up call by our trek leads at around 7 AM: in short, it was a bad start for the day. As soon as we woke up, we finished our daily business. Completing our daily business in the open system was something new for many of us. Within minutes, we were ready completing our daily chores.
Around 7:30, Jeet headed the Yoga session. First, he taught us Suryanamaskar and then Kamal took us through few of the breathing exercises such as Pranayama, kapalabhaati. These helped us in improving our body condition overall and breathing exercises helped us on how to breathe in the high altitude region. After the yoga session, we headed to our dining hall and finished our breakfast. It included Bread butter jam, oats, omelet and also a black tea.
We left our base camp around 8:30 to start our day 2 trek. The day 2 trek was important for the Kauri Pass group as it was their final destination. One good thing about this day was that the base camp at Gelad was at a shorter distance compared to the travel we did on day 1. However, we had to pass through our base camp to reach Kauri pass. By the time we reached base camp it was around 12 Noon. We offloaded our luggage and continued towards the Kauri pass with just 2 liters of water. It took us nearly 3 and half hours to come back to our base camp. Everyone was exhausted and hungry. Food awaited us and we were no late to fill our stomach.
The weather was getting colder. My headache was now severe and trek leads gave me Paracetamol tablet. It did help me a bit but not completely. I and so was everyone wanted some sleep: at least a nap but our leads were strict enough not to let us sleep. They kept us engaged through the games and stories of various treks.
The dinner was ready around 8PM. As soon as we finished the dinner, Jeet, the trek leader of Kauri pass bid adieu as the next day they were descending back to Joshimath.
Kamal and Lalit explained us the day 3 details. As we heard the plan for day 3, we realized that it is going to be the toughest day.
Day 3: 01:30 AM
We were just getting into the comfortable sleep in the sleeping bag, and we heard 'get up, get up' from Kamal.
We had no other option but to get up. We were ready by 2:30 AM and Maggie was ready for us for what was the earliest breakfast in my entire life. We had late night Maggie around the same time but this was a breakfast.
We left the base camp after our breakfast. Trekking in the night 3'o clock was a totally new experience for us. We took extra layer of clothes to safe ourselves from the chill weather. Hand gloves failed miserably to prevent cold to our palms. Breathing was getting difficult with every step forward. Within an hour of trekking, we reached a stage which was completely filled with ice. We were advised to wear gaters and spikes to our shoes. Walking on ice itself was a new experience and here, we were trekking on ice on the early morning. Around this time, Pangarchulla was visible clearly. It looked so near yet it was too far.
Around 6AM, we reached the base of the Pangarchulla.
We took a break to fill our stomach with the packed food. The food provided us energy to complete the trek. As we looked at the Pangarchulla, the last mountain looked mammoth. Breathing was becoming extremely difficult.
Taking the baby steps, without raising our head to look at the peak, we managed to climb non-stop for around 3 hours. And there we were at the Pangarchulla Peak(15070 feet) around 9:15. The moment we waited for, the moment we prepared for months. The view of all the mountains from here was amazing. But we had little energy left to enjoy the view.
After taking few pics at the summit, we started to descend with all happy faces.
We felt the task was done but within minutes we realized that the tasks to descend was more difficult than ascending. Due to the sun, the temperature had increased making ice to melt easier. Every step became slippery and difficult. It took us equal time for us to reach down the base of the Pangarchulla. After reaching the base, we had our lunch. We were again at wrong assumption: assuming that the path from here would be easier. As we started, we realized it wasn't. While descending, every step was slippery, here for every step our legs were going deep inside the ice. We struggled to pull up ourselves and this continued for another couple of hours.
We did a glissade in one place which gave us a wonderful experience. More importantly, it helped cover some distance in a shorter period of time without struggle.
The biggest relief was when we finished the path containing ice. We removed our gaters and spikes. We finally reached the base camp around 4:30. The total trek time for day 3 was 13 hours. It was exhausting and thrilling day. We finished the day with an early dinner at 7 PM. The joy of reaching back to Joshimath the next day did provide a sound sleep that night.
Day 4:
Day 4 was of mixed emotions. While we were happy that we would reach Joshimath and sleep in our hotel in a comfortable bed, the sadness was due to the fact that we had to travel 14Kms to reach there. Added to this was, we had to ascend 5Kms in the total distance. With breaks at regular intervals, we reached Auli. We reached Auli around 3:30 PM and from there it took us around 45 minutes to reach the hotel in the vehicle.
The joy in each one of us as we reached the hotel was immense. Recalling the last 4 days sent shivers.
In the night we met again and shared our experiences and feedback to the trek leaders Kamal and Lalit.
Since we had come all the way from Bangalore, we planned to visit Bhadri, Did bungee jumping at Hrishikesh and attended the Ganga aarti at Haridwar to make good use of calendar. At the end of 10 days long trip, we cherished all the moments.
Frequent searches leading to this page:-
best hotels in dehradun for couples, nearby places to visit in dehradun, places of interest in dehradun, famous things in dehradun, places to see in dehradun in one day