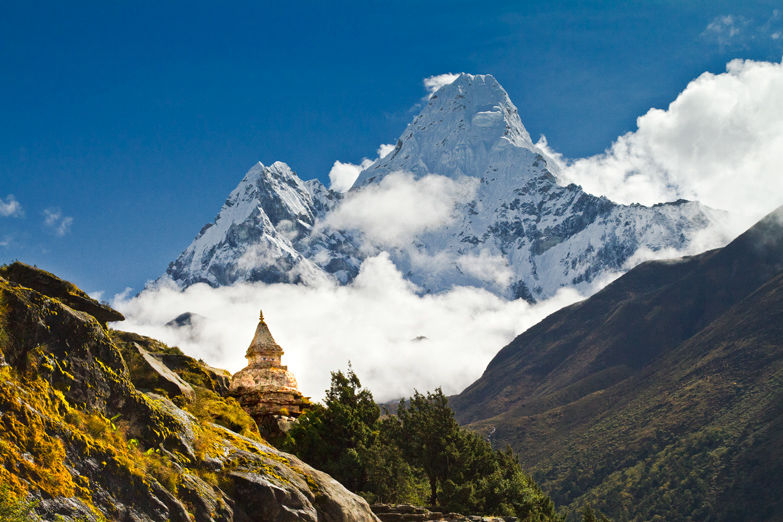 While the sunrays kissed my cheeks gently, I felt the warmth of nature,
While the birds gave me a wakeup call, I heard the sound of nature,
While the snow-drenched Indian Himalayas came face to face, I saw the heaven of nature.
… and there I was rubbing my eyes to believe that all this is was for real!!
It was not my first visit to the Indian Himalayas, but whenever I come here, the exquisiteness of the place surprises me. Some magic, miracle or whatever you call it, every time I find the Indian Himalayas more attractive than ever. Especially during summers, I mean though I am an enthusiastic traveler, the heat of the sultry sun is not my cup of tea. Thus, whenever the saucy summer knocks my front door, I escape to the Indian Himalayas from the back door.
My last year's date with the Garhwal Himalayas
I still remember my last encounter with the majestic mountains of Garhwal Himalayas. Their picture perfect vistas made me fall head over heels in love with them. However, I was not the only doxy of those beauteous mounts; there were 6 more like me. Their names were as tricky as tongue twisters and thus I named them as per my wish.
So my trekking buddies were:
Mr. Smarty Pants - young blood who was flamboyant
Angry Young Man - an old, arrogant but enthusiastic trekker
Wise Owl – our guide
Bonbon – a very sweet girl, who was too young to trek
Miss Modest – a young woman, who later became a very good friend
Sunny – I gave him this name because he had so much of positive vibes in and around him
So back to my date with the Garhwal Himalayas….
Saurabh Chatterjee/ Flickr

whenever it comes to trekking, Garhwal has always been my first choice. Last year also, I opted for a Chopta Chandrashila, a Garhwal trekking trail to beat the heat. This is one of the most famous trekking routes of Himalayas. The trekking expedition began from Ukhimath and I was very happy, even before we reached there. Perplexed! It was actually the journey to Ukhimath that made me feel contended. We passed through the pious land of Rishikesh with awe-inspiring scenery, Devprayag – the confluences of Alaknanda and Bhagirathi and Rudraprayag – the confluence of Alaknanda & Mandakini River. Meanwhile, Mr. Smarty Pants wasn't leaving any river alone; he wanted to capture them all in his camera. Whereas to my surprise this beauty of the bubbling confluences brought a smile on the face of Angry Young Man. On the other hand, I along with Sunny, Bonbon and Miss Modest were busy in praising the scenic vistas and our guide was sleeping. Such a lazy fellow I tell you.
Finally Ukhimath
Upon arrival, we were taken to hotel for dinner and night stay. Next morning was the day I have been waiting for. As soon as I opened my eyes, I felt as if the Himalayas were calling me to explore them and trust me that feeling was heavenly. Before I could get over this fancy, the Wise Owl asked us to pull our socks up as we were heading towards Deoriatal. Soon after that we left our beds, grabbed our belongings, gulped the breakfast and marched towards our first destination Deoriatal.
Trek to Deoriatal – Oh! The World is beautiful!
In the beginning of the trek, I wanted to be the first one to reach Deoriatal, but later I changed my mind. I wanted to stop there and then only, amid those lush woods of Rhododendrons, wild blooms and ferns. It took us 3 to 4 hours to reach Deoriatal, but it took me just an hour to decide that I don't want to go back home, neither now nor ever.

Gopi_verma/Flickr

On reaching Deoriatal we set out tents. We decided to relax for a couple of minutes and then, almost all of us took out our camera gears to capture the picture perfect vistas. Mr. Smarty Pants was unsurprisingly the first person to move out of the tent. Bonbon and Miss Modest were busy clicking one another, Wise Owl and Angry Youngman were having their cigar time and I with Sunny was simply sitting along the banks of the lake watching the sun slowly descending down and hiding in the backdrop of Himalayas. We had our overnight stay in the tent.
Go down and drive
I wanted to spend some more days around the Deoriatal, but the guide had something else in his mind. He told us that now we need to trek down to the Sari Village, which was somewhat 3 kilometers away, and from there we will drive to Chopta. So as per the unseen and unspoken vows, we followed the Wise Owl.
Though we kept on moving, there was one thing that remained constant, the simplicity and splendor of Mother Nature. While we were driving towards Chopta, lush woods and meadows welcomed us with their beauty.
On reaching Chopta, I felt a 'déjà vu' as again we were setting out our tents. Though we were tired, we decided to witness the mesmerizing panorama of Himalayan ranges in the evening. While we were basking in the grandeur of the scenic beauty, we understood that why Chopta is considered as one of the most beautiful regions of Garhwal. The best part was that while closing eyes we all were feeling the warm hug of those ranges. This was perhaps the first night of my life in which I wasn't waiting for the morning.
Go up and up!
Again I was not in a mood of getting up, but had to, as today we had to indulge in a high altitude trekking expedition – trek to Tungnath and Chandrashila. Located at an elevation of 3680 meters, Tungnath is famous for having the highest situated Shiva Temple among the Panch Kedar shrines. From Chopta it was a 3 kilometer upward trek to Tungnath. The upward trekking was getting on our nerves, but as we were surrounded by snow-drenched Himalayan ranges and lovely meadows, we had no complains. On reaching Tungnath, we first paid homage at the Shiva Temple. I saw a peace on everyone's face. Soon after that quick peace moment, we headed off for Chandrashila, located at a height of 4000 meters!
The literal meaning of Chandrashila is 'Moon Rock', and why is it called so can only be known when you pay a visit to it. When we reached Chandrashila, my jaw actually dropped. And trust me it was very normal, as when you see the famous Himalayan peaks like Trisul, Nandadevi, Bandarpunch, Kedar and Chaukhamba right in front of your eyes, your jaw will definitely drop. Don't believe me, try it out yourself. It was not just me who was standing with wide mouth open, all my other trekkers, be it Sunny, Mr. Smarty Pants, Angry Young Man, Bonbon or Miss Modest, everyone was experiencing the same feeling. I wanted to do a same pinch that time.
After we all came back to our normal senses, the Wise Owl asked us to trek back to Chopta and I was like 'no no no, I don't wanna go', it was the same feeling that I had in my kindergarten days. However, during those days my mom didn't listen, and this time the guide wasn't. Poor me!
Planning for my next date with the Himalayas
Chopta Chandrashila is one of the most popular trekking routes in the Indian Himalayas and I thoroughly enjoyed myself. However, I'm still craving for more adventure; therefore, for the next time I have decided to explore the other parts of Indian Himalayan ranges. May be Ladakh or Himachal or Sikkim, or all the three!