Imagine driving away from the hustle and bustle of the city towards fresh mountain air, crisp with the essence of the pinewood forests of Uttarakhand. The imposing mountains greet you with valleys full of colourful blooms, gushing rivers, serene towns and villages and glorious sunsets that scatter gold on snow-clad peaks.
If you're in Delhi and in dire need of getting away from the blistering heat, a road trip is just the experience you need. As you begin your drive towards Uttarakhand, you'll notice the chaos of the urban jungle slowly fades away only to be replaced by scenes of gurgling rivers, silhouettes of mountains and the gentle sway of tall pinewood trees. As you look in your rear view mirror, you'll find yourself feeling calmer than usual with Uttarakhand's magnetic lure drawing you towards memorable experiences.
With goSTOPS hostels located at all major destinations around India, you'll be trading in the hum of air conditioners for the cool, refreshing atmosphere of Uttarakhand. Its unexplored nature trails, charming picnic spots and high altitude hikes are easily accessible from the hostel locations. Teeming with flora and fauna and devoid of pollution, the serenity of the valley beckons to the explorer in you. goSTOPS offer cheerful stays and cozy dorms and private rooms for a perfect balance between sense of connection and privacy for all weary travellers.
The route:
New Delhi - Nainital - Kasar Devi - Mukteshwar
Start off from Delhi and make your drive to Uttarakhand more interesting with stops en route to the Grand Venice Mall where you can experience venetian architecture in India and dip your feet at the Corbett Falls.
New Delhi to Nainital
Distance: 323 km
Duration: Six hours from New Delhi (non stop) via NH9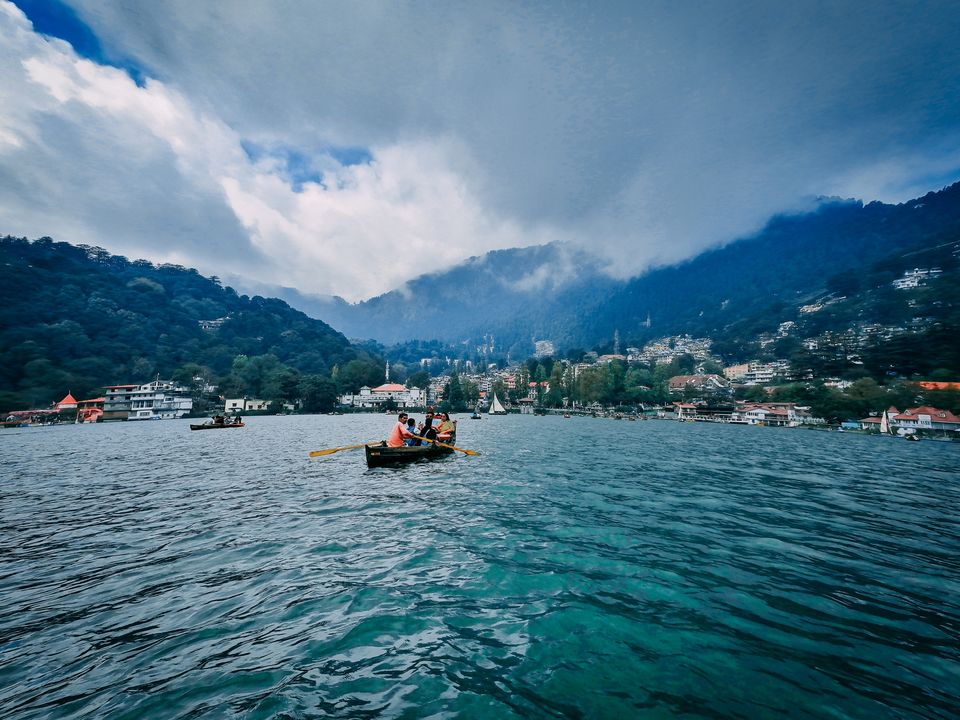 Drive up to an elevation of 2000 m above sea level through a picturesque route that takes you from the chaos of the city towards a tranquil hill station. Play tourist as you visit the famous Mall Road, explore the Nainital Lake, spend time with animals at the high altitude zoo or board the cable car to Tiffin Top that include the incredible perspectives of the Nanda Devi mountain.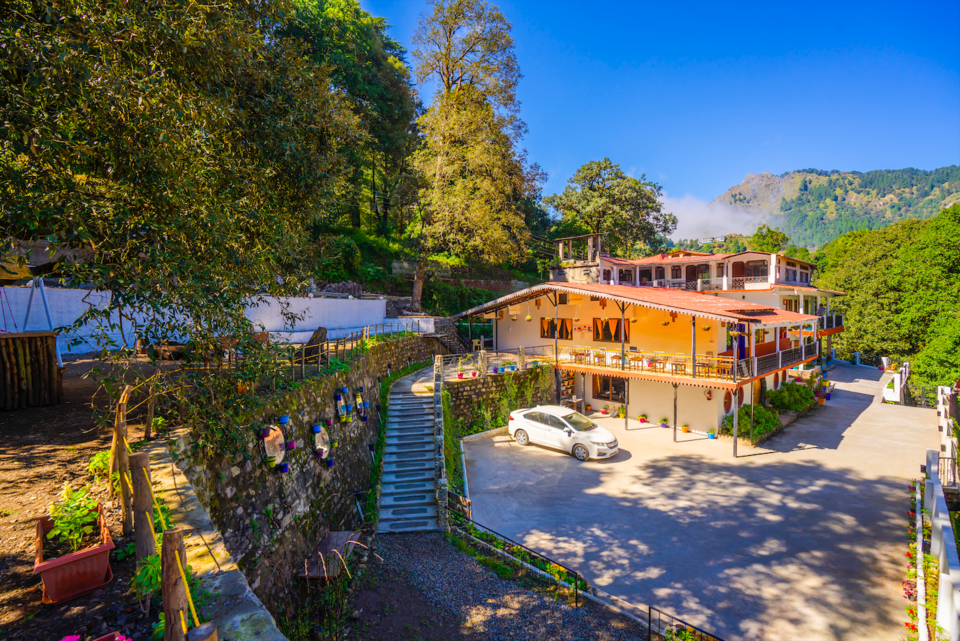 Check-in at goSTOPS Nainital that's just a 10-minute walk from Mall Road but also tucked away into a quiet corner of the hamlet. The cosy hostel features locally sourced wooden furniture with natural tones that go perfectly with the aipan art inscribed on the steps. Get yourself a cup of hot cocoa and relax on one of the 15 hammocks that gently sway over a view of a garden lit up with bamboo lamps and catch up on some reading.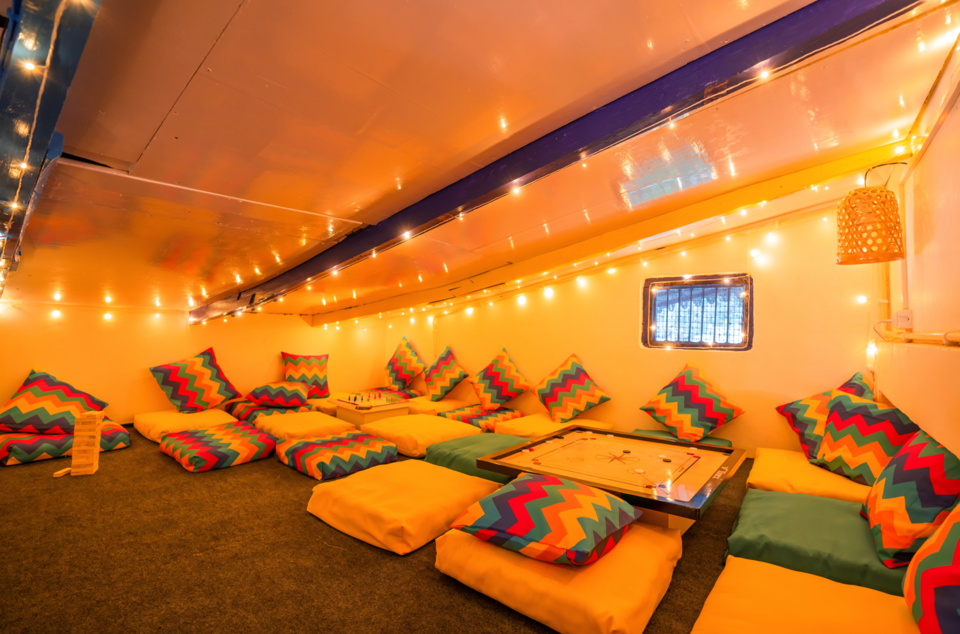 Feeling chatty? Head to one of the common rooms to meet fellow hostellers, compete over a game of foosball or catch a flick in their movie room with new-found friends. You'll sleep like a baby after exploring Nainital with the hospitality of goSTOPS that will prepare you for your next adventure!
Nainital to Kasar Devi
Distance: 71.5 km
Duration: Three hours from Nainital via NH109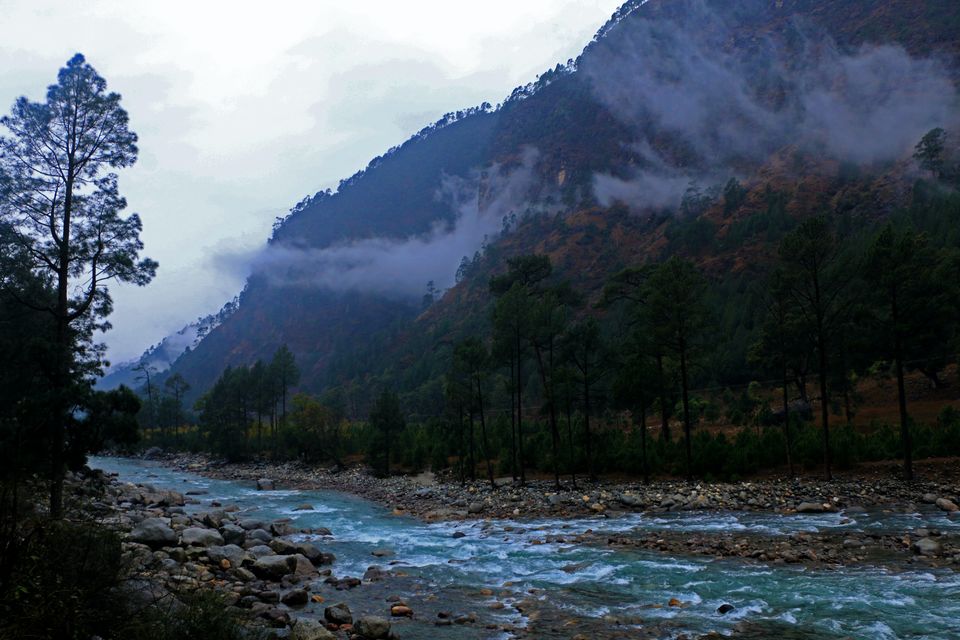 A famous religious destination, Kasar Devi invites travellers from across the world to experience the fascinating phenomenon of geomagnetic fields here. Only three places in the world feature these strong magnetic fields, Stonehenge and Machu Picchu being the other two locations. Best enjoyed with a trek through Crank's Ridge, you can soak in some peace with panoramic views of the Himalayas for company. Picnic along the pinewood trail till the sun sets so you can glimpse at a surreal side of Uttarakhand.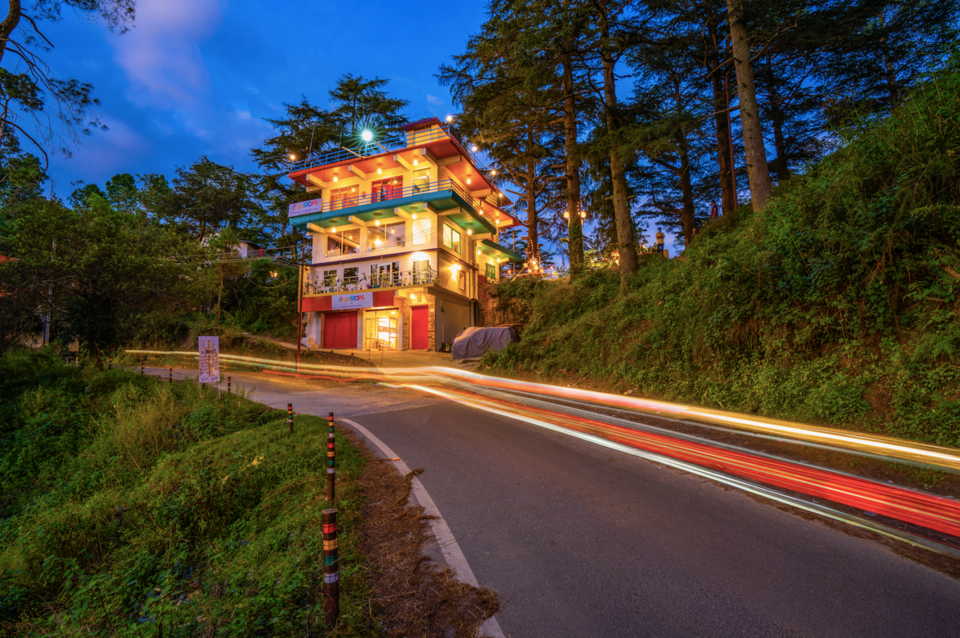 Can't get enough of the views? goSTOPS Kasar Devi has rooms with the best views in town! Cuddle under the sheets as you look out of tall, glass windows that oversee pine forests.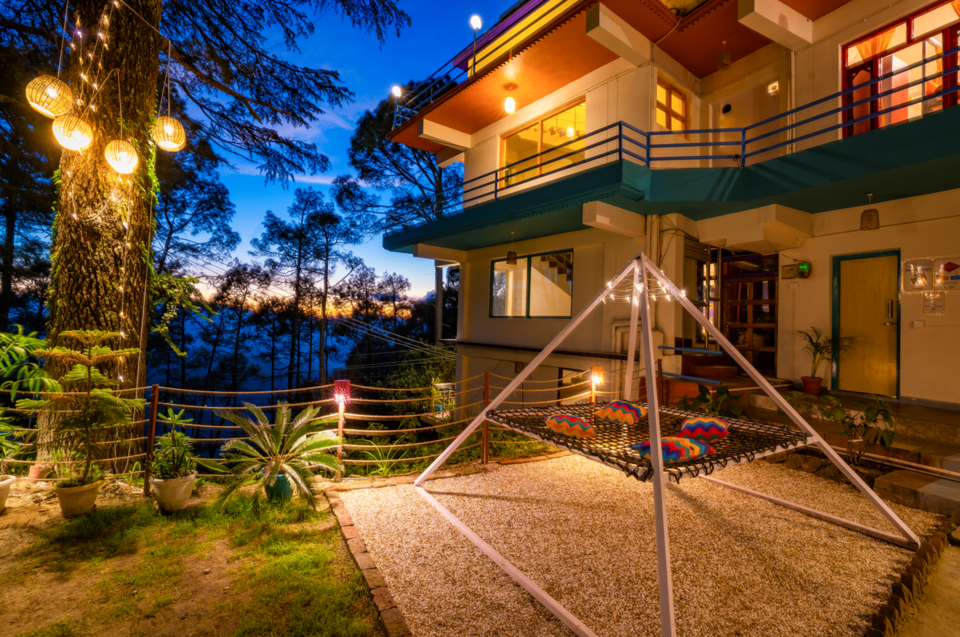 There are mud huts available that give you access to grand sunrises streaked with colour and birds serenade you as you wake up each morning. Bask in the sunshine of the common areas as you grab breakfast with hearty servings of friendly conversations. You'll feel well-rested and ready for the last leg of your journey through Uttarakhand.
Kasar Devi to Mukteshwar
Distance: 48 km
Duration: Two hours from Kasar Devi (non stop) via NH109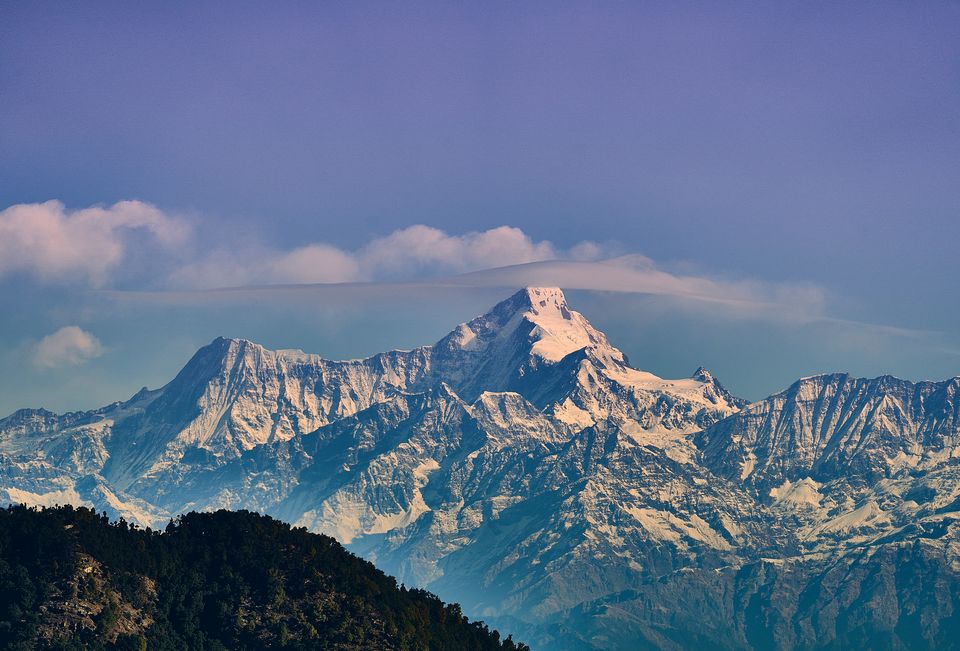 Soar through the azure skies of beautiful Mukteshwar. Look down upon the valley with breath-taking views of the Himalayan mountain range. Experience the untouched nature of Uttarakhand with river walks, rappelling and even rock climbing should you prefer land over air. The high altitude chill and refreshing mountain air will only add to your feeling of elation as you experience the many sides of Uttarakhand at this lovely stop.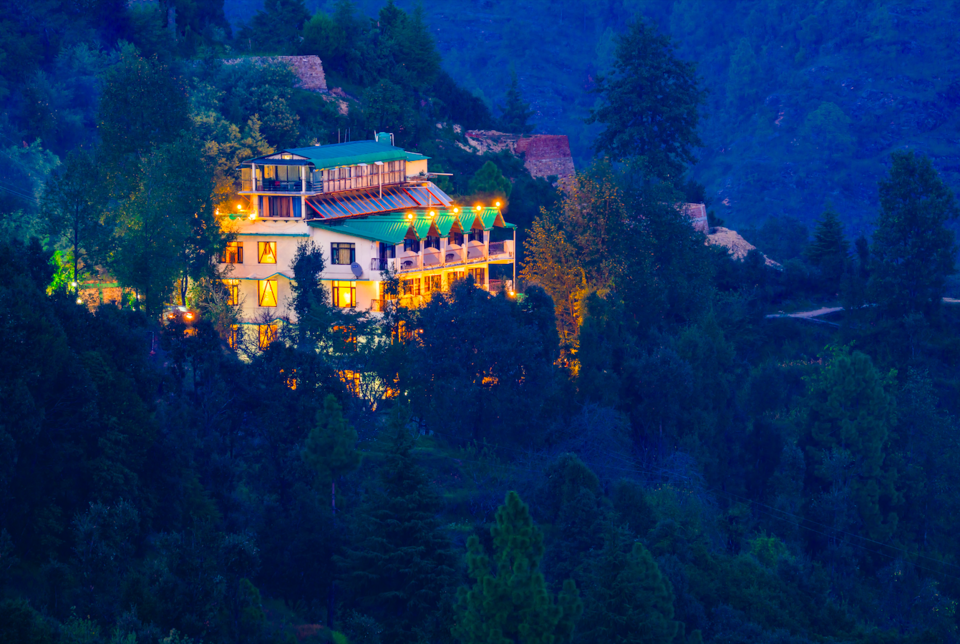 After an action-packed adventure in Mukteshwar, you'll want a quiet, comfortable place to rest at. goSTOPS Mukteshwar with its idyllic setting of oak and deodar forests nearby and snow-capped mountains is the perfect place to relax at. The hostel is just 7.3 kilometres from the Mukteshwar temple.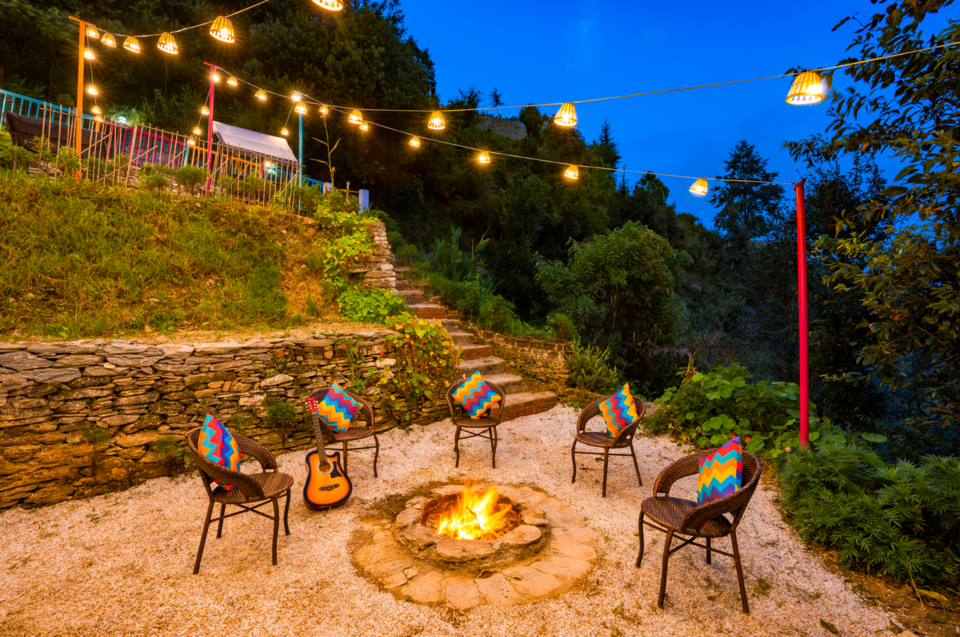 You can unwind and sip on masala chai from a balcony with unending views of the mountains at goSTOPS. Make a journal entry of your road trip through Uttarakhand, sketch the picture-perfect views or fill in postcards to your loved ones about your holiday in the wild. Whatever your mantra for bliss, you won't feel a shred of tiredness after your stay at the goSTOPS hostel.
All goSTOPS hostels are hidden in quiet nooks of popular tourist destinations making it easy to access these sites and ensuring a rejuvenating and peaceful stay. WiFi-enabled common rooms and work zones ensure that if you forget to let your boss know you're away, you can log in without interruption and lie about the mountains being a hyper-realistic Zoom background! goSTOPS hostels come with the comfort and convenience of hotels but with the quirk and fun of hostels. With private rooms and dorms on offer, the hostel chain supports every travel style.
Whether you've been planning a trip for several months or decide to take an impromptu drive that leads you to the mountains of Uttarakhand, goSTOPS has you covered. With several hostels across the Uttarakhand circuit, you can rest assured that you'll have a cheerful and comfortable place to rest, no matter which route you take.
So what are you waiting for? Turn your holiday daydreams into reality with goSTOPS!
Ready to travel for free? Earn credits and redeem them on Tripoto's weekend getaways, hotel stays and vacation packages after the pandemic is over!
Be a part of the largest online community of travellers on Tripoto's Facebook page!
In association with goSTOPS