If you're yearning for a white Christmas and a magical New Year, might we direct you to the mountains? With winter setting in, Himachal Pradesh and Uttarakhand are among the states that receive a generous sprinkling of snowfall each year, especially during December. It's a 'snow wonder' then, that these destinations lure travellers with a taste for adventure and a penchant for snow each year.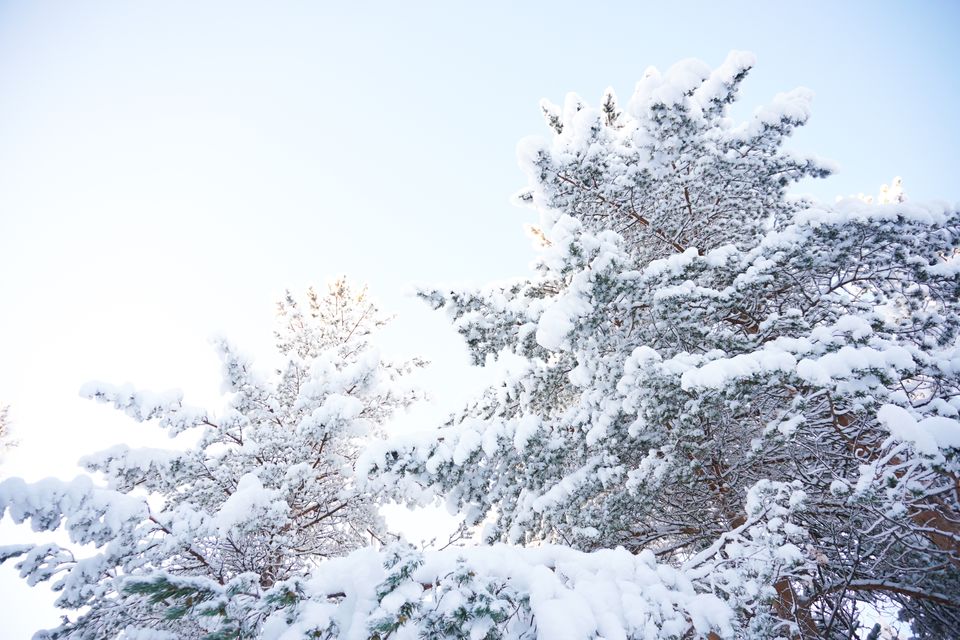 The perfect getaway to bring in 2023 while cosying up with a mug of hot cocoa, singing carols by a bonfire and being spoiled by views of snow-clad mountains, you'll be starting the new year holidaying at the most festive winter destinations. Luckily, with goSTOPS located in the snowy destinations of India; you'll make snow angels, bring quirky snowmen to life and challenge your loved ones to a snowball fight at serene locations that are dusted with mesmerizing snowflakes. goSTOPS' hostels are ready to welcome visitors with its gorgeous properties decked with festival lights, music and great company that will transport you to the most enjoyable New Year celebrations in the country.
Kick-Start 2023 With a Paragliding Adventure at goSTOPS Bir Landing Site
Nothing can elevate your New Year celebrations like flying amidst snow-capped peaks at the 'paragliding capital of India'. Originally a Tibetan settlement with origins in the 1950s, the picturesque Bir Billing will have you jumping off cliffs towards magnificent sunrises and sunsets overlooking the valley.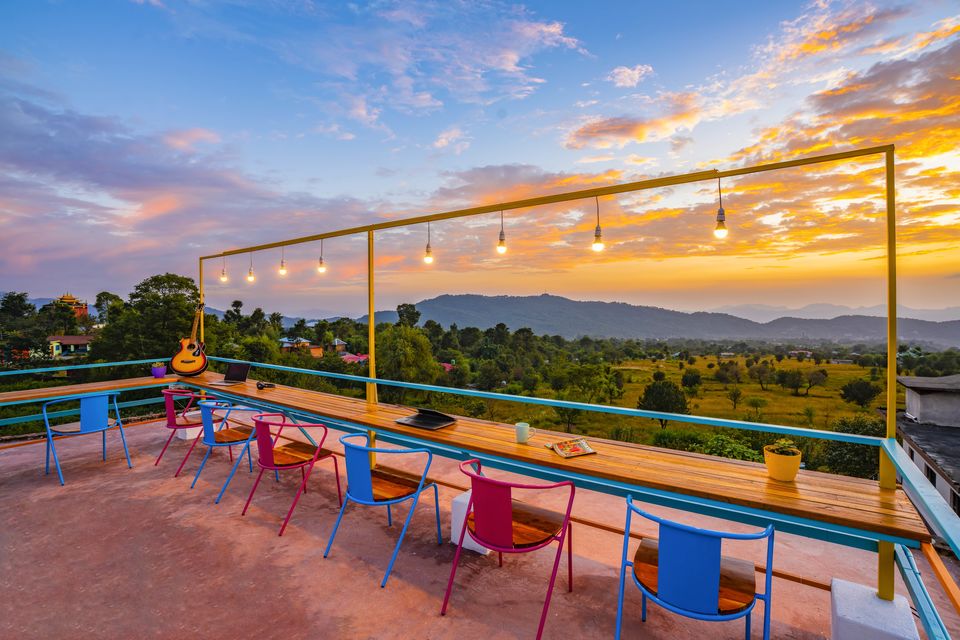 After you soak in the snowy aerial views, you can explore this heavenly destination that offers peace with its monasteries, pathways leading to towering waterfalls and nights that will leave you in awe of the stars. When the temperatures dip, head to the goSTOPS Bir hostel located in the foothills of the Himalayas and warm up over conversations in the common room, a bonfire or a scrumptious dinner. Get ready for a night of delicious barbecuing, songs around the bonfire and several festive activities that'll help bring in some Christmas cheer.
Location: Behind Deer Park Institute Village - Chougan, P.O. BIR, Tehsil Baijnath, Dist, Bir, Himachal Pradesh 176077
Price: Prices range from Rs 700 per night for a dorm to Rs 2,100 for a private room
Amenities: 24X7 check-in facility, lockers, laundry, mountain view rooms, indoor games, common room, bonfire
It's Beginning to Look a Lot Like Christmas at goSTOPS Mussoorie Picture Palace!
Located at a height of 2000 metres above sea level, the Queen of the Hills offers majestic views of the Himalayas and a winding 15-kilometre horseshoe bend. A favourite winter getaway for the British Raj, it's home to several gothic-style churches that stand bedecked in lights just in time for Christmas. Spend Christmas eve singing along to Christmas carols by the choir as the music spills out on the chilly streets like a Disney musical.
Stationed a few minutes away from the most famous street of Mussoorie, goSTOPS Mussoorie Picture Palace is a home away from home set in the hills of Mussoorie. Its long French windows, large wooden beams and rustic wooden flooring extend across the space of the property and lend the interiors a warm look. Spend your days painting the view on a canvas and your evenings sipping freshly steeped tea while staring at the gradients of the sunset.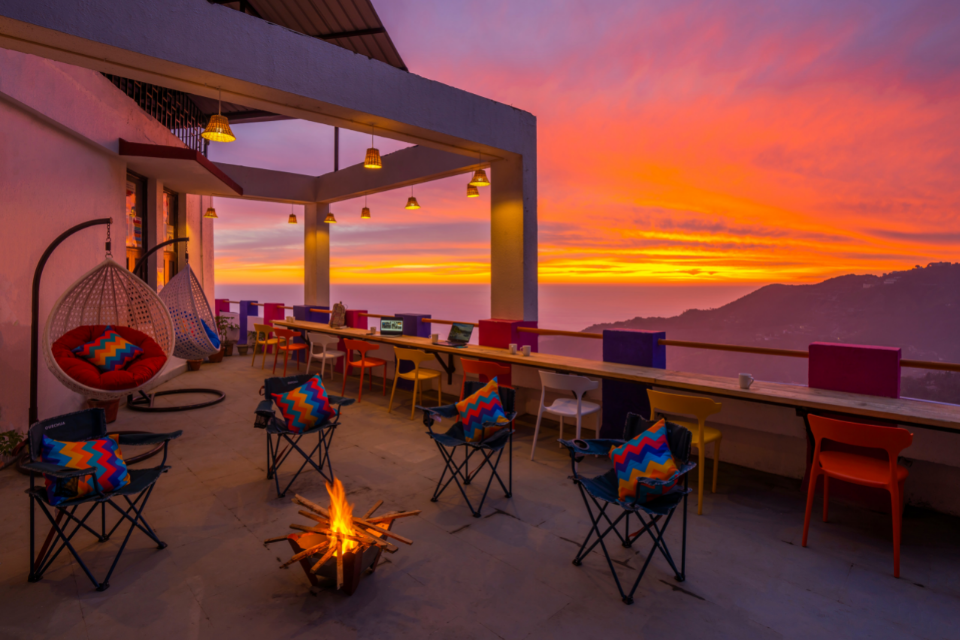 If you feel like exploring the neighbourhood, the hostel gives you access to some of the best bakeries, markets and charming towns around that will immediately transport you into a Hallmark Christmas movie where you'll be convinced a Christmas miracle awaits you.
Location: Big Bend, Picture Palace Road, Mussoorie, Uttarakhand 248122
Price: Prices range from Rs 600 per night for a dorm to Rs 3,400 for a private room
Amenities: 24X7 check-in facility, lockers, Wi-Fi facility, mountain view rooms, large common room, bonfire
Stroll by Giant Christmas Trees at goSTOPS Kasar Devi
Known for its gorgeous pine forests, Kasar Devi turns into a page out of a Christmas story that's filled with miracles, old-world charm and giant Christmas trees covered in snow. As you take a walk through Crank's Ridge, you'll find yourself looking out for Santa Claus making his way from the North Pole and Rudolph the reindeer, playing hide and seek behind the towering pine trees.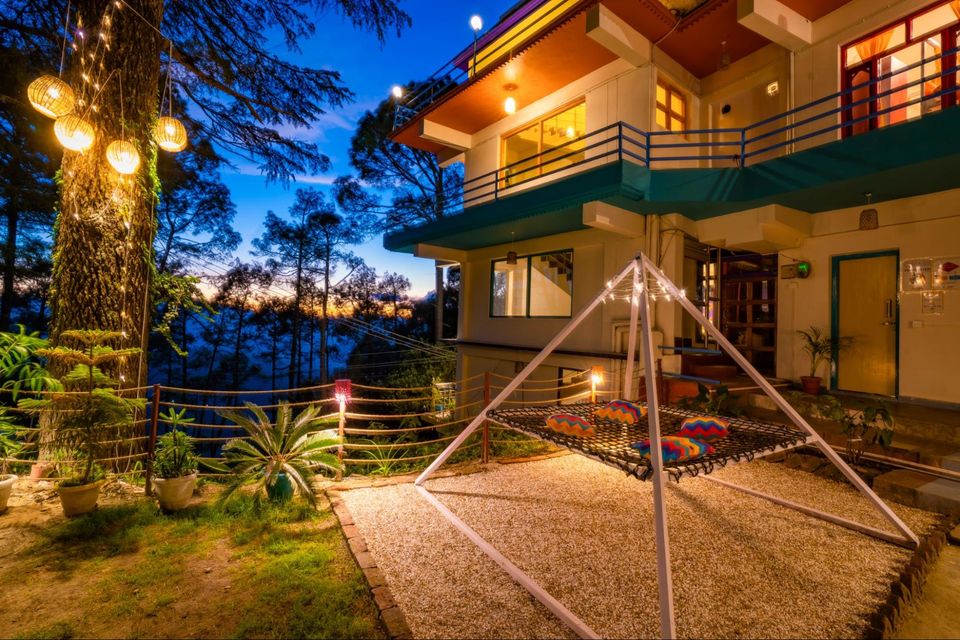 Kasar Devi is also one of the three places in the world where you can experience the fascinating phenomenon of geomagnetic fields and goSTOPS Kasar Devi is just minutes away. What's more, it also offers panoramic views of the mountains with quaint mud huts where you can watch the sunrise while you sip on your morning coffee in the colourful and warm common room. If you're craving a walk in the wilderness, it's just a few steps away - stroll amid lush greenery while taking in the grandeur of the neighbouring mountains. Every room has a unique view of the hills so you'll be treated to the music of birds, sunrises that take your breath away and pathways that beckon you for a memorable adventure.
Location: 1 NH 309A, Kasar Devi Road, Almora, Uttarakhand, 263601
Price: Prices range from Rs 400 per night for a dorm to Rs 3,000 for a private room
Amenities: Hot water, linens, mountain view rooms, luggage rooms, parking
Check-in to the Victorian Era at goSTOPS Palampur
Palampur is a popular town located in the Kangra district and is surrounded by tea gardens, Victorian-style estates, castles and deodar trees. As you drive into this town, you'll want to trade your car for a horse carriage to get a good look at the stunning views of the Dhauladhar range and the Kangra valley slopes where you can almost feel time stop in an era that you'll never want to end.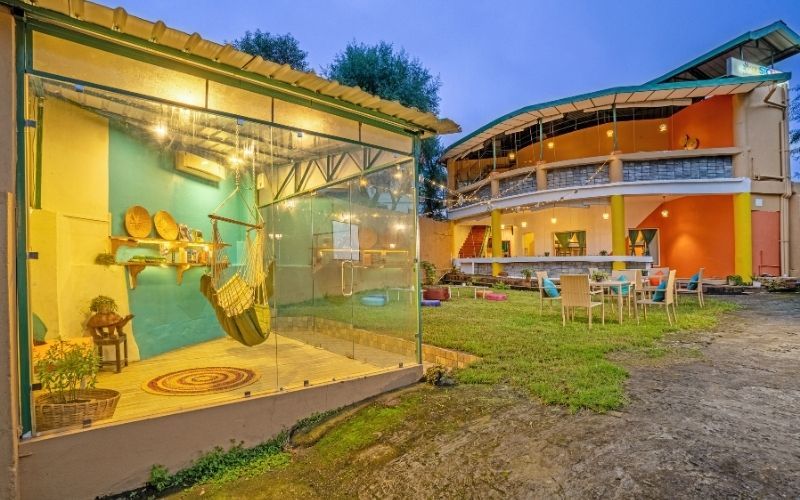 If this sounds like your ideal getaway, goSTOPS Palampur is the perfect setting for a night spent amidst breathtaking views of castles and nature's best gifts. Breathe in fresh mountain air sprinkled with the smell of new beginnings. The semi-circular structure of the property houses two large common spaces that have panoramic views of the hills surrounding the hostel. The lawn is endless and overlooks the valley where you can spend time watching the clouds roll by. Unwind on a cosy hammock in a glass room that spoils you with Palampur's best views. Bring in 2023 with the embrace of endless possibilities and the warmth of a welcoming hostel that feels like a home full of holiday cheer.
Location: goSTOPS Palampur, Tank, Road, Bundla, Palampur, Himachal Pradesh 176061
Price: Prices range from Rs 500 per night for a dorm to Rs 2,750 for a private room
Amenities: 24X7 check-in facility, lockers, laundry, mountain view rooms, indoor games, common room, bonfire
goSTOPS' cheerful stays offer a colourful retreat set amidst a white, snow-laden backdrop. Ideal for travellers who want something unique during their getaways, the hostels bring you a blend of festival cheer that keeps you warm against the chill outside. End 2022 on a magical note while setting yourself up for an adventurous new year filled with holiday cheer, a sense of wonder and wanderlust.
Ready to travel for free? Earn credits and redeem them on Tripoto's weekend getaways, hotel stays and vacation packages after the pandemic is over!
Be a part of the largest online community of travellers on Tripoto's Facebook page!
In association with goSTOPS