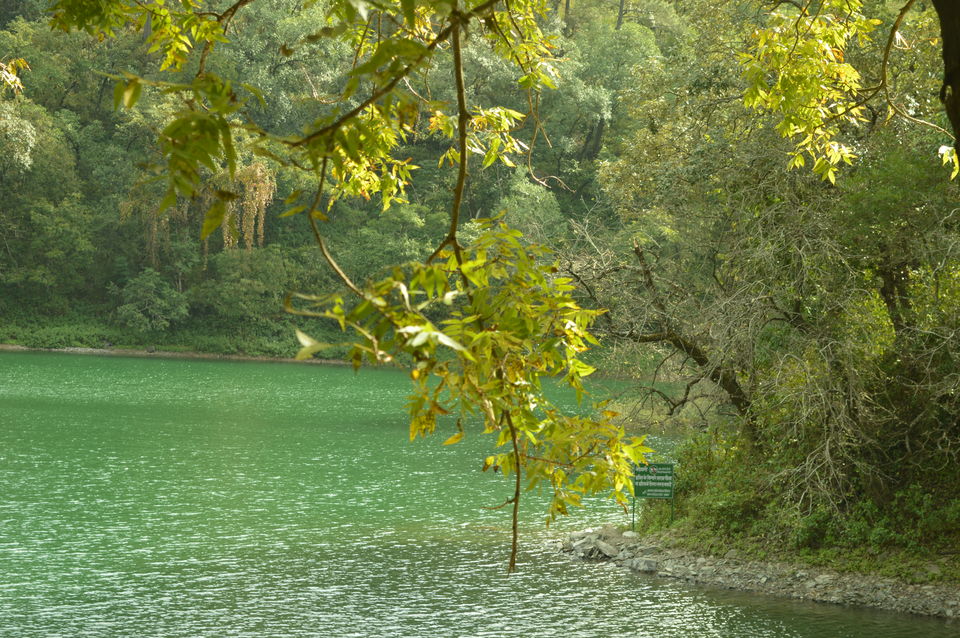 Take a pause, relax, soak in the glory of our universe, Head to Ramgarh, Head to Soulitude In The Himalayas.......
And to do just that, on the morning of 22 Dec, we started our journey to Ramgarh situated in Dev Bhoomi Uttarakhand. Little did we know what how true this place would be to its name...an abode of gods...
We took the morning flight out of Mumbai to Delhi. It takes about 7.5 hours (along with lunch & bio breaks) to reach Ramgarh from the national capital. The journey up-to Kathgodam (a base railway station in Uttarakhand) was uneventful. The hilly area starts from here. The air finally getting crisper & cooler. The sun sets early and by early i mean its dark by 5 and you are watching the starts by 6:30 PM !
We reached our destination pretty late around 8 PM. The destination was a holiday home called Soulitude in the Himalayas, Ramgarh.
The nip in the air really hit us when we stepped outside the car. Thankfully the manager brisked our luggage to our room which was already pre heated by the staff to a toasty warm temperature. Since it was already pretty late as per the mountain clocks & we were tired from the journey we just changed into our PJs & a warm jacket, had a quick dinner & snoozed off.
I generally have the habit of waking up in the wee morning hours especially on holidays! Now that might sound a little off, as people generally start their day late on their vacays...well thats not me. Waking up early gives me lots of extra time to spend with the place i am at...by my self. And well that habit always pays off!
I woke up to a rose gold sunrise (move over iphone...this was something else!), chirping birds & a cool breeze. With a cup of coffee in my hand & a smile on my face I headed straight to the large deck of our room. I was greeted by chirpy Himalayan birds & the Mighty Himalayas themselves right in front of me. A 360 degree view of the mighty kumon Himalayas & the Nanda Devi peak was quite astonishing. The snow capped mountains never fail to impress you!!! They remind you of how tiny we are in this gorgeous universe....
Once everyone else was awake we finally set foot on the property we were staying. It was a beauty! A Quaint holiday home with around 10 tastefully decorated rooms, set amidst the mountains & orchards of Ramgarh. It looked straight our of little red riding hood's grandmas house (except the big bad wolf of-course!) Every corner of the house was immaculately decorated with so much thoughtfulness that one can put only in your own home...
All the rooms had large decks & sun roofs for letting in the warm morning sun & the cool starry lights at night.
We had a sumptuous breakfast after which we started off on foot exploring Ramgarh. The hotel arranged forest walks and treks to explore the place and we decided to take them. We started off our walk from the hotel to ramgarh market which was around 3 Kms one way. This walk took us through the narrow village roads to the village square.
We passed by several orchards, cutsy homes & mountain streams. As a city slicker drinking water straight from a mountain stream is an unforgettable experience!
We were accompanied by one of the hotel staff who carried a bottle of warm water, gave us local perspective on the trees, herbs and shrubs... The tour ended in the Ramgarh market which was a small lane with 5 sleepy shops! Such a relief from the usual bustling mall roads in Shimla & Manali.
Our tired legs needed rest, so we took a short break at a tea shop and headed our way back to the hotel for lunch.
Evening was spent gazing endlessly at the starry skies, an occurrence which is a sight for sore eyes from the city that never sleeps!
The next day we booked a taxi and headed to Sattal which was a 45 mins ride from our hotel. The lake is called as Sattal as it is a combination of 7 different lakes. We were feeling a little touristy hence we decided to take a boat ride. The lake was pristine & surrounded on all sides by the mountains.
Another 15 min ride from Sattal was a little known lake called Garur lake. There was no soul at this lake as no boating was allowed. But the lake itself was breathtaking, emerald green waters rippling across the surface, white sands on the shore , it really looked straight out of a fairy tale.
From there we headed to Soulitude At The Riverside, another property from the same management at Chanfi, Nainital. The car ride to the property end at a rocky parking lot post which we were on our feet again. The 1/2 hour half walk to the property takes you through the kalsi river bed, meandering pathways & makeshift river bridges. It was a surreal experience. My six year old was running all the way and I was finding it difficult to keep up to his pace! Once we reached the property, we were welcomed by the manager and taken on a tour. The property had an organic fruit & vegetable farm, a river bed, an emerald rock pool (which they quite rightly called "pari taal") & a water fall all for itself!... Local delicacies organically grown on their farm was served for lunch. Post lunch and a short nap in the natures playground we headed back to the car parking on foot and then to the Himalayas...
On Day 3, we decided to take another one of the forest walk that the hotel arranges. This was a 2.5 Km ridge walk in the forests of Ramgarh. This walk takes you through the forests to a view point from where you can get a birds eye view of the several lakes in the region. It was an exhilarating experience. At first we were worried if our 6 year old could finish all 5 Kms (To and Fro), however to our surprise he walked like a pro. Well, it seems we have trained him well!
And then day had arrived when we had to say goodbye.
Of all the places i have been too, very few of them have made me emotional.
Soulitude in Himalayas at Ramgarh has been once such place. With endless fuzzy memories to keep you warm on a lonely winter evening, a heavy heart & a promise to come back, we finally started off our journey to Kathgodam to catch a train to Delhi.
Frequent Searches Leading To This Page:-
Ramgarh uttarakhand places to visit, ramgarh uttarakhand distance from delhi, ramgarh uttarakhand history, best time to visit ramgarh uttarakhand, landour uttarakhand places to visit, hotel in kashipur uttarakhand, uttarakhand tourism information, trip to uttarakhand quora