The all-pervading sweet, mountain breeze will be with you every step of the way the second Nainital starts approaching. Sleepy villages, orchards teeming with fruit and the sun glinting through willow canopies welcome you into town. Located in the cheery yellow farmlands of Chanfi village, Soulitude by the Riverside sits at an elevation of 4,500ft and is the very picture of idyll. The local landscape – nondescript narrow roads bordered by swathes of pine forests, wildflower-spangled fields and the odd hotel every now and then, stays with you long after you've left the rustic home.
Ideal for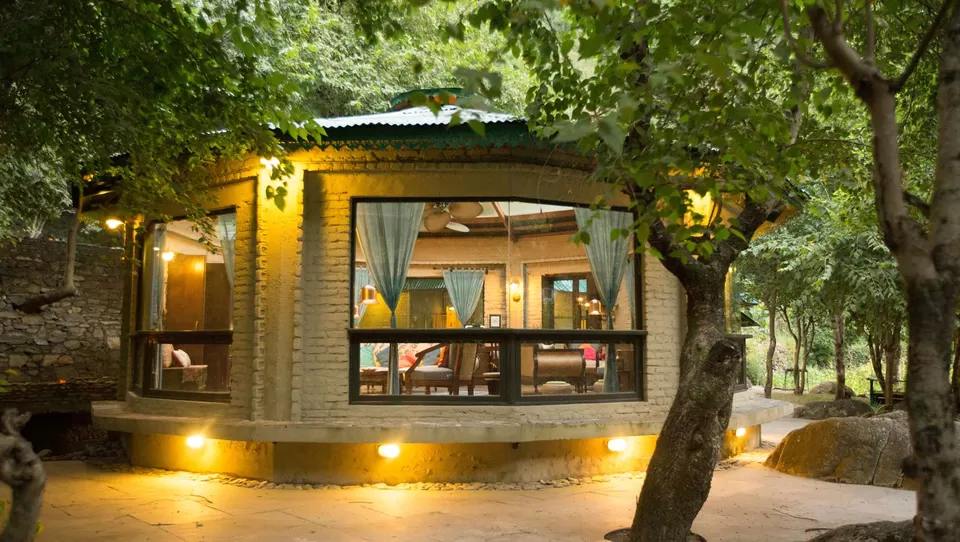 Soulitude is the perfect getaway for newlyweds or couples looking for a rejuvenating break from their routine lives in the city. They can either have a complete staycation here, or use the home as a base to explore Nainital and its wealth of secret waterfalls and walking trails cloaked in colonial history.
About Soulitude by the Riverside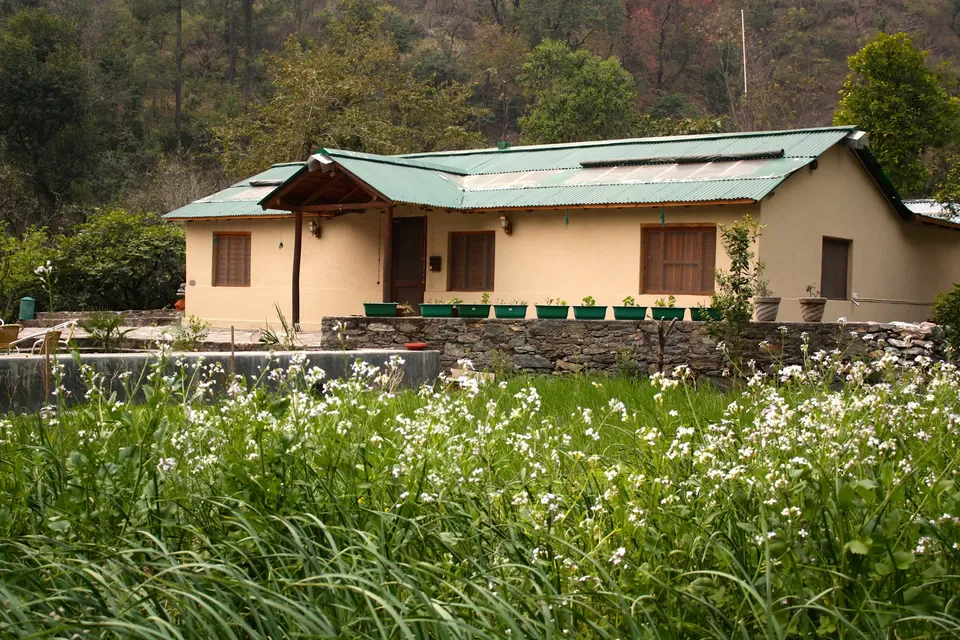 Sitting on the banks of the glacial emerald waters of Kalsa River, Soulitude is folded deep into the jungle and the second you step into the rustic abode, it implores you to stop, slow down and soak in the intoxicating tempo composed majorly by the chirping of birds, croaking of the toads and chatter of the crickets. Sparsely populated, the village is known for its trade in seasonal vegetables, carnations and lilies. Its forests tend to change colours, and nearly every bend you turn and every corner greets you with spectacular panoramas of snowy peaks glistening away into the distance.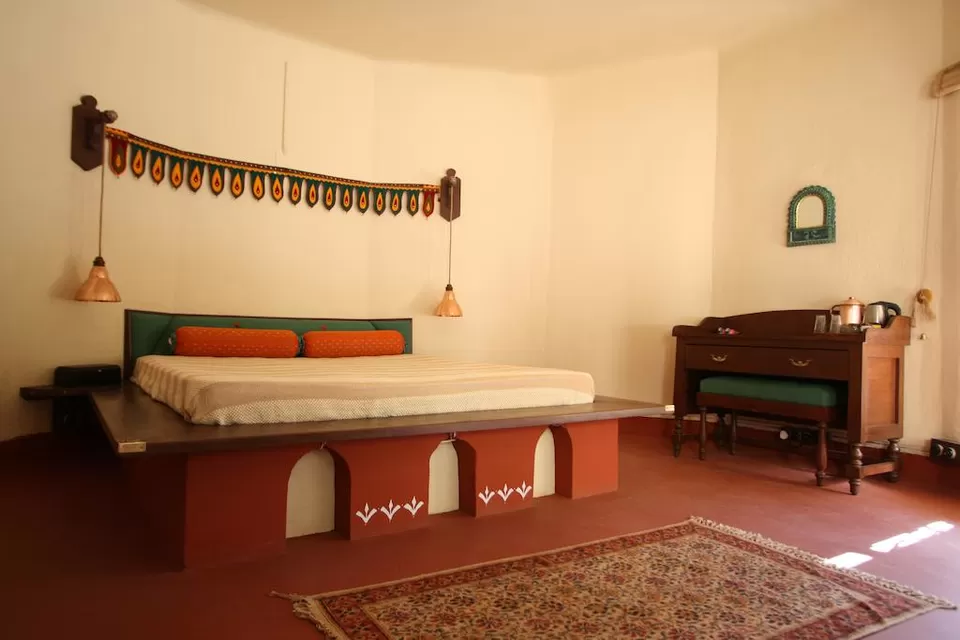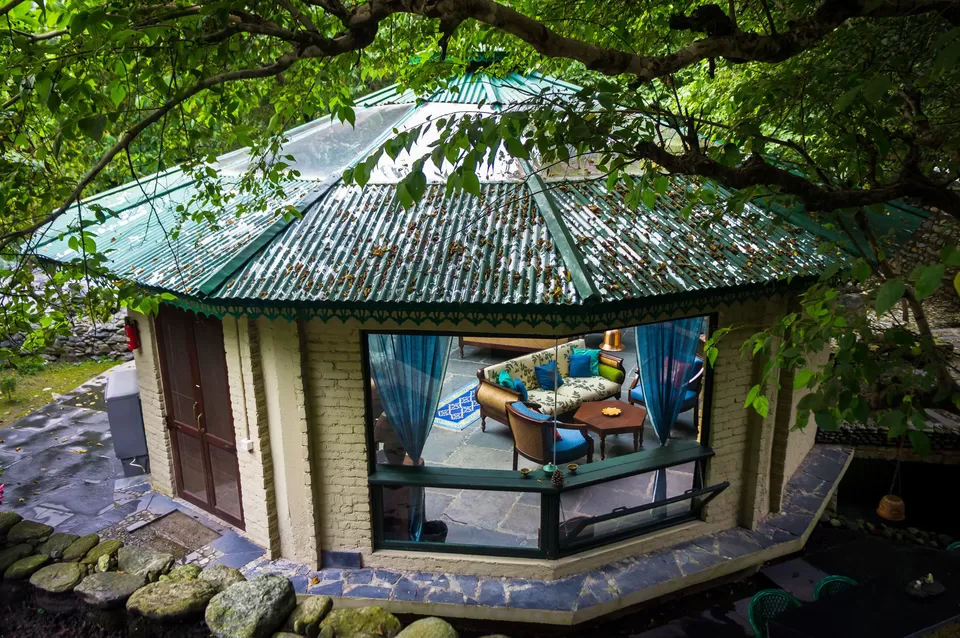 The holiday home is planted in a working organic farm and neighboured by one too many shimmering pools and falls. Its roofs are festooned with skylights that make way for a cinematic light and shadow show everyday and the property, decked with seven rustic rooms that come with a smidgen of urban luxury, are named after a soul's journey from its Awakening to attaining Nirvana – Shant, Sum, Sahaj, Poorna, Prafful, Yukta, Mukta.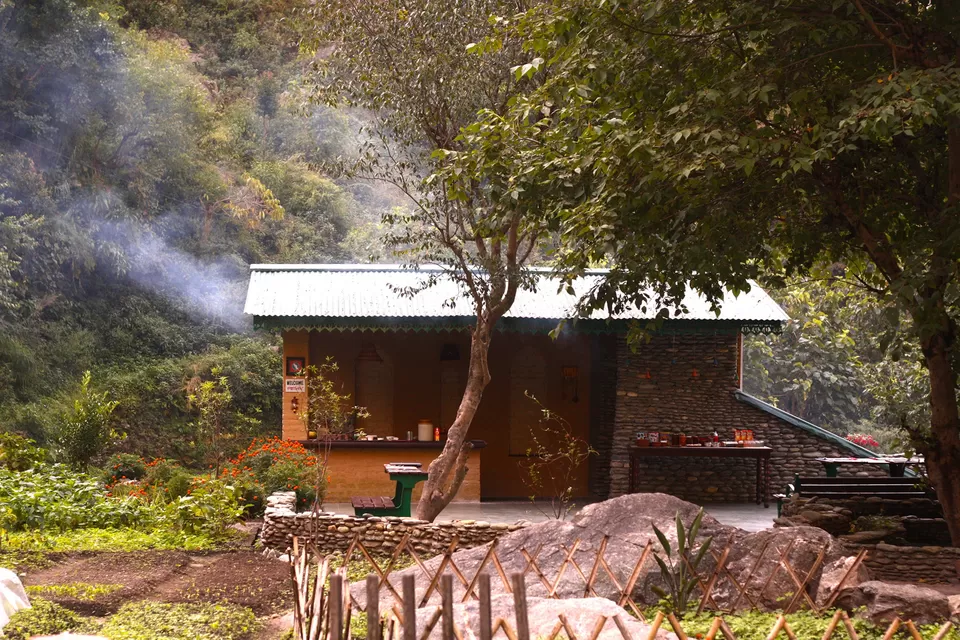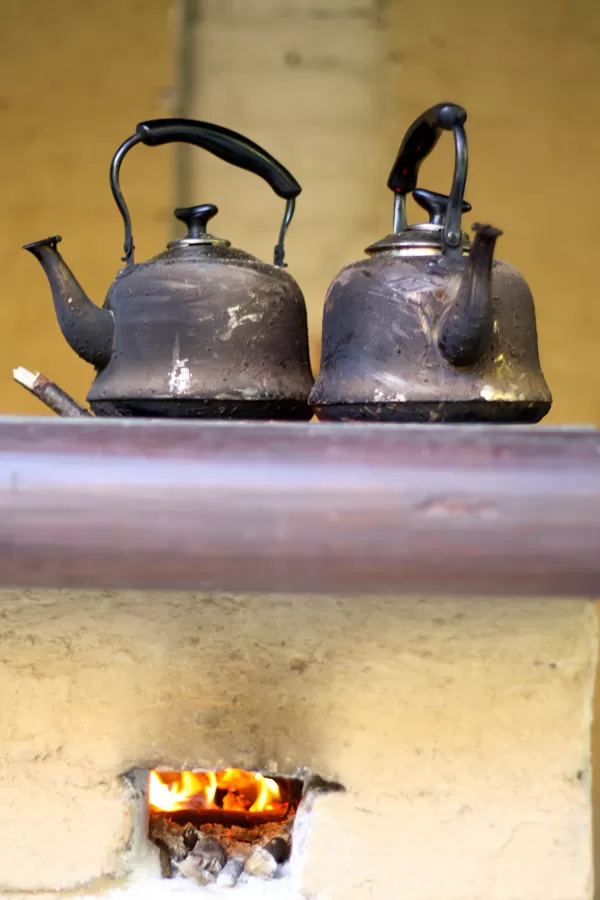 Most ingredients are grown at Soulitude's farms, such as the mint and lemons that are used in their welcome drink. Two areas are earmarked for dining – one being the al fresco dhaba-like space under the shade of a tree and the other is a village room adorned with claypots, khaat-like seating and other kitschy curios.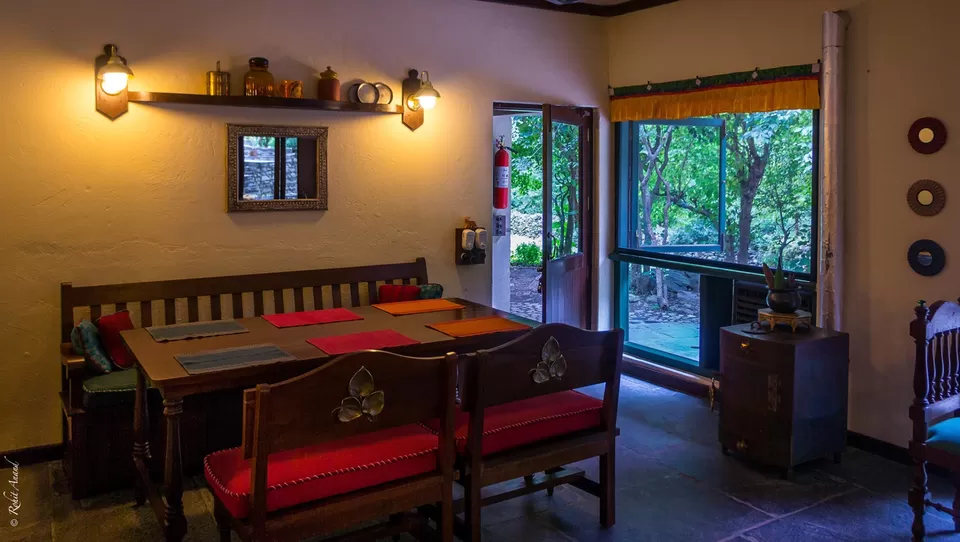 Try the local fare of pakoras, momos, noodles and stir-fried vegetables and the aloo paranthas for breakfast.
Cost
The tariff is based on double occupancy per night, per room and is inclusive of breakfast everyday.
Rooms: ₹7,000
Cottages: ₹9,000 onwards
For further details, visit their website.
Best time to go
Though visiting the hills is perfect almost throughout the year, November through March are the months when Nainital and the Kalsa River is at its most beautiful. The rains withdraw by October, making way for chilly nights, and winters are welcomed to the town by early November. If you are lucky, you might even catch a snowfall or two while at the hilly town.
What to do around the property
While the holiday home doesn't offer any activities, it's surrounded by an assortments of towns that offer a little bit of everything.
A little over an hour away from the property, Ramgarh is perched at an elevation of 1,789 metres on the Bhowali-Mukteshwar Road, and home to a few hundred vibrant orchards (hence the moniker – 'Fruit Bowl of Kumaon'). Once a cantonment to the British armies, the town has been flocked time and again by popular literary figures. Take a leisurely stroll through the town's apple and peach orchards and go for a short hike through Nathuakhan's lush valley. Attend a meditation session or two at Madhuban (the charming Sri Aurobindo Ashram) and later, head to Joshi Cafe for the best tea in Ramgarh.
The nine-cornered Naukuchiatal Lake perched at an elevation of 1,220m above sea level lies under an hour away from Soulitude and should be visited for an afternoon of boating across the charming lake and later visiting the convivial Naukuchiatal market.
A little over four hours from the home, Pithoragarh is a haven for trekkers and other adventure enthusiasts. Munsiyari is also located here. Near synonymous with rows of snow-crested peaks, the town sits at an elevation of 2,298 metres. Referred to as 'Little Kashmir' by the tourist circles, Munsiyari is the gateway to the surreal Johar Valley and sits on the ancient salt route to Tibet. Trek up to the Milam and Ralam glaciers or head to the village of Darkot and load up on pashmina shawls and locally-grown herbs. Stop for pictures along the road from Darkot – Madkot – Jaulijibi that runs along the pristine Gori Ganga river, and make sure to keep a few hours aside to visit the shimmering Birthi Falls.
Take an invigorating walk or a hike through any one of Pangot's cornucopia of hidden trails. Head to Tiffin Top, perched on the Ayarpatta hills for a magnificent view of Nainital and its surrounding hamlets. For a few hours of absolute serenity, visit the Himalayan Centre of Sri Aurobindo Ashram near Bara Patthar and later, go to the Pahari Store if you want to take back home some local handicrafts. For food, take a walk to the Country Kitchen that will whip you up some simple yet delicious platefuls.
Getting there
Soulitude by the Riverside is located 25 kilometres away from the bustling hill station of Nainital.
By road: 320 kilometres away from Delhi via Hapur, it takes six to seven hours to read Chanfi.
By rail: New Delhi-Kathgodam Shatabdi Express (12040) is the most convenient train route. The car journey from Kathgodam to Soulitude takes a little over an hour.
By air: The nearest airport is located in Pantnagar, that is 65 kilometres away from Chanfi.
If you've been Nainital recently, do share your experience on Tripoto and inspire over a million travellers to choose this as their getaway!
Frequent Searches Leading To This Page:-
solitude by the riverside nainital, how to reach solitude by the riverside