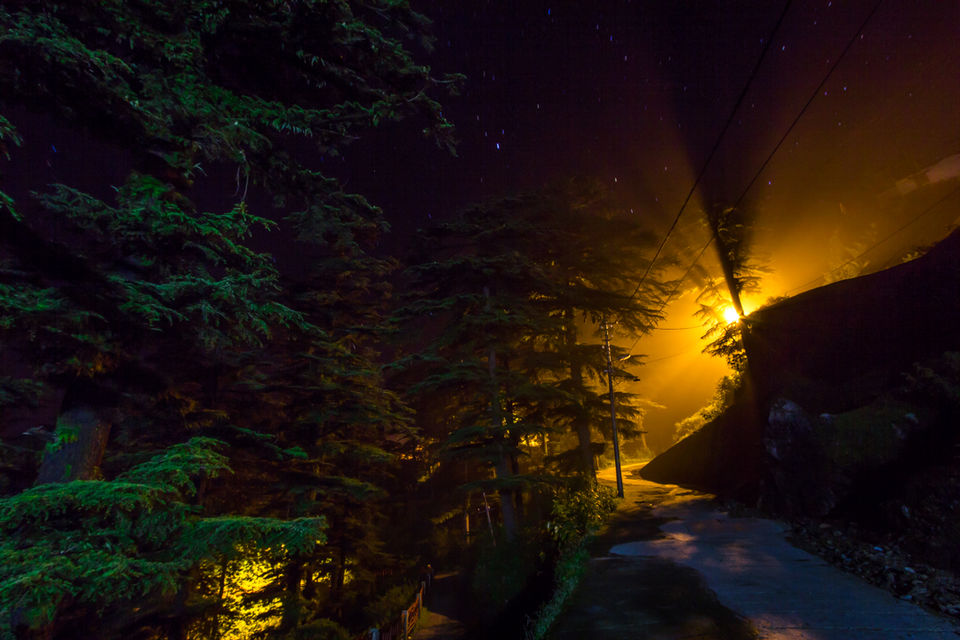 Mussoorie, the queen of the Garhwal hills in Uttarakhand, once considered to be a part of Nepal and claimed to be a part of the Greater Nepal still is 289 kilometres from Delhi and 35 kilometres from Dehradun in Uttarakhand. At an altitude of 6170 feet, it is a refreshing hill station of Uttarakhand with the view of glimmering lights from the heights of the town.
Here are some things we learned about Mussoorie on our visit:
The hauntings of Mussoorie:
Savoy hotel-Miss Garnett Orme who was a psychic had come to stay in the hotel with her friend back in the 1900's. Somehow Miss Orme had been left alone by her friend due to a circumstance. Later, Miss Garnett was discovered dead mysteriously by strychnine poisoning which mysteriously was the exact same cause of death of Miss Orme's doctor! Now, it is said that her ghost haunts the corridors and her previous room on the 5th floor. People have heard singing whispering and have seen an apparition in the corridor at night. The story has also inspired Ruskin Bond to write 'In a crystal ball-A Mussoorie Mystery' and Agatha Christie to write-'The Mysterious Affair At Styles'

www.hauntedindia.blogspot.in
Raj Bhavan-Walking Uphill from the Library point in Mussoorie is an abandoned building called Raj Bhavan. The place can be mapped on the GPS. Locals have reported paranormal activity at night between 1-4 am. We went uphill but took a wrong cut up (Still very scary). But the story goes that at night when people go to the area, they feel clutched onto by someone, slapped and pushed. These ghosts seem like cruel bullies!
The Lambi Dehar Mines-Though I haven't been here, this just popped up at me from some link I opened just by the way. That seems to be a ghost calling, right? They are located on the outskirts of Mussoorie and directions can be taken from the locals. As the story goes, the mine was shut down because of many labour deaths due to improper mining conditions. There are also rumours about a witch of the mine who walks down the hill at night.

www.24x7review.com

Major tourist spot:
Mussoorie is one of the major spots of tourism. Tourism equals everything to be overpriced, is what we noticed. We parked our car after the mall road in front of all the cafes that we spotted and ended up paying so much for 10 minutes of parking. The cafes were filled with foreigners, hence very overpriced. We went to the highest peak of Mussoorie called Lal Tibba, which was just a general building's terrace to see the view with an entrance fee! Though the entrance fee was just rupees 20, the idea of charging to climb a couple of stairs felt appalling. Entrance to the mall road with a vehicle would also cost you over 100 rupees. There are two routes around town. Make sure you take the free route. In conclusion, a trip to this hill station must be taken care aware of such expenses that are uncalled for. The hill station is very crowded during the day and there is no concept of off season. Being so easily approachable all throughout the year, there are always people refuging here during weekends.
Bhatta Falls:
A little detour is worth it, is what we learnt in the hill station. After leaving Mussoorie to go back, we decided to go see Bhatta falls which is about a 7 kilometre from Mussoorie. We had lowered our expectation to see anything worth watching after visiting Lal Tibba. But apart from a littered spot, the Bhatta falls were worth the visit. Well, a spot of litter and a major sausage fest swimming in the pool under the waterfall! But other than that, the fall was a great place to chill at, with a tea shop next to it and changing rooms if you want to bathe in the waterfall. The route to go down was scenic as well.

Instagram- @anunaysood
All in all, Mussoorie is worth a visit before the vanishing of the hills beauty in the car smoke and overpopulation. Other than these, there is a lot to do around Mussoorie.
The Nahata Estate-A property owned by the Nahata family, about 5 kilometres from Lal Tibba which offers an exhilarating view of mountain clad mountains. 
The Kempty falls and Lake Mist about 15 kilometres from Mussoorie.
Mossy falls-7 kilometres from Mussoorie is surrounded by dense forests.
Cloud End-one of the first houses in Mussoorie now turned into a hotel that provides peace in this major tourist spot.
Sir George Everest's house-Sir George Everest was the Surveyor General of India after whom the world's highest peak Mount Everest is named.