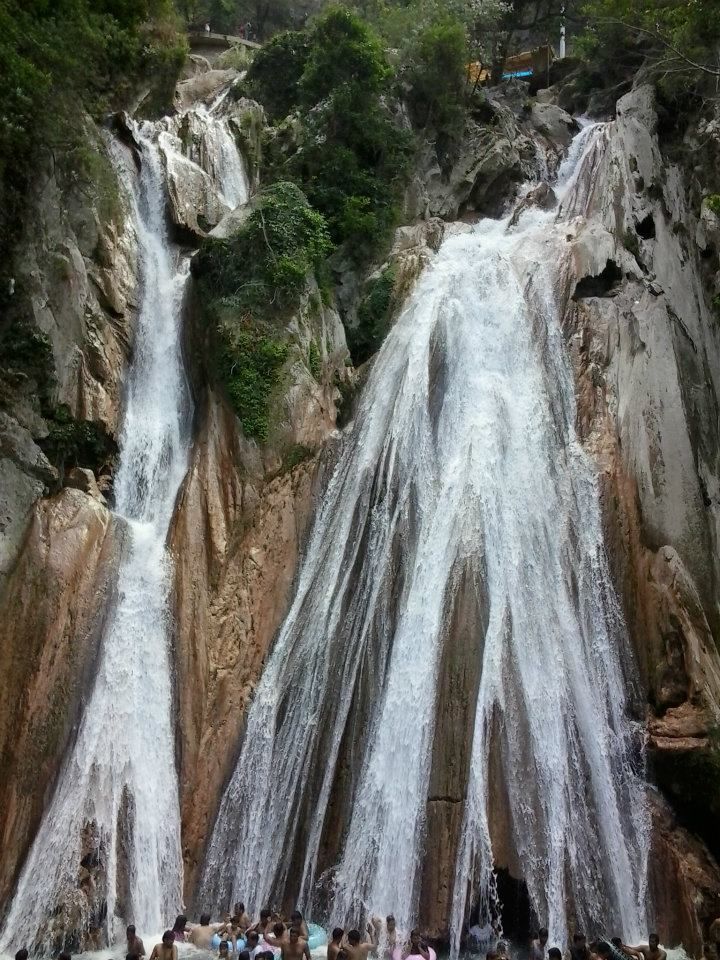 Mussoorie, Queen of the Hills, located some 290 km north of New Delhi (5 hours) and 201 km (4 hours) north east of Chandigarh, is among the most popular hill stations in India. You can visit Mussoorie during any time of the calendar. It is a paradise for leisure travelers and honeymooners. A perfect summer destination and a major educational and cultural centre. Mussoorie offers superb scenic view of peaks of the Himalayas. Surrounded by lush wooded expanses and winding lanes, it offers exclusive opportunities for quiet walks. Mussoorie is a wonderful place to unwind yourself. The town has unavoidable romance in the air - an excellent breathing space for tourists and people who seek relief from the hot sultry conditions of the plains. Nature has gifted Mussoorie everything, which makes a place charming and cherubic. This is the best place for mountains climbers, trekkers and adventure sport enthusiasts. Trekkers begin their journey into the popular trekking area of Har Ki Dun, Chandrashila, Nag Tibba, and Kedarkantha with its snows capes and verdant-forested slopes from Mussoorie.
I started my journey for such a lovely place early morning. The sun was about to rise and it was really nice watching the sun spreading its vibrant colors. I reached Dehradun in around 3 hours taking few small breaks. Mussoorie is almost 27 km from Dehradun. The lush green nature is so mesmerizing.
I took a quick stop to enjoy breakfast. I found a café on the Mussoorie route named First Gear Café. As the name, you can drive your vehicle only in first gear because it's really steep. The café is raw with music instruments and games, offering a wide variety of cuisines at very reasonable prices. I really enjoyed my breakfast here and the staff is really helpful. The view from the café is really amazing.
After breakfast, it was almost a half hour journey from here. I reached at my resort, Avalon (Club Mahindra), Mussoorie. It's really nice to be at the Club Mahindra resorts. I was staying in the Studio apartment, it's filled with all amenities, and you can cook yourself too. I took some rest and went to explore the resort. The resort is really nice. The staff helped in exploring the place and provided me such useful information where I can spoil myself in Mussoorie. So I stepped out to explore.
Mall Road: The Mall is a renowned shopping area situated in the heart of Mussoorie. It possesses art & craft shops, cafes and a host of colonial restaurants expressing Mussoorie's past glories & stories. There are several game parlors and skating rinks where travelers can keep themselves involved into entertainment activities. The Mall also has a Tibetan market nearby and Methodist church makes for a diverse cultural mix.
Lal Tibba:
Lal Tibba is the highest point in Mussoorie and offers a panoramic scenic view of the town and its surroundings. You can enjoy evening tea, snacks and a walk around at this place. Right above this place is a heritage hotel named Rokeby Manor. It is one of the heritage site converted into hotel. The food is really awesome and you can enjoy the sunset from this place. The best place to enjoy the sunset colors. Just above the place is famous for a Japanese telescope which was placed here in 1967. From this telescope one can view Badrinath, Kedarnath, Banderpunch and other Himalayan ranges.
After such a lovely day well spent, I had my dinner at the Sagar Ratna at Mall Road and went to sleep.
Day 2:
Amazingly surprised by the rain this morning. It was a sign for really great day. I sat in balcony and enjoyed the mesmerizing sound of rain and the chirping of birds. I prepared my own breakfast and enjoyed it. Now it's time to have some day full of activities. So I decided to move around Mussoorie. So, I went to:
Lake Mist:
Lake Mist is about 5 km before Kempty Falls on the Mussoorie-Kempty road. through which flows the Kempty river with its numerous small waterfalls. The resort at Lake Mist provides accommodation, restaurant facilities and boating.
Kempty Falls:
The Kempty Falls are on the hilly tracks 15 km from Mussoorie. The name was derived from the words 'camp-tea', which was popularized by British tea parties here during the colonial era. Kempty Falls offers memorable view as the water flowing through five cascading falls in the downstream from around 50 feet. There are two main falls in Kempty with water falling into big pools that offer excellent opportunity to play in the crystal clear water. The upper one relatively calm while the lower waterfall is very popular and attracts large crowd.
I enjoyed the falls and the place. You can enjoy shopping here too, a lot of handmade stuff for decoration and daily use.
There are few other falls that you can enjoy near Mussoorie:
Bhatta Falls:
Bhatta Falls are 7 km from Mussoorie on the Mussoorie-Dehradun Road near the village of Bhatta. The falls are 3 km by foot from Bhatta.
Jharipani Fall:
Jharipani Fall is 8.5 km from Mussoorie on Mussoorie-Jharipani road. You can explore this Jharipani fall 1.5 km by foot.
Mossy Fall:
Mossy Fall is surrounded by a dense forest and is 7 km from Mussoorie. This fall will help you understand "How beautiful the nature is".
Dhanaulti: I moved for Dhanaulti after having fun at Kempty falls. The wheather was really awesome to travel there as it was raining when I was about to reach Dhanaulti. Dhanaulti is a perfect place to plan your weekend getaway. As most of you will find Dhanaulti is not over crowded like the other hill stations. Its rests itself peacefully in the nucleus of Himalayas. Dhanaulti is still untouched and maintains a quiet charm around it. The pleasant weather, wooded slopes, invigorating views of the snow capped peaks of the Himalayas adds peace and tranquility for the tourists visiting Dhanaulti. The lush green region of Dhanaulti surrounded with dense deodar trees, is a perfect place to indulge in hiking. At Eco Park, there are plenty of adventure activities that have been made available for tourists visiting Dhanaulti. Horse riding, Burma Bridge, rappelling and hiking are some of the popular activities among tourists. You can buy handmade shawls, stoles, scarves and throws using only natural dyes and wool, eri silk and pashmina in Dhanaulti from Himalayan Weavers.
What if your car broke down? Well Yes, it happened to me. Please make sure you have enough fuel and money as there are no car garages, no ATMs and Petrol Pump at Dhanaulti. Otherwise, one has to either travel 30kms to Chamba or 30 kms back to Mussoorie. Hopefully I found a traveler truck and helped me towing the car to Dehradun because of all garages closed in Mussoorie on Sunday and due to heavy rain. I booked the cab back to Mussoorie from Dehradun after dropping my car.
Back at the resort I enjoyed my dinner and slept.
Day 3:
I woke up early this morning. It's really nice to get some workout for yourself. Sitting on the chair in balcony and remembering the each moment I spent here in Mussoorie. Nature is really beautiful.
It's time to start but like ending my day leaving such a place. I had my breakfast here at Avalon Club Mahindra, Mussoorie. After checking out from the resort, I took a cab to get my car in Dehradun. In the midway found a small but really nice Zoo called, Dehradun Zoo. Previously it was named Deer park. One can spend a good time here at Dehradun Zoo. There are many animals and birds that are kept and you can get a lot of information about lovely creatures. After spending little time I collected my car and moved forward to end up my holiday weekend.
I had my lunch and moved back to my hometown.
"Enjoy these moments now, because they don't last forever".