Valley of flowers in Uttrakhand is a world heritage site and one of the national parks in India. It attracts thousands of visitors every year, especially seasonal trekkers and photographers. I went to Valley of Flowers (VOF) last year in August, as it is the best month to experience the valley for its variety of flowers that blossom during the rainy season. I was accompanied by a friend on the trip. It is undoubtedly one of the most scenic treks in India. It takes around 7-8 hours to visit the park from Ghangharia and come back. I am sure you will be overwhelmed with the amazing landscapes of the park.
GALLERY: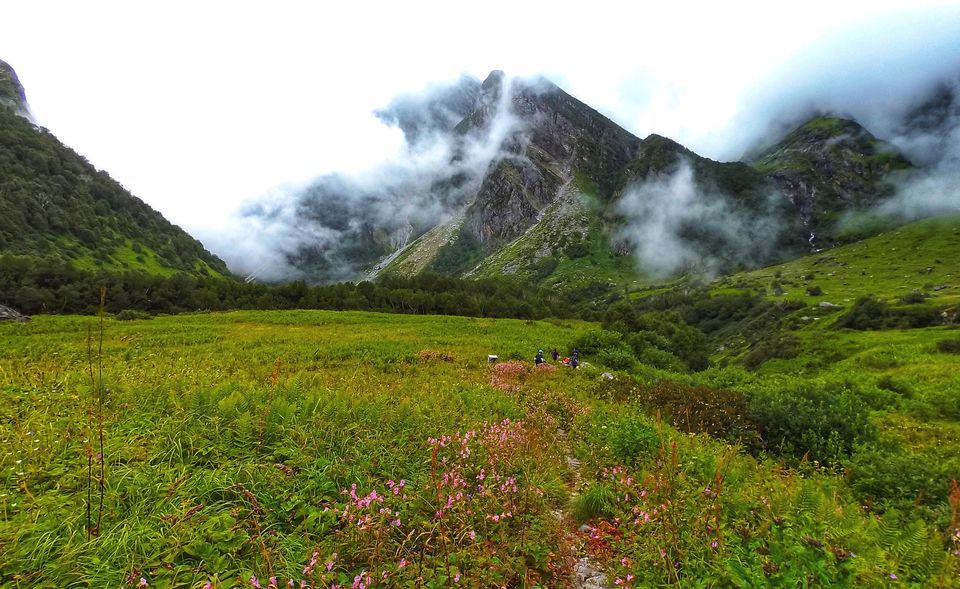 Link of my instagram: https://www.instagram.com/singhvoyage/
HOW I REACHED to VOF from DELHI and ITINERARY
Day 1 : I took Dehradun Express from H Nizamuddin station of Delhi to Haridwar. I booked sleeper class that costs 185 Rs. Haridwar to Rishikesh by shared auto-rikshaw, it costs around 50 Rs.
Day 2 : After staying overnight in Rishikesh, took a bus at around 5 am from Rishikesh Govt. bus stand to Joshimath, it costs around 450 Rs, took a jeep from Joshimath to Govindghat
Day 3 : Woke up early to start trek of 13 kms from Govindghat to Ghangharia, that is the stay point to trek to Hemkund Sahib (the highest Gurudwara in the world) and VOF. You can also take a jeep for the first 5 kms, in that case you will only have to trek some 8 kms approx. After reaching Ghanghria, do remember to attend a short film session, it tells you about all the species of flowers found in the valley. It is a good to know thing. They charge around 50 bucks.
Day 4: As the access was closed to VOF due to landslide in the previous night, I decided to go on trek to Hemkund Saheb. It is an 8 kms steep trek that is very difficult but not if you are into physical exercise. I chose the stairs to reach the holy shrine that is definitely an abode. The holy lake at the top is nothing short of heaven. It has everything that you can imagine about heaven. The tasty Khichdi in the Gurudwara took all the pain I had incurred on the way to reach there. You will also get to see the national flower of Uttrakhand, Brahama Kamal. It looks beautiful. But please don't pluck it.
Day 5 : I was lucky, the trek was opened after clearing the debris from the landslide. I was stunned to see the incredible views of the valley. It is a xanadu for nature lovers and a perfect place for photography. The flowers were spread all around the valley. I just did not want to come back from the valley. Do remember to carry something to eat, as no food stalls or a vendor is allowed inside the valley. Start early for the trek as it gets crowded very early and one have to buy a pass to enter the valley. It costs around 300 Rs.
Day 6: started to descend towards Govindghat and after reaching there took a jeep back to Joshimath. Again, early start is the key, in-case if there will not be enough people, you will have to wait for a lot of time for the jeep to start or have to pay a lot more than the common price.
Day 7: I stayed in Rishikesh and explored the town which is also known as the world's capital of Yoga.
ACCOMMODATION:
There are many cheap basic hotels are available in Govindghat and Ghangharia, I paid 300 Rs each time to stay. It was very cold even in August in the valley and also the rain was pouring down most of the time. You can also stay in Gurudwara at both places.
THINGS TO CARRY WITH YOU :
It may be very hot in Delhi in August but it will be cold in Govindghat and further uphill. So, remember to carry warm clothes with you and as I mentioned above that it will be raining most of the time, so do carry rain coat or may be a poncho. You can visit the nearest Decathlon store and there you can find all that is required. Here is the list of all items needed : Warm clothes, Rain jacket and waterproof pant, Umbrella, a pair of quick dryer pants, a pair of quick dryer shirt, torch, waterproof shoes, glucose powder and some dry fruits, a small dryer. There is no mobile service in Ghangharia, though there are some telephone booths, they have tata-indicom connections. So, just forget about the connectivity for couple of days.

FOOD:
If you are a backpacker like me and want to save money on over- priced foods in Ghangharia, I would recommend you to eat langar in Gurudwara, but do remember do donate some funds so that the holy work continues. Usually the eatables are over-priced there, but again it is located at such harsh conditions, they deserve to get paid more and also they don't have business all around the year. Food in one of the restaurants will cost you around 200-250 each time. Tea and hot water is available in Gurudwara 24*7.
There are no ATM available in Govidghat or Ghanghria, so do remember to carry enough cash with you.
Feel free to comment if you have any queries, i will definitely reply.