Whenever I travel to some place new it is my main motive to keep the trip in a budget and let other travellers also know how to do the same. It involves travelling in public transport and staying with locals, this way is not only an economical one but you also get to know things you cannot know otherwise. So when I decided to visit Dayara Bugyal I wasn't able to find much info but reaching the base camp so it turned out to be a little difficult task but I still manage to do it in a budget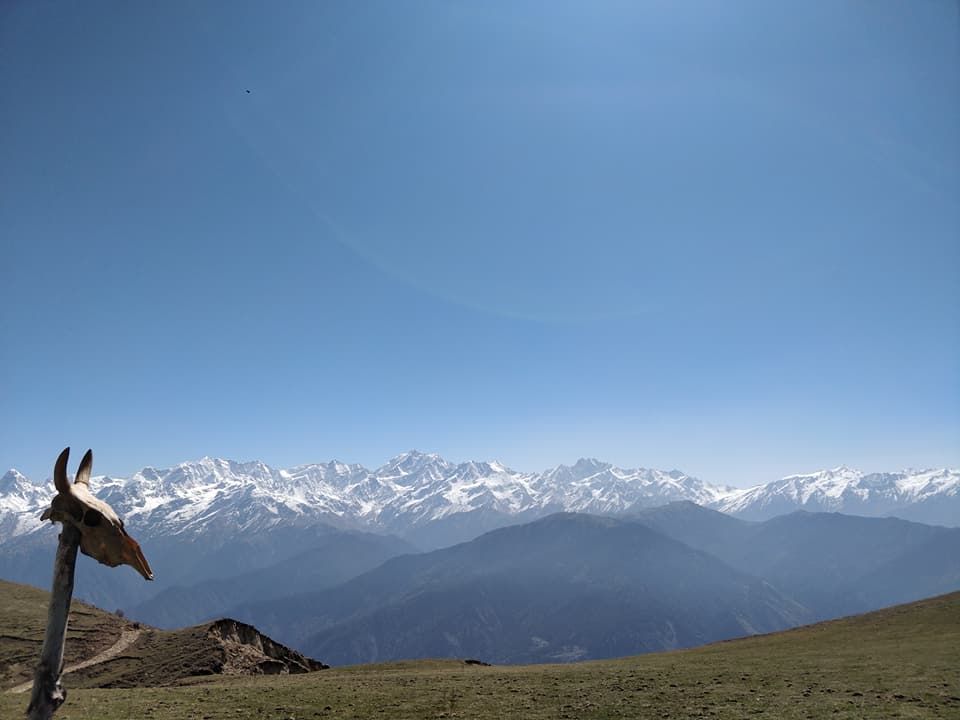 Day 1
I took a bus from Delhi to Dehradun at Rs.280, I reached Dehradun in morning at 6.
You can also get a bus to Uttarkashi at 5:30 for rs.260 but since I missed that bus I took a jeep from Rispa Pul to Uttarkashi at Rs.300
From Uttarkashi you have to take another Jeep to Bhatwari for Rs.60
Once you reach Bhatwari you either can take a Shared jeep to Barsu(if available) for rs.10 or if you reach Bhatwari around evening you can take the bus for Rs.10. I took the bus for Rs.10
After reaching Bhatwari I got a bed in the Dormitory of GMVN guest house for Rs.300, they also served dinner at 150/person.
During my whole day's journey I had food/snack worth rs.250
Total expense at the end of day Rs.1310
Day 2:
I had Paranthas in Breakfast from the GMVN kitched and packed two for my Lunch for a Total of Rs.200 (including tea)
I started the trek reached up top at Dayara Bugyal had Maggi from the shop up there at Rs.60.
I started coming down by 4 and reached down by 6. I trekked from the Barsu side the trek length is of 8 Kms but it's a little steep at the beginning, but I managed to reach up in 2.5 hours and get down almost in 1 hour and 45 minutes. I trek quite often and I'm in good share so time could vary by an hour for different people but this trek is doable in One day, if you want to camp up you can get tents at rent for rs.600 for one person.
I reached down and got stayed in the Guest house for Rs.300 again with dinner at Rs.150.
Total expense at the end of day 2 Rs.1960.
Day 3:
The bus and shared jeeps are only available during early hours from Barsu to Bhatwari, if you miss them you will have to book a jeep till Bhatwari at rs.400. The bus leaves at 8:30 AM.
I got in the bus and returned the same way till Delhi for a total cost of Rs.610 till Delhi.
Also I spent Rs.300 on all meals during my return Journey.
Total expense of the Journey: Rs.2870
The cost can be reduced if you are travelling with someone the food and accommodation cost can be shared in that case.