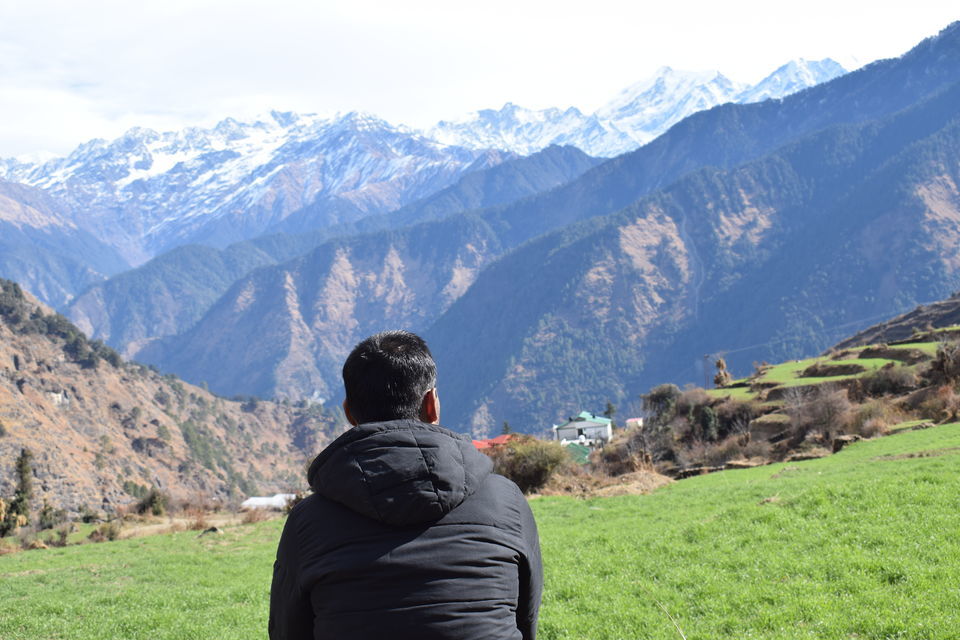 The 7th semester of college had just ended, and it was going to be my last official 1 month winter break, before I joined corporate next year. So, I had to make the most of it. After finishing my 2 day solo trip to Haridwar and Rishikesh a week ago, me and my father decided to do this trek. From what we had read on the internet, the trek is pretty much doable without any trekking agency. And since we were on a budget, we decided to do this by ourselves.
Note : The post might be a bit long as I'll try to document every possible thing for the trek.
Day 1 : New Delhi -> Dehradun
We booked our tickets in the New Delhi -> Dehradun Jan Shatabdi Express costing ₹160 per person. The buses for Uttarkashi depart early morning, so the only option is to catch the Nanda Devi Express or stay overnight in Dehradun. We chose the latter. Our train reached Dehradun 1 hour late at 10 pm, and we had pre-booked a double bed room at Hotel GP Grand from GoIbibo at ₹560. (₹280 pp). The hotel is situated at a walking distance from the railway station.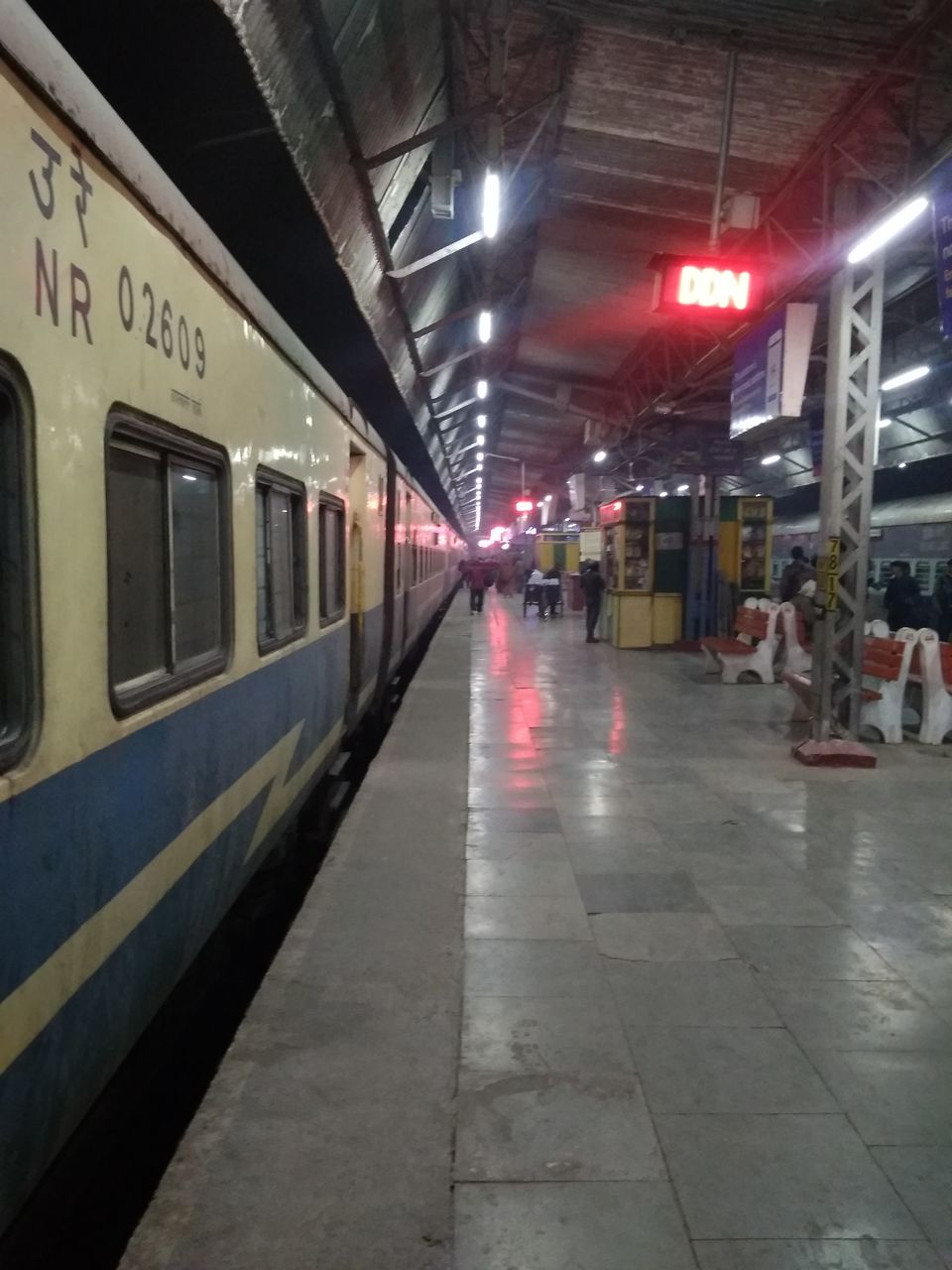 Now, there are two major bus stations in Dehradun. The first one Dehradun ISBT, is situated at a distance of 7km from the railway station. All the buses to other states like Delhi, UP, etc. depart from here. The second one, the Dehradun Hill Roadways Bus Station, is just adjacent to the railway station. All the buses to the neighboring hill towns, like Mussoorie, Uttarkashi, etc. depart from here.
Day 2 : Dehradun -> Uttarkashi -> Barsu
We reached the bus stop at 5:00 AM. The first UTC bus to Uttarkashi leaves at sharp 5:30 AM. It's an ordinary service and I was actually surprised to see how well maintained the bus was. The fare for Uttarkashi was ₹280pp. The bus left at its scheduled time and since there was virtually no traffic in the morning, we crossed Mussoorie in just 1 hour. It takes around 6 hours to reach Uttarkashi. The bus stops once on the way for breakfast and tea.
Note : Private buses also ply between Dehradun/Haridwar and Uttarkashi. However, it's preferred to take the UTC bus as the condition of it is better. You can book your tickets online from here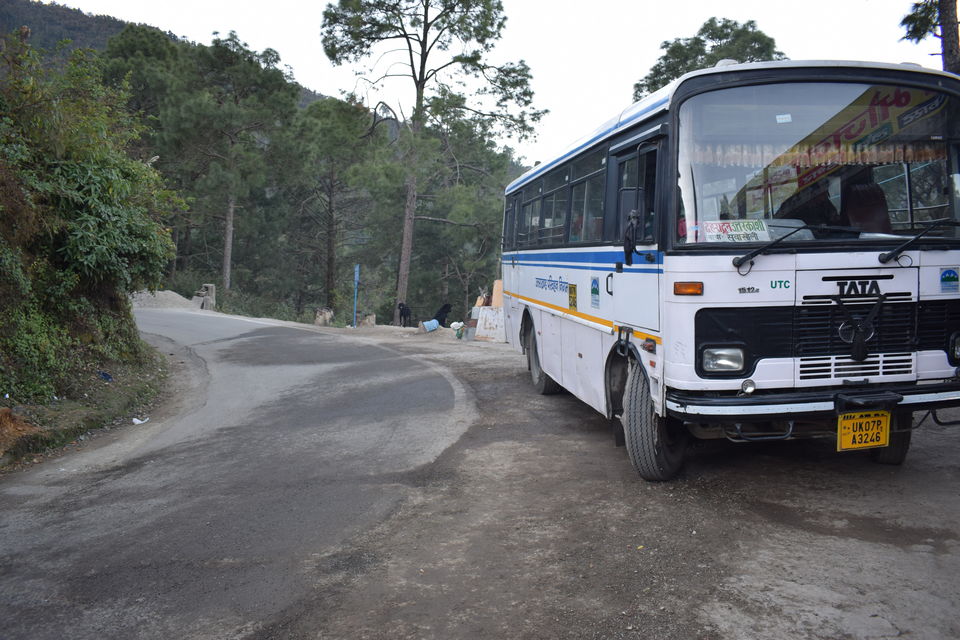 The journey to Uttarkashi is nothing short of breathtaking. The amazing sunrise, the Garhwal peaks playing hide and seek throughout the journey and the stunning views of Bhagirathi river after Chinyalisaur, all make for some pretty sights to shoot. I'll let the pictures do the talking.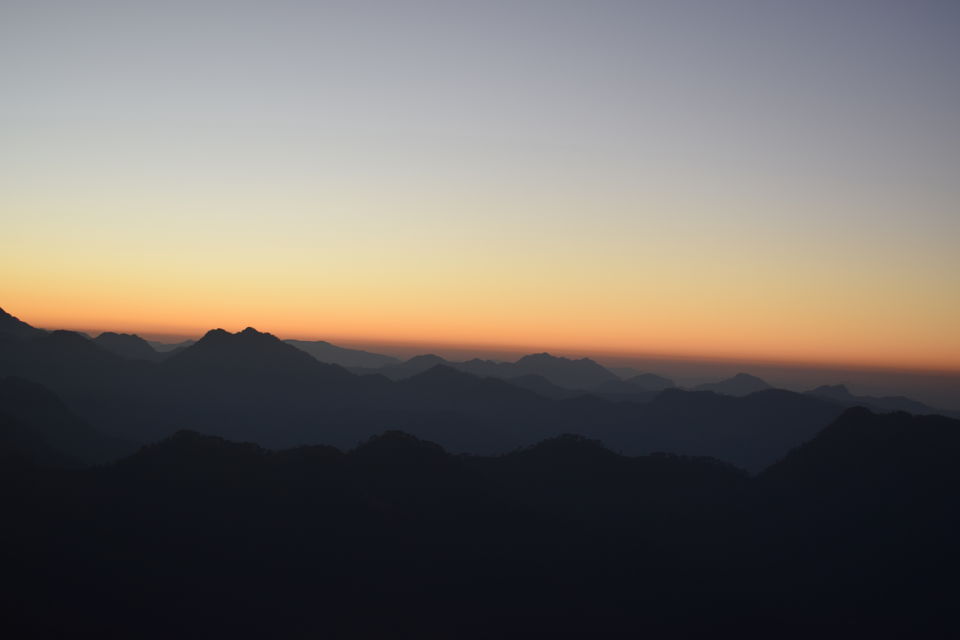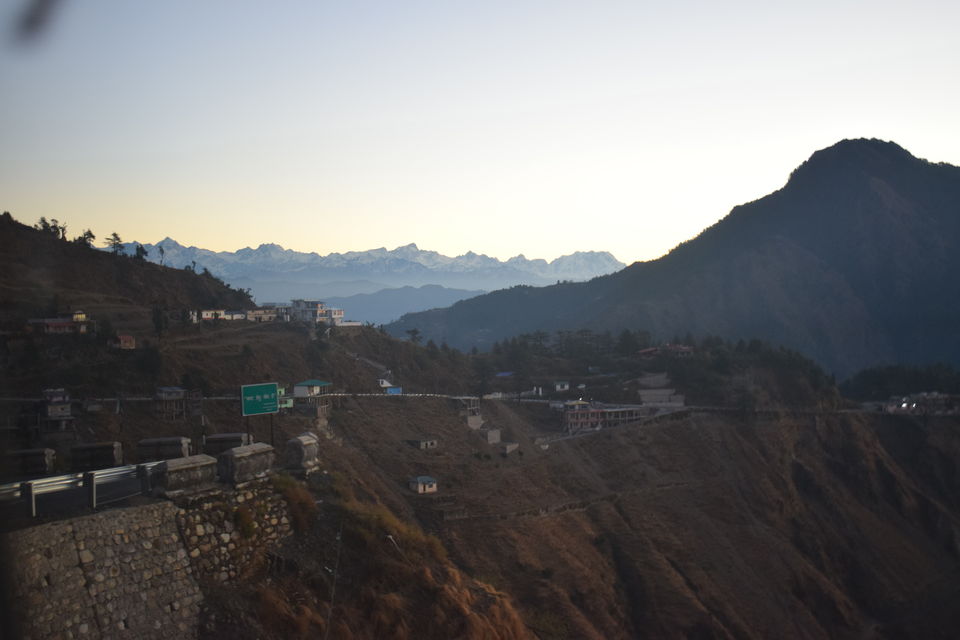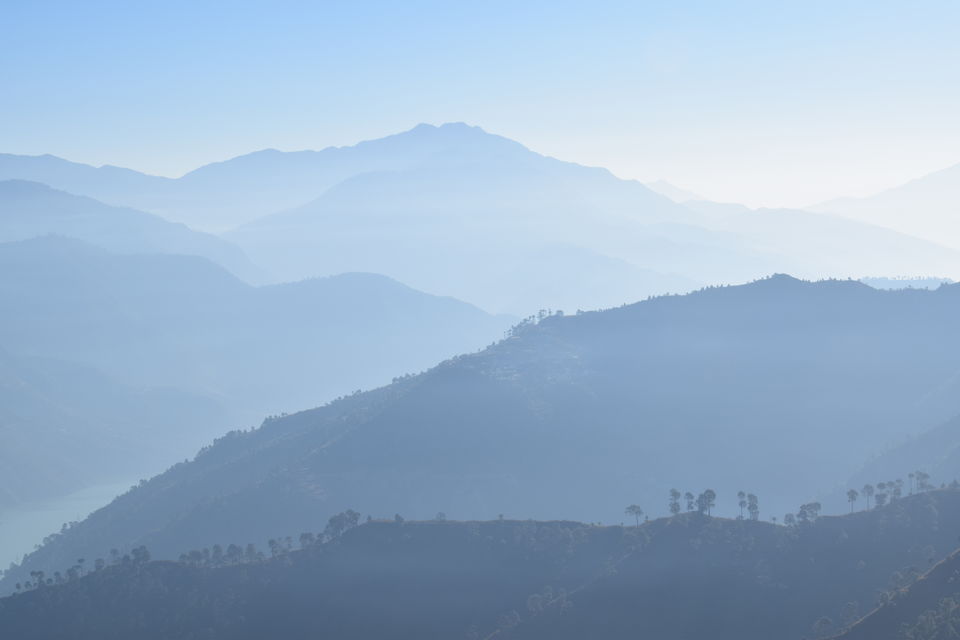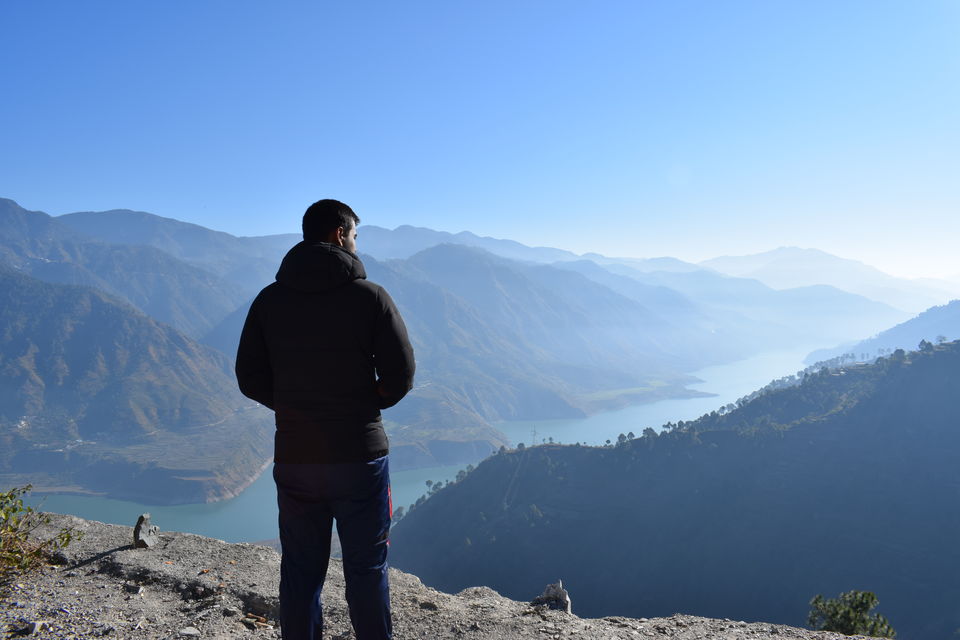 We finally reached Uttarkashi at around 11:30 AM. The town is just like any other crowded hill town. On inquiring, we found out that the bus to Barsu leaves at 3 PM. Meanwhile, we decided to have lunch and try to rent sleeping bags, mattresses and tents for our trek. Moving ahead on the Uttarkashi - Bhatwari road, you can find a few shops that rent out trekking equipment (Snow Spider Trek and Tour, 9411147257, 9412027243). We rented one 2-man tent (₹200 per day), 2 sleeping bags (₹50 per sleeping bag per day) and 2 mattresses (₹10 per mattress per day) for 3 days. The total cost came out to be ₹960 (₹480 pp) for 3 days. After this, we boarded the bus bound for Barsu (₹55 pp). Barsu is further situated around 45 kms from Uttarkashi. Compared to the previous journey, this one proved to be tiring as the bus was pretty small and took around 2:30 hours to reach its destination while halting for 30 minutes at Bhatwari. However, the stunning sunset views compensated for the journey.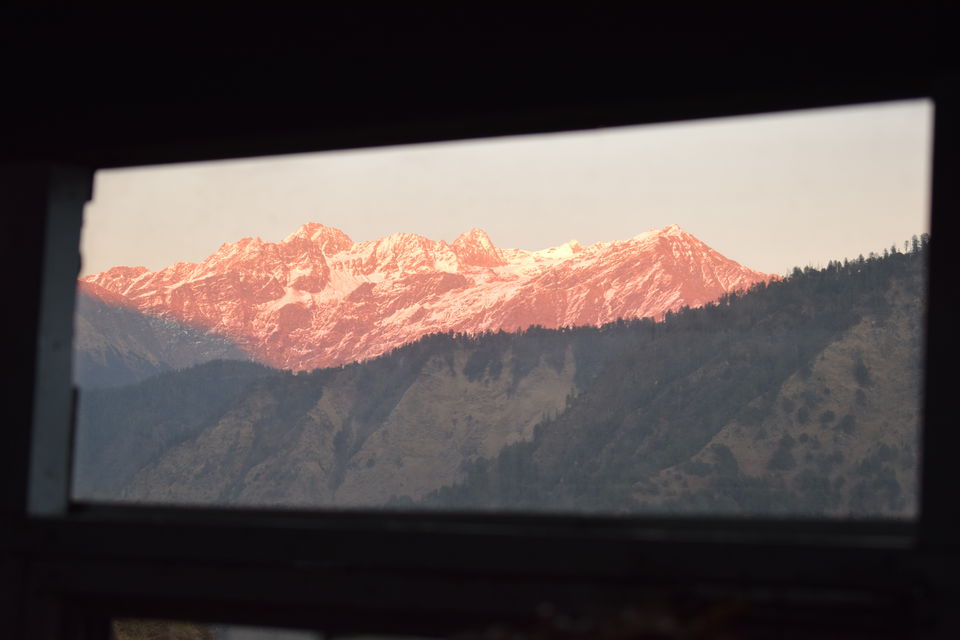 We finally reached Barsu at around 5:30 PM. The bus dropped us right outside the GMVN rest house. And boy, it was cold. We were shivering like anything even though the sun had not set fully. Temperatures in Barsu drop to as low as -10°C during night because of cold winds. Online booking of dormitories (₹200 pp per night) in GMVN rest house had already been done by us. Mobile networks are non-existent in Barsu barring Idea and Vodafone. The guest house caretaker was kind enough to lend us his phone to make a few calls. After a warm and hearty dinner of rice, dal and subzi (₹150 pp), we dozed off to sleep.
Day 3 : Barsu -> Barnala
Today was going to be the 1st day of our trek. After a breakfast of piping hot aloo paranthe, I went to the famed Barsu lake to capture this.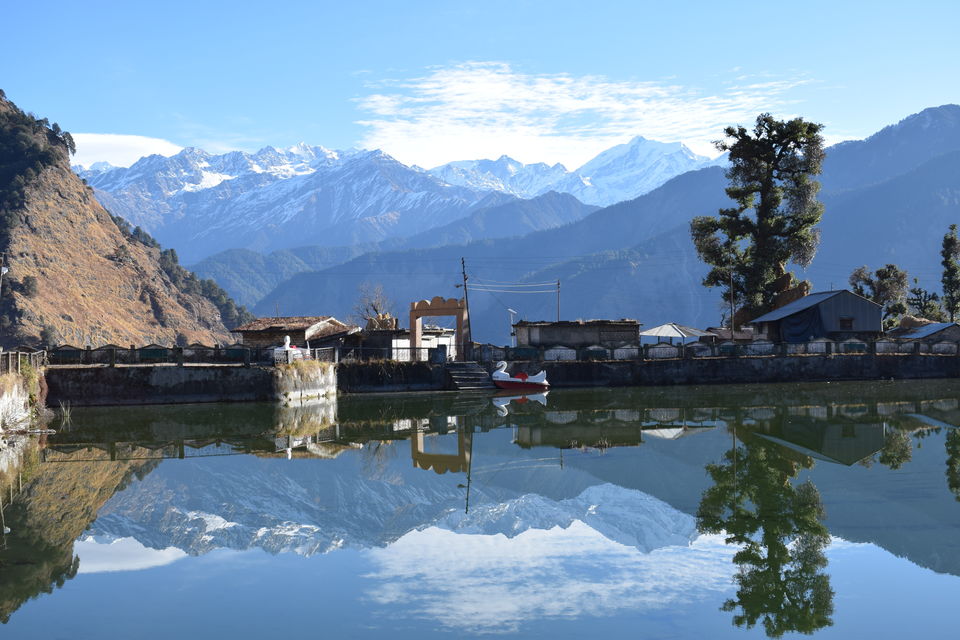 This was followed by a quick walk through the Barsu village and interaction with locals. Barsu is a pretty quaint village and has a population of just about 100-150 people. It serves as one of the base villages for the Dayara Bugyal trek, the other being Raithal. From what we came to know, the trail from Raithal is longer but less steep, whereas the trail from Barsu is steeper, but the distance is less. A few more snaps.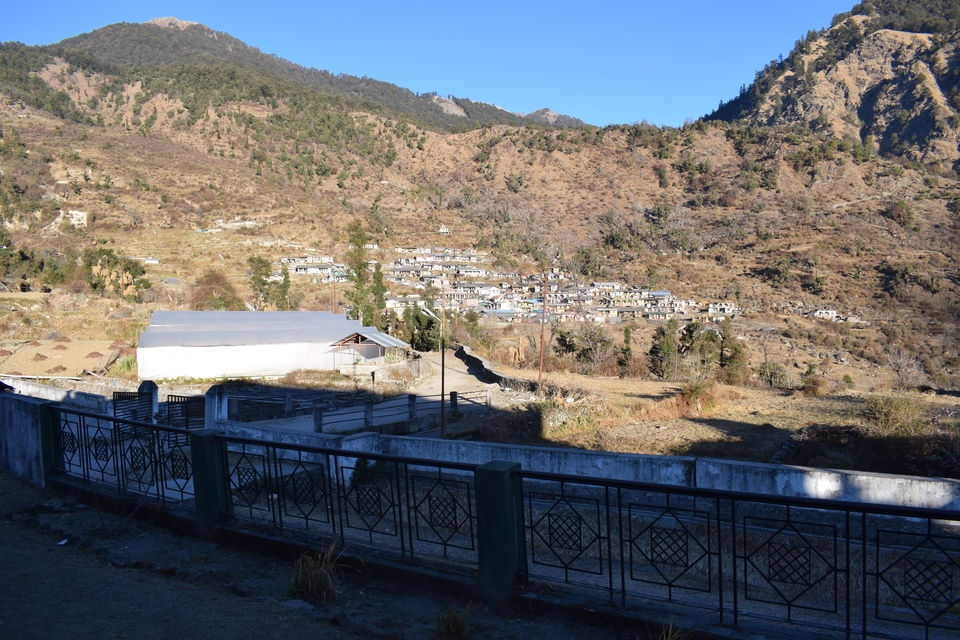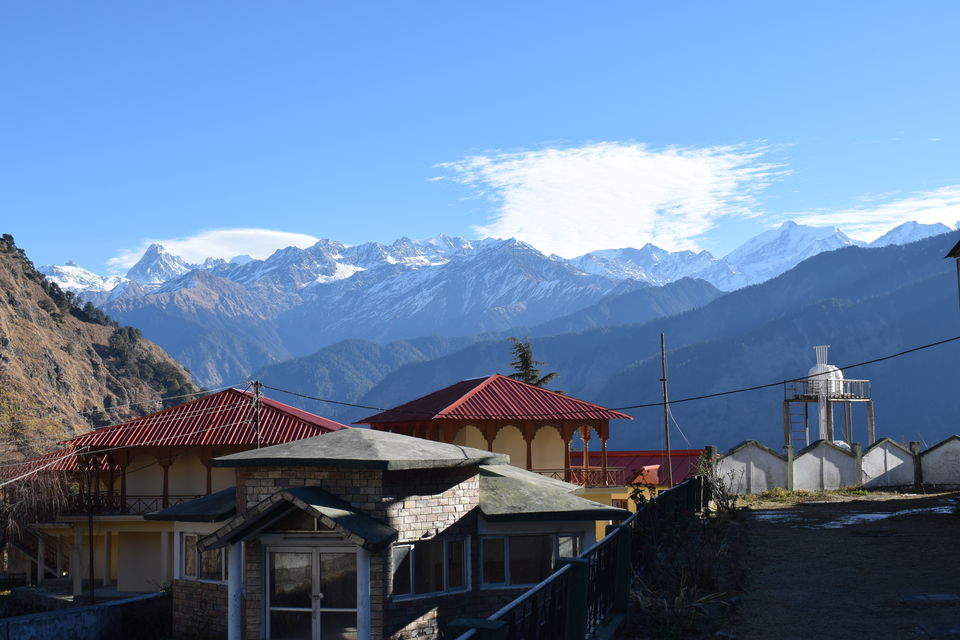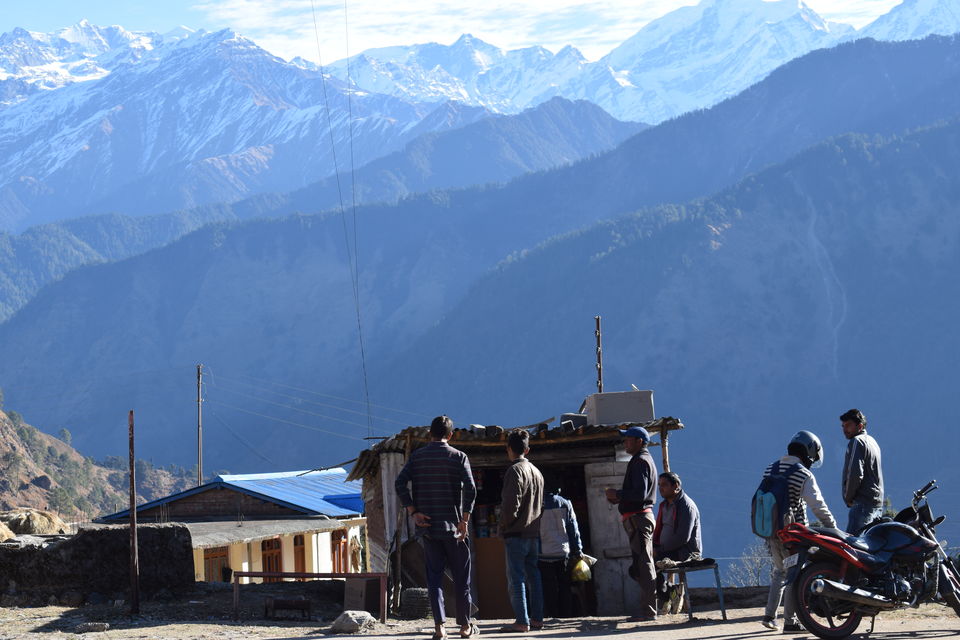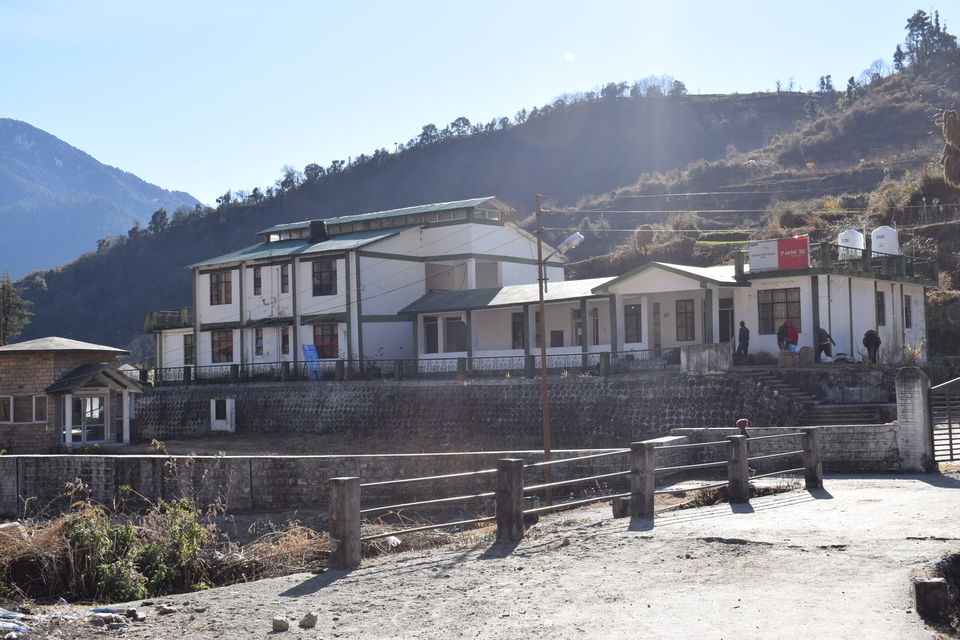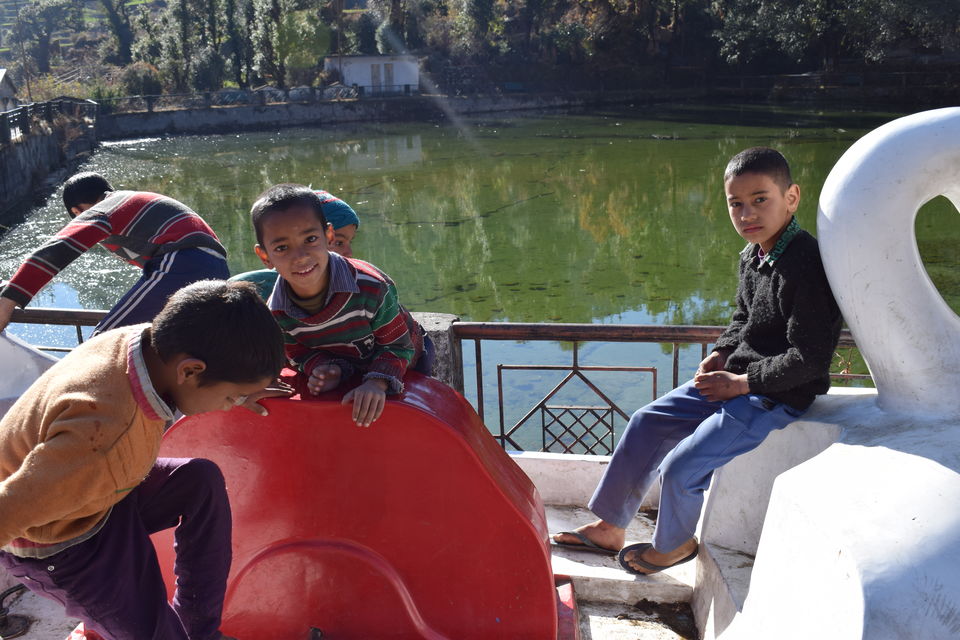 We finally started the trek at around 11:00 AM after getting the permission from the forest department (₹70) situated at the center of the village. We did not hire any porter, cook or guide and had packed enough food items like energy bars, Maggi, bread jam, biscuits and oats, enough to last two days along with utensils. However, the decision to not hire a porter was dearly going to cost us a few hours later.
The trail begins just behind the Barsu lake and is well defined uptill Barnala campsite. We were going to camp in Barnala for the night and then proceed next day to Dayara. However, just a few minutes later, we took a wrong turn only to be guided to the right path by a villager. However, the wrong turn led us to this.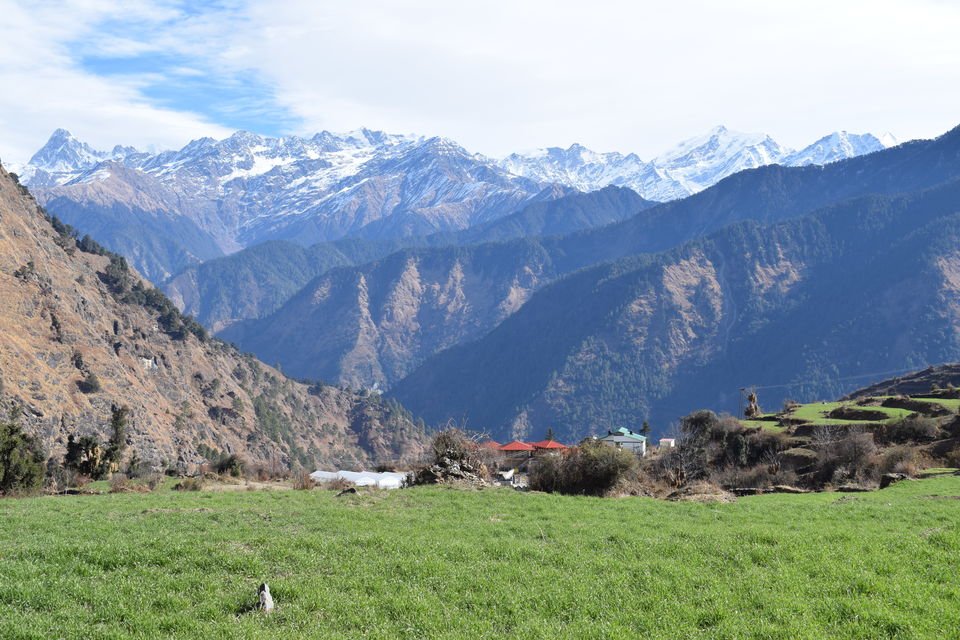 And just like any other Himalayan trek, we had the company of these beautiful Himalayan dogs for quite a significant portion of the trek.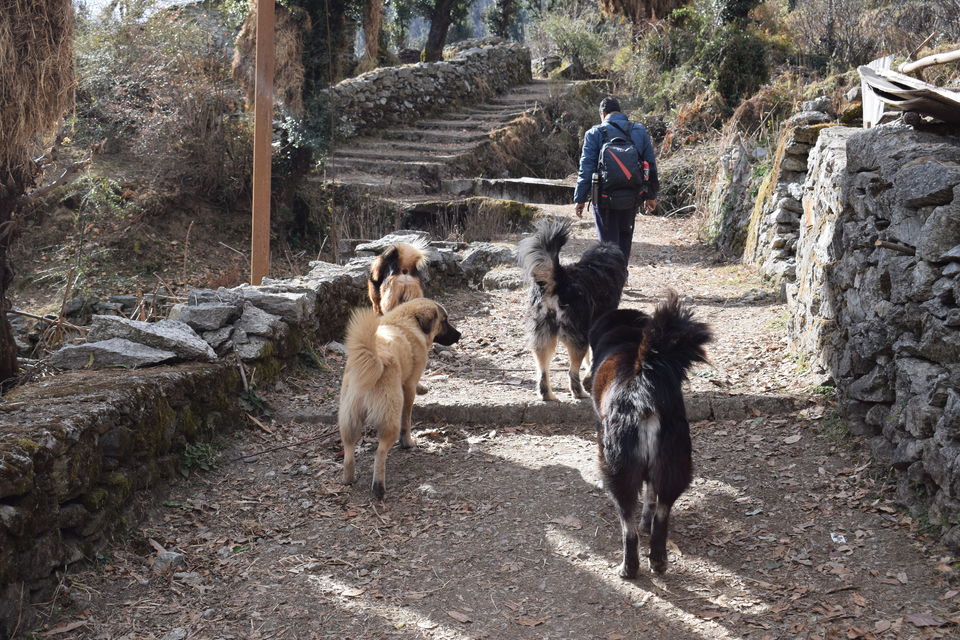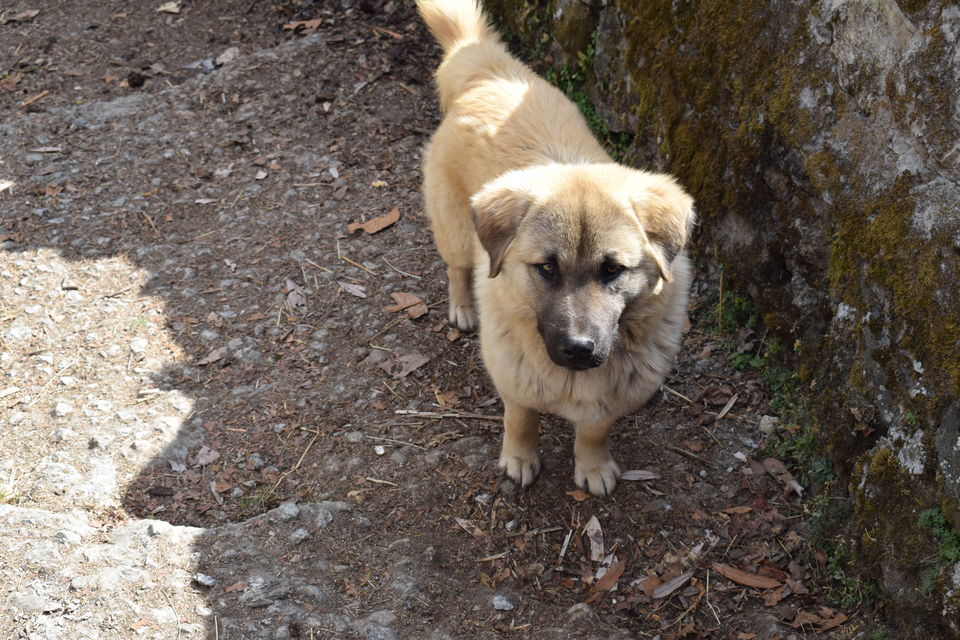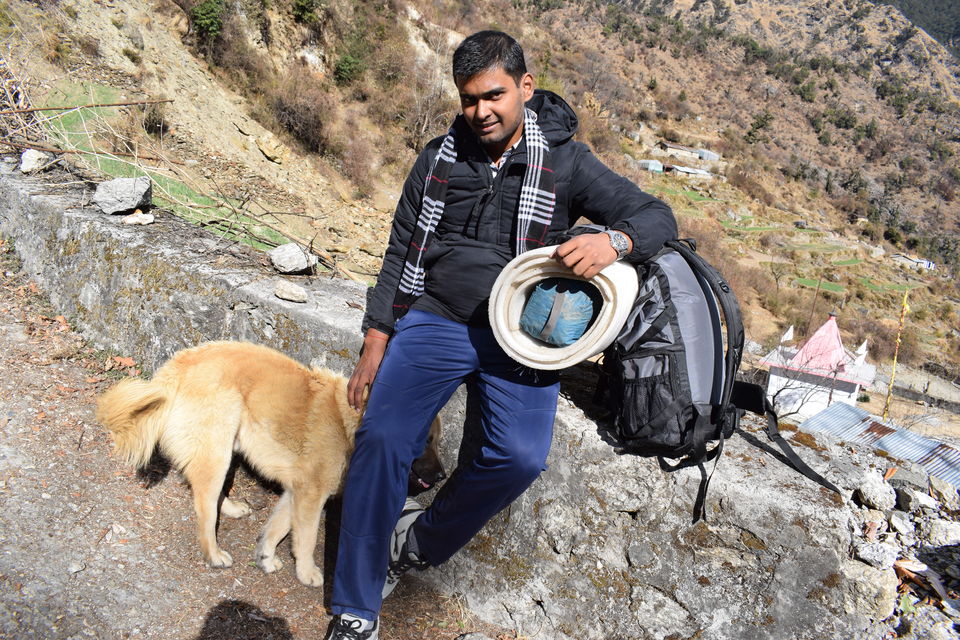 The trail till Barnala is pretty steep as compared to what I had expected. Water sources are available for the first one or two kms, but after you enter the forest, there are no water sources till Barnala. So, it's advised to fill your water bottles before entering the forest part of the trail.
Now, I had thought that I would be able to easily carry all the camping equipment + food + clothes with ease, but 30 mintues into the trek, and I was panting like anything, taking breaks every few minutes. My rucksack was pretty heavy, and we had not even covered half the distance till 1:00 PM. Sun sets pretty fast in these places, and with it comes the cold winds. However, we were extremely lucky to find a porter who agreed to take our heavier bag till Barnala (₹300). I was pretty surprised at how the guy outpaced me carrying around 20-25 kgs even when I had almost no luggage with me, but then these guys have been doing this all their life. Respect for them grew even more.
Having being shed off some weight, we paced up and managed to reach Barnala by 3:00 PM. The campsite is pretty huge and we decided to set up tent for the night. I went to fetch firewood while my father began setting up the tent. Wood is available in ample quantities here, however do collect them before sun sets otherwise they wouldn't burn because of the dew accumulated on them. Around 4:00 PM, I went to a higher spot, about 15 mins from the campsite, to witness the Barnala tal and capture the sunset. And boy, it was the most beautiful sunset I have witnessed till date. The mountains changed colour every few minutes, from white, to orange, to crimson and then again white.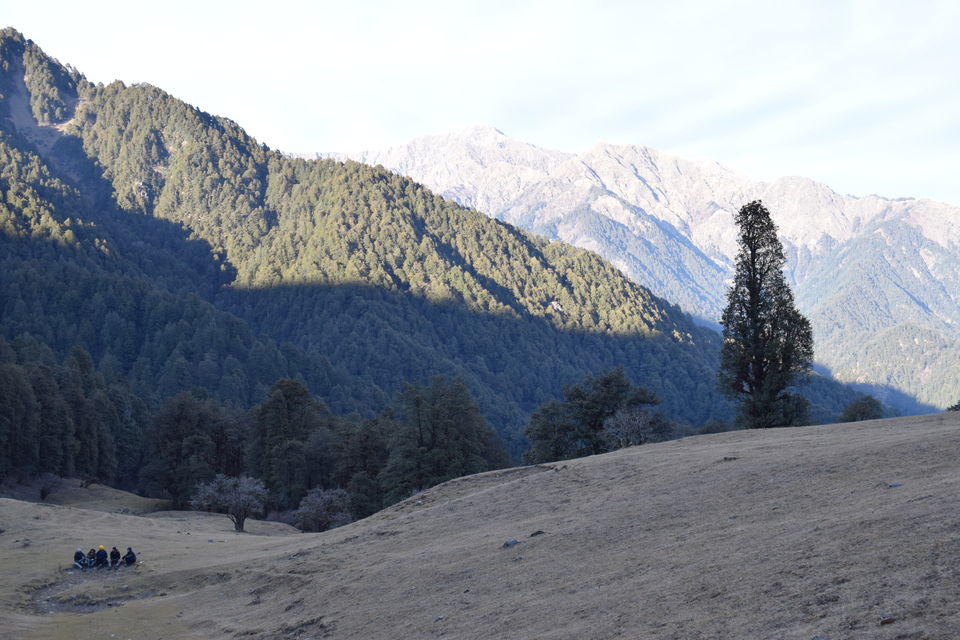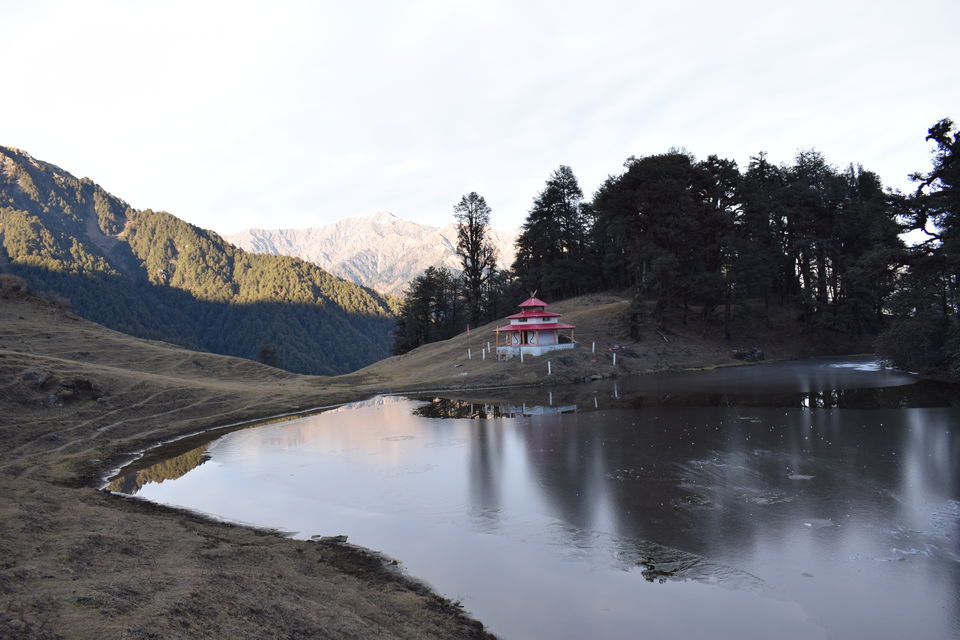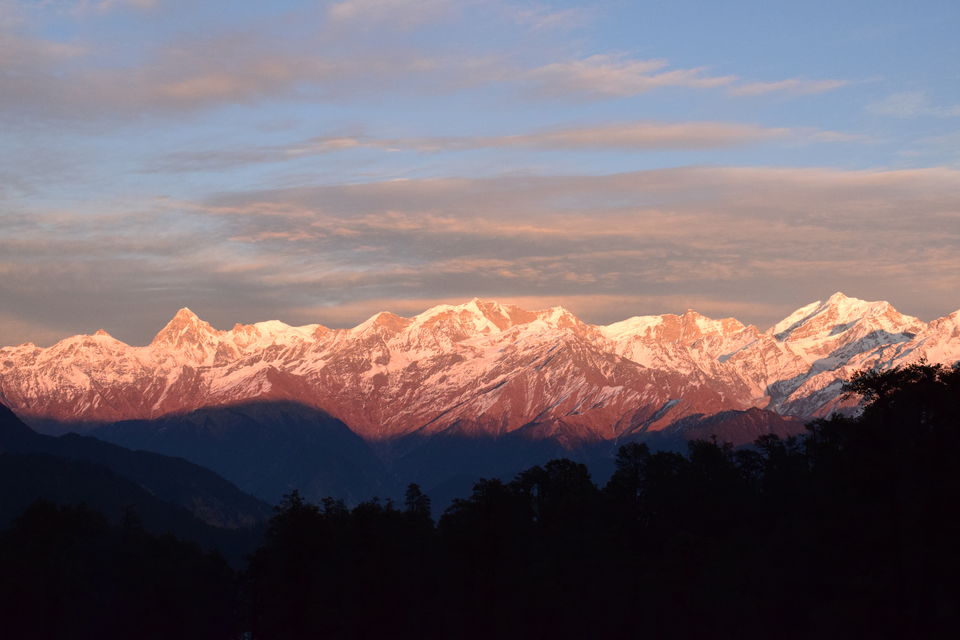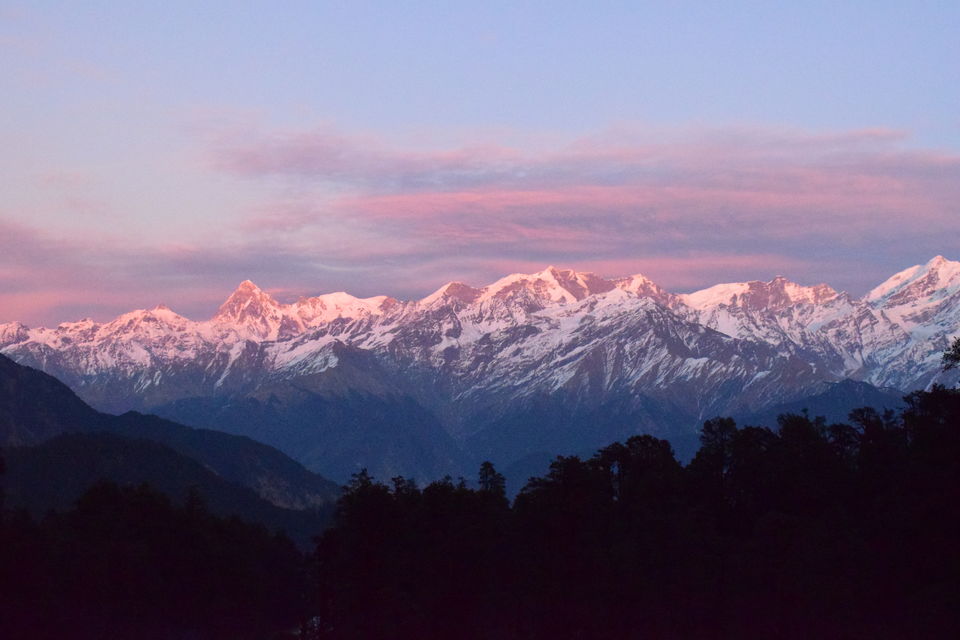 After the sunset, I came back to the campsite. The chill in the air started growing and we began with the task of preparing our dinner, i.e., Maggi. Lighting a fire in such cold conditions is always a challenge, and it took us around 40 mins just to boil the water for our maggi as the wind kept blowing the fire in other direction and kept bringing down water's temperature. Finally, after around 1 hour of managing to keep our fire burning, the Maggi was ready. And no surprises here, it was the best Maggi I had in my life.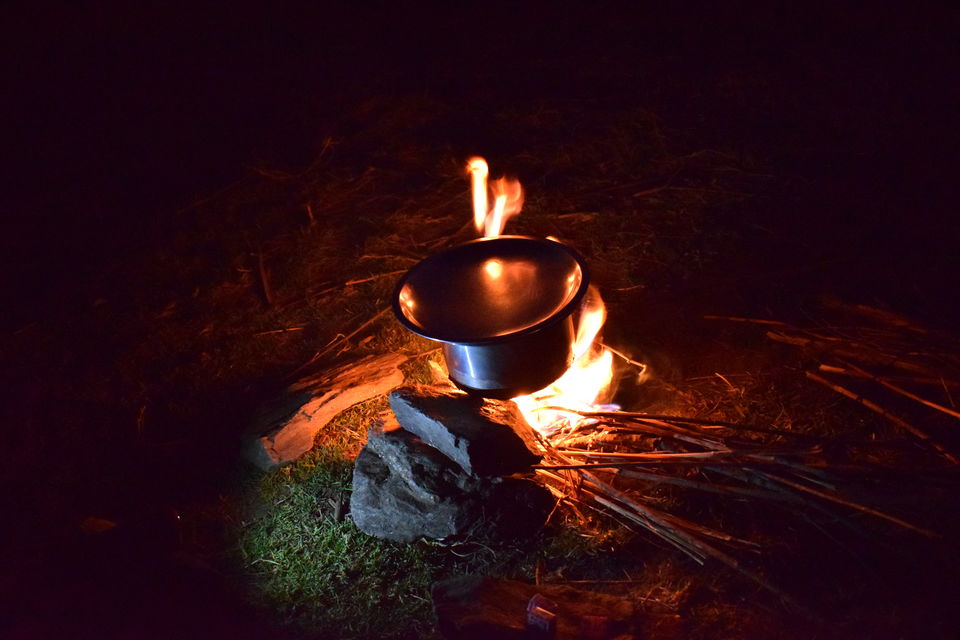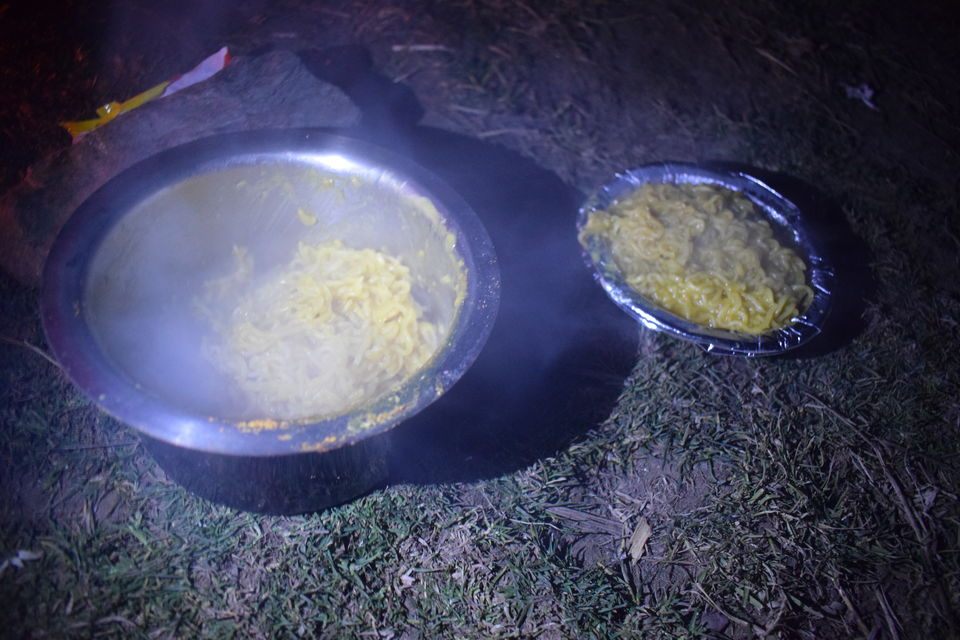 My father went to sleep right after the dinner, but I stayed back, and joined a group that had lit a bonfire. There were around 20-25 people more at the campsite, all of which had come in groups of 8-10 people. At around 10:00 PM, when it started becoming bitterly cold, I crawled up in my sleeping bag and tried to sleep. It was my first time in a sleeping bag and the thing with them it's very difficult to sleep on your sides, but that could be because of my height (I'm 6'3"). Anyways, you can't and shouldn't expect luxury in the mountains. After tossing and turning through one of my coldest nights, I managed to get a sleep of around 4-5 hours.
Day 4 : Barnala -> Dayara Bugyal -> Barnala -> Barsu
We had a quick breakfast of bread jam and packed our tents. Considering the fact that it would have become impossible to trek carrying the tents, we decided to leave them at the campsite itself. Localites always stay there, so security of your luggage wouldn't be an issue. We just took our camera and a few ready to eat food items for today's trek. We left the campsite by 8:30 AM. 15 mins later, we reached Barnala Tal to find it partially frozen again.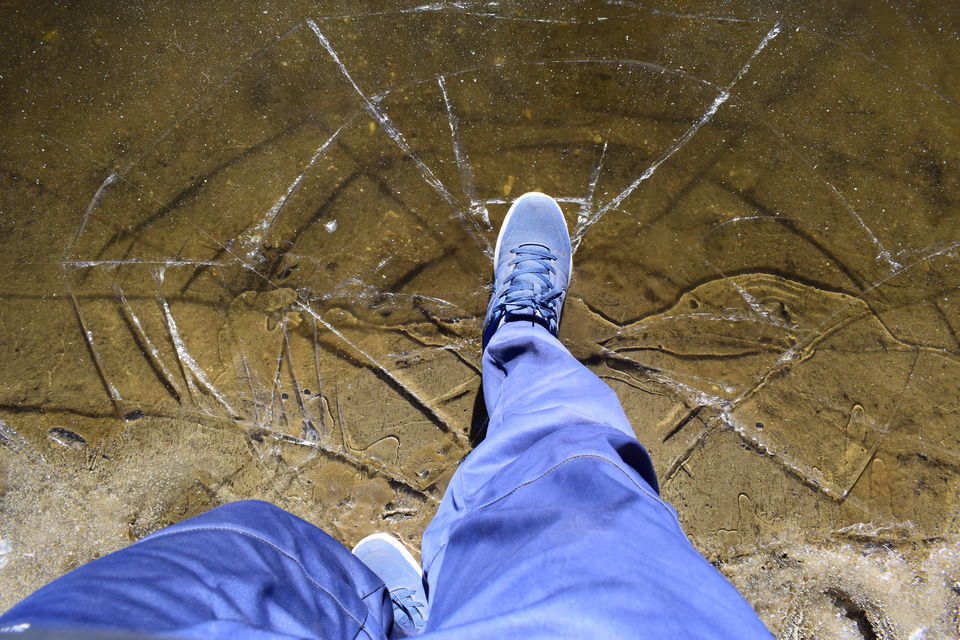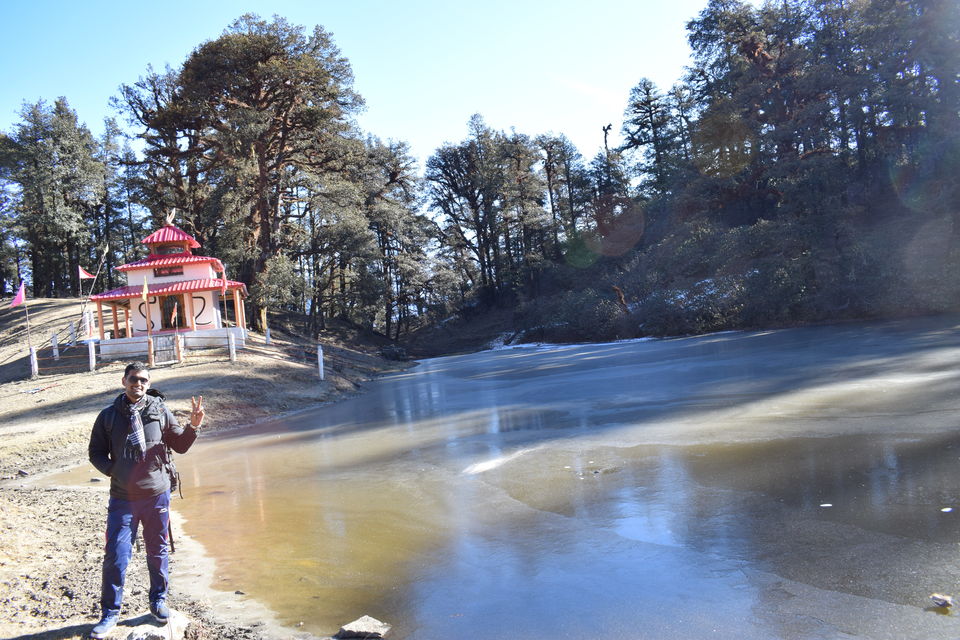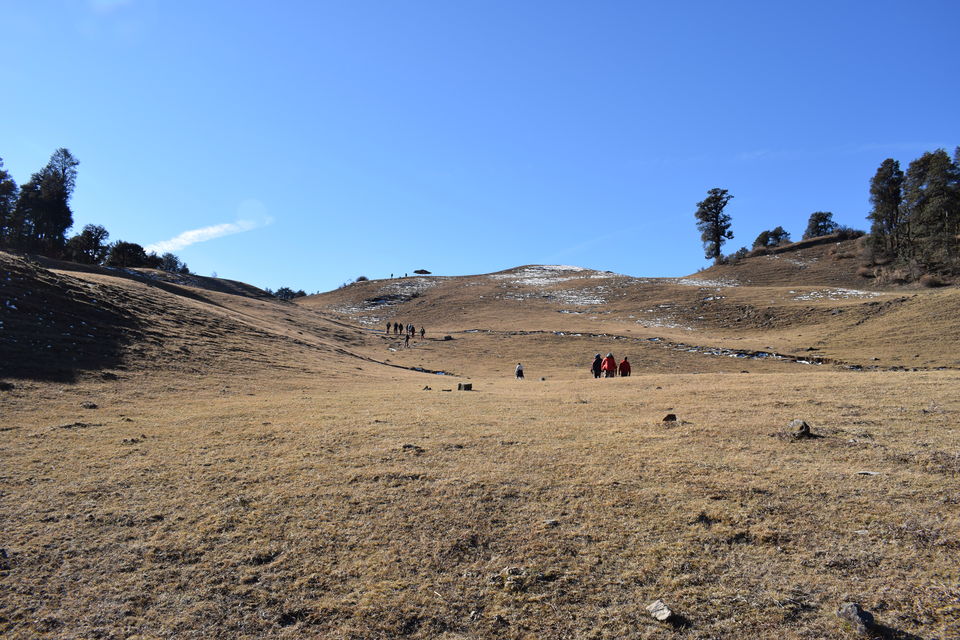 Compared to the previous day, almost the entire trek passes through the forest. Also, the quantity of snow found is much more because of the increase in altitude.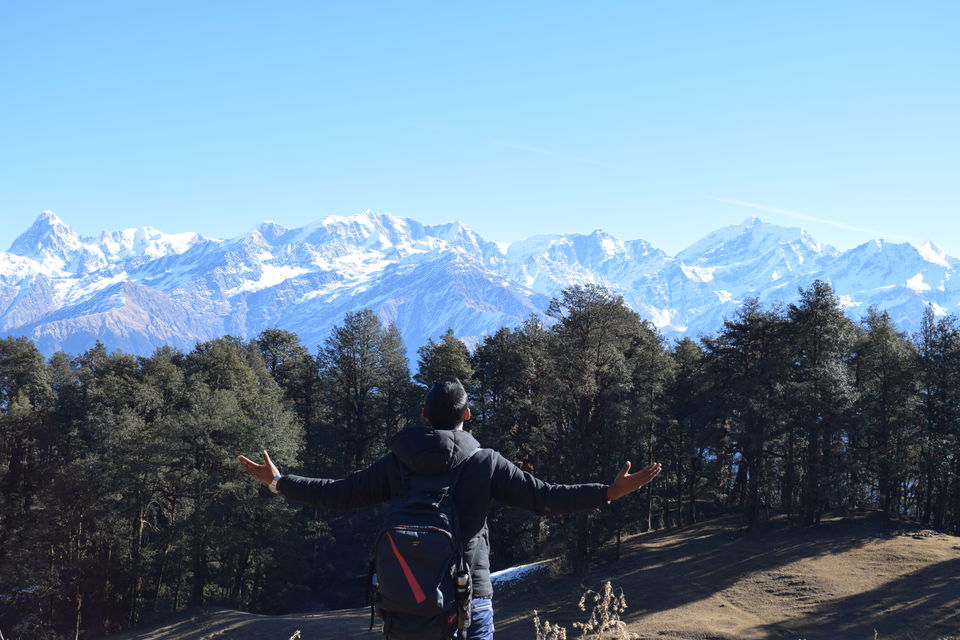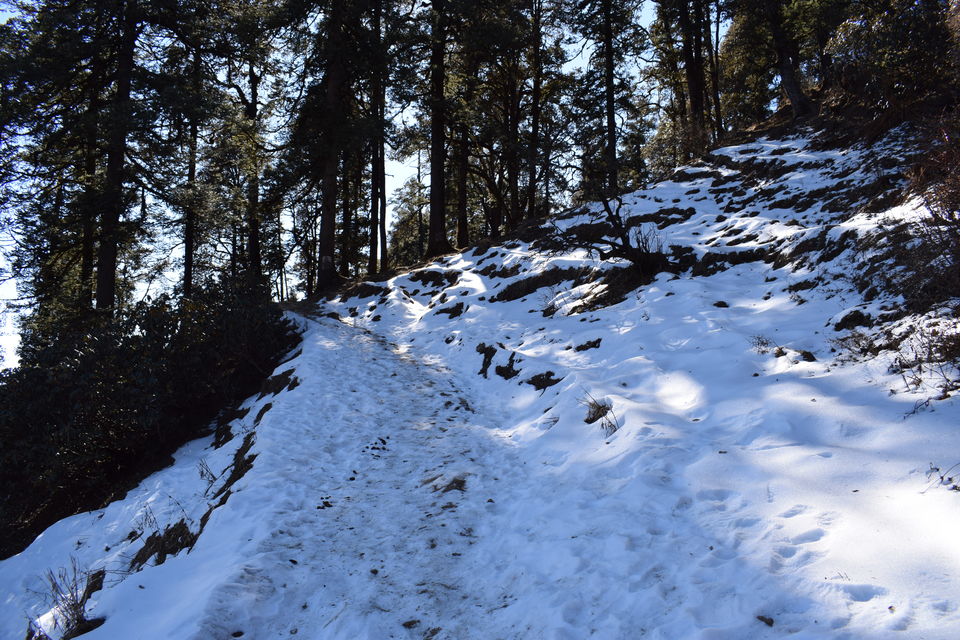 Throughout the trek, the mountain views keep playing hide and seek with you, sometimes getting obscured by the jungle, sometimes looming over you, but the views keep getting grander as you keep moving upward. Even the Bandarpunch range, which isn't visible from Barsu or Barnala, starts becoming prominent. Finally, after about 2.5 hours, we managed to reach the top.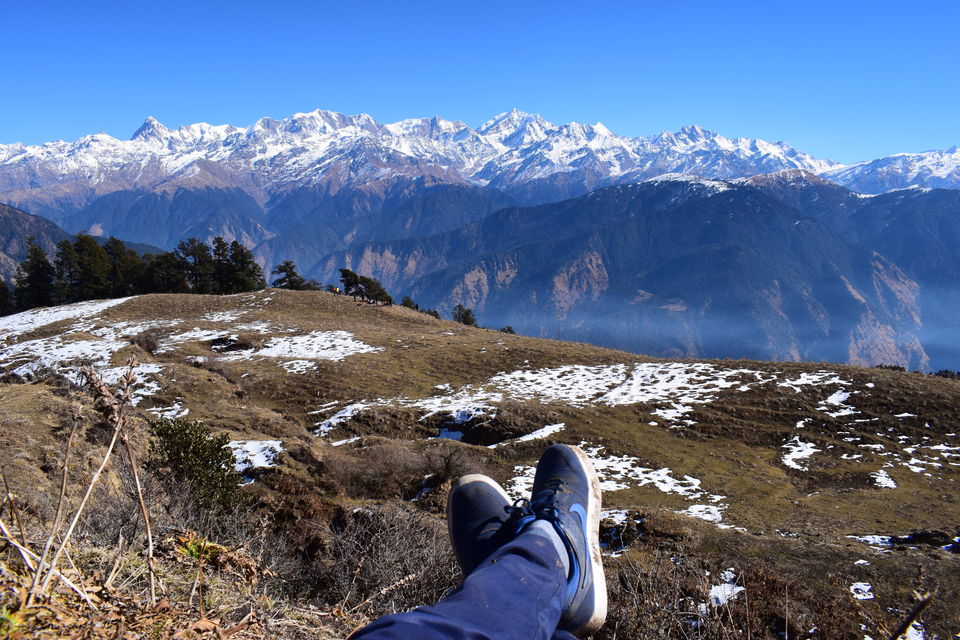 The view from Dayara Bugyal is something which can neither be expressed in words nor can be captured by DSLRs. You just feel like sitting there and not moving an inch, witnessing the grandeur of nature. Miles and miles of meadows are covered by dollops of snow, all flanked by peaks like Mt. Srikanth, the Bandarpunch range among others. You can also trek upto a higher point known as Bakaria Top, around 1 hr from Dayara, but since we were running out of time and had to make it to Barsu by evening, we decided to hustle up and started our descent by 1:00 PM. But before that, a few more snaps.
Note : I got a fleeting Airtel signal at the top, using which I was able to call my anxious mom.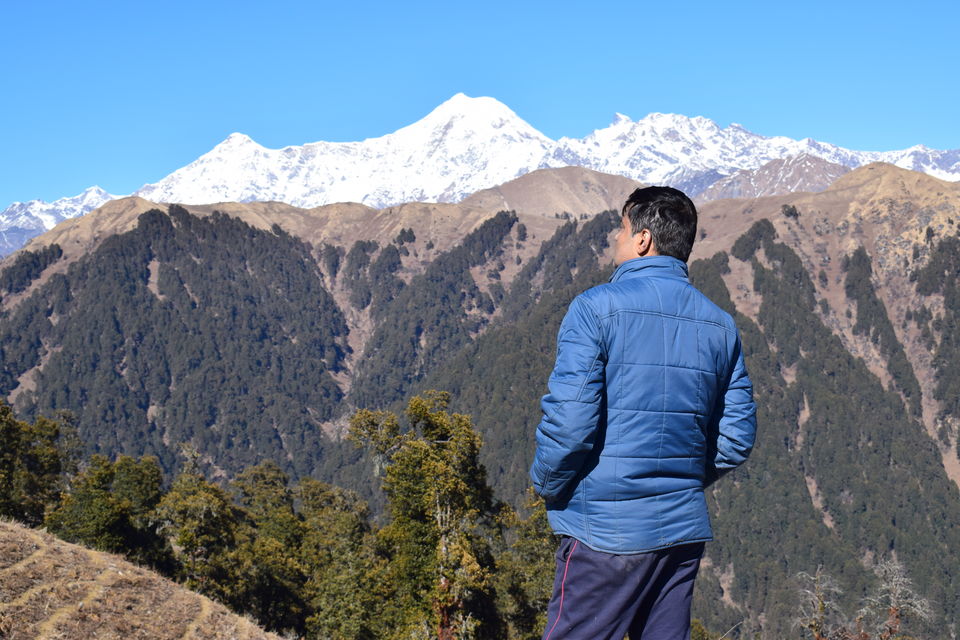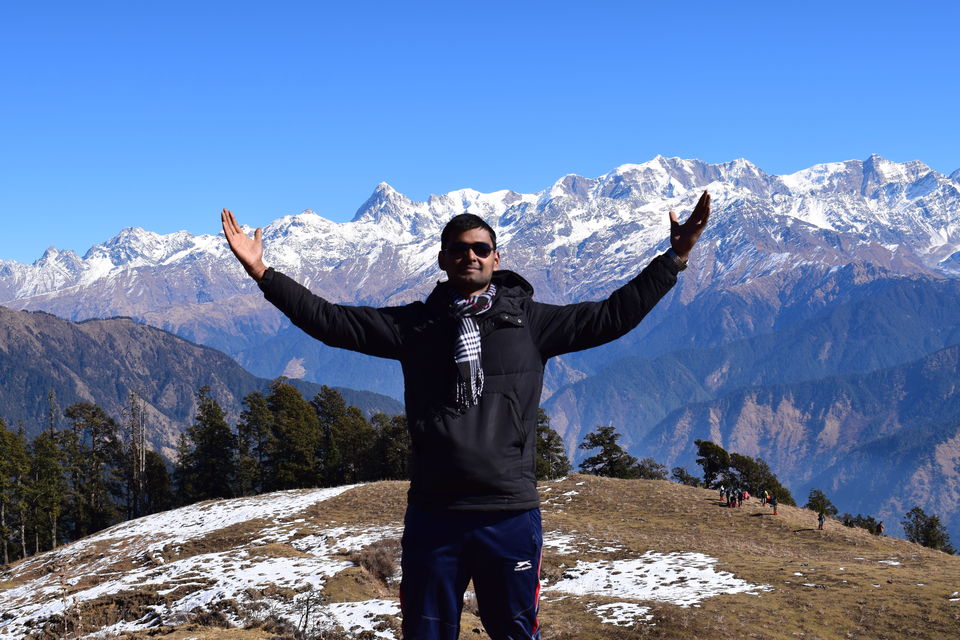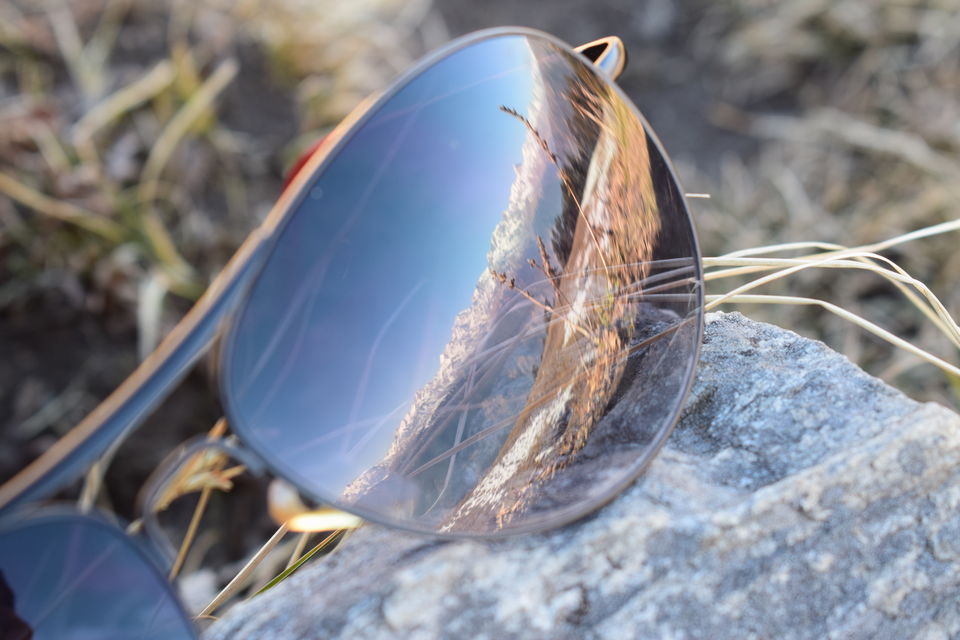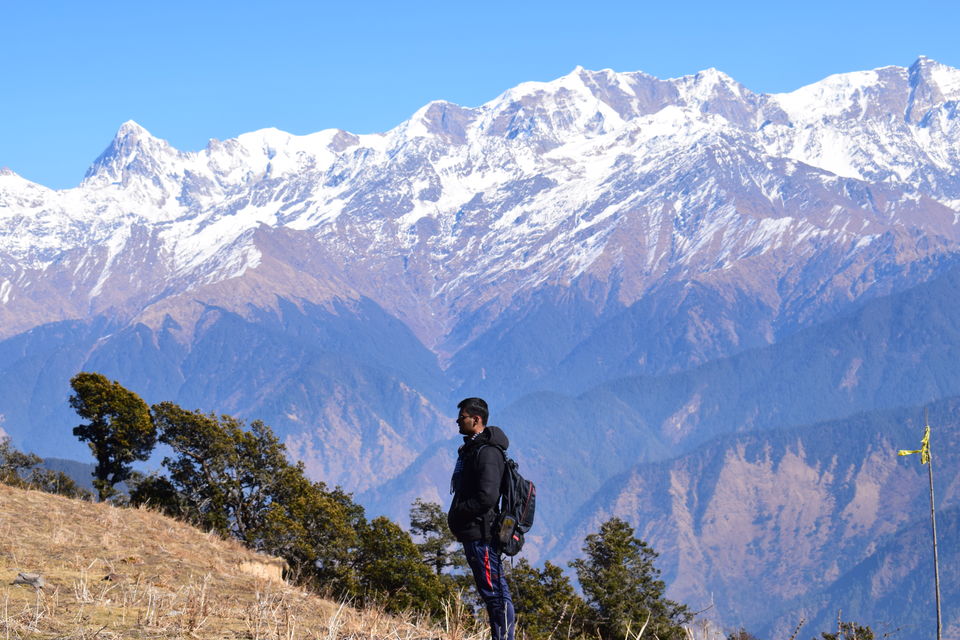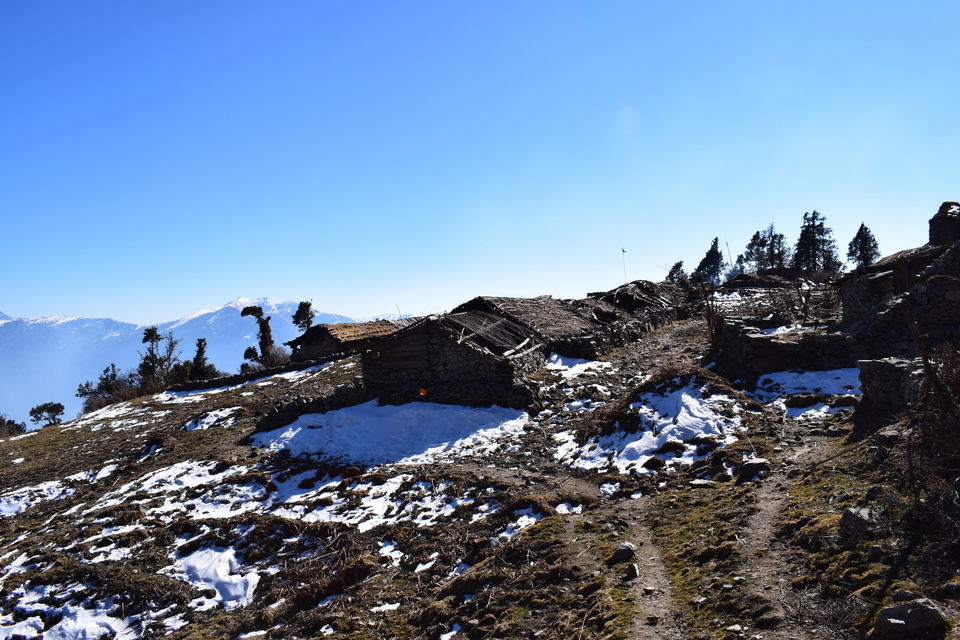 Finally, we started our descent and managed to reach Barsu by 5:30 PM.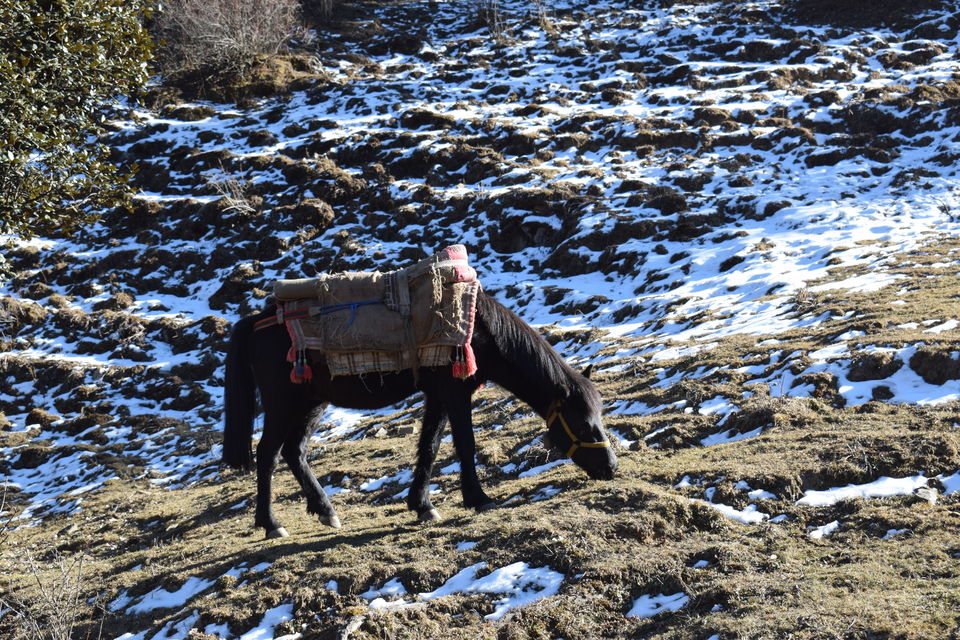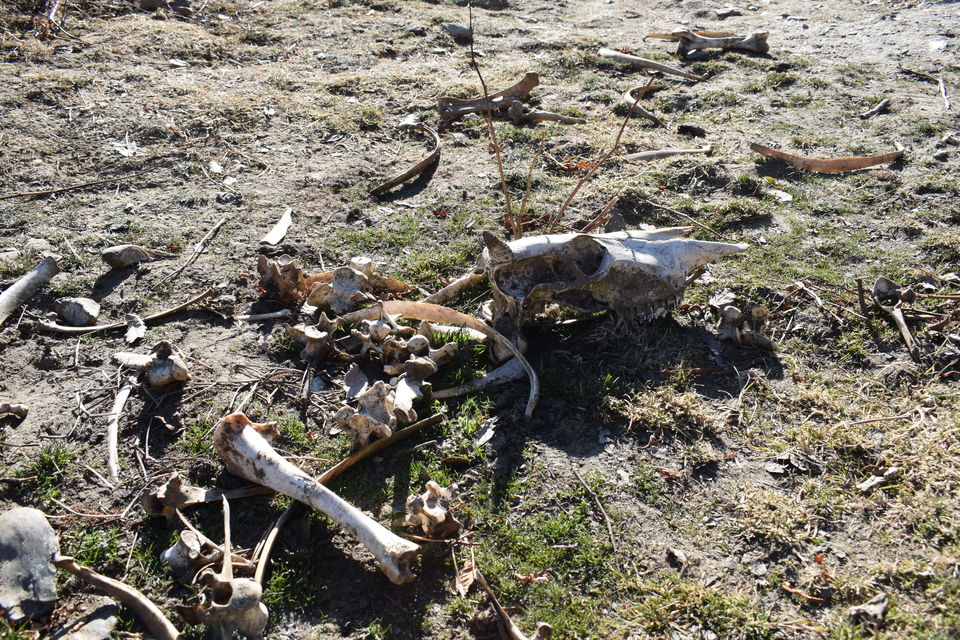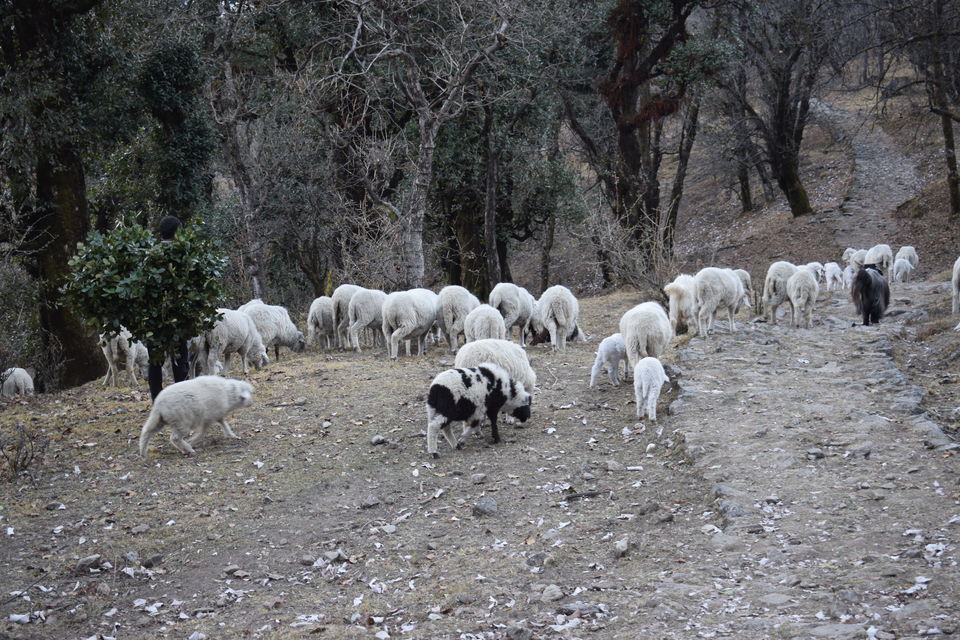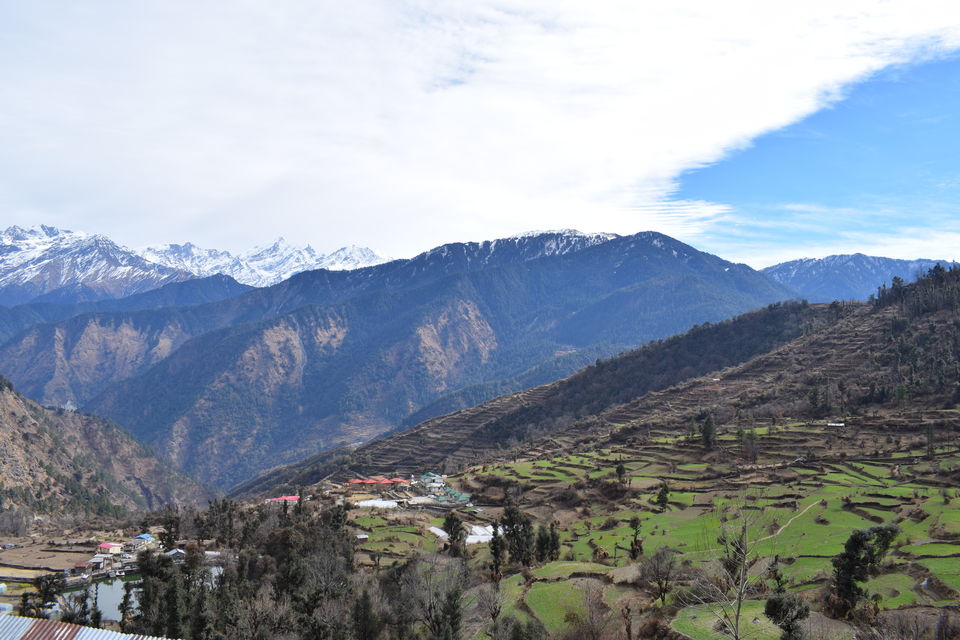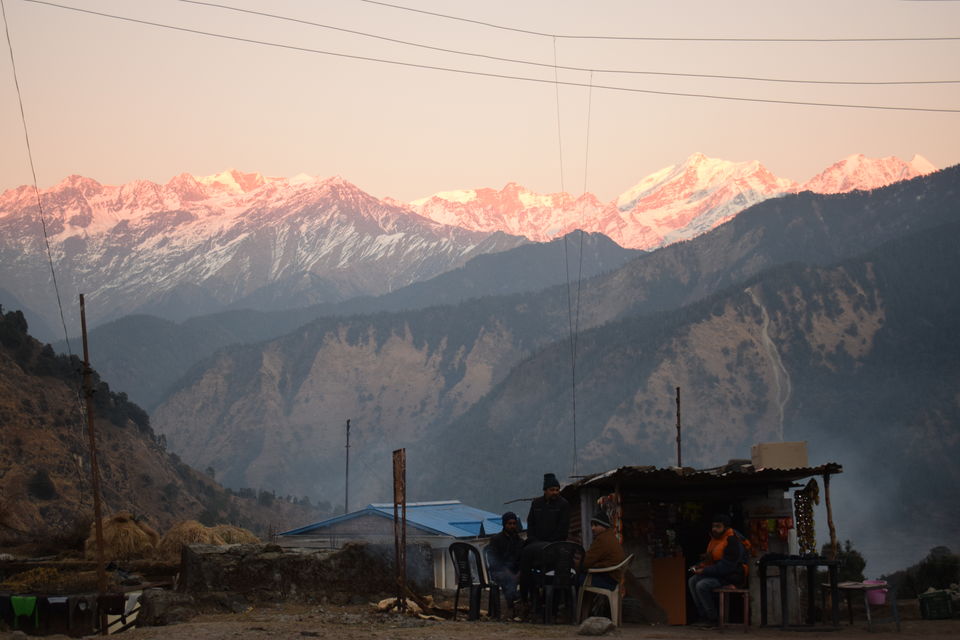 After a long and tiring day, we checked in the GMVN rest house and had our dinner. After this, I had a chat with the caretaker of the property over a nicely lit fire, and got to know a few things. The village used to receive ample snowfall in the earlier years, but in the recent times owing to climate change, the snowfall had reduced a lot. Also, the trek is open since the early 2000's but came to prominence only recently. The caretaker and the cook, both were extremely nice people and take good care of the property despite staying in such harsh conditions. I bade them good night and went back to sleep, for we were going back home tomorrow, and also it was Christmas.
Day 5 : Barsu -> Uttarkashi -> Mussoorie -> Dehradun -> New Delhi
The bus to Uttarkashi from Barsu leaves at 9 AM. Our food packets were still left and we decided to cook our breakfast on our own in the rest house's kitchen, i.e., maggi, tea and oats. The cook took a small fee (₹30) and allowed us to use the kitchen. This time, we went to the rooftop to have our breakfast, for this was one with a view. However, it was extremely windy that morning, and our fingers started getting numb within seconds.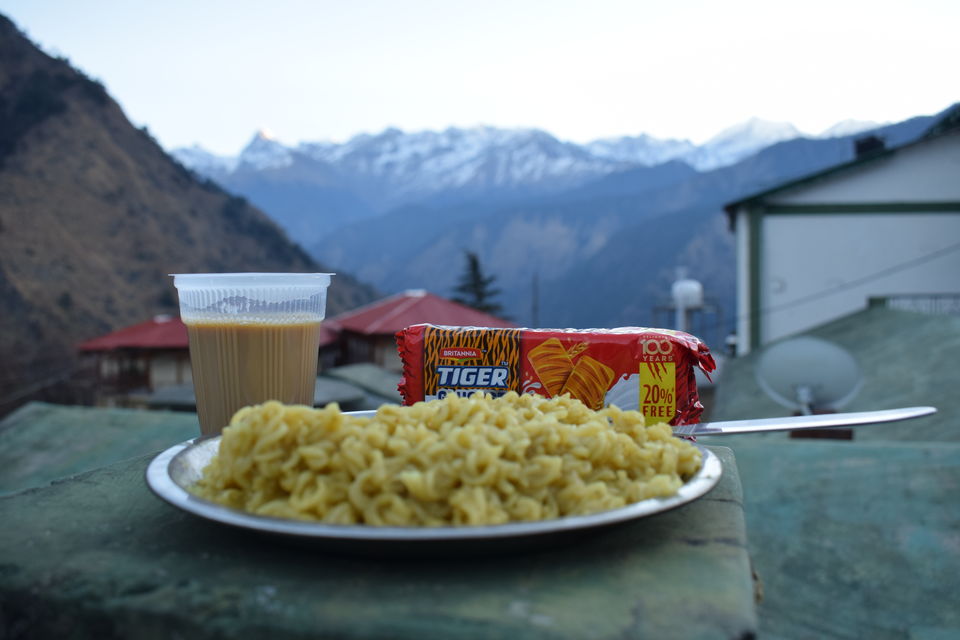 We came back to our dormitory, finished our breakfast, packed, bade goodbye to the caretaker and boarded the bus bound for Uttarkashi. Even though I had spent just 2 days there, but I fell in love with Barsu and its people. Be it the ever so kind pahadi locals, or basking in the plentiful sunshine, you can't not fall in love with Barsu.
We reached Uttarkashi by 10:30 AM, returned our trekking equipment and boarded the UTC bus bound for Dehradun. The bus left at sharp 12:30 PM. Since it was Christmas and the bus passed through Mussoorie before reaching Dehradun, we decided to have a pit stop there for a few hours. We reached Mussoorie by 5:30 PM and man, it was decorated like a bride.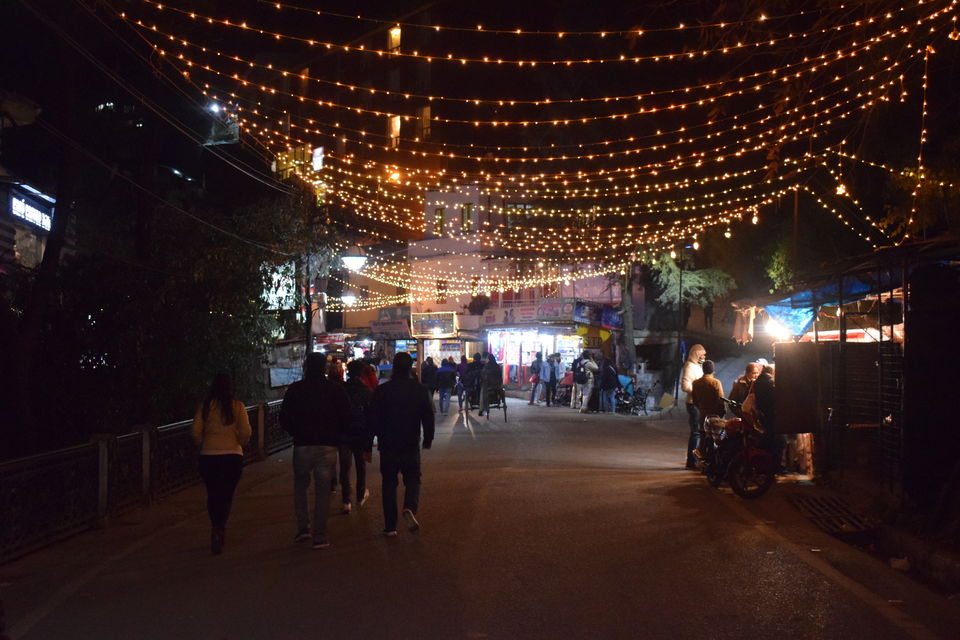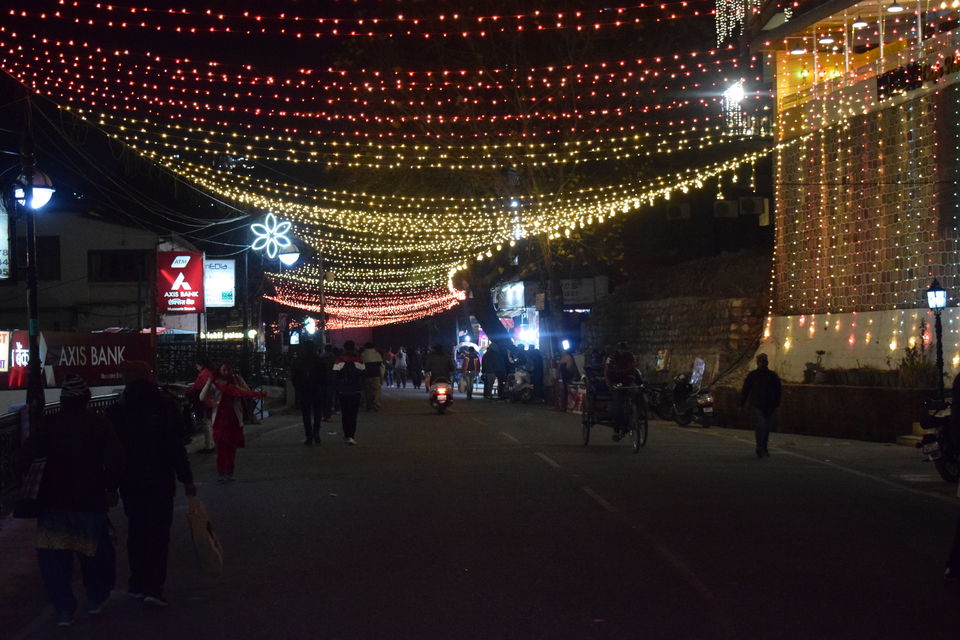 After spending about 2 hours in Mussoorie, we boarded the last bus bound for Dehradun at 7:00 PM (₹60 pp). We were to leave by Mussoorie Express (14042) for New Delhi (₹215 pp). Finally, we reached Delhi next day early morning, ending this beautiful journey in Himalayas.
Time taken
Barsu to Barnala : 3.5 hours
Barnala to Dayara : 2.5 hours
Dayara to Barnala : 1.5 hours
Barnala to Barsu : 1.75 hours
Trip cost (on a per person basis)
Transportation : ₹160 + ₹280 + ₹55 + ₹55 + ₹205 + ₹60 + ₹215 = ₹1030
Accomodation : ₹280 + ₹200 + ₹480 + ₹200 = ₹1160
Food and misc. expenses : ₹1200
Total : ₹3400