Tomatinaaaaa!!!!!
Does that ring a bell? If you're an Indian and watched the epic Bollywood movie Zindagi Na Milegi Dobaara, I am sure it just does not ring a bell but takes you into a different world of adventures and life time experiences this movie emphasizes you to have. Just like you or anyone who watched this movie would have dreamed, I also dreamt of may be someday having all those moments that are picturized so well in the movie.
I imagined what if I also went sky diving, what if I also danced in a Spanish club with all the Senoritas and I imagined what if I also had an opportunity to experience this insane crazy festival shown in the movie called Tomatina. How crazy is it to throw tomatoes at each other and paint everything around you red, I thought to myself and just did not bother about it anymore, as it seemed like a distant dream until I had this opportunity to go experience the Tomato fight. So, let me tell you everything that I experienced.
History of the festival:
Did you know, there is actually a very interesting funny story behind this festival that is celebrated in Spain. There are several stories behind this, but the most common one is about a fight amongst some local boys. Once a group of young boys got into a fight and one of them ended on a local vegetable stand and found tomatoes.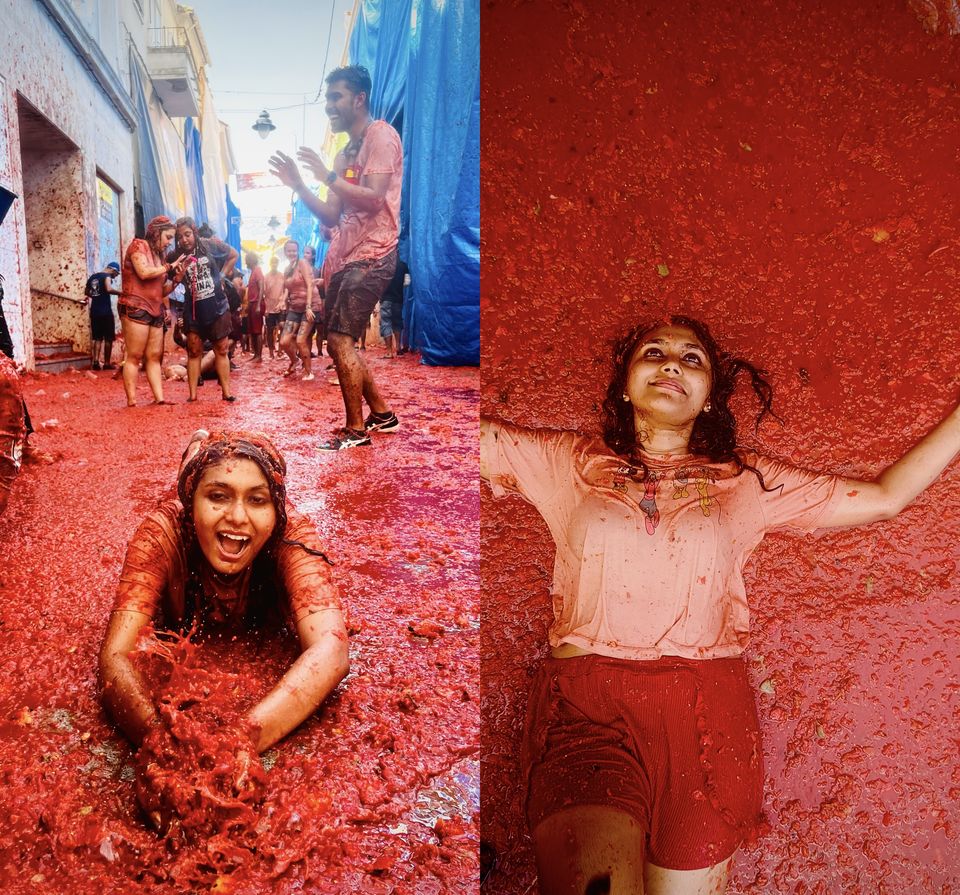 He started throwing tomatoes at everyone and thus it turned into a tomato fight. The fight continued until the authorities came and stopped it. Somehow, this fight again happened the next year and the following years. It is now celebrated on the last Wednesday of every August in a town called Bunol where the fight happened for the first time many years ago.
How to book tickets?
To participate in this festival you have to book tickets in advance. The tickets can be booked here. The festival happens on the last Wednesday of every August and the tickets will be sold out by midweek of August. Hence, book it early.
You could also opt for various packages which many companies provide with different tariffs that include pick-up and drop to the festival, tickets, Tomatina t-shirts, beer, after party drinks and lockers too.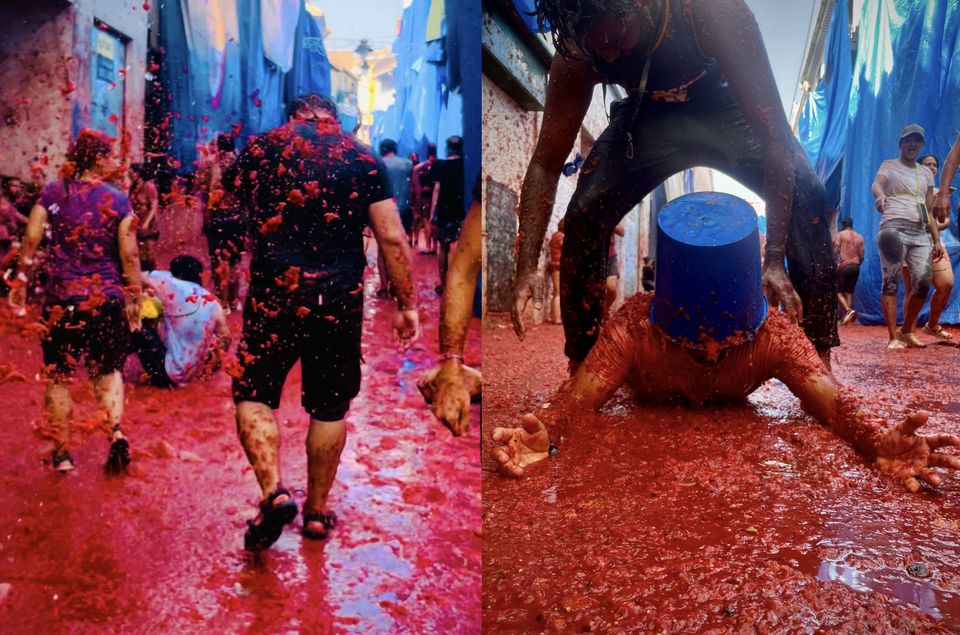 However, you could also choose just booking the tickets and plan everything on your own. This year in 2022, the ticket costed 12 Euros and the different type of packages costed anywhere between 24 to 60 Euros.
How to reach?
To participate in the festival, you have to reach Bunol, a village near Valencia. There are various options for you to reach Bunol. There are various options.
1. By Train- You can buy your train tickets directly at the train station in Valencia.
This is the best option as the train tickets are cheap and costs less than 5 Euros. If you opt for the package tickets then your transportation is sorted as you will have pick-up and drop facilities in your ticket.
2. By Bus - You could book a bus ticket on this app/website. The journey is about one hour and in no time you will reach Bunol
3. By Car - You can hire a rental car or book a local taxi/cab. More information regarding this can be found at the hotel/hostel you stay in Valencia. However, Bla Bla Car is a good option for car pooling.
Vibe Check:
As soon as you reach Bunol, it does not take much time for you to figure out the crowd and vibe with them. You will see that everyone from the train is marching towards the same destination.
You will also see that everyone is wearing white, and the whole crowd is singing songs and marching towards the main street where the festival is held. Stalls are put up as you walk towards the tomato fight area.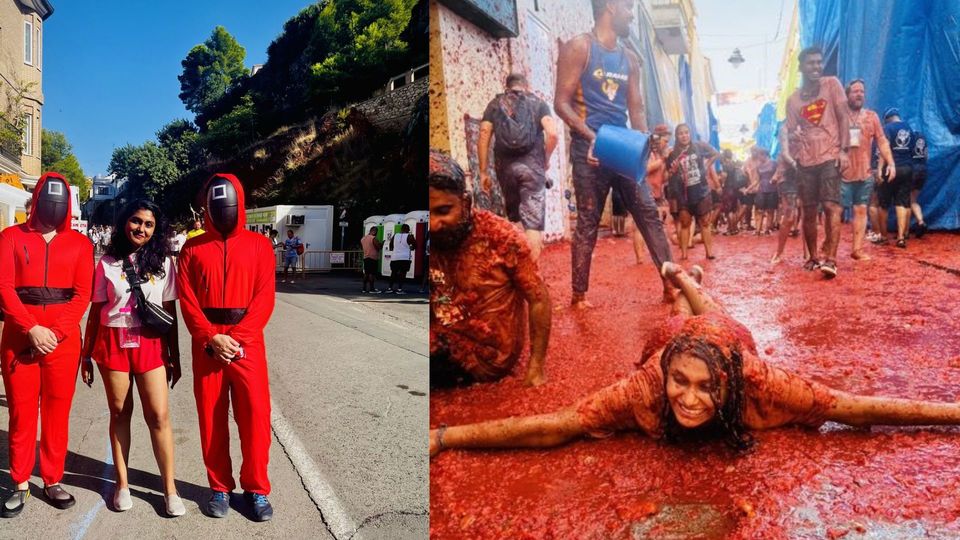 Most stalls verify your tickets depending on the company you booked your ticket with and exchange your ticket to a wrist band which is like an entry ticket. They also sell Tomatina t-shirts that has the Tomatina logo on it for about 10 Euros. Tomatina magnets, coffee mugs and other things which you can take back home as a souvenir.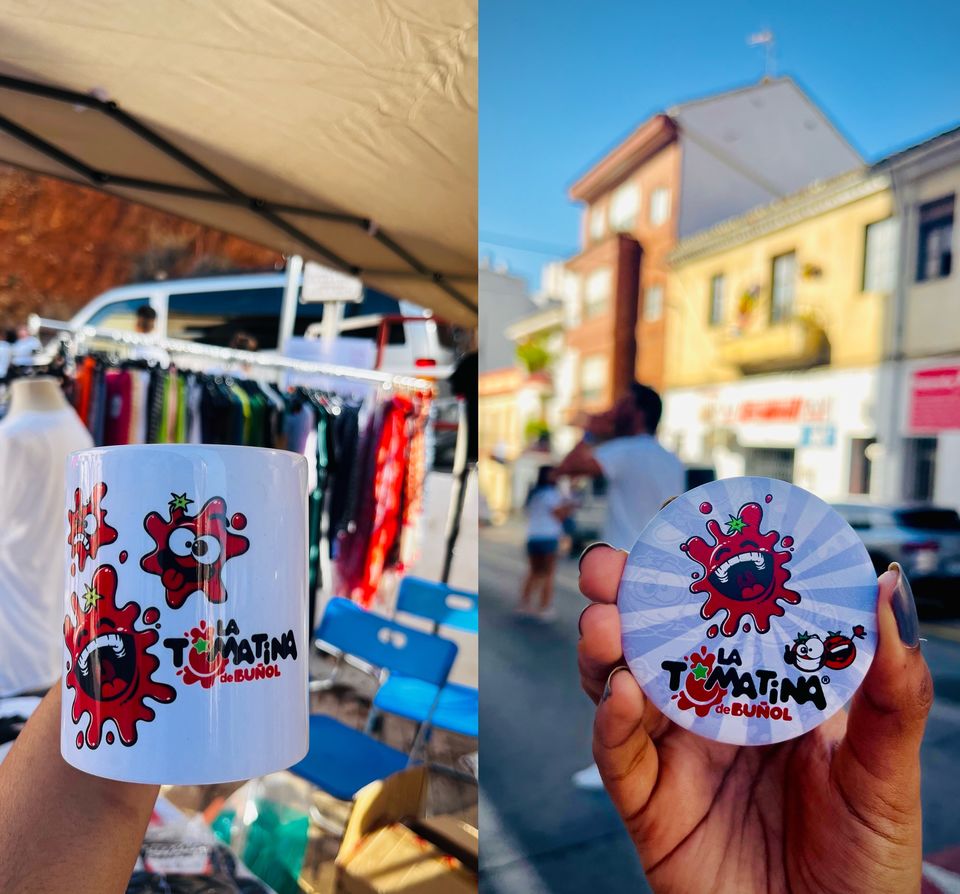 You can try sangrias here and grab a sandwich or paella(a typical Spanish dish made with rice and chicken) so that you have the energy to throw and get beaten with tomatoes for the next one hour.
The actual festival: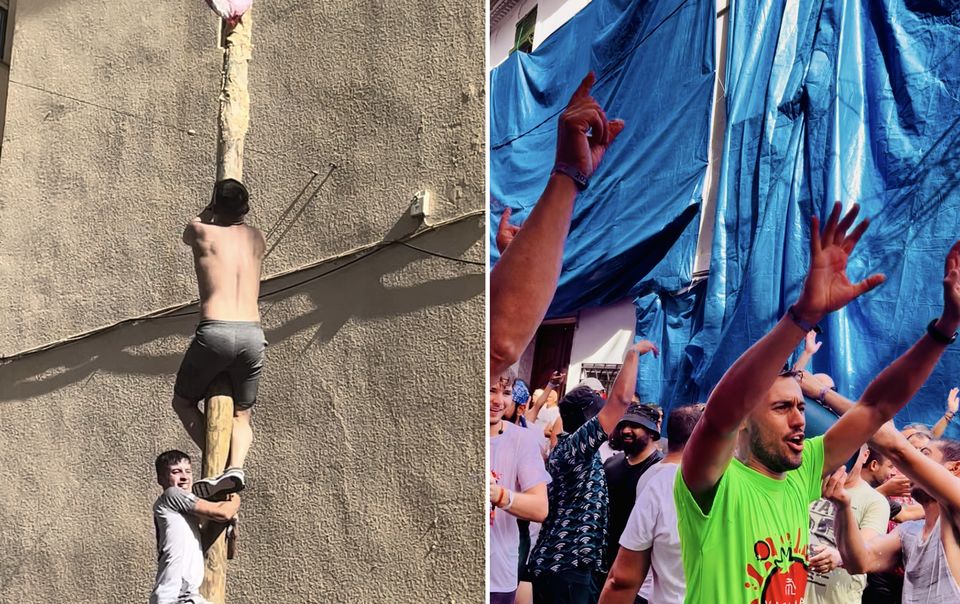 As you finish your verification with showing your band at the entrance, you will see that the crowd is excited to heights and most of them jumping around and clicking a lot of pictures. There is so much noise through their songs and music on the speakers just lift up your spirit. You will notice that the entire neighbourhood has covered their houses with blue tarpaulin to protect their houses from getting beaten and stained with tomatoes.
You will also notice that there is a a pole that is greased with oil/soap and few men trying to climb it and bring down the leg of the ham hanged at the top. It is fun to watch this ritual. Apparently, the festival does not start until the ham is brought down.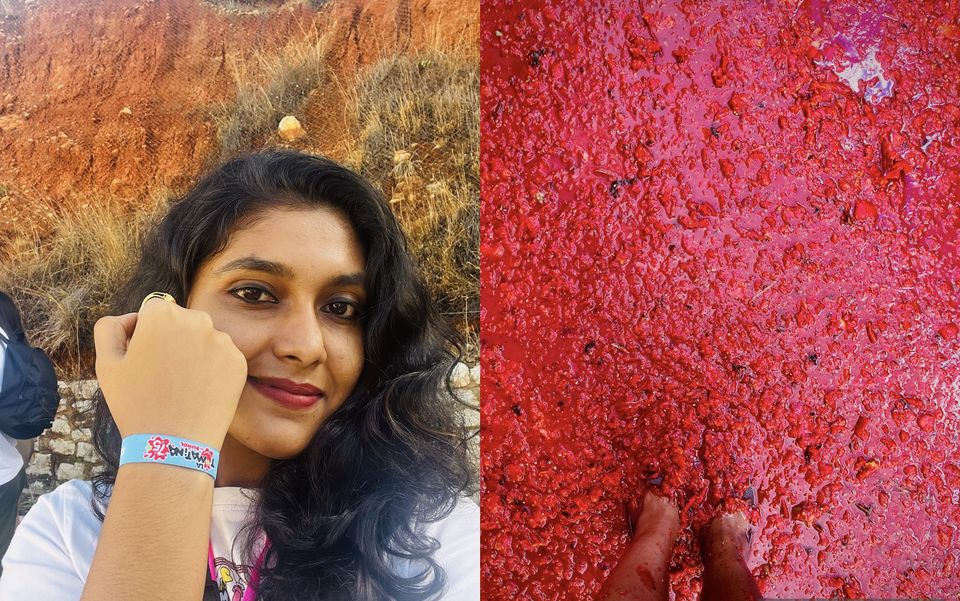 The crowd goes gaga when someone almost reaches the meat bag on top of the pole and sighs with disappointment every time some one fails and falls down. It is fun unlimited.
Also, as you make your way much inside the neighbourhood , you will be drenched in water even before you notice it, coz there are people standing throughout the street to throw buckets of water at you.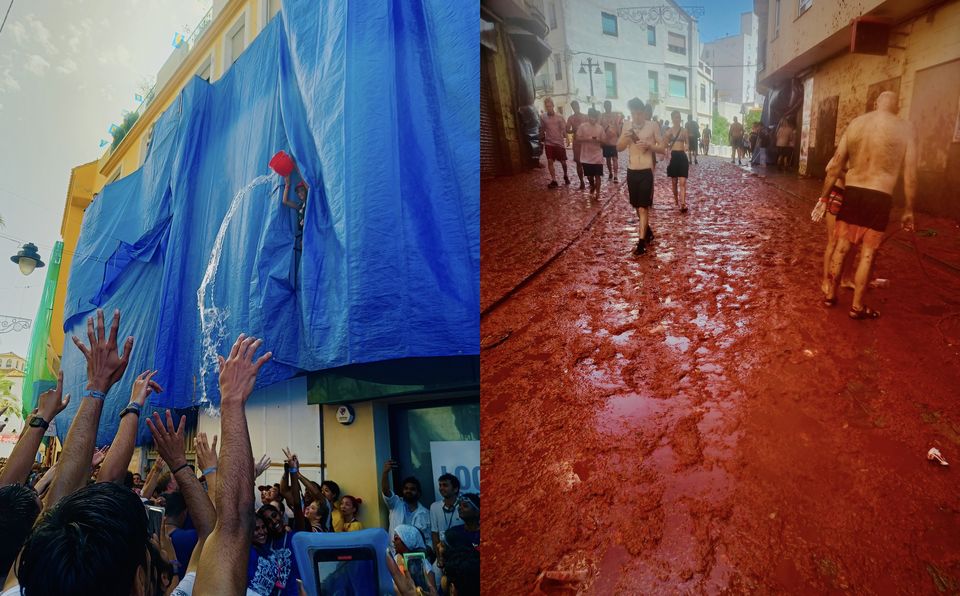 The entire neighbourhood also sprays water from their windows and balconies at the crowd. Think of this as a warm up exercise before the tomato fight begins. You have to experience this to know how it feels. As soon as someone brings the ham leg down, the siren is played indicating that the fight can be started.
Tomato Fight aka La Tomatina!
Again, the crowd is thrilled and singing Spanish songs praising Bunol until the truck loaded with tomatoes arrives honking continuously. It is a scene to remember. Now, all you have to do is get ready for the biggest tomato fight of your life. You wouldn't have ever imagined that you will get hit by tomatoes and throw them at strangers.
I swear all those scenes you have watched in movies when a politician gets hit by tomatoes by the crowd is nothing compared of what you will be experiencing at the tomato fight.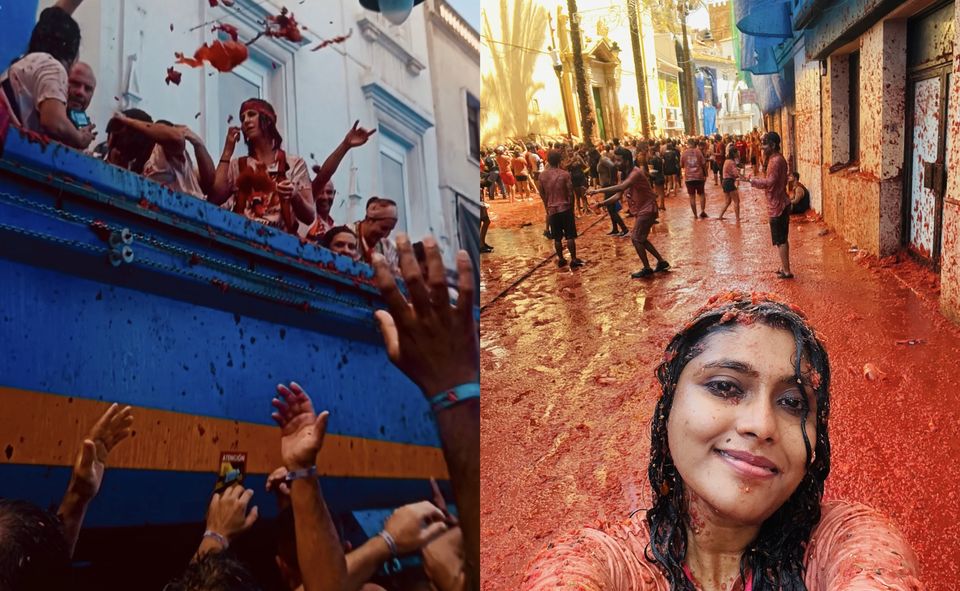 The truck loaded with tomatoes comes around 6 times and throws tomatoes at you. The crazy crowd I was with threw back the tomatoes at the truck. It was madness. Many people do not ensure to squash it before they throw it, so you have to be careful and most importantly protect your eyes.
Within no time, you will see that the entire street is painted in red. You are just floating in tomato juice.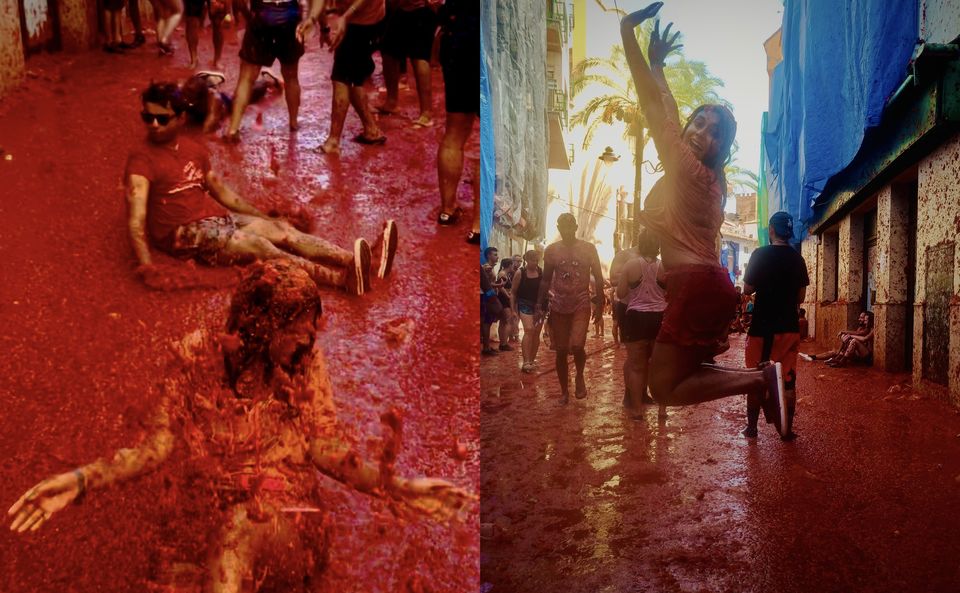 Think of it like a tomato rain all over you for one hour. Everyone is just dancing around you and swimming in the tomato puree. The amount of joy this festival gives you is incomparable.
I totally recommend you to plan your trip to Spain next year and not miss the La Tomatina festival and make your ZNMD moment come true.
Exactly after an hour, the siren is played again indicating the end of the fight and no body throws tomato after the second siren.
Some important tips before you go to the festival:
1) Wear comfortable shoes. It is a crowded area and everyone is at the peak of their excitement. You do not want your feet to be stamped!
2) Buy a good waterproof mobile cover and hang it around your neck so that after the fight you can click some good pictures.
3) Wear goggles that can protect your eyes during the fight. Not everyone squashes the tomatoes and the last thing you want is to hurt your eye.
Also, sometimes the tomatoes aren't the ripen ones and could hurt you badly.
4) Preferably opt for a locker to keep your belongings safe until the fight is over.
5) Carry an extra pair of clothes to clean yourselves after the fight. There will be showers arranged everywhere. Also, there is a very nice river with a waterfall. After the fight just go jump in the river and you're clean and shiny to head back home.
6) Do not try to click pictures during the fight. It could just harm your mobile phone. Just enjoy the festival and after the second siren is played, click as many pictures as you want. The street looks completely red and makes a perfect Insta-worthy frame.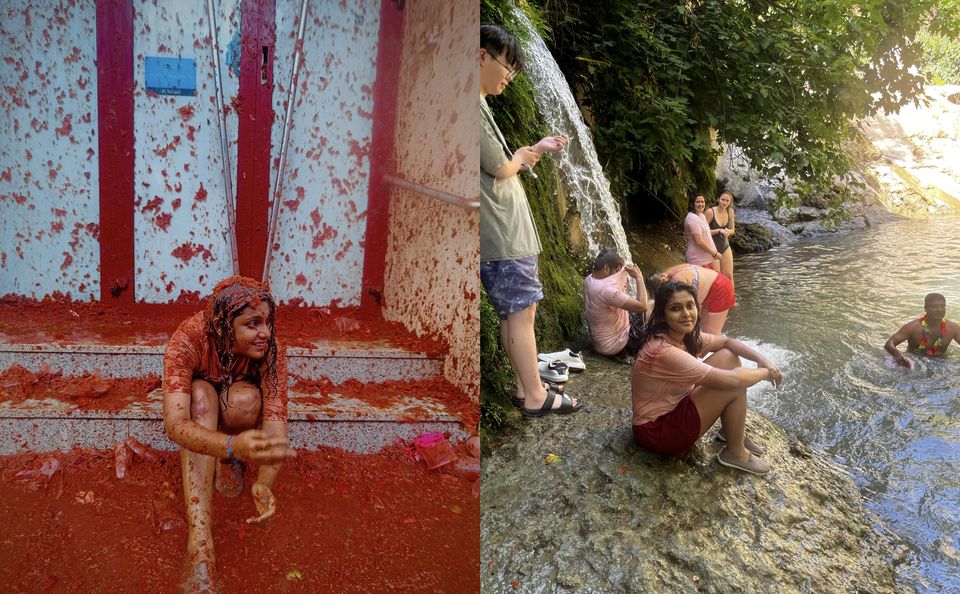 That is all from the Tomatina Festival 2022. I really hope this has been informative and motivated you to plan it for next year. Comment below if you have already been to this and share your experiences.
Do check out La Tomatina highlight on my Instagram page for all the fun videos captured during the festival.
Have you ever attended this crazy festival? Tell us about it in the comments below. Or write about it here on Tripoto.