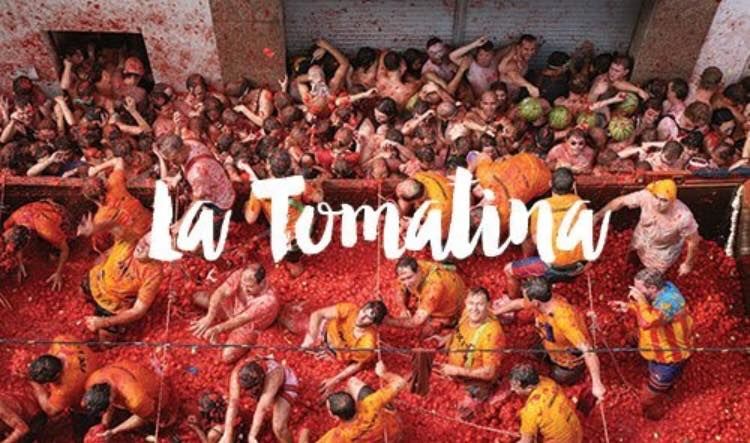 Spain is known for crazy festivals, none more famous than La Tomatina.
Every Indian movie fan must be knowing about it from the movie Zindagi Na Milege Dobara.
The traditional roots may not go that deep(1945) but the festival has gained popularity over the years, as many as 40,000 people from around the world come to the town of Bunol just to pelt tomatoes at each other. As many as 1,50,000 tomatoes are used at that time.
All you worriers about the amount of wastage of tomatoes, hear - tomatoes are of low-quality, over-ride, and inferior in taste.

The problemo - Bunol is 7000 km from Delhi. So, not everyone can go there.
The problem period is over though- India is having it's own version of La Tomatina hosted by India Remix and what date would be more appropriate than the same date as Holi to celebrate a festival similar to Holi along with celebrating Holi. There is an accessible point to the Holi colours too.
Event details : -
Date- 2nd March 2018
Day- Friday
Time- 12:00 - 6:00 pm
Venue- The Ashoka, New Delhi
Event highlights-
Live music, private tomatina section, dirty tomatina rides, organic gulals, water pumps, exclusive dholls, best dj line up, mouthwatering food, amazing cocktails and mocktails.
Ticket Price -
Kids (10 to 15 years)- INR 400
Per Person Entry Ticket 1- INR 799
(Inclusive of entry + the access of Holi Colours + Tomatina Section)
Per Person Entry Ticket 2- INR 1499
(includes the entry + the access of holi colours + tomatina Section + Snacks + Main course)

Private Table- INR 20000
(A private table for maximum 8 people| Includes a bottle of whiskey |Snacks |Main course.)
For booking tickets, click here.
To keep up to date with the event and for more information, refer to the Facebook page.
To know about more about the crazy Spain. click here.
Frequent Searches Leading To This Page:-
Delhi weekend trips, getaways from delhi, weekend getaways from delhi, delhi festivals trips, 2 days trips from delhi