For write-up with photos refer to my blog post-https://radha-travel-prayana.blogspot.com/2018/12/a-journey-of-experience.html
A decade ago if someone had predicted that I would visit Varanasi/Kashi not once but at least thrice, the reactionary word that would have come to my mind would be "preposterous". Well! Since 2011 this is my 3 rd visit to vibrant Varanasi.As written in my earlier blog post about Kashi - https://radha-travel-prayana.blogspot.com/2014/05/a-journey-of-experience.html there is something about this place that draws you like a magnet.Among all the additional information I learnt about Kashi after my last visit, one thing that captured my attention was "Dev Diwali/Deepawali" celebration.
My sister Viji and I wanted to be part of this festival since 2015.Unfortunately missed it, as it was too close to the festival dates and hotels on Ghats of our choice were sold out. This year when I thought about this, although late, slightly better as we still had a month to the festivity.But, this year too, Ganapati guest house and few other decent guest houses were all sold out but, found one on booking.com called, Bhadra Khali Guest House on Ahilyabai Ghat (Bang next to Dashaswamedh).Photos looked OK and reviews were not bad. For an 80 Sq ft room with private bath (not attached ), Price was high - 4,000 Rs/night which otherwise would be around 800 Rs.Only one room was available and it said free cancellation, we just booked and thought of rechecking after few days if anything better comes up. No surprise that no better accommodation became available - Hot time to be in Kashi. International tourists and especially photographers start booking way in advance for this festivity. I booked Indigo direct flight from Bangalore to Varanasi for 10,900 Rs/head. We were all set for our travel from Nov 21-24, 2018.
Nov 21st:- Off we went by 8:45 AM flight to Varanasi. Luckily everything including airport taxi and flight was on time and comfortable.Upon arrival, taxi arranged by the guest house was waiting. We were very impressed with the positive changes in and around the airport since our last visit in 2014. Brand new multi-lane highway greeted us from the airport to the city.Apparently, this was inaugurated hardly a week ago. You can just zoom to the city now.What a difference compared to last time! As you enter city limits, total change in skyline - not sure if it for good, bad or ugly! One too many shopping malls and even high raise apartment buildings.We even saw a huge boutique of Ritukumar - seriously, who would? Oh well!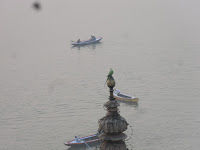 Once you reach city center, everything is same!!! Taxi driver said he has to stop taxi much earlier than usual on Dashashwamedh main road as vehicles including cycle rickshaw were not allowed due to some Muslim celebration/procession.Usually if your accommodation is on the Ghats, you end up taking cycle rickshaw the last Km and walk some distance in the galli/alley.But today, looks like we have to walk all the way! The hotel helper who came to carry our bags and lead us to the hotel, mostly forgot us and was busy dragging our bags on all sort of things...after shouting at him few times (what's new) - He carried them. Galli seemed cleaner compared to our last visit.Not many garbage dumps in every corner.Reached Guest house, a tiny 3 storied place with a river-facing terrace - owner tried to sell a better room for 2,000 Rs more per day.That too it was available for next two days only. We refused and then he showed ours - A very tiny one (smaller than what they claimed online) with external bathroom.Bathroom was clean but problem was it had sliding door and hence no lock from outside so anyone coming to that floor can go...Ahh!##@$%!!I argued with him for misrepresenting on website, but, it was more like just a blah blah blah for him. Cheating has become a permanent hobby for many these days.
We freshened up and went out for lunch! It is always better to walk via Ghat to the main road than thro' the alleys.Hotel manager had said while I booked, 15 steps down to the Ghat (we had thought better than last visit - Palace on steps guest house was about 75 steps from that guest house), in reality this is 15 steps to the start of the Ghat steps...ha-ha! What a clever manager, it is actually 50 steps to the end of the Ghat! This is what I call as classic Indian "Intentional ambiguous communication".
Walking via the Ghats is an experience! you get to see all sort of activities. These pictures speaks for itself. I like to refer Ghats in Kashi as vertex ( ha! I still remember my geometry) of senses & emotions! Went to the same old lunch place Kesari near temple.Food was OK! On the way back checked with temple guard about Bhasma aarti.He said we have to buy ticket.We had major language issue with guards so we thought of checking it out at the guest house.Manager at guest house said, no Bhasma aarti but there are 3 different types of aarti everyday - Morning (3:30 AM) , evening 7:00 PM and night.One can either book online or go to help-desk near temple gate and buy.He also said on Dev Diwali they are arranging special boat ride for a max of 10 Guest at 2,000/head for 4 Hrs from 5:00 PM to 9:00 PM. We felt 2K was high and 4 hrs was too long.We told him we will confirm by 22 nd evening. He was trying to rush us saying already 4 guests have booked and may be sold out. We just ignored him.
After resting for a while, we left around 5:00 PM in search of ticket counter - All the alleys within temple complex were packed with pilgrims for Dev Diwali. Imagine a 3 to 5 Ft wide alley with a long line to get inside the temple on one side, shops on both sides with customers and in the middle - rest of us, cows and two wheeler contesting to move in whatever space is left. You know it is like a maze inside alleys of the temple complex. Whoever we asked for ticket counter would just tilt head and direct us straight ahead - we all know ST ahead, these alleys becomes T or reverse L one wrong turn you come back to the same point.Finally one guard told us to go to Gate 4.Ah ha! Finally found the help desk... It is on main Dashashwamedh road off of Gate 4.We could have avoided alleys and come on main road directly in just 5-10 minutes. Hmm...
Here is a helpful link for those who are planning to visit Vishwanatha temple https://www.shriKashivishwanath.org/ If I had read about this website before coming to Kashi, this would have helped. I think this is all new arrangement from Modi Govt - website, helpdesk and etc., Good move by the Govt and not to forget airport access and swach bharath drive!!At helpdesk they told us Bhasma aarti is only during Holi festival. What is fascinating about thisaarti is that Basma comes from Ashes of the last body burnt in Manikarnika Ghat that day and would be brought by an Aghori. We decided to see Sapta Rishiaarti that was happening at 7:00 PM.It was 180 Rs/person.
"The Sapta Rishi Aarti is an ancient ritual dating back to more than 750 years. The seven Shastri/Pandit/Purohit each belonging to a different Gotra perform the Aarti simultaneously. It is believed that every evening, the Saptarishis (the seven great sages) come to perform Aarti to the deity, and hence this puja is conducted every evening at 7 pm. "It was only 5:45 PM, They told to be there by 6:40 or so... we came to Gate 4 of the temple and line was way too long to go inside the temple.Guard asked if I have VIP pass, seeing the hard-copy of ticket in my hand, I said yes. He said no line for us, just go to the inside entrance.There was so many guards we had to cross and checking to ensure no electronic items - Since this is our 3 rd visit and the goof up last time of having some electronic stuff hiding in my multi pocket bag and the nightmare experienced, we had left everything except cash and ID. Well that is what I thought, Guard found a pen she took it and nicely put it in her jacket pocket and said come after aarti, will give it back. (Ya! Right!)Anyway, it was a cake walk to the temple sanctum area & happy to have missed unbelievable long line by paying only 180 Rs/ticket and no Panda hassle. At the graba gudi/inner sanctum, guards were pushing devotees to move forward quickly. I asked a guard if we can go from side entrance near the lingam (saw someone do it) - He said no and have to wait as our ticket is for 7:00 PM... we just followed some people who went from side not sure if it was legal or illegal...but went direct to where Lingam was.After dharshan, we went to the well where original lingam was thrown (refer to my earlier blog) and the mosque wall.
We sat across from Garba Gudi where there was a big TV screen.We could see all the pushing and shoving inside the garba gudi live...we wondered how we can seeaarti as the door was only about 3 ft wide and at least 1000 people would have bought ticket like us.We were right, mostly people with ticket watch on screen.Folks without ticket are not allowed inside during aarti and no access to TV Screen.We watched it for about an hour and left.Was not that impressed as you get to see it only on screen and that too without audio! How can one see aarti without hearing mantra chanting, they go hand in hand or may be it just us . I went back to the same guard station to see if I can get me pen back...that guard was nowhere to be seen . We went to same restaurant Kesari and had some curd rice for dinner.
Nov 22:- Got up early by 5:45 AM to watch the sunrise from terrace. Boats were already out in full swing and activities on Ghats had started. Although due to clouds could not see sunrise, pink hew covering the sky and its reflection in the Ganga was a visual treat. After spending some time, we went to get ready as breakfast and tea was not going to be ready before 8:30AM.Main disadvantage of staying in guest houses like this, they don't wake up till 8:00 AM.Had our Aloo parata bfast on the terrace with hot lime-ginger-honey drink.
Today, we decided to see two temples that we had missed last time: Shakthi peeta/Vishalakshi temple and the oldest temple in Kashi -Kala Bhairava.As usual we took the Ghat route to main road. This time the water was much higher and wider than our last visit.
We walked towards Mir Ghat to visit Vishalakshi temple .The significance of this temple goes something like this " Sati, the daughter of Prajapati Daksha, was married to the god Shiva against his wishes. Daksha organized a great yajna, but did not invite Sati and Shiva. Uninvited, Sati reached the yajna-site, where Daksha ignored Sati and vilified Shiva. Unable to withstand this insult, Sati jumped into the sacrificial fire and committed suicide. Sati died, but her corpse did not burn.Grief-stricken Shiva wandered the universe with Sati's corpse. Finally, the god Vishnu dismembered the body of Sati into 51 parts, each of which became a Shakti Pitha, temple to a form of the Goddess. Shiva is also worshipped at each Shakti Pitha in the form of Bhairava, the male counterpart or guardian of the presiding goddess of the Pitha.Sati's earring is believed to have fallen at Varanasi, establishing Vishalakshi as a Shakti Pitha". We had to maneuver very narrow alleys & the crowd to reach the temple.Current temple structure is a newer one built in the 1980's in south Indian style temple structure. Nothing much to write about. From here we took a cycle rickshaw after lot of hassle/bargain for a ride to & from Kala Bhairava temple for 70 Rs from Gate 4 of the Vishwanatha temple (some guys were asking 300 Rs , till a local guy told us not pay more than 70 Rs) .
Last time we were here, this temple was closed and we had seen only from outside.It is a nice temple & sort of very different. It is known as the most ancient temple of Varanasi located near the VishesharGanj.. God KalBhairav is believed to be the "Kotwal of Sati pind". Without his permission no one can even touch the Sati pind. After the temple visit, we had to buy the famous Kashi thread and wear as bracelets. When we came out of the temple, saw two dogs were with garlands...so cute! On a side note, finally after realizing the benefits of Desi/Indian origin cows & bull, Viji & I can identify Indian breed. Every cow we saw in Kashi was a Desi cow!How exciting! In Kashi, it is known that cows and bulls will never chase you or attack with horns - it allows you to pet them (Don't sue me if it does )
It is also interesting to note - In the sacred geography of Varanasi, six points are said to symbolize Shastanga (six-fold) yoga, which is performed by visiting the six sites. They are the Vishwanath Temple (the most important temple of Varanasi - dedicated to Shiva), the Vishalakshi Temple, the Ganges, the Kala Bhairava temple (dedicated to Varanasi's guardian deity and Vishalakshi's Bhiarava), the Dhundiraj Temple (dedicated to the god Ganesha - son of Shiva and Parvati) and the Dandapani temple (dedicated to an aspect of Shiva).
By now it was 2:00 PM, went looking for brown bread bakery for lunch (our favorite place from last time) and found they have moved to a new location... by now we were tired and decided to go to Ganapathi guest house.Had pasta lunch which was barely OK!!!Viji decided to skip lunch saying morning aloo paratha was still talking to her .On the way out, we asked at reception, how come we can't find room at their guest house, he said for Dev diwali booking starts for 2019 as soon as 2018 festival ends.Good thing is they don't jack up price like most of other guest houses.Next time if I come back to Varanasi, I will come if I find room here.Good place on Ghat! We asked if they arrange boat for Dev diwali viewing.They said they do but only for guests. Then for some reason, he said they can accommodate us.It was 1,000 Rs/head and was for 2 Hrs.When we said we thought it requires 4 hrs, he said 2 hrs is plenty since oil lamps are lit as soon as it gets dark & lamps won't last for more than an hr or two as no one refills oil. This made sense...so we bought tickets with them and more over we trusted this guest house more than our guest house.We bought boat ride ticket for 23 rd and left.We thought of taking nap and then just stroll on Ghats.
Walked up to Harsihchandra Ghat in the evening. Even though it is busy time with increased pilgrims & tourists, noticed Ghats were cleaner and did not have the urine stench like last time in this particular stretch towards Assi.Harishchandra Ghat looked much cleaner and organized. They have allocated designated spots with metal stand and iron cover on sides for burning bodies.During our last two visits we had seen many bodies being brought to Ghats on procession on main road and galli.This time we did not see any. Wonder if there is a new rules or something on how and when they bring the bodies.
As we started walking back towards the main Ghat, noticed number of devotees increasing by the minute for the grand celebration the following day.It was around 5:00 PM, we decided to take a boat ride. Bargained for 300 Rs. It is such a treat to watch the Ghats and its magnificent building, colorful people, their ever ending bathing and ritual activities and to top it all reflection of all these on Ganga makes boat ride a visual poetry. This is one place, no matter how bad you click a picture, it will come out good! Just one boat ride and a stroll along the Ghats captivate you with the essence of Kashi.
Saw lot of people on the other side of the river and when asked the boat man said many people do kriyas/rituals for ancestors there after monsoon as water is shallow there.Made sense as water level is pretty high on this side.Crowd had already gathered for evening aarti. So, we cut short our ride and found a nice place to park our self to watch Ganga aarti!!!.Decorations had started for the next day. They were using only leaves and flowers.Good thing no artificial or synthetic items or flex, like in Bangalore. Every piece of decoration was from natural material. A big thumbs up!
Started hunting again for brown bread bakery for dinner. After walking round and round in alleys we finally found it! Actually it was much closer to our place if we had walked via Ghat and then had taken those steep stairs. We ordered pasta and pizza.It was good but we could not eat pizza and got it packed as Viji wanted to eat it for breakfast.When we reached our guest house that night, I saw the helper taking tea to a guest... I asked him if he can get us hot lime, ginger & hone drink.Thought would be nice to drink something hot before bed... little did I know what it would cause
- Most anticipated Dev deepawali/diwali celebration day! If you wonder why Kashi celebrates Deepawali twice, here is the reason " This one is the 'Festival of Lights of the Gods', as per the traditional Hindu calendar, It is observed on the full moon day (Purnima) in the month of Kartik. Kartik Purnima comes 15 days after Diwali. Dev Diwali is celebrated to honor the victory of Lord Shiva over the demon named 'Tripurasur'.It is believed that on this day all the devas/gods come down to bathe in the Ganga and light lamp to honor the victory" Aha! No wonder the two goddesses from Bangalore had the calling :-)
Both of us woke up with bad throat!I went up to the terrace to watch the sun rise and wala! Ghat was buzzing with pilgrims in huge numbers taking bath in Ganga on this auspicious purnima day in Karthika masa.We decided to go down & sit on the Ghat... what an experience! The moment we hit the Ghat, all our tiredness went away. There was so much life and energy! Thousands of devotees were busy doing all sorts of rituals.What a sight! After some time, we head back to our room to get ready for the day!I stopped Viji from eating pizza with such bad throat and we enjoyed feeding it to the monkeys on our terrace.It was such a joy to watch how they eat pizza - first with their hands they cleaned both sides and then they got rid of all the cheese (hmm...why don't they like the cheese?) and ate only the bread part and veggies.Couple of them gave veggies a miss along with the cheese... so cute they were!
This morning we had decided to go to Manikarnika Ghat. I cannot comprehend coming to Kashi without visiting Manikarnika.As we walked towards Dashashwamedh Ghat, number of cows seemed to have increased along with the pilgrims.It looked so colorful and spectacular!All the ladies had dried their colorful saris/cloths on Ghat steps and railings and their rituals seemed to have a common theme - First dip in Ganga, then offer on a biodegradable plate eggplant/bringal, radish, goose berry, oil lamp made from rice flour and some flowers.We asked some ladies what is this all about - Apparently they are local to UP state and as per their tradition - they give up these particular veggies from Diwali till Kartik poornima and only after bathing in Ganga and offering this, they consume these veggies again.It is a follow up to Tulasi pooja. We exchanged how we do Tulasi pooja in South; we get Tulasi plant and Goose berry plant married and light lamps from Diwali till Kartik poornima (what we celebrate as Laksha Deepotsava on this day) Apparently they do the same, they light lamps for ancestors ! India is so big and still we follow some traditions exactly alike.Wow! We were able to communicate all these in our broken Hindi . Cows were enjoying prasada as everything is edible including lamps.
Slowly, proceeded towards Manikarnika Ghat.Few bodies were burning and there too, specific allocated spaces for burning on metal stand with side covers.We heard something new this time about this place, Bilva Pathre leaves will never float in this Ghat (though we did not try this) . One can see the swatch (clean) Bharat impact here - like before ashes were not being shoveled into Ganga and flowers and cloths draped on body was not thrown to water.There was a boat that was picking up flowers and cloths.Apparently, Art of living has a unit to convert temple flowers into organic manure here. As these flowers would have been sprayed with pesticide during flowering, dumping them in Ganga was adding toxicity to water.Best one is an NGO from two youngsters - they convert temple flowers into charcoal-free incense, organic vermicompost and biodegradable packaging material (to replace Styrofoam) through 'Flower cycling'.They have given employment to quite a few in UP . Please do support https://www.helpusgreen.com/ Modi's initiatives are paying off! Good positive changes.I hope the guest houses and hotels now stop letting sewage into Ganga - Understand there are rules now, but they need to follow!
We saw hundreds of tourist from Maharashtra on Manikarnika Ghat doing a mass ritual for ancestors with loud mantra chanting.It is impossible not to get philosophical at Manikarnika.Just like last time we saw a couple all decked up and busy with celebration with bodies burning hardly few feet from them!Once again I have to repeat, nowhere else on this earth you get to see the circle of life next to each other!Boat men kept on following us and asking if we want a ride...and rate seem to be lower this morning and not many takers, as everyone was busy with their Ganga bathing and performing rituals! We decided on boat ride for 200 Rs.Everyone seemed to so immerse in what they were doing and enjoying thoroughly their dips in Ganga.Amidst of all these were annoying selfie takers and even more annoying was folks watching it immediately with no sense of where they are or what's around them.In fact one of the guys had to be pulled up by our boat man since he had drifted to deeper end without knowing swimming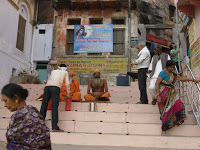 Crowd had swollen and last minute preparation and decorations were going on in full swing at Dhashawamedh Ghat.We saw lot of bigger boats being decked up for the guests.This year UP Chief Minister was attending so little political agenda & fanfare as well.
With this bad throat that we were suffering, we thought to have a late lunch and skip dinner.We went back to our guest house and packed almost everything for our flight the next morning. This was just in case we come back very late at night; we don't have to deal with packing then. our reporting time for Dev deepawali special boat ride was 5:00 PM, we went to Ganapati Guest house by 3:30 PM to have lunch/dinner before the ride.Had simple Indian thali meal!
Guests started to gather by 5:00 PM.Manager said boat will take off by 5:30 PM. Out of 43 guests for the boat ride , 5 of us were Indians rest were international, mostly Europeans.Interestingly who ever we spoke to were on their 3 rd or 4 th trip to Kashi & obviously love this place.This festival attracts photographers from all over the world in huge numbers!In fact many photography tours are arranged specially for Dev Diwali. We got the best spot on boat with 360 degree view.All of us were so excited! Boat left on time and we could see Ghats already lit with oil lamps.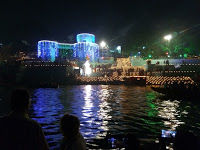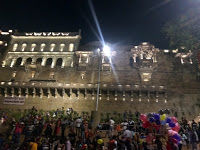 Passing by Harishchandra Ghat we saw about 5 bodies bring cremated with Ghat lit with oil lamps. Manikarnika had much more bodies being cremated - A true celebration of life, death and everything in between!By the time boat turned back from Assi towards Raja Ghat at the other end, I realized camera cannot really capture nor do justice!It is beyond visuals. How can I express what I am seeing, hearing and feeling in front of me "Ghat s decorated and lit with millions of lamps. Ganga aarti going in full swing at many Ghats at the same time, fireworks, the sound of bells, sound of more than 500,000 people jammed in this 7 KM stretch, majority of the crowd within 2KM of main Ghat and bodies being cremated". Everything playing in front of me like a movie! Viji's expression was apt, "larger than life experience". Many in the boat felt the same way I guess... Wows had stopped, there was silence and hardly anyone was speaking!
After this wonderful boat ride, we walked from Mir Ghat where we got dropped towards main Ghat where the action was.Crowd was not that much till we came near main Ghat. Crowd became thicker as we got closer to main Ghat and then there was barricade that we could not cross- here is where I had the brilliant idea of walking up the Ghat steps and come down on another side of barricade.Saw few people go up. The path to go up the steps was very narrow as people were sitting on steps and it was packed.Few steps short of the top, pushing and shoving started. Unfortunately we were in such a spot where we could not turn back.Somehow we made it almost to the top when fight broke out between folks going up and folks coming down - all in 2ft or less space.At least with my height I had something to hold on as I was next to makeshift railing. Viji was next to me on open side and nothing to hold on and with folks pushing, she was slipping.Somehow we made it to top, there ugly fight broke out and police came with sticks to lati charge,by now we were totally in the middle of this mess. We thought definite stampede and where we were- just one strong push from guys trying to go down, we would all fall from Ghat top like pack of cards. Luckily we made it to one corner on top; the end of the long stick of police hitting randomly the guys who caused the chaos did touch Viji few times.Now we had entered the alley about 4 ft wide with thousands of people going opposite sides.
Luckily, tea shop owner allowed us to stand on side in his shop.We realized what a stupid mistake of coming towards main Ghat & my brilliant idea. Anything could have happened on those steep steps! After about 5-10 minutes, we walked little further down and again crowd got even bigger.One of the guy in a shack on one side told us to come and wait as road/alley leading to main Ghat further down was closed.So we took shelter there and so did many others. We thought shack was going to fall on us with the exploding crowd in this narrow alley and pushing.In the midst of this we saw some westerners being caught in this as well.I thought they would have been more careful not to make same mistake like us.Anyway, after about ½ hr we decided to proceed with the crowd as it looked slightly better. More than that we thought that shack may fall. This guy who had asked us to take shelter was trying to make conversation with us and became disappointed when we told him we are locals/Indians. One good thing nobody misbehaved other than pushing.
We had no clue where we were going!You just moved with the crowd. Voila! Finally, made it to Dashashwamedh road/Main road.We were still alive!Here too it was very crowded as everyone was heading towards the main Ghat from here.Alley to our guest house too was in the same direction. So, we parked our self on a side & decided to wait. One of the guys told us how to reach our guest house using a different alley path with no crowd.So we took a chance with that as it looked empty. Wah! Made it to the guest house in one piece .
After recuperating and reliving our stupidity of going to the main Ghat the way we did and wondering on what if equation?,we went up the terrace and there was no sign of crowd thinning anytime soon, lot of fireworks had started including locals and it went on till wee hours in the morning.What an eventful day it was!!! We hardly slept (both of us told each other next morning, the other one slept better )
Woke up this morning with not just bad throat but cough and cold!Felt like having a cup of real hot coffee. After a hot bath, went out to see if any restaurant/tea shop was open.We could find only street vendors selling milk based sweets and people busy eating them finally found a place open that had coffee!Guest house manager had advised and had booked taxi at 8:30 AM for a 11:30 AM flight, he was expecting bad traffic to airport after Dev diwali and thought it would take 1.5hr to reach airport.We reached in 45 minutes ???? I guess they still think of old airport road and are not used to the new & improved Kashi multi lane highway.Anyway, had good breakfast at airport (I think I am done with my quota of Paratas for another 6 months at least ), flight was on time & slept all the way till Bangalore.Not sure if it is the type of bug or what, it took me 2 weeks to recover with medication and Viji, 3 weeks without medication. Hahaha!!!
Well! Feel so blessed to have visited Kashi for the third time and be part of such an extraordinary event.Experienced energy and colors like never before! I strongly feel this is not my last visit to Kashi given that this ancient city creates bucket list within bucket list like an akhsaya pathre.
I want to draw a parallel to another wonderful ancient city I visited couple of years ago - Naples, Italy. You hear people talk about cheating, begging and city's cleanliness when they visit old cities like Kashi in India. Viji & I experienced all these in Naples with a population far less than Kashi. Despite constant abuse on them one wonders how these ancient cities continue to be energetic & captivating! May be, unique characteristics of the five elements there? Like the phrase goes, " Enquiring minds want to know".