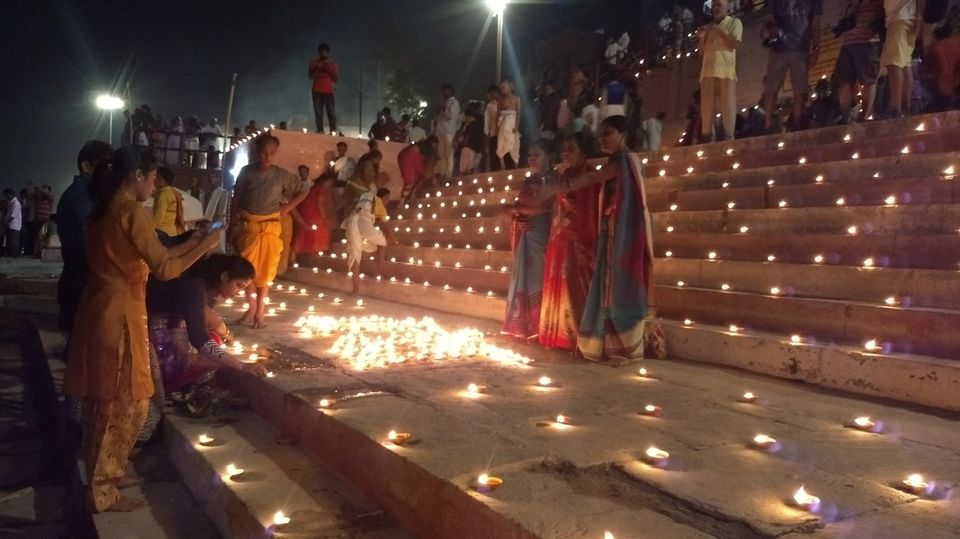 Dev Diwali - a festival I heard many times, a festival that would just put me into imagination how the ghats of Kashi would look if enlightened by the mesmerizing Diyas and that is what brought me yet again to my favorite destination Varanasi.
Arrived in Varanasi on Friday i.e. 3rd Nov and directly checked into my favourite hostel "Zostel". Last time I was solo, but this time it was with all the more enthusiastic travelling friends(2). By the time we reached it was already evening. Got freshen up, and started our way to Kashi Vishwanath. Even though the lanes are very narrow and chaotic but I think that's the beauty of those lanes. We had a tough time for Darshan as it was pretty much crowded. Had Lassi at the famous Blue Lassi.
Now, it was the time to head towards the Ghats, where the bells would ring from all directions, the bhajans would be enchanted and a peaceful vibe would emerge from Ganga mix with those bhajans would be an impeccable bliss to the ears. We sat for sometime on the ghats and then left for the Ganga Aarti. The Dev Diwali fest was supposed to happen today but we found out that its tomorrow.We sat on one of the ghats , I think it was Raja Ghat which was lit with Diyas. I just stopped at the ghat, put my feet in the flowing river with Diyas and some mantras at the back. I just sat quietly, feeling nothing, just numb. For a while, I just chose to be thoughtless, directionless, goalless and felt the warmness of that water, saw the light coming out of those floating diyas. It was blissful. With no conversation with anyone, I was having deep conversation with nature.After sometime, we left for the day, had lassi and dosa on the street and signed off.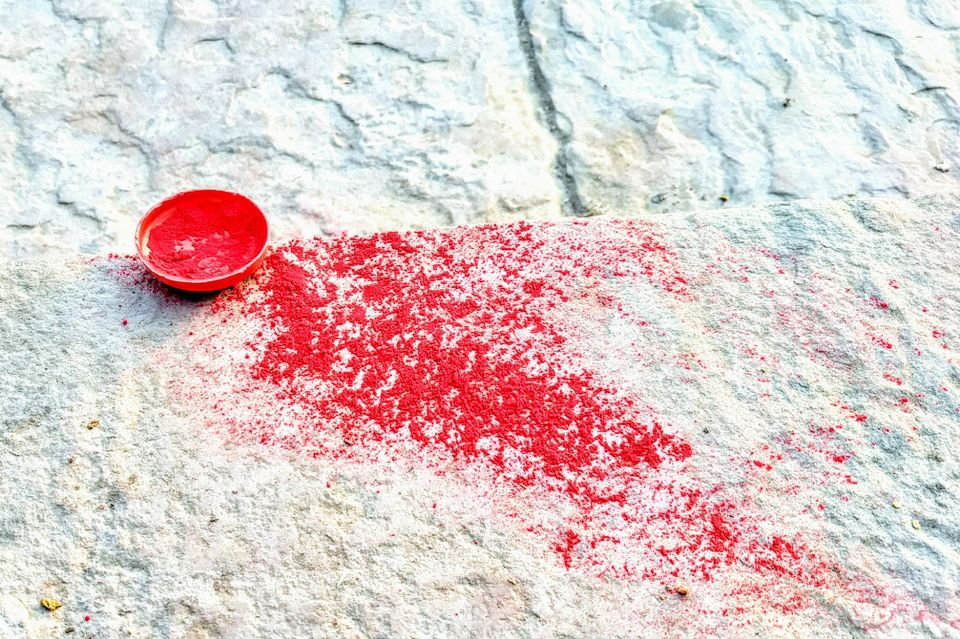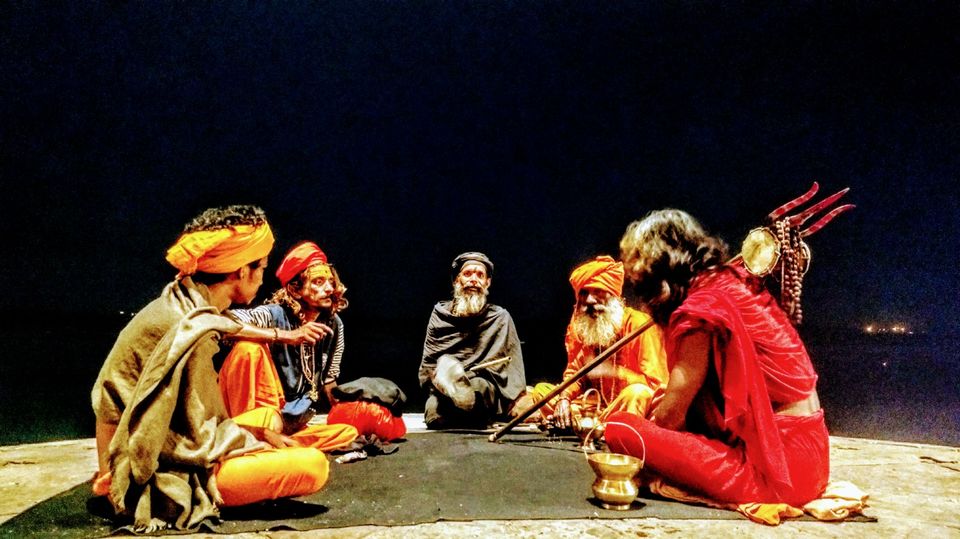 After that we started for Ravidas ji Mandir. It was near BHU. As a historian, I have always appreciated Meera Bai and her dedication for one love. In my studies , I knew that she became of disciple of Ravidas ji, hence it brought interest in me to see Ravidas ji's mandir. I reached there and figured out that he was incarnated in lower caste to bring justice and equality to that race. I met women of that caste in the Mandir and heard many short stories of guru Ravi Das ji. One of it was very interesting which says "People from lower caste were not allowed to go to the ghats or touch Ganga. Ravi Das ji wanting to give gifts to Ganga was not allowed to see Ganga and hence where he use to live Ganga would come there to give them darshan. So it means that the level of river would increase so much so that it would reach Ravidas ji so that he have her darshan." It was a great experience in itself.Do check this place and listen to the mystical stories.
New Day! We started early to see the sunrise at Assi Ghat. Well we were on time for Sunrise but unfortunately the Aarti was over. It was really crowded as it was Karthik Purnima. Full moon in the month of Karthik is considered very holy. People from distant places come to take a dip in Ganga. Hence, it was overly crowded. People were sitting on the ghats, some bathing, some were sitting in groups and singing traditional songs, some were sitting to collect daan which was some rice and potatoes. Witnessing sunrise in the midst of this chaosness had its own charm.
Then we moved to Chunar to see the Chunar fort.It was also pleasant experience. The one beautiful thing is we get to see the other side of Ganga which is quiet, not crowded, just tranquil. We returned back to the hostel. It was time for our boat ride to Dev Diwali. Much awaited.The group of hostelers were taken by the hosts to the boat and here we are to the witness one of the spectacular Diwali's. All the ghats full of diyas. Many diyas floating in the river. Thousands of people looking at the ghats. The pujari's, the pandits, the locals all dressed at their best. It is better to take boat ride on this occassion so that we can have a look at the overall ghats from the front. Lot of fire crackers and at last delicious with some bhang ;).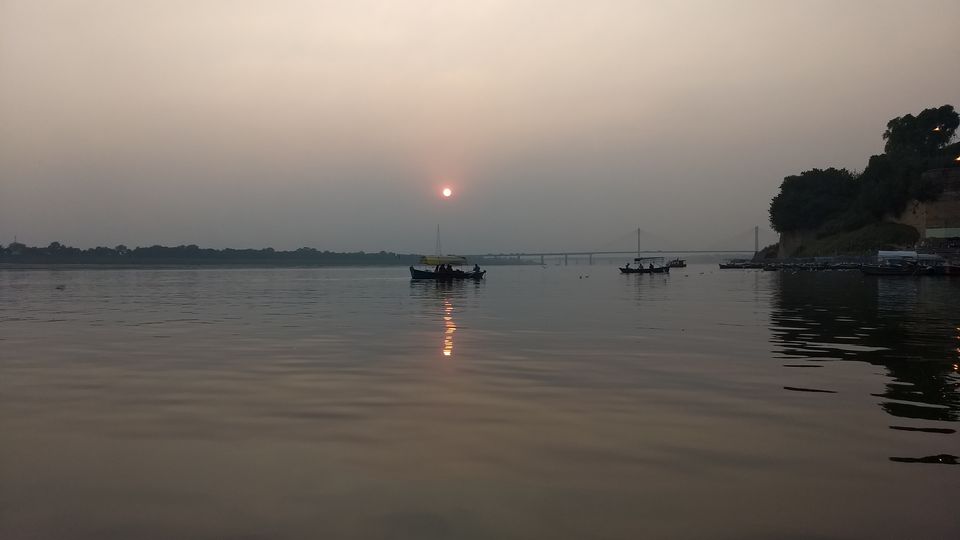 Now, it was the last day , we packed our bags and moved to Allahbad and went to see the sangam. As soon as I reached there, it felt as if I am in a different world altogether. It was so peaceful. All I could hear was chirping of birds. All I could see was calm Yamuna and Ganga with Sun drowning in it. We took a boat for 1300/-. It is expensive. Beware of contractors and directly talk to the naw walas. They can take you as cheap as 300/-. We were conned here. When we reached at the Sangam. I chose to put the coconuts in the water. There also people try to trick you. You can just pay the cost of coconuts and a dakshina as low as 11/- or 51/-. But sitting there and chanting the mantras given by pandit for the happiness and fulfillment was a different experience.
Live in this moment,Intentionally become goalless and live and laugh!
Signing off! Do post your comments about the blog.