For my parents, travelling = visiting temples. So, when my parents visited us in Delhi, they wanted to go to Varanasi, the land of temples. I added Sarnath to the trip and we had an eventful 2-day trip to Varanasi and Sarnath. With my 1.5-year-old joining, this became a trip of 3 generations.
In 2 days, we visited 10 temples in Varanasi and also spent half day in Sarnath. (I know, that is a lot of temples)
24 hours in Varanasi: 10 temples and more
New Vishwanath Temple:
We reached Varanasi by late morning and stated our temple tour after lunch. Our first stop was Lord Vishwanath temple on the campus of Benares Hindu University (BHU), one of the oldest universities in India. The temple is also known as the New Vishwanath temple as the Shikara of the temple was built to resemble that of the Kashi Vishwanath Temple.
The temple was spacious and not very crowded but could do well with a bit of better maintenance.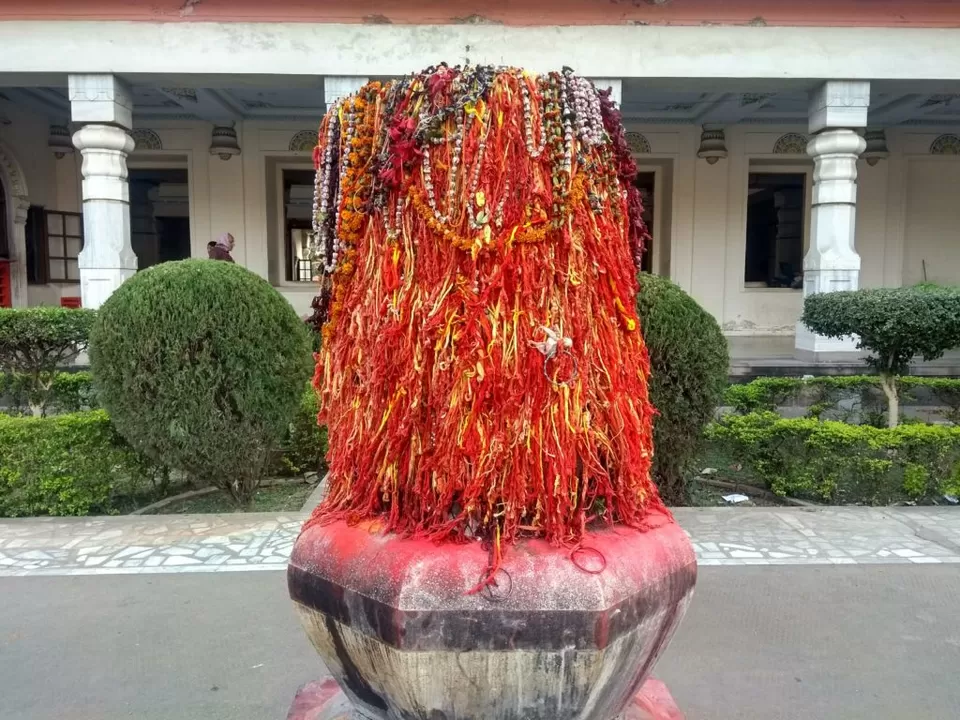 Sankat Mochan Temple:
This temple is dedicated to Lord Hanuman, a great devotee of Ram and is built by Tulasi Das, another devotee of Ram. The idol of Hanuman here is very different from what we generally see in other Hanuman temples. The entire face is one rock, with eyes and tilak shown prominently. Another uniqueness of the temple is that Lord Hanuman here faces his Lord, Rama. It is a very busy temple with hundreds of people visiting every day.
You will have to walk for half a kilometer from the main road to reach the temple, as Vehicles are not allowed inside the narrow lane.
Tulsi Manas Temple:
Our guide told that the temple is located at the place where Tulsi Das had written the Ramayana. The temple has the deities of Lord Rama and Sita and Lord Vishwanath and Annapurna. Bala Kand and Aranya Kand of Ramayana are inscribed on the inner walls of the temple.
This temple is situated on a busy road but once you are inside, it is very peaceful. Also, the day we visited there were very few people.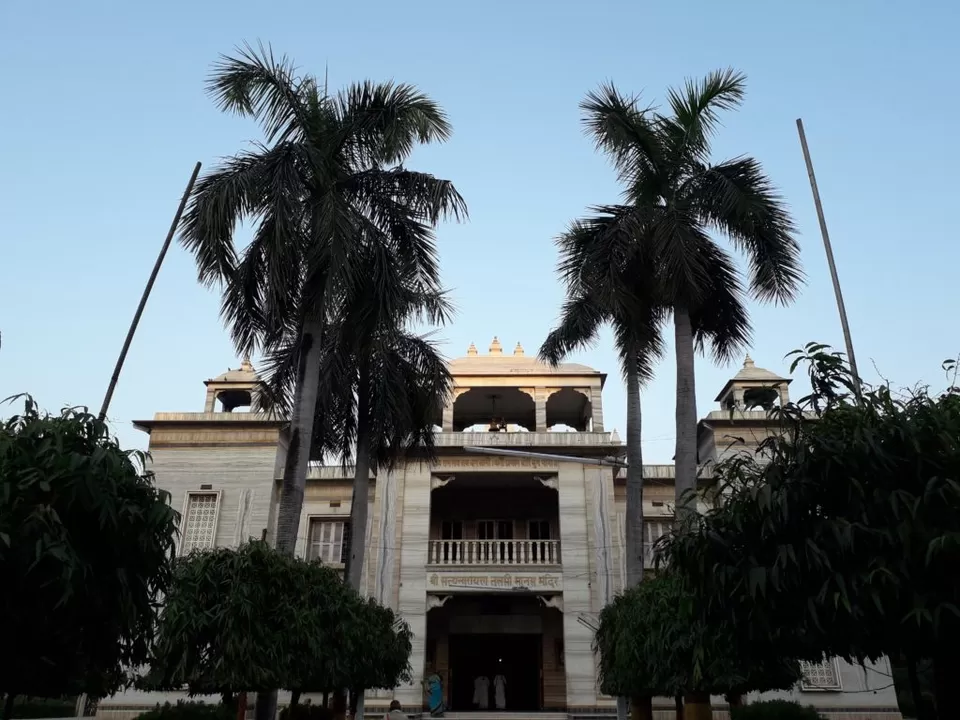 Maa Durga Temple:
The temple, as the name says, is dedicated to Maa Durga and is said to be constructed in the 18th century. This temple is painted in red and is built in the style of nagara architecture. There was a huge crowd of devotees busy praying and singing bhajans.
I listened a woman praying out loudly 'Ma, you know everything. If you don't care about this, who else will!' I wondered what the woman's problems were and just prayed that the great mother care for her.
Ganga Aarti:
We ended the day with boating in river Ganga just in time for the evening Ganga Aarti. Ganga Aarti at Varanasi is often described as something not to be missed. We saw the Aarti being performed on the banks of the river sitting in our boat.
There are two Aartis, one is performed at Dashashwamedha ghat by 5 priests representing the Panchabhutas. Another Aarti is done on Dr. Rajendra Prasad ghat, (next to Dashashwamedha ghat) by 7 priests, supposedly representing seven days of the week. Both the Aartis start with a gap of 10 minutes.
Our guide told us, this system of two Aartis is a result of a fallout between the temple trust committee members with each faction having their own Aarti. (Not sure about the veracity of this story).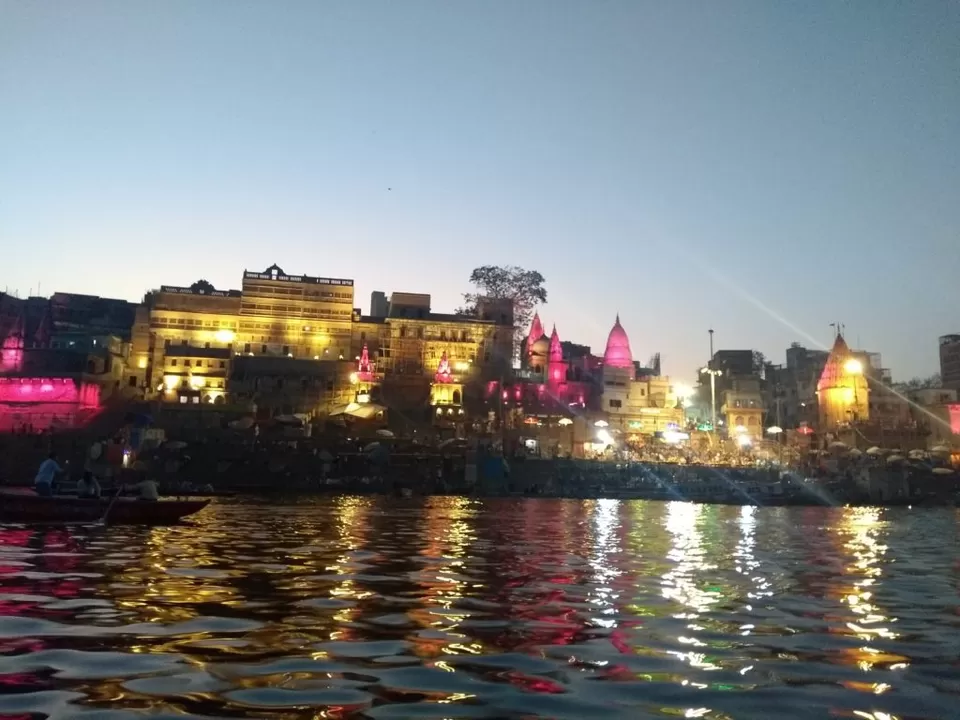 If you want to attend the Aarti, plan to reach there well in advance (30 minutes before the Aarti time), so that you can get a good seat. The Ganga Aarti generally starts around sunset. So, it may start a bit early in winters. We visited in March and the Aarti started around 7.
We were a bit late, so we were in the back. Also, there are too many boats so it felt crowded and the swarm of mosquitoes buzzing over our heads did not help.
Ghats of Varanasi:
I am not really sure about the number of ghats in Varanasi. Some claim the number is more than 100. Some put it around 88. Our guide told there are 64 ghats. Each ghat here has a name based on mythology or named after some historical or political character.
Most significant among the ghats are Dasaswamedha Ghat - the place of evening Aarti and Manikarnika and Harischandra Ghat - places of cremation. I saw dead bodies burning on Manikarnika ghat from our boat. And, as we stepped out of our boat at Harischandra ghat, I saw a human skull burning on the pyre. And, just a few meters ahead of this burning pyre, there were Sadhus playing badminton.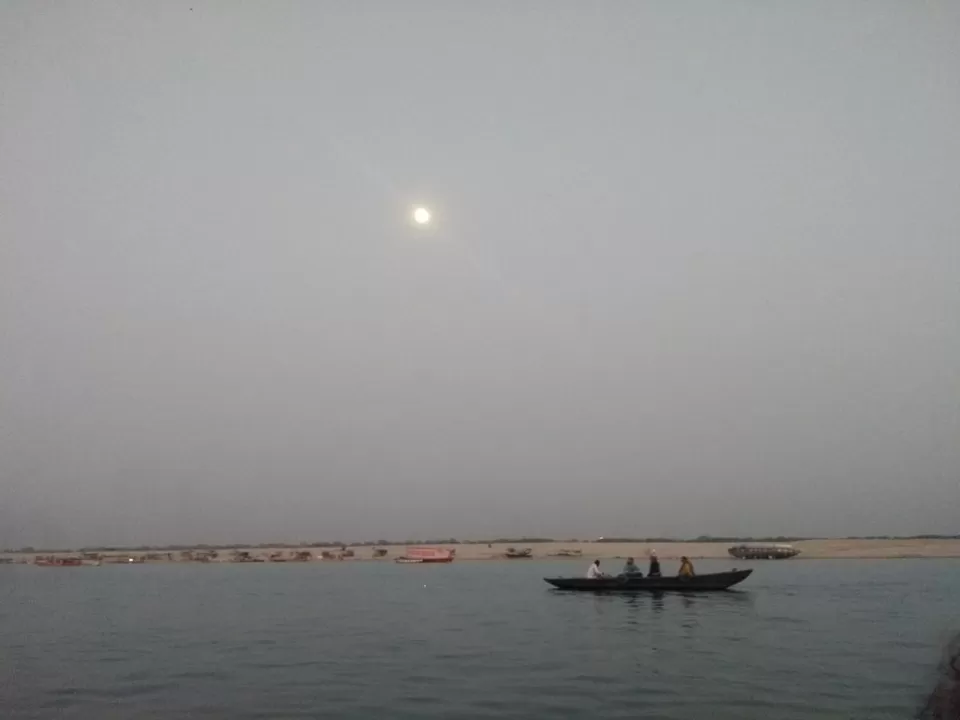 Everybody knows death is inevitable, but we treat death as if it is something abnormal and avoidable. But, here, in the ghats of Varanasi, death is just an everyday affair.
Next morning, we started early to avoid long queues at the temples. We left our hotel by 6 AM and our first stop was Kala Bhairava Temple.
Kaal Bhairava Temple:
Legend is that nobody can stay in Varanasi without the permission of Lord Kaal Bhairava. Like, most other temples in varanasi, this temple is also located in a narrow gully. Though we reached there early morning, there was a huge crowd already. And, as the temple is very small, the crowd became suffocative and my son started crying. So, I had to leave without having the darshan.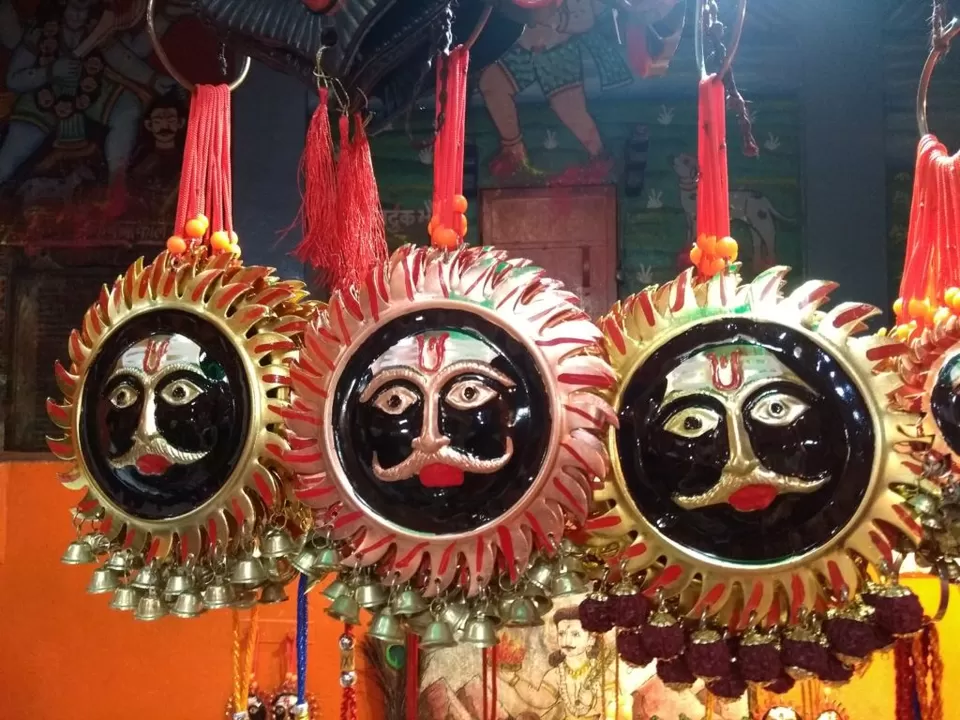 Dundi Ganapati Temple:
This is a very small temple dedicated to Ganesha, located in the narrow lanes, on your way to Lord Vishwanath Mandir. People believe Ganapati here, keeps a record of devotees visiting his father, i.e, the Lord Vishwanath.
Kashi Vishwanath Temple:
Lord Vishwanath temple is one of the Jyothirlingas mentioned in the Puranas. It was destroyed and re-constructed multiple temples in history and what we see today is constructed by Ahalya Bhai Holkar of Indore in the 18th century.
The temple makes you feel - ' Sarvam Shiva Mayam'. The entire complex is filled with Shiva Lingas and devotees chanting Om Namah Shivaya. Even amidst all the crowd and noise, I felt devotion and divinity here. Maybe, this is because from childhood I read and heard about the cosmic significance of the temple and my mind believed in it. In the end, its all in your head.
This temple, like most other temples in Varanasi, was also situated inside narrow gullies and there are shops along the way selling flowers, milk, etc., They almost bully you into buying things and I did not like having such an atmosphere in a place of faith and devotion.
Kashi Annapoorna Temple:
Annapoorna Devi, another form of Devi Parvathi, is worshipped as the Goddess of food. The temple is located very close to Kasi Vishwanath temple. Devotees are given raw rice (Anna) as prasad (divine offering) and which they take back to home and cook. Devi here is seen with a bowl in her hand symbolizing food.
Kashi Visalakshmi temple:
Visalakshi means wide-eyed. (Visala - wide or big & Akshi - Eye). Kashi Visalakshi temple is believed to be one of the Sakthi Peethas (the most sacred temples of the Devi). Used to seeing grand temples in South India, I imagined the Kashi Visalakshi temple would be similarly grand, given that it is a Shakti Peeth. But, I was surprised seeing the small temple.
The garbhagriha (inner sanctum) here has two idols, and you can see the small idol of Visalakshi Devi, called Adi Visalakshi at the backside of the main idol.
After this, we left for our hotel. We checked out around 11 and left for Sarnath.
Bharata Mata Temple:
On our way to Sarnath, we stopped at Bharata Mata temple. This is a unique temple in Varanasi, dedicated to the country India, and not any religious deity. The temple has a huge 3D Map of undivided India made of marble on the ground. It was constructed by one Babu Shiva Prasad Gupta, a freedom fighter and was inaugurated by Mahatma Gandhi in 1936. The temple is located on a huge campus, maintained very neatly and is very peaceful since not many visit this temple.
During our visit, we were the only ones visiting the temple.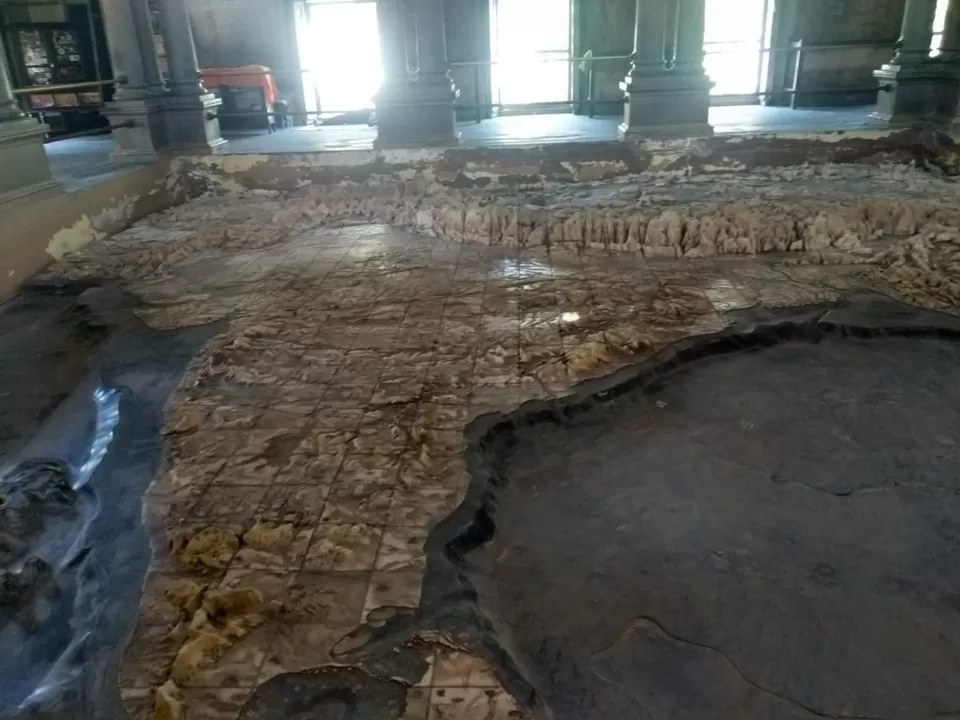 So, this is how we spent 24 hours in Varanasi - full on faith and devotion. My parents were super happy with the trip, visiting Kashi was their dream, as for most Hindus. I was happy too seeing my parent's content faces. Nothing like making your parents happy.
Tip: Visit the temples in the order I listed, as they are located closely and save time.
Half day in Sarnath: Amazed and blessed
Sarnath is around 10 KM from Varanasi. You can reach Sarnath by auto, or book an uber/ola. All the interesting places to visit in Sarnath are located next to each other, so you can just walk from one place to another.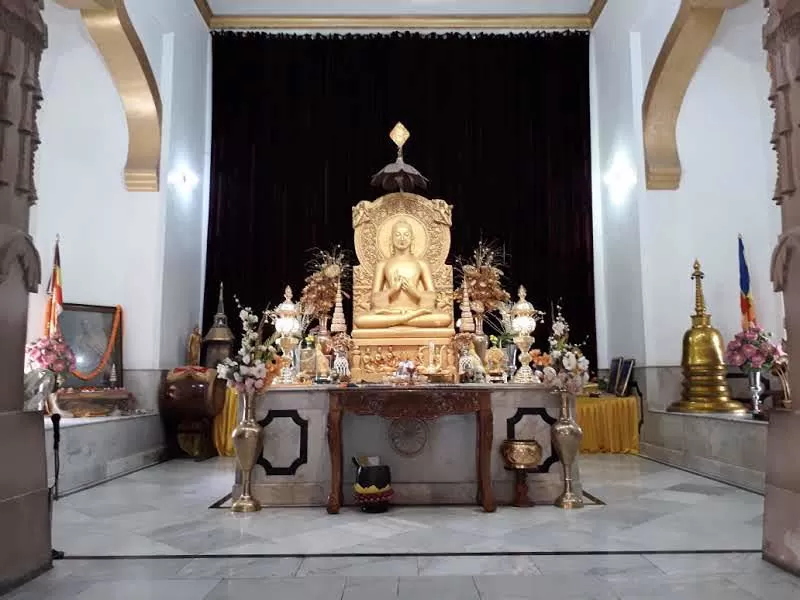 Archaeological Museum of Sarnath:
It is a site museum meaning it is located at the place from where all the exhibits are excavated. How interesting is that! And, it has artifacts from around the 3rd century BC to 12th century AD. The first thing you will see after entering is the famous lion capital of Ashoka - the national emblem of India. It was an amazing experience to see our national emblem in its original form.
There are also numerous statues of Buddha and Bodhisattvas and various sculptures showcasing important life events of Buddha.
We were told to keep our mobiles in security lockers. So, I do not have any pictures of these interesting galleries. But, I saw a foreigner using his camera inside the museum. So, not sure if there is a special ticket or something for photography. Better to inquire at the ticket counter.
Also, the museum is totally air-conditioned, a much needed respite in the scorching sun. ????
Dhamek Stupa:
Dhamek Stupa is a sacred place for Buddhists as it is believed to be the place where Buddha gave his first sermon after attaining enlightenment. It is a massive structure originally built by King Ashoka and later reconstructed during the Gupta period in the 5th century. The stupa has beautiful carvings at some places, otherwise, it is largely a plain structure.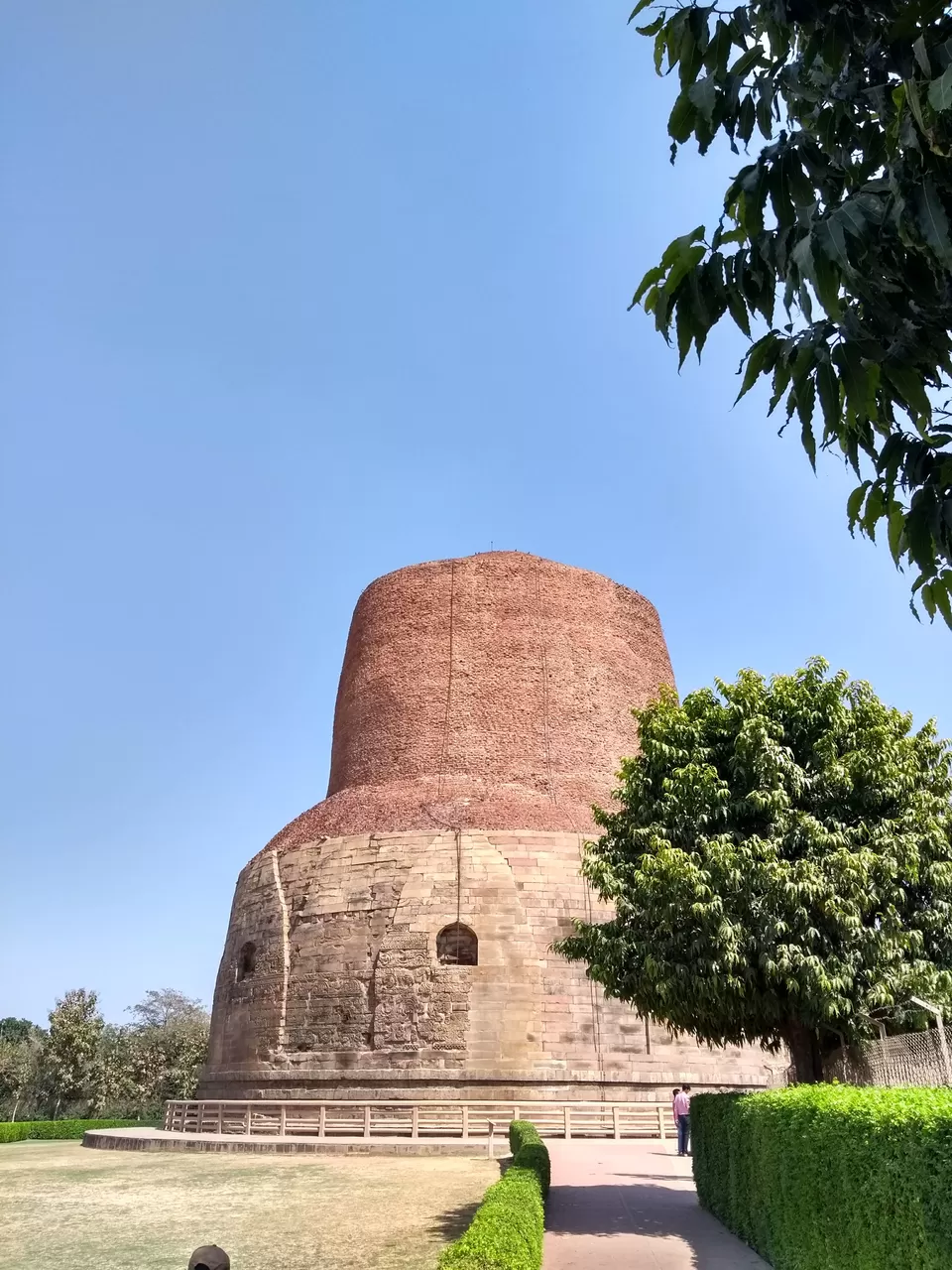 The day we visited, there were large groups of devotees visiting from Thailand and Sri Lanka. A Thai woman said some prayers and tied a prayer thread to my son's hand. Though my son did not keep the sacred thread for long, her kindness was touching.
Sarnath Excavated Site:
The Sarnath excavation site is a huge place with a grand collection of ruins of stupas, pillars, monasteries, temples, etc., The major attractions here are the ruins of Dharmarajika Stupa and Ashoka Pillar that once housed the lion capital (now in the museum). The entire site is very well maintained with a beautiful garden. Thanks to the archeological survey of India for maintaining the place so well.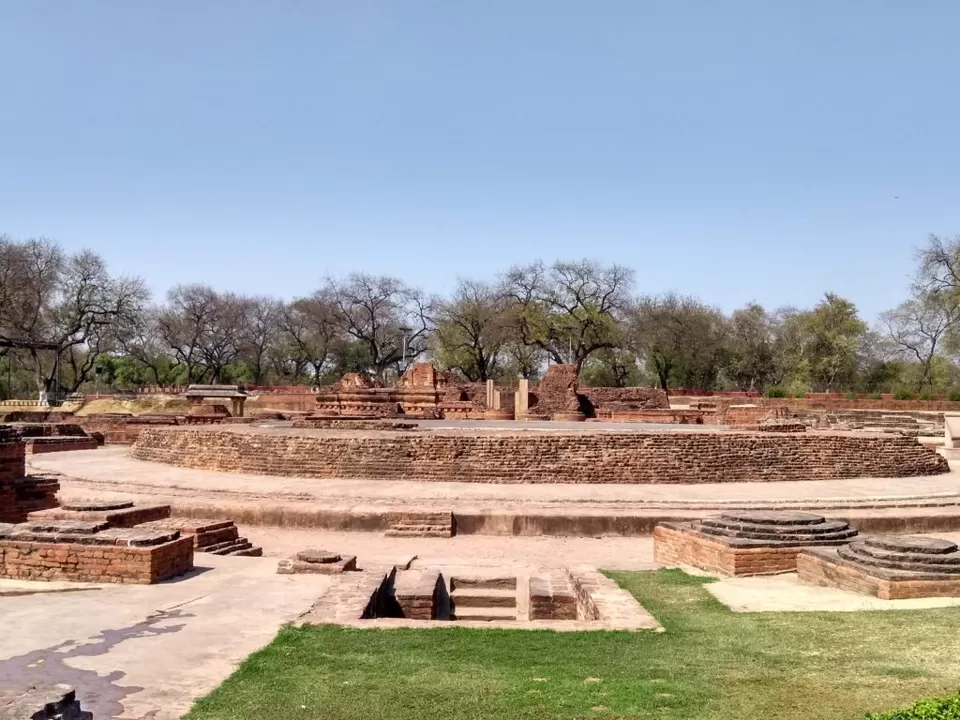 Mulagandha Kuti Vihar:
Mulagandha Kuti Vihar is a temple dedicated to Lord Buddha, constructed in Srilankan style. The temple has Lord Buddha's golden statue in a meditative posture. The temple has a positive aura and is sure to make one feel blessed to be here. The pathway to the temple has life messages from Lord Buddha on things such as controlling negative thoughts, helping others, etc., which I personally liked.
One can meditate as strict silence is followed inside the temple. I was asked to leave by the monk as my son started shouting for no reason. Kids somehow have the talent to know what not to do and then do the same.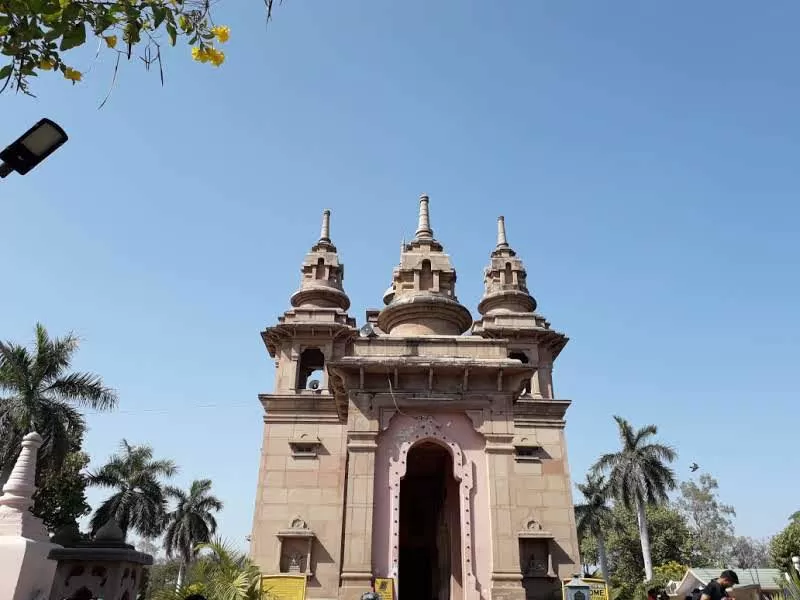 There are many other interesting places to visit in Sarnath, but my parents were visibly tired and not keen on exploring much! So, we had missed some, but that's okay! There is always a next time ????
What did we miss?
I wanted to have a peaceful early morning stroll along the ghats of Varanasi. But, my son's sleep timings and our tight schedule did not allow for it.
In Sarnath, like the Mulgandha Kuti Vihar, there are other temples dedicated to Lord Buddha constructed by countries such as China, Thailand, Japan in the architectural style of the respective country.
There is another stupa called Chaukandi Stupa which marks the location where Buddha met his disciples.
And, there is also a tree, which is planted from a cutting from Bodhi tree in Bodh Gaya, under which Buddha attained enlightenment. I would definitely visit Sarnath again at least for this tree.
Do you travel with your parents? What is their favourite place? Let me know in comments.
Liked reading this? Come over to our blog Tales and Miles, to share a chat and some travel love.