"Varanasi!! The place where people want to die,
Where people come to wash off their sin,
Where one purifies its body, mind and soul
Varanasi! The place where every speck is divine!!"
Varanasi/Kashi is considered to be the oldest city in the world. It is said to be the abode of Lord Shiva and Parvati and Hindu's believe that a person who breath his/her last here is suppose to attain salvation. It is also considered to be one of the backpacker destinations of India since it is associated with spiritualism, yoga and Sanskrit and so many people from within India and across the country come here seeking for these things. After hearing a lot about this place I decided to spend my New year's eve at Varanasi. I reached Varanasi on 30th December around 8PM from New Delhi.
Stay:- Zostel Hostel
31st December
Early morning boat tour around Ganges
Cost:- Rs 150/- person
My morning began around 5:00AM because I wanted to go for boat ride and see the sunrise at Ganga Ghat and capture those moments. I booked a boat tour for about 1.5 hours and boatman took me from my hostel to ghat.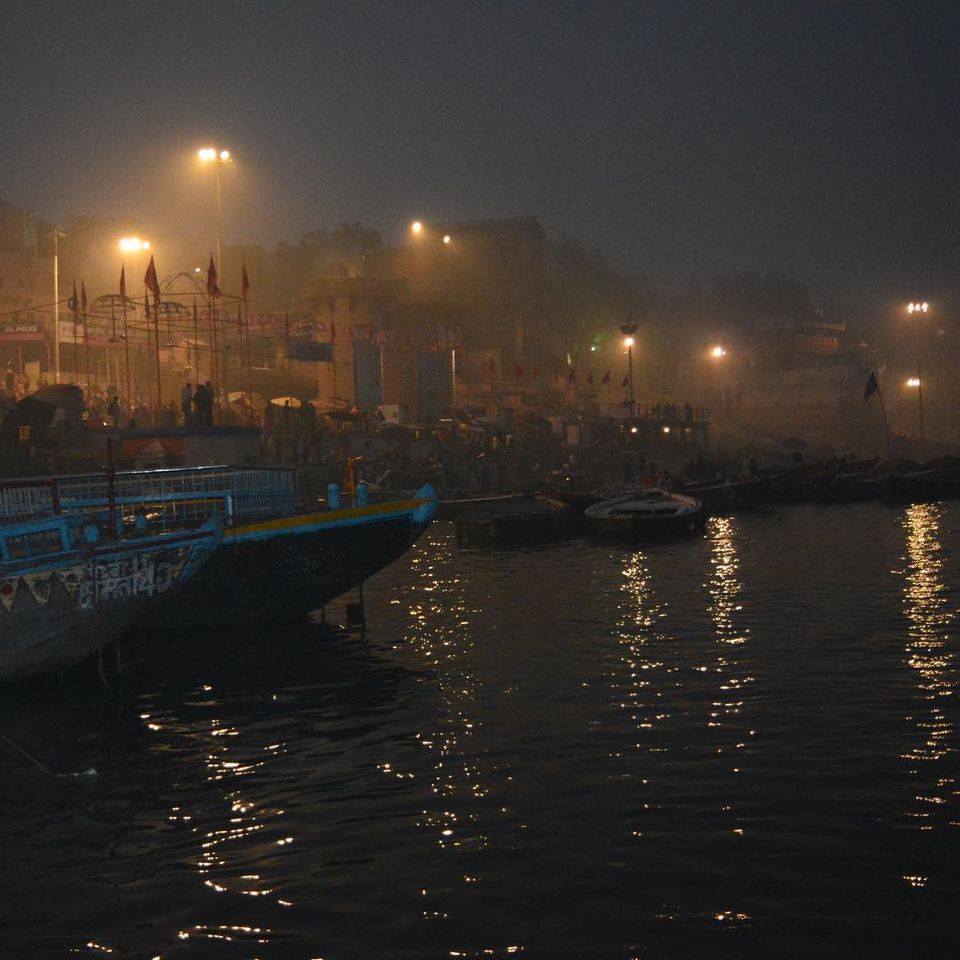 Watching people taking bath in the Ganges around 5:30AM, performing rituals is just bliss. I was hoping to see the sunrise and take some photographs but since it was winter season so weather was foggy and so I couldn't see it. There are many ghats but few among them are quite famous and prominent one.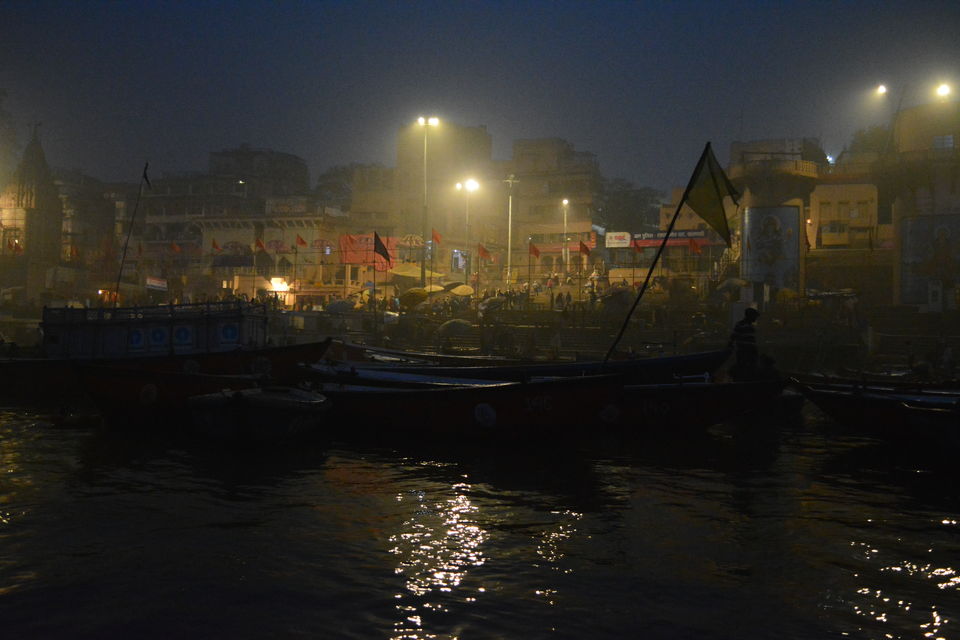 Dashshwamedha Ghat: - I started my tour from this place which is the main ghat. Evening Ganga aarti happens to be here daily.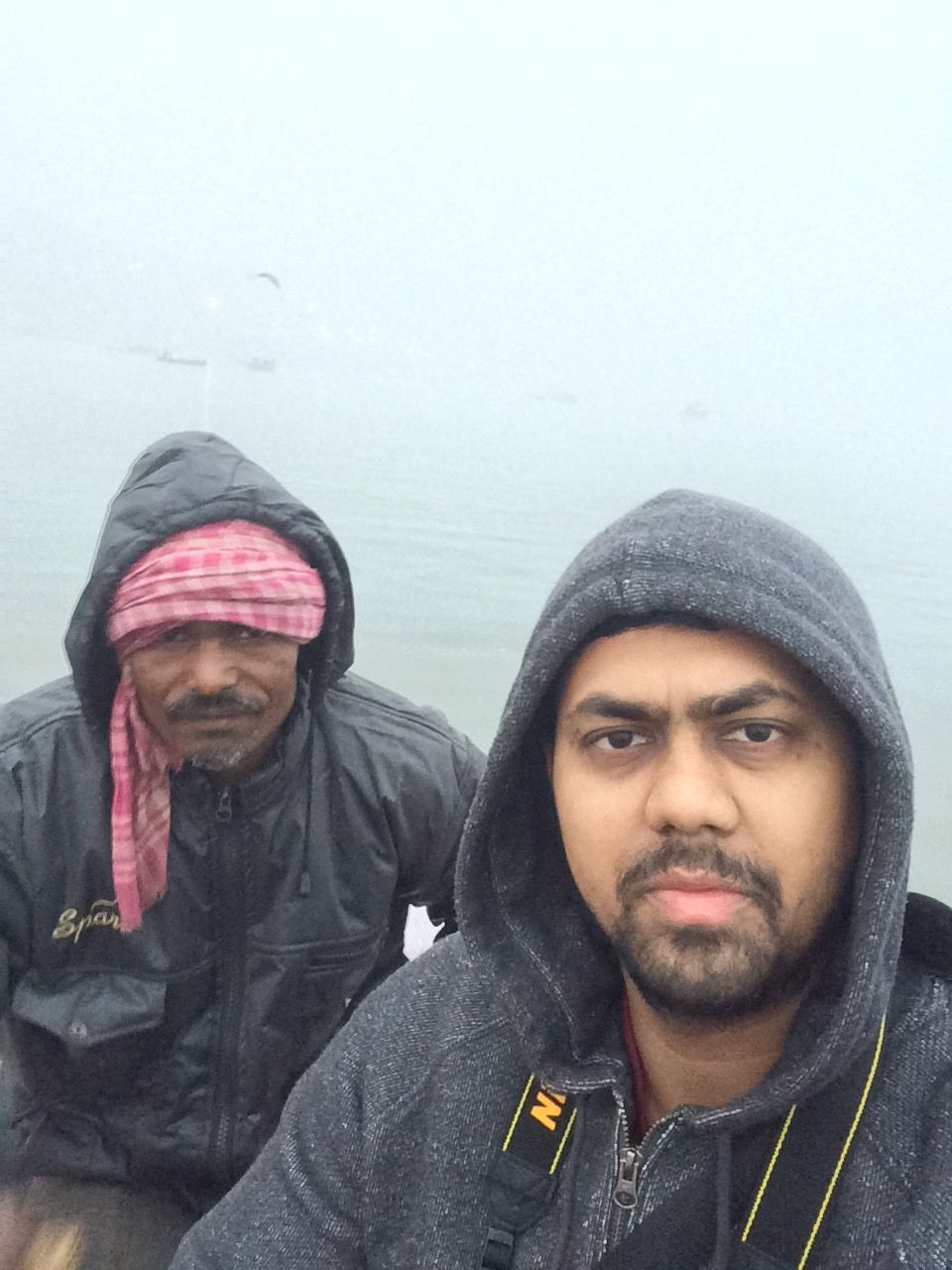 Assi Ghat: - Ghat where Asi river merges with Ganges river.
Harishchandra Ghat: - It is named after King Harish Chandra who is known for his truthfulness and charity. Dead bodies are cremated over here.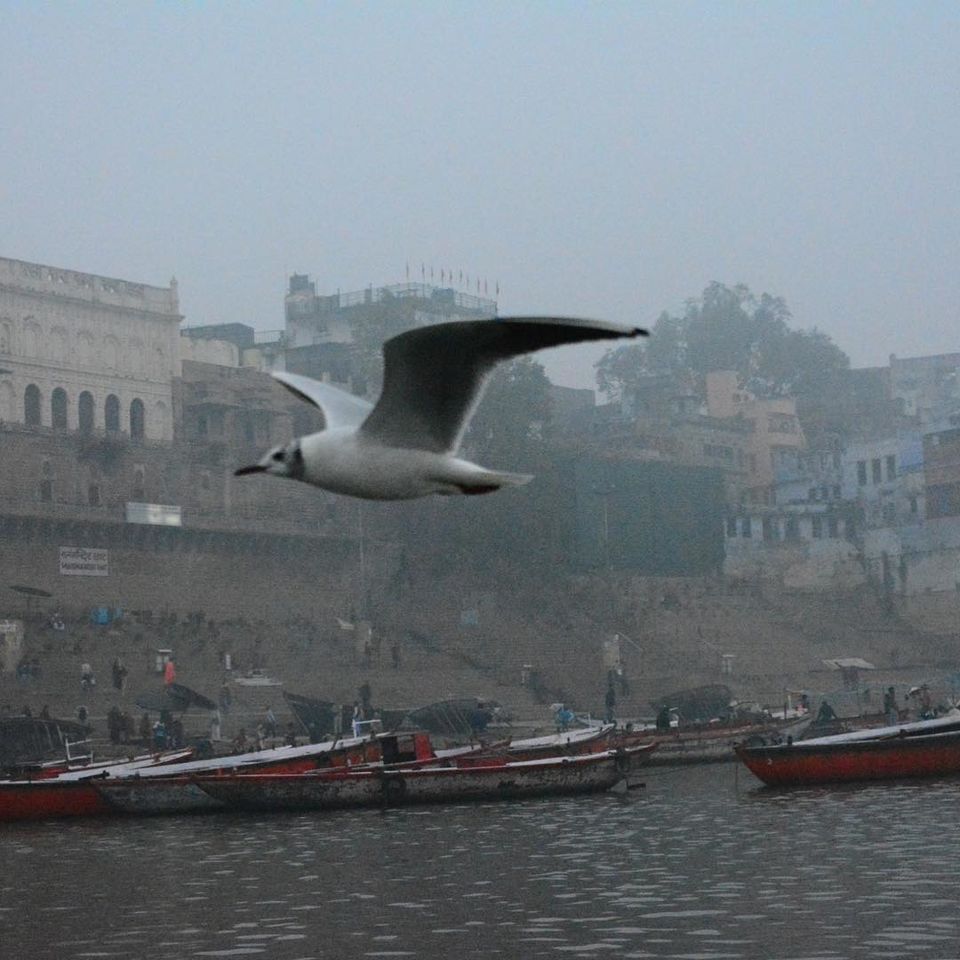 Watching these seagulls flying high inspired me to always aim high and wander fearless without thinking about anything or anyone. Be a free bird and do what makes you happy

Manikarna Ghat: - Another ghat where dead bodies are cremated and funeral takes place. It is believed that here you will find a burning pyre round the clock.
Among other famous ghats includes Tulsi Ghat, Raja Ghat and the others.
Kashi Vishwanath Temple
It is one of the twelve "Jyotirling"of Lord Shiva which is shows the infinite nature of Shiva. It was immensely guarded by security personals and military men just like a fortress. (Pro Tip: - Don't carry your camera, mobile phones, wallets to the temple as they won't allow inside. It's better to leave it at the place where you are residing or you will find many shops through the alley which provide you with lockers to keep these things. Choose the shop which is nearest to the security check post since you are not allowed to take those belonging further. These shops although won't charge you extra but they ask you to buy sacrament for the temple.)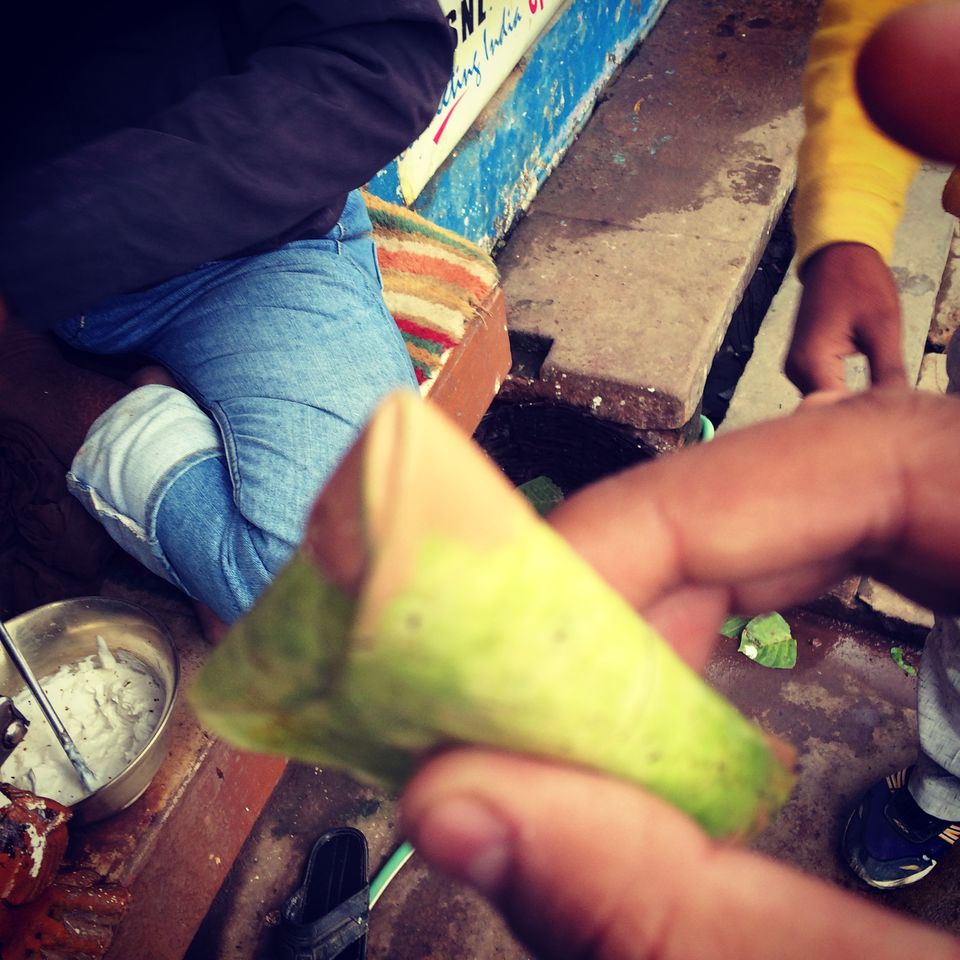 I booked a tuk tuk for the tour of Sarnath. Auto driver's name was Ajay and he was a very humble guy and showed me around very well while sharing his experience about Varanasi. I visited Chaukhandi Stupa which is a Buddhist Stupa and marks the spot where Lord Buddha and his first disciples met. It is one of the archeological sites of India.
Thai temple Sarnath: - It has the largest statue of Lord Buddha in India around which is around 80 feet tall. Besides this statue there are few other statues and a couple of temples to watch.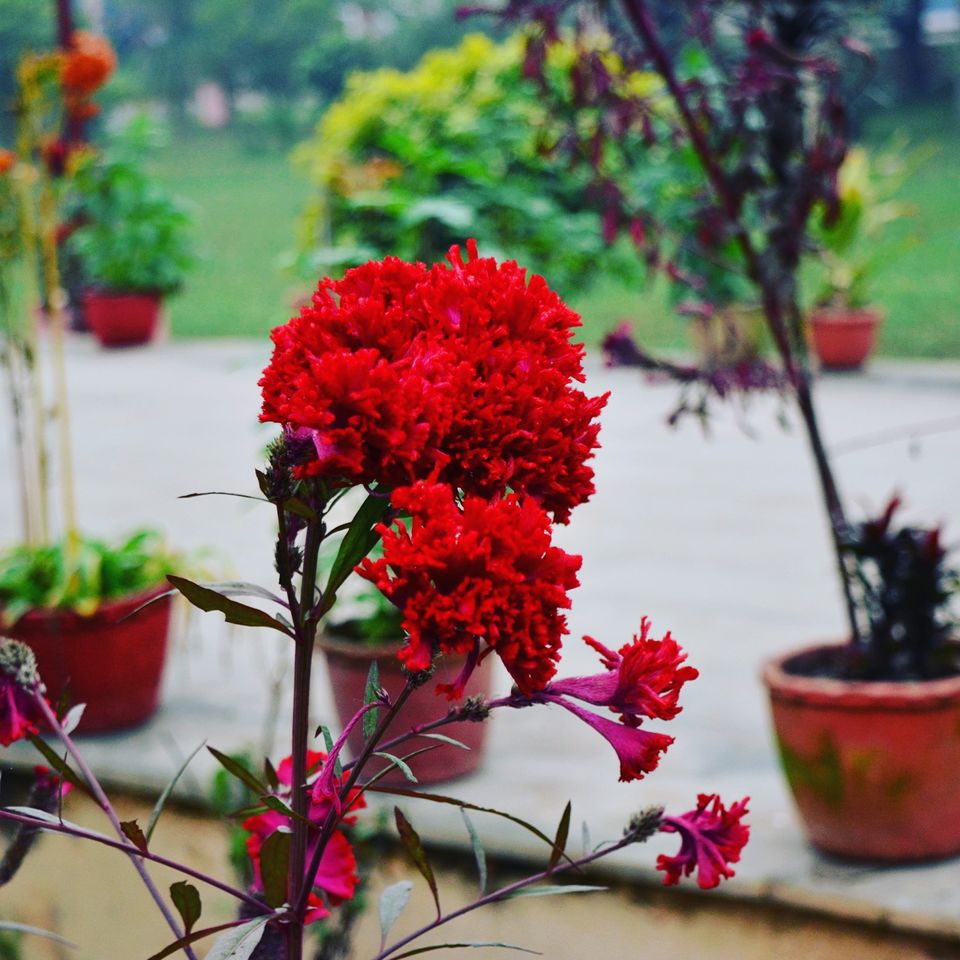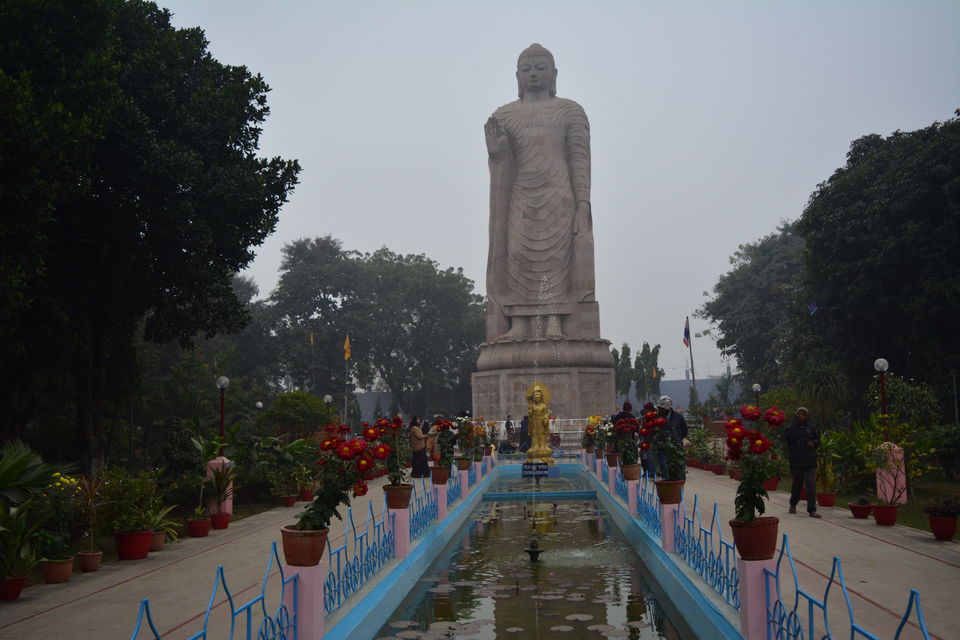 Excavated site, Sarnath: -
Cost:- Rs 5/- per person from India or for people from countries in SAARC and BIMSTEC and Rs 100/- for others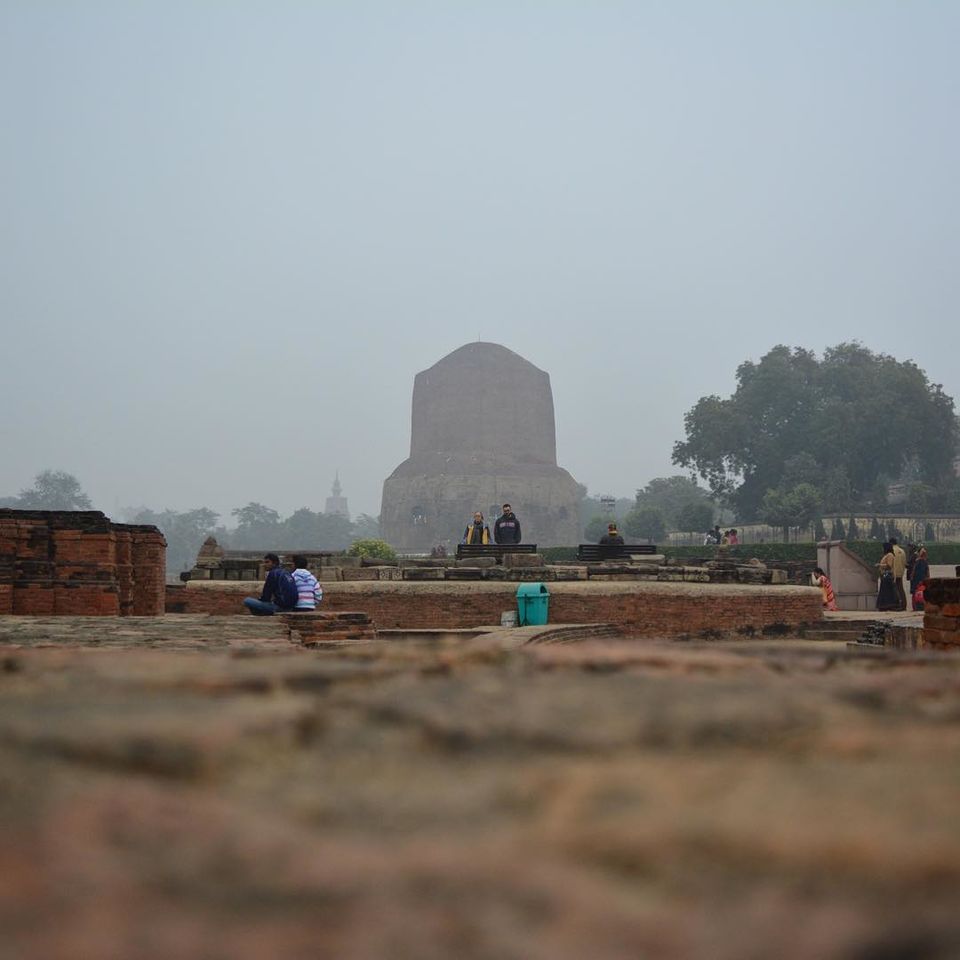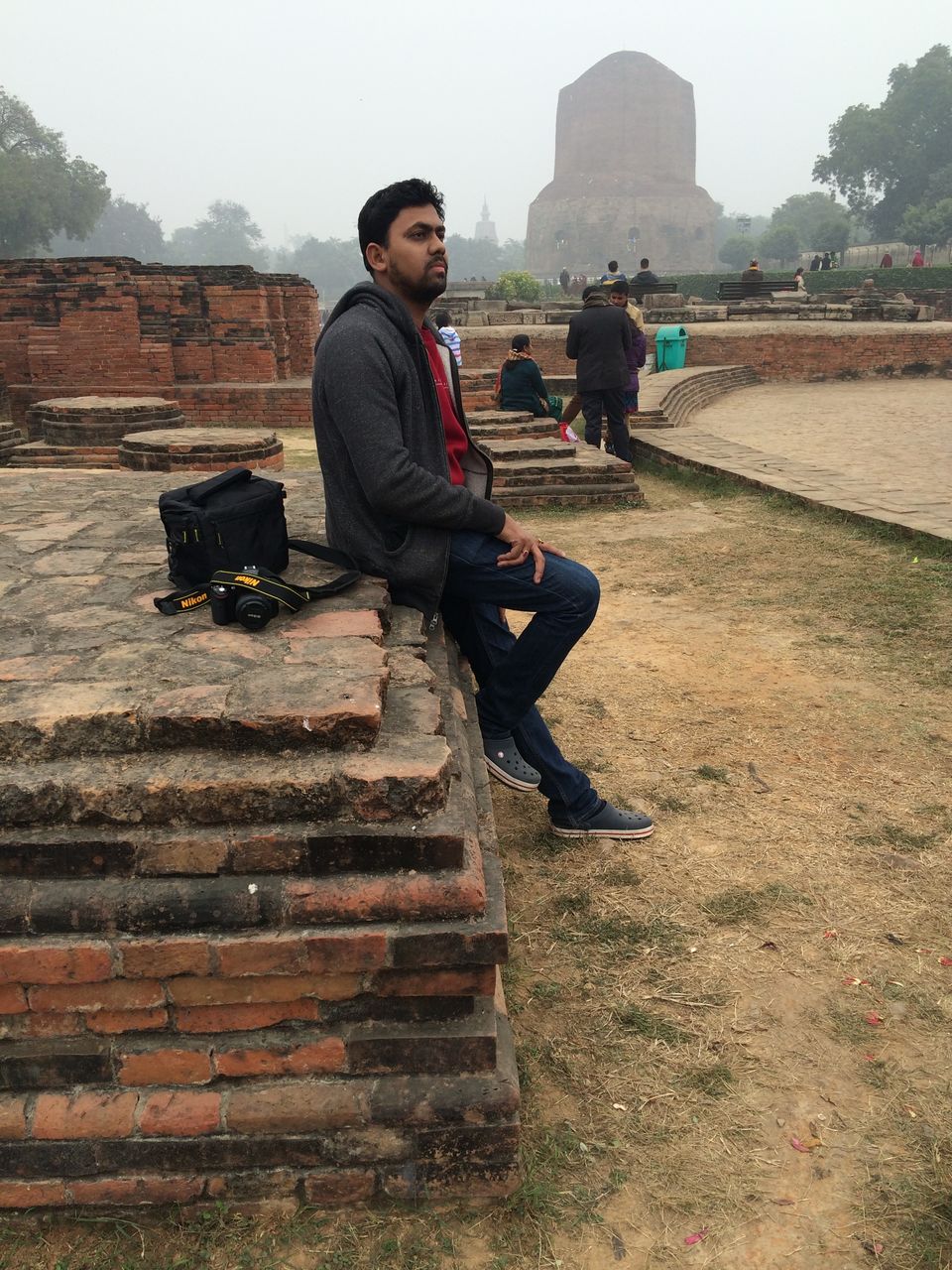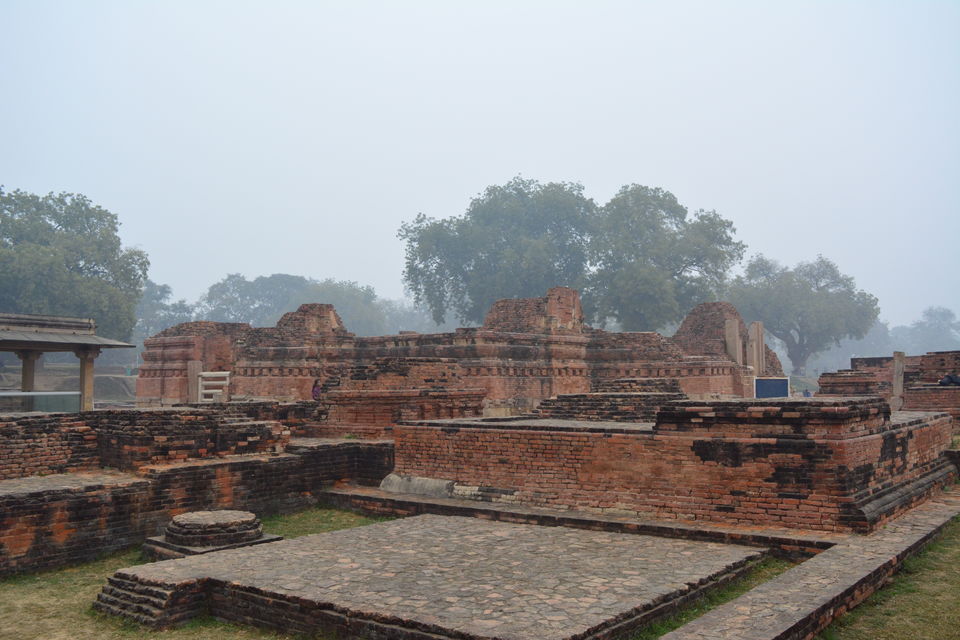 These are the excavated remains of Sarnath city which include sculptures, inscriptions and Stupa. It also has Dhamek stupa which is believed to have been built by Ashoka in 249BC. Humans and birds are being carved on wall of Stupa. Spending some time here will bring you some calmness and mind peace for sure.
Other temples to visit in Sarnath are:-
1. Chinese temple
2. Tibetian temple
3. Japanese Temple
Tuk Tuk driver finally dropped me at my hostel from where I was joined by Ashish, a fellow traveler for Evening Ganga aarti. Our tour guide took us to the boat and we roamed around on the Ganga ghats for about an hour. There was one more couple on the boat and we started our conversations on hindu mythology. I gained some knowledge regarding history of these ghats and Kashi. I saw people getting ready for the aarti, I saw people taking a tour around the ghats and all those lights gleaming around the ghats is a treat for one's eyes. I was seeing those structures for the second time in a day and it looked even better in the evening with the lights on.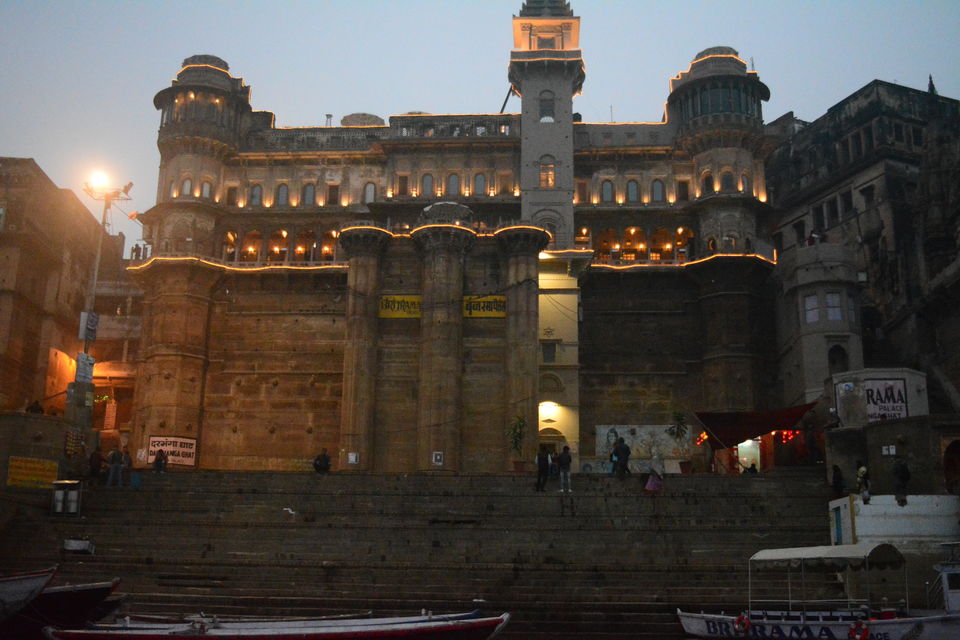 After hopping around our boatman finally rested our boat in front of Dashaswamedha ghat where evening Ganga aarti was about to began. Everyone was listening to the hymns and chants with sincerity. Each and every word was loud and clear. Finally Ganga aarti started and everybody stood poised there and enjoyed the aarti. Priests performed the rituals with utmost dedication and synchronization. To enjoy the balcony view it is recommended to reach well before time.
After Aarti on my way back to the hostel I stop over at Kashi Chat Bhandar which served me the best "chat" I ever had. It was so crowded that I waited for arounf half an hour just get "Paanipuri" which was worth the wait. For all the foodies, Kashi Chat bhandar is must.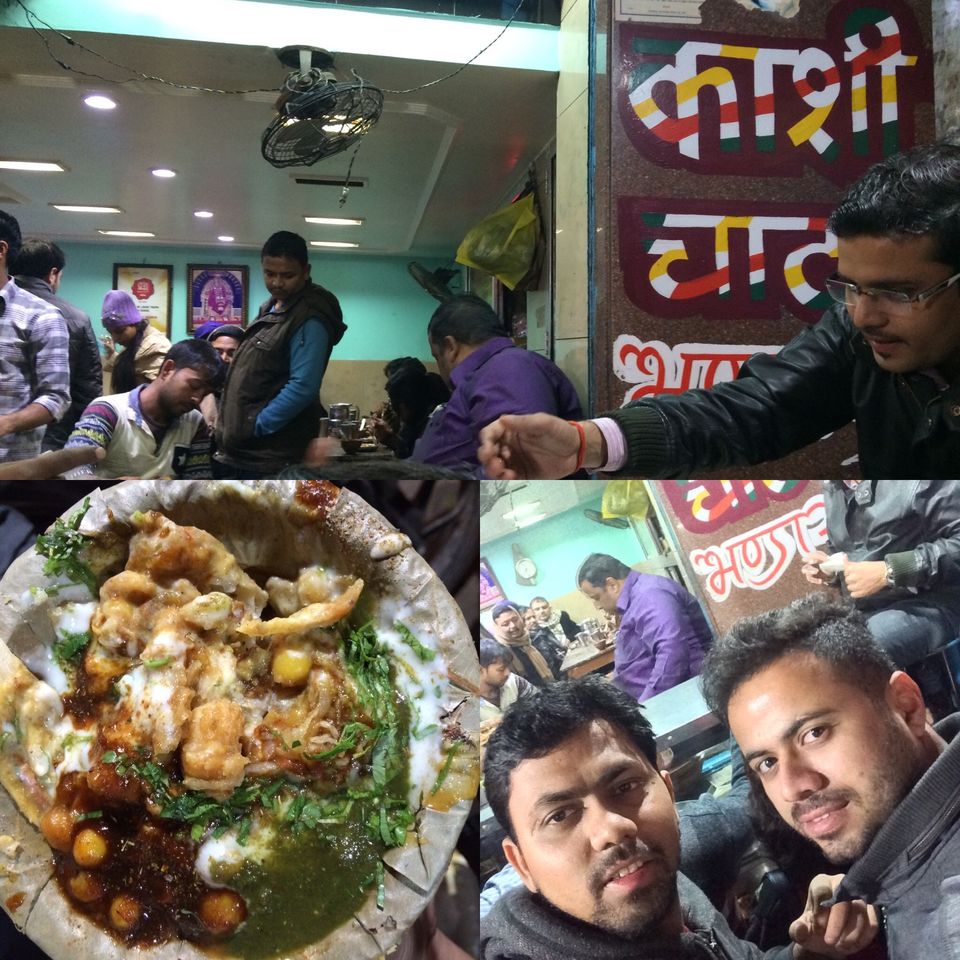 Back at the hostel there was a band with artist playing flute, Guitar and keyboard and played some Indian classical music along with bollywood songs. There I met Emma, Emily, Chris and few others. We had a great time and we all welcomed New Year together.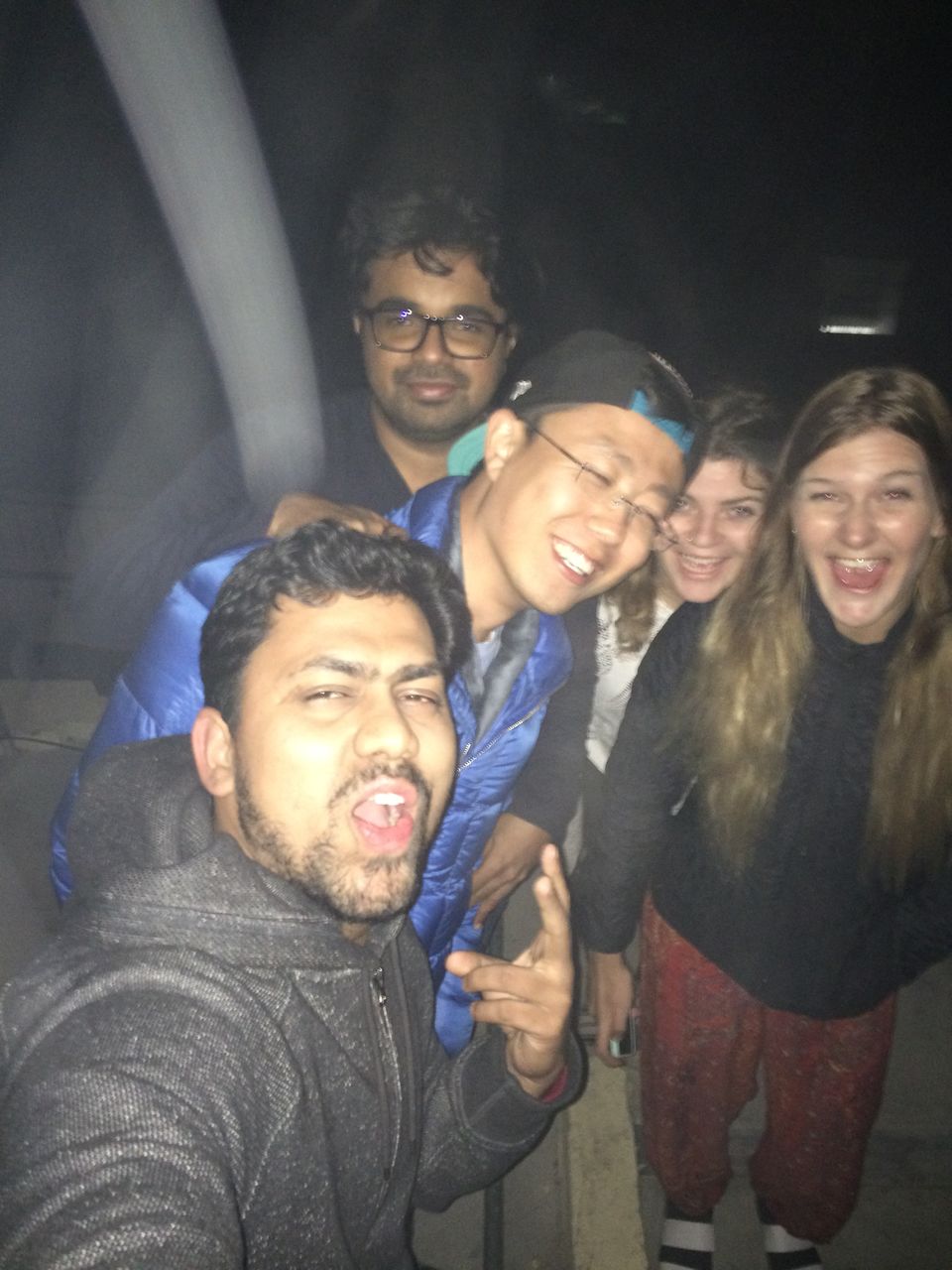 There was one more group who were dancing madly like college students. I had a word with them afterwards and one of those guys introduced his group including his wife, sister and a friend. I was shocked to see that those people actually enjoy being a kid. He explained why it's good that people treat them as college guys and not some working professionals. We had some deep conversation regarding life, adventure and travel. At the end it was well spent New year before getting back to bed.
Early morning at the breakfast, I was joined by Emily, Emma and Chris. We decided to wander around alleys of Varanasi and boat tour around the ghats. Once again within a span of 24 hours hrs I was seeing those ghats for the third time and once again it looked different than before. These people were curious about the legends of these ghats and Indian mythology and then I told them about Shiva, Brahma, Vishnu.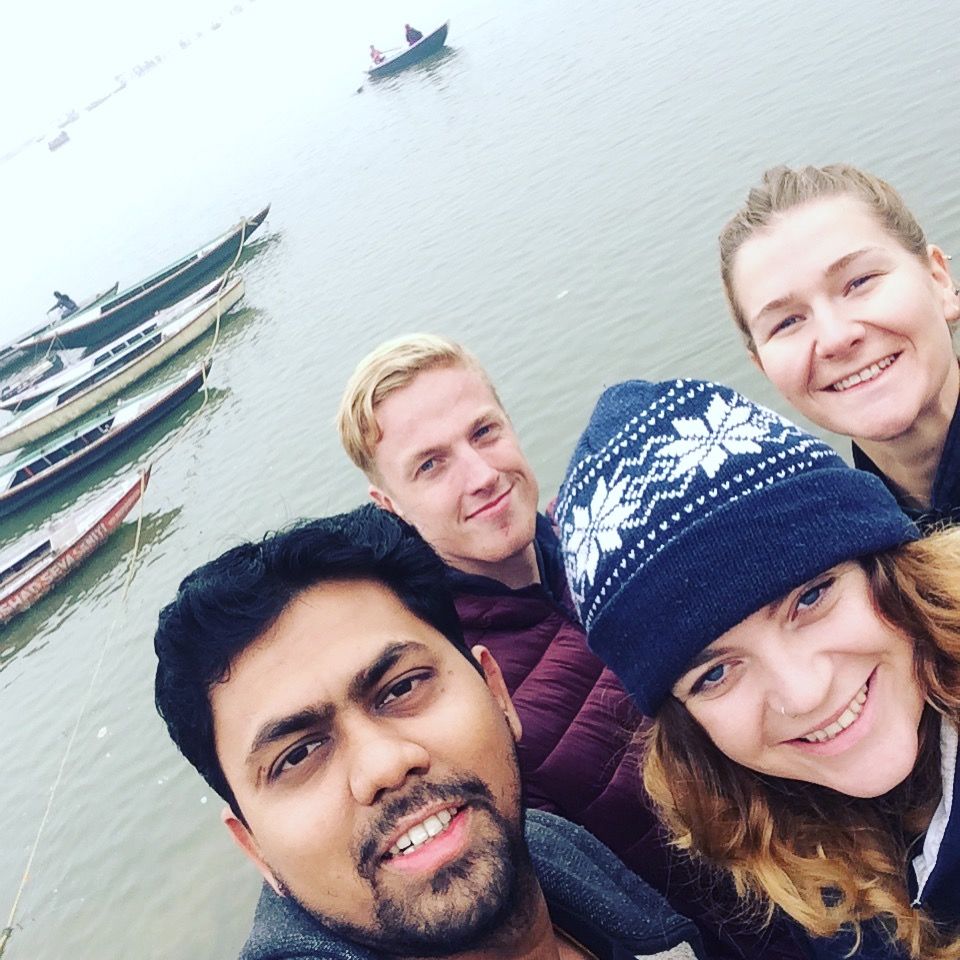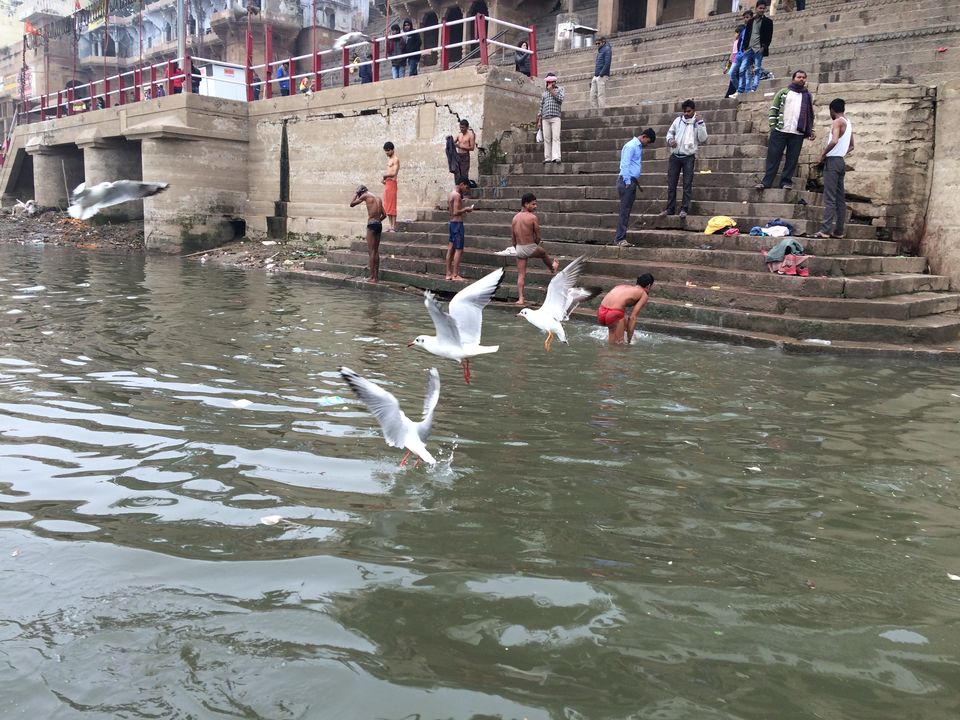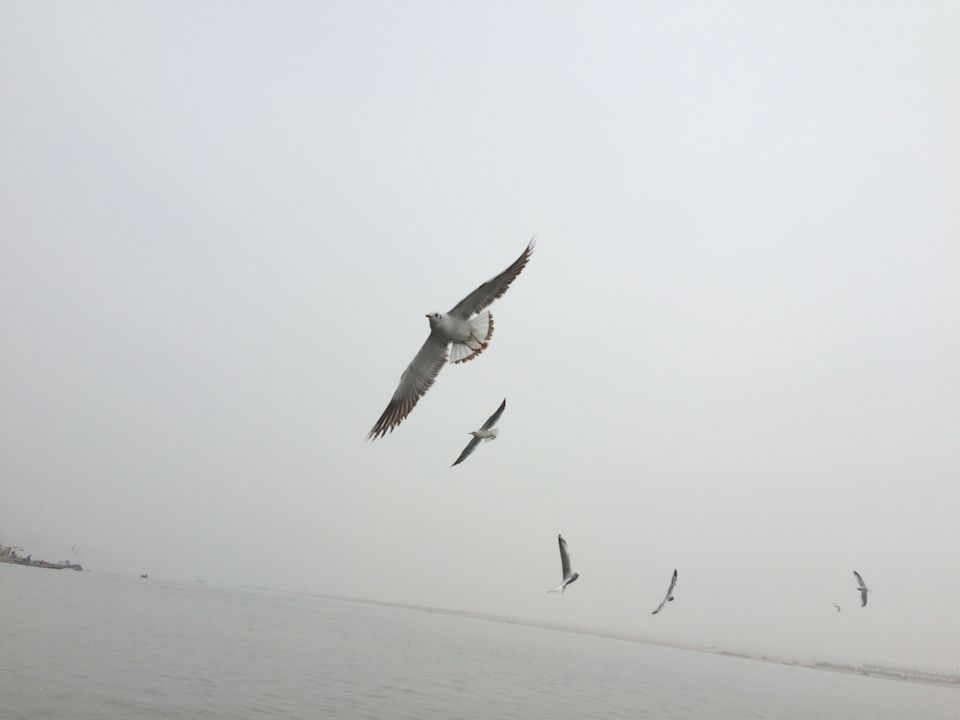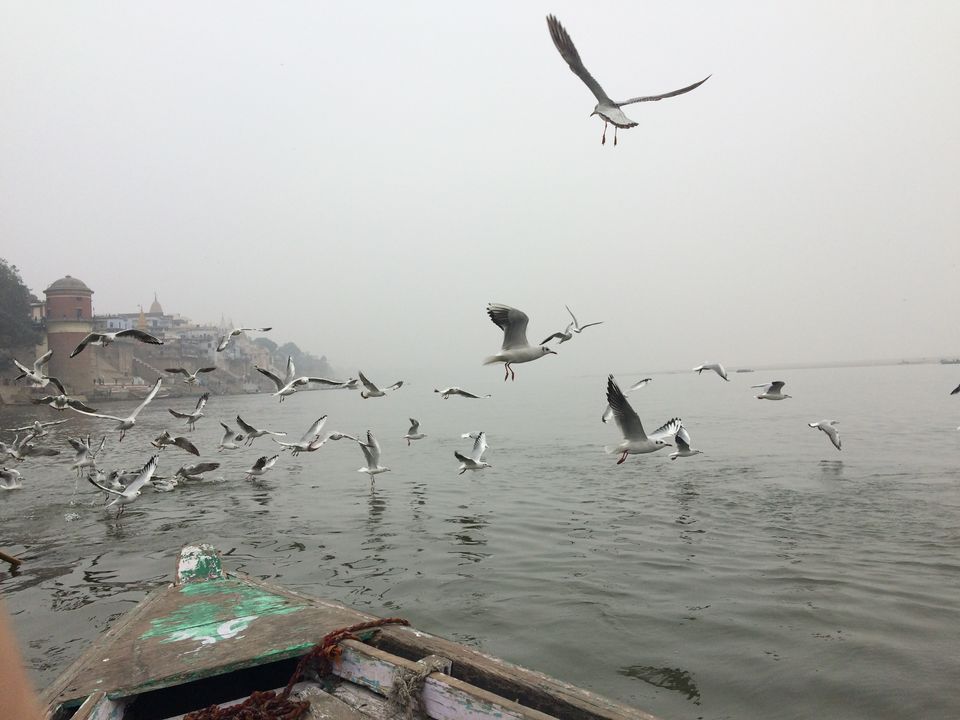 I could see people bathing, doing morning rituals and offering prayer to river Ganga, washing clothes, strolling around ghats, and even funerals and then I realized that the ultimate truth of life is death and you can't escape from it. Once you are there on that death bed then no matter how much money you have you will eventually be gone with a wind and you won't take away a single penny from this world. So enjoy this gift called life, don't rush for anything, sit and relax and think over the things that actually make you happy.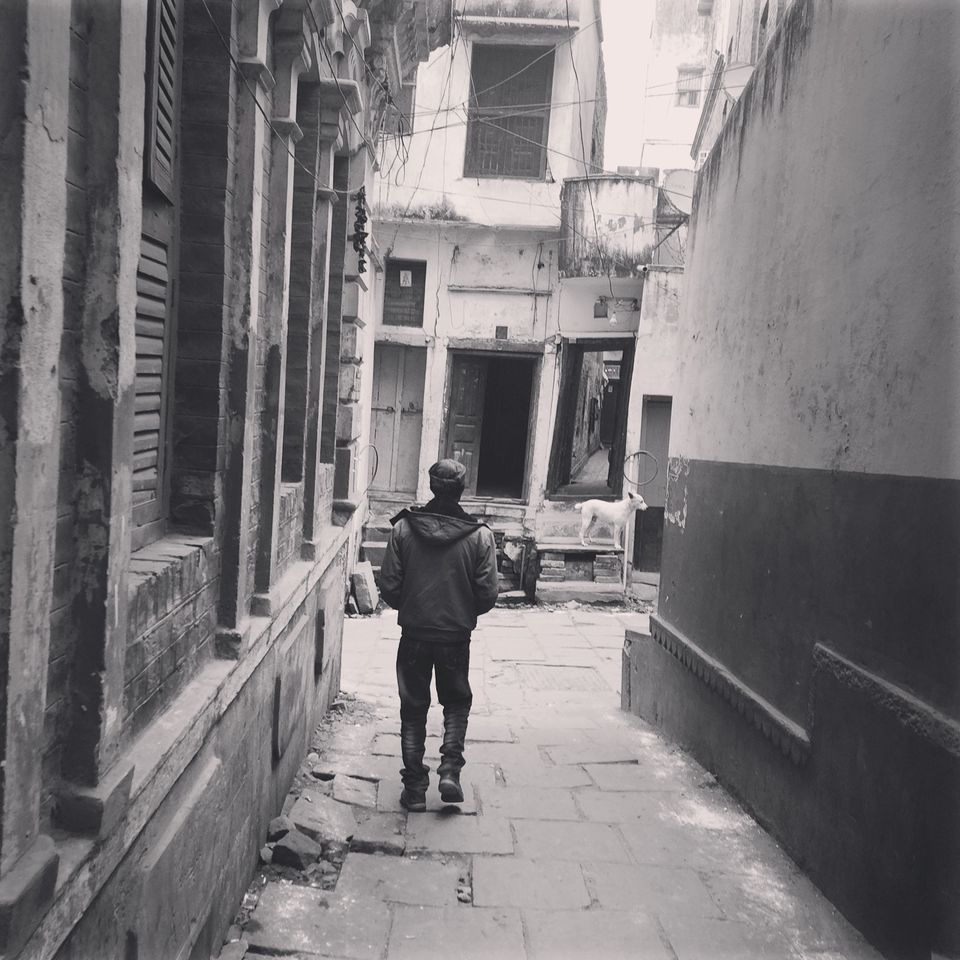 After our boat tour we wandered around those alleys of Varanasi Ghats for about half an hour before my trip came to an end. I bid adieu to everyone, went back to my hostel, packed up my bags and finally left Varanasi.
Heavy traffic, honking vehicles, roads jammed and those narrow alleys and amidst of this people wander around in search of peace and come here to die. That's Varanasi for you!!
It showed me the essence of our true Indian culture, the tranquility I experienced there in that chaotic place was divine, those chants during Ganga aarti still echoes in my mind. I will surely going to visit that place again and again and again………..