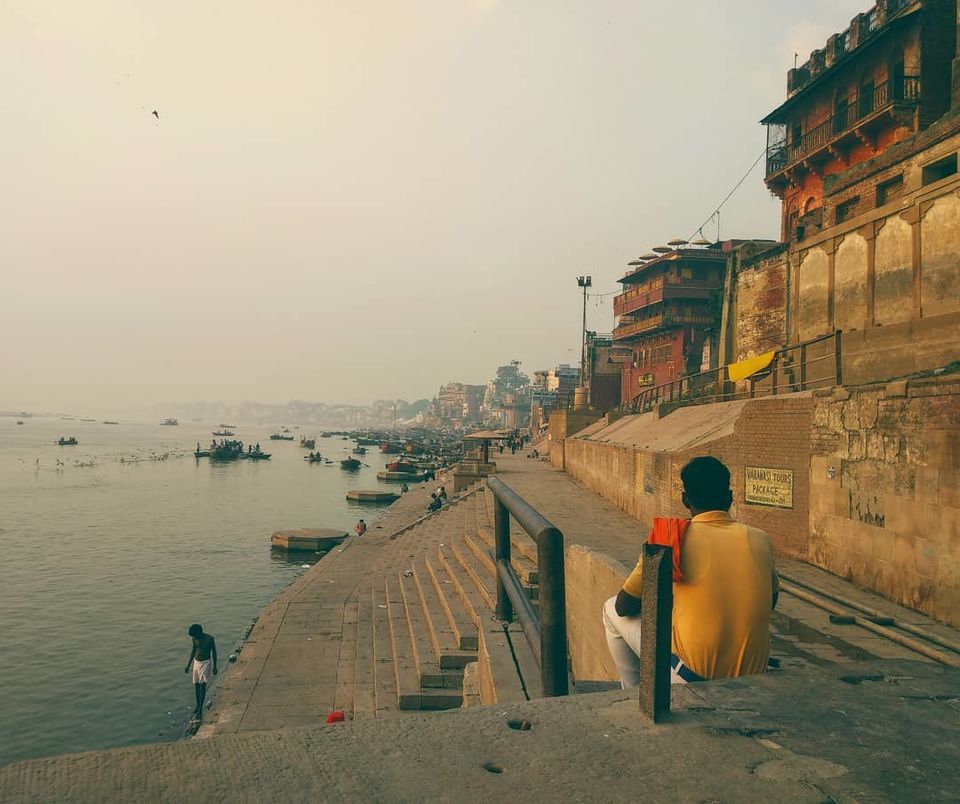 Wonder traveling, Connecting with interesting people, sharing travel experiences, some more traveling was your job? Crazy right!... Lol I actually did that for a month.
So for all those who follow my travels wondering why on earth am l in Varanasi for so long as 30 days, well now you know.
October 2018 was the most epic month of this year. This internship at Zostel Varanasi was a wonderful experience for a kid like me.
Sceptical outside Varanasi junction doubting how I am going to survive in this crazy place for more than just few days, as usually I use to travel. The impression of this city for me was very unpredictable. You just can not tell when can you land your foot in a cowdung, or a paan pickhari, or a motorcycle cut right across you scaring your shit, or getting dodged by a bull, or getting your pockets picked or for the worse getting chased by a drug peddler and trust me on that when I say that I've done that all.
"Babu" as a lot of people in Banaras call each other, Raj bhai of Zostel Varanasi called me by the same name. I was the youngest among the Zostel staff. Although Zubin sir was the oldest in terms of age that guy was as cheerful as a teen. "17" he answered when asked for his age. Zubin sir was the property manager at Zostel. You sit with him and he'd leave you enlightened by his kickass travel stories and philosophies.
Zostel common room was not that crowded and enthusiastic as the Rooftop cafe. That was my most favourite place and a lot of crazy things happened there in the past month. I got high in bhang for the first time there, Also I danced salsa there, lost in jenga, chess, and also cards, taught the firangs how to play carrom, and going crazy bollywood dancing with the other fellow travellers. When it came to crazy dancing Izhar was a pro. One just cannot beat high izhar in his what he called break dance. Izhar was one of the chefs of the cafe.
Interaction and connecting like minded people is the best thing one get to experience in a backpacking hostel. What traveling for us Indians is getting a bulk of families together, booking a bus and going to a typical destination playing that same old antakshari (antakshari isn't that boring tho).
But there's a thing where you just take what you need and go venturing on your own, yes that's backpacking. Though a novelty, but practiced by a lot of millenials. Thanks to Ranbir kapoor. (Okay that's actually not the best example of backpacking, but I'd stick to it since Alexander supertramp won't relate to much of us)
It was Diwali now and I was away from the home for the first time. But ended up, that as the best Diwali I ever celebrated! My friend Rama from Mumbai visited me to Varanasi for celebrate Diwali. She got a heap of beautiful sarees and wore it along with helping the foreigners draping one. Ladies were looking so pretty draped in saree. Right from Lakshmi pooja to, tasting local Banarasi sweets, litting up the whole property, make rangoli, to playing cards which has now become a Diwali trend, we did that all. Never got enough of the lip smacking chaats of Banaras, watching Ganga arti, Randomly roaming on the Ghats and the narrow lanes shopping handicrafts, talking deep about Indian philosophy and culture with people around the world, learning their cultures and those soothing morning boat rides too.
Definitely I wasn't wasting my time bunking college, but investing it in way more amazing business. The last few days went in alreay missing. Those memories lingering in that Cafe of Zostel Varanasi, I am so much going to miss it. I am going to miss all those awesome travellers whom I met. Talking for long about good films and music with Julian, playing Irish snap with Martha and Maria, Building a jenga stupa with Shreepriya, getting dating advises from Cora and Emily, watching Amimie with Hexy, Debating over Communism and Capitalism with Sharad I'm going to miss'em all. Honestly, Some how "Desi" seems uncool but now onwards I value what being a representation of a rich culture is and belonging to a very diverse, vivid and tolerant lifestyle is. Every single moment was unforgettable, be it sitting at the banks with that Bangali monk of Ram Krishna Mission and talking about Vedanta, Shiva the riksha driver, Those noisy handlooms, calm stupas of Sarnath, Melodious artis at the ghats, soothing sound of the water as the boat rows, peaceful chants of Yogis, harsh honking at Gadowlia chowk, yelling road side vendors, smell of fresh jalebis every thing! Zostel Varanasi was not just a work place it has become a family now.