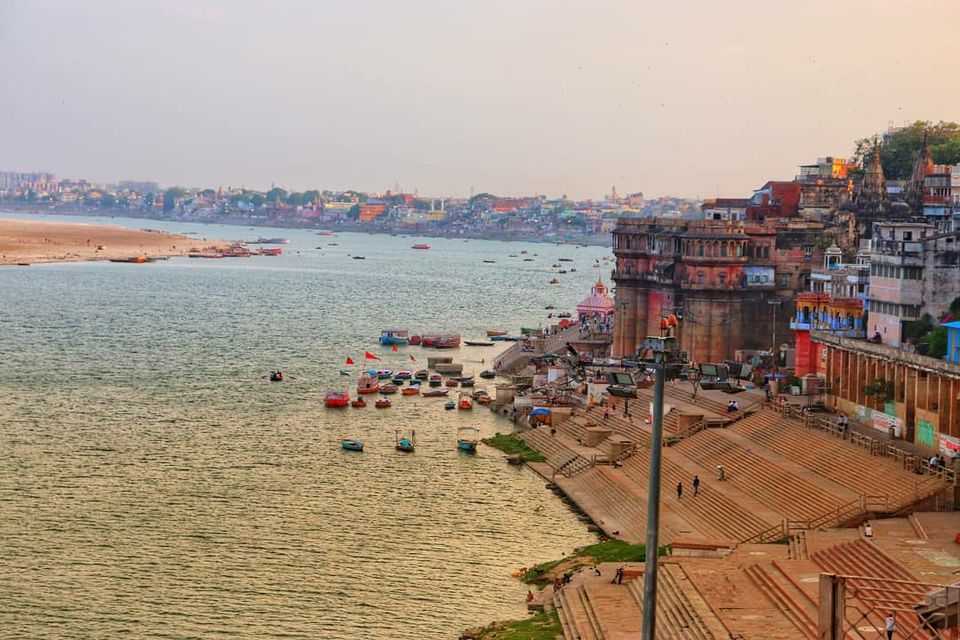 Varanasi is the oldest living city in the world. It is also said to be the religious capital of India. It is the city of celebrations "7 var 9 tyohar". It has three names which are Varanasi, Banaras,  and Kashi. It is famous for its alleys, pan, and Banarasi Andaz of living life. People of Banaras are called Banarasis and their way of living is Banarasi Andaz which is stress-free life and enjoying each moment of it!
1.  If in the city, act like Banarasi
    Go out of your comfort zone at least once! Try something crazy which you haven't tried before. Try some bhang which is the favorite drink of locals. Just follow some familiar trail and enjoy being lost in those narrow alleys which tells a tales of history and heritage of the city. An at least once take a dip in Ganga, for sure it will be an amazing experience of your life (ghats such as Dasahswemedh, Panchganga will be best for the first-time swimmer). If you meet any Sadhu or monk while walking strike conversation with him surely you will know amazing information. And if you started loving all this try to be a part of any troop and lost in the dance or sing at your highest notes. Just yourself and that's how you can invoke the Shiva within you and it's the key essence of Banaras.
2. Make peace with death by spending time at cremation Ghat - Manikarnika
Dying in Kashi has a different meaning for the Hindu people. So many people from India just came and live in Kashi for their last rights. Manikarnika Ghat is the main crematorium of the town. And seeing bodies burning and turning into ashes in front of your eyes give people chills. Here, what you experience is going to stay with you somewhere deep down. For some, it is the true meaning of life or eternal truth and for others, it's a strong message to live each moment they're fullest.
3. Inspiration Banaras
Being inspired by its alleys, architecture or it can be just people and culture. Create something about this city. It can be a photograph, a painting or a beautiful song about how you fell in love with the city despite its flaws such as chaotic roads, never-ending traffic or the garbage at every corner. Still how this city manages to mesmerize you and let you fell in love with its people, stories and everything you know about it.
It will be totally your feelings and an empty space for you to express yourself.
4. Sunrise Boat tour
It's said that if you truly wanna know any city witness it's sunrise or sunset. And sunrise boat tour being in the city is impossible to be missed. The color palette of nature is mesmerizing and make each ghat glow with the rays and shades of the sun. Witnessing all this from the middle of Ganga is like seeing the most beautiful painting created in front of your eyes.
5.  Yoga with locals at Assi Ghat
The best way to know any city is to interact with its locals. And in the morning for being active and energetic there is nothing best than yoga. Every morning at Assi free yoga sessions is being held by trained teachers on the banks of the river Ganga. Most of the participants at this event are locals and you can also be a part of it and learn some amazing Yogasana such as Pranayam(deep breathing), Kapalbharti, etc.
6. Food tour of the city
Being at a new city and haven't tried their local food then what's the point in traveling so far from home. Local food is the soul of any city. Varanasi has various famous food joints straight from morning breakfast to late night tea as well. Some of the famous food delicacies of the city are •Banarasi Pan - You can have it anywhere in the city. The making of Pan and its Katha is so different from anywhere in India.
•Thandai - The special drink of locals is Thandai which is the mixture of milk and dry fruits such as pistachio and cashew.
•Bati chokha - It is the famous food of U.P and Bihar people.
•Pudi kachori- it is the morning breakfast of local banarasi. Which include Pudi(bread) and Sabji.
Though there are various other dishes to taste these are the major ones.
7. Wrestling (kushti) at Akhada
Wrestling in India is known as Kushti. It is a very old traditional game. It was being taught from generations to generations. It helps people attain physical fitness and a way of social gathering as well. In historical times they used to play kushti in Akhadas. Akhadas is a place where people learn and practice kushti. It is generally a training school. In Varanasi, kushti is not a pass time but way of life. You can visit swaminath Akhada at Tulsi ghat and practice some skills at Akhada under the guidance of Siyaram Ji. He is the trainer at this Akhada aged 60 but nowhere less strong and fit than a 30-year-old guy.
8.  Kashi Khand
Staying in Kashi and haven't visited any temple yet how is this possible! It's said that the number of Gods Hinduism has the same or even more numbers of the temple are found in the town. Even if you are in search for Shiva it's said that " Jaha kan kan Shiva hai wahi Kashi hai!"
If you visited any old temple in the town and found Kashi khand written on the top of it. Don't worry here is your answer. When the city was facing invasions the local priests decided to write down its history and the place of origin about every important shrine in the town. Nowadays, this book Kashi Khand is being used to give references to those old lost shrines of the town and their exact locations.
9. Enjoying Hindustani Classical Music
In 2015 Banaras was awarded by UNESCO as 'city of Music'. Banaras Gharana is famous for both singing and instrument playing. The singers of this gharana are also known for Khyal singing. Similarly, the tabla players of Benaras Gharana developed their unique style.
If you enjoy listening to Hindustani Classical music Banaras is the best place for you. At Assi Ghat every morning the artists perform and you can witness it. There are other music functions which also held in Varanasi. Recently Varanasi organized Sankat Mochan Sangeet Samaroh which is the famous music festival in India.
10. Darshan at Kashi Vishwanath
Kashi Vishwanath temple is one of twelve jyotirlingas in India. People came from throughout India to do the Darshan. It is the major temple for pilgrims visiting in Varanasi. The present structure of Kashi Vishwanath was built by Ahilyabai Holkar.
The temple opens at 2:30 am every day. There are 5 aartis which are conducted at Kashi Vishwanath temple.
Mangla Aarti- 3:00 - 4:00 am is the best time to visit the temple. You can feel the priest chanting mantras and playing big damrus for pooja. It's a mesmerizing moment for people. And if not possible at this early then you can visit any time in the morning till 6:00 am. You can also take 300 per person Vip passes and do the darshan.
Hope your stay in Varanasi will be amazing.