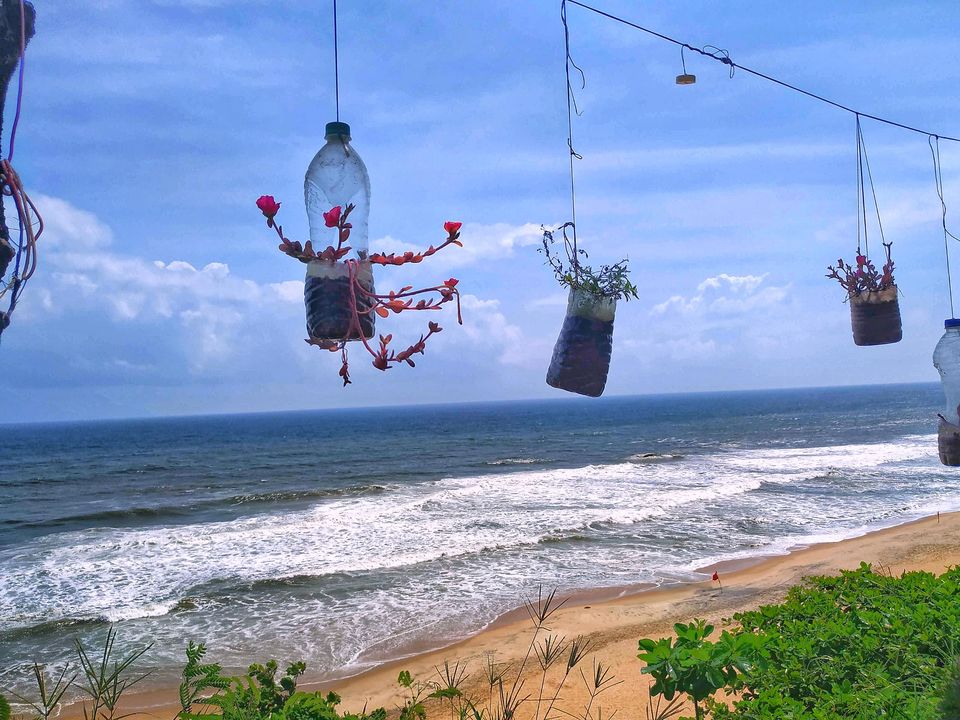 We had been planning and fantasising about this road trip for months. Being the film fanatic that I am, it looked somewhat like Rani and vijaylakshmi in my head. Or ZNMD. Or even Dil Chahta he. I was persistent on staying in my tent by the beach, but her father was a little concerned about our safety, and thus, he booked us a homestay.
We headed to Varkala from Trivandrum, which is about 50 km by road, on our beloved Sarojini. That's what she calls her scooter, don't ask me why, could never wrap my head around that. Nonetheless, Sarojini proved to be no less than any Enfield! The road trip began. We thought we would ride taking turns but the heat was killing us and she ended up riding all the way till Varkala, I would like to not mention the speed for the safety of my viewers. There weren't any 'Dil chanta he' breaks to overlook the beautiful scenery Kerala blesses us with or any long shots where she would be sitting on the scooter and I would be standing by the bridge. Although, we did stop at a small shop to buy Polos! She loves Polos and me. By mid-afternoon, we reached Kappil beach, relaxed by the lake awhile, I saw a jelly fish for the first time and mistook it for a plastic floating by the shore! Spent some time sitting under the pine trees and listened to some music. Then got back at Sarojini to reach our final destination. As the sun was blazing and there was no one to be seen by the beach, we settled for the lake and bid good bye to Kappil. A lake on one side of the road and the infinite ocean on the other was something I had never witnessed before! I would love to stay longer at this unusually interesting place in my future travels.
We got lost while finding our homestay! Followed the geo location and landed up in the middle of a village and after asking around for over an hour, we gave up. It was time to head straight to varkala and figure something out, the breaks were making this journey longer and we could no longer bare the anticipation. She booked The lost travellers backpackers' hostel, we freshened up and headed out to the beach. She had been wanting to stay here for quite a while and it came handy when we had nowhere else to stay. It's a beautiful premises with hammocks and quirky travel décor, yoga sessions and maps painted all around. Beware of the ever-angry dog at the entrance!
What was next, was not something we were not informed about. The whole place was shut! There were only a few cafes open and no hipsters were to be seen. Turns out, this was off-season in Varkala! First, we didn't find our homestay and now we land up at a place we had been dreaming to visit for months, in off-season. Too exhausted from the road trip, we decided to first eat and then overthink this situation. For these two days, Coffee temple became our home. The waiter became our good friend instantly and the affogato was to die for! We ordered a lot more than two people could normally eat and overdosed on desserts. I being me, had coffee a lot more than food till we were here. After an overwhelming lunch, we chilled at the café a little and made our way to the main beach.
What more could go wrong? The lifeguards spread across the beach stopped me from entering the ocean at every step. Apparently, varkala is only functioning from November till March, in between months, tourists are not allowed to swim in the ocean. This was July. And I was practically dying for the waves to hit me! Since I am a major water baby and the last I swam in the sea was in Feburary, in Gokarna. This totally pissed me off and I aggressively started to walk back. She sat with her book by the shore to give herself a much-needed break from the chaotic mess this day had been so far.
As I had no plans to spend the rest of the evening, I decided to climb up the cliff a little and rest somewhere in the middle, overlooking the ocean and ranting about how it could not let me in. I sat there, largely disappointed. I was anticipating swimming, even wore the costume straight to the beach, and did not imagine anything like this to remotely happen. Because, well, who goes to the beach and doesn't hit the waves!? About two hours passed by, one of the life guards even saw me, asked me what was wrong and went back on duty as I was in no mood to talk, especially to him because he did not let me go close to the beach and even dip my feet in the water. After a while, I got back to the shore. Tried my luck again but stepped back as I didn't want anyone disrupting me this time. I saw two foreign tourists swimming and dipping in the water and lost it. Like a kid from primary school, I went to the lifeguard who came by earlier and complained furiously! We eventually struck a conversation and another lifeguard joined him. We ended up talking for a good one hour. She came by looking for me and we decided to find a nice spot to sit and watch the sunset together. The sunset was worth it. I promised myself to visit this beach in season, drowned all the bitterness and enjoyed the beautiful orange sky.
It was time for dinner and the obvious choice was coffee temple. By now, shops and other cafes opened, there are people who choose to visit destinations in off season and thus the business runs. From here, all the coming experiences proved to me that places are remembered because of people. We befriended a 60 y/o French woman, who I observed that afternoon, sitting alone, sketching peacefully, overlooking the sea and embracing solitude. Another young Parisian lady joined us later in our conversations. As it was dark by now and not many people were at the café, our waiter friend decided to rest for the day and joined us too! There was no other person at the café except for the five of us. Hours passed by as we indulged in conversations about cinema, cultures, travels, great coffee and desserts. I was determined to overdose on Affogato by now and kept that as my usual till we stayed there. The cortado here was exceptional too. Better than any of the famous coffee joints I had been to and by far the best coffee I had. Since the mood was set and we had long forgotten our disappointing day, we all decided to head on to another café nearby where they served beer. I dressed up in the café's washroom, as I was still covered in sand and my costume was screaming at me to be changed and we made our way to the other place to continue our conversations that were getting interesting by the hour.
We danced on the way and were all secretly glad we had this company to wash the blues of a dull and lonely evening. The younger one took her Ukulele out and started playing. The waiter sang songs. My friend was soaking it all in and observing it all. I and the old lady couldn't stop talking by the side! We all ordered mojitos and beers with lazagnas and pastas. Everyone was enjoying this in their own way and that's what made it more beautiful. At a point, another guy joined us. He probably didn't know what he was doing here but was too relaxed to care. He sang along and left after a while. Me and the lady shared life stories, aspirations, travel adventures and she of course gave me some valuable life advice. She was cooler than most people I have met. She had a collection of crystals, which I did not know about back then and now am totally crazy about, had settled her daughters in Paris and now was travelling solo throughout the world and India for a while! After sharing many stories and finishing up dinner and beers, we shifted to another table as the café was closing but the manager was kind enough to let us all stay there as much as we wanted. It was a roof top café and so we could see the sky full of stars when all the lights switched off. A last order of Sundae was served and the young Parisian lady and waiter had left by now. Three of us sat under the stars, even decided to go to the lady's place at some point where she promised to make us some chamomile tea. With no one around, we felt like the only people left awake in varkala on this extraordinarily dark and peaceful night. We talked till about 11 pm and decided to head back to our rooms with a promise to meet again the next morning at coffee temple.
Both of us were ready to catch up on some sleep and couldn't wait to meet our new family here in a matter of few hours. I had to wake up earlier, as I like to when I am visiting places, to not miss out on a single minute to soak in the wanderlust. On this particular morning, I had a reason. The waiter loved my septum ring and since I had some more in my bag, I promised to meet him at the café the next morning and gift him one as a memory. He was one of a kind! He shared his stories of travelling to different places and working at different hotels, just so he could live in many places and doesn't like to stay for too long at one since he gets bored easily. At one point, he got himself fired purposely as the hotel's owner liked his work way too much to do it otherwise. He keeps long hair, which one of the owners did not like and asked him to chop it off, and guess what, he quit the job! Fiercely independent, he was like a free bird who loves people, places and living the life on his own terms.
Keeping my promise, I got up early and headed straight to the café, while she took her time to get ready for the day and decided to join me later. I was the first one to reach coffee temple that morning and he greeted me with a flower garland! I was overwhelmed by this gesture and asked him to accompany me as there were no customers around at the time. We started talking as if catching up on previous night's time. In some time, my friend reached. And soon after the two French friends of ours. And in no time, we resumed our crazy conversations again. It took forever for the both of us to decide on breakfast. By the time our meals arrived, we clicked a hundred pictures of each other, talked some more and the most surreal thing happened. The old lady decided to hold a little tarot session just for me! The previous night we had built a connection and even though I got attached to others of this new little group, I and her connected differently through our stories we have not shared to even our friends. There is something special in sharing life stories you wouldn't otherwise, to strangers who feel like family. She knew me surprisingly well in just a night and so, I agreed on this very new experience. Partially excited and mostly surprised. I did not believe in these modern age witchy things back then. Half an hour into it, I was in tears! How could it be that true!? That real. That honest. Things which I hadn't shared with her or even acknowledged to myself came up and my logical mind was failing at every step. After a very emotional and personal session, we resumed breakfast. I kept staring at the sea, completely awestruck and eyes filled with tears of joy. My friend looked at me and smiled. She said, "are you happy now!? Over with the disappointment of last evening and finally content?" Yes, I was. I didn't want to leave this café and these people who made me feel at home.
It was time to leave. Our hearts were full. We clicked a family portrait of sorts and promised to cross paths again someday. The lady lived in varkala for a month and was deciding to head somewhere else next, I suggested her gokarna and deep down we hoped to cross paths again, possibly in gokarna. Some cosmic belief you could say, but by now I was a believer myself and totally hoped for it to happen. We all hugged and with heavy hearts bid goodbyes carrying many promises and memories that we will cherish forever. Afterall, Varkala is not that bad for an off-season travel. Head over here next, as soon as travel becomes a possibility, to wear off the pandemic stress and calm the mind chaos that the past few months have caused. And remember, places are valued and remembered for the people and experiences you collect on the way.
#postcovid #covid19 #varkala #roadtrip #people #beachvacation #offseason