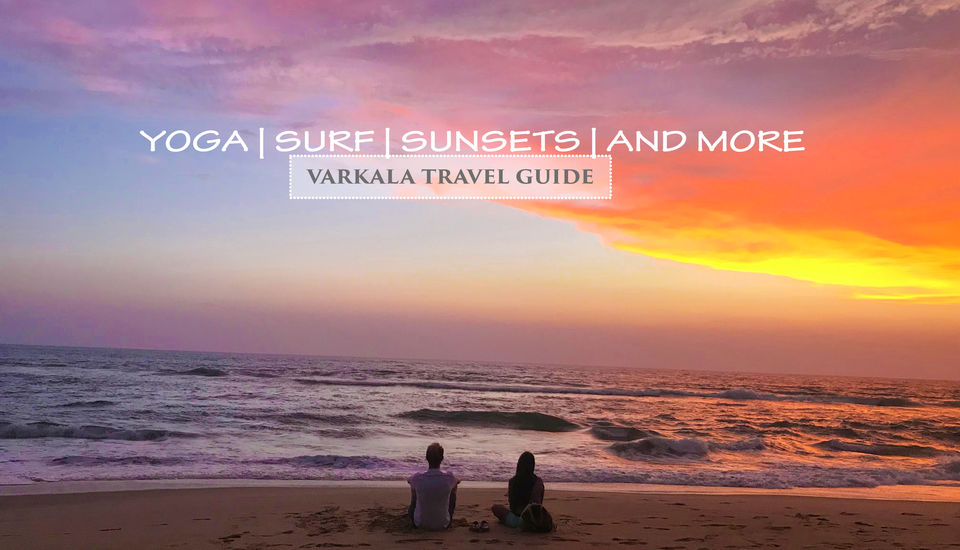 Not many know about this sea facing cliff which is a cheap backpacking destination in Kerala. Let me admit that even I was a little late in discovering this laid back Varkala cliff tucked away from the rest of the world. But soon after I did, it topped my list of places to visit in India.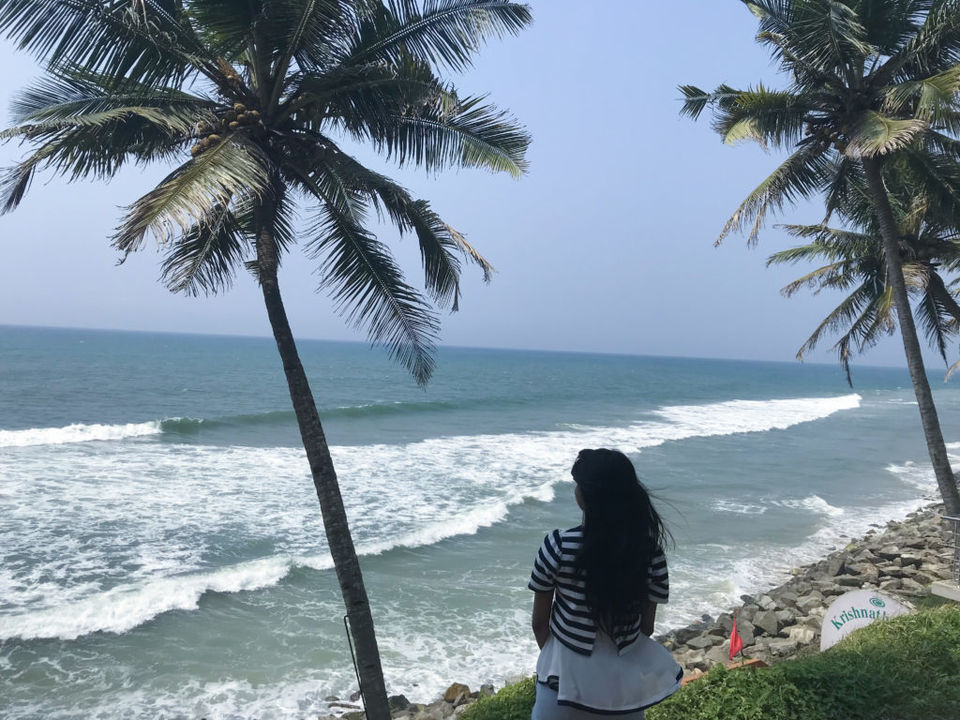 If you want to practice yoga, surf, meditate, watch spectacular sunsets, relax or just hang around in cafes, Varkala is the right place to go.
After a short flight, a bus and an auto ride later I reached Varkala North Cliff on a sunny afternoon. I checked in to a pre-booked budget guesthouse Keratheeram Beach Resort right at the north cliff with the help of Google Maps. Gathering some information about Varkala from our hosts Louis and Vishnu, I wasted no time to scout around the vibrant promenade which was 20 foot steps away from where I was staying.
Basically North Cliff stretches for around 2 kms till Helipad after which the South Cliff begins. This promenade is filled with vibrant cafes, hotels, souvenir and clothes stores, bookstalls, massage parlours and yoga centers all of which face the Arabian sea. While South Cliff is much calmer, I chose to stay in North Cliff closer to the promenade.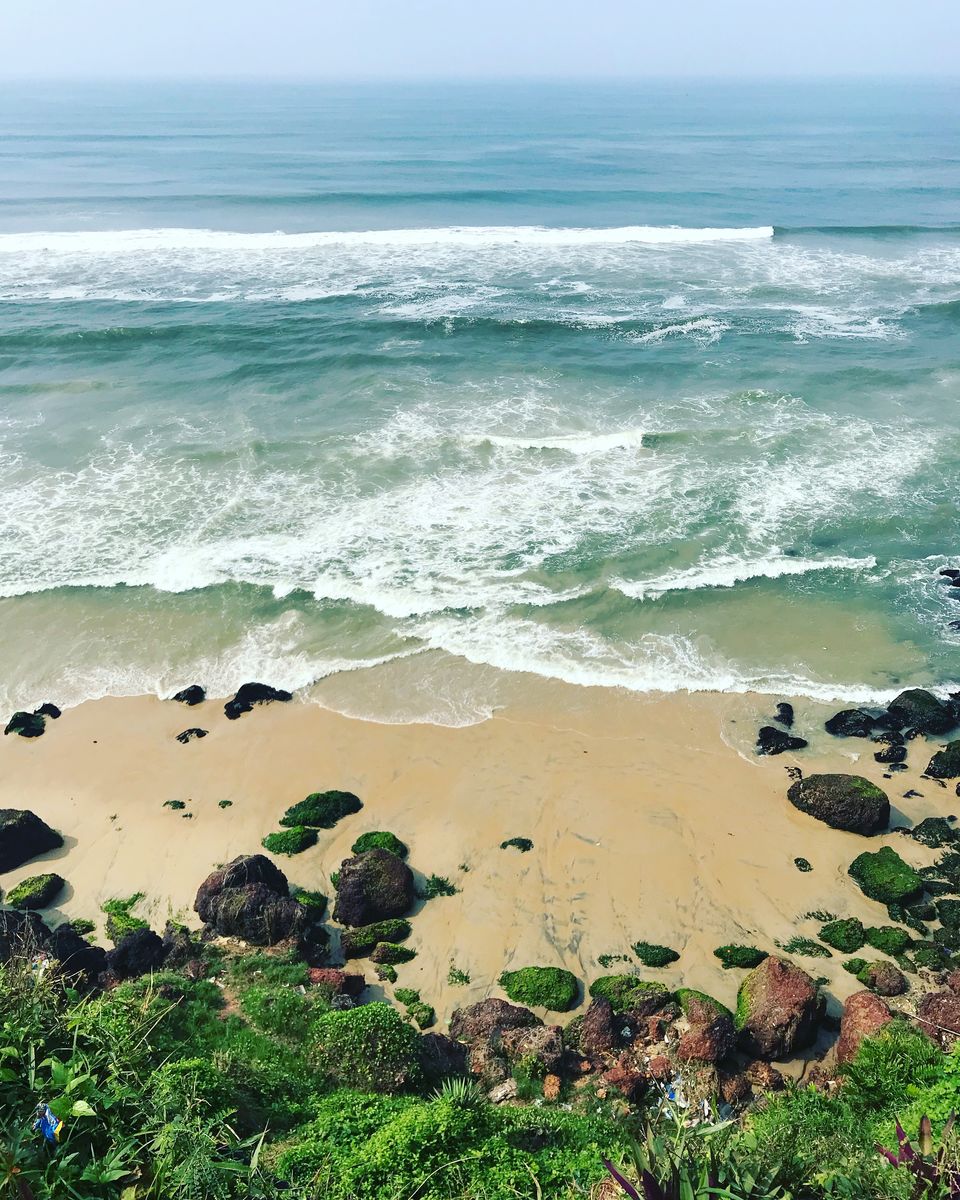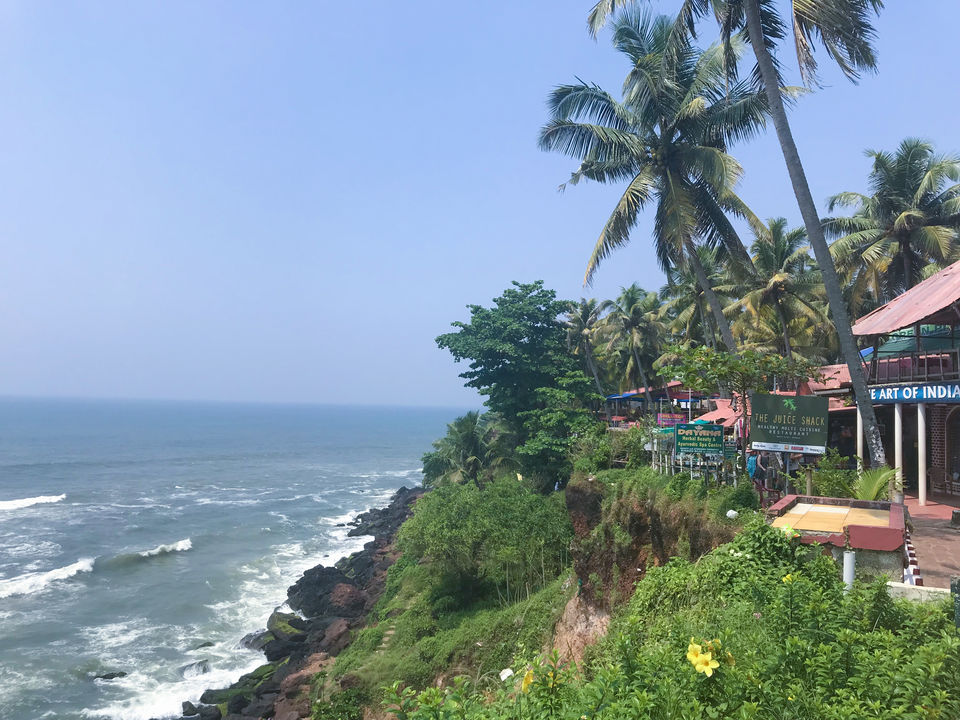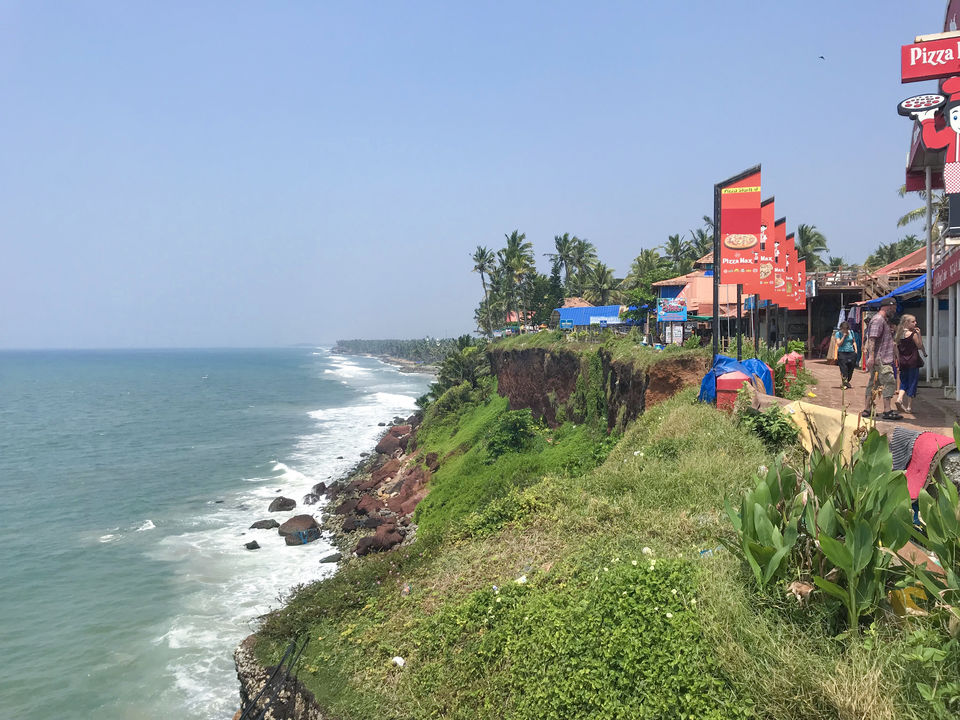 I spent most of the time during day just being lazy. Trying different cafes and striking conversations with travelers who were largely from Britain and Germany. On weekdays and during off season you don't get to see any Indian tourists except for some surfers.
I spent mornings in Juice Shack or Coffee Temple for a round of detox until I discovered Mad About Coco which was right next to where I was staying. Khan in Mad About Coco made the best pancakes in whole of Varkala adding generous amount of nutella.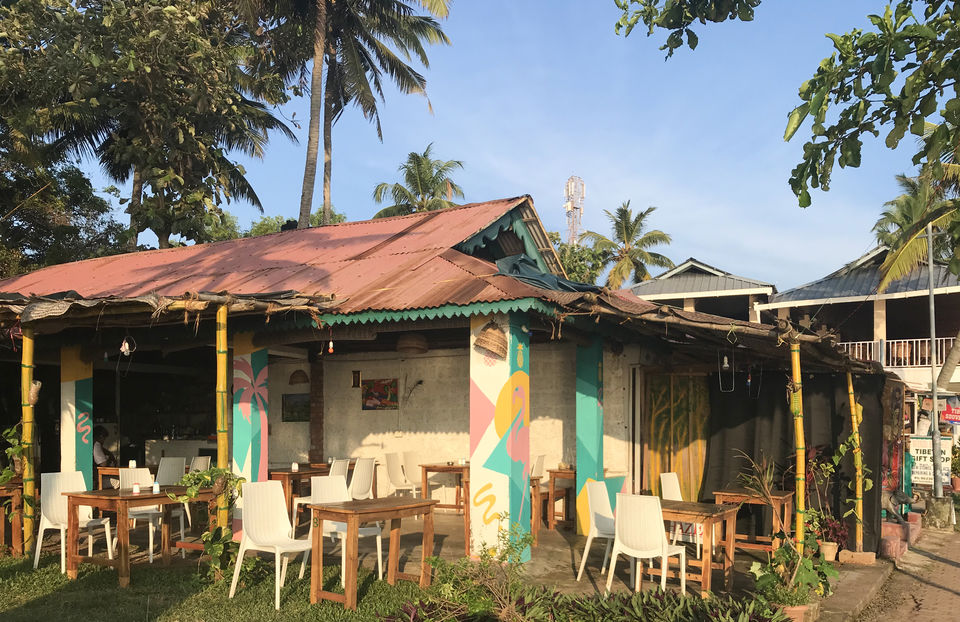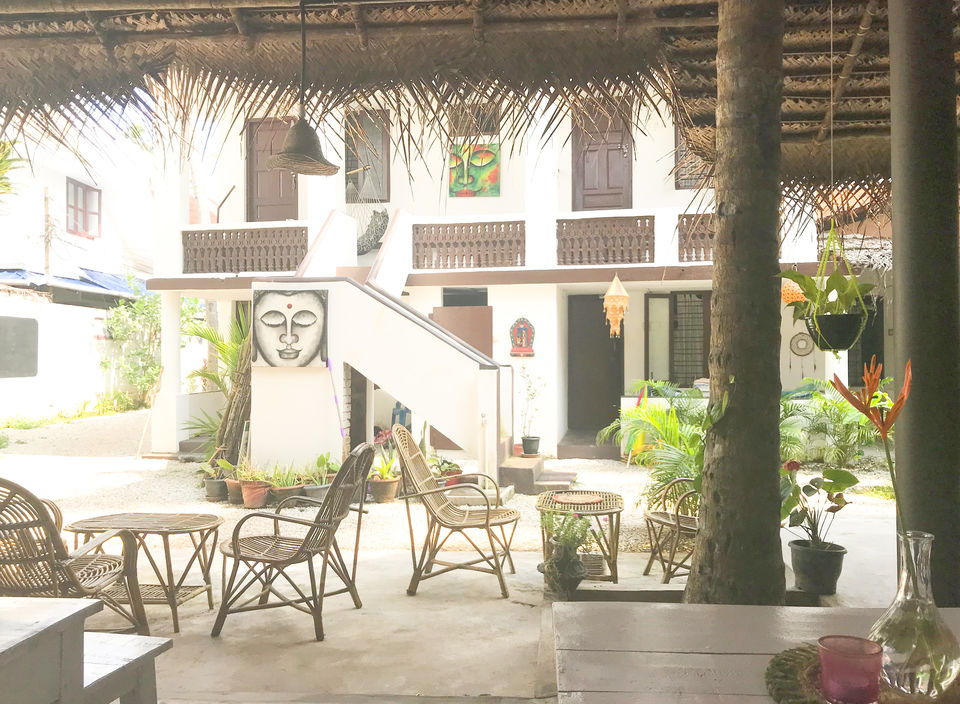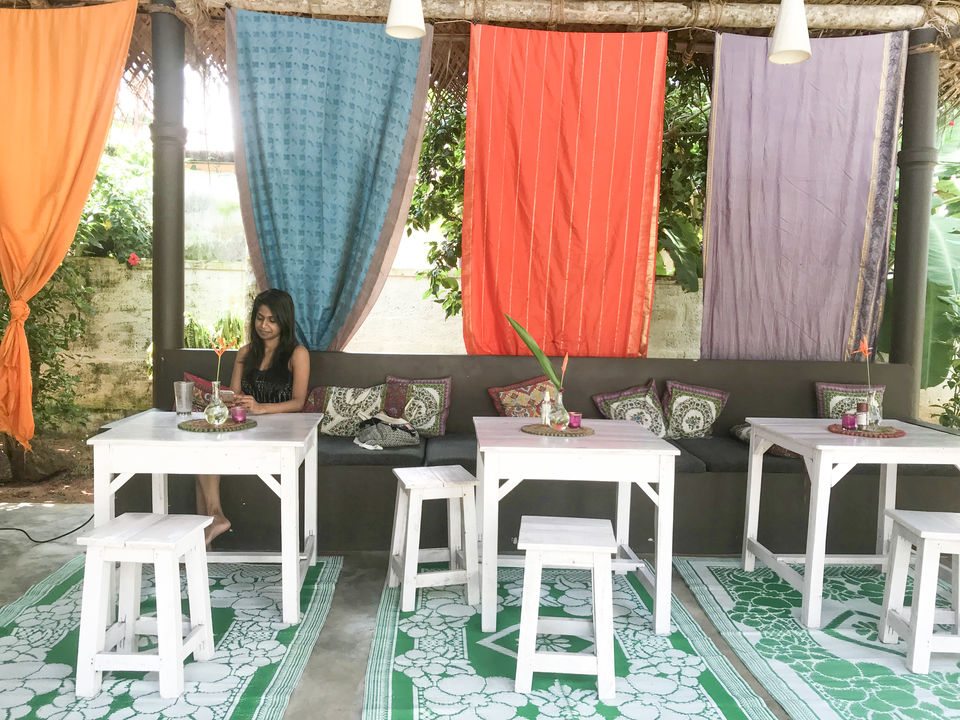 For lunch I used to head to ABBA, Tibetan Kitchen, Cafe Del Mar or a new place at the end of the cliff which hasn't been named yet. You can recognize this place by the cycle and bulbs hung outside. If you think you haven't danced enough in the night then this is the place you need to settle in. Play your music and the hosts are sure to join along or simply ask them to play random malayali track and shake legs with them, just like we did. If dancing is not your thing there are cute pets you can't ignore cuddling. So the afternoons were to sip beer which would come wrapped in paper and later poured into huge coffee mugs while enjoying the cool breeze and sound of waves.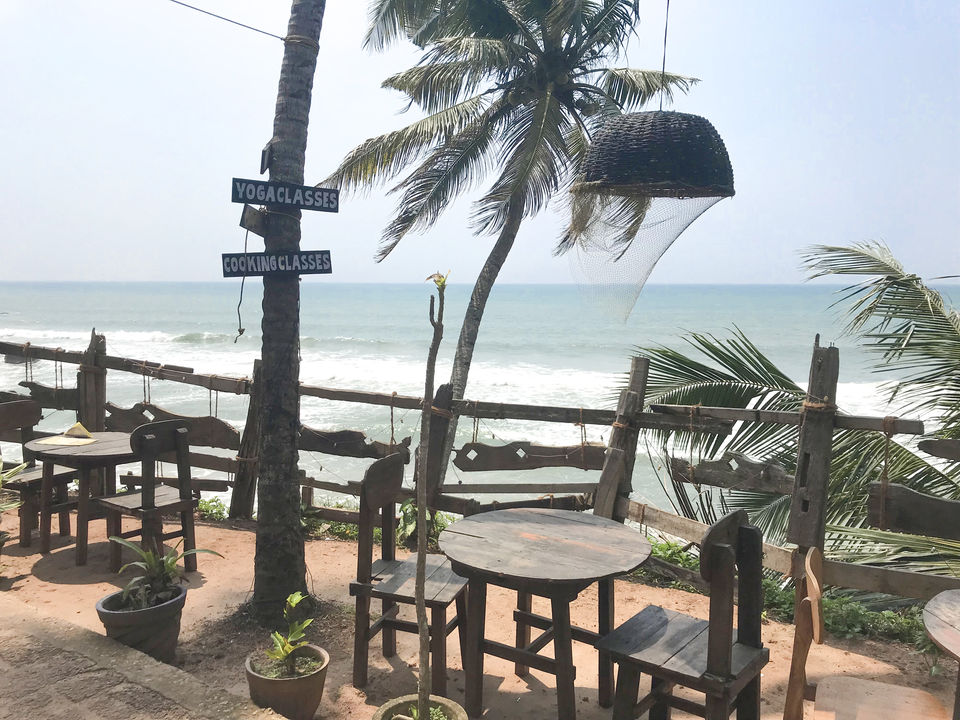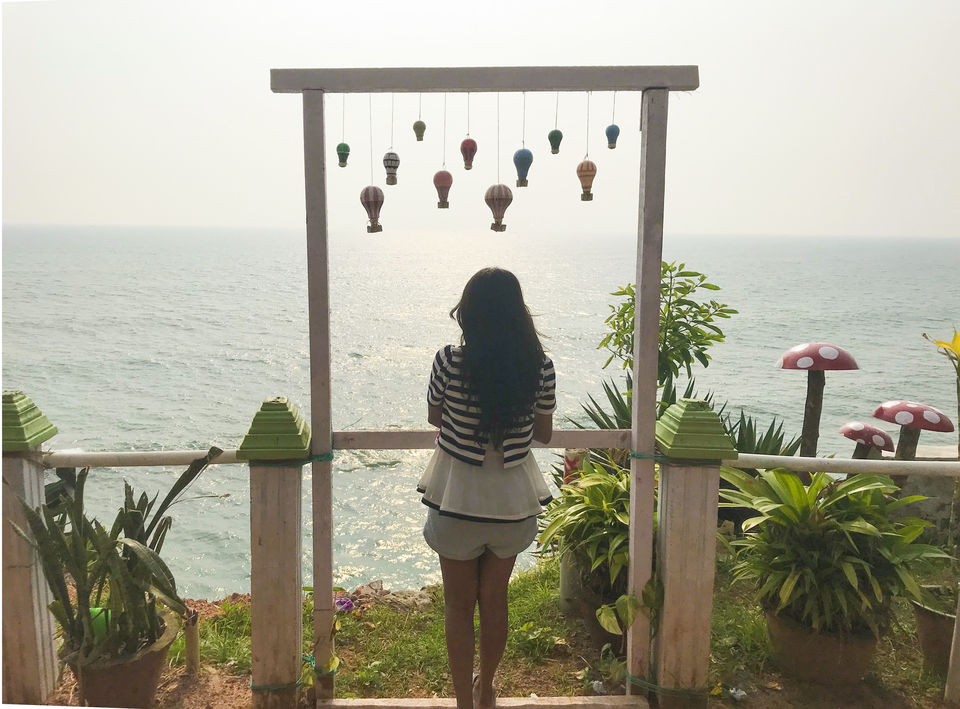 Kappil Beach
One afternoon my host Vishnu arranged an auto for me to visit the Kappil Beach which was 10 kms away. After a short ride later our auto driver pointed to the road ahead of us with Kappil beach on one side and the backwaters on the other lined with coconut trees. Kappil beach and backwaters is a confluence of the sea, river and the backwater which is worth visiting.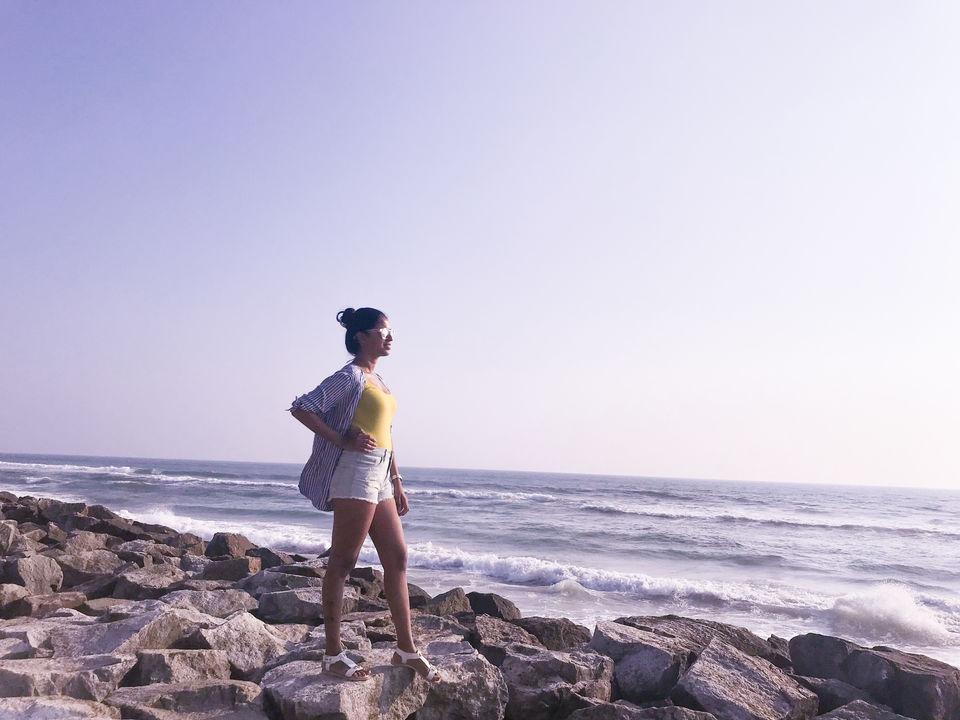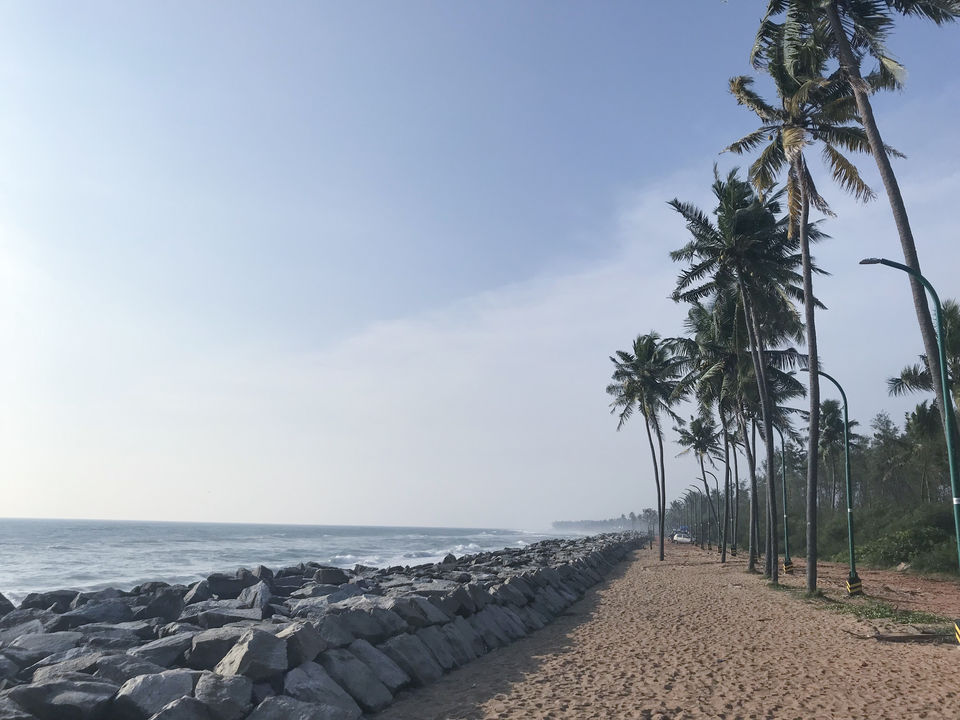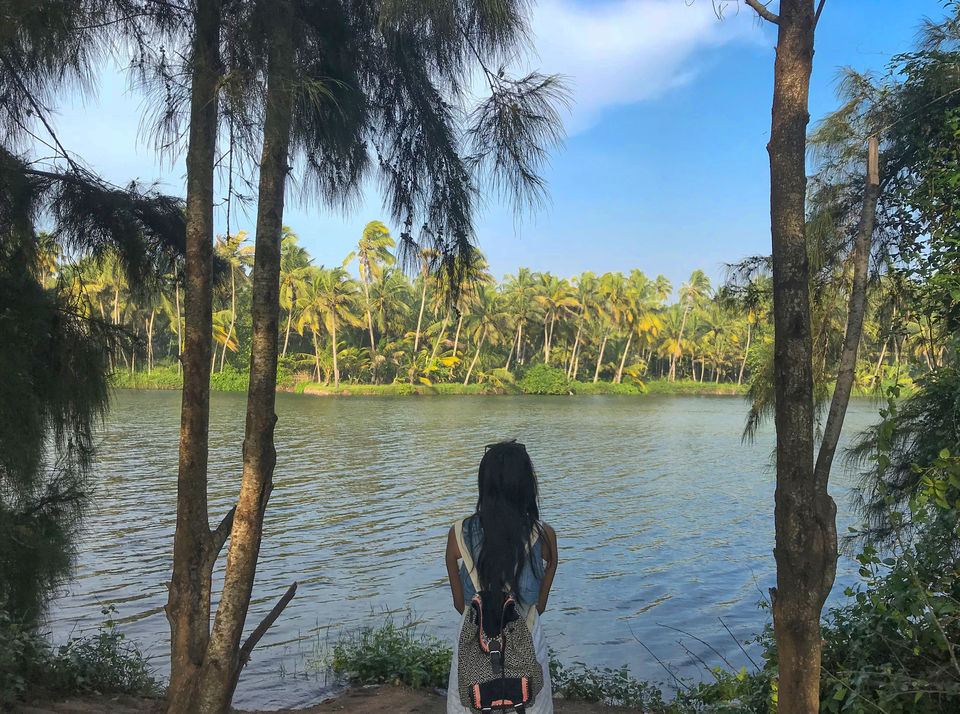 Evenings at Varkala was my favourite, something that I would look forward to whole of the day. Few steps down the cliff from promenade would take me to the beach where I used to swim until the sun prepared itself to set. Waiting at the beach to witness a spectacular sunset is what many people do in the evenings. Lying down on sand and hearing the sound of the waves against the shore while watching the sun go down is captivating and pure bliss.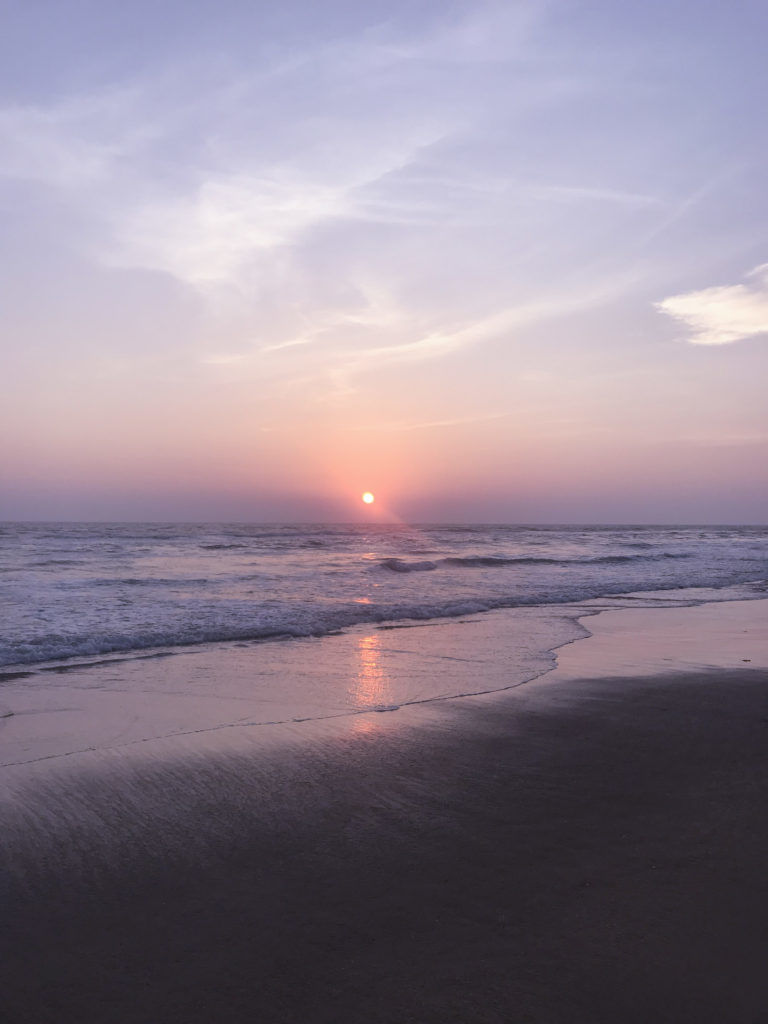 One evening we happened to meet Andy who works for Soul & Surf as a surf instructor. He took us to Soul & Surf resort which is in south cliff. It has a beautiful garden café overlooking the sea which is open to everyone. Apart from surf classes they have yoga and meditation lessons. You can choose a package or take one to one lessons. Andy also mentioned they have movie nights where they play movie in the garden for guests.
It was around 5.30 pm and Andy suggested we walk down few steep steps to the Golden beach. The stretch of sand to be reached directly from the resort feels like your own, as most of time there's literally no one to share the beach with. This beach was gleaming in hue of gold and I couldn't resist running straight towards the gushing waves. Watching warm colors of the setting sun painting the sky, accompanied with overwhelming silence gives a long lasting satisfaction. If you ask me, I can confidently say this is the best sunset I have ever seen in India so far.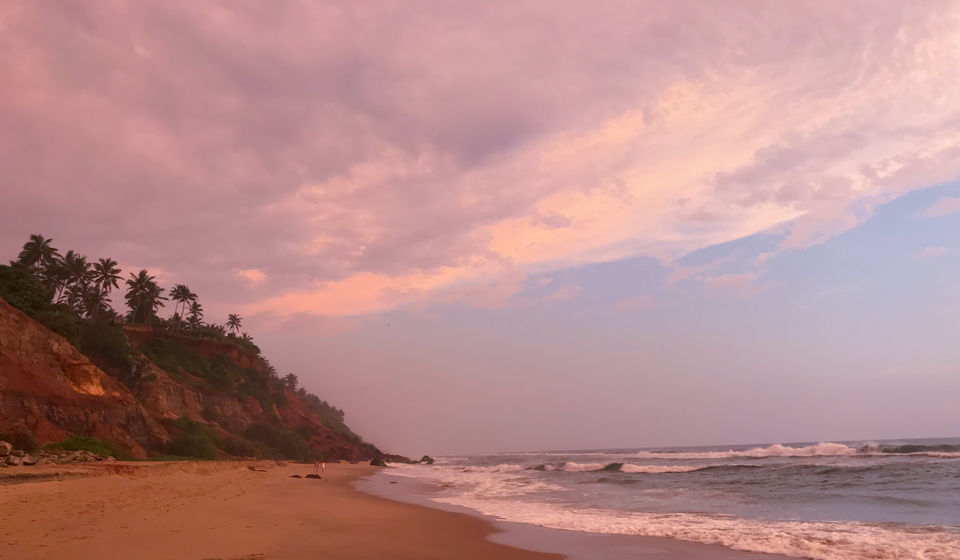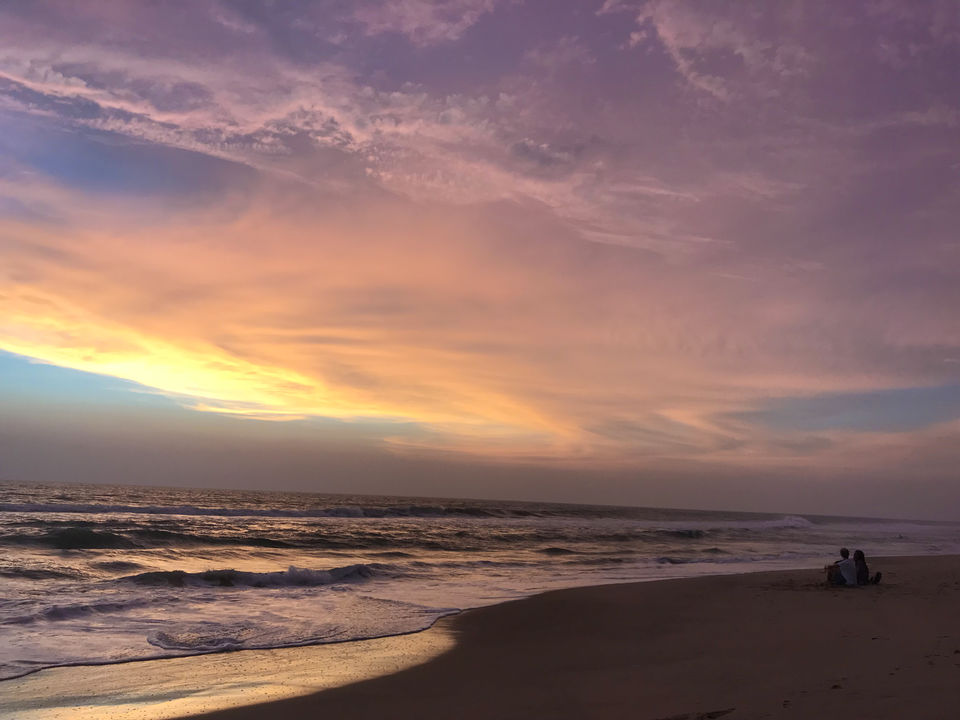 Night Life:
I was spoilt for choice choosing the café to hang out at night. Extremely jovial hosts stand front of their cafes asking you to try their food and the fresh fish which is on display. Even though we went to Blue Moon Café most of the nights I did try ABBA, Cafe Del Mar and Darjeeling Café. ABBA drew large number of customers throughout the day. I loved the ambience and friendly staff at Darjeeling cafe. For Apurva and I, no party is complete without dancing and during the time we were in Varkala, Blue Moon Café had DJ nights and Live Music. We missed no opportunity to dance even if we were the only ones dancing. Rock & Roll is another famous place you can choose to party.
We kept bumping into Klaus every day, whom we first met on our first day in Varkala. On our last night he took us around for a walk along the beach and south cliff which otherwise Apurva and I wouldn't have dared to past mid night.
Not all times of being on a trip goes as expected. My friend and I got into an altercation with one of the waiters in Blue Moon Café as he used Hindi slang on us with no provocation from our end. He was not in his senses and either drunk or smoked up which the Blue Moon Café manager himself admitted. He also admitted to have seen this behaviour from the same waiter many a times. I wonder why the manager hasn't fired him till date. The rest of the staff and the manager himself in Blue Moon Café were very good and treated us exceptionally well. The manager even walked us back to our guesthouse one day after the late night party. The next day he got us playing cards.
Shopping:
While walking around the promenade, shop keepers call you to take a look or buy something from their shops which might at some point irritate you. Be prepared to politely say a No and walk away.
Yoga & Massage Centres:
You can't avoid seeing sign boards about Yoga classes. You will even be asked to try massage therapies or ayurveda treatments. Don't hesitate to give a try if you wish to.
Sunsets:
I wish I could convey the feelings I felt gazing at these stunning sunsets to everyone who has not been here. Living in south India it's such a shame that I took 27 long years to visit Varkala.
Life is lived in these little moments like watching the sun go down everyday, people playing football at the beach and father and sun going for a dip.
Getting There:
Closest Airport: Trivandrum Airport is 40 kms and Cochin International Airport is 200 kms from Varkala. Buses and Trains: There is Railway and Bus Stations in Varkala that connects major cities across south India.
Where To Stay:
Varkala is known to be a cheap backpacking destination. Plenty of budget accommodations are available starting from 400 inr per day. I stayed at North Cliff very close to promenade as we were only two girls travelling. There are also some nice properties at the back roads of promenade or end of north cliff towards Black Beach. You can choose to stay in South Cliff which would be 10 minutes walk to north cliff. I usually book through Booking.com
Budget: Mad About Coco,The Lost Hostel, Keratheeram Beach Resort, Pooja House Mid Range: Inda Hotel, Sun View Beach Resort, Krishnatheeram Ayur Holy Beach Resort High Range: Villa Jacaranda, The Gateway Hotel Varkala, Soul & Surf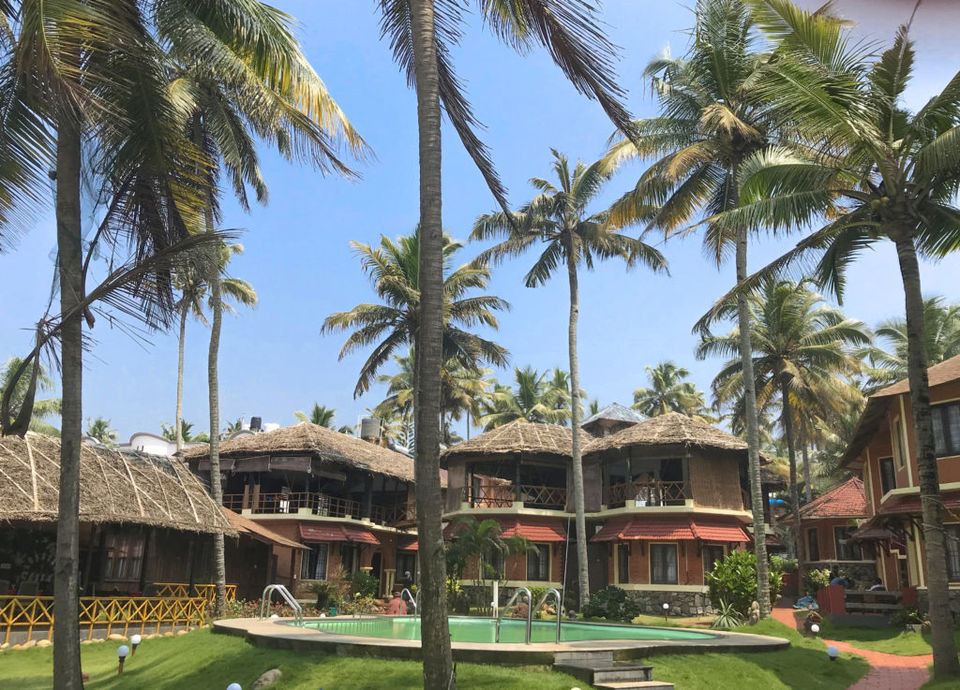 So That You Know:
Nearest ATM from Varkala Cliff is in Varkala town which is about 4-5 kms. Auto drivers usually charge 100 inr for a return trip to Varkala town. A return trip to Kappil beach is 300 inr. Taxi from Varkala cliff to Trivandrum Airport or other way round cost 1500 inr. Auto drivers don't realy speak English. It would be much easier, if you request your hosts to book Auto's and Taxi's in case you need. Even though serving Alcohol is Illegal in Varkala most of the cafes serve Beer, Rum, Vodka and Cocktails. You can rent a scooter and drive around to Kappil beach or explore more places nearby.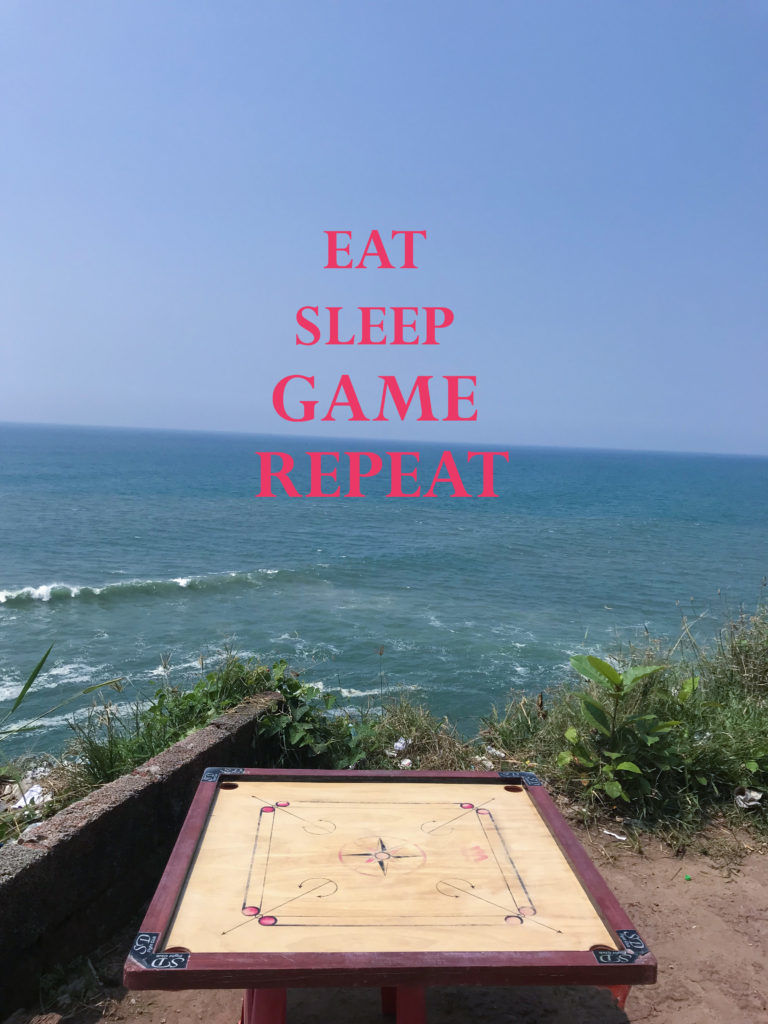 I don't like to visit the same places over and over again. I would rather explore a new city. But this is definitely one place in India that I would visit again or perhaps settle down without much of a thought. I plan to be back here very soon. I don't think I can ever get bored of watching the sunsets. There is a happy, uplifting and relaxed vibe that is infectious which makes me miss Varkala more than I can imagine.
This post was first published in Loading Miles. For more travel stories follow Loading Miles.