Varkala Tales is my new travel series based on my latest travel to Varkala in Kerala. This series will cover sunsets, teas, people, solo travelling and ofcourse places. Brace up for some poetry too. This is part three of Varkala Tales, Feedback welcome and highly appreciated.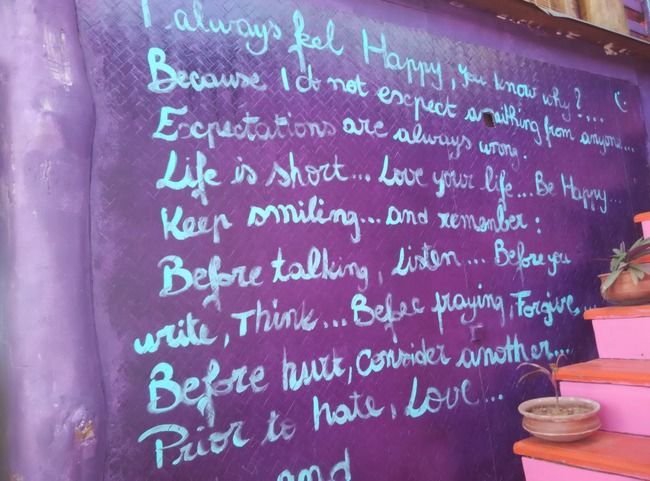 I have said this earlier, I will say it again. One of the best things about travelling is the people you meet- some give you life goals, some lend a fresh perspective, some just make you smile and few more humble you down, the nice way. Here is my share of experiences from the humans I met in Varkala, may be also the humans who make Varkala what it is.
Meet Stephen. Actually Stephen has a personality interesting enough that it will find you, even if you may not necessarily go looking for. In the last couple of days of my stay in Varkala, it almost became customary to halt by this small shop selling small artifacts carved out of marble and say hello to Stephen. From London, Stephen is in Varkala to train as a yoga instructor. I first met Stephen at the marble artifacts shop, where he has been spending a couple of hours each day to learn how to shape marble pieces perfectly. Here he poses with his yoga instructor; the picture below is the shop is where he sharpens his artifacts skills.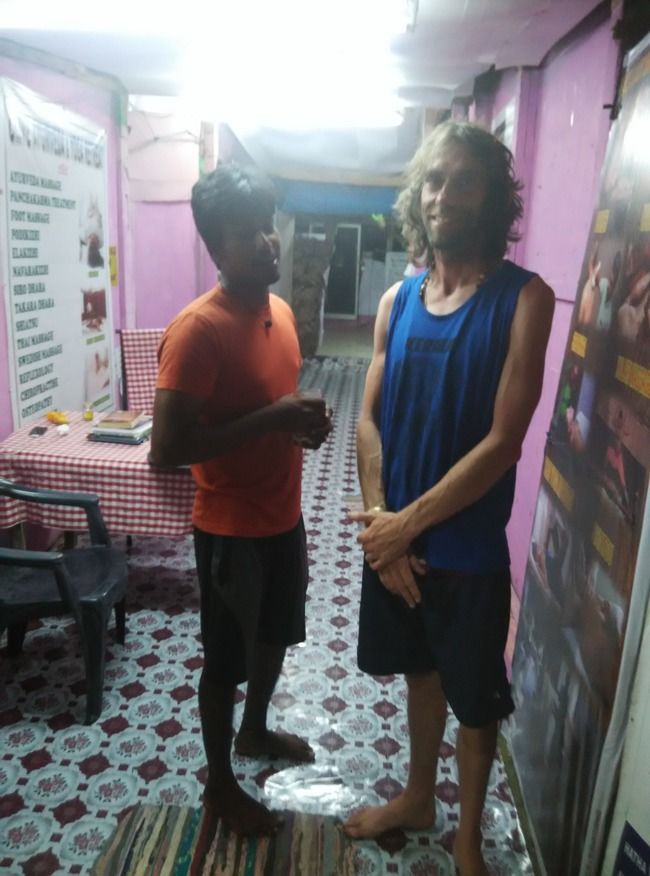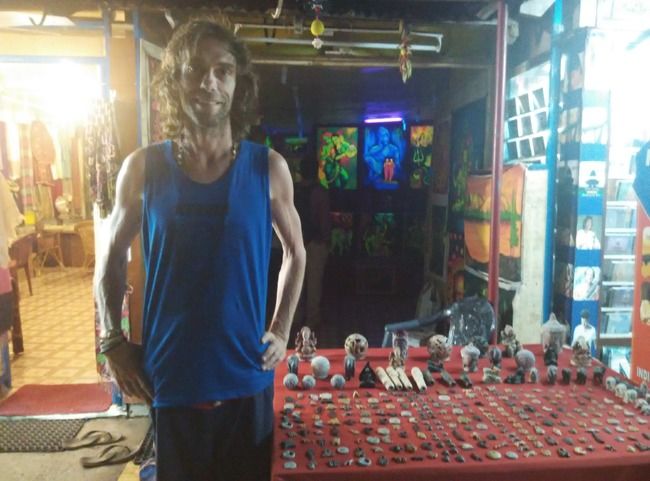 At Varkala's famous Coffee Temple I met Lovely, I approach her curious to know if she owns the place. Lovely does not own the coffee shop, but helps manage it and has been there for close to ten years. In a small chat we have, Lovely tells me before joining the tourism industry she worked as a software professional in one of the big cities. It is amazing what people do for the love of travel and tourism- from a big city to a beach destination with a creek- Lovely surely does not seem unhappy about the decision.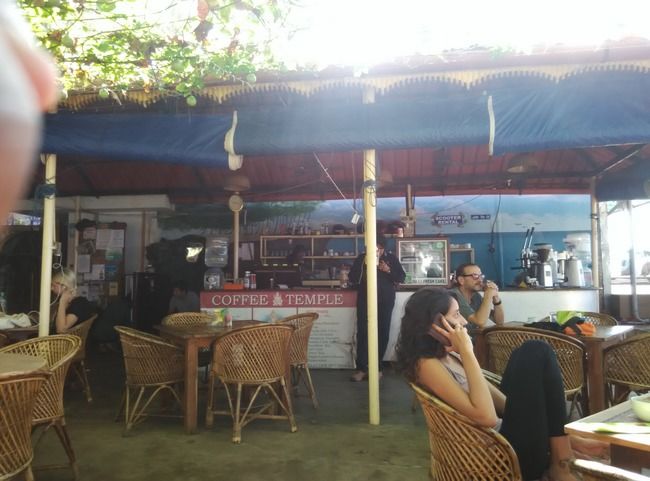 I call him boat uncle, because my memory is of no aid as I try to recollect his name. I dare not name misname him. So yes, he is boat uncle. He was the boat man for my twenty minute ride to and fro Golden Island in Varkala. Though I do not remember his name, trust me I am a fan. What does one do if you are the only one in a boat and the only other person is the boatman-strike a conversation. I ask him about his family. " Kids?" "One, adopted," he says with a smile. I hope that is reason enough for you too to like him. If you still don't, I don't like you my reader. Boat uncle talks very warmly about his school going son, where he adopted him from and about his wife who works as a nurse. " We both earn enough to have a decent living," says. Boat uncle understands and also speaks hindi. " How come?" I ask. I have worked as a plumber in Dubai, fell three floors down in an accident, gave up the job and returned to Kerala," he says. When in Kerala, be sure to meet a Middle-east return.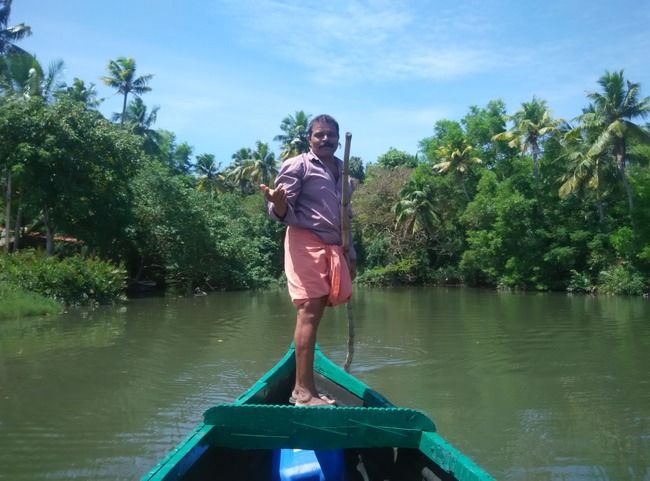 It is a tie between whom I like the most- the boatman uncle or this European couple. Both gave me life goals of different kind. Meet Ayesgul and her partner- Lorris. Ayesgul is Turkish and Lorris is Italian. Lorris met Aysegul in Turkey and they both later decided to go on a trip to Sri Lanka. Post the trip, Ayesgul returned to her office job and Lorris went ahead to explore India. At his last destination in India- Varkala, Lorris decided to start a new life in this beautiful beach destination. " Lorris told me I have found our future," says Ayesgul as she narrates her story with a big smile. " We did the maths and saw how much we have and decided we had enough to start a business in Varkala," she says. I ask them how long they have known each other, "We celebrated our fourth anniversary on 7th October, it is my lucky day," says Ayesgul. You need to see that sweet smile to know how lucky. God bless the couple. You can know them personally by staying at keeratheram when you plan to travel to Varkala.