I hoped I have endeavored many crazy adventures on my road trips. Wishing in heart that once I would ride those White Mountains. I never felt confident on exploring my limits until I conquered SWRT- (South West Road Trip)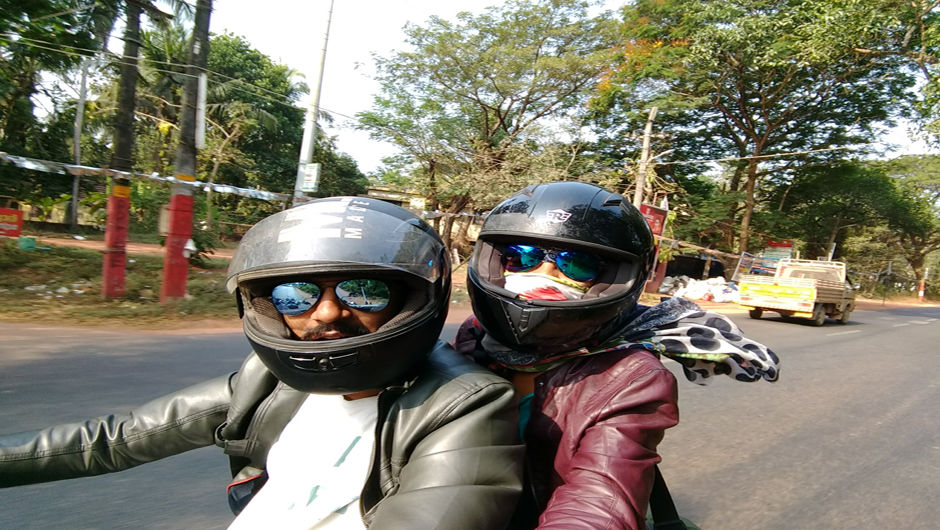 I always had in mind that we should go on this Road Trip least once in a lifetime. But being in Bangalore for so long, I actually got addicted to the city life so much that I never had a thought of going any further than Nandi hills, just like rest of the Bangalorian do in their initials years of the city. But since #naturewalkers I started liking the outside city more than the city. I think #naturewalkers pushed me get over my 6 years of sober IT life to extremely adventure one. While doing all these treks, my health improved, I started getting better immunity and off-course would be cheerful all the time. After completely exactly one years with #naturewalkers, I though this is the best moment to plan SWRT. Convincing @amrita was not that tough as she herself is an adventurous freak. Sorry dear I am calling you freak but you know what we are \M/ \M/. 2 hours of planning, 6 hours of sleep and we were ready with a kick of KALEEN to SWRT on the first sunshine of the day.
The Plan was with first destination as Mangalore, then Konnur, Kochi Alleppey, Varkala then head towards Kanyakumari and come back to Bangalore via Madhurai and Salem. more than 2000 Kms in 6 days. Initially sounded like an impossible plan, with busy road of Kerala. But still got on detailing it. we didn't book any accommodation prior, we knew, we will travel as long as the day light permit and the destination were final.
Getting of the city was little irritating but once we were on NH75, we knew there is no slowing down from now. Riding for 2 hours we started getting hungry and thought would stop on the next restaurant we find. Luckily we found our regular restaurant we stop for our chikmagalur treks. After sharing rice and dal we though it's enough till we reach our next stop (Mangalore). We planned we would have a halt in Mangalore but the beautiful sakleshpur curvy roads insisted us to be on ride for little longer so we though let's stop at Kannurand then took our first diversion at "Gundya". Funny though... Amrita said "I remember this name "Gundya" from somewhere but don't know where?". I answer "remember the movie "chup chup ke", in that paresh rawal's name was Gundya" and we laughed. We must have been that movie like 100 times on zee-cinema during our college holidays and strangely we remember all the jokes of the movie.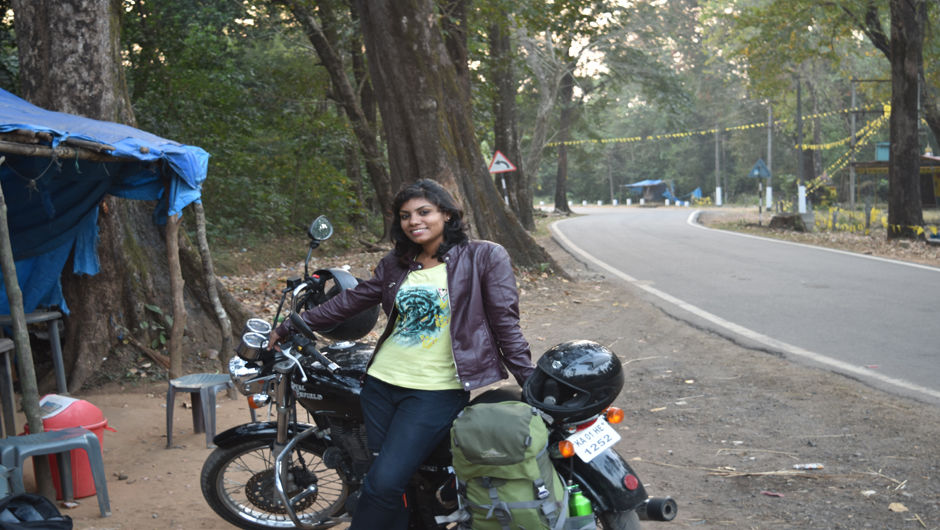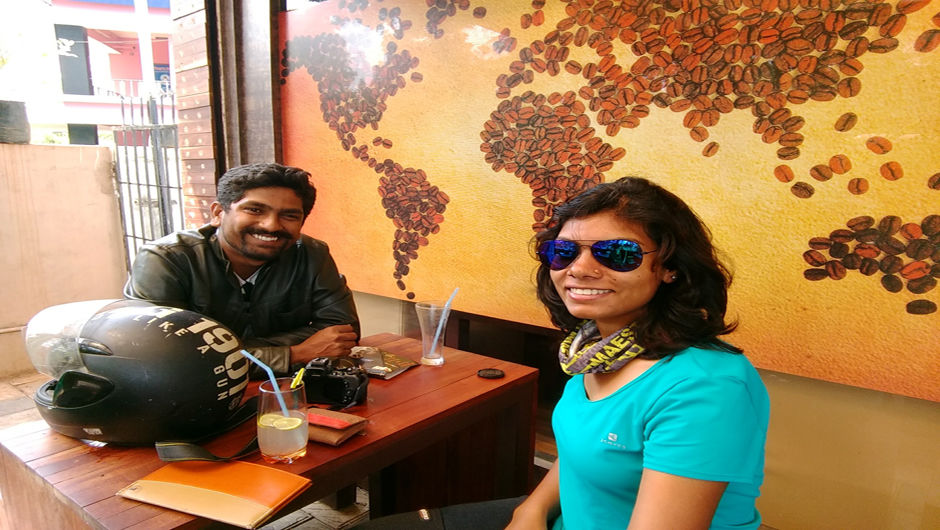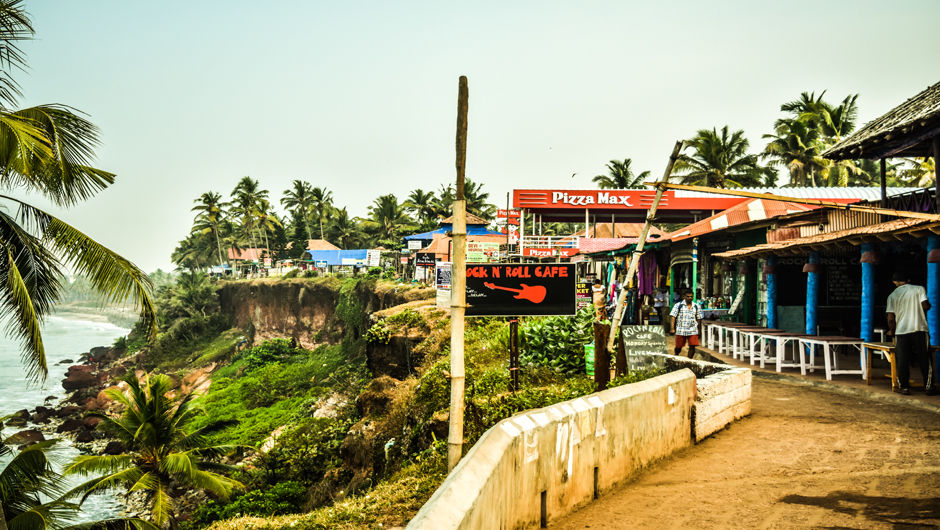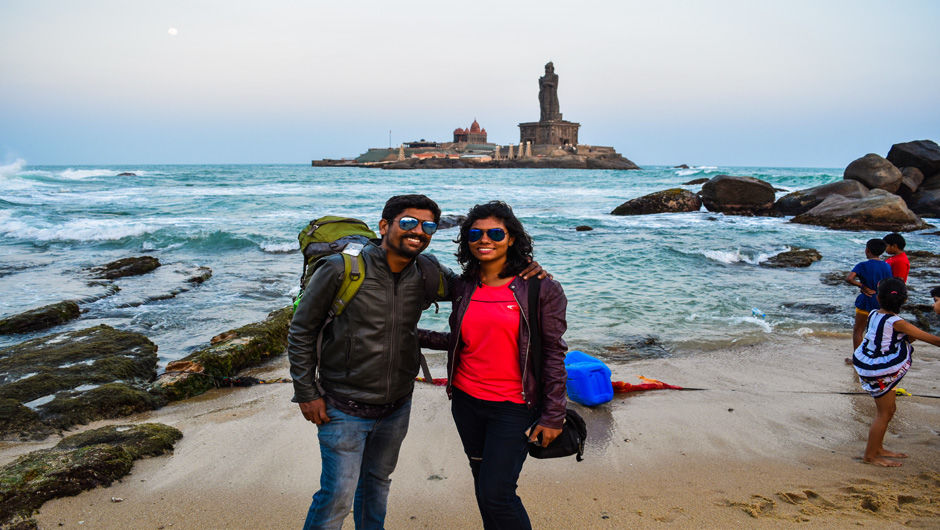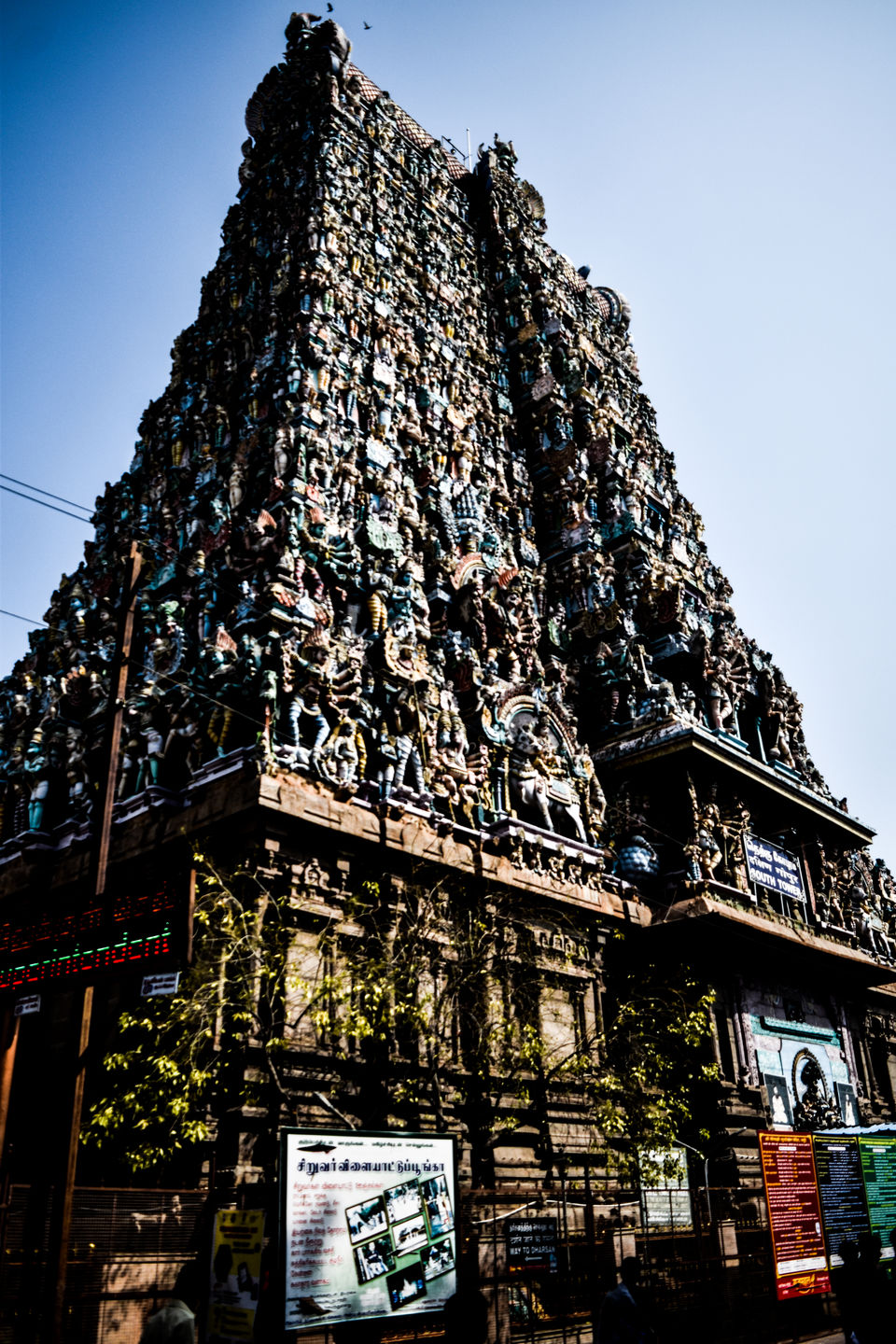 We had some coffee on road side broken shack while cracking some more jokes of the movies. Hopped in and we were on road again, this time the road was little narrow unlike the NH75. But It was really fun with its blind turns in the dark. Waiting for the Kerala border, we stopped again for some coffee as I was feeling little dizzy and it was still long drive to Kannur. Suddenly amrita started jumping up and down pointing at the "Amlas soaked in salt water" JAR. I knew amrita loved those Amlas during our Coorg bike trip and u must know, she still feel regret for not taking more for the rest of the drive to Bangalore. Ne ways, I told to pack like 6 of them to the vendor. Happily Amrita was already biting her stolen one from the jar - u know for taste. We started our journey again. After a while, with a hint of the ocean breeze Amrita pointed we are 2 kms away from the coast road. Excited to reach the coast road, I drove little fast but those stupid curvy road feels like never ending. Suddenly, on a little upside hill road we saw the coast road to our side filled with lights and shops. Excitement increased ...!! Yippee...after a whole day drive on partially empty road ~ coastal road seemed blessing. Amrita said"90 more kms for Kannur". Amrita had improved tremendously on her map reading skills since KALEEN had her first ride. Constantly getting impressed on her map reading skills, I said lets go off Kannur city. Let's find a place outside the city as it would be cheaper. But unfortunately, we didn't anything in budget. We looked for an hour on the coast resorts but nothing, almost everything was out of budget. With a strong stair on our expenditure limits, Amrita rejected all the places I liked. Good thing about these resorts were the people. I must tell, Kerala is best in hospitality, whatever you need, without an intention of convincing you to spend heavily, they started suggesting us other places on the highway. We though it's wouldn't harm to stay at highway considering our budget, so, we came back on the road. Luckily found a residency. The part of halting at a haunted residency of the highway would not be included in this section. Sorry guys, it's only for our close friends.
Again in the morning we were back on road without breakfast. We thought we should have on the very coast road side shake. You know we planned this whole trip thinking we would eat lunch, drink coffee, eat dinner or even stay only in these kind of shakes (think about Gokarna shakes.) but we were keep on getting hit by this civilization era where hotel and resorts seems more comfortable than "not so fully equip", resting place like shakes.

We reached Moroccan Tea Café at about early noon after an amazing coastal ride. Amrita was surprising again with her map reading skills. She was guiding all way from main road to the beach side road and then into the DSC cantonment colony. Felt like my childhood is flashing before my eyes. Those big empty road, perfectly chopped bushes by the side of the road, Big parade ground, canteen and mess by the side. My god, I was constantly going in trance of my childhood. Amazing choice of road Amrita. The food at Moroccan Tea was awesome. I don't remember when was the last time I had 13-14 chicken cutlet and fish cutlets with mayo whipped in fresh Pudina and spices. Stomach Full we took some photos and again were back on the road. I asked Amrita "stick to the very coast road only" because the main high was so busy, I could hardly go more than 40kmph.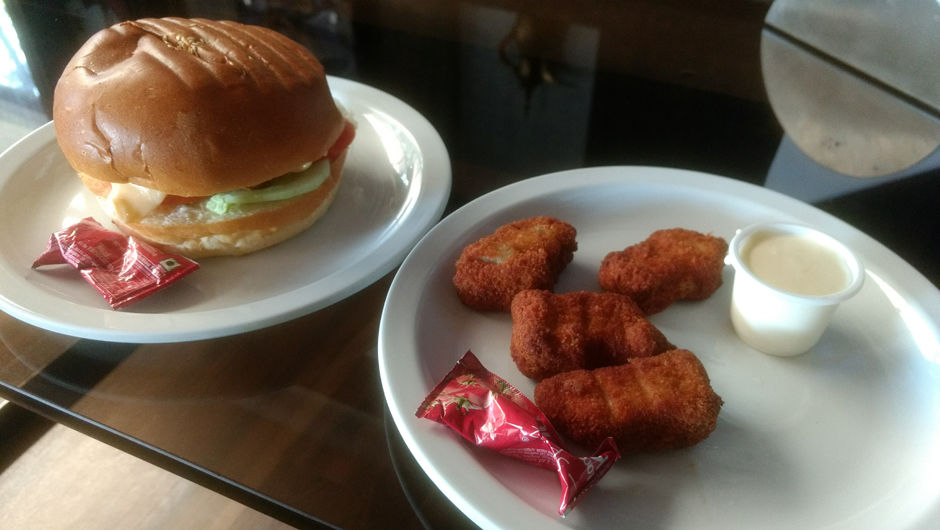 We were constantly debating whether Alappuzha or Kochi to be our next stop on the road, finally we came on a conclusion that if we have to halt at Varkala, we should stop at Kochi as the Alappuzha would be about only 100 kms from Varkala and it couldn't be fare for the day drive to be so small. Because of which we made our night drive little short and found a beautiful beach called "Cherai Beach".
Guys, this is a diamond place hiding cozily into the vast span of beaches. If you are on Kerala road trip, my strong suggestion is to please visit this place even if you are not wanting to stay. The best part of the place is the road leading up-to it. Small narrow road with quite large speed breakers and water on both of your sides, it's thrilling to drive on this road during full moon as the water reflects the rays making it look like a big sheet of silver floating above it. It's only a kilometer ride from the main road but chilling experience.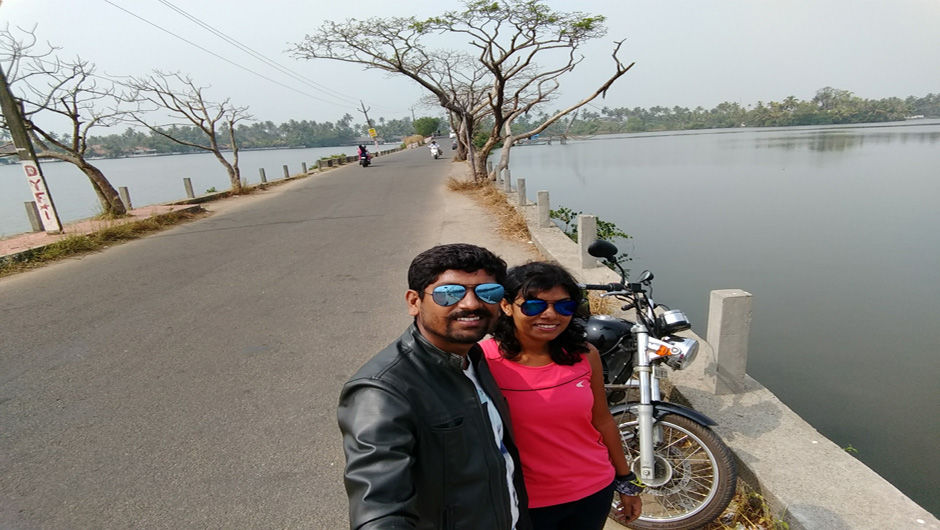 The heavy breakfast at Lilliput restaurant by the side of the Cherai beach made us little dizzy, but we knew today it would be little less hectic till we reach Varkala. We started relaxing a bit on the road. Stopping, taking pictures, making videos, singing by the side of the beach road with no helmet for the first time. We were enjoying the experience every rider wish for on the beach road. Almost during the whole sunset we were by the side of the beach itself, not wanting to go back to the fast moving highway - we were keep on exploring the inner road of Kerala. And then with a right turn we enter into vicinity of Varkala. Initially it felt bit dull road as we were expecting lots of light and shacks and ocean making crushing sound. But then the Helipad arrived and we saw a curvy light following till the end of the edge. We parked our bike and started removing our bags from the side. We were already entering into light village with a big smile on our face. This is was the main objective of our travel and we are finally here...Hurray...!!! There are several shacks, restaurant, merchandise shops and Fish stalls. Yes, every restaurant in Varakala allows you to choose your fish before you ask them to prepare. We were already excited with this idea but first come first we needed a base to keep our luggage. So, we started searching... Believe me every restaurant felt like a world to us. So many different themes, so many different lighting, in short totally different ambience every five steps you walk on the clean curvy side path.
We finalized our place of halt and got dressed as fast as possible for the exciting dinner waiting outside. Believe me guys, the night walk in Varkala is as magical as it could be. High on our adrenaline to explore we walked till the end of the light but the light doesn't seems to end. We were getting hungry, so, we decided we would have different course of meal at different restaurant and chose our first appetizer restaurant, slightly little Kerala theme restaurant. Interestingly we were given complete information about all the fishes on the stall by the very owner of the restaurant. Adding culture to every restaurant is important because every restaurant has its own cultural theme with it. We chose our fish "red snapper" and waited while discussing and planning more adventures for nature walkers. Lots of exciting plan came about for the future. Then we decided lets have main course in a British theme restaurant but we end up eating Chinese in British style. Still fun though. After the meal we stop at a bench and started singing loudly, may be trying to blow off the road trip lag.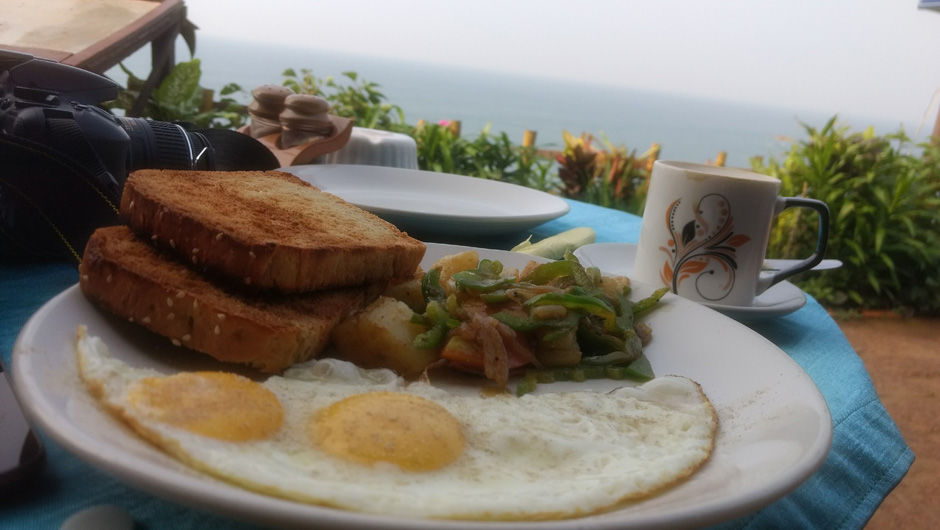 We had already made up our mind that we are going to stay one more day here as it was so magical. So, we got up early on the next day for a lovely American breakfast. The morning walk on the side of the ocean was even more rejuvenating. To celebrate our journey we took out our camera and headed to the Varkala beach. This place is nothing like any other beach of India, I believe. Even for a second it doesn't feel like an Indian beach because the whole beach is surrounded by foreigners. People from different country laughing or doing yoga or spending quality time with their children or swimming in the water or just sunbathing. It's feel strange but kinda homely experience and I believe expressing with my words would not be completely fare in describing the life at this place as I know I might have lived only a part of it and there is still lot of explore about it.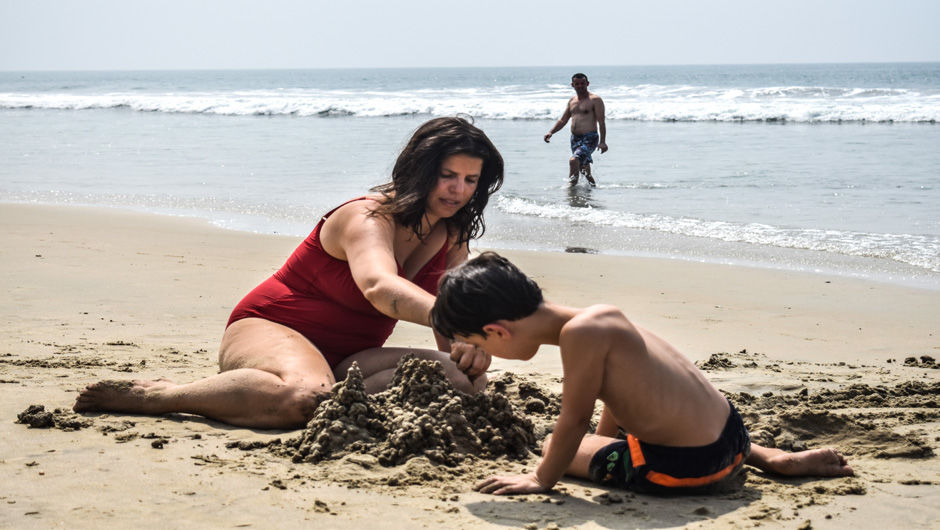 The people at Varkala are very friendly. Always in help for you. Very polite, understanding and caring. We were already packed for the rest of the journey but this place was like a small kid holding our leg, asking us not to leave. With a very heavy heart we gave our bon voyage to Varkala and headed to a dream which Amrita saw about 20 years before. She wanted to visit Kanyakumari since her childhood books told her to. The Road started to expand and it started feeling like we are in Tamil Nadu, we knew we have to make this trip to Kanyakumari as fast as possible as we have to head back to Bangalore just after. We had already reached the coast but were not able to find the beach point. This was the first time Amrita's map reading skill gave a hand but it was understandable, because the google map doesn't work very well near Kanyakumari. Yes it's true, the people of Kanyakumari had already made their peace with google maps. Entering into Tamil Nadu also felt kind of home as it had been a big part of my growing up days. Even though I don't talk much of Tamil in outside world. I always knew it would be a different story if I am in Tamil Nadu because out of sudden I start talking Tamil so good that even I didn't know that I knew this language so good.. ????
The map misguided us and thanks for my Tamil speaking skills we got back to correct path. We reached the Vivekananda Rock Memorial just before the sunset. I had made a promise to Amrita that even though we could not catch any sunset on our journey, I would not miss this one for a million. And yes we didn't. We were standing at a place surrounded all three side by water with thousands of people waiting for the sun to die at the beach point of Kanyakumari.. Amrita was already high on her childhood thoughts and wishes coming true. I actually felt she was on a happiest world.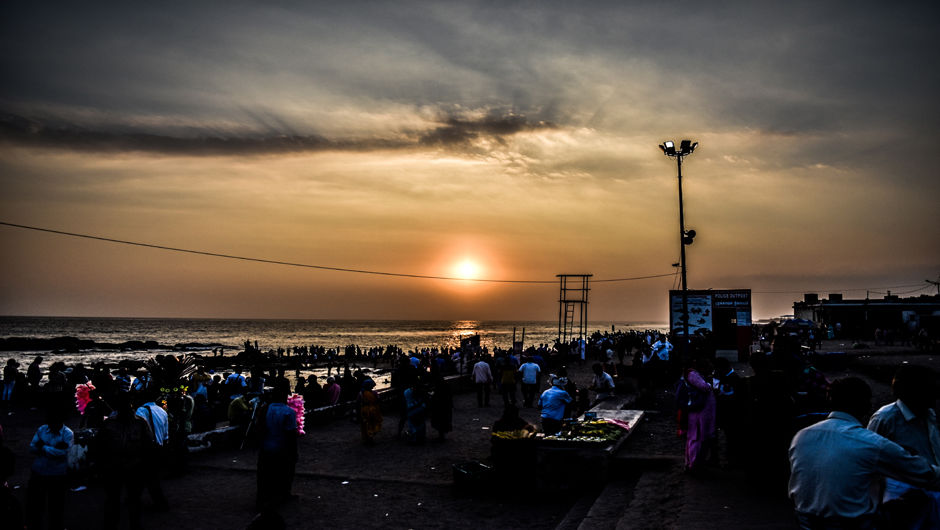 We did quite a shopping and headed back to Kaleen. I knew the rest of the journey is going to test my limits as we had planned of reaching Bangalore the very next morning. We bolted our luggage on Kaleen and again with loud roar started out return journey. Wait..!! Not before we have the Paratha and Chicken Curry in Tamil Nadu. It was one of my favorite dish during my stay in Tamil Nadu so though why not live that moment for a bit longer. After wrapping up the thoughts we started our return journey. I always wanted to ride on NH44 as I thought this road would guide you till Jammu and Kashmir. Don't know for sure, might have to find out some day. After driving almost for about 120 kms, we stopped for some tea. I said "amrita it's already 9.30pm, and more 500km are remaining. Can we make it?" Amrita said "let see for more 100km. if we could make it, we would continue else we will have a stop at Madurai". And just after the toll we got our first sign "petrol empty". I put Kaleen on reserve and started looking for petrol pumps. Thanks again to amrita's map reading skill we found the petrol pump in about 30 kms. We filled up and again came back to the highway, still thinking if we could make it. Another 100km we stopped. I was exhausted by the boring yawns I was giving on the way. After a calculative discussion amrita said let's stop at Madurai and visit Meenakshi Temple (one more childhood dream from the books.) It seems a perfect decision, so we took an off-road and headed into Madurai. Thanks for Google, we could able to search perfect residency with cheap tariff.
The Madurai morning was every nostalgic. I am very much fascinated by the tamilnadu lifestyle. Although I have seen many temples in south India. This temple was an extraordinary one. The popularity of the temple could be guessed just by the entrance line. Thanks to the ticketing structure, we would manage our entry in short time and explore the temple in less time. After a relaxing walk from the temple we came out and found an authentic lunch place for our meal.
One should always wish to eat to the neck if you are in Tamil Nadu because they serve like 9-10 different items in the plate and it takes a challenge to clean the plate in one sitting. Don't know how my Tamil friends could do it so easily. "Remembered @karmukilan my school friend, with his big fat belly", i said to Amrita.
After having lunch at exactly 12 noon we headed back to pack our bag for Bangalore. Settled the counter and came back on road. We knew after a full stomach meal, the rest of the 450km is still going to challenge us. But with Great Spirit we continued and reached Bangalore with only 3 stops on the way. We definitely improved our bum capacity to withstand any sitting limits. Hehe.
We know the journey doesn't end here because India is filled with so many roads, places, cultures and heritage to visit that our lifespan could request us little more time from who is sitting up there to explore.
Be a traveler and travel the world with it.