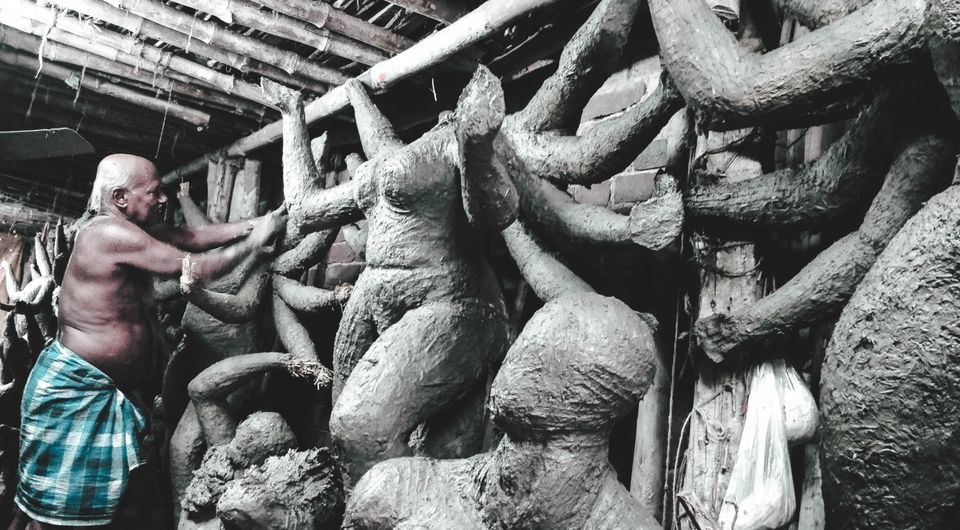 From past to present, old to young and wise to reckless, the city of joy- Calcutta now Kolkata has it all. The history began when the East India Company made Bengal their trading base. Although Calcutta came as the epicenter of the anti-British movement, it still preserves a lot of the colonial heritage and that shows how culturally rich the state is.
Often called the 'Cultural Capital of India', Calcutta has an altogether different vibe from other metropolitan cities. The name Calcutta was changed to Kolkata but calling it the prior still gives a different and a better feel.
Personally, my parents have been brought up in this city and after hearing so much about the history, I couldn't resist but visit the places I've only seen in movies and heard stories of. And it was all worth it!
One thing about Calcutta is it's not a very fast moving city in comparison to a few others in India. People often close their shops and take a nap in the afternoon, Sundays are for relaxation and other days, they still find some leisure time to gossip with their friends and spend a little 'Adda' time (exchange of ideas amongst similar aged people). If one gets a chance to have a conversation with the locals whether it be taxi drivers or an old relative, ask them about the city and you'll be astonished to hear the never-ending stories. They think stories important because of what they've experienced. Although the city as advanced there are still a lot of them trying to preserve the history. Hence, calling it a 'City of stories'.
Talking about a visit to the city, it is always better to have a local by your side who understands the language. The distances are quite lengthy but there are plenty of options for the travel. The food in Calcutta is to die for! Inexpensive and great taste especially if you go for authentic Bengali. One should definitely try the street 'puchkas' (Gol Gappas), kathi rolls and 'Jhaal Muri' (Bhel puri mixture). Although the best time to go is during Durga Puja, the other months are fine too.
Yes, there's Victoria Memorial that you can't skip but there are other great places and experiences that shouldn't be missed either.
PRINSEP GHAT
Locally called 'Babu Ghat', this was made in the memory of James Prinsep along the bank of river Hooghly. The bridge- Vidyasagar Setu has a similar structure as that of the famous Sea-Link in Mumbai but what makes it unique is it is the longest one cable-stayed bridge in India. The Ghat is an old recreational spot and a few food stalls are there since years, few even above 40 years.
Along the Ghat, there are boatmen rowing the boat as taught by their ancestors, without a motor, the typical 'Naav'. Experience a ride once, after-all it's the holy Ganges you're boating in. Costs around Rs.300 for 7 people, but can still bargain and get a cheaper rate.
KUMORTULI
An amazing art to witness, Kumortuli is one great place to see generations and generations making sculptures out of mud. After talking to a few shop owners there, we could get a little knowledge of how it all works. The sculptures are mainly bought during Durga Puja by locals and widely exported, they are immersed in rivers after the Puja and hence, they have to be made of mud so that they are eco-friendly. During monsoons, the workers get mud from Ganga Ghats as the mud loosens. They make a wooden base structure and fill it with hay. On top of it, very artistically, they make the mud sculptures (mostly idols). Once the idols are immersed, they get back the wooden base and let the mud dissolve.
INDIAN MUSEUM
Out of all the museums I've seen in India, The Indian Museum has one of the most widespread collection of coins, decorative art, information on mammals, insects, birds etc. Moreover, they have restored the ancient relics of a few temples too. No wonder it is the largest and the oldest museum not only in India but in Asia-Pacific altogether. The building itself is that of the colonial era and has a large plush garden in the middle. Entry fee is Rs.20 per person for Indians and Rs.500 for foreigners. For other details, one can check out their official site: https://cp.indianmuseumkolkata.org/
PARK STREET
Kolkata's nightlife is centered at this district. With some great restaurants and nightclubs, it's been regarded as 'numero uno entertainment hub of Kolkata'. Some quite old restaurants worth going to are: Waldorf for Chinese, Flurys serves cakes and pastries (also has a food menu), Peter Cat's famous for it's authentic 'Chelo Kebab', Trincas is one of the oldest and very famous, been there for more than 50 years now.
VICTORIA MEMORIAL
How can this one be forgotten. This marble building standing tall since the British era is said to be built following Queen Victoria's demise as they wanted to show a glimpse of the rich past of her life. Today, it is one of the most favorite spots for family and friends to spend time together. It also holds light and sound shows at particular days. Although the entry fee is different for the museum and the garden area, we paid Rs.30 at the gate including the visit to the museum.
EXPERIENCE THE TRAM
The tram system of Kolkata is the only tram network in India and has been the oldest in Asia. Although most of the routes are no more active, but the ones that are running should not be missed. There is no particular timing for it and you can just show your hand for them to stop. Probably it would be the cheapest transport of all that you'd see in today's time.
THE HAND RICKSHAW
Banned at a lot of places in Kolkata itself, this rickshaw is pulled by men. Personally, my mother is scared to ride on one of these but for me, I simply love it. The way the men shout for space or run to increase the speed is a treat to watch. Under the seat, they have their secret space to keep a bottle of water or their personal belongings. You'd be amazed to see their hacks in such a little space. A must experience before it totally gets banned from the city.
A WALK ON THE HOWRAH
Unlike a lot of other bridges in India, this one has a separate pavement for the pedestrians and hence, one should definitely walk at least one way to soak in the city atmosphere. People plunge in the river underneath and a lot of fishermen can be seen fishing from atop.
Other than these, there are a lot of malls that have been coming up in the city but trust me, the real city is on the streets! Plan a four days trip and you'll be able to cover the most of it.
Tip: Book a hotel in/near park street as it'll be the center for a lot of places.
For a customized itinerary and further details, DM me on @one.mile.away on Instagram.
Write up and all photographs by: Mallika Rohatgi