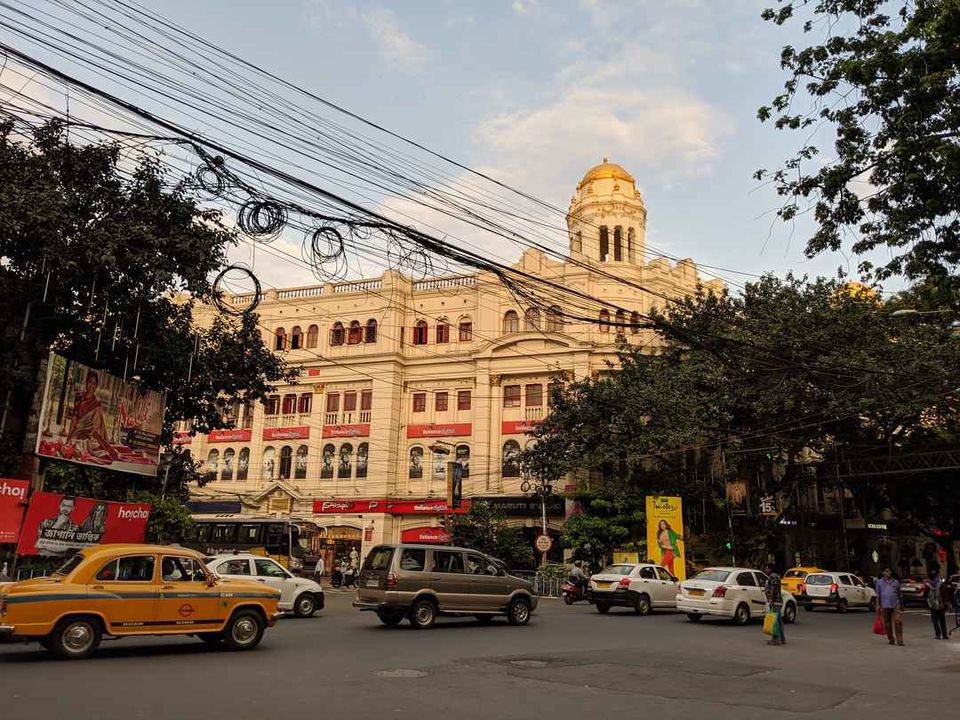 I wanted to go to Kolkata during Navratri for some years. Finally that happened 2 years back, in 2019. I applied for leave for 10 days without any prior planning. Booked the flight tickets, booked a homestay, packed a huge bag for like 20 days. And finally the date arrived. I boarded the plane from Pune airport. The journey was around 2.30 hours long.
When I reached Dumdum airport aka Subhash Chandra Bose airport, it started raining. As soon as stepped out of the plane, I could feel the immense difference of the humidity. For 10 days, I ditched staying at hotel and instead I had chosen a homestay. It was in southern Kolkata. So it took more time than my flight journey to reach my destination. It was a beautiful 2BHK apartment owned by a lovely lady named Madhumita. Due to a drastic change in climate, I immediately caught the flu and had to rest for the evening.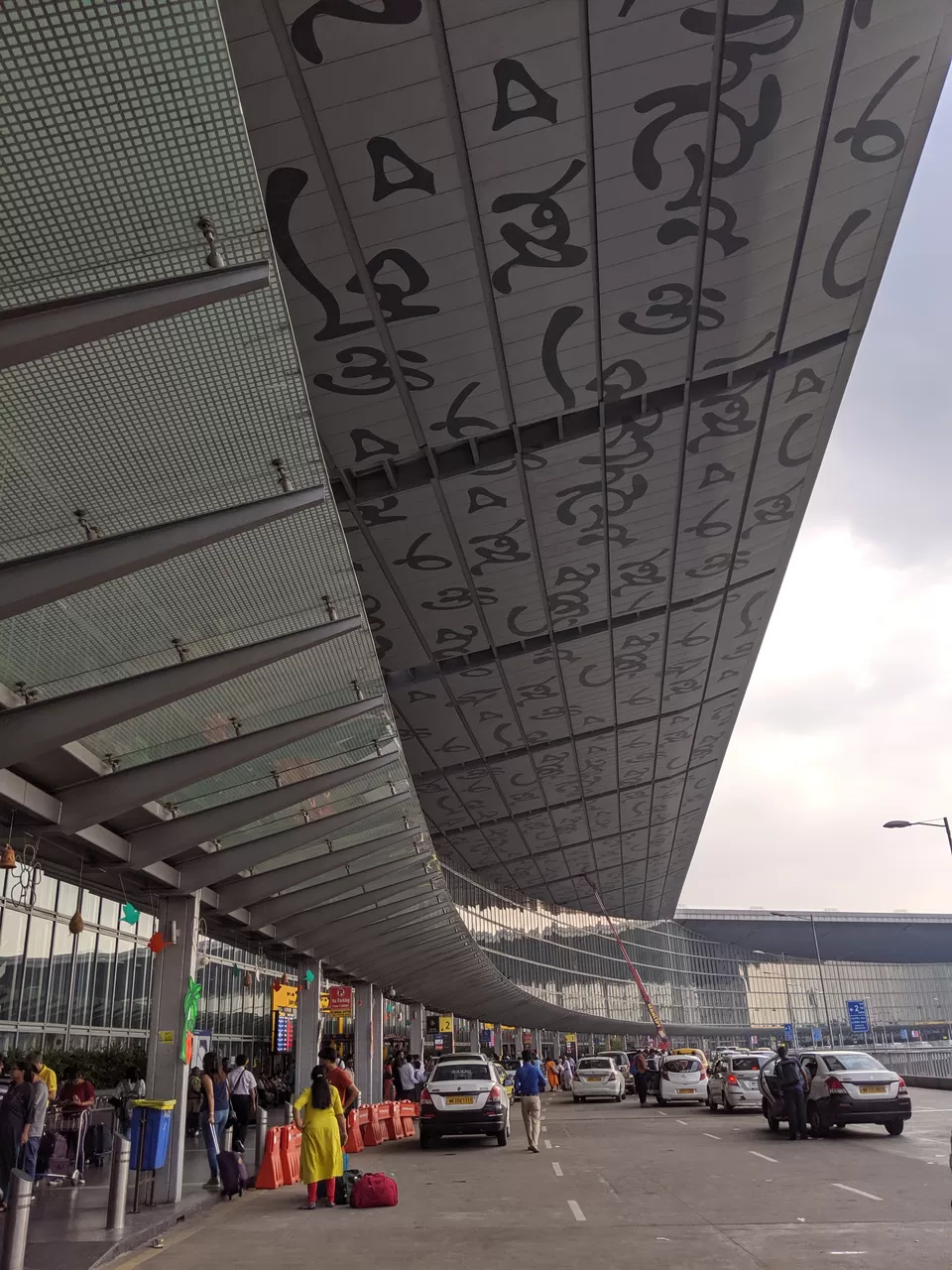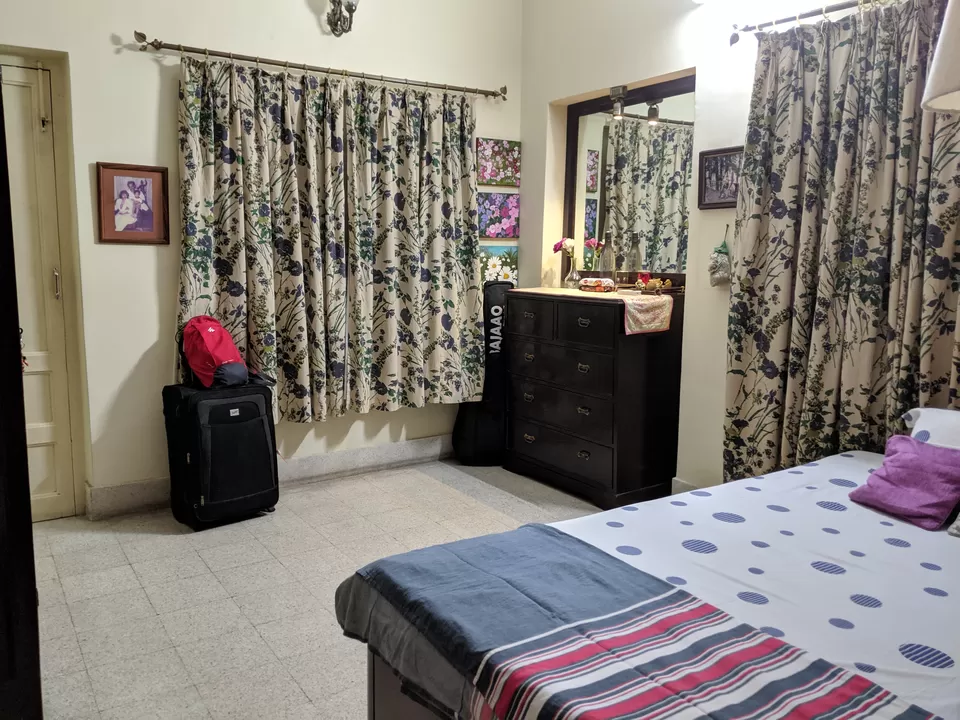 As the season was of Durga Puja, the first place in my list to visit was Kumortuli. Sovabazar is the nearest metro station. This place is well-known as potters' quarters mainly for Durga Devi idols. I wandered through the lanes of Kumortuli for a few hours. For any sculptor, it was a feast for eyes. There were hundreds of artists finishing their work. These artists start working on Goddess Durga since months before Durga Puja. First they make the idols of clay, then they get painted and dressed with beautiful clothes. They just leave the final piece of work, called Chokkhu Daan. On the day of Mahalaya, the artists complete painting the eye of Devi maa. Only senior members of the family are allowed to perform this ritual. And they say that once the eyes are painted, Goddess Durga descends the earth. All of the city's photographers were capturing these moments that come once a year. Some interviews were also going on for documentary and newspapers. I travelled back to my place by metro. It was the peak hour in the evening. Had some Jhalmuri. Madhumita served me hot homemade dinner- sabzi and roti.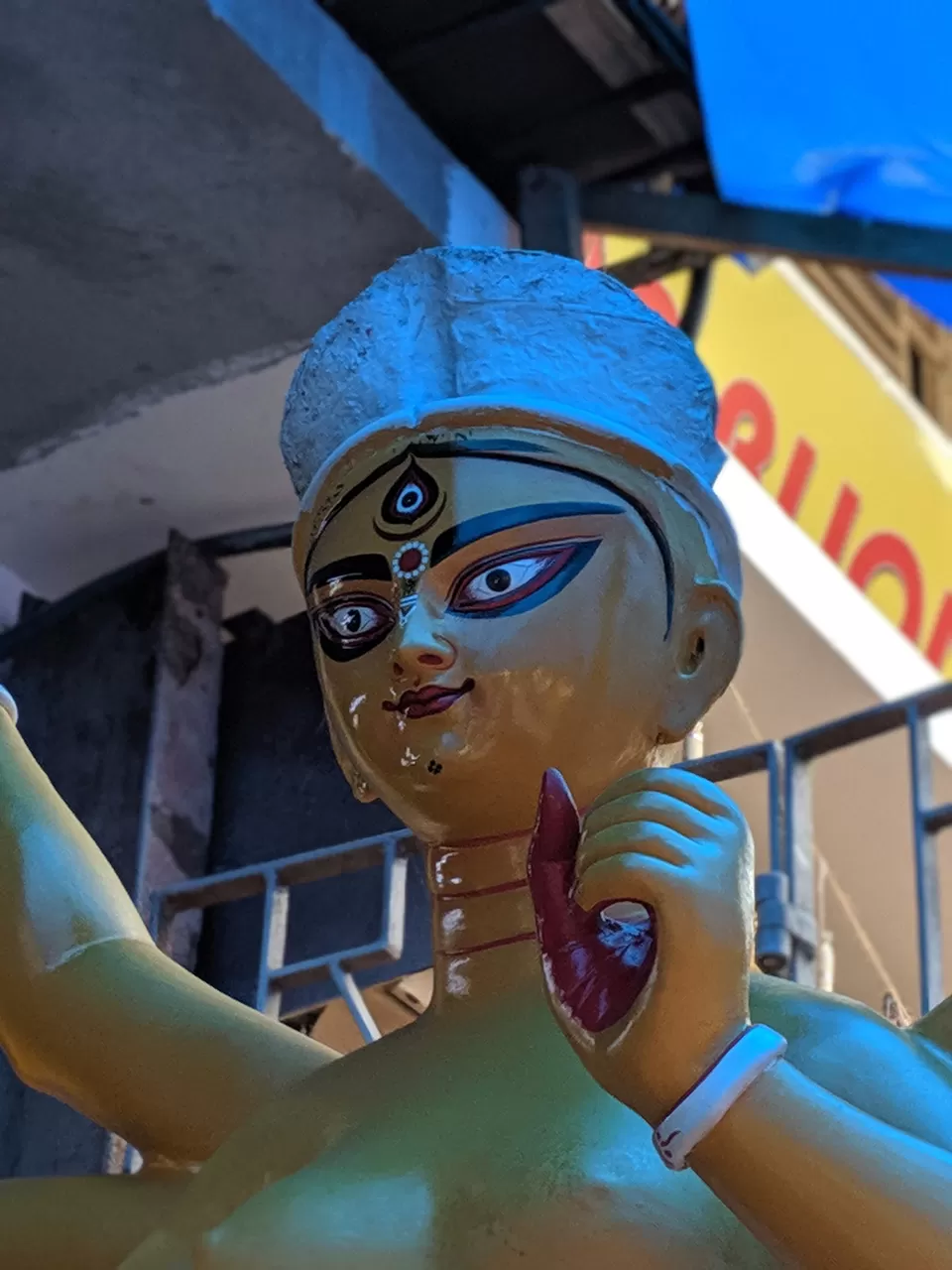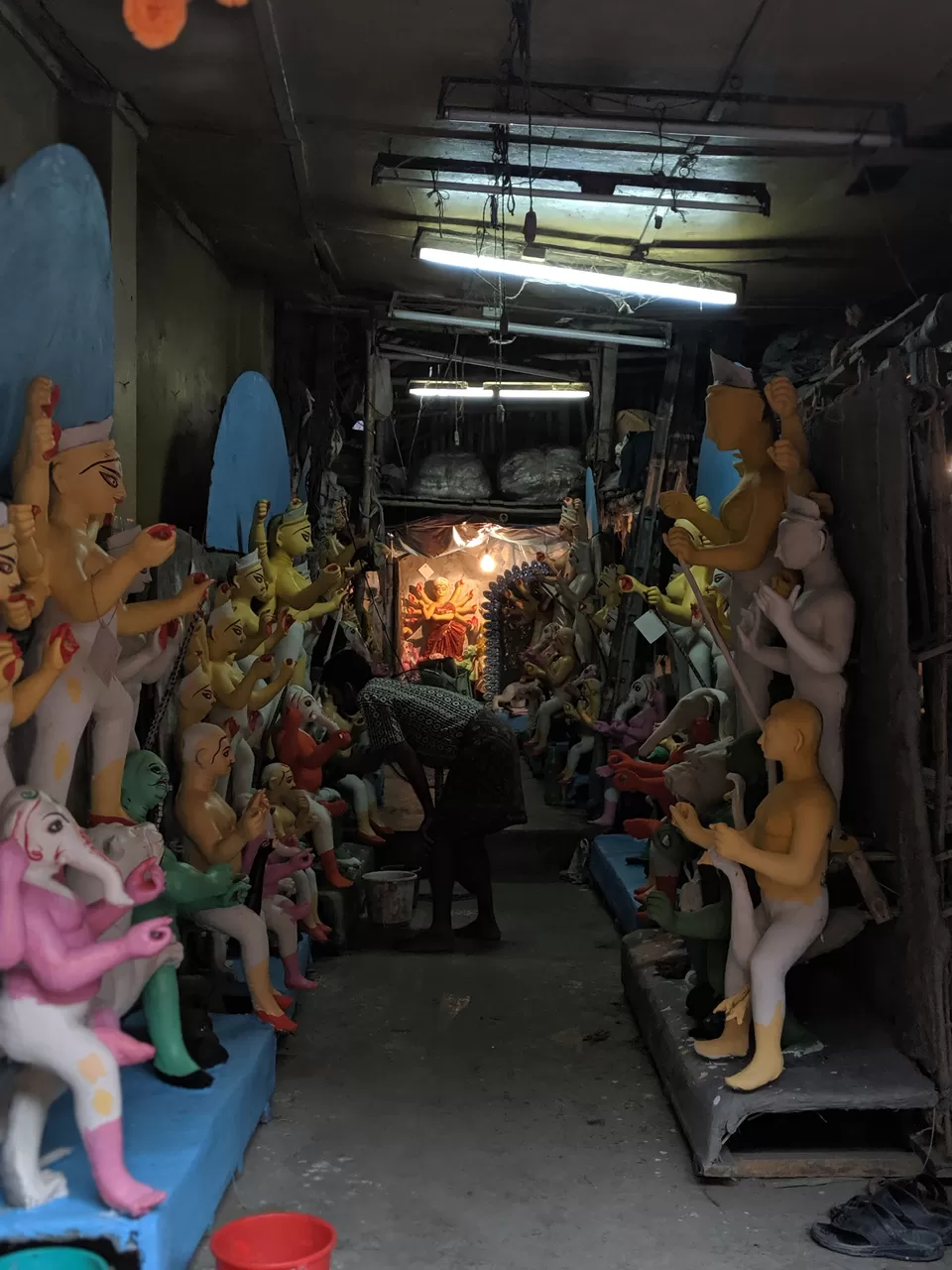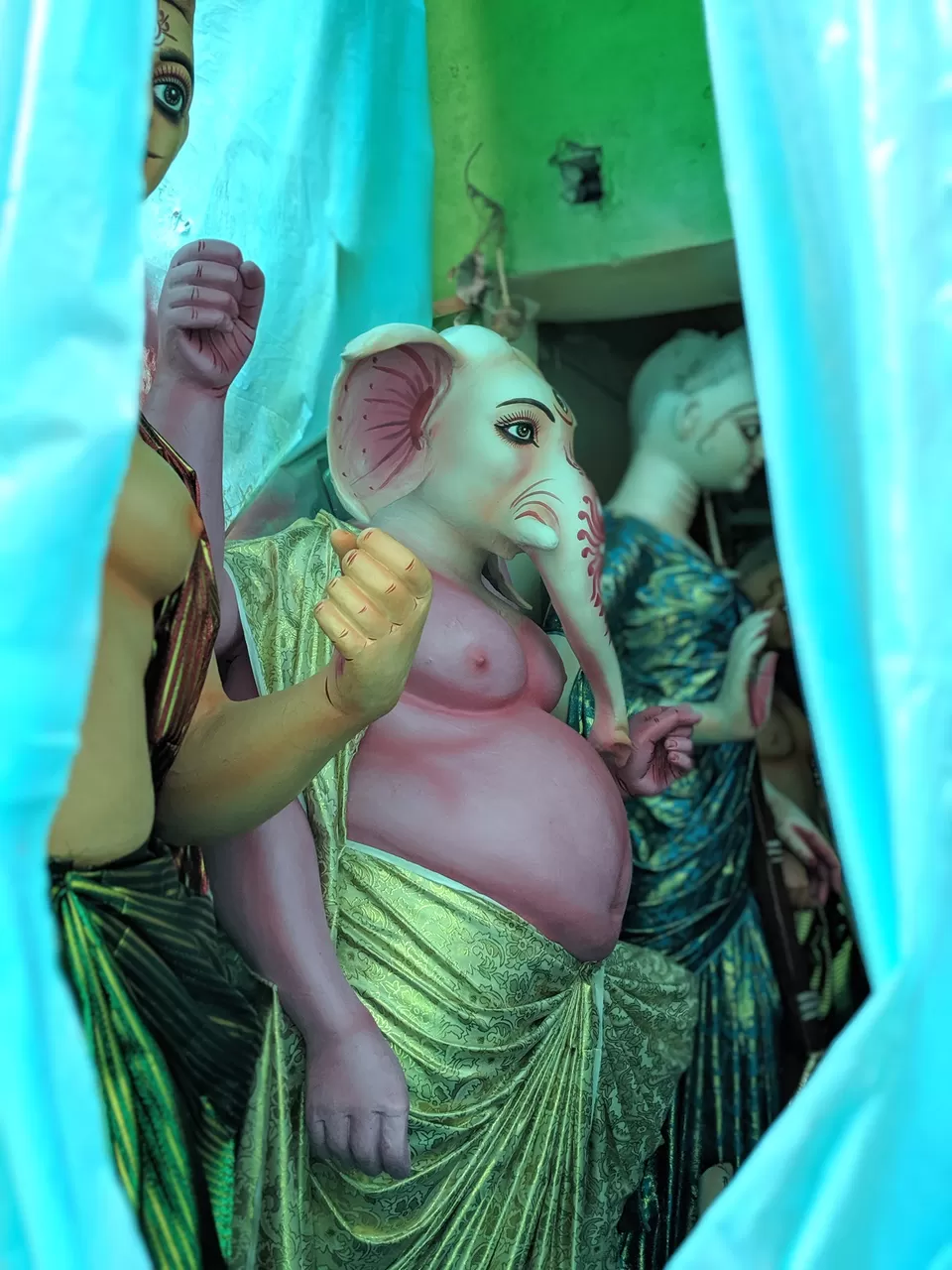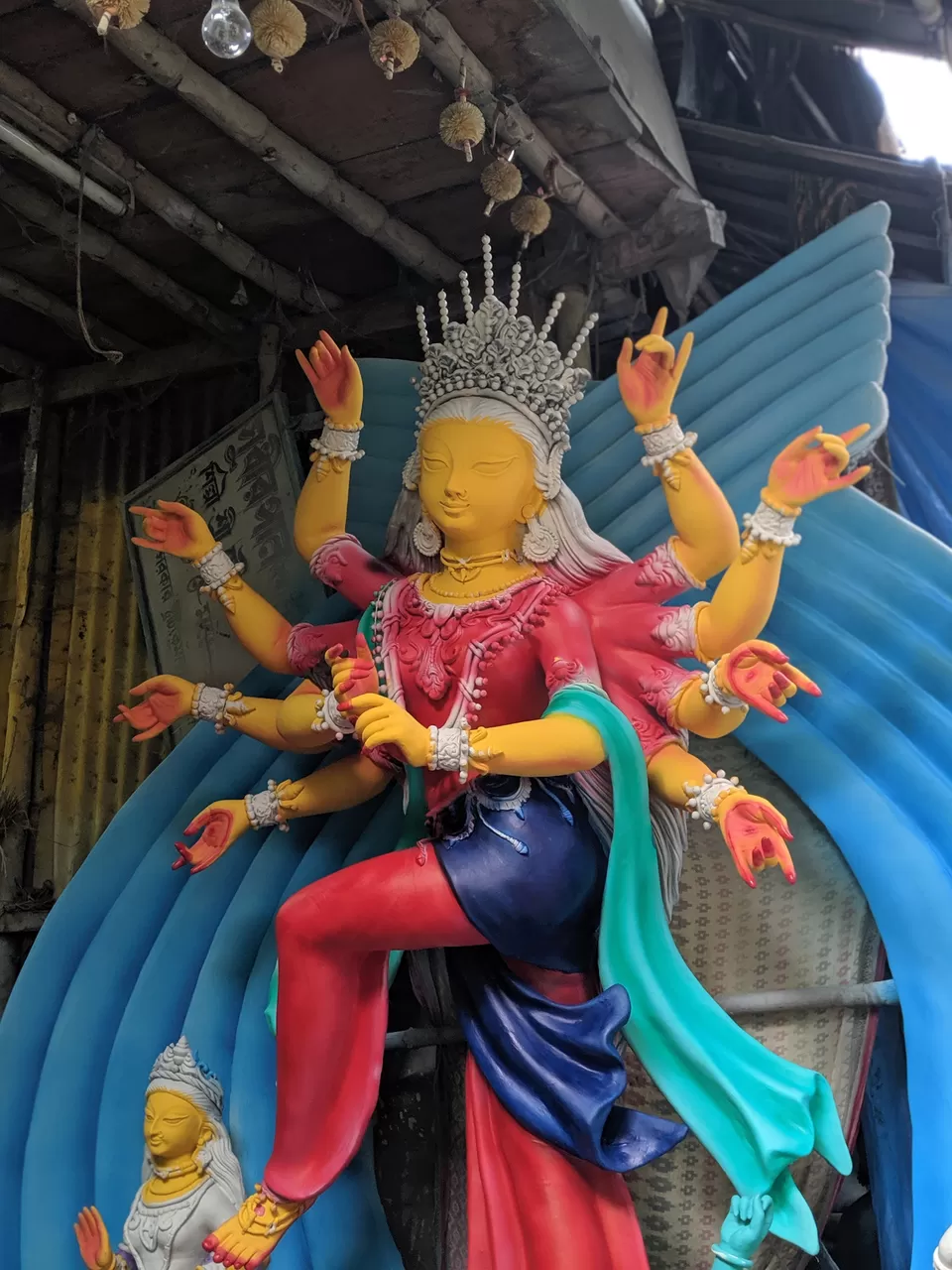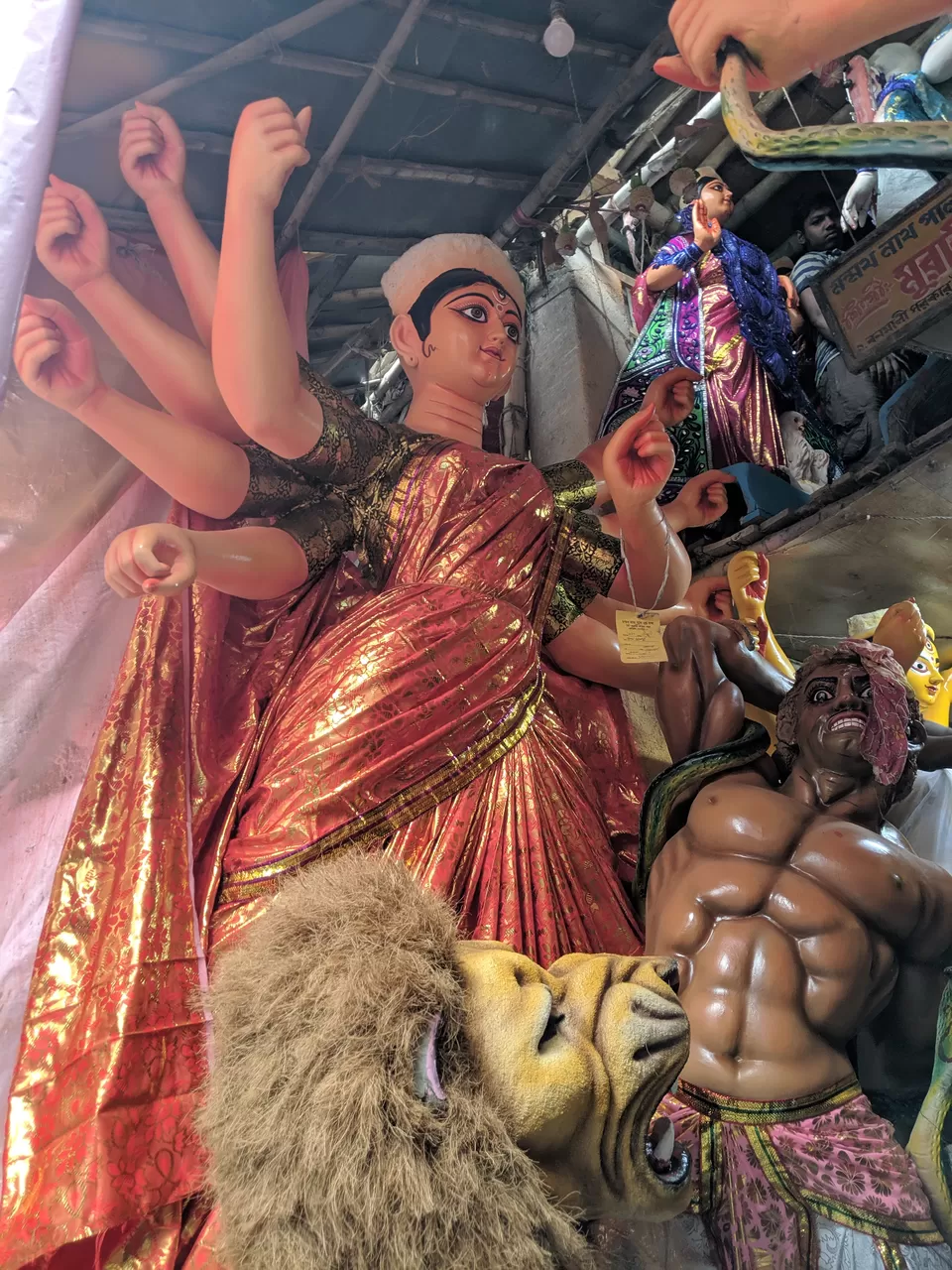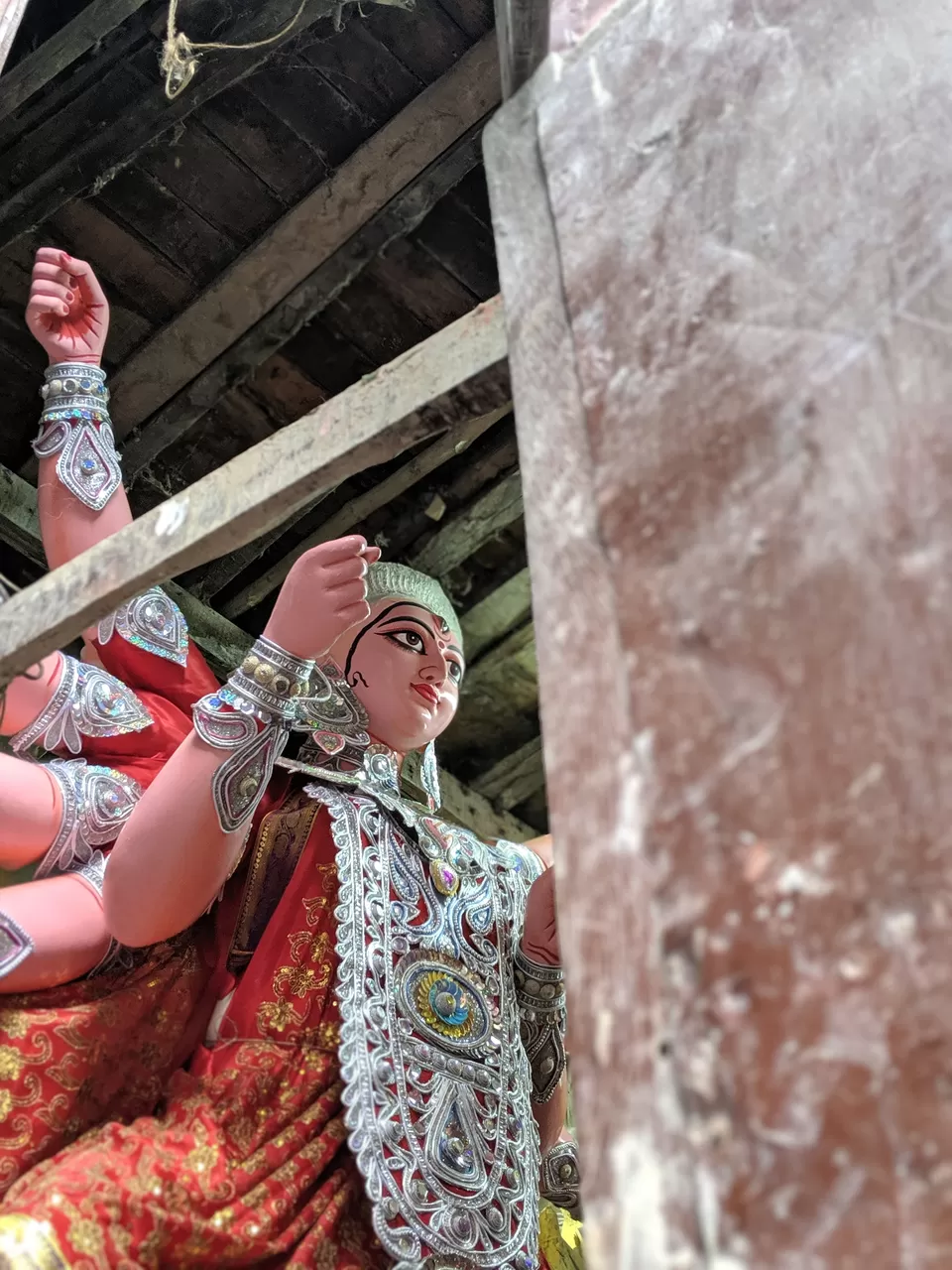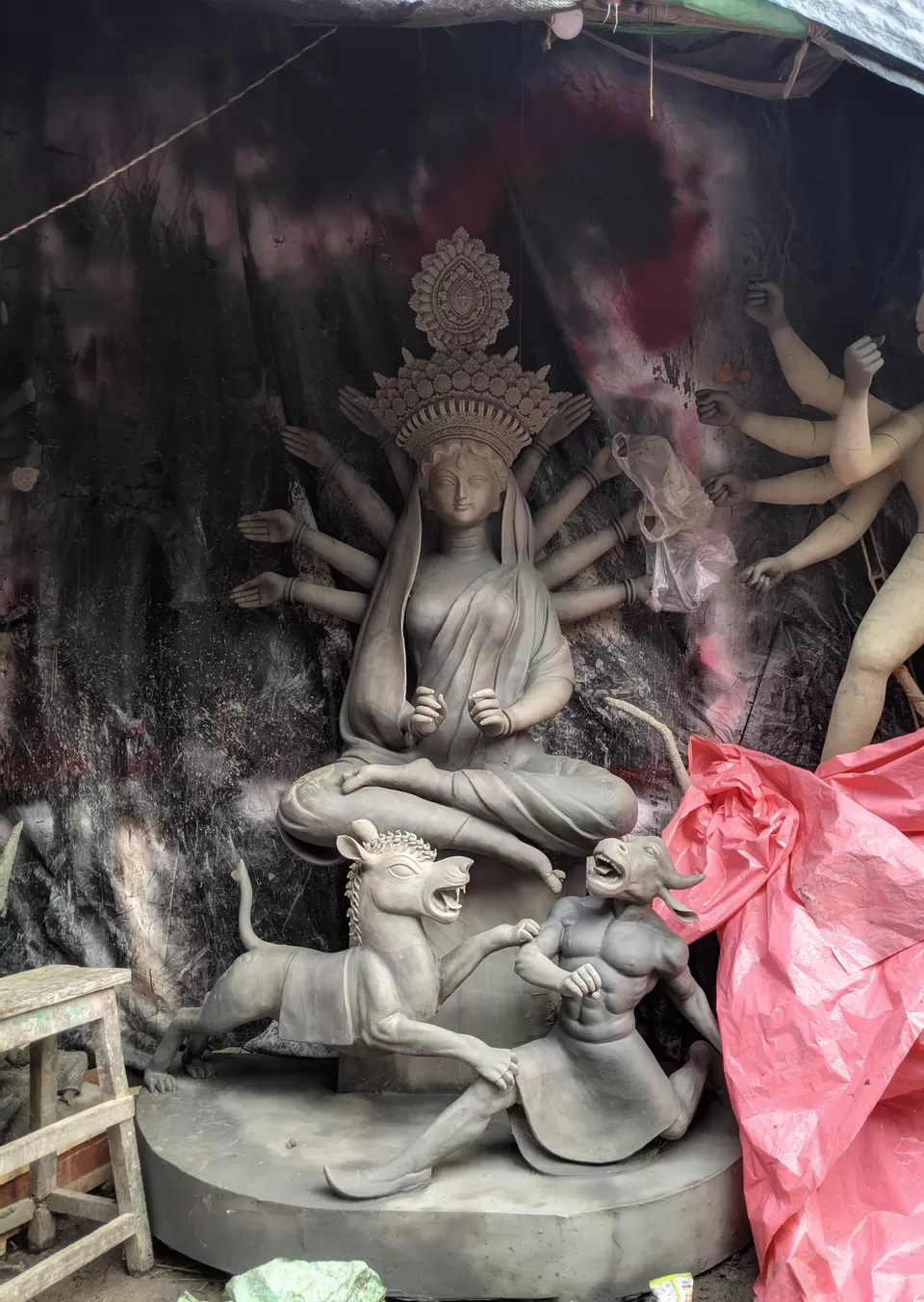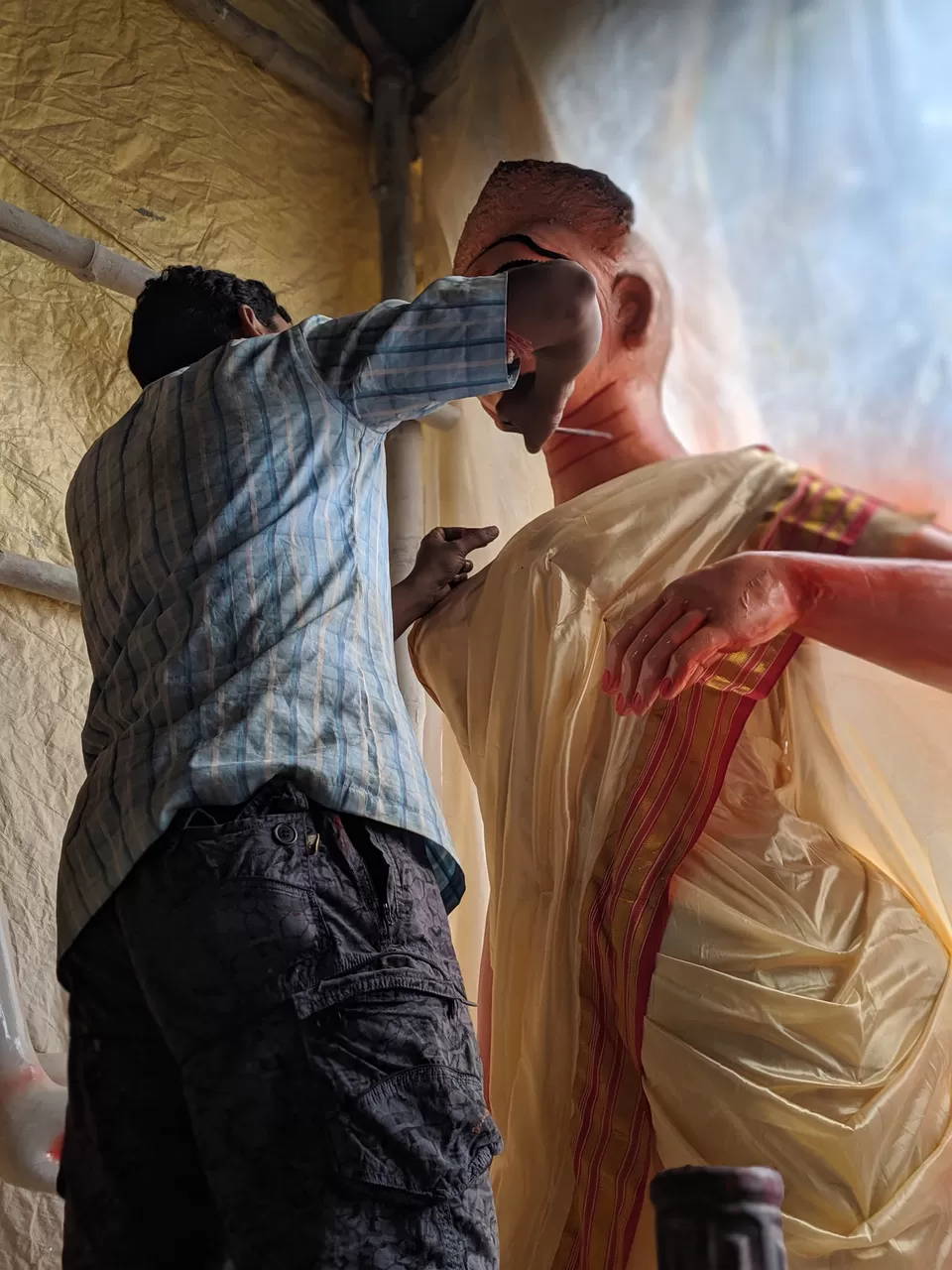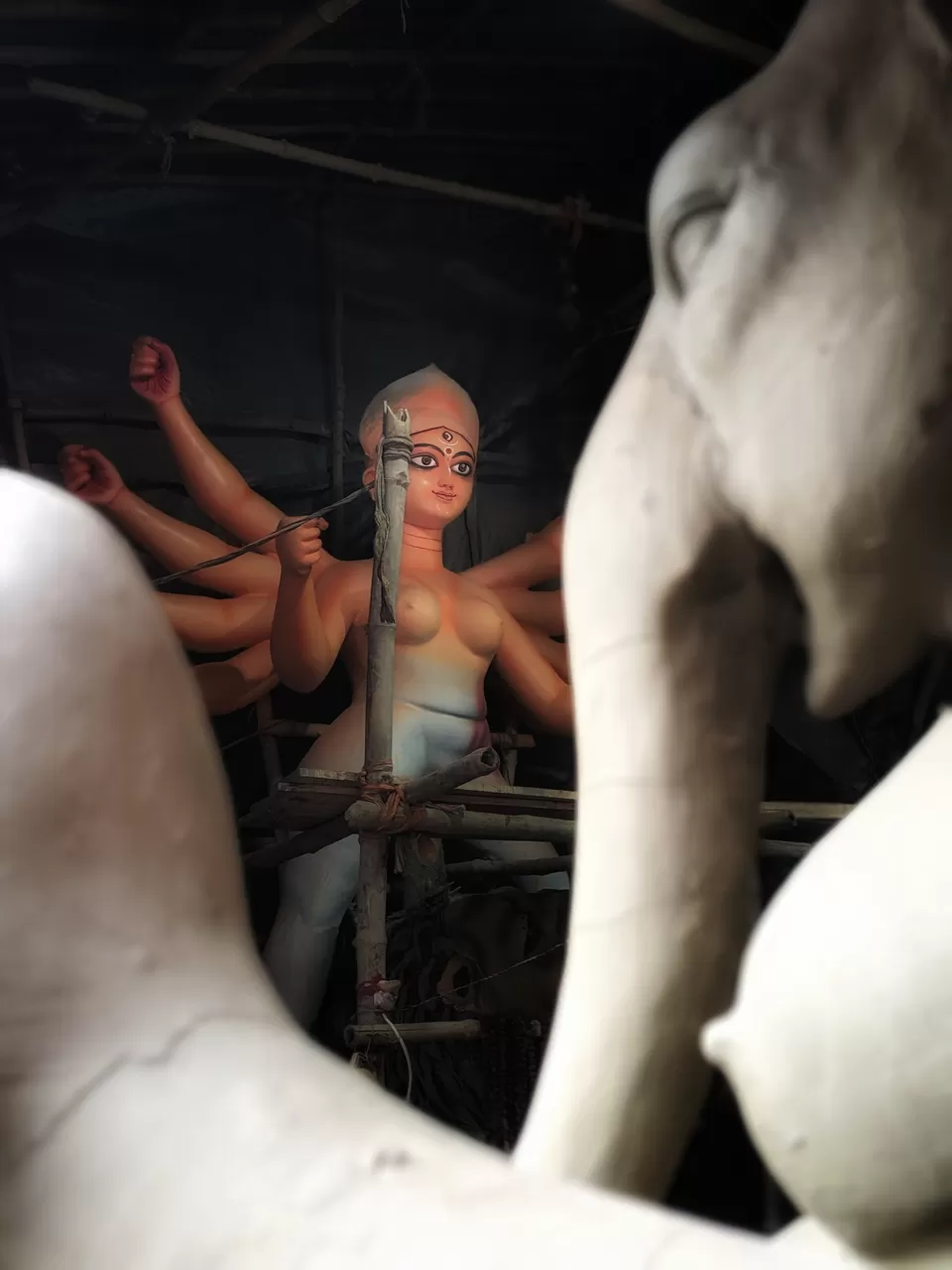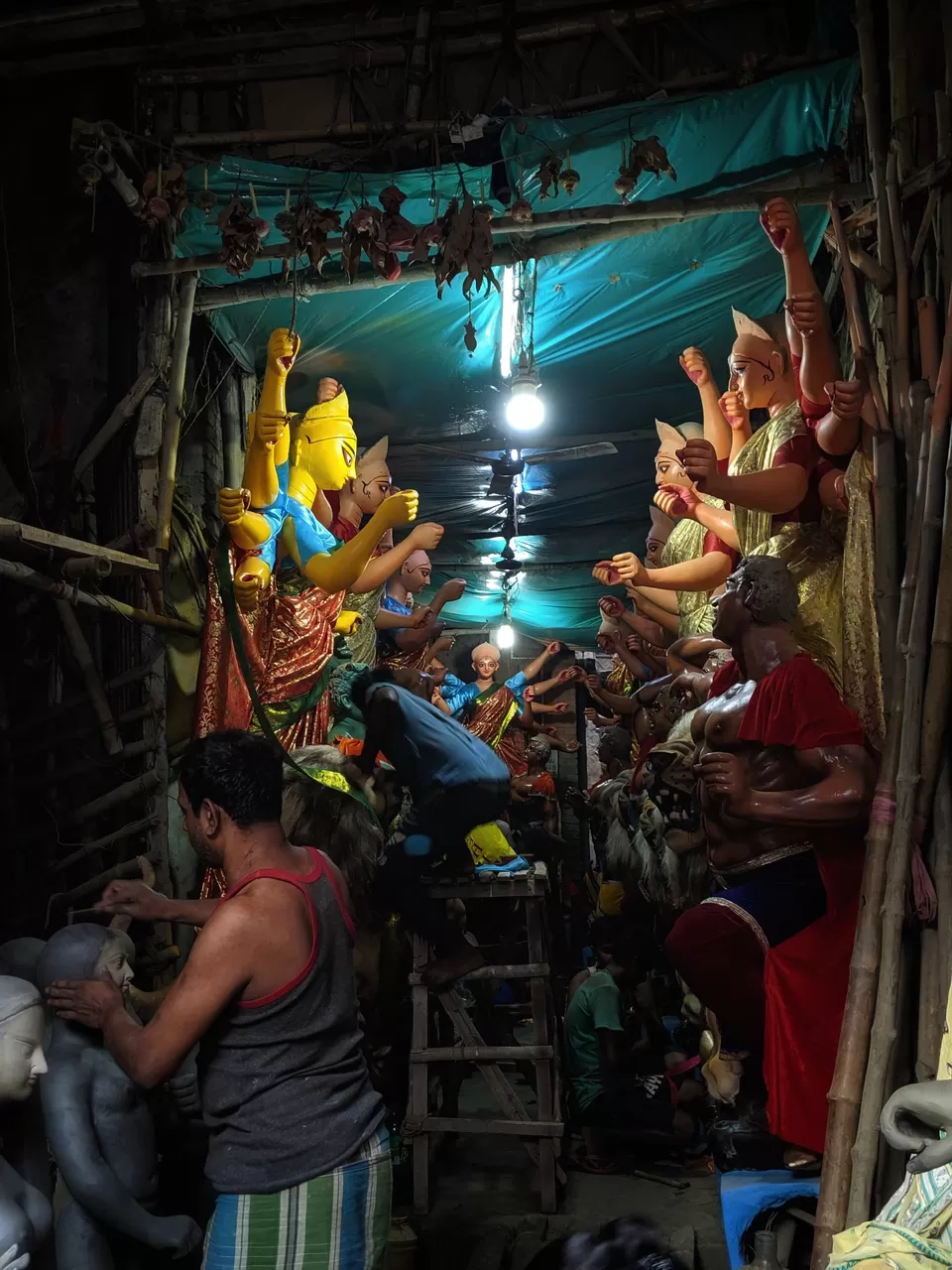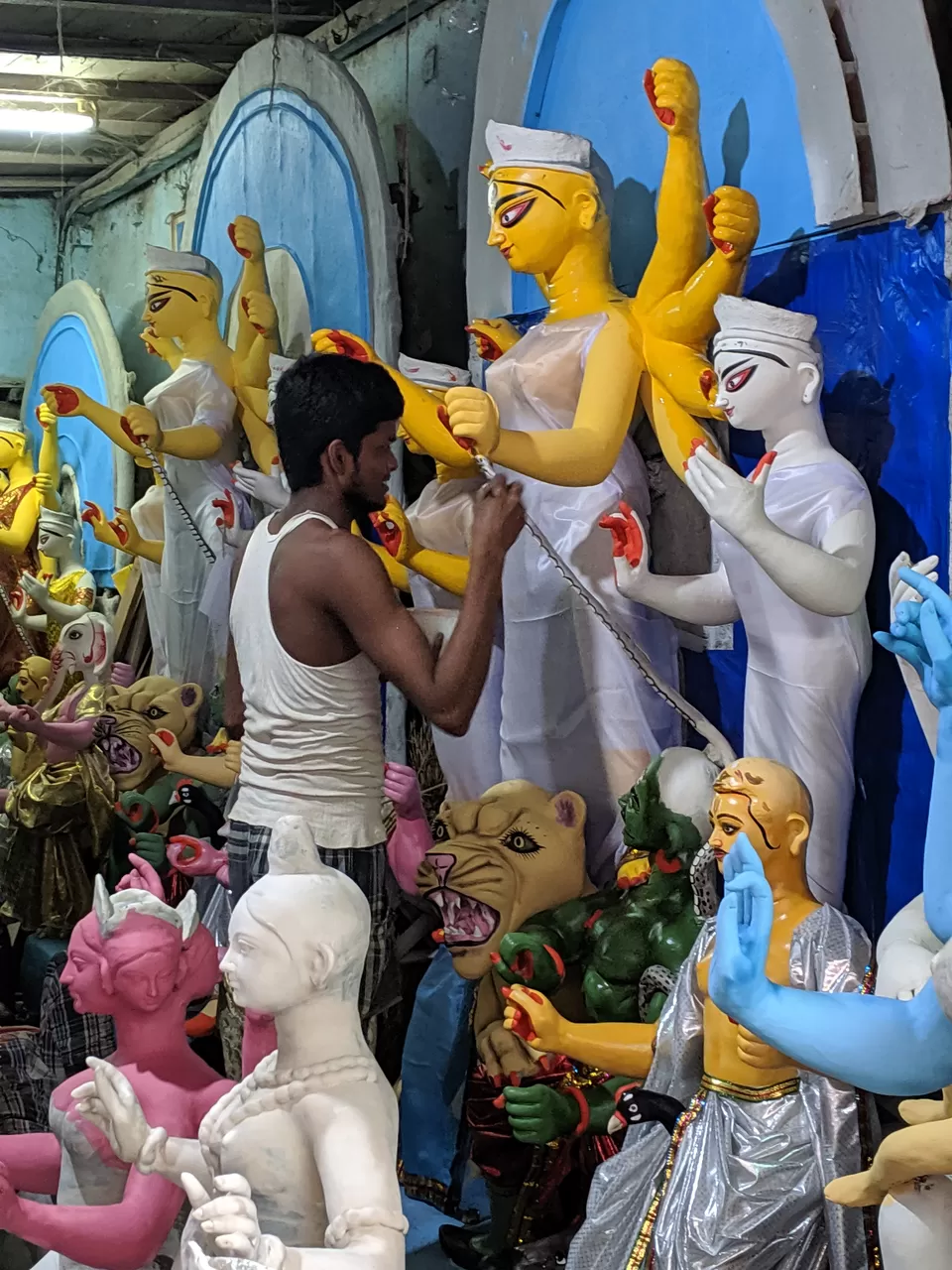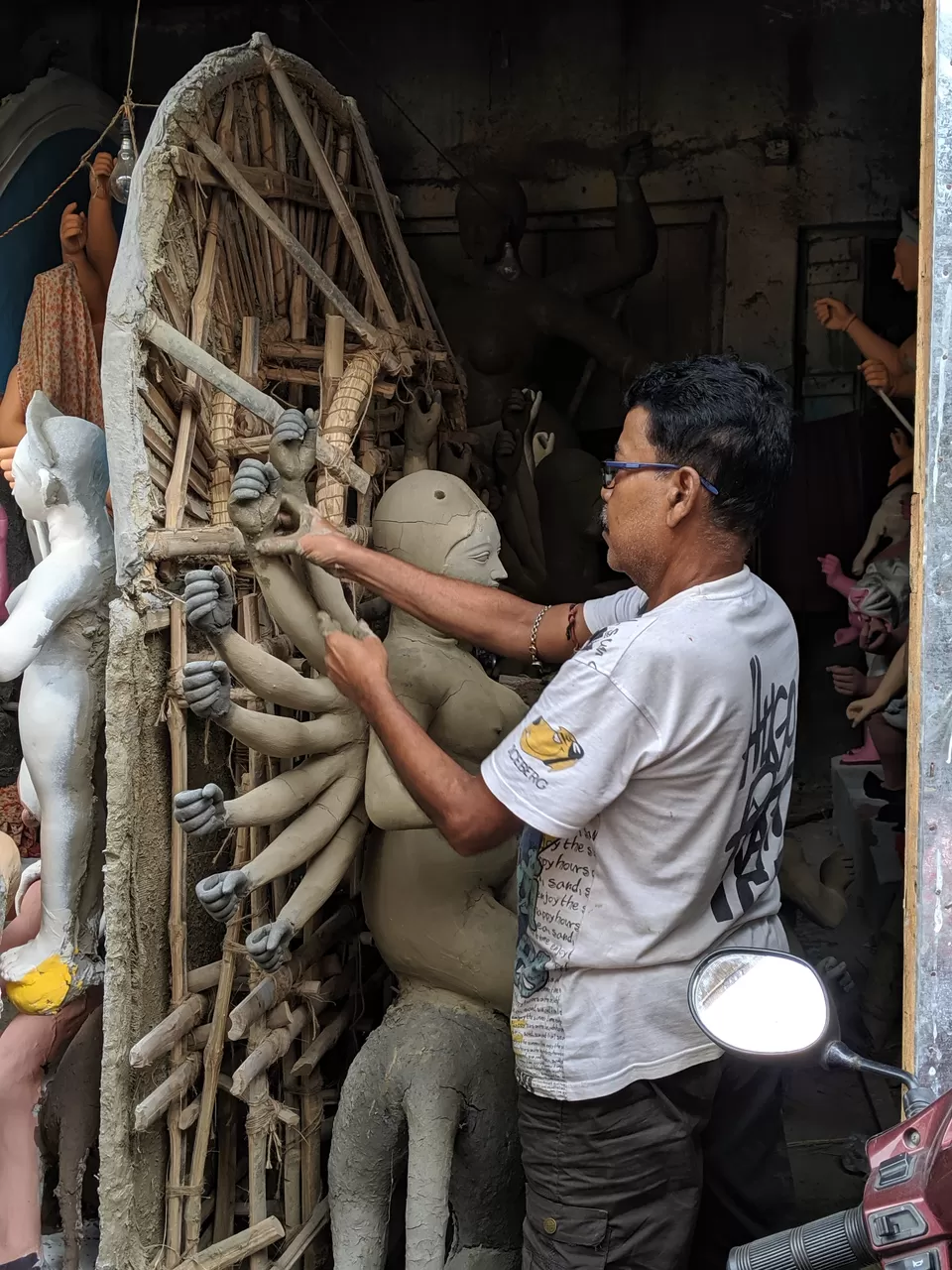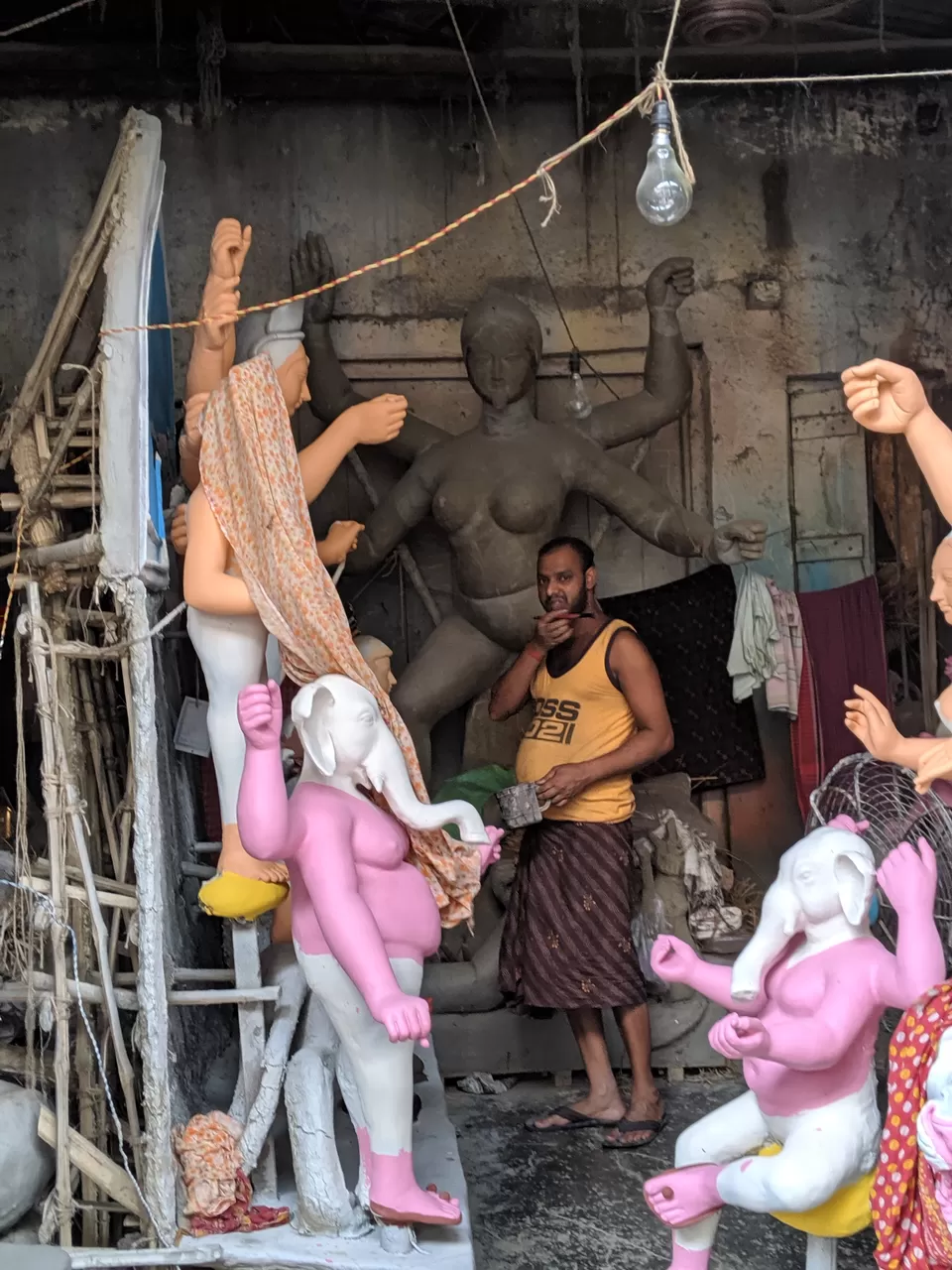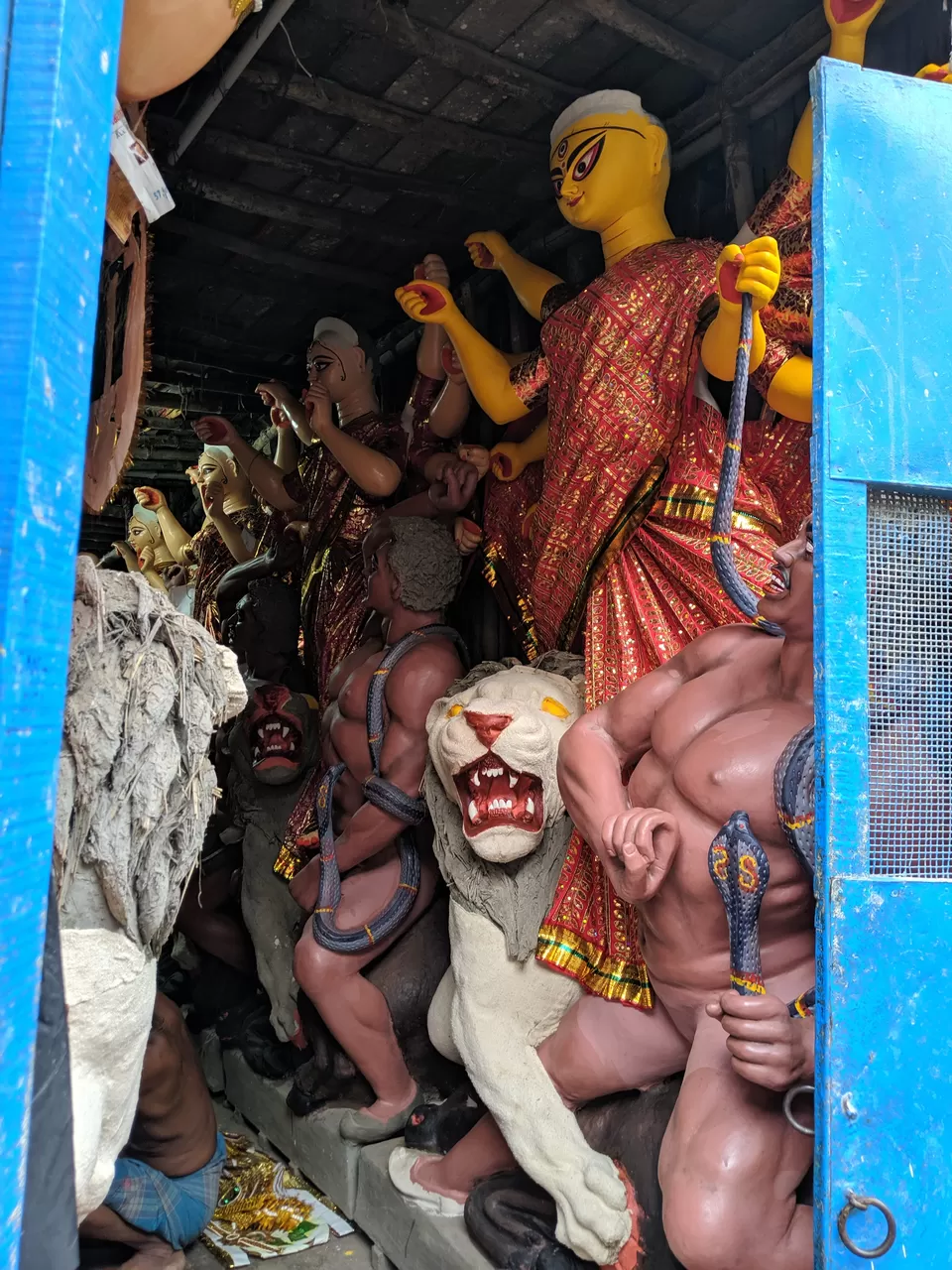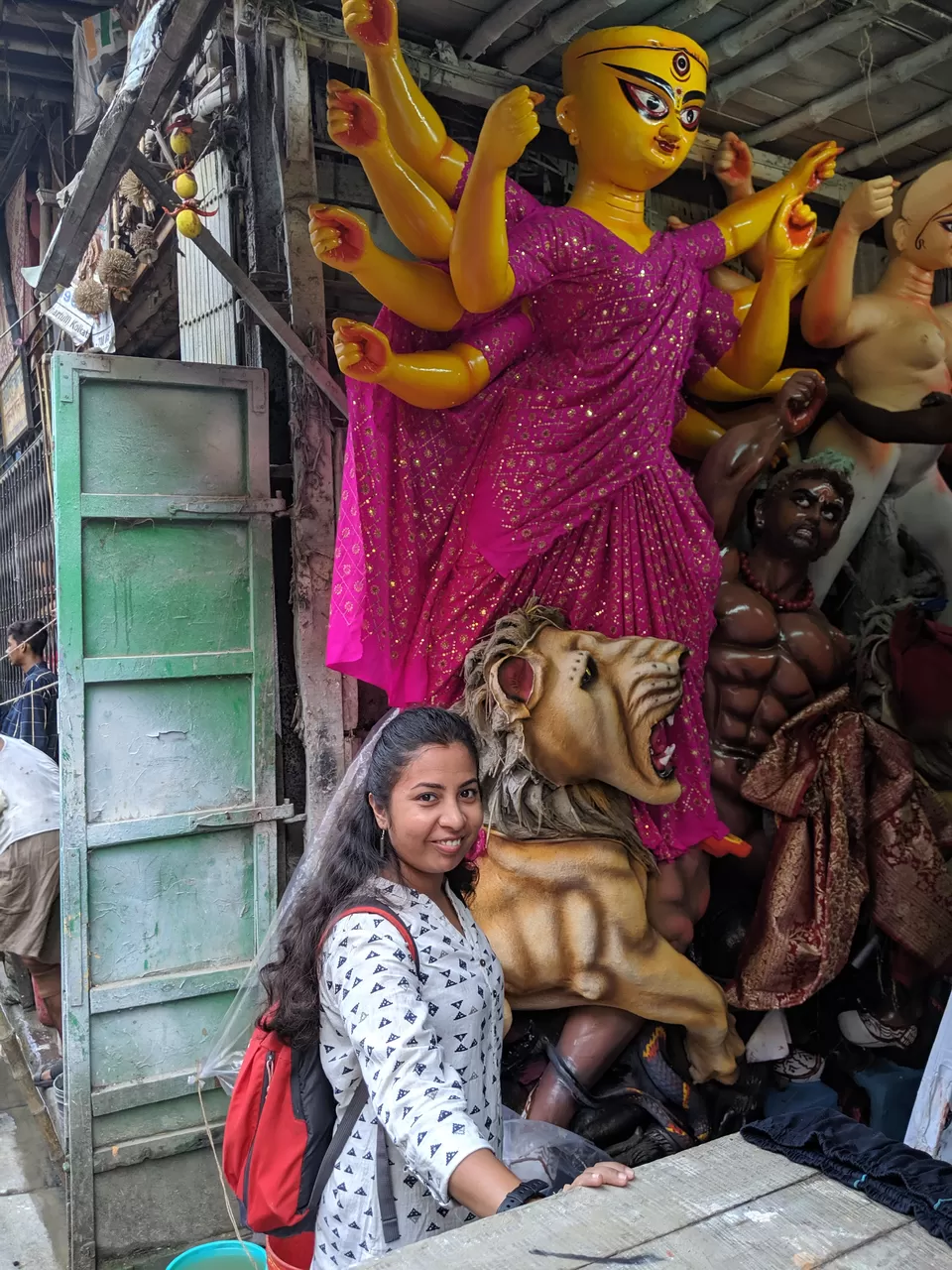 I woke early in the morning to catch my train to Bolpur the next day. It is a city in Birbhum district and approximately 150 kms far from Kolkata. Shantiniketan is a neighbourhood of Bolpur. The local artists sell their crafts in a weekly Bazaar on Saturdays. I boarded the train from Howrah station, the journey took nearly 3 hours to reach the Bolpur Railway station. As soon as I went outside the station, many cycle rickshaw drivers surrounded me for the ride. I randomly chose one of the rides. The weather was soothing that day, raining slightly. First we visited Bangladesh Bhawan, started in India by Bangladesh government. It's a cultural museum depicting Indo-Bangla cultural ties. Some of the sections of the museum were still under preparation to open for public. The museum showcased a tribute to all the members who fought in the Bangladesh liberation war. Outside the museum, for a longer distance, the roads were painted colorfully as if some kind of Rangoli. It appeared to me as if the city was welcoming all with both the arms wide open.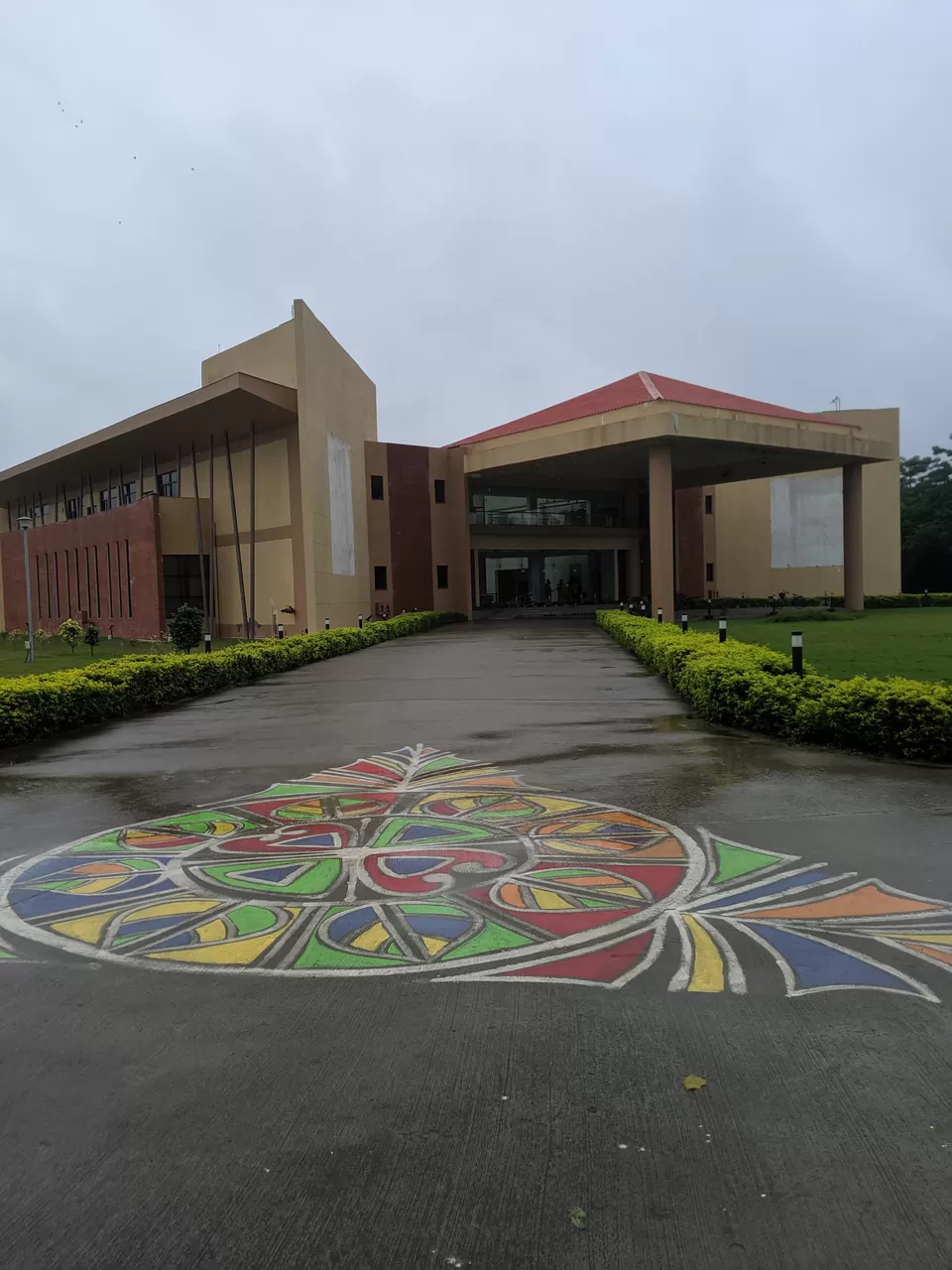 The next destination was, of course, Shantiniketan. It's not a city's name, it's an educational campus residing in Bolpur town, established by Maharshi Devendranath Tagore and later expanded by our beloved Rabindranath Tagore. My cycle rickshaw driver, Papon, was riding the cycle with full energy and providing all this information to me simultaneously. The fun part was, he was speaking only in Bengali. But I understood what he was trying to say. The campus included many departments, student quarters, teachers' quarters. It was established in the coexistence of nature. As the days of Durga Puja were approaching, many of the students went home. Students of Viswa Bharati, Shantiniketan were allowed to ride only bicycles. There was no honking, the ambience was peaceful. If one wants to meditate in nature, this was the perfect place.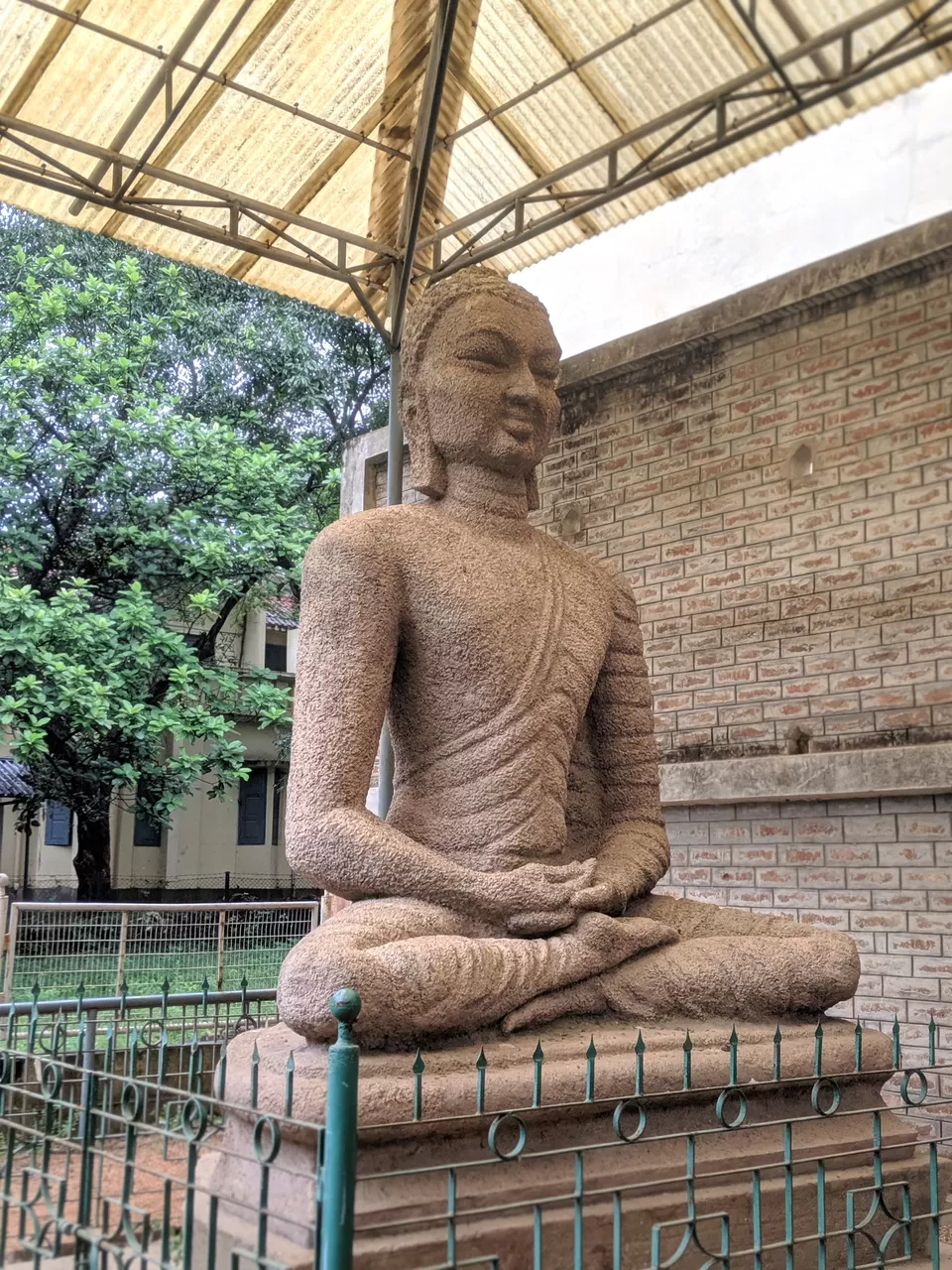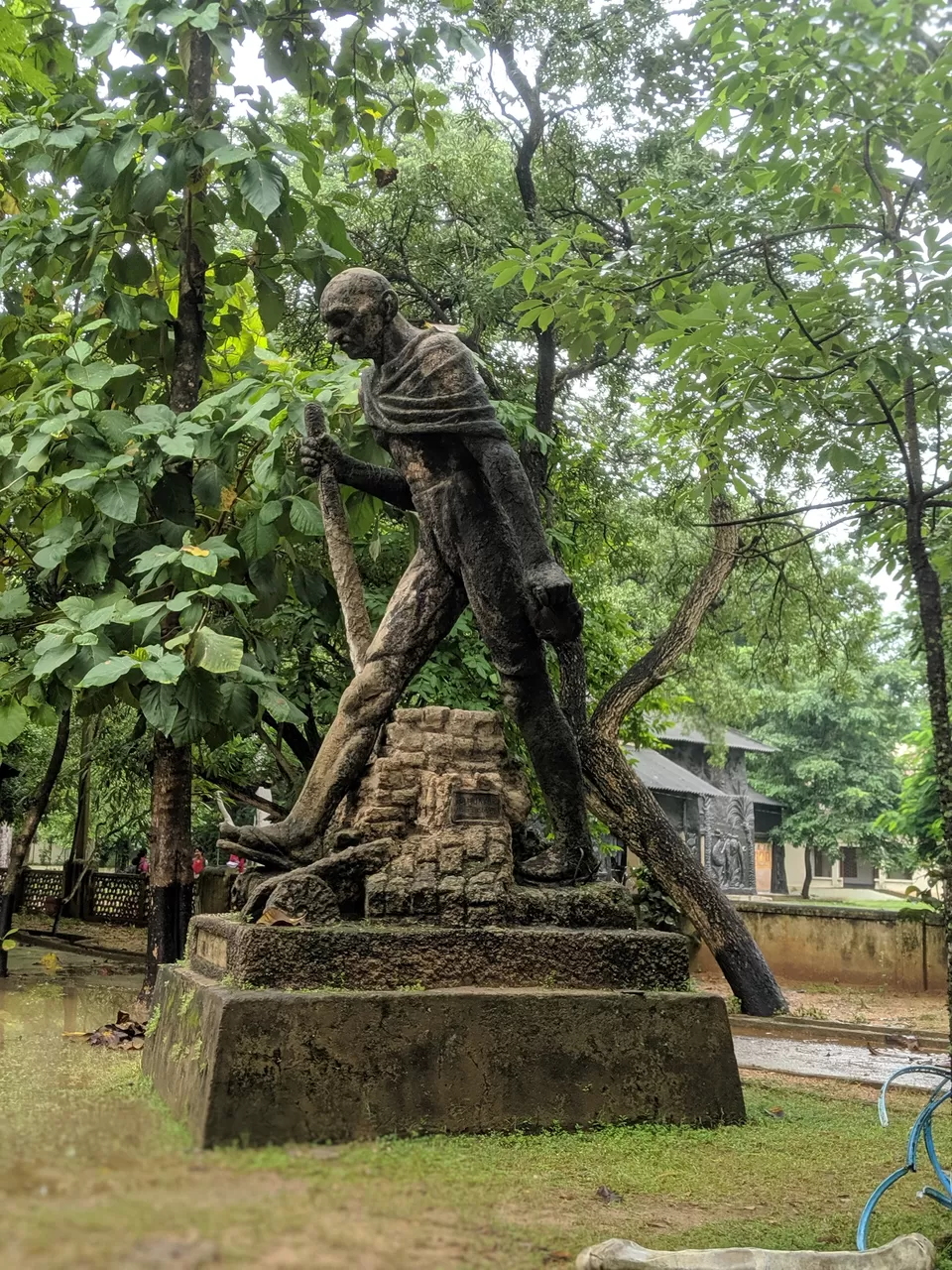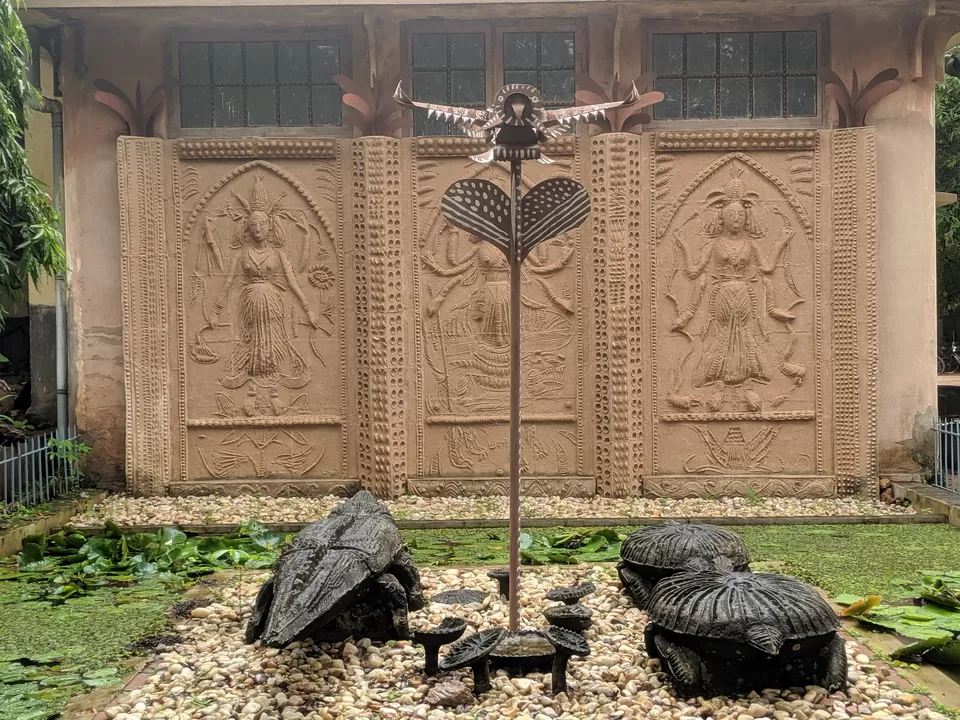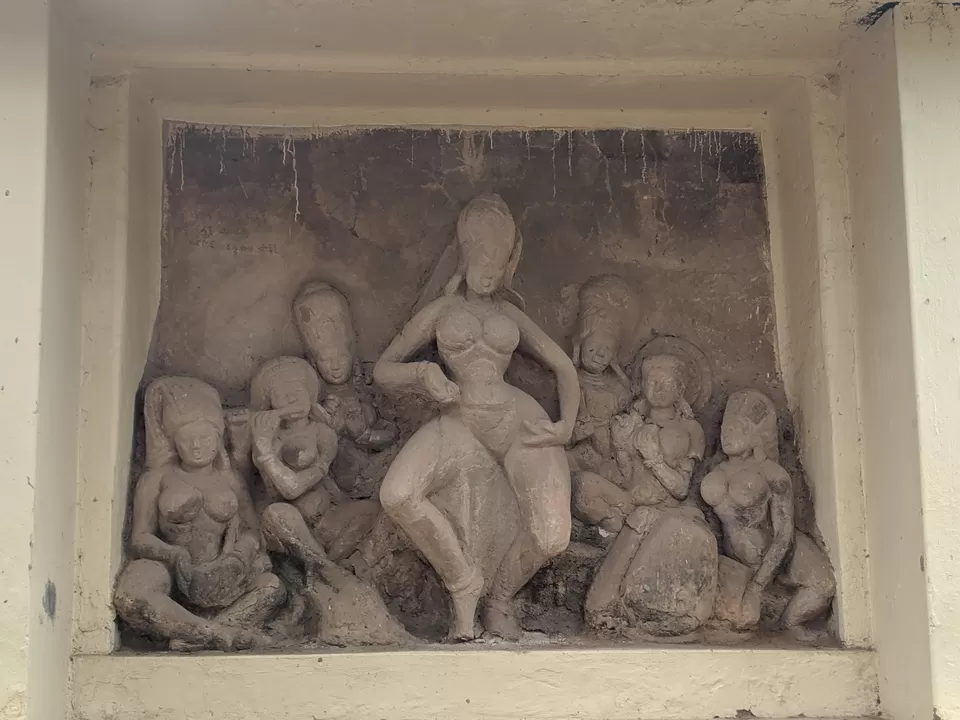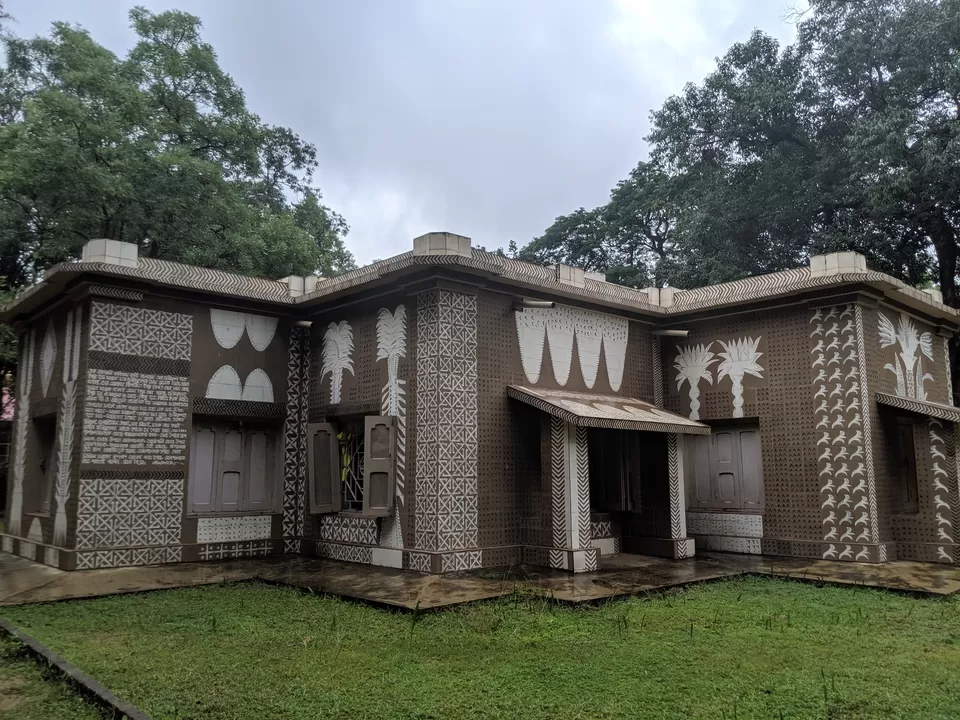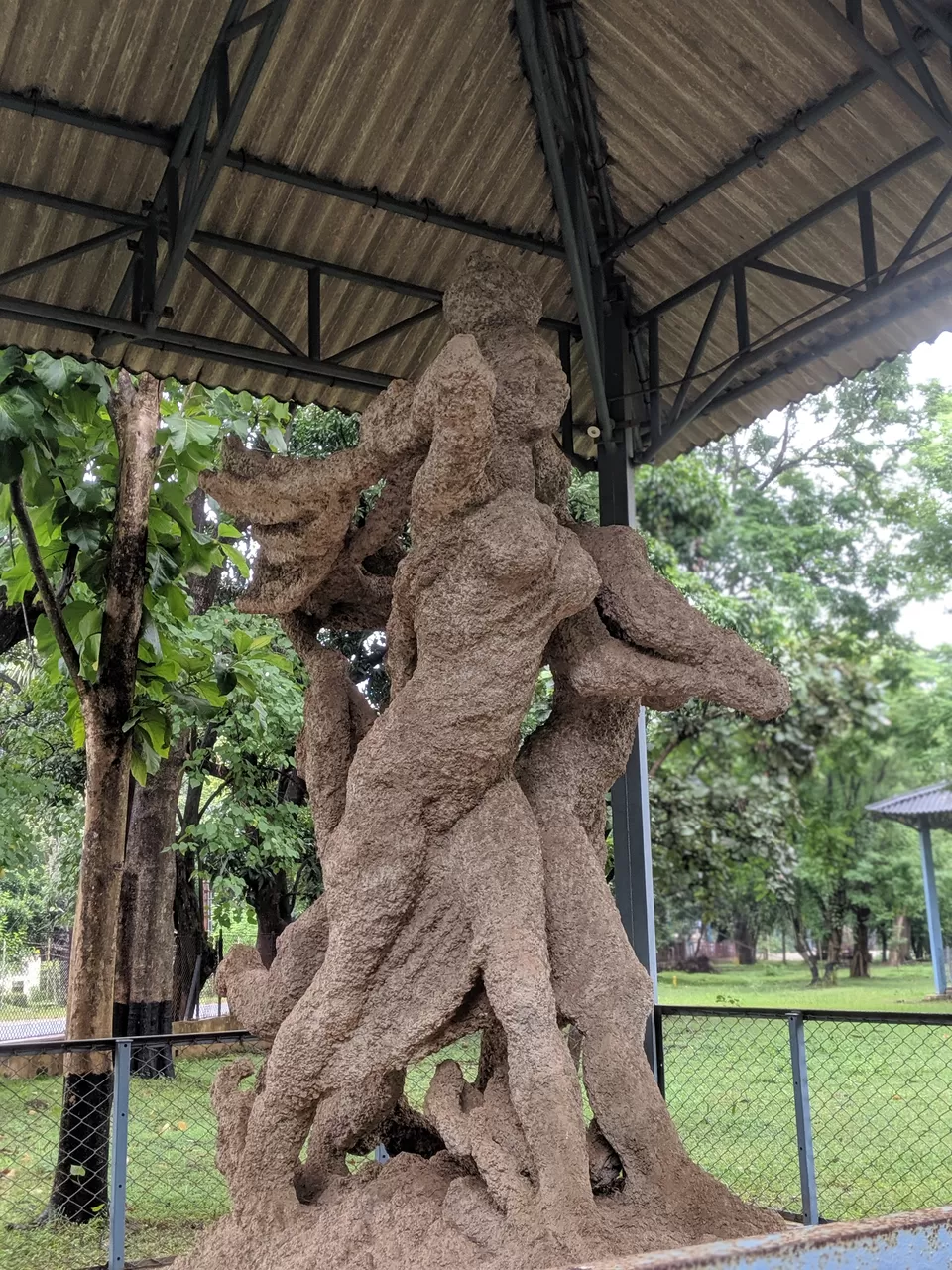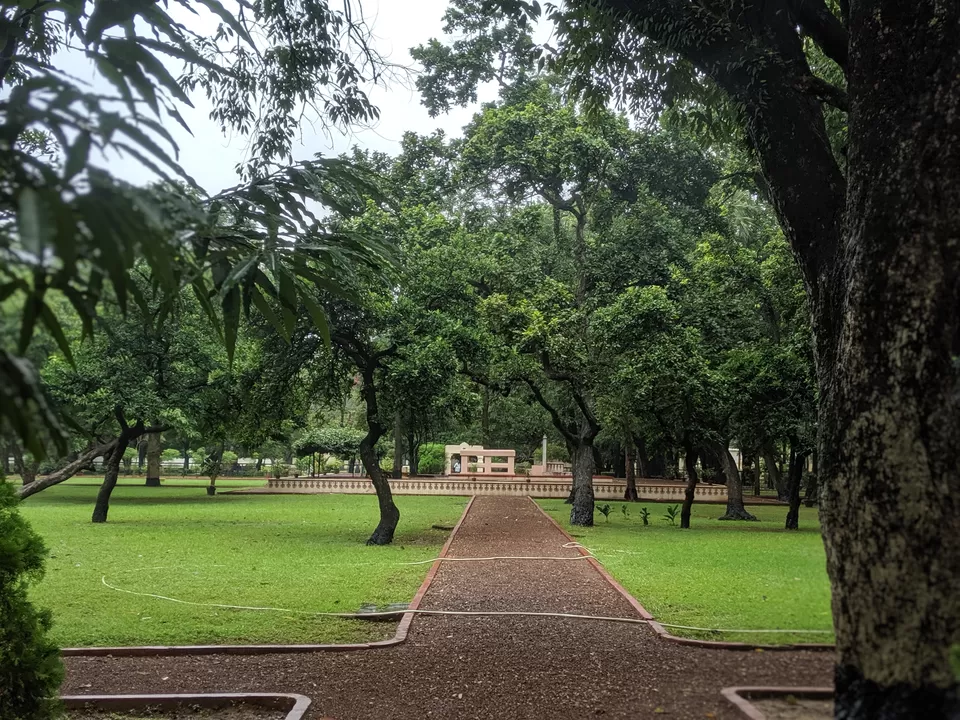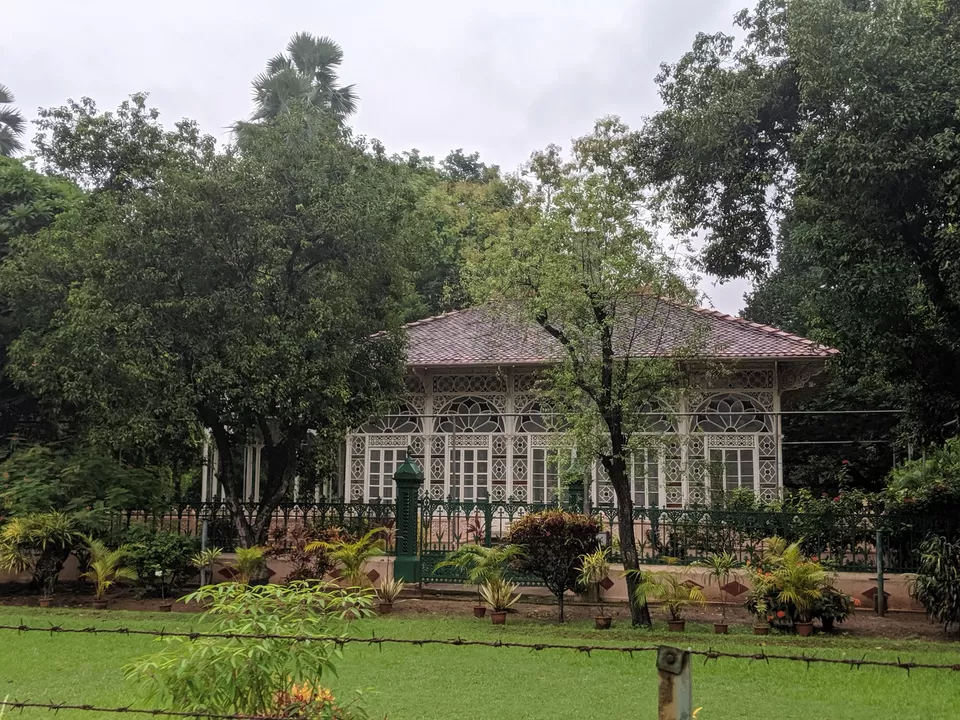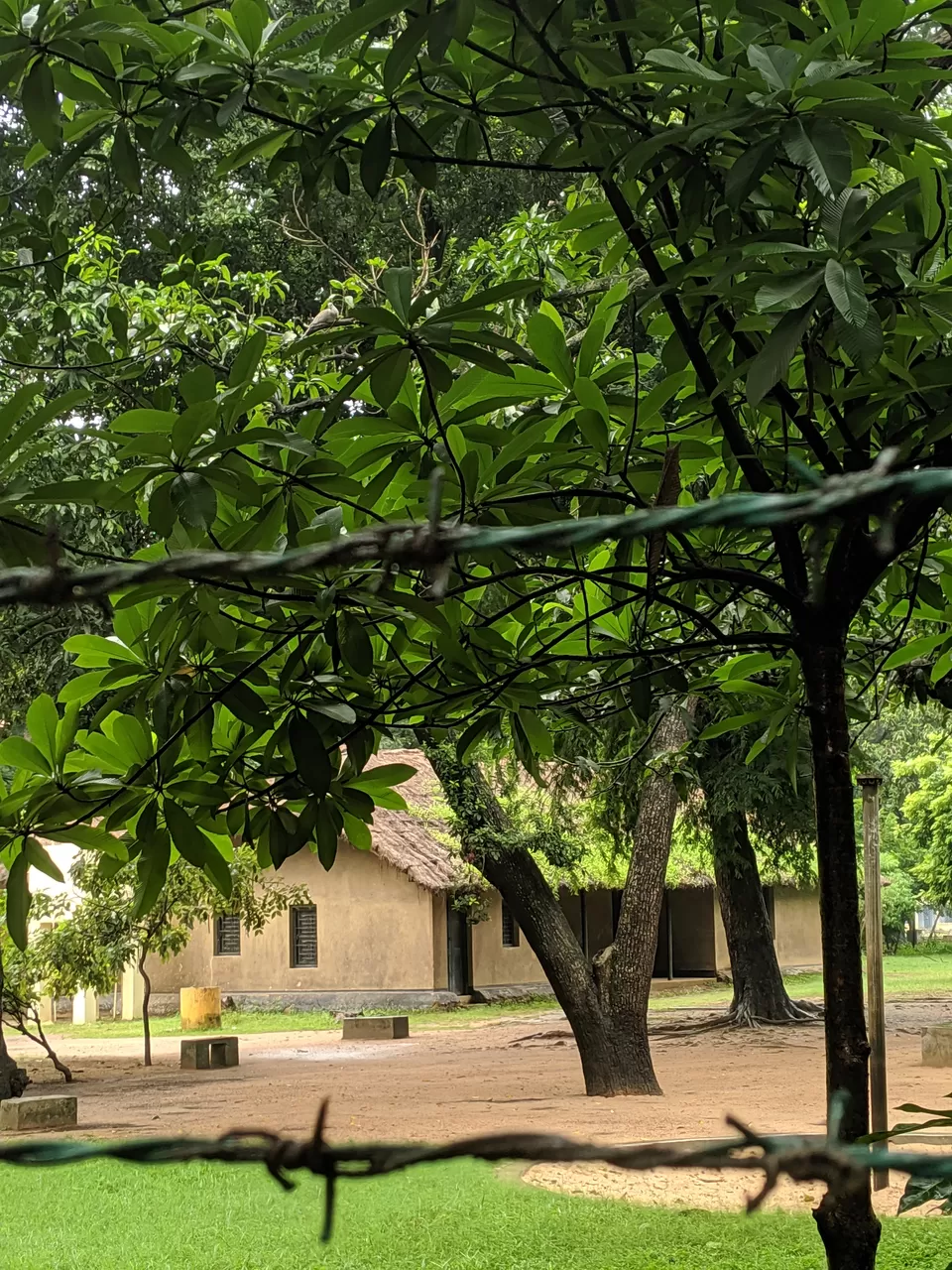 I consider myself very lucky that I saw the places where Rabindranath Tagore used to sit and work. There was a giant Banyan tree under which he used to meditate.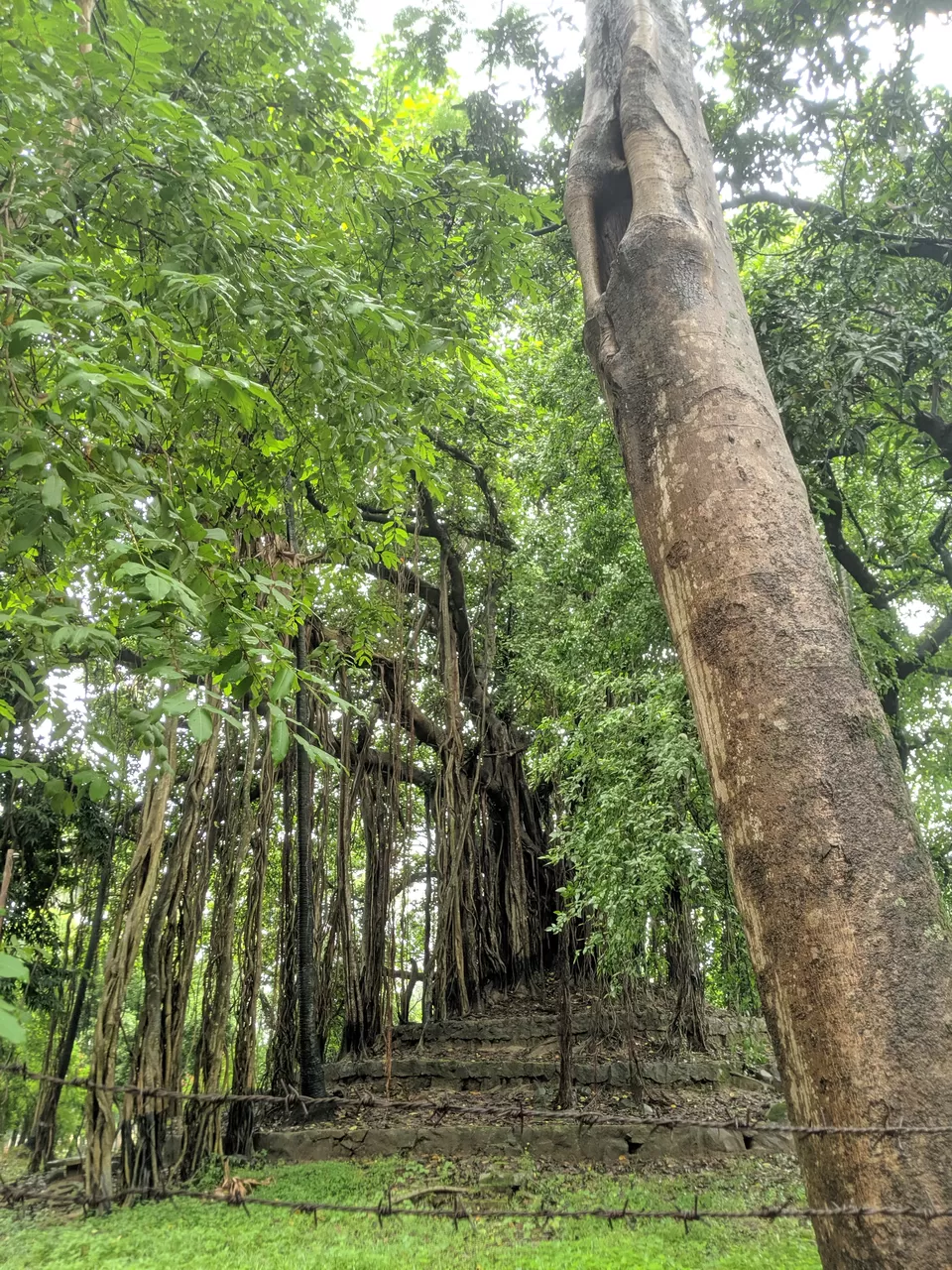 It was a cloudy day with showers now and then. I felt that a visit to Shantiniketan shouldn't be in such a haste but at least a weekend getaway. There are many places where we can stay. Bookings can be done online. Papon and I had our lunch at one place called 'Ram Shyam village resort'. They served authentic thali. We then visited a nearby Buddha idol.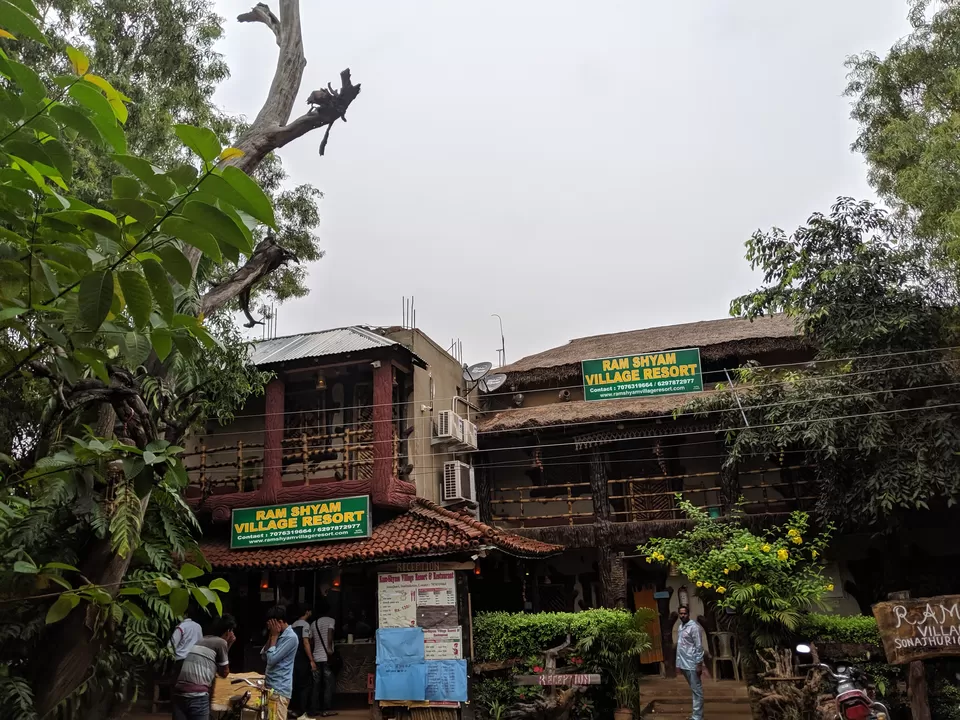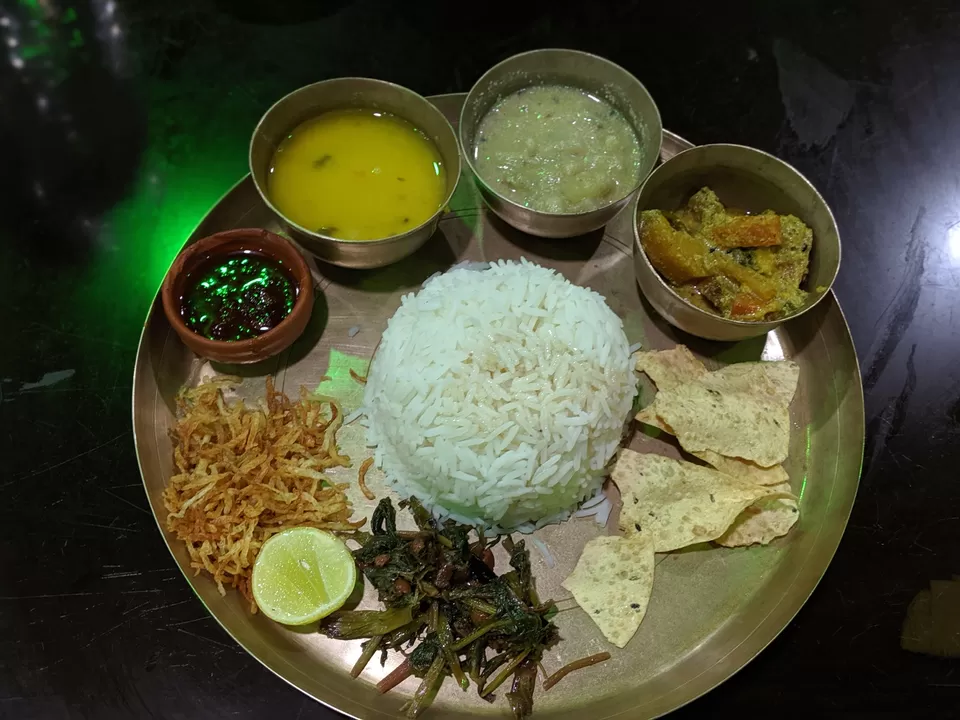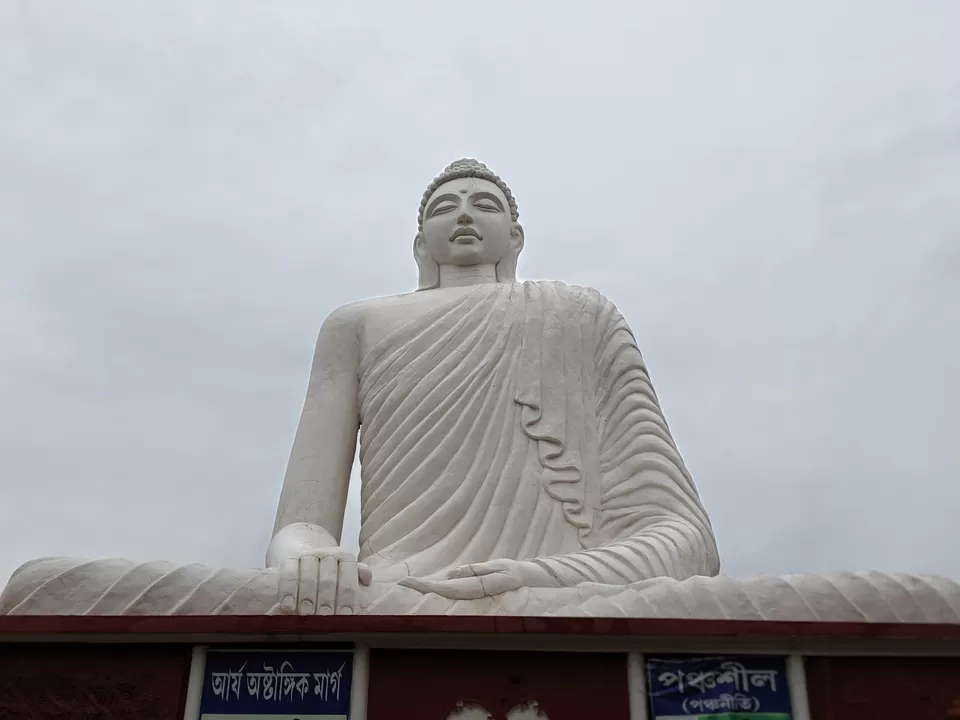 In the evening, I kept an hour spare for Bolpur bazaar. Here one can shop a variety of things like sarees, chunnis, jewellery, showpieces, artifacts, keychains, and many more. Bengal is famous for Kantha work. I bought 2 sarees and one dupatta. The price is way cheaper compared to that of Kolkata. On the way to Bolpur railway station, we made a halt for Rabindranath museum and college campus. It was the last day of college before the Durga Puja holidays. Everyone was in traditional attire. I became a fan of Bong girls' fashion sense. As the atmosphere is humid, wearing cotton is preferred. Papon then dropped me at Bolpur station. We had decided on Rs. 500 for the entire day. I gave him Rs. 600, and I still thought it was quite less as compared to his efforts. My train was late. I reached Kolkata at around 10 PM. I had a hard time getting any cab outside Howrah station. Ola and Uber points were at far distance and the station cab booth had a ling queue. at far After one hour I finally got one cab. Reached home at around 12. Madhumita was still awake, she served me dinner. I quickly had dinner and slept right away. Although feeling more sick due to fever and cold, the day was totally worth it.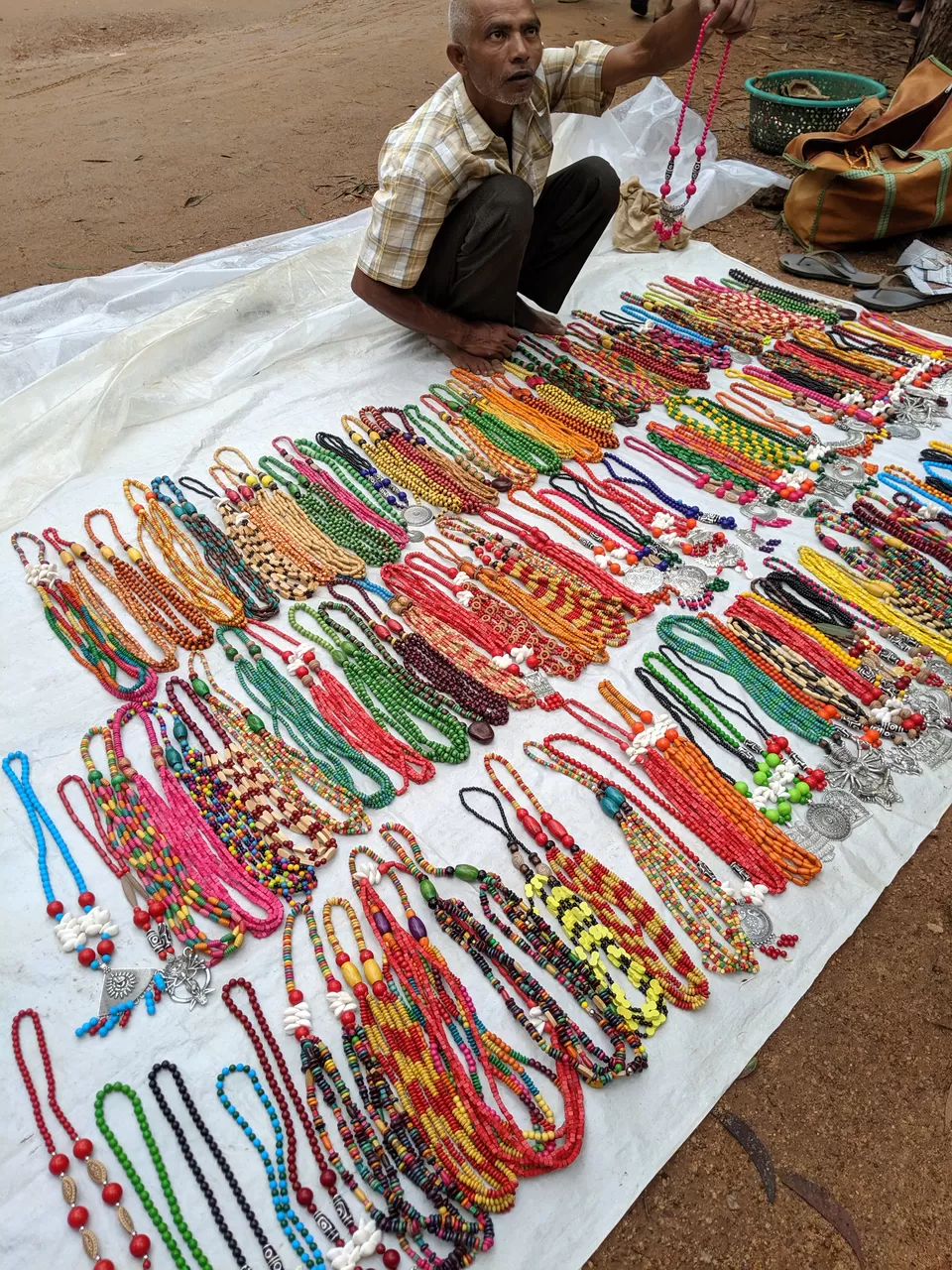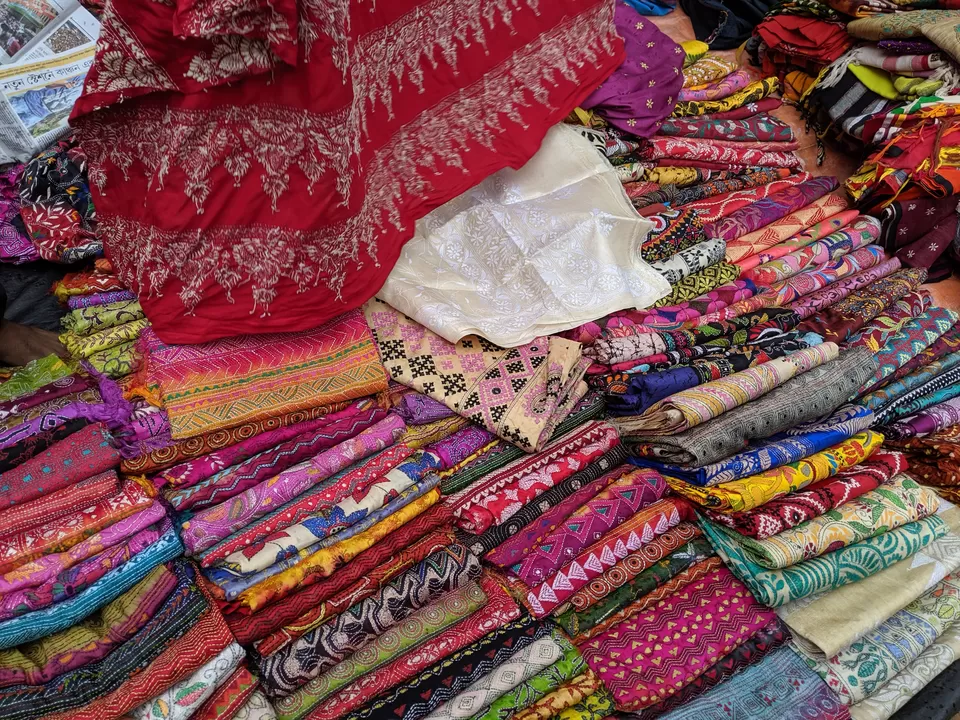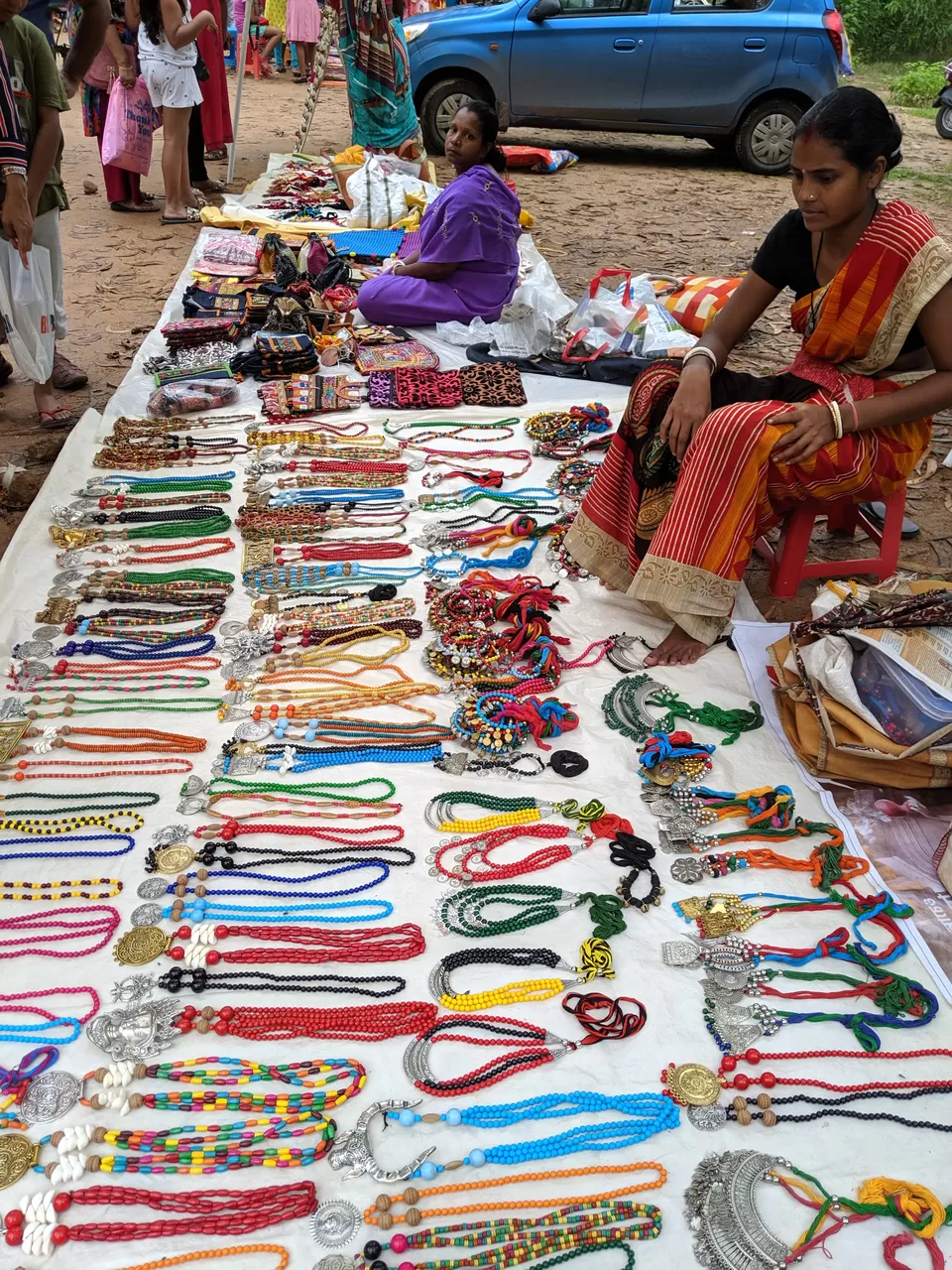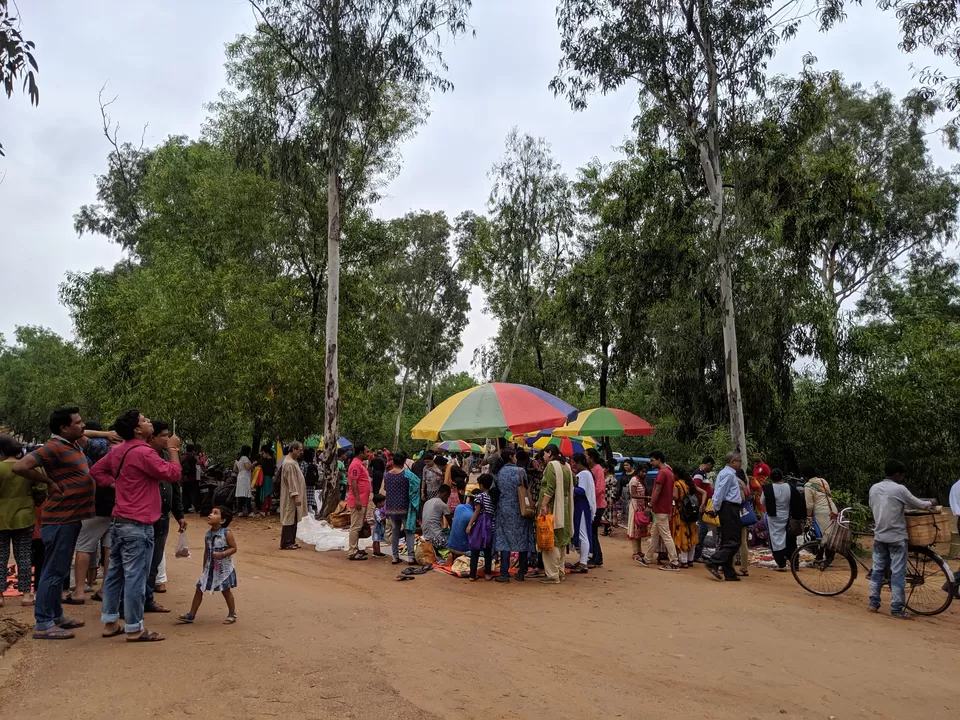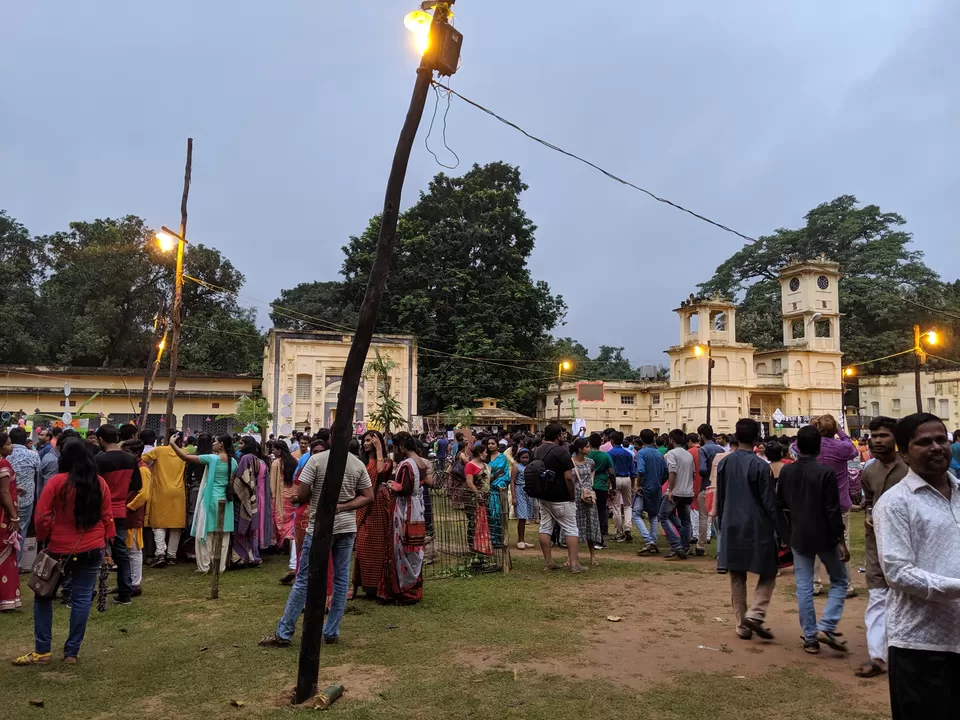 I felt even more sick the next day. So I rested for most of the day. In the evening I went to Birla Mandir, a temple worshipping Lord Krishna and Radha. It's in the Ballygunge area. This time I travelled on a bus.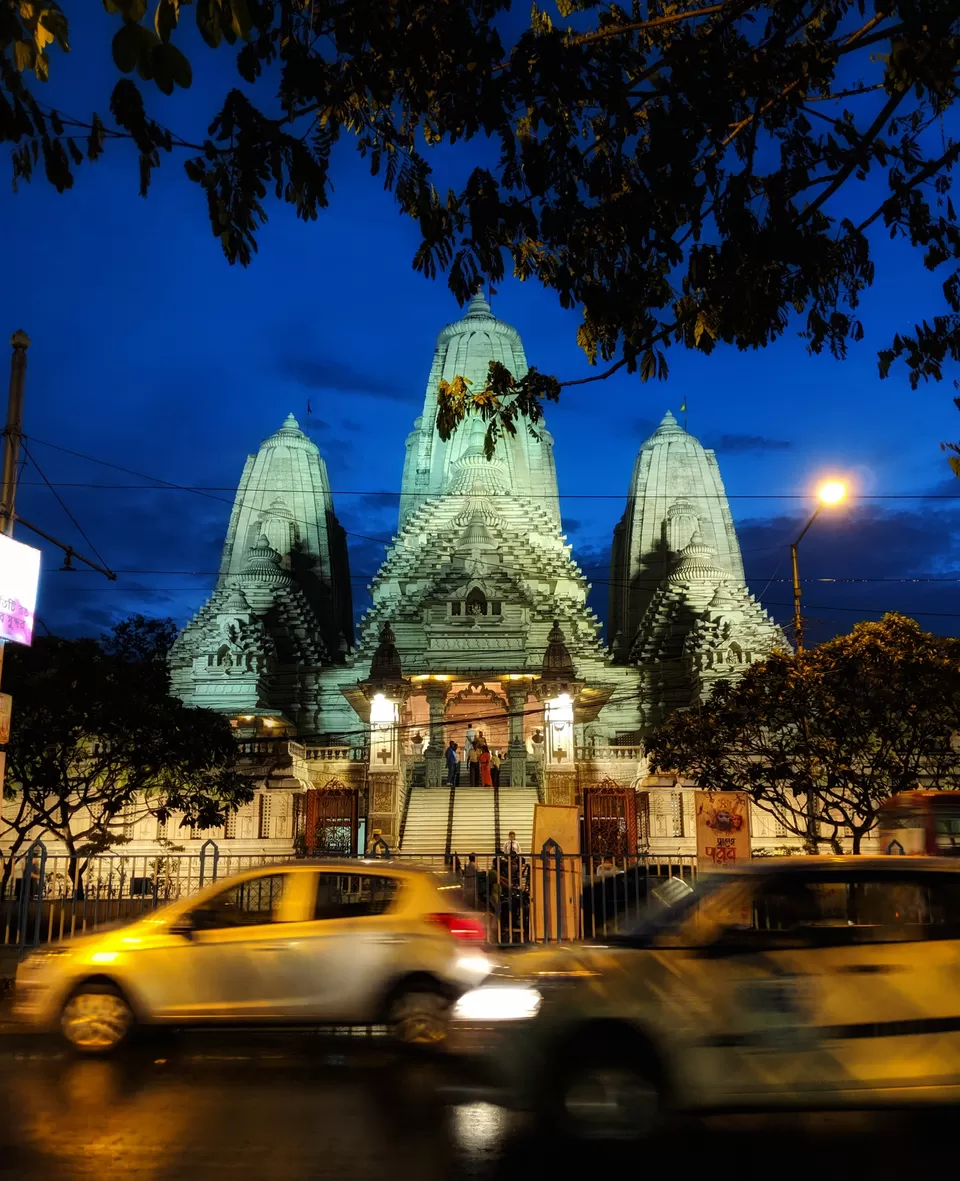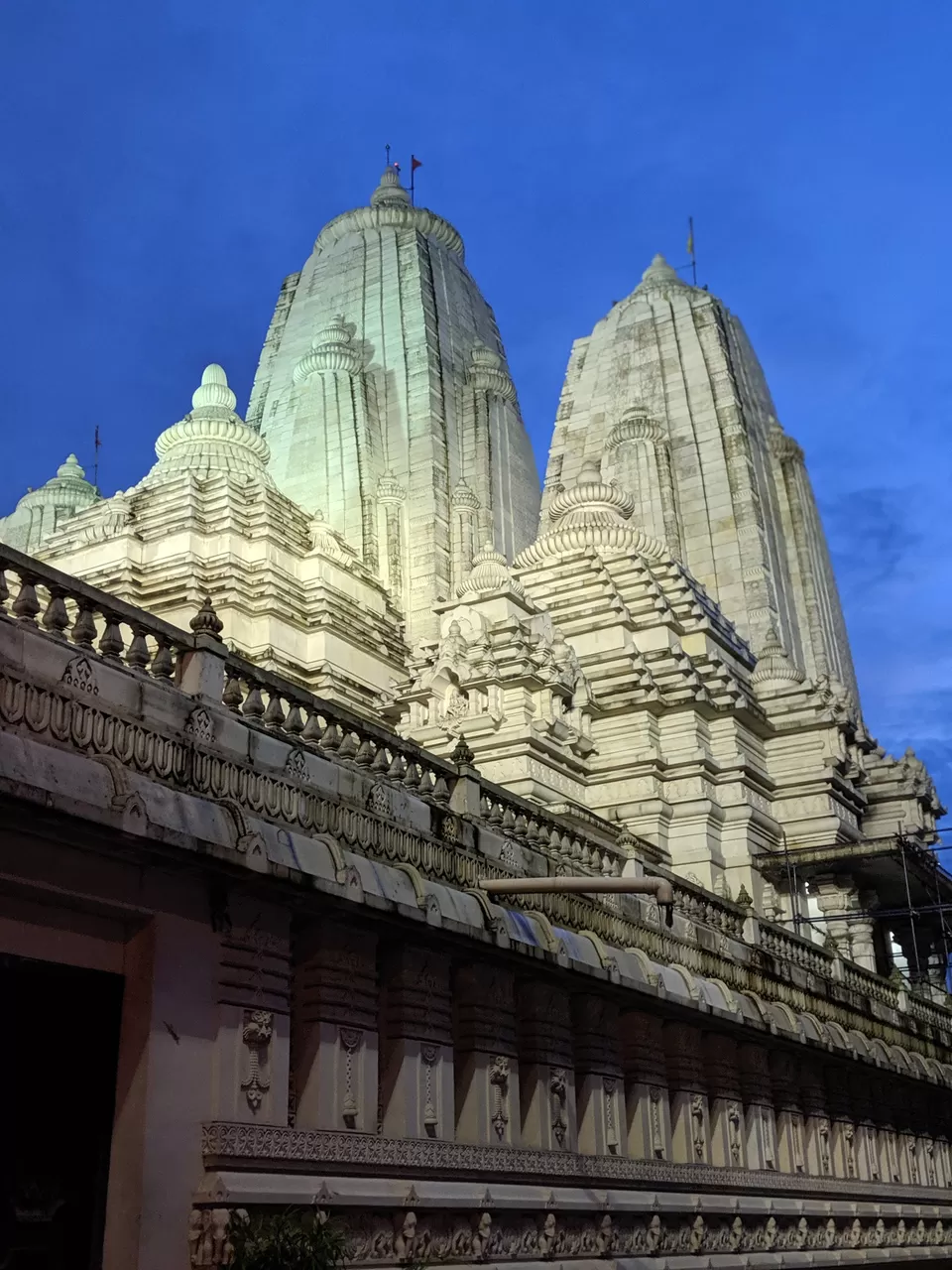 On Monday I felt slightly better. So after lunch, I boarded a bus and went to a nearby shopping complex called Dakshinapan- a small shopping complex with many shops selling sarees, kurtas, artifacts, jwellery, etc. I bought a few things- a handloom Sari, typical Bengali style jewellery. Outside the Dakshinapan, there too were small shops selling Bong jewellery. Bong women prefer big size pendants and beads made of cloth. While returning I had crab soup and starter of Bhetki fish.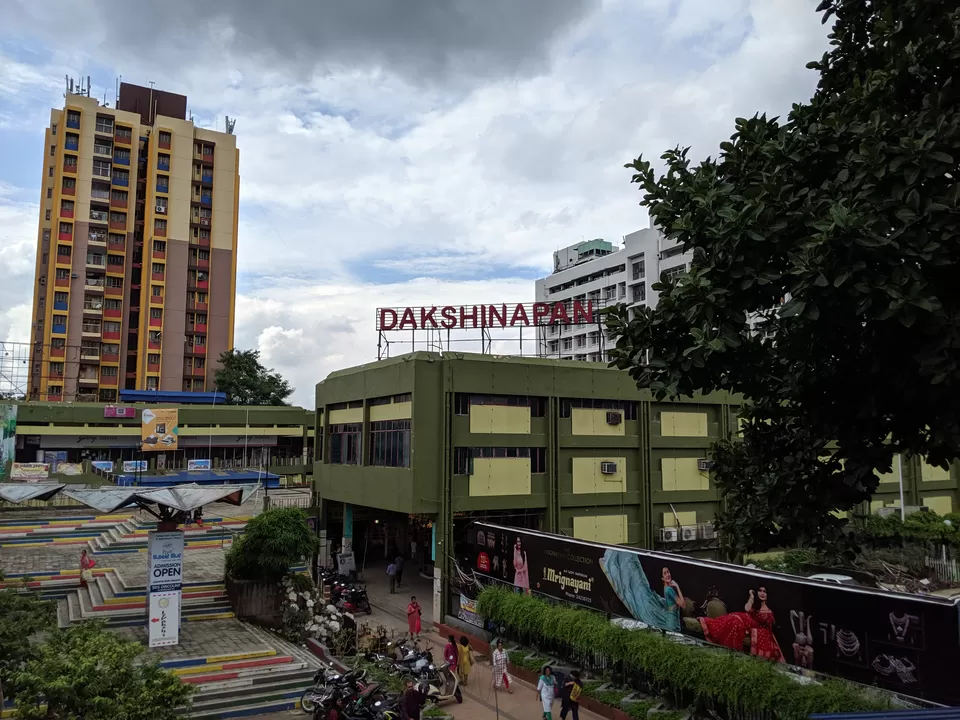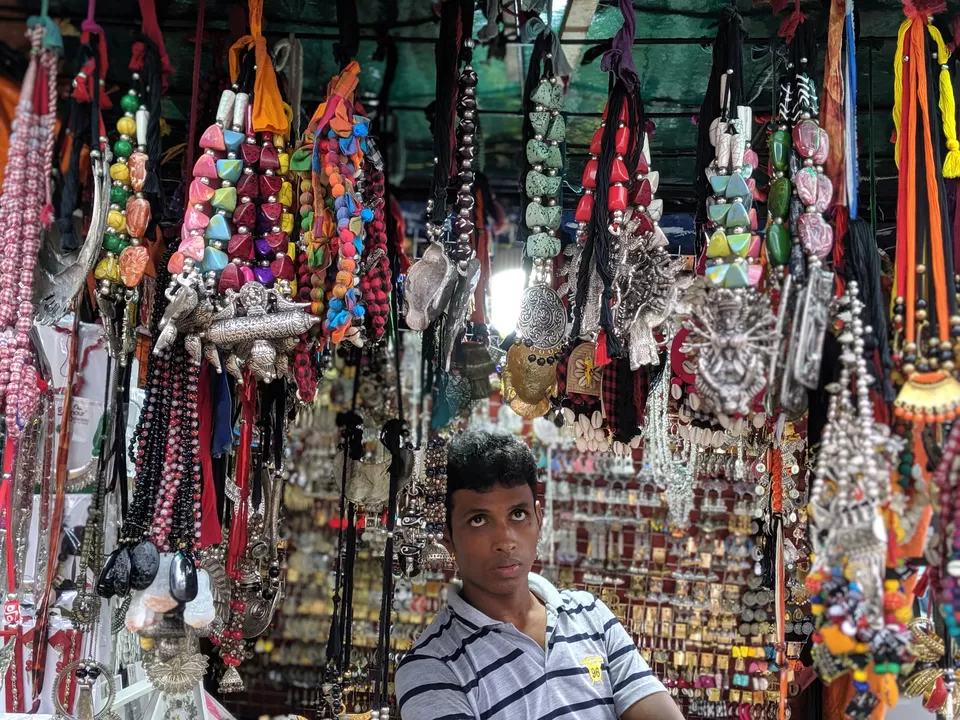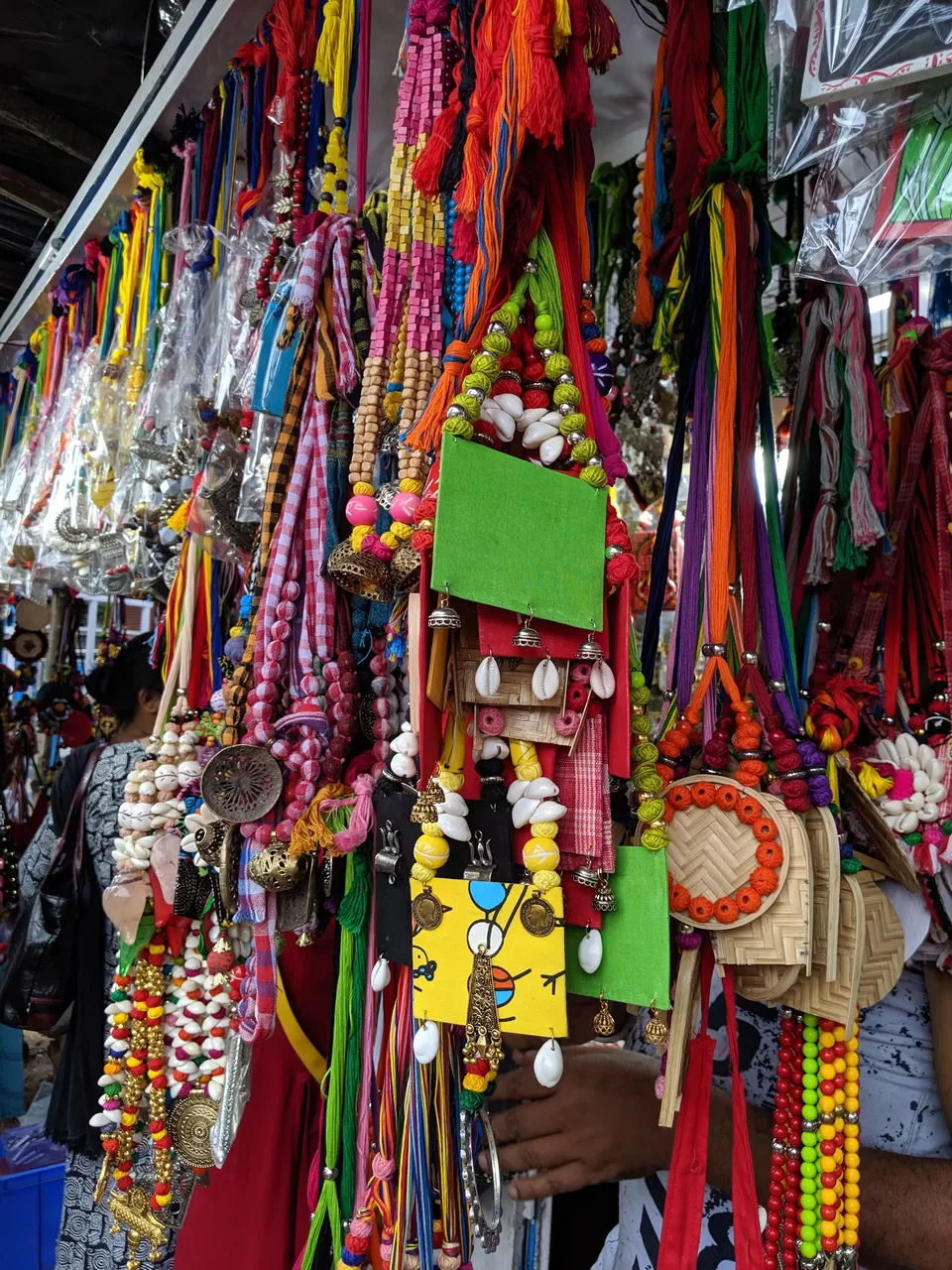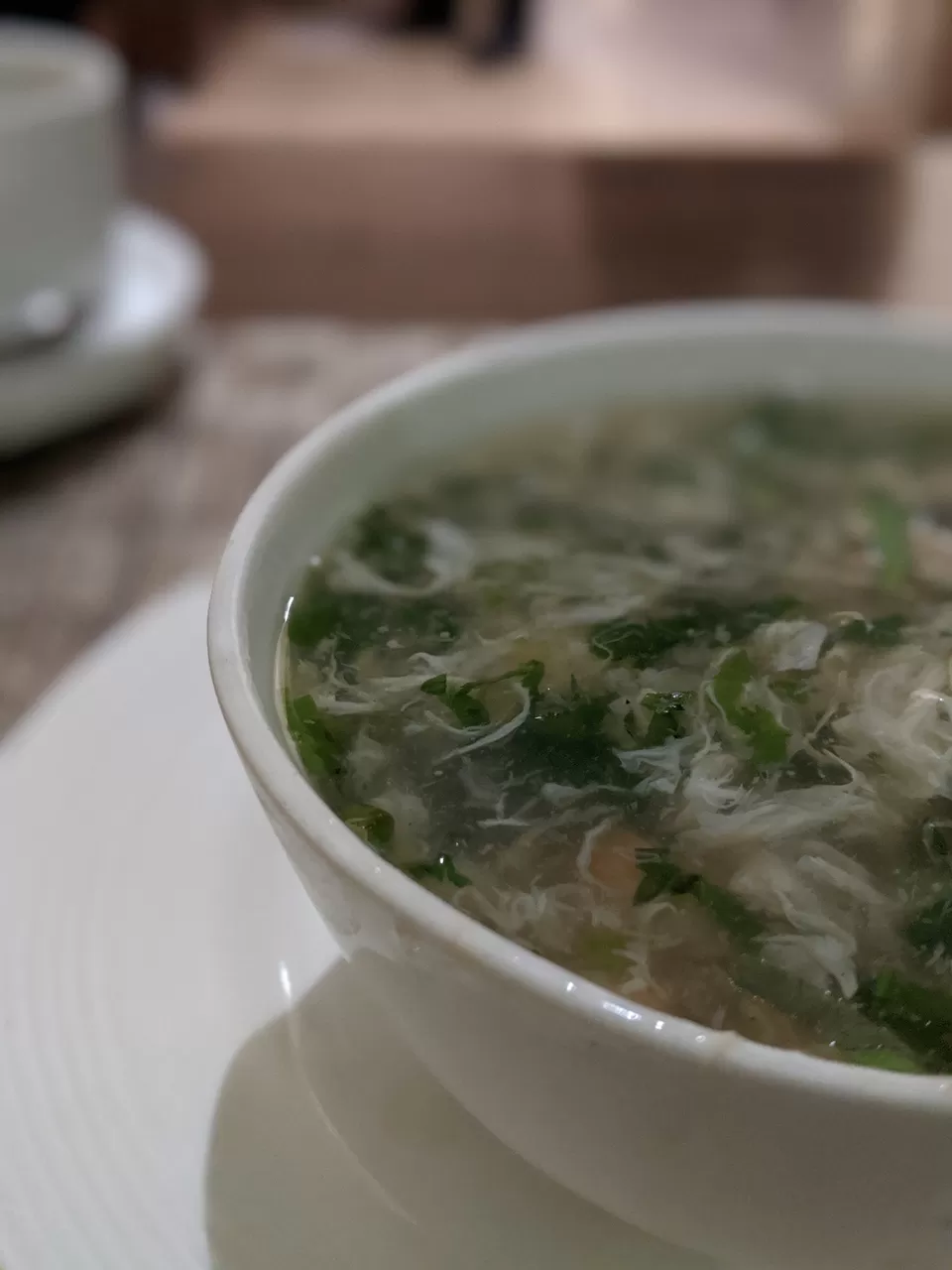 Next morning, I had my breakfast and boarded the metro for Maidan station. Had to walk for a kilometer to reach Victoria Memorial. It opens the gate at 10 AM. Entry fee is Rs. 20. Victoria Memorial was built in the memory of Empress Victoria and is situated in central Kolkata. The campus was designed with multiple gates and a building situated centrally of the campus. It is built of white marble with a central dome and mainly of British architecture. The gardens are designed with a small lake and covers a large area. One can walk around the campus noticing the beauty of the building from every direction. Approaching the main building, there is a statue of Queen Victoria on a throne. Inside the building they have a museum. Photography in the museum is not allowed.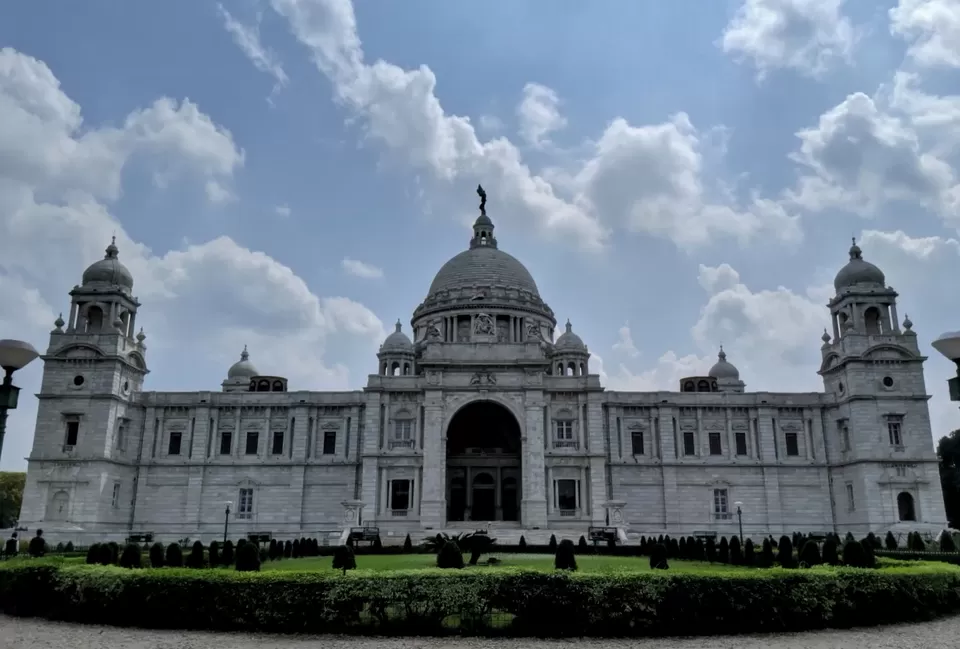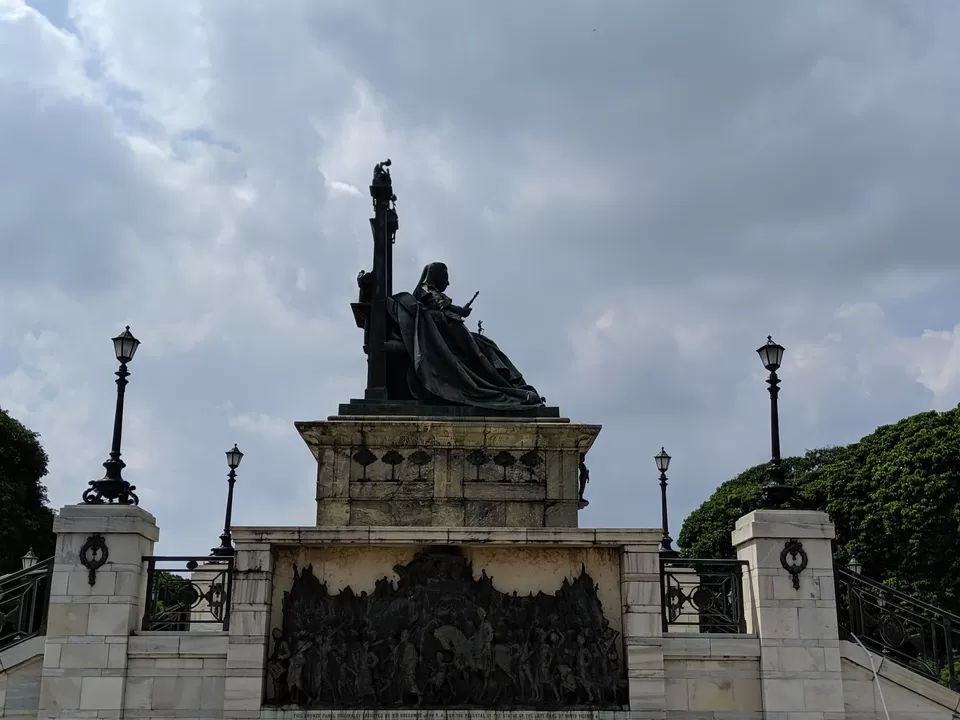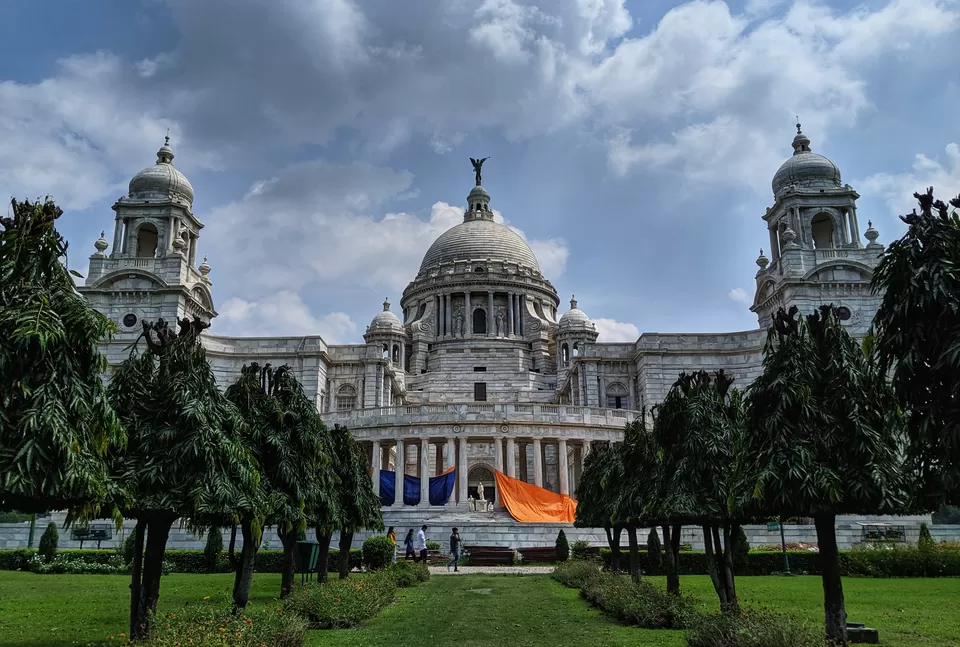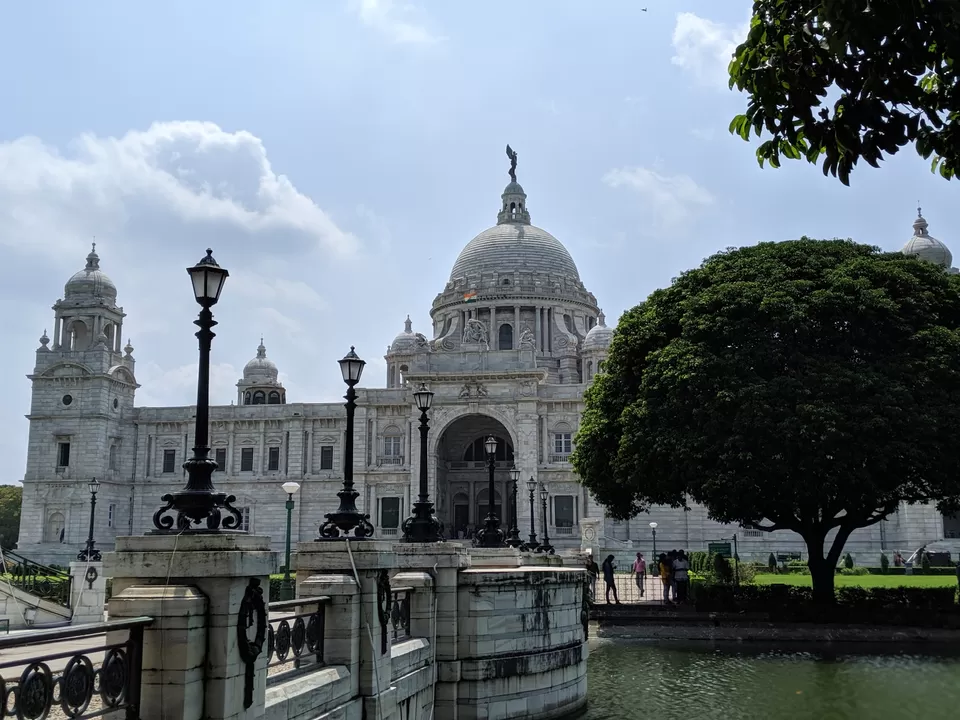 Victoria memorial to Birla planetarium is approximately 500m. The show was for 1 hour and they had provided multiple slots for different languages: Hindi, Bengali, English. The auditorium is big inside. I chose the show in English. It was my first ever experience in a planetarium and I enjoyed the show.
Entry ticket is for Rs. 100.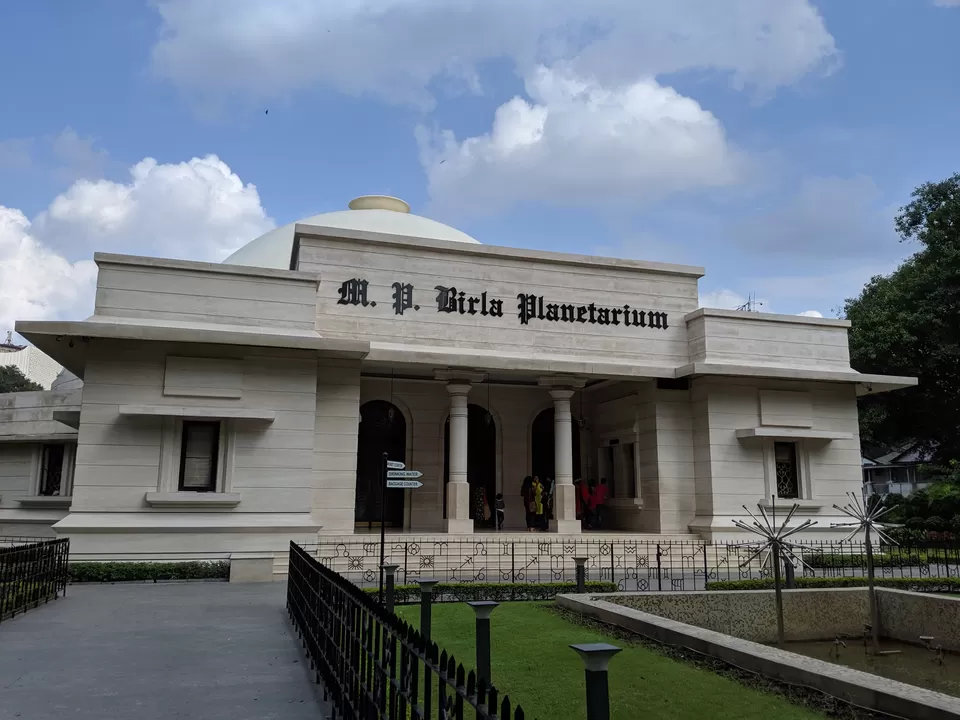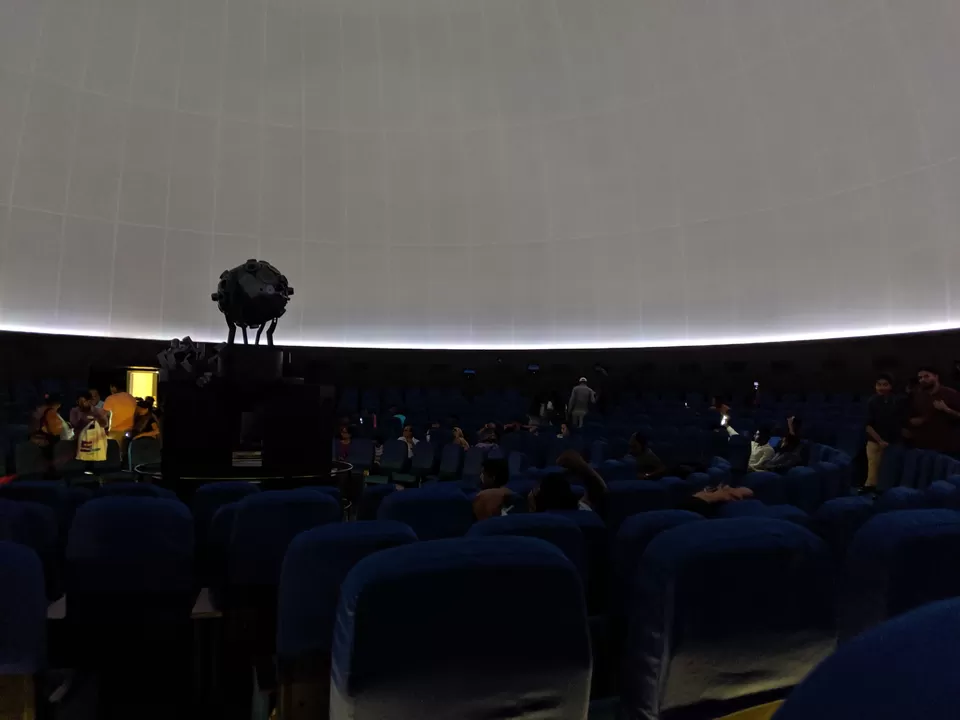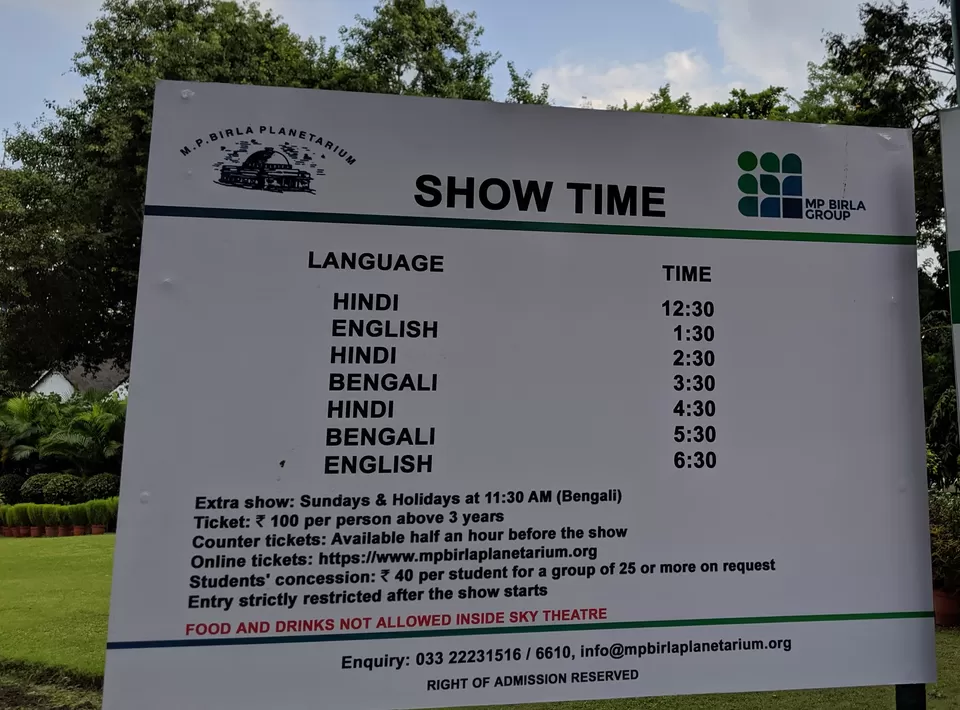 Beside the planetarium, it's St. Paul's Cathedral. It's a beautiful building dedicated to Paul, one of the apostles and known for its Gothic architecture.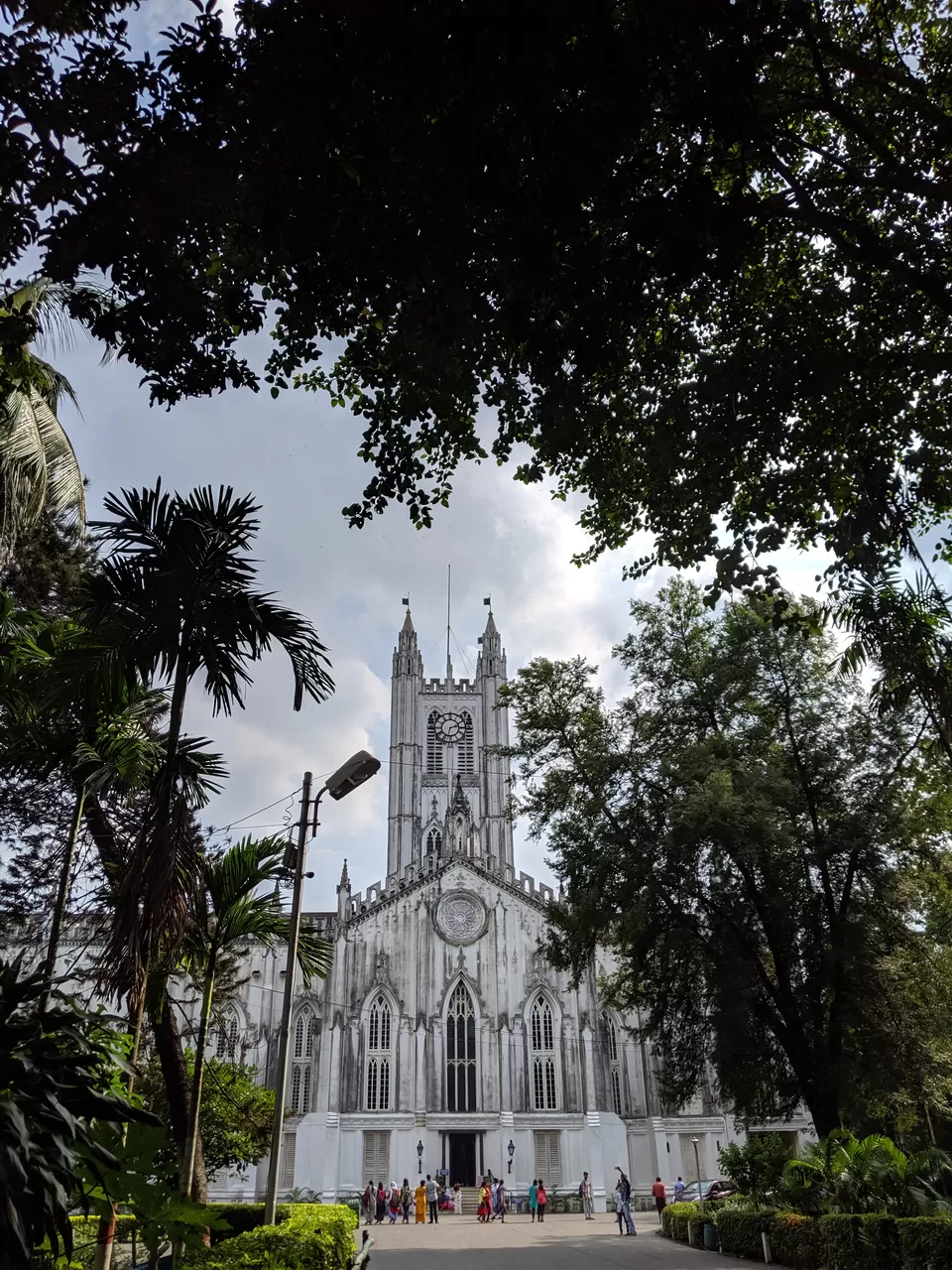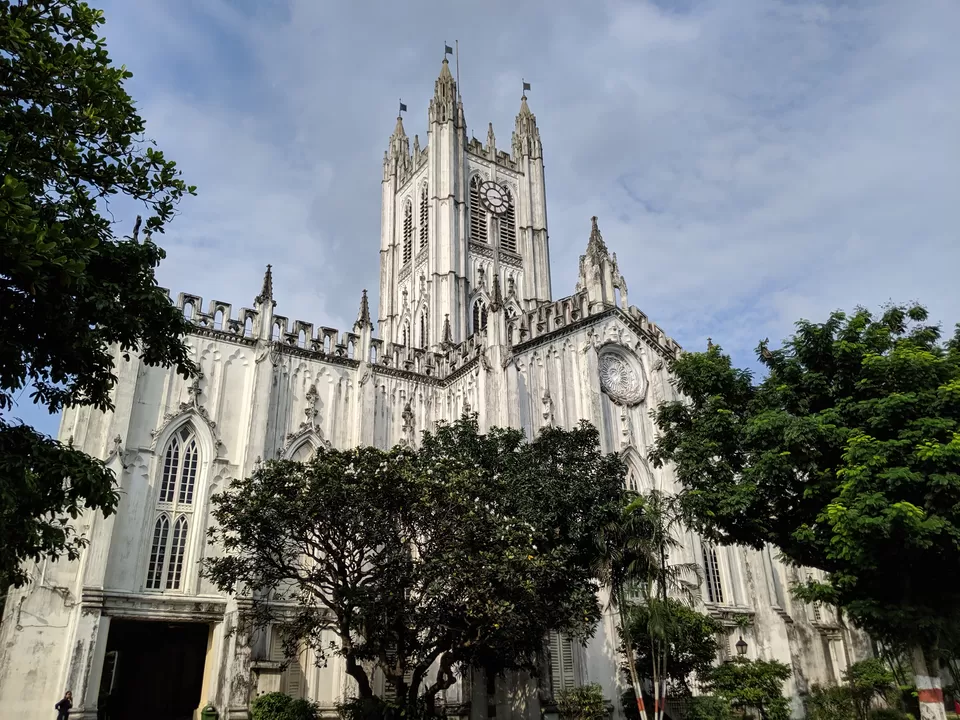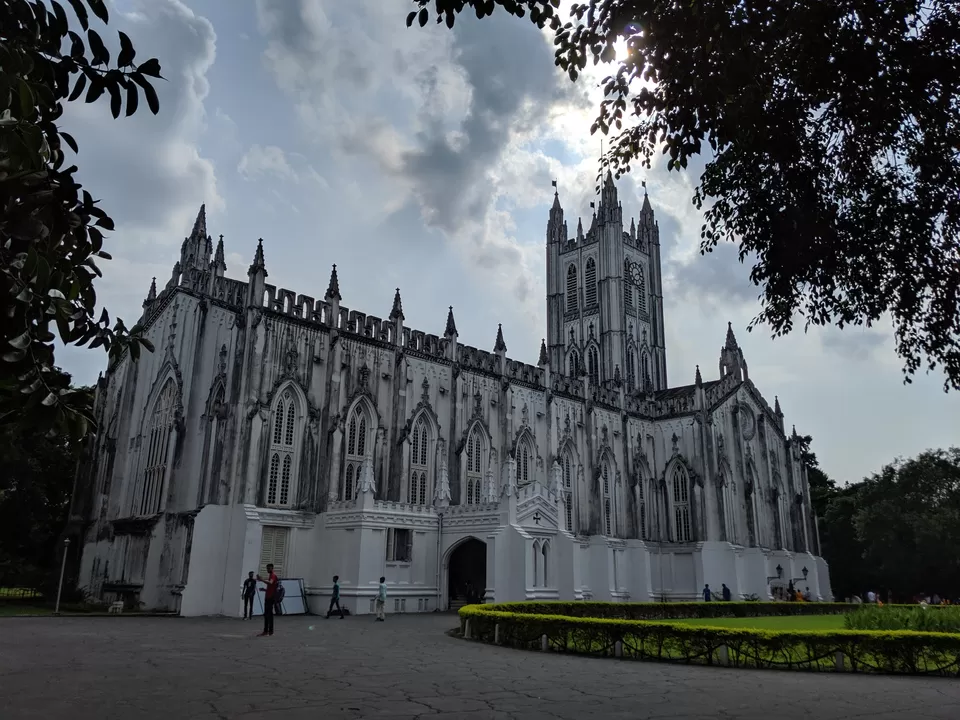 With all this sight-seeing, I was starving. I walked to Park street which was around two and half kms. Some of the buildings on the way reminded me British-era Mumbai buildings. When I went to Park Street, Flury's Cafe was my first choice. It's known as 'Queen of Park street' and considered as best place for breakfast. I really liked the food there but thought a little expensive.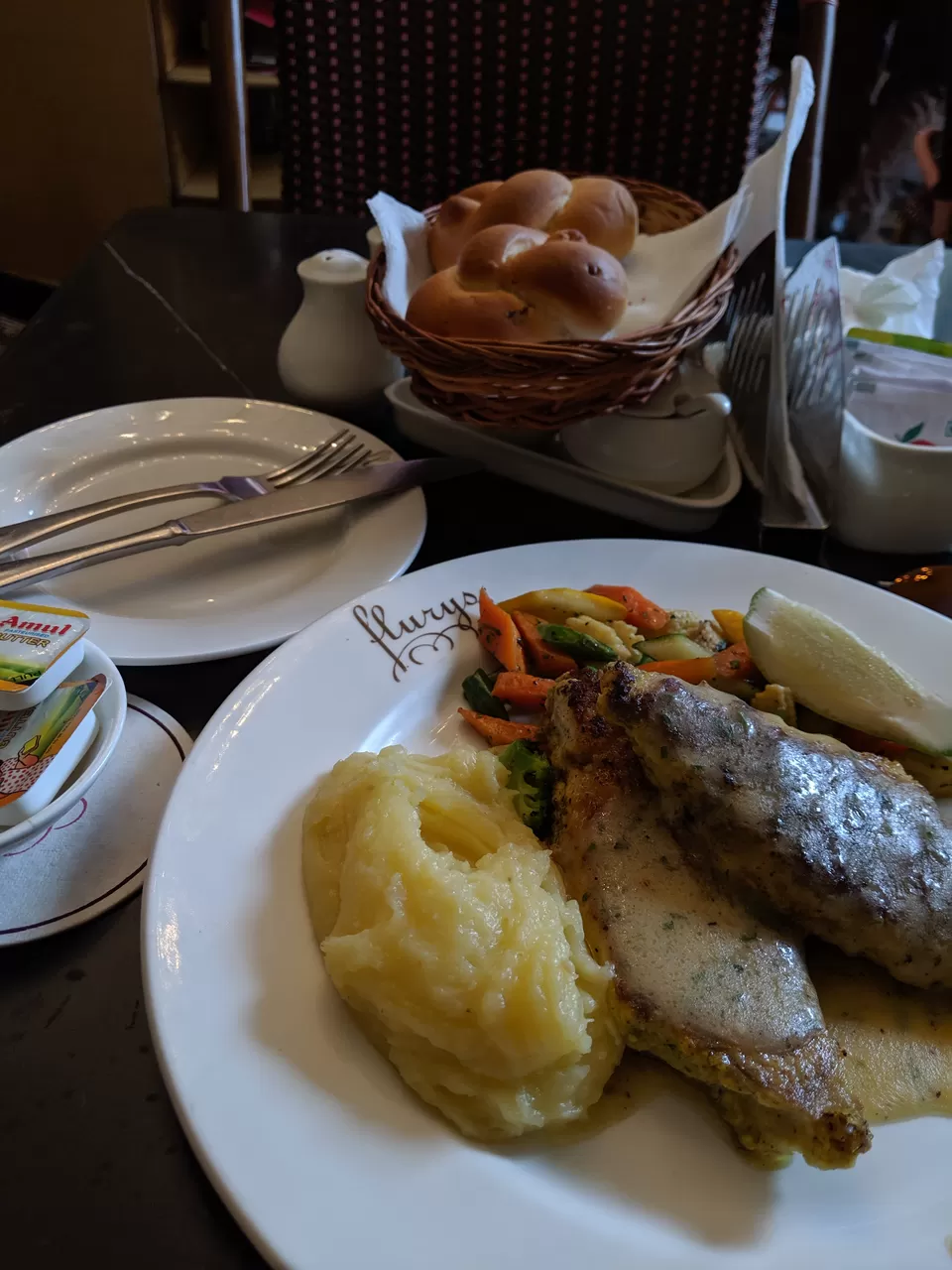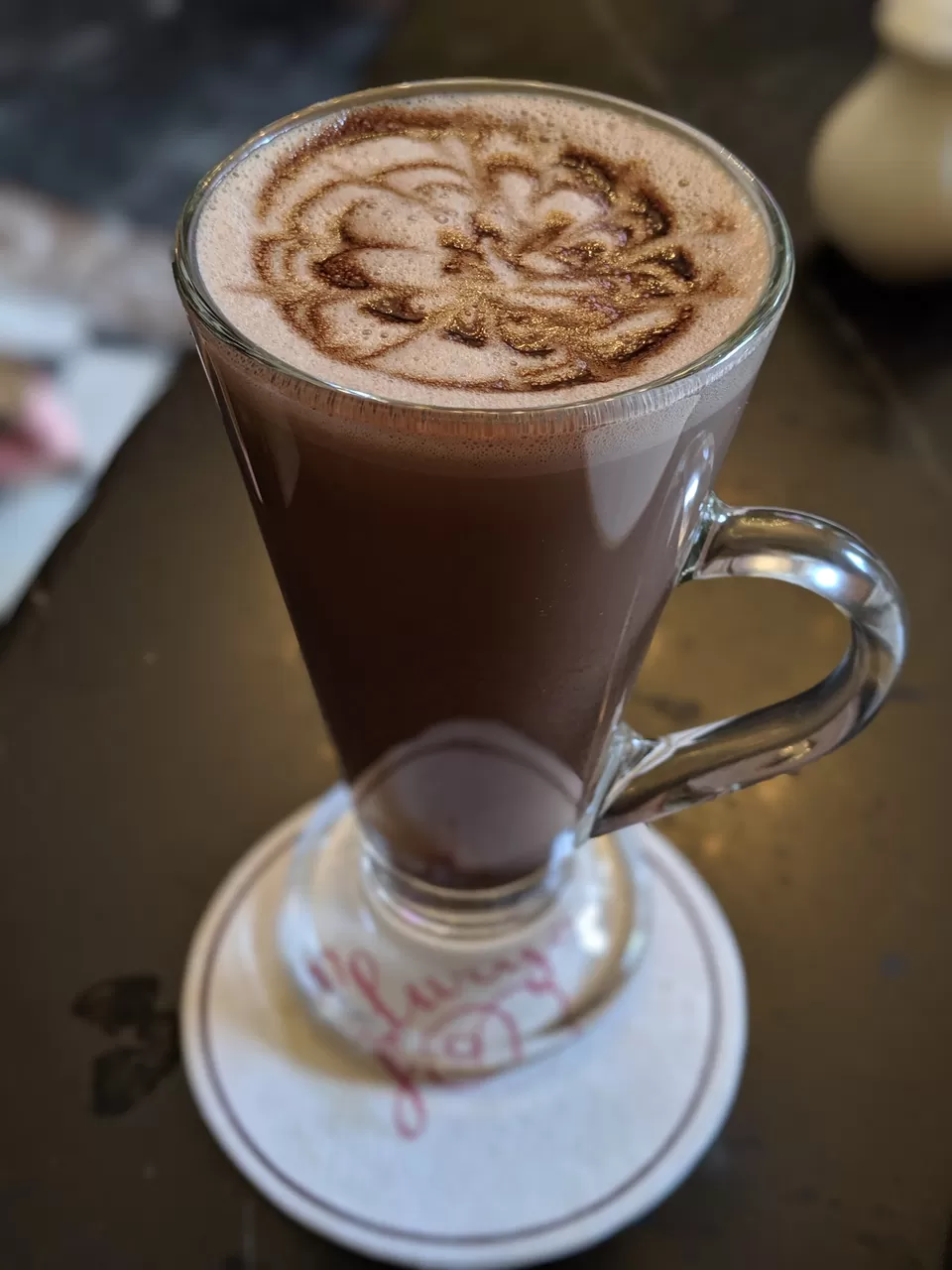 Park Street is the most happening area of Kolkata. The street had many famous cafes. There were many bookstalls beside the main roads. One could feel the energy while walking the road.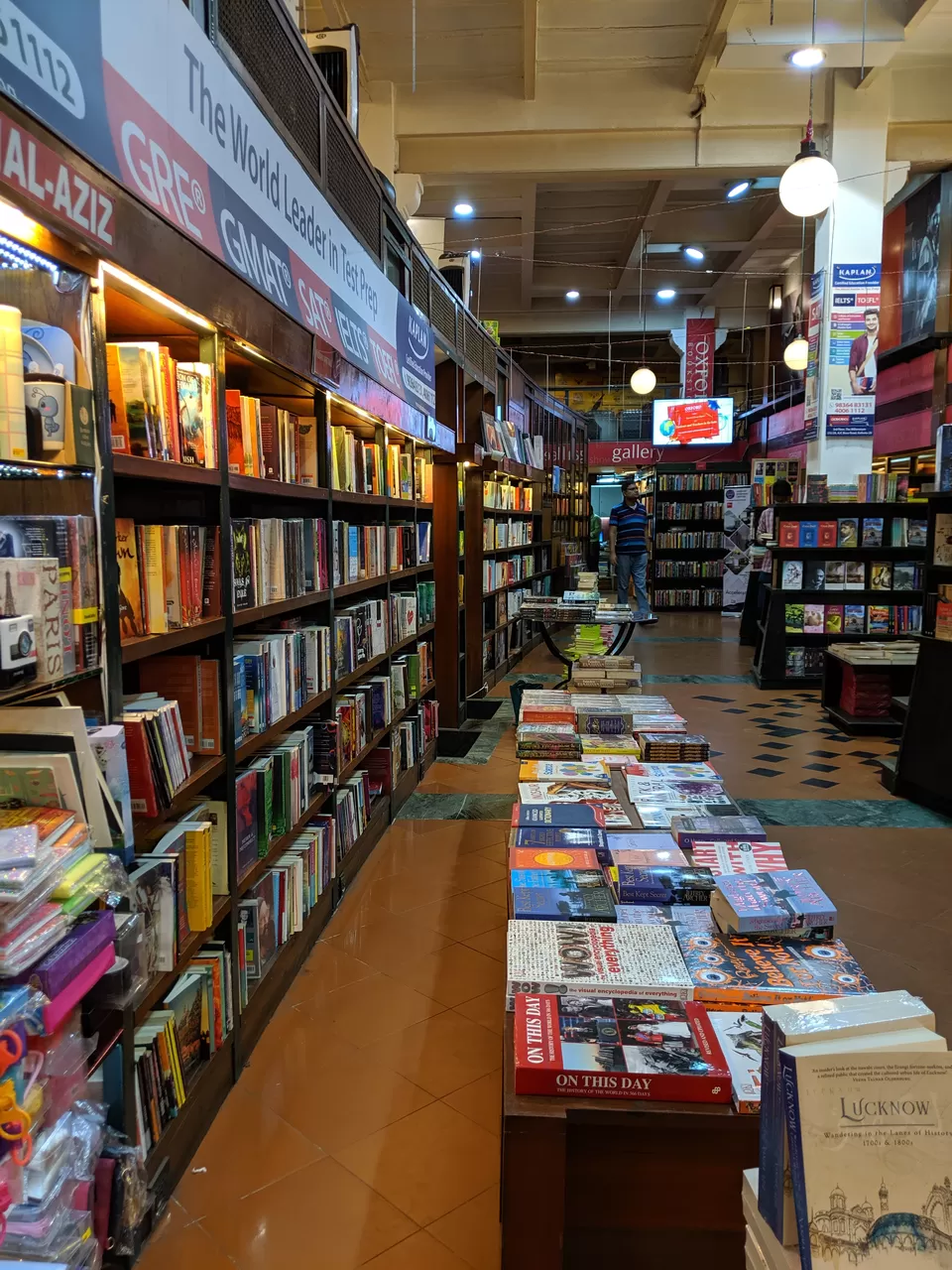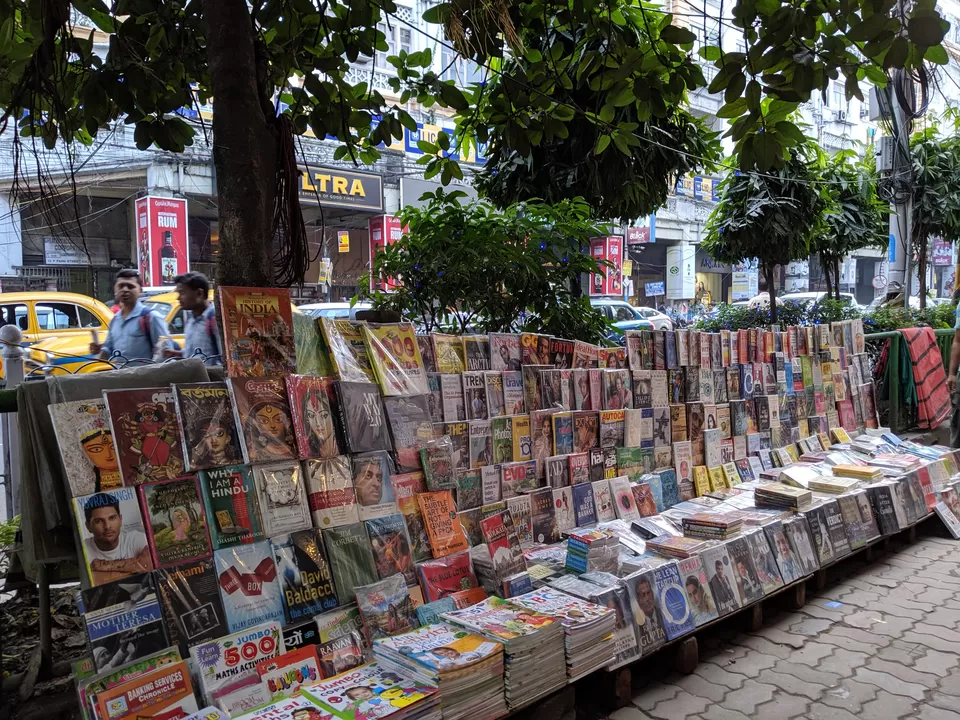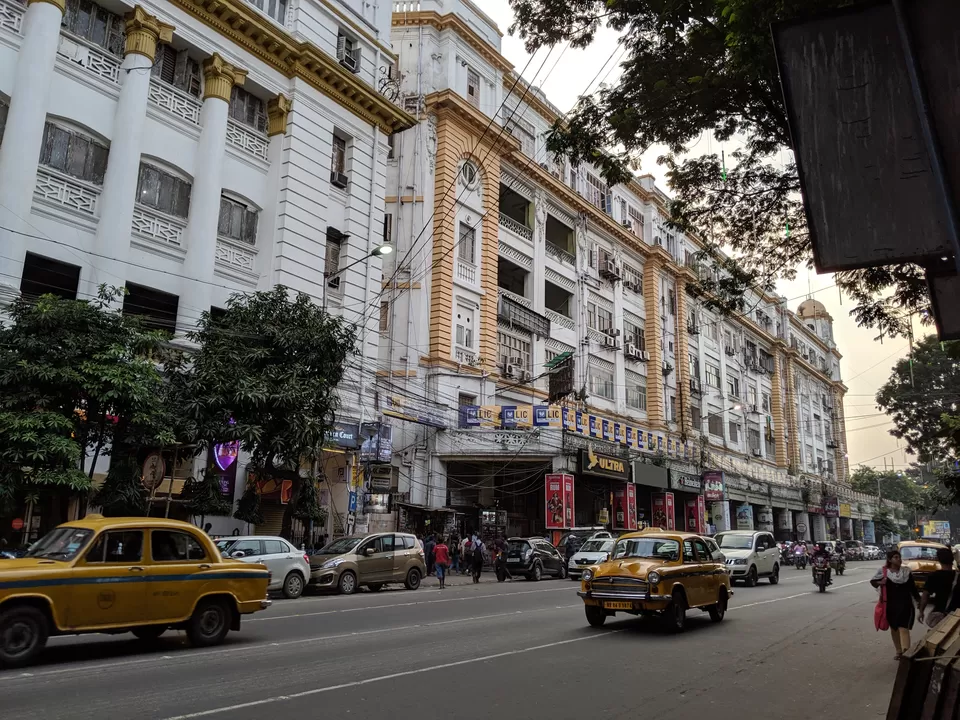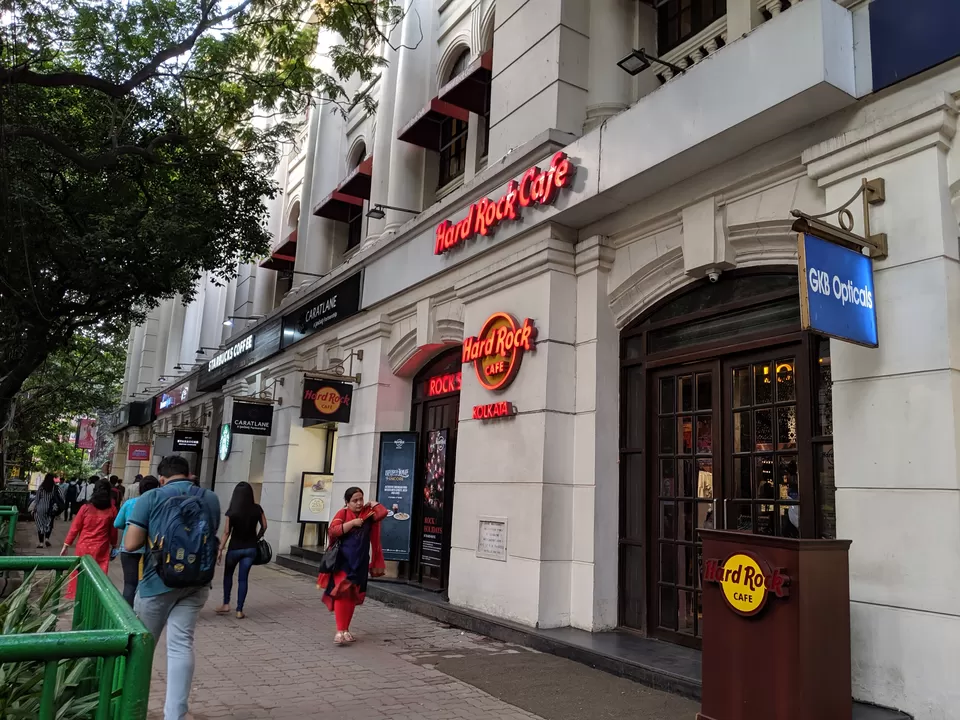 From there, I went to Princep Ghat. It's a ghat near Hooghly river. When I went, the construction was still ongoing. The view of the bridge when it is lit at night is really mesmerising. Unfortunately, the bridge was not lit when I went there. In my opinion, the view from there would be more amazing in the morning. I came back to Park Street station to board the metro to return home.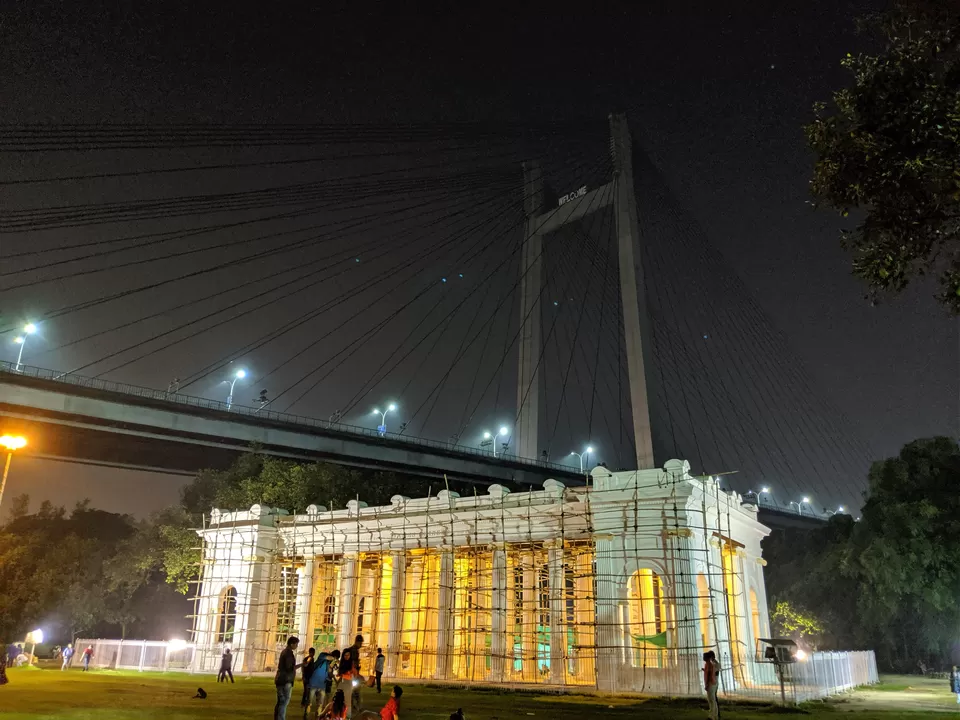 The following day I went to Kalighat temple. It's a temple of Kali Maa near Hooghly river. Kalighat metro station is near the temple. During the Navratri days, the small shops in this area were selling many items. I bought some white and red bangles for my mother which are supposed to be worn by only married women. These are typical Bengali bangles and made of shell. I couldn't resist myself buying two conches as well.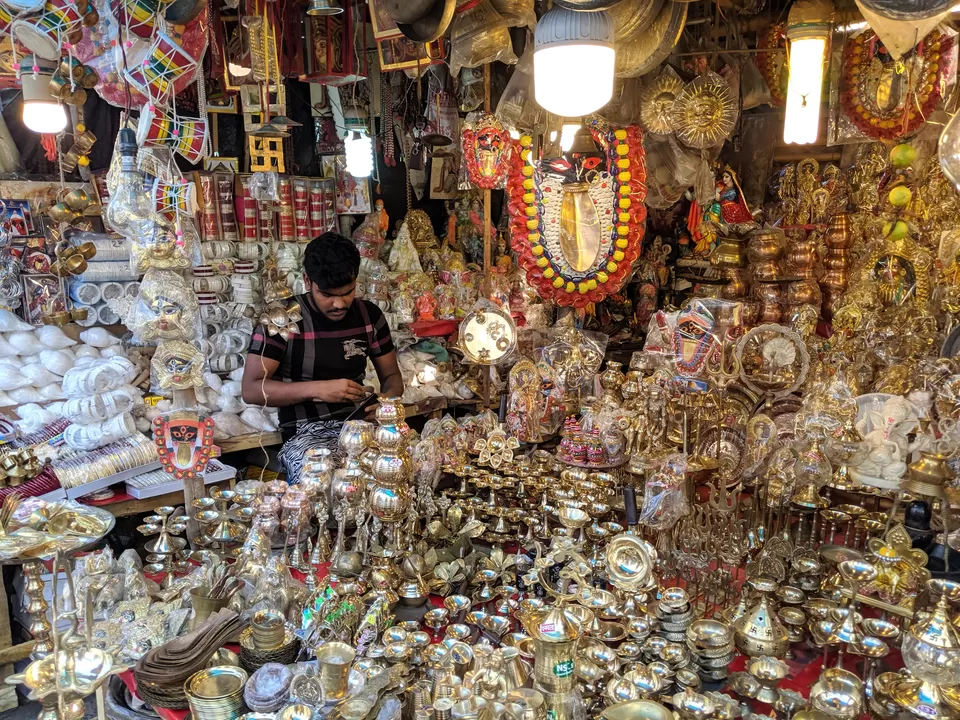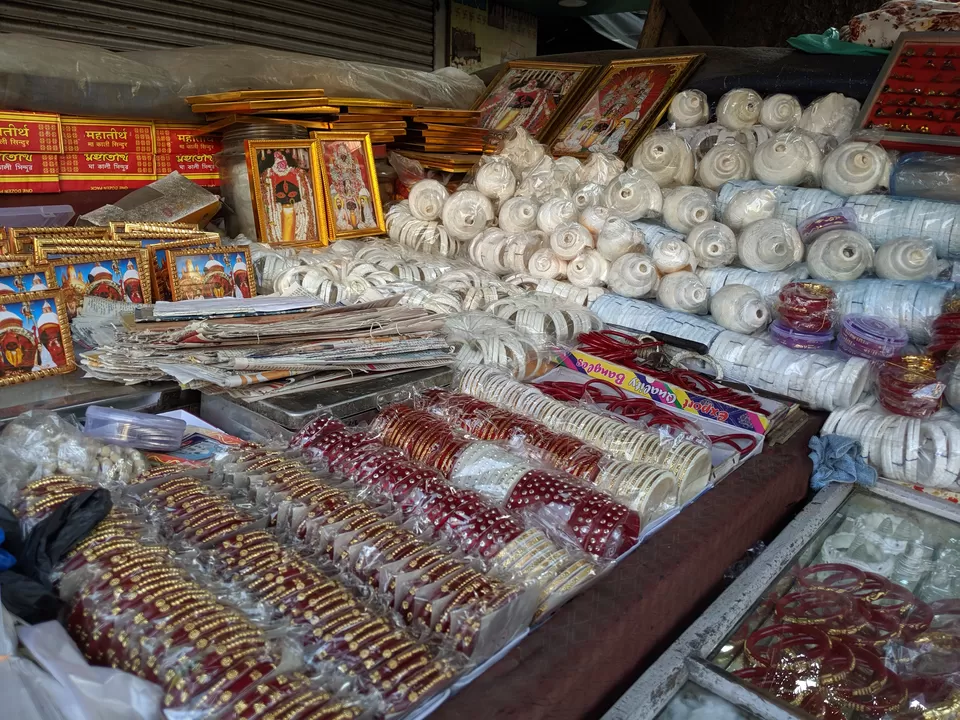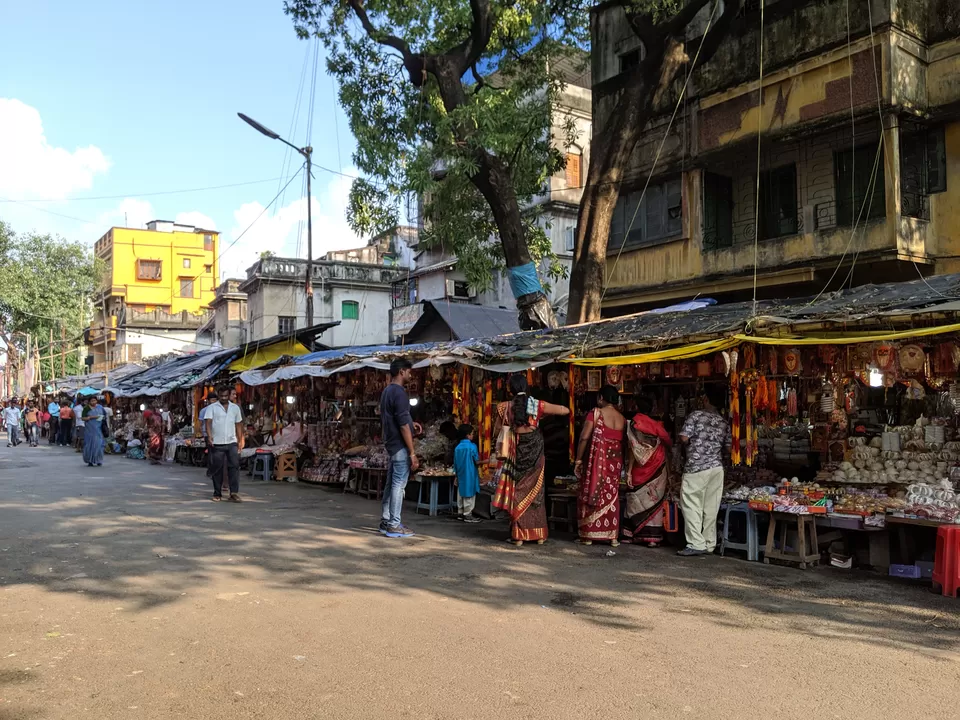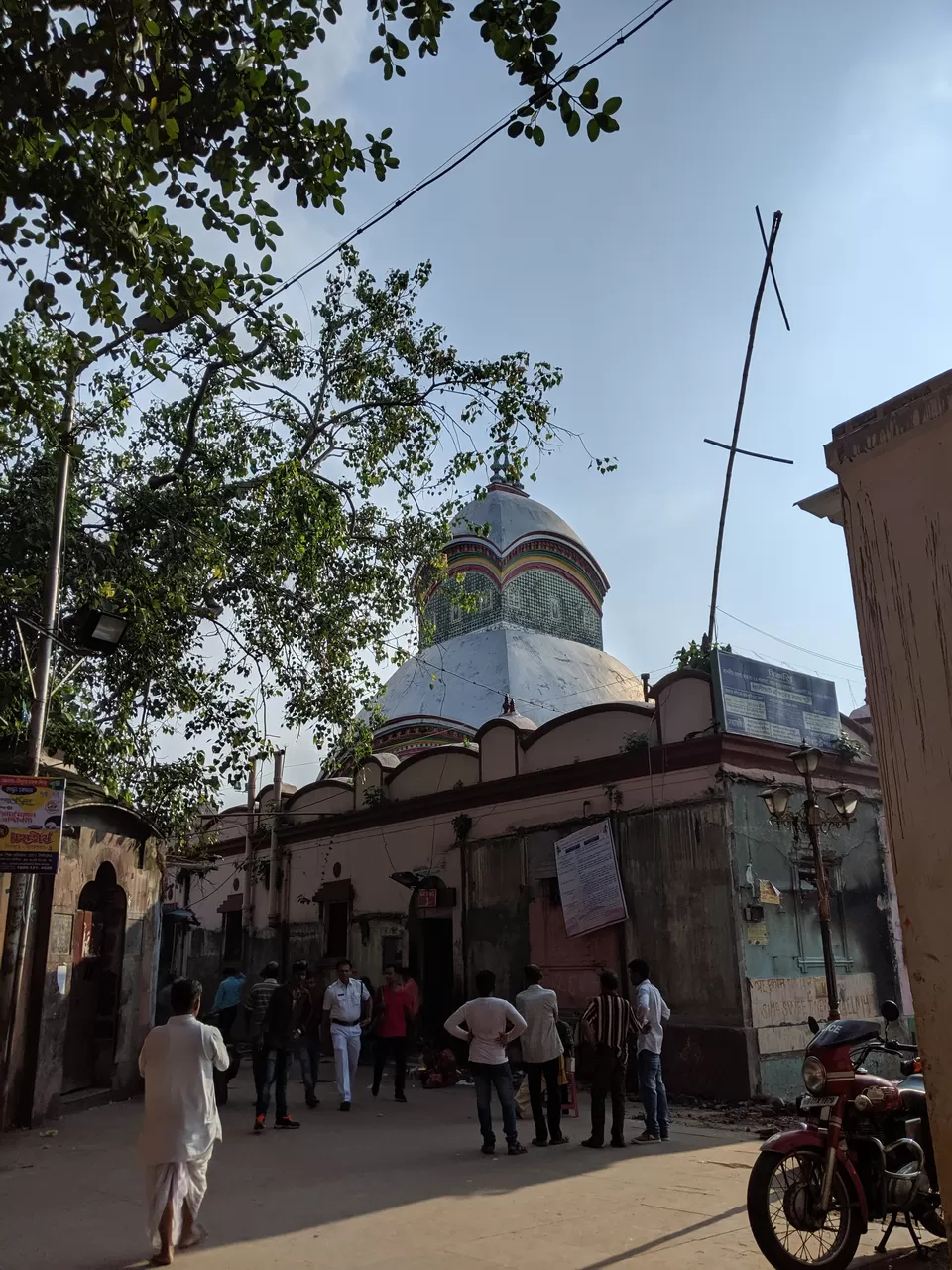 Consecutively on the second day, I again went to Park Street. This time solely to visit Indian Museum, also known as 'Imperial Museum of Calcutta'. It is said to be the 9th oldest museum in the world. It's a white building with long corridors which includes 6 different sections: Indian art, archaeology, anthropology, geology, zoology and economic botany. In some of the sections, photography was prohibited.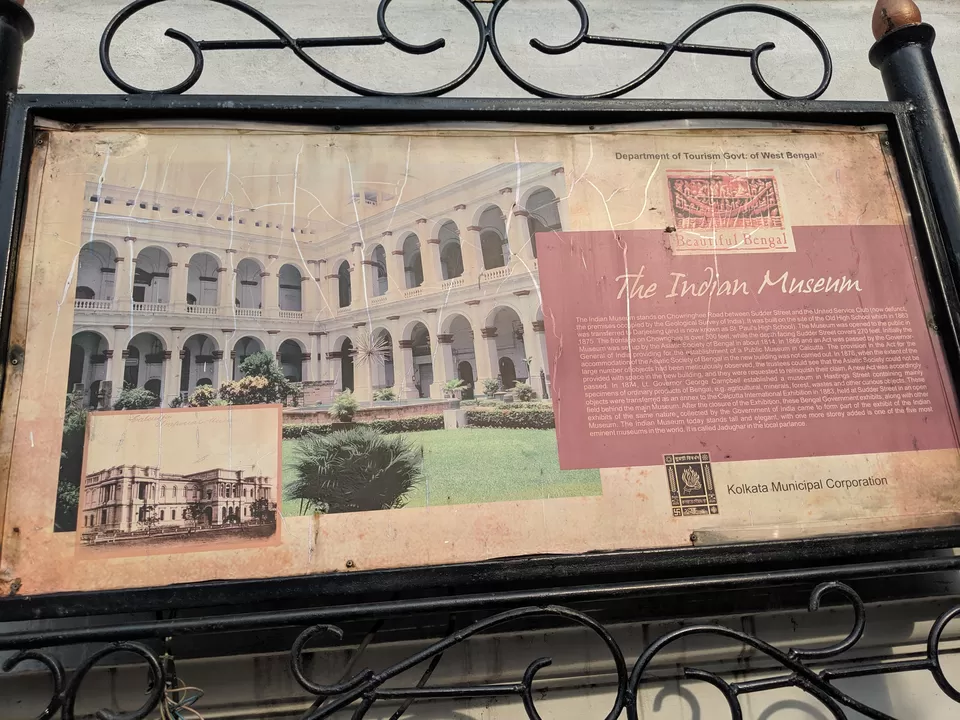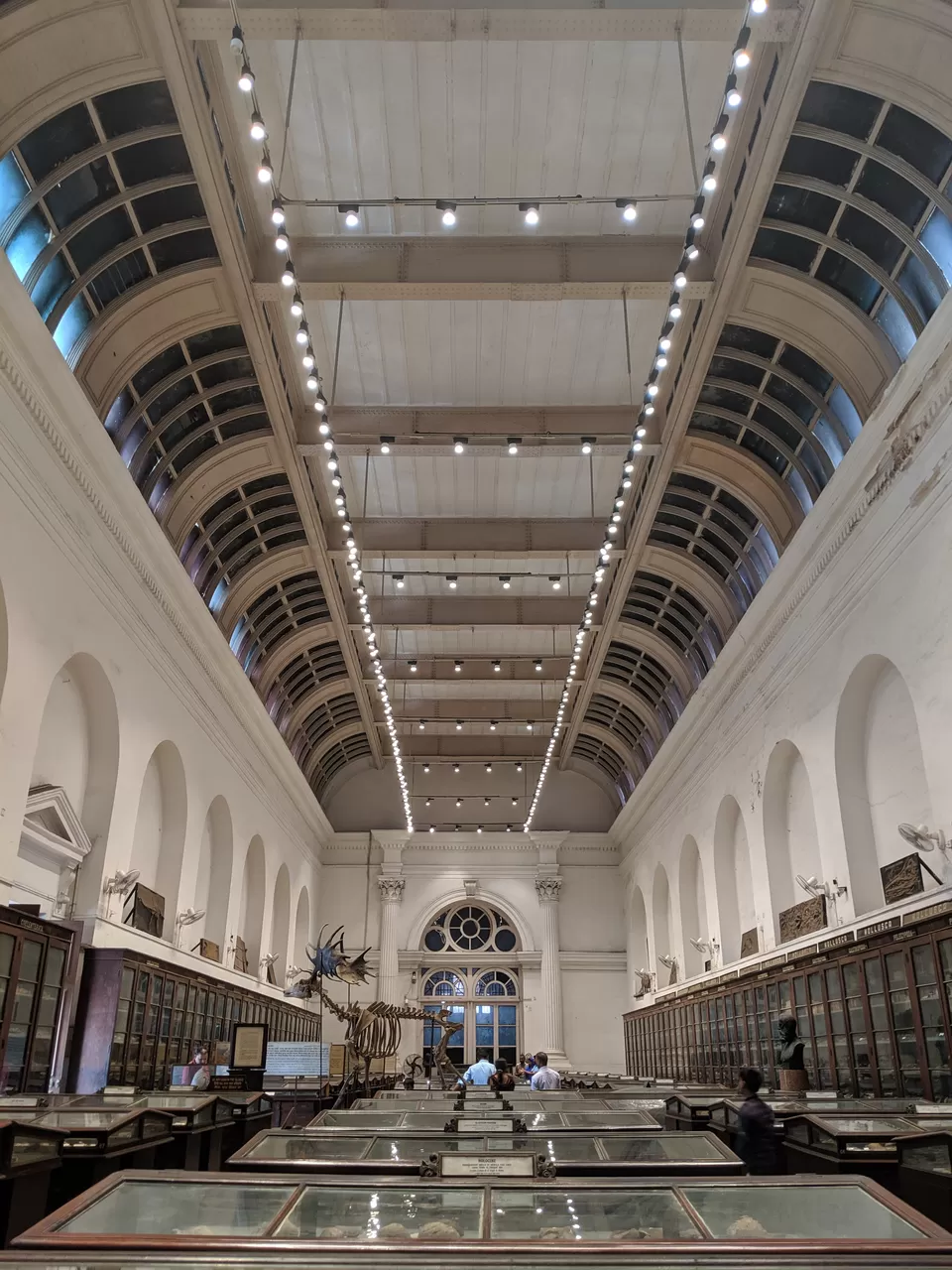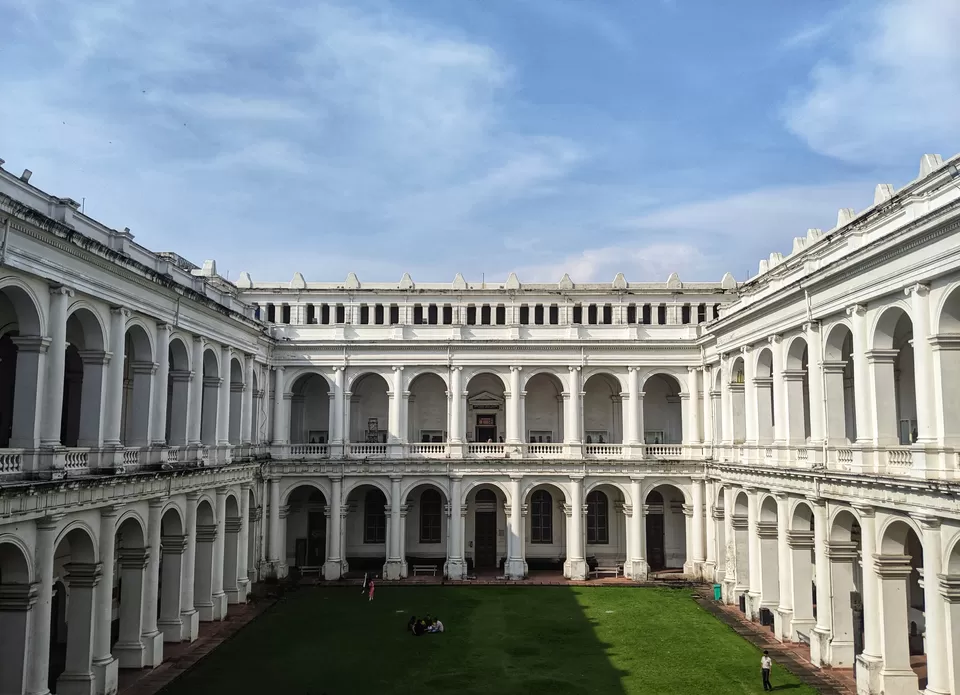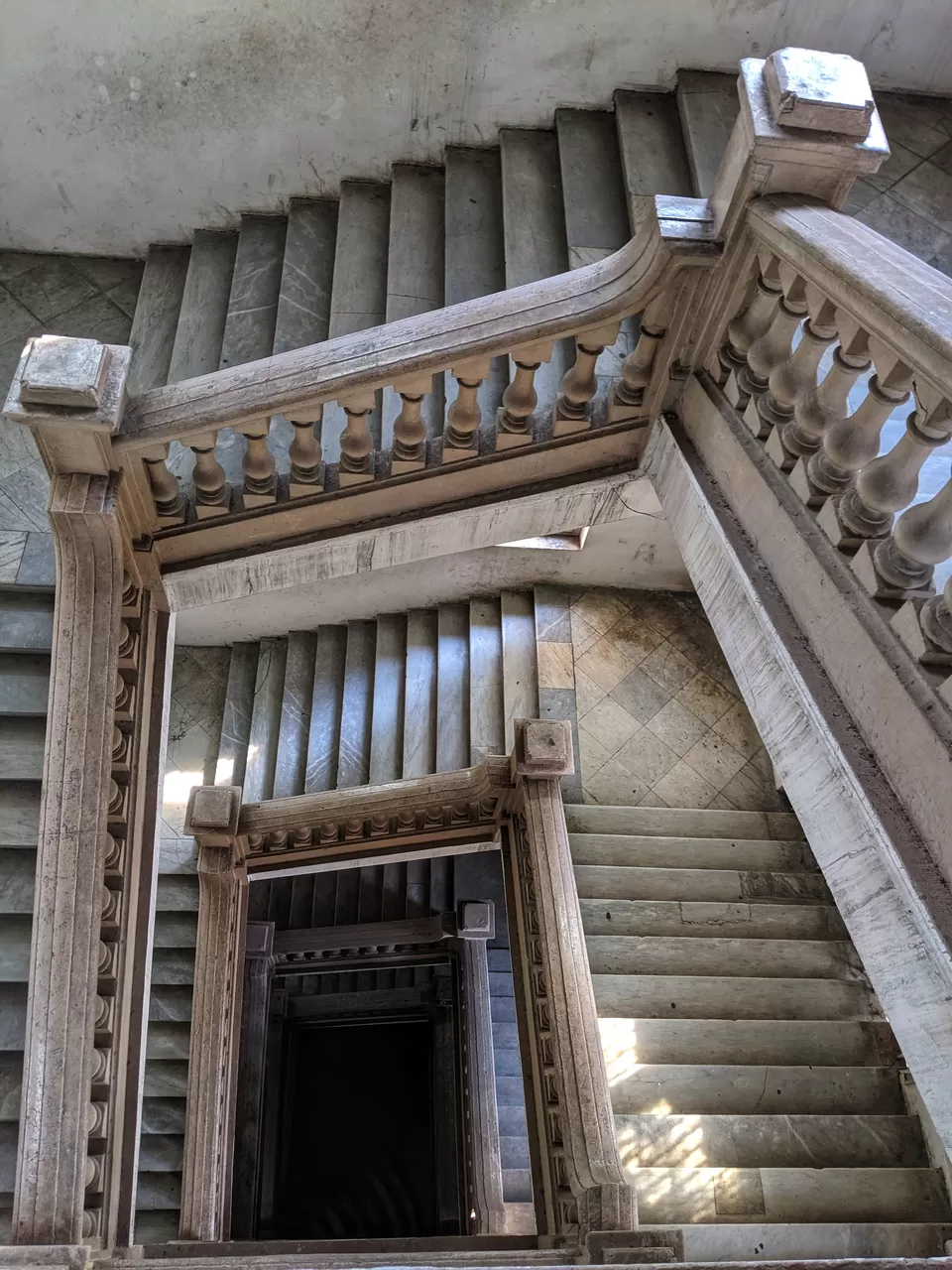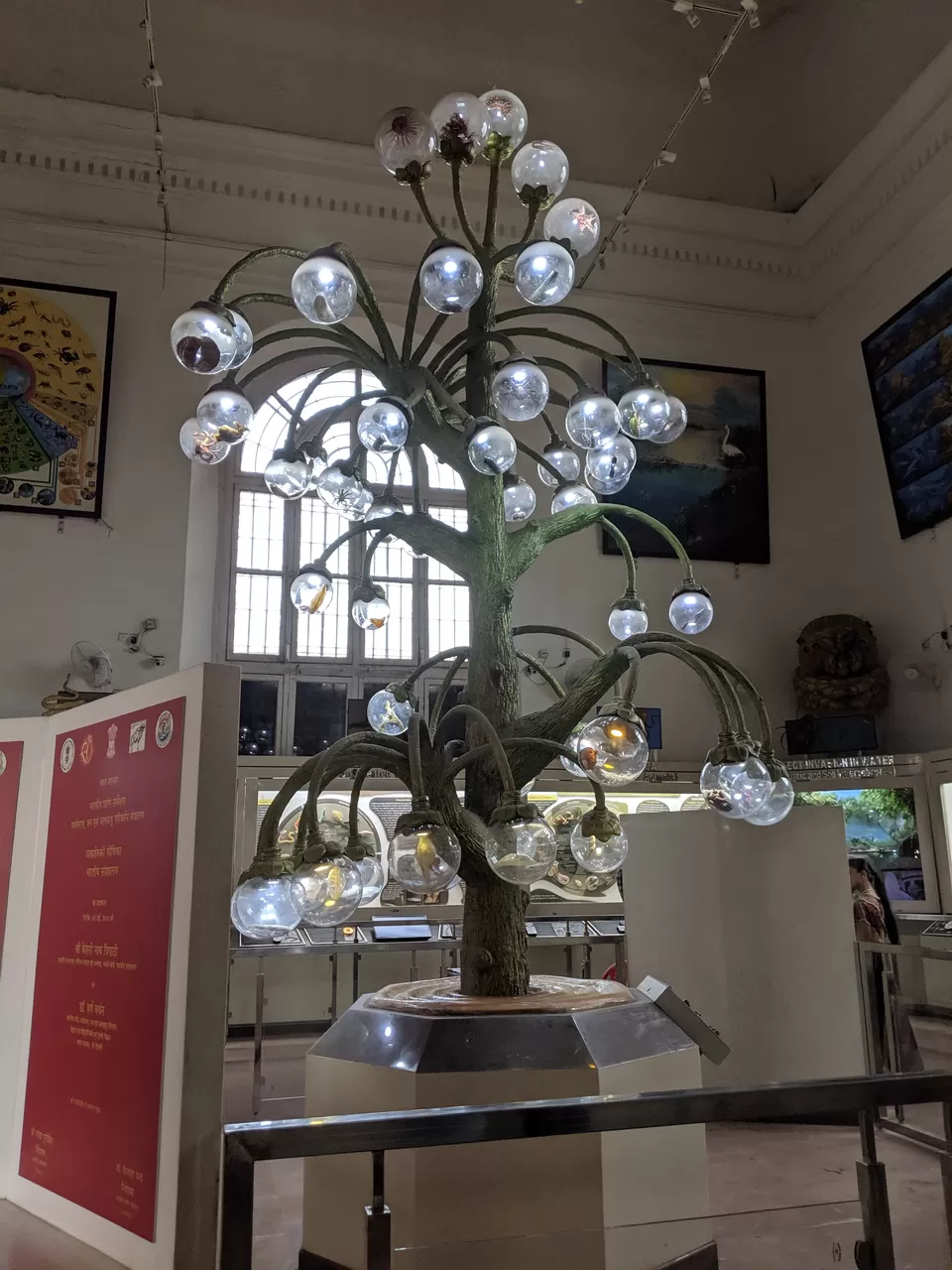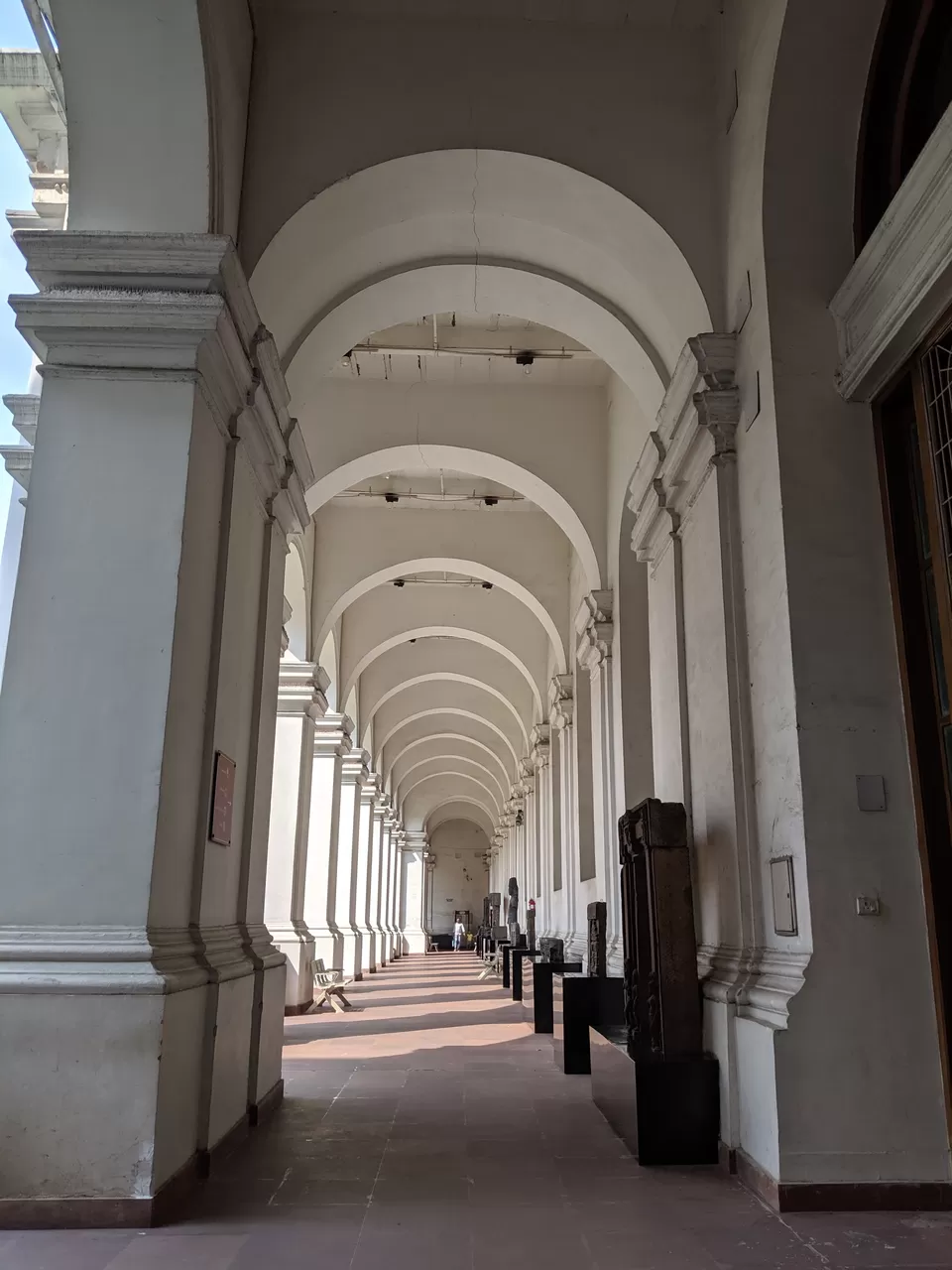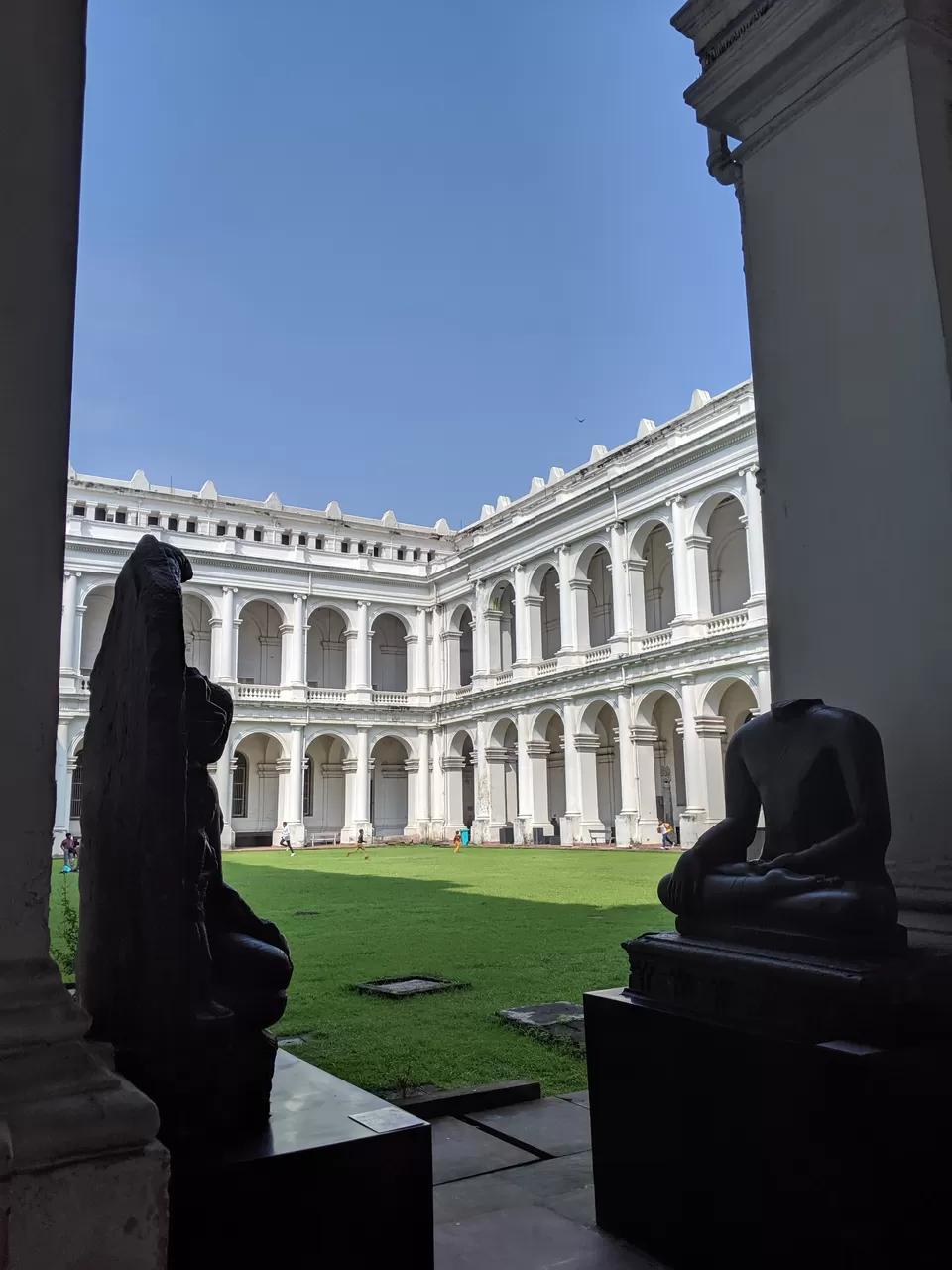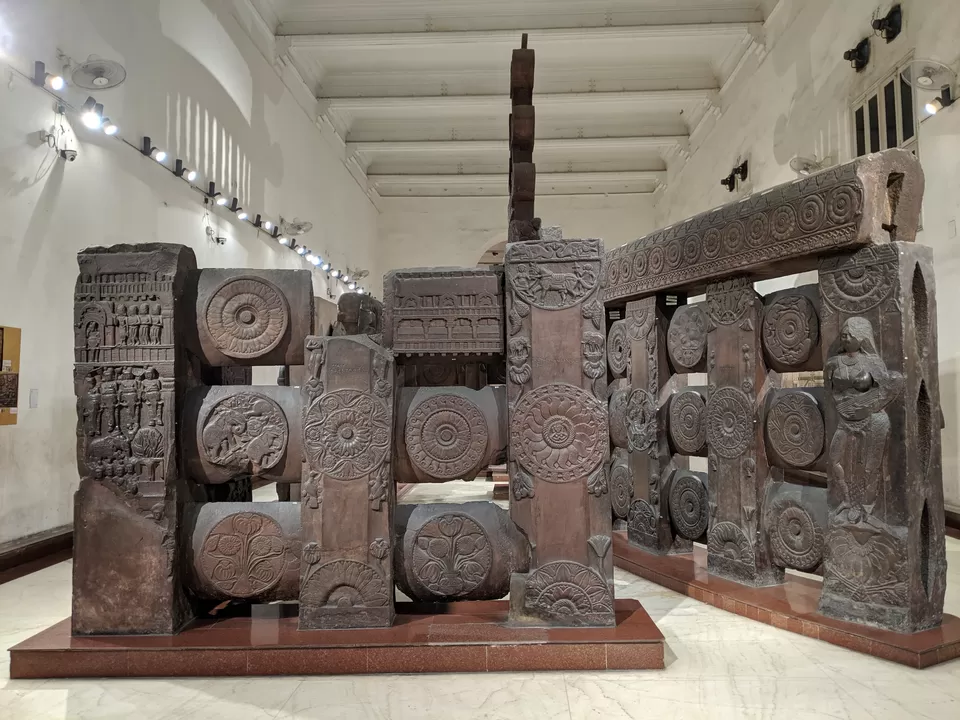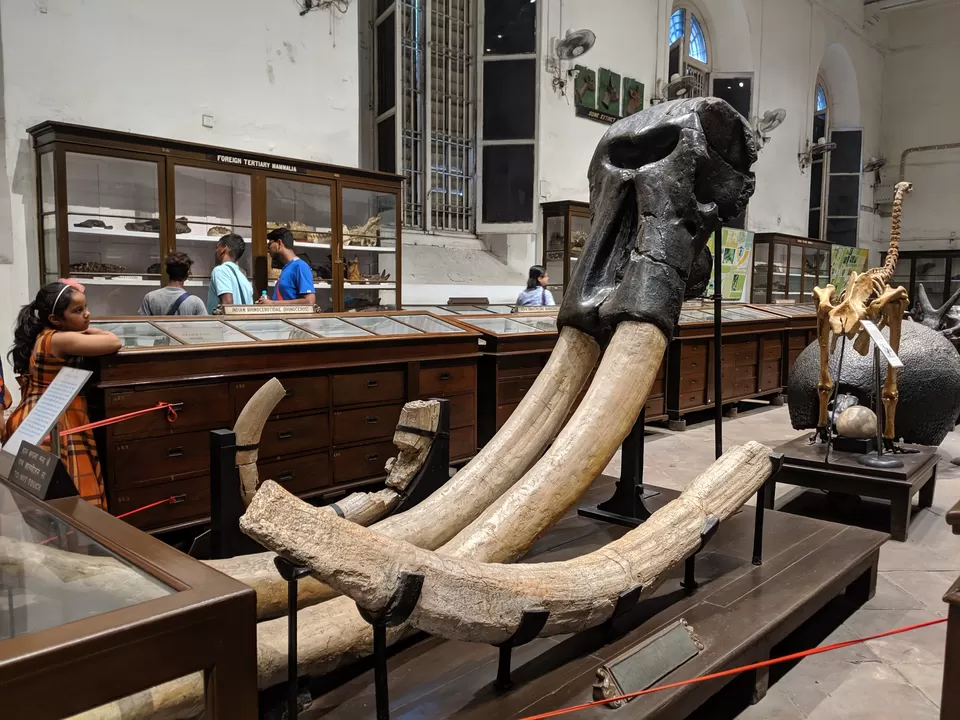 Covering all the sections of this museum was not at all easy task. I walked for like 4-5 hours in the museum, kind of wrapping, in the end. How can one not have fish in Kolkata? I went to some other place on Park Street this time for lunch.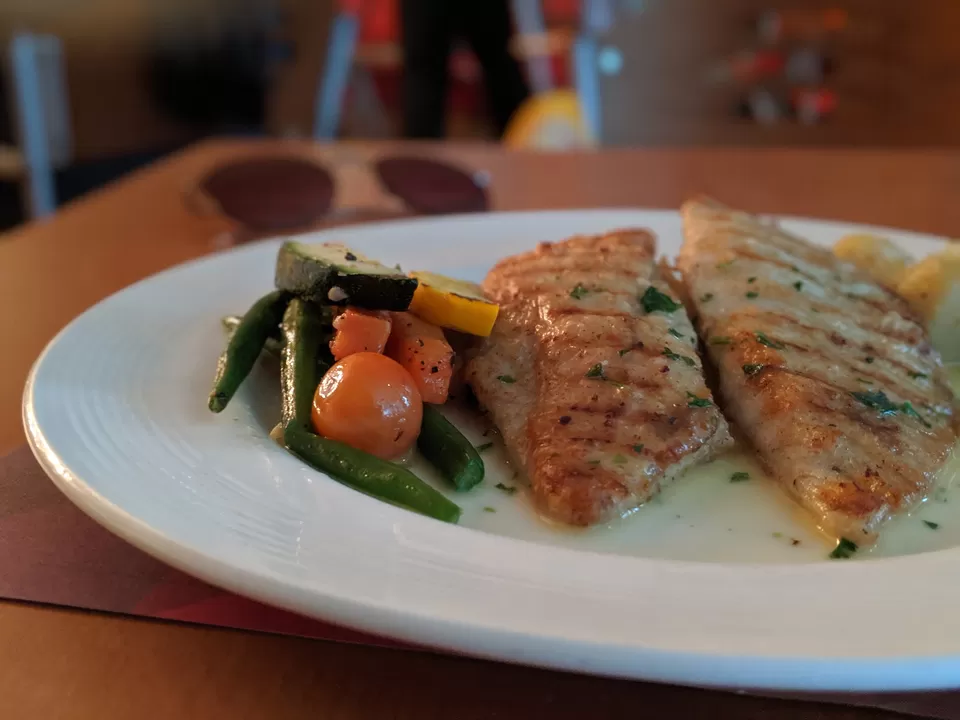 Durga Puja starts on Panchami of Navratri. Generally pandals open for the public. Durga Puja in Kolkata can't be seen anywhere else in India. Families go out together for pandal hopping. The pandals are open 24*7. Friends roam in the city at night. You have a lot of variety in street food. And the good thing is these pandals are scattered all over the city. So irrespective of your area, there'll be some pandals nearby. I didn't get a chance to go to the north side, but I visited many of the famous pandals in South Kolkata. the artists work for the entire year. On the stage along with Durga Devi, there are Saraswati, Laxmi, Ganesh and Kartikeya as well. Also Durga is on her Vahana: Lion killing Mahishasur who is on his Vahana: a baffalo (that's why she's known as Mahishasurmardini). And it's not just the Goddess idols on which artists work upon, it's many other things too. Each and every pandal was different with some unique theme and design. I've always heard about Durga puja days in Kolkata, but it was a thousand times more than that when you actually witness it. At some places, fairs had all those things including balloon shooting, giant-wheel ride, thelas of street food and everything else.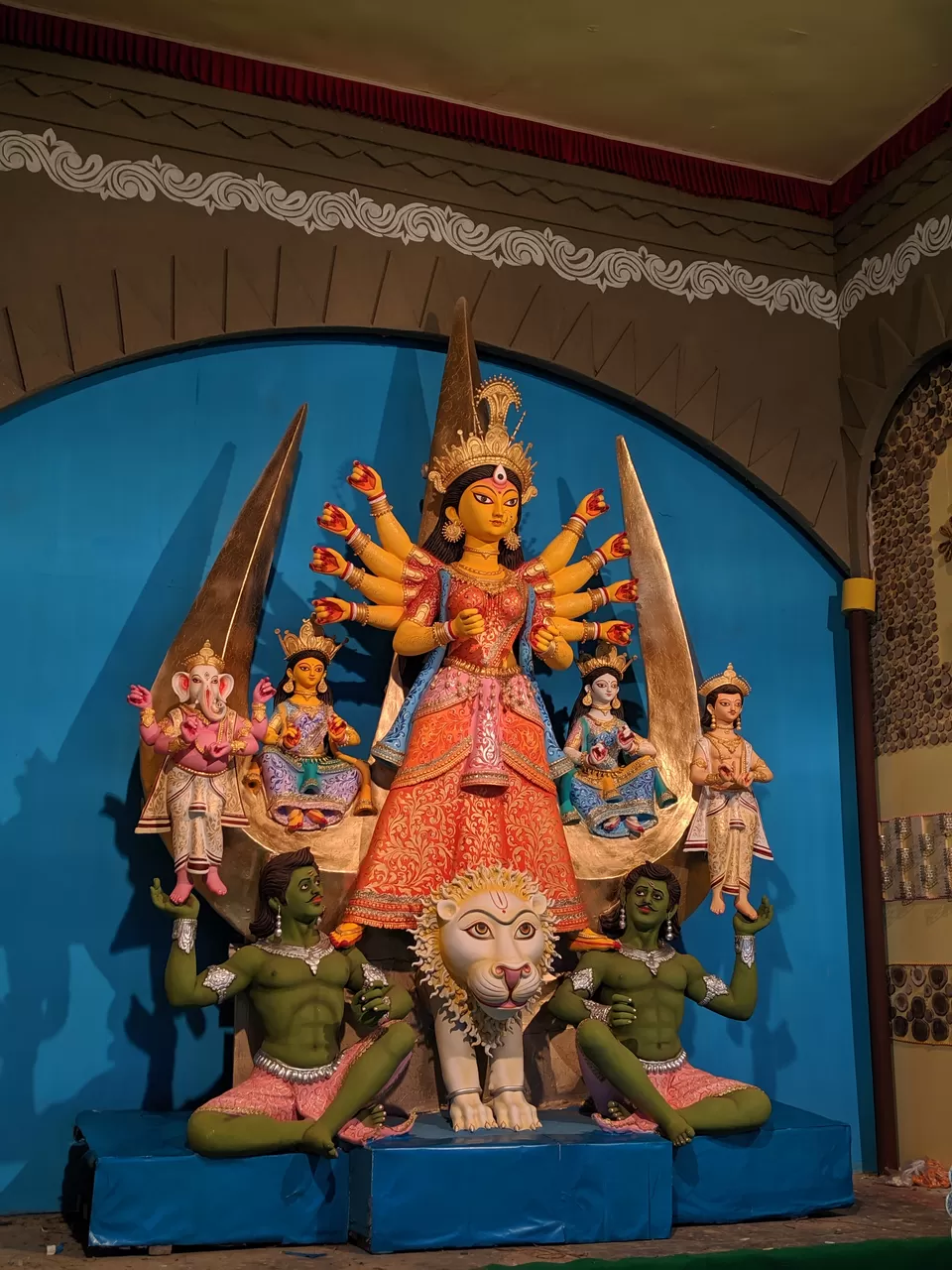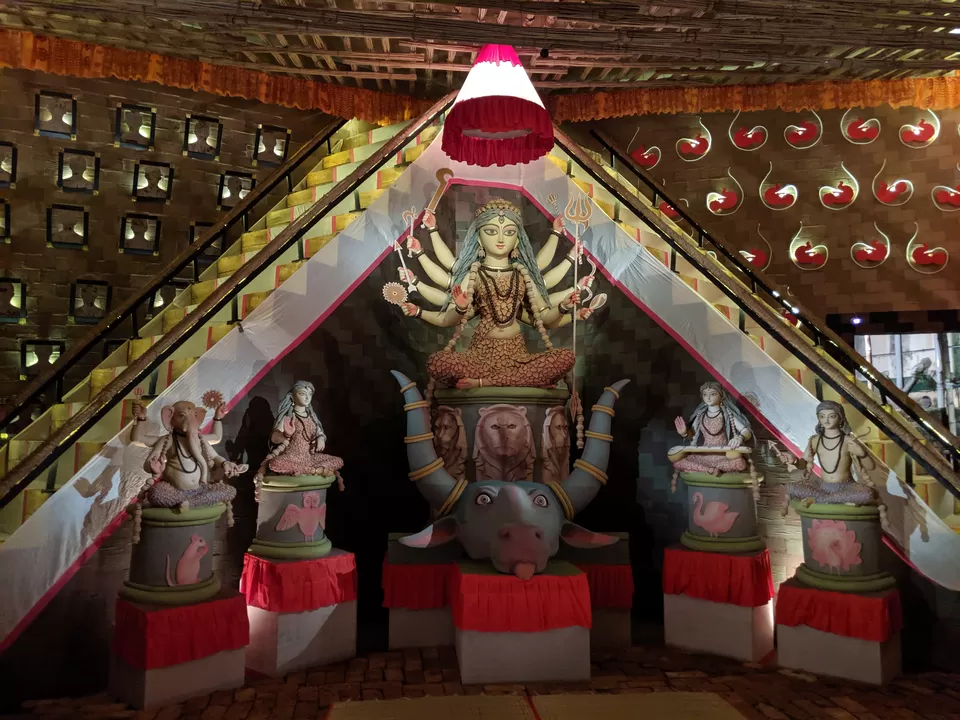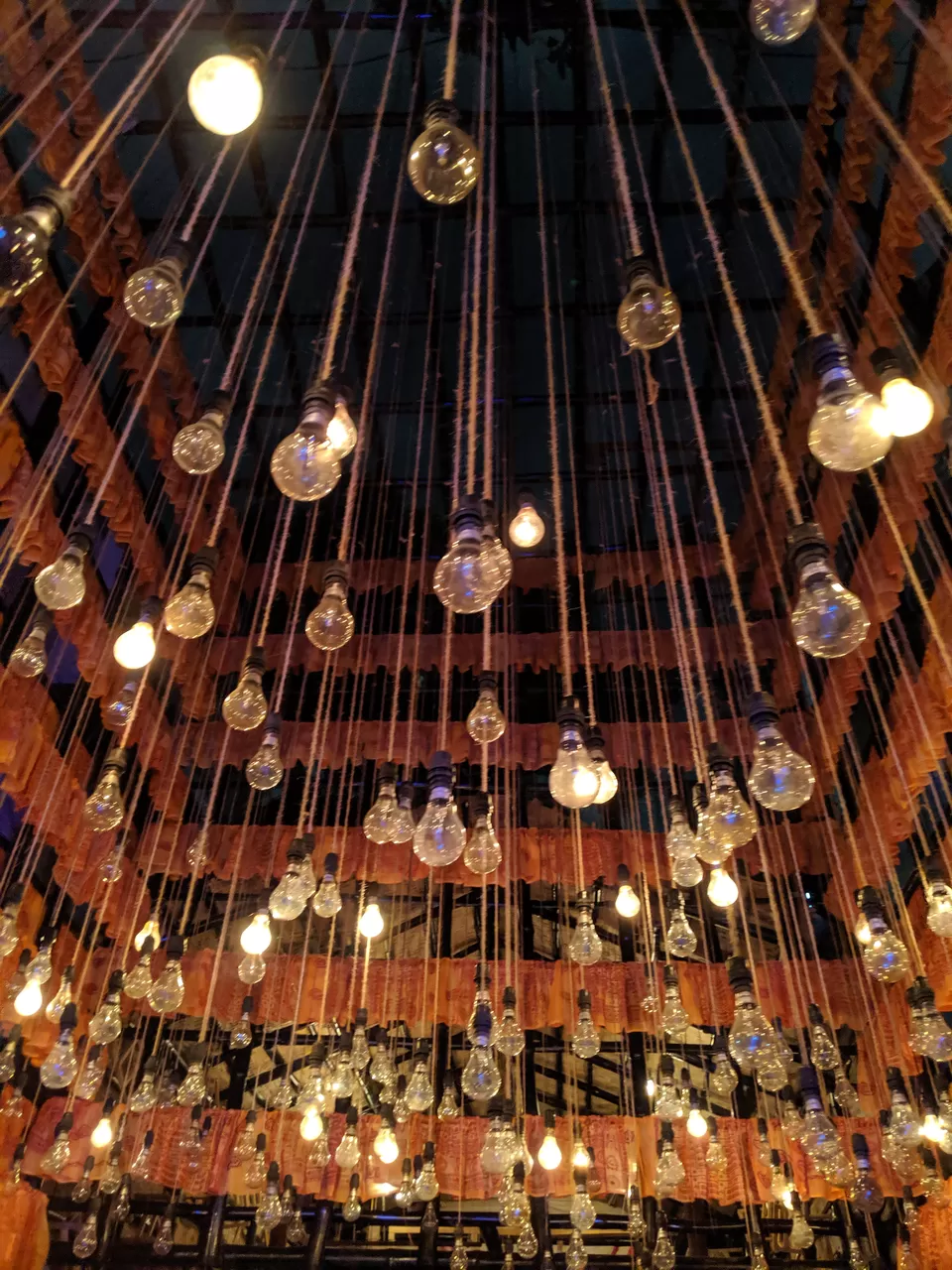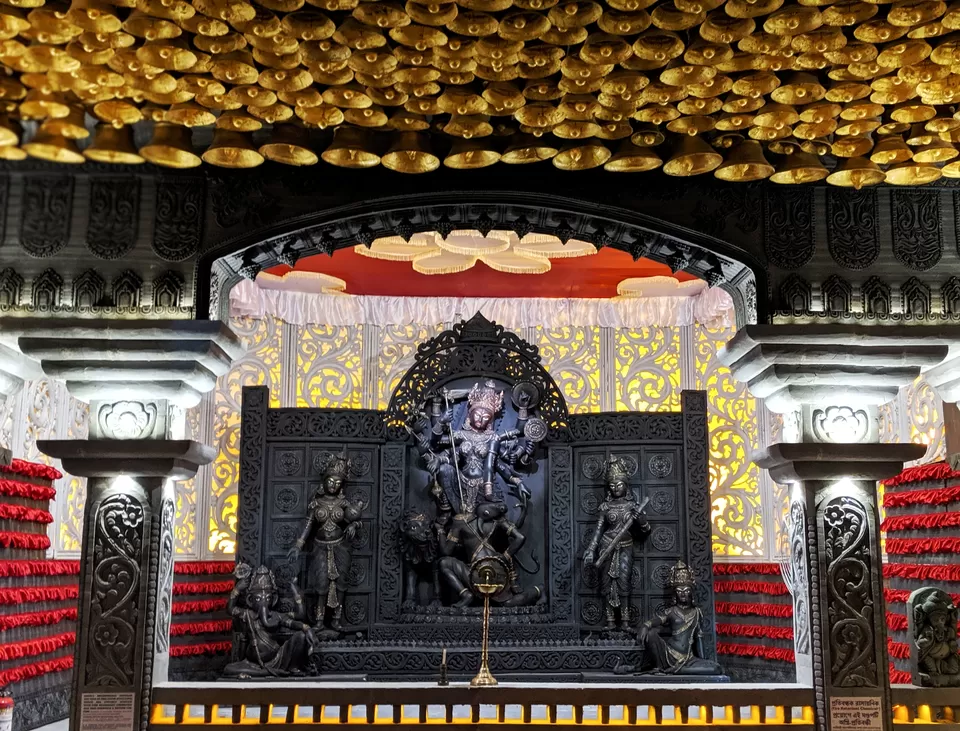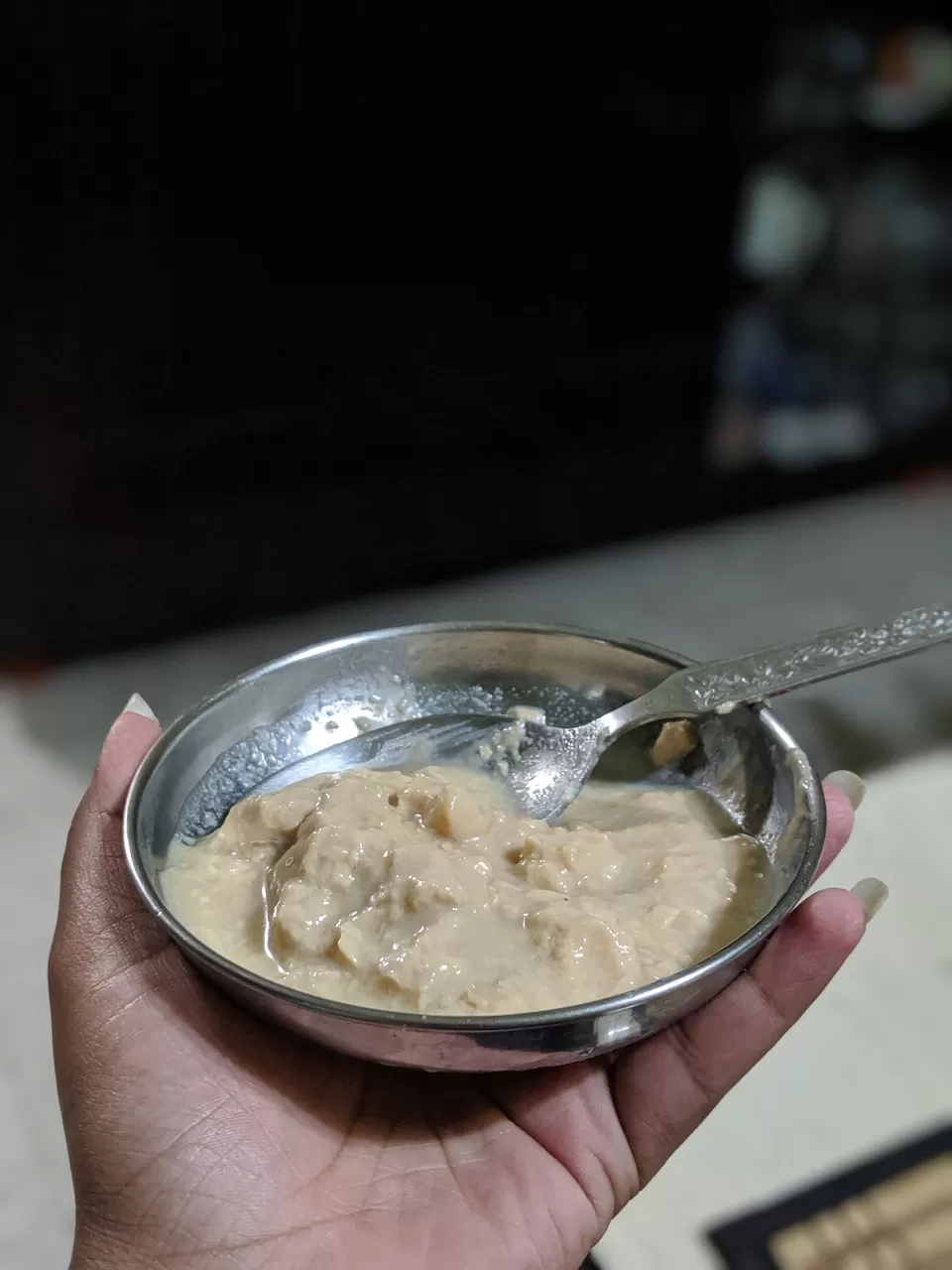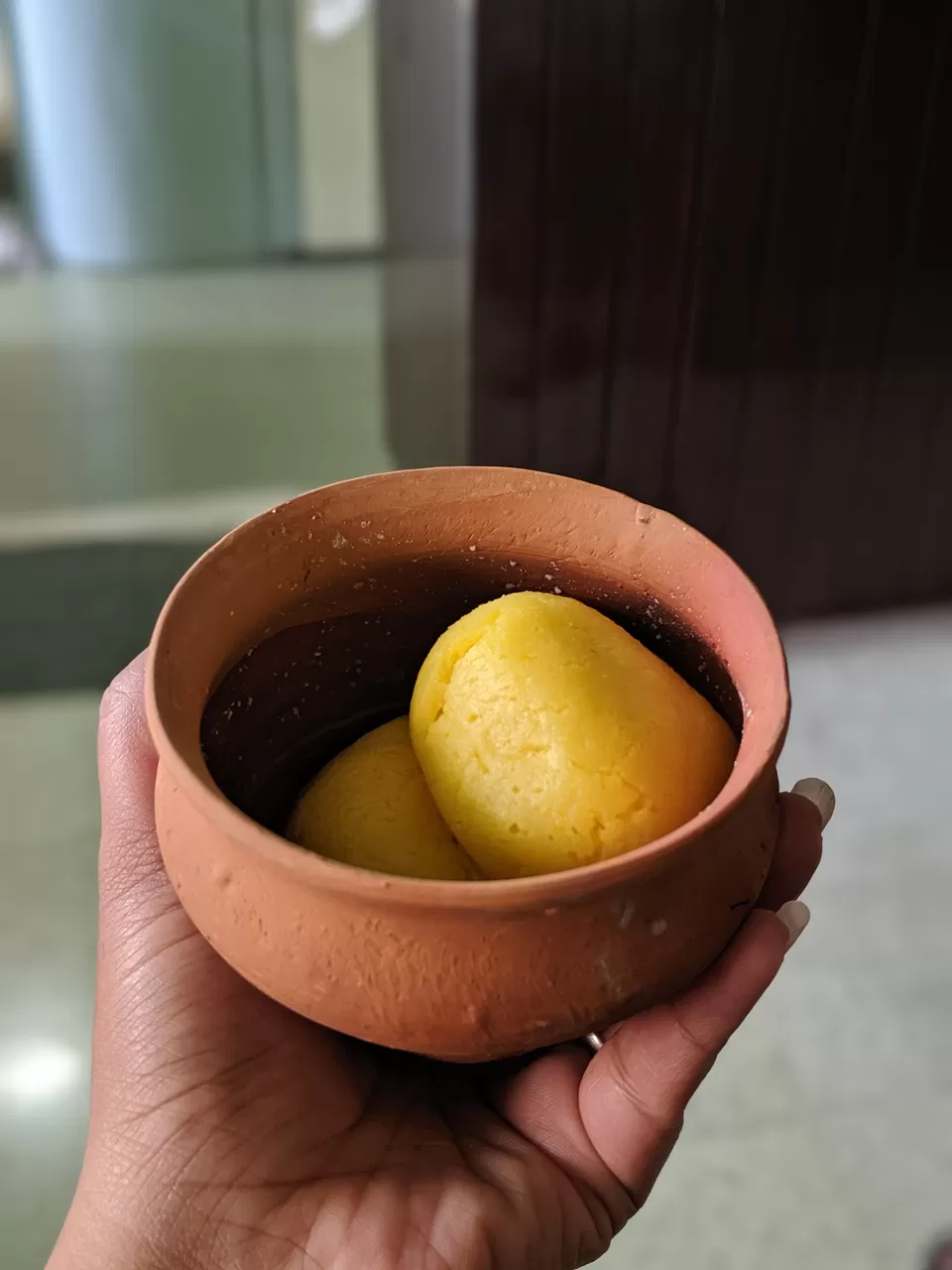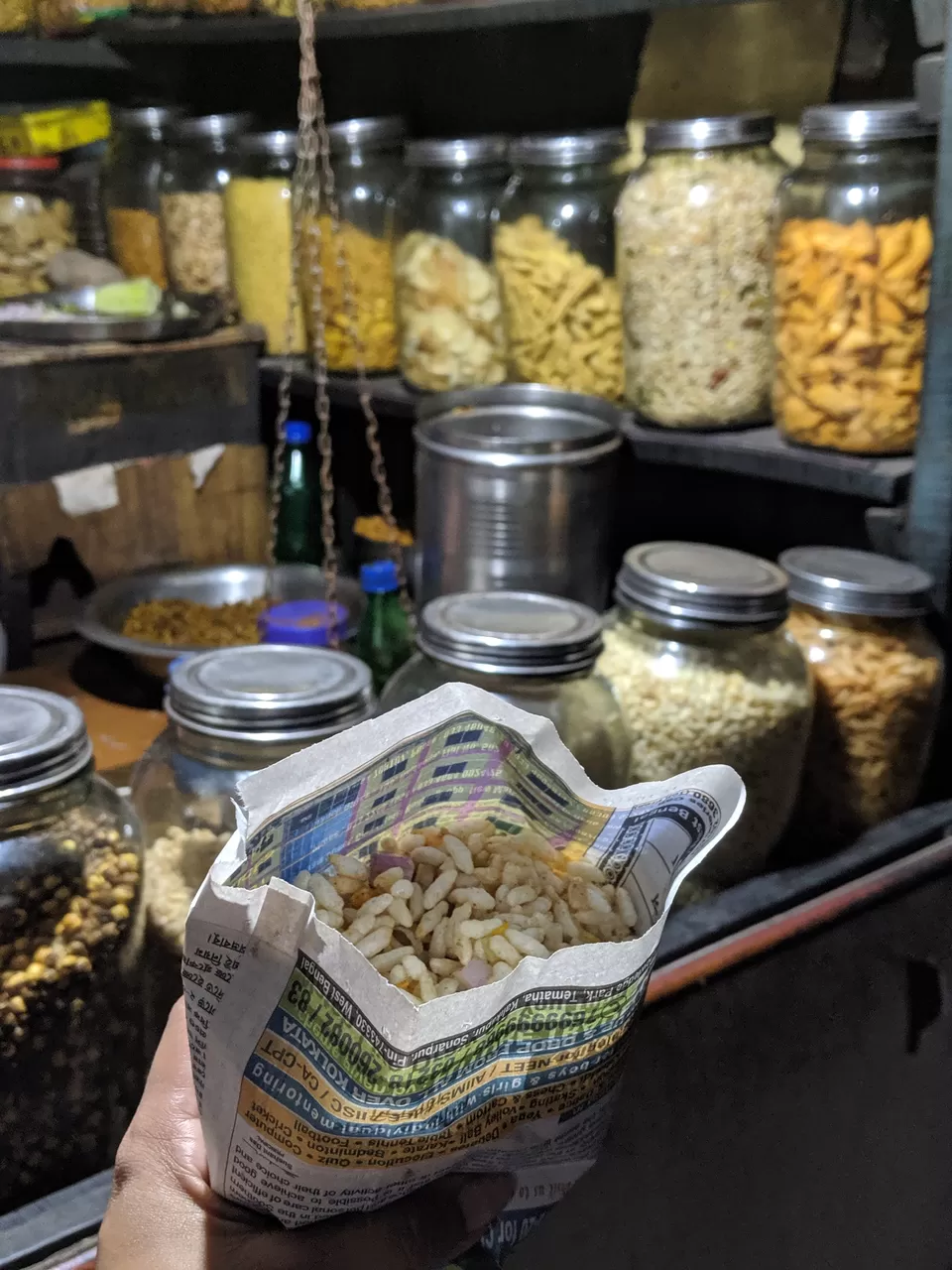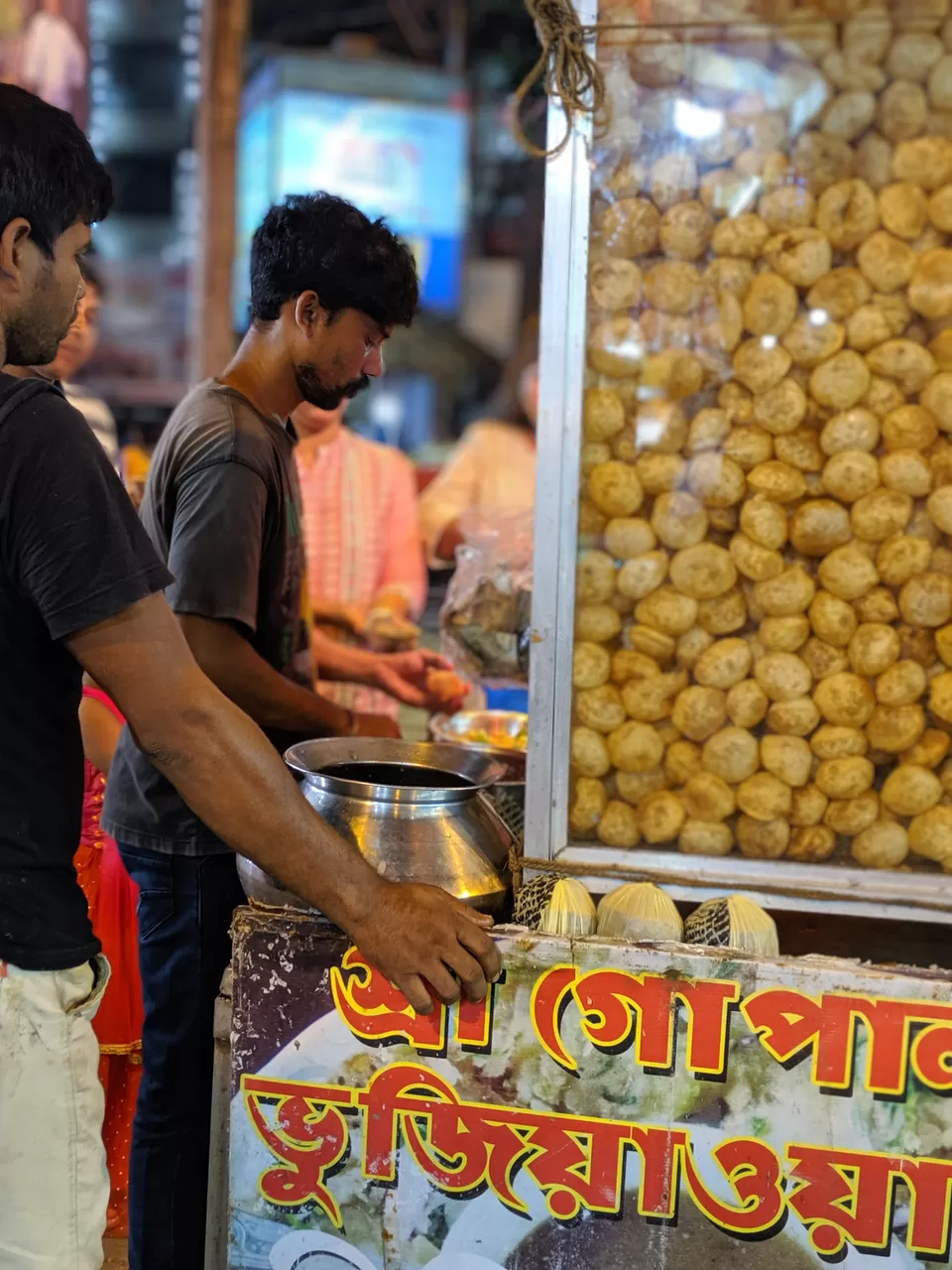 On the day of Shashthi, I had heavy brunch and left for the pandal-hopping. It was second day of Durga Puja. From Shashthi, the streets get jammed with all the heavy crowds. It's nearly impossible to get your vehicle out. Metro becomes only one option. Because of this, I couldn't get a chance to travel in tram of Kolkata. If you're planning to go to Kolkata during Durga Puja, please carry a good pair of footwears in which you're comfortable to walk for hours. And forget travelling on any bike or cab, because you're anyway not gonna get any. I walked for hours among the crowds. There were police allocated to each area, who were also helping the crowds to cross the roads. And one doesn't have to know any roads for all the pandals. Just follow the crowds.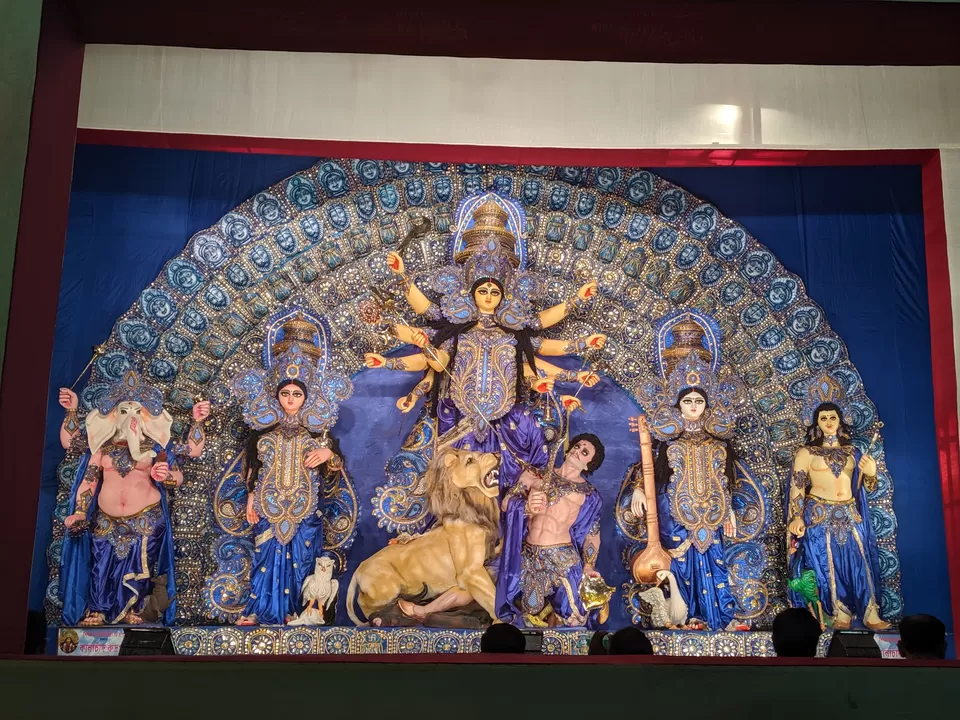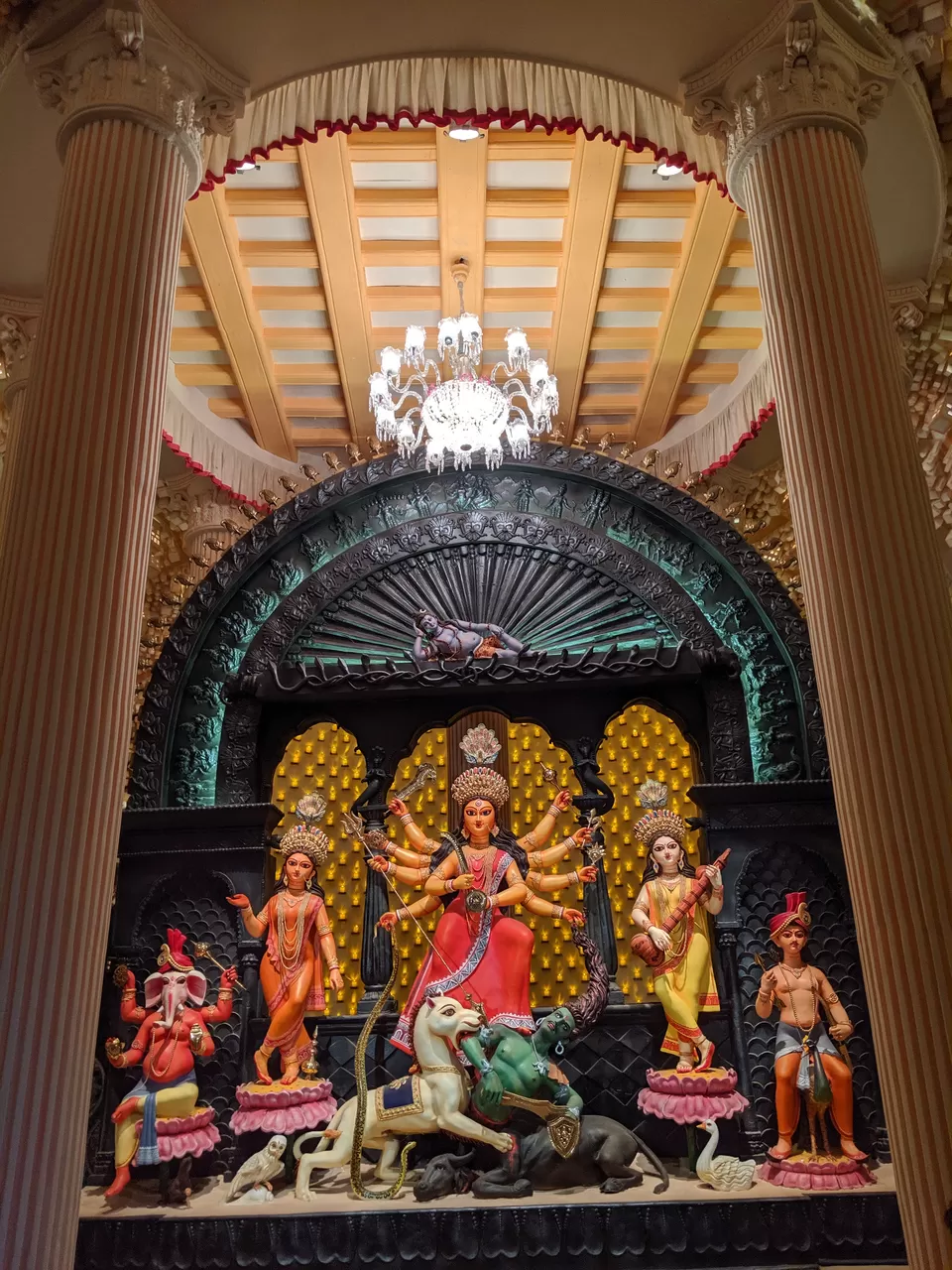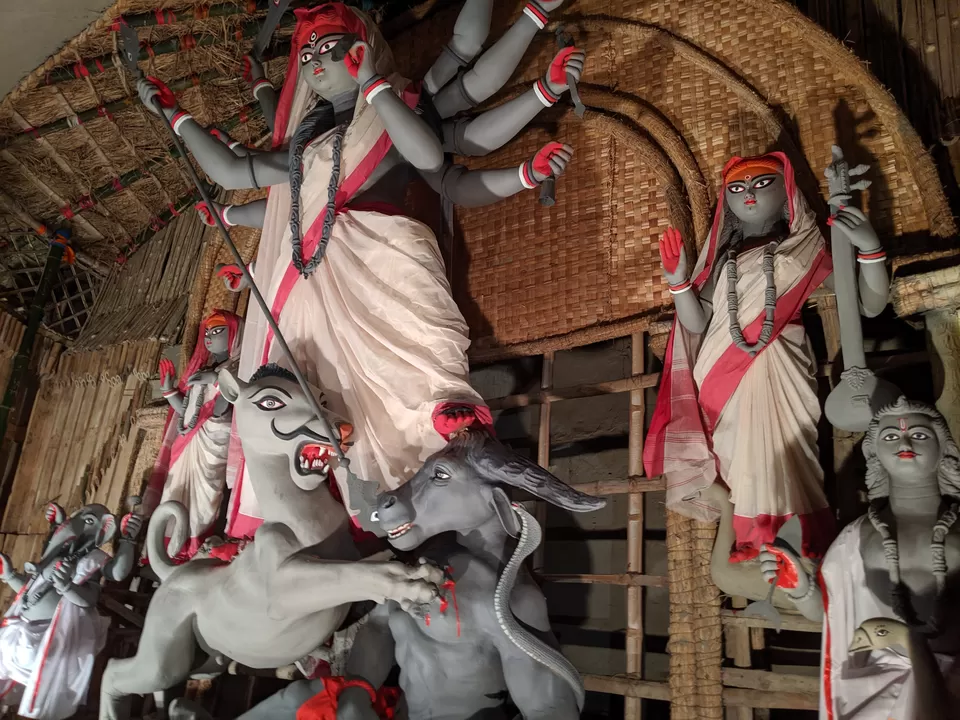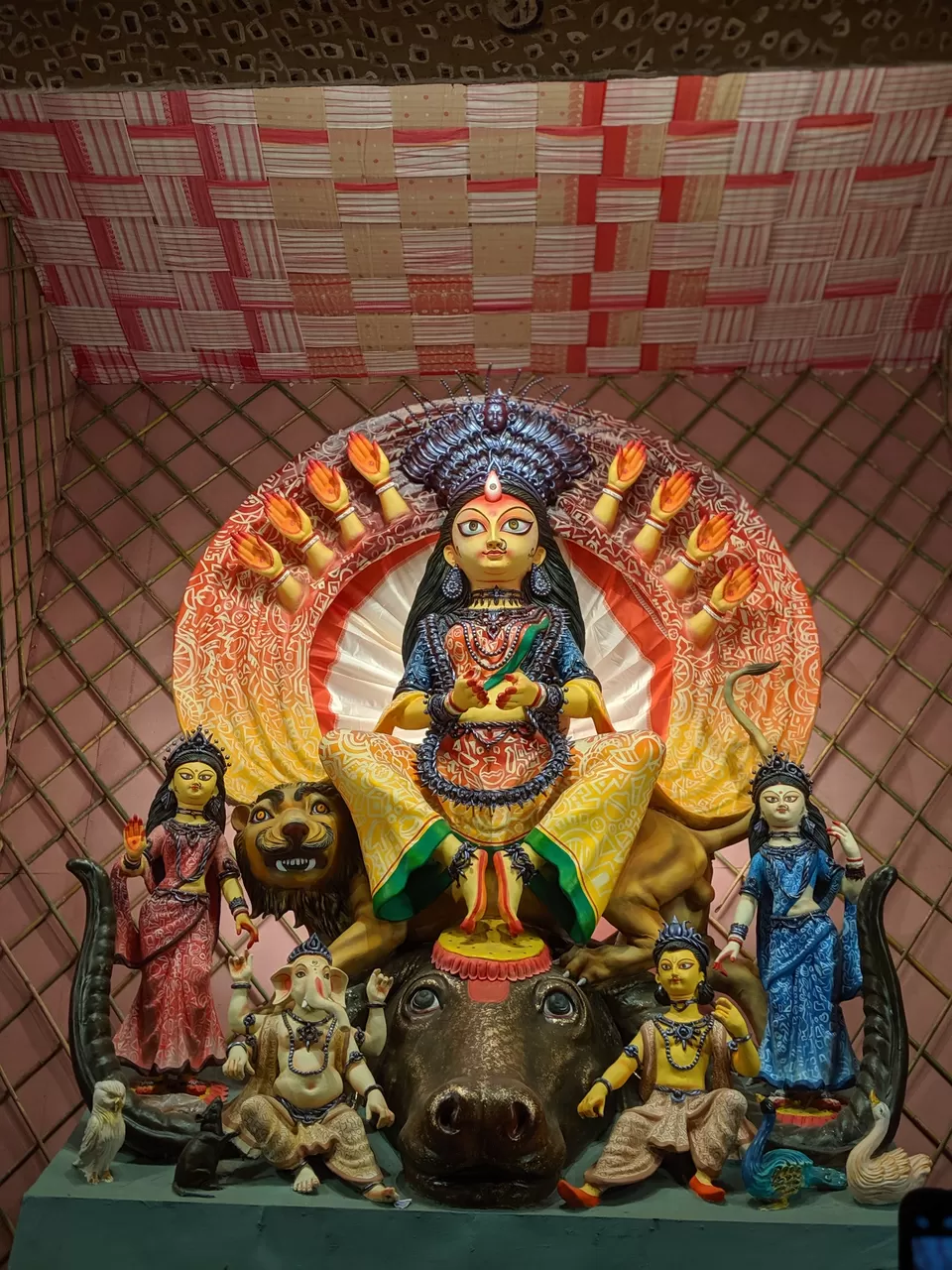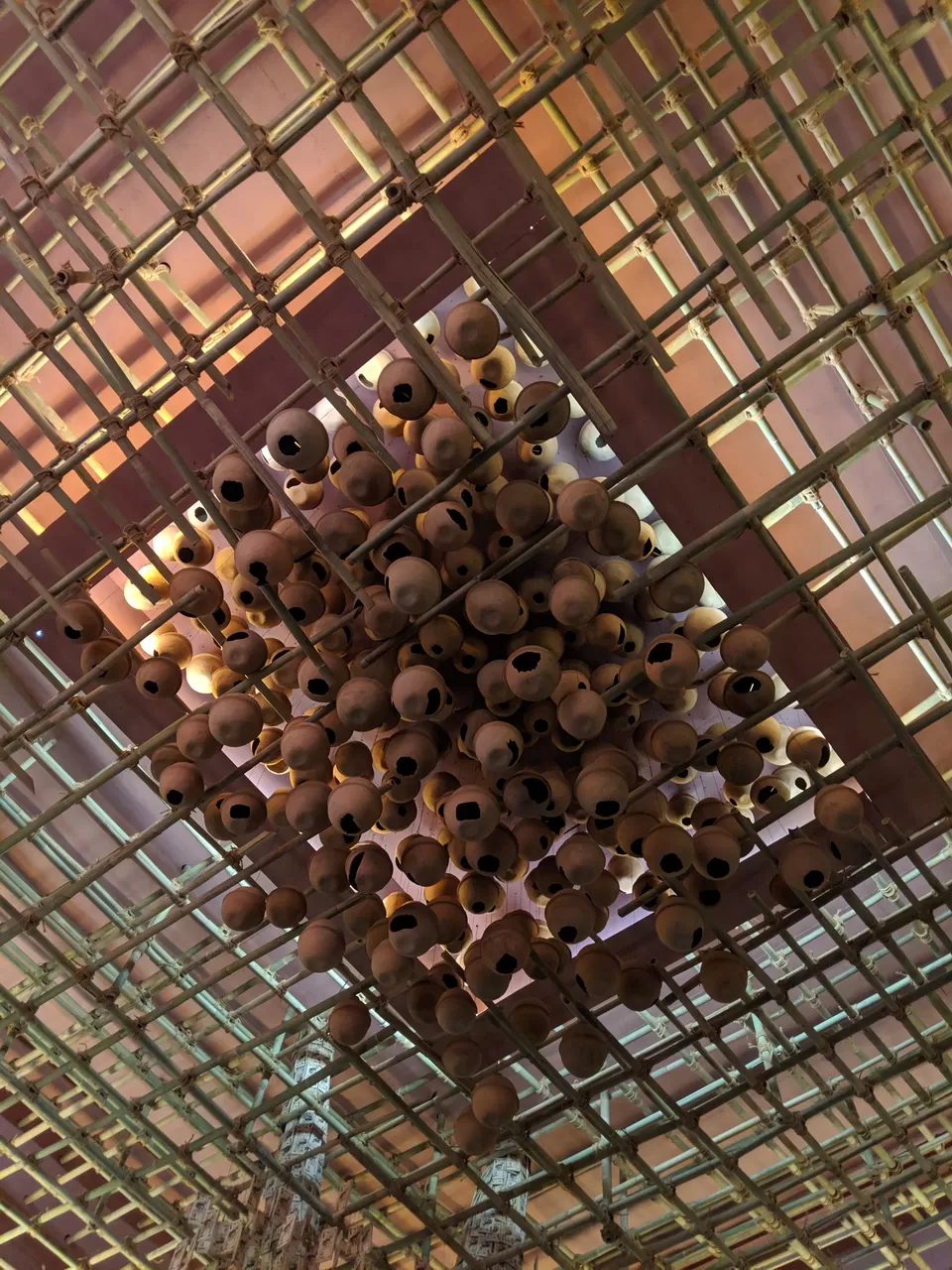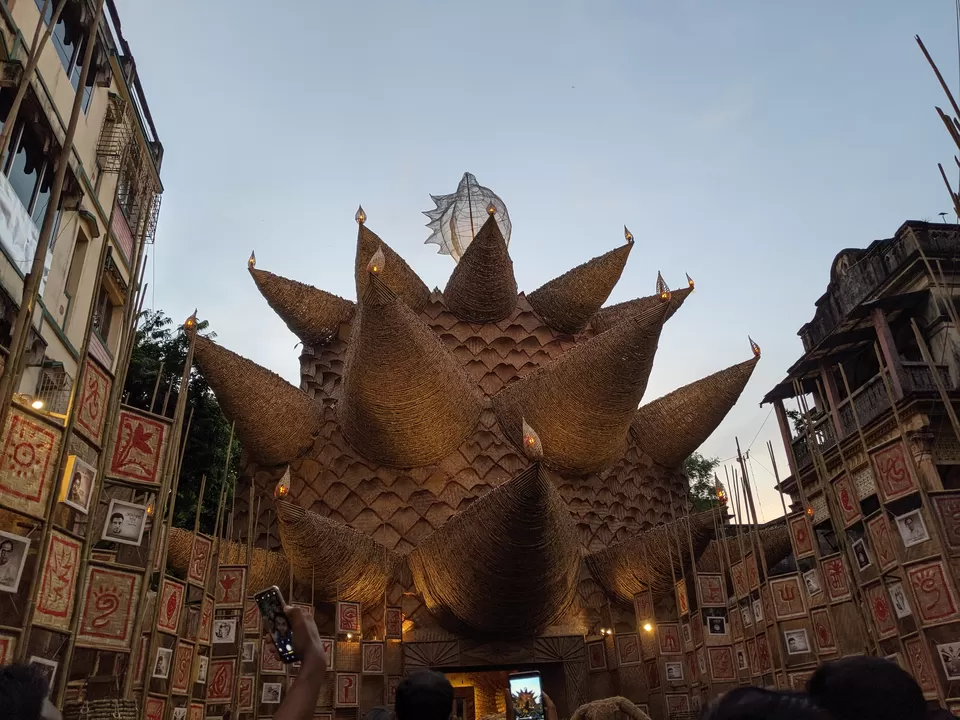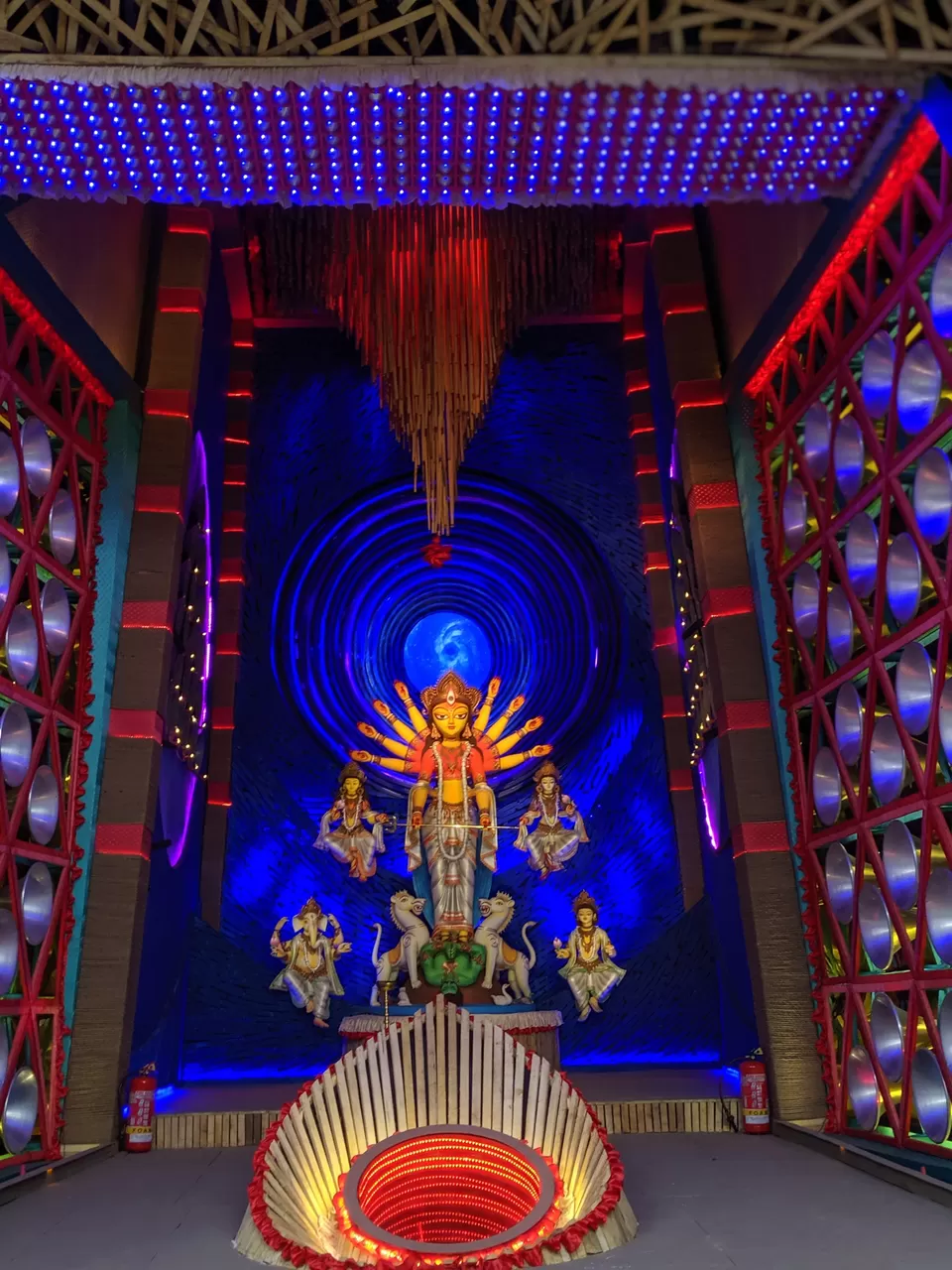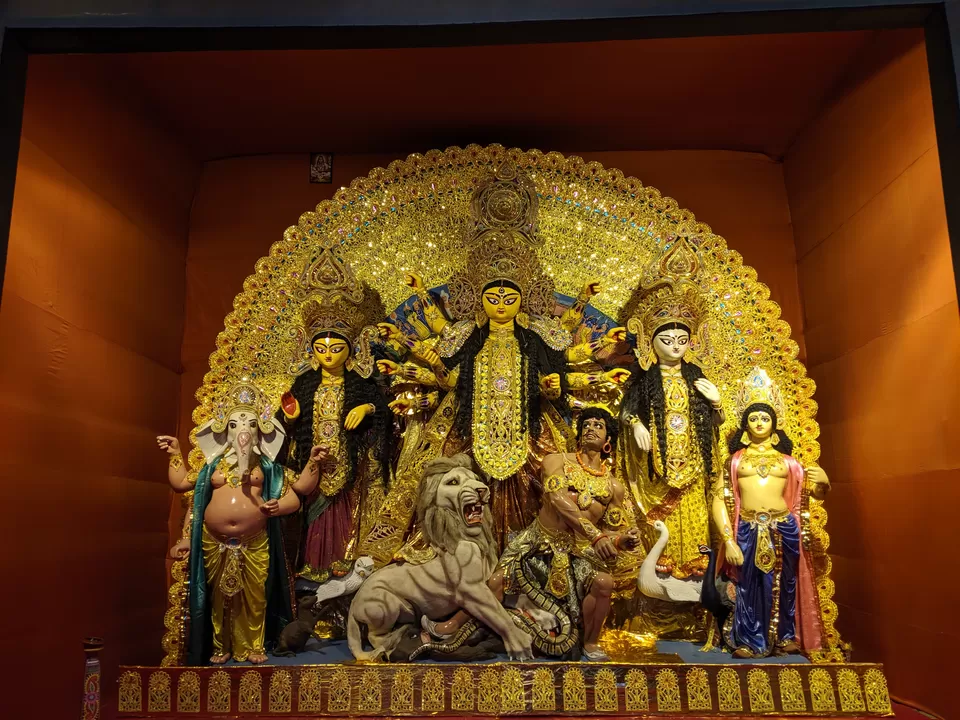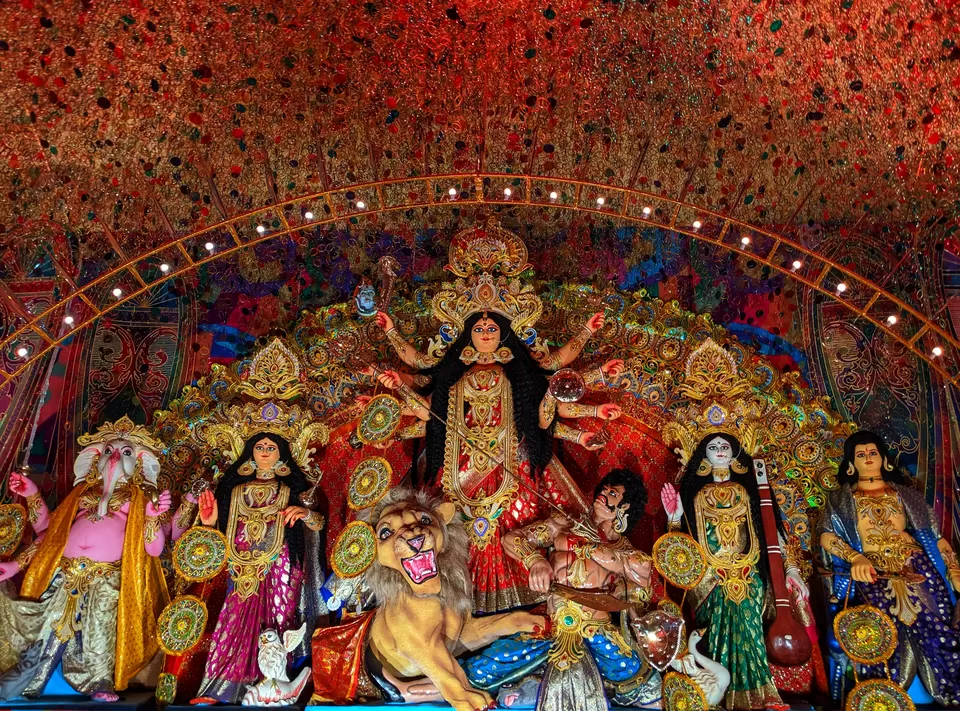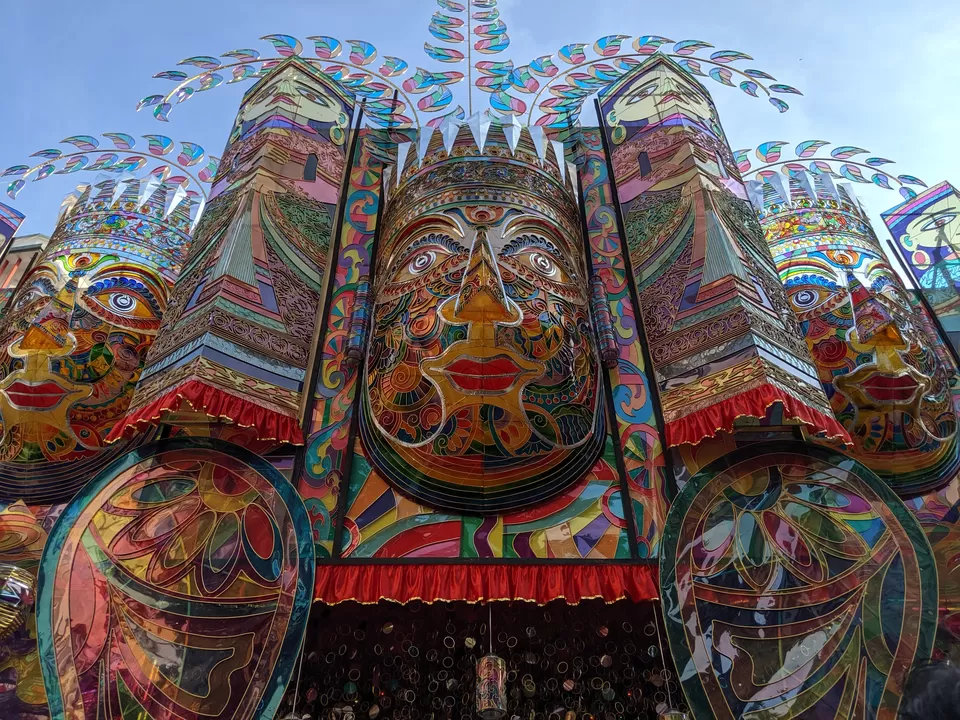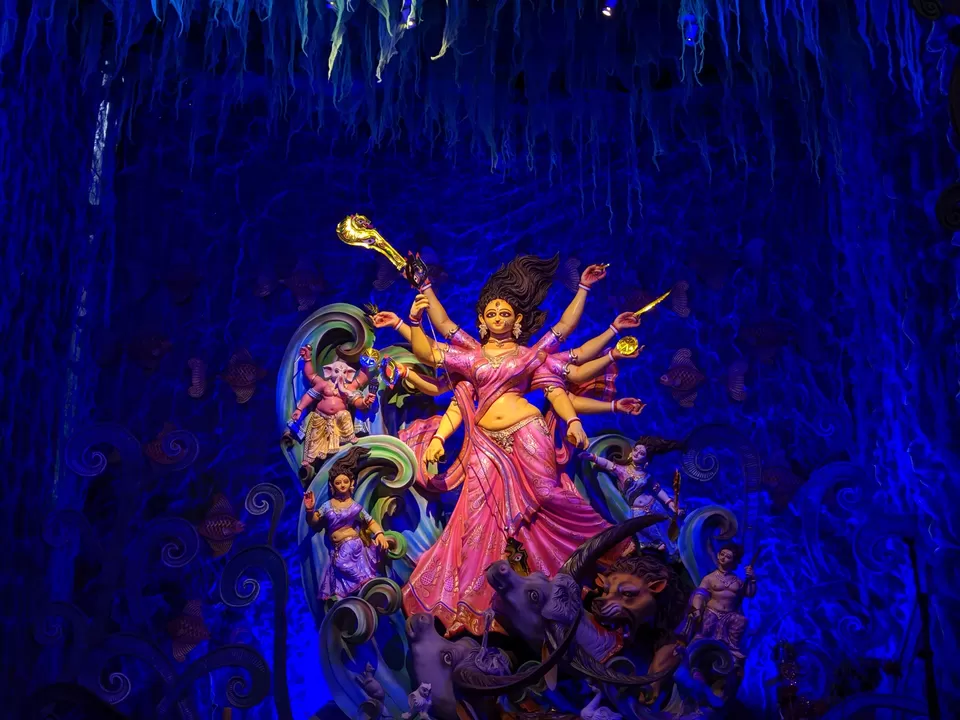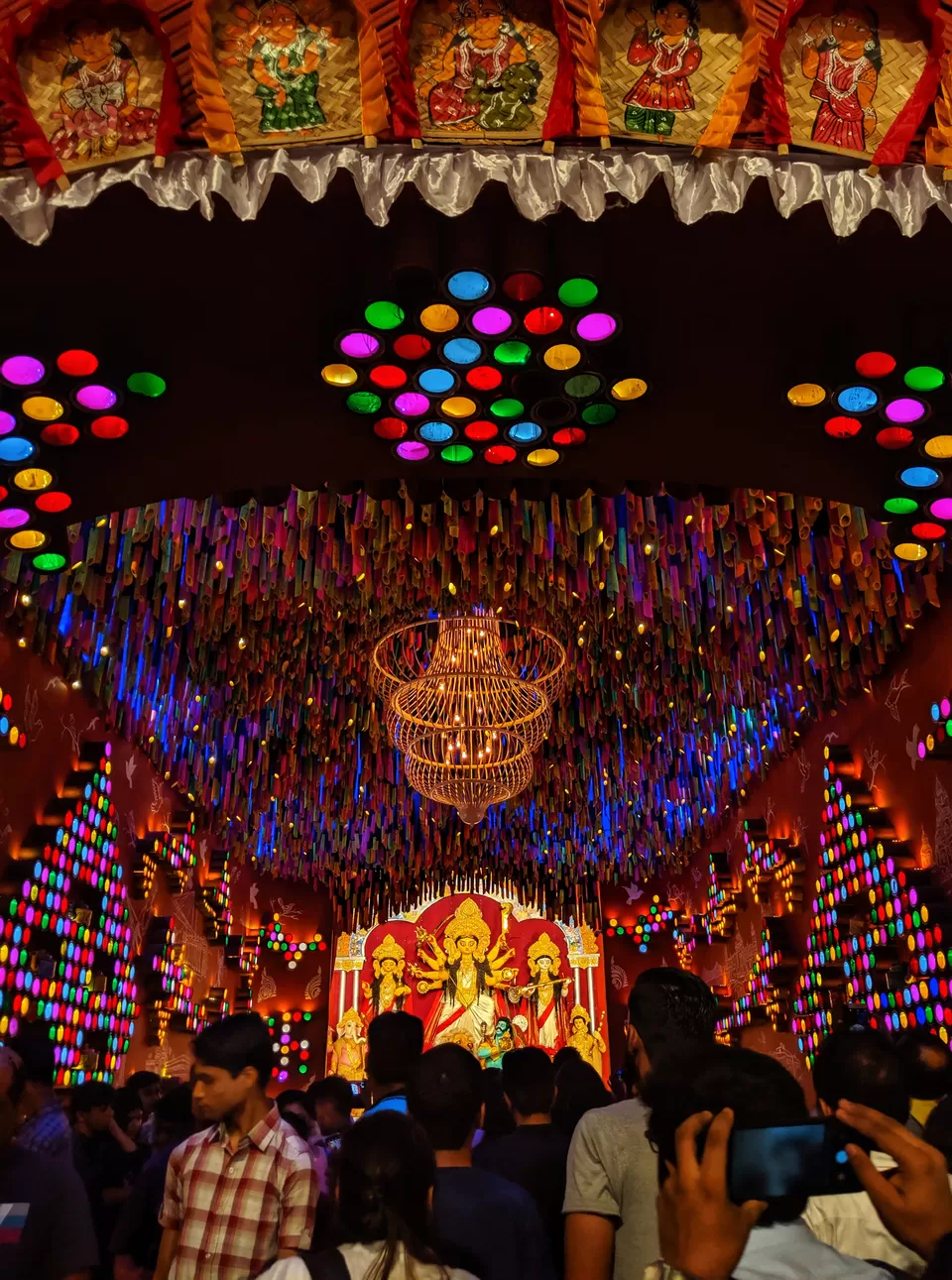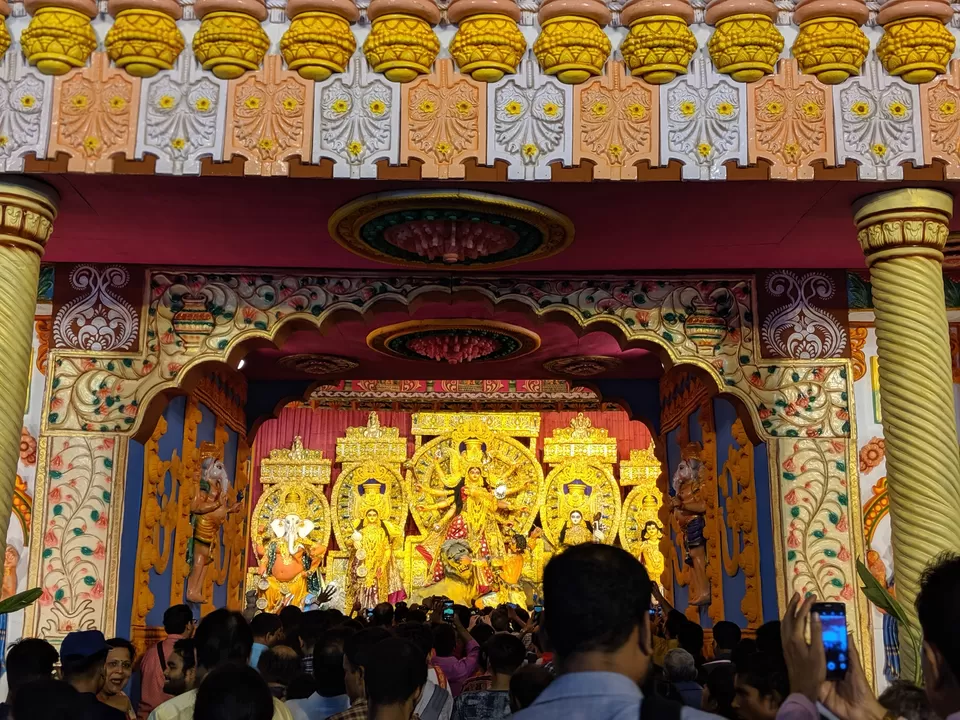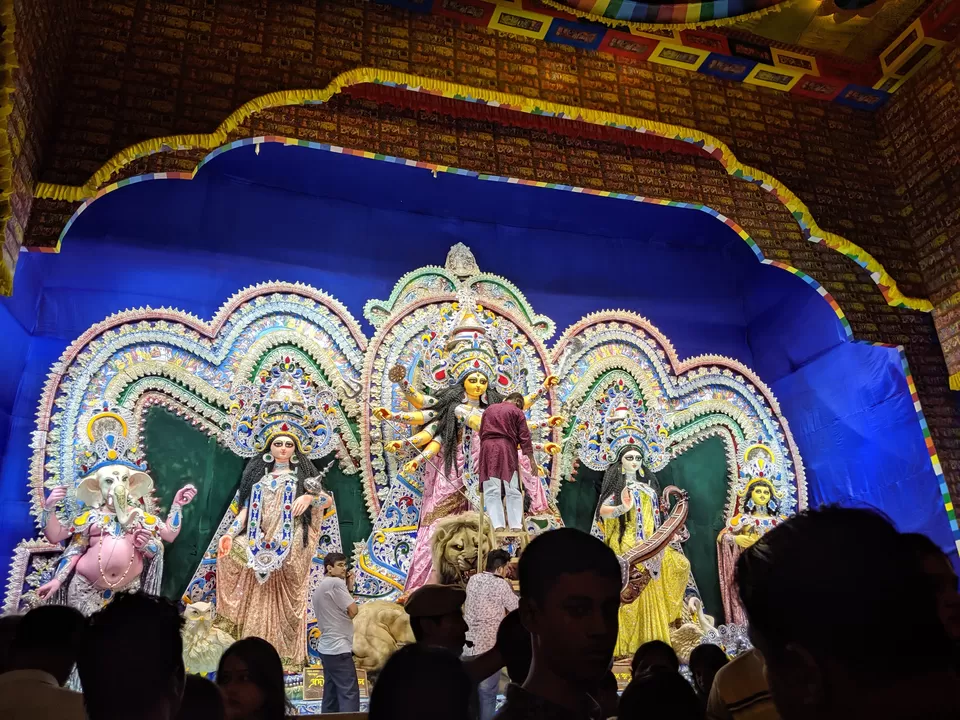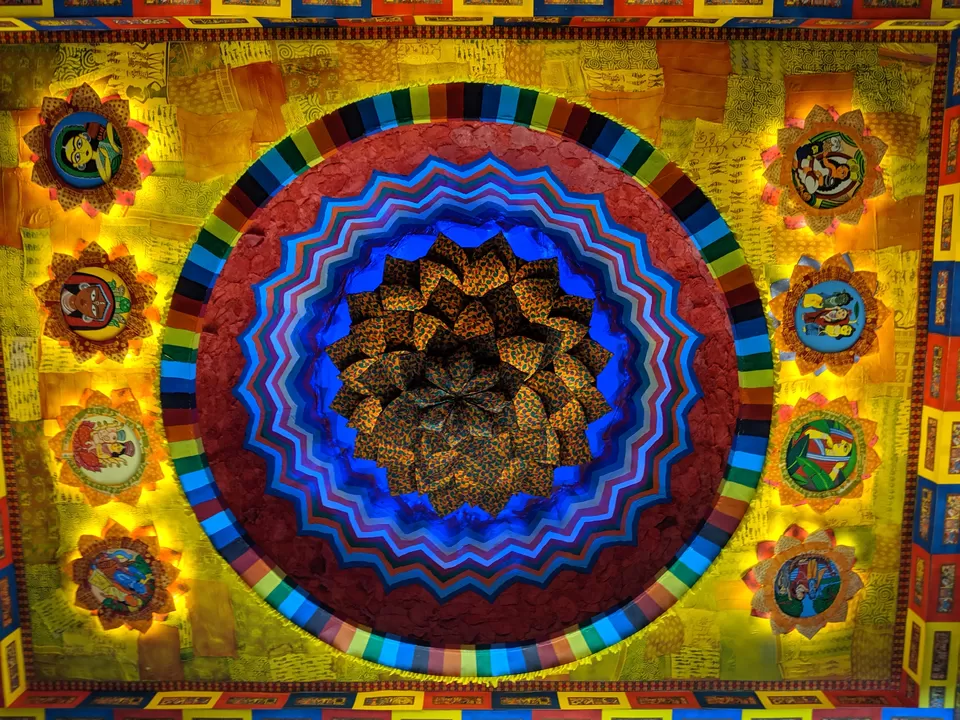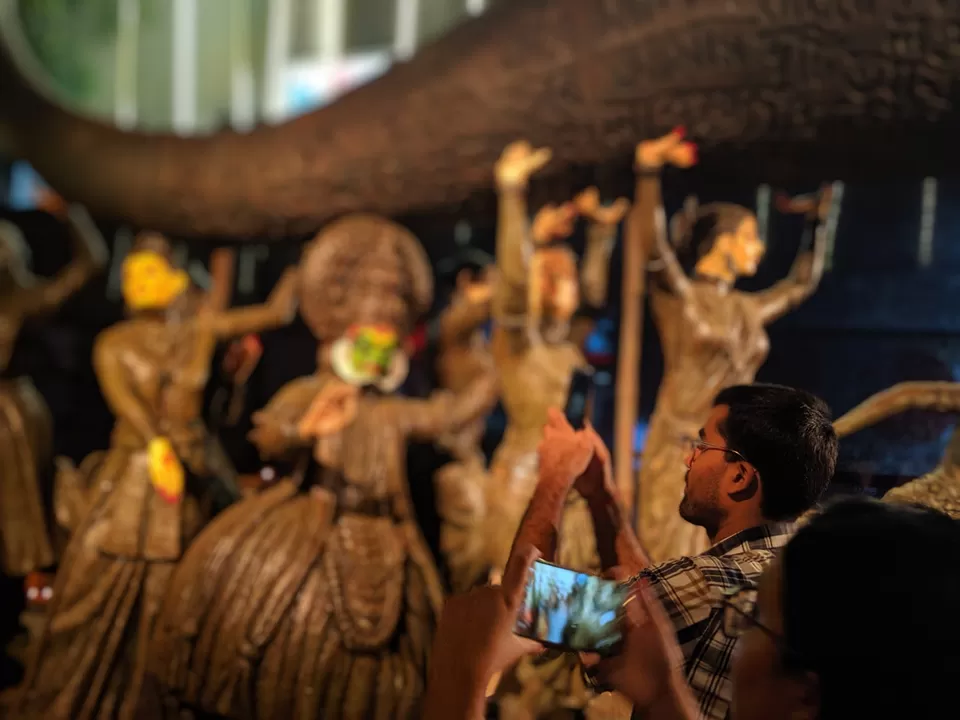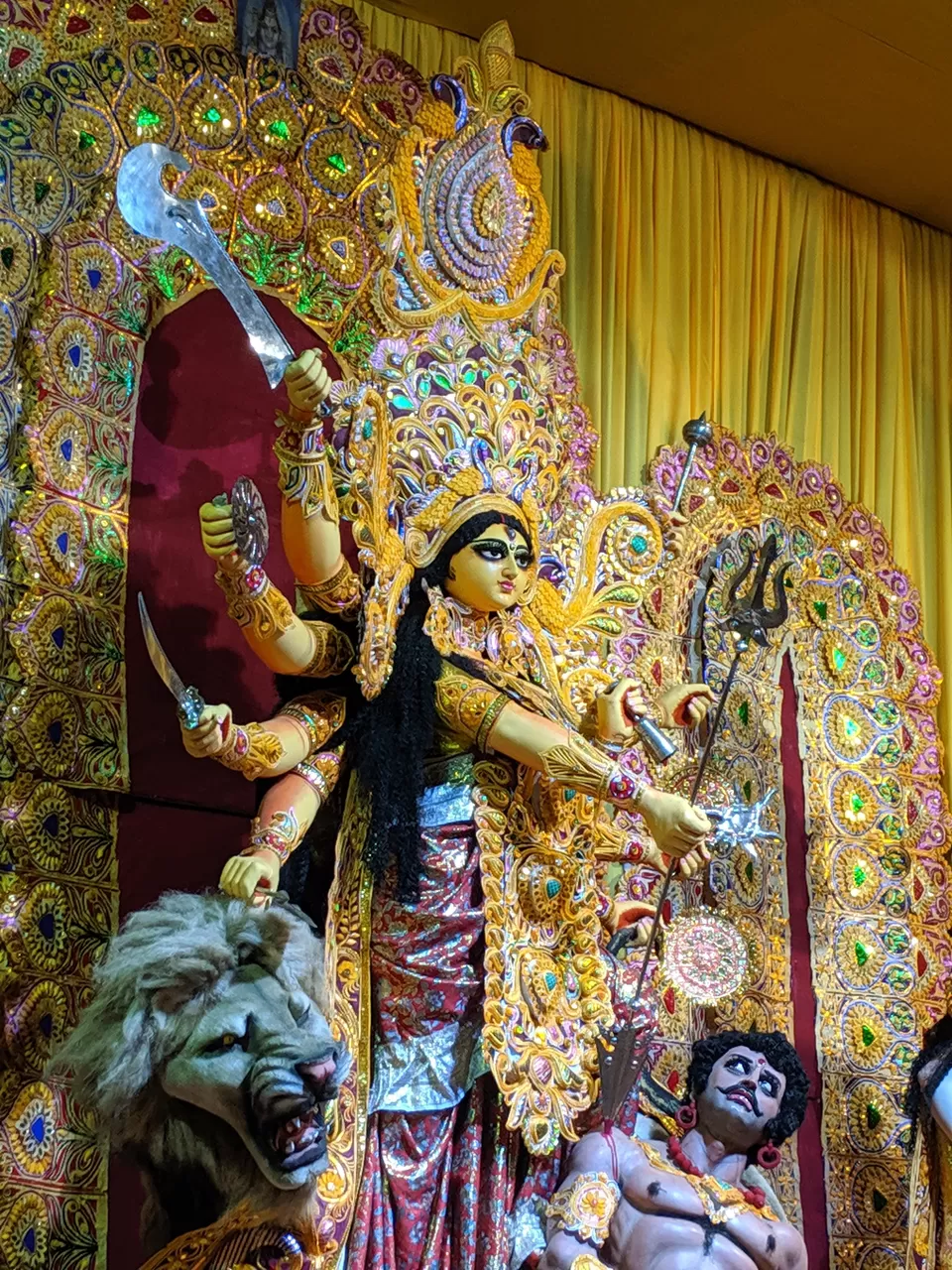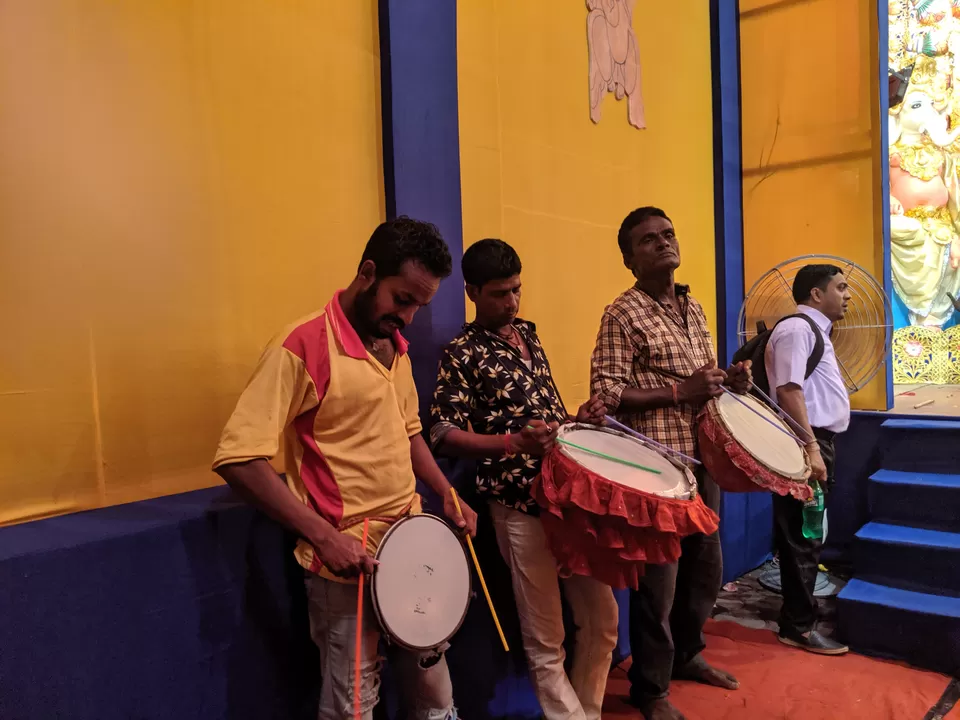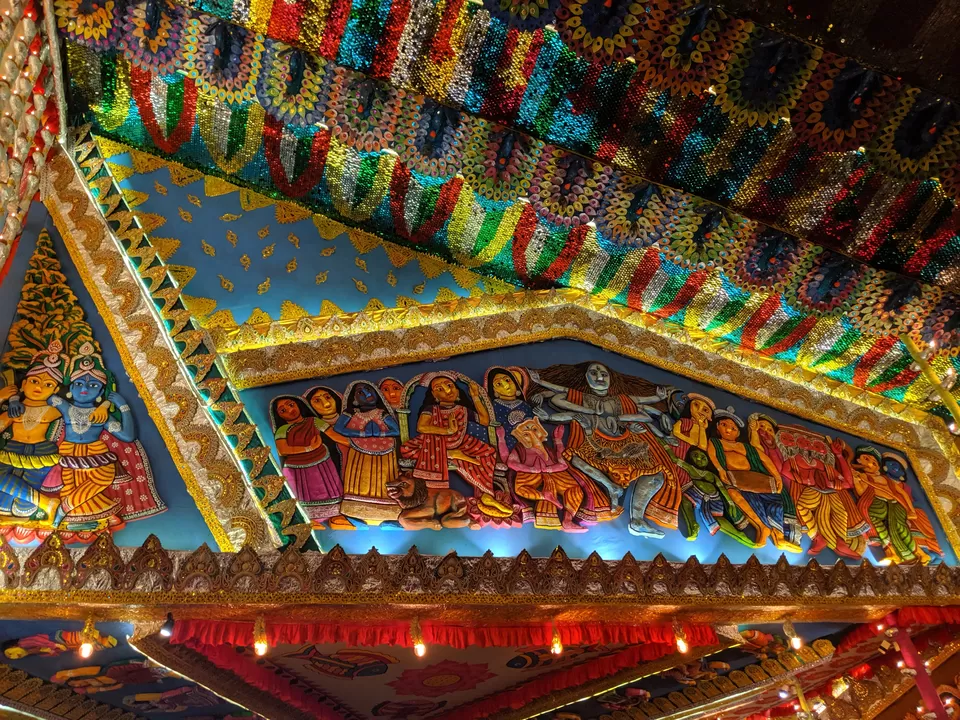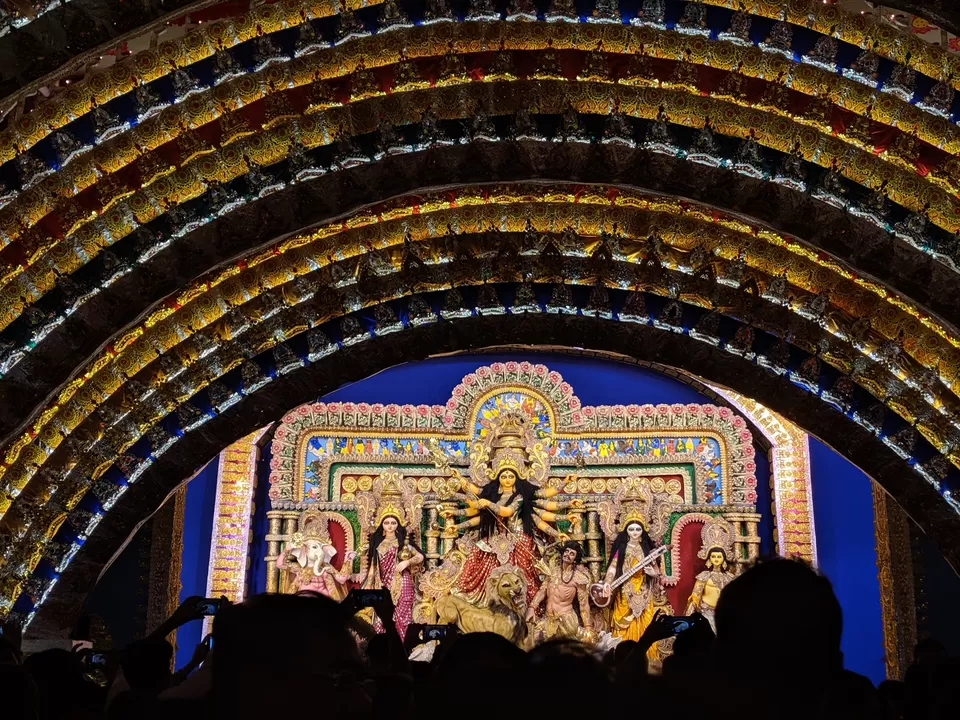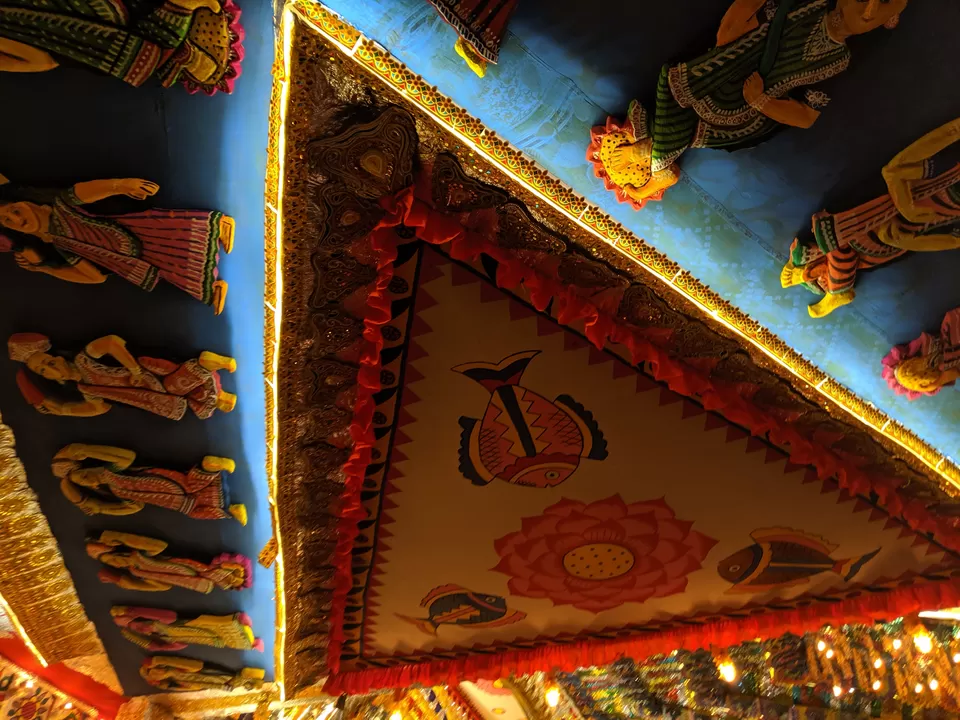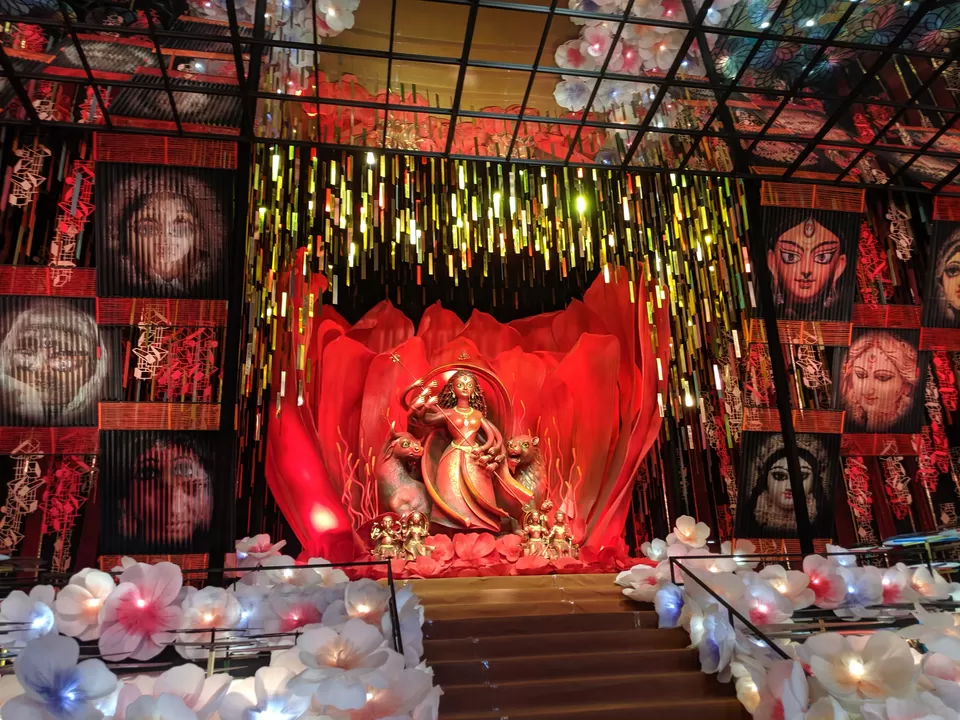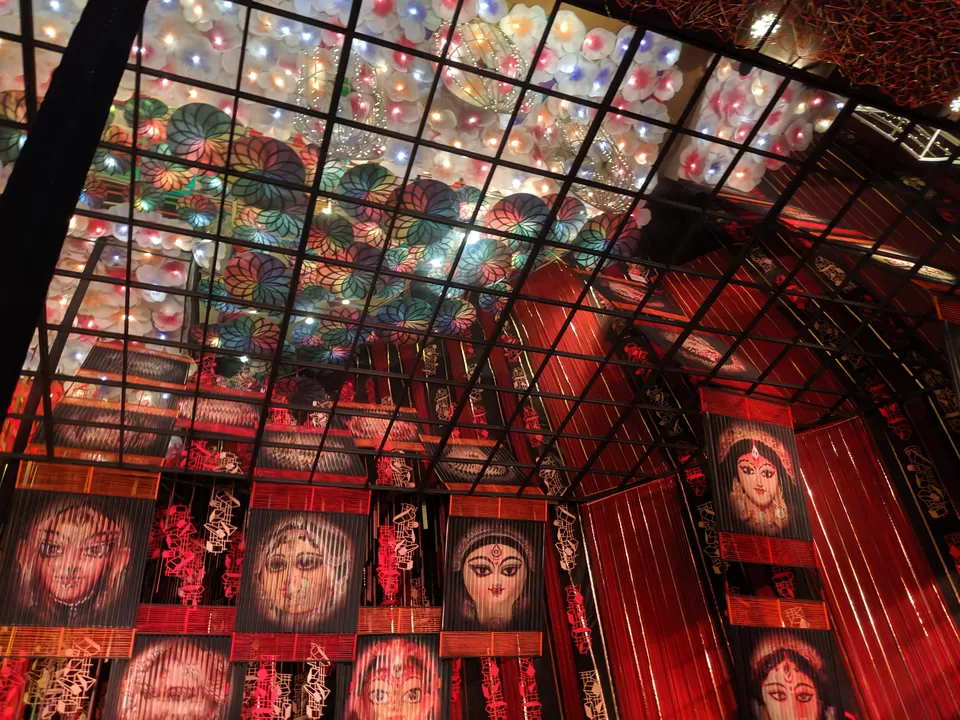 I had to leave on Saptami. It rained heavily that day in Kolkata. But I somehow got to the airport well within time. One major thing I missed was to take a picture with Madhumita. I had a really great time with her. She took care of me like her own daughter, served me home-made food. We talked on different subjects for hours. Well some things work out best when unplanned. I couldn't visit many famous places in Kolkata, but how can one travel the entire city in a span of just few days. There was something about Kolkata that touched my heart, no doubt they call it 'the city of joy'.
Someone has said that Kolkata is like Kishorda's song, and after 10 days I could feel that too.