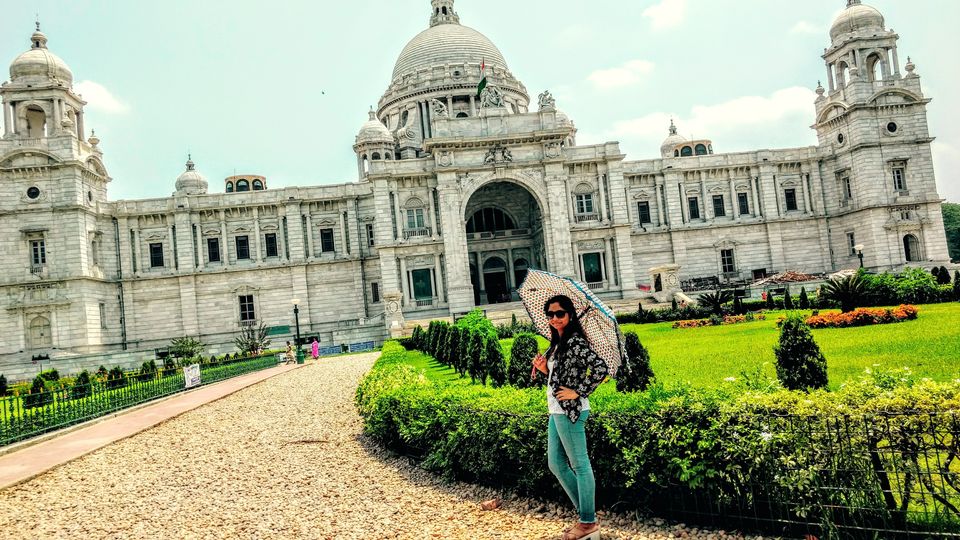 There are few cities in India that are so rich in culture that they manage to carve a niche in your psyche. One such example is Kolkata whose old-world charm and ever-lively atmosphere is sure to enwrap you in its spell. Below is the list of my personal experiences that made Kolkata a special place for me.
1. Victoria Memorial
Built in commemoration of Queen Victoria's 25 years of rule over India, this white marble beauty is sure to make your visit to this city a memorable one. The architectural grandeur of this place that is an amalgamation of both British and Mughal elements is a huge tourist magnet of the city - primarily because it is located in the heart of the city. This place is a marvel for history enthusiasts as the museum inside the memorial houses galleries full of portraits, artefacts and sculptures of royalty, national leaders as well as about the history of Calcutta. The gardens, elaborate shrubbery and the lovely fountains surrounding the memorial are well maintained and is meant for cupid-struck couples. Although photography is not allowed inside the premises, do try to sneak a picture with the magnificent statue of Queen Victoria standing tall right in the middle of the museum hall.
Entry fee – INR 20 (Indians) , INR 200 (Foreigners)
2. Prinsep Ghat
Your Kolkata experience is unfinished without taking an evening boat ride from Prinsep Ghat to Hooghly river. This place is sure to give you the vintage feels and is one of the most romantic things to do in the city. The Palladian Porch that you can see here was built in the memory of Anglo-Indian scholar James Prinsep and has the magnificent view of the hanging Hooghly bridge towering over it. Do visit this place in the evening to experience the mesmerizing lighting of this place.
3. Belur Math to Dakshineshwar Kali Temple
Now this was undoubtedly my most memorable thing to do in the city. The ferry/boat ride from Belur Math to Dakshineshwar Kali temple was not only full of captivating scenes but also quite an adventurous one that managed to give me a minor scare.
Belur Math situated on the West Bank of Hooghly river was founded by Swami Vivekananda and is the chief headquarters of Ramakrishna Math and Mission. The most notable part of this temple is the symphony of its architecture that employs Christian , Islamic , Hindu and Buddhist elements. It is a place of utmost peace during off-seasons and could send you into a meditative trance.
Head to the Belur Jetty and take a ferry/boat to Dakhshineshwar Kali temple (another architectural mogul in its own right) through river Ganga . The ride takes around 30 minutes and you will get scenic views of the 2nd Hooghly Bridge, the Vivekananda Setu (Bally Bridge) and the magnificient Dakshineshwar Kali temple in all its glory. The cool breeze along with the sway of the ripples created by Ganga makes the ride memorable.
Our boat almost capsized due a sudden approach of strong waves in the river and we survived all thanks to our adept boatman. Once you reach the Maa Bhabatarini Jetty Ghat , you can see the Bally Bridge looming over you in all its rustic glory.
Although I am not a big fan of temples, I must say the Dakshineshwar Kali temple is quite unique as far as temples go. It's typical Bengali architecture coupled with a frenzy of spiritual energy drove me forward for the darshan (I usually skip the darshan and just visit temples for the architecture) and I felt quite content afterwards.
4. Tram ride across the city crowd
Not local trains, not metros but it's trams that will definitely give you a feel of travelling in the colonial era. This mode of travel is dirt cheap and slow but the childlike fun you experience is un-paralleled. Being the only running tram systems in India, this mode of transport adds not only an vintage charm to city but is also an environmentally sustainable way of transport.
5. Delectable Bengali cuisine at Bhojahori Manna
It is no doubt that Kolkata is difficult to compete with in matters of food. Bengali cuisine manages to weave its magic on you. Making its way through your taste buds, the food here manages to etch forever-a place in your heart. And to experience Bengali cuisine, this place is definitely one of the best. Being a franchise restaurant, this place has multiple locations across the city and provides you lip-smacking Bengali delicacies at reasonable cost. I tried the Basanti Pulao and Daab Chingri at their Ballygunge outlet and needless to say the food won me over.
6. Authentic Chelo kebabs at Peter Cat
Let me lay it out upfront, that I am truly not a fan of kebabs. But recommendation from every true-blooded Kolkatan I know compelled me to check this place out. And boy was I amazed! Peter Cat is the one of the oldest restaurants in Park Street Circle and is famous for the unique dish of Chelo kebab (mutton and chicken) served with steamed rice and veggies. A plate will cost you around 400 bucks. Also try the fish dish Beckty Munier and some caramel pudding to end on a sweet note.
7. The game of galaxies at Birla Planetarium
If the stars and the galaxies interest you, this is undoubtedly worth your time. But have you ever tried to watch a show in Bengali? Being similar to Hindi, Bengali can be understood by most Hindi speakers with a little concentration. Watching the show in the local language gives you a chance to brush up your Bengali skills and is a unique experience worth boasting about later.
Entry fee – INR 40
8. Get amazed at the Gothic architecture of St Paul's Cathedral
9. Ferry ride at Babu Ghat across the Ganga
The peace you feel at the heart of Ganga can be experienced at a very cheap cost (as low as INR 5) by the amazing ferry rides connecting Howrah to Kolkata. This experience will also give you majestic views of the Howrah bridge looming over the river.
Things I missed in Kolkata and would like to see again
• Nicco park
• Eco Park
• Kalighat temple
• Sunderbans
• Ravindra Sarovar lake
Below are some more snaps of my visit to Kolkata.
Although, there might be 100 other reasons to love the city, this list is curated as per my own experience. Do comment below if you agree or disagree with my top choices.