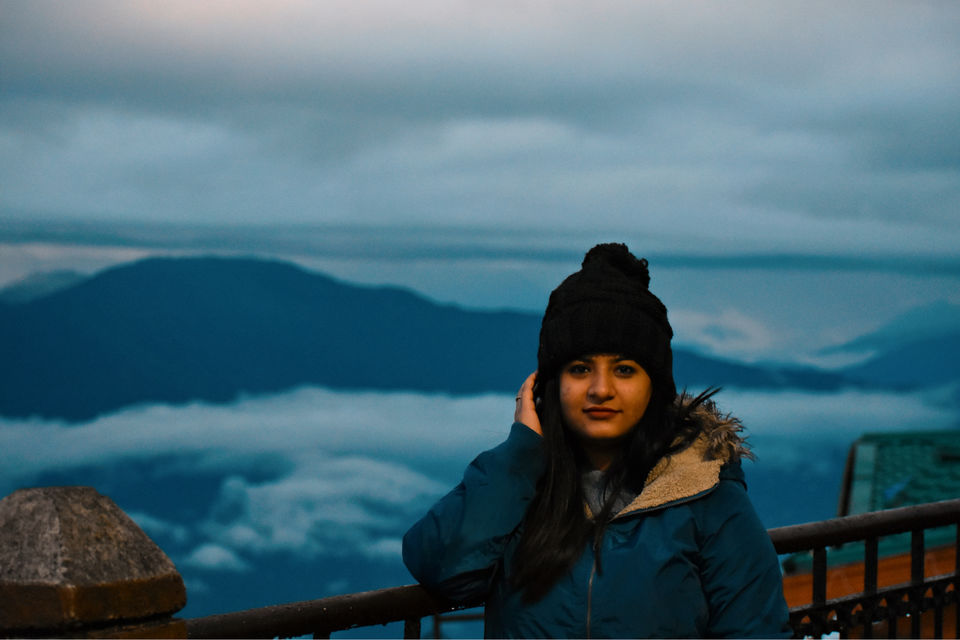 A friend and I decided to explore Darjeeling in the new year and so on the 2nd of Jan, we boarded the train from Kolkata station and we were off.
We were lucky enough to get tatkal tickets to NJP station and I am always more comfortable travelling by train rather than by bus.
We reached NJP station on the 3rd morning and wove our way through the crowd to get ourselves a cab to Darjeeling.
This is a tricky part of the trip. Usually there are shared cabs from NJP auto stands taking people onwards to the hills. But my friend and I did not want to cram ourselves in a shared cab ( each vehicle tried to cram in 10-12 people for the journey). So after much haggling, we got ourselves a Xylo for Rs 3000 which we shared with another two travellers, who had happened to be looking for a cab to darjeeling themselves.
If you want to do a cheaper version of your travel from NJP to Darjeeling, the shared cab costs you Rs 300 per traveller.
After 30 minutes of weaving our way through the Siliguri traffic, we started to make our way up the hills. It was a cloudy day, and we could see the swirling misty clouds keeping us company the entire journey.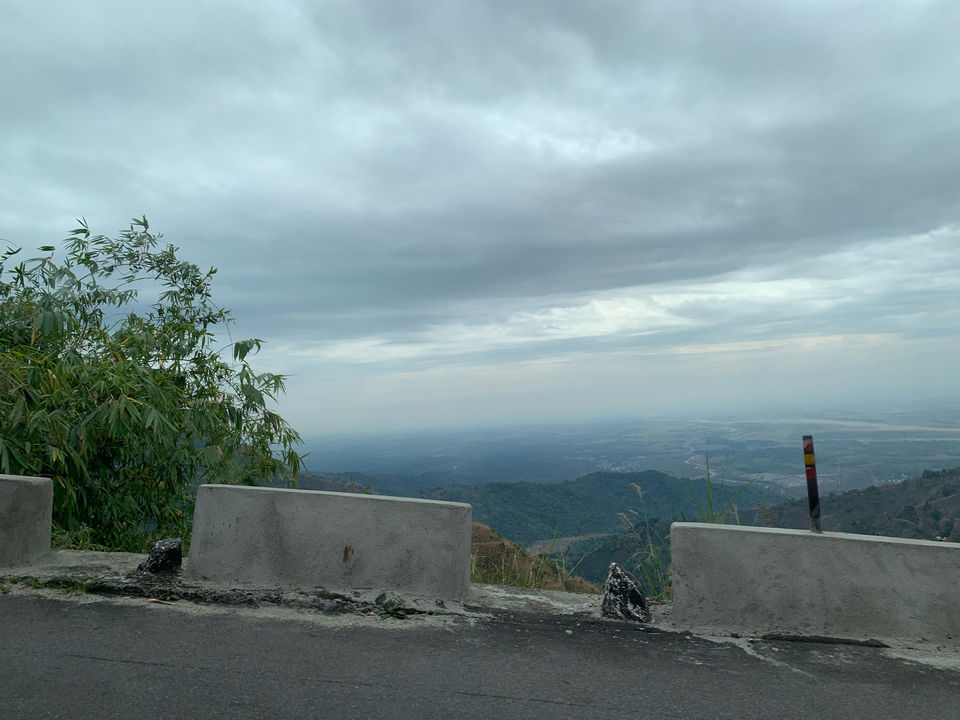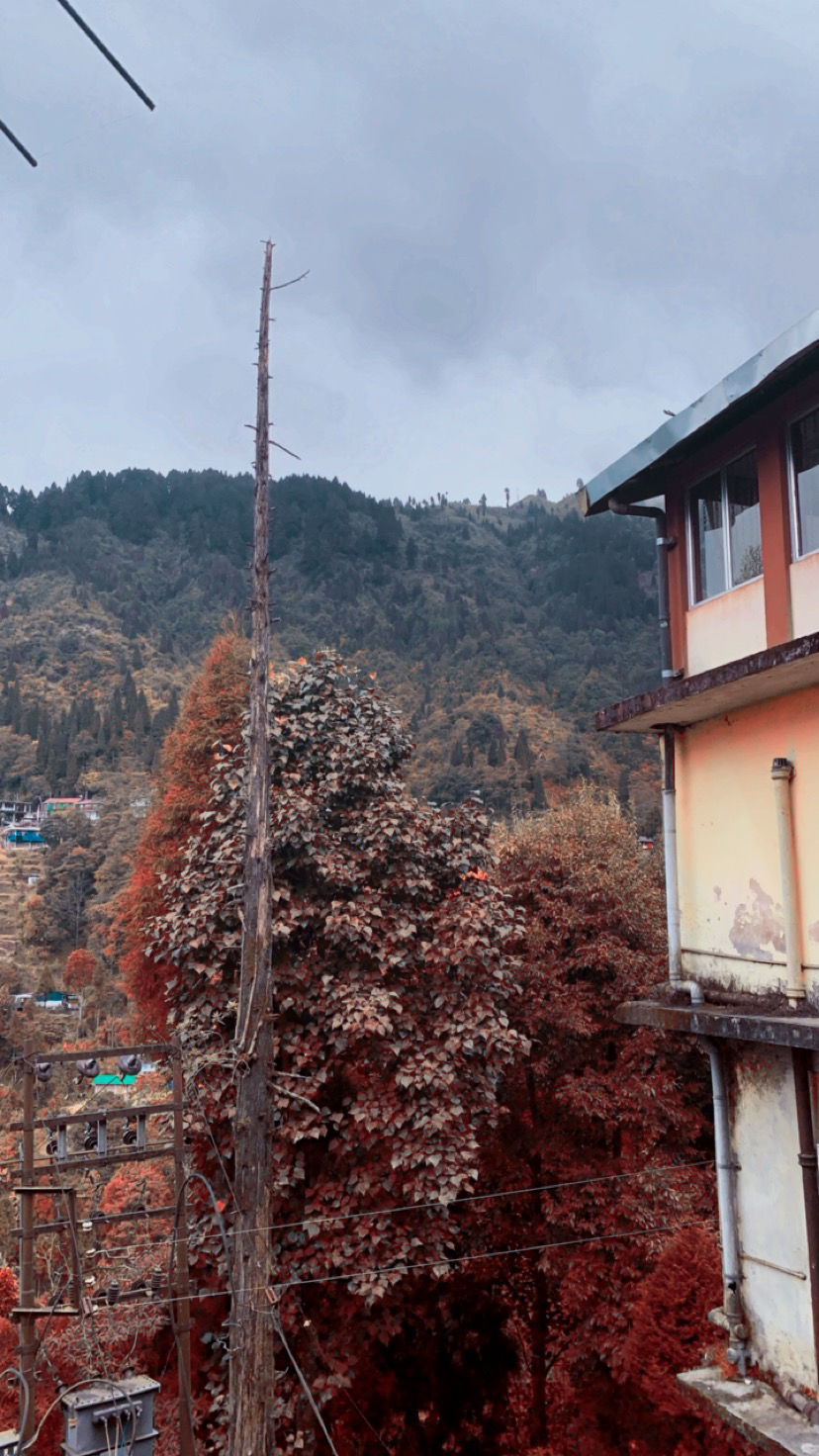 As we wound our way up, I dozed off a couple of times and woke up to find that we were already in the town of Kurseong. There are a couple of view points here offering us views of the valley below and the far-off hills. We stopped there a couple of minutes and then were off upwards.
We stopped for lunch 1 hour before we were to reach Darjeeling. It was just heavenly to get a hot meal with a glass of chilled beer.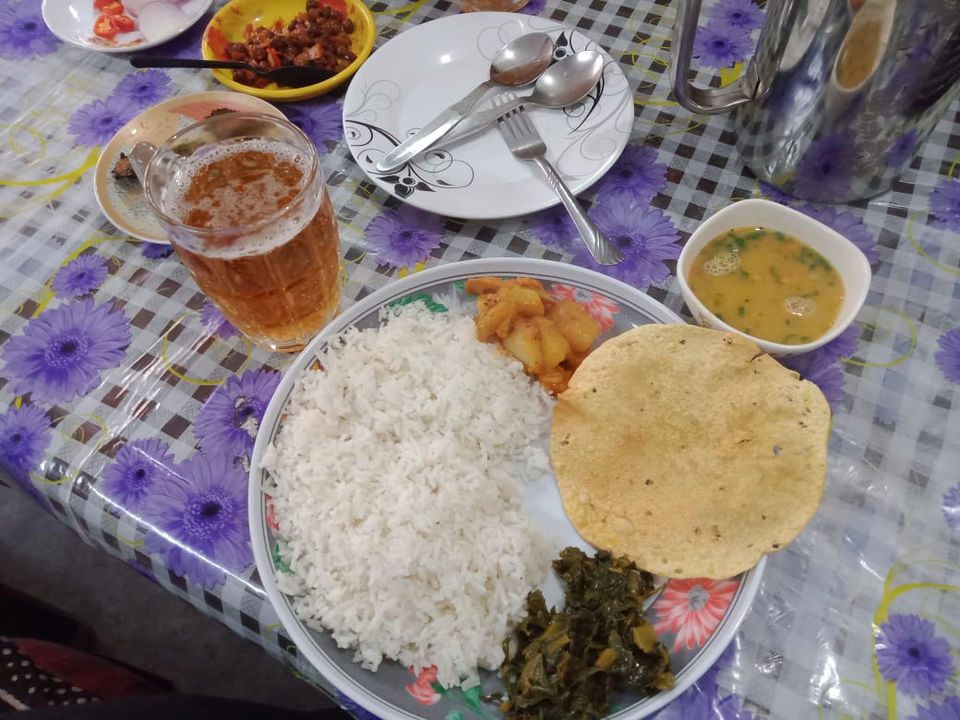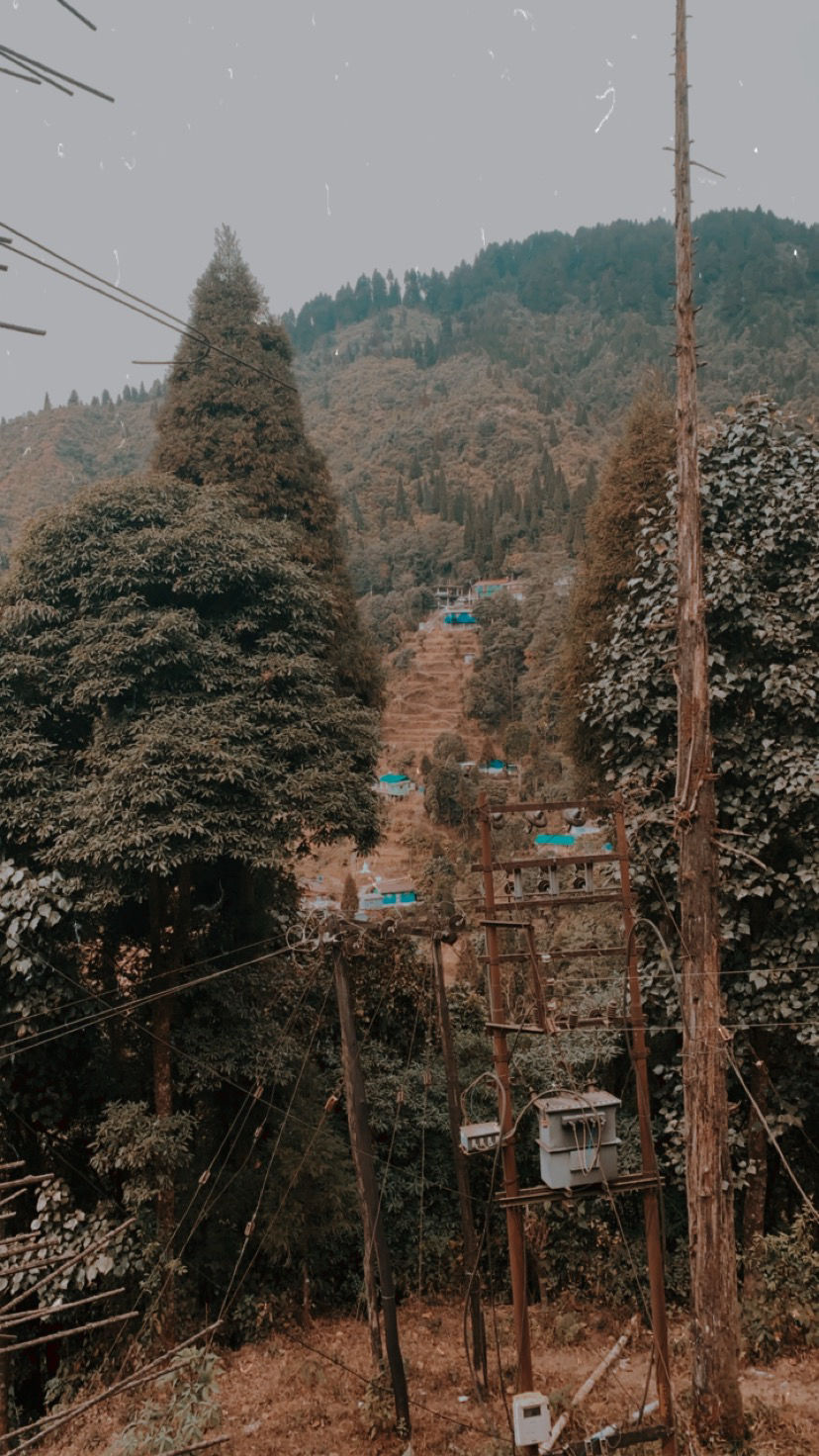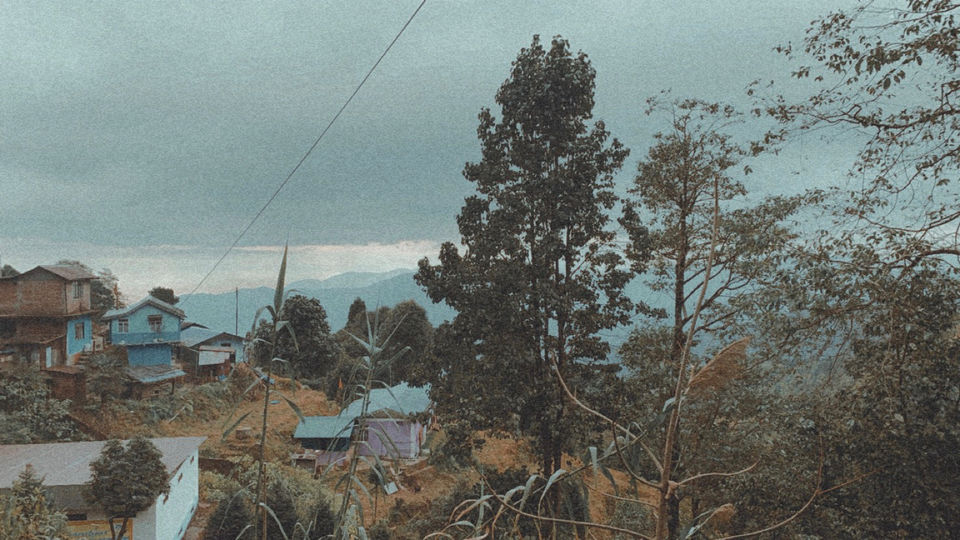 We reached our hotel around 2 pm in the afternoon by which time it had started raining. Coming from a relatively warmer Kolkata, Darjeeling felt bone-chilling cold at that point.
We took a shower and warmed ourselves by the heater of our room and felt ready to brave the cold rain again.
So, undettered by the biting cold and the rain, we borrowed umbrellas from the hotel and went exploring the famous Mall Road.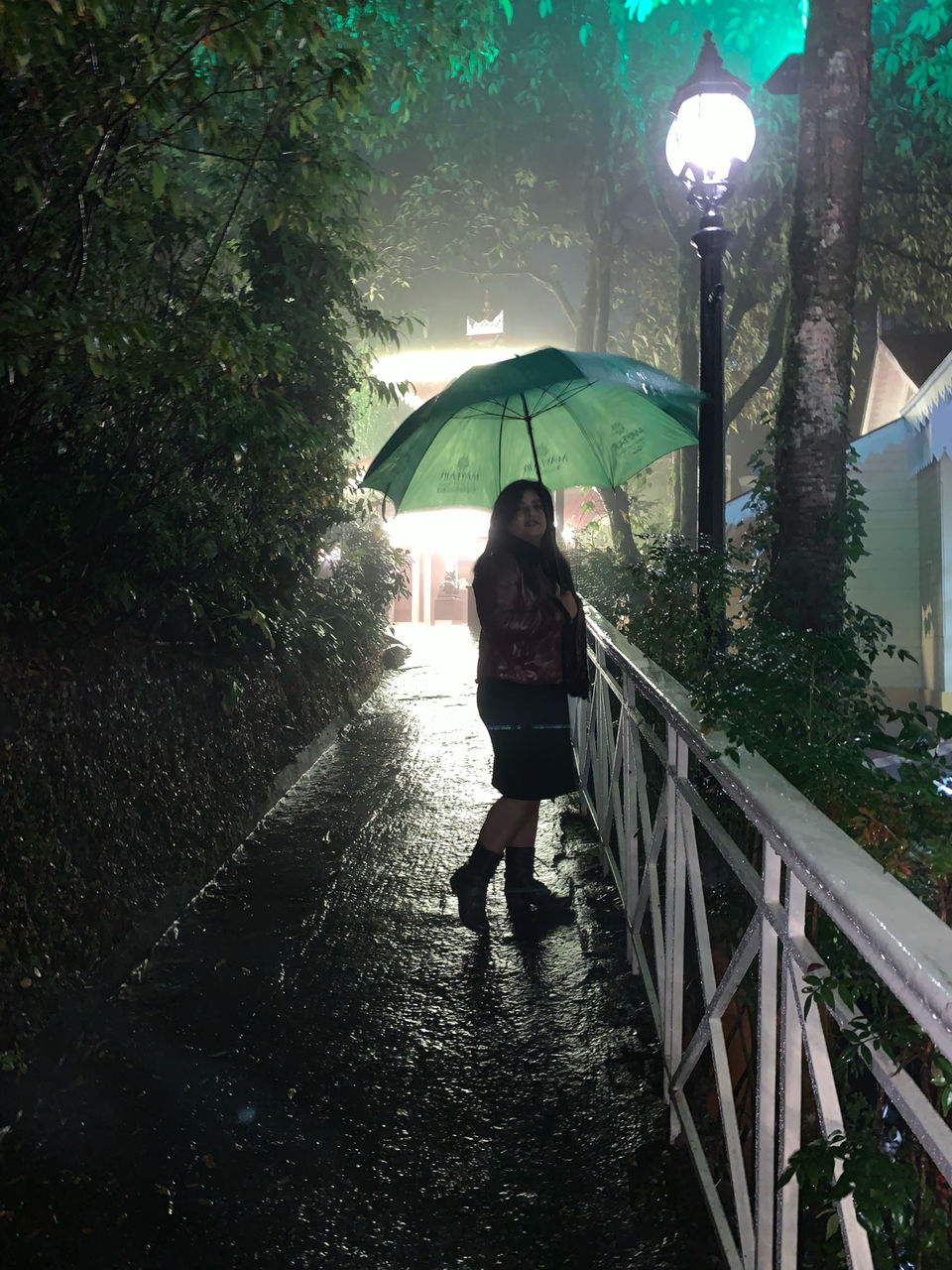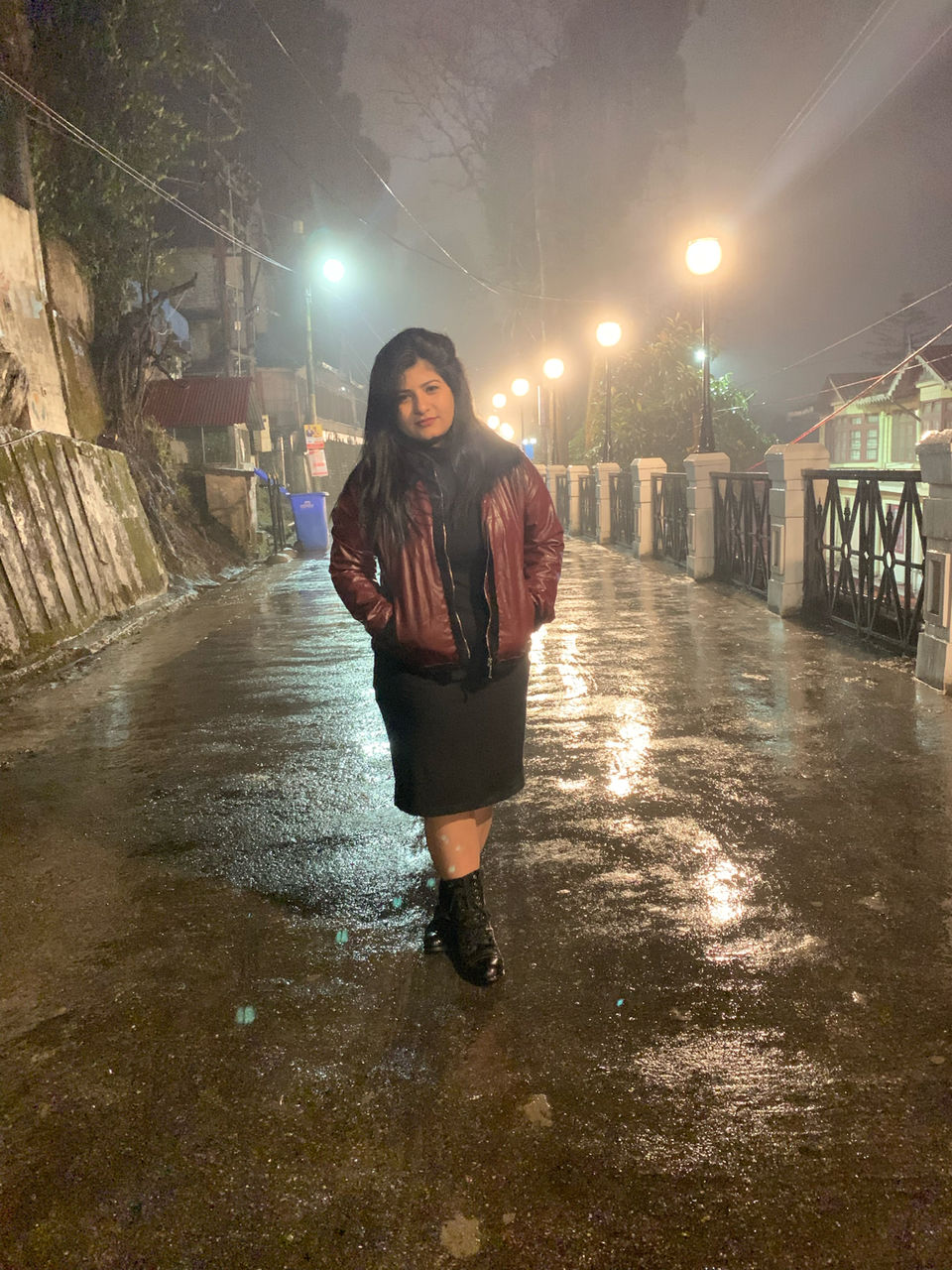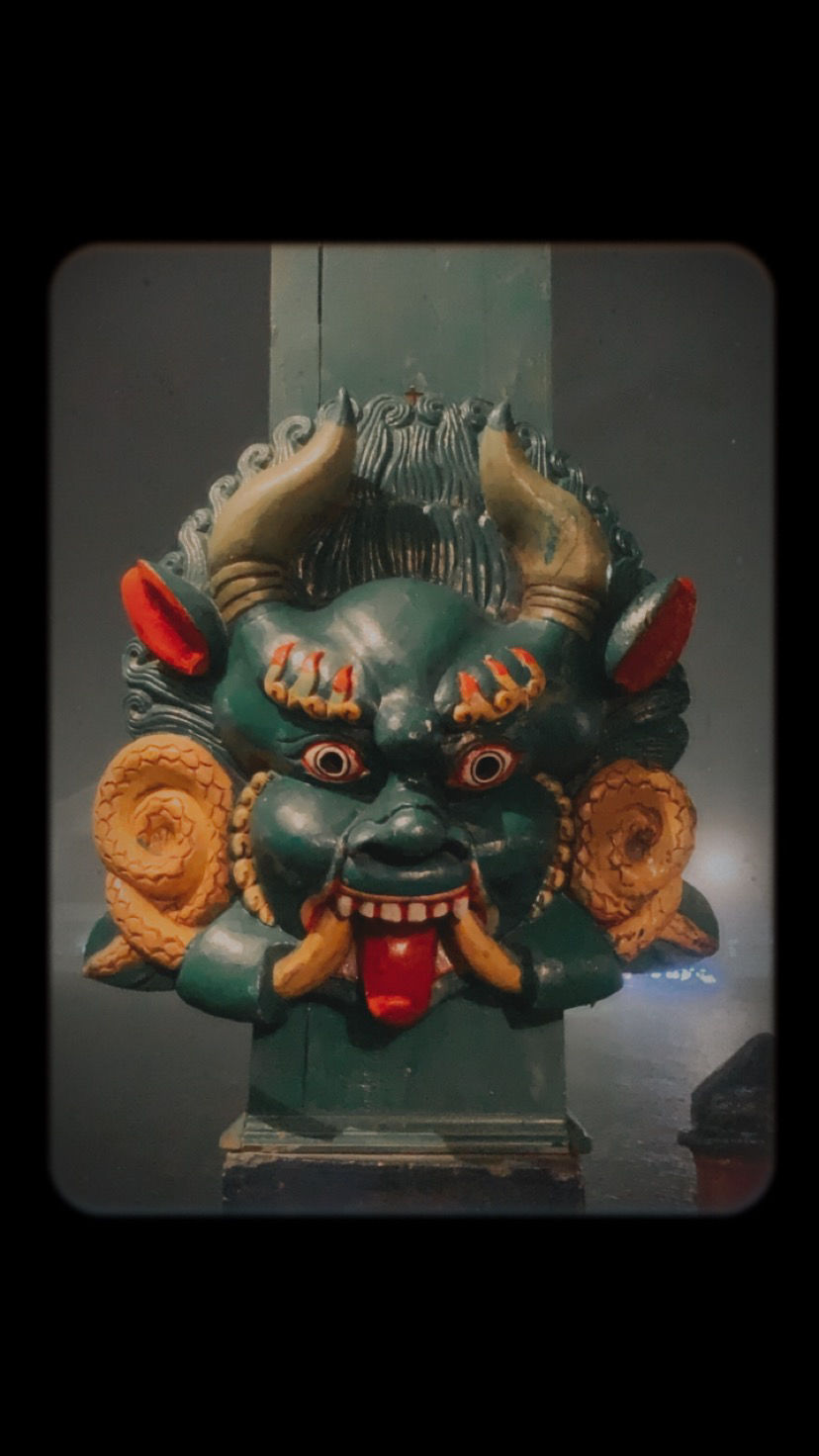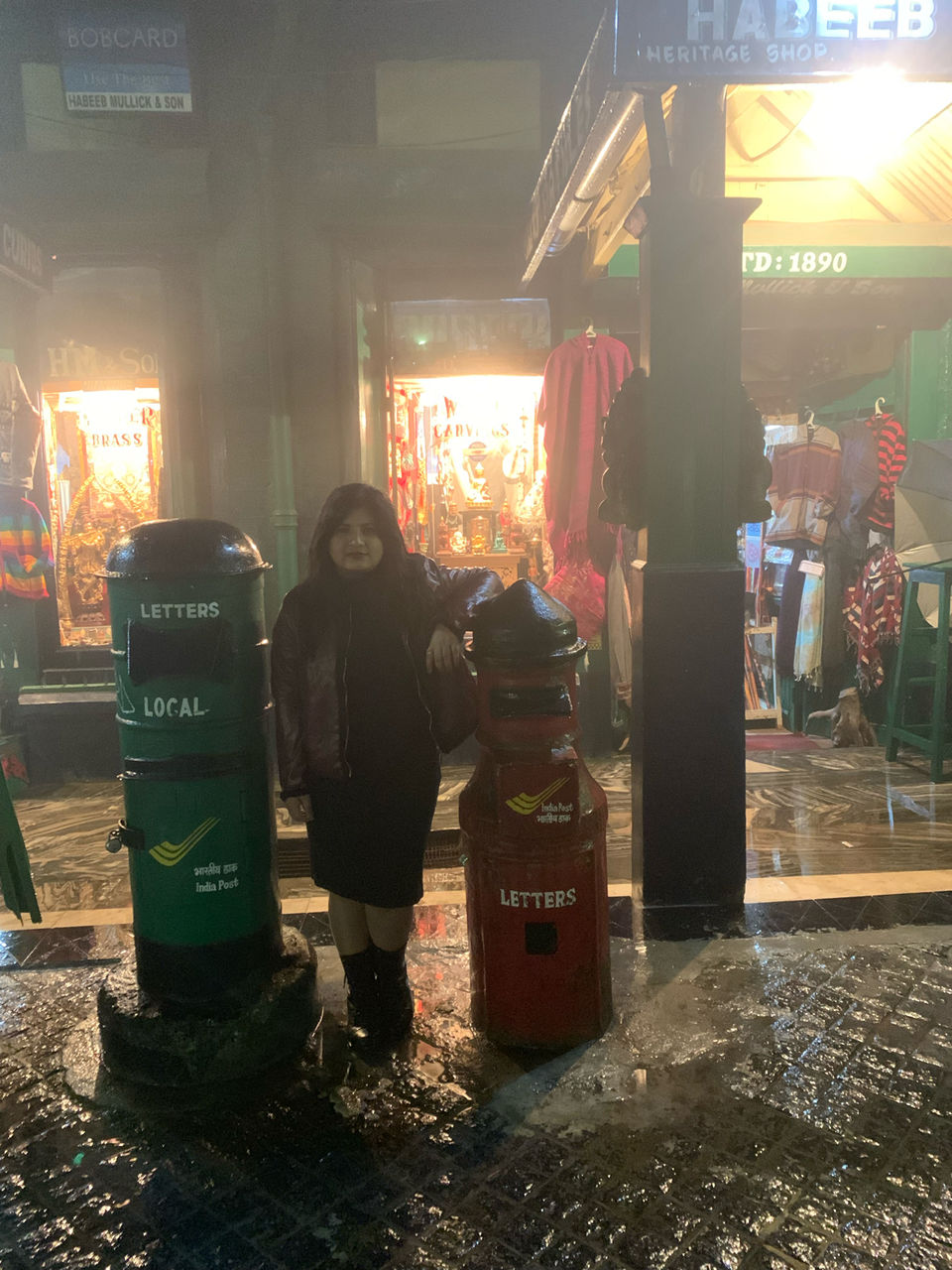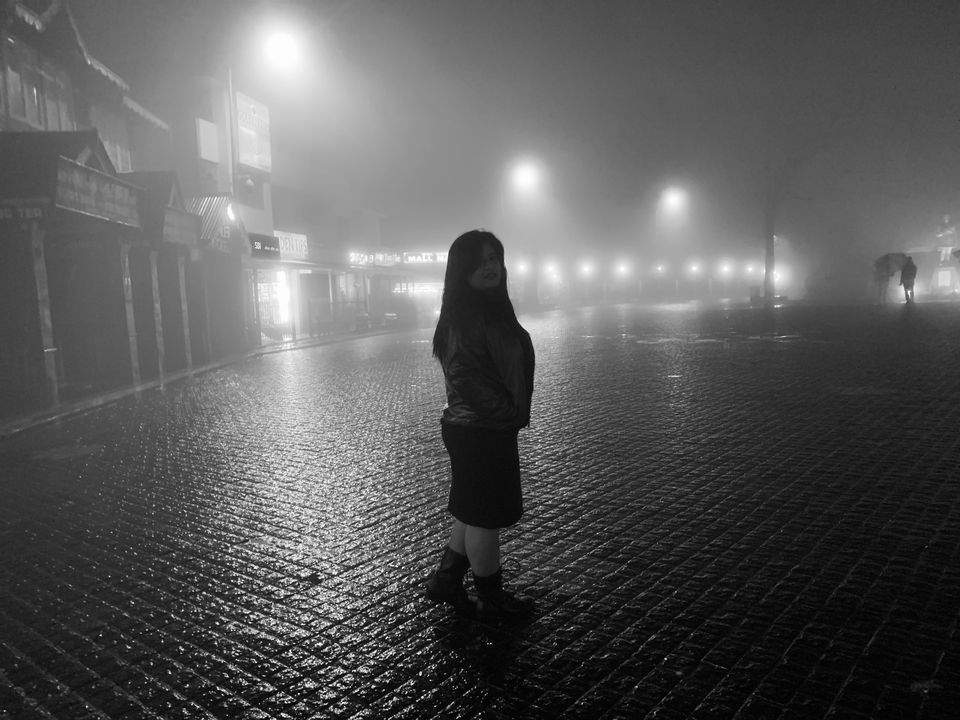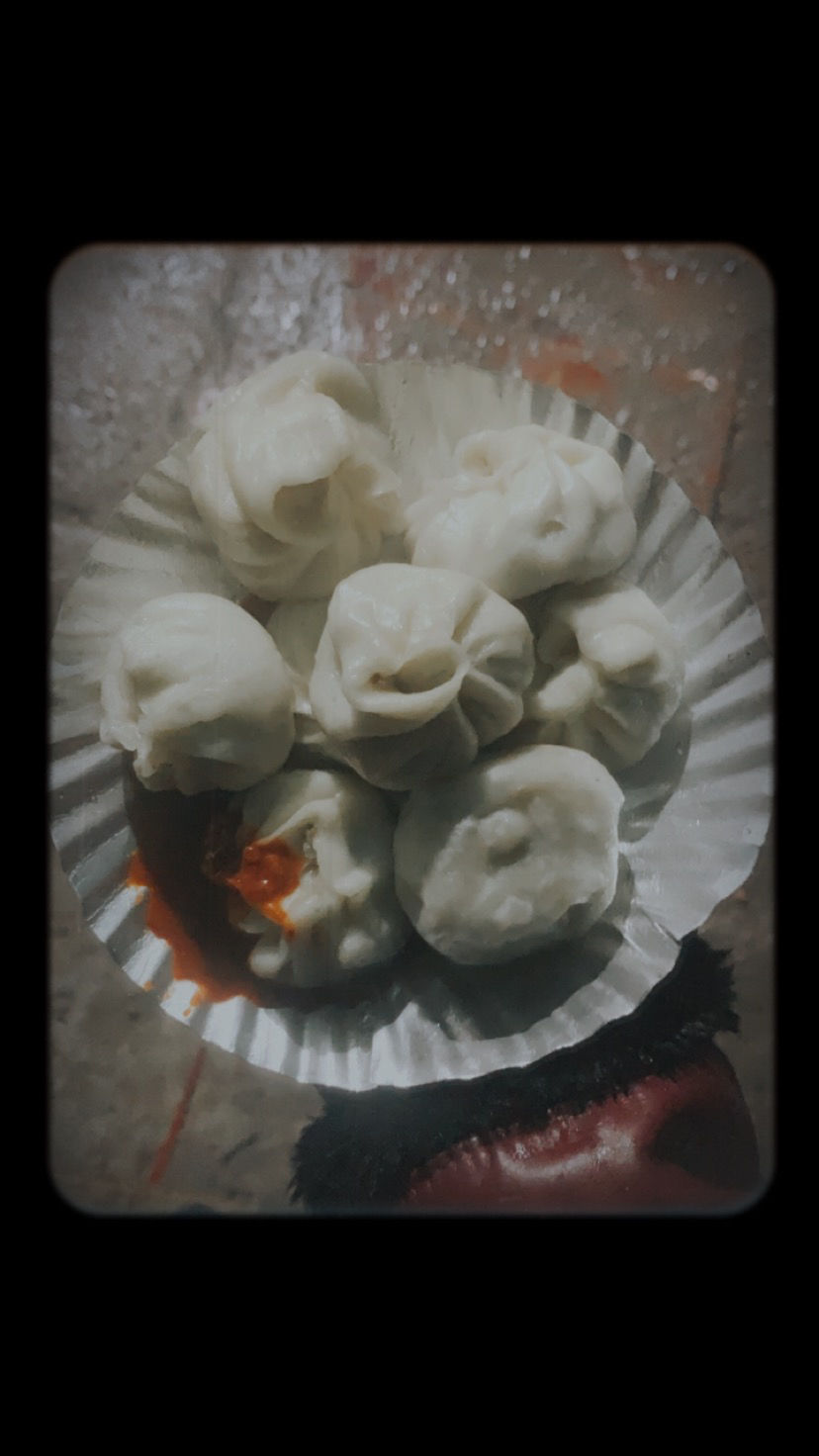 The Mall was almost closed although it was only 5.30 pm. We seemed like the only two people wandering about in the cold rain.
Needless to say, we took avantage of the empty square and took around 100000 pictures!! Just kidding, we took 1000.
After this, we walked around the square and came across a small cafe and the warmth emanating from the place and we just had to go in and get a beer there. It is called The Gatty's cafe and quite famous in Darjeeling(we later found out via Google). We hung around the cafe for a couple of hours chatting with the manager of the place and a couple of other fellow drenched travellers.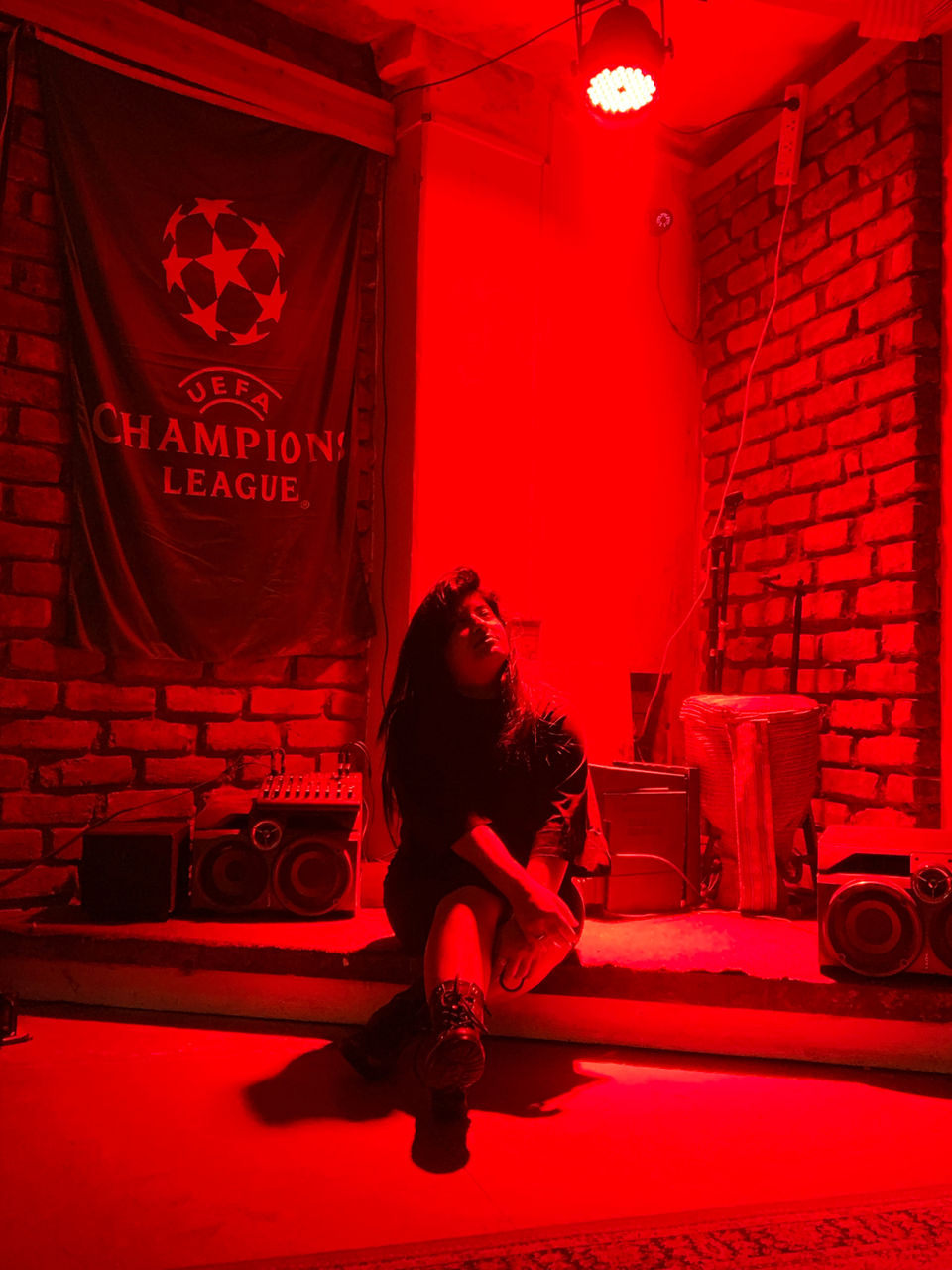 We were complaining about the rain but the manager assured us that it was a good thing since the rain that night meant a clear sky in the morning and a possible chance of us being able to view the majestic Kanchenjunga peak.
After a pleasant time in there, we walked back to our hotel, umbrellas over our heads.
We were up and ready at 5.30 am to chase after the sunrise and the promised View.
Most people who come to Darjeeling usually make their way to the Tiger hills which is a popular spot to see the Sunrise and the view of Kanchenjunga.
But we decided not to go to the crowded place and try our luck at the view point just 2 mins away from The Mall.
We reached there and it was a beautiful blue sight but a curtain of clouds still up there.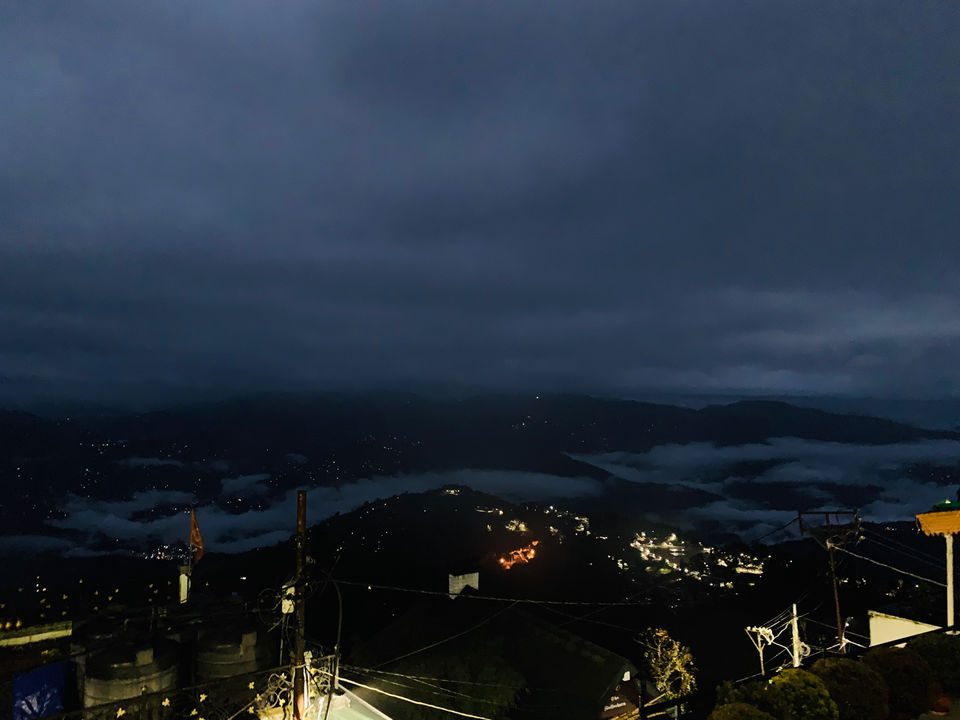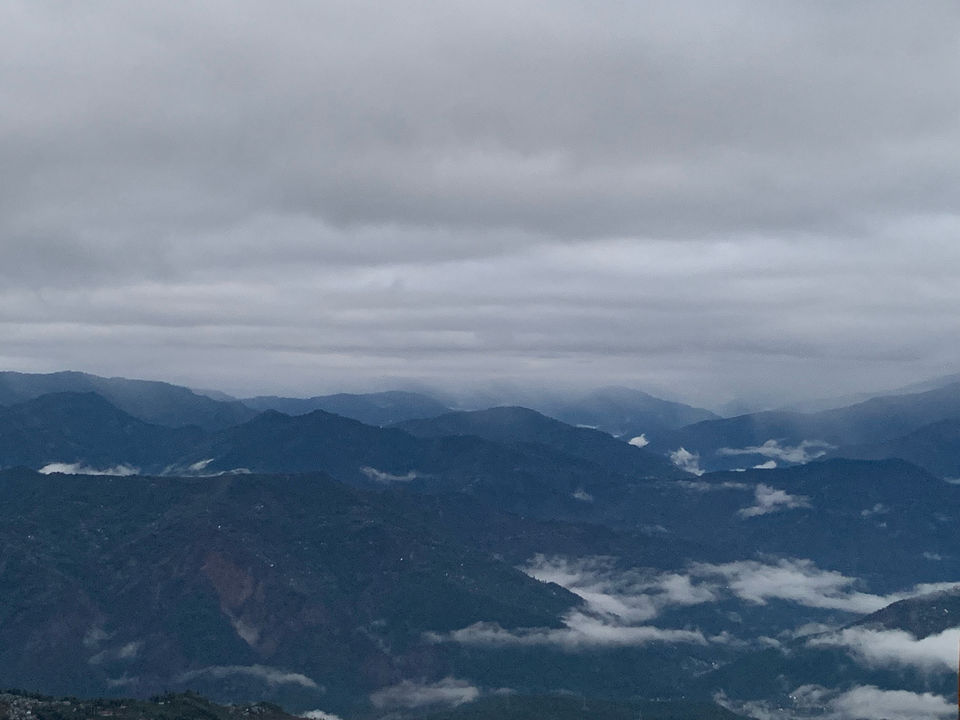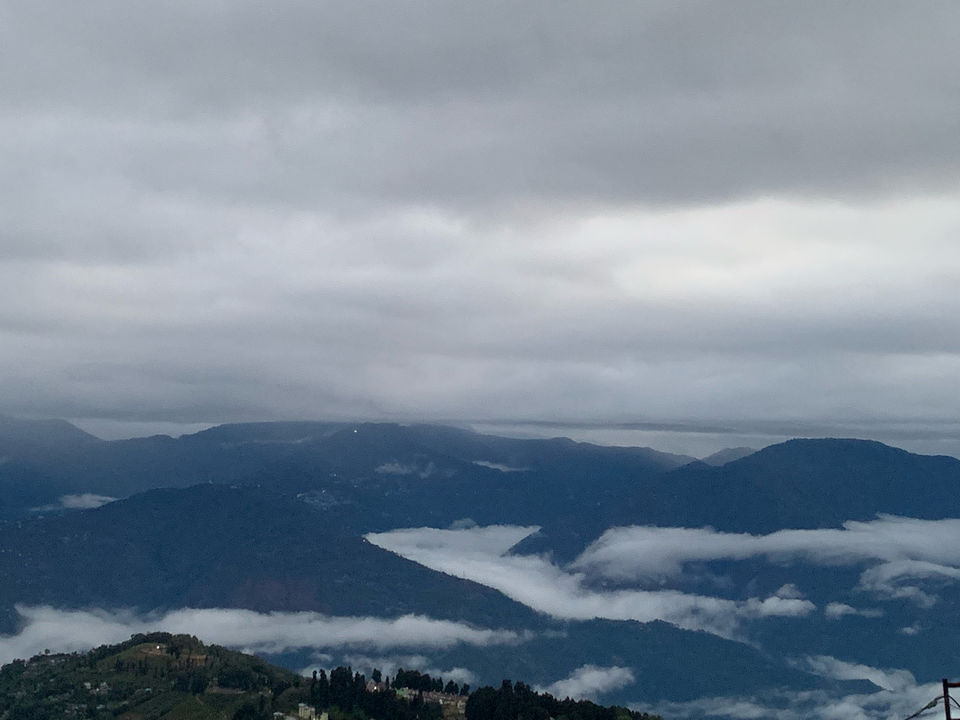 Since it was my first time in Darjeeling, I was not sure of what I was looking at in front of me.
After a good 1 hour of standing there and a number of people turning up there as well, with a blessed local bringing in tea; the clouds began to give way as if for a momentous performance.
Everyone got a little excited at this and if we strained our eyes well enough, we could see a dusting of snow on a couple of hill tops.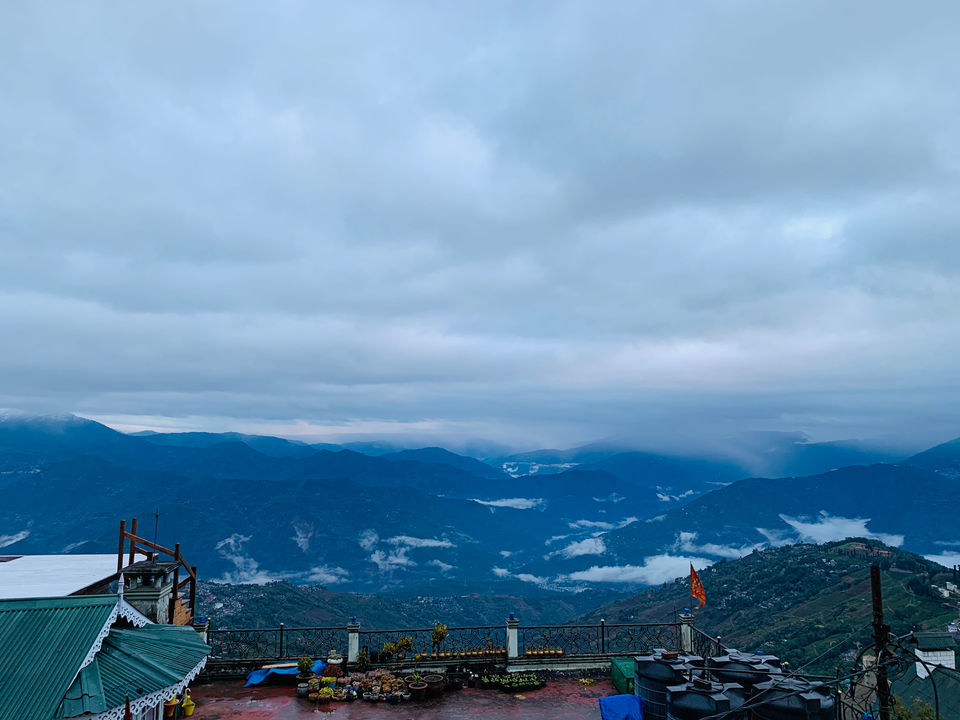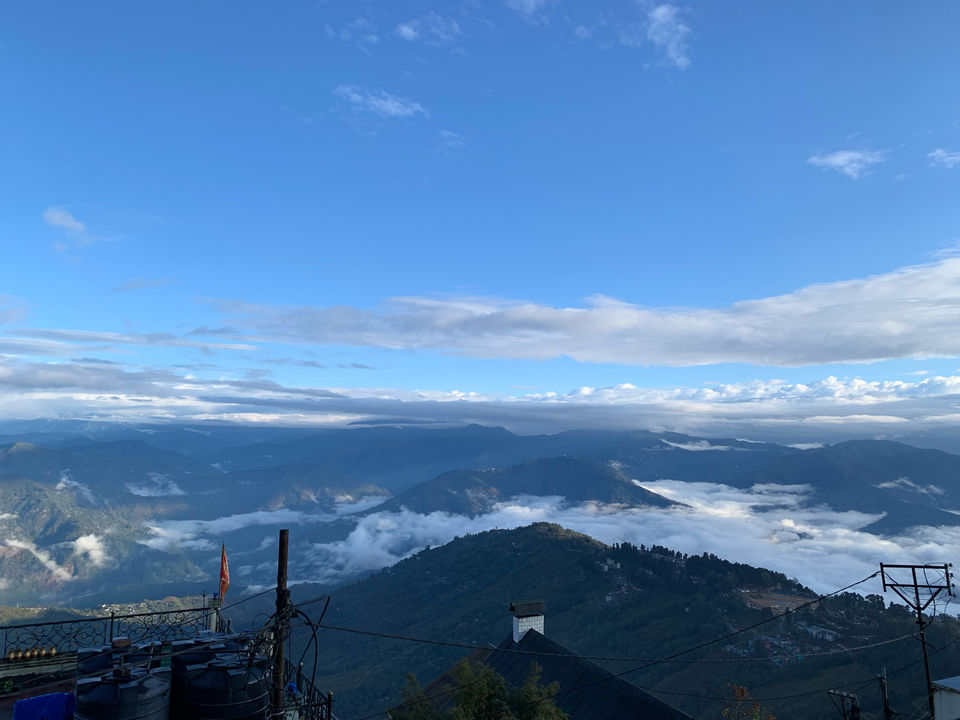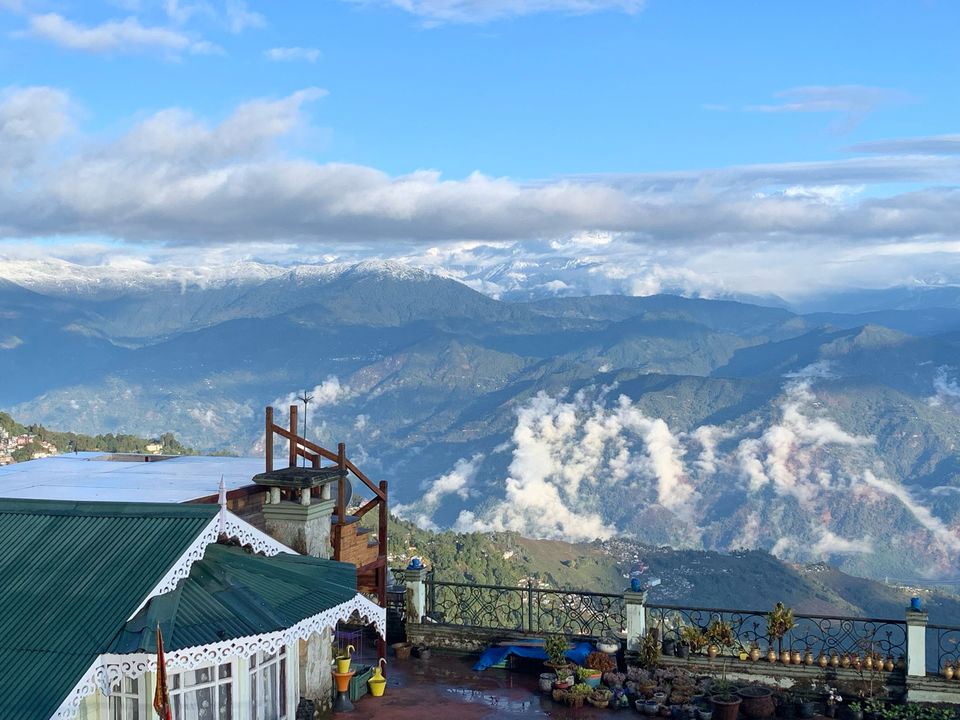 As the clouds gave way, the picture in front of us became clearer until finally we were facing the stunning view of the snow-capped mountain range which is popularly known as 'The Sleeping Buddha'.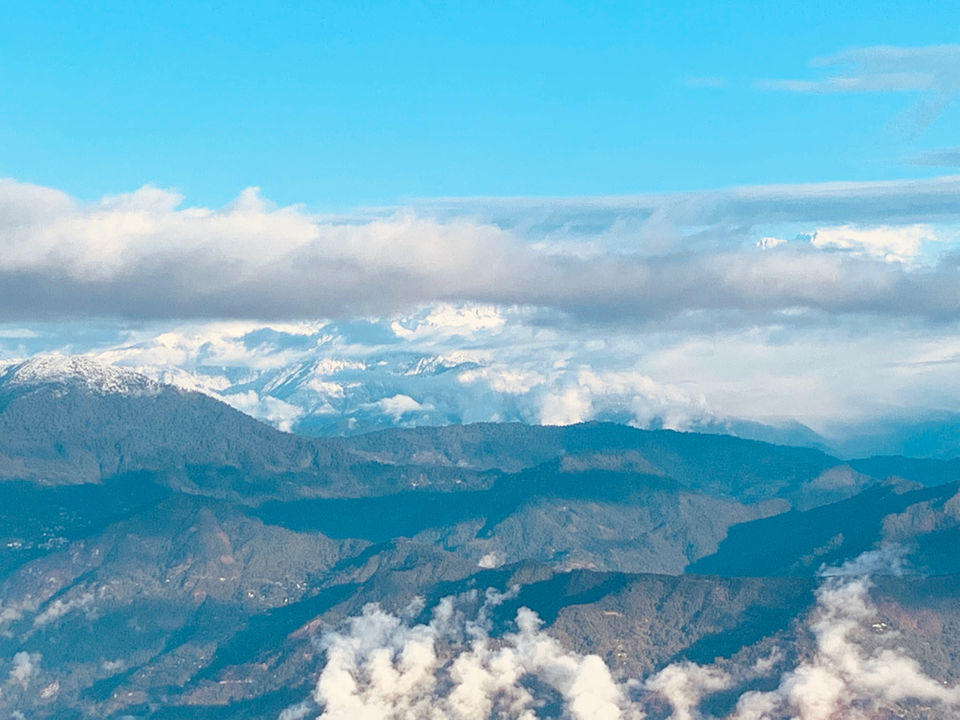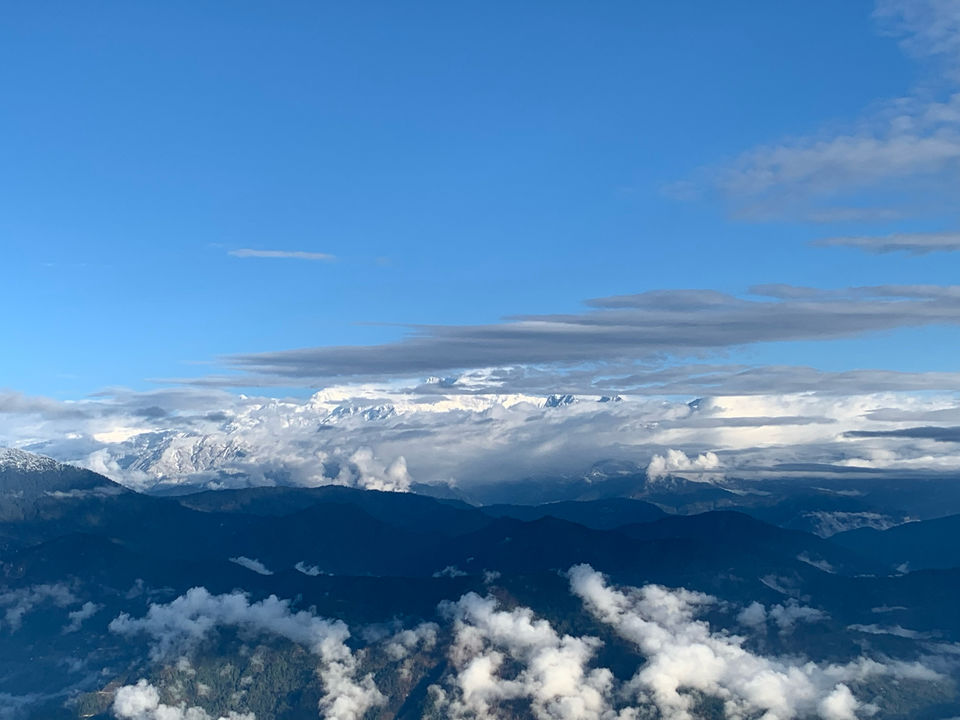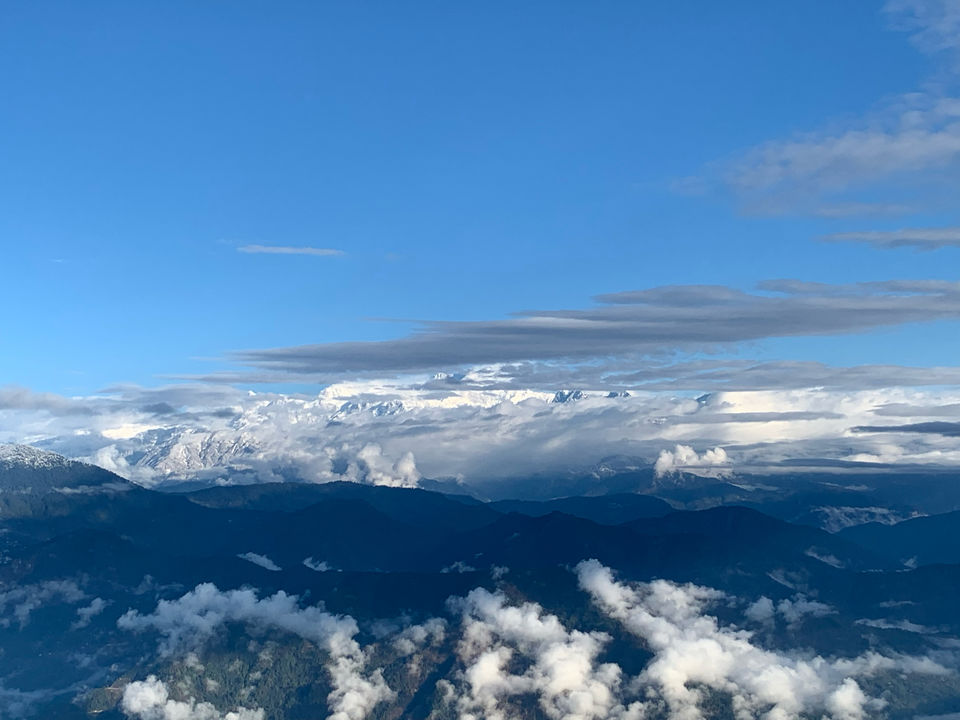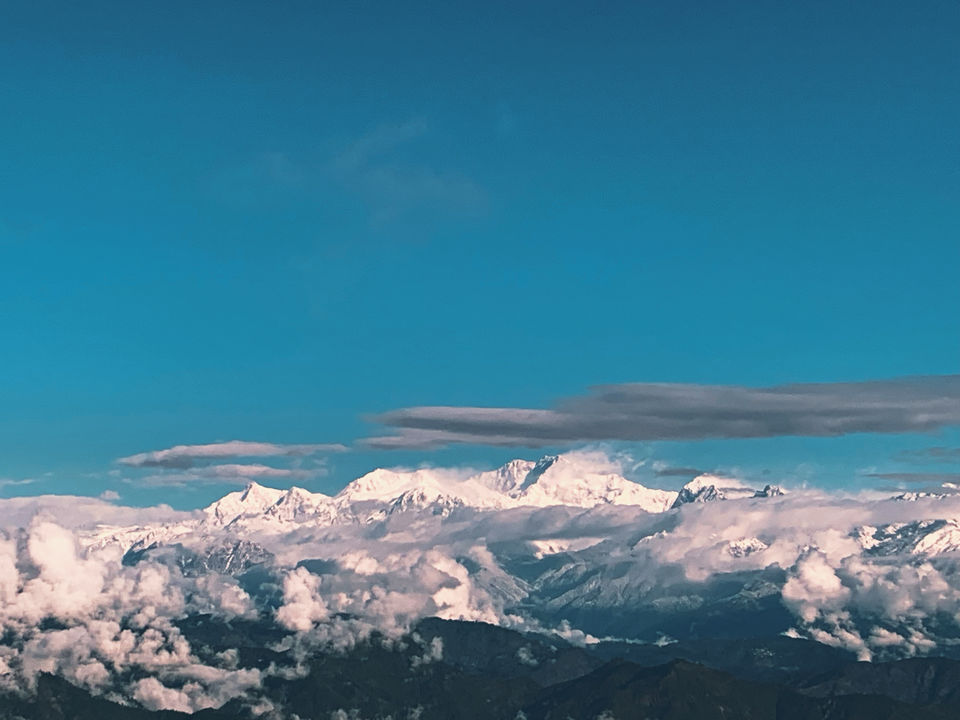 It was a majestic sight to behold. All these hours of waiting up in the biting cold were finally worth it. You can see more pictures of it on my instagram page @namratabezbaruah
After some more time of mountain-gazing(it was hard to come away), we went back to our hotel to grab some breakfast and get ready for the day.
Our next stop was the Padmaja Naidu zoological park which house the Red Pand among many other animals. While I am not a big fan of zoos in general, the Red Panda really was a gorgeous being and we spent the most amount of time taking their pictures.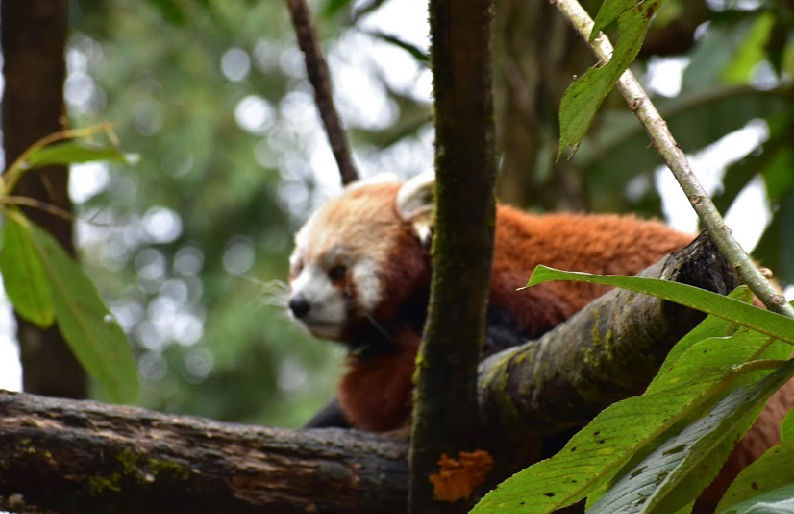 After the zoo, we walked downhill to just explore the town by foot and came across an area that is used for training mountaineers. We also came across a tea plantation and explored the place and had some of the tea they had to offer.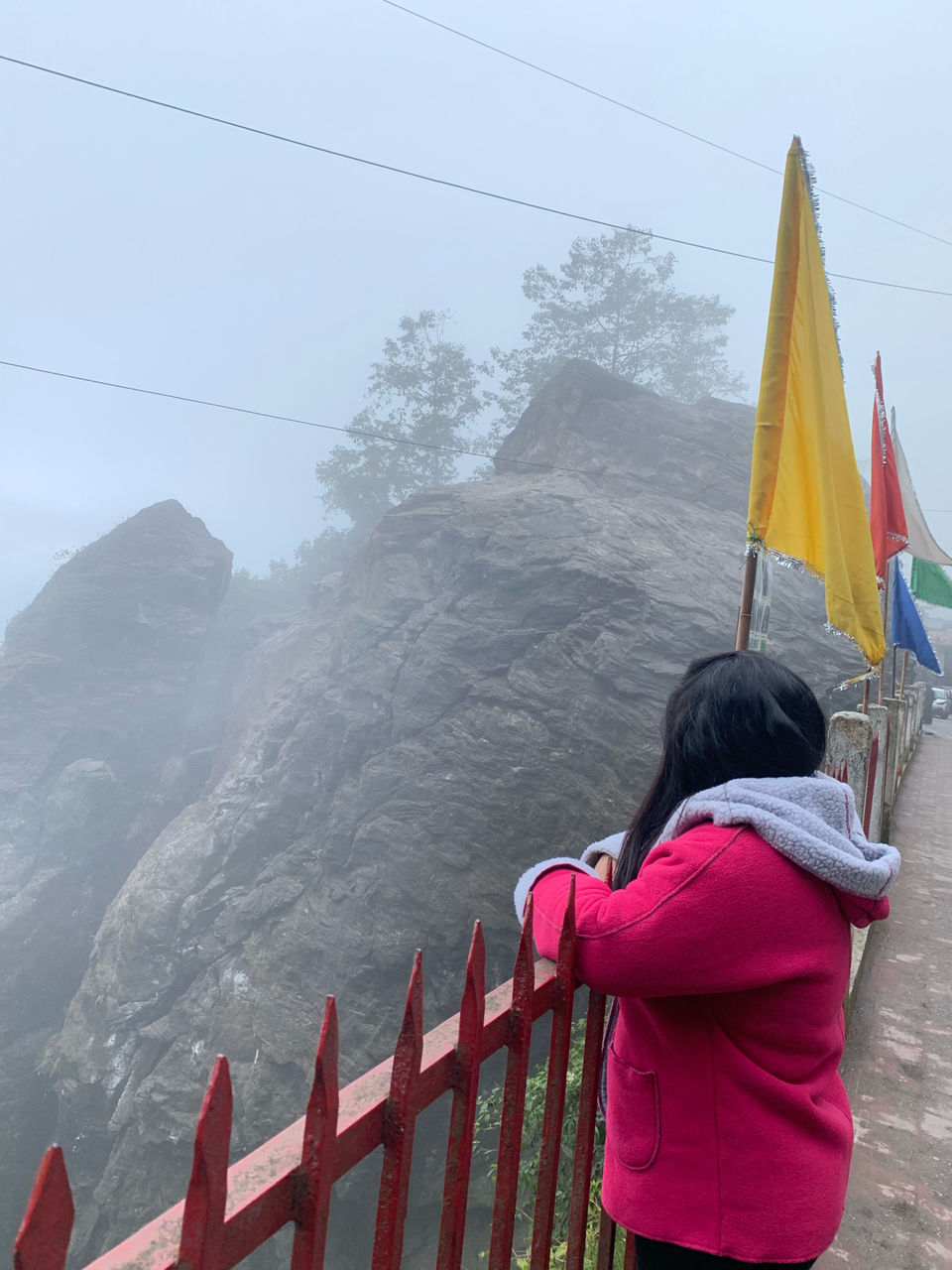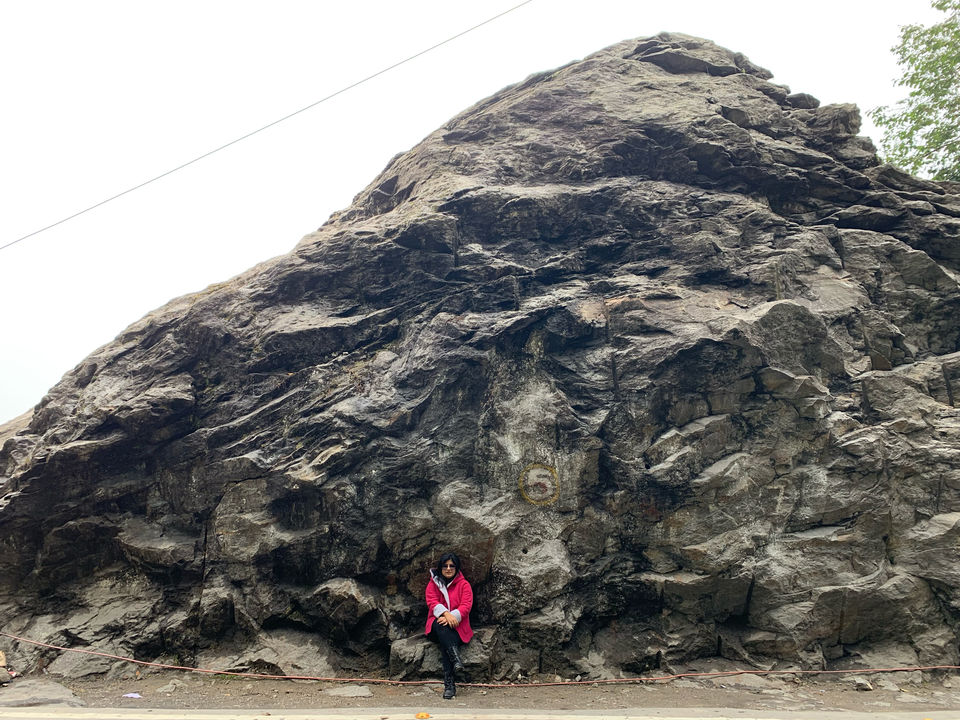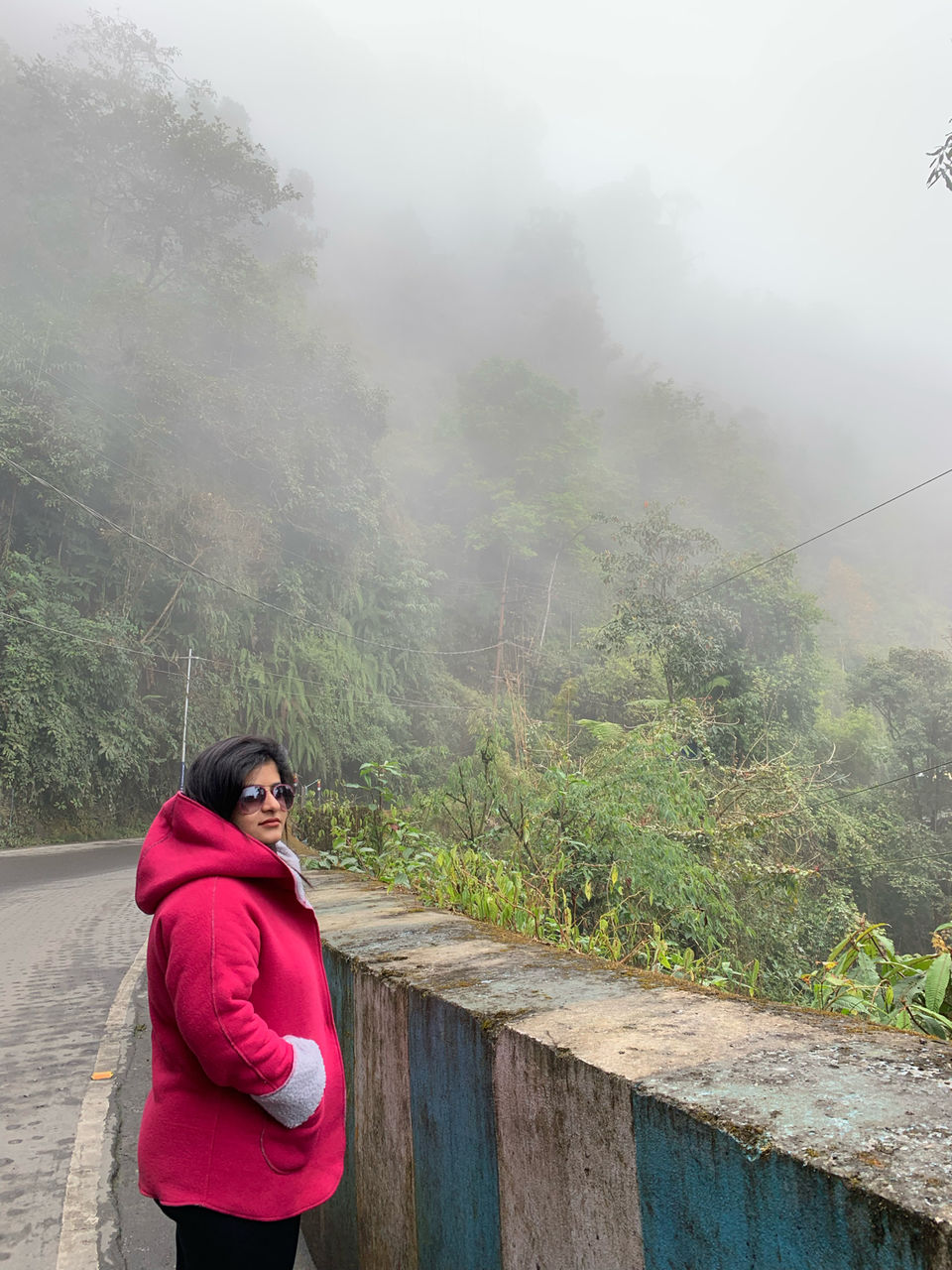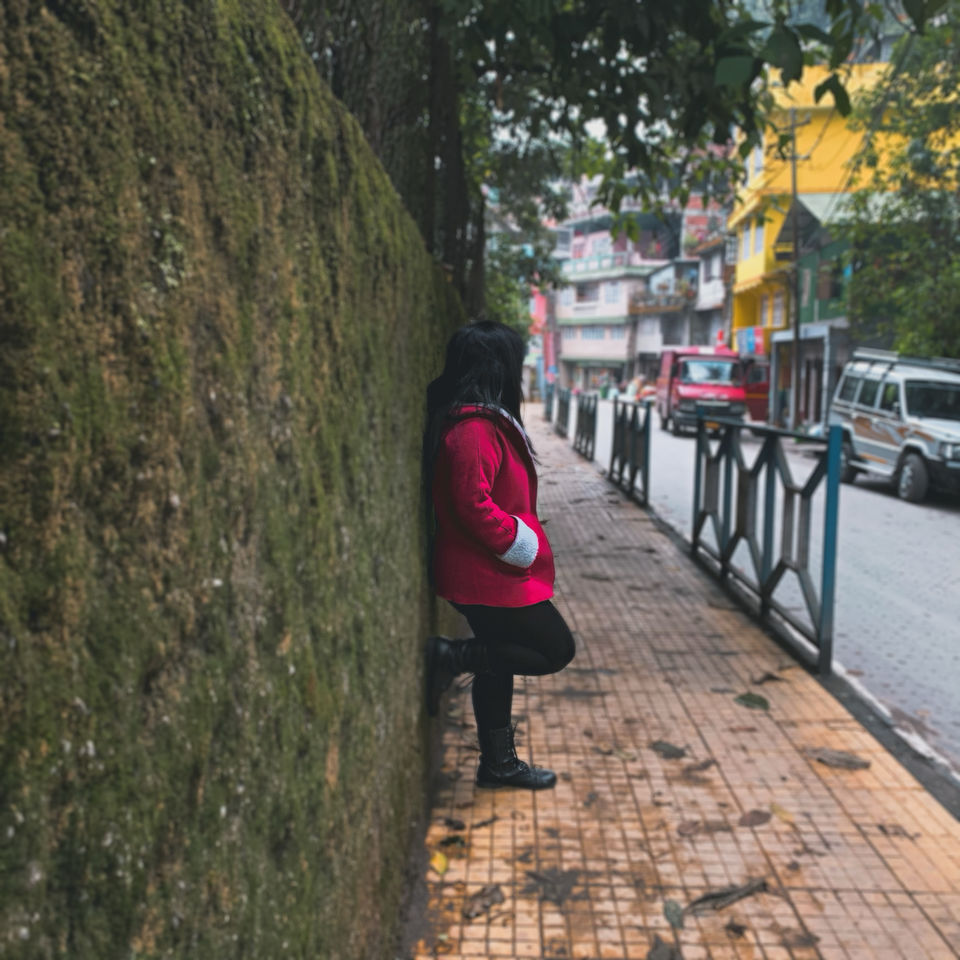 We had lunch at one of the local restaurants there and took a cab from the estate to our next stop, The Ghoom station and the monastery.
What had started out as a clear day had now dissipated onto a very cloudy and misty day.
By the time we reached Ghoom, it was difficult to see the roads clearly due to the clouds.
Ghoom is special for a reason. At 7407 ft, it is the highest railway station in India.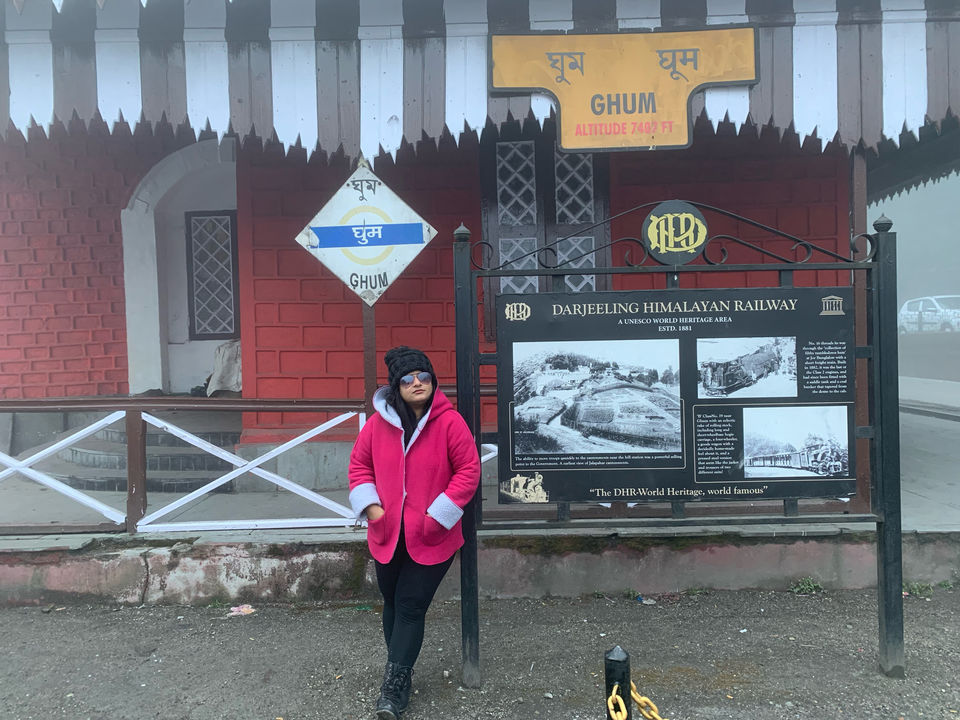 We spent some time there, hoping to meet the toy train chugging in, but we were out of luck for the day.
So no train in sight, we made our way to the monastery. It was almost closing time as we reached around 3.50 pm and they close doors at 4, so we had 10 mins with us to look around.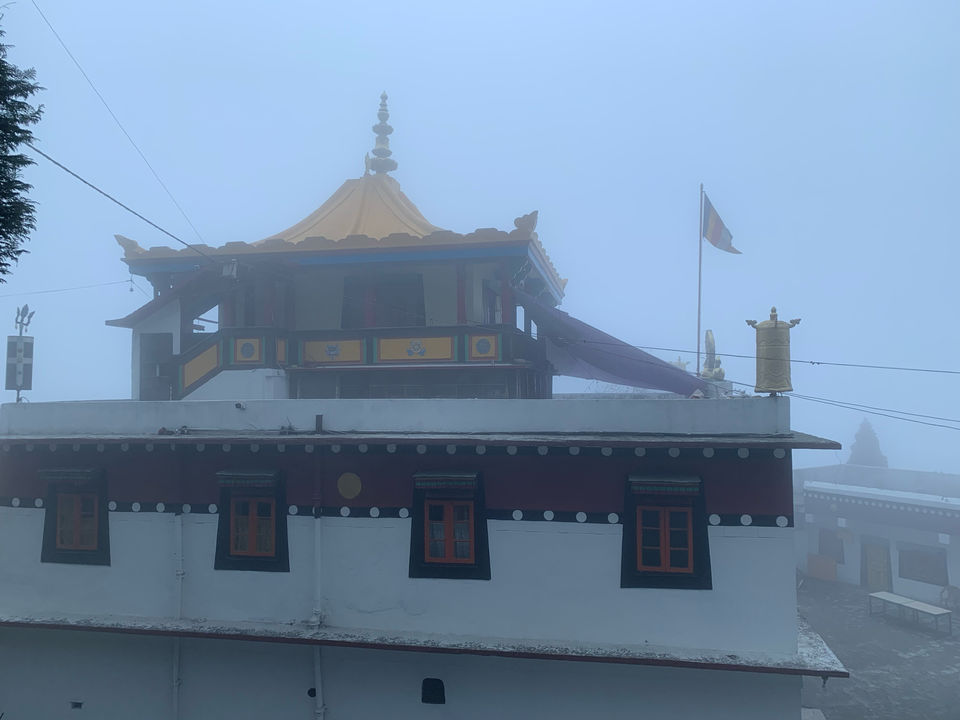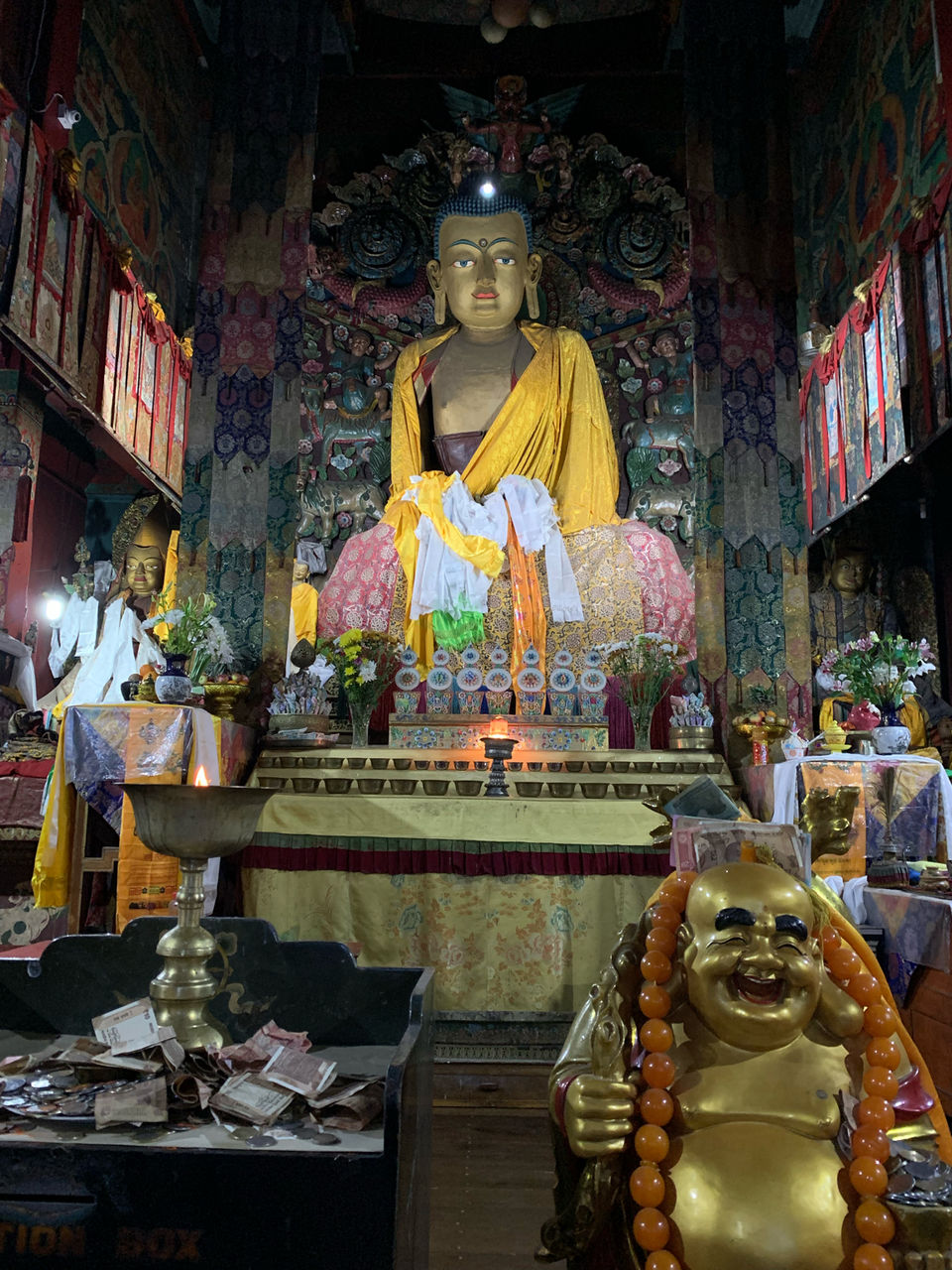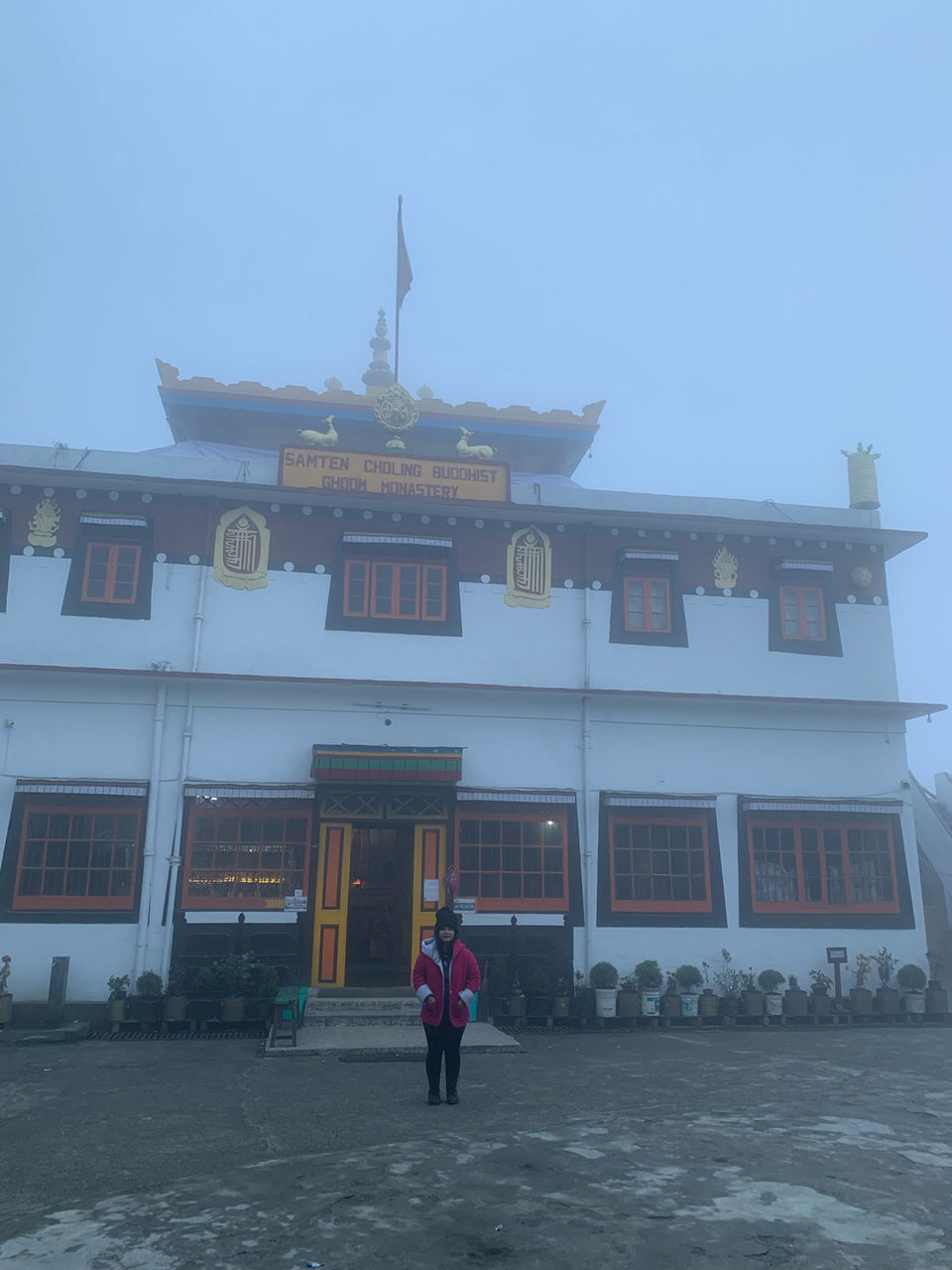 After the monastery was ticked off, we were too cold to go up to the Batasia loop, so we decided to get a cab till The Mall road, to get ourselves a hot cup of tea.
So we hailed a shared cab which drove us back into the town. As we drove in, we crossed the Loco shed which had the toy train engines lined up. We just could not resist the place and dropped off there to look around the place.
The Loco shed really does give off a Hogwarts- like vibe, with the steam engine chugging off steam.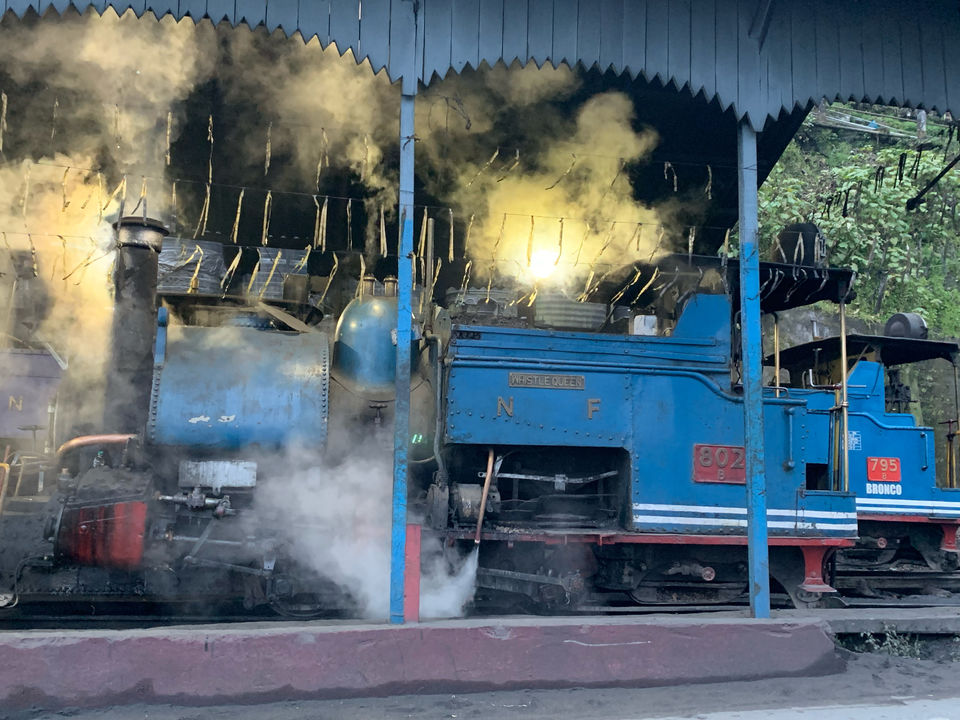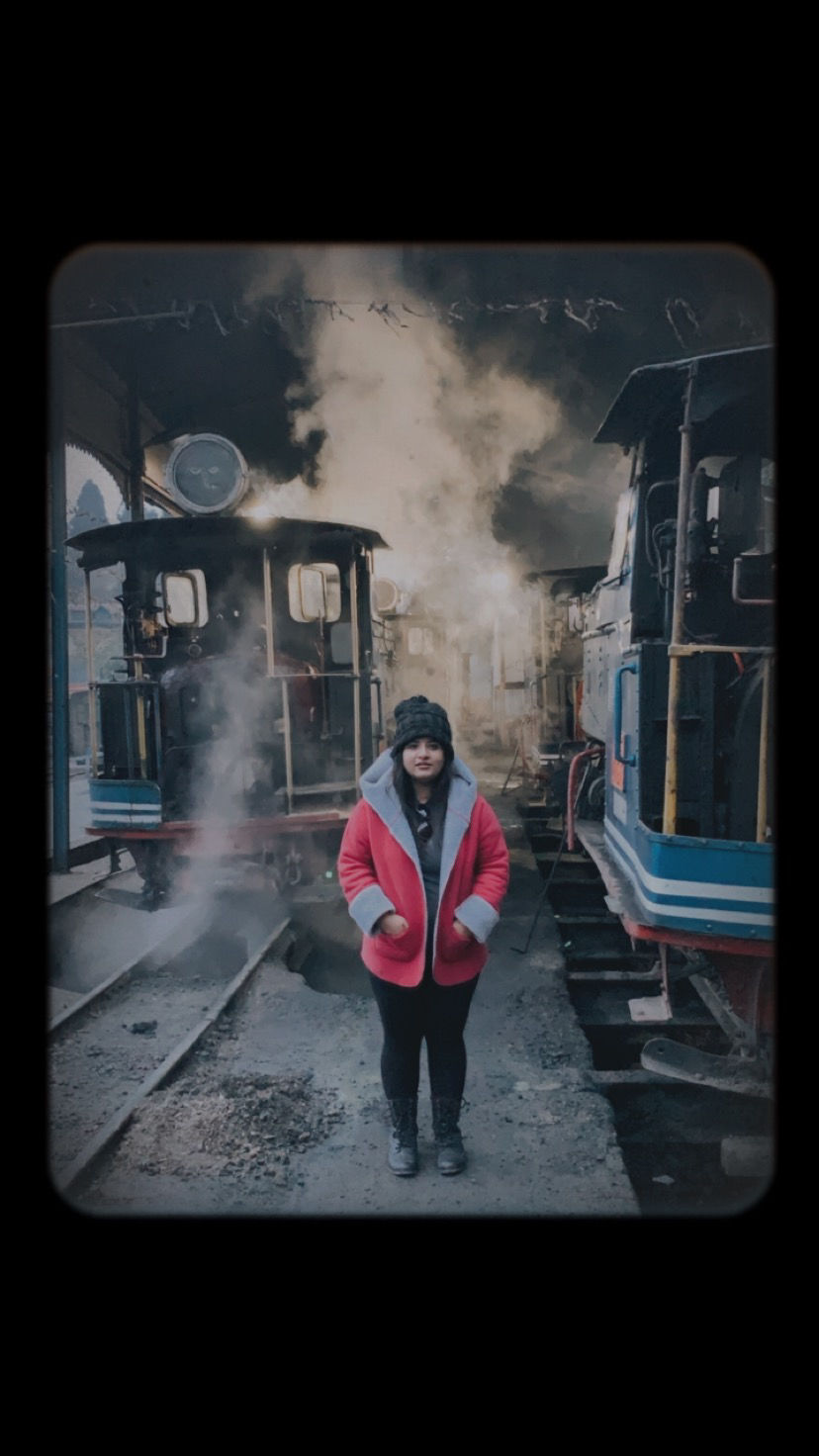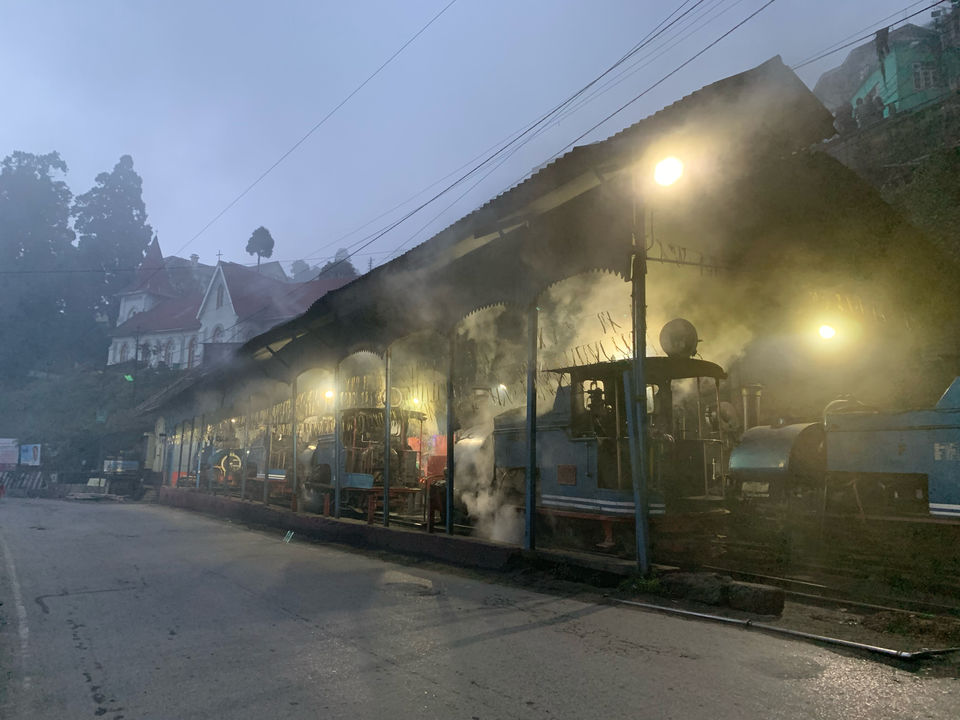 After about an hour there, we made our way back to the town again and a cab dropped us at a 10 min uphill walk away from the main square.
We huffed and puffed our way up, all the while cursing our weak bodies and lungs and finally made it to the corner of the famous Keventers.
But the place was packed so instead we made our way to another of the famous places, Glenary's.
We went inside to the blessed warmth and got ourselves a tea and a slice of apple pie each(heaven). Sorry no pictures of the pie since we literally wolfed down the slice as soon as we got them in our hands.
It had started drizzling again and we were so tired of the day's walking that we decided to just go back and chill in our hotel. (We had walked more than 14 km that day and felt like we had earned our rest).
Changing into our cozy PJs and a cup of tea in our hands, we sat beside our heaters and started exchanging our previous crazy trip stories.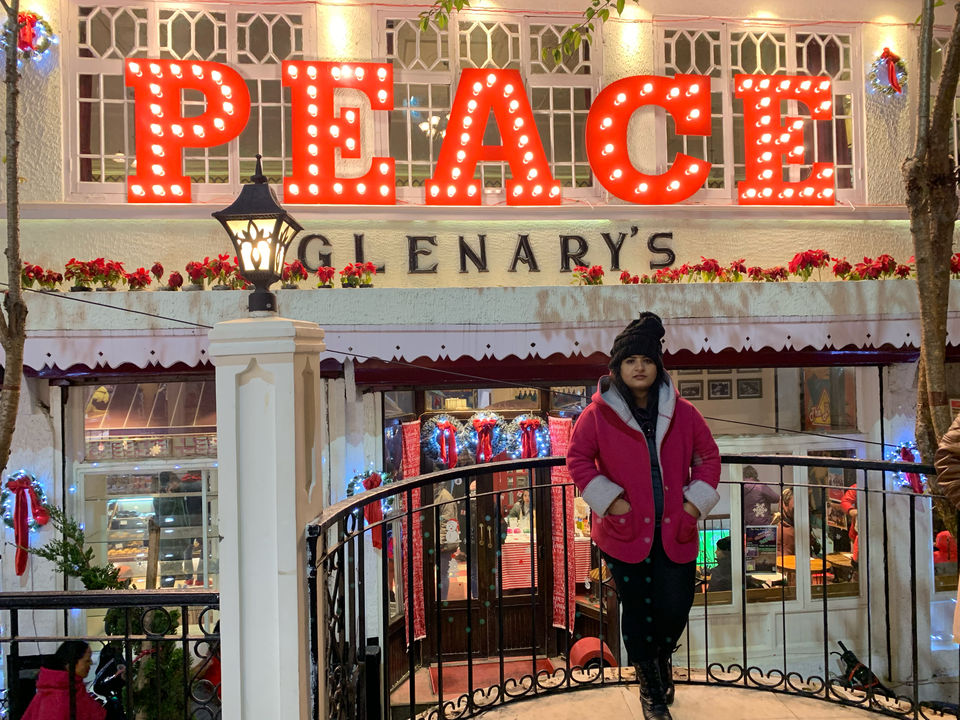 Today was our day back to the plains and I could not have been more sad. Every time I am in the hills, just like everyone else, I too plan ways of just settling down in one of these beautiful places. But then I remember that I dont have much money to retire so early and live out my days like this, I start booking our cab to take us down.
We had previously decided that on our way back down, we would take a different route from the one we took on the way up.
Our return route would take us via Lepchajagat, Pasupati(Nepal border), Mirik and finally Siliguri. Since it is a longer route, the best cab offer that we could get was Rs 4000 for the day.
Our first stop was Lepchajagat. People make night stops here as well, since the place is a haven with tall trees all around giving off a very untouched vibe.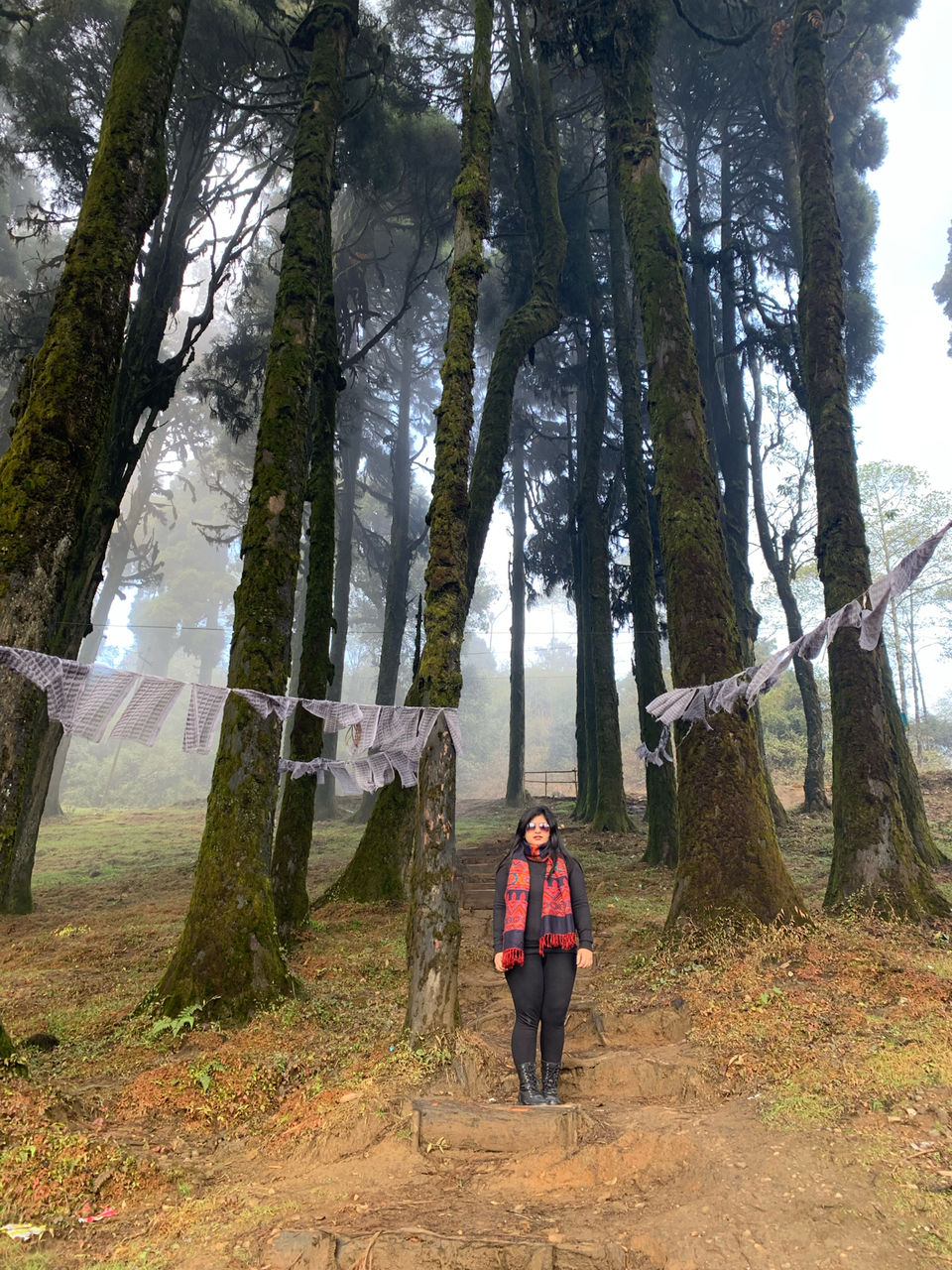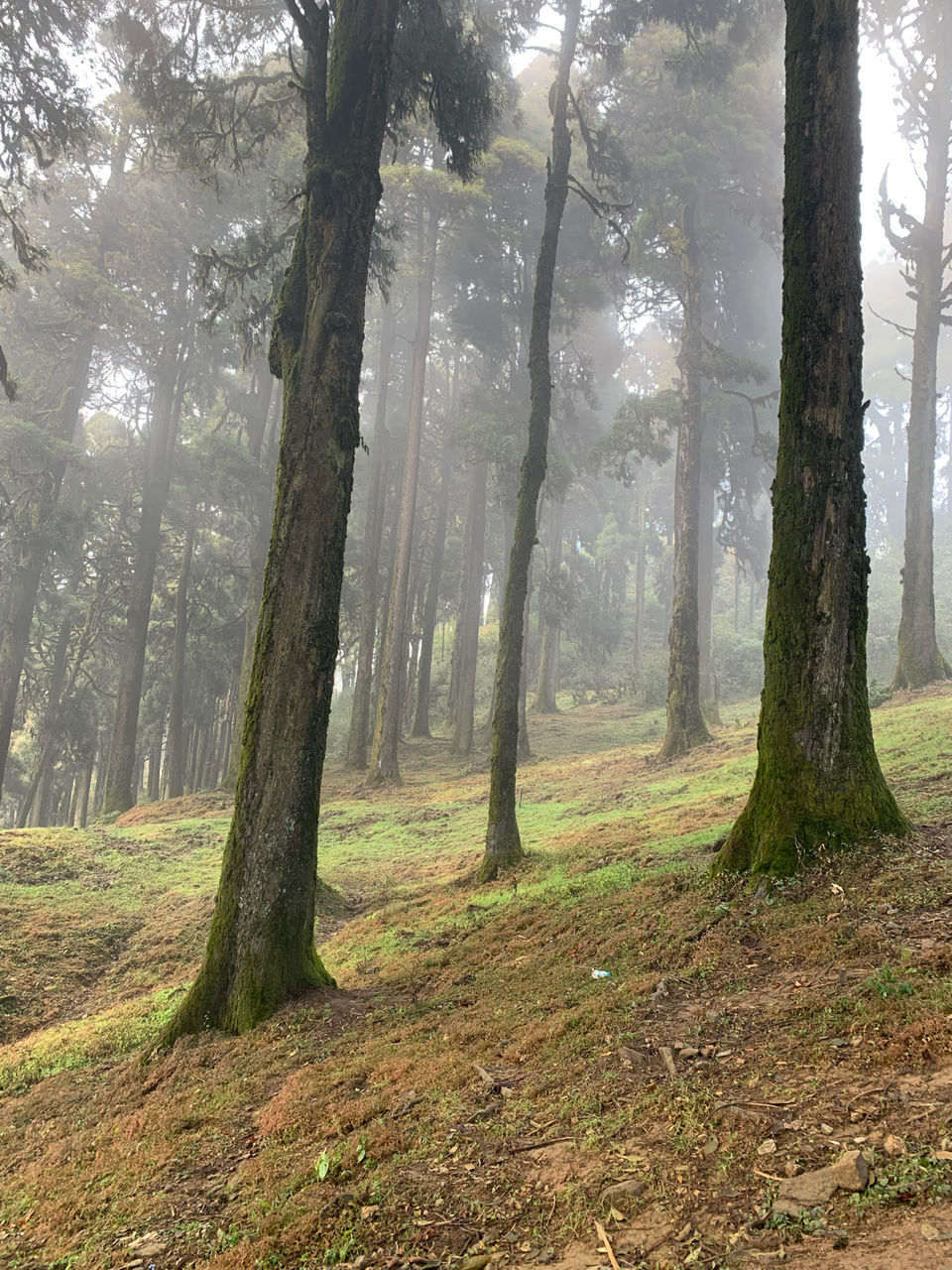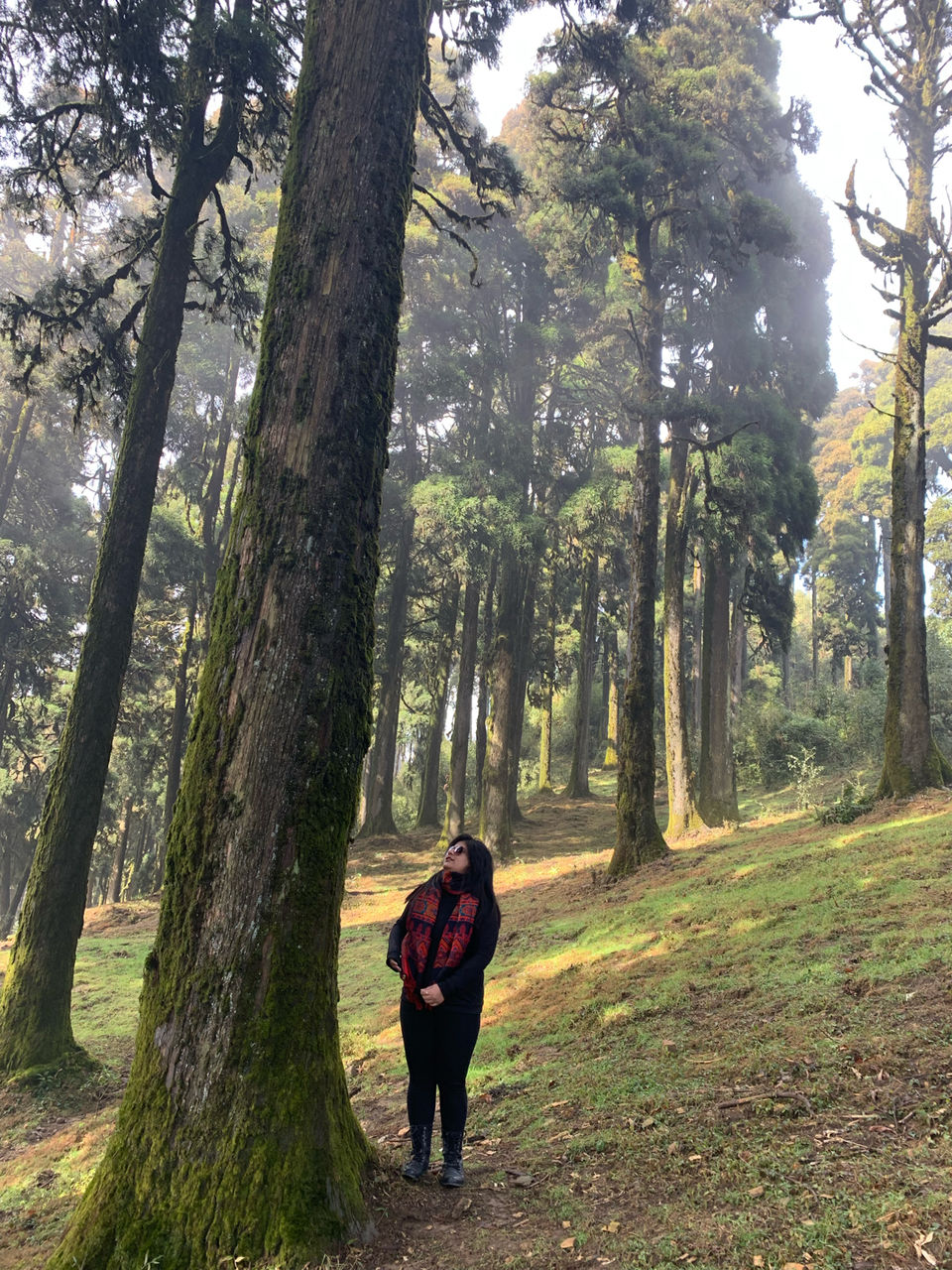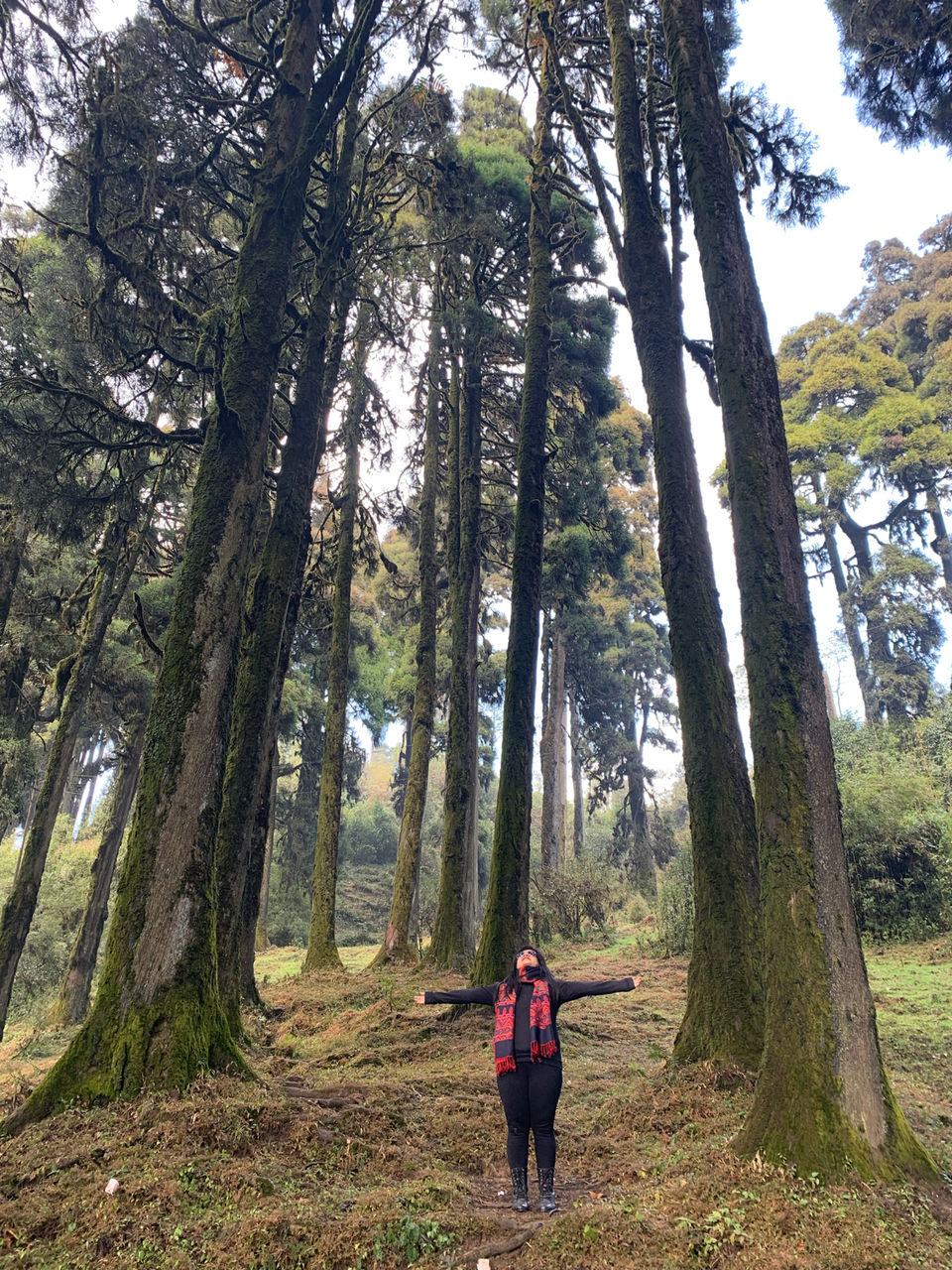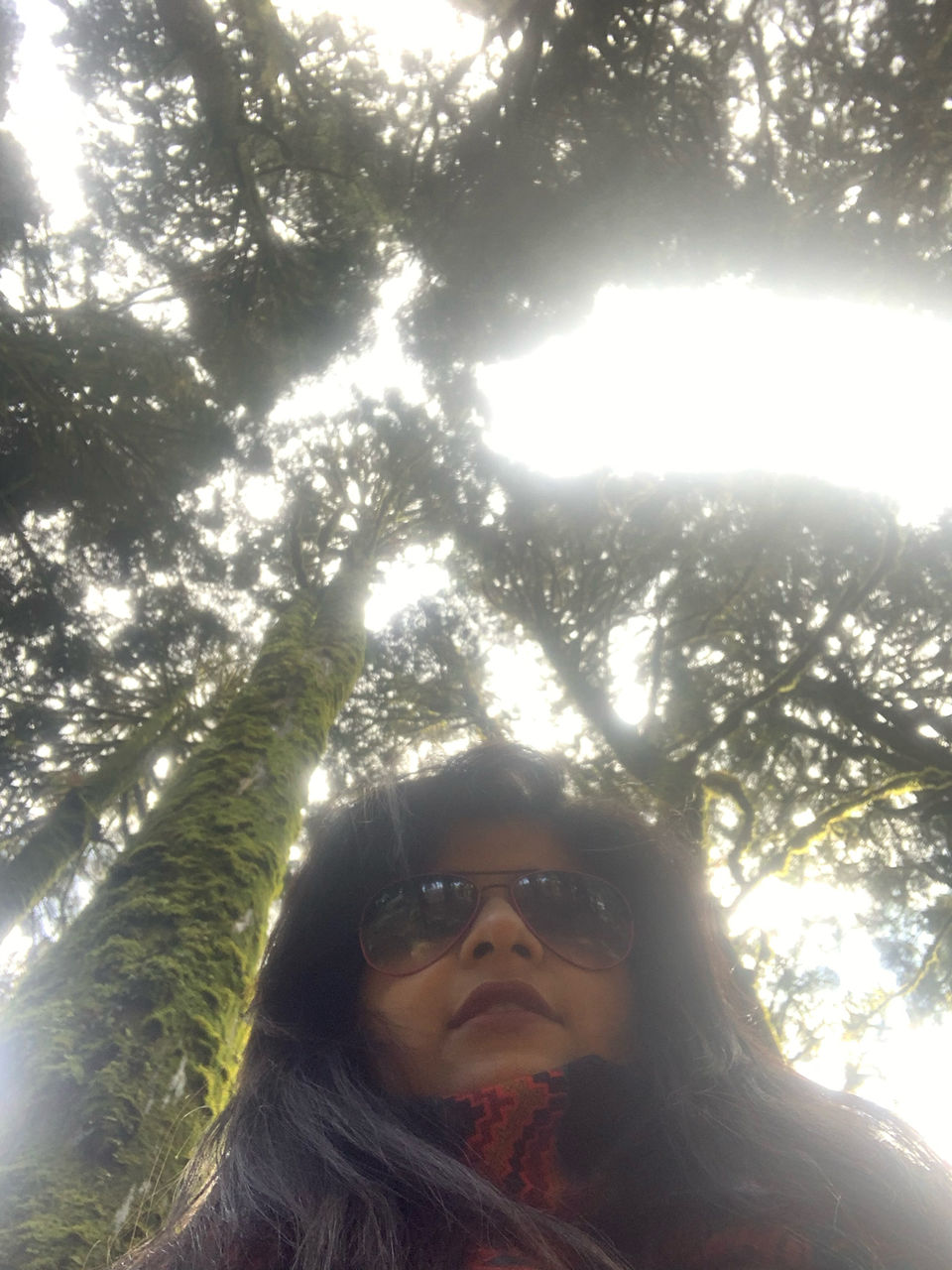 After about 30 mins there, we made our way to the Nepal border. From here we can show our IDs and then are allowed to take a cab which will take us down to the Nepalese Market and back in Rs 220.
We went down to the market where you can buy a lot of knock-off cosmetics at dirt cheap prices (Lakme Iconic Kajal at Rs 30. anyone??)
But we ignored the shopping and went into a local restaurant that served hot momos and Nepalese beer.
After spending some time there, it started raining. But it was so freezing cold that it started raining icicles.
As the icicles plonked our heads, we got into the vans and headed back to our rented cab back in India ;) .
Back in our cab, we made our way now to Mirik. On the way, we stopped by another tea estate. It really was a beautiful sight and stopped to buy packets of tea for home.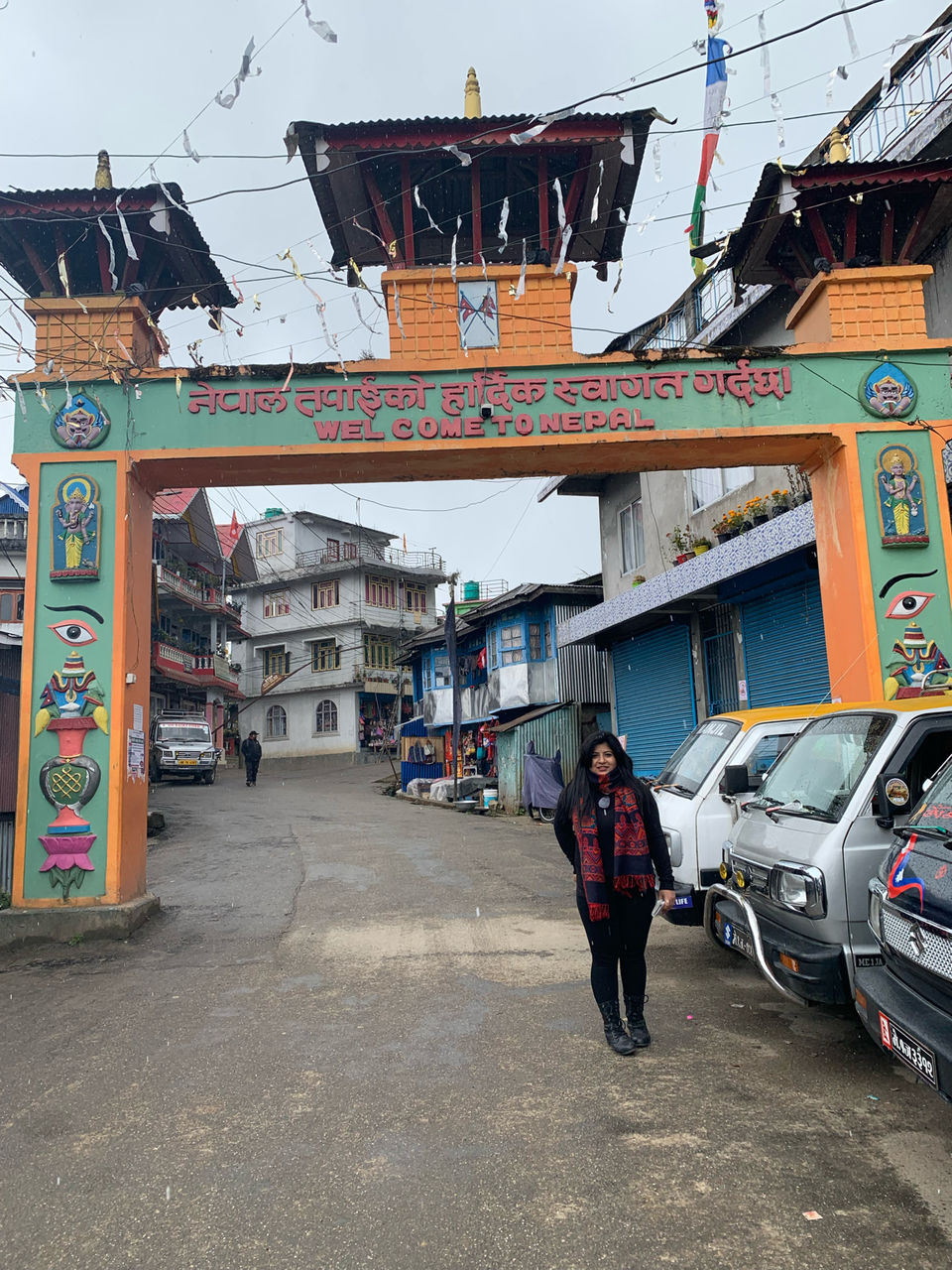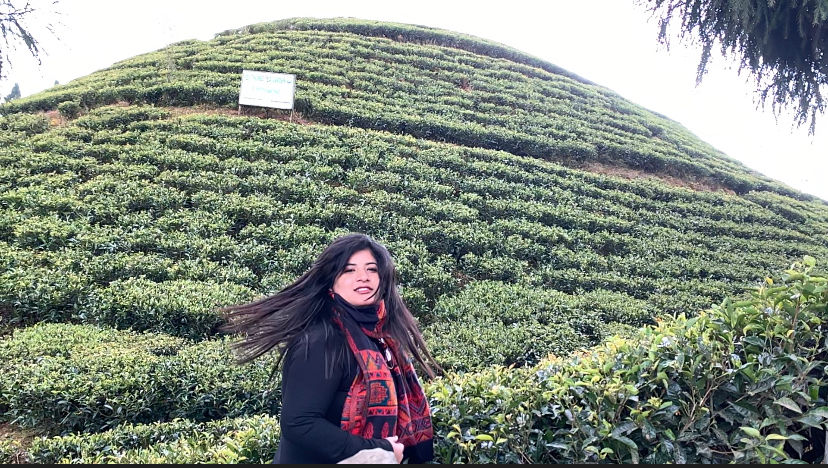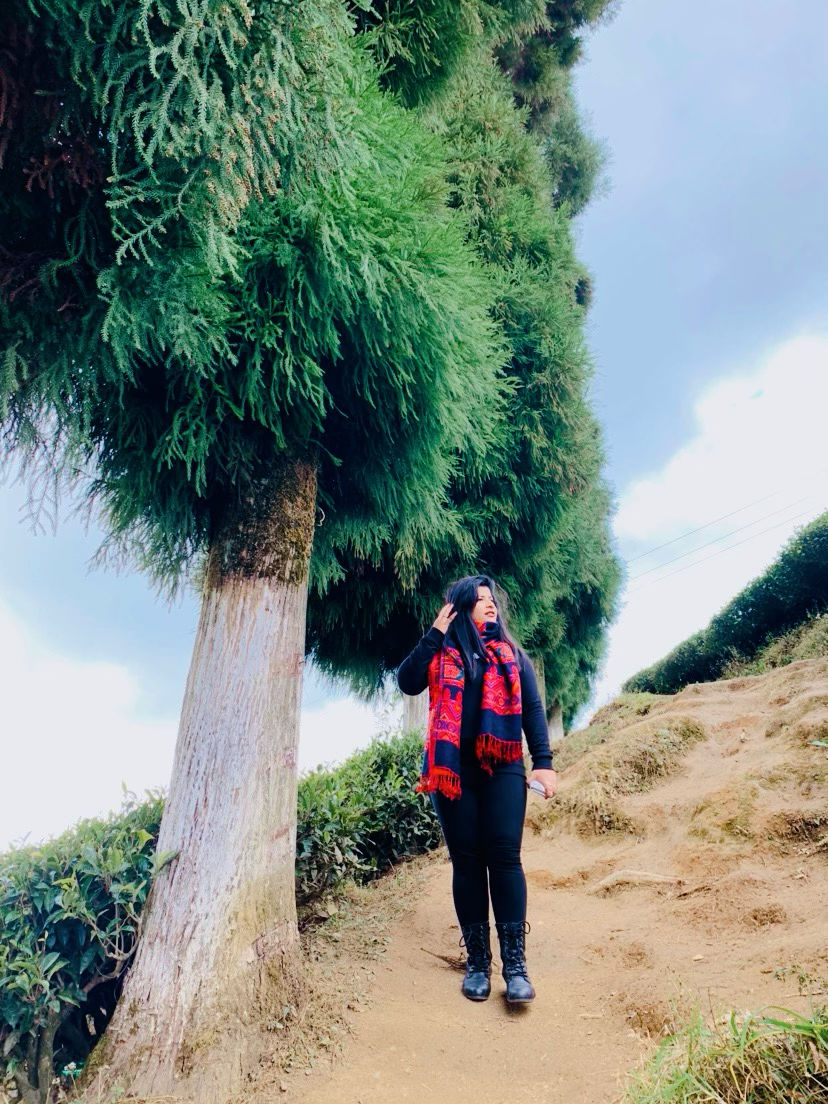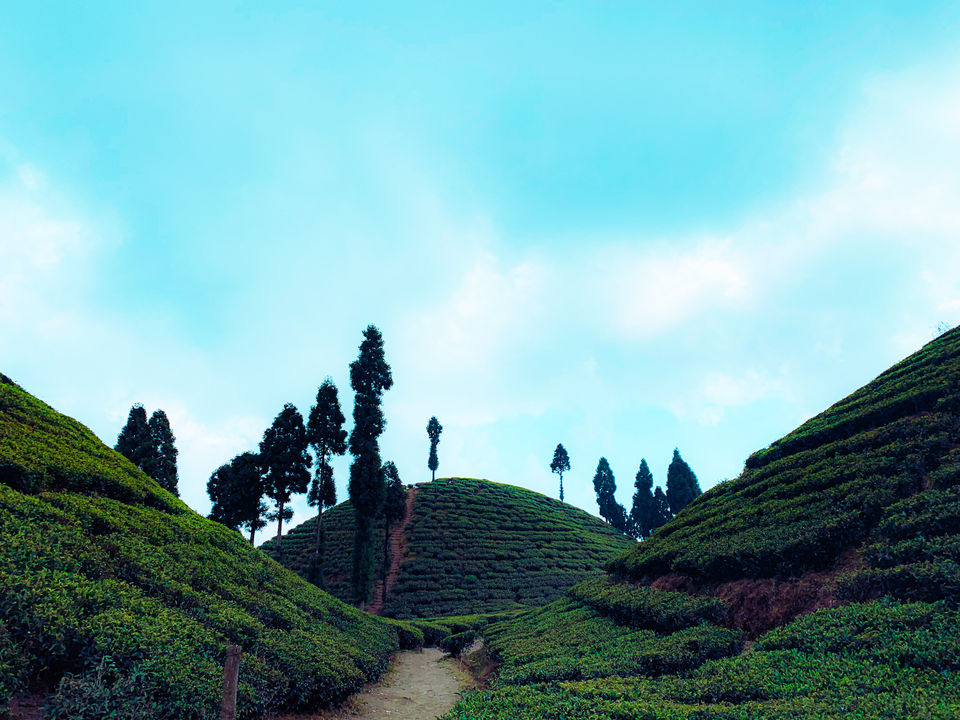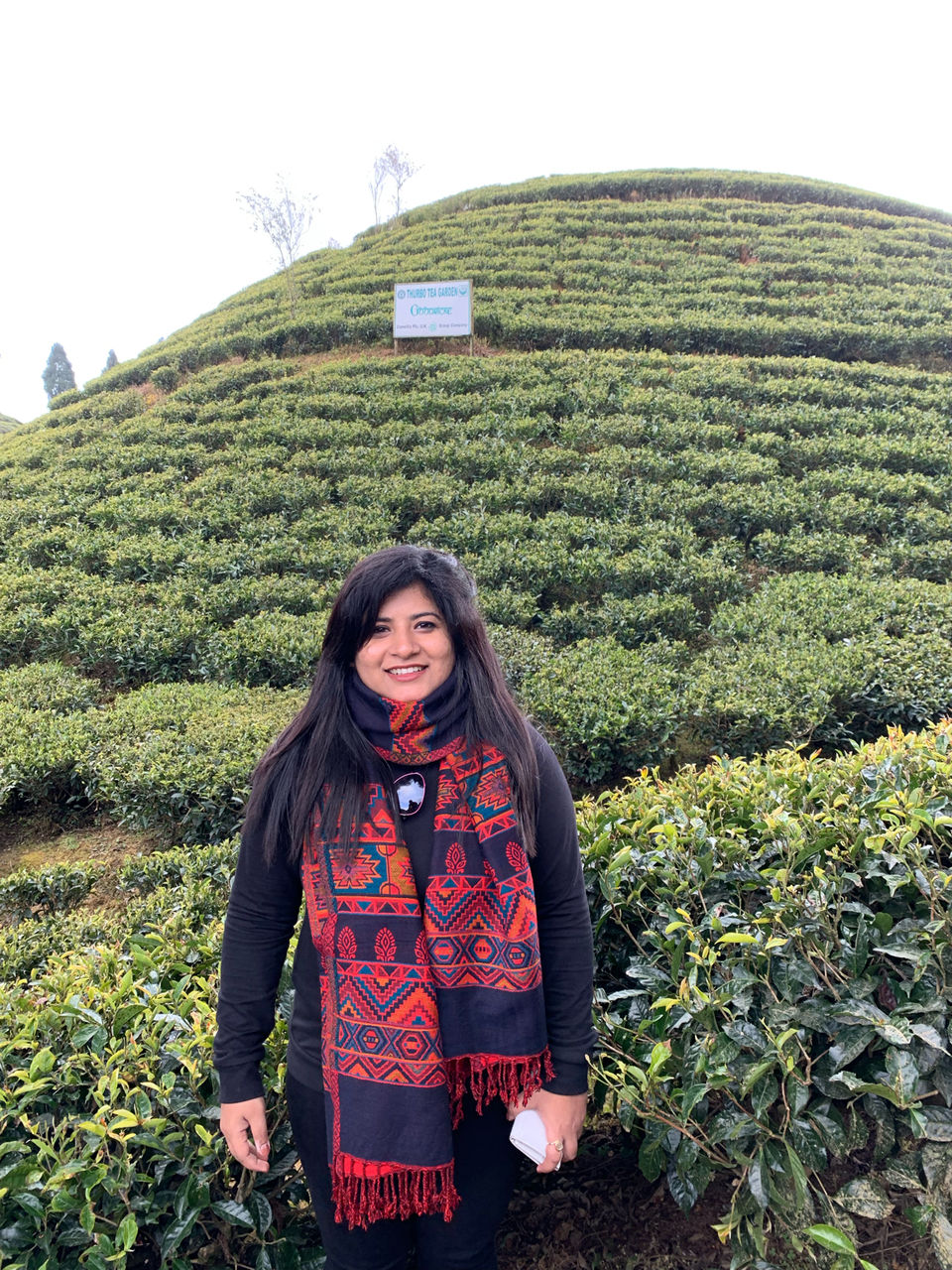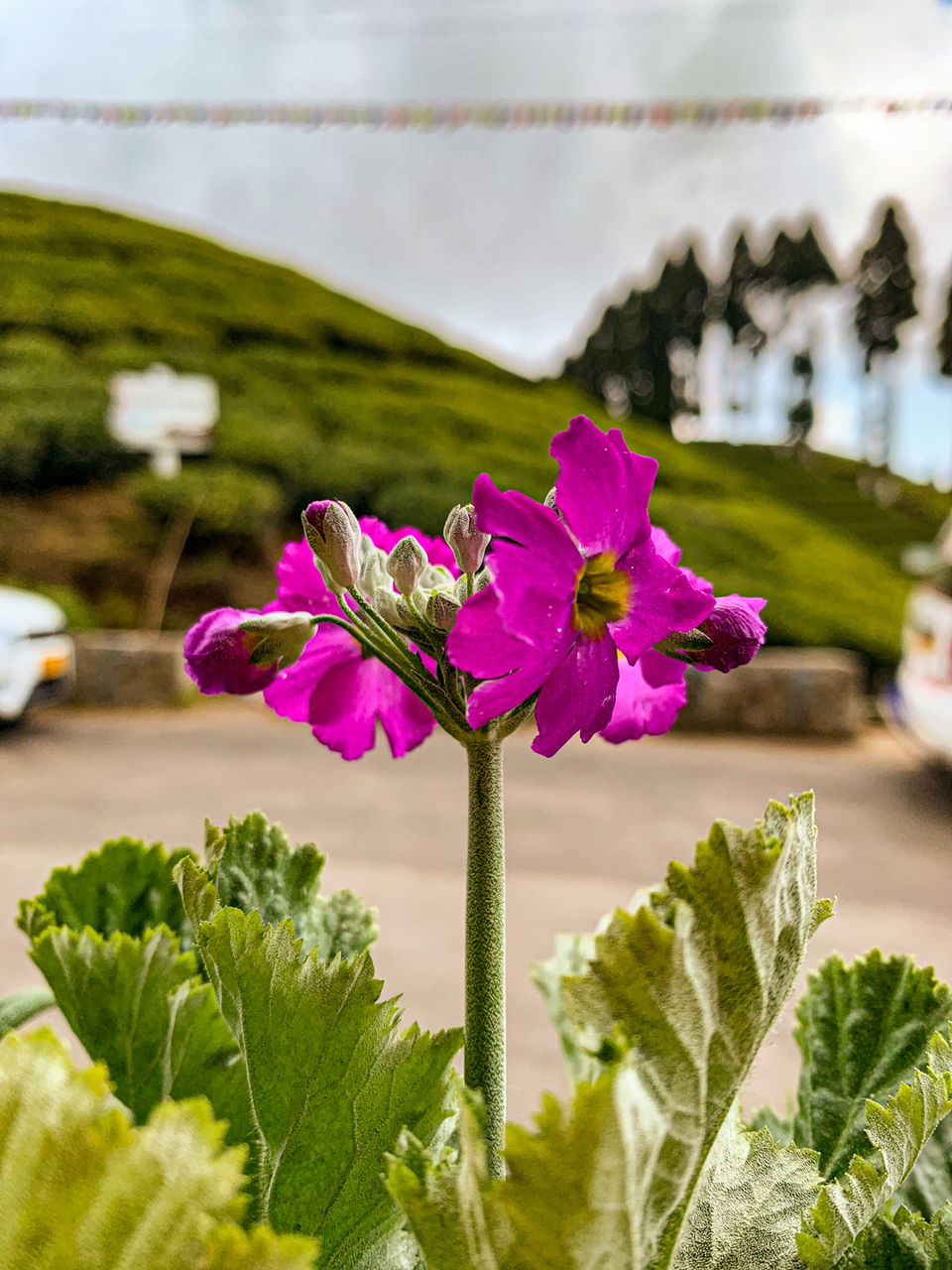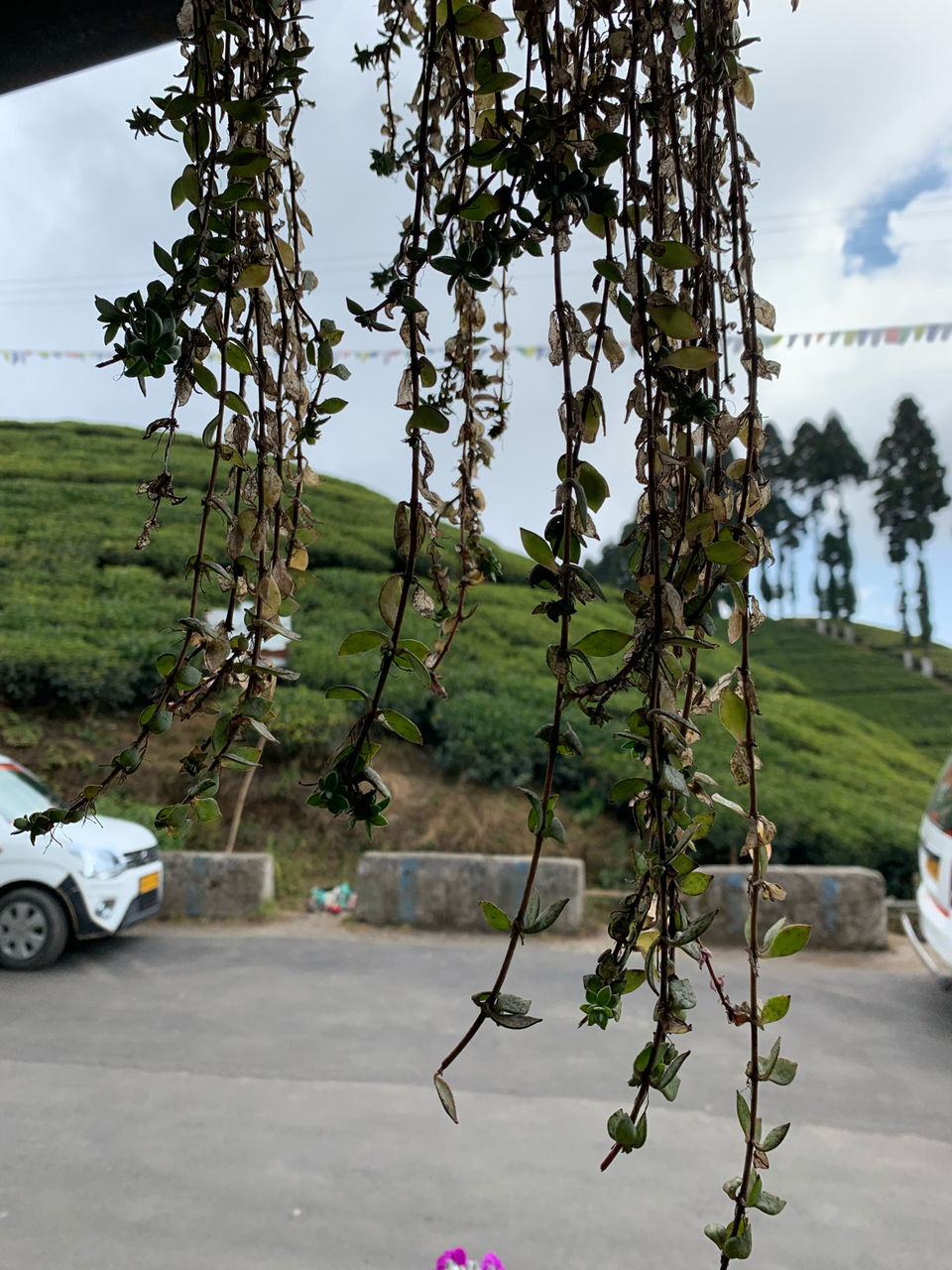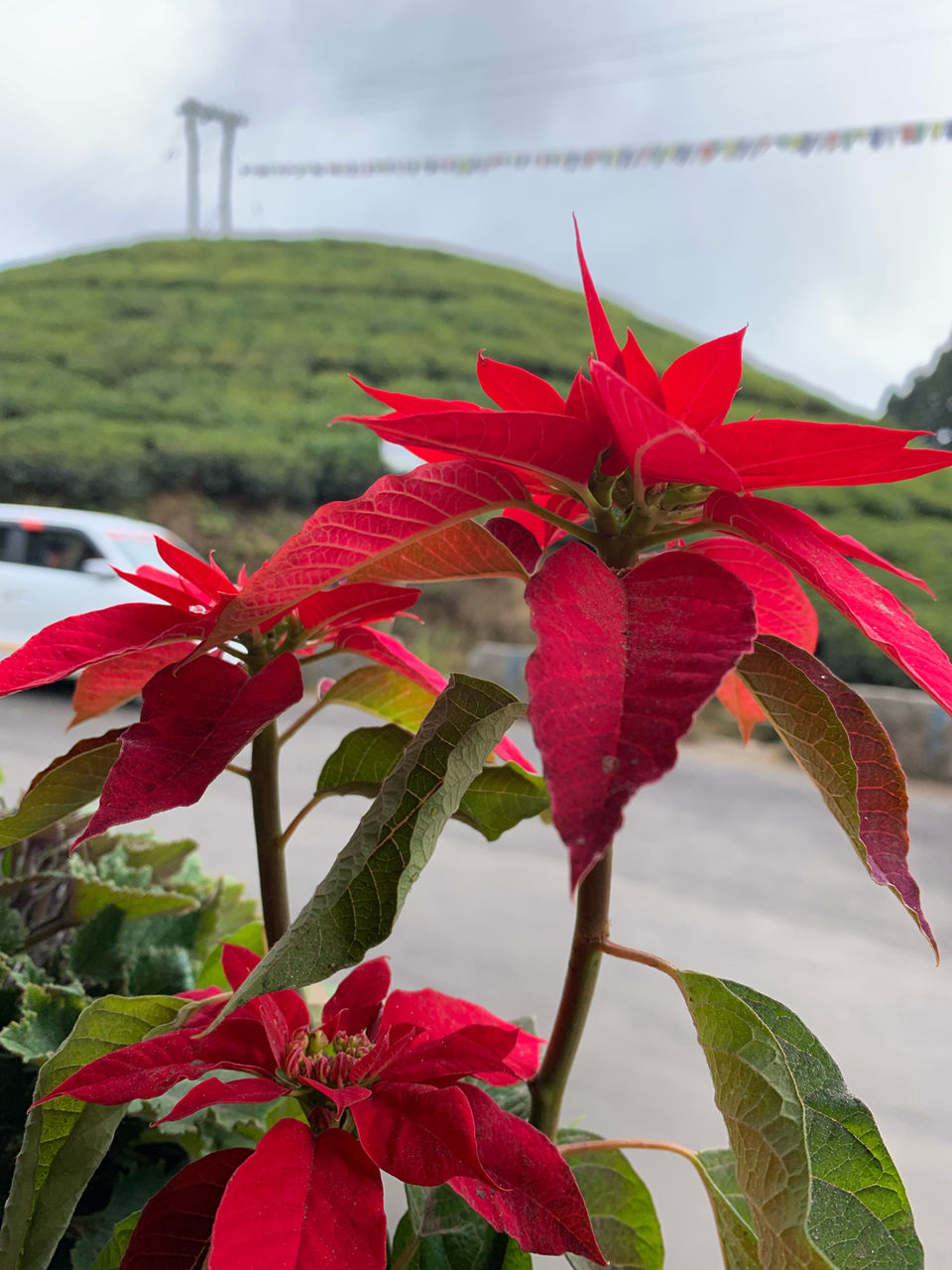 After this stop, we headed towards Mirik and a popular spot there, the Mirik lake.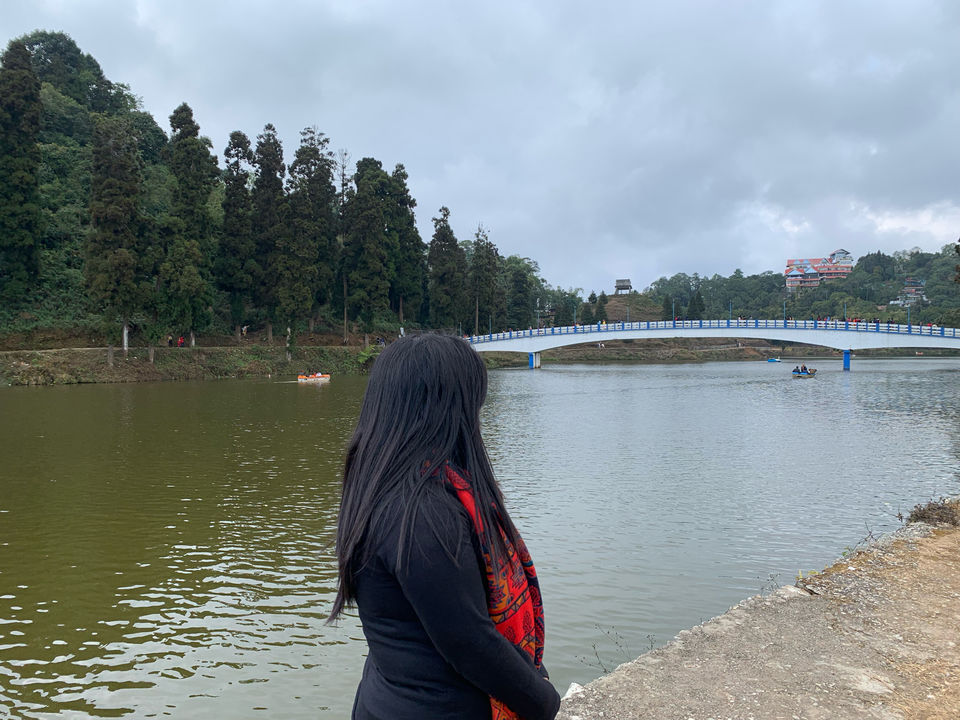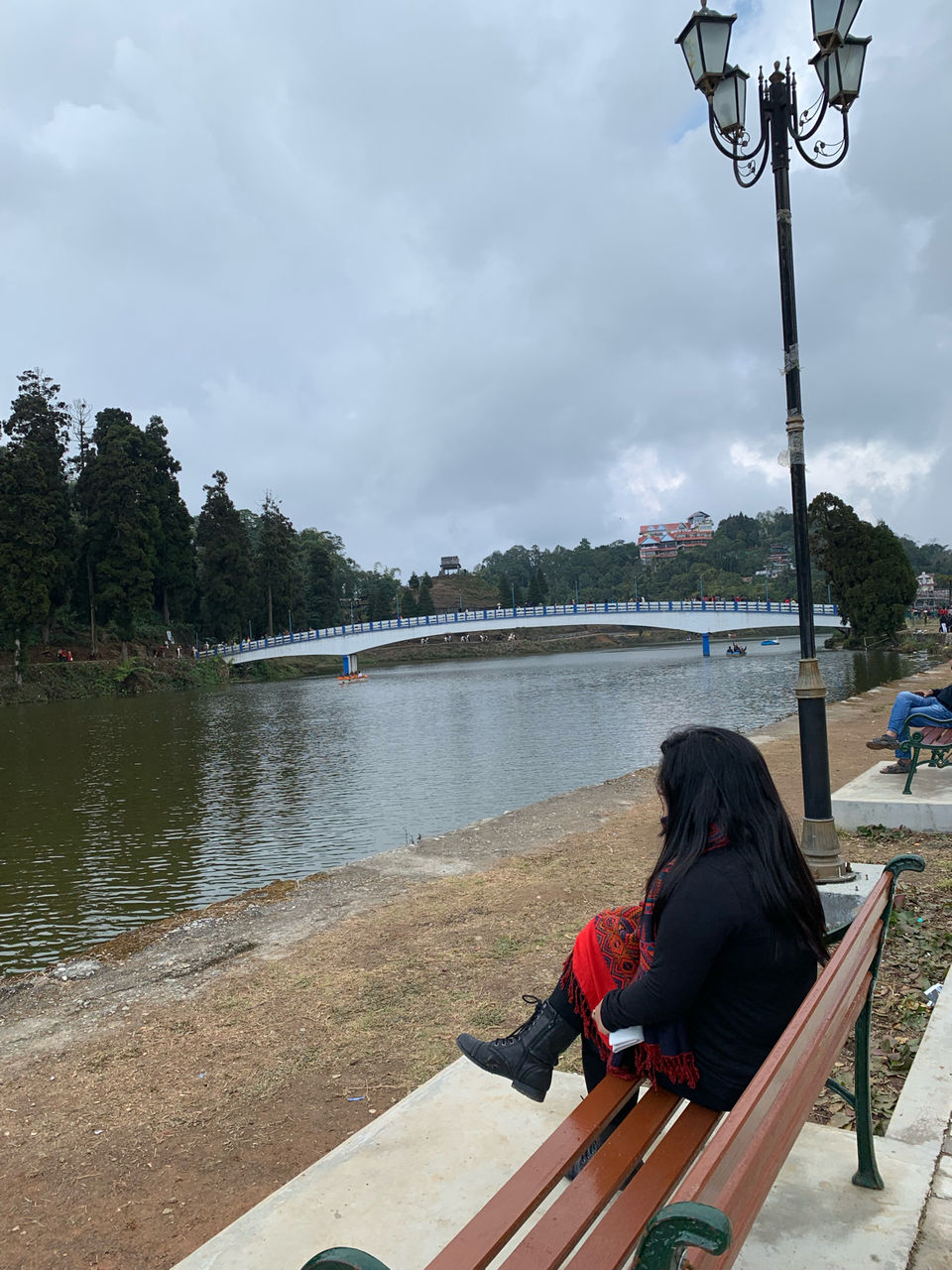 Mirik Lake was a letdown of sorts due to the huge crowds there. Lot of people had turned up for picnic parties. I felt it had lost a little of its pristine untouched-by-humans vibe.
After a disappointing lunch in one of its restaurants, we began the last leg of our way down.
Darjeeling will remain close to my heart and I will be sure to visit her again.